Road Trip from Orlando to Fort Lauderdale
Are you in search of a self-made adventure in Florida off the beaten track of theme parks and mickey mouse? If yes, a road trip from Orlando to Fort Lauderdale could be the very thing! This is a short drive along the Florida coast, but with much to discover and experience.
The 220-mile road trip from Orlando to Fort Lauderdale takes 3 hours and 45 minutes to drive. It navigates through Vero Beach, West Palm Beach, Boca Raton, and sights like Bathtub Reef Beach, Lion Country Safari, and Port St. Lucie Botanical Gardens.
So, what's the delay? Keep reading to find out more about which route to take, where to stop, and how to make the most of this quick but iconic road trip.
How far is Fort Lauderdale from Orlando, and how long will the road trip take?
The road trip from Orlando to Fort Lauderdale is 220 miles long and will take you just over three and a half hours of straight driving, without accounting for any detours you'll take to attractions along the way.
If you decide to leave Orlando in the afternoon, you're more likely to encounter traffic, which can prevent you from fully exploring the landmarks along the route.
Fridays and weekends are especially busy, and you are bound to face some road congestion as people travel to beaches near the coastline, as well as heading into town.
It's best if you make this road trip the adventure it should be, and split the journey into two days, so you can relax at the scenic Florida beaches and truly soak in what the route has to offer.
You'll get a chance to visit idyllic islands off Vero Beach, and cities like Boca Raton and West Palm Beach where you can immerse yourself in places like Jupiter Inlet Lighthouse & Museum, Old Town, Morikami Museum & Japanese Gardens, and so much more!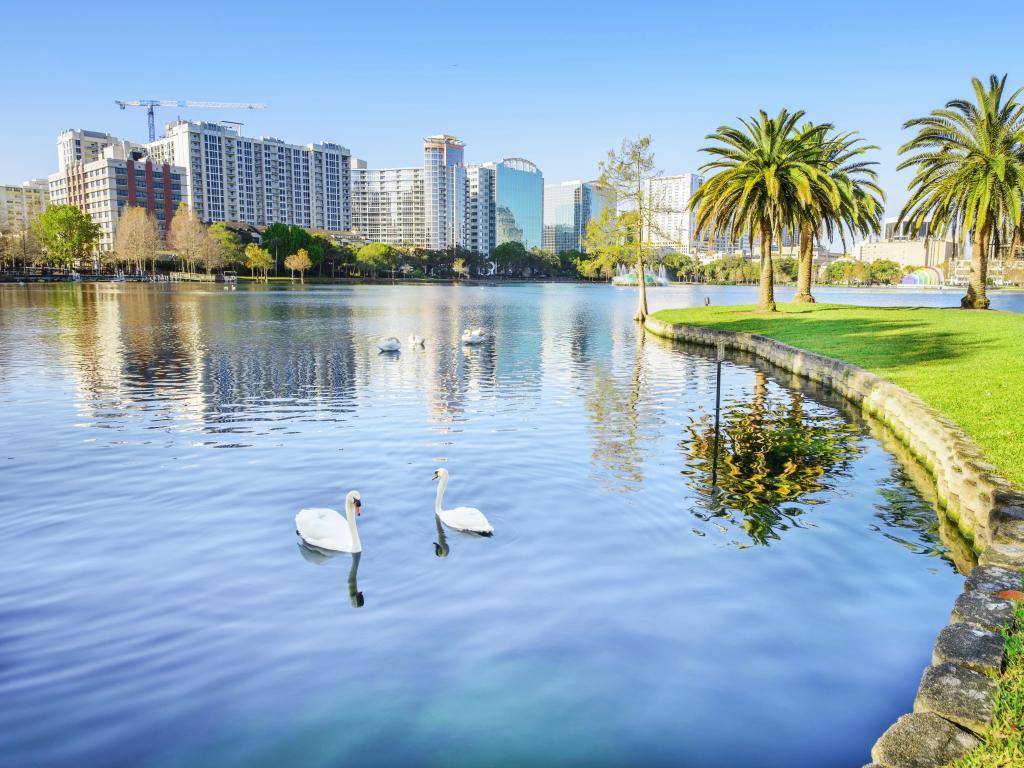 Best road trip route from Orlando to Fort Lauderdale
There are three possible routes that you could take to get to Fort Lauderdale from Orlando. Each route is pretty similar to the others, and all pass through iconic Florida cities.
In our opinion, however, the best route you can take runs largely along the interstate, sticking close to the coastline. All-importantly, this route allows you to take quick detours to the beach and other attractions without sacrificing too much time in the process.
Road trip route from Orlando to Fort Lauderdale
Starting out from a central location in Orlando, near the Grand Bohemian Hotel on West South Street, you will head west on the same street, towards Boone Avenue. Here you turn left to merge with Interstate 4 (I-4) West (this is a toll road).
You'll pass by the Griffin Park Historic District and Clear Lake Park - which boasts a gorgeous view of Clear Lake - before taking the Miami Exit on I-4 West to merge with Florida's Turnpike (another toll road).
Taking the coastal route, you head east at exit 244 onto the US-192/US-441 towards Melbourne. Then join Interstate 95 (I-95) to Miami. At Fort Pierce, take the 129 exit which leads on to join the Florida's Turnpike.
You'll continue on the Turnpike for about 140 miles until Jonathan Dickinson State Park, after which you'll take Exit 116 towards Jupiter.
You'll then take the right lane to merge with Interstate 95 South via the ramp to West Palm Beach.
Here you'll encounter attractions like the Jupiter Inlet Lighthouse & Museum, Henry Morrison Flagler Museum, Gumbo Limbo Nature Center, Delray Beach, and more.
After nearly 50 miles on I-95 South, you'll take Exit 27 towards Downtown, and reach your ultimate destination, Fort Lauderdale, known as the Venice of America!
Best places to stop between Orlando to Fort Lauderdale
A road trip from Orlando to Fort Lauderdale should be enjoyed over a couple of days. And if you choose to divide it into two (or even three) days, you won't be short of options for a fun and relaxing place to stay.
Vero Beach and West Palm Beach both come highly recommended as your pit stops en route. What's more - with a total driving time of under four hours - you can choose your preferred stopover location based on nothing but what takes your fancy.
Whether you decide to rest up at Vero Beach or West Palm Beach, your drive will be a comfortable length on both days. You might even choose to stop at both!
Chill out at Vero Beach
On your way to Fort Lauderdale from Orlando, you will drive along the Florida coast, and what better way to experience your waterside trip than the sandy expanses at Vero Beach?
Get your first taste of the beach life at the fabulous Costa d'Este Beach Resort. This beachfront hotel, owned by the 80's pop legend Gloria Estefan and her husband, offers everything you might want in a stay.
This low-key, heavenly-situated accommodation finishes up your first day of travel and sightseeing with the option of a relaxed and chilled stopover, or if you need an injection of energy to get the holiday started, let the hotel organize activities like deep-sea fishing, surfing, or a spot of golf.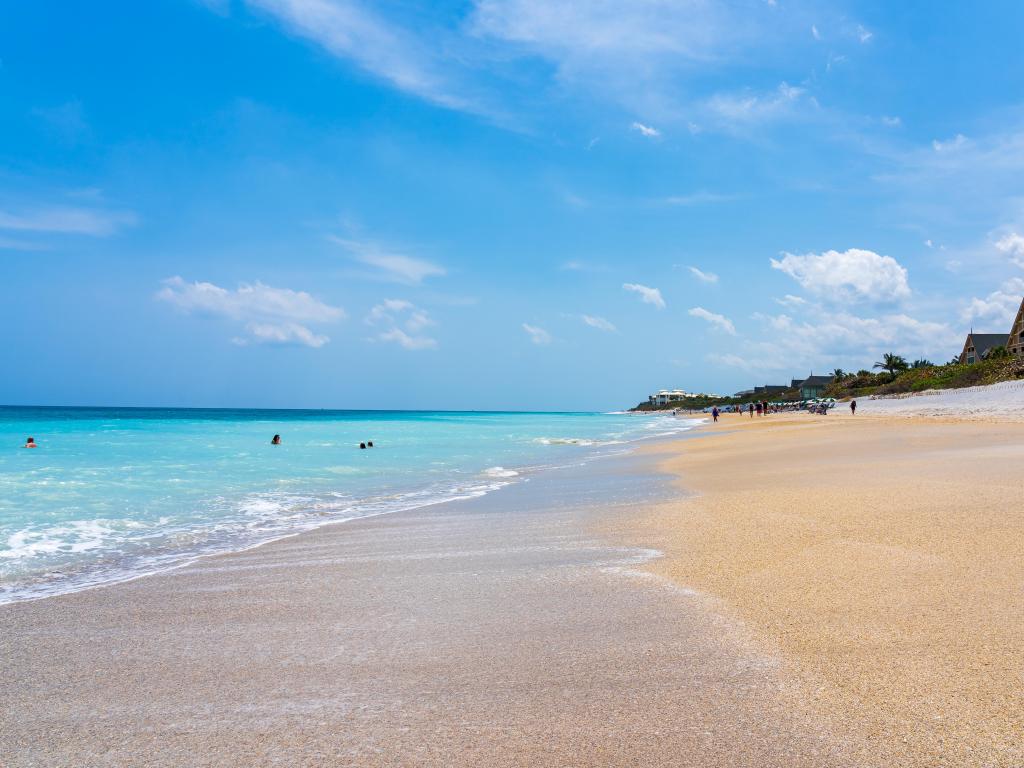 Soak in the views at West Palm Beach
What better place to soak in the panoramic views of the sea and sandy beaches than West Palm Beach?
Have a leisurely stopover at the well-renowned Courtyard by Marriott West Palm Beach. Barely a 5-minute detour from your route, this property is the quintessential Florida hotel that'll allow you to experience all that the city has to offer.
You'll be a short drive away from Henry Morrison Flagler Museum, Riviera Beach, and Port of Palm Beach among other attractions.
You can check-in after a couple of hours of driving and grab a drink at the nearby E.R. Bradley's Saloon for the typical tavern experience. If you're feeling more energetic, you can also take a dip in the ocean (and maybe even go surfing) or simply relax by the in-house pool.
However you choose to unwind after a day spent traveling, the hotel's stunning view - with its sweeping ocean and pristine white beaches - will be sure to speak to your soul.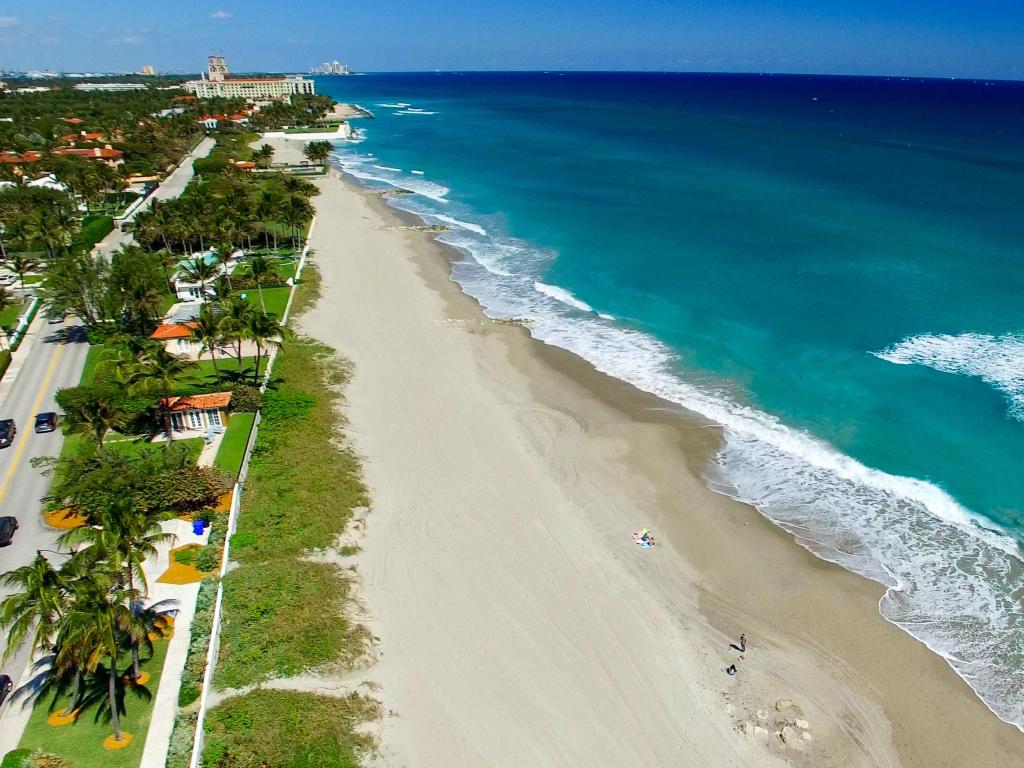 Where to stay once you reach Fort Lauderdale
Fort Lauderdale is known across the country as one of the most iconic tropical holiday destinations and naturally is home to the most opulent and luxurious of hotels.
If you're looking for the perfect Florida experience without breaking the bank, book a stay at Sonesta Fort Lauderdale Beach.
This property faces the expansive Fort Lauderdale Beach with rooms that have an exceptional view of the horizon and beyond. It's a 5-minute walk from the ocean, close to places like the Bonnet House Museum and Gardens, Port Everglades, and Venice on the Beach.
You can get a Swedish massage (or any of the variety of treatments offered at the property's spa), and dine at Steelpan, the in-house Caribbean-American fusion eatery with a stunning oceanfront view.
If you feel like heading out and about before resting up for the night, you can take a leisurely stroll through Hugh Taylor Birch State Park - Fort Lauderdale's own "Central Park", just steps away from the hotel.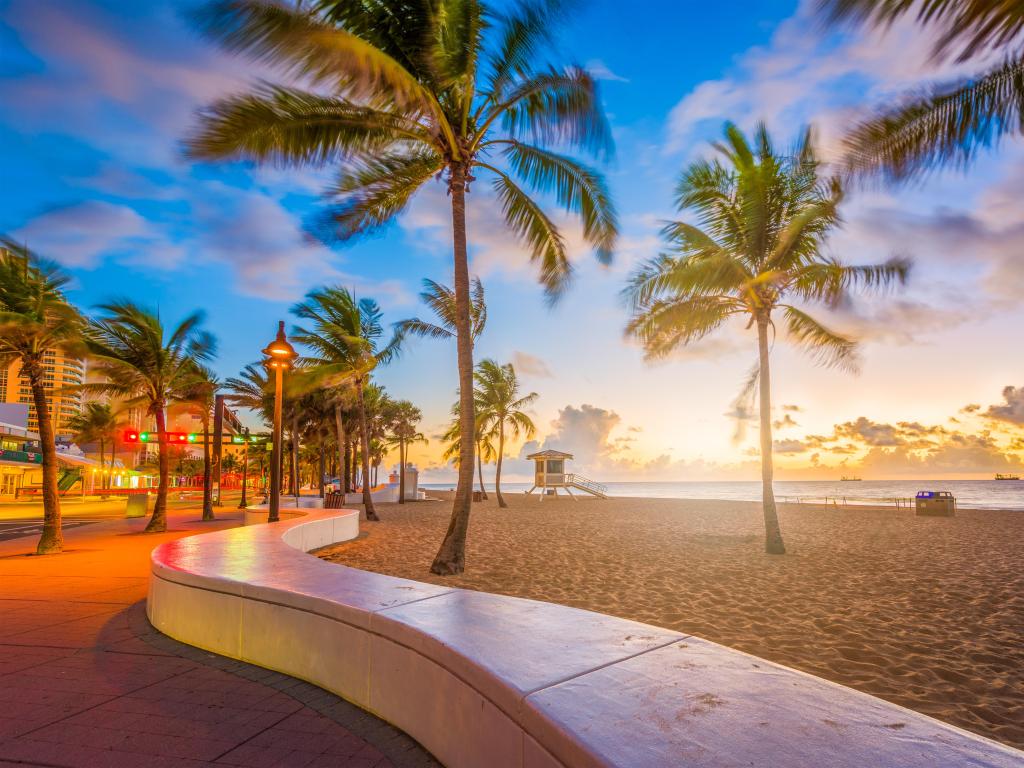 Things to see on a road trip from Orlando to Fort Lauderdale
The road trip from Orlando to Fort Lauderdale has so many parks, museums, and natural landscapes to discover along the route. While there's plenty to see, here's an abbreviated list of places that you really should take the time to see:
Kennedy Space Center Store - Located in Orlando, this unique space store is the one-stop shop for all your space-related gifts, and houses some astronomy-themed exhibits.
The Wheel at ICON Park - Located in Orlando, this impressive 400-ft. structure boasts panoramic views of the city and beyond.
Disney's Blizzard Beach Water Park - An expansive theme park with snowstorm-themed aquatic attractions like a lazy river, waterslides, and more.
Turkey Creek Sanctuary - Located in Palm Bay, a 130-acre nature sanctuary with exhibits, trails, a boardwalk, a lake (where you can go paddle boarding), and more.
Port St. Lucie Botanical Gardens - A vast botanical garden located in Port St. Lucie with a variety of unique flowers and plants.
Florida Oceanographic Coastal Center - A 60-acre natural site with a lagoon, saltwater tanks, trails, and educational resources.
Bathtub Reef Beach - A beautiful beach located in Stuart where you can snorkel, swim with sharks, and explore other such adventure excursions.
Jupiter Inlet Lighthouse & Museum - An 1860 lighthouse and museum located in Jupiter with tours and exhibits on the city's history.
Henry Morrison Flagler Museum - Located in Palm Beach, this house-turned-museum used to be the home of a prominent businessman and now exhibits beautiful artwork and architecture.
McCarthy's Wildlife Sanctuary - Situated in West Palm Beach, a wildlife sanctuary with 170 plus exotic animals, tours, and programs for kids.
Lion Country Safari - Located in Loxahatchee, a slight detour from the route. Here you'll spot rhinos, lions, and other wild animals while on a driving safari with an amusement park nearby.
Morikami Museum and Japanese Gardens - Located in Delray Beach (near West Palm Beach), this landmark offers a peaceful lakeside view with a one-of-a-kind sushi café, tea ceremonies, and classes.
Boomers Boca Raton - A national amusement park franchise located in Boca Raton with mini-golf, arcade games, bumper boats, and more.
Gumbo Limbo Nature Center - Located in Boca Raton, a nature reserve with sea turtles, a butterfly garden, and a boardwalk with a scenic lookout.
Uncle Bernie's Amusement Park - Located in Fort Lauderdale, this family-friendly amusement park by the beach is a theme park worth a visit.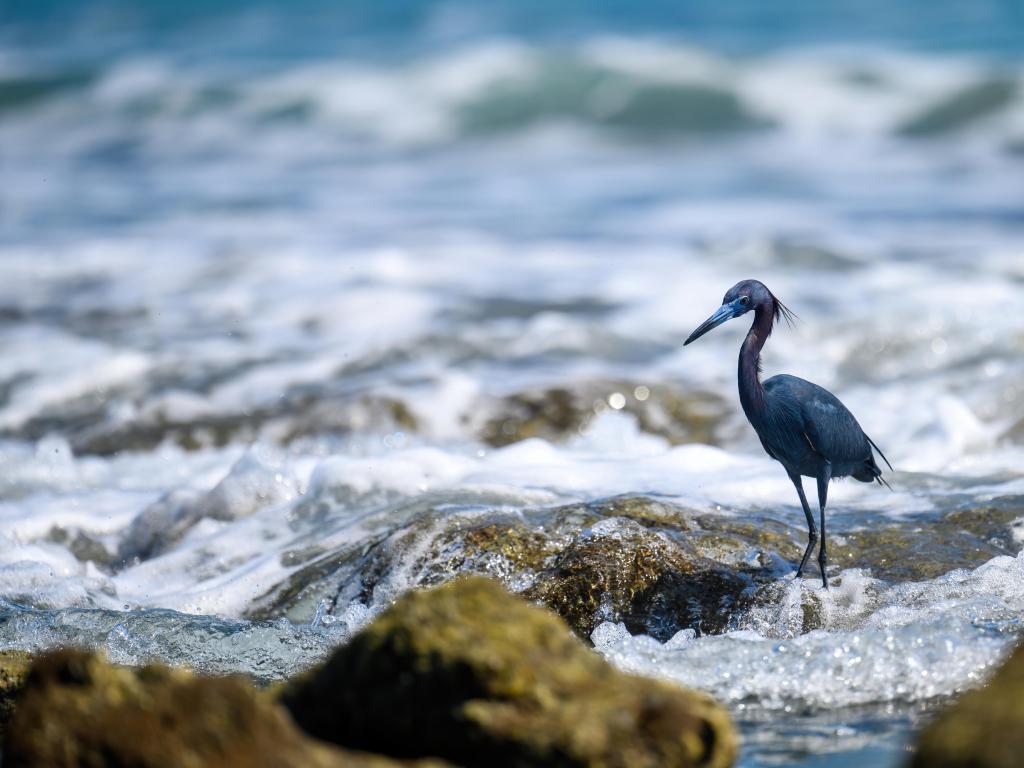 Best time to go on a road trip from Orlando to Fort Lauderdale
While you can take a road trip from Orlando to Fort Lauderdale at any point in the year, some months are better than others. Florida, particularly Fort Lauderdale, is known for its hot climate and has become a location for those seeking a guarantee of the sun on their holiday.
Visiting Fort Lauderdale is ideal between December and April as the weather is pleasant (between the high 50s and mid-80s Fahrenheit), and a lot of events take place during this time like Seminole Hard Rock Winterfest Boat Parade, Las Olas Art Fair, and Las Olas Wine & Food Festival.
Still, some crowds are expected, as people from across the world flock to the city for some much-needed sun at this time of year.
Visiting between May and November may be tricky as the area is more susceptible to heavy rain and hurricanes (the official hurricane season runs from 1st June to 30th November).
However, with the higher incidence of rainy weather, you're sure to get a great deal at a beachside hotel.
No matter which month you choose to take the road trip from Orlando to Fort Lauderdale, be sure to carry all your essentials (especially your sunscreen).
Pack your favorite snacks and stop along the way at the many attractions to truly soak up the sun and surroundings on this bright, leisurely road trip in the Sunshine State!