Road Trip from Orlando, Florida to Niagara Falls
Discover all that the Eastern United States have to offer with this road trip, which takes you from Orlando to the stunning city of Niagara Falls, home to the eponymous natural wonder. With impossibly scenic landscapes and bustling cities, this journey offers a world of adventure.
The 1,262-mile road trip from Orlando, Florida to Niagara Falls takes 20 hours to drive. You can stop in Charlotte, Blowing Rock and Pittsburgh via the Blue Ridge Parkway, or follow the coast before heading inland to Charleston, Richmond and Washington DC.
Either way, you end up in Niagara Falls, home to the world's most famous waterfall and with a host of luxury hotels and casinos. Read on for all the information you need to plan this memorable trip.
How far is Niagara Falls from Orlando, Florida, and how long will the road trip take?
Comparison of road trip routes between Orlando and Niagara Falls

| Route | Distance | Driving Time |
| --- | --- | --- |
| The West Virginia Route | 1,262 miles | 20 hours |
| The Washington DC Route | 1,341 miles | 22 hours |
There are two great route options to take you all the way from Florida to Niagara Falls, one which centers on dramatic natural landscapes and the other which includes some all-star cities.
The West Virginia Route is 1,262 miles long and goes via the states of Georgia, Florida, South Carolina, Tennessee, West Virginia, Pennsylvania and New York. Part of the drive includes the winding mountain road through the Blue Ridge Parkway.
It is the shorter route and will take 20 hours to drive, though it doesn't stop at the capital. It's also worth keeping in mind that weather conditions along the two-lane road through the Blue Ridge Mountains could slow down your trip.
The Washington DC Route is slightly longer at a distance of 1,341 miles, which will take 22 hours to drive. This route takes you up through Florida, Georgia, South Carolina, North Carolina, Virginia, Maryland, Pennsylvania and New York. There are more city stops than on the previous route, so this journey is more liable to delays due to congestion.
With a distance of over 1,200 miles to cover on both routes, we'd recommend taking 8-9 days for this trip. You'll want to pack in some beach days and plenty of hiking, as well as a couple of overnight stops to get a proper feel for the places along the way.
Best road trip route from Orlando, Florida to Niagara Falls
Both routes combine classic American landscapes with some beautiful northerly cities, though they each have a different emphasis on nature and culture.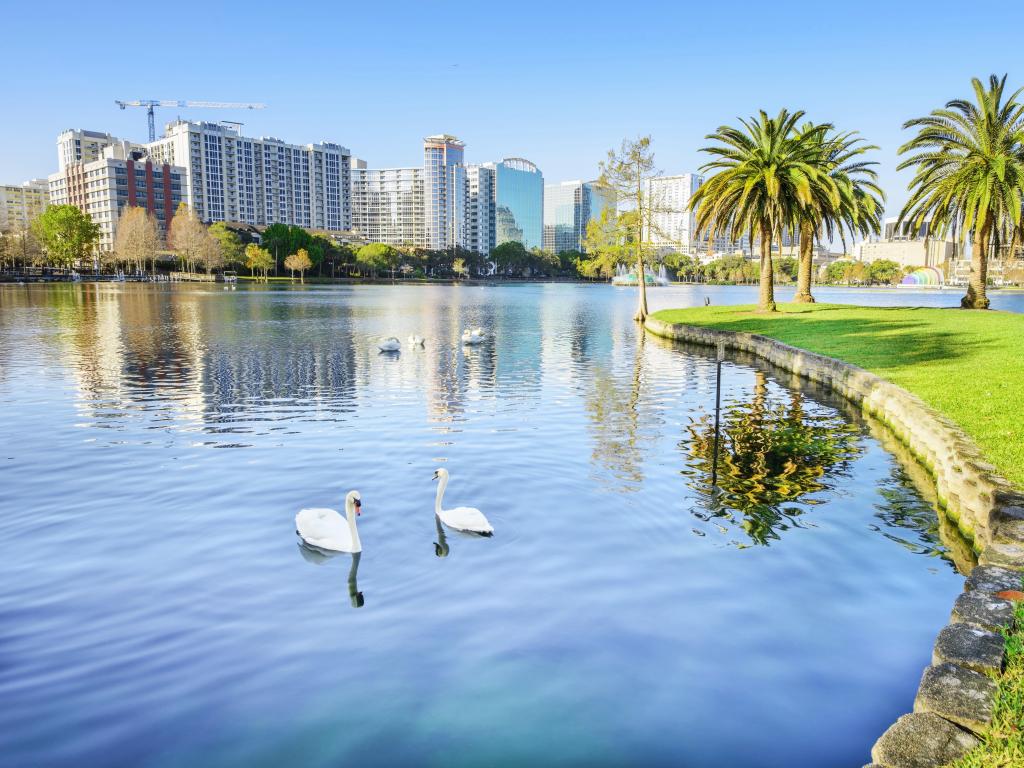 The West Virginia Route travels through a variety of natural landscapes, from the coasts of Florida to the dense forests of West Virginia. The highlight of this route is the Blue Ridge Parkway, which offers a breathtaking drive through the mountains and landscapes of the Appalachian Highlands. You'll get to stop in characterful cities like Jacksonville, Pittsburg, Charlotte and Blowing Rock.
Naturally, the Washington DC Route takes you via the USA's capital and its world-class attractions. On top of that, you'll get to discover Savannah, Charleston, Myrtle Beach, and Richmond. You'll hug the coast for the first part of the drive before diving into the beautiful forests of Maryland and Pennsylvania.
How to drive from Orlando, Florida to Niagara Falls
The map above shows our suggestions for the best road trip routes between Orlando, Florida to Niagara Falls. Keep reading for detailed descriptions of both routes, where to stay on either, and the best things to do on the way.
The West Virginia Route
Take Interstate 4 (I-4) to join I-95 heading north out of Orlando. Follow the coast to Jacksonville, with the option to stop at any one of the sandy beaches just off the route.
Merge onto I-26 towards Columbia, then head north on I-77 to enter North Carolina and arrive in Charlotte. Follow I-85 south to Gastonia, then take US-321 to Blowing Rock.
Follow the winding Blue Ridge Parkway through the mountains, then take NC-16 and turn onto I-81 heading north. Take I-77 north to and join US-19. From here it's only a short detour to George Washington & Jefferson National Forest, which has some fantastic hiking trails.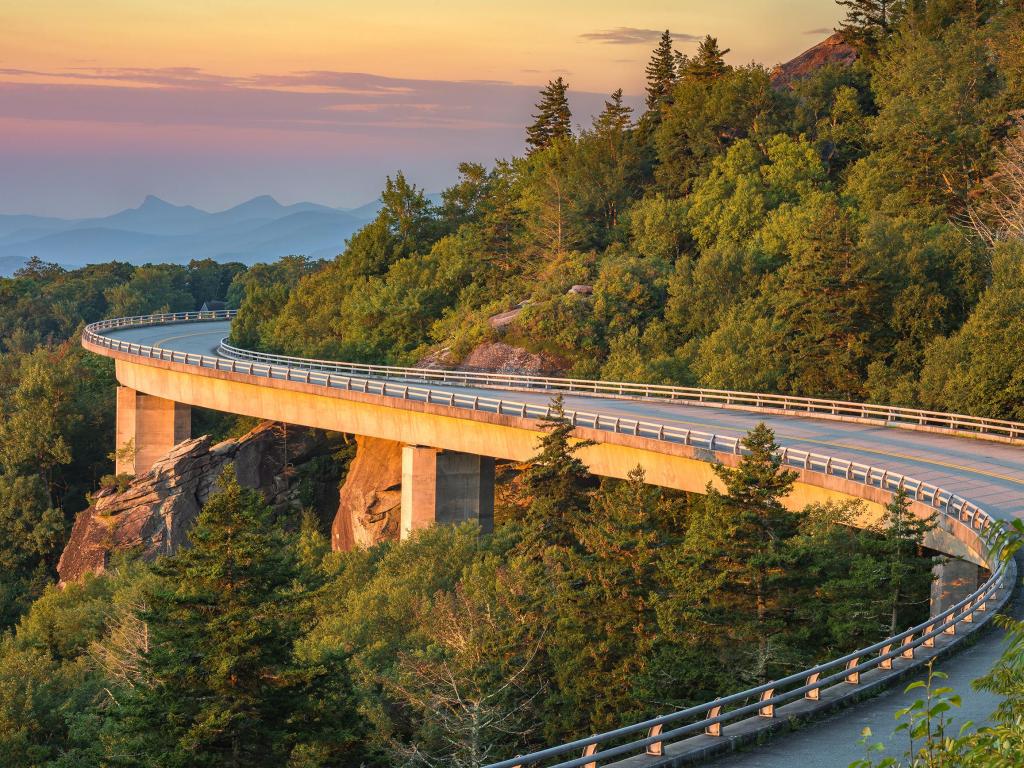 Get on I-79 and drive north to cross into Pennsylvania and take the exit for Pittsburgh. Once you've explored the waterways and vibrant arts scene, rejoin I-79 and merge onto I-90 going east to hug the shores of Lake Erie. Follow this road around the lake border to arrive in Niagara Falls.
The Washington DC Route
Take I-4 east to head north on I-95, with prime views over the coastline. You'll pass Jacksonville and continue on to arrive in Savannah. From here, get back on I-95 and merge onto Highway 17 to arrive in Charleston.
Get back on Highway 17 to rejoin the coast and arrive in Myrtle Beach. There are plenty of nature and wildlife reserves along this stretch of the drive that are worth stopping to explore.
Take SC-31 and SC-22 to head inland and follow signs to rejoin I-95. Drive north to enter Virginia and arrive in Richmond. From here, follow I-95 to take you straight to Washington DC. Take the exit for the city center to experience the capital's world class museums and heritage.
Take I-495 north out of Washington DC and then I-270 N. Join I-70 and drive west, then take I-76 W to head north on I-99. You'll pass through Pennsylvania's stunning forests, including Allegheny National Forest and Susquehannock State Forest. Take exit 52 and get on US-219 to head north and follow signs for Niagara Falls.
Best places to stop between Orlando, Florida and Niagara Falls
Over a road trip of this length, you'll want to pack in plenty of stops to break up the driving and stretch your legs.
Luckily, there is plenty of accessible nature, as well as walkable cities and cultural landmarks that are well worth your time. We've picked out some highlight overnight stops that are not to be missed.
Go museum-hopping in Pittsburgh
Located about two thirds of the way along the West Virginia Route, riverfront Pittsburgh is a dynamic city with a dramatic skyline.
As the last major city before Niagara Falls, it's a good spot for an overnight stay, which will also give you the chance to explore Pittsburgh's top-quality museums and food scene.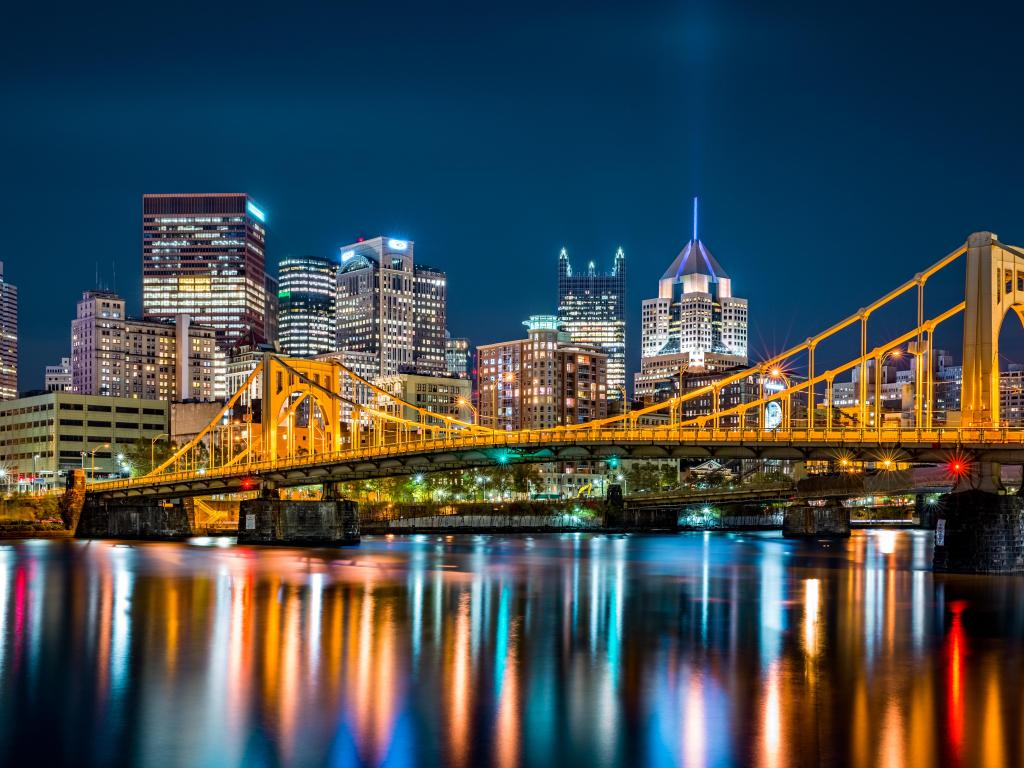 Out of a wealth of institutions, don't miss the Carnegie Museum of Art and Carnegie Museum of Natural History - both of these show different sides to human history and ingenuity through thousands of objects and a range of temporary exhibitions.
Another one to check out is the Andy Warhol Museum - a household name, everyone will recognise his iconic prints and can learn more about the man behind them at this museum beside the Allegheny River.
If you want to get outdoors in the city, Phipps Conservatory and Botanical Gardens is a lush haven in Pittsburgh's center - check out the gigantic greenhouse and 23 separate gardens to walk through.
In the heart of downtown, Fairmont Pittsburgh is close to Point State Park, Heinz Hall and the Andy Warhol Museum. With the city on your doorstep, this 4-star hotel boasts great views over the river and has a full-service spa and fitness center.
There is a stylish hotel restaurant if you'd prefer to eat on-site, though you're also minutes from the farmers' market and food trucks in Market Square. It's located conveniently for hopping back onto the Parkway the following day.
Pay your respects in Washington DC
About halfway along the Washington DC Route is the city that gives this itinerary its namesake. The buzzing capital needs no introduction, but what makes it a must-stop is that it's the last major city on the route before Niagara Falls.
Washington DC, or DC as it's known by the locals, boasts historical landmarks and some of the country's best arts institutions, as well as a dynamic nightlife culture and high-end dining.
You won't be able to miss the Lincoln Memorial, which towers above the skyline. Visit it to pay homage to Abraham Lincoln and to view the impressive neoclassical temple against the Washington sunset.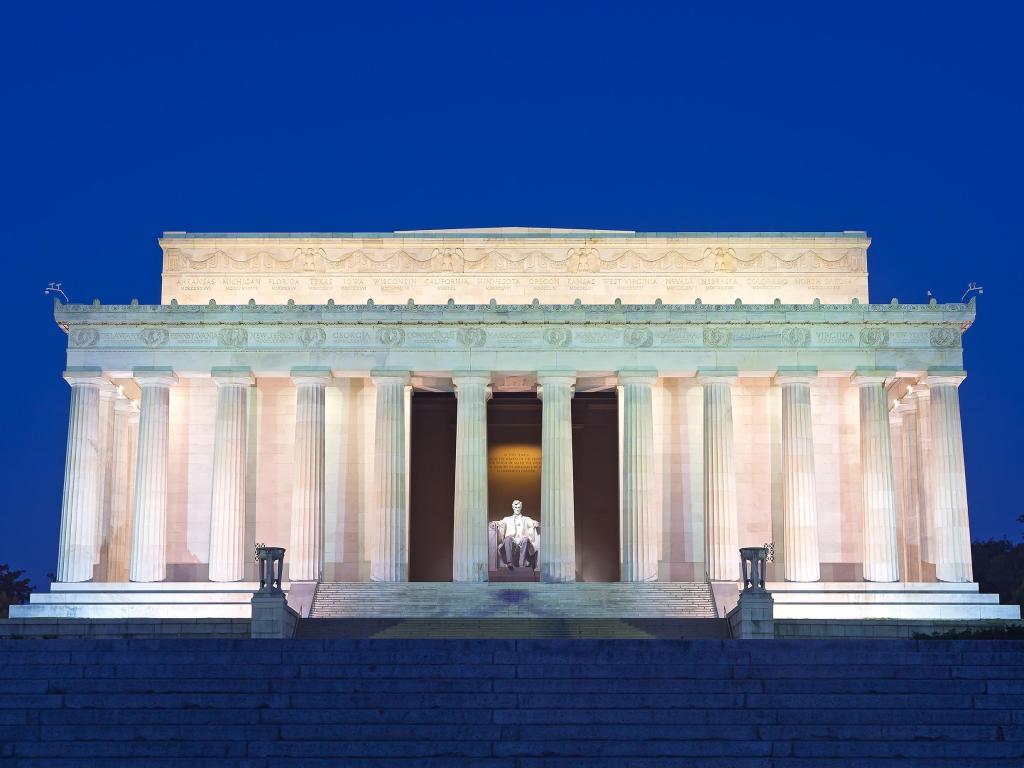 The next best memorial in the city is Theodore Roosevelt Island Park and National Memorial, which is located in the Potomac River. The wooded island is a green oasis to stretch your legs on a variety of nature trails.
Our museum pick is Smithsonian National Museum of History, a world-class institution displaying exhibits on natural history. It includes a butterfly pavilion and bone hall, among fascinating temporary exhibits on the story of our planet.
See if you can catch a show at the John F Kennedy Center for the Performing Arts. All the best musical and theater acts pass through this iconic institution, and they also offer tours of the building.
For a central location, nothing beats The Mayflower Hotel, Autograph Collection, which is situated just 800 meters away from the White House itself. You'll be in great company - the hotel has a rich historical past of hosting significant society events and notable guests.
The hotel's status is reflected in its elegant decor, while the delectable Edgar Bar and Kitchen is open for every meal. Rooms include access to streaming services, so you can kick back after a long day's exploring.
You'll be within walking distance of plenty of the city's main attractions, including the Smithsonian Museum and the Washington Monument. Otherwise, you can hop on the subway which is located nearby.
Where to stay when you reach Niagara Falls
After your long journey, relax in style by booking a stay at Seneca Niagara Resort & Casino. There are plenty of on-site amenities including a casino, full-service spa, indoor pool and several restaurants - it's great if you have a few days to properly wind down.
The hotel is located close to the main attractions in Niagara Falls, including the Schoellkopf Geological Museum, Rainbow Bridge and the Aquarium of Niagara.
There is free parking on site, so you're free to leave your car and explore the city on foot, or take a boat tour of the falls.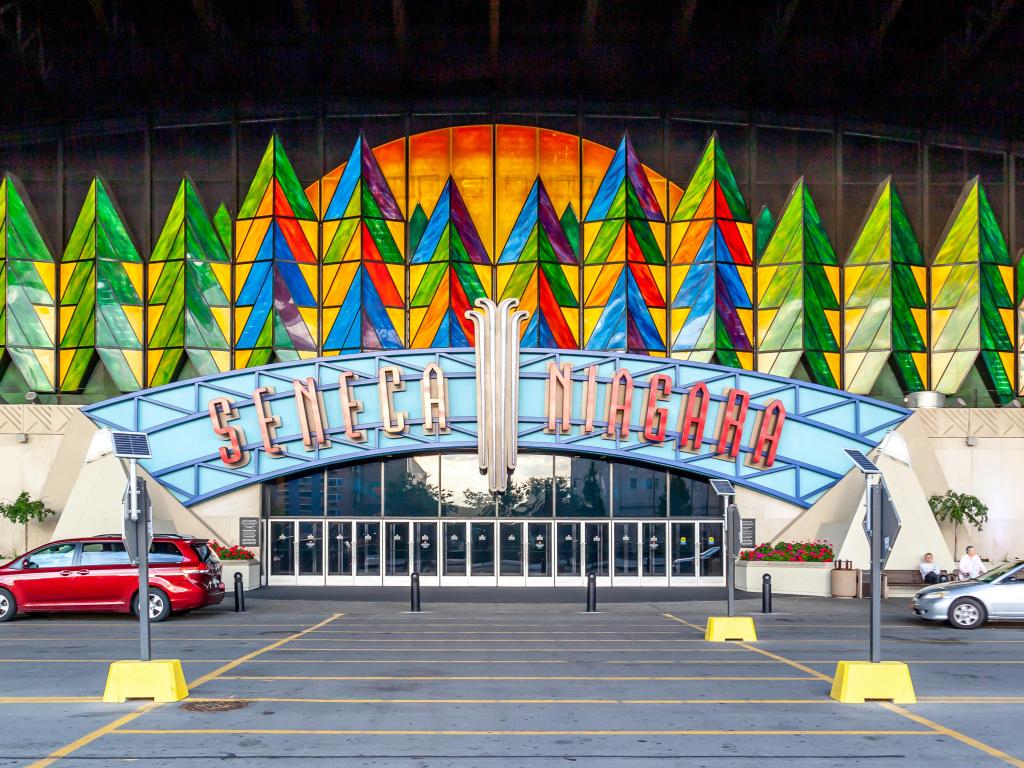 Things to see on a road trip from Orlando, Florida to Niagara Falls
There are a whole range of sights and activities on offer throughout the diverse scenery of this trip. By planning out some stops in advance, you can cover all the bases and take in historic landmarks, urban exploring and outdoor activities.
The West Virginia Route
Riverbanks Zoo & Garden - This zoo houses plenty of different species, including a penguin enclosure, reptile gallery, bird house and lush botanical gardens.
Peachoid - Take a mini-detour off the route to visit this roadside attraction that resembles a giant peach, and is actually a 135-ft water tower.
Kings Mountain State Park - A great place for hiking and horse-riding, with crystal lakes and a model 19th-century farm.
Adventure Landing Gastonia - A fun family attraction with plenty of activities including batting cages, mini golf, and an arcade.
New River Gorge National Park & Preserve - Take in this stunning 70,000-acre park, which offers ample opportunity for rock climbing, hiking and whitewater rafting.
Frank Lloyd Wright's Kentuck Knob - For architecture fans, this residence was designed by venerated architect Frank Lloyd Wright and now offers tours, a gift shop and a café where you can grab a road snack.
Randyland - Discover the quirky folk artist Randy Gibson at this fun museum filled with brightly colored art objects and murals.
PennDOT Road Sign Sculpture - This kitsch roadside attraction is worth a quick photo-stop, made up of lots of different Pennsylvania road signs in different shapes and sizes.
Presque Isle State Park - This sandy peninsula stretches out into Lake Erie and offers miles of golden beaches for sunbathing, as well as a lighthouse and visitor center.
Jutting out into beautiful Lake Eries and offering over 11 miles of beaches, this state park also boasts a lighthouse and environmental center.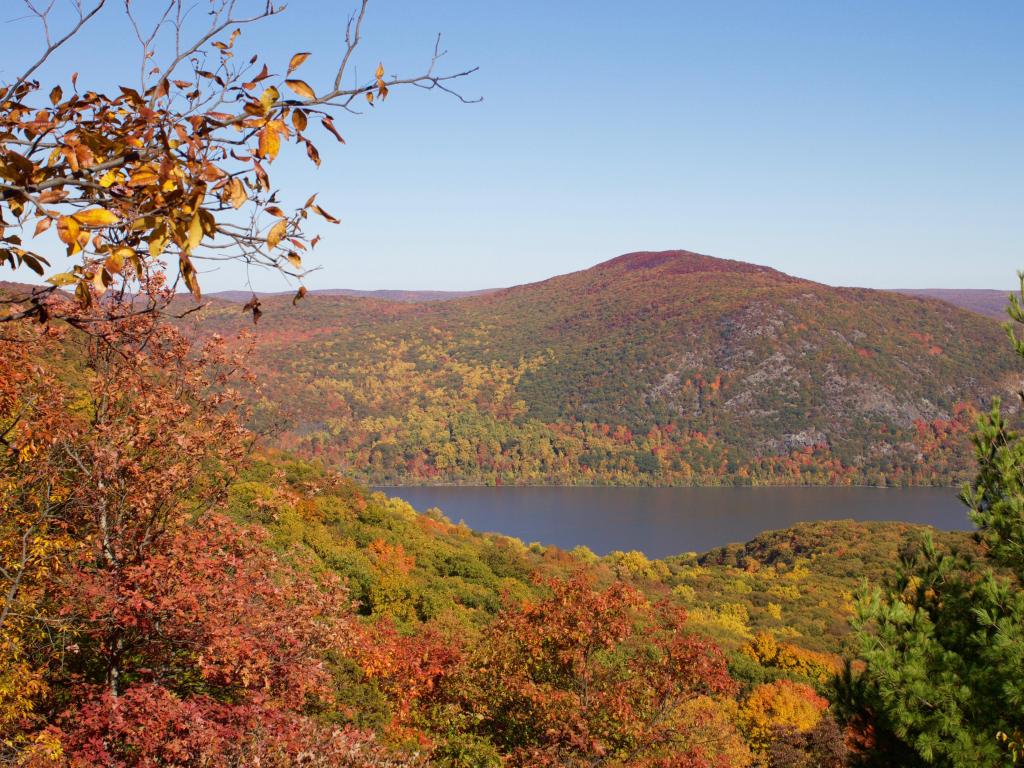 The Washington DC Route
River Island Adventures - Just under an hour from Niagara Falls, you can go tubing, take a kayak tour and eat delicious s'mores at this river adventure park.
Yogi Bear's Jellystone Park Camp-Resort - This fun resort is a great place to park up a tent, which has great facilities including an outdoor pool, a bear-themed restaurant, and an ice cream parlor.
The Swamp Park – If you're keen to swing through the air and climb amongst the treetops, visit this outdoor amusement park and try out the elevated rope course, swamp boat tours and thrilling zip-lines.
Cape Fear Botanical Garden - Discover this Fayetteville staple, a 77-acre botanical garden that houses over two thousand varieties of plants.
Pullen Park - Just an hour off the route sits the country's 5th-oldest amusement park, with old-fashioned pastimes like a carousel, a mini-train and paddle boats.
Neabsco Regional Park - This peaceful 300-acre park is a great place to breathe in some fresh air, spread out for a grassy picnic and take in Virginia's beautiful nature.
George Washington's Mount Vernon - This huge estate was the home of America's founding president, where visitors can take a tour of the historic house or indulge in a whiskey tasting.
Elephant Trails - A mere thirty-minute detour can bring you into contact with real Asian elephants, to see these animals in the flesh and learn about their conservation.
Gettysburg, PA - Discover this small town right outside of Washington DC, where you'll find a memorial marking the site of President Lincoln's iconic Gettysburg Address.
Hersheypark - Experience thrills at this family theme park named after the famous Hershey family, on classic coasters, a water park and a zoo.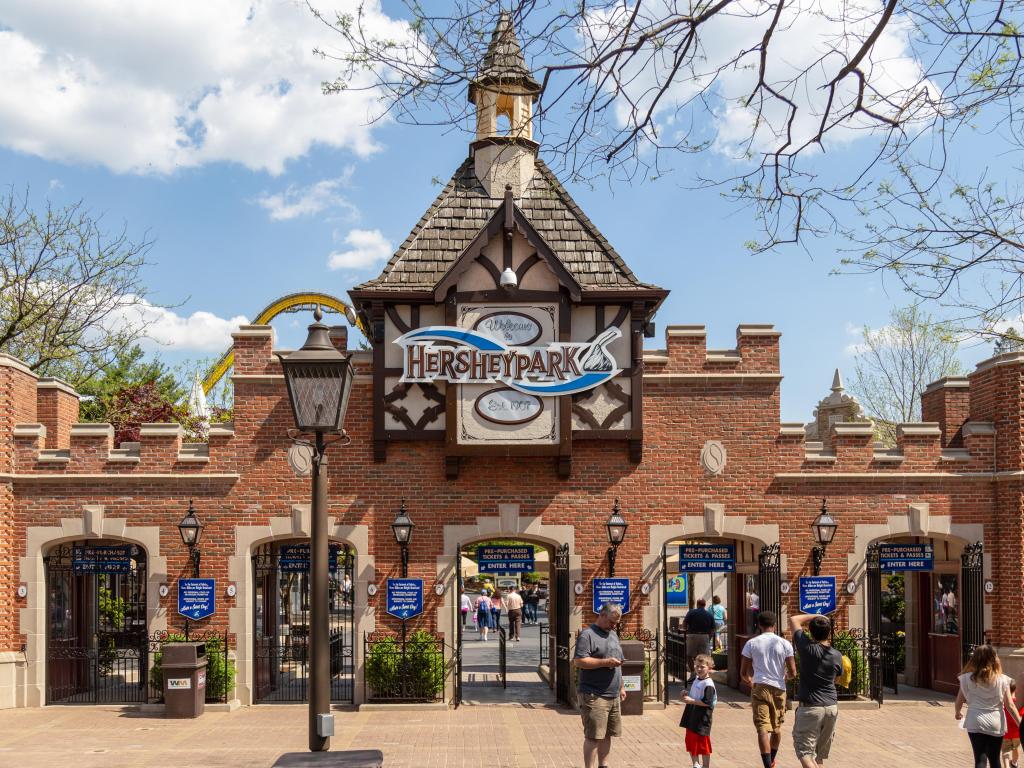 Both routes
Ponce de Leon Inlet Lighthouse and Museum - This late 19th-century lighthouse is a National Historic Landmark and houses a museum. You can book a tour, or climb to the top for panoramic views over the Florida coastline.
St. Augustine Alligator Farm Zoological Park - Get up close and personal with a diverse range of reptiles and birds at this sanctuary's daily wildlife shows. There is also a zipline if you're feeling adventurous!
Pinball Palace - This massive arcade has almost 100 pinball machines, classic arcade games, a bounce house, air hockey and more!
Savannah National Wildlife Refuge - This beautiful state park boasts over 30,000 acres of rich natural habitats, and is a great place for wildlife-spotting.
Victoria Bluff Heritage Preserve - Escape the crowds at this natural oasis and enjoy over 1,000 acres of bird-watching and hiking trails.
Henry C. Chambers Waterfront Park - This scenic park is right on the waterfront, and is a great place to picnic or watch the sun go down.
Bee City Zoo & Honey Bee Farm - See all of the incredible things that bees produce and learn about their importance to human life at this interactive insect zoo.
Santee State Park - This 110,000-acre park sits on the western edge of Lake Marion and offers great camping, kayaking and hiking.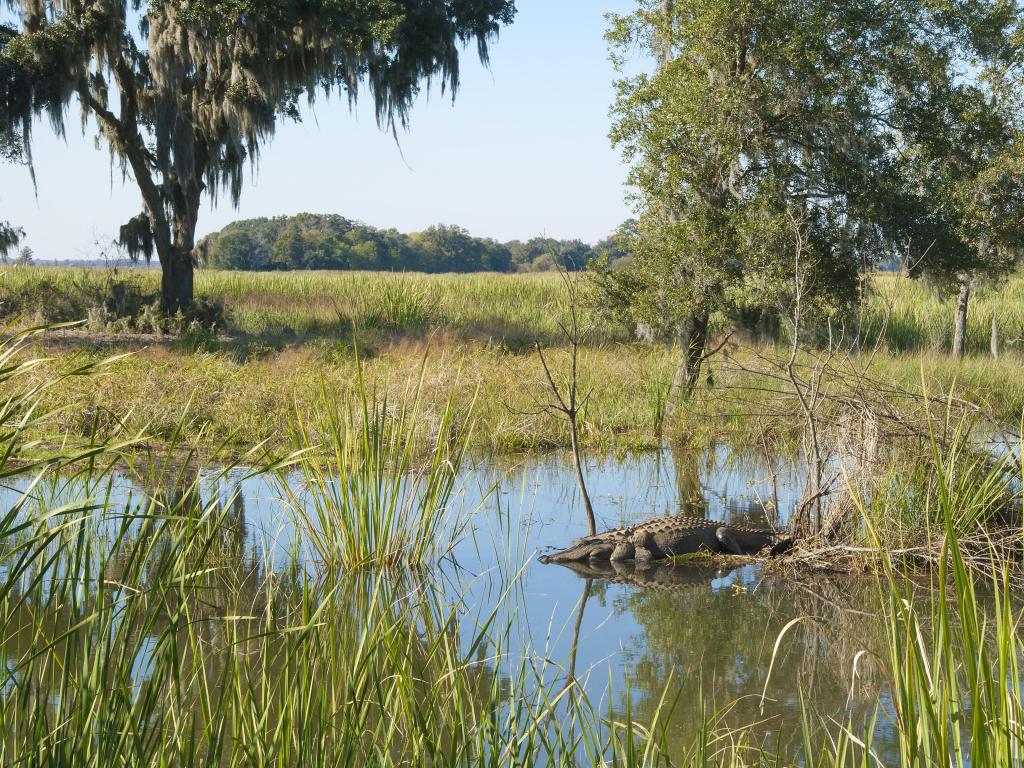 Best time to go on a road trip from Orlando, Florida to Niagara Falls
Niagara Falls is at its most enjoyable during the warmer months, when the waterfall's mist cools down the surrounding area and allows travelers to enjoy this natural wonder without having to layer up.
However, these mesmerizing falls are beautiful year-round, and the surrounding town full of casinos and restaurants provides ample opportunities for entertainment in all weathers.
Summer is the busiest tourism season in Niagara Falls, when accommodation and attraction prices are at their peak. Niagara Falls enjoys comfortable temperatures between June and August, ranging from 75 degrees to 81 degrees Fahrenheit.
Visitors can expect sunny weather with occasional mild storms, as well as a certain amount of heat and humidity which is relieved by the mist of the Falls. Summer is also this area's busiest festival season, with events like the Lockport Food Fest and Lewiston Art Festival.
Winters in Niagara Falls are generally quite cold, with daily high temperatures ranging between 30 and 36 degrees. Make sure to bundle up, as arctic high pressure dominates this town in the winter months.
Spring and fall are good times to visit Niagara Falls, during which there are a variety of events and festivals, with milder weather. Daily temperatures in spring range from 41 to 66 degrees, while in the fall months they range from 46 to 72 degrees.
Niagara Falls and its surrounding region offers tons of festivals and events year-round, but summer is certainly the busiest festival season, bringing the Annual Summer Show at the Floral Showhouse, the Niagara Jazz Festival in nearby St. Catherine's and the Music Niagara Festival.
The Niagara Falls Blues and Niagara Celtic Heritage Festivals take place in early-fall, while spring brings the SEAsonings - Taste of Niagara food festival and Spring Arts Festival.
Finally, winter offers tons of outdoor and indoor activities including the Niagara-on-the-Lake Icewine Celebration and the Angelfest, where visitors can follow the Angel Trail of Lights and visit Niagara's signature wineries.