28 Best Road Trips from Sacramento
This Californian capital on the American and Sacramento Rivers was founded shortly after the Gold Rush and keeps some of that Old West charm. At the same time, Sacramento has a lively and cosmopolitan feel thanks to its multicultural neighborhoods and proximity to the San Francisco Bay Area.
People here enjoy excellent flavors from around the world and many opportunities to get out and be active along the rivers and in the surrounding parks. Another great feature of Sacramento is how close it is to an astounding diversity of road trip worthy destinations.
We think these are the 28 best road trips from Sacramento. Head east into the ever-exciting Sierra Nevada Mountains, wander west to Wine Country and the coast or visit a state you've never been to before to visit epic landmarks.
Scroll and read on to see which of these exhilarating trips around California and beyond is the right one for you.
Best road trips from Sacramento
Day trips (under 3 hours each way)
A short drive from Sacramento you can find yourself in a whole variety of settings, from the high Sierras to the sands of the Pacific coast. Here are some suggestions for how you can make the most of a free day.
1. Folsom Lake State Recreation Area and Granite Bay
40 minutes from Sacramento (30 miles)
Why you should visit: Folsom Lake covers 30 square miles and is the most accessible and scenic Sierra Nevada foothill destination from Sacramento.
Whether you simply want to picnic, hike, and swim for a day or camp overnight, the Folsom Lake Recreation Area is full of enlivening, outdoorsy activities.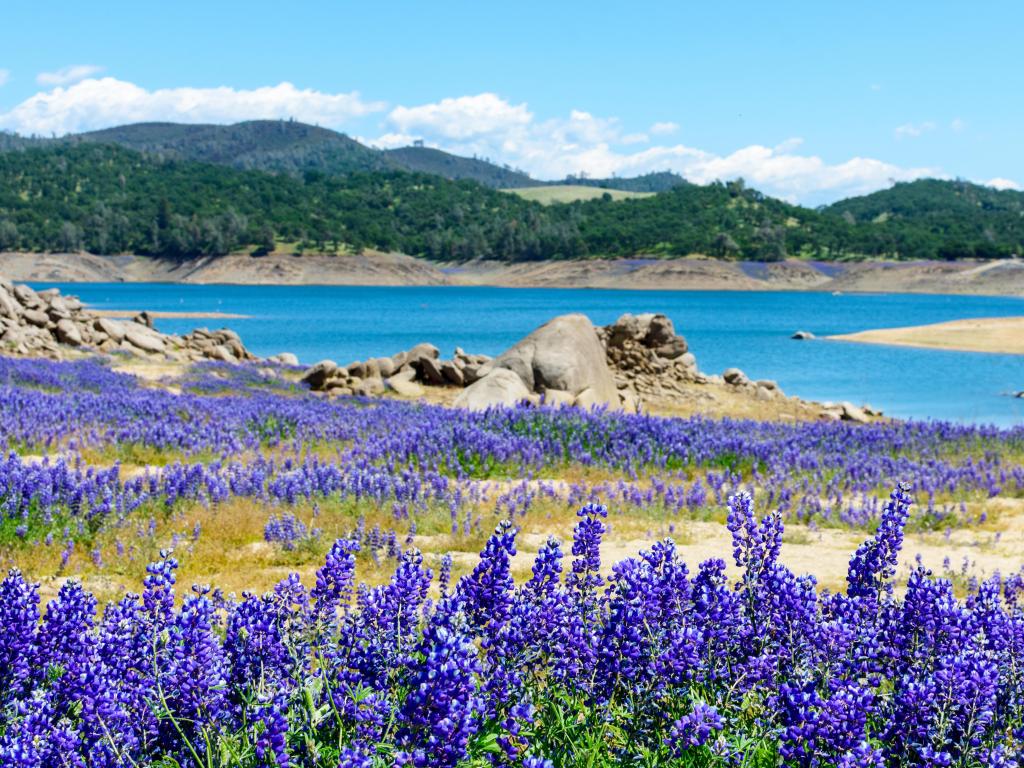 How to get there: Take CA Highway 160 North to Interstate 80 East. Once you get to Roseville, take the Douglas Blvd exit and follow that for 6 miles to the Granite Bay Entrance to Folsom Lake.
Our highlights: For a sunny day on a freshwater beach, go no further than the Granite Bay Main Beach, with its long sandy shores, dotted with oaks, and ample picnic bench areas. Especially in the dry heat of summer, there's nothing more refreshing than a dip in the lake.
To enjoy the views from the middle of the lake, with 75 miles of shoreline to explore, consider renting a boat from one of the agencies near the Granite Bay boat launch site. Cruising the waters on a pontoon with great company is a fun day out you won't soon forget.
Some of the better hiking, with longer trails and hilltop views, can be found on the eastern side of the lake, about a 16-mile drive south, then east, from Granite Bay. Close to Arroyo Vista and Zee Estates, you can find the Monta Vista, Sweetwater, and South Fork American River Trailheads.
If you wish to answer the call to adventure, drive 30 miles east from Granite Bay, along the scenic Salmon Falls Road, to Pilot Hill. Between there and Colma, there is a slew of river rafting rental and tour operators. Few things are more exciting than hitting the rapids and feeling the cool splashes of water on a sweltering day.
Our travel tips: If you want to rent a boat or go river rafting further east contact an agency to make arrangements beforehand.
Be sure to bring plenty of water and stay hydrated on the trails, there aren't many places to refill water bottles.
2. Stockton
50 minutes from Sacramento (50 miles)
Why you should visit: Stockton is an often-overlooked town in California's Central Valley that has a layered history along with great museums and dining options.
Whether you feel like taking in the arts, admiring the colorful statue at a Cambodian Buddhist temple, or exploring a happening downtown, Stockton will have something in store for you.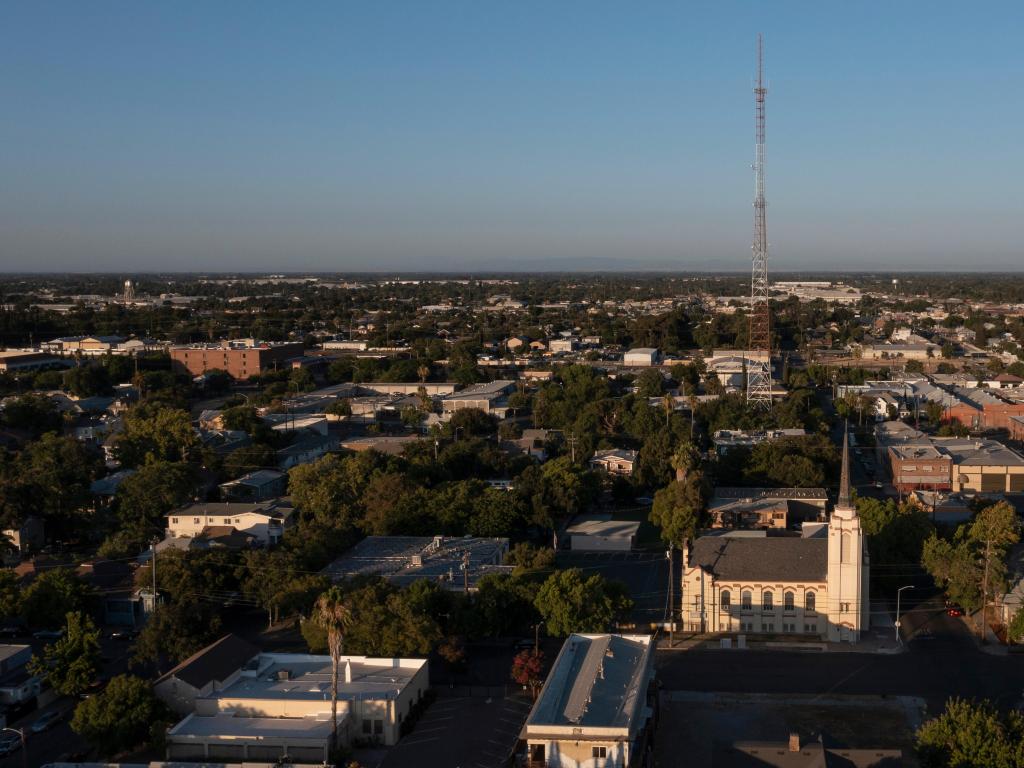 How to get there: Sacramento is connected directly with Stockton via Interstate 5 South. If you would like to stop by Lodi and sample some wine, take CA Highway 99 south towards Stockton and hop off the freeway in Lodi, this only adds 15 minutes of driving to the trip.
Our highlights: In Stockton, stroll through the pleasant Victory Park and visit the Haggin Museum, which houses a surprisingly varied collection featuring the illustrations of J. C. Leyendecker and paintings by more well-known artists like Jean-Leon Gerome and Renoir.
Catch a performance at the Bob Hope Theater, one of several beautifully restored Fox Theaters across America. You can also tour the venue during the day to learn more about its storied past and admire the ornate architecture.
Along Pacific Avenue downtown, you'll find a tempting array of restaurants, taprooms, and gastropubs to choose from, whether you feel like authentic Thai or finger-licking BBQ, you can't leave Stockton on an empty stomach.
If you head back to Sacramento on Highway 99, stop by Lodi to get a taste of this town's burgeoning wine scene. A helpful place to start is the Lodi Wine Visitor Center in the north of town, near the lovely Lodi Lake, which is also worth a stop on a longer overnight trip.
Bonus: Stockton is home to the oldest university in California, the University of the Pacific, which was opened in 1851. You can tour their large and beautiful campus during your trip.
3. Placerville and Apple Hill
1 hour from Sacramento (50 miles)
Why you should visit: Being in the heart of California Gold Country, Placerville is a great place to step back in time and enjoy life at a different pace.
A veritable Eden, Apple Hill is surrounded by orchards and wineries, making it an especially charming trip to do in the fall harvest season.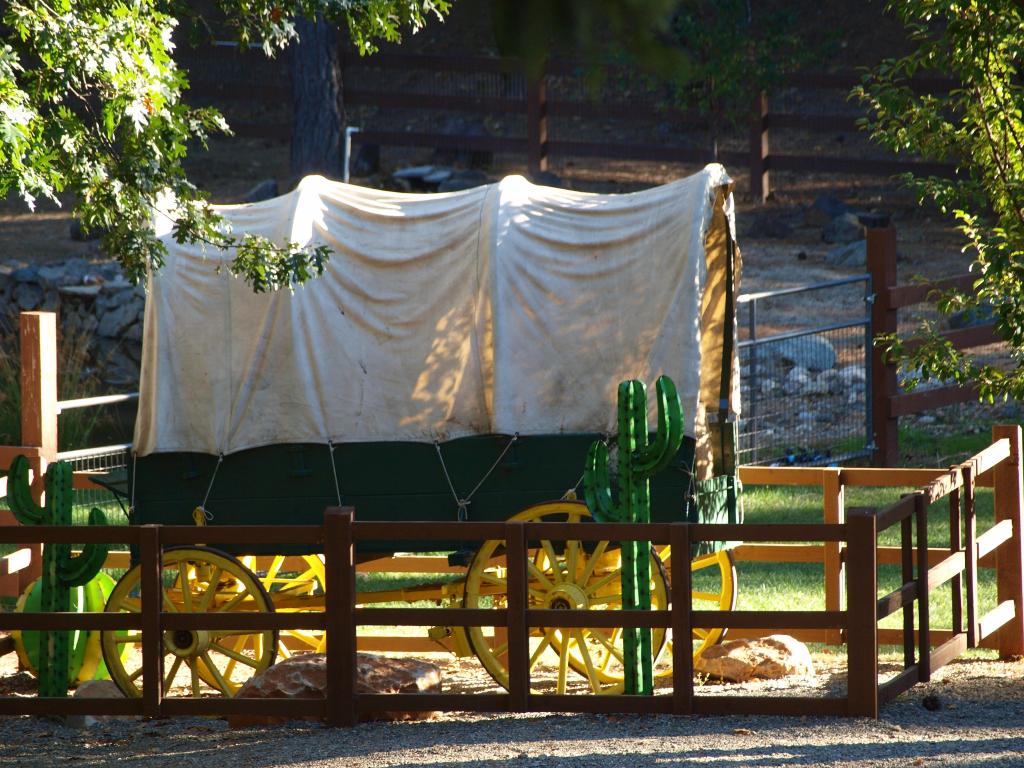 How to get there: From Sacramento, take US Highway 50 East all the way to Placerville. From there, follow the El Dorado Highway to Apple Hill.
Our highlights: At Gold Bug Park and Mine you can get a sense of historic Placerville, formerly known as "Hangtown", during its heyday following the 1849 Gold Rush. The park is developed around a real gold mine that you can tour underground. There is also a museum and a working blacksmith on site.
Leave time to walk the main drag of Placerville's downtown, which oozes that rustic, old town California charm. Behind all those brick and stucco 19th-century facades, lay wonderful restaurants, boutique stores, and tasting rooms.
Over in Apple Hill, savor an afternoon tasting local wines at Boeger, Lava Cap, and Bumgarner wineries. These wineries set in the rolling foothills of the Sierras have grounds and tasting rooms that can rival the beauty of those in Sonoma and Napa to the west.
If you come to Apple Hill during the right season, you can pick your own apples, persimmons, plums, and cherries at any number of roadside orchards. If you're on the move, stop to get some fresh fruit and veggies for home at Boa Vista Orchards, which is open in all seasons and has a wide selection.
Set behind Apple Hill another 15 miles deeper into the hills is Eldorado National Forest, which has some stunning trails and over 80 campgrounds, in case you wanted to spend some more time in nature.
Bonus: Back in 1854, "Hangtown" was larger than Sacramento and San Francisco, thanks to the influx of miners, traders, and bandits that populated this Old West outpost during the Gold Rush Era. While the crowds may have gone, their imprints are etched all around the mountain town.
4. Nevada City and Empire Mine State Historic Park
1 hour 10 minutes from Sacramento (60 miles)
Why you should visit: An artistic river town surrounded by every shade of green, a trip to Nevada City can't help but leave you feeling refreshed.
In addition to some truly delectable restaurants in the historic downtown you'll find gorgeous hiking trails and historic mines to learn more about the area's Gold Rush roots.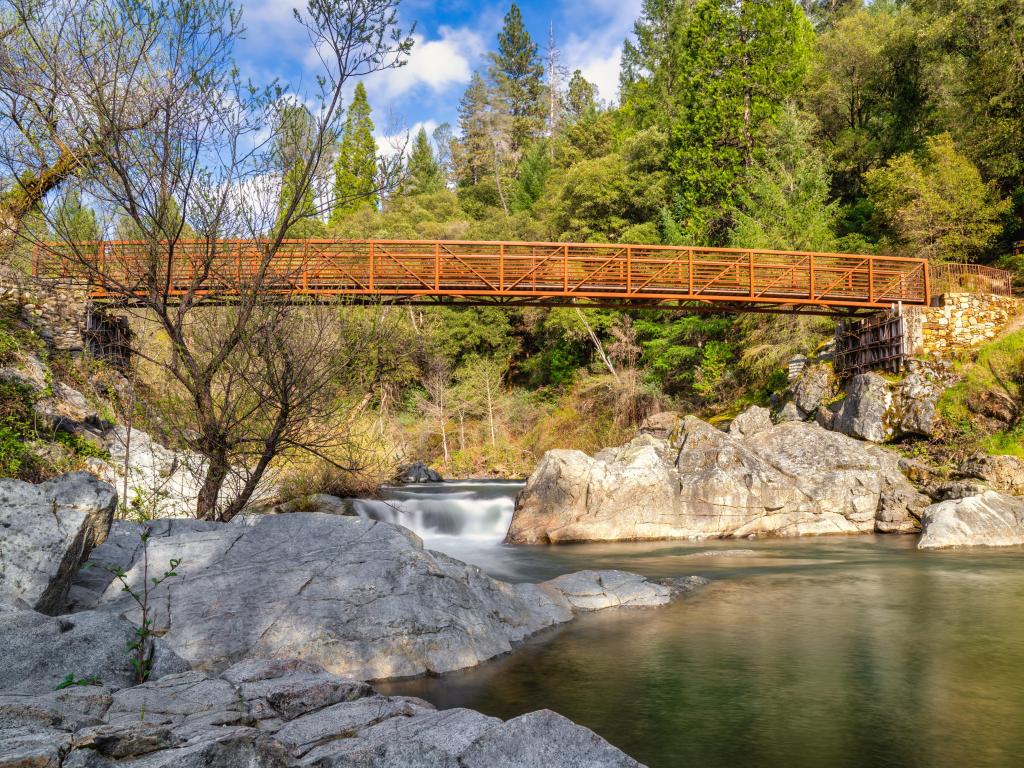 How to get there: From Sacramento, drive east on Interstate 80 to Auburn, then hop on CA Highway 49 North. You'll pass the Empire Mine a few miles before you get to Nevada City.
Our highlights: Nevada City is often voted as one of the prettiest small towns in California. So, once you get here, unwind from the drive with a walk down Broad Street and the quaint downtown. In addition to boutique stores and local restaurants, see if anything is happening in the Miner's Foundry Cultural Center.
Not far from town, you can get a taste of the beautiful wilderness which surrounds Nevada City at the Deer Creek trail or one of the hikes around Hirschman's Pond.
Especially if you visit during the spring or early summer, a stop by Crystal Hermitage Gardens never fails to enchant. The imaginative landscaping and impressive diversity of tulips and other blossoms heralds the bright season like few other places.
For a slice of local history as well as insights into the engineering marvels of the 19th century, be sure to visit the Nevada County Narrow Gauge Railroad Museum. Here dedicated staff will guide you through all the infrastructure that mining brought to this isolated area over 170 years ago.
Both below and above ground, Empire Mine State Historic Park has plenty to dazzle its visitors. One of the oldest and richest gold mines in California, fully operational between 1850 and 1956, the mine is now a living history museum where you can take tours of the mine shafts.
Bonus: Empire mines produced 165 tons of gold during the century of its operation, that's heavier than a blue whale!
5. Vallejo and San Pablo Bay
1 hour 10 minutes from Sacramento (60 miles)
Why you should visit: This naval city strategically perched between the San Francisco Bay and Sacramento River Delta region has more to it than you might expect.
Beyond the adrenaline-pumping roller coasters of Six Flags Amusement Park, Vallejo has historical curiosities, cultural vibrancy, and is a stone's throw away from the peaceful beauty of the San Pablo Bay wetlands.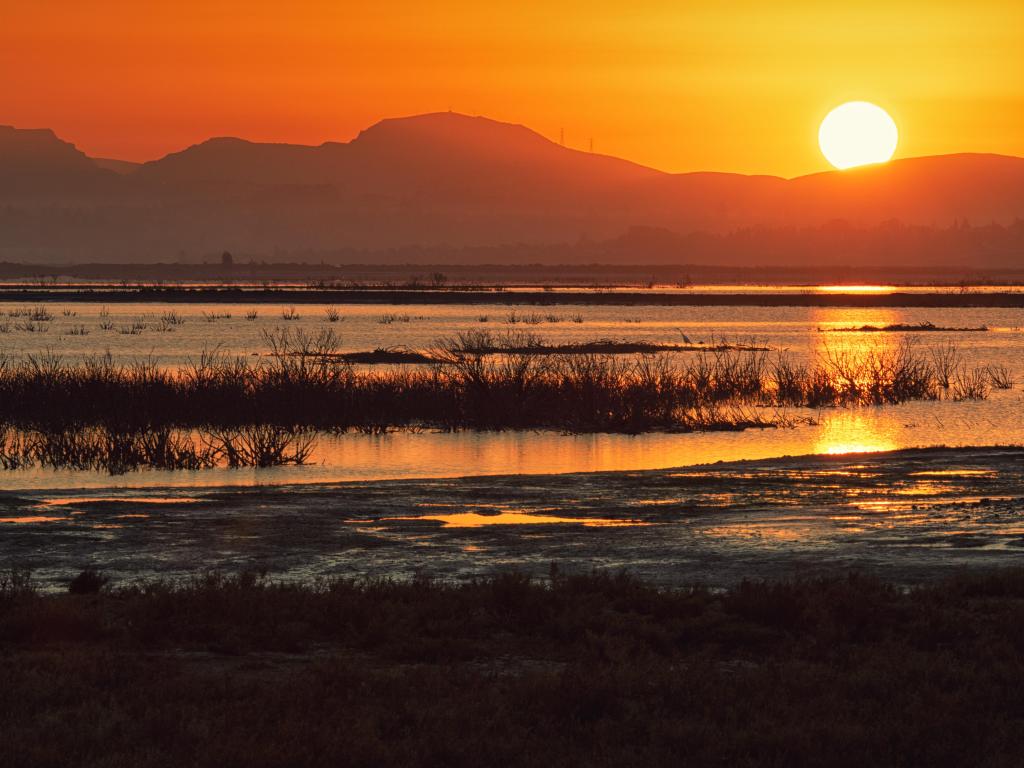 How to get there: To get to Vallejo, head west on Interstate 80. To get from there to the San Pablo Bay National Wildlife Refuge, hop on California Highway 37.
Our highlights: Vallejo has a long naval history, being strategically located along San Pablo Bay. Any military history buffs will want to check out the Vallejo Naval & Historical Museum in the old City Hall building downtown as well as take a tour of the Landing Craft, a retired WWII ship docked on nearby Mare Island.
Bibliophiles will be in for a treat. At the McCune Collection, housed in the JFK Library, you can peruse their array of antique books and prints as well as pick them up and feel the craftsmanship with your own hands.
From rare first editions of Shakespeare and Euclid to the highly ornate Kelmscott edition of the "Works of Geoffrey Chaucer" you will come away with a whole new reverence for the printed word.
The restored 1911 Empress Theater is a beloved local landmark and intimate music venue in Vallejo, perfect for a night out. From world-class musicians to local plays, there's a wide variety of acts that come through here so check their calendar while planning your trip.
Explore the serene estuary where the Napa River Meets the San Pablo Bay at Cullinan Ranch, near the San Pablo Bay National Wildlife Refuge. Long, flat trails, meandering through marshes, and dozens of waterfowl will delight birdwatchers.
Bonus: The Grammy and Oscar winning R&B singer H.E.R. was born and raised in Vallejo. Being of Black and Filipino heritage, some of her earliest performances were at the Vallejo Pista Sa Nayon Festival held every June during the Philippine Cultural Month.
Whether you'll see the next wunderkind of American music or not, the Chicken Adobo and Lumpia are reasons enough to visit Vallejo during June.
6. Napa and Sonoma
1 hour 30 minutes from Sacramento (70 miles)
Why you should visit: Life has few more relaxing or romantic treats than a trip to the California Wine Country. With a Tuscan-like paradise of golden hills and ruby wines less than a two-hour drive away, what's keeping you from heading out this weekend?
How to get there: Navigate to Interstate 80 and head west until you get to Cordelia, where you'll change over to CA Highway 12 (CA-12). Follow this west, then head north on CA Highway 121 to get to Napa.
From Napa, get back to CA-12 and drive west again until you reach the Napa Road Exit which will take you into Sonoma.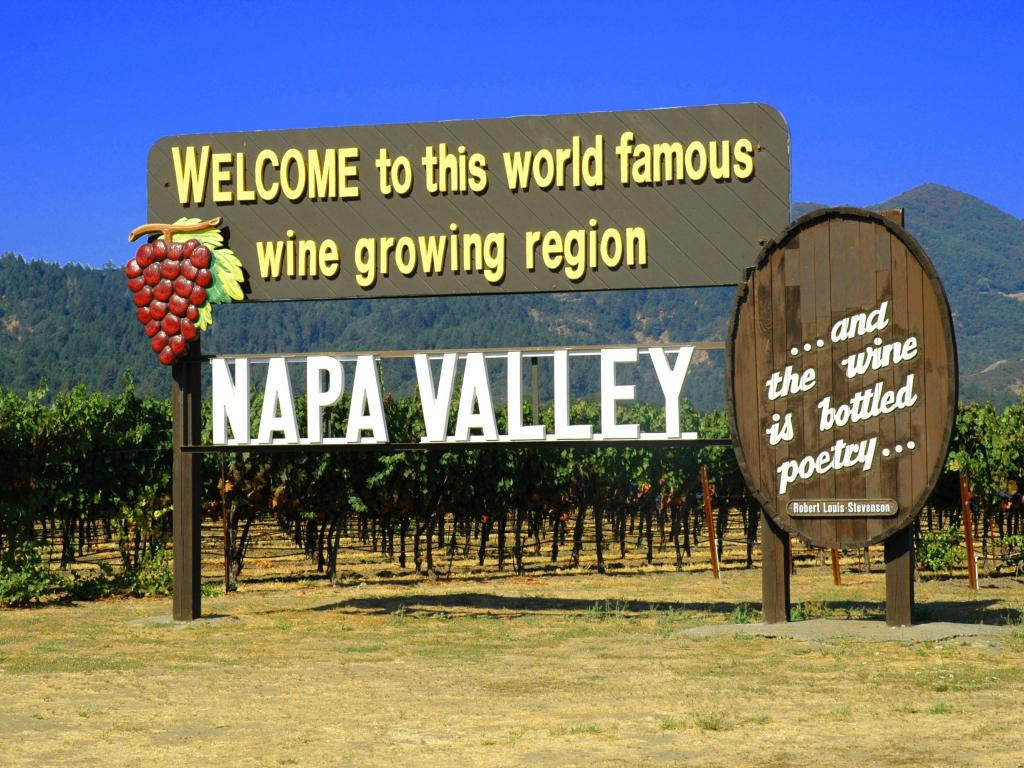 Our highlights: Napa Valley is home to countless world-renowned wineries, like Rutherford, set against a constellation of Michelin Star restaurants, such as the French Laundry. A wonderful way to see the scenic valley, and partake of its ample libations, is by boarding the Napa Valley Wine Train.
In case you'd like to continue dining on finely prepared preserves, virgin oils, cheeses, and other treats once you get home, fill a basket at the Oxbow Public Market. There are few places more unapologetically gourmand than Napa.
A little further west in Sonoma, there are even more wineries and award-winning, farm-to-table, restaurants to indulge in. St. Francis and Buena Vista are popular wineries and at Benziger you can take a Biodynamic Tractor Tram tour.
At the heart of downtown Sonoma, you'll find the historic Sonoma Plaza, which still has many features dating back to its 1835 founding by Spanish colonizers. At the nearby Mission San Francisco Solano, you can step back in time while admiring the mission-style architecture.
Bonus: If you have a bit more time to pamper yourself in Napa, head to one of the spas fed by natural hot springs in Calistoga.
Our travel tips: Because this is such a popular weekend getaway for people in the SF Bay Area, try to make this a mid-week trip if you can.
7. Donner and Sugar Bowl Resort
1 hour 30 minutes from Sacramento (90 miles)
Why you should visit: A suitable place for summer exploration and skiing alike, this mountain pass also has some grisly history. Visit the site where the Donner Party battled a brutal winter then head to the mountains or lake for a more amenable experience of the surrounding wilderness.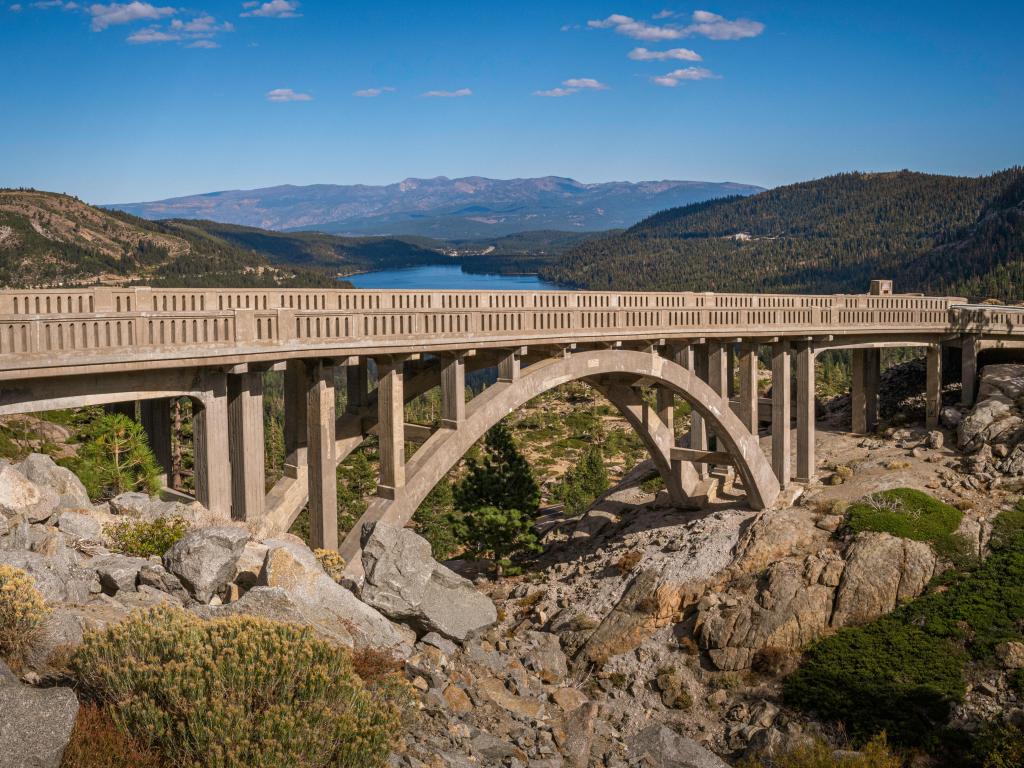 How to get there: Driving east of Sacramento, take Interstate 80 for most of the journey. Near Soda Springs, take the Donner Pass Road Exit to get to the Sugar Bowl Resort in Norden, and a few miles further you'll get to Donner Pass, Donner Lake, and Donner Memorial State Park.
Our highlights: The view after the Donner Summit Bridge is so incredible that they have built a pullout for visitors to park and admire it for a little while longer. Aside from the view as you arrive at Lake Tahoe itself, which is only 20 miles away, this is one of the grandest views in the Sierras.
Hike the moderately challenging trail to Donner Peak. Despite the macabre associations of the word "Donner", this hike offers stupendous views of the surrounding forests, mountains and alpine lakes from the summit. Closer to the lake there is another gorgeous trailhead called Donner Summit Canyon.
At the Donner Memorial State Park, you can see the site where the Donner party built three cabins to spend the winter as well as the small Emigrant Trail Museum about these early settlers.
Aside from the historical significance of the site, there are miles of trails, camping sites, and accessible beaches along Donner Lake. You can even rent a kayak or jet ski in the warmer months to have some fun on the water.
A legendary resort amongst West Coast skiers for its variety of slopes, Sugar Bowl receives up to 500 inches of powdery snow every year. It has challenging runs for expert skiers and snowboarders as well as friendly instructors for those who want to finally give snow sports a try.
Bonus: Donner, CA and the surrounding Lake, Peak, and Pass are named for the ill-fated Donner Party who headed west from Illinois in 1846 to the more fertile ground in California. The group was stuck in this part of the Sierras during a harsh winter and only 48 of the original 87 emigrants survived.
Our travel tips: The slopes of Sugar Bowl Resort are usually open from late November to mid-April.
Donner Lake is a great alternative to Lake Tahoe for those who mostly want to have fun in the great outdoors without the crowds and competitive pricing. Nearby Truckee is a rustic town to stay in.
8. San Francisco and Golden Gate
1 hour 50 minutes from Sacramento (100 miles)
Why you should visit: Full of landmarks, innovative culinary outlets, enclaves of artists, and pleasant parks, this city in the fog is known simply as "The City" to everyone in the SF Bay Area.
The colorful and iconic neighborhoods of San Francisco are spread out over a hilly peninsula which makes exploring them all the more fun.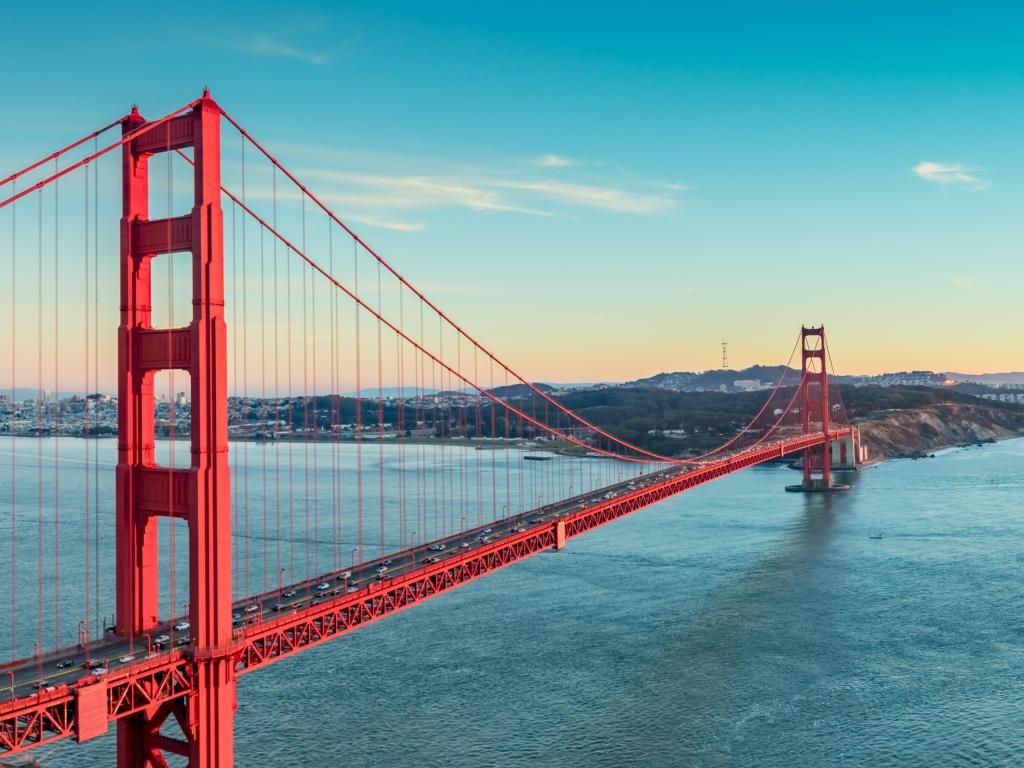 How to get there: From Sacramento, take Interstate 80 (I-80) West towards Vallejo and Richmond, merge briefly with Interstate 580, and then continue across the Bay Bridge/I-80 to get to San Francisco.
Follow US Highway 101 North across the Golden Gate Bridge to get to the Marin Headlands and an incredible viewing point for the bridge.
Our highlights: One of San Francisco's most treasured attractions is Golden Gate Park. Home to the award-winning DeYoung Museum, California Academy of Sciences, and Japanese Tea Gardens, the entire park is beautifully landscaped, and you can meander its paths all the way to a historic windmill and catch a sunset at Ocean Beach.
Another great place to start is along San Francisco's waterfront known as the Embarcadero, which stretches along the shore of the bay north of the Bay Bridge.
Here you will find the glistening, white Ferry building which has been converted into a gourmet market, you can take a ferry to Alcatraz, or simply walk along the piers all the way to the famous Pier 39.
If you'd like to see a classic row of colorful Victorian homes that San Francisco is famous for, head to the Haight-Ashbury neighborhood near Golden Gate Park and admire the "painted ladies".
In addition to rows of colorful homes, this neighborhood is known for its relics of being a counter-cultural hot spot during the 60s, when the likes of Janis Joplin and the Grateful Dead could be spotted on the street or in a nearby club.
Across the Golden Gate Bridge, a stunning coastal hike awaits you at the Marin Headlands and Golden Gate National Recreation Area. Here you will get that classic view of the rust-colored bridge set against the developed hills of San Francisco, as long as the fog hasn't rolled in.
Bonus: One of the city's most famous and beloved landmarks is Coit Tower, which was built in 1933 as a monument to firefighters who lost their lives battling several great blazes.
The tower is perched atop Telegraph Hill in Pioneer Park, which is also one of the greatest panoramic viewpoints in the entire city.
Our travel tips: Remember to check the traffic before you leave and try to avoid both morning and evening commute times by making this trip on the weekend.
Driving in SF can be a hassle, so consider parking your car in a garage and seeing the town on foot or the famous cable cars.
Check a local calendar before you go as San Francisco has many great festivals and city-wide events, like the funky Bay to Breakers anything-goes "race" and the Hardly Strictly Bluegrass Festival in Golden Gate Park.
9. Clear Lake and Clear Lake State Park
2 hours from Sacramento (110 miles)
Why you should visit: With 68 square miles of freshwater surrounded by oak-studded hills, Clear Lake is particularly inviting during the warmer months.
Whether you prefer to stay on land hiking and mountain biking or hit the lake for a fishing trip, there's no shortage of outdoor activities to do around Clear Lake.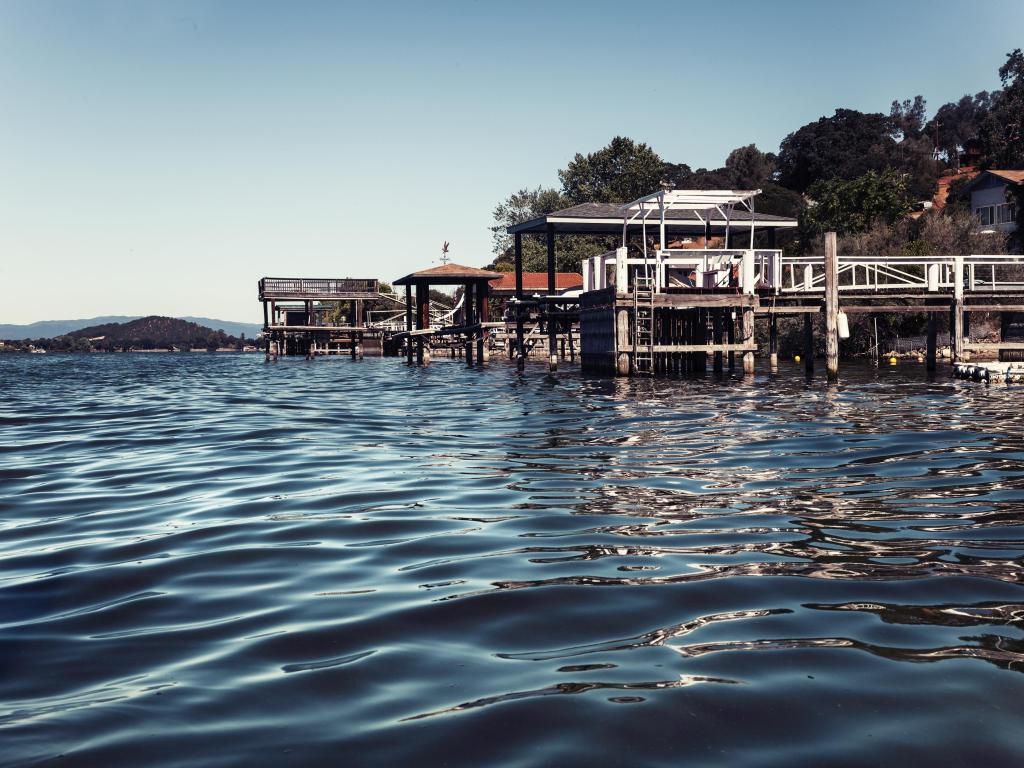 How to get there: Navigate to Interstate 5 and drive north until you get to CA Highway 20. Take this west until you reach CA Route 53 South which will take you to the Town of Clear Lake.
To get to the state park get back on CA-53 South until you find CA Route 29 north, which will take you to Kelseyville and Gaddy Lane which leads to Clear Lake State Park.
Our highlights: On the southern end of Clear Lake, you'll find two sites of historical interest: Anderson Marsh State Historical Park and Lower Lake Historic Schoolhouse Museum. These treasure troves of local history are located within a mile of one another so it would be easy to visit both on a morning or afternoon outing.
An unexpected treat near Clear Lake is several small wineries. In Twin Lakes you can visit Fults Family Vineyards and outside of Kelseyville, there is a cluster of vineyards and wineries where you can spend a whole afternoon tasting in a rustic setting.
Redbud Park has a cute wooden pier that is a popular fishing spot. Largemouth bass, carp, and catfish are some of the common catches on the lake.
Over at Clear Lake State Park, you can swim, kayak, hike, and explore the area any way you can think of. There are campgrounds and picnic tables near the shore, as well as maintained trails that stretch into the surrounding hills. See the state park website for reservations.
Bonus: Clear Lake is the oldest lake in the US and has been here for an estimated 2.5 million years.
Our travel tips: Due to drought and invasive algae blooms, it is best to visit Clear Lake in the spring, after the area has been replenished by winter rains. In the high heat of the summer the algae make the water murky.
10. Bodega Bay
2 hours 10 minutes from Sacramento (110 miles)
Why you should visit: This small coastal enclave mixes quaint East Coast fishing village vibes with unmistakably Californian charms.
In addition to historic buildings and nearby Sonoma wineries, Bodega Bay offers many ways to get out and breathe the fresh ocean air along its scenic trails or a whale-watching pontoon.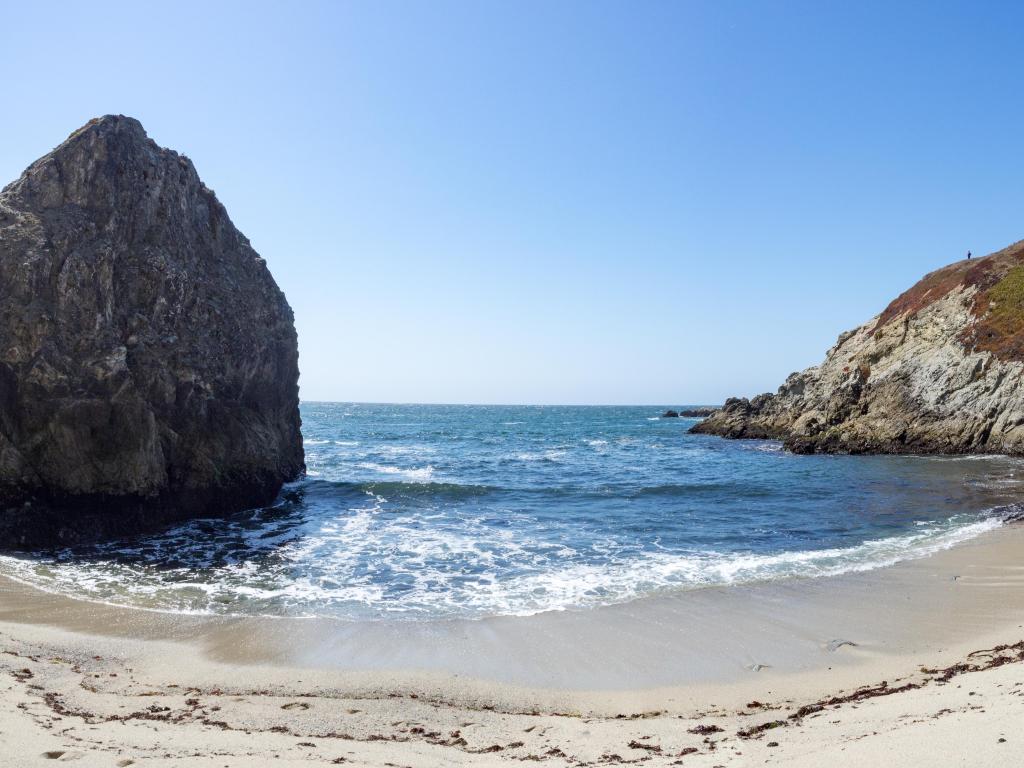 How to get there: From Sacramento, take Interstate 80 West until Vallejo, where you'll hop briefly on CA Highway 37 West on your way to Lakeville Highway in Sears Point.
Navigate to Bodega Avenue in Petaluma, which will take you to Valley Ford Road, then CA Highway 1 North, which finally leads to Bodega Bay.
Our highlights: Along the golden hills and rocky cliffs surrounding Bodega Bay, you can enjoy the serene vistas of the Sonoma Coast. One of the area's most beloved hikes is along the Bodega Head, a small and rocky peninsula covered with coastal grasses and ice plants with trails.
If you didn't know that Bodega Bay started out as a fishing enclave before you came, you certainly will by the time you leave. The catch of the day couldn't be any fresher at the Spud Point Crab Company and Fishetarian Fish Market, two acclaimed seafood restaurants in town.
There's no better vantage point to admire the rugged coastal beauty and colorful historic buildings of Bodega Bay than upon the calm waters of the bay itself, which are protected from more forceful coastal currents.
Kayaking is popular here, as are sailing, fishing trips, and whale-watching trips on chartered boats. There is a wide range of rental facilities, instructors, and tour operators in town.
As if a weekend by the ocean couldn't get any more relaxing, you'll also find vineyards and wineries making good use of Sonoma's fertile soils to produce some memorable vintages. The Pinot Noir at the Sonoma Coast Vineyards is a nice choice, and pairs well with those dramatic views over the Pacific Ocean.
Bonus: Bodega Bay is most well known as the town where Alfred Hitchcock's 1963 "Birds" was filmed. The Schoolhouse on Bodega Lane, originally built in 1873, is one of the iconic buildings where the avian thriller was set.
Though it is currently a private residence, you can still get a glance of it from the street at a respectful distance.
Our travel tips: In the late winter and early spring, gray whales migrate from Mexico to Alaska and Bodega Bay is one of the best places to spot them on their journey.
11. Lake Tahoe
2 hours from Sacramento (115 miles)
Why you should visit: This pristine alpine lake surrounded by pines and the Sierra mountains is synonymous with weekend adventure for Northern California residents.
One of the great attractions of Lake Tahoe is that it offers a variety of activities and breathtaking vistas no matter which season you visit.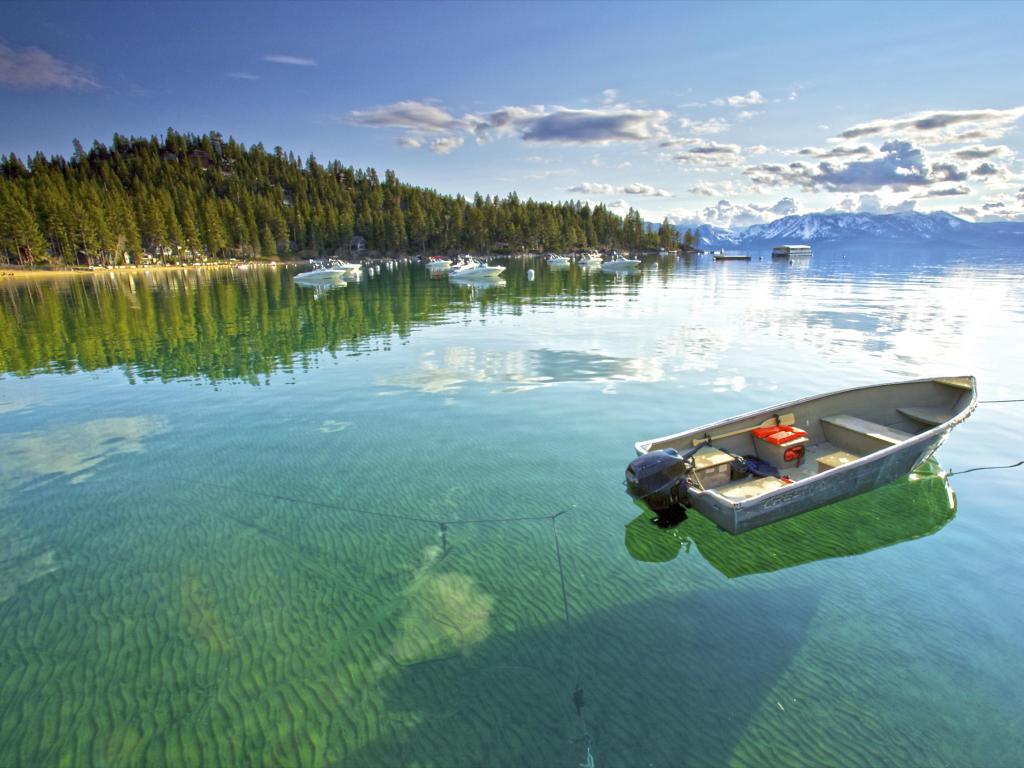 How to get there: Take Interstate 80 East for most of the trip, hopping on CA highway 89 South to get to Tahoe City. If you'd like to include Emerald Bay State Park on this visit, it is another 15 miles south on CA 89 from Tahoe City.
The main route goes to north Lake Tahoe. Alternatively, you could take scenic CA Highway 89 South to US Route 50 to get to South Lake Tahoe from Tahoe City.
If you'd like to go directly to South Lake Tahoe from Sacramento, you can take US Route 50 all the way there. South Lake Tahoe is more built up and boasts more casinos than the north.
Our highlights: Between the north and the south areas of the lake you'll find Emerald Bay State Park. The trail to Emerald Point is regarded as one of the most scenic around the entire Lake Tahoe Area and the popular Rubicon Trail is also within this state park.
Near Emerald Bay you'll also have a chance to wander around the historic Vikingsholm Castle, a 1929 mansion built entirely from locally sourced stone.
Also on the west side of the lake, you can find many rewarding trailheads and lookout points along Highway 89. The hikes along the Cascade Falls Trail, Eagle Rock Trail and Bayview Trail take you up into the granite mountains surrounding Lake Tahoe and offer stunning views.
In case the weather or mobility issues are keeping you from the hiking trails, another way to get a breathtaking view of the lake is by riding the Gondola at Heavenly Resort. Before it reaches the very top of its route, get off at the observation deck to marvel at the beauty of Lake Tahoe.
Tempting beaches line the shores of Lake Tahoe where you can truly unwind and even go for a refreshing swim in the summer months. In the South you'll find Pope, Lakeside, and Kiva beaches; while in the north there's Commons Beach Park, Secret Cove, and Sand Harbor.
Then there are winter sports. If you are planning a winter trip to Lake Tahoe and just can't wait to shred that powder, world-class slopes await you at Northstar, Palisades Tahoe and Sugar Bowl, which gets up to 500 inches of snow each season.
Bonus: Scenic Lake Tahoe has served as the background for several movies, including "Top Gun: Maverick", "The Godfather Part II", "The Bodyguard", and "Into the Wild".
Our travel tips: If you plan to visit for the snow, be sure to have chains on hand for the icy passes leading to Tahoe and check for any road closures before you depart. Try to visit during the week to avoid crowds.
READ MORE - Road Trip from Sacramento to Lake Tahoe
12. Santa Cruz and Capitola
2 hours 40 minutes from Sacramento (150 miles)
Why you should visit: Famous for its laid-back surfing culture and lively Boardwalk, Santa Cruz and Capitola have something in store for every kind of beachgoer.
In addition to being a prime summer destination, the windy drive to the coast through the gorgeous Santa Cruz mountains is an adventure in itself.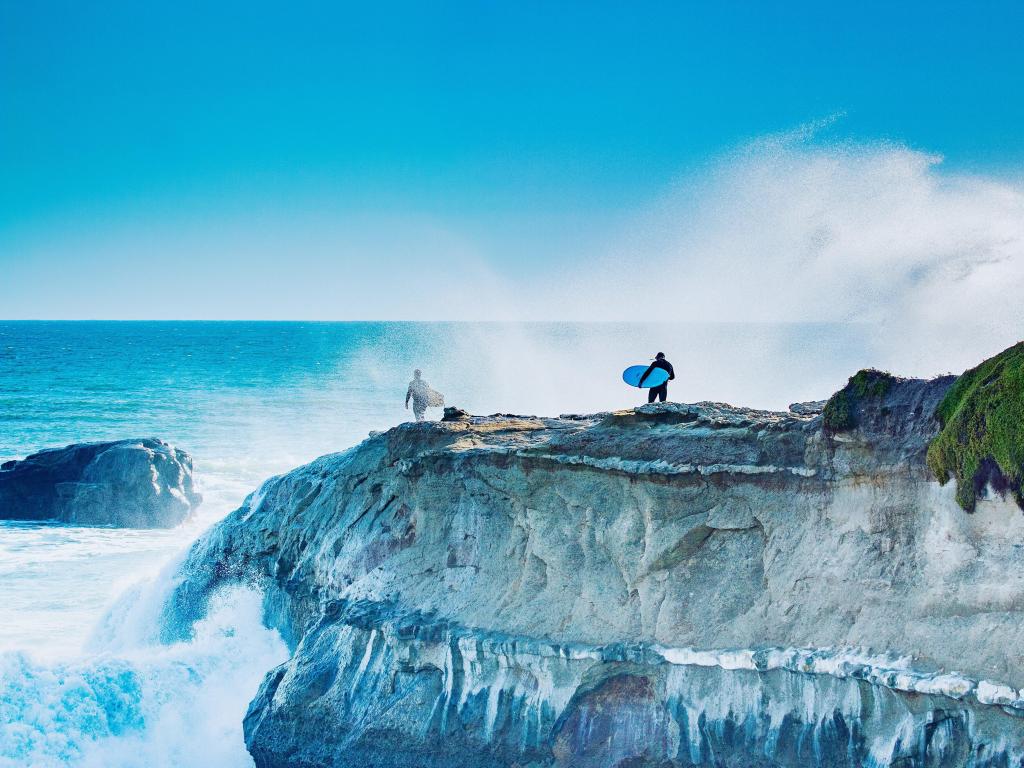 How to get there: Drive west on Interstate 80 until you reach Cordelia, where you'll start heading south on Interstate 680. In the Warm Springs District, changeover to Interstate 880 South, then take CA Highway 17 through the mountains to Santa Cruz. From there, drive south to get to Capitola.
Our highlights: Once you reach Santa Cruz, take the scenic West Cliff Drive along the misty coast to Steamer Lane, an iconic surf spot near the birthplace of mainland surfing.
Rent a board, and a wetsuit, to catch a few waves in the chilly Pacific waters or stay dry and admire the history of the sport at the Santa Cruz Surfing Museum, housed inside a classic lighthouse.
Channel your inner child and run wild at the Santa Cruz Main Beach and Boardwalk. This is the oldest amusement park in California, perched right next to the ocean, so it has a historical and aesthetic value that few parks can match.
We still can't get enough of their signature ride, the Giant Dipper, which was built in 1924 and is the 5th oldest roller coaster in the country.
Santa Cruz abounds in evergreen forests, which carpet the hills all the way to the ocean. Henry Cowell Redwoods State Park is a bit inland but has a wonderful loop trail that most people should be able to handle.
For those who want to stretch their legs a bit more, keep along the San Lorenzo River and enjoy a bit more time enveloped in the serenity of the coastal redwoods. Stop at the Old Train Trestle Bridge along the way for a great photo op.
Santa Cruz is also a college town, which keeps it lively and gives it an edge. If you want a quainter coastal experience, head to nearby Capitola Beach. This tourist town has a wonderful sandy beach, lined with restaurants and terraces with pretty views.
Bonus: If you find it difficult to slow down, take a page from the banana slug's book. This beloved golden slug often spotted on the moist forest floor of the Pacific Northwest moves an average of 7.5 inches per minute, despite the largest ones being 10 inches long.
Our travel tips: Highway 17 through the Santa Cruz Mountains is notoriously curvy and often has limited visibility due to fog, so drive carefully.
Please check our comprehensive guide out to learn more about the beautiful beach of Santa Cruz to visit during your stay:
READ MORE - Our Guide to Santa Cruz Main Beach
13. Pinnacles National Park
2 hours 50 minutes from Sacramento (180 miles)
Why you should visit: One of the newest national parks, Pinnacles packs a lot into a relatively small 41.6 square miles. More and more people are flocking to this central Californian park to admire the spire-like "pinnacles" and catch a glimpse of the park's ample wildlife.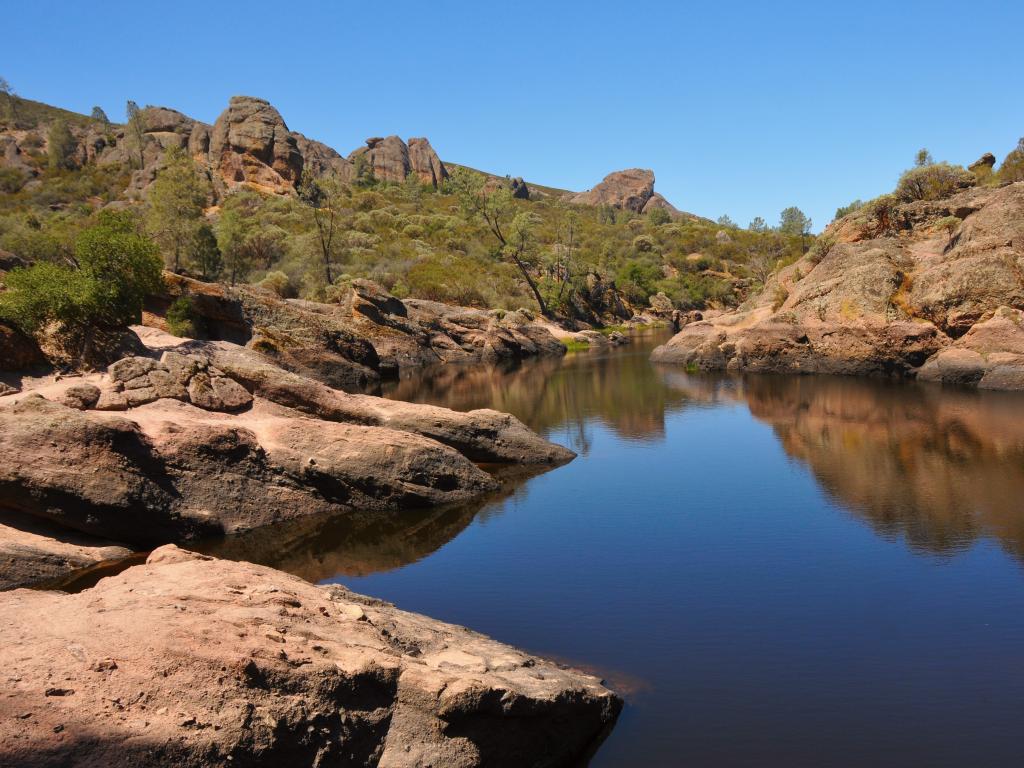 How to get there: Drive south on Interstate 5, then take CA Highway 152 west in Santa Nella, which connects with CA Highway 25 in Ridgemark. From there, continue driving south until you reach CA Highway 146 which leads to the eastern entrance of Pinnacles.
Our highlights: Pinnacles is home to many other wild critters that you can try to spot and photograph on your visit. The glistening arboreal salamander has some fancy polka dots and the captivating eyes of a bobcat are unforgettable.
Tread lightly and try to visit outside of the peak season for your best chances of seeing the wild inhabitants of this park going about their day.
There's something almost cinematic about the view as you reach Bear Gulch Reservoir; a still, man-made pond surrounded by rounded boulders and the arid chaparral. This hike is less than a mile from the day-use area, but sometimes the trail is narrow and moderately challenging.
One of the trails to the reservoir also goes to the Bear Gulch Cave, one of the most mysterious natural wonders of the park. This talus cave is formed from many boulders stacked upon one another, which lets the sunlight pour in here and there, making these caves especially photogenic. It's also home to a colony of big-eared bats and periodically closes to protect them, so check the park's website before visiting.
The Condor Gulch Trail offers some of the most sweeping views of the park's eponymous pinnacles. For a more challenging hike follow the signs for the High Peaks Trail leading off from the Condor Gulch Trail.
From the High Peaks area, you are most likely to see one of the area's most famous and cherished species, the California condor, which was once on the brink of extinction.
Bonus: Something for the amateur geologists: can you identify the five different kinds of igneous rocks in Pinnacles National Park?
The breccia, flow-branded Rhyolite, pumice lapilli tuff, perlite, dacite, and andesite spires you see in the park were formed by a volcanic field that was active in this area over 20 million years ago.
Our travel tips: Expect crowds on the weekends, it can even be difficult to find a parking spot. Try to visit during the week if you can.
It gets really hot here in the summer. The best time to experience the haunting beauty of the Pinnacles is spring or fall. Regardless of when you come, bring more water than you think you'll need.
The route we've given here takes you to the east entrance of the park and past its only maintained campground.
Click here to skip back to the top.
Weekend trips (3-5 hours each way)
The weekend is finally here, and you have time to venture a bit further from your daily route. We think these are some of the best places to spend a night away without having to do too much driving.
14. Yosemite National Park
3 hours 10 minutes from Sacramento (140 miles)
Why you should visit: This hallowed valley can't help but touch every heart that wanders through its granite walls, hollowed out over millennia by glaciers.
One of California's most visited national parks, with over 3 million visitors annually, Yosemite is filled with iconic formations like El Capitan, Half Dome, and Yosemite Falls.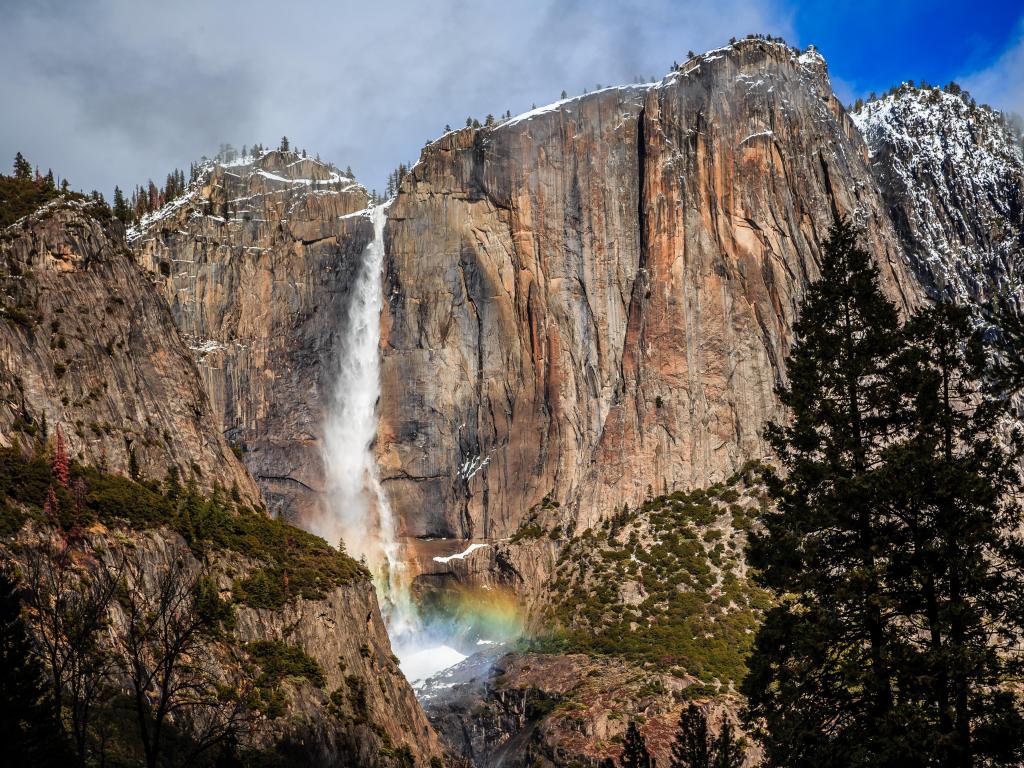 How to get there: From Sacramento drive east on CA Highway 16 towards Plymouth, then hop on scenic CA Highway 49 South, also known as the Golden Chain Highway, through Sutter Creek, until San Andreas.
Switch briefly on to CA Highway 4, then navigate to CA Highway 120 in Chinese Camp. CA-120 will take you through Groveland to Big Oak Flat Road and the entrance of Yosemite.
Our highlights: Groveland is an enjoyable pit stop on your way into Yosemite. Home to the Gateway Museum which details the lives of prospectors, pioneers, and wildlife prior to the park's establishment, Groveland also has an adorable main drag and some tasty dining options for you to enjoy a hearty meal before you're faced with more limited dining options in the park.
The number one activity in Yosemite is hiking, or simply walking around to take in the abundant natural beauty of its uncommon features.
There are trails for every skill level, one of the easiest and most rewarding being the 5.8-mile loop trail along the bottom of Yosemite Valley. Other hikes to stunning vantage points include the 2.2-mile trail to the top of Sentinel Dome and a 1.2-mile trail to Bridalveil Fall.
If you'd really like to break a sweat and get a bit deeper in the unique wilderness of Yosemite, hike the Mist Trail, a 7 mile roundtrip trek to Vernal and Nevada Falls. While this trail also goes all the way up to the iconic Half Dome, you'll need to get a permit first.
Yosemite even has redwoods! In the southern part of the park, you can visit Mariposa Grove. It is home to Yosemite's largest concentration of towering sequoias, including the Fallen Tunnel Tree. People used to be able to drive through this tree, which was over 2,000 years old by the time it tumbled over.
Bonus: There are spectacular sunsets in Yosemite Valley when the granite faces seem to be made of amber. From the El Capitan Picnic Area if you glance at the Horsetail Fall at the right hour, it will look like it's made from fire. The best times to catch this sunset "firefall" is during the late winter and early spring.
Our travel tips: Yosemite is attracting more and more visitors every year, so you'll need to make a reservation to drive into Yosemite during the peak summer months.
While the park is open and less crowded during the winter, Tioga Road and several other Sierra Mountain pass roads are closed.
15. Covelo and Mendocino National Forest
4 hours 30 minutes from Sacramento (180 miles)
Why you should visit: This is a trip far off the beaten path and into the expansive backcountry of under-explored Mendocino County.
If you like camping, backpacking, riding ATVs, fishing, and hunting, all with fewer crowds than more accessible parks and reserves, then Mendocino National Forest is the place for you!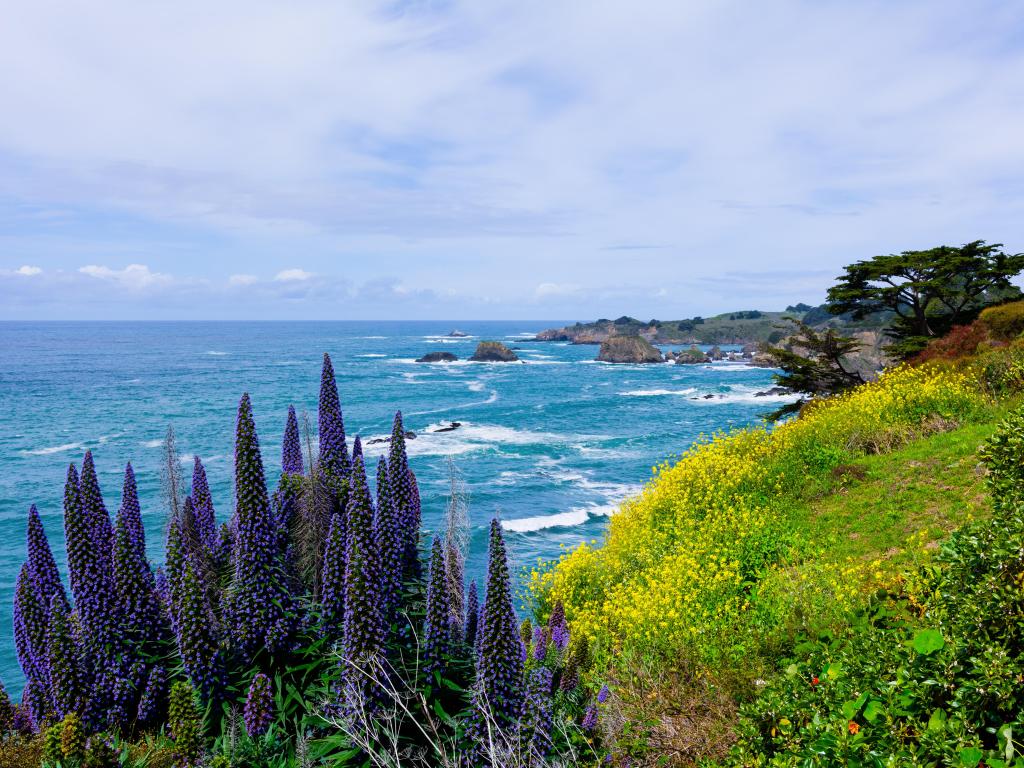 How to get there: For this trip, start driving north on Interstate 5 until you get to Willows, then take CA Highway 162 West until you reach a remote fork and veer left onto Alder Springs Road. After you pass Alder Springs, look out for the Forest Route to Mendocino National Forest.
From there, take Forest Routes M6 and M61 to Forest Route 20N02 and Mendocino Pass Road near the Eel River Campground. Mendocino Pass Road eventually winds its way to Covelo.
Our highlights: For camping, one of the best maintained campgrounds in the park is Grizzly Flat. A little north of the route we outlined above there's also Plaskett Meadows, another remote campsite near a spring-fed pond where you can also fish.
For both campsites it would be good to bring all the water you'll need for however many days you plan on staying as well as an insect repellent.
This route passes just south of one of the area's more popular hikes along the Traveler's Home Trail. This roughly 10-mile-long trail wanders through the deciduous forests and along streams with only moderate elevation gain. In the end, you'll be rewarded with wonderful views of the Middle Fork Eel River.
Mendocino National Forest is known as a "working forest" and is actively managed. In case you wanted to channel your inner lumberjack, you could apply for a permit to collect firewood for personal use or even find your next Christmas tree right here in the woods.
The main attraction in village-like Covelo is the Hidden Oaks Casino, owned and operated by the Round Valley Tribal Council.
With an abundantly rustic and community feeling, with raffles for "best costume" during Halloween and the like, this is definitely a place for niche casino enthusiasts, rather than those attracted by glitz and glamour.
Our travel tips: The drive from the National Forest to Covelo is only about 50 miles, but those are on very windy and remote mountain roads that might be in various conditions due to fires in the summer and unplowed snow in the winter, so check the conditions before you go.
16. Monterey and Carmel-by-the-Sea
3 hours 20 minutes from Sacramento (190 miles)
Why you should visit: The occasionally foggy Monterey Bay is famous for sea otters, sea lions, and sea life in general. Beyond the world-class aquarium and saltwater taffy, Monterey and Carmel offer plenty of refined entertainment and dining options by the beautiful sea.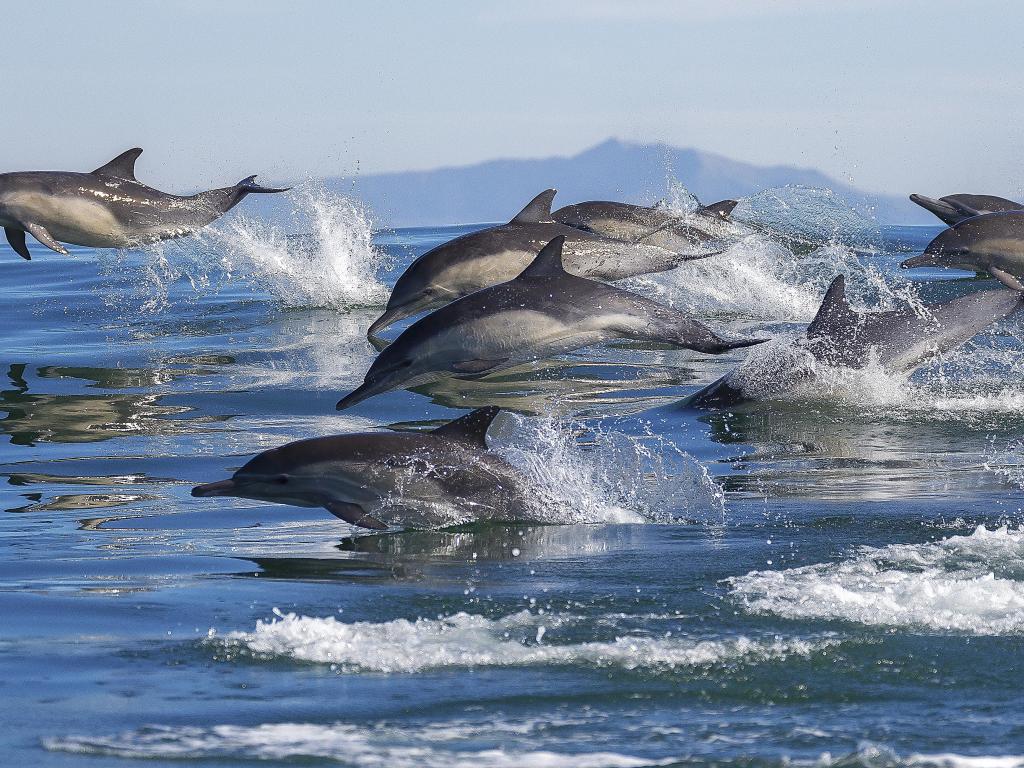 How to get there: From Sacramento, drive west on Interstate 80 until you reach Cordelia and the Interstate 680 junction, then head south on 680 and continue south on US Highway 101 in San Jose.
Take US-101 and CA Highway 1 to Monterrey. You can continue on CA-1 or take the scenic 17 Mile Drive to get to Carmel-by-the-Sea.
Our highlights: Like a cathedral to aquatic wonder, the Monterey Bay Aquarium has been educating the public about the mysteries of the deep for almost 40 years. This aquarium has playful exhibits on sea otters and visually stunning tanks replicating deep sea and kelp forest environments.
For a more hands-on oceanic experience, you can visit Monterey State Beach and enjoy a stroll on the golden sand.
The Monterey Peninsula Recreational Trail winds with the coast, past wind-bent cypress trees and thousands of tide pools, along the gorgeous neighborhood of Pacific Grove.
In addition to the multicolored creatures of the tide pools, out near the horizon, you might even spot a whale! At the end of the trail you'll find yourself at the pristine Asilomar State Beach strewn with native grasses and driftwood.
A stretch of road that has been popular with tourists since the time of horse-drawn carriages, 17-Mile Drive closely hugs the rugged coast and distinctive trees between Pacific Grove and Carmel-by-the-Sea.
On the way, you can play a round at one of famous golf courses in Pebble Beach or pull over to enjoy a dusky sunset at Spanish Bay Beach.
We just can't get over how cute Carmel-by-the-Sea is! Some of the architecture has an unexpected European flair and if you don't mind splurging, there is a wide selection of highly-rated restaurants to try here.
After a delightful meal, a short walk along Ocean Avenue will take you to the picturesque Carmel Beach.
Carmel Valley nearby is another notable wine region in California. If you don't feel like venturing inland, there are 11 different tasting rooms in Carmel-by-the-Sea to try the exquisite locally produced wines.
Bonus: Cannery Row is a major street in Monterey that runs parallel to the ocean and was made famous by John Steinbeck's novel. Though the last cannery closed in 1973, the industrial architecture has been preserved and the area is not filled with boutique shops and restaurants.
Our travel tips: This is a pretty popular weekend trip, so once again, try to go during the week if your schedule allows for it.
Pacific Grove is also famous for its high concentration of migrating monarch butterflies and the best time to see them hanging like extra leaves on the eucalyptus trees is from mid-fall to early spring.
Another benefit to a fall visit is a chance to attend the world-famous Monterrey Jazz Festival but note that prices are competitive during that week.
17. Big Sur
4 hours 30 minutes from Sacramento (230 miles)
Why you should visit: Similar to the indulgent "surf and turf" specials of roadside diners, this trip offers a feast for the eyes in the dramatic meeting of mountains and the ocean.
Big Sur has long enjoyed an almost mythical reputation amongst Californian road trippers. If you haven't visited yet, this trip should be near the top of your list.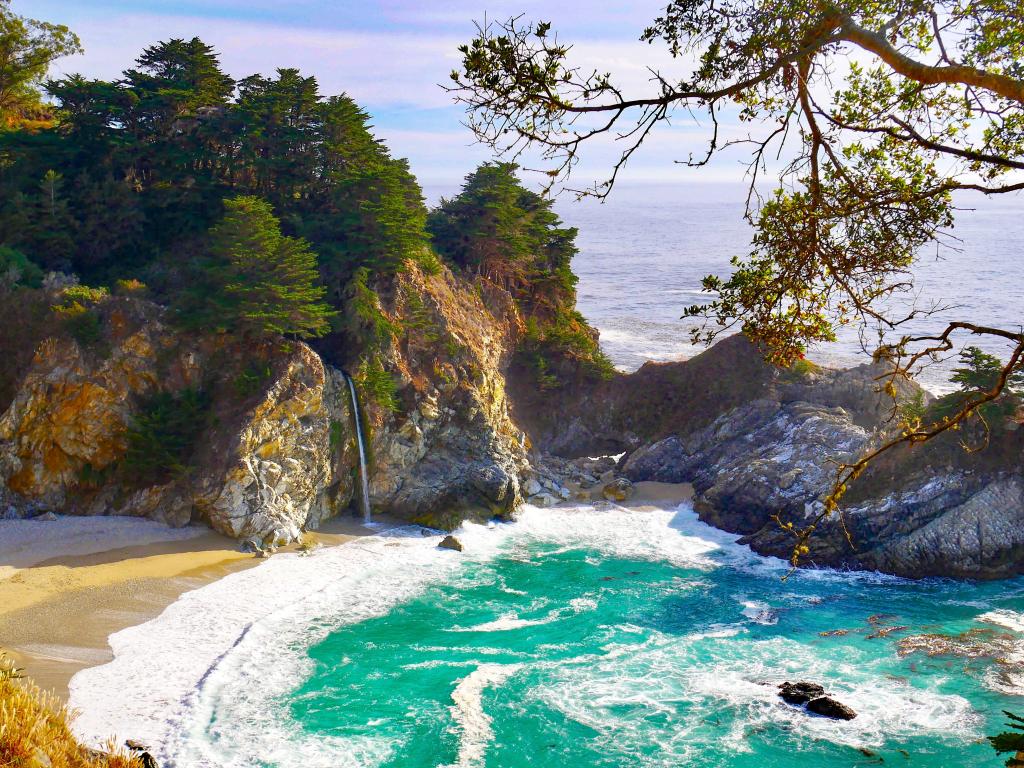 How to get there: From Sacramento drive south on Interstate 5 for almost half of the trip, and head west along CA Highways 152 and 156 once you reach Los Banos.
After San Juan Bautista get on US Highway 101 South and CA 156 west to get to the scenic CA Highway 1, which will take you past Monterey and into the beginning of Big Sur.
Take CA Highway 1as far south as you'd like to go, you'll pass Pfeiffer Big Sur State Park earlier on and Slates Hot Springs will come after another 30 miles.
Our highlights: When the coastal fog parts and the sun glistens on the idyllic central coast scenery of Big Sur, you feel like you've reached a hidden paradise. One of the many magical vista points, along with a waterfall, can be found after a short hike to the McWay Cove Overlook.
Closer to the heart of Big Sur you can see another one of its breathtaking beaches at Pfeiffer Beach State Park, which also has some mesmerizing purple-hued sand.
Along with its iconic keystone rock, this is a great place to take classic Big Sur photos that will make your friends back home wish they'd tagged along.
If you've had enough of the coastal vibe, on the other side of the highway there are innumerable mountain trails in the various state and regional parks that dot Highway 1.
The Salmon Creek Trail leads to a tranquil waterfall as well as the expansive Silver Peak Wilderness and the Tan Bark Trail takes you on a more challenging loop through varied terrain.
For the uninitiated, it might be easy to drive right over the next attraction without noticing, but it would be a shame. The Bixby Bridge along Highway 1 was finished in 1932 and has become an emblem of the Big Sur area.
On the north side of the bridge, you'll find the Castle Rock Viewpoint and parking area where you can stop and admire the bridge along with the sheer rocky cliffs on either side of it.
Though there are some tried and true places to pick up a snack on the go, like the Big Sur Bakery, we also think that Big Sur is the perfect place to enjoy a well-crafted meal while enjoying an unobstructed Pacific vista. Both the artsy Nepenthe and ritzy Sierra Mar are lovely choices for a more formal meal.
Bonus: A little further south from McWay Cove, perched on the cliffs surrounding Slates Hot Springs, you'll see the Esalen Institute, which was at the forefront of new age spirituality, Gestalt practice, and the Human Potential Movement.
They still hold workshops and retreats throughout the year, in case you feel like taking a walk on the esoteric side by the beach.
Click here to skip back to the top.
Long weekend trips (5-8 hours each way)
The road is calling, and you finally have time to answer. These trips entail a little more mileage, but offer even more spectacular destinations, like breathtaking national parks and sun-soaked southern California cities.
18. Kings Canyon National Park and Sequoia National Park
5 hours 30 minutes from Sacramento (260 miles)
Why you should visit: This National Park double-header features the largest sequoia forest in the US as well as the deepest canyon in the US.
People who rush past these two gems to join the crowds at Yosemite are really missing out. With towering, ancient groves and dramatic mountain ridges, both parks display the splendor of the Sierras in abundance.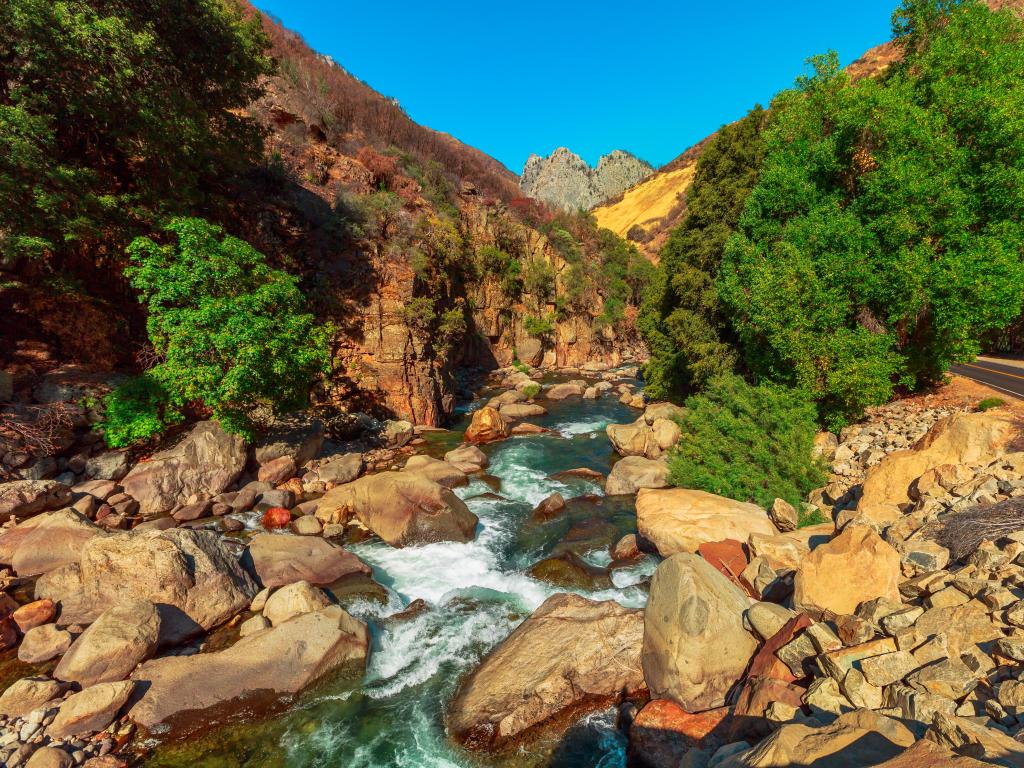 How to get there: Take CA Highway 99 South to Fresno, then start driving east on CA Highway 180, which will take you all the way to Cedar Grove inside Kings Canyon National Park.
To get to Sequoia National Forest from here, backtrack on CA-180 to Grants Grove Village, and continue heading south as the road becomes Generals Highway, a particularly curvaceous and scenic mountain road connecting the two parks.
Our highlights: One of the best things about Kings Canyon National Park is how accessible it is. Whether you want to hike for hours or cruise in your car only stopping to take pictures or picnic, there's a route for you.
You can take the impressive Kings Canyon Scenic Byway all the way to the picturesque Zumwalt Meadow, which is virtually indistinguishable from the famous glacial valleys of Yosemite. At the meadow and along the way there are tons of trail heads and places to get out and explore at your own pace.
The aptly named Roaring River Falls is very close to the eastern extremity of Highway 180 within Kings Canyon Park. Here the full glory and power of the Sierra wilderness can be felt as the snow melt river rushes over boulders painstakingly eroded with time.
Nearby you'll find the River Trail through the pine woodland of the canyon along the pristine aquamarine river.
A few miles from Grant's Grove you will find the spectacular King's Canyon Panorama Point which you'll pass on Highway 180 on your way to Roaring River and other parts deeper within the park.
Part of Kings Canyon stretches into Sequoia National Park and underneath the monoliths of Kings Gates lies a mesmerizing subterranean treat. Boyden Cavern is filled with rippling crystalline walls, stalagmites, and all sorts of fascinating formations.
In Sequoia National Park the Congress Trail is a relatively easy route that is paved and can be completed in under two hours for most people. It takes you past some of the largest sequoia groves, and keeping with the stately theme, trees named "the House", "the Senate", and "the President".
Bonus: General Sherman, the world's largest tree by mass, has its roots firmly planted within Sequoia National Park and is one of the park's major draws. You can't miss signs for this giant as you explore the park's main entrance from General's Highway.
Our travel tips: CA Highway 180 east of Pinehurst and General's Highway connecting the two parks are closed in the winter and the interiors of both parks are generally inaccessible by car during the colder months.
19. Santa Barbara and Channel Islands National Park
6 hours 20 minutes from Sacramento (390 miles)
Why you should visit: Prepare yourself for utter delight along "the American Riviera" with its bright bougainvillaea, idyllic beaches, and fresh cuisine.
Beyond the graceful coastal beauty, unmissable wines, and historical gems of Santa Barbara, there's even more to discover across the surf on Channel Islands National Park.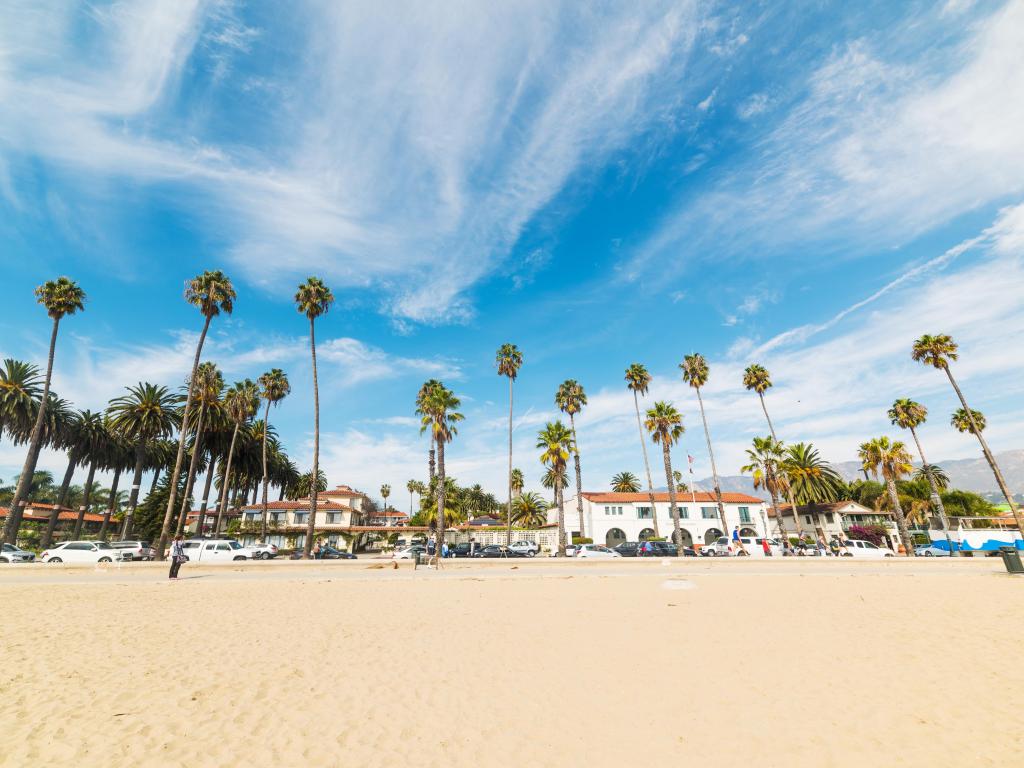 How to get there: Once again you're going to head south on Interstate 5 until you reach an exit for CA Highway 41 just past Avenal. Drive west to Paso Robles, where you'll merge with US Highway 101 South.
Take this to CA Highway 246 to get to the Nordic town of Solvang then follow the inland route CA 154 South to Santa Barbara.
Our highlights: If you're not in a hurry, take some time to poke around the adorable Solvang, just a few miles north of Santa Barbara. This town has very proud Danish roots that are apparent on every corner. At the very least grab a pastry to fuel the last leg of your journey.
Being on the cusp of central and southern California, Santa Barbara has a wonderful variety of beaches. Next to the wharf you can wander along the fine sands of East Beach and a bit to the north you can try to catch a wave at Leadbetter Beach, a popular surfing spot.
Santa Barbara is home to California's oldest working wharf. Stearn's Wharf was constructed in 1872 and has been a focal point of industry and tourism ever since.
As you approach the many shops and snack stalls on the wharf itself, take some time to appreciate the palm-lined streets and playful dolphin fountain leading up to it.
Downtown the area's Spanish Colonial past is front and center at El Presidio de Santa Bárbara State Historic Park and in the architectural style of the famous Superior Court building. A little closer to the hills you can tour Old Mission Santa Barbara, which was first built in 1786.
An atmospheric place for evening entertainment is the Santa Barbara Bowl. This outdoor venue benefits from the enviable weather and plenty of locals, young and old, who love to celebrate life through music.
From Santa Barbara Harbor, you can take a 1-2 hour boat ride to the largely untouched Channel Islands; you can book a spot on one of the park service's Island Packers or go with a private boat.
Once you get to the islands the roars of any engines will be a distant memory as the only way to explore the island is by foot, leading to an utterly serene island experience.
Bonus: This area abounds with relics from the past, including some human remains that have been dated to 13,000 years ago, making them the oldest discovered in the US.
While the remains have been respectfully returned to the Santa Ynez Band of Chumash Indians in 2022, you can learn more about their unearthing and what scientists learned from them at the Santa Barbara Natural History Museum.
20. Los Angeles
6 hours 20 minutes from Sacramento (390 miles)
Why you should visit: Once you come over the Grapevine through the Tehachapi Mountains and look over the sprawling city of Los Angeles beside the ocean, you can't help but feel a tingle of excitement.
Here in LA you can make a pilgrimage to the home of the stars, soak up that coastal SoCal sun, and discover the countless cultural and historical enclaves within the City of Angels.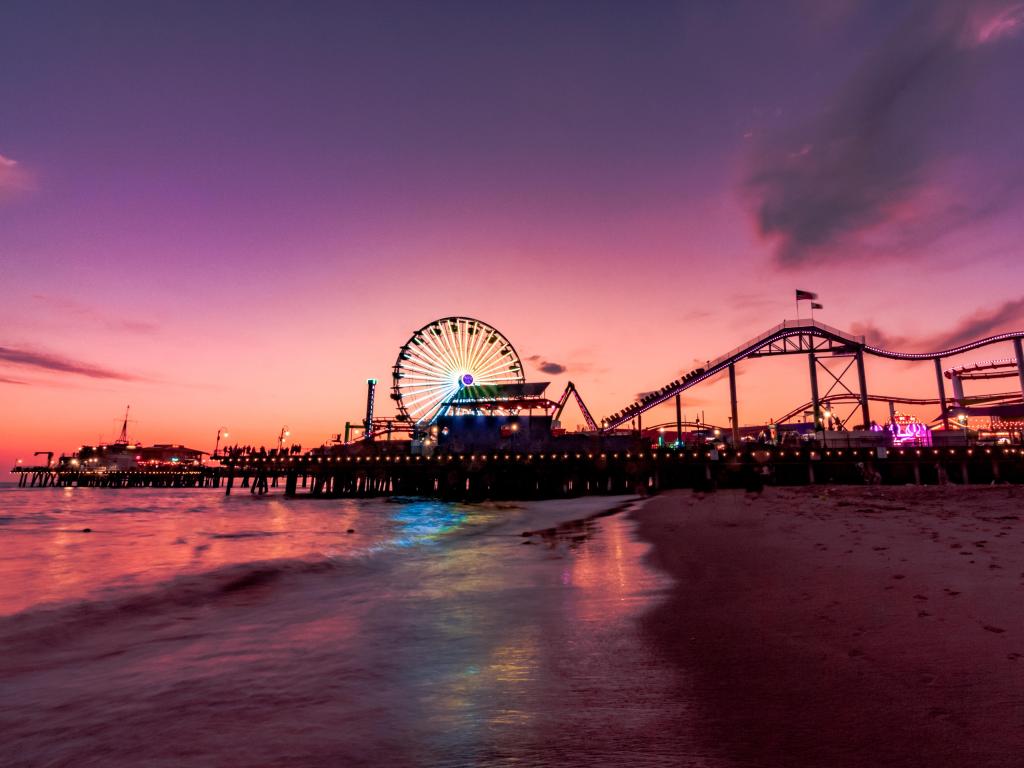 How to get there: Interstate 5 stretches all the way from Sacramento to Los Angeles, just hop on and drive south for 386 miles.
Our highlights: Some of the best beaches for swimming and lounging on the warm sand can be found near the northern enclave of Malibu, like El Matador and the private Paradise Cove where you can have a signature cocktail as the ocean mist whirls around you.
Another classic LA beach with a very different feeling is Santa Monica State Beach. This is where you'll find that classic and lively wooden boardwalk with lights and rides and just down the strand, you'll run into all those sculpted bodybuilders at Venice Beach.
At Universal Studios feel the exhilaration on rides that take you up close and personal with the dinosaurs of Jurassic Park and alien hybrid Transformers, then peek behind the curtain where that Hollywood magic is made on one of their studio tours.
In the famously glamorous neighborhood of Hollywood, you will recognize many of the names immortalized in inlaid stars on the walk of fame. Further down Hollywood Blvd stands the iconic Chinese Theater where you can still watch a movie, take a tour, or attend a premiere if you bump into the right people.
We just have to geek out about the surprising importance of Los Angeles for Ice Age paleontology. At the La Brea Tar Pits and Museum, you can see some of the 3.5 million fossils that have been found here as well as the bubbling tar pits and scientists actively excavating to make more discoveries.
It isn't surprising that a town famous for the performing arts would also have some amazing visual art museums. The Broad is right downtown and has over 2,000 pieces of modern art displayed in an equally avant-garde building.
For those who prefer classical arts and elaborate estates, head for the hills and spend an afternoon at the Getty, which is spread out over several buildings of the Getty Villa and interspersed with relics from the Greco-Roman world.
Bonus: All around California you can see long lines of hungry burger enthusiasts outside In-N-Out Burgers, the state's home-grown fast food chain. In the inland LA town of Baldwin Park, you can order your favorite "animal style" (for those in the know) at a replica of the original In-N-Out Burger built there in 1948.
Our travel tips: LA is sprawling to say the least and the commuter traffic is infamous. Be sure to look carefully at a map before you go, as many of the places you want to see aren't really in L.A. proper, so book a hotel as close to your favorite sights as possible.
21. Death Valley National Park
7 hours 20 minutes from Sacramento (450 miles)
Why you should visit: There's an undeniable intrigue about a place of recreation named after death, which helps explain the millions of people who visit this park every year.
One of the largest national parks by area, Death Valley has many unique features and hauntingly beautiful landscapes spread out over its 5,270 square miles.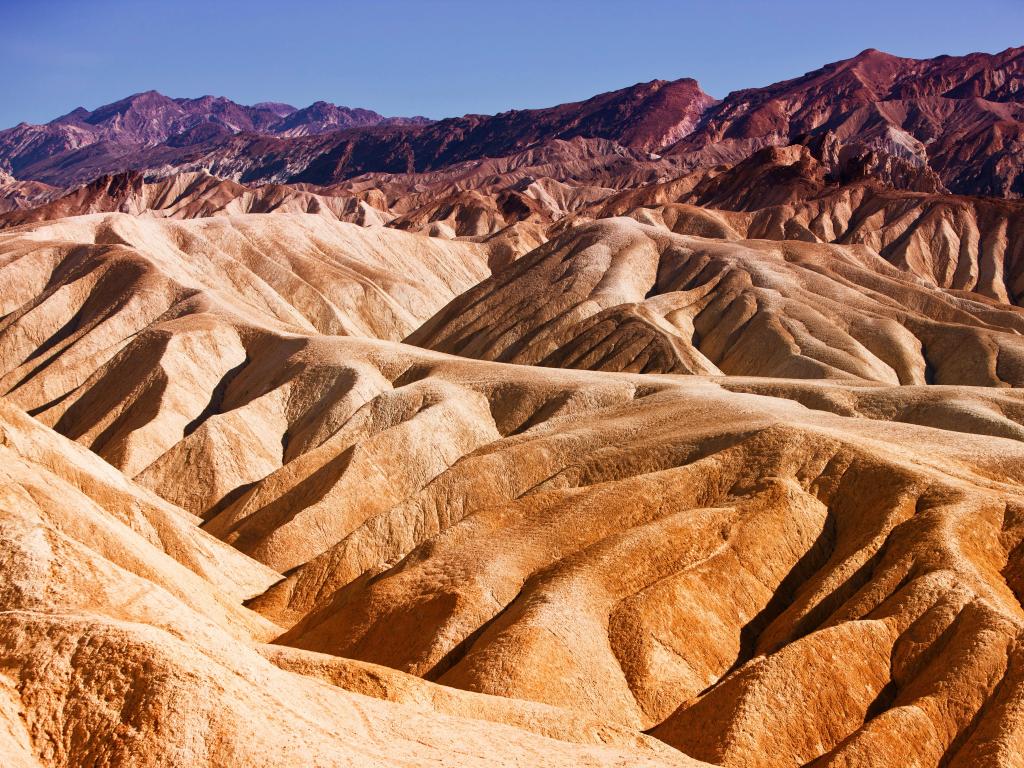 How to get there: From Sacramento Drive south on CA Highway 99 through Fresno and until Bakersfield, where you'll start heading east on CA Highway 58.
Continue on a series of smaller roads through Searles Valley as the road turns north to connect with Highway CA 190. Take a right onto that highway and continue east towards the entrance to Death Valley.
Our highlights: A quirky roadside attraction along the way is Forestiere Underground Gardens in Fresno, meticulously planted in the early 1900s. While you're in Fresno, pick up some fresh fruit and vegetables to savor out in the desert.
Feel like a visitor on another planet as you make the short hike up to Dante's View and peer out over the eerily lifeless Badwater Basin. There's a paved road from furnace creek all the way here and a parking lot to accommodate everyone who wants in on this spectacular view.
If looking isn't enough for you, you can also drive down to the salt flats of Badwater Basin, which also happens to be the lowest place in the US at 282 feet below sea level.
The salt crystalizes into polygonal shapes that glisten and extend as far as the eye can see. There's a relatively short out-and-back trail that runs along the bottom of the basin.
Another stunning palette of desert colors can be found along Artist's Drive. This is a winding road through a canyon that has been eroded to reveal a whole rainbow beneath the soil.
To learn more about the geological formations that surround you, walk the interpretive trail through the Golden Canyon. There are pamphlets in the parking lot so that you can do your own self-guided tour.
Bonus: On July 10, 1913 a temperature of 134 degrees was recorded in Death Valley, the hottest ever registered in the US.
Our travel tips: Unless you enjoy searing temperatures and dehydration, don't plan a trip here in the summer. Always bring more water than you think you'll need in this extremely arid environment.
All other seasons are more amenable and in the early spring, if the rains are right, you might even catch a stunning super-bloom of native flowers.
Sometimes there is so much rain that flooding is an issue in the park, so check the park's website for any road closured before you set out.
22. Palm Springs
7 hours 30 minutes from Sacramento (490 miles)
Why you should visit: Soaking in mineral springs while gazing through palm trees at variegated mountains is just one of the simple desert pleasures to be enjoyed here.
Palm Springs is the place to feel pampered and loved no matter who you love and has long been a welcoming destination for people from the LBGTQ+ community. This has only added to the accepting and upbeat ambience of the town.
How to get there: From Sacramento drive south on Interstate 5 all the way to Los Angeles. From her head towards San Bernardino and Interstate 10. Take this east to Palm Springs. Joshua Tree National Park is just a little ways north of Palm Springs off CA Highway 62.
Our highlights: Take in the grandeur of this idyllic desert resort town while cruising down Palm Canyon Drive, lined with towering palm trees. This downtown drag has the highest concentration of shops and restaurants in Palm Springs, so consider exploring a bit on foot if the weather is nice. It's also the location of the vibrant VillageFest on Thursday nights.
Palm Springs first rose in popularity as a getaway for the stars of Hollywood in the 1930s, being within a two-hour drive of the studios of LA. The area is still replete with spas and other oases of calm and relaxation. The Spa at Desert Springs has one of the starkest locations that takes full advantage of the rugged mountainous backdrop.
The much-loved Joshua Tree National Park is not far from Palm Springs. Whether you feel like a night under the stars or not, we heartily recommend making it out to the park for a sunrise or sunset hike through the Cholla Cactus Garden or Hidden Valley Nature Trail.
If you have the time, another 60 miles south of Palm Springs lay the Salton Sea, a highly concentrated inland sea. Though it's unsuitable for swimming, it is a fantastic place to see some mid-century ghost towns.
Bonus: Drought and overconsumption led to the resorts around the Salton Sea being abandoned, but recent innovations have set the stage for a lasting green legacy. Lithium is an essential component of EV batteries and deposits around the sea could meet up to 40% of the global demand.
Our travel tips: Winter is the busiest tourist season in Palm Springs and when hotel prices are noticeably higher.
A particularly glitzy time of the year is every January during the Palm Springs International Film Festival.
Palm Springs is also the gateway of the Coachella Valley where the famous music festival takes place in mid-April, leading to another huge swell in visitors.
Click here to skip back to the top.
Longer trips (Over 8 hours each way)
The thrill of discovering someone new is made all the more enjoyable when you actually have a several days to sample its offerings. The West Coast is packed with incredible places; here are a few that we just can't wait to share with you!
23. San Diego
8 hours from Sacramento (510 miles)
Why you should visit: San Diego is a place where it's all too easy forget your troubles and become one with your inner beach bum.
The more down-to-earth side of SoCal has miles of sunny beaches, a fun and walkable downtown, and a scenic marina where every sunset seems special.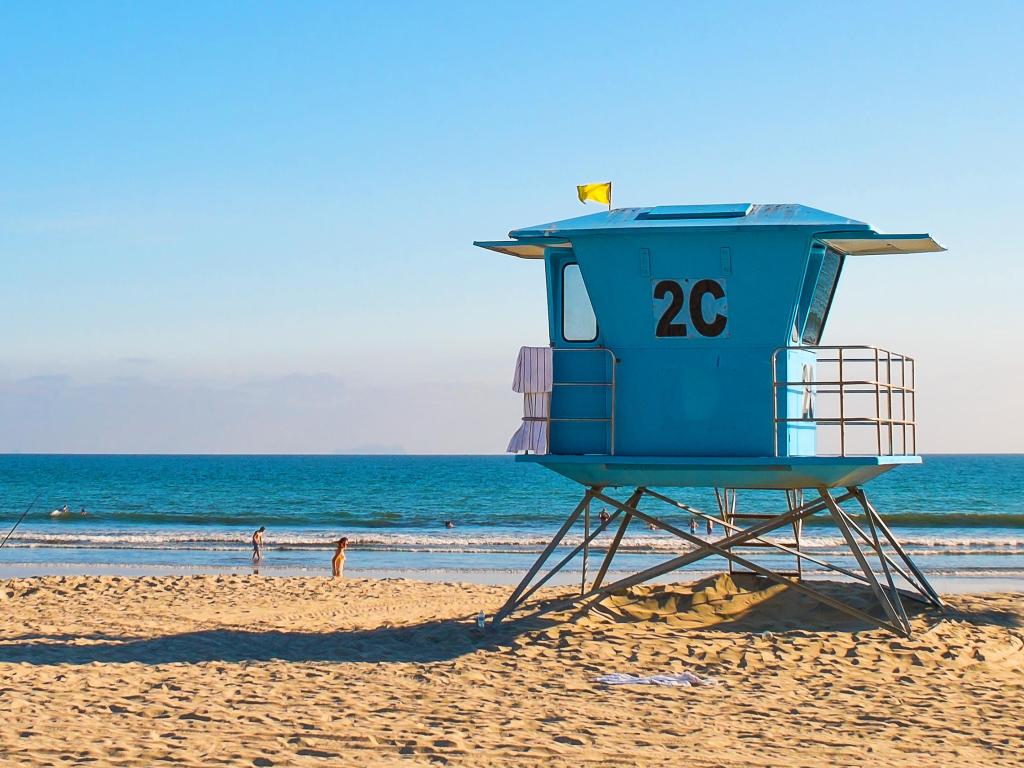 How to get there: Similar to the drive from Sacramento to Los Angeles, on this trip you hop on Interstate 5 South and hop off 500 miles later in San Diego.
Our highlights: One of the most upscale and manicured areas of San Diego, La Jolla is undeniably scenic with colorful tide pools along with the world-famous Torrey Pines Golf Course. Here you can take a kayak tour of the varied coastline, including La Jolla Cave, and finish a morning of exploration with a fresh caught lunch at Eddie V's Prime Seafood.
The ample sunshine and temperate coastal temperature make San Diego a paradise for cruiser bikes and there are plenty of rental places around. Especially around Mission Beach and the San Diego Marina you'll find miles of well-marked trails where you can channel your inner child and pedal into the sunset smiling.
Balboa Park is a massive urban cultural park, free to stroll around and full of gardens, museums, and other specialized attractions. You can purchase a pass if you want to visit several of the 17 museums within the park including the San Diego Air & Space Museum and the Timken Museum of Art.
Unlike the frigid waters of northern and central California, the Pacific Ocean feels a bit more Tropical all the way south in San Diego. In addition to being one of the most comfortable places to swim in California, it also has some decent surf spots, like Carlsbad.
Bonus: More avocados are grown in San Diego than anywhere else in the US, so expect the guacamole to be extra fresh and tasty here.
Our travel tips: Being only 25 miles from Mexico, a daytrip across the border is a fun way to make this an international trip. There are even trolleys from downtown San Diego.
Remember that La Jolla has retained its Spanish pronunciation of "la hoy-ya".
24. Las Vegas
9 hours from Sacramento (560 miles)
Why you should visit: Even if you're not tempted to try your luck at the Blackjack tables, Las Vegas truly is an adult playground filled with world-class attractions and entertainment.
Beyond the buzz and lights of the strip, there's adventure to be had in the desert expanse surrounding Las Vegas, including the awe inspiring Hoover Dam.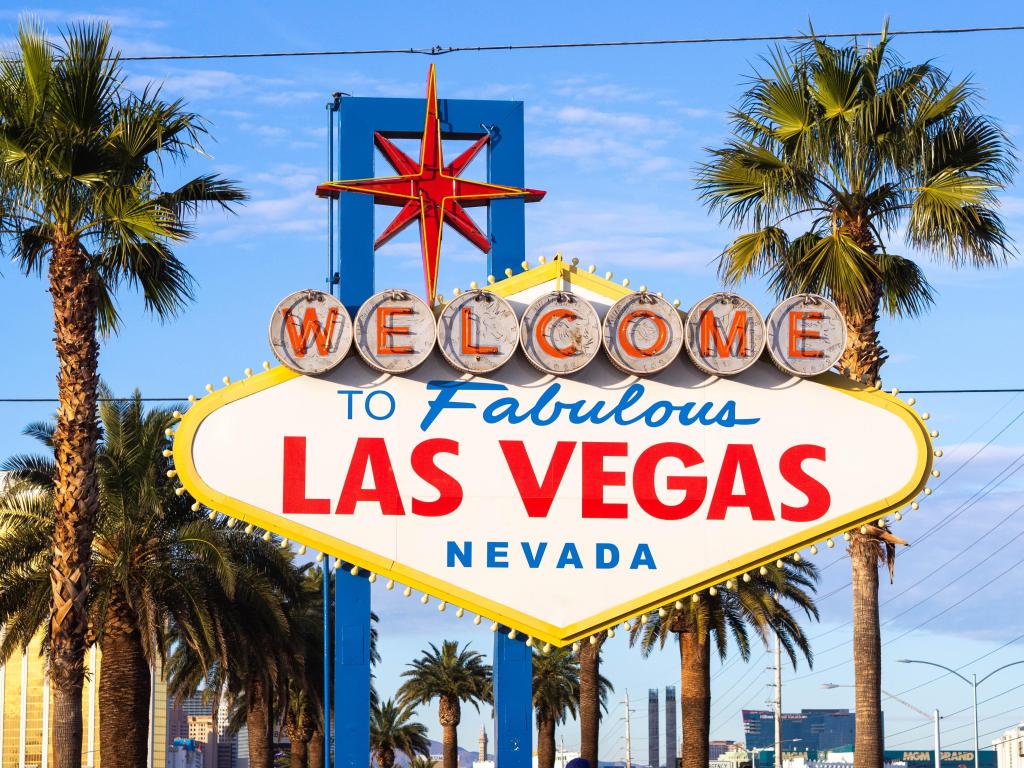 How to get there: From Sacramento, drive south on CA Highway 99 until Bakersfield. Change onto CA Highway 58 East and drive until you reach Barstow, where you'll hop on Interstate 15all the way to Las Vegas. From there, head towards Boulder City on Interstates 515 and 11 then take Boulder City Parkway to Lake Mead.
Our highlights: The Stratosphere Tower, or simply the Strat, in downtown Vegas near the city's iconic welcome sign is the best place to view the uncanny emergence of this city from the sands.
Complete with a casino, restaurants, and hair-raising rides all the way at the top, a visit to the Strat is worth it just to peer out from the glass observation floor 1,149 feet above the streets below.
At any time of day or night there's sure to be plenty of action and energy along the Las Vegas Strip. Whether you want to cruise the Boulevard blasting Elvis for the maximum dose of American or walk along and see some of the stores, casinos, and streetside attractions like the Fountains of Bellagio up close, the Strip can simply not be missed.
Las Vegas has positioned itself as an indispensable stop on many musical tours and at any given time there is sure to be a chart-topping artist like Adele in residency at one of the major casinos.
Venture outside of the concrete, steel, and glass of the city and you'll be amazed at the colorful desert landscapes of southern Nevada. One of the closest places for a hike is Red Rock Canyon National Conservation Area.
Since you've come all this way, we heartily recommend driving the hour or so from Las Vegas to see the Hoover Dam. This engineering marvel from the Great Depression still produces 4 billion kilowatt-hours of energy annually.
Bonus: When Nevada legalized gambling in 1931, some called for its statehood to be revoked. Almost a hundred years later the industry is still going strong and Nevada hasn't been kicked out of the Union.
25. Portland, OR
Via Lassen and Modoc National Forests, CA
14 hours from Sacramento (730 miles)
Why you should visit: This northwestern city proudly marches to the beat of its own drum and is surrounded by gorgeous greenery.
With its charming turn of the century neighborhoods, obsession with brunch, bikes galore, and some of the best gardens on the West Coast, Portland makes for a misty and magical road trip destination from Sacramento.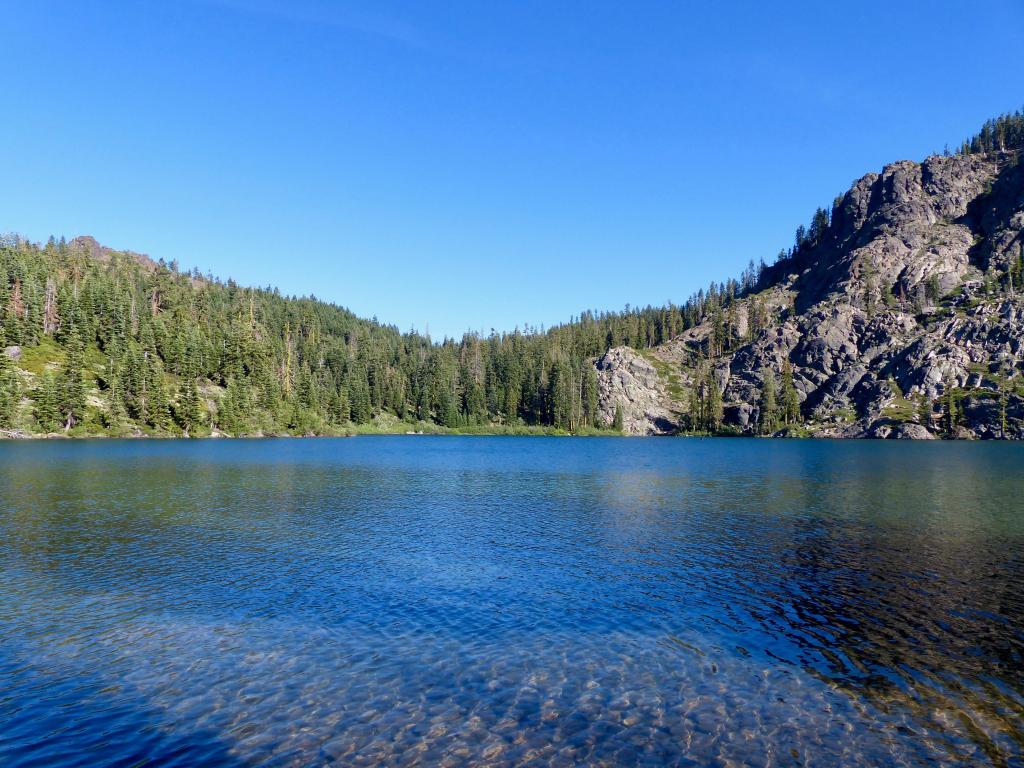 How to get there: Take Interstate 80 East to Truckee, then head north on CA Highway 89 North through Portola, then follow signs along the rural roads to Plumas National Forest, north of Portola.
Navigate to Crescent Mills and get back on CA-89 to Lake Almanor. Soon after, you'll find the entrance to Lassen National Forest. From there, drive east towards Susanville and get on CA Highway 139 North, which will pass through Modoc National Forest and on to the Oregon Border.
Drive through Klamath Falls, then take Oregon Highway 58 to Eugene, where you can hop on Interstate 5 North the rest of the way to Portland.
Our highlights: Ideally on this trip you would take your time to hike, bike, or camp in Plumas, Lassen and Modoc National Forests as well as the beautiful Lake Almanor.
Being more remote and less well-known than Lake Tahoe and comparable national parks, they pack in all the natural wonder you could ever wish for without the crowds.
After passing through the lush temperate rainforests on the way into Portland, it will come as no surprise that there are some superior gardens in this town.
You will feel like you have tele-transported to the Far East as you wander the manicured trails at the Portland Japanese Gardens and Lan Su Chinese Garden. Portland is also known as "The City of Roses" and the Rose Test Gardens here is the oldest of its kind in America.
The popular Forest Park is in the north of the city along the Willamette River and close to several other notable spots in town like the Pittock Mansion. Just 27 miles outside of Portland, you can drive to the Angel's Rest Trail which features unbelievable panoramic views over the Columbia River.
Whether you need to escape the weather or just feel like expanding your aesthetic horizons, the Portland Art Museum is a great place to spend an afternoon.
Bonus: Portland has over 350 miles of bike lanes and often tops lists of "Most bike-friendly places in America". In case you didn't bring your own cycle along, there are ample bike rental and even bike-share programs throughout the city so you can explore it on two wheels in no time.
Our travel tips: We've given a more adventurous route above going through the vast forests of northeastern California. If you want to go directly to Portland, OR you can simply head north on Interstate 5 all the way there.
In a truly Portland fashion, every year in June or July thousands of them partake in the World Naked Bike Ride. Be prepared for lots of skin and feel free to join in.
Portland gets lots of rain, which helps keep it nice and green. Mostly the precipitation is in the form of a drizzle, so a light, water-resistant jacket might come in handy.
READ MORE - Road Trip from Sacramento to Portland, OR
26. Seattle, WA
12 hours 30 minutes from Sacramento (780 miles)
Why you should visit: This sparkling city set within the emerald-rimmed Puget Sound boasts nature and culture in equal abundance. Come and savor the great variety of activities, food, museums, and nightlife that Seattle has in store for you.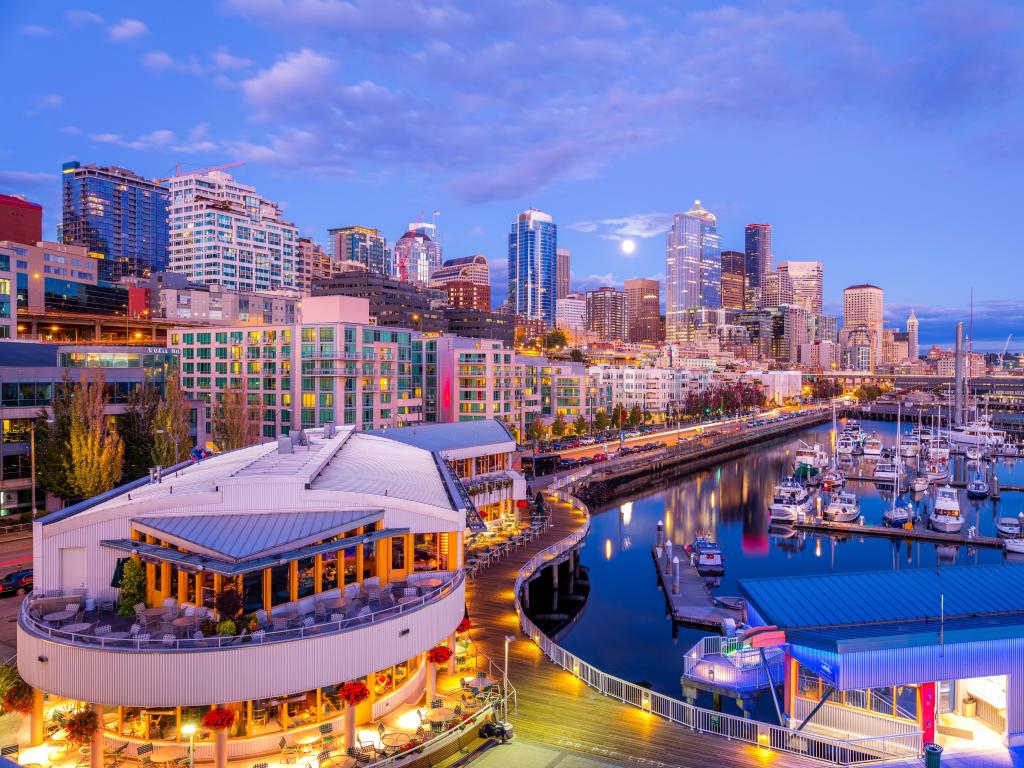 How to get there: For this trip from Sacramento to Seattle, start driving north on Interstate 5, past Redding, to Shasta-Trinity National Forest.
After a romp in the woods, continue on I-5 across the border to the Cascade-Siskiyou National Monument which is another spectacular region accessible via Oregon Route 99 East.
From there navigate back to I-5 and consider overnight stops in the charming Oregon towns of Eugene and Salem, or simply continue all the way north on I-5 to Seattle.
Our highlights: Even though Seattle sits right next to one of the gorgeous and lush Olympic peninsulas, on the way there you'll pass through several other major natural attractions of the Pacific Northwest like the Cascade-Siskiyou National Monument and Mt. Shasta.
Made famous from the intro to "Frasier" and countless other shows and movies set in Seattle, the Space Needle is an appropriate place to start your exploration of the Emerald City.
Similar to Portland, Seattle is situated within a temperate rainforest climate that plants simply thrive in. At the Chihuly Garden and Glass, lush greenery is interspersed with the whimsical curls and tendrils of glass formed by world-famous glass artist and Washington native Dale Chihuly.
Whether you're an aviation buff or simply curious about the engineering that makes modern air travel possible, the Museum of Flight is both extensive and informative. Boeing is one of the largest employers in the Seattle area, so it makes perfect sense that one of the best collections of airplanes, rockets, and even lunar modules can be seen here.
Seattle is a multicultural city with a long history of immigration, especially from East Asia. This is reflected in the number and quality of authentic restaurants bringing flavors from around the world. Pho, a Vietnamese rice noodle soup is popular in this drizzly city and PhoThan Brothers is rumored to serve the best.
Bonus: One of the most popular and scenic markets in Seattle is Pike's Place. Opened in 1907, it also happens to be America's oldest continuously operating farmers market, so head down there to see what's fresh and enjoy time by the water.
Our travel tips: Back in 2021, Seattle banned single-use Plastic bags. Be prepared and keep some reusable tote bags in your trunk or pick some up in Seattle to keep as souvenirs.
There is a lot of rain here, but it tends to mist more than downpour. Light rain protection and an outgoing attitude are helpful.
READ MORE - Road Trip from Sacramento to Seattle
27. Grand Canyon, AZ
14 hours from Sacramento (880 miles)
Why you should visit: One of the seven natural wonders of the world, the Grand Canyon needs little introduction, but if you want to read about this ultimate road trip from Seattle to this world-famous natural wonder, you can click here.
In addition to the sheer wonder of peering over 5,000 feet down at the Colorado River Below, there are some exceptional hikes and scenic drives around the Grand Canyon that make it an excellent destination for nature lovers.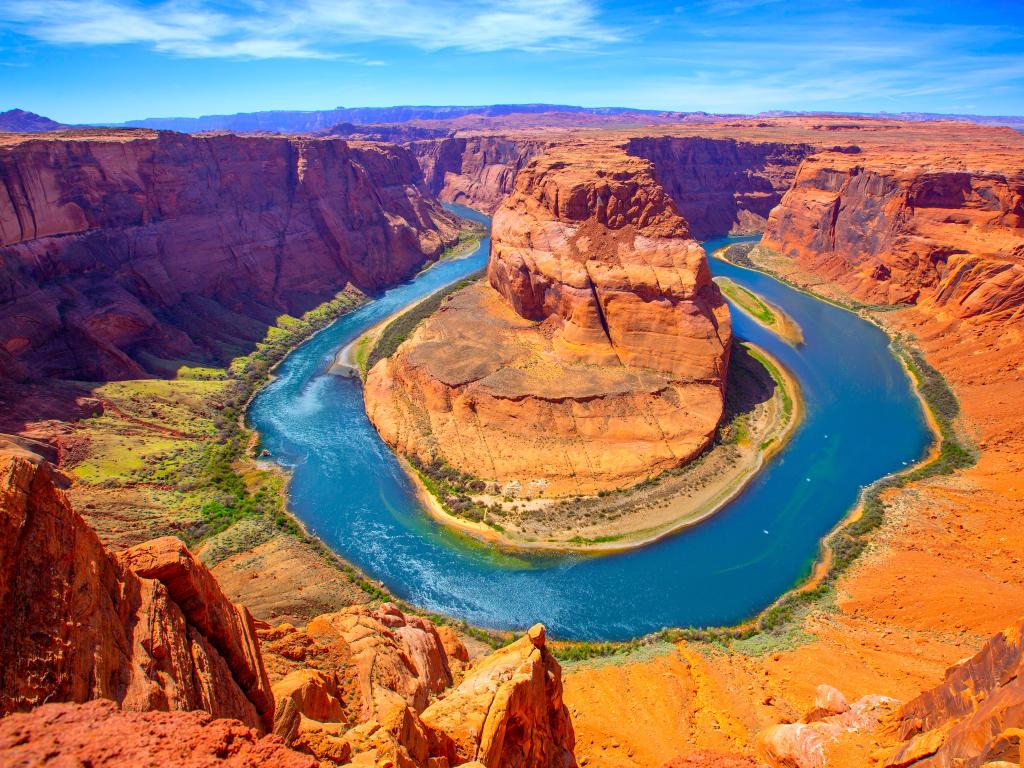 How to get there: From Sacramento, drive south on Interstate 5 to get to Los Angeles, a possible place to spend the night on this trip.
From there, head towards San Bernardino and Interstate 15 North to get to Interstate 40 East, which will take you over to Arizona. Once you reach Williams, AZ, head north on Arizona Highway 64 to get to Grand Canyon Village on the South Rim.
Our highlights: If you're like us and simply can't get enough of the dramatic views over the Grand Canyon, then you're in luck as the South Rim is packed with lookout points. Hopi Point, a little to the west of the village, is the place for spectacular sunrises and sunsets.
Trail View Overlook and Mather Point are both closer to the Village and offer indescribable panoramic views that you simply have to see for yourself.
At the Yavapai Geology Museum visitors can gain a better appreciation of all those striated rocks and the millions of year they took to form, as well as erode away.
Undeniably, one of the top activities here is hiking. The very accessible Shoshone Point Trail brings you less than a mile to a unique outcrop and vista point.
For those who want more of a challenge, try the South Kaibab Trail, which snakes for 7 miles all the way down to the Colorado River, though you'll need a permit for some parts of this trail.
Another immensely popular and rewarding hike can be done along the 8-mile Bright Angel Trail. It is similarly strenuous with lots of changes in elevation, but the beginning portions of the trail are nicely shaded and there are undeniably cool features along the way.
Bonus: There are people who live permanently at the bottom of the Grand Canyon. Supai Village is home to 208 people with Native American ancestry who have been living in this region long before it was declared a national park.
In case you'd like to visit, you'll have to secure a coveted permit to visit the oasis-like Havasu Falls.
Our travel tips: The Scenic Desert View Drive is a wonderful way to see more of the South Rim. This takes you east of the village to places like the Desert Watchtower and Lipan Point.
As you can imagine, the Grand Canyon gets extremely hot in the summer. When doing hikes down into the canyon, be sure to follow the rule of thirds and save two-thirds of your energy for the hike back up out of the canyon. Bring double the amount of water you think you'll drink.
Conversely, the South Rim of the Grand Canyon sometimes sees snow in the winter and is open all year round, making it a great destination for a winter road trip when the park is less crowded as well.
READ MORE - Road Trip from Sacramento to Grand Canyon
28. Yellowstone National Park, WY
Via Salt Lake City, UT
16 hours from Sacramento (1,010 miles)
Why you should visit: As if the outstanding natural scenery and impressive biodiversity of Yellowstone National Park wasn't enough to keep people coming back year after year, it also contains the most geothermal features of any park in the US.
Among its 10,000 thermal features is the most regular geyser in the world, aptly named Old Faithful, and kaleidoscopic hot springs that you won't want to miss.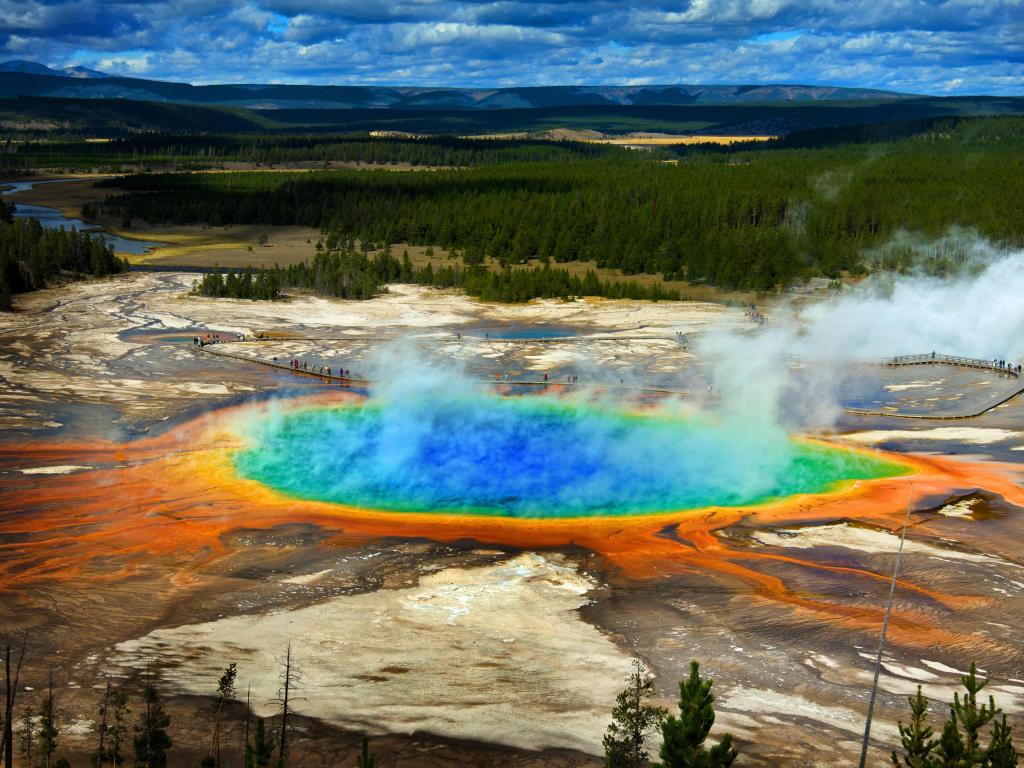 How to get there: Drive east on Interstate 80 past Reno and through northern Nevada all the way to Salt Lake City, UT for the first 646 miles of the journey. After you've spent some time in Utah's capital, start driving north on Interstate 15 into Idaho, then look for the route east to Soda Springs, ID.
From there take Idaho Highway 34 north then east into Wyoming, where you'll get on US Route 191 through Grand Teton National Park all the way to Yellowstone.
Our highlights: On the way we recommend taking some time to explore the expansive salt flats of Salt Lake City and visit the inspiring architecture of Temple Square downtown. Just south of the city there are several hikes showcasing Utah's well-known natural beauty in Big Cottonwood Canyon.
A not-to-be-missed sight once you get to Yellowstone is the Old Faithful Geyser. Since being documented by explorers in the 19th century to this very day, it erupts every 60-90 minutes and fills every visitor with awe.
Located in the Upper Geyser Basin of the park, there are around 150 geysers within a square mile of Old Faithful.
Another major attraction within Yellowstone is the herd of bison that have been grazing its plains since time immemorial. A prime wildlife viewing area is the Lamar Valley. In addition to buffalo, wolves, eagles, bears, and elk are commonly spotted here.
There's also a wonderful hike that begins at Soda Butte Creek and goes all the way to the Lamar River.
The Lower Falls of the Yosemite River is the largest in the park, where the rushing water emerges from the forest and gushes over 300 feet down a rocky cliff.
There's a popular one-mile paved trail with a fair share of switchbacks that will take you to a stunning viewpoint near the bottom of the falls. Just note that this short trail gets packed during the peak season.
Bonus: Grand Prismatic Spring is undoubtedly one of the stars of Yellowstone, with its amazing colors ranging from rust and burnt ochre to sapphire blue. These mesmerizing colors are the result of thermophilic bacteria that can survive in the geothermal springs that get as hot as 188 degrees Fahrenheit.
Our travel tips: Most of the park roads close in winter, though the park is still open. The route we've given contains a few roads that might be subject to winter closures.
Aim to visit during the shoulder season months of April, September, and October in order to have an easier time parking and experience less crowds in the park. The busiest time of the year is the summer.
Any campsite in one of the park's 12 campgrounds must be reserved in advance on the National Park Service website. Only Mammoth Campground is open year-round.