Road Trip from Sacramento to Seattle
An iconic west coast road trip, a road trip from Sacramento to Seattle takes you through the changing scenery of three states, while allowing you to explore coastal towns and cities and stunning wilderness areas along the way.
The 950-mile drive from Sacramento is 19 hours of nonstop driving if you take the coastal route, and can take you past such iconic places such as Redwoods State Park, Coos Bay, Cannon Beach, Washington and Olympic National Park before arriving at Seattle.
Read on to find out the best places to stop, what to do, and how to get the most from your road trip from Sacramento to Seattle.
How far is Seattle from Sacramento and how long will the road trip take?
The routes from Sacramento to Seattle offer two unique options for this trip

| Route | Distance | Driving Time |
| --- | --- | --- |
| Inland Route | 750 miles | 12 hours |
| Coastal Route | 950 miles | 19 hours |
There are a few options to tackle this epic road trip from Sacramento to Seattle. Depending on your preference for views, there's the option of an inland or coastal route. Both include stunning landmarks along the way.
The fastest route keeps you inland and covers 750 miles in just 12 hours. This simple route follows the I-5 north until you reach Seattle but still gives you plenty of opportunities to take in stunning scenery and visit beautiful parks.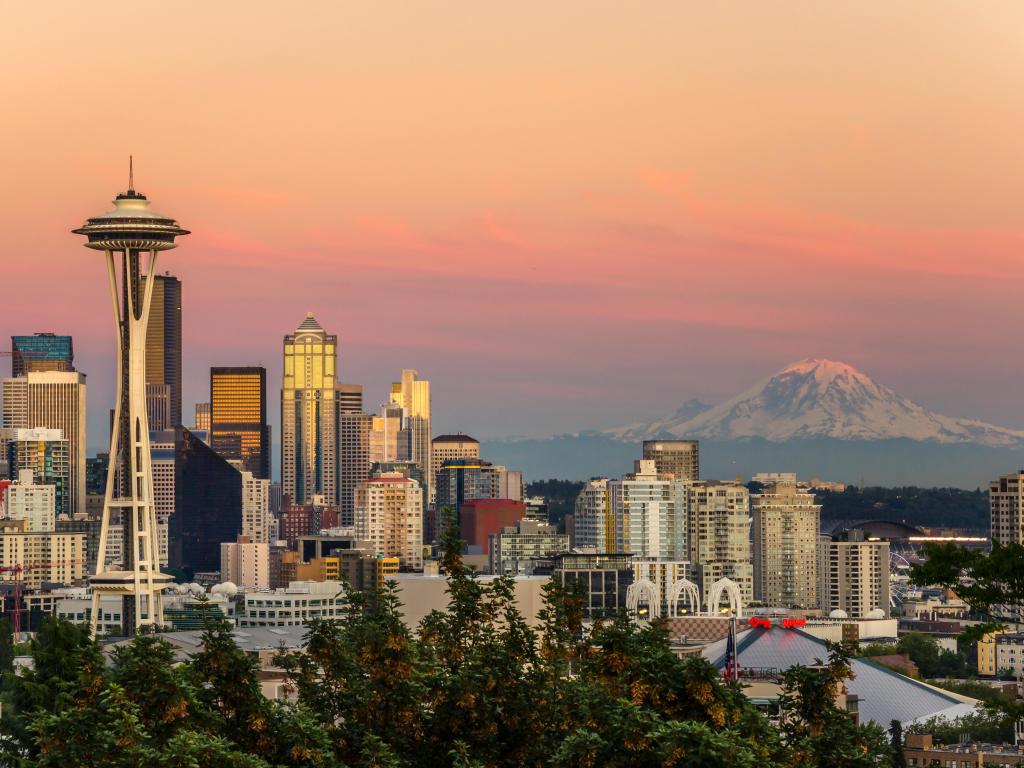 If breathtaking coastline is more your thing, then the alternative route is ideal. Taking 19 hours of straight driving and covering 950 miles, the Coastal Route takes you alongside stunning coasts and places of interest such as Humboldt Redwoods State Park, Cannon Beach and Coos Bay.
Best road trip route from Sacramento to Seattle
There is no definitive best route for the road trip from Sacramento to Seattle, so choose between the Inland or Coastal Route depending on your preference for scenery.
The Inland Route
This straightforward route means that you can simply enjoy the views. Head north on Interstate 5 from Sacramento for 750 miles until you reach Seattle.
Spend some time exploring the vast Shasta Lake reservoir, ideal for watersports and trails, before passing Castle Crags State Park and Wilderness. The marked trails in this peaceful location start right beside I-5.
You can make a short detour along R-273 and R-66 to visit Cascade-Siskiyou National Monument. Get back on I-5 and pass through Eugene, before heading into Portland then crossing into Washington State.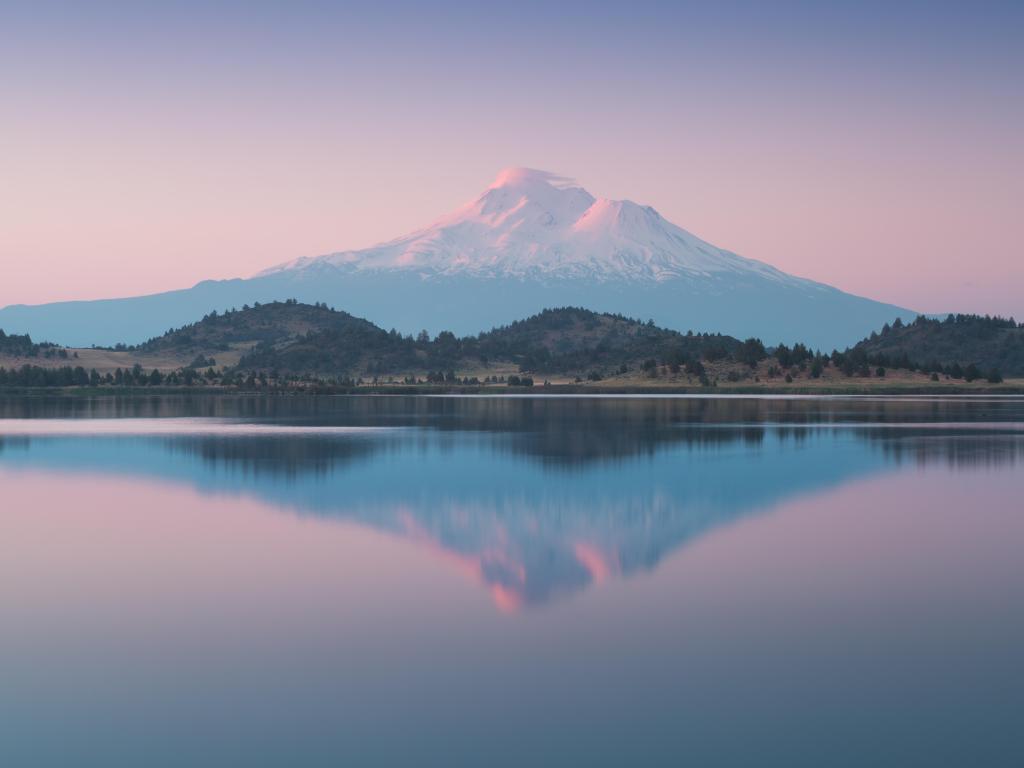 At Olympia the road turns north east. Once there, follow Puget Sound all the way into Seattle. It's definitely worth stopping to explore the islands and inlets. If you fancy, you could choose to stop and take a whale watching trip. Olympic National Park is also just a short detour too.
The Coastal Route
Leave Sacramento on the I-5 passing Zamora and Genevra, before turning onto Highway 20 at Williams. From here you will drive alongside the shore of Clear Lake and snake through Jackson Demonstration Forest before hitting the coast at Fort Bragg.
Take Route 1 and head north, merging with Route 101 at Leggett. Take some time here to explore the unmissable Humboldt Redwoods State Park before turning back towards the coast again.
En route you'll pass the three lagoons of the Redwood Highway and discover Redwood National and State Parks and Prairie Creek Redwoods State Park.
Continue through Brookings and Port Orford before you reach Coos Bay and cross the McCullough Memorial Bridge towards Newport.
From Tillamook you can detour to the scenic Cape Meares lighthouse, or carry straight on along R-101 towards the beautiful Cannon Beach. Ideal stops along the way to take in the scenery.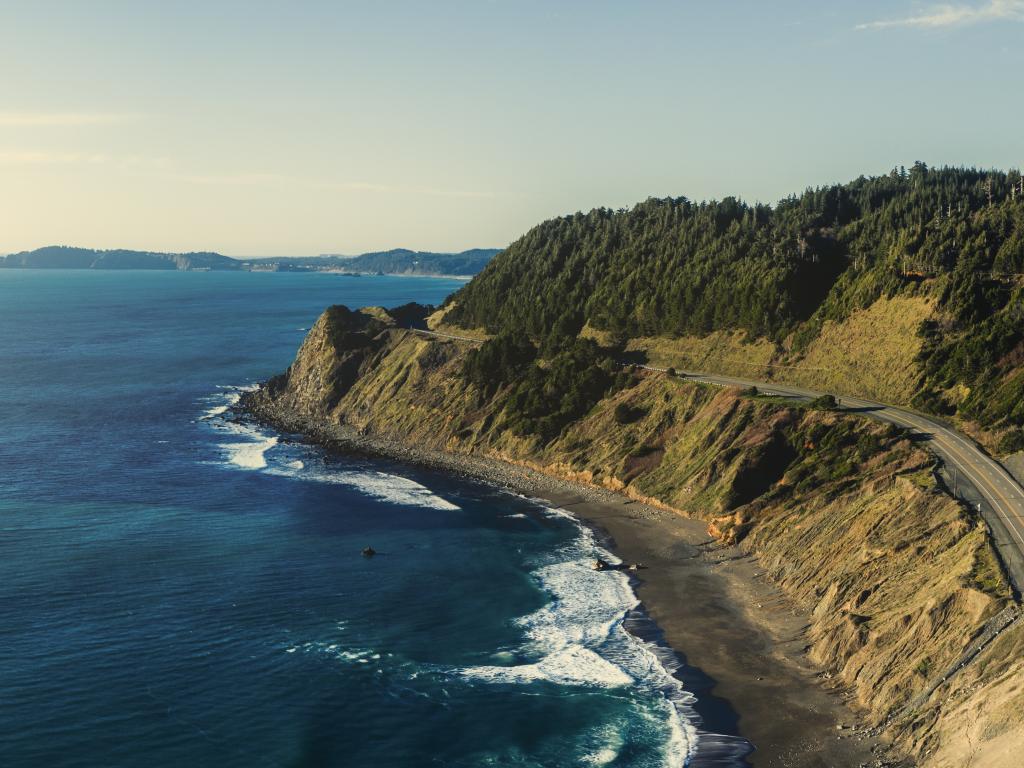 The Astoria-Megler Bridge takes you from Oregon into Washington. Next follow R-401 and R-4 until you meet R-101 again. After passing Artic, take R-107 through Melbourne to join R-12, The Olympic Highway, at Montesano.
When you pass Olympia consider taking a detour to explore the Olympic Peninsula, before joining the I-5 all the way past Tacoma and to Seattle.
Best places to stop between Sacramento to Seattle
There are so many places you could break the journey on this fantastic trip, all with stunning views and great local hospitality to discover. Where we're concerned, these are some of the best.
Redwoods National and State Parks (Coastal Route)
Just 7 hours from Sacramento and close to the highway, Redwoods National and State Parks makes an ideal stop or longer break on the route to Seattle.
Known for its giant Redwood trees and long stretches of unspoilt coastline, this World Heritage Site is one of California's iconic national parks. Stretch your legs on one of the many trails, or have a try at kayaking or horse riding.
When it comes to accommodation, Benbow Historic Inn, Garberville is a charming and memorable option. Situated right on Route 101 just south of Humboldt Redwoods State Park, this hotel has amazing views and an outdoor pool to relax after a day on the road or exploring the Humboldt and the other nearby Redwood parks.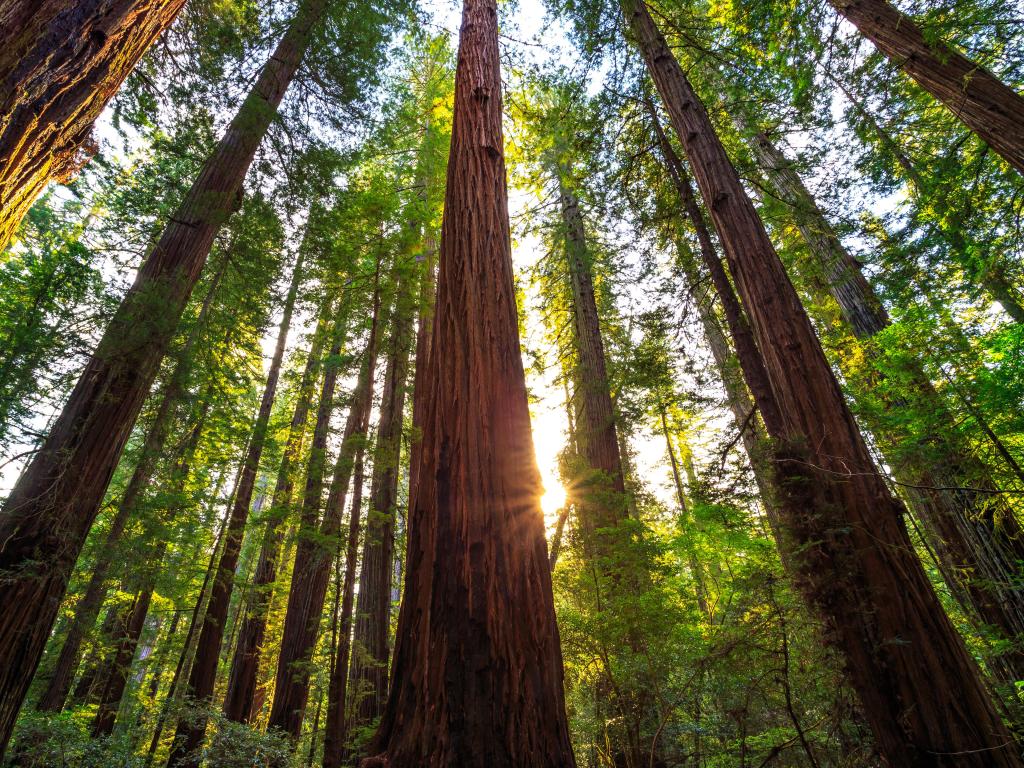 Cannon Beach (Coastal Route)
Cannon Beach is great place to stop for anyone who enjoys the laid back coastal lifestyle and being just 4 hours away from Seattle, it makes a fantastic break before arriving at your final destination.
If you decide to extend your stay over a couple of days, the stunning Oregon coast is also home to Crescent Beach and Ecola State Park - providing beautiful beaches, great views and even whale watching from March to May.
After several days on the road you're likely to need some relaxation. Hallmark Resort in Cannon Beach, with its two indoor pools, hot tubs and day spa is the perfect place to refresh body and mind.
Located directly on the beach, the hotel is perfectly positioned to enjoy the stunning natural scenery and it's just a short walk to the nearby restaurants and bars. Ideally suited for travellers, it's also close to the highway, easy to find and has parking.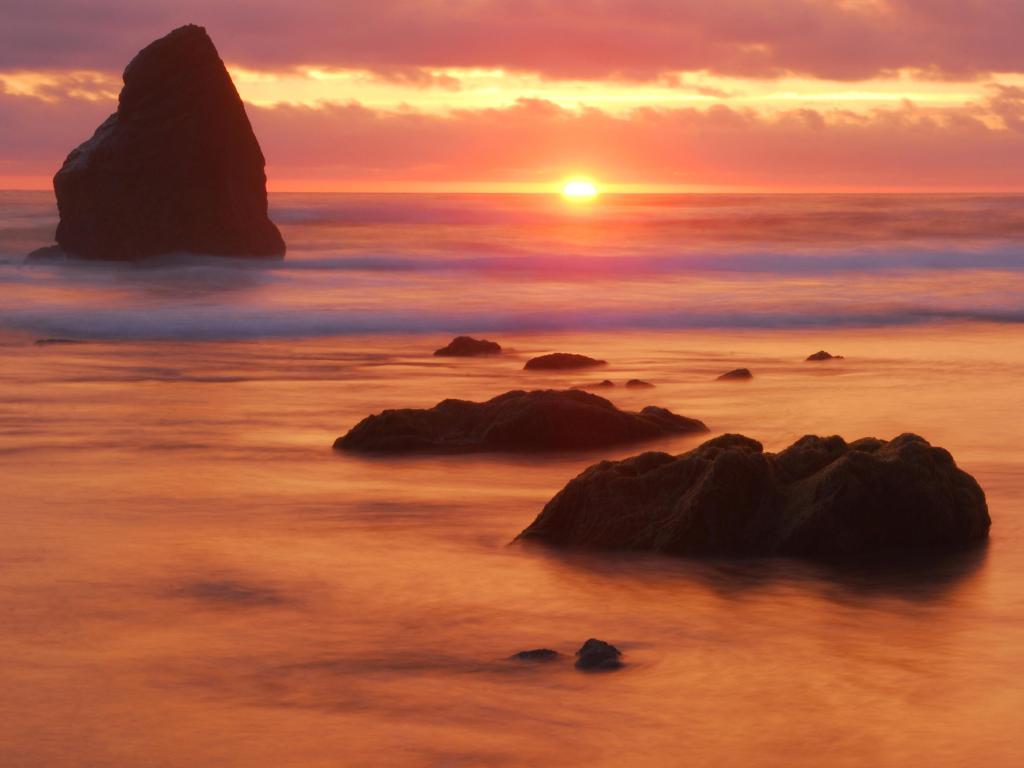 Where to stay at your road trip destination
After a long drive to Seattle, we suggest you book yourself a room at the superb Palihotel Seattle, right in the heart of the city.
With Pike Place Market just a short walk away and views of Elliott Bay from the hotel, Palihotel Seattle is comfortable, super stylish and offers a boutique experience with an affordable price tag.
Things to see on a road trip from Sacramento to Seattle
Unsurprisingly there are a multitude of beautiful places to visit on the road trip from Sacramento to Seattle. We strongly advise that you spend at least a couple of days to soak up the scenery at these memorable sights:
Jackson Demonstration Forest - Follow riverside forest walks to discover waterfalls and wildlife in this 50,000 acre state-owned forest
Humboldt Redwoods State Park - Work your way along the Eel River to marvel at the massive and ancient Sequoias, including some of the world's tallest in Rockefeller Forest
Prairie Creek Redwoods State Park - As well as the ubiquitous Redwoods, this is a great place to spot wild elk, or to take a trek to Fern Canyon, a picturesque film location
Samuel H Boardman State Scenic Corridor - Explore 12 miles of rugged, unspoilt coastline, stopping to take in hidden viewpoints, trails and beaches
Port Orford - This arty fishing town is the oldest on Oregon's Pacific coast is as far west as you can get in the continental US
Cape Blanco Lighthouse - Commanding a spectacular view over the Pacific, you can sometimes spot whales from this historic lighthouse, as well as exploring the nearby cliffs and beaches
Coos Historical and Maritime Museum - In Coos Bay, take a tour around this waterfront museum to learn more about the Oregon coastline you've been enjoying on this route
Cummins Creek Wilderness - Part of Siuslaw National Forest, take the 6.5 mile Loop Trail to explore dense temperate rainforest which is home to elk and black bears
Cape Meares - Visit another historic lighthouse or trek up to the top of the promontory to watch for whales out in the ocean. Nearby, the Columbia River Maritime Museum explores the history of this coastal community
Oregon Coast Aquarium - Once the home of the orca Keiko – famous for his starring role in Free Willy, this aquarium now focuses on native Oregon wildlife and is rated as one of the best in the US
Nestucca Bay National Wildlife Refuge - This reserve on the Pacific is an important habitat for migrating birds as well as housing many permanent residents – watch out for endangered Bald Eagles if you visit
North Coast Craft Beer Trail - As well as being home to sweeping bays and stunning rock formations, Cannon Beach is also the starting point for this 29 mile route. If you visit all 12 venues you'll earn yourself a commemorative pint glass (with the help of your designated driver)
Astoria - The first city to be built west of the Rockies, this picturesque coastal town is still home to a restored trolley which you can ride through the historic working waterfront
Portland - The largest city in Oregon is known for its creativity and music scene, as well as being the gateway to nearby Mount Hood and Oregon's wineries
Olympic National Park - This vast wilderness area encompasses temperate rainforests, mountains, and rugged beaches – it's a great place to get away from the crowds before you reach Seattle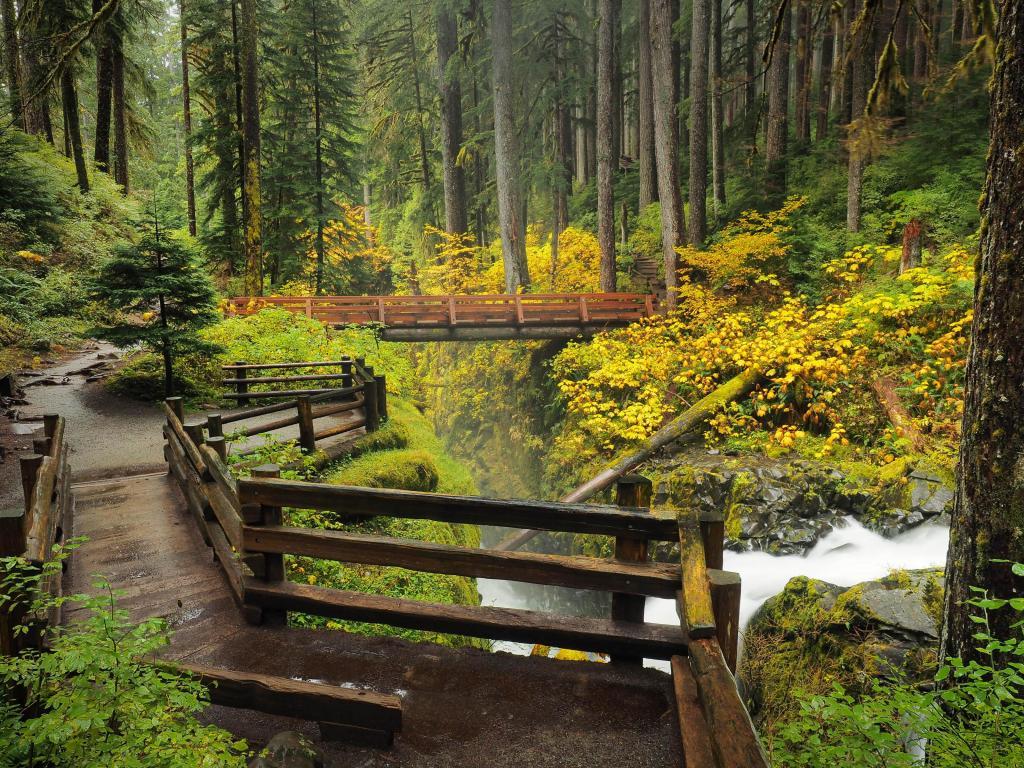 Best time to go on a road trip from Sacramento to Seattle
The road trip to Seattle from Sacramento can be enjoyed all year around, thanks to its warm summers and mild winters. That said, the further north you travel you will experience lower temperatures and the chance of increased rainfall.
If spotting whale watching or spotting migrating birds is high on your agenda, the best time of year to for this trip is winter or fall. The climate is mild in winter but watch out for potential snow in Oregon and Washington. Fog can also be a problem this time of year near the coasts.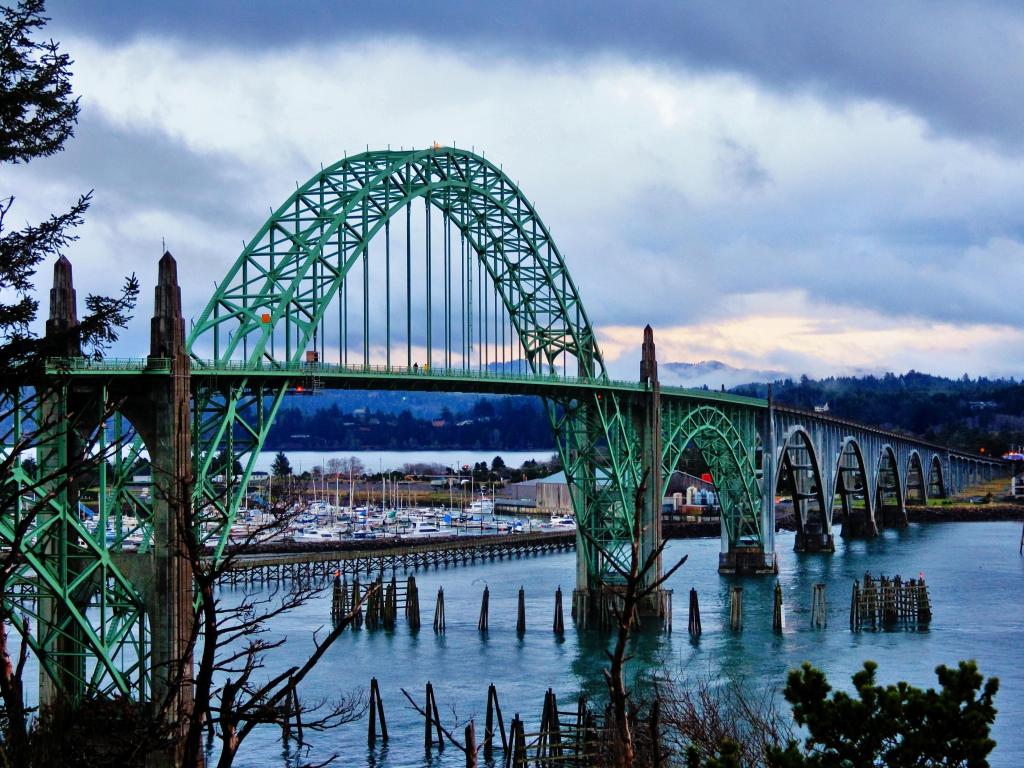 Summer is a great time to visit, with beautiful warm temperatures hitting highs of 90-95 degrees Fahrenheit in July. You might however encounter crowds during popular summer months, especially in the national parks close to California.
However, if missing crowds is important to you, you'd also be better off planning your trip to Seattle outside of the big events such as the Seattle International Film Festival in May or June, the Northwest Folklife Festival over Memorial Day in late May and large Independence Day celebrations.