Road Trip from Sacramento to Lake Tahoe
If you have limited time but want to experience plenty of spectacular scenery, this stunning drive from Sacramento to Lake Tahoe might be the perfect road trip for you. Your journey through the Northern California Sierras takes in charming small towns, sparkling lakes, mountain vistas and a glimpse of America's pioneer past.
The 160-mile road trip from Sacramento to Lake Tahoe takes over 3 hours to drive. Highlights include Tahoe City, historic Donner Summit Bridge, Yuba City and Emerald Pools in the north, and Sutter Creek and the Sierra Nevada Mountains in the south.
So, get ready to hit the road in Northern California on this stunning road trip. Read on to discover all you need to know, including our recommended routes, what to see along the way, and the best times of the year to plan your adventure from Sacramento to Lake Tahoe.
How far is Lake Tahoe from Sacramento, and how long will the road trip take?
Comparison of road trip route options between Sacramento and Lake Tahoe

| Route | Distance | Driving Time |
| --- | --- | --- |
| The North Lake Route | 160 miles | 3 hours 30 minutes |
| The South Lake Route | 170 miles | 4 hours |
This is one of our shorter road trips, with two recommended routes of around equal length. Both of our routes offer the chance to see the beautiful scenery of Northern California, plus some interesting historic sites, ending at South Lake Tahoe.
The slightly shorter route is 160 miles and takes approximately 3 hours and 30 minutes to drive directly. This route takes you through a mountainous landscape and offers a glimpse of the area's pioneer heritage.
Our second route is just nine miles longer, at 170 miles, with a 4-hour drive time, without accounting for any stops. This route includes wine regions and lovely vistas, as well as interesting mining towns.
Given the length of these routes, you could easily do them in a day (or even complete both as a round trip). However, this is a road trip that features so much natural beauty that frequent stops for photo ops and exploration are a must.
Therefore, we recommend taking a leisurely two days to enjoy all the highlights.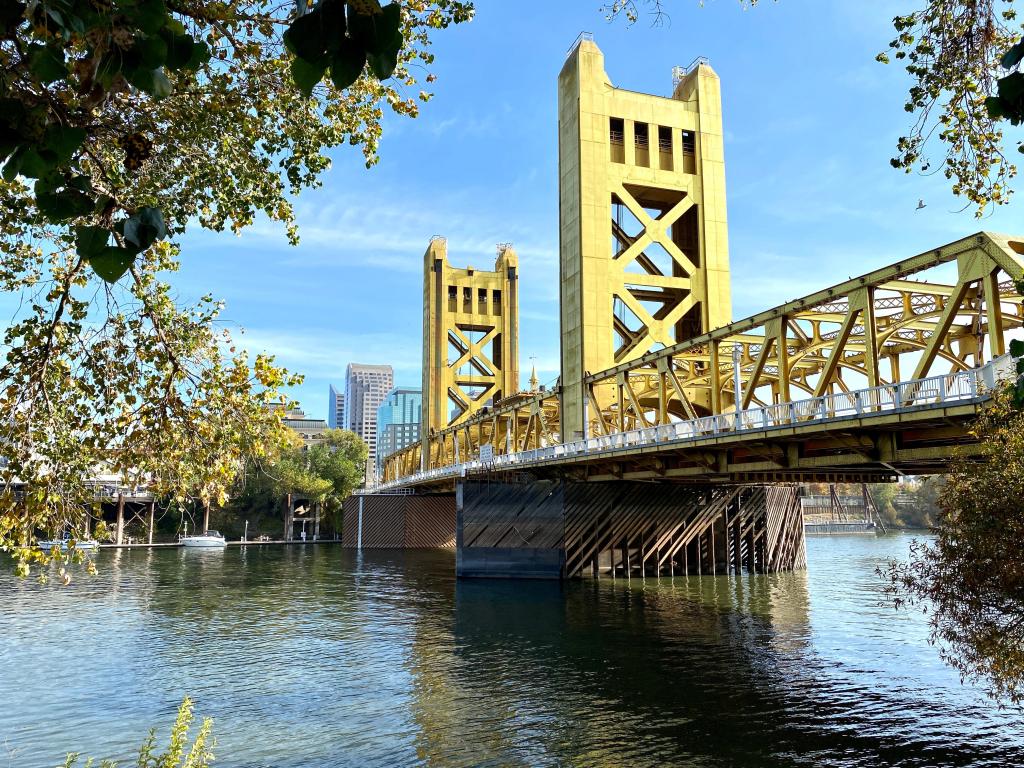 Best road trip route from Sacramento to Lake Tahoe
Both of our routes have the "wow" factor, with lakes, mountains, and nature reserves to enjoy, as well as plenty of scenic driving and panoramic viewpoints.
Our North Lake Route joins up with Lake Tahoe at Tahoe City, and from here you'll enjoy a scenic drive along Highway 89 that follows the lake south for around 30 miles.
Other highlights of this route include lovely Englebright Lake in the stunning Sierra foothills and historic Donner Pass and Donner Summit Bridge.
For our South Lake Route, you'll join Lake Tahoe at the final destination stop of South Lake Tahoe. However, this route includes all the beautiful countryside along Highway 88, especially as you pass through Amador County in the Sierras. Other highlights include the Gold Discovery Museum.
You'll be driving at quite a high elevation during portions of the trip, so you may wish to pull over at the safe, designated stopping points along the way to enjoy the panoramic views.
How to drive from Sacramento to Lake Tahoe
The map above shows our suggestions for the best road trip routes between Sacramento and Lake Tahoe. Keep reading for detailed descriptions of both routes, where to stay on either, and the best things to do on the way.
The North Lake Route
Leave Sacramento via Interstate-5 (I-5) North, crossing Feather River Bridge and on to Yuba City. You can soon stop at Riverview Ranch viewpoint. Turn left onto Mooney Flat Road and pass by Black Swan Trail nature reserve as you drive towards Englebright Dam and Lake.
Once you've seen Englebright Dam and Lake, take a left and head for Lake Wildwood. At the edge of the lake, head north to explore South Yuba River State Park. From here, pick up Bitney Springs Road and head towards Bitney Corner.
Head east out of Grass Valley, where you can make a detour to visit the Nevada County Narrow Gauge Railway Museum on your way to Nevada City.
Continue east past pretty Scotts Flat Reservoir before taking a left off the main road to spend time at Rock Creek Nature Study Area. You will soon reach Emerald Pools and take I-80 East. There are lots of great photo opportunities here, with lofty views of the mountains and lake.
Continue on to Lake van Norden and Donner Summit Bridge, maybe pausing to enjoy a break at lovely Donner Lake.
For the final leg of the trip, take a right just past Donner Lake towards Tahoe City. Leave Tahoe City and trace the shores of Lake Tahoe along CA-89 South, passing Rubicon Point Lighthouse and Emerald Bay State Park, on your way to South Lake Tahoe.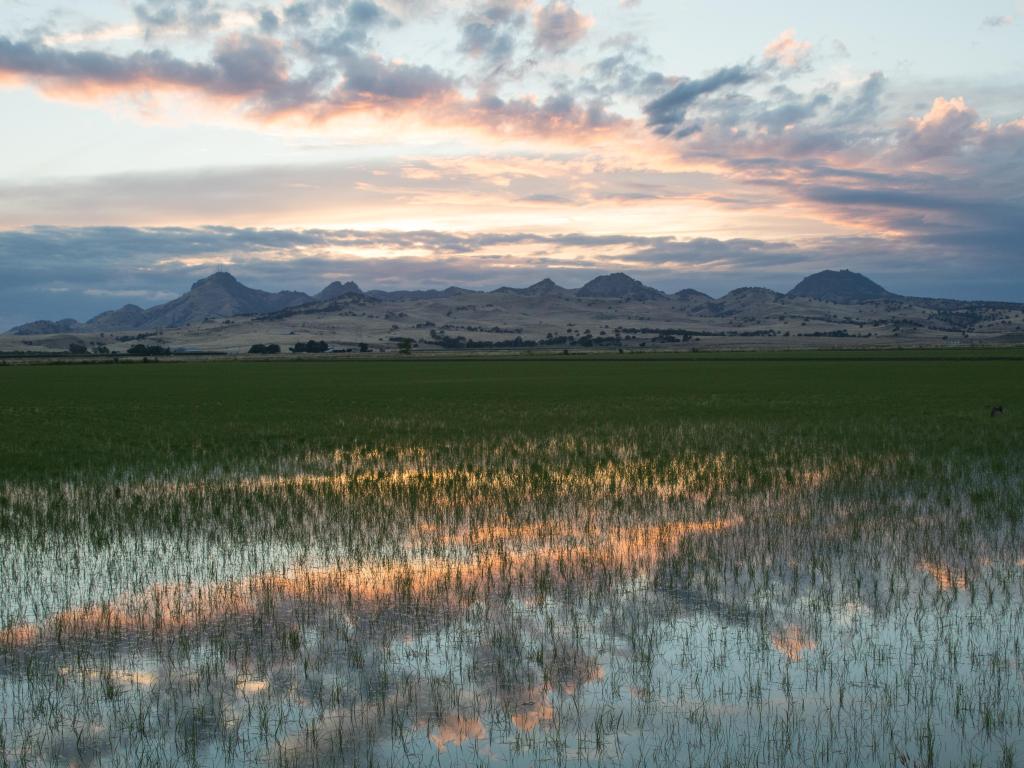 The South Lake Route
For this route, leave Sacramento via US-50 East and enjoy a brief stop at Mississippi Bar Nature reserve on your way to Folsom Powerhouse State Historic Park and pretty Folsom Lake.
Once you've explored the park and lake, continue east through Mormon Island Wetlands State Park. At the town of Rescue, turn left and head north towards the Gold Valley Museum in Coloma.
From Coloma, continue south for the town of Cold Springs. Just past Cold Springs, take a right and follow the signs for the town of El Dorado. Head towards the town of Sutter Creek, entering Amador County.
You will soon reach Indian Grinding Rock State Historic Park. Once you've finished your visit, turn right and, shortly after, make a sharp right on to Pioneer Volcano Road and follow this to Black Chasm Cavern National Natural Landmark.
On the way, stop at Peddler Hill Scenic Viewpoint, before reaching the town of Maiden's Grave. From here, continue on CA-88 East towards Picketts Junction, enjoying the lake and mountain views on the way.
Finally, turn left onto CA-89 North and follow the road past Echo Lake and Washoe Meadows State Park as you make your way to the destination stop of South Lake Tahoe.
Best places to stop between Sacramento and Lake Tahoe
As this is one of our shorter road trips, it offers the chance to really explore this beautiful part of Northern California. We've picked out one place on each route we think makes a great overnight stop on your way to Lake Tahoe.
Gold Rush-era hospitality in Nevada City
On the North Lake Route, our recommended stop is Nevada City, which you will reach around halfway into the trip. The quaint city in the Sierra foothills features lots of eateries and boutique stores, plus lovely Crystal Hermitage Gardens.
You can also discover the city's history as a mining town during the Gold Rush at the Narrow Gauge Railroad Museum and Malakoff Diggins State Historic Park. For evening entertainment, check out what's on at the Miner's Foundry Cultural Center.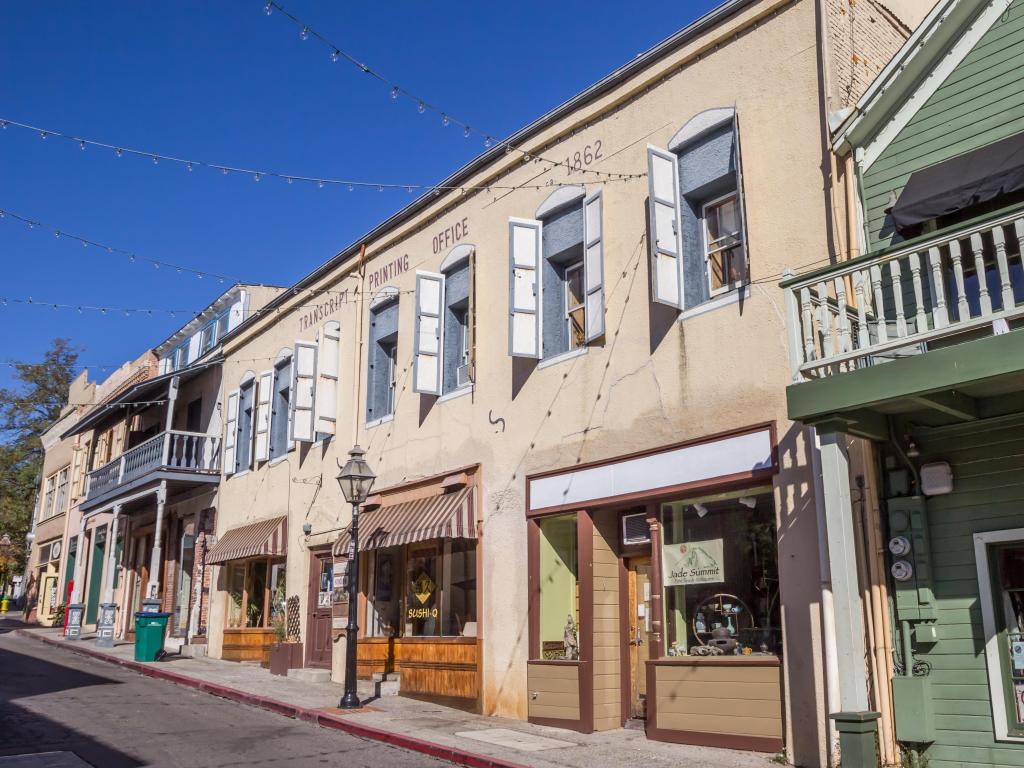 Our recommendation for an overnight stop is the excellent National Exchange Hotel, which is conveniently located in the heart of the city, with all the local attractions within easy reach.
Designed in keeping with the Gold Rush, the Victorian hotel features a beautiful façade and tasteful décor. Relax in one of the luxurious, beautifully appointed rooms and soak up the historic ambience at this Nevada City landmark.
You can also look forward to a delicious meal at the friendly on-site restaurant or enjoy a cocktail in the characterful National Bar or on the balcony, which overlooks bustling Broad Street.
History and wine tasting in Sutter Creek
Our recommended South Lake Route stop is in the California mining town and wine hub of Sutter Creek. Again, the stop comes about halfway into the road trip.
Established in 1854, Sutter Creek was one of the earliest mining towns in California. It was known as the "Jewel of the Motherlode". While you're here, you can enjoy a stroll along the quaint main street and visit Knight Foundry, a historical manufacturing site.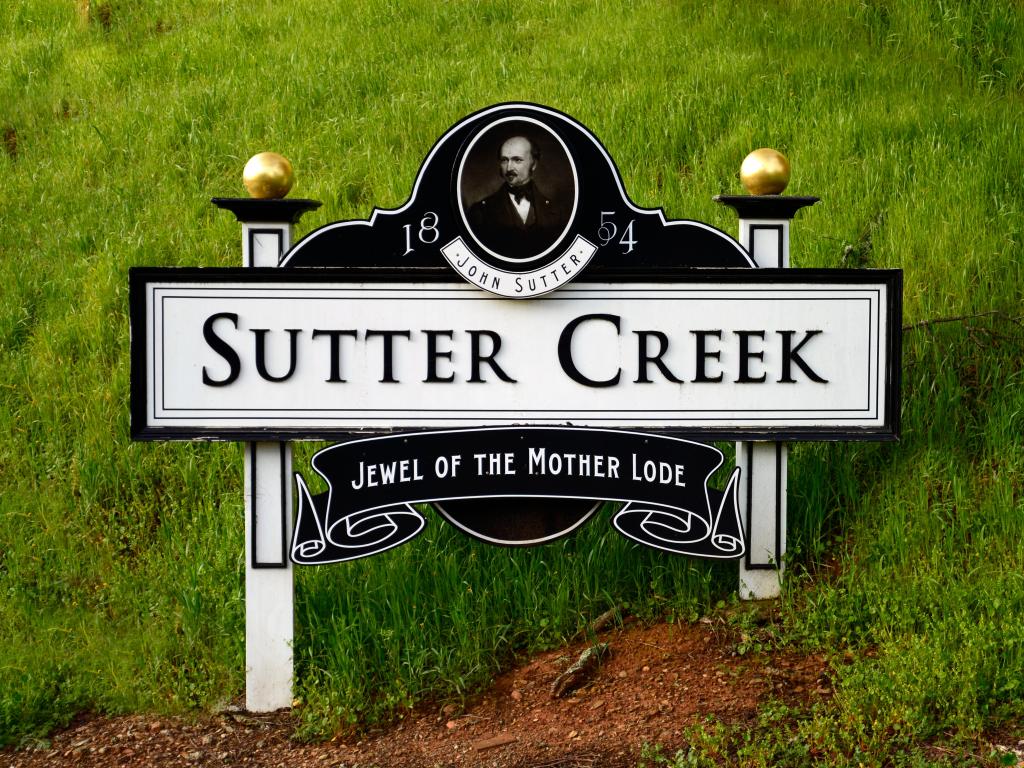 Round off the day with a wine tasting at one of the tasting rooms on the main street. The region is particularly known for its red Zinfandel.
Our choice for an overnight stay in Sutter Creek is the charming Hanford House Inn. Conveniently located for the town's attractions, the hotel also hosts a wine happy hour, as well as offering comfortable rooms with either a patio or a balcony where you can unwind after your drive.
Savor the warm scones delivered to your room, along with a hearty breakfast each morning. There is also a restaurant and a bar onsite, while all the amenities of Sutter Creek are within walking distance, so you can leave the car behind.
Convenience and coziness in South Lake Tahoe
Once you've reached South Lake Tahoe, you will want a base that offers easy access to the lake and surrounding attractions.
Just a few blocks' walk from the lakeshore, the charming Black Bear Lodge offers a comfortable retreat and a warm welcome.
Look forward to a good night's rest in one of the cozy lodge guestrooms or spacious cabins. After a day's driving or sightseeing, you can relax in the inviting outdoor hot tub or linger over a quiet drink in the wine bar, which features California wines and small plate appetizers.
Nearby, you can find ski runs, while just across the Nevada state line is a choice of casinos.
A lakeside welcome in Tahoe City
An alternative base at your destination is Tahoe City, which is located on the North Lake Route, just 30 minutes north of South Lake Tahoe.
The superb Sunnyside Resort and Lodge hotel boasts a fantastic location right on the lake. Rooms in the grand lodge are modern and well-equipped, featuring a charming rustic design. Premium rooms benefit from a lovely balcony overlooking the lake.
You can take a seat in the stunning lakeside dining room or on the patio and marvel at the spectacular views across the azure lake while enjoying a drink or a bite to eat.
Tahoe City is an especially great choice if you want to go hiking, with Paige Meadows and Burton Creek State Park nearby.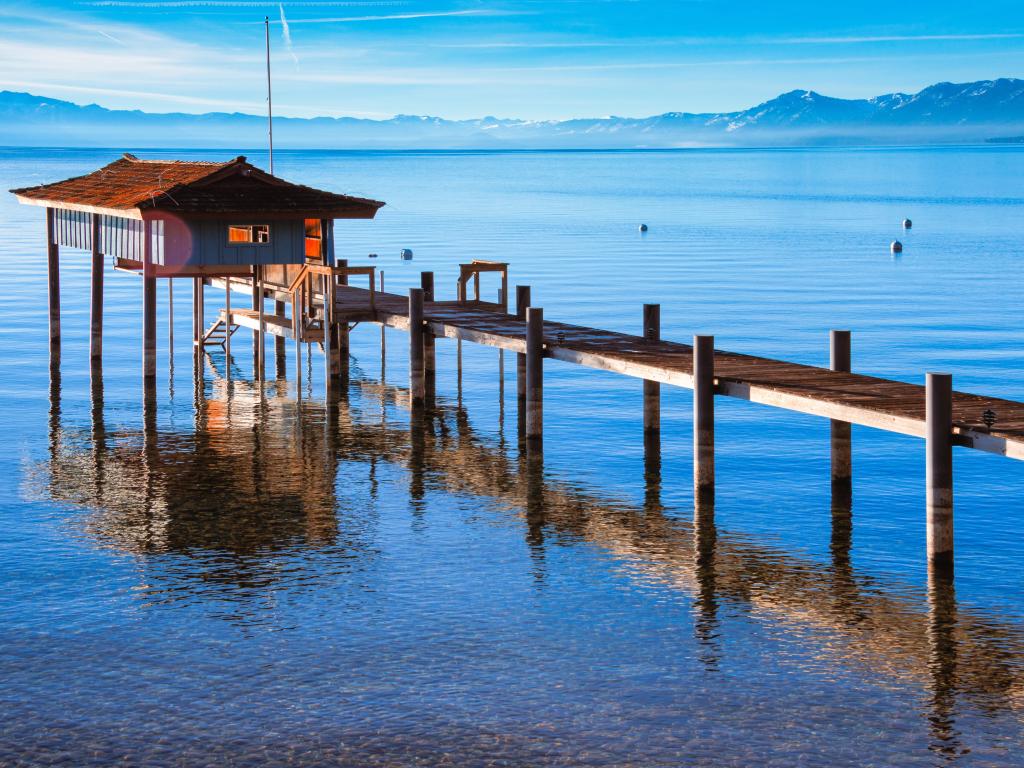 Things to see on a road trip from Sacramento to Lake Tahoe
There is plenty to see on both our routes, including lots of scenic highlights. We've picked out just a few on each route to help you plan your perfect itinerary.
Both routes
South Lake Tahoe to Tahoe City - Part of our North Lake Route, the short, scenic lakeside drive along Highway 89 is a real highlight of this road trip and easy to incorporate into the South Lake Route.
Eagle Falls - Located along the South Lake Tahoe to Tahoe City drive, you can take a challenging hike to be rewarded with gorgeous waterfalls and views of the lake.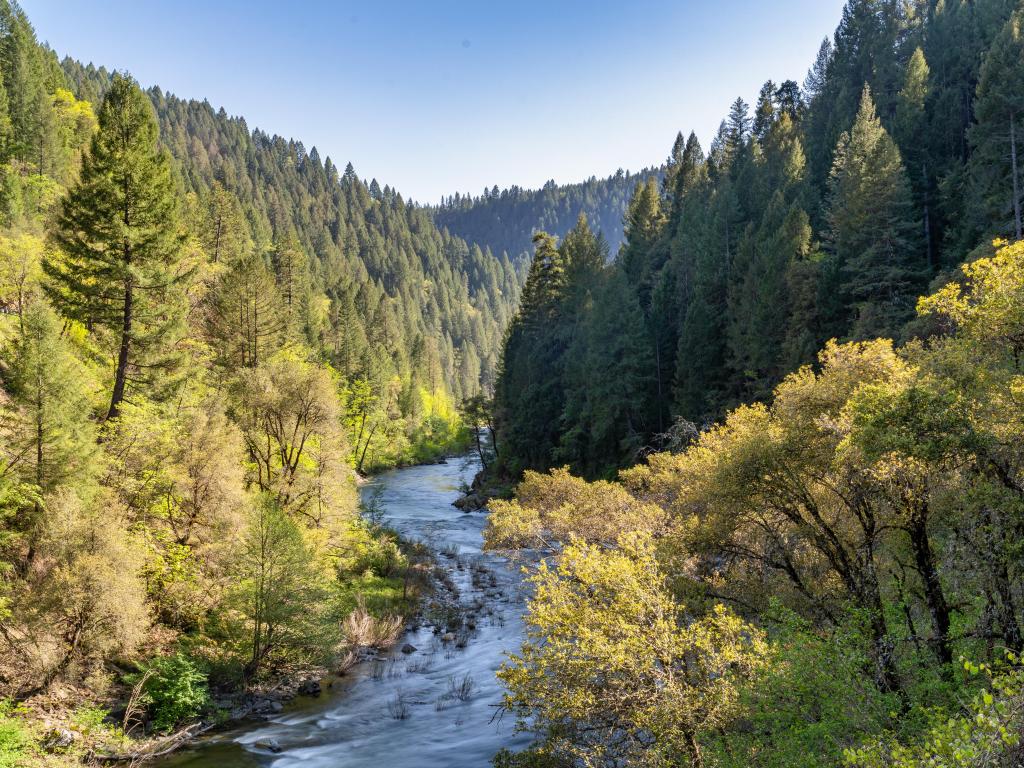 The North Lake Route
California Agricultural Museum - Just north of Sacramento, here you can explore the notable Hendricks Antique Tractor collection, which dates back to the 1930s.
Yuba City - Highlights of this multi-cultural town include Sutter County Museum, Bok Kai Taoist Temple and Shri Narayan Hindu Temple.
Englebright Dam and Lake - Enjoy a break from the road at this scenic concrete arch dam and take the short hike to the great lookout point for lovely views.
South Yuba River State Park - Explore the beautiful trails and historic bridges, Buck's Beach and the clear waters of the Yuba River. It's an especially welcome place to stop on a hot summer road trip!
Grass Valley - Things to see in this interesting town in the Sierras include the Empire Mine State Historic Park and North Star Mining Museum which are dedicated to the Gold Rush era.
Rock Creek Nature Study Area - This lovely space features accessible trails over wooden bridges and along bubbling streams that allow even those with mobility issues to explore the beautiful forest.
Emerald Pools - Enjoy a moderate-level mile-long hike from Highway 20 just before Yuba Pass to see shimmering mountain ponds and typical Sierra rock formations.
Donner Pass and Donner Summit Bridge - One of the highlights of this route, you can take in the awesome views and appreciate the Native American history and the Old West pioneers.
Truckee - Another interesting stop is this quaint California mining town, where you can discover the Truckee Railroad Museum and Old Jail Museum.
The South Lake Route
Folsom Powerhouse State Historic Park - The highlight of this historical site is the preserved 1895 alternating current hydroelectric power station, one of the country's first.
Marshall Gold Discovery State Historic Park & Gold Discovery Museum - Take a detour to Coloma to learn more about the California Gold Rush.
Plymouth - Located in the Shenandoah Valley, Plymouth boasts several outstanding wineries, including Cooper Vineyards and Jeff Runquist Wines.
Chaw Se'Roundhouse & Indian Grinding Rock State Historic Park - Spend some time here to find out how Native American people of the Sierras keep their culture and traditions alive. You can also see reconstructions of roundhouses originally built by the Miwok people.
Black Chasm Cavern National Natural Landmark - At this subterranean spectacle, you can take a guided tour through three of the upper chambers, one of which contains a blue underground lake.
Maiden's Grave - Enjoy wonderful views and experience a touch of macabre at this pioneer-era gravesite.
Pacific Crest Trail – Meiss Trailhead - Take a break from driving to explore a portion of the 2,653-mile trail along the western North American mountain ranges.
Pickett's Junction - This pond-studded meadow in the Hope Valley offers more great views and history going back to the 1850s. Don't miss the plaque honoring the Pony Express' stop here in 1861-62.
Fallen Leaf Lake - A final highlight before you reach beautiful South Lake Tahoe, take a detour to view this pretty glacial lake from the Angora Ridge Lookout.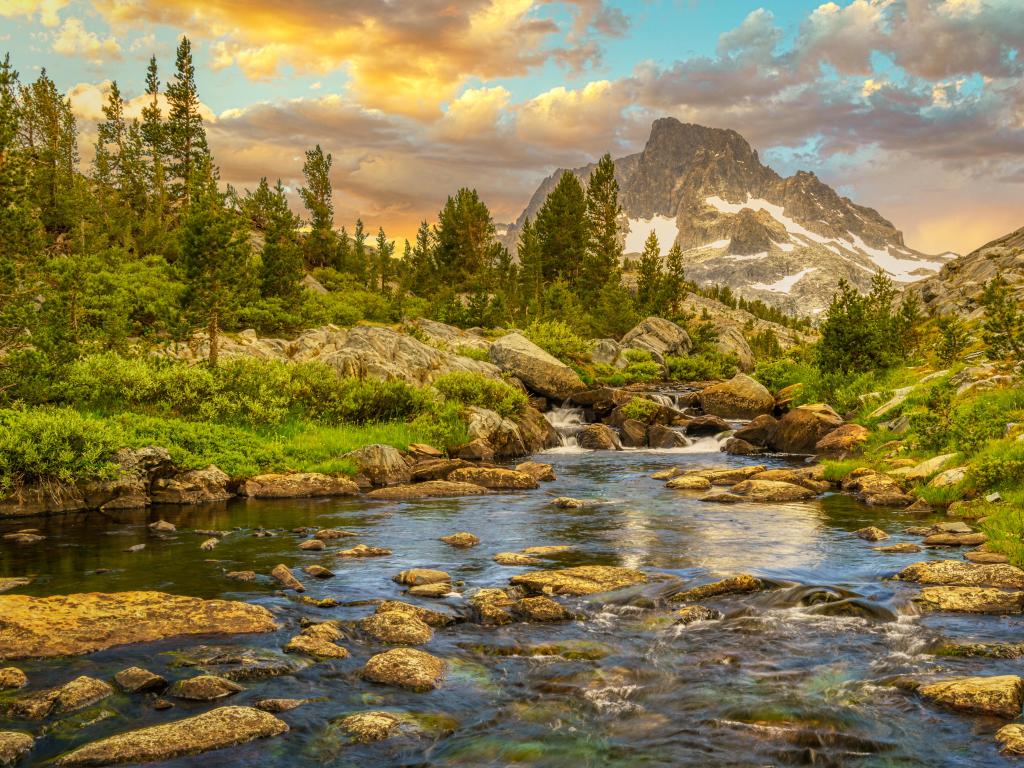 Best time to go on a road trip from Sacramento to Lake Tahoe
Lake Tahoe is considered a year-round destination, offering a unique experience across each of the seasons.
Summer is a great time to visit, with temperatures of 80+ degrees Fahrenheit. You can enjoy the many beaches and take a dip in the lake. As this is a busy season, you may wish to book your hotel well in advance of your trip. If you plan on serious hiking, you might prefer to avoid the height of the summer.
November to January is another good time to visit Lake Tahoe, with the landscape transformed into a winter wonderland. You can ski and snowboard or simply marvel at the snow-covered mountains. You may wish to check road conditions ahead of your journey.
Spring and fall are arguably the best times to plan your trip. Expect temperatures from 50 to 70 degrees, plus fewer people, and lower prices.
There are lots of exciting events happening throughout the year in this area, including the City Solstice Festival in Tahoe City in June and the Beerfest & Bluegrass Festival in Truckee in July. There are also free events held Tuesday to Sunday throughout the summer in North Tahoe.