Road Trip from Sacramento to Grand Canyon
This epic road trip between Sacramento to Grand Canyon is a journey that offers the best of both worlds: the opportunity to explore stunning scenery and beautiful forests, while also enjoying visiting bustling cities en route.
The 850-mile road trip from Sacramento to Grand Canyon will take 13 hours to drive. The route passes Los Angeles and Las Vegas, as well as Yosemite National Park, Mojave National Preserve, Joshua Tree National Park, Lake Tahoe and Red Rock Canyon.
This impossibility scenic journey offers so many great places to visit along the way, so please keep reading until the end to learn about them all, as well as our top recommendations for where to stay and the best time of year to make this trip from Sacramento to the Grand Canyon.
How far is Grand Canyon from Sacramento, and how long will the road trip take?
Comparison of road trip routes between Sacramento and Grand Canyon

| Route | Distance | Driving Time |
| --- | --- | --- |
| The California Route | 880 miles | 13 hours 30 minutes |
| The Nevada Route | 850 miles | 13 hours 30 minutes |
The most direct route from Sacramento to Grand Canyon spans a distance of 850 miles and takes 13 hours and 30 minutes of non-stop driving. The beautiful route takes you through Nevada and the iconic Las Vegas amongst other places.
There's an alternative route option which takes you through California, and despite the fact that it's further at a distance of 880 miles, it will take a similar time to drive at around 13 hours and 30 minutes.
While you could complete either trip in a single day without stopping, a much better option would be to spread it out over five days if you can. That way you'll be able to take a few additional detours along the way and make more of the fantastic scenery you'll pass.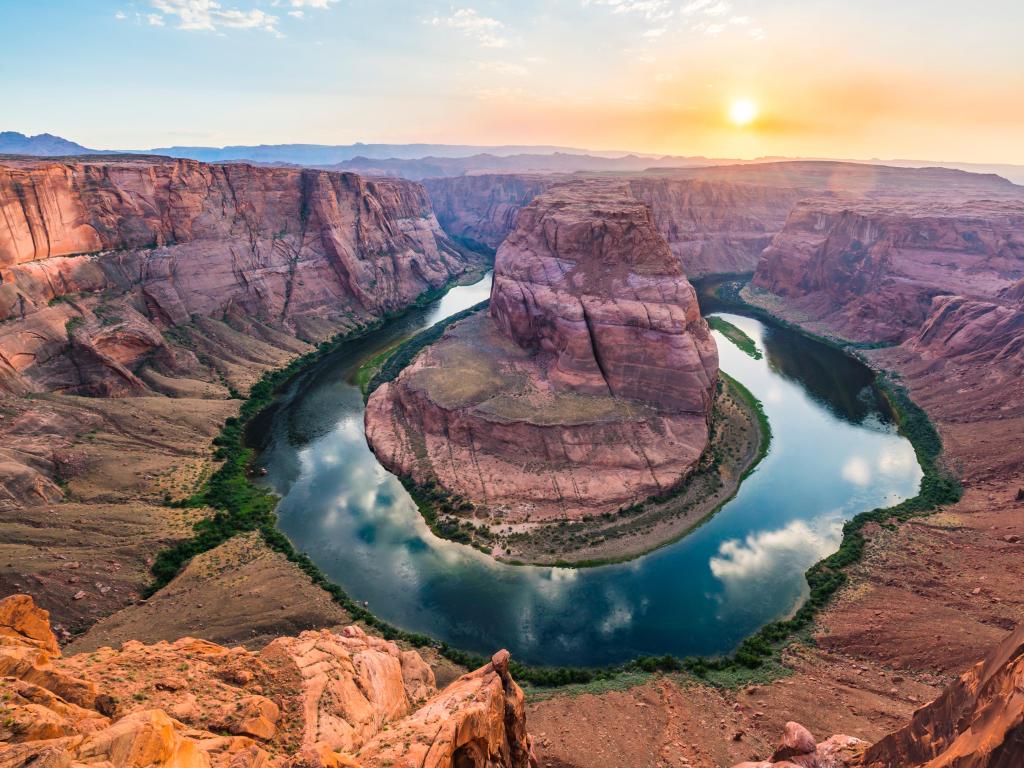 Best road trip route from Sacramento to Grand Canyon
There are two obvious different routes you can follow to drive from Sacramento to Grand Canyon. The California Route takes you through some beautiful forests, breathtaking parks and fantastic cities such as Yosemite National Park and Los Angeles.
Meanwhile, the Nevada Route takes you further north and makes the best of the fantastic lakes and national parks in this part of the US. As well as the stunning landscape, you'll also get to visit Las Vegas for a truly memorable trip.
With similar distances between the two and very little difference in terms of travel time, the choice between our recommended two routes will largely depend on what attractions you would like to see along the way.
How to drive from Sacramento to Grand Canyon
The map above shows our suggestions for the best road trip routes between Sacramento and Grand Canyon. Keep reading for detailed descriptions of both routes, where to stay on either, and the best things to do on the way.
The California Route
Leave Sacramento by following Interstate 5 and drive through the city of Stockton. Take exit 461 for CA-99. From here you have the option to detour to the stunning Yosemite National Park by following CA-120.
Alternatively follow CA-99 through Modesto and head south until you arrive at Fresno. From here you can visit Sierra National Forest or Kings Canyon National Park.
Continuing on CA-99 through Goshen where you can follow CA-198 to take in the stunning scenery of Sequoia National Forest. If you are short on time, you can skip these detours and simply keep on CA-99 and drive through Bakersfield before merging onto I-5 past Mettler.
Next drive through Castaic Lake State Recreation Area while still following I-5 and enter Santa Clarita before making a stop at Los Angeles to take in this wonderful city.
Leave the city on I-10 and take a detour to visit the iconic Joshua Tree Park. Next take I-15 before passing Riverside and San Bernardino and drive through Angeles and San Bernardino Forests. Keep right at the fork to continue on I-40 at Barstow.
If you have time, make a stop to visit Mojave National Preserve for its fantastic landscapes, before following the interstate until you reach Williams where you'll take AZ-64 through Kaibab National Forest and into the Grand Canyon.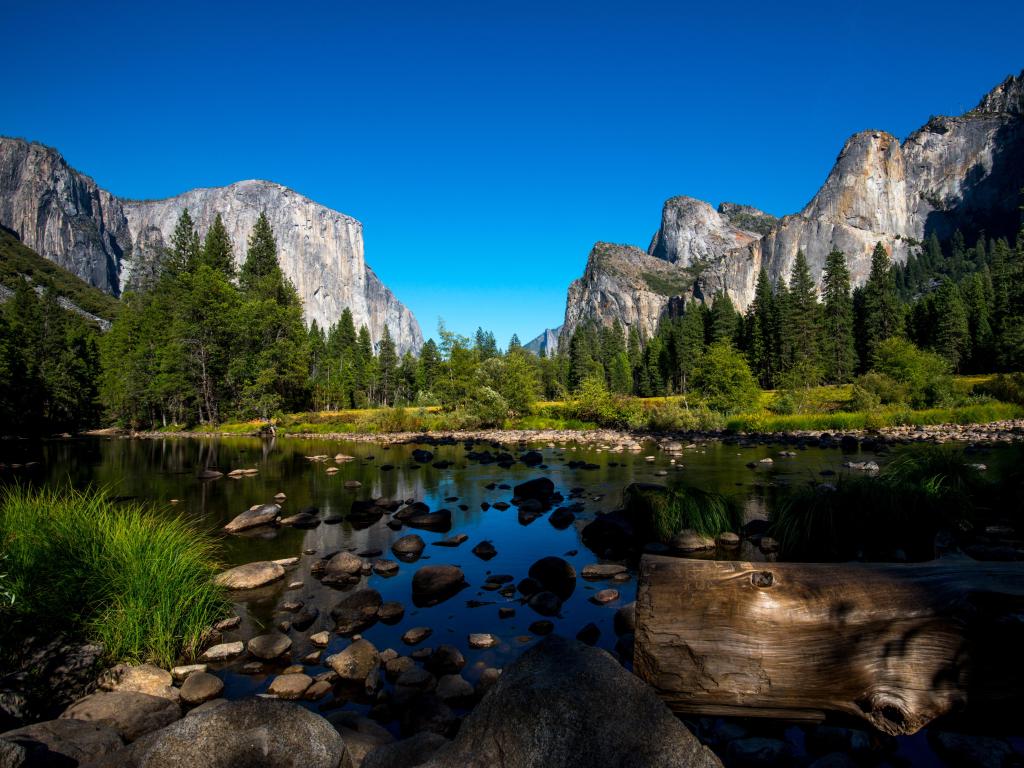 The Nevada Route
Our alternative route will see you leaving Sacramento on I-80 heading east and alongside Tahoe National Forest. A great detour at this point would be to visit the stunning Lake Tahoe or Eldorado National Forest.
Continue on I-80 as you cross into Nevada and drive through Reno. Take the exit and follow NV-439 which will merge onto US-95 past Lahontan State Recreation Area.
Keep following US-95 south past Walker Lake Reservation until you reach Beatty, where you can take a detour to the incredible Death Valley National Park.
You could also add an extra few miles to your trip and visit Desert Wildlife Range and Red Rock Canyon National Conservation Area before considering an overnight stop in Las Vegas.
Follow I-515 out of the city and merge with I-11 past Hoover Dam and cross into Arizona where the road will become US-93. After arriving in the city of Kingman, merge onto I-40 which will take you past Coconino National Forest.
Just like the California Route, you'll exit 165 to follow AZ-64 through Kaibab National Forest before arriving at the Grand Canyon.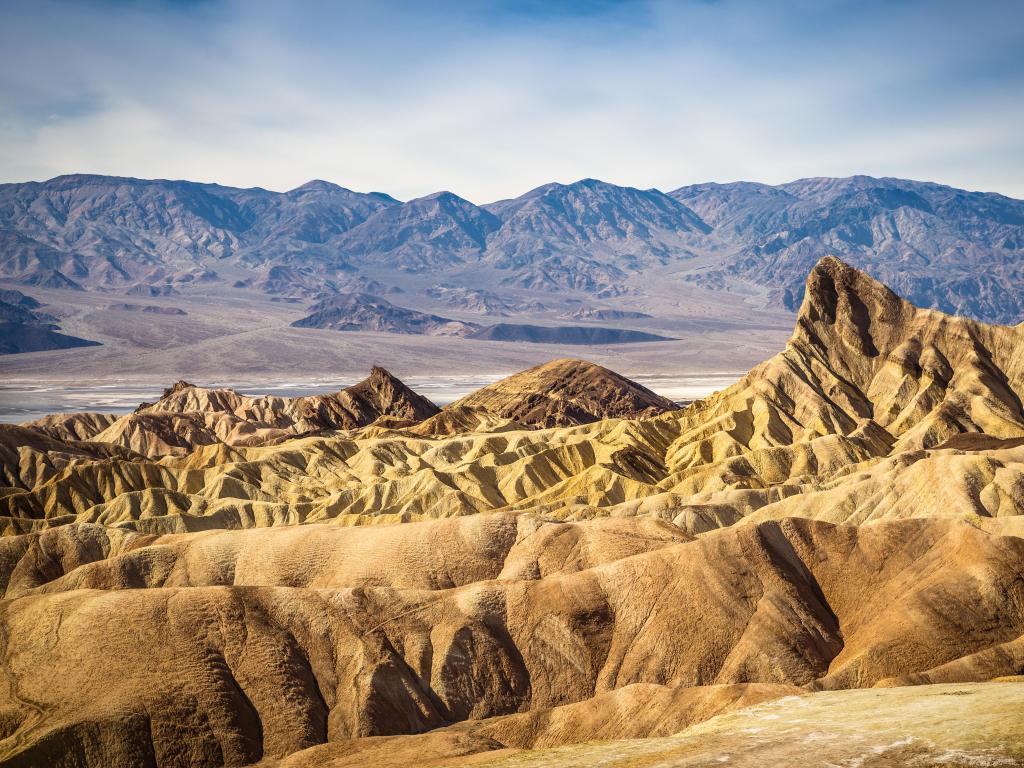 Best places to stop between Sacramento and Grand Canyon
With the road trip from Sacramento to Grand Canyon offering fantastic optional detours en route, you could easily spend much longer taking in all the sights it has to offer. Therefore, you will need a minimum of at least two overnight stops.
Thankfully both routes offer some great places to spend the night. Of all the spectacular hotels you'll pass, here are just a few of the some of the best ones.
An iconic stay at Los Angeles
Located a comfortable 6 hour drive from Sacramento, an ideal overnight stop on the California Route is the iconic city of Los Angeles. Not only is Los Angeles about halfway through the road trip, it's one of the best cities on the West Coast.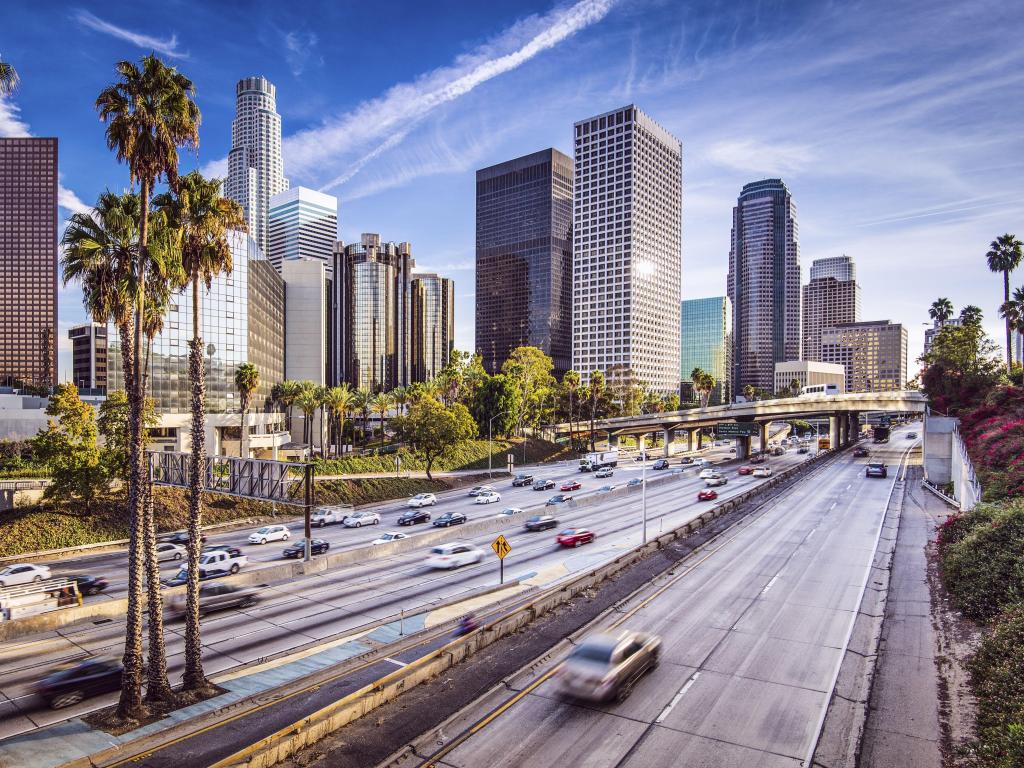 Known for its urban culture, arts and foodie scene, Los Angeles is home to a myriad of amazing attractions and landmarks, meaning it's a city for everyone. Explore the Universal Studios or The Getty Center, or take a stroll to visit the iconic Hollywood Sign.
If you want to escape the busy city, there's also the nearby Angeles National Forest or the stunning beaches of Long Beach to explore. Big kids can spend time at the amazing theme parks or history buffs can visit Los Angeles' many museums.
Of all the amazing hotels that Los Angeles has to offer, The London West Hollywood at Beverly Hills is a top choice. This luxury boutique hotel is located right in the Hollywood Hills, within a short distance of the famous Rodeo Drive and Beverly Hills.
Decorated stylishly and with impressive amenities such as a rooftop pool with cabanas, the hotel also houses several upscale restaurants, one of which serves complimentary breakfast.
Featuring parking on-site, a great bar and a beautiful setting, this hotel is worth every one of its 5-stars and will guarantee you a night of luxurious relaxation before you take to the road again.
An unforgettable stop at Las Vegas
If you've chosen to follow the Nevada Route, then Las Vegas is an obvious choice for a memorable stop. Located only 4 hours from Grand Canyon, it's an ideal city to explore before resting for the night and arriving refreshed at your destination.
One of the main attractions on this route, Las Vegas is a unique city that should not be missed. Famous for its casinos and endless entertainment options, tourists flock here to visit its famous strip, Stratosphere Tower and endless bars and clubs.
That said, there's so much more to explore in this city. Las Vegas also borders one of the most impressive geological formations in the area, Red Rock Canyon, which is a must-see on its own for outdoor enthusiasts.
A stay at The Venetian Resort Las Vegas is a great way to continue the theme of this city in spectacular fashion. This 5-star luxury resort is entertainment personified, including 40 restaurants, a casino, Venice-themed décor and its own shopping mall - there's even a Venetian canal, equipped with gondolas!
If that's not enough, The Venetian Resort also features 10 outdoor pools. Poolside dining and private cabana rental are available. Guests have free access to the Canyon Ranch Spa + Fitness gym, which also features spa services, fitness classes and a 40-foot rock-climbing wall.
Located right on the Strip, this hotel is certainly a memorable option, but with so many amenities and entertainment options at the hotel itself, you might find you never want to leave.
Things to see on a road trip from Sacramento to Grand Canyon
During your trip from Sacramento to Grand Canyon there are a huge choice of places to visit, iconic landmarks and beautiful forests to explore. You could easily spend several weeks visiting them all.
Of all the spectacular places to see en route, these are the ones you'll want to look out for.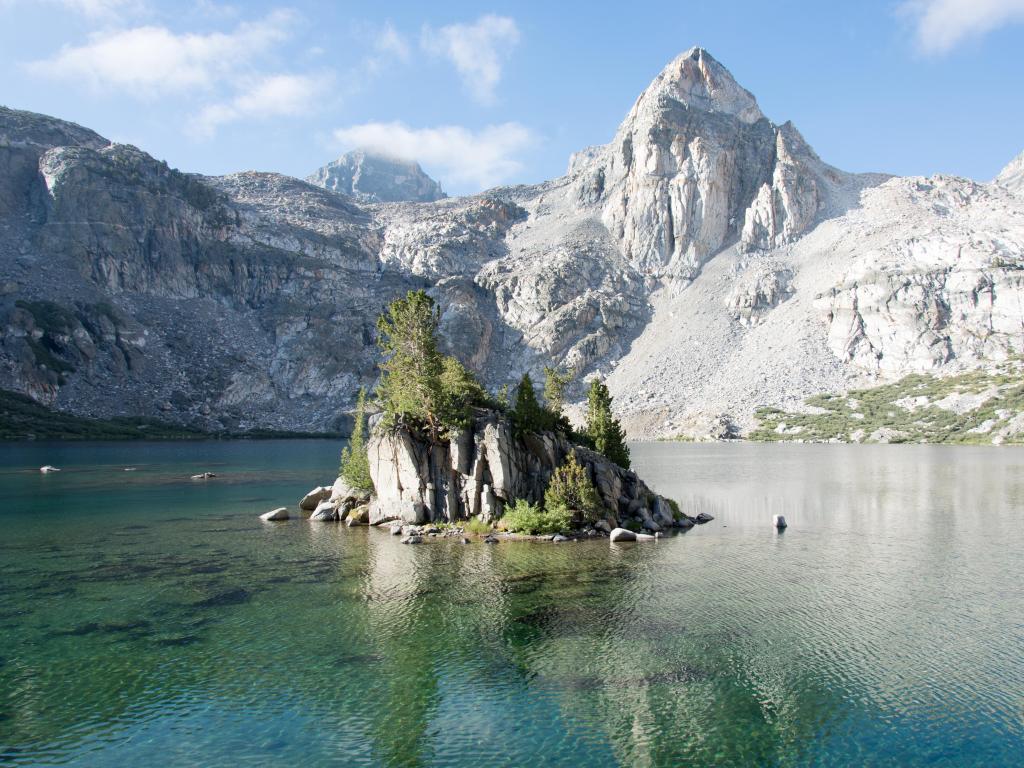 California Route
Yosemite National Park, California - Best known for its waterfalls, Yosemite is one of the most well-known parks in the world for its breathtaking natural beauty.
Moaning Caverns Adventure Park, Vallecito - Gold miners were the first ones to ever explore Moaning Caverns, which houses the largest single cave chamber in the world.
McHenry Museum, Modesto - The original library building of Modesto, this museum now exhibits artefacts that outline the Stanislaus County's rich history.
Sierra National Forest, California - This stunning forest has five wilderness areas, two nationally designated wild and scenic rivers and three nationally designated trails where you can enjoy a scenic hike.
Fresno, California - Known for its great produce and country music, Fresno is home to Forestiere Underground Gardens, Fresno Chaffee Zoo, Woodward Regional Park and Shinzen Japanese Gardens.
Kings Canyon National Park, California - Known as a land of giants, this canyon features the world's largest trees (Sequoia). You can enjoy hiking or rock climbing here, if you are an adventurous soul.
Sequoia National Park, California - Home to the famous "Tunnel rock", this national park is another area where you can admire sequoia trees which also features the dramatic Tokopah Falls.
Kern County Museum, Bakersfield - A museum that aims to shed light to the history of Kern County, this is where you can have interactive and interpretive experiences through historical objects.
The Park at River Walk, Bakersfield - This gorgeous park is the perfect place to stop and rest after a long drive. It features picnic areas by the river where you can enjoy the views as you rejuvenate.
Angeles National Forest, San Fernando - A 70,000-acre wonderland, this forest is one of the major recreational areas near Los Angeles. It is also prone to fire, so it is important to be careful during your visit.
Santa Clarita, California - Known for its film industry and world-famous natural spaces, Santa Clarita is also famous for Six Flags Magic Mountain "the thrill capital of the world".
San Bernardino National Forest, Big Bear - An outdoor year-around recreation destination, this forest features some of the best trails for both adventurers and families alike.
Los Angeles, California - The City of Angels is a major metropolitan hub on the West Coast, where visitors of all ages and hobbies will find entertainment. Home to Universal Studios Hollywood, Griffith Observatory and the Getty Center.
California Route 66 Museum, Victorville- This museum is devoted to tell the history of the famous Route 66 with contemporary exhibitions.
Mojave National Preserve, Essex - This preserve consists of diverse mosaic of ecological habitats and traces of 10,000 years of human connection with the desert.
Joshua Tree National Park, California - An impressive area covered with the easily-recognizable Joshua trees, it also boasts some of the most beautiful sunsets in the desert and offers glamping options.
Grand Canyon Caverns, Peach Springs - Located along Route 66, these caverns include a 200 foot journey underground which will take you back 65 million years of history and geological formations.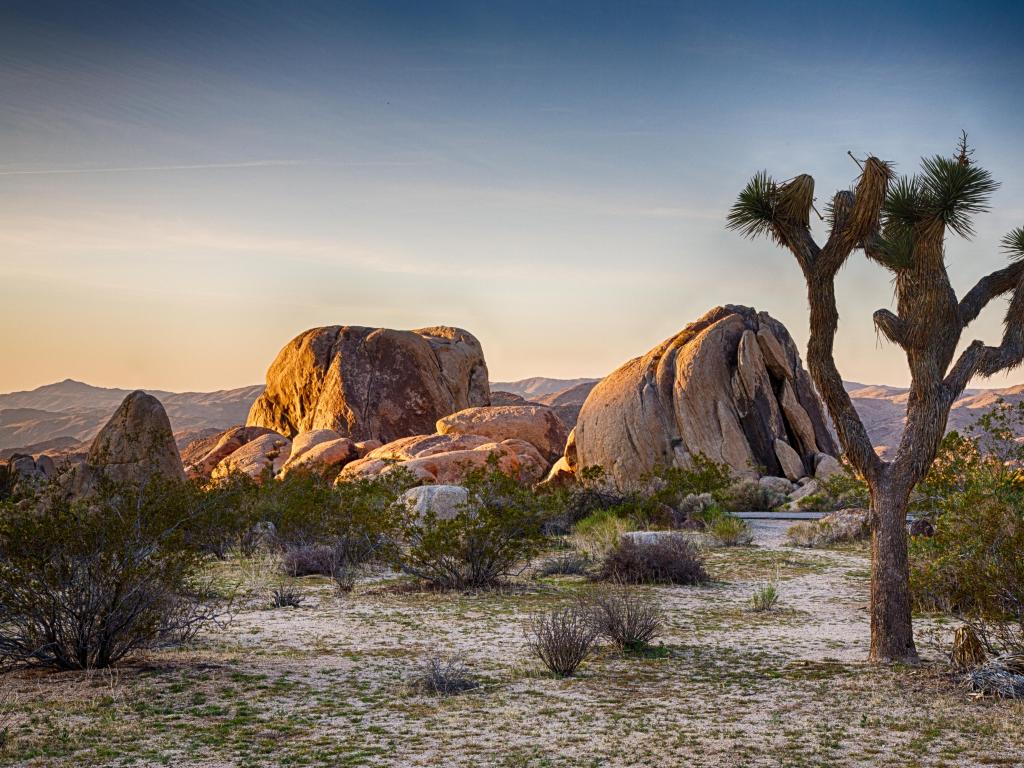 Nevada Route
Quarry Park Adventures, Rocklin - You are in for a unique experience in the nation's only adventure park built within and atop a former rock quarry, where you can try zip lining, if you dare!
Tahoe National Forest, California - You can admire the peaks of the Sierra Nevada mountains as you hike, climb or camp here. It is particularly fascinating to enjoy the dark skies if you are staying overnight.
Lake Tahoe, Nevada and California - This famous freshwater lake is a popular destination for tourists from all over. There are many recreational opportunities which range from water activities to camping.
Reno, Nevada - "The Biggest Little City in the World" is famous for TruckeeRiver WhiteWater Park, casinos, and the National Automobile Museum.
Hawthorne Ordnance Museum, Hawthorne - This museum commemorates the thousands of military, civil service and civilian corporate figures while also displaying demilitarized ammunition.
Walker Lake, Nevada - This lake is located in the Walker Basin, which was the ancestral home of the Northern Paiute people. The efforts are currently ongoing to re-water this scenic lake.
The International Car Forest, Goldfield - A quirky roadside attraction, this "forest" is a one-of-a-kind gallery comprised of over 40 cars, which are mostly buried - some even nose-first!
Death Valley National Park, California and Nevada - The largest national park outside Alaska, Death Valley is known to be the driest and hottest area in the vicinity. You can marvel at mountain-sized sand dunes here.
Aliante Nature Discovery Park, North Las Vegas - Take a breather in this gorgeous 20-acre park which boasts a lake and a waterfall away from the city crowds.
Red Rock Canyon National Conservation Area, Las Vegas - A stunning canyon that consists of red rock formations, you can enjoy a scenic drive and hiking trails here. You might need to make a reservation for a timed-entry slot, so check the official website before traveling.
Las Vegas, Nevada- A unique city that has an endless array of entertainment options, you can try your luck at the tables or enjoy some of the most glamorous shows on the Strip.
Hoover Dam, Nevada - An amazing feat of technology, this massive concrete arch-gravity dam generates enough hydroelectric power to serve 1.3 million people each year.
Nelson Ghost Town, Searchlight - One of the most famous ghost towns in the United States, Nelson features several of the original buildings and cars that provide the perfect photo opportunities.
Hemenway Park, Boulder City - You will be experiencing wildlife firsthand in this park as you encounter the friendly bighorn sheep that roam freely.

Arizona Route 66 Museum, Kingman - Route 66 is legendary, so it isn't surprising to see several museums dedicated to its rich history. This museum tells the story of this route through vehicles, photographs and artefacts.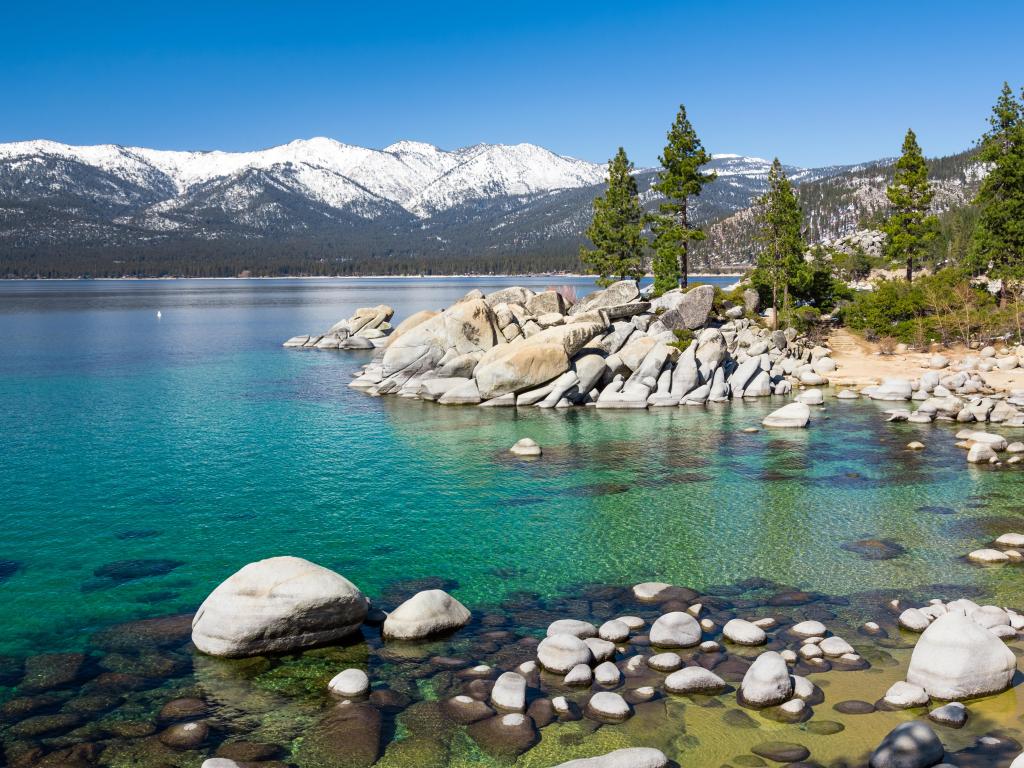 Best time to go on a road trip from Sacramento to Grand Canyon
The road trip from Sacramento to Grand Canyon is one that can be taken all year round, however it is a good idea to keep an eye on weather warnings, especially in summer and winter, since many of the attractions en route are mostly outdoors.
The Grand Canyon is a popular destination during summer, which is its peak season. That said, with temperatures around 100 degrees Fahrenheit, summer is this region can be very hot and dry.
You could enjoy this road trip in winter, when the huge crowds dwindle and the hot weather is replaced with a much cooler 20 degrees on average. It's worth noting that you'll need extra layers and you might find some of the outdoor attractions aren't as easily accessible, such as the North Rim of the canyon.
The park is also popular in the spring and fall, when the temperatures are between 60 and 70 degrees Fahrenheit. Not only will you find pleasant weather, but generally speaking the cities and hotels you pass on route shouldn't be as busy either.
Finally, for a truly mesmerizing trip, why not combine your visit with the Grand Canyon's Star Party which takes place in June? This fascinating event allows visitors to admire and learn all about the dark skies in the most incredible setting of all.