Road Trip from Sacramento to Las Vegas
If a beautiful drive through the Mojave Desert, the scenic Sierra Nevada foothills, and some of the most famed national parks in the country to the neon-lit cityscape of Sin City is calling your name, then this stunning drive from Sacramento to Las Vegas ticks all the boxes!
The 620-mile road trip from Sacramento to Las Vegas will take 10 hours and 10 minutes to drive. Highlights are Lake Tahoe, Reno, Yosemite National Park, Glacier Canyon, Rainbow Falls, Panamint Springs and Death Valley National Park.
This road trip from Sacramento to Las Vegas is full of excitement and natural beauty around every corner. Read on below to learn more about our recommended routes, top highlights, places to stay along the way, and the best seasons to make the journey.
How far is Las Vegas from Sacramento, and how long will the road trip take?
Comparison of road trip routes between Sacramento and Las Vegas

| Route | Distance | Driving Time |
| --- | --- | --- |
| The Lake Tahoe Route | 620 miles | 10 hours and 10 minutes |
| The Yosemite National Park Route | 780 miles | 13 hours and 50 minutes |
The Lake Tahoe Route from Sacramento to Las Vegas is approximately 620 miles long and takes around 10 hours and 10 minutes to complete without stops.
Alternatively, the Yosemite National Park Route offers a longer adventure, covering 780 miles and taking about 13 hours and 50 minutes of driving.
While it's possible to complete each route within a day or two, the abundance of natural beauty and attractions means that you'll want to take 3-4 days.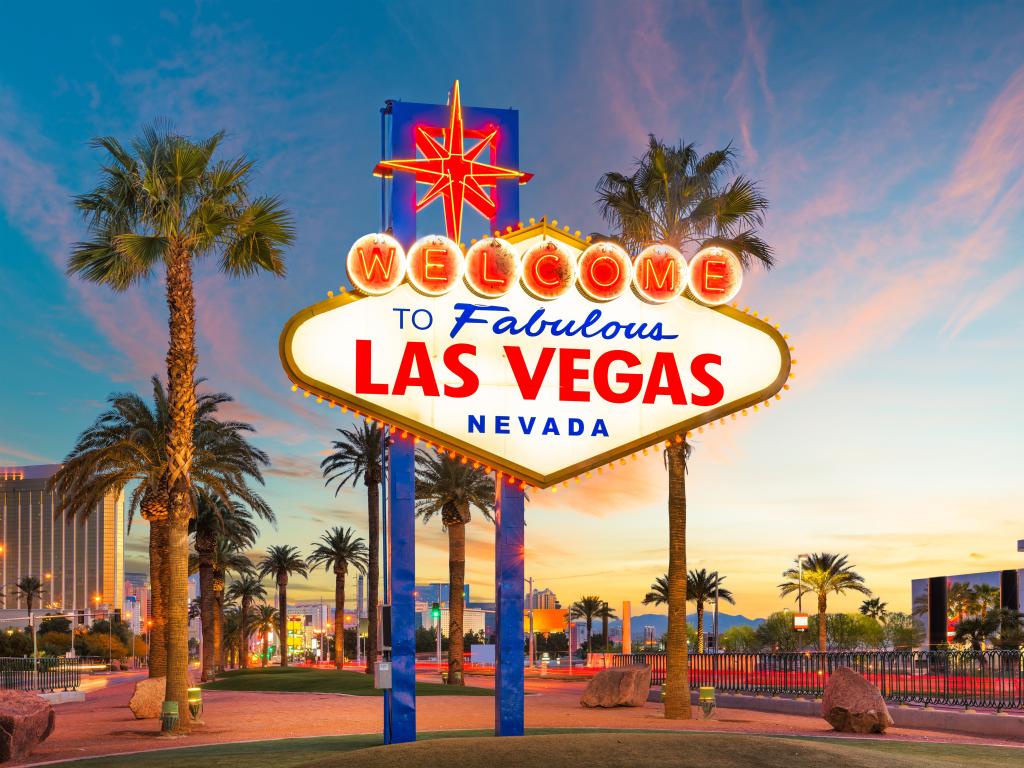 Best road trip route from Sacramento to Las Vegas
The road from Sacramento to Las Vegas is an adventure of choices, with each turn offering its own unique beauty and thrills.
The beautiful Lake Tahoe Route takes you through a landscape that feels almost too picturesque to be real. With the shimmering blue of Lake Tahoe as your backdrop, the journey is a treat for nature lovers and photography enthusiasts alike.
The route is peppered with charming towns and historic gold rush communities. As you drive, the scenery shifts from forested mountains to the sprawling desert, leading you to the neon-lit excitement of Las Vegas.
Before you reach Sin City, you will be able to try your hand at the tables in Reno and see how much Lady Luck is favoring you on this route.
On the other hand, if you want to experience more mountains and sprawling landscapes, the Yosemite National Park Route is perfect.
Starting with the lush greenery of California's heartland, the route climbs into the Sierra Nevadas, treating you to the rugged beauty of Yosemite's legendary wilderness. Here, every curve in the road brings another postcard-worthy scene.
You will also get to visit the hottest, driest place in North America, the otherworldly Death Valley National Park.
And when you finally reach Las Vegas, the contrast between the nature you just came from and the city's electric buzz is nothing short of cinematic. This path is slightly longer, but it's perfect if you prefer quiet nature over the hustle and bustle of tourist spots.
The Yosemite National Park Route uses the Tioga Pass Entrance to leave the park after your visit. This entrance (and the Tioga Road) will be closed in winter. Please check our guide on the entrances of Yosemite National Park to adjust your route accordingly if you are traveling during the colder months.
How to drive from Sacramento to Las Vegas
The map above shows our suggestions for the best road trip routes between Sacramento and Las Vegas. Keep reading for detailed descriptions of both routes, where to stay on either, and the best things to do on the way.
Lake Tahoe Route
Starting from Sacramento, take Interstate 80 (I-80) northeast through the Tahoe National Forest. Then, head to Tahoe City, right on the beautiful lakeside, to explore the stunning Lake Tahoe.
Drive back north to the route and merge onto I-80 East. Drive across the forested Sierra Nevada Mountains and into the state of Nevada.
Soon, you'll reach Reno, known for its casinos and great small-town atmosphere. After Reno, drive east and then start heading south on NV-439.
Drive a little further south and hop on Highway 95 to Hawthorne past Walker Lake. Continue on route south through the beautiful desert landscapes to the town of Tonopah. Here, you can visit the mining heritage at the Tonopah Historic Mining Park.
Continue on route south to Indian Springs and finally into the famous city of Las Vegas.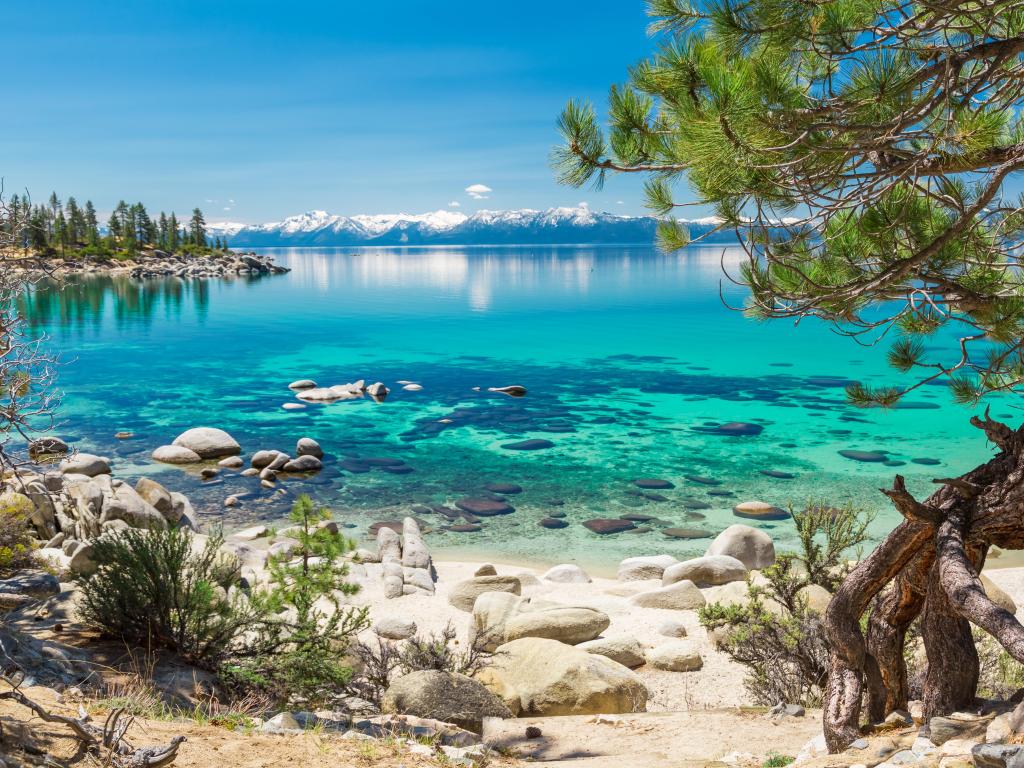 Yosemite National Park Route
Starting in Sacramento, head south on CA-99 to Stockton. From here, switch to CA- 4 and then CA-120 through Groveland. During this scenic section of the route, you will have views of the beautiful Sierra Nevada Mountains.
Continue driving to Yosemite National Park and use the Big Oak Flat Entrance to enter the national park. Continue through the awe-inspiring park, driving on the famous Tioga Road east as you take in one of the most breathtaking national parks in the USA.
You will use the Tioga Pass Entrance to leave the national park. Make your way to Mono Lake. Exit onto US-395 south and drive to beautiful Mammoth Lakes.
Continue southeast on the highway to the town of Lone Pine through Inyo National Forest. In the distance, you can see Mt. Whitney, the tallest peak in the Lower 48.
Continue back on the route south and merge onto CA-190 east. This will take you to Death Valley National Park.
After experiencing the beautiful Death Valley, drive east and merge onto US-95. Continue driving southeast and soon you'll arrive at your destination of Las Vegas.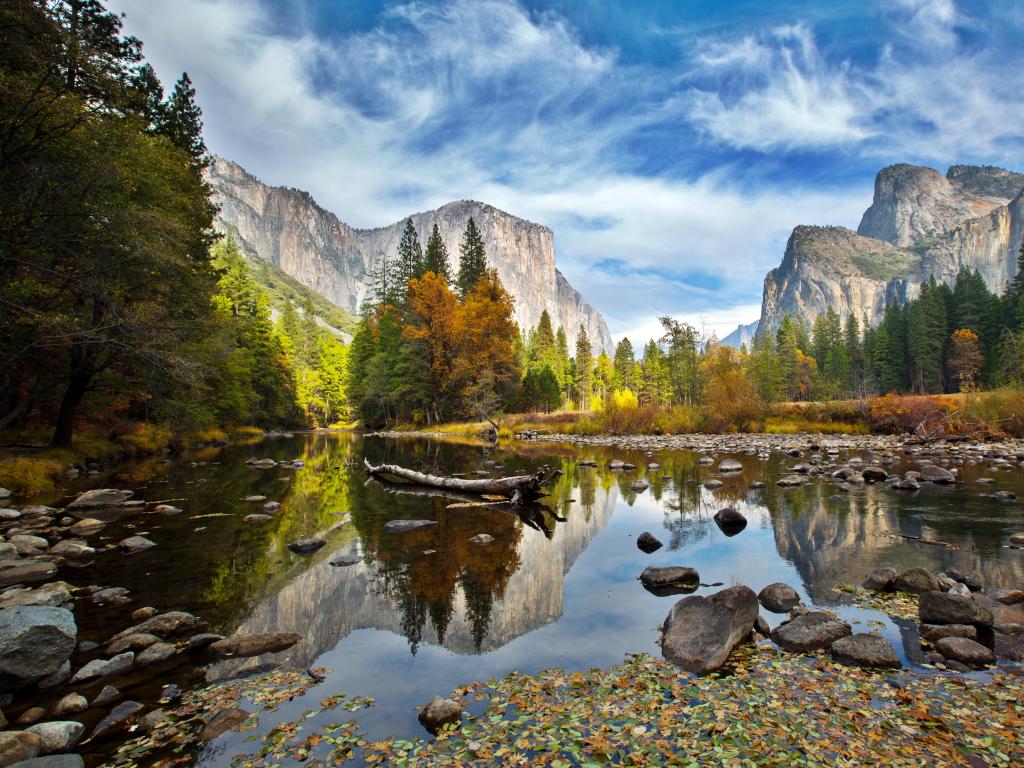 Best places to stop between Sacramento and Las Vegas
There are so many wonderful highlights between Sacramento and Las Vegas. We recommend staying at one of the fantastic destinations below so you can rest well and have time to explore all this region has to offer.
First encounter with Lady Luck in Reno
Reno, just under three hours into your drive on the Lake Tahoe Route, is an excellent spot to rest and recharge. Known as "The Biggest Little City in the World," Reno is a bustling hub with its own spin of entertainment and nightlife.
The city is famous for its slot machines and the buzz of nightlife, yet cultural gems like the Nevada Museum of Art and the Fleischmann Planetarium are also popular highlights for many road-trippers who come here.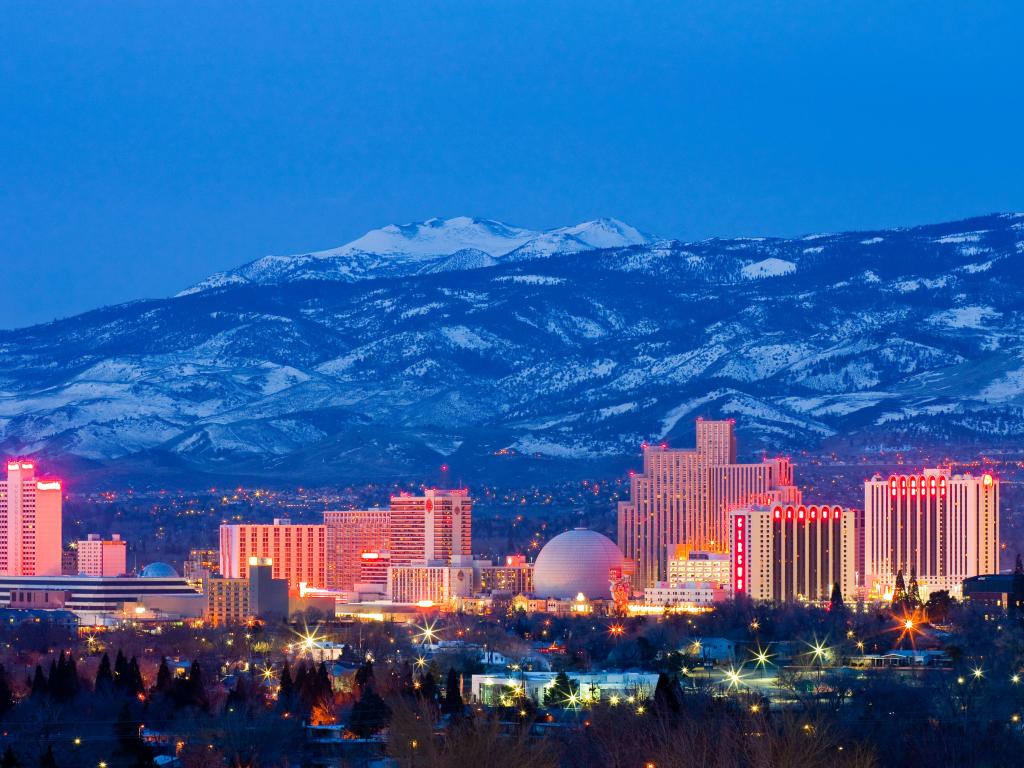 Another place to visit is the National Automobile Museum in Reno, which presents a vast collection of eye-catching automobiles, providing you with a journey through the history of the automobile, starting from the late 1800s.
When you arrive in Reno, we recommend staying at the highly-rated SpringHill Suites by Marriott Reno. This all-suite hotel blends modern comfort with convenience, featuring a relaxing pool, a fitness center to keep up with your workouts.
In addition to offering great amenities, the hotel boasts a stellar location, too. Just a short drive away, you can visit the Pioneer Center for the Performing Arts or the National Bowling Stadium. Both are around 8 miles from your hotel.
Breathtaking scenery in Mammoth Lakes
Mammoth Lakes is the ideal place to stop on the Yosemite National Park Route, about eight hours from Sacramento. It's a place where nature is overwhelming, with hot springs, alpine lakes, and year-round adventures from hiking to skiing.
Nearby Mammoth Mountain is famous for its ski runs and hiking paths, while the Devils Postpile National Monument is one of California's most striking natural landmarks.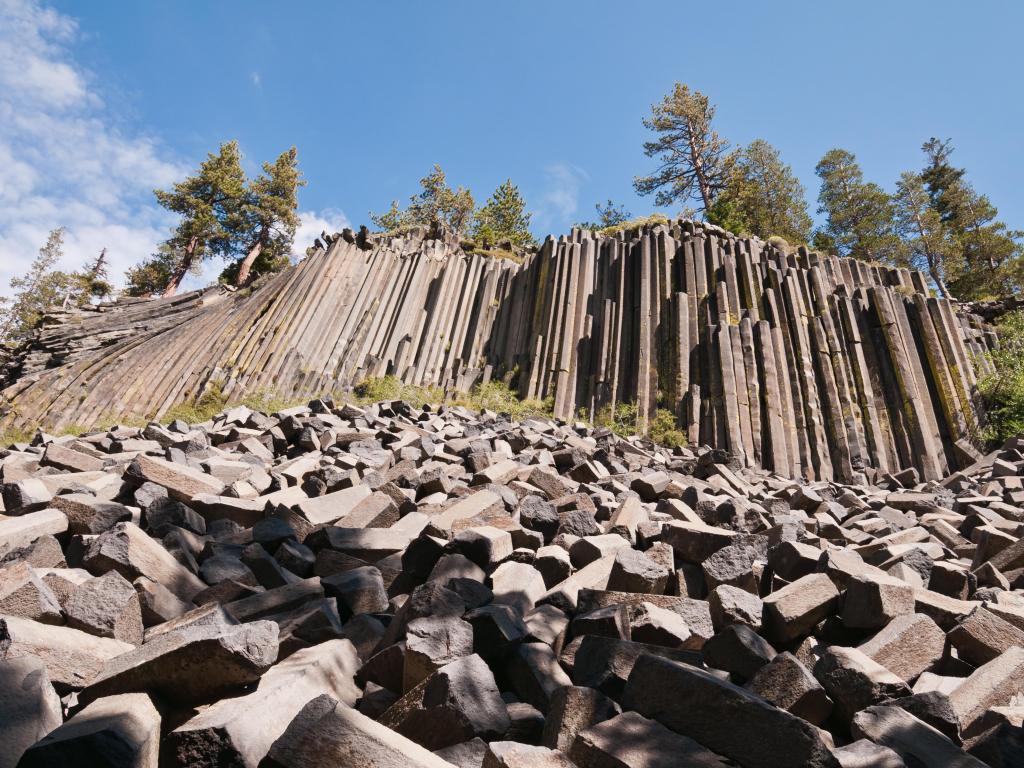 For your stay, we highly recommend the Westin Monache Resort, Mammoth, nestled in the heart of this mountain paradise. Not only is the resort a stone's throw from the ski lifts via the scenic and iconic gondola ride, but it also has on-site ski passes and snowboard rentals.
Each studio and suite has a handy kitchenette, and you can unwind in the heated outdoor pool or one of the two hot tubs after a day of exploration and outdoor adventure.
In the vicinity, the Earthquake Fault Hiking Area offers a peaceful escape into nature, just a 5-minute drive away. Alternatively, a 10-minute drive takes you to the Mammoth Museum at the Hayden Cabin, where local history comes to life.
Where to stay when you reach Las Vegas
Las Vegas is world-famous for its electrifying casinos and amazing entertainment. Its famous Strip features attractions like the High Roller, enchanting Venetian gondola rides, and the mesmerizing Fountains of Bellagio.
Dive into the heart of downtown at the Fremont Street Experience, or ascend the Stratosphere Tower for sky-high vistas of the city. And remember, this city's glow is so intense, it's deemed the brightest spot on Earth from space.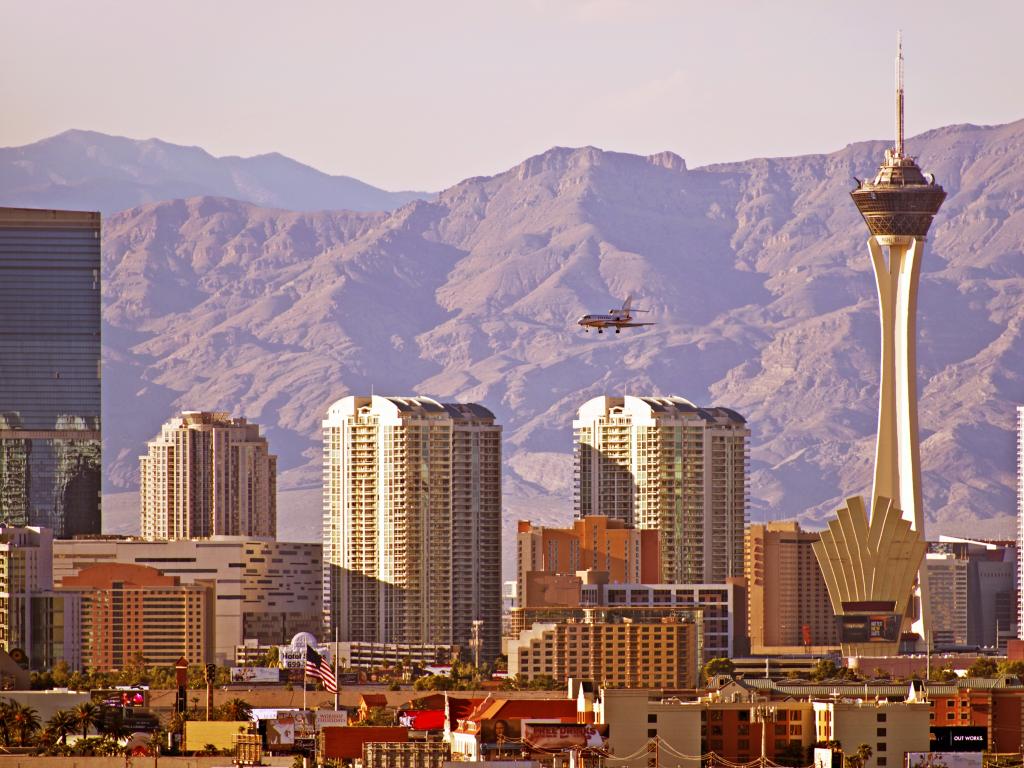 When it's time to head home from the excitement of the city, the NoMad Las Vegas will make the perfect escape. Next to the Park MGM Resort, it's a stone's throw from iconic sights like the Bellagio's fountains and the Luxor's pyramid.
The luxurious and modern hotel melds European elegance with Las Vegas-style comfort, with custom furnishings and Italian linens amidst original artworks.
At the NoMad, try your luck in the casino beneath a Tiffany-stained glass ceiling or unwind in the Jemaa pool, a rooftop lounge inspired by Moroccan gardens. You'll also get amenities such a wonderful spa where you can relax after your long drive or day at the casino.
If you're hungry, visit the highly rated NoMad Library, where dinner is an art form. This amazing restaurant is an experience not to be missed.
Things to see on a road trip from Sacramento to Las Vegas
With so much to see and do along the way, you're going to want to make a list of stops you want to see the most. To make this easier for you, we've listed our favorites below.
The Lake Tahoe Route
Squaw Valley Resort - A world-renowned ski destination that hosted the 1960 Winter Olympics, Squaw Valley Resort offers a range of year-round activities set against the stunning Sierra Nevadas.
Lake Tahoe - Known for its crystal-clear waters and panoramic mountain views, Lake Tahoe is a natural playground for water sports, hiking, and winter sports enthusiasts.
Sand Harbor Beach - This picturesque beach on Lake Tahoe's northeastern shore features gentle turquoise waters and soft sandy shores, perfect for swimming and picnicking.
Reno - Dubbed "The Biggest Little City in the World," Reno is a vibrant city known for its casinos, cultural events, and gateway to outdoor adventures.
Nevada Museum of Art - As the only accredited art museum in Nevada, it offers thought-provoking exhibitions that reflect the landscape and social dynamics of the region.
Fleischmann Planetarium - Located on the University of Nevada, Reno campus, this planetarium showcases educational space exhibits and immersive dome theater shows.
Hawthorne Ordnance Museum - This museum presents a unique collection of military artifacts and tells the story of the local community's role in the US Navy's ammunition storage.
Tonopah Historic Mining Park - Sitting on the original mining claim that started the rush in Tonopah, this park offers a glimpse into the history of mining in the early 20th century.
Central Nevada Museum - The museum features artifacts, photographs, and stories that chronicle the rich and wild heritage of central Nevada.
International Car Forest of the Last Church - An artistic outdoor installation featuring a collection of automobiles planted into the ground, creating an otherworldly landscape.
Amargosa Opera House - In the remote desert lies this unexpected cultural landmark where Marta Becket performed for decades, turning it into a historic artistic retreat.
Mt. Charleston - The highest peak in Southern Nevada, Mt. Charleston provides a cool, forested refuge from the desert and a variety of outdoor activities.
Tule Springs Fossil Beds National Monument - This monument is home to prehistoric fossils, including mammoths and lions, offering a window into ancient ecosystems.
Spring Mountain Ranch State Park - Nestled in the Red Rock Canyon area, this park serves as a pastoral retreat with historic buildings and live entertainment venues.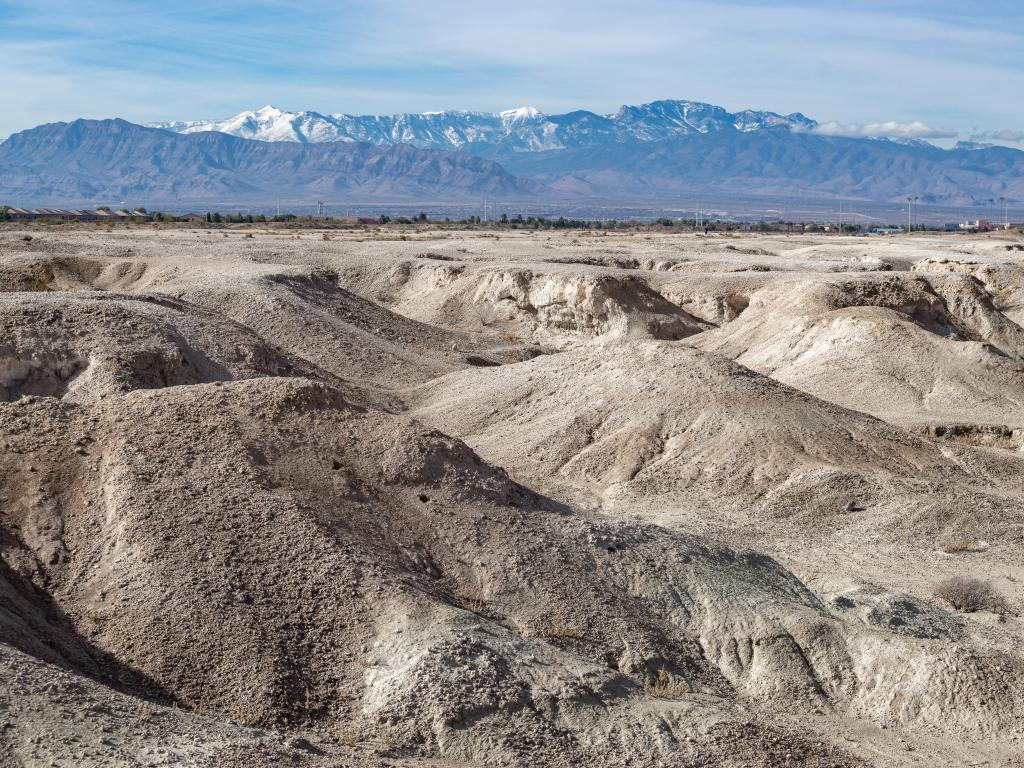 The Yosemite National Park Route
Railtown 1897 State Historic Park - This living history museum in Jamestown preserves the locomotives and railroad cars that once transported people and goods during California's gold rush.
Yosemite National Park - An iconic symbol of natural beauty, Yosemite boasts majestic waterfalls, giant sequoias, and breathtaking valley views.
Groveland Yosemite Gateway Museum - Located near the park, this museum tells the story of the region's gold rush history and the development of the Yosemite area.
Glacier Canyon - With its striking rock formations and hiking trails, Glacier Canyon in Yosemite offers visitors a dramatic landscape carved by ancient glaciers.
Rainbow Falls - A spectacular waterfall located in the Reds Meadow Valley that cascades 101 feet and is known for creating rainbows in its mist.
Mammoth Lakes - A year-round resort town surrounded by towering peaks, Mammoth Lakes is a hub for skiing, fishing, and mountain biking.
Keane Wonder Mine - This historical gold mine offers a glimpse into the mining boom with its well-preserved infrastructure and panoramic desert views.
Olancha Sculpture Garden - A short detour from the route, an open-air gallery in the desert that features an eclectic mix of sculptures set against a dramatic mountain backdrop.
Panamint Springs - A small desert community that serves as a gateway to Death Valley, offering rustic accommodations and stunning desert vistas.
Death Valley National Park - Holding the record for the hottest place on earth, this park mesmerizes with its sand dunes, salt flats, and below-sea-level basin.
Aliante Nature Discovery Park - A family-friendly park in North Las Vegas featuring a man-made lake, interactive dinosaur structures, and a peaceful environment for wildlife watching.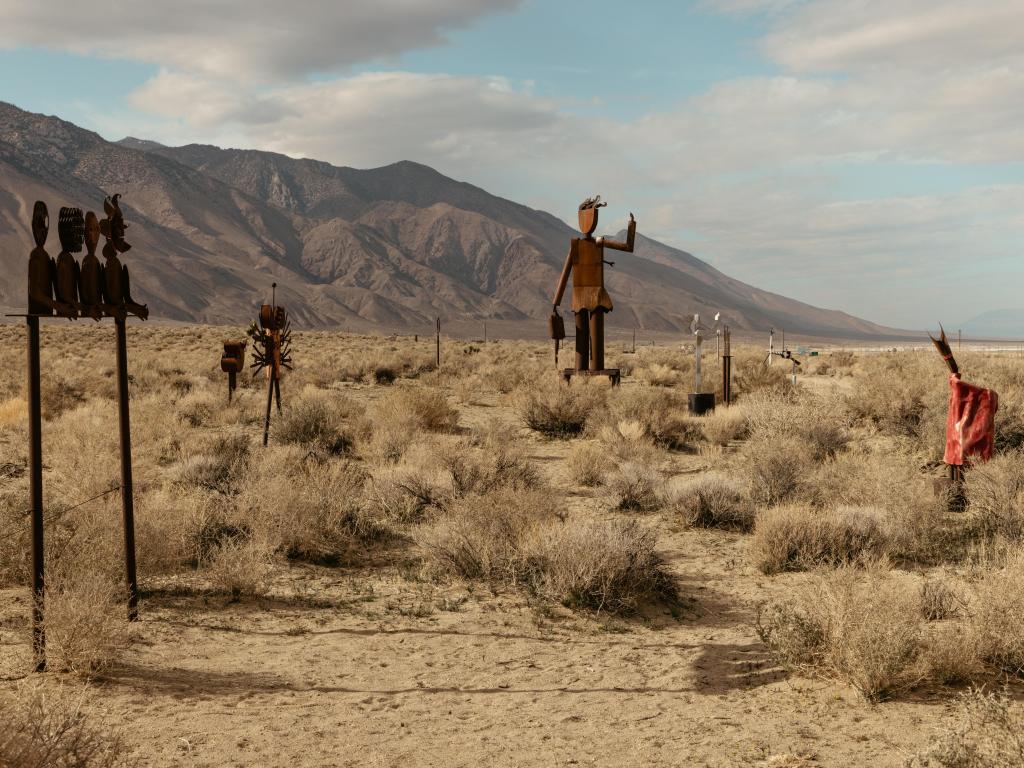 Both Routes
Red Rock Canyon National Conservation Area - A stunning showcase of geological features and desert landscapes, this area is popular for hiking, rock climbing, and scenic drives.
Best time to go on a road trip from Sacramento to Las Vegas
The road trip from Sacramento to Las Vegas is incredible any time of year. However, each season is different and offers its own challenges and highlights.
Winter along the route is often rainy in Sacramento, with snowfall and cold temperatures when you get into the mountains around Lake Tahoe. On the other side, in Nevada, you'll get temperatures between 30 and 60 degrees Fahrenheit.
You'll want to check weather and road conditions along the way to make sure there's not too much snow and ice in mountainous parts of the drive.
Winter highlights include excellent skiing and winter sports opportunities. You can also enjoy winter festivals such as the California Dark Sky Festival in November and the world-famous New Year celebration in Las Vegas.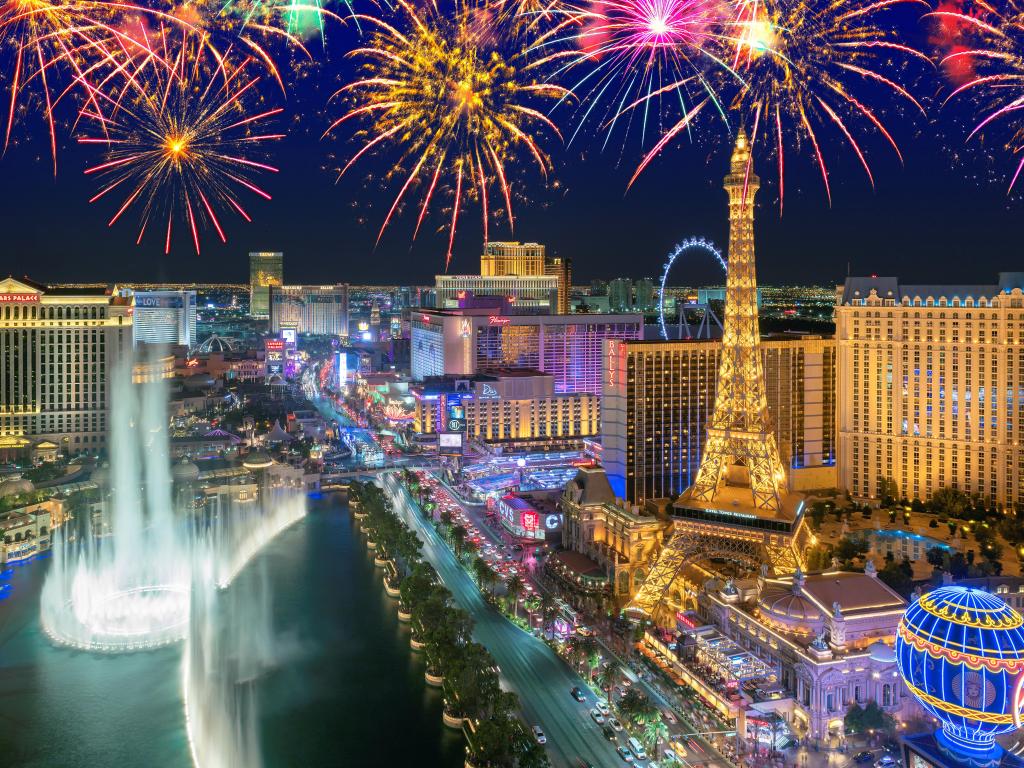 Spring is a wonderful time to make this beautiful drive. You can expect spring flowers and plenty of waterfalls and rivers full of water. Temperatures range from 40 degrees Fahrenheit to 75 degrees in Las Vegas to a crisp 35 to 60 degrees in Lake Tahoe.
Springtime events include the World Series of Poker and Las Vegas Helldorado Days in May.
Summer can bring high temperatures close to 100 degrees Fahrenheit or above along the Nevada part of the route and with them, more crowds. This can also not be a good time to do any serious hiking and you might experience a lot of traffic in Las Vegas.
Although it's hot, summer is a wonderful time to travel along both routes because of all the fun activities and festivals. You'll be able to experience events such as the Mammoth Lake Jazz Festival in July and Life is Beautiful Festival in September.
Fall is also a wonderful time to take on this amazing journey. You'll see fall colors in the mountains, especially around Lake Tahoe, and enjoy pleasant temperatures between 60 and 80 degrees Fahrenheit.