Road Trip from Sacramento to Portland, Oregon
The epic road trip from Sacramento to Portland is the perfect adventure if you love exploring the great outdoors, discovering fantastic mountains, stunning lakes and impossibly beautiful parks. Leave the city behind with this trip and immerse yourself in natural beauty.
The 630 mile road trip from Sacramento to Portland, Oregon will take 11 hours to drive. The route passes Ashland, Reno, Eugene, Klamath Falls and Salem, as well as Lake Tahoe, Crater Lake National Park, Mount Hood and Lassen Volcanic National Park.
There's so much to see on this trip, from rugged mountains and pretty lakes, to stunning national parks and fascinating towns and cities a long the way. To get the most of this journey, we've set out the best routes, the places to stop along the way and our favorite things to do at the best time of year on this road trip from Sacramento to Portland.
How far is Portland from Sacramento, and how long will the road trip take?
Comparison of road trip routes between Sacramento and Portland, Oregon

| Route | Distance | Driving Time |
| --- | --- | --- |
| The Mountain Route | 630 miles | 11 hours |
| The Scenic Route | 860 miles | 16 hours 20 minutes |
There are several ways you can journey from Sacramento to Portland in Oregon. The fastest routes takes around 9 hours to drive and spans a distance of 580 miles. That said, our two recommended routes will take you longer to drive but they offer so much in terms of great views.
The quickest of our two routes takes you through stunning mountain ranges and pretty towns. At a distance of 630 miles, this option will take 11 hours of non-stop driving.
An alternative and more scenic route, which offers fantastic opportunities to explore beautiful lakes en route, will take 16 hours and 20 minutes to drive and spans a distance of 860 miles.
A road trip of this distance cannot be completed in a single day to appreciate the attractions and stunning views. We would recommend taking three to five days to complete the trip, depending on which route you opt to follow.
Best road trip route from Sacramento to Portland
While you could complete the trip from Sacramento to Portland in fewer miles, you really would be missing out on the spectacular scenery this part of the US has to offer.
If you are pressed for time, then you may want to consider following our Mountain Route. Still offering fantastic views and passing plenty of towns and stunning parks along the way, this option is the most direct route to Portland.
However, if you'd like to visit the famed Crater Lake National Park, one of Oregon's top tourist spots, then our Scenic Route is the one for you. Not only will this option take in the spectacular mountains, it also includes a visit to the equally stunning Lake Tahoe.
Ultimately you will be spoilt with either route for breathtaking scenery and stunning vistas. Whether you decide to follow the Mountain or Scenic Route, you'll be guaranteed of an incredibly memorable road trip.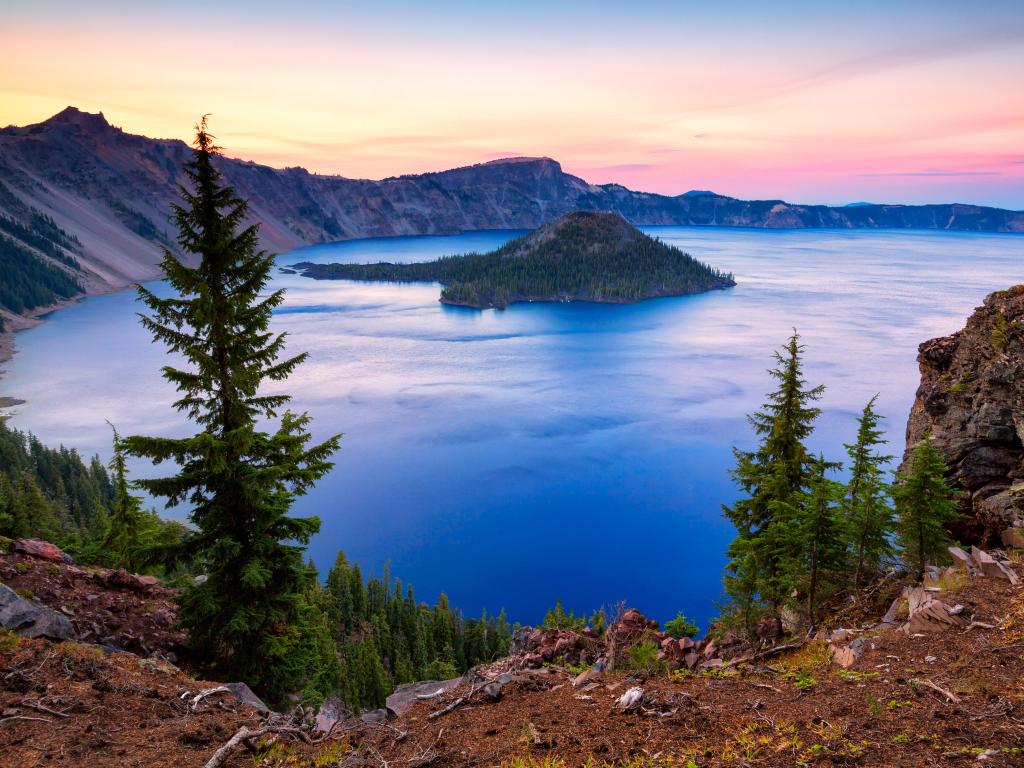 How to drive from Sacramento to Portland
The map above shows our suggestions for the best road trip routes between Sacramento and Portland. Keep reading for detailed descriptions of both routes, where to stay on either, and the best things to do on the way.
The Mountain Route
For the more direct route to Portland you will leave Sacramento on CA-99 north through the towns of Yuba City, Gridley and Chico before taking CA-32 east.
This stretch of the route will allow you to stop and visit Lassen Volcanic National Park or Plumas National Park, before continuing on CA-36 through Chester, Coppervale to Susanville.
Change here to follow CA-139 north as you pass Eagle Lake and several more towns. This scenic drive passes nearby to Modoc National Forest before you reach Lower Klamath National Wildlife Refuge.
Take OR-39 and OR-140 to Klamath Falls, a great option for an overnight stop and to explore nearby Cascade-Siskiyou National Monument.
Leave Klamath Falls on US-97 and drive between Klamath Marsh National Wildlife Refuge and Crater Lake National Park, where you may wish to take a detour to before taking the exit to follow OR-58 west.
Follow this road all the way to Eugene where you can take a rest or explore the nearby stunning forests. Take I-5 north to Salem where you can visit Santiam State Forest, before continuing to follow the interstate all the way to your destination of Portland.
The Scenic Route
The Scenic Route will see you leave Sacramento on Interstate 80 and head east, passing through Roseville and driving alongside Tahoe National Forest. Take exit 185 to follow CA-89 south to Lake Tahoe - a slight detour but worth the drive for the spectacular views.
After getting back on I-80, you will follow the road to Reno before following US-395 north all the way to Susanville. Take the exit to follow CA-44 west to the beautiful Lassen National Forest.
Next take CA-299 east, stopping for a short detour to Shasta-Trinity National Forest if you have the extra time. Follow the road past Bieber, Lookout and to Tionesta where the road become US-395 and you can visit Clear Lake National Wildlife Refuge.
Continue north through several more interesting towns before driving through the outskirts of Fremont-Winema National Forest. Take the exit to follow OR-62 to Fort Klamath where you can enjoy an overnight stop and immerse yourself in the stunning landscape.
The next stretch will take you to Crater Lake National Park, an unmissable stop on this route, before taking US-97 north between Diamond Peak and Paulina Peak.
Further worthy stops on this section of the drive include Willamette National Forest and Mount Bachelor. The next section of US-97 will take you through several towns including Redmond before you'll take the exit for US-26 at Madras.
Continue on US-26 to Mount Hood National Forest, known for its stunning views of Mount Hood and a great final stretch before the road leads you to Portland.
Best places to stop between Sacramento and Portland
There are several great options for places to stop on the road trip between Sacramento and Portland, depending on your route choice and preferred surrounding attractions.
Here are a few of our favorite hotels that you may want to consider:
Take a hike at Ashland, Oregon
Situated halfway into our Mountain Route, Ashland in Oregon is a fantastic city known for the Oregon Shakespeare Festival and Pacific Crest Trail. After nearly 8 hours of driving, the stunning scenery and tranquility of this city will leave you feeling fully recharged.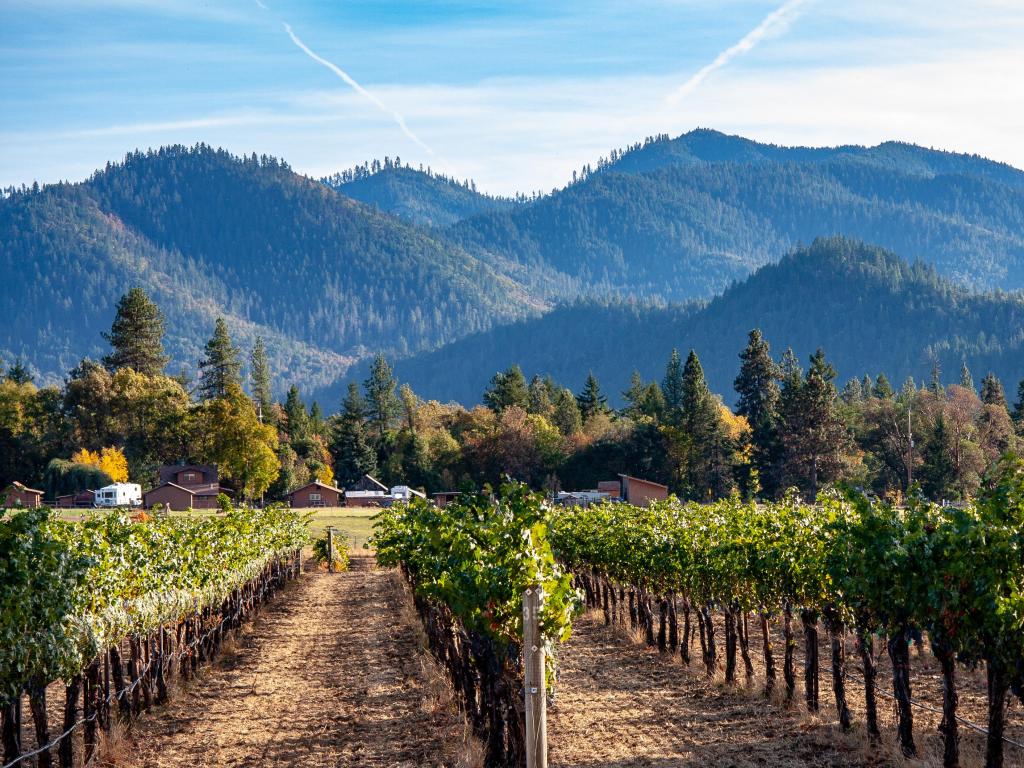 Surrounded by leafy Lithia Park and Ashland Creek in the southwest, which features trails, duck ponds and a rose garden, and North Mountain Park with a nature center and themed gardens in the northeast, Ashland is a great destination for anyone who loves the great outdoors.
Ranked in the top 10 of "The 100 Best Small Art Towns in America", Ashland is also a cultural hot spot with award-winning galleries, theatres and restaurants.
To make the most of this great destination, we recommend a stay at Best Western Windsor Inn. Located just 2.8 miles from the center of Ashland, this warm and welcoming hotel features English Tudor-style architecture, contemporary rooms and an outdoor swimming pool.
The Best Western Windsor Inn also scores high for its convenience of free parking and the option to relax at the outdoor terrace. Perhaps its best selling point though is its fantastic mountain views and incredible setting, making this an ideal stop.
A waterside break in Klamath Falls, Oregon
A fantastic stop if you are following our Scenic Route has to be Klamath Falls. This Oregon city sits on the Link River and lies halfway between Sacramento and Portland. It's the perfect spot to take in the natural surroundings of this part of Oregon and enjoy a rest from the long drive.
Known as the gateway to Crater Lake National Park, Klamath Falls is a great setting for hikes and exploring. But the city itself offers a wide range of things to do, including visiting Klamath County Museum or taking a drive to Upper Klamath Lake.
Offering zip lines, fishing trips and kayaking adventures, Klamath Falls is also popular with for bird watching and is home to more than 350 bird species.
If being in the heart of the town is important to you, then a stay at Fairfield Inn & Suites by Marriott Klamath Falls is a great fit. This newly updated hotel sits right on the river and is within walking distance of the local amenities.
The hotel features a fantastic indoor pool, as well as modern and stylish rooms and the all-important continental and buffet breakfast to complete a great stay.
The impossibly beautiful lake views at this hotel are hard to beat and being so close to the main highway, means you'll have an easy transition back onto your road trip.
Indulge in luxury at Portland
Of course your trip doesn't end at Portland. This fantastic destination is Oregon's largest city and is famed for its parks, bridges and eco-friendliness, as well as sitting on two rivers and in the shadows of the stunning, snow-capped Mount Hood.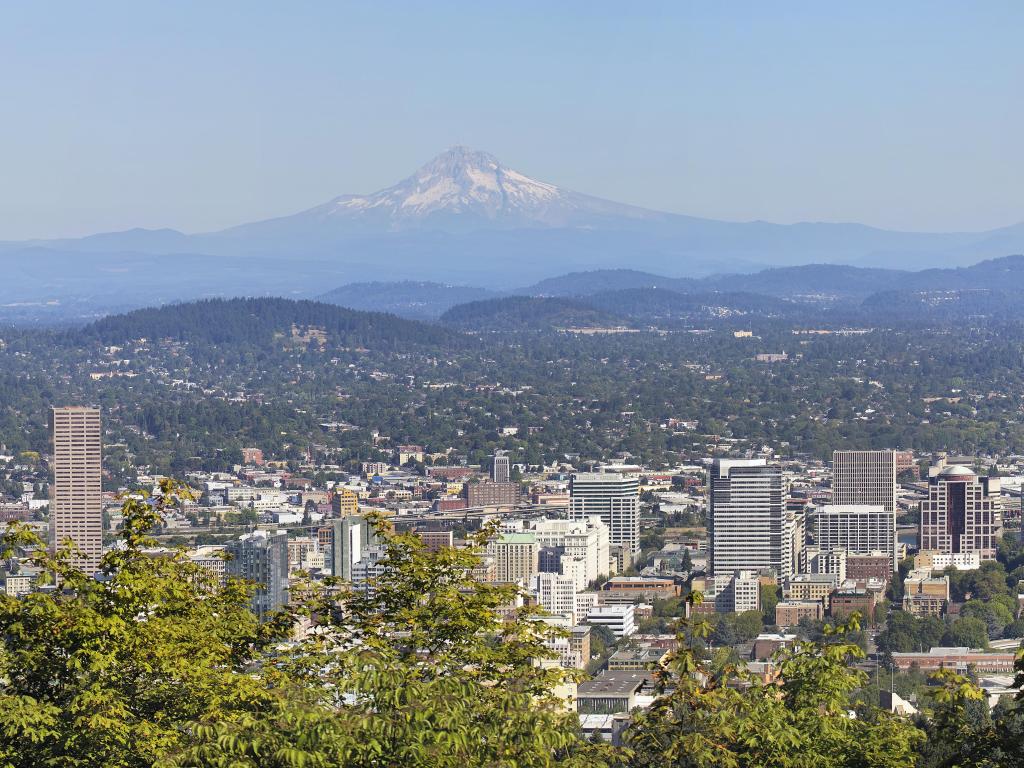 Enjoy this vibrant and scenic city and explore its museums, huge expanses of green space and nearby parks and forests. There's also Oregon Zoo and Hoyt Arboretum to visit, along with its art galleries and stunning Japanese Garden.
After a long and probably exhausting road trip, one of the best ways to relax is at one of Portland's most luxurious hotels. Indulge in 5-star splendour at Sentinel, a Provenance Hotel which is located right in the city center.
Enjoy a glass of wine on the rooftop or enjoy a meal at the on-site restaurant, Jake's Grill while taking in the view of downtown Portland. As an added bonus, the hotel also offers parking - a real plus in this part of the city.
This stunning hotel is just a 15 minute walk from the beach and just steps from Portland's theatres, restaurants and shopping centers. The accommodation itself is faultless, from its grand exterior to its stunning decor, the Sentinel will be sure to leave a lasting impression.
Things to see on a road trip from Sacramento to Portland
There are so many fantastic places to visit, stunning national parks and lakes on this road trip from Sacramento to Portland, that you could easily spend several weeks visiting them all.
If you are pressed for time, here are a selection of some of the best things you won't want to miss: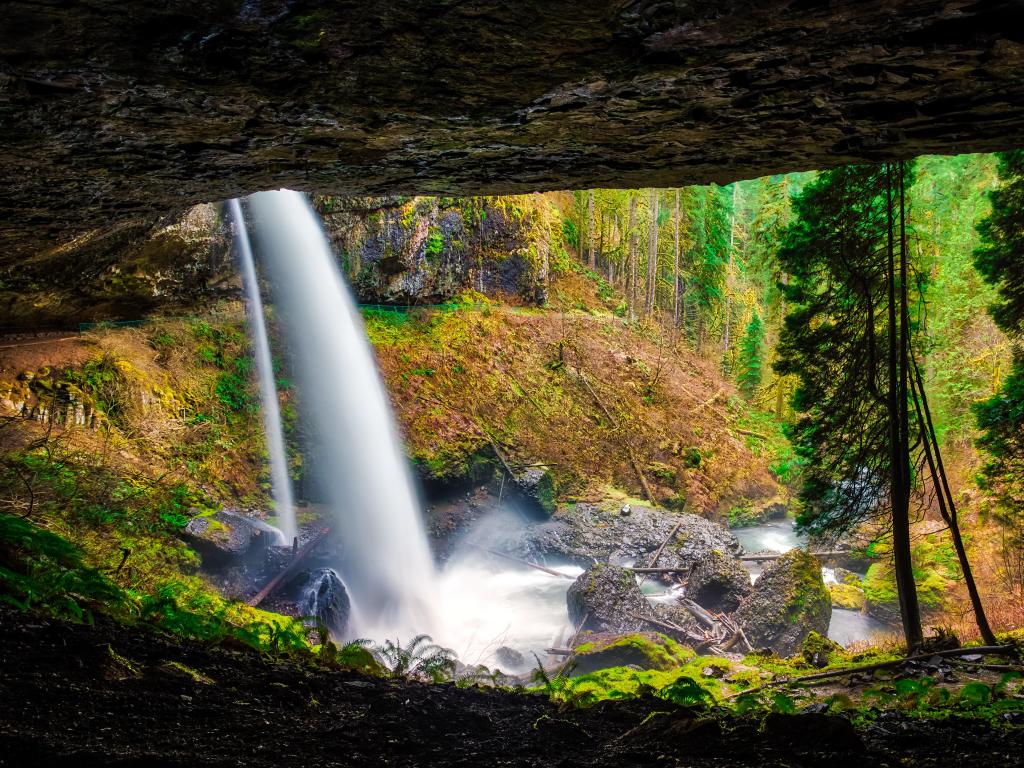 The Mountain Route
Sundial Bridge - Over the Sacramento River in the shape of a sundial lies this iconic bridge, it's particularly impressive if you visit in the evening as you can appreciate the glass path which is lit at night.
Lake Shasta Caverns National Natural Landmark - Here you can explore caves that can only be accessed via a tour which includes a boat ride on the scenic Lake Shasta.
Mount Shasta - This 14,000-foot ice-topped volcanic mountain offers sweeping views, skiing, and hiking and is popular amongst those seeking outdoor adventures.
Oregon Shakespeare Festival - This festival is what Ashland in Oregon is most famous for! Grab a beer and enjoy the local theater show before taking in the rest of the city.
Oregon Caves National Monument & Preserve - Visit these ancient marble caves which are found deep within the Siskiyou Mountains and discover dark, twisting passages.
Upper and Lower Table Rock - These two volcanic plateaus are located just north of the Rogue River in Jackson County and are popular with their walking trails. You might even get to spot a bobcat.
Wildlife Safari - This safari park in Winston, Oregon, offers a 4.5-mile drive-thru loop on a 600-acre wildlife park where you can see animals from around the world.
Owen Rose Garden - Adjacent to Willamette River, this stunning park has vibrant flowers, as well as great biking and pedestrian paths to enjoy.
Silver Falls State Park - The largest state park in Oregon with 10 waterfalls on a 9-mile loop trail. If you've ever wanted to shower under a waterfall, this is the place for you!
Salem's Riverfront Carousel - When passing through Salem, Oregon, make sure you pay this carousel a visit. Located on Willamette River, the horses on this indoor carousel were hand carved by locals.
Evergreen Aviation & Space Museum - Home of the world's largest historic aircraft, plus a water park and 3D theater, this museum in McMinnville offers something for everything.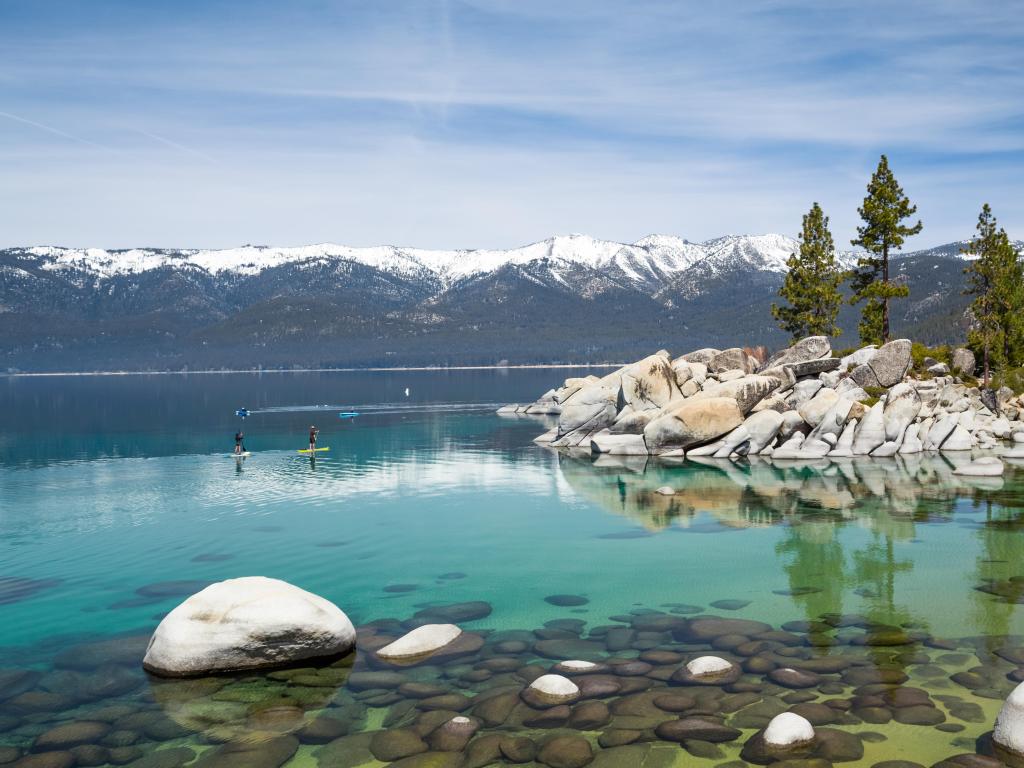 The Scenic Route
Lake Tahoe - Worth the detour, this iconic vacation spot is the largest alpine lake in North America and is popular for water sports as well as scenic walks and stunning views.
Reno - This Nevada city is just a short drive from Lake Tahoe and is known as "The Biggest Little City in the World". Enjoy rafting, visiting museums or spending some money in one of its casinos.
Lassen Volcanic National Park - This park offers over 150 miles of walking and hiking trails. It also boasts four different volcano types and hydrothermal areas.
Mount Hood - Like other mountains on this list, Mount Hood offers hiking, skiing, and climbing. It's also the snow-capped mountain that is visible from Portland on a clear day.
Fort Klamath - The gateway to Crater Lake National Park, Klamath Falls is a great setting for hikes and exploring. The city itself also offers a wide range of things to do, including visiting Klamath County Museum and Upper Klamath Lake.
Crater Lake National Park - Featuring the deepest lake in the US, this national park has over 180,000 acres of land. You can swim in designated areas. Crater Lake is also a famed spot along the Pacific Crest Trail.
Willamette National Forest - Home to eight wilderness areas, including the popular Three Sisters Wilderness and Mt. Jefferson Wilderness, this forest has stunning lakes and waterfalls and is perfect for those looking to escape the crowds.
Mount Bachelor - Boasting scenic views, hiking, and skiing, Mount Bachelor sits just a half hour drive from Bend, Oregon and is a great place to get close to nature.

Fremont-Winema National Forest - This park consists of two million acres of land. Spend some time in this forest to walk, hike, ski, boat, camp, and view wildlife.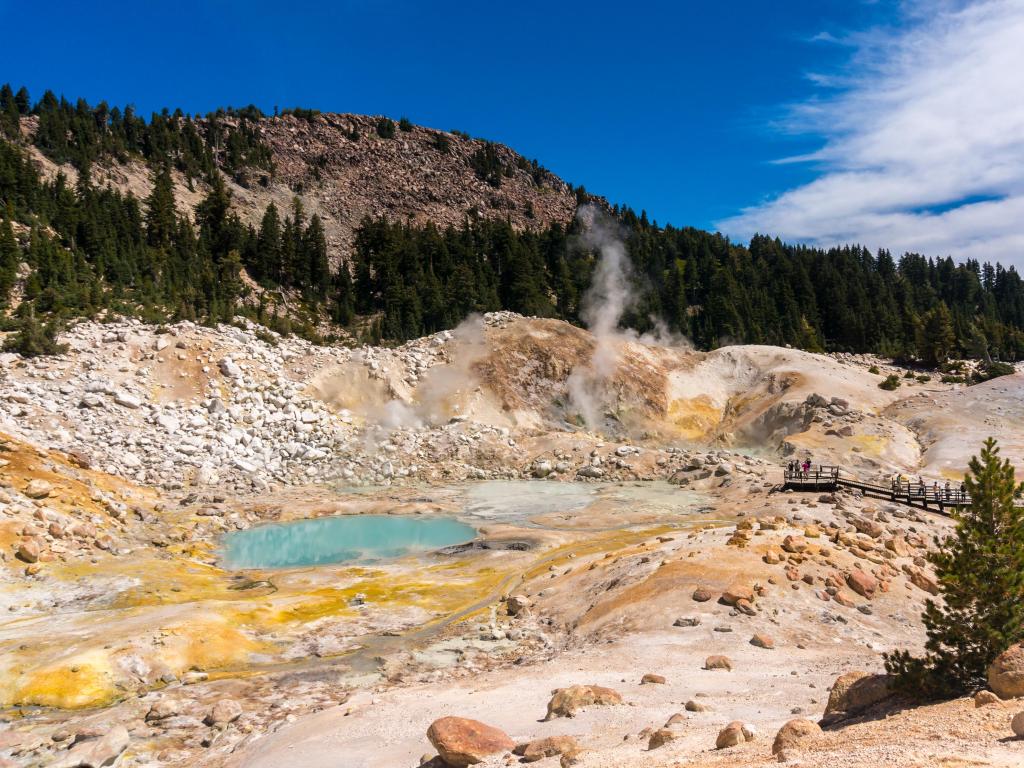 Best time to go on a road trip from Sacramento to Portland
The road trip from Sacramento to Portland can be done year round, meaning that the best time to visit will largely depend on what you'd like to get from it.
Portland is a popular winter destination for people who love snow sports and want to avoid the huge crowds of the tourist season. With average temperatures in winter around 40 degrees Fahrenheit, you'll definitely be guaranteed snow and optimum skiing weather.
That said, the cold weather could make some of the roads, particular around the mountains, tricky to drive. If skiing isn't high on your agenda and instead you want to enjoy the lakes and beaches the routes pass, then summer will be preferable.
Portland won't ever be excessively hot in the summer due to its northern location. With average temperatures in the high 70s and low 80s, it's a great place to get away from the heat if you're headed here from the south!
Summer is one of the best times to visit Portland because you can enjoy the outdoor attractions en route, but you will find the city more crowded and hotels busier.
You could opt for something between and look to make the trip either spring or in the fall. You will find crowds quieter, hotels are more affordable and the scenery in the forests and parks are at their best.
How about timing your visit with one of Portland's great festivals? Think Portland Rose Festival: its International Film Festival in early March; or the spectacular Winter Light Festival, where artists exhibit around the city in the second week of February. There's something for everyone!