Can you Drive to Cape York?
Right at the northernmost point of the Australian continent sits Cape York, closer to Papua New Guinea than any major Australian city. This is a region of rainforests and outback roads, which has been home to Aboriginal communities for thousands of years.
Cape York is remote but you can drive to it directly. It will take 13 hours 45 minutes to drive the 1,030 km from Cairns, the nearest major city, to Cape York Tip via Pajinka Road. You can also get to Cape York with your car by cargo boat in 3 days.
With its wild, untouched landscape and stunning coastline, a trip to the Cape York Peninsula still feels like a real adventure. This rugged road trip gives you the opportunity to connect with Australia's indigenous roots and enjoy a real escape from the city.
Can you drive to Cape York?
Cape York is in Queensland and is the northernmost point on the Australian continent. North of Cape York is the Torres Strait Islands, and beyond them is Papua New Guinea.
At its narrowest, the distance between Cape York and Papua New Guinea is 150 km, whereas the nearest major city is Queensland's Cairns which is 1,030 km south.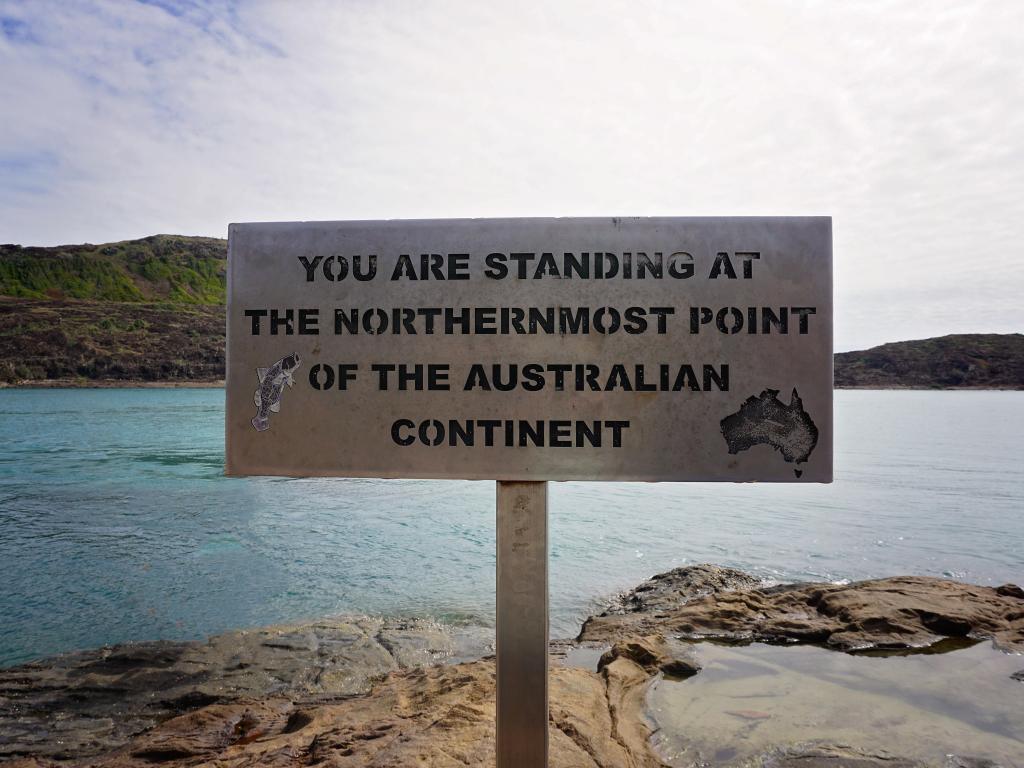 You can drive right the way to Cape York Tip following State Road 81 and Pajinka Road. Covering the 1,030 km distance by car is a serious undertaking. However, with the right planning and a 4WD vehicle, it's an achievable journey.
You also have the option of taking a one-day guided helicopter tour up to the peninsula. This is probably the easiest way to visit the remote Top of Australia, but it works out as an expensive option, especially if you're travelling as a couple or a group. However, it will be a really memorable experience.
A third option is to take a cruise there, of sorts. A weekly cargo ship sails from Cairns taking goods to communities along the peninsula, and it has a few passenger cabins. This is only an option if you have some time to spare, as the round trip takes 5 days.
How to drive to Cape York from mainland of Australia
Cost comparison of transit options between Cairns and Cape York

| Mode | Operator | Adult fare | Car fare |
| --- | --- | --- | --- |
| Driving the entire way | Self-drive | N/A | Petrol/other fuel costs |
| Cargo ferry | Seaswift | $1,500-$2,300* | $1,100** |
| Helicopter | The Tour Specialists | $1,699 | N/A |
* Fares (calculated at the time of writing) are at the higher end of this range during peak season, between May and October.
** Note: cargo transit is limited to vehicles under 6 metres.
When cost and travel time are considered, unless you're in a real hurry and have a large budget, the best way to get to Cape York from other parts of Australia is to drive via State Road 81.
Not only is this cost-effective, but you'll have the freedom to stay or leave whenever and see the places you want on your own schedule.
From Lakeland to Weipa, you'll follow an unsealed road, meaning the conditions are variable. Expect dusty and dirty red tracks that can turn muddy in bad weather.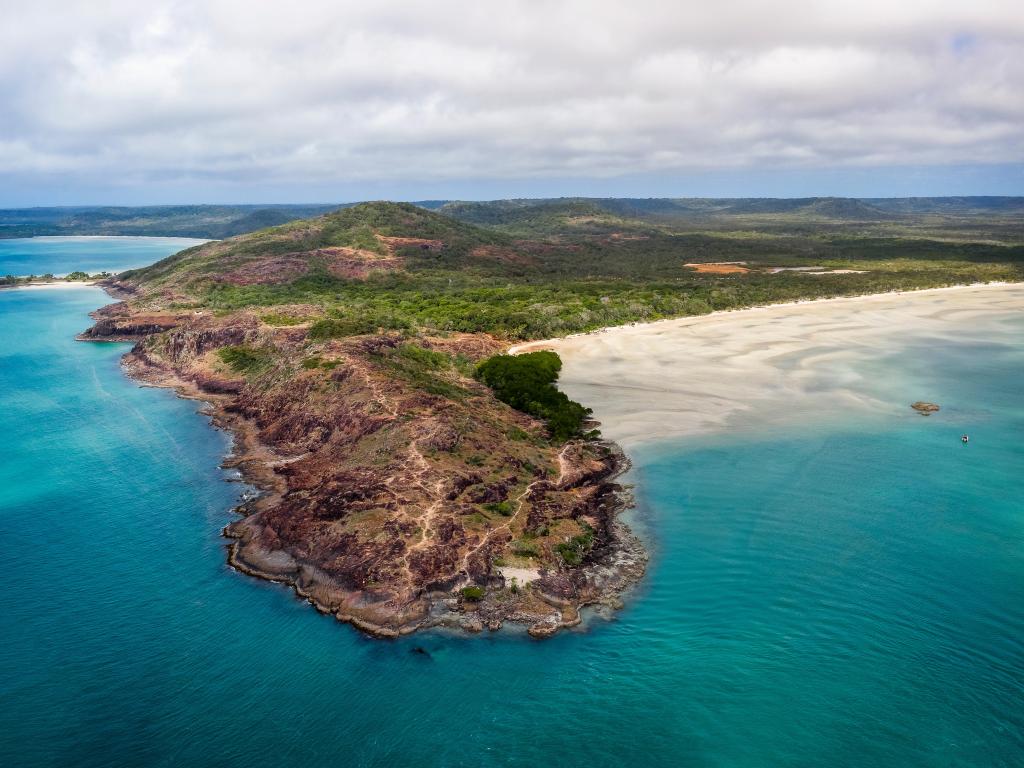 The route will see you driving through wildernesses and barren outback landscapes, developing into tropical-like surroundings further north. With this in mind it's important to prepare properly before you make this long drive.
You'll set out from Cairns on National Highway 1 then at Mareeba, join State Route 81. This is the road you'll follow for hundreds of km past Bob's Lookout over Mount Windsor, Laura and Oyala Thumotang National Park (formerly known as Mungkan Kandju National Park).
To reach the Top of Australia, you'll turn off the Peninsula Development Road onto Telegraph Road around 50 km after Archer River. The road takes you through Wenlock then on through Heathlands Regional Park and Jardine River National Park before eventually arriving at the tip.
How long does it take to drive to Cape York?
As we've already mentioned, it takes 13 hours and 45 minutes to drive from Cairns to Cape York, but what if you're travelling from other parts of Australia?
Comparison of route options to Cape York* from different Australian cities

| Origin City | Total distance | Total time |
| --- | --- | --- |
| Cairns | 1,030 km | 13 hours 45 minutes |
| Townsville | 1,350 km | 17 hours 30 minutes |
| Longreach | 1,850 km | 23 hours |
| Brisbane | 2,700 km | 33 hours |
| Sydney | 3,450 km | 40 hours |
* Note: distances to "Cape York" are calculated with reference to The Tip (Pajinka) Walking Trail Car Park, Cape York.
If you're taking the ferry you'll have to allow 5 days for a round trip and these only depart from Cairns. The weekly departure currently leaves on a Tuesday and returns to Cairns on a Sunday, but you'll be informed of the exact departure dates when you make your booking.
Which port should you arrive at in Cape York?
If you're travelling by car the best way to enter Cape York is on State Road 81. This will take you most of the way up the peninsula but to carry on right to the Top of Australia you'll need to turn off onto smaller, unsealed roads.
Your only option on the mainland of Cape York if you're travelling on the cargo ferry is to disembark at Seisia, where the boat docks. The ferry does also dock at Horn Island, which is to the north of Cape York Tip.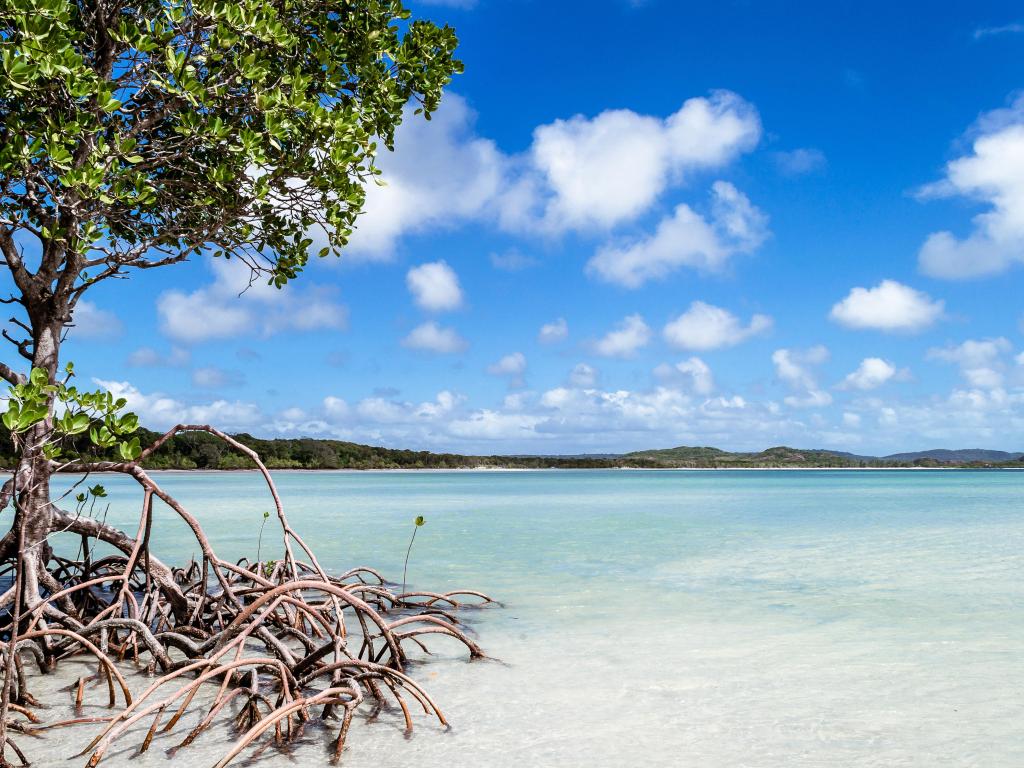 Helicopter flights tend to land at Bamaga, and as they tend to operate as a day tour you'll be picked up by 4WD to continue your adventure up to Cape York Tip.
Things you need to know about driving to Cape York
You can reach Cape York from anywhere in mainland Australia if you don't mind a long drive. However, be aware that you'll encounter unsealed roads throughout the outback wilderness, so some preparation will help you to get all the way to your final destination (and back) safely.
You'll need a 4WD vehicle if you want to go all the way to Cape York Tip by car. The good news is that you won't hit much traffic driving through this untouched wilderness. However, the unsealed roads can be dangerous in monsoon rains and this is a trip you should only take in the dry season between May and October.
As the area is so remote, it's important to prepare properly before setting out. See below for our top tips.
If you're taking the ferry, you'll usually board at Wharf 8 on Dutton Street, close to the centre of Cairns. Travelling on the cargo ferry means they'll board your car like cargo however, unlike many cargo services you can expect excellent food and drink options en route to Cape York.
It's become such a popular route that some travellers come back every year to make the journey together and, as places on board are limited, it can be booked up 12 months in advance. The ferry currently departs once a week, so if you're coming to Cairns as part of a longer trip you should factor departure dates in to your trip planning.
You'll have much more flexibility taking a full day helicopter tour - you can usually reserve a place a few days ahead, but do book as soon as possible if you want to be sure of travelling on a particular date.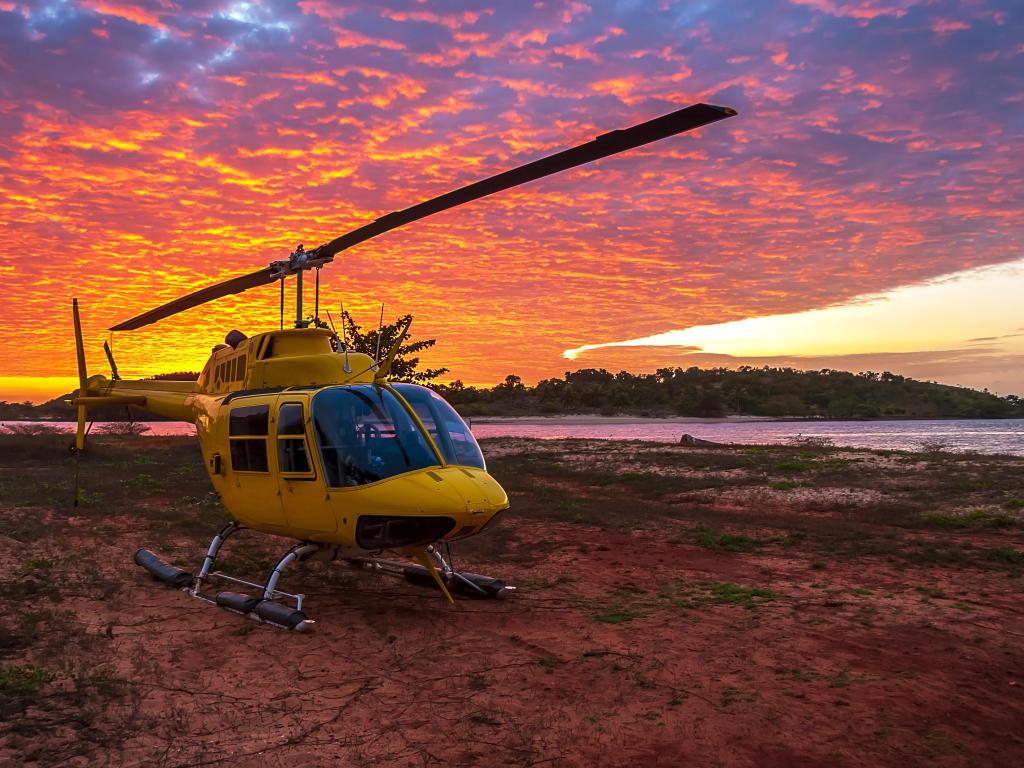 Here are our top tips when it comes to preparing for a drive to Cape York:
If you're driving to Cape York:
When driving on gravel roads, try to stick to existing tracks.
Ensure your vehicle is in good condition before you set out.
Make sure you have plenty of fuel and carry a spare for your journey in case you have to take a detour.
Check your tires and replace them if needed before leaving.
It's wise to carry spare parts and to know how to use them - there aren't many recovery vehicles in the area.
Keep food and water in the car.
A radio isn't compulsory but we recommend having one.
Travelling to Cape York by helicopter:
Wear clothing suitable for hiking.
Bear in mind that there's a 1.6 km hike that you'll have to take on uneven ground.
On the cargo ferry:
Don't expect cruise-like luxury, it's literally a cargo ship. They include 3 meals at the price and the food is good.
You'll have to take part in a mandatory briefing the day before setting sail.
Things to see once you reach Cape York
A trip to Cape York is a real adventure, and if you have time (and a good map) you can head out along some of the peninsula's 4WD tracks and explore some beautiful and unspoilt sights.
Cape York Tip (Pajinka) - Here you'll walk to the northernmost point of Australia. There's a sign overlooking the sea for a fantastic picture opportunity.
Somerset Beach - The area was the first white settlement in the area. It's now famous for its glorious beach but you'll still find snippets of its past.
Twin Falls - Fed by the Jardine River National Park, there are pools below Twin Falls to take a dip.
Cooktown - Towards the southern region of Cape York is Cooktown, an unspoilt small coastal town with plenty of beaches and countryside.
Thursday Island - You can take a boat trip to Thursday Island. Daily ferries leave from Seisia.
Chili Beach - Famous for its campground, Chili Beach is a tranquil spot on the east coastline of Cape York.
Lockhart River - Chili Beach is in the Lockhart River which, besides the stunning beaches, is a good place to experience the aboriginal culture.
Camping Billy's Landing - Another spectacular spot where you'll sleep overlooking the ocean. It's reachable by a one-track road that'll take you deep into the wilderness.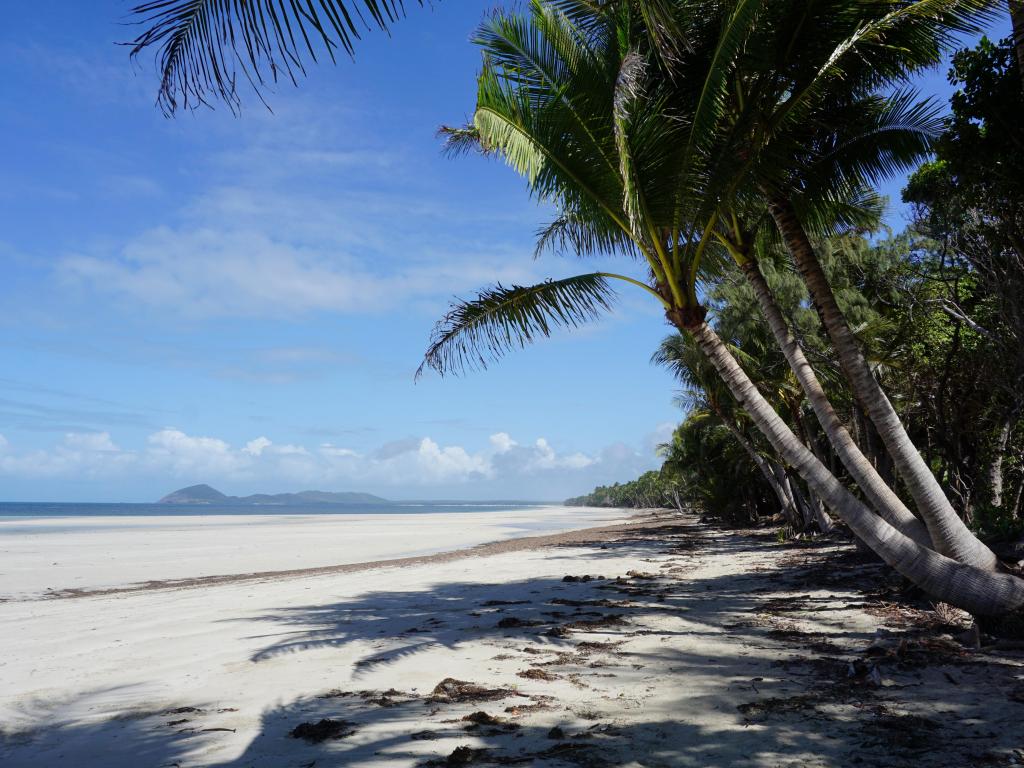 The overland trip to Cape York is one of the last great wilderness adventures to be accessible from the city. It requires some important preparation, but you'll be rewarded with some unforgettable experiences and the buzz that comes with completing such a remarkable adventure.