18 Best Road Trips from Brisbane
Home of the Lamington, Brisbane is an urban metropolis whose strongest suit is its proximity to so many more stunning Australian cities, parks, forests and beaches that are perfect to tackle on a day-long, weekend-long or even week-long road trip.
Choose from these 18 road trips from Brisbane and discover the beauty that this beautiful country has to offer. From bustling cities and coastal escapes to unique inland experiences and gorgeous tropical islands, there's sure to be a trip for you.
Take the plunge and keep reading to discover our favourite road trips from Brisbane, organised from the nearest to furthest.
Best road trips from Brisbane: a quick overview
Day trips from Brisbane (under 3 hours each way)
Sometimes the best things are the ones closest to home; keep scrolling to find out more about our top seven road trips from Brisbane that are less than three hours' drive.
1. Stradbroke Island and Moreton Island (via MICAT Car Ferry)
45 minutes from Brisbane (60 km)
Why you should visit: The closest road trip on this list, this trip takes you right across Moreton Bay to Stradbroke Island and Moreton Islands, two gorgeous spaces perfect for a day's trip. You basically don't even have to leave the city to enjoy the picturesque vistas found on these two islands.
These heavenly islands are a wonderful and laidback day's escape from Brisbane, boasting rich Indigenous culture, diverse wildlife and tons of outdoor activities in the waters of the Coral Sea.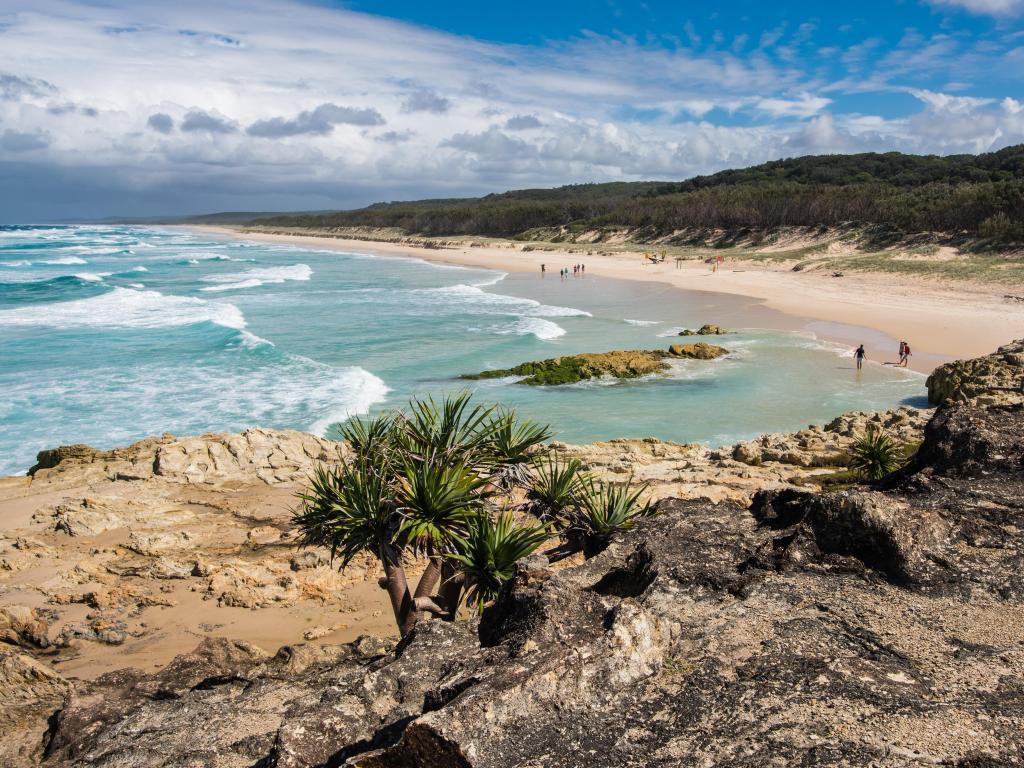 How to get there: To get to Stradbroke Island, direct yourself towards Cleveland, about an hour away from downtown Brisbane. From there, you can take a water taxi or car ferry across to North Stradbroke.
To get to Moreton Island, take the MICAT Car Ferry, a 90-minute journey. The ferry departs from the Port of Brisbane and operates on a demand-based timetable, meaning that on a quieter day you should expect fewer journeys to choose from.
Our highlights: While Stradbroke is busier and offers dining and shopping options, Moreton Island, which is entirely made up of sand, is more park-like and secluded.
You'll be able to spot dolphins, manta rays, turtles, and whales from the shores, and can admire koalas and kangaroos passing through the camping and park grounds.
Looking for a dose of history? Enjoy a historical walk along the Goompi trail on Stradbroke Island with a local Aboriginal guide to discover the rich culture of the people that have inhabited this island for millennia.
There's no better way to understand and appreciate this culture than to get in touch with the natural beauty that is so central to it.
We hope you've packed your walking shoes, as so much of Stradbroke and Moreton is best discovered on foot; the North Gorge Walk on Stradbroke Island is one of this island's most beautiful trails, taking you along the beautiful blue waters along the sea-facing coast.
There's no shortage of views on the islands, but we think the best one of is at the top of Moreton's tallest mountain. With a peak of just over 286 meters, you're sure to find breathtaking views of the sea and Gold Coast. Perfect for a photo op or to enjoy an unbeatable sunset.
Bonus: The original name of Stradbroke Island is Minjerribah; the island is still home to a large community of the Quandamooka People, the original caretakers of this land.
Our travel tips: We recommend booking your ferries in advance to ensure your spot, as well as your vehicles'. Keep in mind that ferry frequency changes depending on how high the demand is; while some days have ferries on the half-hour, others may just have one or two a day.
These gorgeous islands offer many outdoor activities; make sure to pack accordingly, including sunscreen, a bathing suit and a hat to protect you from the sun.
2. Lamington and Springbrook National Parks
Via Canungra and Tamborine Mountain
1 hour 30 minutes from Brisbane (110 km)
Why you should visit: Get a two-for-one deal on this road trip that takes you to Springbrook and Lamington National Parks, two of this region's most lush green spaces that boast lush forests, creeks, waterfalls, and dramatic lookouts.
You'll also have the chance to view an extremely rare marsupial, the Australian native and carnivorous quoll, indigenous to this region.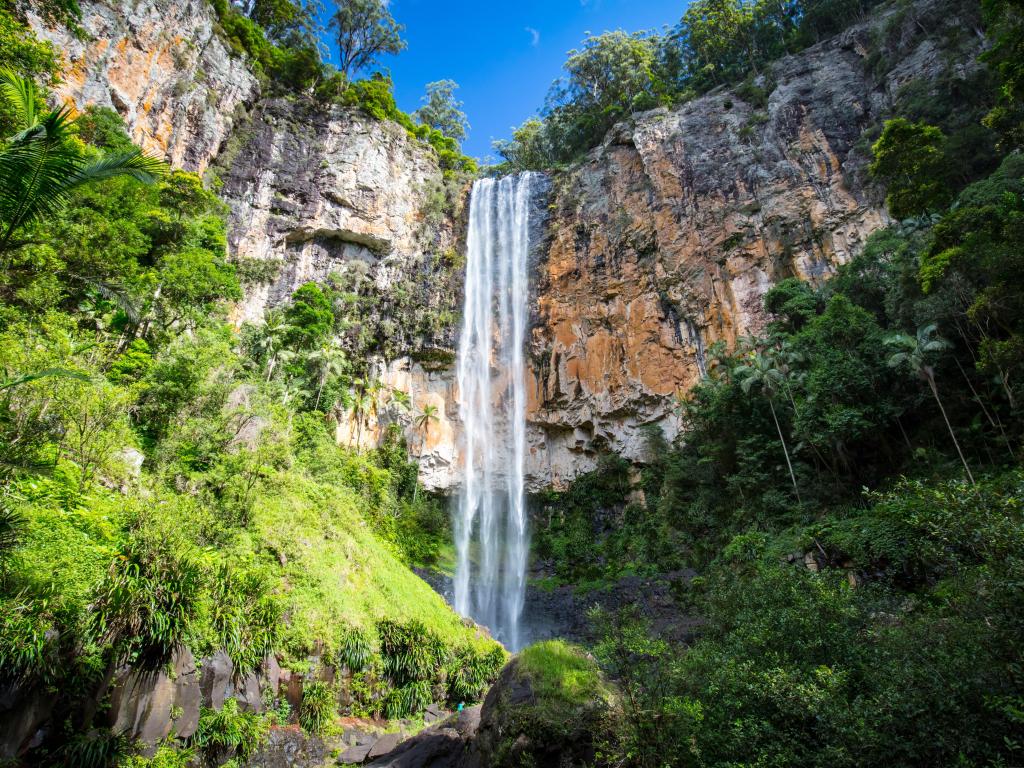 How to get there: These parks are located just south of Brisbane. To get there, exit the city via the M3, then get yourself to the M1. Tamborine Mountain is located about halfway to the National Parks, just off the M1. Once you've thoroughly explored Tamborine Mountain, you'll find Canungra about 10 kilometres away, and the two National Parks are easily reachable via State Routes 90, 99 and 97.
Our highlights: Take the Tamborine Rainforest Skywalk to discover this beautiful region's natural offerings. This hour-long walk features a stop at the Rainforest Eco Gallery, which explores Tamborine Mountain's local and Indigenous History.
While there are tons of ways to discover Lamington and Springbrook National Park (including several guided tours), we think that there is no better option than exploring these stunning natural parks by yourself along one of many walking trails. Lace up your sneakers and get ready for a relaxing walk through some of Australia's most beautiful forests.
Looking for a dose of furry cuteness? Mountview Alpaca Farm is located just a few minutes' drive from Canungra; here, you'll be able to interact with and feed this docile and playful animal. This farm also boasts a wonderful gift shop.
If you're looking for a place to shop, the Gallery Walk on Tamborine Mountain is the spot for you, boasting over sixty art, craft, gift and knick-knack shops. You'll also be able to find tons of delicious locally made treats, including cheeses, chocolates, and signature wines.
Bonus: These two parks are quite different when it comes to size: while Lamington National Park, covers over 51,000 acres of land, Springbrook National Park is significantly smaller, at just over 15,000 acres.
Our travel tips: Make sure to check the national park's websites before planning your trip; depending on the season and precipitation levels, the park's trails may be closed.
3. Sunshine Coast
Via Caloundra
1 hour 20 minutes from Brisbane (120 km)
Why you should visit: There's nothing on this list quite like the Sunshine Coast, the nearest region of coastal beaches and relaxing towns that boast blinding white sands and crystal-clear waters, as well as Heritage-listed national parks and charming historic villages.
Discover secluded beaches and luxurious dining experiences on the Sunshine Coast, stopping along the way in Caloundra, the "southern belle" of this region that boasts a rich surf culture and lots of outdoor adventuring. It's the perfect combination of relaxation and outdoor fun.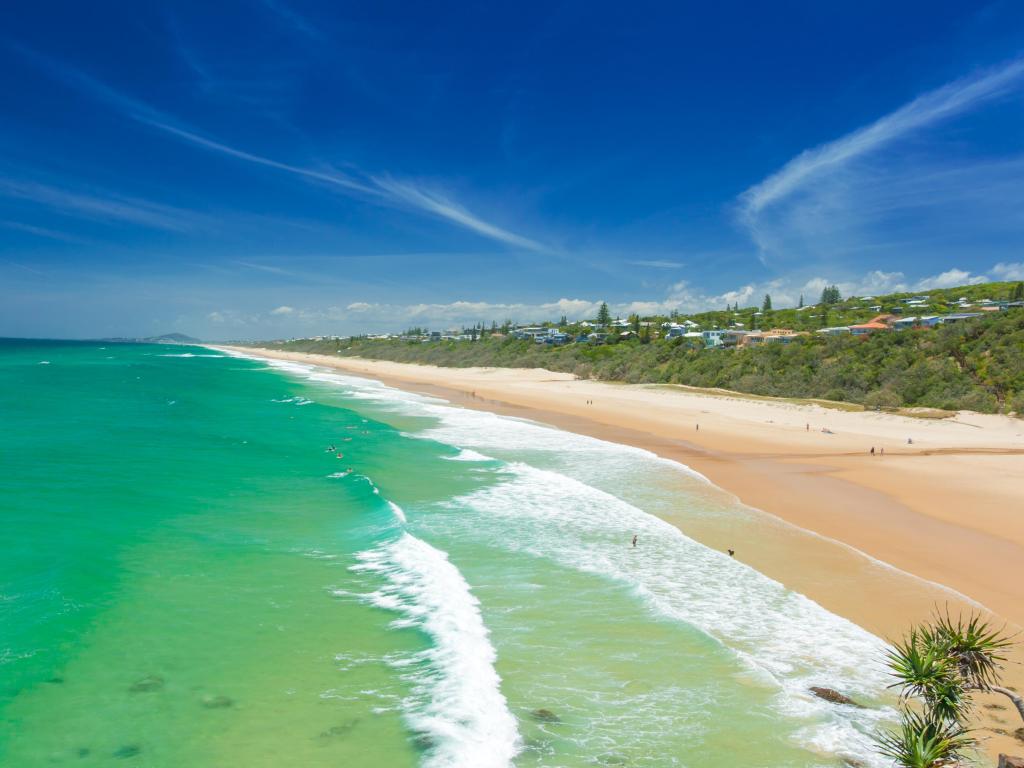 How to get there: The Sunshine Coast is a region just north of Brisbane; to get there, take the M1 from Brisbane to Glenview. Then, take exit 188 to Caloundra, and in minutes you'll have arrived in this sunny destination.
Once you're finished with Caloundra, follow State Route 6 to the Sunshine Coast, which stretches more than 60 kilometres, meaning there are plenty of options for places to stop and take a swim in Australia's beautiful waters.
Our highlights: Being so close to the bountiful Coral Sea means you're sure to find some tasty and fresh meals, and true to form, this region is celebrated for its delicious seafood offerings.
For the gastronomes out there, make sure to grab a bite at one of the many restaurants along the coastline; there you'll be able to enjoy a wonderful meal and an even better view.
One of the Sunshine Coast's most popular attractions, the Australia Zoo is home to tons of native animals as well as the world-renowned Wildlife Animal Hospital. Take a break from the water to check out the many animals that call Australia home.
Health culture is super big in Australia, and there's no better way to get a taste of it than by checking out the Ginger Factory at Yandina, which offers free admission to its gardens, shopping facilities, walking trails and 120-year-old ginger train. You can also stop in at this factory's café where you can indulge in tastings of this delicious and healthy root.
Looking for a dose of cardio? There's no better way to get your heart pumping than by taking the 2-hour climb up Mount Coolum, a 25-million-year-old volcanic dome that offers unparalleled views of the surrounding National Parks and coast.
Bonus: Did you know that from 1962 to 1983, Mudjimba Island just off the Sunshine Coast was owned by 007 himself, the late great Sean Connery?
Our travel tips: The Sunshine Coast boasts over 60 kilometres of beaches, which means that with a little exploration you'll definitely be able to find the right beach for you.
Looking for something secluded? Try further north! Looking for something closer to restaurants and bustling with activity? Try a beach further south, near Caloundra.
4. Mt Barney National Park and Scenic Rim
Via Wyaralong Dam and Boonah
1 hour 50 minutes from Brisbane (130 km)
Why you should visit: The Scenic Rim was recently named one of Lonely Planet's Top 10 Regions, Best in Travel 2022, and we think this road trip offers unparalleled opportunities for nature exploration within its many forested mountains.
Take a trip to Mount Barney National Park and the greater Scenic Rim, a quick drive from Brisbane and boasting vibrant art galleries, craft breweries, and boutique vineries in its many small towns.
Stop at the massive Wyaralong Dam along the way, or visit the charming town of Boonah, whose scenery has been characterised as "Switzerland without the snow."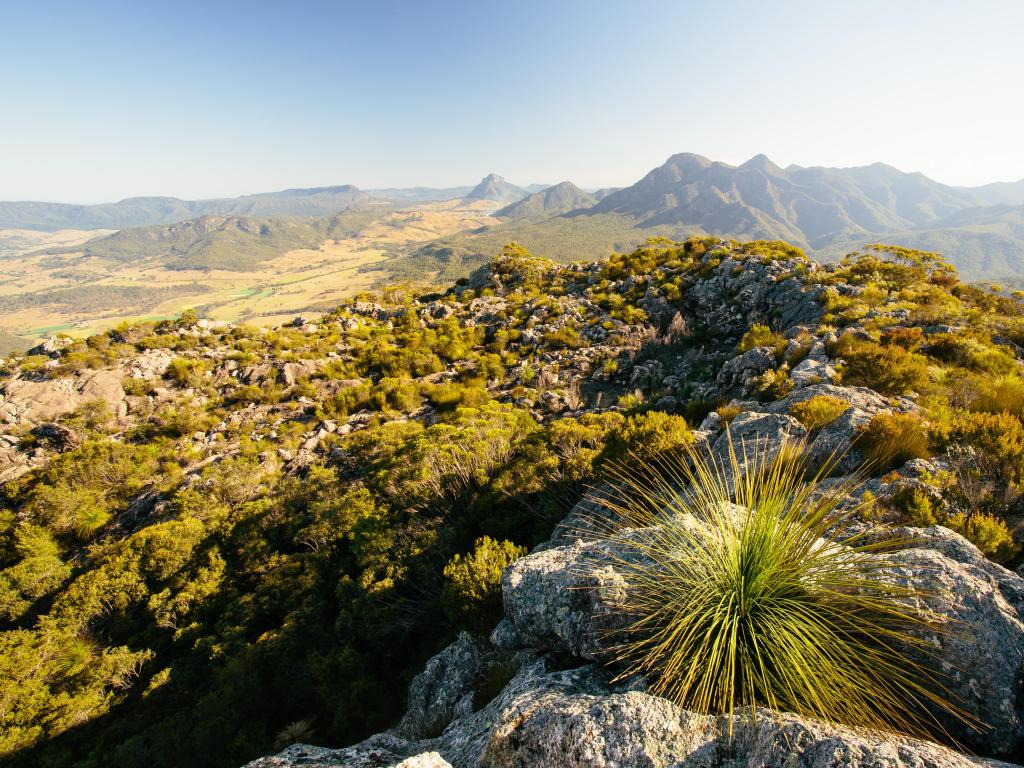 How to get there: Take the M3 out of Brisbane, then continue along the M5 and State Route 93 towards Scenic Dam. Then, exit onto State Route 90 towards Wyaralong for a stop at this world-famous dam.
Return to State Route 93, and within a few minutes you'll have reached the exit to Boonah. From Boonah, the Burnett Creek Road towards Mount Barney National Park, which is within the Scenic Rim region.
Our highlights: Mount Barney is a stunning national park, offering valleys, caves, rockpools and woodland forests, and we think that the best way to discover this wonderful attraction is by exploring it on foot. You'll have tons of trails to choose from, and you can even pack yourself a picnic to enjoy along the way.
Something unique about Mount Barney is that it's host to seven peaks above 1000m, which means you'll have tons of opportunities for mountain climbing and hiking through gorgeous forests. A great workout that ends with unparalleled views of this park!
For the particularly adventurous, we recommend the Discover Scenic Rim Adventure Park. This 680-acre property offers a host of activities that'll be sure to get your adrenaline flowing, including four-wheel driving, mountain biking, walking trails and several mazes.
Locals will tell you that the best way to get an idea of the Scenic Rim's sheer scale is through a unique and unforgettable hot air balloon ride across the region. You can choose from a variety of pickup locations, including Nerang and Canungra, as well as several operating companies.
Our travel tips: Just like with the other National Parks on this list, we recommend checking the Queensland Government website which will tell you about any closures or inclement weather warnings.
This road trip offers tons of locations that are perfect to explore by foot; pack a comfortable pair of shoes and be prepared to get a little workout in, especially at the national park.
5. Toowoomba and Darling Downs Region
Via Ipswich
1 hour 30 minutes from Brisbane (150 km)
Why you should visit: Coffee and wine anyone? This road trip takes you to Toowoomba, the largest inland city in Queensland which boasts a growing urban coffee culture; from there, you can explore the Darling Down region, celebrated for its award-winning vineyards.
Just 90 minutes from Brisbane, Toowoomba is a garden-filled city that is bursting with culture and fun activities. Pass through Ipswich on the way, Queensland's oldest provincial city that offers over 6000 heritage-listed sites. History and fun, all in one.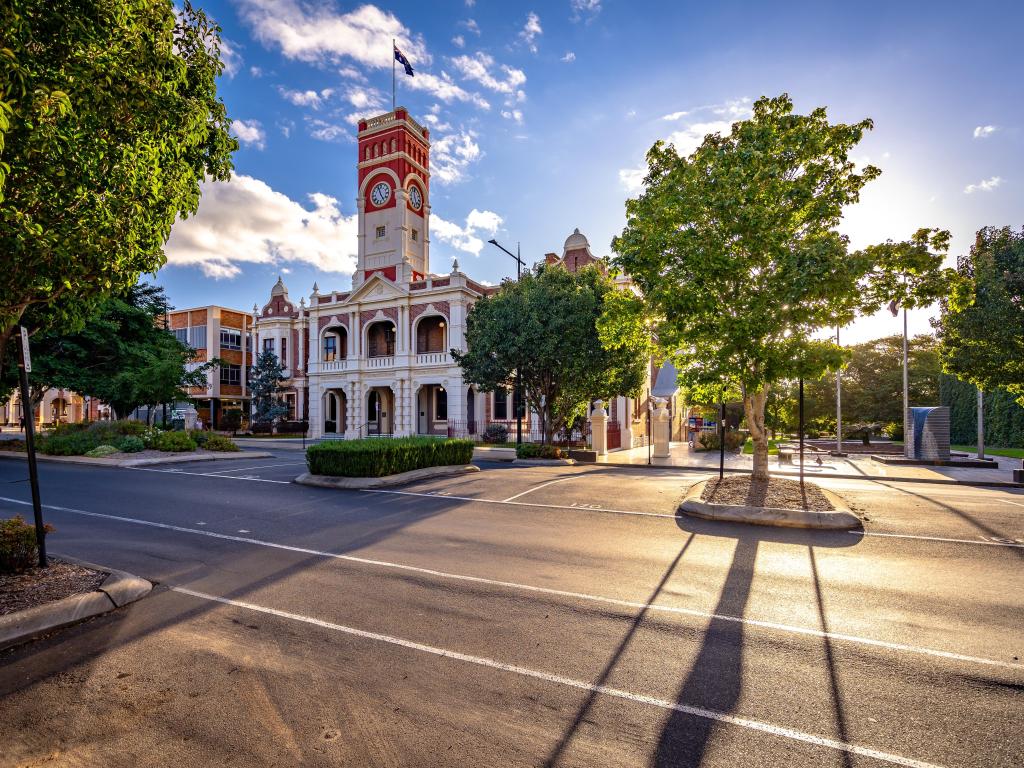 How to get there: This wine-forward region is easily accessible from Brisbane. First, get on the M3 and then the M5 out of Brisbane. Then, take the M7, M2 and Warrego Highway towards Ipswich, located along State Route 38.
Once you've enjoyed this town's many historical sites, get on the M2, then take the Warrego Highway to East Toowoomba. The Darling Down region is located just west of Toowoomba; the best way to discover the wineries in this region is to take a tour or choose a specific winery and make your way there.
Our highlights: Toowoomba is known for its stunning gardens; make sure to check out one of its several parks, including Laurel Banks, Queens Park and the Japanese Gardens. If visiting in the spring, you can also catch the Toowoomba Carnival of Flowers, the longest-running floral event of its kind in Australia.
While there are lots of museums to choose from in Toowomba, our favourite is the Cobb+Co Museum, home of Australia's national horse-drawn carriage collection and boasting unique exhibits which explore the region's heritage.
This town is known for its rising contemporary art scene, and the best part is that much of it is available for free! Follow the Laneway Street Art Crawl to take in the colorful graffiti in this area or visit the Toowoomba Gallery which boasts tons of works by Australian and Indigenous artists.
Did somebody say wine? This isn't the first destination on this list which boasts a rich wine culture, however, it's definitely the closest.
While there are tons of wineries to choose from in this area, Ballandean Estate Wines is the oldest winery on the Granite Belt and a great starting point on your journey to becoming a sommelier.
Bonus: Ever heard of the Australian "Lamington"? While Brisbane may now be home to this delicious treat, it was supposedly first made in Toowoomba by a cook improvising on an existing cake recipe for Lord Lamington, who visited this town in 1886.
Our travel tips: To avoid confusion, remember that Toowoomba refers to the region in which this city is found in, as well as the region itself.
Regarding visiting wineries, it's good to note that different vineyards will have different protocols for those looking to indulge in tastings. While some will offer tours and tastings for free or at a reasonable price-per-head, others may only offer bottles for purchase.
6. Gold Coast and Byron Bay
2 hours 10 minutes from Brisbane (170 km)
Why you should visit: This is the place to go if you're looking for a combination of nightlife, family fun, and stunning beaches. While other destinations on this list may offer beautiful beaches or wild nightlife, none combine the two quite like Byron Bay and the Gold Coast.
Byron Bay is a unique destination on this list, a coastal town in the state of New South Wales that's known for its lively nightlife and gorgeous beaches. The Gold Coast is just north of Byron Bay, stretching along the Coral Sea. It boasts tons of amusement and theme parks, luxurious hotels and opportunities for water sports and beach fun.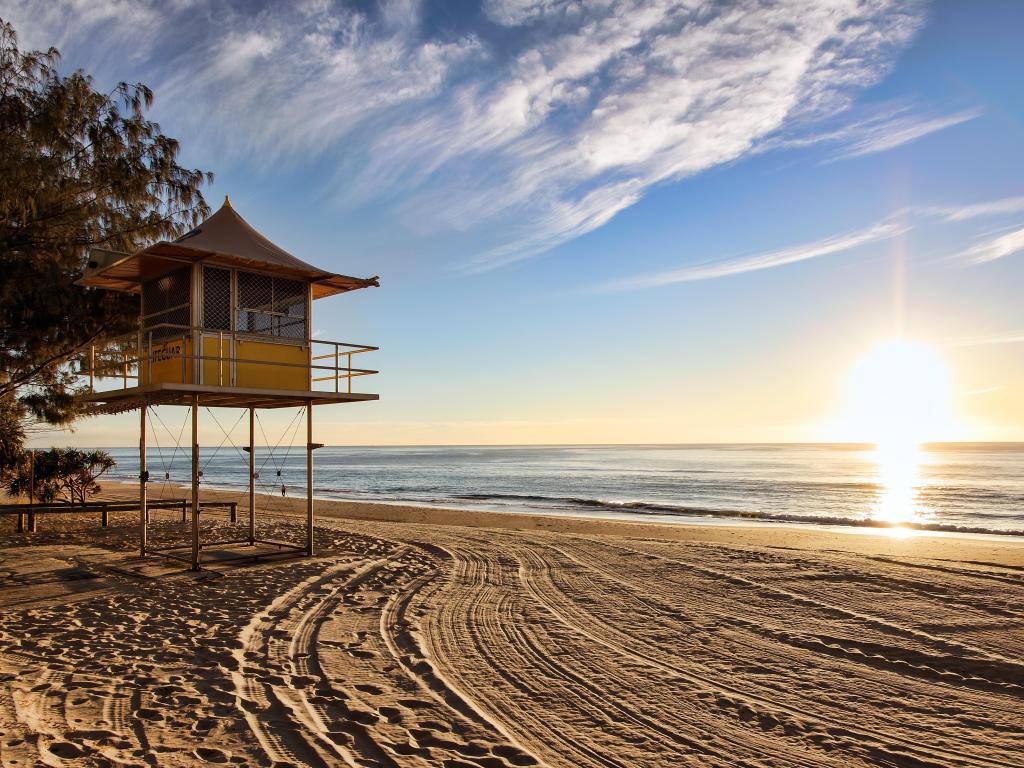 How to get there: Byron Bay and the Gold Coast are basically one coastal drive down from Brisbane. Exit the city via the M1 Southbound, then take exit 69 from the M1, and soon you'll have reached the Gold Coast.
Continue exploring the coastline, or get back on the M1, which you can follow until you've reached Byron Bay.
Our highlights: Explore Dreamworld, one of Australia's favourite theme parks on the Gold Coast boasting a variety of rides and attractions, tons of on-site restaurants and a wildlife conservation park.
Make sure to check out Tiger Island, the only place on the Gold Coast where you can view these majestic animals up close.
If you're looking for a bit of history, make sure to check out the Byron Bay Lighthouse, built in 1901 and standing on the east-most point of the Australian mainland. You'll have to take a short climb to get there, but we're sure that you'll find the view to be worth it.
Take a trip to the silver screen at Warner Bros. Movie World. This is Australia's only film-related theme park and the oldest Warner Bros Park in the world. A visit here will allow you to discover tons of film memorabilia and film-related rides.
If that isn't enough, Warner Bros. Movie World also boasts tons of restaurants and on-site food options sure to satisfy any craving.
Before Byron Bay became the fun haven it is today, it was mostly covered by swamps! While most of the swamplands have been covered or built over, you can always walk the Cumbebin Wetland Sanctuary Boardwalk, which takes you back to Byron Bay's swampy beginnings.
Bonus: Craving a Big Mac? You'll have to be prepared for a drive out of the city as you won't find a Mcdonald's anywhere in Byron Bay, a result of protests from locals in the 1990s who kept out multi-national fast-food chains in favour of small businesses.
Our travel tips: Byron Bay is a small city in the larger Byron Shire. When booking accommodations, make sure to check that your room is located within the city itself and not somewhere in the suburbs.
Try to avoid visiting Byron Bay in the summer, which can get quite rainy and tends to be busy with tourists, opting for the autumn or spring instead.
7. Noosa and Great Sandy National Park
2 hours 20 minutes from Brisbane (180 km)
Why you should visit: Relaxed and luxurious, this road trip to Noosa and Great Sandy National Park is the perfect trip for a day or weekend getaway to somewhere fabulous and bougie.
Visit Noosa if you're looking for someplace to unwind and luxuriate; explore boutique accommodations and shops in this city, known for its fashion and food scene. If that wasn't enough, nearby Great Sandy National Park offers stunning sandy beaches and brilliantly coloured sands.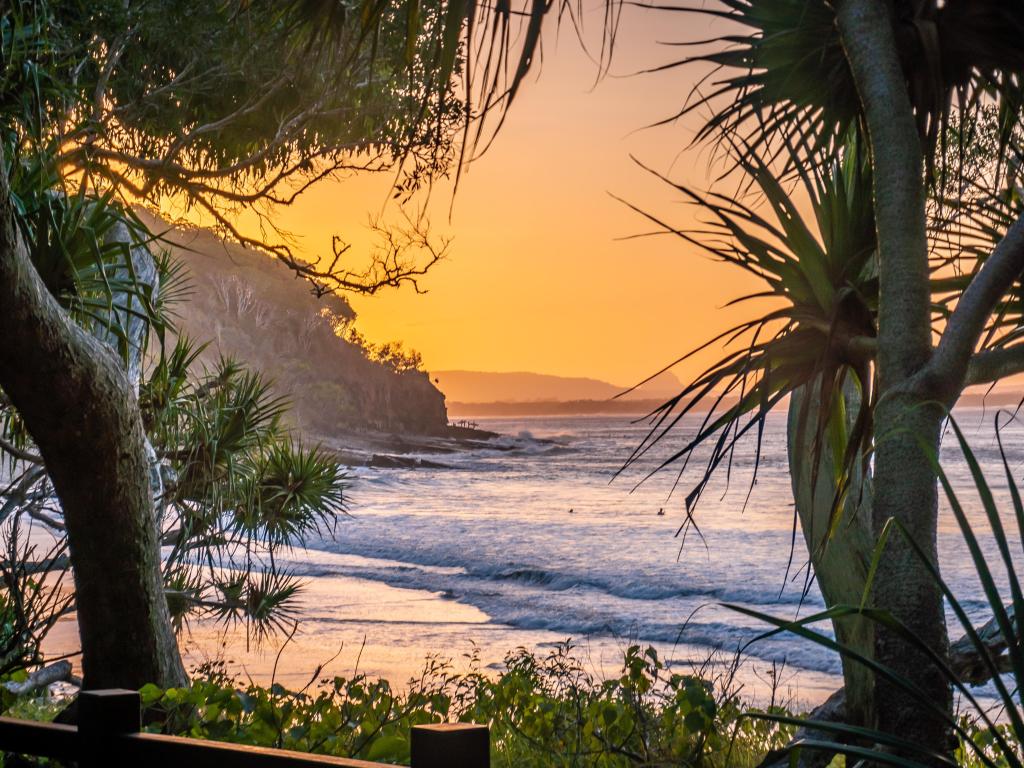 How to get there: Noosa is at the North-most point of the Sunshine Coast. To get there, exit Brisbane via the M1 then continue towards the Sunshine Coast. You'll pass most of the Sunshine Coast before reaching Noosa; from there, Great Sandy National Park is a quick 20-minute drive.
Our highlights: Is there anything better than getting luxuriously pampered while staying in a tropical paradise? During your stay in Noosa, we recommend visiting one of the four nearby spas, offering tons of services including massage, exfoliation, and hydro/aqua therapy.
There's no shopping district on the Sunshine Coast quite like Hastings Street, offering dozens of independent boutiques where you'll find everything from clothing to homewares. Just make sure you don't buy more than you can fit in your car, or you'll have a tough time getting back to Brisbane.
Whether you're a yoga novice or an expert in sun salutations, we think you're sure to enjoy catching a gorgeous sunrise during a morning beachside yoga class. There are a few different companies and types of yoga to choose from, and you may have to do a bit of research to find the option that's perfect for your level.
Explore Great Sandy National Park on foot or by four-wheel drive, depending on what kind of adventure experience you're looking for. This park is known for its colourful sands and many lighthouses, so keep an eye out for those during your exploratory walk or drive.
Bonus: The name "Noosa" comes from the local Aboriginal word "Noothera" or "Gnuthuru" which means shadow or shady place in the Kabi Kabi language.
Our travel tips: Noosa is a slightly more upscale beach town along the Sunshine Coast, so be prepared for pricier accommodation and attractions prices. We definitely think that the somewhat higher prices are worth it, given all the beauty that this destination has to offer.
Click here to skip back to the top.
Weekend trips from Brisbane (3-5 hours each way)
If you're looking for something a little longer than a day trip, we've got you covered. Keep reading for couple of options we think make the perfect weekend getaways.
8. Stanthorpe and Girraween National Park
3 hours 10 minutes from Brisbane (250 km)
Why you should visit: This road trip takes you to Stanthorpe, the biggest city in the Granite Belt which is celebrated for its wine production. Nearby Girraween National Park boasts tons of hiking trails and unique rock formations.
This inland escape is centred around Stanthorpe, known for its many wineries and home to a variety of delicious restaurants, chic cafes, boutique stores and galleries.
Outside of Stanthorpe, you'll find lush landscapes, picturesque vineyards and the stunning Girraween National Park, full of unique rock formations.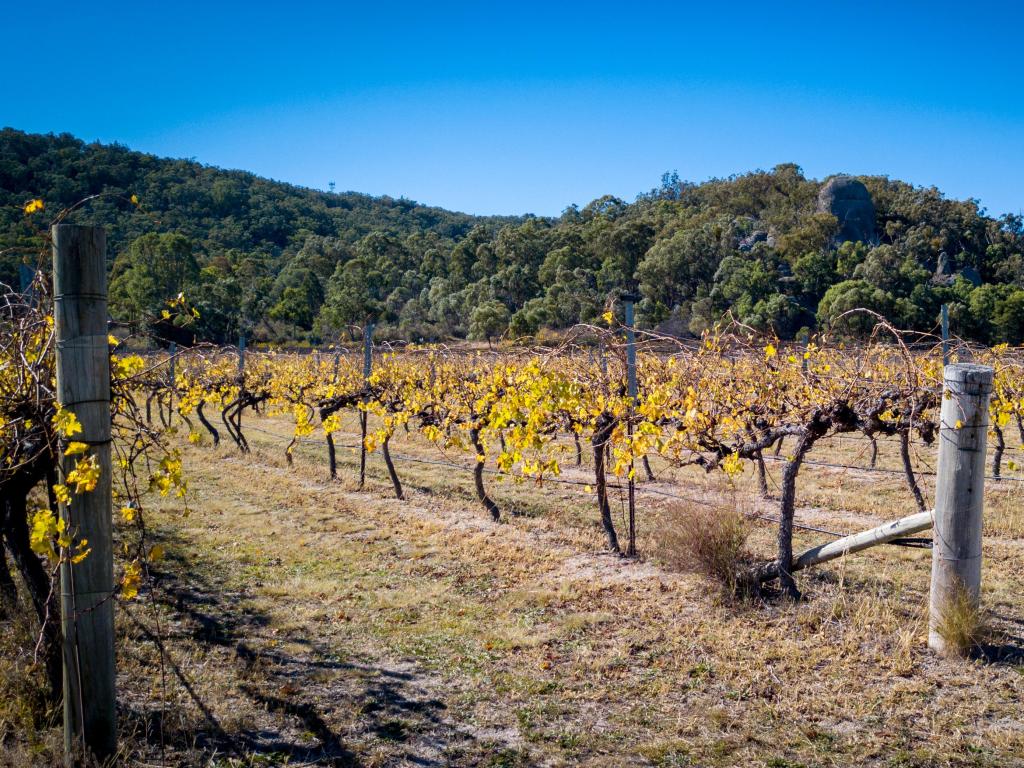 How to get there: To get to Stanthorpe, take the M3 out of Brisbane, then follow the M5 to merge onto National Highway 15. Follow this route all the way to Stanthorpe. To get to Girraween National Park, get back onto National Highway 15, then turn left onto Pyramids Road; within minutes you'll find yourself at the entrance to this beautiful park.
Our highlights: Iconic of Girraween National Park is Balancing Rock, a massive formation that hangs in the air and which is a favourite selfie spot for the Girraween's many visitors. As they say: if you didn't take a picture, did it even happen?
Calling all wine lovers! As we've already established, the Granite Belt has some of the most delicious wines in the world; we think there's no better way to discover this region's many vineyards than through a bicycle tour.
Choose from either a self-guided or host-led to discover the fruits of this beautiful region.
For the foodies out there, we highly recommend taking a tour of the Truffle Discovery Centre in Stanthorpe, where you'll have the opportunity to pick up a range of truffle products.
Stanthorpe is actually one of the few places in the world where the rare French Black Perigord Truffle is available all year, so it's the perfect spot to stock up on this coveted fungus.
Our travel tips: While the colder climate and elevation is to thank for Stanthorpe's wine and food offerings, there's no denying that it can get quite cold in the winter. If visiting during the colder months, make sure to pack warm layers.
9. South Burnett
Via Glass House Mountains
3 hours 50 minutes from Brisbane (270 km)
Why you should visit: The South Burnett region is an ideal weekend escape destination, boasting tons of wineries throughout Queensland's newest wine region as well as hiking and biking trails.
This road trip is truly for the lovers of agritourism and natural attractions; discover tons of vineyards, learn about this region's historical peanut industry, or take in the beautiful surrounding mountains and lake regions.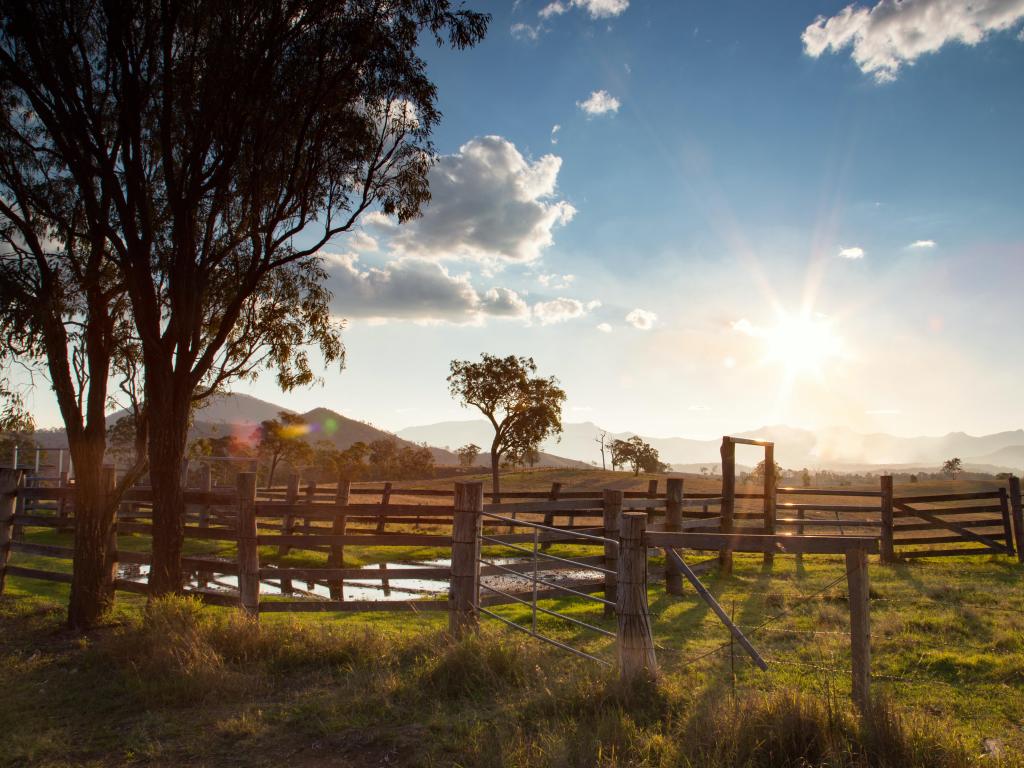 How to get there: To get to South Burnett, exit Brisbane via the M1, which you can follow all the way to the Glass House Mountains. From there, take Coonowrin Road, Glass House Woodford Road and Beerburrum Road until you reach D'Aguilar Highway.
Take D'Aguilar Highway for about 130 kilometres, then get onto Memerambi Gordonbrook Road which will take you into the centre of the South Burnett region.
Our highlights: This road trip takes you to this fabulous destination via the Glass House Mountains, a collection of rocky peaks that are the favourites amongst mountain climbers.
If you're in the mood for relaxation along the water, we recommend taking a trip to Lake Boondooma. There, you'll have the opportunity to swim or sail in tranquil waters or enjoy a picnic along this serene body of water's peaceful shores.
South Burnett is a wine lovers' paradise; we recommend creating your own path through this region's famous wineries, many of which offer free tastings. Just make sure to call in advance to let them know you're coming and check opening/closing hours.
Discover the Kingaroy Heritage Museum, where you can learn about the town's agricultural history before enjoying a trip to Kingaroy's Peanut Van. This factory's heritage-listed peanut silos have been housing this delicious nut since 1969 and are a signature monument in this region.
Take a journey through the remains of an ancient volcano on your visit to the Bunya Mountains, the second oldest national park in Queensland. This area features over 35 kilometres of walking trails as well as a summit 1100m over sea level, guaranteed to get your blood pumping.
Our travel tips: South Burnett enjoys a warm and subtropical climate, but its nights tend to be quite cool (this is one of the reasons why grapes grow so well here.). Be sure to pack something warm to wear in the evening regardless of the season.
Click here to skip back to the top.
Long weekend trips from Brisbane (5-8 hours each way)
These destinations are a little further from Brisbane, offering the perfect opportunity to discover something new. Read on to discover two road trips we think you could manage in the space of 3-4 days.
10. Fraser Island
6 hours from Brisbane (350 km)
Why you should visit: Fraser Island (K'Gari) is an incredibly unique ecosystem, unparalleled by any other island in the world. A World Heritage Listed site, this stunning island is the only place in the world where a rainforest has been known to grow from sand.
It's also host to over 100 freshwater lakes (despite being surrounded by saltwater), forty of which are entirely made up of rainwater. This road trip is the ideal long weekend trip, and a must-see for nature lovers who are looking to experience a unique natural world.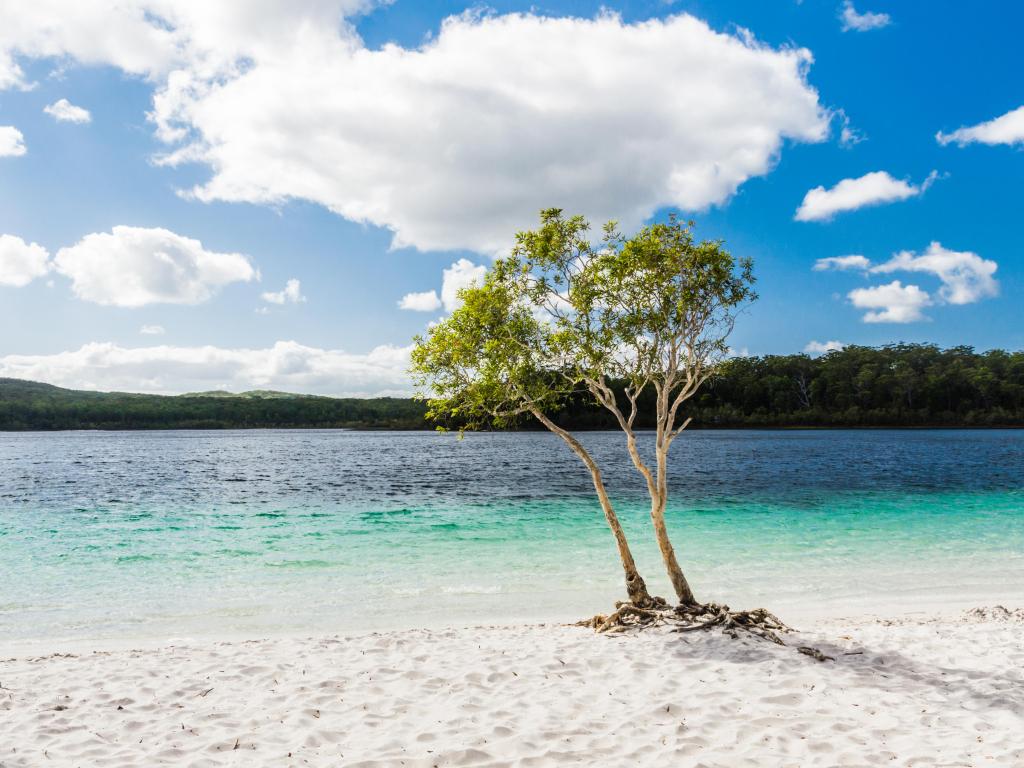 How to get there: Just a 6-hour drive away, Fraser Island is easy to reach. Take the M1 out of Brisbane and follow it for several hours, until you reach State Route 57. Then, follow this road until you reach River Heads – Fraser Island.
From here, you can take a car ferry to Fraser Island.
Our highlights: Fraser Island is host to numerous gorgeous landscapes and natural wonders, which you can explore on foot or via four-wheel drive. You'll be able to see subtropical rainforests, wild beaches, towering sand dunes and turquoise lakes on this magnificent island.
Discover the stunning wildlife native to this land, which includes dingoes, kangaroos, sugar gliders and brushtail possums; gaze into the blue waters to catch a glimpse of whales, dolphins and dugongs (aka sea cows).
Take a drive along the 75-mile beach along the east coast of Fraser Island, where you can get a look at some of the island's biggest attractions including the Maheno shipwreck and the bubbly rock pools, called Champagne Pools.
One of the most interesting ways to discover this island's beauty is by plane; take a 15-minute tour of Fraser Island through a company called Air Fraser Island, the only tour company operating flights through this tropical paradise.
Bonus: Did you know that Fraser Island is the world's largest sand island?
Our travel tips: If taking the 75-mile beach drive, make sure to follow the speed limit (80 km/h) and make sure to keep an eye on the tides to avoid getting caught in a slippery situation.
11. Rockhampton and Yeppoon
8 hours from Brisbane (680 km)
Why you should visit: This road trip pairs Rockhampton, a busy commercial centre, with Yeppoon, a secluded beach, striking an ideal balance of metropolitan attractions and a retreat into nature.
Nicknamed 'The Beef City', Rockhampton is the commercial centre of Central Queensland, boasting beautiful Victorian architecture and a historical past. Nearby Yeppoon is considered a hidden secret of this region for its secluded waters and proximity to the Southern Great Barrier Reef.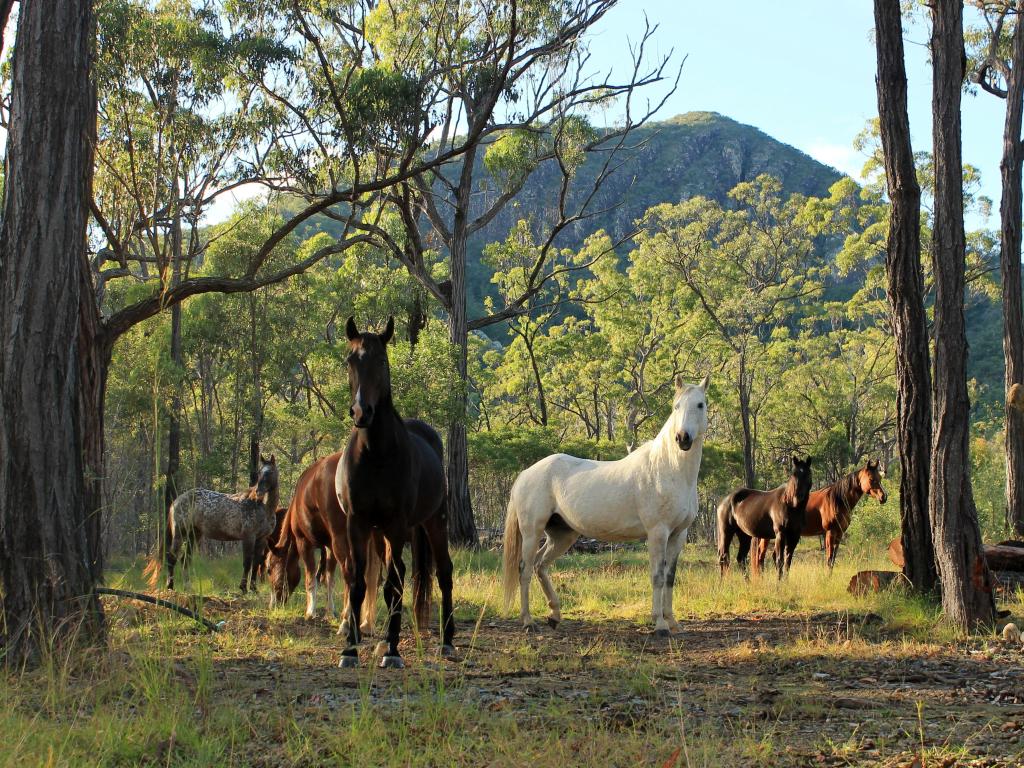 How to get there: To get to Rockhampton, take the M1 out of Brisbane. Then, merge onto Bruce Hwy/A1 and follow it directly to Rockhampton.
If looking to explore Yeppoon, simply hop onto Yeppoon Road which will take you to this gorgeous beach.
Our highlights: Discover the Capricorn Caves, a unique system of above-ground caves in a limestone ridge located 23 kilometres north of Rockhampton; one of the largest privately owned cave systems in Australia.
Looking to get a taste of history? Take a walk and explore Rockhampton's historic centre, where you'll find tons of Victoria-era buildings as well as the famous six statues of bovines dedicated to this city's steady beef industry.
We highly recommend a visit to the Rockhampton Botanic Gardens, widely regarded as one of the best in regional Australia and boasting guided tours through its 33-hectare property.
Rockhampton Heritage Village is the perfect place to discover and get in touch with this city's rich history; here, you'll find memorabilia and artefacts dating as far back as the 1850s as well as an entire village complete with a school, fire station, cottages and more.
Bonus: Did you know that Rockhampton was once in the running to become Australia's capital city? The honour eventually went to Canberra, ACT, which you'll find further along this list.
Our travel tips: Accommodation and activity prices for this city tend to be higher during the summer months and weekends, so make sure to book according to your budget.
READ MORE - Road Trip from Brisbane to Rockhampton
Click here to skip back to the top.
Longer trips from Brisbane (Over 8 hours each way)
Sometimes, a short escape just isn't enough. We think these next eight road trips are the perfect places to visit if you're looking for a longer vacation.
12. Sydney
Via Myall Lakes National Park and Newcastle
9 hours 40 minutes from Brisbane (950 km)
Why you should visit: This epic road trip will take you from Brisbane to iconic Sydney, Australia's most recognizable and largest city; discover beautiful Myall Lakes National Park and Newcastle along the way.
Sydney offers countless opportunities for exciting adventures and cultural experiences. It's the perfect road trip destination for those looking to enjoy a big city and discover an arts scene that's truly unrivalled by the rest of Australia.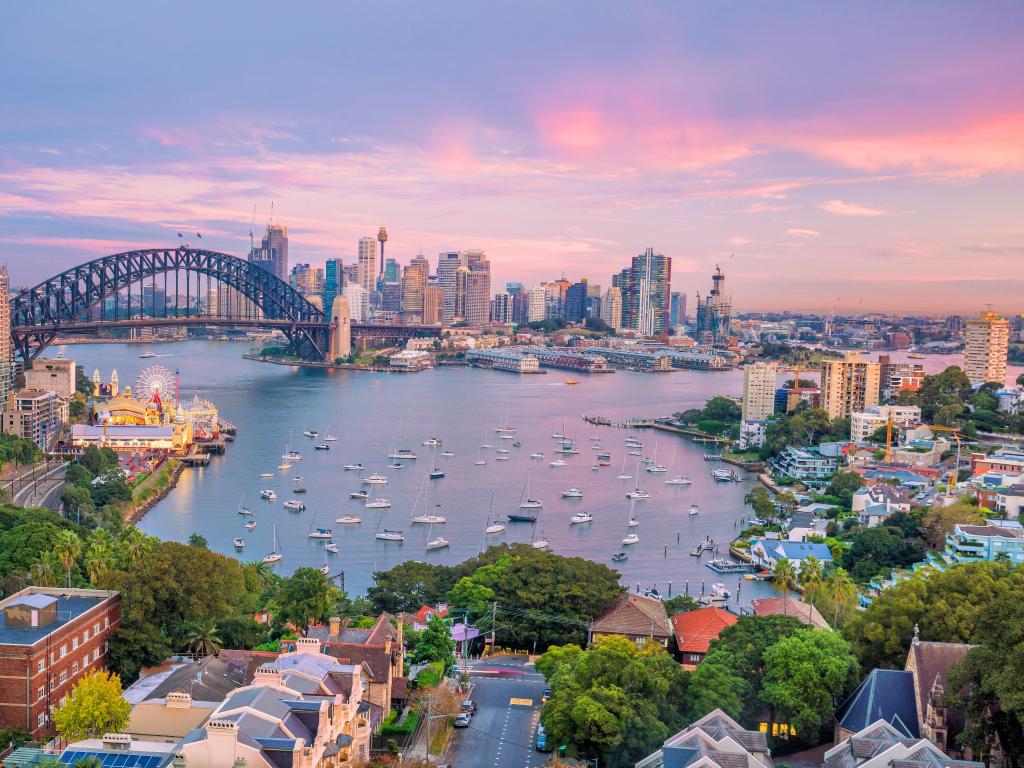 How to get there: Take the M1 out of Brisbane, then continue along the Pacific Highway; this highway will take you along Australia's Eastern Coast towards Sydney. Along the way, you'll have the option of stopping at Myall Lakes National Park and Newcastle.
Our highlights: There's no building in Australia as iconic as the stunning Sydney Opera House, designed by Danish architect Jorn Utzon. This multi-venue performing arts centre sitting in Sydney Harbour is a must-see for any visitor making the trek out to this bustling city.
Bondi Beach is a busy and historic beach, easily reachable from Sydney's centre via public transport or personal vehicle. This beach is known for the trendy bars, cafes and boutique shops that surround it.
Take a stroll through Sydney's famous Royal Botanic Gardens, Australia's oldest living scientific institution and the place to find tons of rare plant species native to the country. The best part about this attraction is that there is no entrance fee.
For the art-heads, the Art Gallery of New South Wales boasts a rich collection of Australian, European, and Asian art. This gallery is located just a minutes' walk from the Botanic Gardens, so you could definitely tackle both in a day.
Bonus: Did you know that the Sydney Opera House was first formally opened by the late Queen Elizabeth II in 1973?
Our travel tips: Bondi Beach can get quite crowded during the peak swimming season; to avoid crowds, try to visit during the shoulder seasons or early in the morning when people will be fewer. Also, make sure to pack sunscreen; the sun in Sydney is particularly strong.
Finally, traffic in Sydney is known to be quite bad; the best move to see the city is to leave your car at the hotel and explore by foot/public transit.
READ MORE - Road Trip from Brisbane to Sydney
13. Airlie Beach and The Whitsundays
12 hours 30 minutes from Brisbane (1,110 km)
Why you should visit: This is the road trip for those looking to discover the Southern Great Barrier Reef, the world's largest coral reef. You'll also have the chance to stop at Airlie Beach on your way to the islands, a resort town where you'll find crystal clear waters and sandy beaches.
Discover the Great Barrier Reef in a variety of different ways, including by snorkel or by boat, or cruise through the 70+ islands that make up The Whitsundays.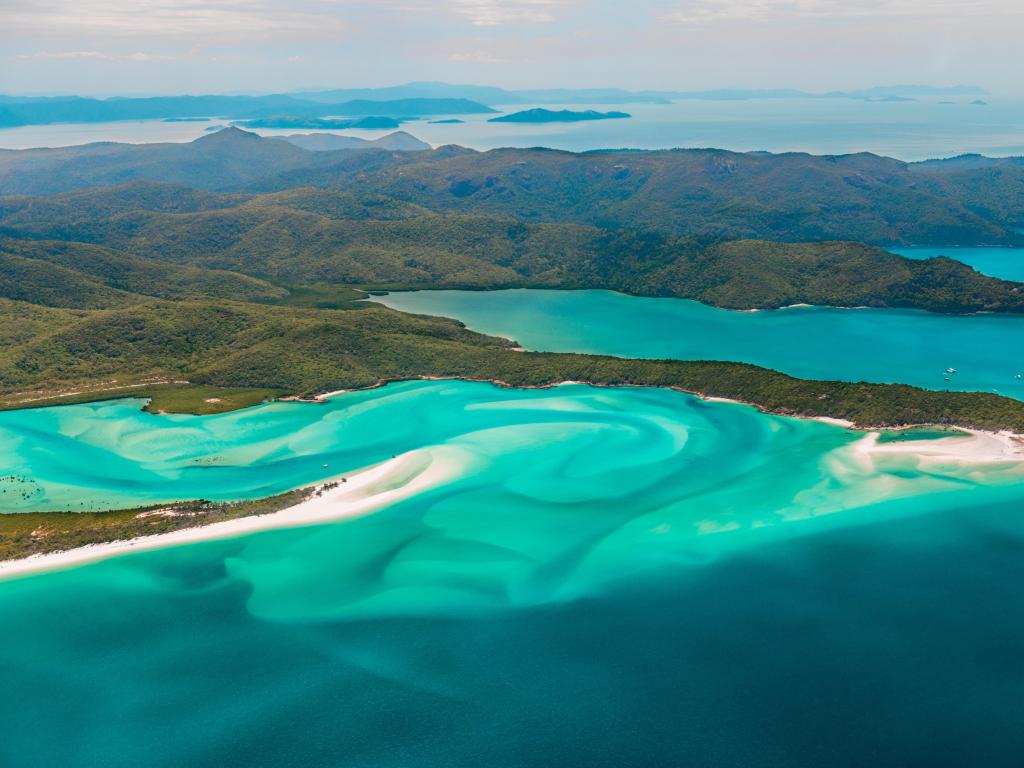 How to get there: Getting to the Whitsundays is relatively simple: first, take the M1 out of Brisbane, and then follow the A1 towards Airlie Beach. Take State Route 59 to arrive at the resort town, then easily continue to The Whitsundays, just a few minutes away by car.
Our highlights: One of the top-rated beaches in all of Australia, Whitehaven Beach is a must-see for anyone looking to get the best out of the Whitsundays. Explore the stunning reef by snorkel or enjoy a hike up to the Hill Inlet lookout to see this paradise from above.
There's no better way to discover the seventy-plus islands that make up the Whitsundays than by cruise. There are several services that offer tours; you can choose from luxurious boat cruises to adventurous multi-day kayaking adventures.
While visiting Airlie Beach, make sure to take a dip in the pristine waters of the Airlie Beach Lagoon, a stunning freshwater oasis right by the beach which offers an opportunity to relax in the mellow waters of this man-made pool.
We can't think of anything more relaxing than heading towards the Whitsundays' many stunning beaches for a picnic. If you're looking for a taste of something local, head down to the Whitsunday Markets, which are open Saturdays and boast tons of fresh produce, food stalls and massage tents.
Bonus: Did you know that the Great Barrier Reef, which the Whitsundays are a part of, is the largest living ecosystem in the world?
Our travel tips: If you're looking to stay near the Whitsunday Islands, opt for accommodation on Airlie Beach, which is nearby and which will be more affordable than the opulent resorts on the islands themselves.
Be prepared for a good number of tourists if you're visiting during the peak season; Whitehaven Beach is, after all, rated as one of if not the best in Australia.
READ MORE - Road Trip from Brisbane to Airlie Beach
14. Canberra
Via Orange
12 hours 20 minutes from Brisbane (1,270 km)
Why you should visit: This road trip will take you to Australia's capital city of Canberra. While you may think that other, more renowned cities such as Melbourne or Sydney might have been chosen as the capital, it's actually Canberra that won the prestigious title.
Visit Canberra via the historical city of Orange to discover a capital brimming with arts and culture; and just outside the city, you'll find beautiful natural reserves and stunning mountain ranges that are certainly worth exploring.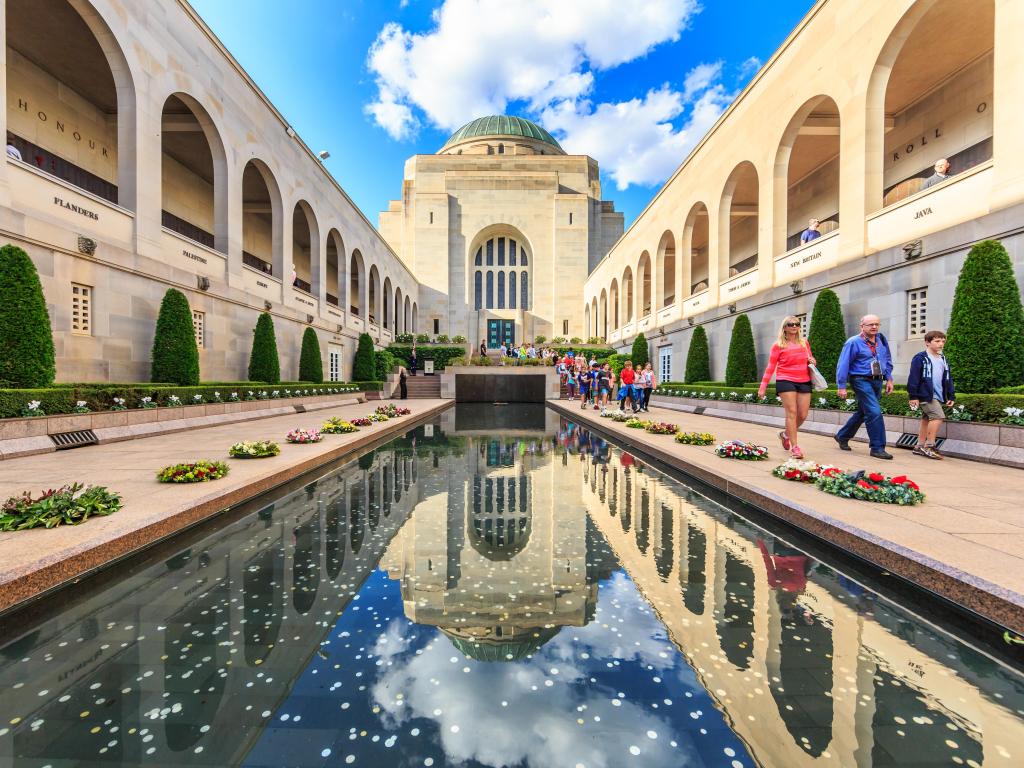 How to get there: To get to Canberra, take the M3 out of Brisbane. Then, get yourself onto Warrego Highway then A39 and Newell Highway for just over 700 kilometres until you reach Mendooran Road.
From there, take Mitchell Highway and continue until you've reached Orange, then get onto Barton Highway which you can follow to Canberra.
Our highlights: We recommend checking out Australia's new Parliament House in downtown Canberra, a gorgeous contemporary building that is open to the public for tours and educational exhibits.
Also downtown in Canberra's centre, you'll find Lake Burley Griffin which is surrounded by galleries, museums, cafes, restaurants, and parks, as well as cycling and walking paths. There's no better way to discover Canberra than by taking a walk through its downtown core, starting at this famous lake.
Discover the National Gallery of Australia in this bustling city, which is the custodian of the world's largest and most outstanding collection of Aboriginal and Torres Strait Islander art. Here you'll find touring and permanent exhibitions featuring works by some of the greats and new artists.
For the foodies, visit Orange along the way to discover some of Australia's best fine-dining restaurants and vineyards. Orange is the ultimate foodie dream.
Bonus: Canberra is one of the few capital cities that were built exclusively with the purpose of being a capital city. Some other examples include New Delhi, Washington DC and Ankara.
Our travel tips: If you're considering visiting the Australian parliament, keep in mind that opening hours may vary—make sure to check online before heading over.
15. Melbourne
Via Sydney
18 hours 10 minutes from Brisbane (1,790 km)
Why you should visit: This road trip takes you to two of the largest metropolitan cities in all of Australia: Melbourne and Sydney. It's the perfect trip for those who are more interested in Australia's cosmopolitan rather than natural offerings.
Melbourne is one of Australia's main cultural capitals, full to the brim with delicious food, amazing music venues, inspiring art galleries and multicultural festivals.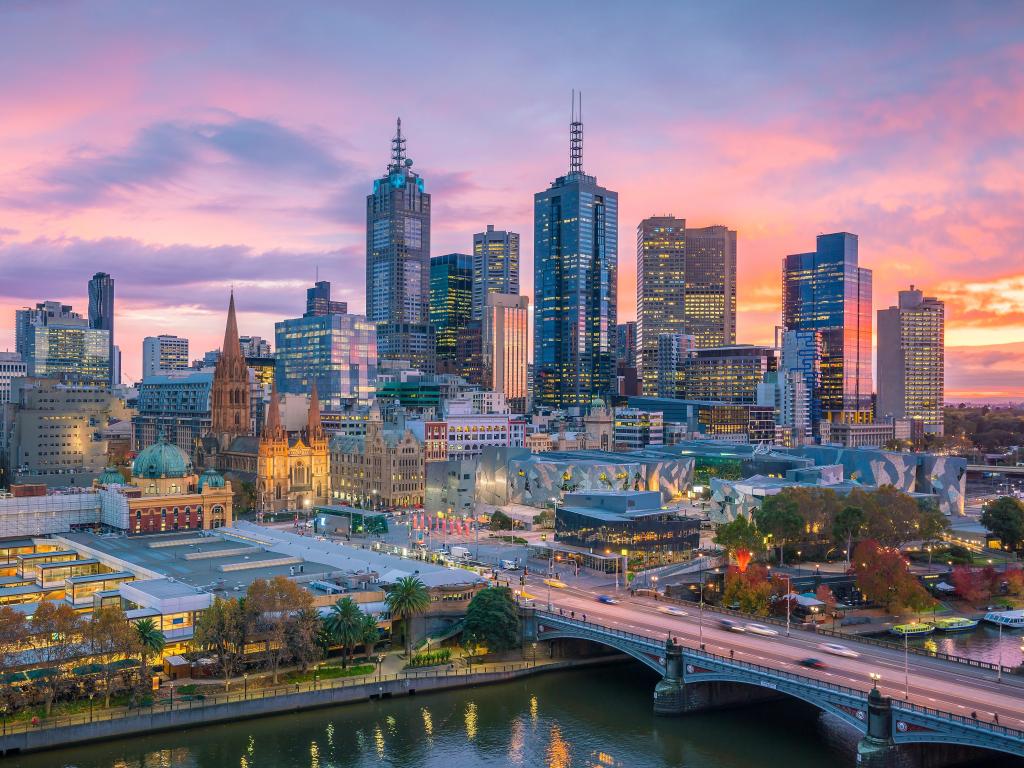 How to get there: Take the M3 out of Brisbane, then follow the Pacific Highway for several hundred kilometres until you've reached Sydney. From Sydney, get onto the M5, and follow the M5 until you've reached the M31, which you can follow through Victoria until you reach Melbourne.
Our highlights: There are an endless number of art museums and galleries in the city of Melbourne; one of the standouts is the National Gallery of Victoria, founded in 1861. This is Australia's oldest and most visited art museum, boasting a wonderful collection from both local artists and recognized greats.
A major landmark in Melbourne's business district, Queen Victoria Market covers over seven hectares and is the largest open-air market in the Southern Hemisphere. Take a morning to shop around this massive space, where you'll find everything from rare Australian fruits to wonderful souvenirs.
There's no view of Melbourne that can quite compare to the one you'll get if you climb the Melbourne Skydeck. Located at the top of one of Melbourne's tallest skyscrapers, this enclosed viewing deck is the ideal place to see the city in its entirety from above.
Discover the beautiful architecture and a lively cultural hub at Federation Square, a venue for arts, culture and public events that sits right on the edge of Melbourne's central business district.
Featuring cafes and bars around a large and paved square, this district is the perfect place to let loose and enjoy Melbourne's distinct artistic culture.
Bonus: Did you know that Melbourne has the largest tram system outside of Europe, as well as the fourth largest in the world overall?
Our travel tips: There are tons of festivals taking place in Melbourne year-round – if you're looking for an extra good time, try to plan your trip to coincide with one of this city's many popular events.
Also, make sure to purchase your public transport pass at a station or retail outlet, as they aren't available for purchase on the trams themselves.
16. Cairns and Daintree Rainforest
22 hours from Brisbane (1,820 km)
Why you should visit: This road trip is for those looking to discover two unique ecosystems: the Great Barrier Reef and the Australian Rainforest. This road trip from Brisbane to Cairns is also the northmost out of the ones on this list.
Cairns is a unique city in Australia, boasting laid-back vibes and uniquely beautiful natural spaces. Take a snorkel dive into the world's largest ecosystem or relax in one of this city's many trendy cafes and bars.
On the other hand, the Daintree Rainforest offers an unparalleled experience, with its emerald-green foliage and fascinating wildlife.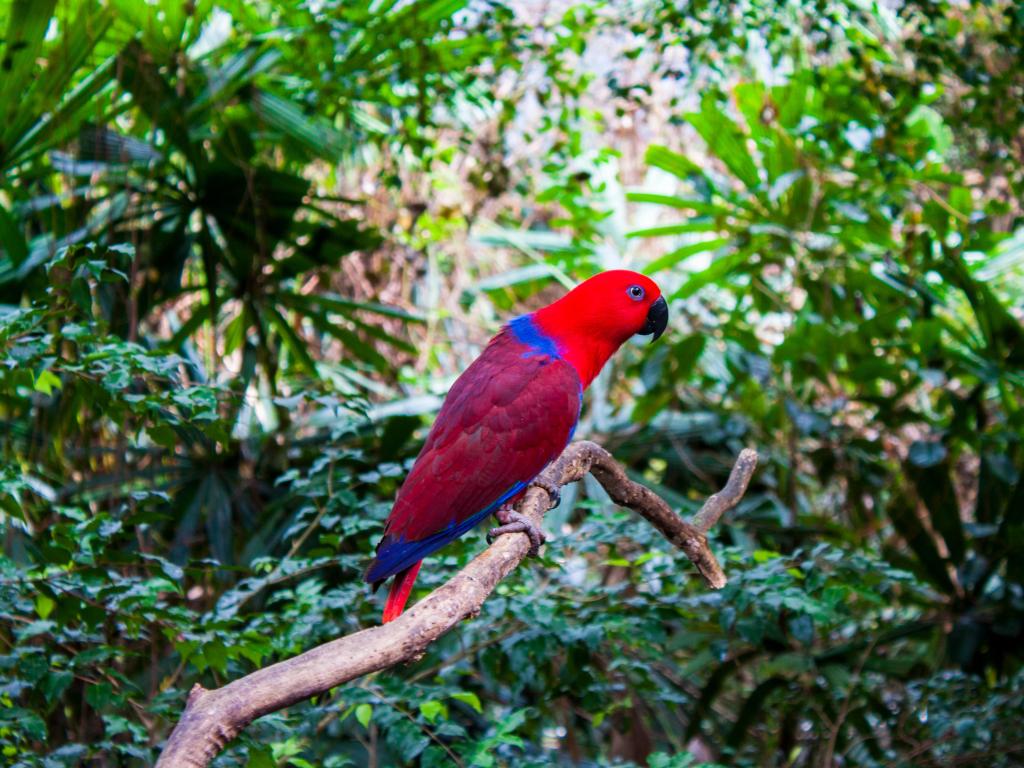 How to get there: Take State Route 15 out of Brisbane, then follow the M1 to Bruce Hwy/A1 which will pretty much take you straight to Cairns City. When you're ready to explore nearby Daintree Forest, follow National Route 1 and Captain Cook Hwy northbound. You'll have to take a ferry across the Daintree River to reach this beautiful tropical paradise.
Our highlights: If the offerings of the Great Barrier Reef aren't enough to satisfy your hunger for discovering marine life, we recommend checking out the Cairns Aquarium which connects you with 16,000 species of animals across 10 different ecosystems and 71 different exhibits.
Take a walk (or a run) along the Cairns Esplanade, one of the most scenic workout spots in Australia which overlooks the Coral Sea.
If you're visiting Cairns, you absolutely must take the time to snorkel the Great Barrier Reef. The world's largest living ecosystem and a UNESCO World Heritage Site, this stunning underwater paradise spans over 350,000 square kilometres up the coastline and is positively brimming with marine life.
The Daintree Rainforest is the oldest in the world, dating back over 135 million years. It's an absolute must-see on this list, boasting a complex ecosystem and stunning vistas.
There are several ways to discover this paradise, including two and four-hour walking tours as well as self-guided walking trails.
Bonus: The Great Barrier Reef is home to innumerable species including 6 species of turtles, 215 species of birds, 17 species of sea snakes and more than 1500 species of fish!
READ MORE - Road Trip from Brisbane to Cairns
17. Adelaide
Via Murray-Sunset National Park
22 hours from Brisbane (2,070 km)
Why you should visit: If you're looking for a taste of the outback as well as something metropolitan, then this road trip is for you, taking you through Murray Sunset National Park before arriving at the bustling centre of Adelaide.
Visit Adelaide if you're looking for lush green parks, historic buildings and wonderful cultural offerings; the Murray-Sunset National Park is Victoria's premiere protected natural space, offerings tons of opportunities for outdoor fun and is famous for its pink lakes.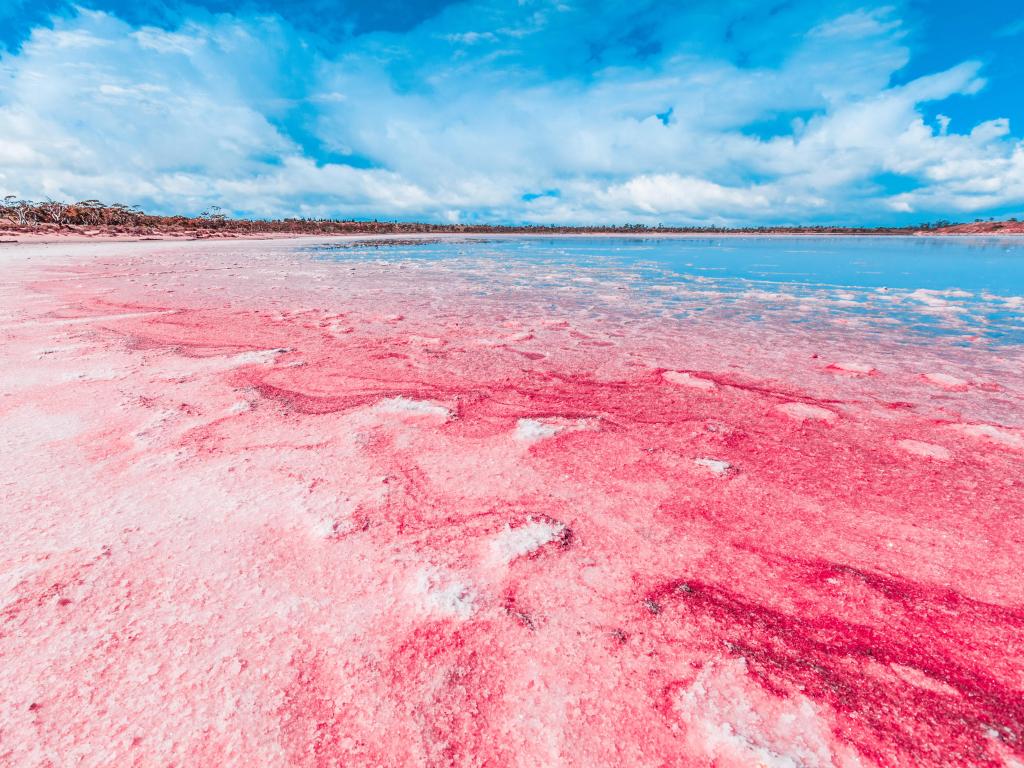 How to get there: Adelaide is quite the drive from Brisbane, but luckily it takes you through some beautiful passages in outback Australia. First, exit Brisbane via the M3. Then, take Warrego Highway in the direction of Adelaide through central New South Wales.
Follow the Sturt Highway/A20 and Hattah-Robinvale until you've reached Murray-Sunset; from there, follow Mallee Highway then National Highway M1 until you've reached Adelaide.
Our highlights: If you're looking for a combination of the natural and the historic, look no further than the Adelaide Botanic Gardens, a 51-hectare public garden that was opened in 1857 and where you can discover Australia's most fascinating plant species.
One of the oldest fresh food markets in Australia, the Adelaide Central Market is the ideal spot to shop for fresh produce or dine in one of several cafes and eateries.
Grab some cash (certain vendors may not accept card payment) and fill up on delicious goodies before heading over to one of Adelaide's many parks for a picnic.
Feeling up to a bit of culture? The Art Gallery of South Australia is a historic art museum that boasts the second-largest state art collection of Australia, including some works by Monet, Pissarro, and Renoir.
Murray Sunset National Park is host to a slew of natural wonders and gorgeous sights, though none are as famous as this park's pink lakes. These stunning bodies of water are unique to this region, and a must-see if stopping by Murray Sunset.
Our travel tips: If you want to catch the pink lakes while they're at their most pink, try to visit during late summer, when the water salinity level is such that the lakes will be the perfect bright bubble-gum pink.
READ MORE - Road Trip from Brisbane to Adelaide
18. Uluru and Alice Springs
32 hours from Brisbane (3,220 km)
Why you should visit: This road trip takes you right into the middle of the Australian outback, complete with stunning desert vistas and arid landscapes. If you're looking for something different than a beachy town or tropical forest, this trip is the one for you.
Discover Alice Springs, nicknamed the "Capital of the Outback", where you'll find arid desert landscapes, beautiful gardens and Uluru, an Indigenous sacred site that will take your breath away.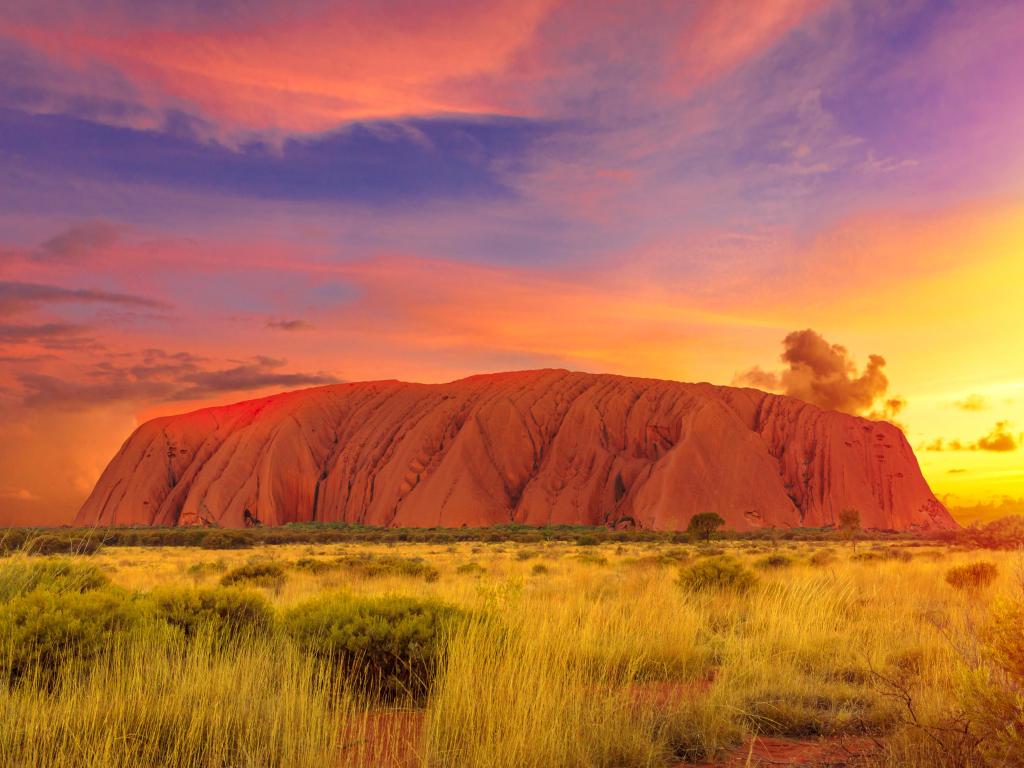 How to get there: This is the furthest road trip on our list, but it's totally worth the drive. Take the M3 out of Brisbane, then follow the Warrego Highway, A39 and B76 to Castlereagh Highway.
From there, take the Stuart Highway until you've reached Uluru. Alice Springs is located about an hour's drive from this stunning monolith.
Our highlights: An ancient sandstone monolith located within the centre of arid Australia, Uluru is estimated to be around 600 million years old and is an incredibly significant Aboriginal sacred site and one of the country's most visited attractions.
Alice Springs is a popular outback destination for those looking to escape into Australia's red deserts. There are tons of art galleries to choose from in this town, many of which feature the works of local Indigenous artists.
There's no better way to explore Australia's Outback than by bike, which you can rent within Alice Springs. This is a popular form of transport because of how flat Alice Springs is, making it an easy terrain to traverse on two wheels.
Because Alice Springs is so secluded, there is very little light pollution in the night sky, meaning that it's one of the best places in the country to stargaze and catch a beautiful sunset.
Our travel tips: While visitors are no longer allowed to climb Uluru, you can still see this stunning attraction from various viewpoints.
Alice Springs is relatively small; expect chill and laidback vibes, and make sure to wear your sunscreen and hydrate.
READ MORE - Road Trip from Brisbane to Alice Springs