Road Trip from Cairns to Sydney
If you're dreaming of seeing the Sydney Opera House and Bondi Beach - or you're simply yearning for that big city buzz - then a road trip from Cairns to Sydney combines this with a cross-country journey of epic proportions. Depending on which route you take, this trip can be an ultimate coastal itinerary or a classic outback adventure.
The 2,800 km road trip from Cairns to Sydney takes at least 28 hours to drive. Key coastal stops include Rockhampton, Yeppoon, Brisbane, Byron Bay and Port Macquarie; or Dubbo, Emerald and Blue Mountains National Park if you take our Inland Route.
This awesome road trip will let you follow some of Australia's most beautiful coastline or, alternatively, its hidden rural inland treasures. Keep reading to find out the best routes, places to visit and time of year to make this fantastic journey.
How far is Sydney from Cairns, and how long will the road trip take?
Comparison of road trip route options between Cairns and Sydney

| Route | Distance | Driving Time |
| --- | --- | --- |
| The Coastal Route | 2,800 km | 32 hours |
| The Inland Route | 2,510 km | 28 hours |
When it comes to charting a path between Cairns and Sydney, two great route options stand out as head and shoulders above the rest.
The shorter of our two recommended routes follows the beautiful coastline between Cairns and Sydney and covers a distance of 2,800 kilometres. This route will take 32 hours to drive, not accounting for stops along the way.
On the Coastal Route there are plenty of beachside towns and cities where you can stop and refresh yourself with views of the ocean or even a quick paddle. The route itself is incredibly straightforward, giving you plenty of opportunity to make short detours as your schedule allows.
We suggest that you take your time to explore some of the less-visited coastal areas on this fantastic route. There are simply too many to list here, but often some of the best memories come from just turning off the highway to see what views await you!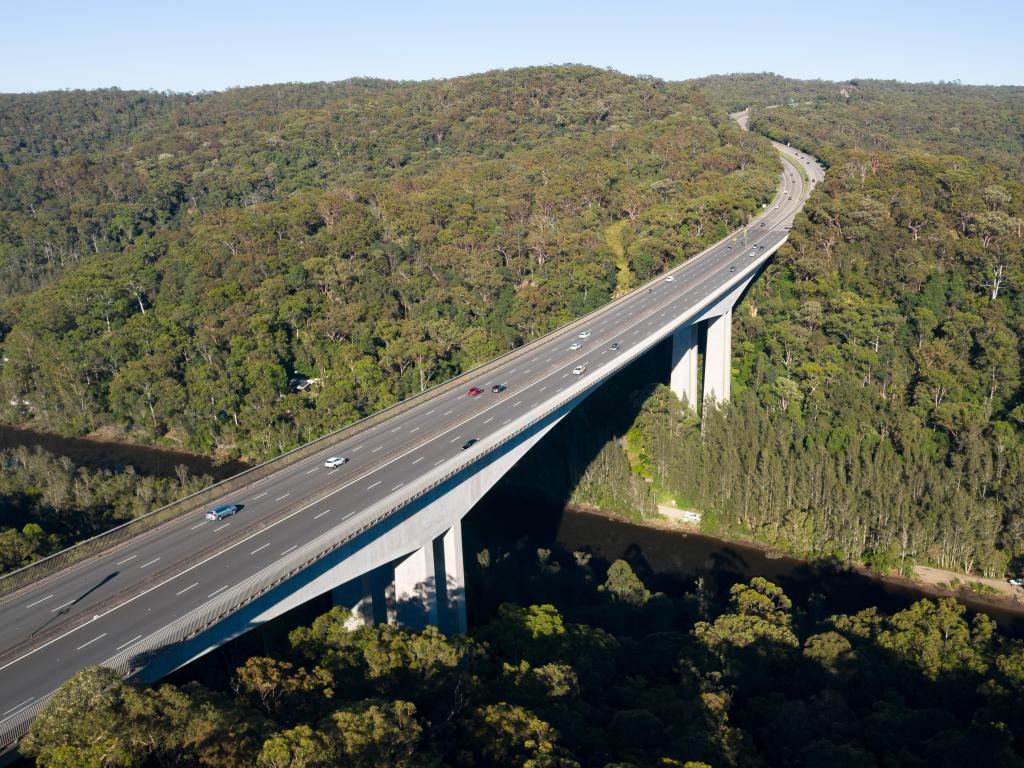 For a more rugged, inland adventure, you might prefer to take our Inland Route, which comes in at 2,510 kilometres and can be completed in 28 hours.
Neither of these road trip routes can be completed quickly: this is more of a scenic and outdoor adventure trip which needs at least six days dedicated to it. As a guide, we'd suggest spending seven on the trip, but you could easily spend more and discover more of the region.
Best road trip route from Cairns to Sydney
There's no particular 'best' route for this trip, instead, you should definitely pick the option that appeals most to you.
The Coastal Route can be as relaxed or as active as you make it. But whichever pace you choose, you are guaranteed stunning ocean views, white sand beaches, and some laid back cities and towns where you can sit back and relax.
The Inland Route lets you discover Aboriginal heritage and to get a feel for the realities faced by the first European settlers when they built a new life here all those years ago.
The Coastal Route
This route hugs the east coast of Australia for over 2,000 kilometres, so you'll have plenty of beaches to explore along the way.
When it comes to navigation, this route couldn't be much more straightforward, as it follows the Pacific Highway (otherwise known as the A1) along the coast for the entirety of the trip.
You will begin your journey from Cairns by taking the A1 south out of the city, passing Bentley Park and Edmonton as you leave the suburban area.
Continue south, following the Pacific Highway past Innisfail, until you reach Mission Beach. Here, you can enjoy some of the most pristine sands around and plenty of beachside dining options. At a couple of hours into your trip, this is a perfect place to stop for a bite to eat.
Almost three hours further down the Pacific Highway is Townsville, where you can enjoy the popular Strand esplanade and stretch your legs before returning to your car.
If you're looking for an overnight stop, however, we'd recommend waiting until you reach Airlie Beach, which is known as the Gateway to the Whitsunday Islands and the Great Barrier Reef. Stop at Airlie Beach (taking State Route 59) to enjoy a huge variety of Reef activities while recharging yourselves for the journey ahead.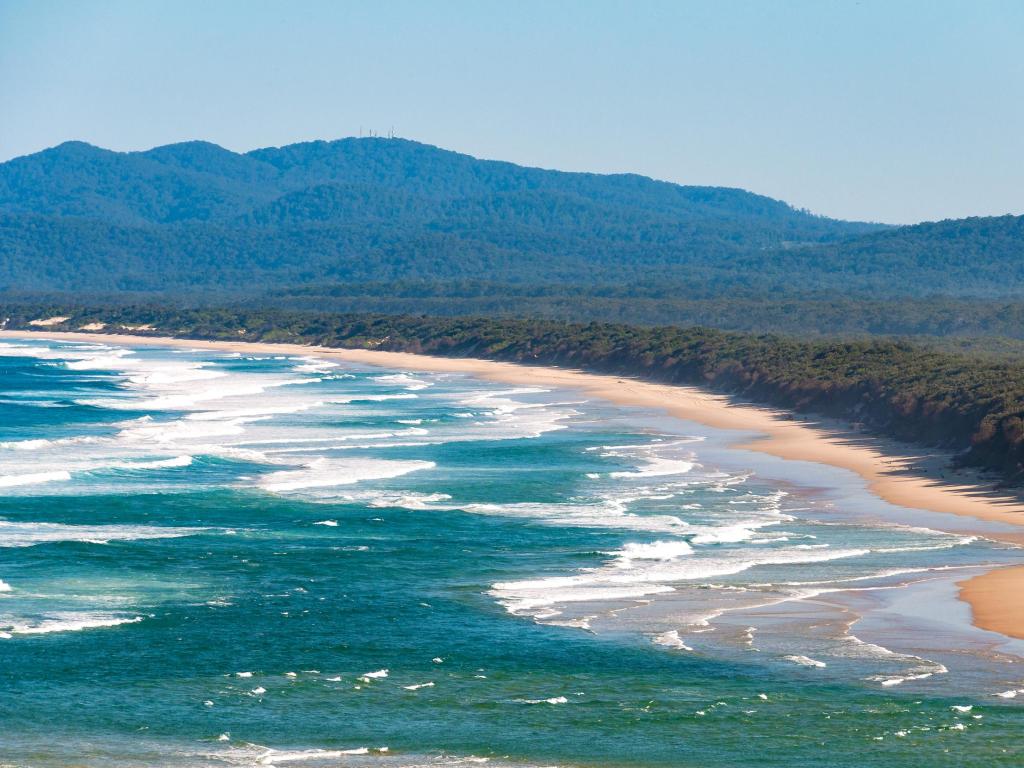 From Airlie Beach, rejoin the Pacific Highway, continuing for just over 500 kilometres to Rockhamtpon, with an optional detour to the coastal town and sheltered enclave of Yeppoon.
A great alternative to Yeppoon - 45 minutes off the Pacific Highway, past Miriam Vale - is the town of Seventeen Seventy. Park up here for unspoilt beaches and great fishing.
Two other short detours from the main route (before you hit Brisbane and its metropolitan buzz) take you to Hervey Bay and Noosa Heads. Make sure you take a look at our list of "Things to see" below to identify which of these coastal hotspots you want to prioritise on your trip.
After spending some time in Brisbane, make your way further along the Pacific Highway, moving past the Gold Coast and on to world-famous Byron Bay.
Just over 100 kilometres south of Byron Bay, you'll pass Bundjalung National Park, which is a natural place to stop and enjoy a quieter, more relaxed pace after busy Byron Bay.
From here, resume your A1 journey for another hour and a half to Coffs Harbour where, if the season is right, you can enjoy whale-watching as you recharge for your onward travels to Nambucca Heads and Port Macquarie.
At just over 4 hours from Sydney, historic Port Macquarie is a great option for a final stop before you reach Sydney. On this last leg of your journey, return to the Pacific Highway once more, passing Myall Lakes National Park and Newcastle before enjoying some well-earned downtime at your destination.
Unless you dislike the feel of sand beneath your feet, it's hard to highlight a drawback except that this is the longer of the two routes.
The Inland Route
This route starts out on the Queensland coast, before swinging inland from Townsville. You'll spend most of the route driving through wide open farmland, small towns and stunning outback landscapes, passing near some national parks too.
Life feels really different here compared to the cities, and you'll get a real sense of that on your drive. You'll finish the route through Australia's Mudgee Wine region before entering Sydney.
This route starts in the same way as the Coastal Route, until you reach Townsville. Once there, take the A6 southwest towards Woodstock, then following the road a further 100 kilometres to Charters Towers City and Mosman Park.
Upon exiting Mosman Park, join the A7 heading south towards Emerald. On your way, you'll pass Nairana National Park Homestead and Blair Athol State Forest.
As you'll see below, we recommend Emerald as a great stopover point on your road trip to Sydney on the Inland Route. On leaving the town, you'll want to take the Gregory Highway towards Springsure, before navigating towards Rolleston on the Dawson Highway.
At Rolleston, take the Carnarvon Highway south, past the beautiful Carnarvon National Park: a lush wilderness, full of amazing opportunities for hiking and camping adventures..
An hour south of Injune (our recommended access point to Carnarvon National Park) on the Carnarvon Highway, you'll arrive at Roma. Here, take the A55 towards St George. Once you pass St George and cross from Queensland into New South Wales, the A55 becomes the B55, and you will remain on this road for around 370 kilometres until you reach Gilgandra.
At Gilgandra, take the Newell Highway (A39) to the town of Dubbo. Dubbo, known for its outstanding Western Plains Zoo and rich historical heritage, is a great place to stop and break up this long journey. Consider taking the City Heritage Walk to get a great feel for the place.
Once you leave Dubbo, continue on the B55 for around 245 kilometres until you reach signs for Bathurst and the Great Western Way (A32). From this point onwards, you are on the final stretch of your trip.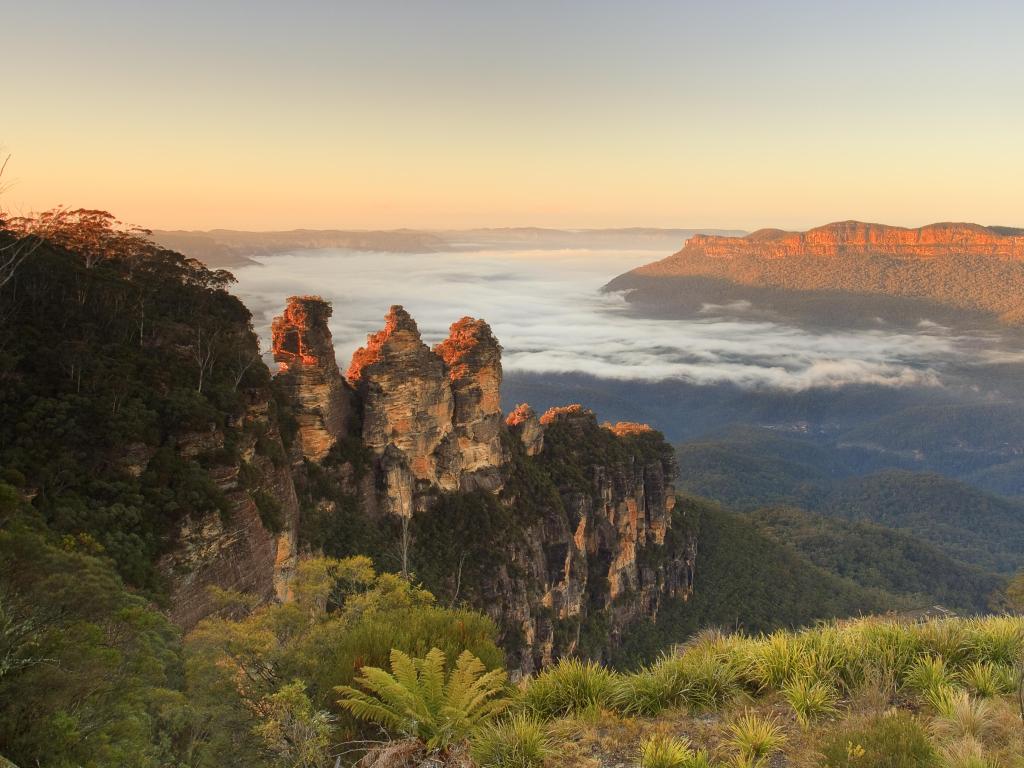 The Great Western Way loops around the Blue Mountains National Park, passing through Katoomba on the approach to Sydney. You'll find that the road merges into M4 as you make your way into the Sydney metropolitan area and ready yourself for a well-earned break in the city.
Although this is the quicker route, you'll find fewer stellar attractions on this drive, and you'll need to be prepared for some long stretches of driving, so factor in some rest stops to help keep you focused on the road. Keep stocked up on fuel, drinks and snacks when you get the opportunity, too.
Best places to stop between Cairns and Sydney
Due the driving distances, you'll definitely need to make at least three overnight stops on your road trip from Cairns to Sydney. We recommend taking at least a week to do this trip justice, and we've chosen two of our favourite stops - one on either route - to help you begin planning this trip of a lifetime.
And whilst the views between Cairns and Sydney are second to none, some carefully chosen accommodation will really elevate your trip to another level.
Overnight stop in Airlie Beach
Located on our Coastal Route, around 7 hours 30 minutes from Cairns, Airlie Beach is an excellent choice for a stopover en route to Sydney.
As well as being a stunning beachside stopover, Airlie Beach is known as Gateway to the Whitsunday Islands and the Great Barrier Reef, the Whitsunday Islands.
From here, you can take a sailing trip out to the stunning Whitsunday Islands, snorkel or scuba dive along the Great Barrier Reef - or simply cool off in the pools at Airlie Beach Lagoon, which is free to enter and offers beautiful views out to sea
For the slightly more energetic traveller, this is also a fantastic spot for some gentle hiking. Hike up to Honeyeater Lookout, a moderate 8 kilometre walk with amazing views.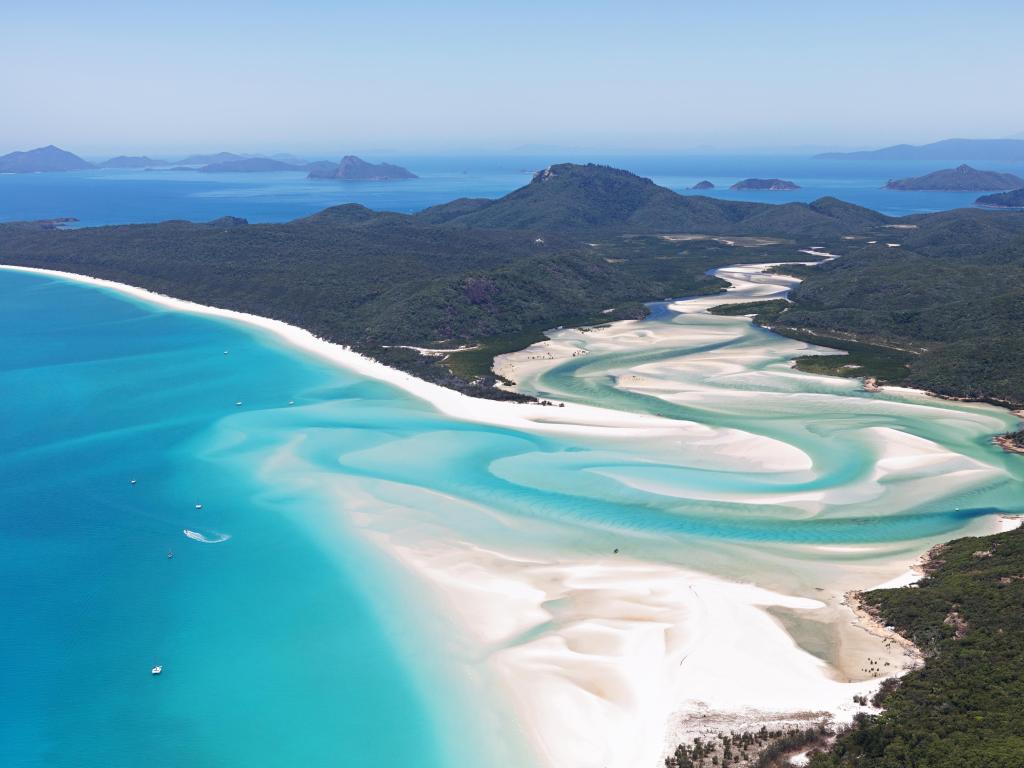 While here, we recommend the Airlie Beach Hotel, with its beachfront location with fabulous views. Grab your morning coffee and watch the sun rise over the ocean if you're an early bird. There's no better place for it!
The hotel's staff can arrange tours to help you make the most of Airlie Beach's gateway location. Alternatively, head to nearby Abel Point Marina for trips out on the ocean.
With a great choice of cafes, restaurants and bars in walking distance - and free parking on site - this hotel is hard to beat in terms of convenience, amenities and location.
Overnight stop in Emerald, Queensland
Located in Queensland's Central Highlands Region, Emerald is 950 kilometres (10 hour 30 minutes) from Cairns, via the Inland Route.
Emerald is famed for its agricultural heritage, and most notably its sunflower production. Be sure to check out the world's biggest Van Gogh Sunflower painting (located in the town's Moreton Park) which is a testament to this legacy.
Emerald is also home to Central Queensland Highlands Visitor Information Center, so it's a great place to stop and find out more if you're planning on exploring this region in more depth. As its name suggests, Emerald was historically a coal and gem mining town.
History aside, Emerald also boasts plenty of natural scenery to enjoy as you take a break from the road. The Nogoa River runs through Emerald Botanic Gardens, which is a perfect place to spend a peaceful afternoon. Nearby Lake Maraboon is also popular for swimming, fishing and watersports.
And for those happy to venture a little further afield, you can take the Gemfields Interpretive Trail through the surrounding countryside. There's also the International Coal Centre at Blackwater as well as Capella Pioneer Village to awaken your inner history buff.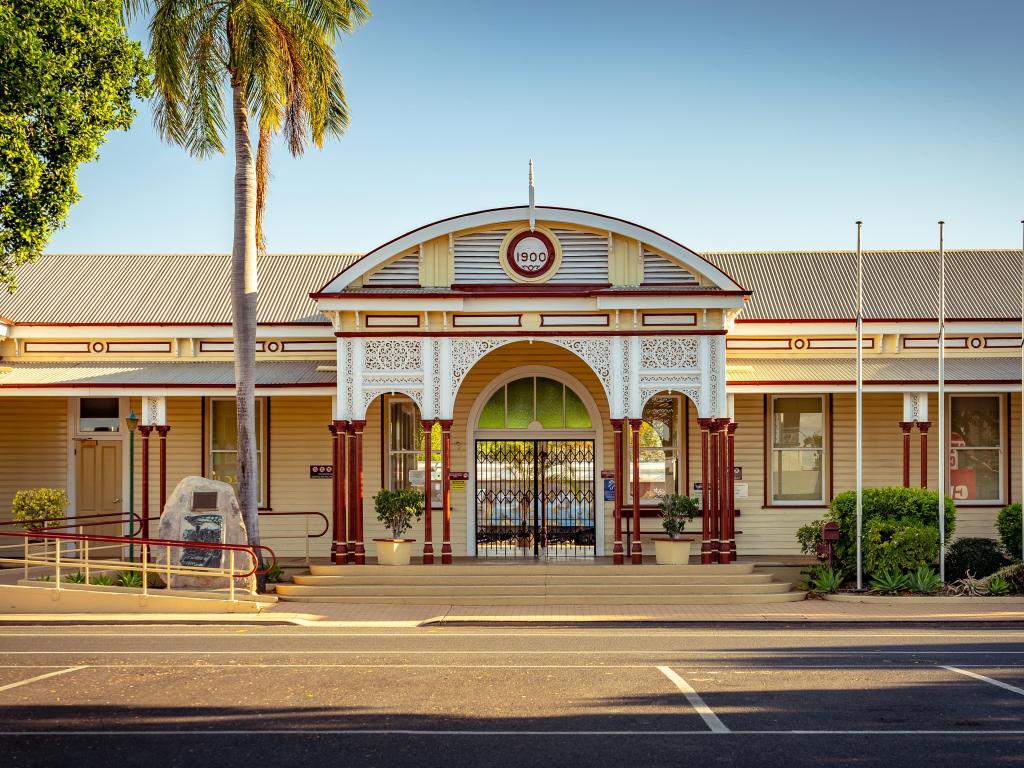 For a comfortable night's stay in Emerald, we recommend the Midlander Motor Inn. Its lovely outdoor pool is perfect to cool down in after a long day on the road, and most of the Inn's bright and spacious rooms have a small outdoor terrace.
Many of the Inn's rooms also have a kitchenette if you want to take a break from restaurant meals. But if you'd rather skip the cooking and explore the local area, the Midlander Motor Inn is very centrally located with all main attractions in walking distance. And as an added bonus, there's free private parking on site.
Where to stay when you reach Sydney
With so many options on offer, you may be feeling a little overwhelmed when it comes to choosing where to stay in Sydney. For us, though, The Fullerton Hotel makes this decision simple.
Located in a heritage-listed building with a dazzling staircase for a centrepiece, the Fullerton's bright and spacious modern design is a refreshing dose of cool at the end of a lengthy road trip.
The Fullerton Hotel's rooms look out across the city centre, giving you perfect opportunity to enjoy Sydney even before you've changed out of your robe. Once you've finally emerged from your room refreshed for the day ahead, you'll find yourself in easy walking distance of Circular Quay, Darling Harbour and Sydney Royal Botanical Gardens.
And just in case you want to venture further out of the centre without your car, the hotel is conveniently positioned close to two railway stations.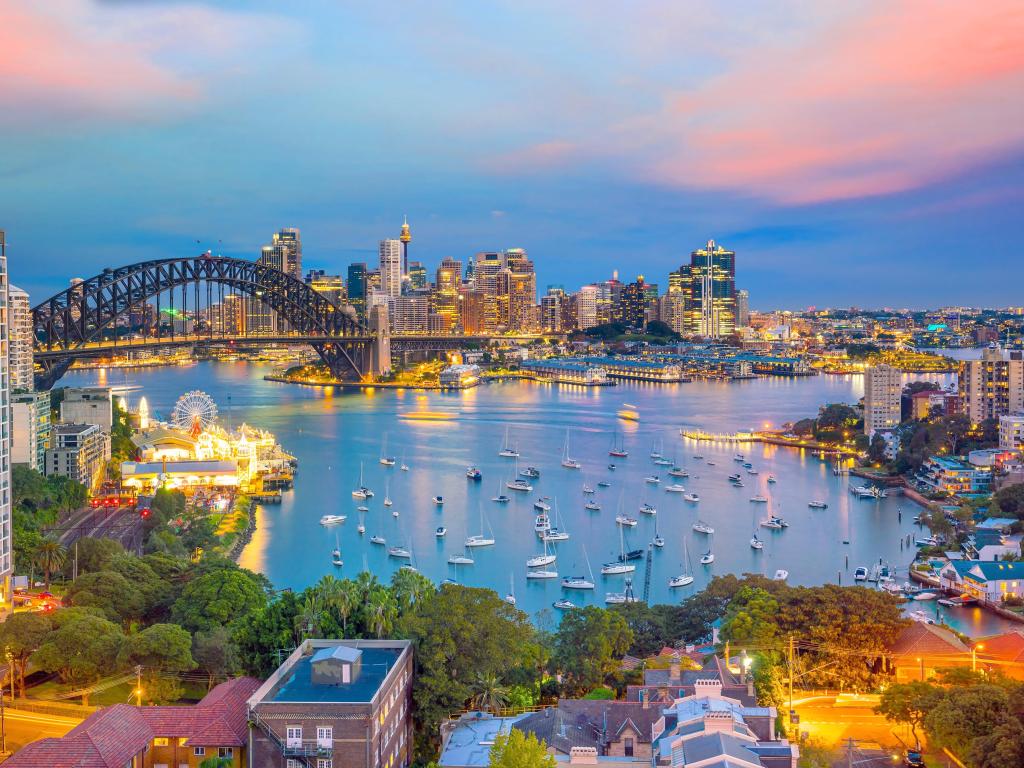 Things to see on a road trip from Cairns to Sydney
There are so many incredible things to see on a road trip from Cairns to Sydney that you really need a good few weeks to see them all.
However if you are pressed for time, here are some of the main highlights you should check out first.
The Coastal Route
Whitsunday Islands - To get your coastal road trip off to a stunning start, these beautiful islands offer a tropical getaway, with white sands, coral reefs, and plenty of places to swim, snorkel or scuba dive.
Yeppoon - This quaint little town by the sea is a nice place to break your journey, and also the gateway to Great Keppel Island.
Seventeen Seventy - In 1770, Lt James Cook landed here: the first European to set foot in the place later named Queensland. These days it's known for its amazing beaches and coastal views.
Noosa Heads - You'll find something for everyone here. Relax on the beach, ride the waves at Noosa World Surfing Reserve, or hike through Noosa National Park.
Brisbane - As you'd expect, Queensland's capital city has more stunning beaches to enjoy, but you can also visit the beautiful botanical gardens or relax on a river cruise.
Byron Bay - One of the most famous destinations on Australia's east coast, Byron Bay has a distinctly relaxed vibe and fabulous surf. Head up to the lighthouse before sunrise – it's one of the first places in Australia to see the new day.
Bundjalung National Park - This protected coastal plain is a great place to canoe and mountain bike, or just enjoy the hike along Ten Mile Beach.
Coffs Harbour - Known for its Big Banana statue and amusement park, you can sometimes see whales from the viewing platform on Muttonbird Island if you visit in winter.
Port Macquarie - This town has one of the region's highest koala populations, but if you don't see one in the wild, just head to Billabong Zoo where you can meet one close-up.
Crowdy Bay National Park - Make an early start at this great national park to watch the sun rise while kangaroos swim in the ocean.
Hunter Valley - If time allows, take a detour inland from Newcastle to enjoy the famous Hunter Valley wine region.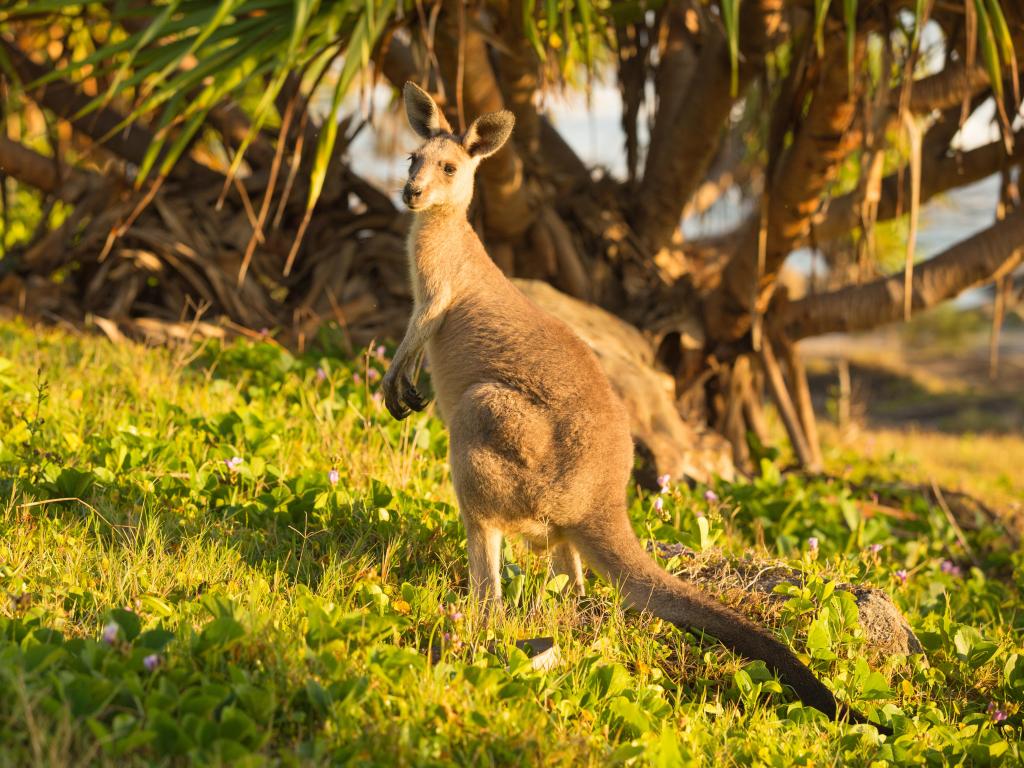 The Inland Route
Townsville - Dive down to the fascinating Underwater Museum of Art (you'll need to scuba dive to see some of the exhibits) or head out of town to visit the rainforests of Paluma Range National Park.
Blair Athol State Forest - Queensland's gold rush has been bringing prospectors here since 1861, and as well as hiking through the stunning forest landscape, you can still fossick for gold here.
The Gemfields - Follow the trail through Sapphire, Emerald and Rubyfields, where settlers once travelled in search of gems they hoped would make their fortunes.
Carnarvon National Park - Centered on the impressive Carnarvon Gorge, this national park is a great place to escape the highway, with hikes through unspoilt countryside, where you can also see Aboriginal art on the sandstone.
Dubbo - Home to Taronga Western Plains Zoo, you can get up close with all sorts of Australian wildlife here. For a glimpse of the different sides of outback life in years gone by, head to Dundullimal Homestead or Dubbo Old Gaol.
Mudgee Wineries - Explore the vineyards and cellar doors of this small but special wine region just off the Castlereagh Highway.
Blue Mountains National Park - Just outside Sydney, hike or mountain bike through canyons and past waterfalls, then cool off at river swimming spots before taking in the famous view of the Three Sisters.
Best time to go on a road trip from Cairns to Sydney
The road trip route from Cairns to Sydney is one that you can drive all year round, as the entirety of this area stays mild even through winter.
Depending on what you're looking for, however, there are certain times of year you might like to avoid when planning your trip.
Summer in Sydney is hot, with temperatures usually sitting in the high 20s Celsius but often soaring much higher for days at a time. Summer is also the rainy season in the east of Australia, and sometimes sees box jellyfish congregating off the coast in huge numbers, so if you're planning on spending lots of time outdoors you might prefer to choose another season.
By comparison, you'll find that the Inland Route is drier - but also hotter - with average daytime temperatures exceeding 30 degrees during the summer months.
If your preference is for milder conditions, the east coast experiences very temperate winters, with temperatures usually ranging from 8 to 18 degrees in Sydney. What's more, you could get to take in Sydney's fabulous Mardi Gras if you plan your trip for February.
However, the weather can be overcast and changeable, so although hardy souls might still enjoy a dip in the ocean, you won't see the sparkling blue water at its best through winter!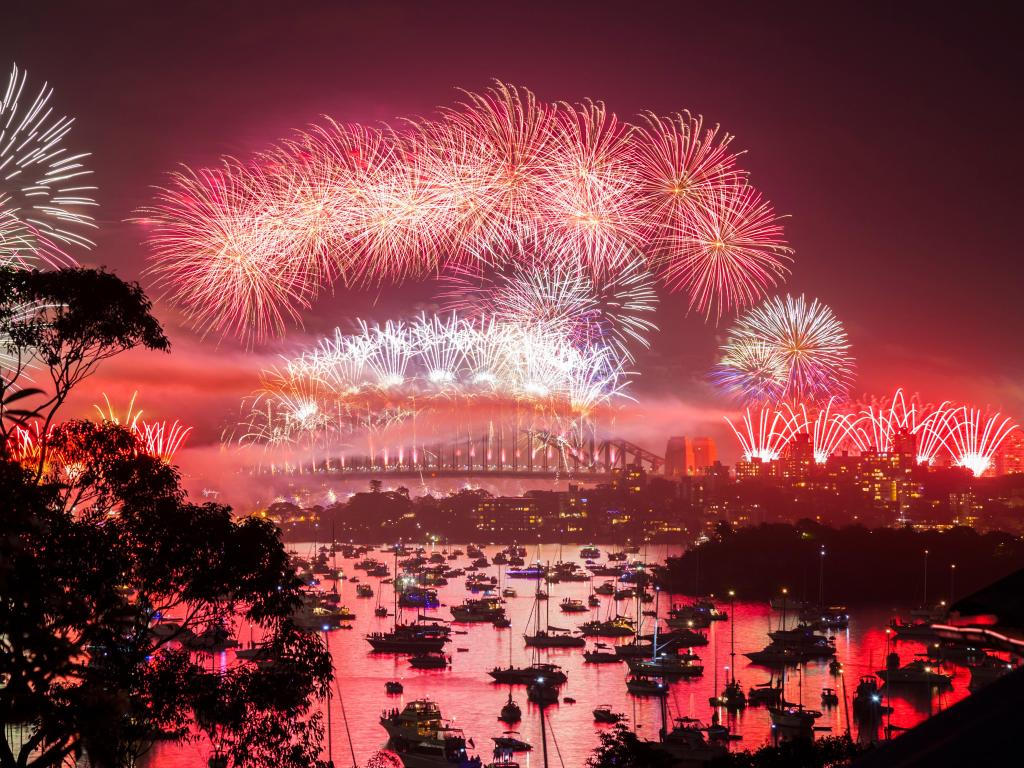 Inland, temperatures are similar but can dip down close to freezing at night, so pack warm clothes if this is when you're travelling.
With temperatures in the mid to high 20s Celsius in both spring and autumn, both seasons are ideal for enjoying the many beaches you'll pass by on the Coastal Route. Detour inland from Newcastle to see the wonderful grape harvest in the Hunter Valley in autumn.
Thinking of planning a holiday road trip? No wonder Sydney is high on your list, with its incredible New Year fireworks display at the stroke of midnight. We can't think of a more perfect start to a new year!