Road trip from Brisbane to Port Douglas
Pack your bags, get your favorite playlist ready and set off on the ultimate road trip on the beautiful coast of South Pacific Ocean from Brisbane to Port Douglas. From beautiful beaches filled with sunshine to lush national parks, this all-season adventure has it all.
The 1,900 km road trip from Brisbane to Port Douglas will take 22 hours and 25 minutes to drive. Highlight include Sunshine Coast, Yeppoon, Mackay, Airlie Beach, the Whitsundays, Cairns, Wooroonooran National Park, and Girringun National Park.
This amazing road trip will leave you with endless memories and experiences. Read on below to learn more about our recommended routes, top destinations, places to stay, and the best seasons to make the journey.
How far is Port Douglas from Brisbane, and how long will the road trip take?
Travel time and distance of the road trip route between Brisbane and Port Douglas

| Distance | Driving Time |
| --- | --- |
| 1,900 km | 22 hours and 25 minutes |
The main route to travel from Brisbane to Port Douglas takes around 22 hours and 25 minutes to complete and covers 1,900 km with no detours.
This journey takes you through stunning destinations such as the Sunshine Coast, Yeppoon, Mackay, Airlie Beach, and concludes in Cairns before reaching the last stop at Port Douglas.
While you can make this drive in a few days, there's so much to see and explore on the way that we suggest taking at least a week.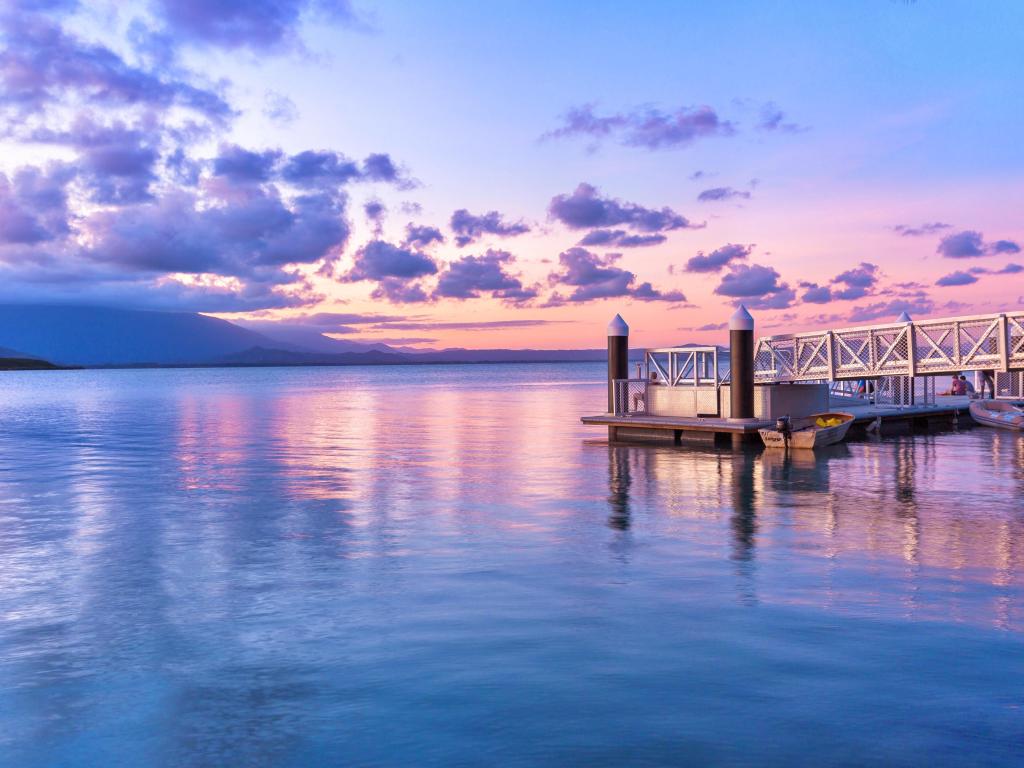 Best road trip route from Brisbane to Port Douglas
The main route takes you along Queensland's southeastern coastline, introducing you to some of the state's best beaches on the Sunshine Coast.
Further up, you'll get to the tranquil waters of Hervey Bay, just a short detour away, and the unique beauty of Fraser Island. Click here to learn about whether you can drive to Fraser Island.
As you continue, cities such as Bundaberg, Rockhampton, Yeppoon and Mackay provide urban breaks amidst your nature-filled drive. You will also drive through Airlie Beach and have the opportunity to visit the Whitsundays.
Heading even further north, the landscape shifts. Here, dense rainforests emerge, and the proximity to the Great Barrier Reef becomes increasingly apparent, with stops like Magnetic Island and Mission Beach offering breathtaking reef experiences for snorkelers.
As you approach Cairns, you will feel like you are driving into a tropical paradise. On this section of the route, you should be prepared for potential wildlife encounters.
And if you time your trip just right, the sight of whales breaching off the coast can be the cherry on top of an already epic road trip.
Whether you're eager to spot kangaroos on the beach, the elusive cassowary in the rainforest, or simply want to soak in the natural beauty of Queensland, this route offers an array of experiences.
The only downside? With so much to see and explore, you might find yourself wishing you had more time on the road!
How to drive from Brisbane to Port Douglas
The map above shows our suggestions for the best road trip routes between Brisbane and Port Douglas. Keep reading for detailed descriptions of both routes, where to stay on either, and the best things to do on the way.
Road trip route from Brisbane to Port Douglas
Starting from the majestic city of Brisbane, head north on M1 to the Sunshine Coast. Here, you'll see your first of many stunning beaches.
From here, head back on route and drive through the beautiful countryside and take a detour to Hervey Bay and the Tuan State Forest.
Continue back on route and continue north on A1. Keep driving and take a detour to the incredible town of Yeppoon where you can begin to explore the Great Barrier Reef.
Get back on route and make your way north to Mackay. This historic coastal town is full of world-class diving and marine sports, plus the chance to see other types of wildlife around every corner.
Continue on north and take a detour to Airlie Beach, a beautiful coastal town that's the gateway to the incredible Whitsunday Islands.
From Airlie Beach, get back on route and drive along the coastline, through small towns and endless national parks such as Japoon National Park.
Continue on through the northern Queensland rural landscapes to the exciting city of Cairns. From here, make your way to your destination of Port Douglas.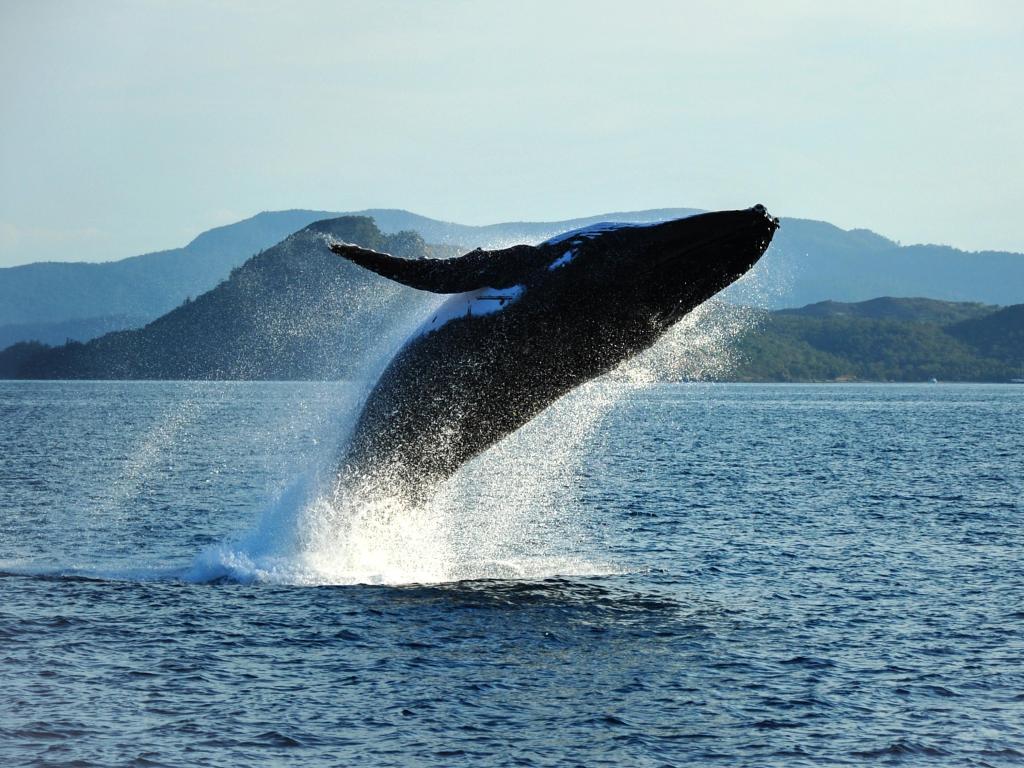 Best places to stop between Brisbane and Port Douglas
You'll be covering a huge portion of the Australian coastline, so you'll want to make a few stops along the way. Below are our favourite stopovers so you can make the most out of this incredible region and have plenty of rest for your long journey.
A beach retreat in Yeppoon
Yeppoon is an ideal location for a restful stop, positioned approximately 7 hours and 50 minutes into the drive. Yeppoon is the gateway to the Southern Great Barrier Reef and the shimmering waters of Great Keppel Island, promises a good and relaxing time.
Yeppoon's charm is not just limited to its pristine beaches, but extends to its lively main street with chic boutiques, surf shops, and street art murals. A stroll down the esplanade offers a variety of restaurants, cafés, and clubs, catering to everyone.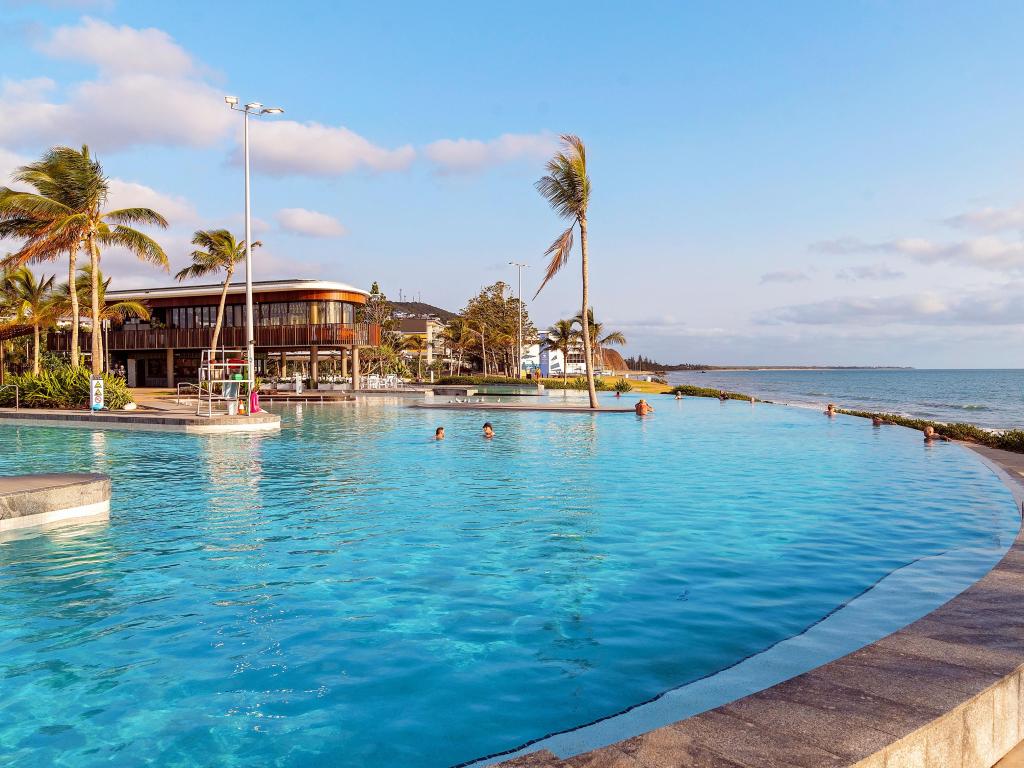 Apart from its well-known beach resorts, the town offers unique attractions like the Capricorn Caves, a must-visit for those intrigued by natural beauty and ancient formations.
If you're seeking comfortable accommodation combined with panoramic ocean views, the Oshen Holiday Apartments Yeppoon is the place to be. Set along a coastline, the Capricorn Coast accommodation serves up tranquillity with bursts of colour and excitement.
The apartments offer self-contained accommodation options with all the conveniences of a home, from fully-equipped kitchens to cosy patios boasting unobstructed ocean vistas.
If relaxation is on your agenda, the heated outdoor swimming pool, with its views of the ocean, is sure to be a hit.
Farnborough Beach, a beautiful expanse of golden sands and rolling waves, is just a 4-minute drive away from Oshen Apartments. If you're looking for some unique souvenirs to bring home, Shellworld is a 3-minute drive away, offering plenty of shells and unique collectibles from the nearby sea.
Panoramic views of the Coral Sea at Airlie Beach
Airlie Beach is a prime spot for a rest, further on the main route, roughly 12 hours and 40 minutes into your journey.
Airlie Beach's magnetic pull isn't just about its location amidst one of the world's natural wonders; it's also renowned for offering a multitude of tours that will whisk you away to the Great Barrier Reef and the postcard-perfect Whitsunday Islands.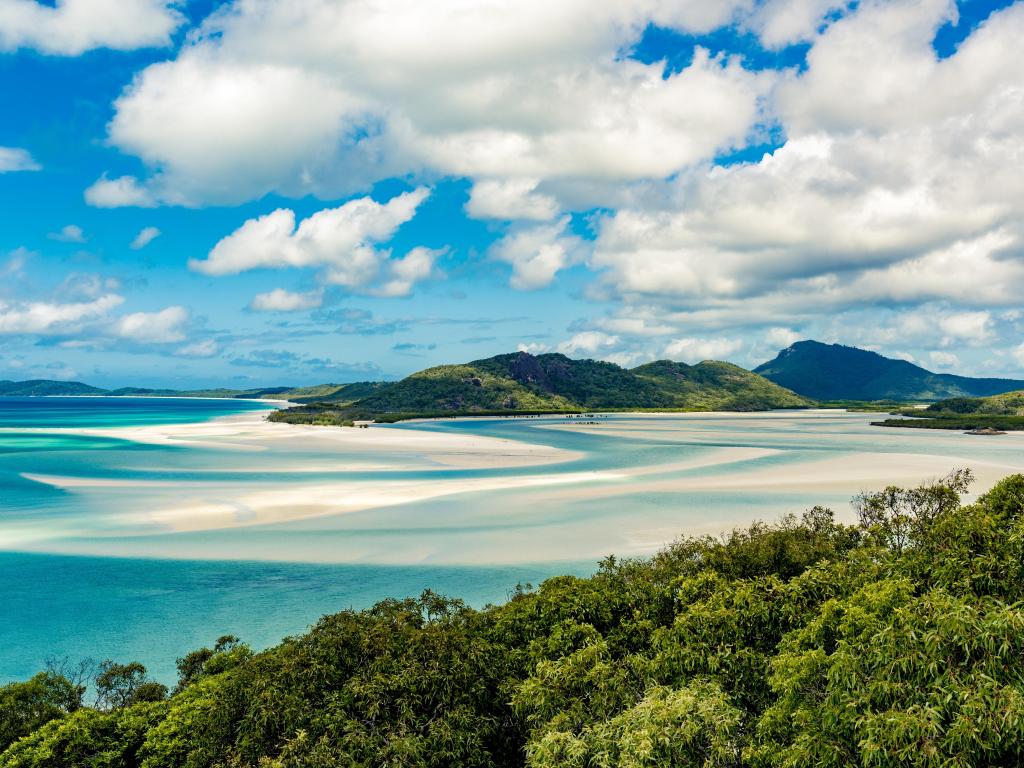 While you're here, a visit to the Airlie Beach Lagoon is highly recommended, offering a serene setting to relax or take a refreshing dip. To experience the local wildlife, the Whitsunday Crocodile Safari promises thrilling encounters and educational adventures.
For an exceptional stay experience, the Whitsunday Reflections is the go-to choice for luxury and relaxation. Located in the heart of Airlie Beach, it is the essence of luxury with its panoramic Coral Sea views from its hilltop position.
Each morning, open your eyes to vistas that seem to melt into the horizon, and enjoy amenities like a standing bath and balcony. The hotel is conveniently just a short walk away from bustling restaurants and shops.
Extend your exploration with a visit to the tranquil Boathaven Beach, just a brief 4-minute drive from the hotel. Also, the iconic Airlie Beach Lagoon is just an easy 3-minute drive away, offering both recreation and relaxation.
Where to stay when you reach Port Douglas
Port Douglas, with its luxurious resorts and culinary highlights, has long been a favourite stop for people wanting to experience the best of tropical Queensland.
The town is the stepping stone to two of the world's most cherished UNESCO World Heritage Sites – the Great Barrier Reef and the lush expanses of the Daintree Rainforest.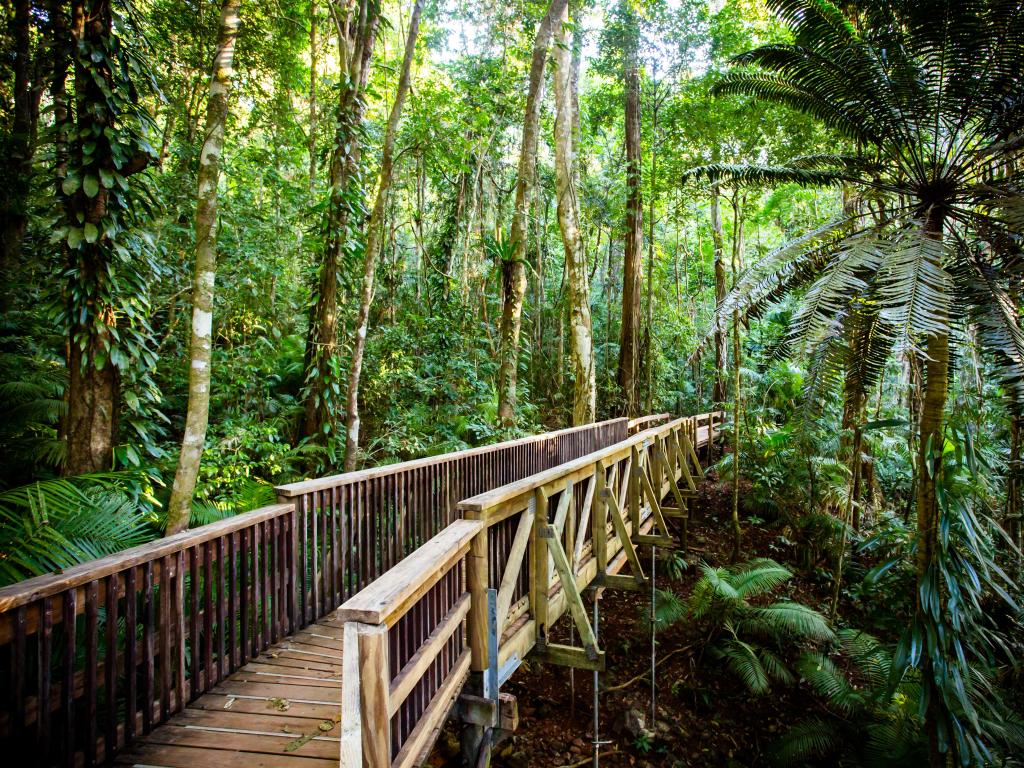 Once you arrive, a trip to the iconic Four Mile Beach is a must. This seemingly endless stretch of coastline is perfect for a tranquil walk or a morning jog.
If the azure waters of the Great Barrier Reef are calling your name, hop onto one of the Quicksilver Cruises, and you'll be gliding over coral gardens in no time.
For an exceptional stay filled with relaxation and luxury, we recommend the Mandalay Luxury Beachfront Apartments. Situated a stone's throw from the mesmerising Four Mile Beach and just minutes from the lively Macrossan St, Mandalay is the perfect choice.
With views overlooking the lush gardens, each apartment allows you to unwind on private patios or balconies. The complex isn't just about relaxation; it's equipped with a tennis court and an exquisite swimming pool, set amidst pristine gardens.
The best part? Its location makes it easy for visitors to embark on adventures like exploring the Great Barrier Reef, or walking in the nearby rainforests.
Things to see on a road trip from Brisbane to Port Douglas
This one-of-a-kind journey will take you through an almost limitless amount of highlights. To help you plan easier, we've included our favourite stops and highlights below.
Nudgee Beach Reserve - A serene coastal retreat near Brisbane, Nudgee Beach Reserve offers pristine sandy shores and a tranquil setting, making it ideal for picnics and bird-watching.
Gympie Gold Mining and Historical Museum - Delve into Gympie's rich gold mining history at this captivating museum, showcasing relics from the gold rush era and offering insights into the region's past.
Tinchi Tamba Wetlands Reserve - This expansive wetland reserve is a haven for bird enthusiasts, with a diverse range of avian species nesting amidst its mangroves and mudflats.
Mothar Mountain Rock Pools - Nestled amidst lush forest, these natural rock pools offer a refreshing escape, with cool waters surrounded by picturesque landscapes.
Victory Village at Riverbend - Step back in time at Victory Village, an immersive historical experience showcasing life in the early Australian settlement era.
Rockhampton Botanic Gardens - One of Queensland's oldest gardens, this oasis boasts beautifully manicured landscapes, exotic plant species, and a Japanese garden.
Capricorn Caves - A captivating natural wonder, these limestone caves invite visitors to explore unique formations, ancient fossils, and the enchanting cathedral chamber.
Bluewater Lagoon - Situated in Mackay, this waterpark is a family favourite, offering multiple lagoons, slides, and a lush tropical environment.
Cedar Creek Falls - A beautiful waterfall set in the heart of Proserpine, its cascading waters create inviting natural pools perfect for a refreshing swim.
Whitehaven Beach - Often touted as one of the world's most beautiful beaches, Whitehaven boasts pristine silica sands, turquoise waters, and unparalleled Whitsunday vistas.
Paronella Park - Envisioned as a castle amidst the rainforest, this heritage-listed park features historic structures, cascading waterfalls, and a dreamy atmosphere.
Mamu Rainforest Canopy Walkway - Walk along this elevated walkway to experience the ancient rainforest from a bird's-eye view, with observation decks offering panoramic vistas.
Skytrain Rainforest Cableway - Glide above the dense canopy of the rainforest in this cableway, offering unparalleled views of the surrounding landscapes and Cairns' coastline.
Kuranda Scenic Railway - Journey through the heart of the rainforest aboard this historic railway, winding through scenic routes, cascading waterfalls, and breathtaking gorges.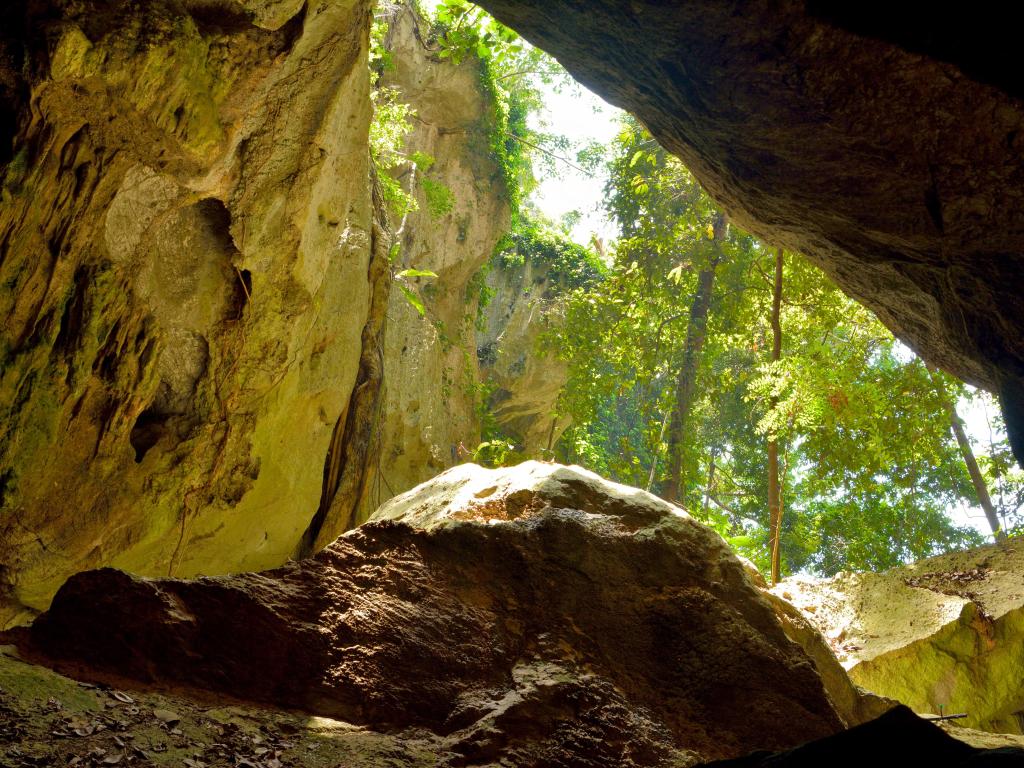 Palm Cove - A coastal gem, Palm Cove mesmerises with its palm-lined shores, upscale resorts, and tranquil ambiance, making it a perfect tropical getaway.
Hartley's Crocodile Adventures - Get up close with Australia's iconic reptiles at Hartley's, showcasing thrilling crocodile performances, wildlife encounters, and educational exhibits.
Rex Lookout - Offering sweeping views of the Coral Sea and surrounding coastline, Rex Lookout is a must-visit spot for photographers and nature enthusiasts.
Calliope River Historical Village - Discover Queensland's history and heritage at this village, showcasing preserved buildings, artefacts, and engaging displays from yesteryears.
Baga National Park - A biodiverse haven, Baga National Park is renowned for its rugged landscapes, unique fauna, and pristine bushwalking trails.
Mount Blarney Conservation Park - A haven for nature lovers, this park boasts dense forests, diverse wildlife, and panoramic viewpoints.
Airlie Beach Skydives Drop Zone - Thrill-seekers converge at this drop zone, experiencing adrenaline-pumping free falls with breathtaking views of the Whitsunday islands.
Mossman Gorge - A gateway to the Daintree Rainforest, Mossman Gorge is renowned for its crystal-clear waters, ancient ferns, and scenic walking tracks.
Whitsunday Crocodile Safari - Embark on a thrilling safari, navigating the Proserpine River and spotting the region's famed saltwater crocodiles in their natural habitat.
Billabong Sanctuary - An immersive wildlife park, visitors can interact with iconic Australian animals like kangaroos, koalas, and wombats in their naturalistic habitats.
Mt Stuart Lookout - Perched high above Townsville, this lookout offers panoramic vistas of the city, surrounding landscapes, and the sparkling Coral Sea.
Saunders Beach - A serene coastal stretch, Saunders Beach is perfect for sunbathing, beachcombing, and witnessing stunning sunsets.
Little Crystal Creek - Nestled within Paluma Range National Park, this creek is renowned for its cascading waterfalls, inviting swimming holes, and historic stone arch bridge.
Jourama Falls - A cascading marvel within Paluma Range, Jourama Falls enchants visitors with its multi-tiered waterfalls, tranquil pools, and surrounding rainforest vistas.
Wooroonooran National Park - This national park the stunning Bellenden Ker Range, home to some of the country's highest peaks, and the breathtaking Josephine Falls.
Girringun National Park - This park features the iconic Wallaman Falls, the tallest single-drop waterfall in Australia, set amidst a backdrop of lush tropical rainforests.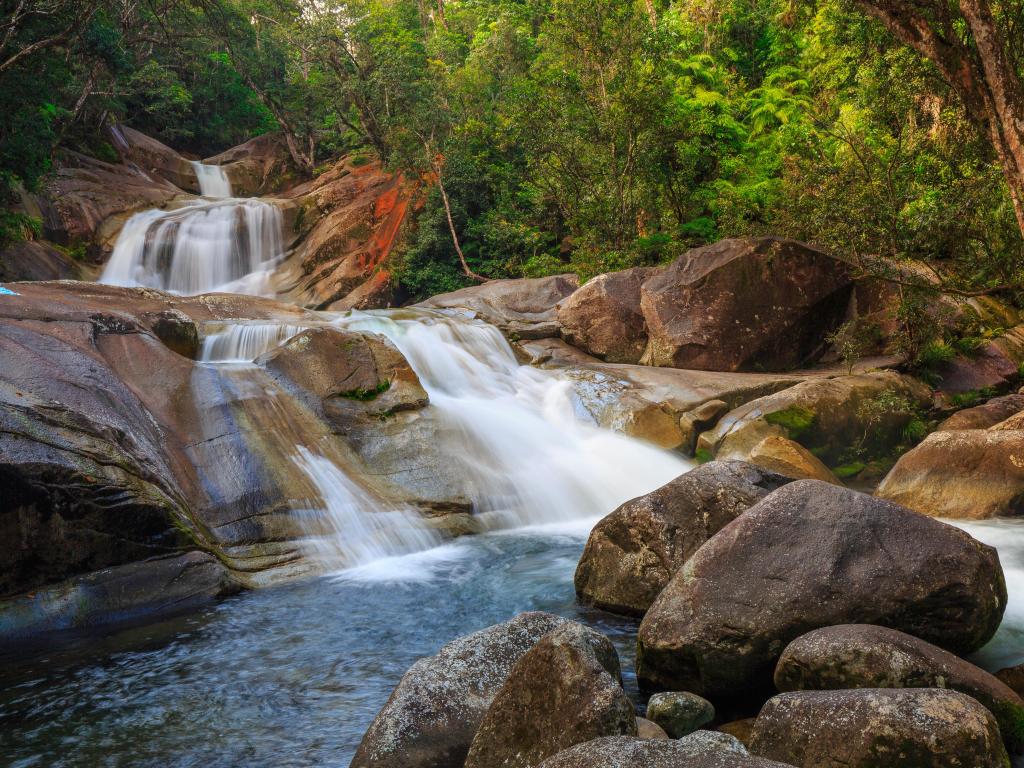 Best time to go on a road trip from Brisbane to Port Douglas
Port Douglas is a destination that's perfect year-round. However, there are a few seasons that may be better for your drive.
If you're taking the trip in the heart of the Australian summer be prepared for the wet season. These rainy days can make the waterfalls look amazing, but the intense humidity might deter you from indulging in some outdoor activities.
There are some great events in summer, regardless of the possible rain. If you're travelling in November, you might catch the rhythm at the Airlie Beach Festival of Music.
Winter is more pleasant with temperatures averaging 22-27 degrees Celsius, making it a favourite for many tourists. This is also the dry season and chances are, you'll have better weather to explore the region.
In winter, you'll have the chance to see the Hervey Bay Whale Festival in July-August. Art enthusiasts travelling in July can look forward to the Cairns Indigenous Art Fair.
Your destination, Port Douglas, hosts the fun Port Douglas Carnivale in May. This event is a celebration of the region's lifestyle and culture, with plenty of fun activities for the whole family.