Can You Drive To Catalina Island?
Many people ask whether it's possible to drive onto Catalina Island from mainland California.
You cannot drive to or on Catalina Island. The only way to reach Catalina Island (or Santa Catalina as it is formally known) is by a passenger-only ferry that takes 1 hour from four different departure points along the California coast - no cars are allowed on the island.
You can drive from Los Angeles or San Diego to one of these four ferry departure points, park up your car and jump on the fast ferry trip to Avalon or Two Harbors ports on Catalina Island.
When driving to Catalina Island from downtown Los Angeles you can take the I-110 to Long Beach or I-710S to San Pedro port and take the ferry over from there. From San Diego, you can drive the I-5N north to Newport Beach or Dana point and board the ferry.
Keep reading to find out about driving to Catalina Island, including which ports are closest to you and everything you need to know about catching a ferry.
Is it possible to drive to Catalina Island?
It isn't possible to drive to Catalina Island. The island is a whopping 29 miles off the shore of mainland USA with no bridges, causeways or tunnels and in fact cars are actually banned on the island altogether.
It is, however, very easy to drive to one of four departure points and hop on a ferry to Santa Catalina Island instead.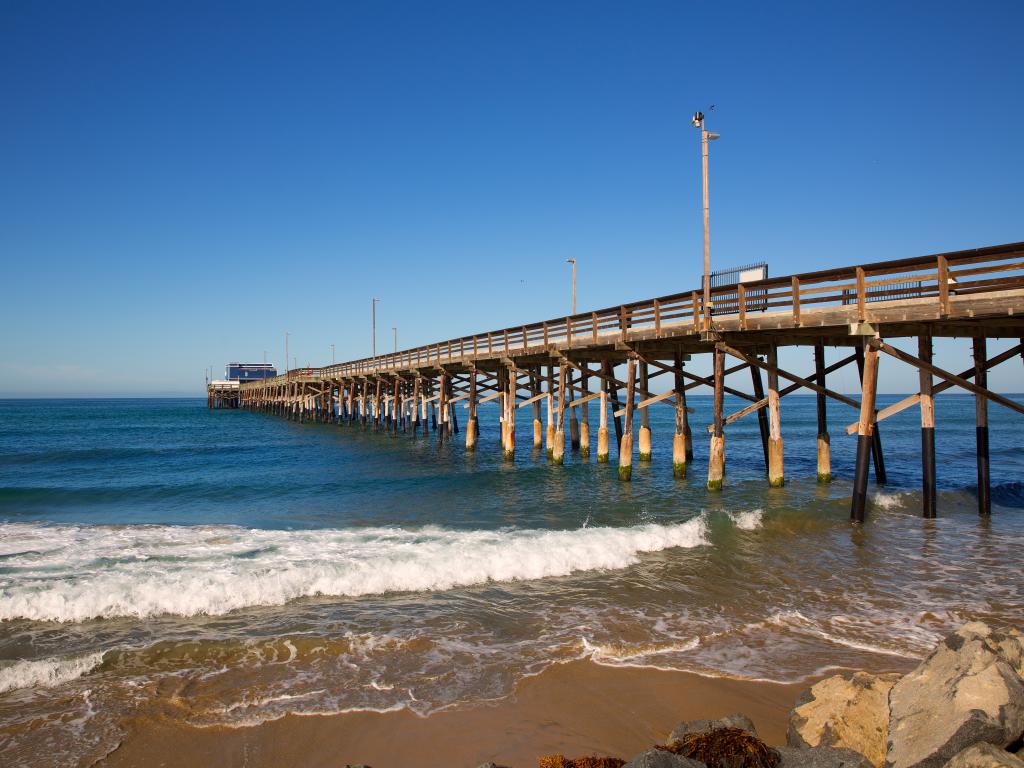 From downtown Los Angeles the closest departure ports for ferries to Catalina Island are from Long Beach and San Pedro, although only San Pedro goes to Two Harbors if that's where you want to head.
The journey from central LA to San Pedro is 24 miles and 25 minutes, and it's 25 miles and a 30-minute journey to Long Beach port. Take note, however, that this is LA so the length of journey can vary a lot depending on traffic.
If you're driving to Santa Catalina Island from San Diego, you should aim for Dana Point which is 63 miles north along the I-5 taking you 1 hour 10 minutes to get to or Newport Beach (90 miles - 1 hour 25 minutes).
If you are flying in from out of state, Los Angeles International Airport is only 39 miles away which will take about 35 minutes to drive. Santa Ana (SNA) and Long Beach (LGB) airports are much closer to Newport Beach and Long Beach ferry ports, but may be harder to get to than LAX.
How to get to Catalina Island from Los Angeles
Departure points to Avalon on Catalina Island run from four different towns along the Californian coast: Long Beach, San Pedro, Dana Point and Newport Beach.
The only ferry that runs to port town of Two Harbors departs from San Pedro so you'll need to book tickets from there if you're heading to the northern part of the island.
There are two ferry services that run to Catalina Island:
The Catalina Express departs from San Pedro, Long Beach, and Dana Point to Avalon and Two Harbors.
The Catalina Flyer departs from Newport Beach to Avalon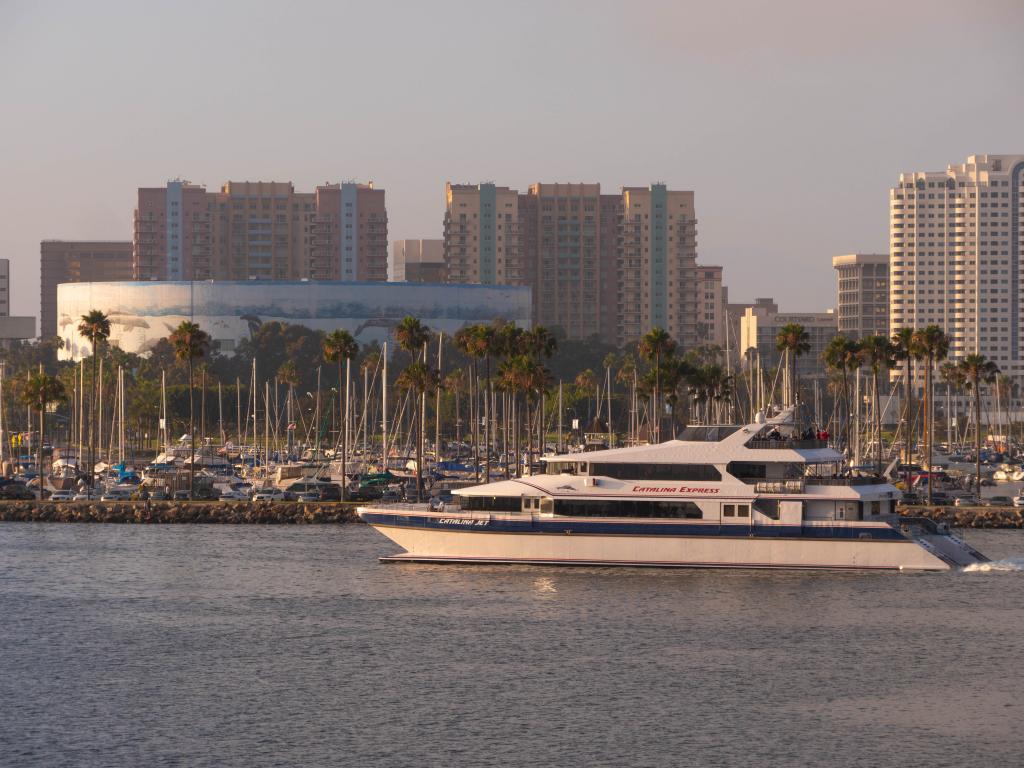 The closest departure ports for Catalina Island from downtown Los Angeles and Los Angeles International Airport are San Pedro and Long Beach.
From downtown Los Angeles to San Pedro take the I-110
From downtown Los Angeles to Long Beach take the I-710S
When travelling to Catalina Island, the closest departure port may not always be the best. Consider where you are headed to on Catalina Island but also note that the Catalina Flyer has restrictions on luggage.
There are luggage restrictions on the ferries:
Passengers on the Catalina Flyer are only allowed to bring carry-on luggage and may only bring two pieces of hand-carried luggage per person.
Passengers travelling on the Catalina Express, can bring two pieces of luggage, no larger than 23 inches by 23 inches by 37 inches and weighing no more than 50 pounds each.
If you are planning to bring your bike or surfboard the Catalina Express is the only ferry that allows oversized luggage. However, this is only possible if there is space. There may also be an additional charge.
No animals are allowed on the Catalina Flyer.
Animals on a lease and muzzled are allowed on the Catalina Express.
How long does it take to get to Catalina Island?
The journey time from central Los Angeles to Catalina Island inclusive driving time and ferry journey is about 2 hours, encompassing the waiting time to board. However, traffic is notorious in Los Angeles and 30 minute journeys can frequently take double that or more.
Consider the time of day and if it's a weekend or holiday. Day trippers can make the journey chaotic and busy, so allow yourself plenty of extra time to make it to the ferry.
Arrive for check in at least 30 minutes, but preferably an hour, before the ferry departs. If you arrive later than 15 minutes before the ferry departs the company may cancel your reservation. Make sure you bring your Catalina ferry reservation number with you.
The ferry from all four ports on the Californian coast take 60 minutes to Catalina Island. To get to the ferry terminal from Los Angeles or San Diego, allow half an hour or more depending on what day and time you're planning to go:
Downtown Los Angeles to Long Beach or San Pedro - approximately 30 minutes with no traffic
LAX to Long Beach or San Pedro - approximately 25 minutes with no traffic.
San Diego to Newport Beach - approximately 1 hour 25 minutes with no traffic.
San Diego to Dana Point - approximately 1 hour 10 minutes with no traffic.
Things you need to know about driving to Catalina Island.
The costs for the Catalina Island ferries are as follows (calculated at the time of writing): $37.25 one way and $74.50 return for an adult. Children are slightly less at $33.75 one way and $67.50 while infants travel for a nominal $3 each way fee.
There is a senior citizen discount given to over 55's of $29.50 one way and $59 return.
Check for discounts. With a return ticket to Catalina Island being over 70 dollars, you can look to save money by booking a hotel/ferry package, through Groupon or occasionally through the ferry's website. Keep your eye open for discounts year-round which can be used to travel in the future.
Book your travel early. While you can buy tickets at Catalina Island ferry terminals on the day of travel, ferry seats sell out quickly at busy times—especially in the summer or on holiday weekends.
Remember that there are no cars on Santa Catalina Island and the residents get around on foot or on golf carts. Visitors are often amused to see small golf cart-sized driveways.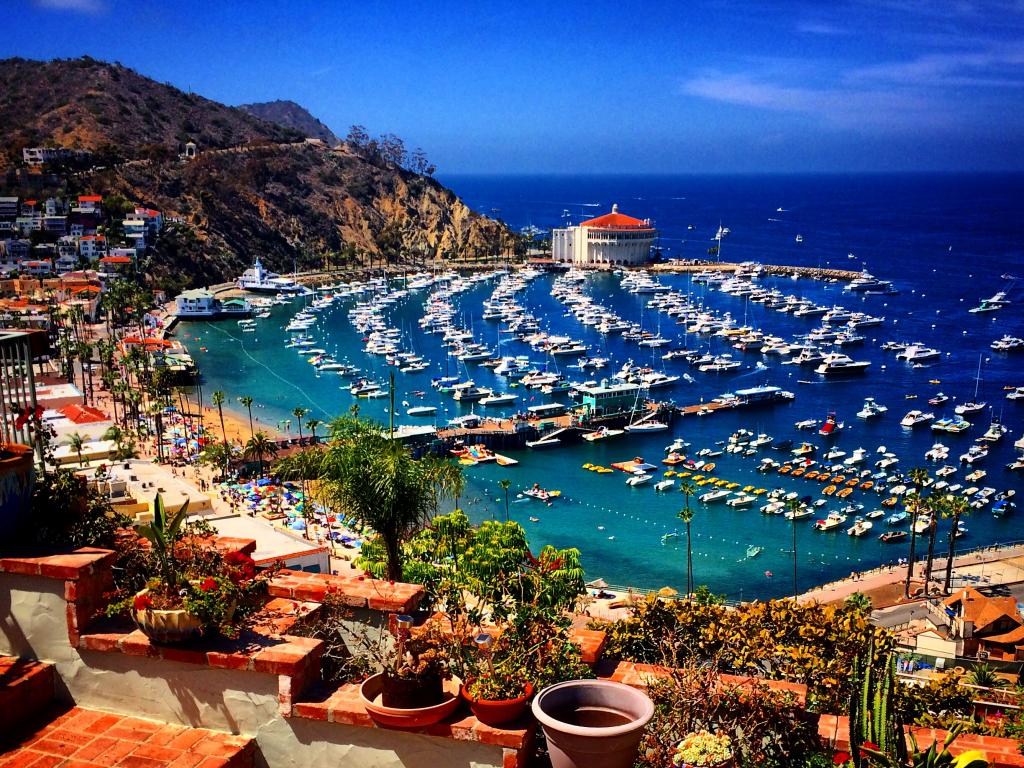 Despite it being sunny California, it can get surprisingly chilly on the ferry as you make your way over. Bring warm clothing and a waterproof jacked to protect you from wind and sea spray.
Santa Catalina is part of the Channel Islands of California archipelago and lies within Los Angeles County
Catalina Island encompasses 76 square miles with 52 miles of stunning coastline. It's eight miles wide and about 22 miles long.
The highest point on the island is Mount Orizaba at 2,097 ft (639 m).
California is famous for glass-bottom boats, epic scuba and snorkeling spots, and panoramic views of the Pacific.
Catalina Island weather is best in spring and fall. June Gloom hits the early summer with some days being overcast until noon or later. In winter, the sea can be rough and storms can make the journey very bumpy and sometimes even dangerous.
You don't need a passport to get to Catalina Island but it is recommended that you travel with a government-issued photo ID.