30 Best Road Trips From San Francisco
If you live in San Francisco or the Bay area or if you're visiting the Fog City, you are spoilt for choice with places you can drive to. From snow-covered mountain peaks to the hottest desert on earth, from National Parks to cultural city breaks, the variety of options is truly unique.
Within easy reach of destinations across California, there are options you can go to and come back from in a day through to long road trips to neighbor states.
Featuring some of the world's finest vineyards, mountain views and unbelievable roads leading there, here is our list of the 30 best road trips from San Francisco.
If you want to see the city first, make sure you check out our guide for the 50 best things to do in San Francisco as well!
Day road trips from San Francisco
1. Silicon Valley and San Jose
Distance from San Francisco: 49 miles before detours to San Jose (1 hour 20 minutes)
When to go: Perfect weather all year round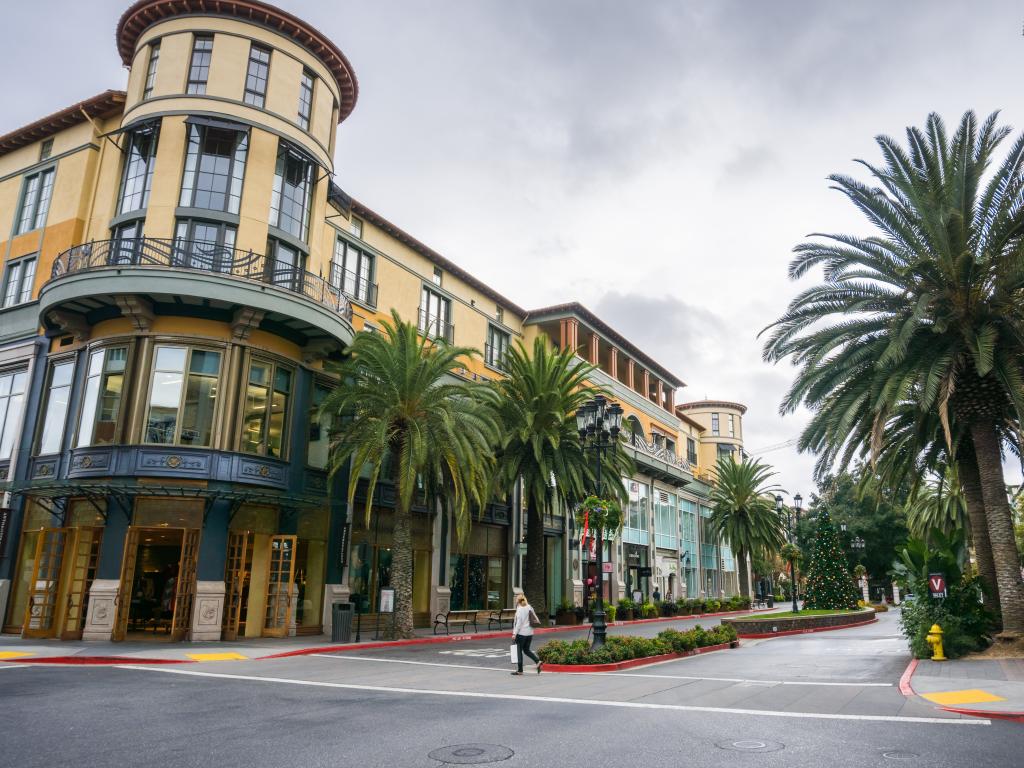 A great short drive from San Francisco is Silicon Valley and the city of San Jose. There are three routes that run through from San Francisco to San Jose - the US-101 runs through most of the Silicon Valley locations, the CA-82 is the slower parallel route and the I-280 runs further inland with a longer but more scenic drive.
Places like Menlo Park, Redwood, Palo Alto, Cupertino and Mountain View have long been associated with the world's largest technology firms. As you drive through the area, you will see the headquarters of companies such as Google, Apple, Facebook, Intel and dozens of other tech giants.
Stanford University is right in the middle of the Silicon Valley, bordering the Palo Alto and Menlo Park tech hubs.
San Jose is often overlooked in favour of visiting San Francisco instead, but it's an interesting city with a lot going for it. The technology and innovation angle continues through to San Jose - make sure you visit the Tech Interactive which is a fantastic museum about technology and science innovation.
If you find yourself with a lot of time, you can cut back to the Pacific Coast at Pescadero and make your way back to San Francisco past the Half Moon Bay and a number of classic California beaches and towns (see #2 below).
2. Pescadero, California and the Half Moon Bay
Distance from San Francisco: 47 miles (1 hour 10 minutes)
When to go: The Half Moon Bay Pumpkin festival takes place annually in October.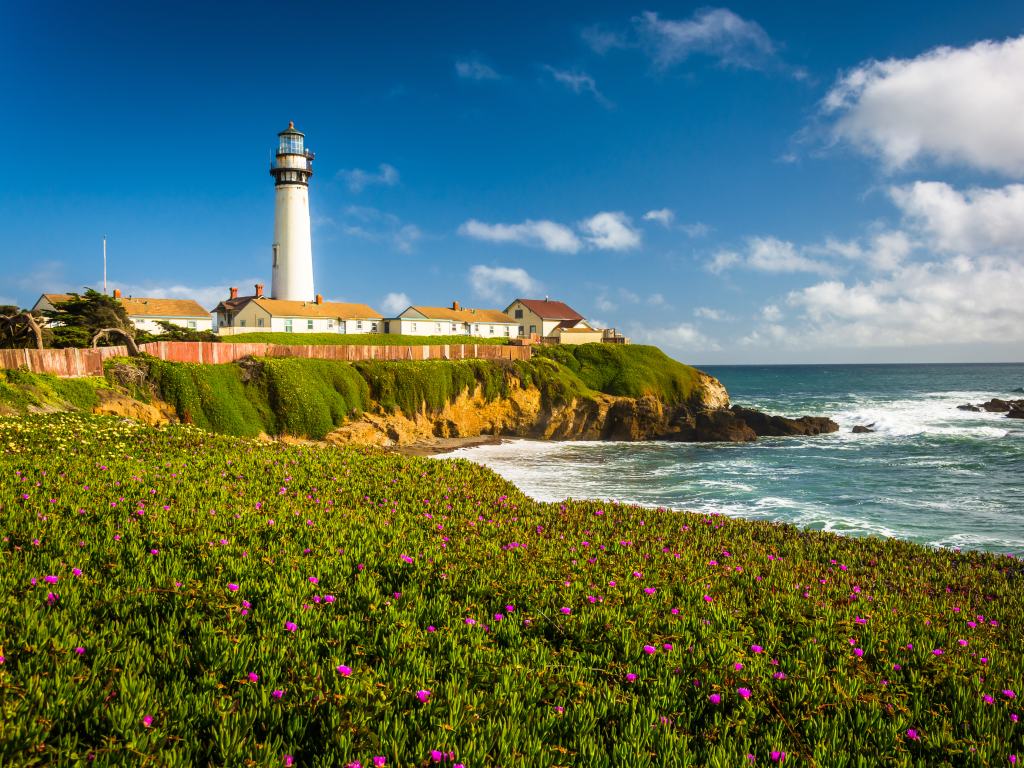 The drive south to Pescadero along the Pacific coast is full of stunning views and offers the opportunity to see the classic California with its relaxed beach-side vibes and picturesque small towns.
Highway 1 will take you all the way along the coast and this might just be one of the most scenic drives you can go on from San Francisco. The road twists and turns following the coastline and just after the half hour mark, you will come to Half Moon Bay.
The traditional farming and fishing community is perfect for a relaxing stroll or a picnic on Francis Beach. After your stop, Pescadero is only a further 25 minutes down the road.
Pescadero is all about nature and exploring the best of the North Californian coastline. The pace of life is slow and you can visit one of a number of state parks and preserves surrounding the town. The relatively small Año Nuevo State Park a few miles further south is great for a hike with a fantastic view of the rugged coastline.
3. Sebastopol and the Sonoma vineyards
Distance from San Francisco: 73 miles (2 hours)
When to go: Catch the glorious weather from June to October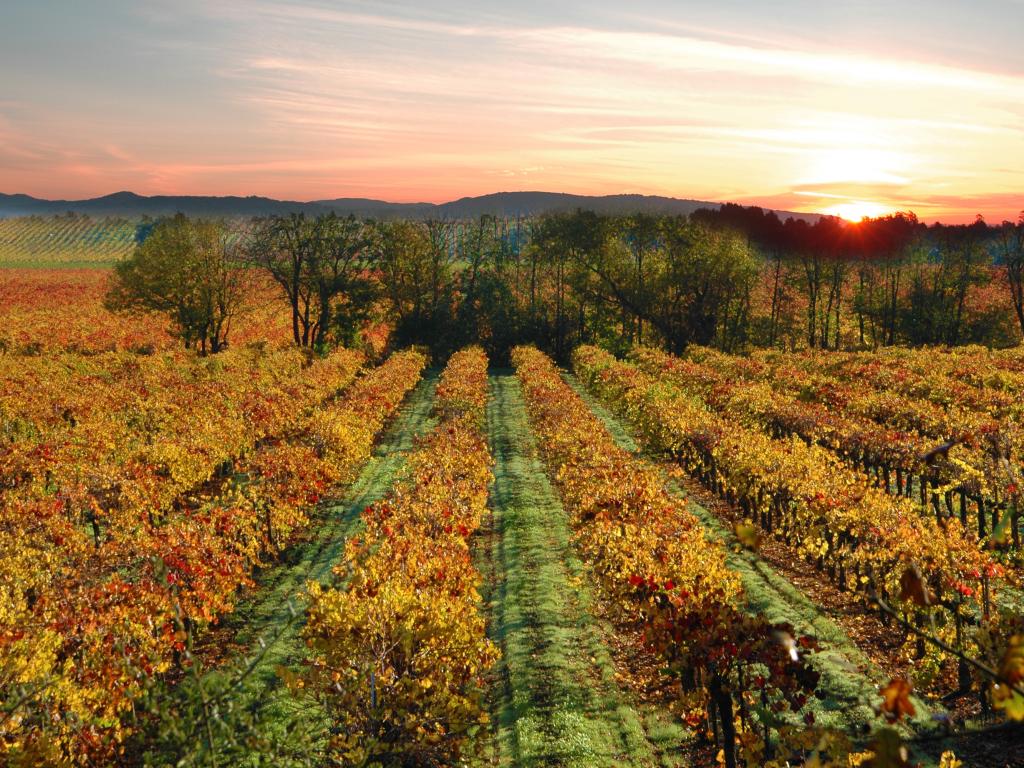 Sonoma is one of the most famous wine areas in California and the United States. The area is split into two separate areas - Sonoma Valley that runs parallel to its more famous Napa cousin (see #6 below) and Sonoma Coast which runs from San Pablo Bay all the way to Sea Ranch, bordering Mendocino county to the north.
From San Francisco, you'll need to cross over the Golden Gate Bridge and follow signs for the city of Sonoma. From there, Highway 12 will take you through the Sonoma Valley where there are countless vineyards dotted around. Come off the main road and enjoy some of the best wine on offer in the States.
The city of Sebastopol is technically in the Russian River wine region, although still in the Sonoma County. The city is full of apple orchards and you can explore the unique nature surrounding it - the Russian River area is the largest freshwater wetlands area in the US.
You can drive to the Sonoma Valley in a day, but to really make the most of it (and its wines!) you really should find a weekend to spend up in the rolling hills. The vineyards organise wine tastings and there are some truly stunning restaurants too.
4. Bolinas, California
Distance from San Francisco: 30 miles (1 hour)
When to go: Visit during the summer months to go swimming on your day out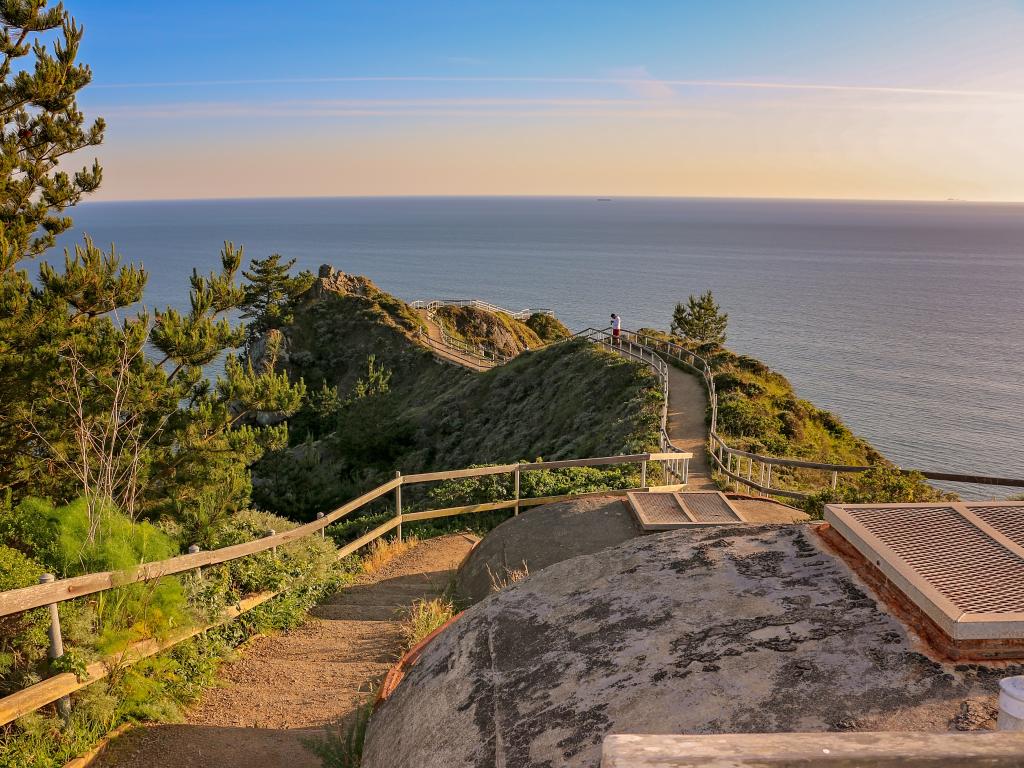 Bolinas is only just outside San Francisco - the drive is only 30 miles from downtown. After crossing the Golden Gate Bridge, follow Route 1 through Muir Woods and loop around the Bolinas Lagoon.
The Marin County town sits on the edge of Bolinas Bay and is surrounded by nature - Point Reyes, the Muir Woods National Monument, Samuel P Taylor State Park and Tomales Bay are all within easy reach.
It may sound odd, but Bolinas is best known as the place that wants to be less known. There are anecdotes about the locals taking down signs for the turning to Bolinas from Highway 1 and not liking visitors. The exclusive location and small size make Bolinas an amazing place to visit. Being so close to San Francisco, there is a risk of it getting too popular and being crowded with tourists all year round.
Don't let that put you off though. The short road trip from San Francisco to Bolinas is worth it with amazing views of the coastline and the town feels incredibly down to Earth despite prices for a small delapidated shack starting at a couple million dollars.
The Coast Cafe and the small Bolinas Museum are the two sights in town, but make sure you take a stroll to Alamere Falls. These falls are one of only a handful around the world that go straight into the sea - a unique sight that you really shouldn't miss!
The hike all the way from Bolinas is about 10 miles, but you can drive and park up 2/3 of the way there instead. Even from the parking spot, allow yourself enough time to go and come back (and for a swim!)
5. San Juan Bautista, California
Distance from San Francisco: 97 miles (1 hour 40 minutes)
When to go: Great all year round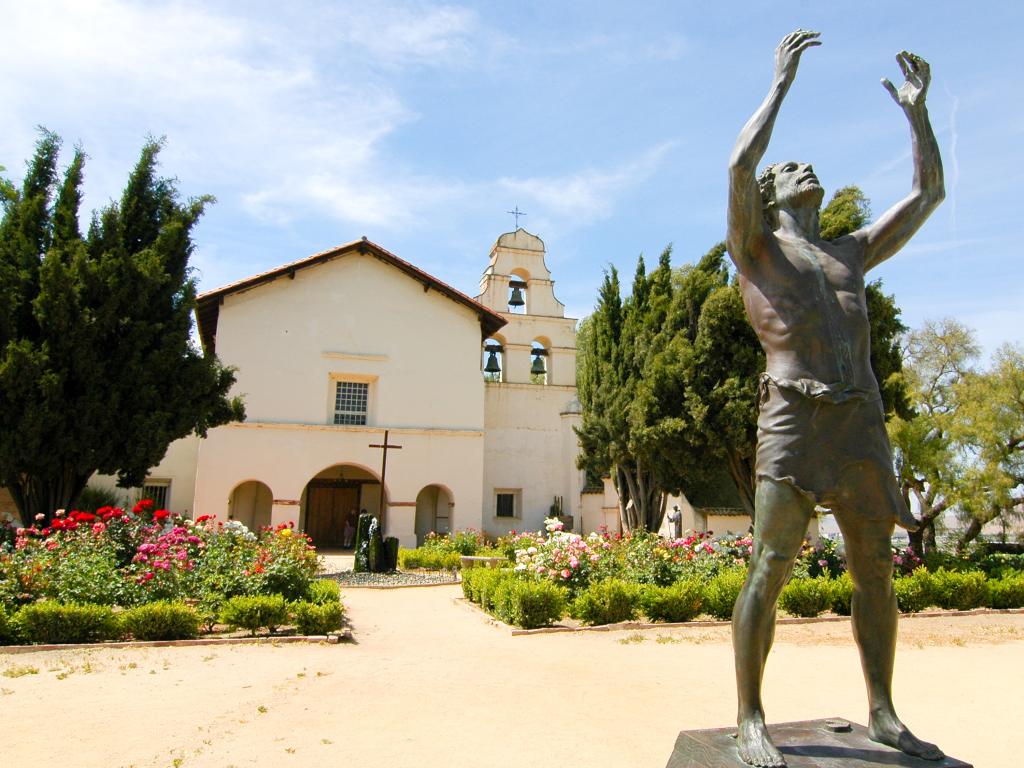 A road trip to San Juan Bautista is your opportunity to dive into California's history and get a glimpse of how people lived here in the early 19th century when the state was just being colonized.
The Mission San Juan Bautista is one of the oldest and best preserved in the state. Unusually, it has never shut its doors and has operated continuously as a religious mission since 1812.
On the plaza and the area immediately in front of the Mission are a few more historic buildings and mansions including a hotel - all well over 100 years old. The look and feel of the town has hardly changed since the 1800s and it's fascinating to see what the rest of California looked like back then.
As you leave San Francisco, take the I-280 to avoid Silicon Valley and San Jose traffic. At Cupertino, take Highway 85 before eventually merging into US Route 101 which will take you the rest of the way. If you're heading further south to the Big Sur or Carmel-by-the-Sea, consider adding San Juan Bautista as a stop-off point en route.
6. Explore Napa Valley in Yountville, California
Distance from San Francisco: 70 miles (1 hour 30 minutes)
When to go: Weather is perfect any time of year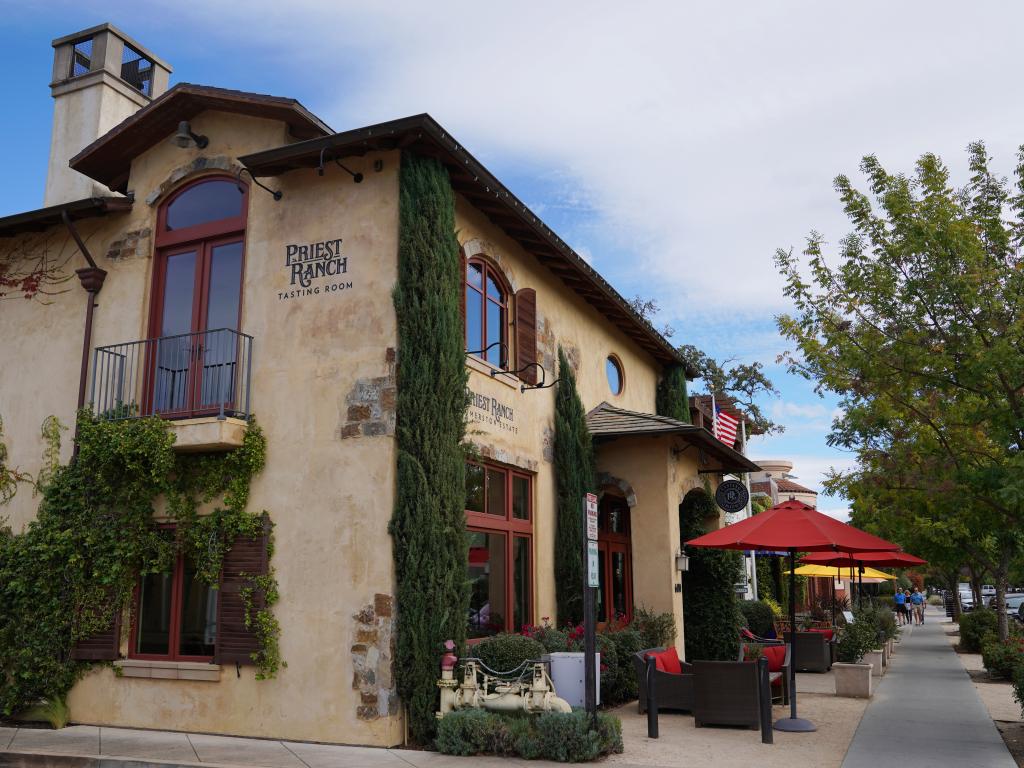 Ask any wine lover to nape a California wine and Napa Valley is likely to be the first they will name. In the last few years, Napa Valley has become known world-wide for the wines produced here. Some of my personal favourites are Napa Valley wines!
The next valley along from Sonoma (see above), Napa Valley is only just over an hour away. The locals love the zinfandel grape in particular with a large number of local vineyards growing it. A relative of southern Italy's primitivo, Zinfandel is frequently the basis for robust red wines sold around the world, although in the US it is almost exclusively made into Rose.
Make sure you make a stop in Yountville. This small unassuming town has a number of winery tasting rooms and boasts the record of the most Michelin stars per head of anywhere in the United States shared by The French Laundry and Bouchon restaurants.
We'd highly recommend an overnight stop to really enjoy the food and wine pairings!
7. Sierra Nevada Foothills in Columbia, CA
Distance from San Francisco: 136 miles (2 hours 30 minutes)
When to go: May to October for warm weather - summers here don't get too hot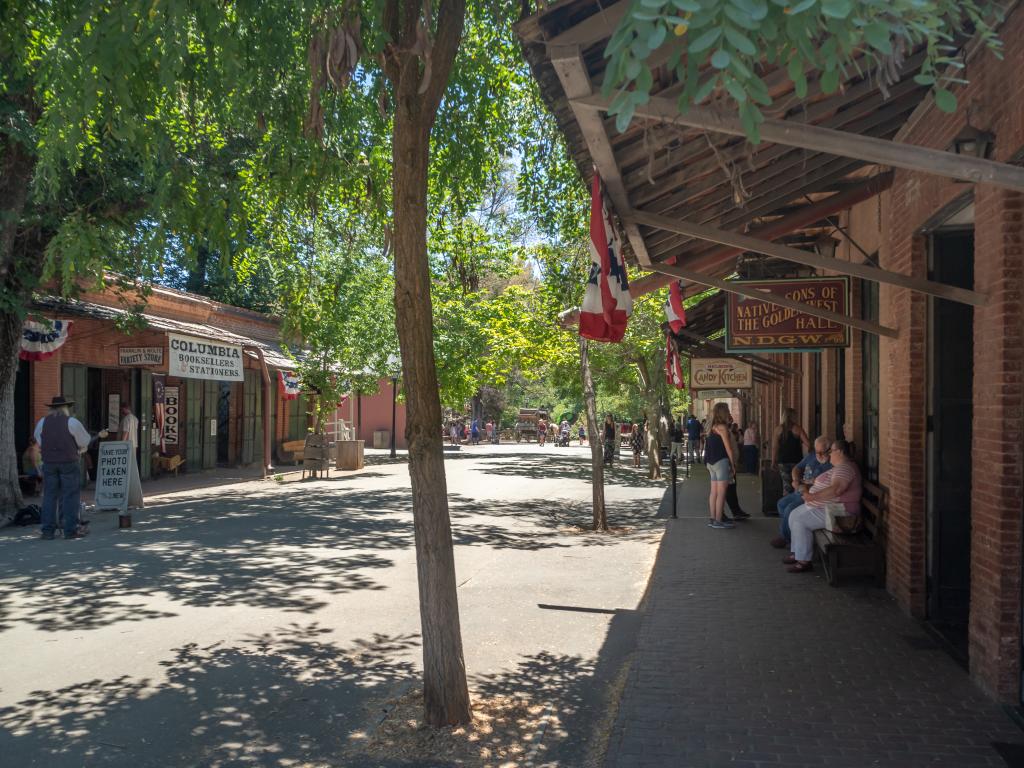 At two and a half hours' worth of driving, Columbia could be visited in a day, although it makes far more sense to take longer and add other destinations to the east, such as Yosemite National Park or Stanislaus National Forest into a whole week off.
Columbia is a historic city that was born during the boom of the gold rush. The moment gold was discovered locally, thousands flocked to the city in the 19th century.
Today, the Columbia State Historic Park covers the downtown district of the town. The main street is reserved for pedestrians, cyclists and horse-ridden carriages and the buildings wouldn't look out of place in a Western movie. In fact, several, including classics such as High Noon were actually filmed here.
At its peak, Columbia was the second biggest city in California and narrowly missed out on being declared the State Capital. Come and see the historic town for yourself and bring a picnic - you can find tables to sit at throughout the Historic District.
8. Point Reyes and Tomales Bay
Distance from San Francisco: 52 miles (1 hour 45 minutes)
When to go: Whenever you have a free day or weekend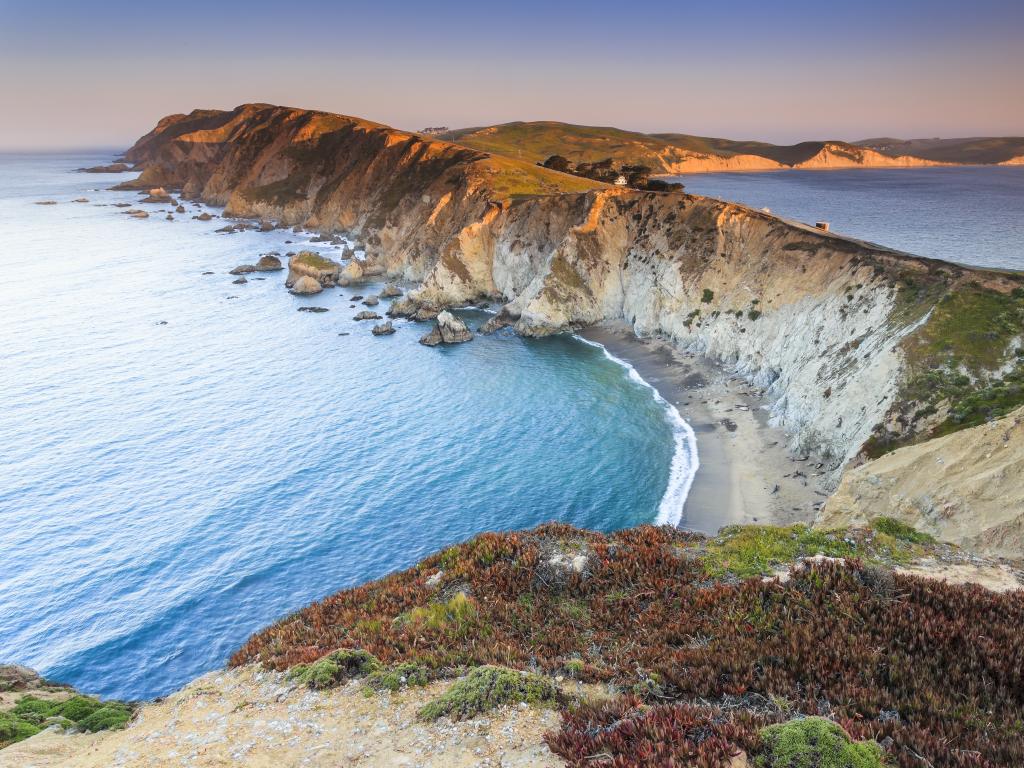 Marin County is only just across the Golden Gate Bridge and if you make it further than Muir Woods before the urge to hike kicks in, you can following Highway 1 along the coast up to Point Reyes and the stunning Tomales Bay.
The Point Reyes National Seashore has some of the most picturesque hikes you'll see anywhere in the country. Steep inclines overlook dramatic rocky cliffs with the ocean waves slamming against them. There is a variety of different tree types and a lot of animals including elk that you have a chance of spotting.
The Point Reyes Lighthouse, built in 1870, sits on the edge of Point Reyes and you'll have to go down 308 steps to get to it, before having to climb back up on your way back.
The Cypress Tree Tunnel is an unbelievable stretch of road with giant trees making a covered tunnel by overlapping from either side. Unlike the orderly oaks that frame entrances to estates in Georgia and Alabama, cypress trees are taller and look more wild - a definite must see.
9. Visit Sacramento - California's capital
Distance from San Francisco: 88 miles (1 hour 30 minutes)
When to go: Great all year round, but go in September to catch the farm-to-fork festival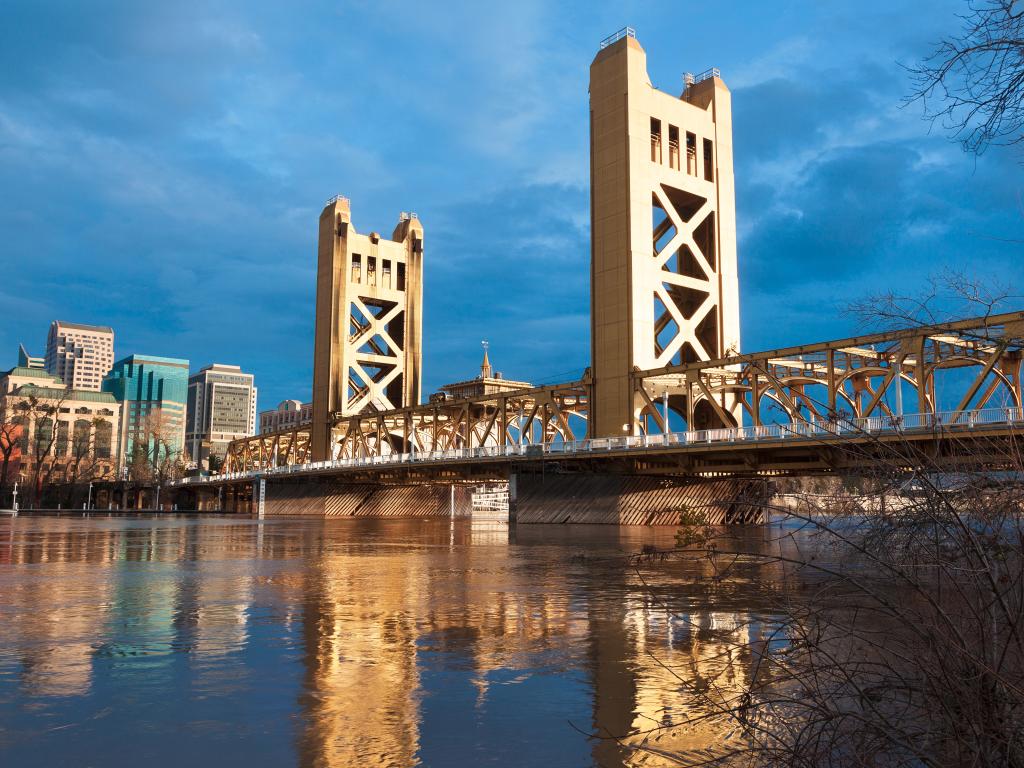 The vibrant city of Sacramento has been California's capital since 1854 and is a perfect place to visit to see a mix of history, retro chic and relaxed vibes.
Start by visiting Old Sacramento - a district that dates back to 1848 with old buildings, wooden sidewalks and amazing small independent shops.
Other than the State Capitol, which you must visit, stop by the California State Railroad and California Automobile museums. Trains and carriages showcase the history of railroads in California with trains and carriages going back to the 1860s and the car collection ranges from early turn of the 19th century models to classic muscle cars.
As you make your way around Sacramento, make sure you grab a coffee from one of the growing number of independent coffee shops that roast their own beans. Later on, you can catch a movie at a drive-in movie theater (yes - they still exist!) and grab a drink at one of the eclectic bars.
If you have time, make it an overnight stop to see more of Sacramento and enjoy the nightlife.
Weekend road trips from San Francisco
10. Cayucos, California
Distance from San Francisco: 227 miles (4 hours)
When to go: August to November is great to avoid the clouds that cover the coast in June and July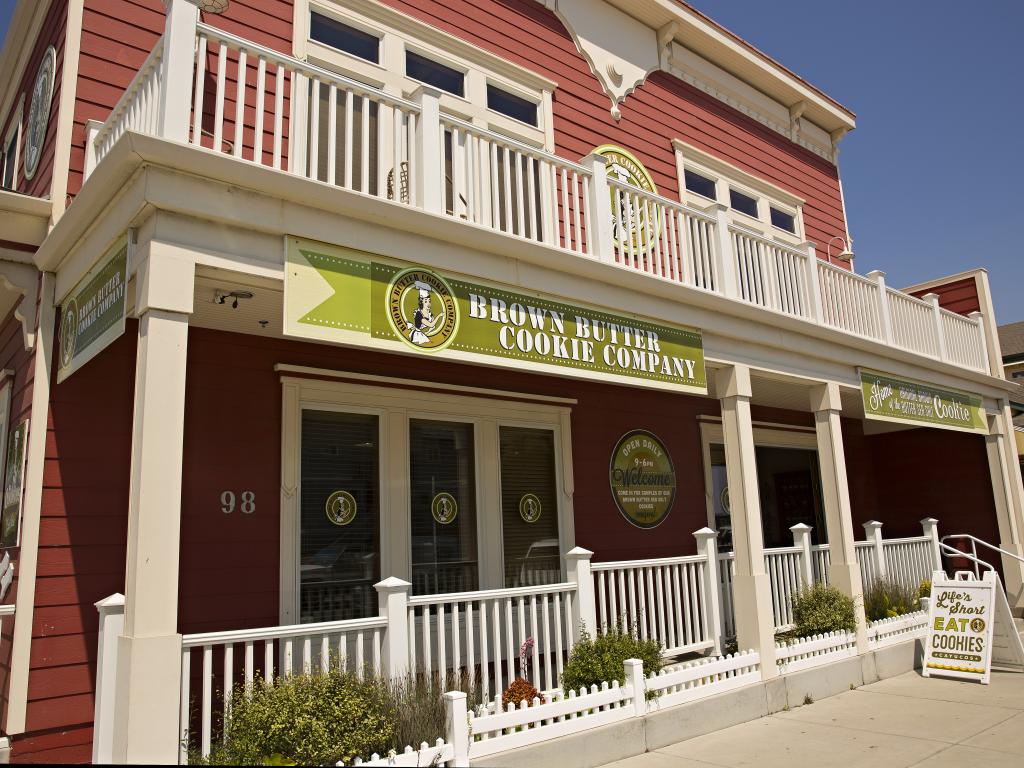 Cayucos is one of the prettiest towns along the Californian coast and a perfect weekend getaway from San Francisco.
The town dates back to the 1800s with buildings along Ocean Avenue alternating between classic wooden constructions and relaxed modern cafes and surf shops.
The pace of life in Cayucos and its neighbor Morro Bay is slow and everything revolves around the ocean. The main activities are things you can do on the water and the shops largely sell merchandise for or from the beach.
It takes 4 hours to get there from San Francisco, but we'd highly recommend spending an hour longer and taking Highway 1 that winds along the coast instead. This is one of the most scenic drives anywhere and it would be a real shame to miss it. You'll want to go back the slow way too if you come to Cayucos along Highway 1.
Make sure you visit Hearst Castle a few minutes up the coast from Cayucos - this giant mansion has become a California State Park and you can take a tour to see the opulence and completely over the top design that would host parties for Hollywood's rich and famous in the first half of the 20th century.
11. Leggett, California
Distance from San Francisco: 181 miles (3 hours 20 minutes)
When to go: Great weather and not too hot through the summer months from May to September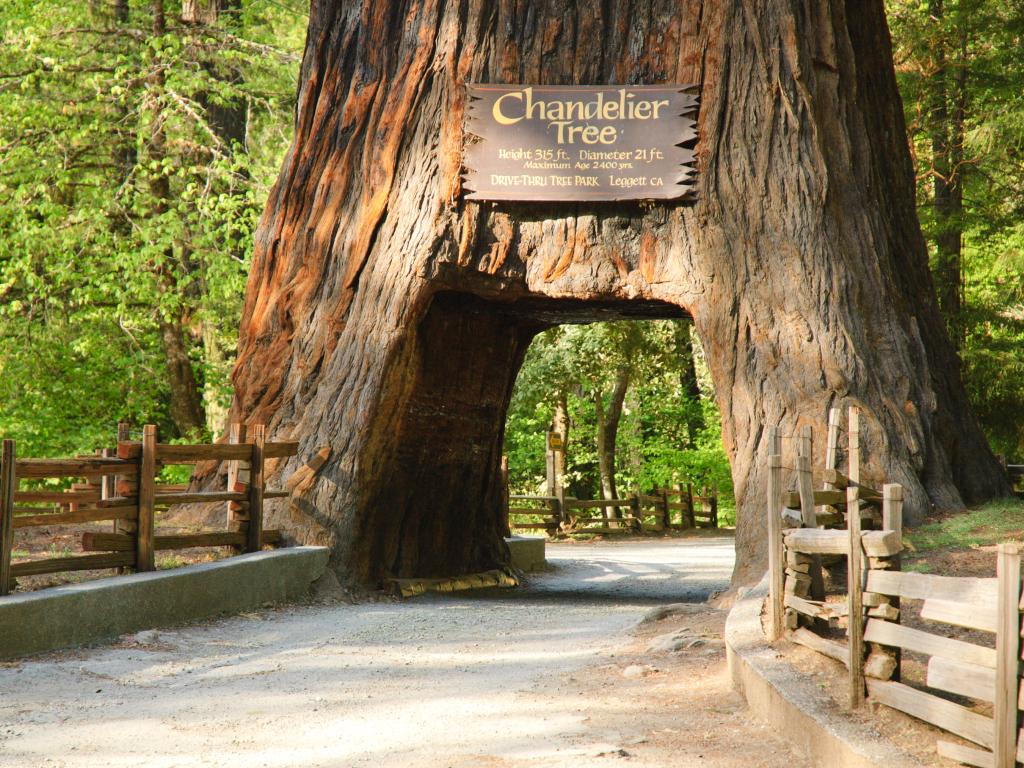 Leggett is a small town up in north California's Mendocino County that is well known as the place where some of the tallest trees in the world grow.
There are two protected forests nearby - the Smithe Redwoods State Reserve and Standish-Hickey Recreation Area are home to Coastal Redwoods which can grow for 2,000 years to reach their unbelievable heights.
There is a Drive-Thru Tree Park where you can admire these trees without getting out of the car. You even get to drive through the 315 feet tall Chandelier Drive-Thru Tree which has been around for some 2,400 years.
But exploring these magnificent giants on foot is the best way to unwind and get in touch with nature. After a drive of over 3 hours from San Francisco, stretch your legs and get down to the South Fork Eel river with a waterfall to discover and picnic areas dotted around.
Make sure you explore the surrounding towns - Piercy further up Highway 101 has the quirky Confusion Hill with a mountain train ride and a gravity house that can make you pretty confused with a set of optical illusions.
12. Lassen Volcanic National Park, California
Distance from San Francisco: 236 miles (3 hours 45 minutes)
When to go: June to September while the weather is warm and access to Lassen Peak is open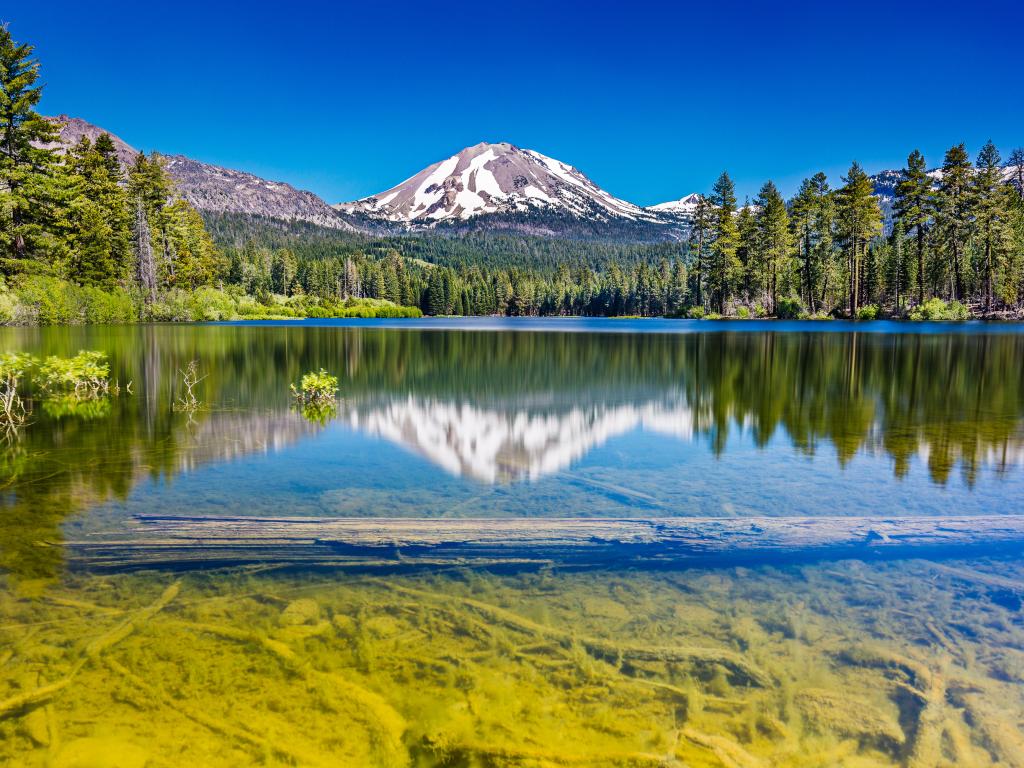 The Lassen Volcanic National Park is one of the less known and less visited National Parks in California which is exactly why you should go.
Sure - there are other parks you should also visit - we've got the much more famous Death Valley, Yosemite and Kings Canyon National Parks further down the list, but Lassen is one of the prettiest there is with no visitor crowds even during peak season.
Lassen Volcanic National Park is known for having all 4 different types of Volcano within it with Lassen Peak stretching some 10,457 feet above sea level.
There are over 150 miles of hiking trails in the park and you can climb all the way to the top of Lassen Peak, but make sure you have the right clothing and gear. It can get bitterly cold up at the top and you will find a few feet of snow even at the height of summer - this is the snowiest place in California!
13. Carmel-by-the-Sea, California
Distance from San Francisco: 122 miles (2 hours 30 minutes)
When to go: Early fall for the best temperatures and before the rains start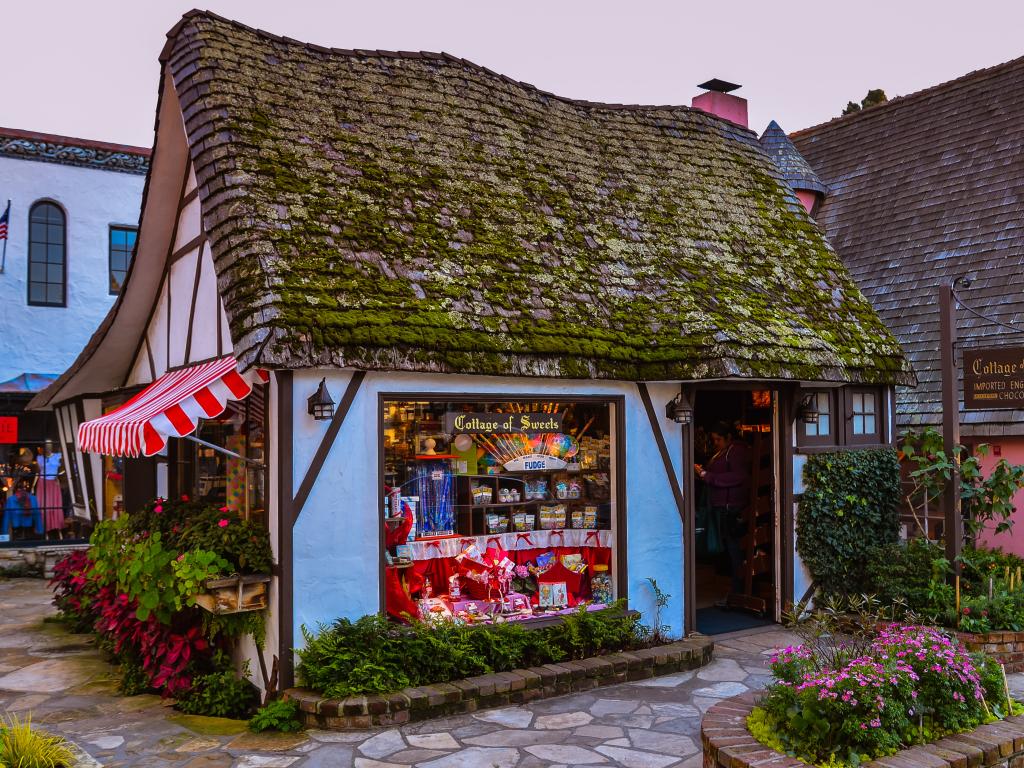 Carmel-by-the-Sea is a small charming village, just south of Monterrey and a short drive south along the coast from San Francisco.
As you arrive, you'll be forgiven for thinking you have somehow made it all the way to Europe. The buildings and layout of the town has strong central European vibes with cute Swiss-looking huts and unique shops and restaurants.
If you are a foodie, Carmel will be the perfect place to spend a weekend. Restaurants such as Grasing's on Mission Street will surprise you with the quality of meat and fish and there are a few wine tasting rooms where you can sample Carmel Valley's finest produce. The local climate and fog make local wines highly sought after around the US and further afield.
Don't miss visiting Carmel Beach - the white sand is pristine and it's easy to spend an hour or two watching the waves roll in. Take care if you are going swimming or surfing - the water is cool and there are rip tides and sleeper waves that can be dangerous.
14. Gualala, California
Distance from San Francisco: 115 miles (3 hours)
When to go: June to October to catch the sun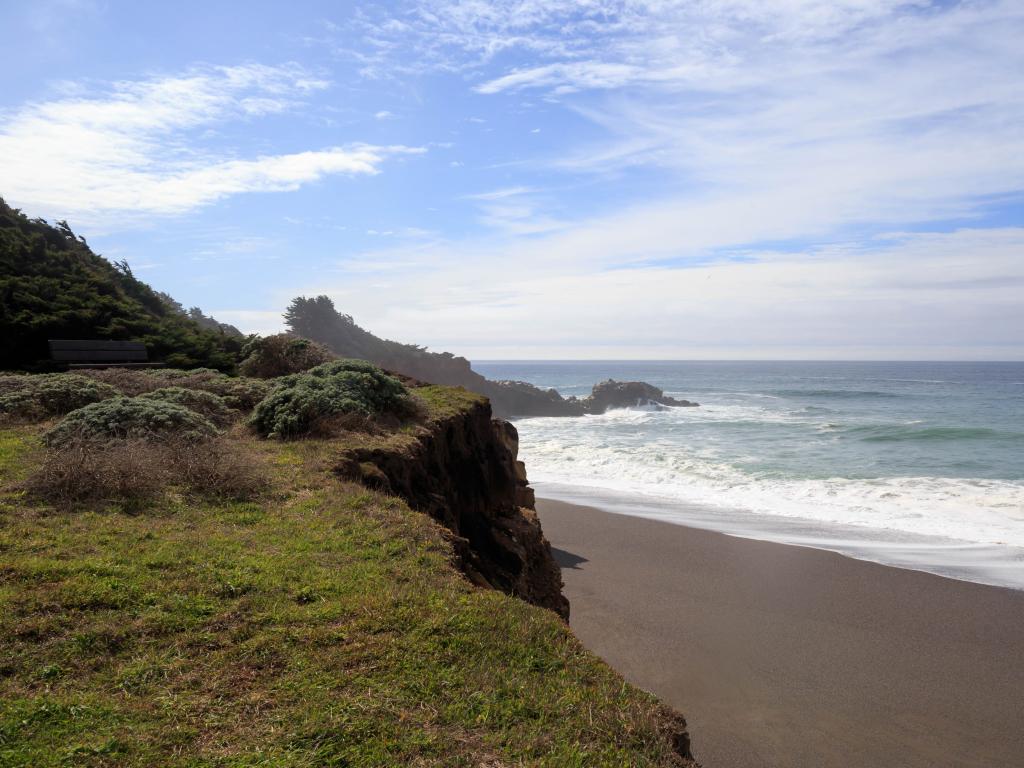 Gualala is a small seaside town up the coast from San Francisco, just inside Mendocino County as you drive up Highway 1. The area is unusual in that coastal fogs that affect much of northern California don't happen here due to prevailing ocean winds.
This means that the weather is perfect for the outdoors with clear skies and sun throughout the year.
Things to do in Gualala include hiking, fishing and golf, but make sure you visit the Salt Point State Park Pygmy Forest. There are a number of different tree species including cypresses and redwoods that are only a few feet tall.
The soils at this elevated spot are very inhospitable for plants with high acidity and hardly any nutrients which starve the trees and prevent them from growing taller. After seeing some of the world's tallest trees as you drive up the coast from San Francisco, it is a surreal but interesting sight to see the same trees in miniature.
The Gualala River runs into the Pacific and you can go on a long hike or see the sand dunes in the Gualala Point Regional Park. If you're lucky and are visiting at the right time of year, you might even see migrating whales passing by.
You can drop into the highly regarded Gualala Arts Center to see a mixed art exhibition which is one of the best known in northern California. There is plenty in and around the small town to keep you occupied for a weekend away and even the long drive there is well worth it for the views.
15. San Luis Obispo, California
Distance from San Francisco: 231 miles (3 hours 45 minutes)
When to go: July to October for the warmest water at the beach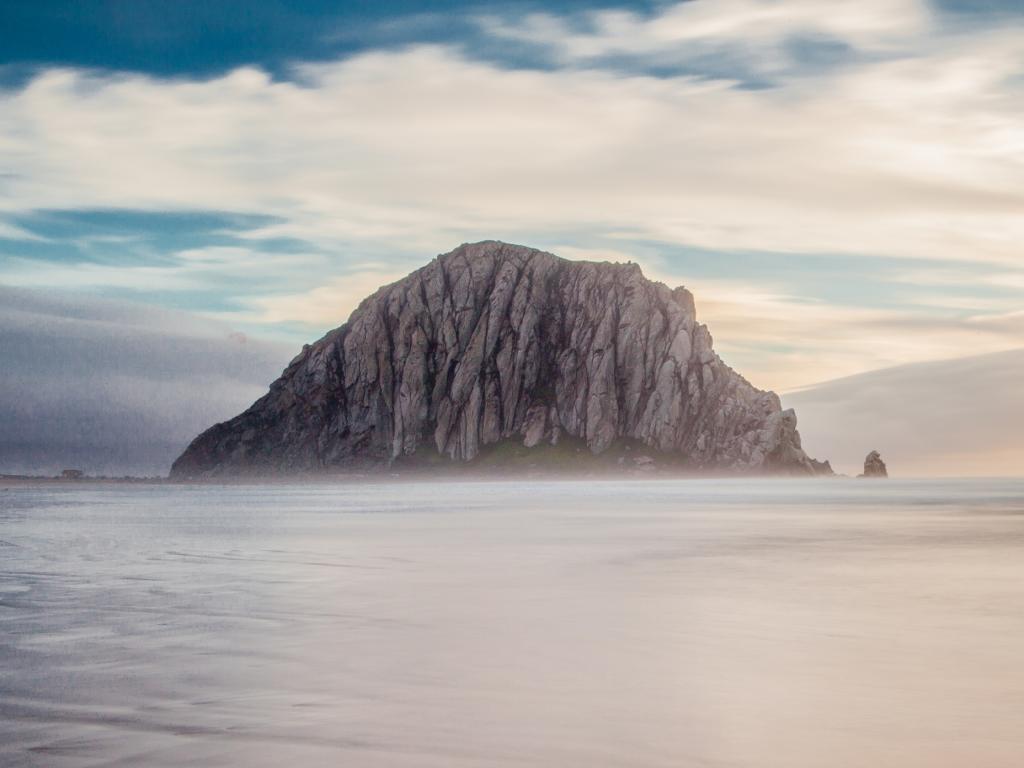 Just a couple of miles from the coast and sitting in a pretty valley in the foothills of Santa Lucia Mountains is the city of San Luis Obispo.
Worth of visiting in its own right, San Luis Obispo and the nearby Morro Bay are popular halfway stops for those travelling between San Francisco and Los Angeles.
It will take 4 hours to get there, traffic permitting, so it may be a little stretch as a weekend road trip destination, but you can easily combine it into a longer trip with other stops along the coast and a visit to Los Angeles and the rest of Southern California.
San Luis Obispo is known for two things - it's virtually never-ending sunshine and the Mission San Luis Obispo de Tolosa.
The Mission is one of the oldest in California dating back to 1772 and is an amazing visit stepping a few centuries back in time. You can see inside the Mission with some rooms decorated as they were at the time when it was first founded and explore the beautiful gardens.
With the weather being amazing year round, make sure you don't miss the areas surrounding San Luis Obispo. The Edna Valley and Arroyo Grande Valley wine regions might not be some of the best known, but certainly worthy of trying the different grape varieties that are grown here.
The 20-mile long Pismo beach is only 15 minutes away by car and is a perfect place to relax to the sound of crashing waves and have a swim. Alternatively, go to the tide pools of Shell Beach where you will find everything from crabs to starfish and sea lions. Bring something to wear on your feet and hire a kayak to paddle around.
16. Nevada City, California
Distance from San Francisco: 147 miles (2 hours 45 minutes)
When to go: June to September for best weather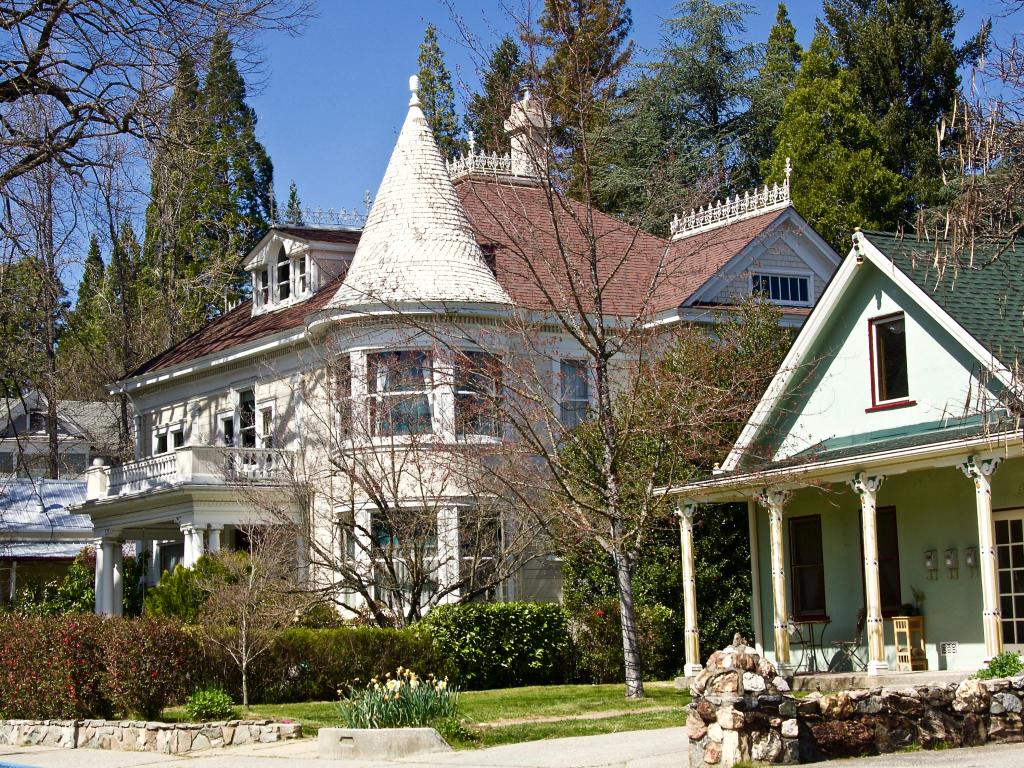 If you fancy getting out of San Francisco for a weekend full of forests, mountains and fresh air, Nevada City might be the best option that you can reasonably get to on a Friday night and come back from on Sunday evening while leaving yourself with plenty of time to relax.
The town itself is a quirky ex-mining hub that was at one point California's most prominent centre for mining gold and anything else of value found in the rocks. Originally known as Nevada, the "City" ending was added in 1864 to avoid being confused with the nearby Nevada state.
As you walk along Broad Street and the rest of the Downtown Historic District, you will see a number of classic western buildings that today house shops, proper local dives bars, a theatre and a hotel. In the background, you'll notice rolling hills covered in a lush pine forest.
Nevada City is great as a place from which to explore the Sierra Nevada and the amazing nature reserves in this part of California. Tahoe, Plumas and Eldorado National Forests are all within an hour's drive as is the town of Downieville (see further below) and the state capital - Sacramento.
The Yuba river a few miles to the north offers plenty of hiking trails and fresh crystal clear waters that are perfect for a swim if you can bear the cold temperatures of melting ice and spring water feeding the river from higher up.
17. Discover Mendocino
Distance from San Francisco: 155 miles (3 hours 15 minutes)
When to go: Fall to avoid the tourist season, see beautiful autumn leaves and visit the Winesong festival and other events.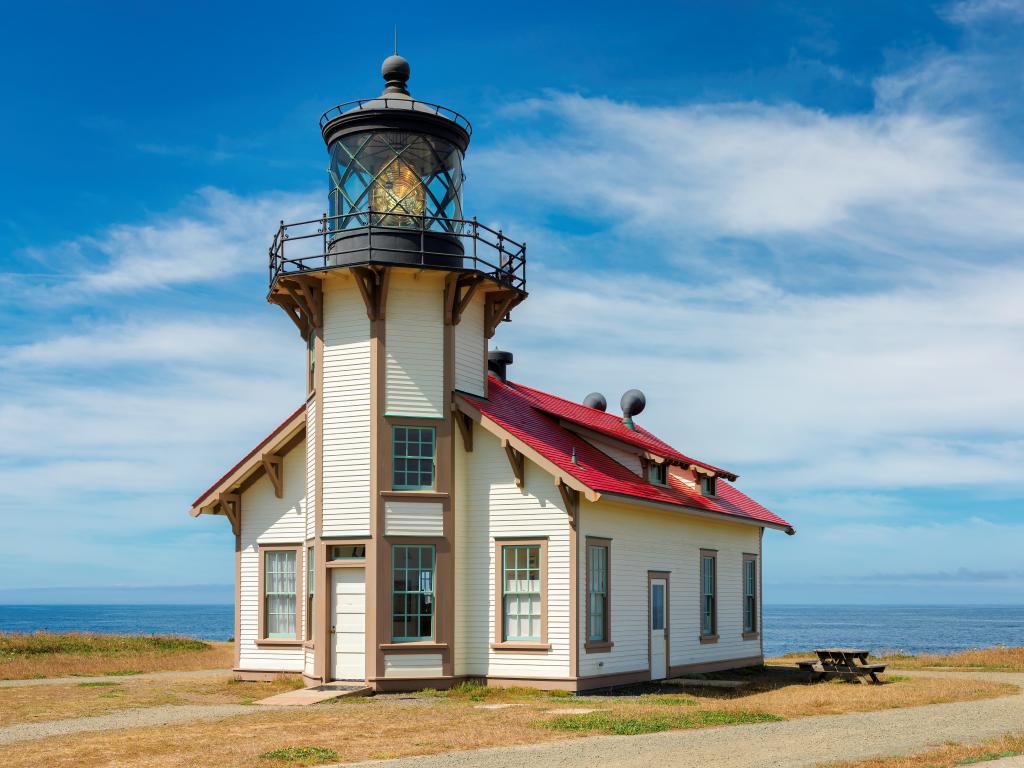 Mendocino is a small village in the Mendocino County which will take you 3 to 4 hours to get to (or 5 if you take the much more scenic Highway 1 option along the coast).
Despite its modest size, there is plenty to do here. First, head to the Point Cabrillo Light Station State Historic Park. Set right on the coast, you can visit the beautiful 1909 lighthouse and explore the rocky beach complete with a hike that takes you to Frolic Cove with a shipwreck from 1850.
For more hikes and places you can see nature, head to the Russian Gulch or the Mendocino Headlands State Parks, both about 2 miles from Mendocino.
A little further north is Fort Bragg which is home to the Glass Beach. After decades of dumping waste in the ocean during the 20th century, a lot of the glass that was thrown away got broken up and polished by the waves crashing it against rocks. Today the beach is full of rounded pebbles made from the glass which is a fascinating sight.
The waste dumping stopped in 1967 and a combination of visitors, seabirds and the sea itself have been slowly taking glass off the beach ever since with less and less glass mixing with the stones year on year.
Ten miles south of Mendocino, Highway 128 heads inland from Highway 1. There are dozens of amazing vineyards, many of which you can visit and do wine tasting. Some say the wine here is the best California has to offer, but at much more reasonable prices than the Napa and Sonoma Valleys much closer to San Francisco.
18. The Big Sur
Distance from San Francisco: 146 miles (3 hours)
When to go: September to November when the weather is great, but the summer fogs depart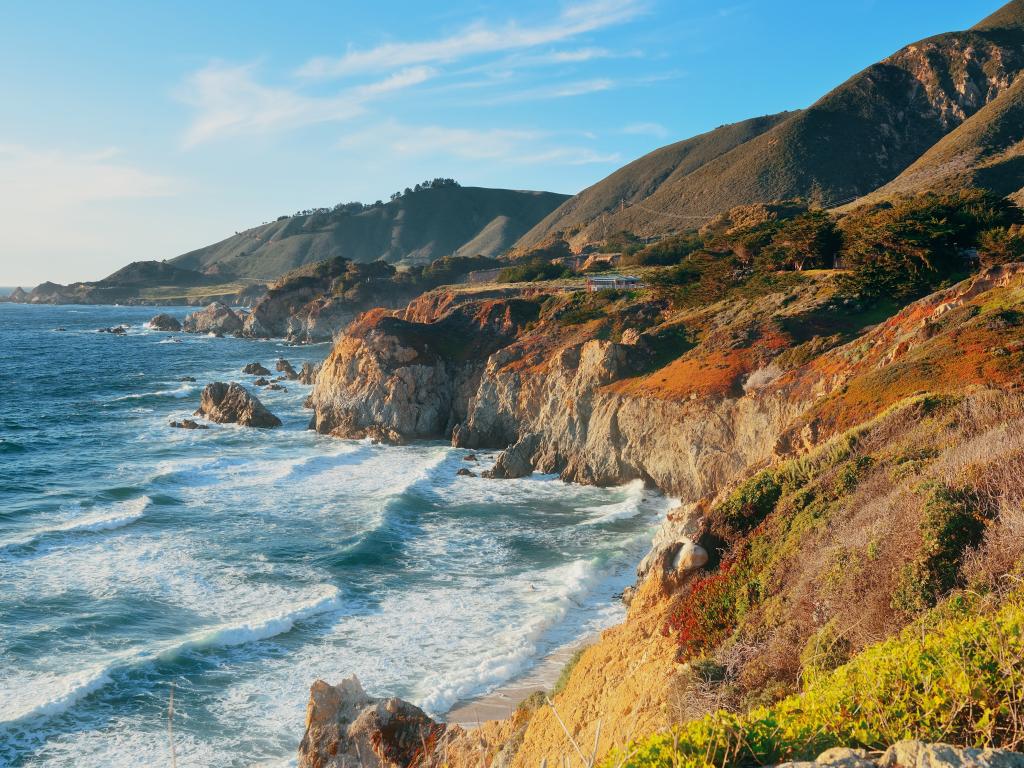 The Big Sur is one of the most iconic stretches of the coast in the world. The dramatic cliffs, waves beating the rocks and rugged nature have meant that movies, tv and the advertising industry come here a lot for the views.
Getting to the Big Sur from San Francisco is easy. Follow Highway 1 along the coast or join it at Santa Cruz if you take Interstate 280 to San Jose instead. The famous coastline starts once you round Monterey Bay and pass through Carmel-on-Sea (which by the way you should stop at - see above).
The unique landscape offers plenty of ways to relax and unwind. Take a stroll to the Point Sur Lighthouse in the Point Sur State Historic Park and see the purple sand of Pfeiffer Beach or hike through one of the many State Parks along the way.
You will see cars parked up at the side of the road every now and then - usually this means there's a scenic cove, hot springs or a waterfall that you can see. Some of them don't allow you to get too close, but it's often worth taking a look!
Further down the coastline and just before you reach Cayucos, which is further up this list, is Hearts Castle. This lush European-style mansion offers tours and a unique insight into the lives of the rich and famous from Hollywood's Golden Age.
Week long road trips from San Francisco and longer drives
19. Virginia City, Nevada
Distance from San Francisco: 245 miles (4 hours)
When to go: May to October when the mines and attractions are open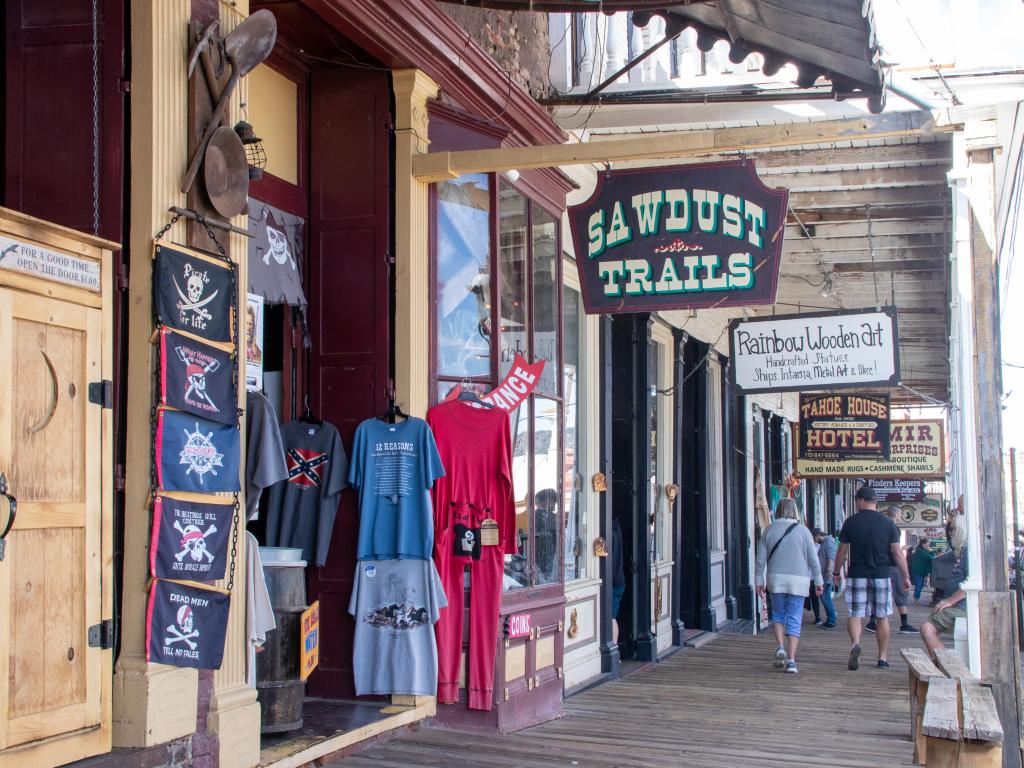 The town of Virginia City is across the Nevada border from Lake Tahoe located between Carson City and Reno. Another town that grew rapidly during the gold rush, Virginia City's downtown is a historical marvel with a wooden boardwalk and real classic buildings.
The discovery of the Comstock Lode under Mount Davidson was the pivotal point in the formation of the city. One of the largest silver deposits found at the time sparked a rush to the town and the development of large mine shafts.
You can go on a tour of a mine - the Cholar Mine and Ponderosa Mine are both open to visitors and you will be able to walk through the tunnels, see mining gear and bits of silver ore in the rock. The Comstock Gold Mill and the Marshall Mint are both open to visitors as well.
The V&T Railroad ride lets you take a trip on a 19th century train. At one point Virginia City had a sophisticated rail network with 45 trains a day transporting workers and taking ore to and from the city. The train rides take 35 minutes to go and return from Gold Hill and are well worth the $12 fee.
Getting around the small town is easy - the local's didn't spend too much time on thinking up street names so C street is where you need to be headed. It's in-between B street and D street... Stop by the Red Dog Saloon to check out the bar where Janis Joslin was part of the House Band!
20. Kings Canyon National Park
Distance from San Francisco: 240 miles (4 hours)
When to go: Best weather from June to August, but parks are open and great to visit all year round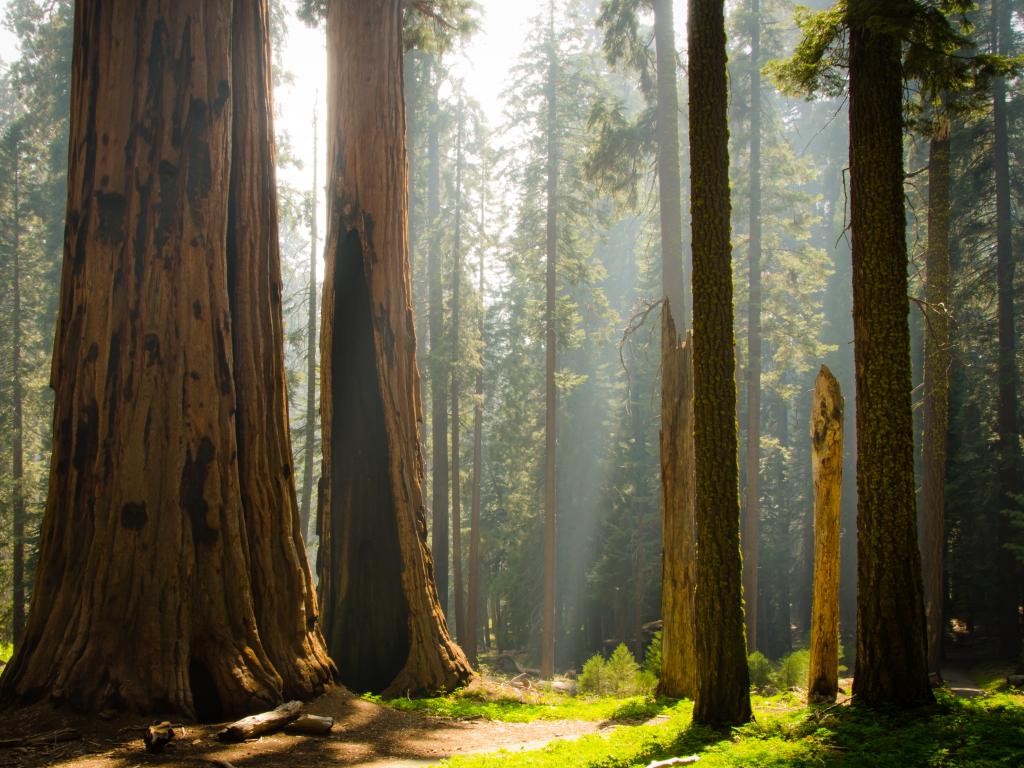 Kings Canyon National Park and its close neighbor Sequoia National Parks are in the southern part of the Californian Sierra Nevada mountain range, a 4 hour drive from San Francisco.
These parks offer some of the most relaxing and beautiful places for hiking and unwinding with forests full of tall redwoods, picturesque mountains, valleys, lakes and rivers. Highway 180 that runs between the two offers spectacular views, but doesn't run all the way through so you will have to come back on yourself.
The sequoias that grow here are some of the tallest in the world and the majority grow between the two forks of the Kaweah River. The world's largest tree, the General Sherman Tree can be found here, but be prepared to have to wait for a picture.
Kings Canyon National Park is also a good stop on your way from San Francisco to Las Vegas or Los Angeles, breaking up both journeys nicely.
Alternatively, you could bundle in Yosemite and Death Valley National Parks to make a week-long nature exploration adventure instead.
21. Yosemite National Park
Distance from San Francisco: 167 miles (3 hours 20 minutes)
When to go: Late May or September to avoid the crowds, but when the roads and trails are open and free from snow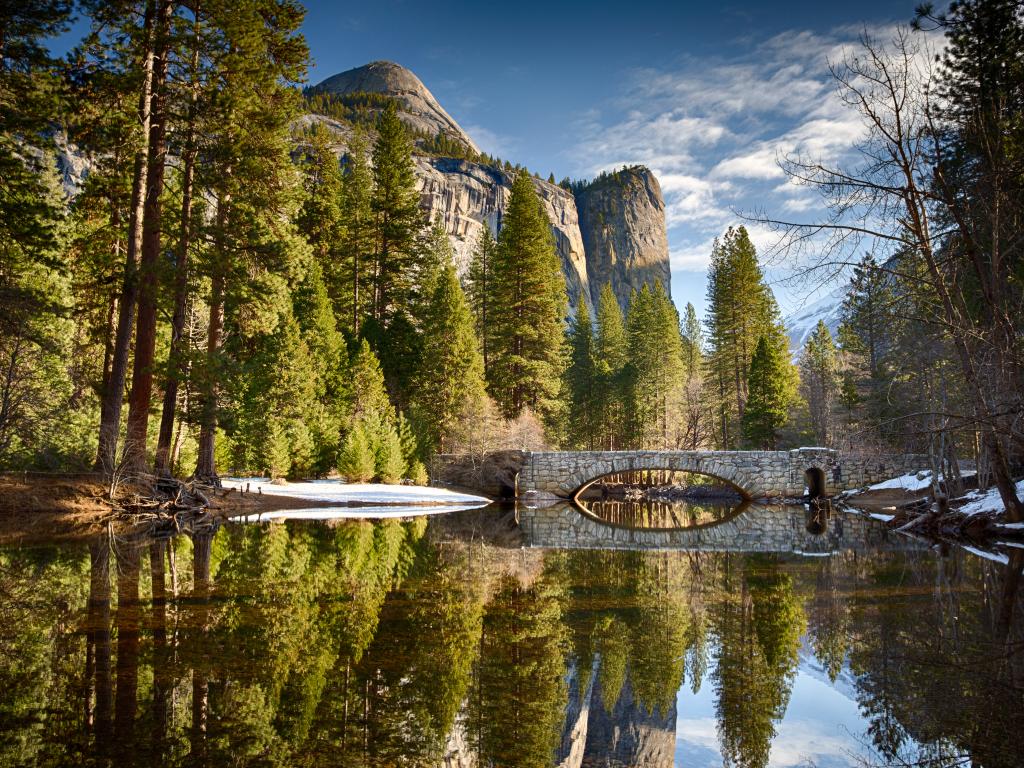 One of the most famous National Parks in the United States, Yosemite National Park is located close to San Francisco. You can be there in 3 hours if you are lucky with the traffic.
Yosemite can get very busy at the height of summer with a people from across the United States and beyond joining those from Northern California on their travels.
The majority of people head to Yosemite Valley with the Merced River flowing through. That's where all the standard photos of Yosemite are taken and where the famous El Capitan and Cathedral Rock mountains are located.
You will find hotels, campsites and plenty of tourist facilities around here. While you should definitely visit to see the sights for yourself and hike a trail or two, Yosemite is much much bigger than this valley and the rest of it is a lot quieter and less touristy which is a big plus in our book.
There are a lot of places you can go and hike from Highway 120 with trails running off to both sides. Your best way to explore Yosemite is to pack your gear and go on a long hike over the mountains. Some of these can take several days and you can camp in the wilderness, although you'll need to get yourself a Wilderness Permit in advance.
Make sure you get to the other side of the park and visit Mammoth Lakes on the border with Inyo National Forest and the Devils Postpile National Monument on the mountains above.
22. Lake Tahoe, California
Distance from San Francisco: 190 miles (3 hours 20 minutes)
When to go: July to September for a summer retreat or January to March for the ski season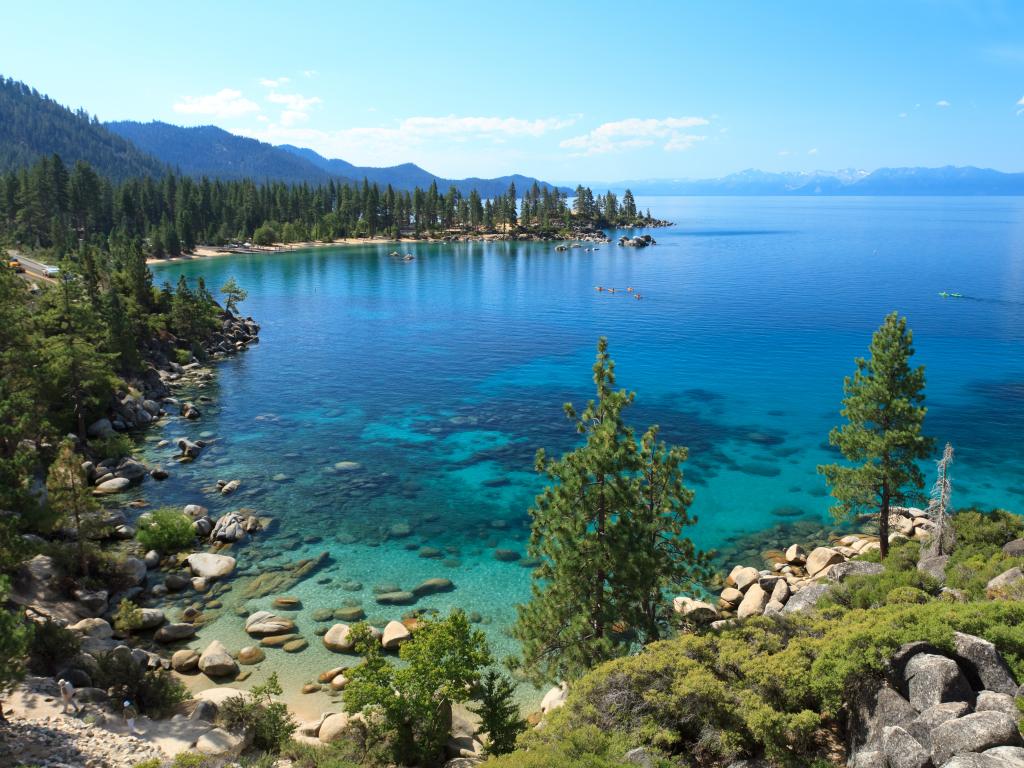 Lake Tahoe straddles the California - Nevada border and is surrounded by the Sierra Nevada mountain range which gives it one of the most unique and instantly recognizable lakes in the world.
The best thing about Lake Tahoe is that it really is great to visit all year round - the clear waters of the lake surrounded by large boulders and pine trees are perfect for a summer getaway while the surrounding mountains have some of the best ski resorts in the United States for the winter season.
The road trip from San Francisco to Lake Tahoe takes you across the Bay Bridge into Oakland before following I-80 to Sacramento, which by the way is a great place for a stop on the way. From there you can follow the I-80 all the way to Truckee which is a couple of miles Lake Tahoe or follow Highway 50 through the Eldorado National Forest depending on where you're headed around the lake.
The locals will often refer to North and South Lake Tahoe as two distinct areas. South Lake Tahoe is where the majority head in the summer - there are plenty of beaches, water sports and the atmosphere is more relaxed and chilled out.
North Lake Tahoe becomes more popular during the winter season with some of the best skiiing on that side, although hotels and general prices are higher.
The lake is also a great place from where to explore other locations - State Parks and designated wilderness areas surround the lake so you can go on hikes and explore nature with the lake sprawling below you.
Alternatively, to get away from the crowds you can take a short drive to Tahoe and Eldorado National Forests with some peaks climbing over 10,000 feet and some truly stunning scenery.
23. Salt Lake City, Utah
Distance from San Francisco: 740 miles (10 hours 30 minutes)
When to go: September to October for the best hiking weather and fewer crowds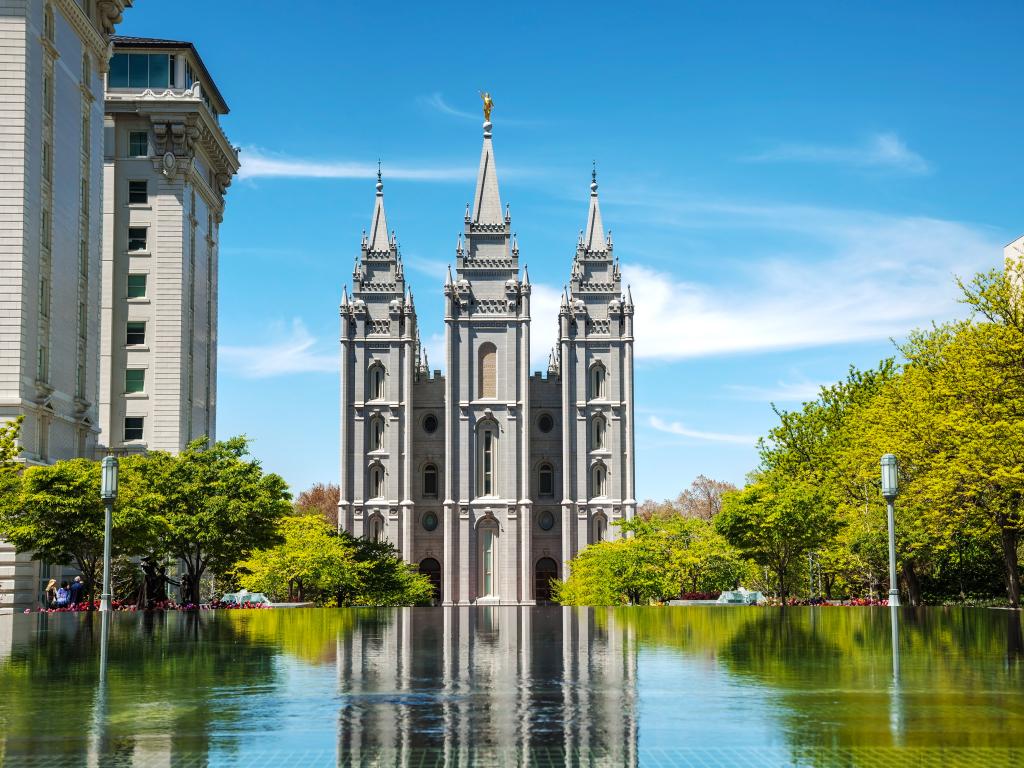 Salt Lake city is the longest road trip from San Francisco on our list, beating Las Vegas (see below) by some 170 miles, but if you've explored all over California or have that little bit more time for an epic drive, a trip to Utah could be on the cards.
Despite the very long distance, getting to Salt Lake City from San Francisco could not be easier. Find the start of I-80 around SoMa - South Beach in San Francisco and stay on it all the way to the Crossroads of the West.
The road will take you to the Nevada border at Lake Tahoe and then cut across the entire width of Nevada before carrying on into Utah. Going through the desert of northern Nevada does not provide a lot of options for stop-overs. The landscape doesn't change much at all for a few hundred miles and the desolate rocky plains are only occasionally broken up by a small town.
Unless you want to spend the night in a small motel somewhere in the middle, we'd recommend spending the night (or three!) somewhere around the northern edge of Lake Tahoe before spending a day doing the rest of the drive over. If you set off early, you'll get there by mid-afternoon and have time for drinks and dinner to unwind.
Salt Lake City is known as the hub for Mormons with the Church of Jesus Christ of Latter-Day Saints owning a lot of the land and some of the most prominent buildings around the city. Less than half of the population is Mormon but you can see the prominence of the church everywhere you look.
Unfortunately you can't go inside the main Temple or some other Mormon institutions as they are reserved for church members. That and the fact the Temple is undergoing restoration until 2024! However, you can still see the sights around Temple Square including the Tabernacle where you can catch a choir performance at set times during the day.
Depending on your time, you can loop back via Idaho and Oregon through Boise or head south to Las Vegas rather than backing up on yourself through Nevada. The northern route is very scenic with Idaho and Oregon full of lush forests, wild animals and great driving roads. Plus you can pack in a few stops in Northern California on your way down.
24. Downieville, California
Distance from San Francisco: 190 miles (3 hours 30 minutes)
When to go: Late June to early September for the best weather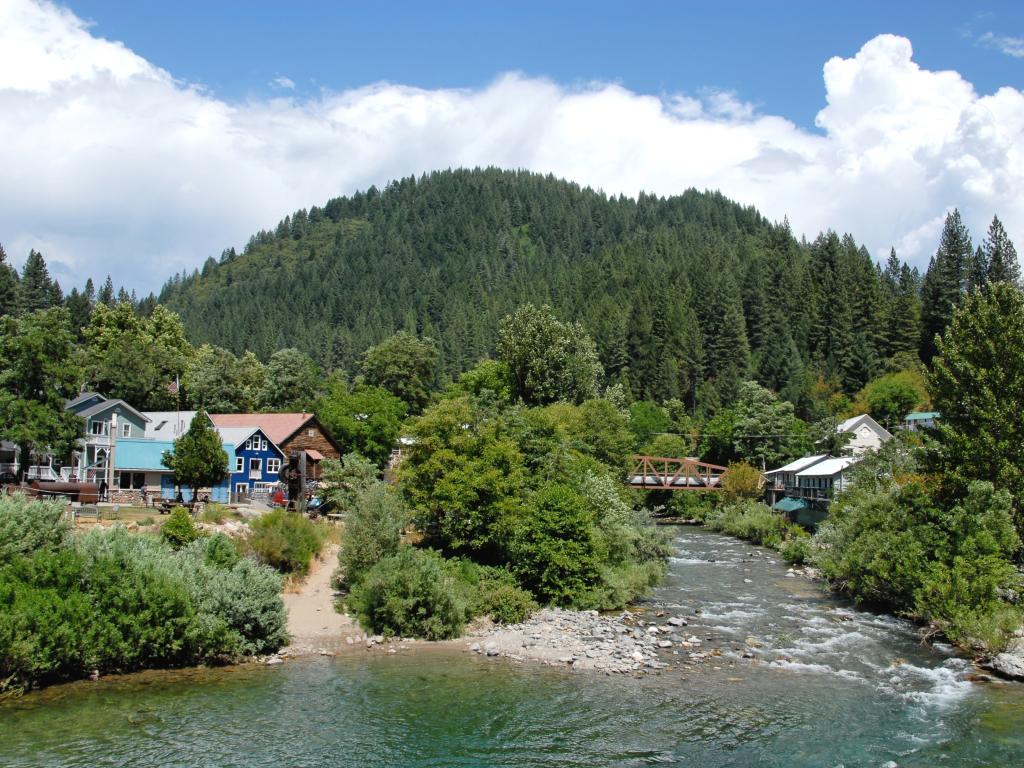 Downieville and its cousin up the road Sierra City sat on the North Yuba River are all about the outdoors. It will take you about an hour to drive up the river from Nevada City along Highway 49. All in, the route from San Francisco is under 200 miles and you could fit it into a long weekend at a stretch.
For nature lovers, there is bird watching, hikes up mountains and through forests and valleys of the Tahoe National Forest. Then there's mountain biking, horse riding and even back country off-roading for the more adventurous.
Add to that the amazing fishing for trout in the Yuba river, the opportunity to swim in the clear fresh (but cold) water and the great white water rafting you can do along the river's rapids and falls.
If you're into picnics, scaling mountain peaks and getting away from it all in nature far away from San Francisco's busy streets, Downieville is the right place to come to.
There are some great local eateries and restaurants and even a great wine shop called 49 Wines where you can spend hours talking to the owner and even trying a wine or two.
25. Patrick's Point State Park, California
Distance from San Francisco: 300 miles (5 hours 20 minutes)
When to go: May to September although the weather is very consistent through the year
Patrick's Point State Park is right in the north of California on a rocky outcrop off the Californian coast.
The park itself is small and has a number of campsites and places you can park your RV. Beware though that a lot of the sites are not flat and the facilities are not the best you will find. Opting for a motel in Trinidad or other accommodation nearby may be money well spent.
Lodging, however, is not what you visit Patrick's Point for. The views and hilly forests that run along the coast is what brings people here throughout the year despite the distance from San Francisco and Portland.
You can see down to Agate Beach from the park and it is a perfect place to spend the day watching the waves crash into the sand.
Beyond the beach are three large lagoons, separated from the Pacific by narrow spits. The Redwood Highway (Highway 101) meanders through these on its way up the coast. If you go inland from the lagoons, you will find the Redwood State Park or you can keep following the road north to Prairie Creek Redwoods State Park (which is part of the same Redwood National Park system).
With some 300 miles of trails among the giant redwood trees, there is plenty of places to explore if you're coming for a week or longer. There are campsites throughout where you can stop overnight as well.
Make sure you bring the right clothes and gear. The weather here is very moderate with temperatures in the 40 to 60 degree range throughout the year. Rain can and does happen frequently and can hit on any day and the forests can get very misty in the summer.
26. Death Valley National Park
Distance from San Francisco: 460 miles (9 hours)
When to go: March to April to see wild flowers blooming in the desert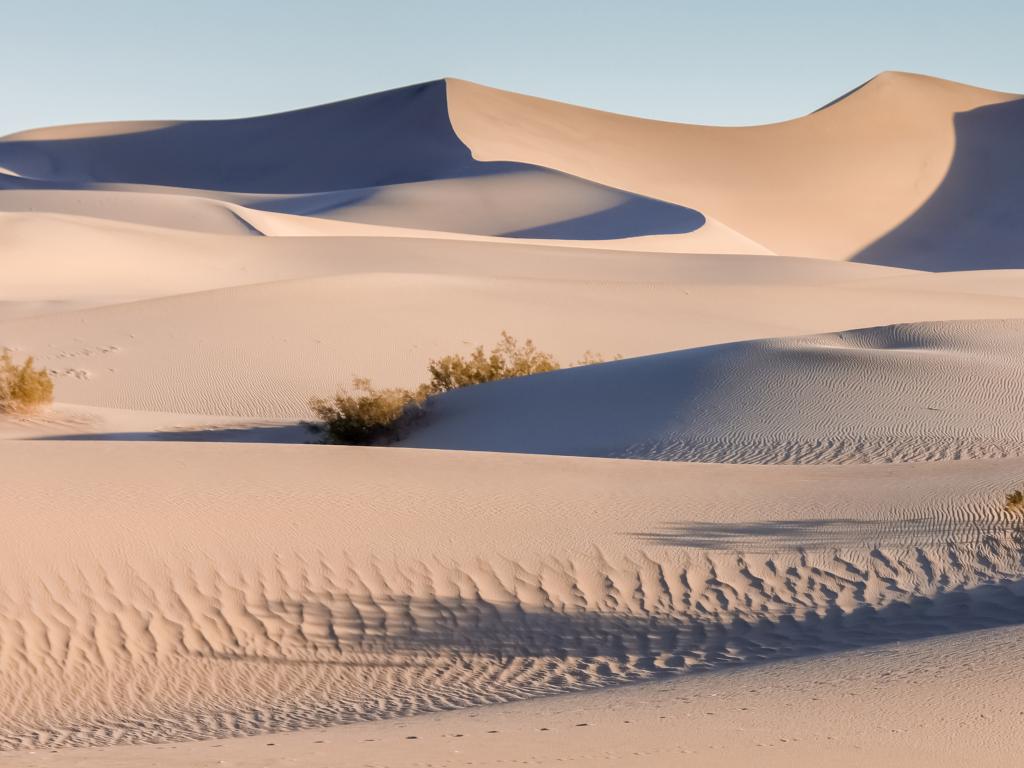 Death Valley is on the other side of the Sierra Nevada from San Francisco and it will take you a long drive to get there. With around 9 hours on the road, you could do it in a day, but we'd highly recommend breaking up the journey into two legs to make it more palatable. With some amazing places to stop en route, you'd be crazy not to!
The road trip from San Francisco to the hottest place on Earth (recorded 134° F (56.7° C) at Furnace Creek Ranch in 1913) heads east towards Yellowstone and along the scenic Highway 120 before taking Highway 395 south from Inyo Forest.
Ignore navigators that tell you to take the I-5 to Bakersfield unless you love a good long stretch of interstate with literally nothing to see along the way.
Death Valley is the largest U.S. National Park outside Alaska and has a mixed geography with rugged mountains, cracked lake beds from lakes that dried out in the past and huge sand dunes. The infamous Apple Mac background was shot in the middle of these very dunes.
While the park is accessible all year round, it's a good idea to avoid the summer months when the temperatures are scorching even in the middle of the night. In the winter, you can camp in the Death Valley and stargaze at night with no lights for many miles in every direction. There are endless hiking trails and offroad driving routes throughout.
If you want a bit more luxury, there's a few hotel resorts within the park boundaries or you can stay at a motel by one of the entrances instead.
27. Los Angeles
Distance from San Francisco: 385 miles (6 hours)
When to go: April to November although it really is great to visit all year round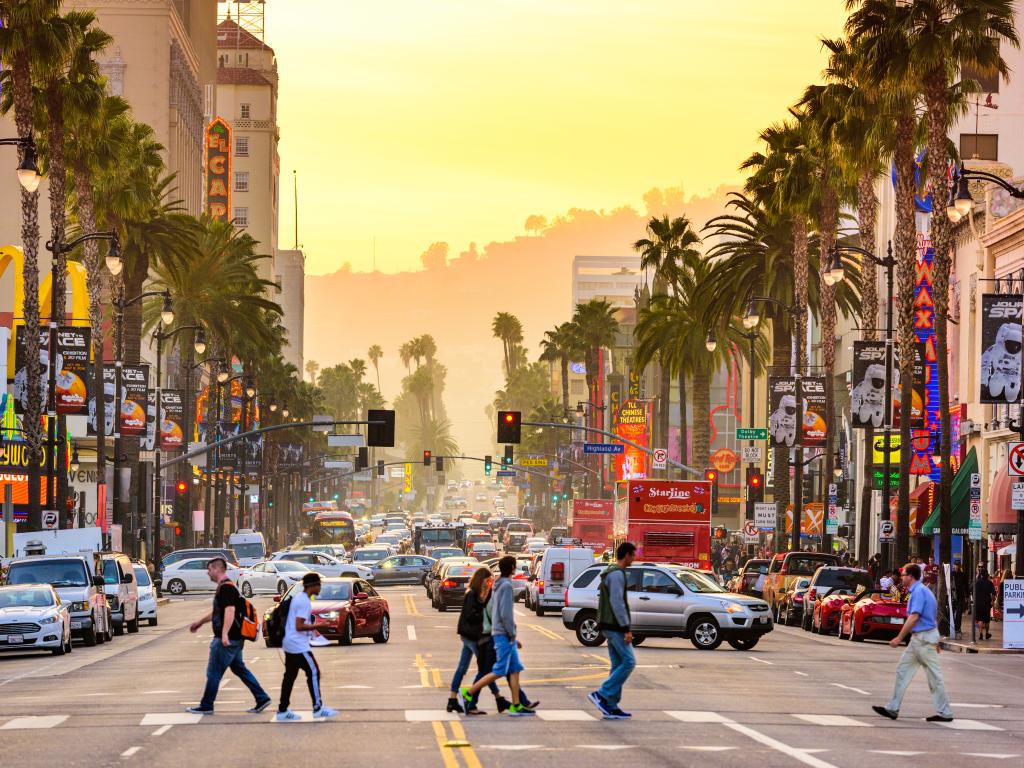 For those wanting to visit the only city that is bigger and better known than San Francisco in California, Los Angeles is only a few hundred miles down the coast.
You can get to Los Angeles in as little as 6 hours if you head straight down the I-5. If you want to make it into a proper road trip, however, take Highway 1 that runs along the coast.
The total driving time will increase by 3 hours or so, but the unbelievably scenic route will offer a lot of places to stay, amazing sights and things to do and some of the best driving roads anywhere.
On the way down to the City of Angels from San Francisco, you'll pass through Carmel-by-the-Sea, drive along the Big Sur and into San Luis Obispo. Further along the road and as you approach Los Angeles, come Santa Barbara, Malibu and Santa Monica.
Compared to a more old school city design of San Francisco, Los Angeles spreads over a huge area spanning multiple different cities and neighborhoods.
From the Hollywood hills to Long Beach to Beverly Hills and Pasadena, there is a huge amount to do and see. You can visit movie studios, visit theme and amusement parks and hit some of the most famous beaches in the country. Take the compulsory photo with the star of your favourite actor along the Walk of Fame and do some people watching along Rodeo Drive - trust us - it's seriously entertaining!
28. Crater Lake National Park, Oregon
Distance from San Francisco: 400 miles (6 hours 30 minutes)
When to go: Go from May to August when the routes through the park are open and free from snow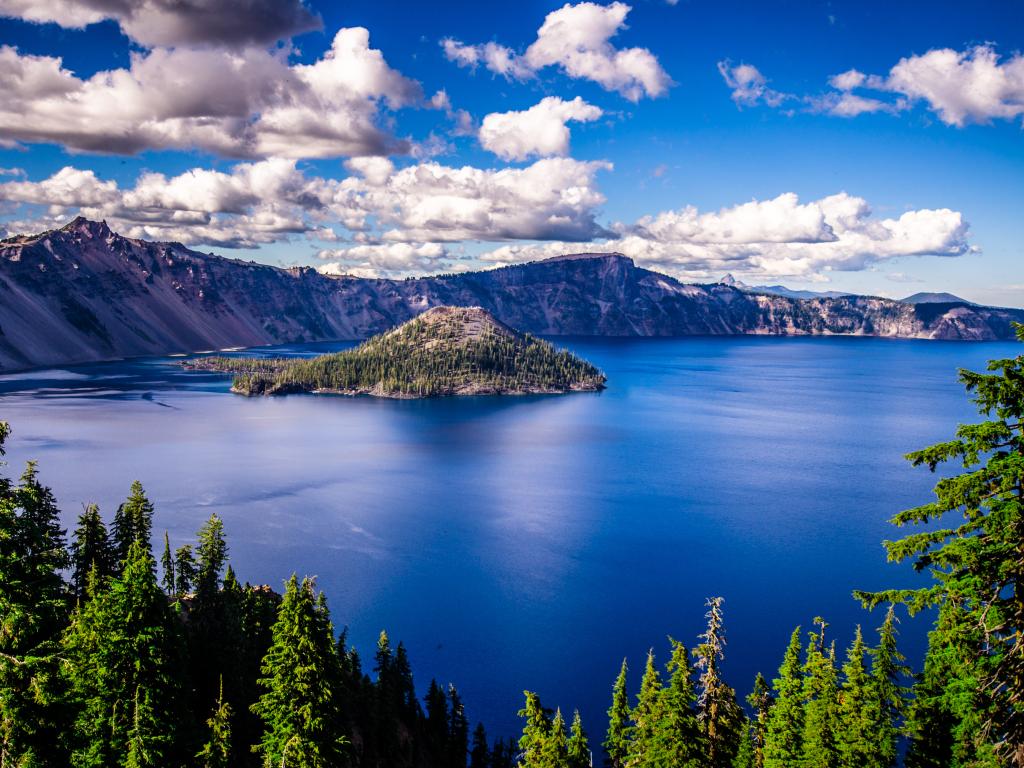 Getting to Crater Lake National Park from San Francisco is relatively easy. Make your way to the I-5, joining after it passes Sacramento and head north until Highway 97 splits off at Weed. From there, you'll cross into Oregon and arrive at Crater Lake in about 2 hours.
The Crater Lake National Park surrounds a beautiful deep blue lake that sits in a volcano that erupted in 5,700 B.C. At 1,900 feet deep, this is the deepest lake in the United States which gives it the gorgeous color.
Roads through the park and around the lake are only open from mid-May through September due to heavy snow and bad conditions - check ahead of your trip to make sure you'll be able to get in.
In general, the Crater Lake National Park is incredibly remote even by National Park standards. There are only a few accommodation options available so book these as far in advance as possible. The same goes for food - you won't find many options around so bring everything you need with you.
Lastly, be very careful with gas - the one gas station in the park only operates during the summer so if you see a gas station on your way, it's a good idea to fill up.
The main activity in the park is hiking. There is a mix of trails from simple walks to long hikes up mountains thousands of feet high. The dense forests and high altitude make it a very worthwhile experience and a great way to breathe some amazingly fresh air, miles away from any city.
29. Redding, California
Distance from San Francisco: 217 miles (3 hours 30 minutes)
When to go: April to June before the weather gets hot later in the summer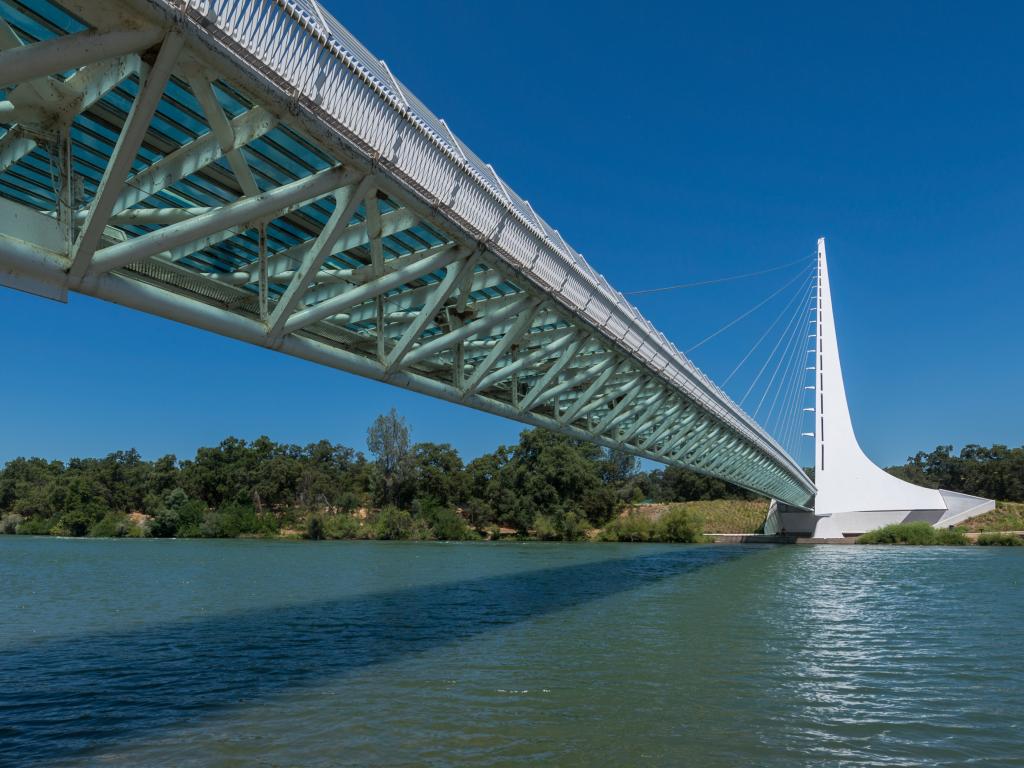 Redding is a city in the foothills of the Shasta-Trinity National Forest a few hours' drive to the north of San Francisco.
Sitting on the Sacramento River and close to the Lassen Volcanic National Park, Redding is a perfect spot from which to explore northern California as well as having a lot of things to do in the city itself.
A few miles north of Redding is Shasta Lake - the huge man-made lake sits in 4 valleys above the Shasta Dam with the Sacramento River, the McCloud River, Squaw Creek and dozens of smaller streams all flowing in from different directions.
Here you can visit the Shasta Lake Caverns to see unique cave formations and explore small roads darting through the National Forest with waterfalls and scenic mountains along the way.
Add day trips to Whiskeytown Recreational Area and Lassen Volcanic National Park to your list for a week in Redding too!
In the city itself, you should visit the Turtle Bay Exploration Park which is a mix of museum, interactive displays and outdoor sights that will immerse you for a few hours. Be sure to check off the famous Sundial Bridge and a boat trip along the Sacramento River.
Just to the west of downtown Redding is the ghost town of Shasta. Once a busy mining community, a lot of the buildings are dilapidated after decades of abandonment. You can take a walk through the streets to see what it once was during the California gold rush and visit a few sights including the old courthouse and jail.
Distance from San Francisco: 570 miles (9 hours)
When to go: All year round, although June to August can get very hot, especially in the Mojave and Death Valley deserts.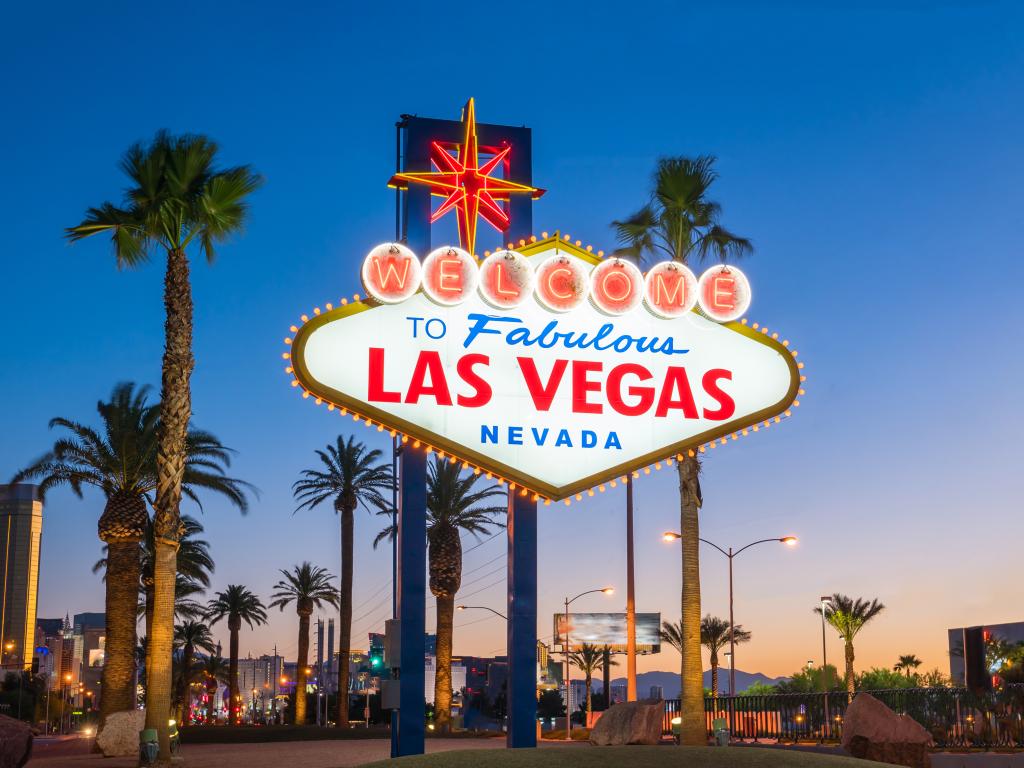 Driving all the way from San Francisco to Las Vegas may not sound like a good idea - many people would take a flight instead and save themselves time and money by doing so.
There are few things, however, that are as good as a long distance road trip. A flight doesn't let you visit some of the best National Parks in the United States en route, see the deserts of Mojave and Death Valley or spend a couple of days in Los Angeles.
There are two ways to drive from San Francisco to Las Vegas, so if you're making the trip, it's a good idea to go and come back along different routes to make the journey more interesting.
Half of the places on this list are directly on the way between the two. The Highway 120 route will take you east to Yosemite National Park, passing close to Columbia and Sonora, before passing through the Inyo National Forest and heading southeast to Las Vegas through Nevada.
The slightly quicker, but less scenic route goes south along the I-5 to Bakersfield before cutting across to I-15 that takes you all the way into Vegas.
Las Vegas needs little introduction or reason to go - the entertainment capital of the world has everything from insane hotels to endless gambling, clubs, bars and restaurants and dozens of shows happening every single night.
Time permitting, make sure you bundle in a few stops along the way and if you're feeling really adventurous, keep going into Arizona to see the Grand Canyon and beyond!
READ MORE - San Francisco to Las Vegas Road Trip