25 Best Road Trips From Los Angeles
If you live in Los Angeles or just visiting the City of Angels, it is the perfect place from which to go on road trips and explore the best of what California has to offer.
Featuring amazing state and national parks, routes ranging from arid deserts to lush forests and the odd city break, this list has everything with itineraries all over California and beyond.
Starting with the closest to LA, this list of road trips from Los Angeles is ordered by how long it will take you to get there.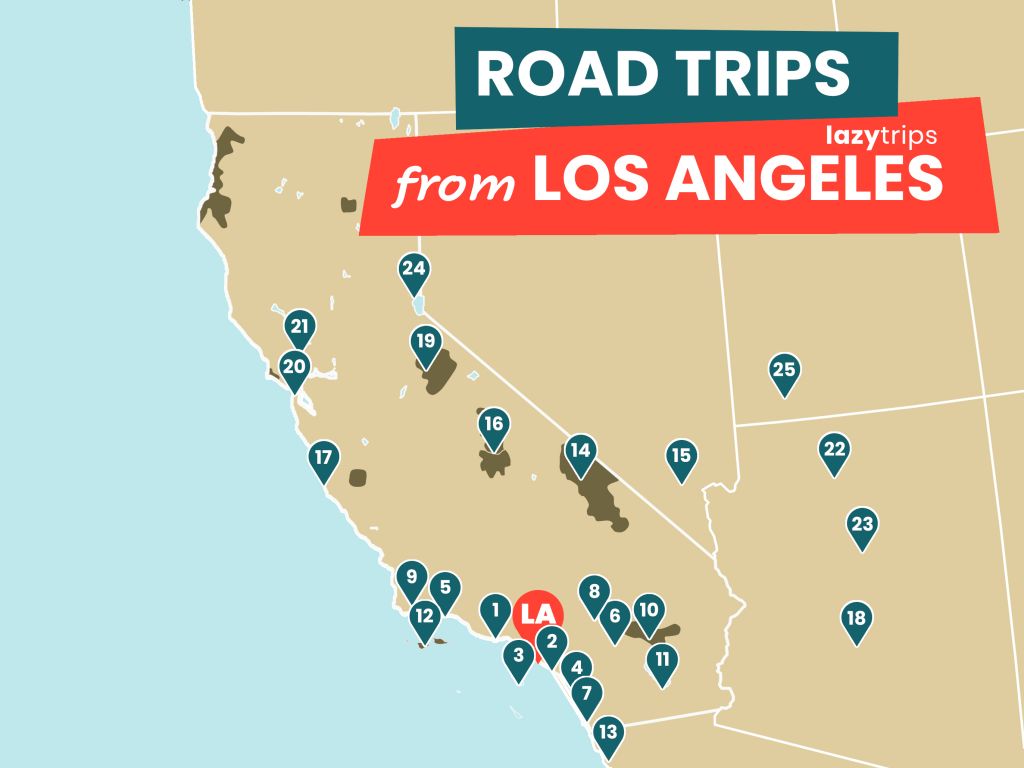 1. Malibu
1 hour from Los Angeles (34 miles)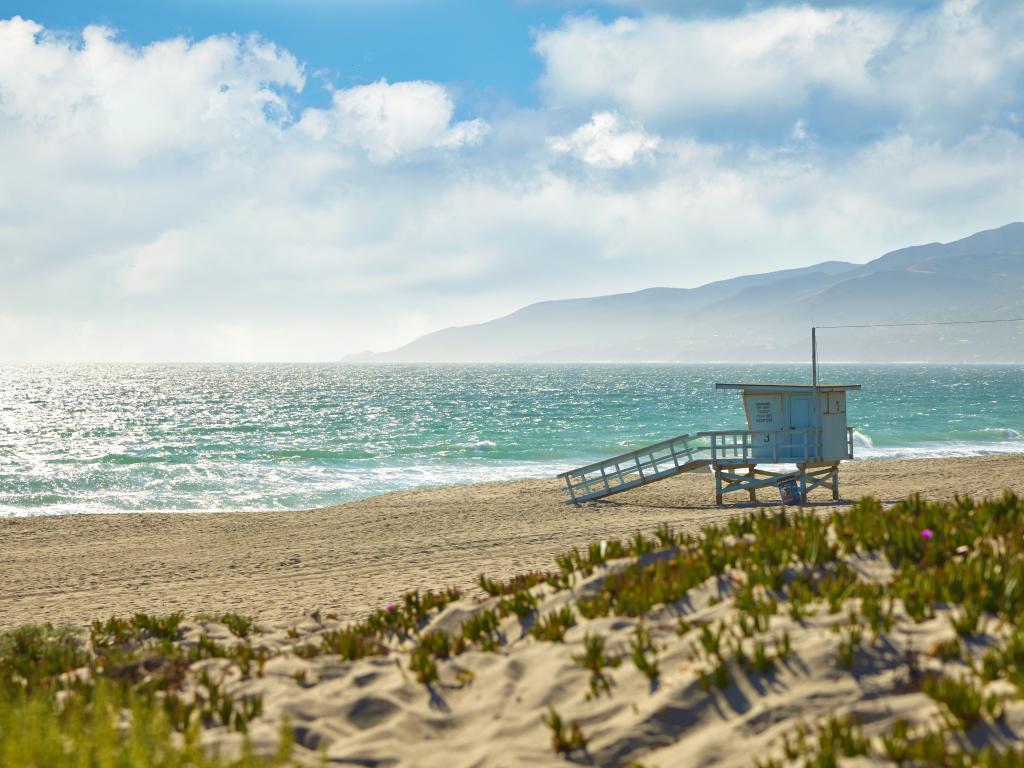 At only just over 30 miles from Los Angeles, Malibu is the closest of the road trips on our list, but driving across from downtown can take much longer than you think - at busy times it can easily take an hour and a half although you can make it in 40 minutes on a quiet Sunday morning.
A world away from the busy streets of LA, Malibu stretches some 30 miles along the Pacific Coast highway once you go past Santa Monica and the Pacific Palisades.
Many will associate Malibu with the rich and famous and expensive ocean-facing villas, but Malibu is about a whole lot more than that.
There are several large parks, canyons and beaches to explore along the length of Malibu. If you love your wine, there are some stunning wineries that you can explore such as the Malibu Solstice Vineyard - the wine is great but the views might be even better!
With miles of beach to explore, the Malibu Pier is a popular destination along the Malibu coastline, but make sure you drive a bit further to the El Matador State Beach. You'll need suitable footwear to get down the steep path and there are no facilities or lifeguards on this rocky beach, but the scenery is stunning and you can relax in peace and quiet for hours.
2. Laguna Beach and Orange County
1 hour from Los Angeles (50 miles)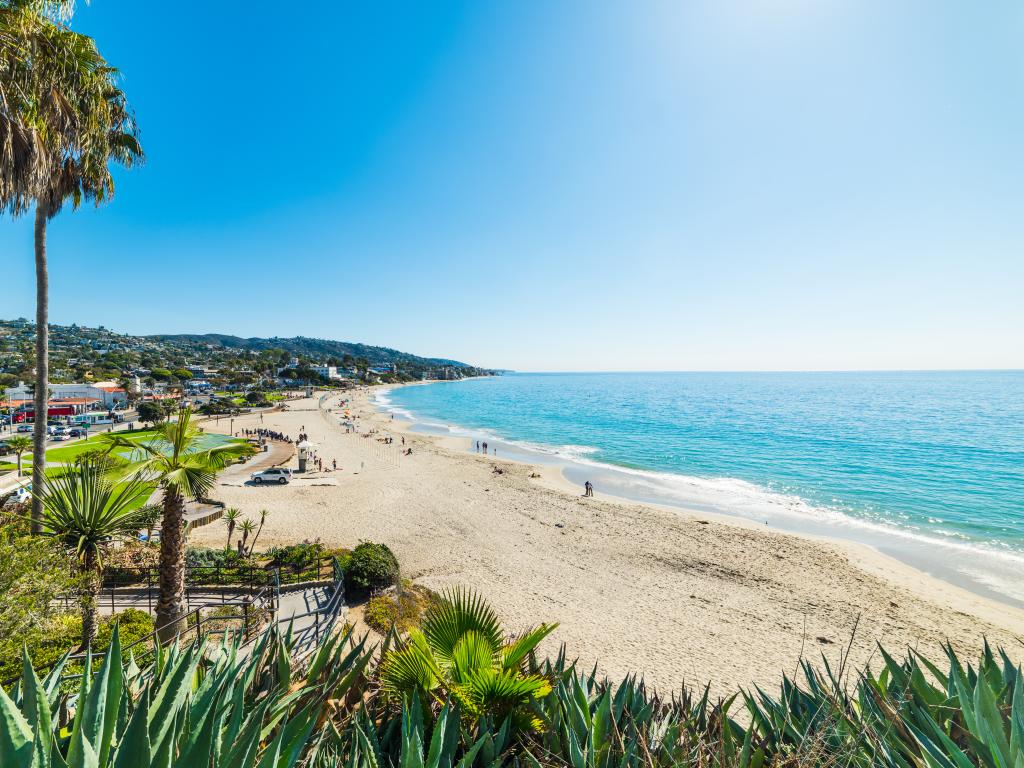 Orange County is well known for its amazing beaches from the iconic Huntington Beach Pier and Huntington State Beach to the Spanish Village by the Sea of San Clemente. Laguna Beach is home to some of the best beaches in the county such as Woods Cove Beach and Victoria Beach with the iconic La Tour tower.
An hour or less away from the hustle and bustle of the city, Laguna Main Beach in Laguna Beach is a perfect escape on a day road trip from Los Angeles.
From picture-perfect white sand beaches to romantic rock-lined coves, you can find your kind of beach along the 7-mile length of the Pacific Coast.
Known as a center for artists and water activities, Laguna Beach has a large number of hotels and beachside resorts if you want to stay for the weekend. There are plenty of hiking and mountain bike trails with amazing views if you want to stay onshore.
Please check our comprehensive guide out to learn more:
READ MORE - Our Guide to Laguna Main Beach
3. Santa Catalina Island
1 hour 30 minutes from Los Angeles (25 miles + a ferry)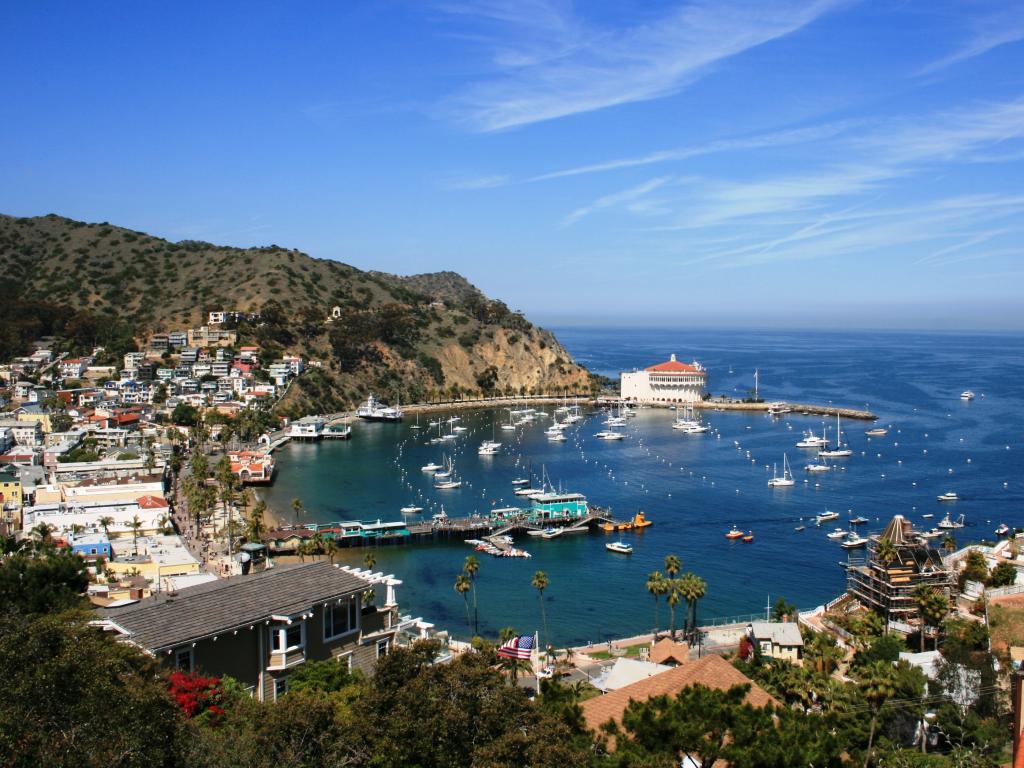 Getting to Santa Catalina Island from Los Angeles is relatively easy - it will only take about 30 minutes to drive down to Long Beach or San Pedro. From there you will need to catch a high speed ferry that takes around an hour to cross the 22 miles of water.
There are two destinations on Santa Catalina Island that you can get to - the Two Harbors and Avalon. The only ferries going to Two Harbors go from San Pedro, but Avalon is a perfect place to explore the island from.
You can go on a Jeep tour or rent a golf buggy to explore surrounding areas although there are plenty of trails to go about on foot.
Other than enjoying the views and a great lunch in one of the many very decent restaurants, there's everything from zip lining to lounging on a beach or visiting a winery on the menu.
If you want to stay over, there are several hotels in Avalon where you can spend the night and enjoy the island in the quieter evening and morning periods when the crowds have departed or not yet arrived.
READ MORE - Road Trip from Los Angeles to Santa Catalina Island
4. Carlsbad
1 hour 30 minutes from Los Angeles (90 miles)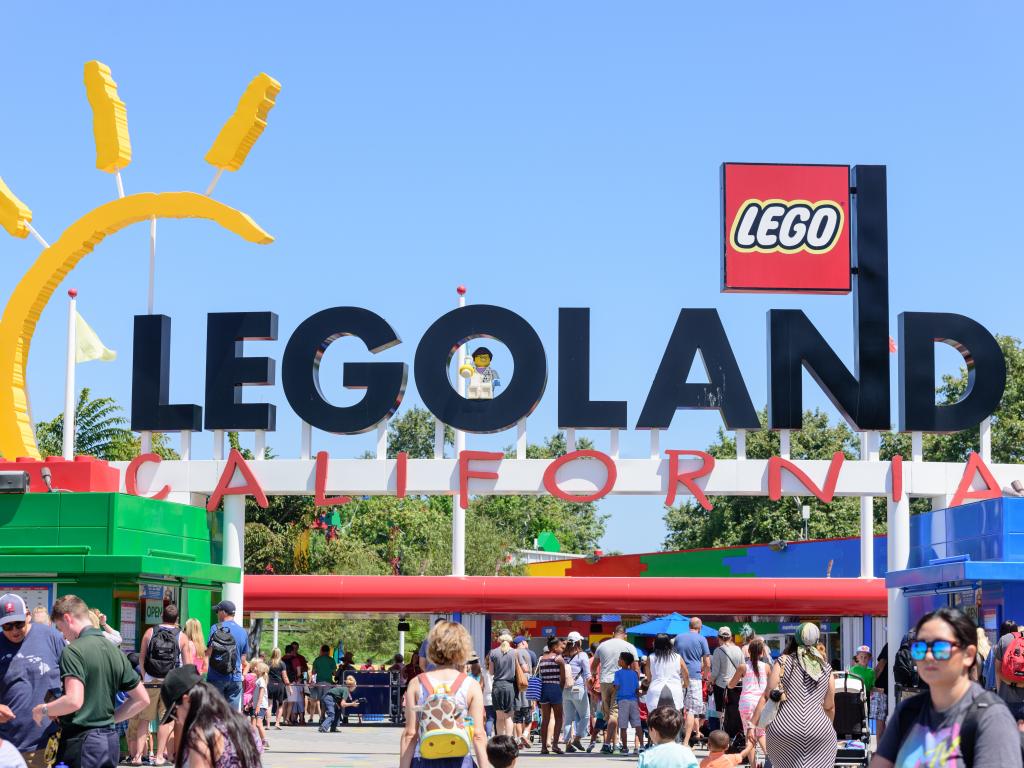 The Carlsbad-based Legoland California was the third Legoland in the world and the first outside Europe when it first opened its doors in March 1999. This road trip from Los Angeles to Carlsbad is the perfect family-friendly adventure.
Today the large theme park has more than 60 rides split across a number of zones with something for every age group. There are plenty of rides and things to do even for the youngest Lego fans. This makes Legoland one of the best road trips from Los Angeles for families with kids of any age.
Generally open from 10am to 5pm, Legoland has longer opening hours over weekends and in the summer but check before you go - it can be closed on Tuesdays and Wednesdays or on special event days. Although Legoland is open all year round, the water rides are a lot more fun in warm weather!
Attractions include roller coasters, visiting an actual Lego factory and a display of famous US cities made out of Lego including New York, New Orleans and San Francisco. Along with these, you can visit the Sealife Aquarium which has a walk-through tunnel and Lego decorations inside the tanks.
READ MORE - Road Trip from Los Angeles to Carlsbad
5. Santa Barbara
1 hour 40 minutes from Los Angeles (95 miles)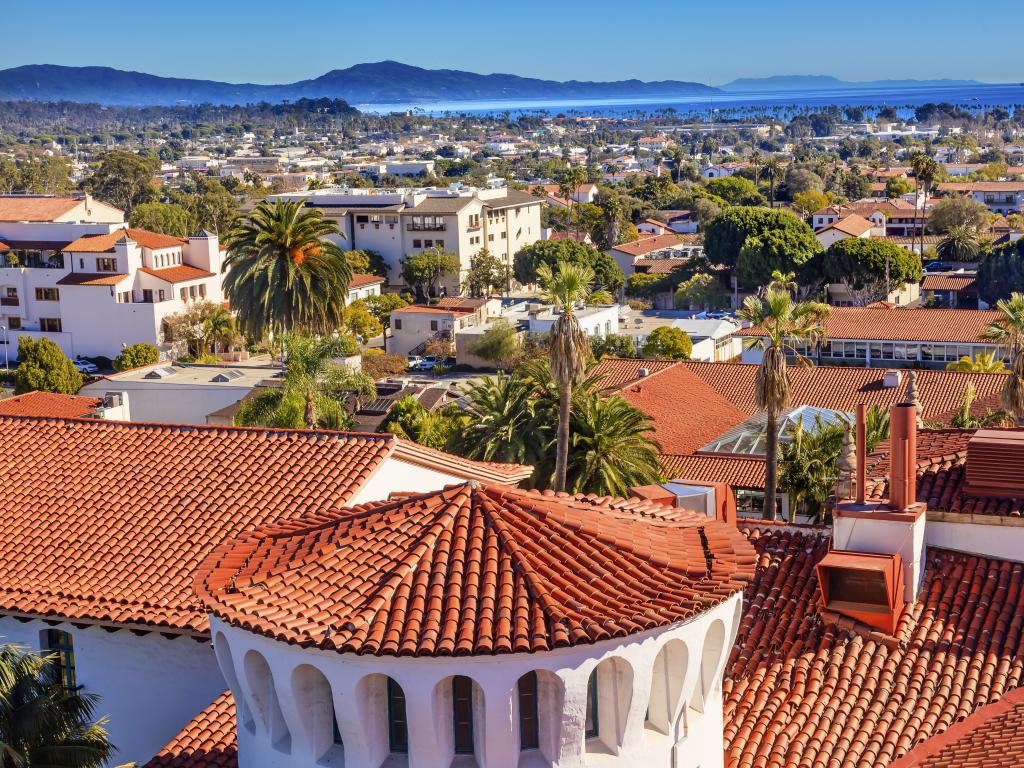 The charming city of Santa Barbara is under 2 hours north of Los Angeles and is widely considered one of the best places to live in California if not the whole of the U.S.
In recent years a number of Hollywood's and TV's most famous celebrities have made Santa Barbara their home or their home away from home including Oprah and Brad Pitt.
The one sight you really should see is the Old Mission Santa Barbara - a Franciscan mission with beautiful gardens.
Other than that, Santa Barbara is all about the relaxed lifestyle. There's a great selection of restaurants and bars and a great historic waterfront with the Stearns Wharf pier and the palm-lined East Beach.
Santa Barbara is great to visit all year round but in the summer months it can get pretty busy not just with Angelinos escaping the city, but also big influx of tourists.
READ MORE - Road Trip from Los Angeles to Santa Barbara
6. Palm Springs
1 hour 45 minutes from Los Angeles (107 miles)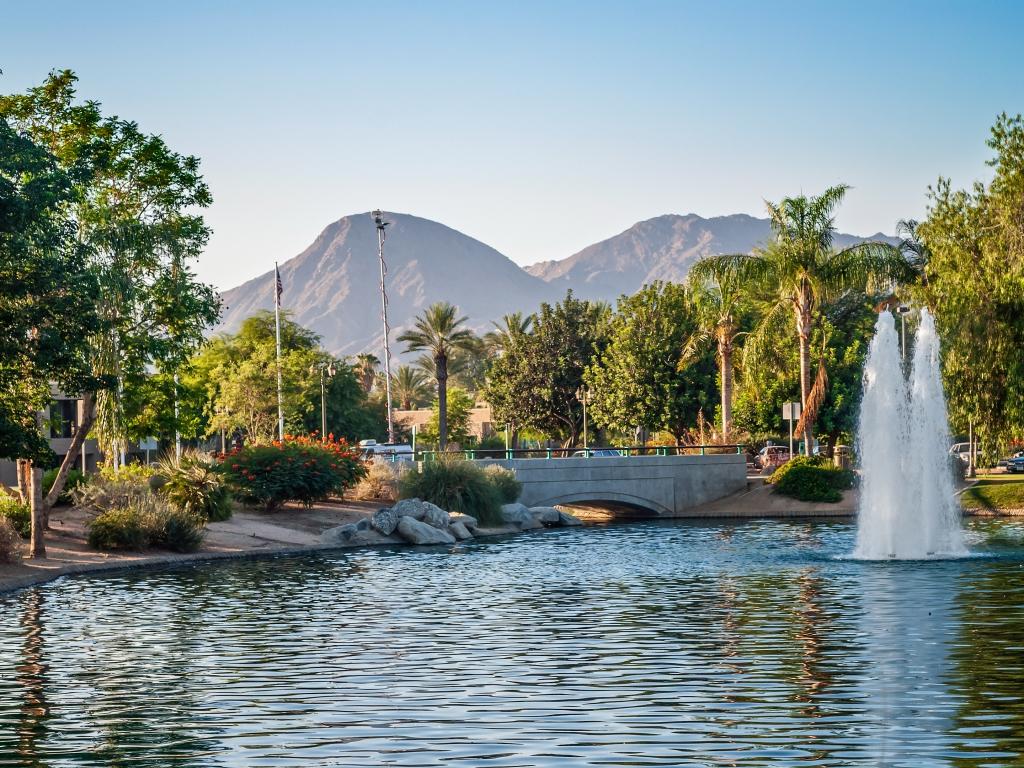 Palm Springs has long been a well known getaway destination for Angelinos all year round. Located a short drive away in the Californian desert, Palm Springs became popular in mid-20th century as the playground of the rich and famous.
A lot of the buildings and infrastructure in Palm Springs dates back to that golden time - the hotels and houses have that straight-lined modernist style. They love the style so much, Palm Springs hosts their Modernism Week event every October.
Average highs during the summer months are in the 100s (over 40 degrees C) so if you're going during the hottest part of the year, you will appreciate the availability of pools. Most hotels have luxurious pools and spa facilities but if your accommodation doesn't have one, you can usually pay to use the ones in the big hotels.
Don't miss the Aerial Tramway which takes you up a mountain in a gondola. It is the largest rotating gondola in the world and takes you from Coachella at the bottom to the top of San Jacinto Peak.
READ MORE - Road Trip from Los Angeles to Palm Springs
7. San Diego and La Jolla
2 hours from Los Angeles (120 miles)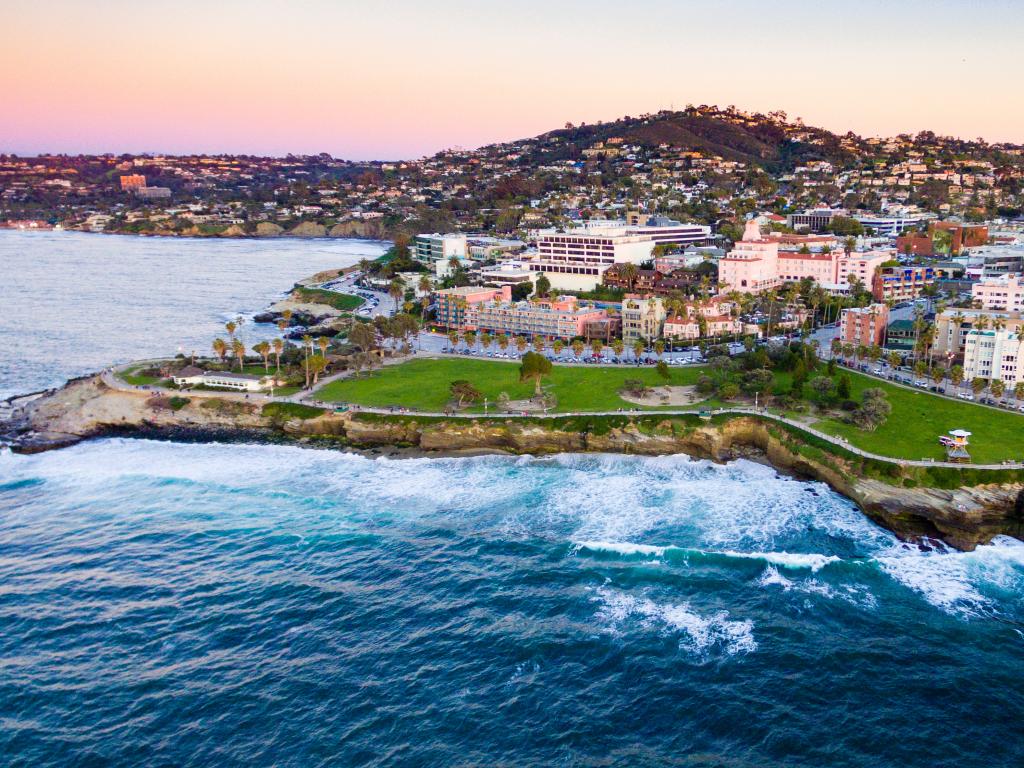 San Diego is the perfect weekend road trip from Los Angeles at just a 2 hour drive down the coast along the San Diego Freeway.
There is a lot to do in San Diego - you can easily stretch to a long weekend to make the most of your trip. The beaches are the best place to relax whether you're catching some sun or want to catch the waves.
Make sure you try the local fish tacos and ride the bright red trolleys. If there's one sight you should visit, it's the world-famous San Diego Zoo. The pandas are the stars and going early or late is the best way to see them as they will snooze through most of the day.
The Gaslamp neighborhood is where most of the action is in town - restaurants and bars of every kind are here and you can sit at a table outside to catch the evening breeze and watch the evening set in.
La Jolla is a wealthy neighborhood to the north of downtown San Diego. It's perfect for a stroll or an expensive lunch at a gourmet restaurant. Don't miss the seals and sea lions that have made the La Jolla Cove their home!
READ MORE - Road Trip from Los Angeles to San Diego
8. Lake Arrowhead and Big Bear Lake
2 hours from Los Angeles (100 miles)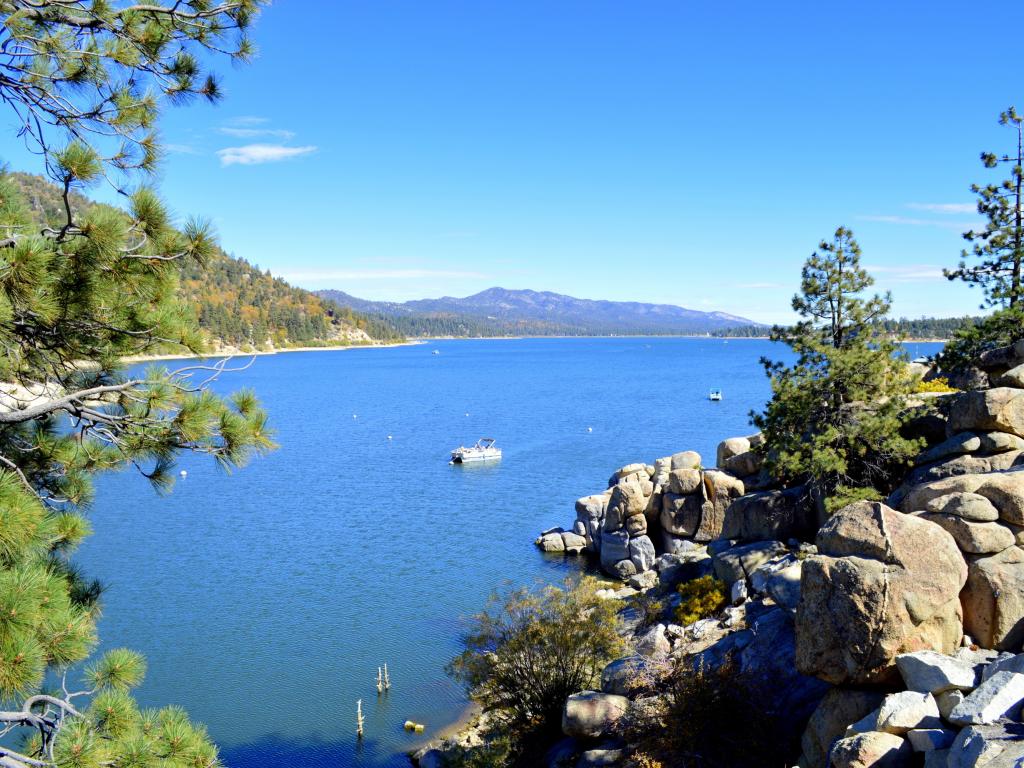 Lake Arrowhead and the Big Bear Lake are perfect for exploring the outdoors all year round. At only 2 hours from Los Angeles, they are perfect for a day trip or a weekend road trip from LA.
Lake Arrowhead and the Big Bear Lake are only 15 miles apart but the mountainous terrain means it takes the best part of an hour to drive from one to the other.
Despite being close, the two are quite different to each other but both are amazing places to come all year round. Big Bear Lake is a large lake with a ton of activities for the fans of outdoors. You can hire a boat or bring your own, enjoy all kinds of water-based activities or go skiing in the winter at Snow Mountain and Bear Mountain resorts.
Lake Arrowhead is more relaxed and upmarket - the majority of the lake shoreline is privately owned and there is less focus on active outdoors pursuits in favor of fancy retreats and restaurants. You can still stroll along the lake at Lake Arrowhead Village and go on a boat tour if you wish.
Lake Arrowhead is much lower down and as a result has less snow in the winter, although considerably easier to drive up to. If you're going for the weekend, check both lakes out to compare and contrast!
9. Solvang
2 hours 20 minutes from Los Angeles (130 miles)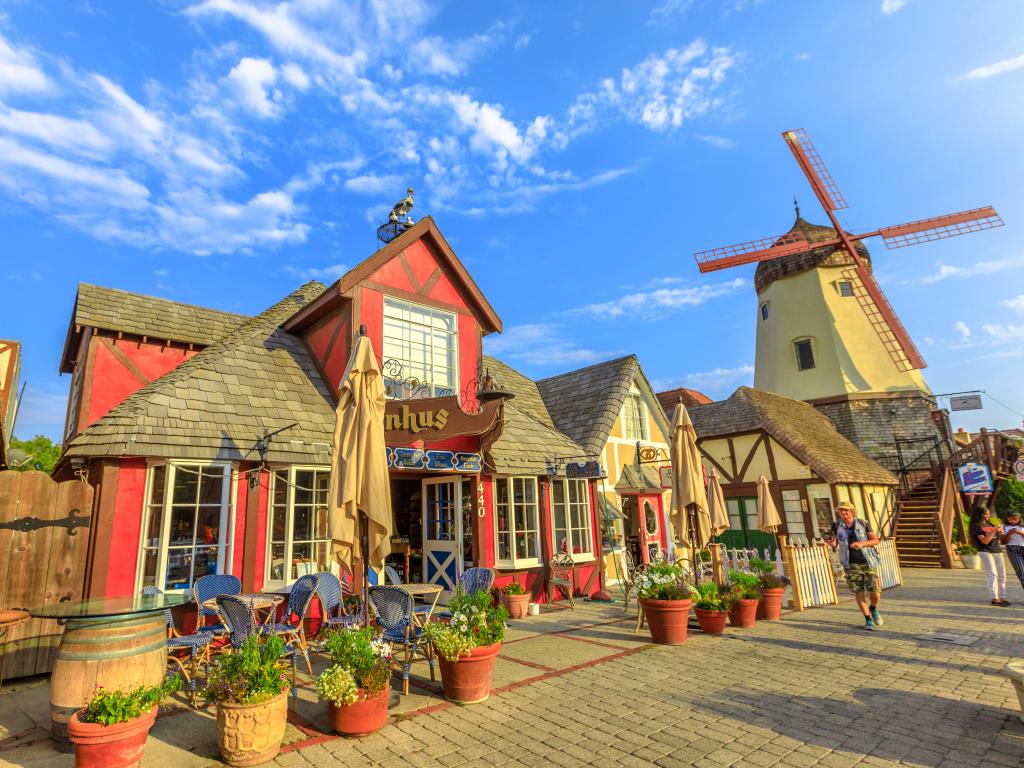 The village of Solvang is a little over 2 hours up the coast from Los Angeles and is a pretty village built in Danish style by a group of Danish settlers who moved here in 1911.
Incorporated as a city in 1985, Solvang's population is only around 5,000 so it has retained the cozy village feel.
Everywhere you look in Solvang, you can see the Danish roots coming through. The quirky architecture looks very European complete with a Danish windmill and small one or two-story shops.
There is not one, but two Danish-themed museums - one preserving the history of Solvang and its residents and one dedicated to the works of Hans Christian Andersen - the famous Danish writer.
Solvang is in fact so Danish, it was twice visited by the Danish royal family and the Danish ambassador attended the town's 100-year anniversary.
Other things to do include visiting the Santa Inés Mission dating back to 1804 and the opportunity to explore numerous vineyards near Solvang in the Santa Ynez valley.
10. Joshua Tree National Park
2 hours 20 minutes from Los Angeles (130 miles)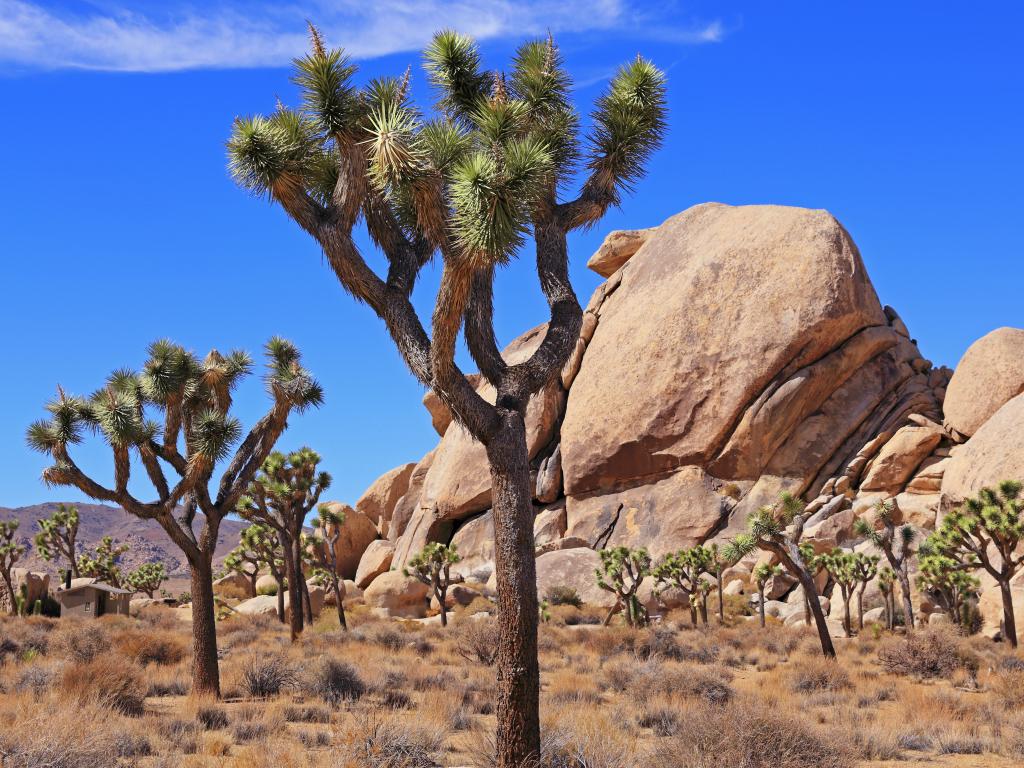 Joshua Tree National Park is the closest National Park to Los Angeles which makes it perfect for a weekend road trip.
Despite its name, it's important to remember that Joshua Tree is actually a huge and quite inhospitable desert. There will be a cactus growing here and there and other shrubs, but the landscape will largely be rocks and sand. Make sure you bring everything you need with you including a lot of water.
The National Park has very limited accommodation options but over 300 spots where you can camp. Once you've got your pass (the annual pass allows entry into all the other National Parks for 12 months), get set up and enjoy everything the park has to offer.
Spring is the best time to visit as the temperatures are reasonable and some of the desert plants actually flower (yes - it's a thing). Summers here can be incredibly hot making it near impossible to go on hikes or camp - you have been warned!
There are endless hiking trails, paths to explore and walking itineraries - the park is huge so you can come dozens of times and still only see a fraction of it.
Some of the most popular destinations are the Intersection Rock and Arch Rock formations on opposite ends of the park. You can also try out rock climbing or walk up Keys View (the highest point in the park). From the top you get fantastic views over the Coachella Valley and on a clear day you can see as far as Signal Mountain in Mexico!
READ MORE - Road Trip from Los Angeles to Joshua Tree National Park
11. Salton Sea
2 hours 20 minutes from Los Angeles (160 miles)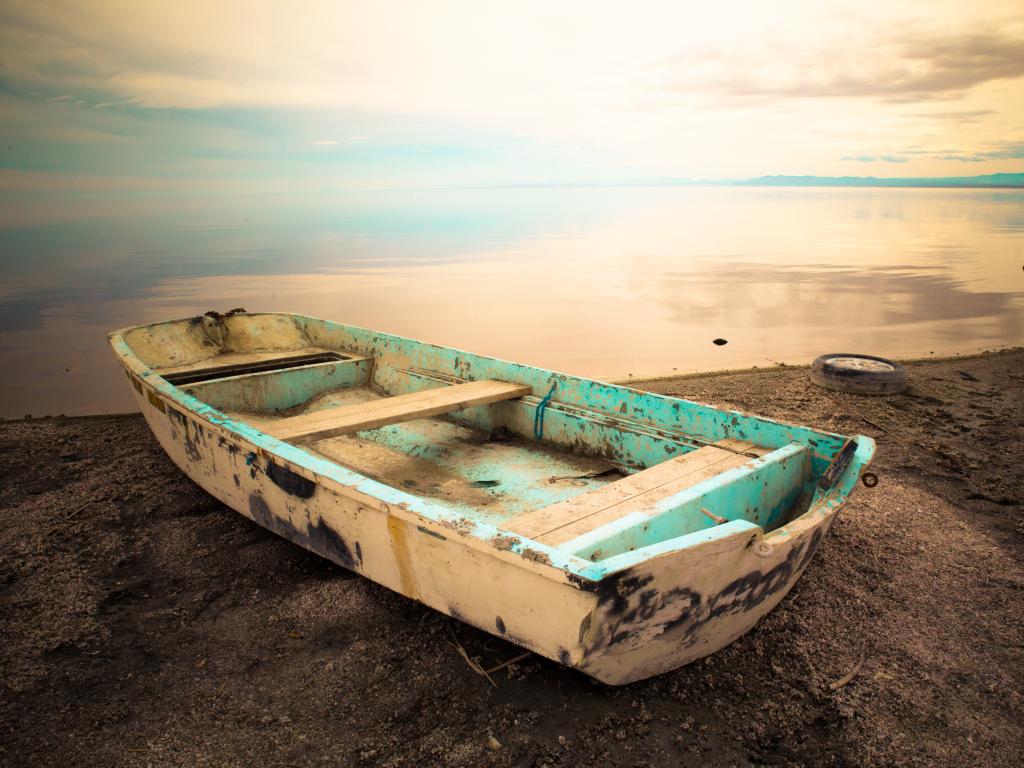 Salton Sea is the largest lake in California that is 236 ft (72m) below sea level and has saltier water than the Pacific Ocean. It was accidentally created in 1905 by engineers trying to divert the flow of the Colorado River which flooded the plain for 2 years when the engineering works went wrong.
In mid-20th century, the area was developed to become a popular getaway destination - resorts were built and towns sprang up to host visitors.
Today, the 45 mile by 20 mile sea is largely empty and devoid of people. Located in the middle of a desert and far away from major cities, the tourism industry declined over a few decades which surprisingly means it's a perfect place to visit.
With hiking trails all around and 1 state and 2 national parks nearby, there is a lot of nature to explore. You can do some bird watching or camp under the stars at one of the hundreds of camping spots.
If you get bored, there are attractions like the International Banana Museum (no, really) or artist installations in and around Borrego Springs or Salvation Mountain.
Remember that despite its name, Salton Sea is in the middle of a hot desert and summer temperatures will average in the 100s (over 40 °C) so bring plenty of water - it will feel very very hot.
READ MORE - Road Trip from Los Angeles to Salton Sea
12. Ventura and the Channel Islands National Park
2 hours 30 minutes from Los Angeles (68 miles + a ferry)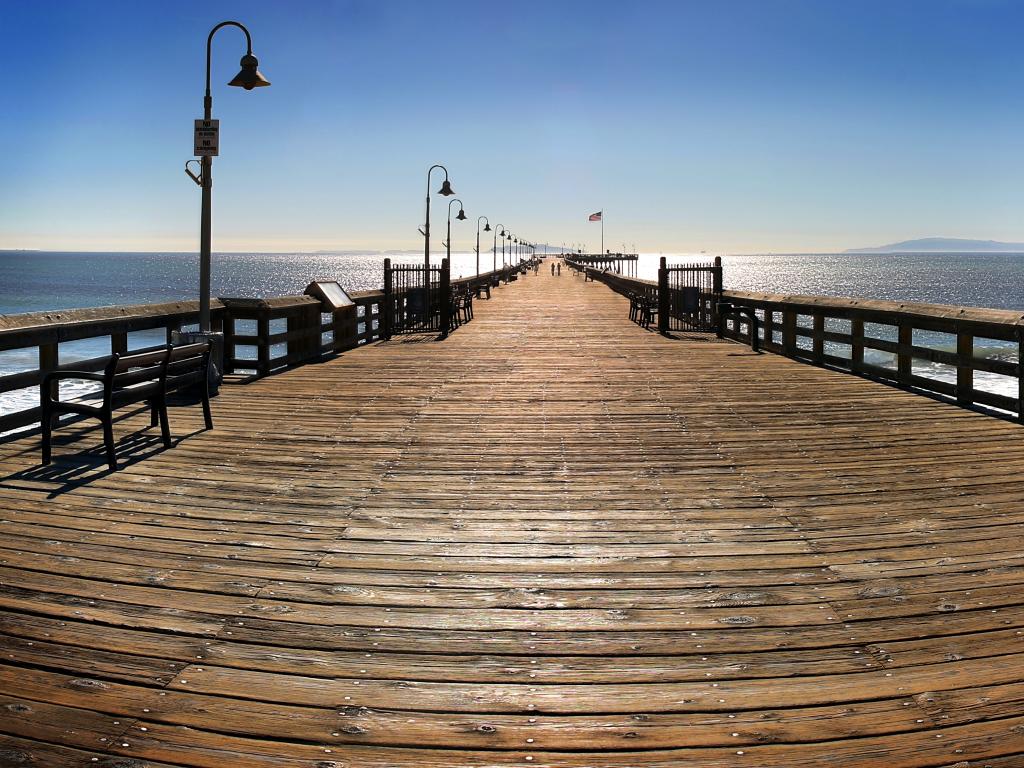 Ventura or San Buenaventura as it is formally called is a coastal town between Los Angeles and Santa Barbara and only just over an hour from L.A.
Ventura is all about the ocean - the main things to do revolve around the harbor. You can hire a pedal boat or almost anything else that floats here and spot seals relaxing on piers or random boats.
One great thing to do is to go on a boat excursion to the Channel Islands - the island group starts around 20 miles from Ventura and stretches further out so the trip will take you the best part of a day.
Granted - relaxing on a boat and hiking around islands is maybe a questionable entry in the list of road trips from Los Angeles, but it's such a great option I had to include it. That and the fact you still have to drive part of the way!
The entire chain of 5 islands is designated as the Channel Islands National Park and the boat will take 1 to 3 hours one way depending on how far you plan to go. This is the least visited National Park in the entire country which is exactly why you should go - it's not on most tourists' radars making for a perfect day trip.
En route to the islands you can see dolphins, catch a glimpse of whales surfacing or flying fish. On the islands themselves, you can see condors, bald eagles, seals and the Island Fox - native to these islands. If you want to see more, you can hike along one of the trails that run along the islands.
You can even hire a kayak to explore the sea caves around the islands but check the waves before you do!
READ MORE - Road Trip from Los Angeles toVentura and Channel Islands National Park
13. Rosarito Beach, Mexico
3 hours from Los Angeles (150 miles)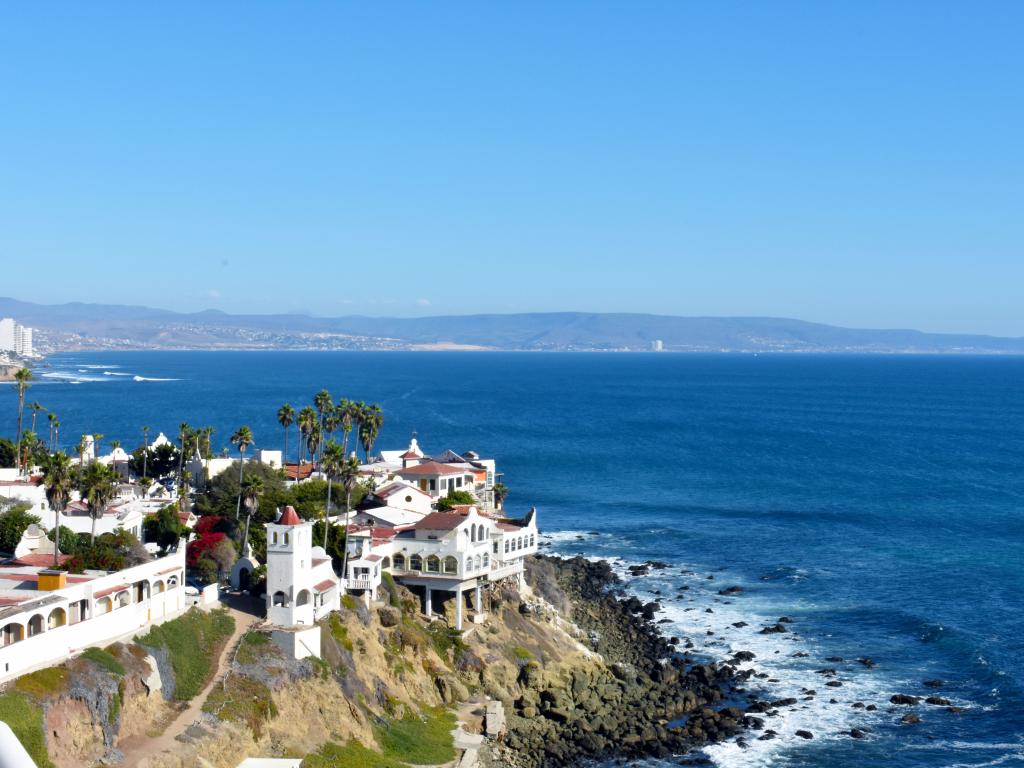 Being so close to the Mexican border, it would be a shame not to include at least one road trip option that takes you across the border.
Rosarito beach, just south of Tijuana is a classic resort destination that is absolutely worth it for the mix of glamour and Mexican street food.
Tijuana is well known as a destination for those seeking a wild night out. But only a little further south is Rosarito Beach - a popular destination for Hollywood A-listers for decades before becoming more mainstream in recent years.
Sure, it is in Mexico, so you will still find loud parties and open air night clubs in the area which are great fun to go to. Otherwise, there are plenty of great resorts to get a tan and eat some locally caught lobster.
Make sure you bring your passports and get the right car insurance for the duration of your trip - do this online before you go! The border crossing into Tijuana is the busiest land border crossing in the world.
Queues at the border can take an hour or even two, but if you travel outside busy periods - at weekends or early afternoon, you might just breeze through.
14. Death Valley National Park
3 hours 30 minutes from Los Angeles (315 miles)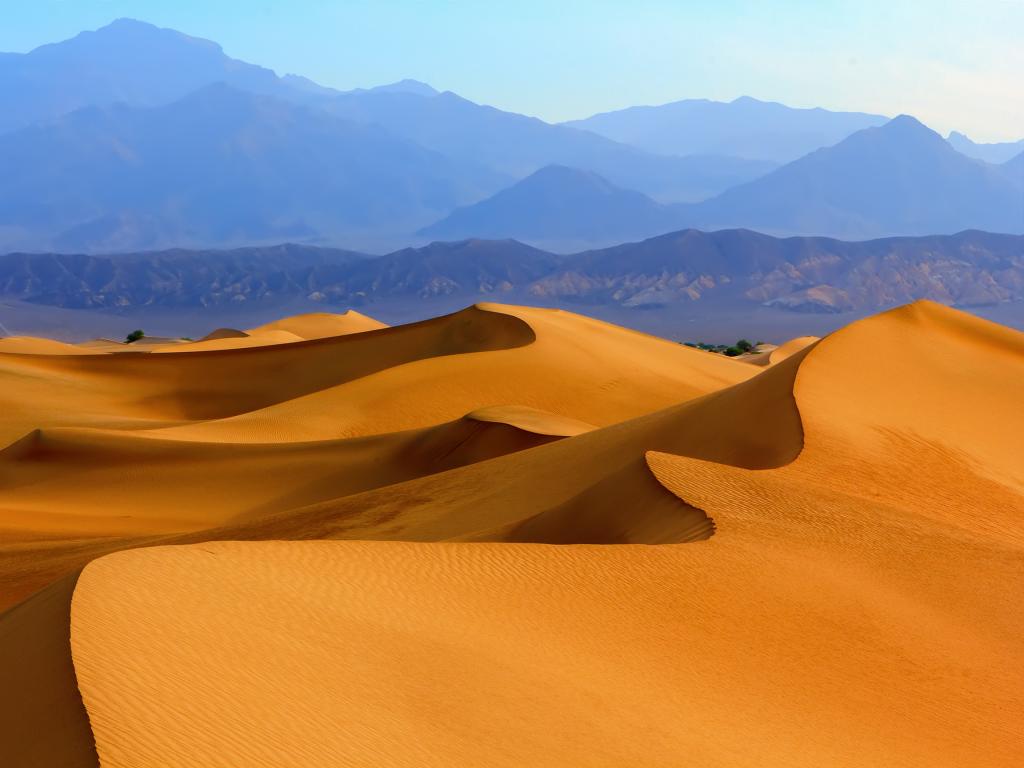 California's Death Valley has the hotly contested title (see what I did there?) of recording the world's hottest ever temperature - both for air temperature and ground measurements - the highest air reading was 56.7 °C (134.1 °F)
Death Valley gets incredibly hot in the summer months - daily averages from June to August will be in the 120s (over 45 °C) so going in the peak of the summer can be uncomfortable.
This desert is huge - the Death Valley National Park is the largest in the United States outside Alaska. Also, unusually for this part of the world, it has large sand dunes rather than the rocky kinds of desert in other parts of California, Nevada and Arizona.
Despite the conditions, Death Valley National Park is popular with tourists and in the spring you can find flowering wild flowers that have made this desert their home.
If you come and camp during late fall or early spring, you can benefit from the park's status as an International Dark Sky Park - there will be no night lights as far as the eye can see which can make for amazing stargazing - especially if you visit during the new moon.
4 hours from Los Angeles (270 miles)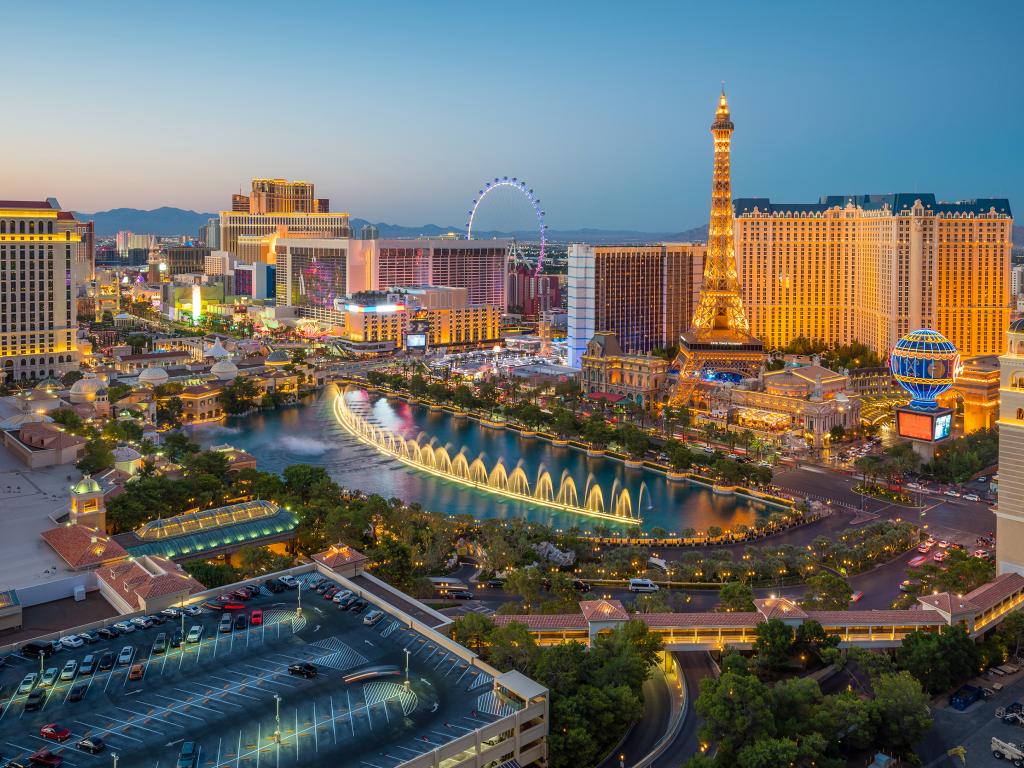 Las Vegas might just be the most popular city for a weekend getaway from Los Angeles. Only 4 hours' drive or a 1 hour flight for those who choose to fly, the endless entertainment of the Sin City is easily reached on a weekend road trip.
The drive through the Mojave desert is great and there are plenty of food options on the way should you set off after work on a Friday and need to grab some dinner en route.
Whether you're coming to Vegas to do a bit of gambling, enjoy exquisite restaurants, bars and clubs or just want to stroll around town and do a bit of shopping, staying on the Strip is the way to go.
If you want a more relaxed vibe and a bit less slot machine noise in the lobby, the south end of the Strip is great - the Cosmopolitan doesn't have a casino and the Aria hotel is a great place to stay.
The main sights are close by too with the Bellagio Hotel and Fountains right next door and the themed Luxor, Excalibur and New York hotels a block south.
You can leave your car in the hotel - the taxis are cheap, most places are walkable and the Monorail makes getting around easy. Plus you can enjoy a drink or two on your way around town!
READ MORE - Road trip from Los Angeles to Las Vegas
16. Sequoia and Kings Canyon National Parks
5 hours from Los Angeles (270 miles)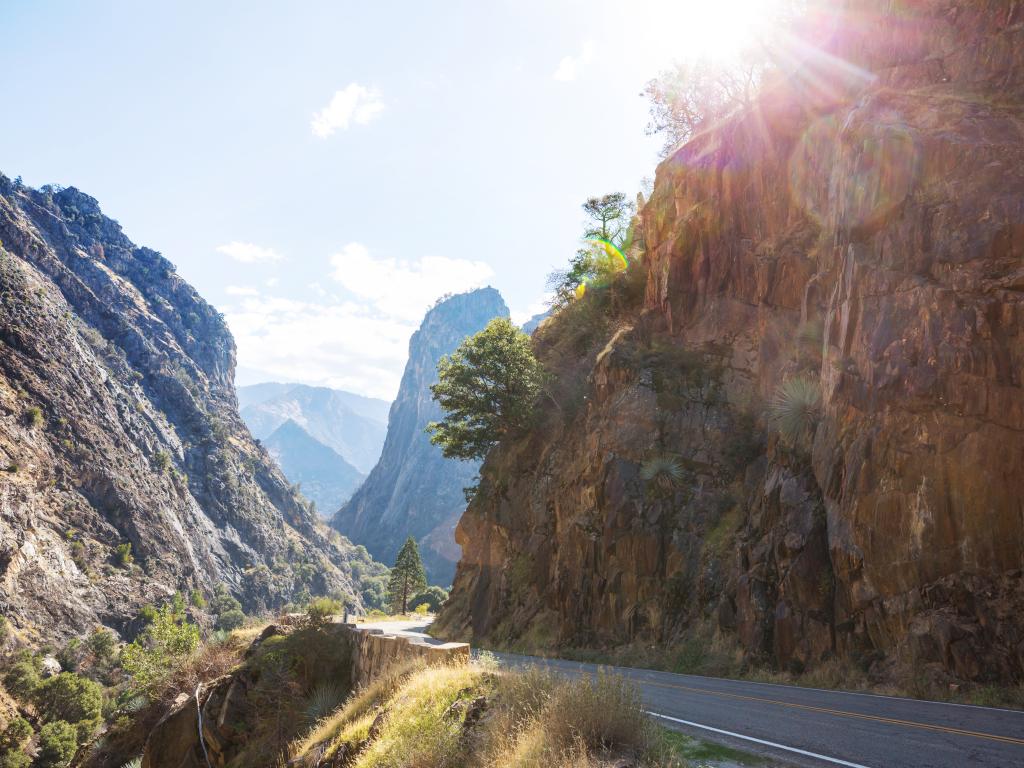 The Sequoia and Kings Canyon National Parks are a 4 hour road trip Los Angeles and are the southernmost point of a long series of parks along the length of the Sierra Nevada mountains that include Yosemite and Tahoe National Forest.
Kings Canyon National Park is an extra hour on the road making the journey 5 instead of 4 hours from Los Angeles but if you only have time for one, the Sequoia National Park is an amazing place to visit.
The main attraction of visiting the parks are the giant sequoia trees that grow here. The tallest trees in the world are a must see and the majority grow in a forest between the Marble and Middle Forks of the Kaweah River.
The General Sherman Tree is located in the Sequoia National Park and is known as the largest tree in the world by volume. At 275 feet tall and 36 feet in diameter it is stunning to see - beware that you might have to wait in line to take a photo!
If you have time, make sure you climb the 400 steps to the top of Moro Rock and drive along Highway 180 (Kings Canyon Scenic Byway) - the 50-mile route takes you along a canyon in-between the two parks and is one of the most picturesque roads in the USA.
READ MORE - Road trip from Los Angeles to Sequoia and Kings Canyon National Park
17. Big Sur and Highway 1
5 hours 30 minutes from Los Angeles (295 miles)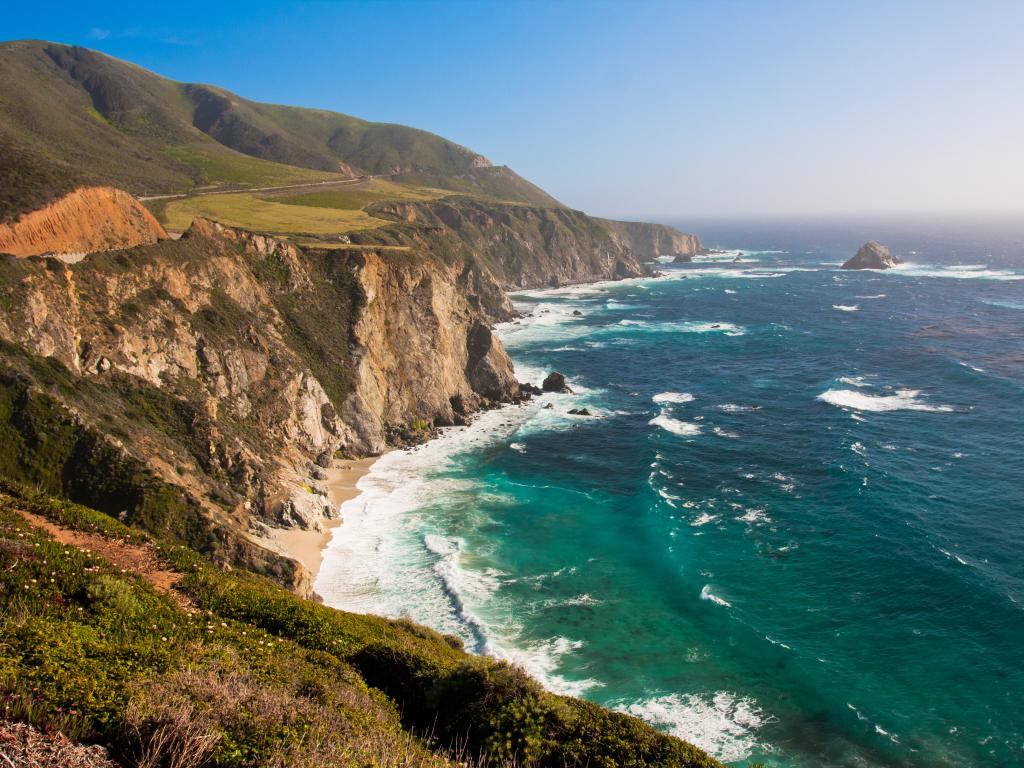 Another stretch option for a weekend road trip is the Big Sur. Not as far as San Francisco, it will still take you about as long to get to as you have to take the slower route along the coast.
The Big Sur is a long stretch of coast between Los Angeles and San Francisco between the Piedras Blancas Light Station and Carmel-by-the-Sea.
You can drive the coastline along Highway 1 which may just be one of the prettiest roads in the United States. The misty beaches and rocky coves pounded by waves are broken up by redwood forests and steep cliffs. If you're lucky you might see the California condors gliding overhead - they are the largest birds in North America and really amazing to see in real life.
The Bixby Bridge is one of the most famous sights along the Big Sur - it crosses the Bixby Creek at a height of 280 feet (85m) making for some of the best views of the coastline.
The bridge features in a lot of adverts, films and games and you can stop off either side to get a snap.
READ MORE - Road trip from Los Angeles to Big Sur
18. Phoenix and Scottsdale
5 hours 30 minutes from Los Angeles (380 miles)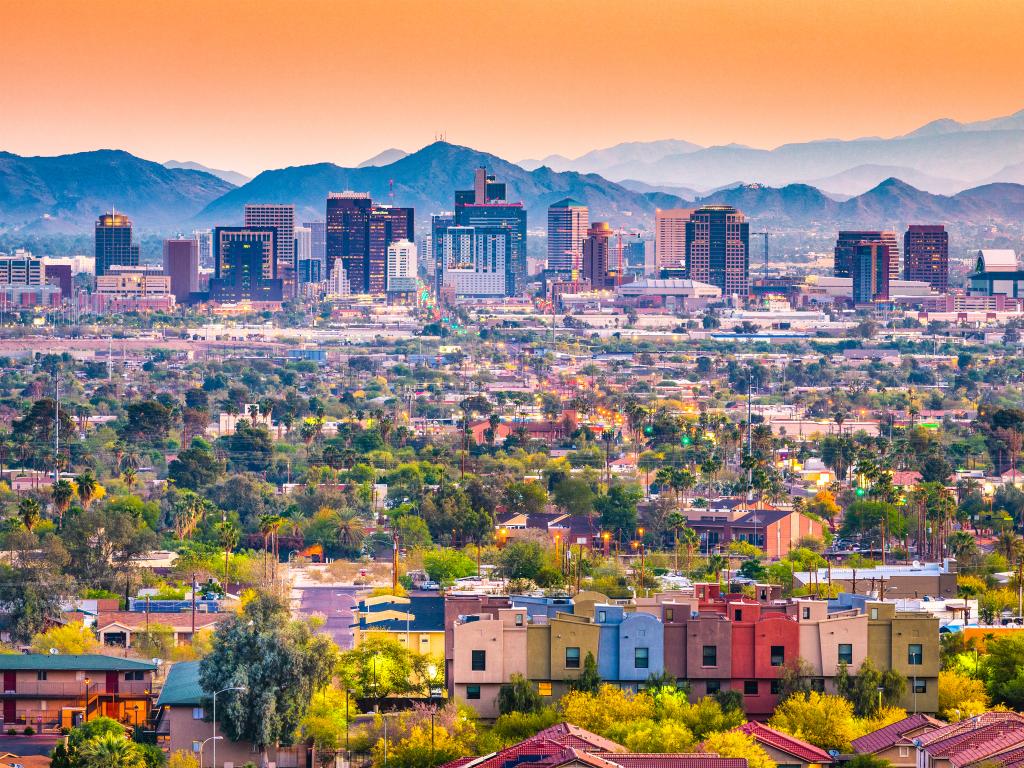 Phoenix and Scottsdale may feel like a long drive, but the journey is only 380 miles along straight roads through the desert so a road trip from Los Angeles can be surprisingly quick.
Phoenix has been attracting tech startups and hip culture in recent years which means there is a lot of interesting things to see and do. A lot of the best sights around town relate to art or food.
From the Heard museum to street art exhibitions on the first Friday of the month, the art scene is booming. If you want to explore local nature, visit the Desert Botanical Garden. The title says it all - inside you can roam between giant saguaro cactus plants and all kinds of desert shrubs!
Summers in Phoenix can get unbearably hot - some locals including the retired community move out during the hot season to San Diego or other more moderate climates.
That said, the heat in Phoenix is very dry and so you don't feel it anywhere near as much as other southern states further east. If you're visiting between June and August, make sure you carry sunscreen and water everywhere with you.
READ MORE - Road trip from Los Angeles to Big Sur
19. Yosemite National Park and Mammoth Lakes
6 hours from Los Angeles (330 miles)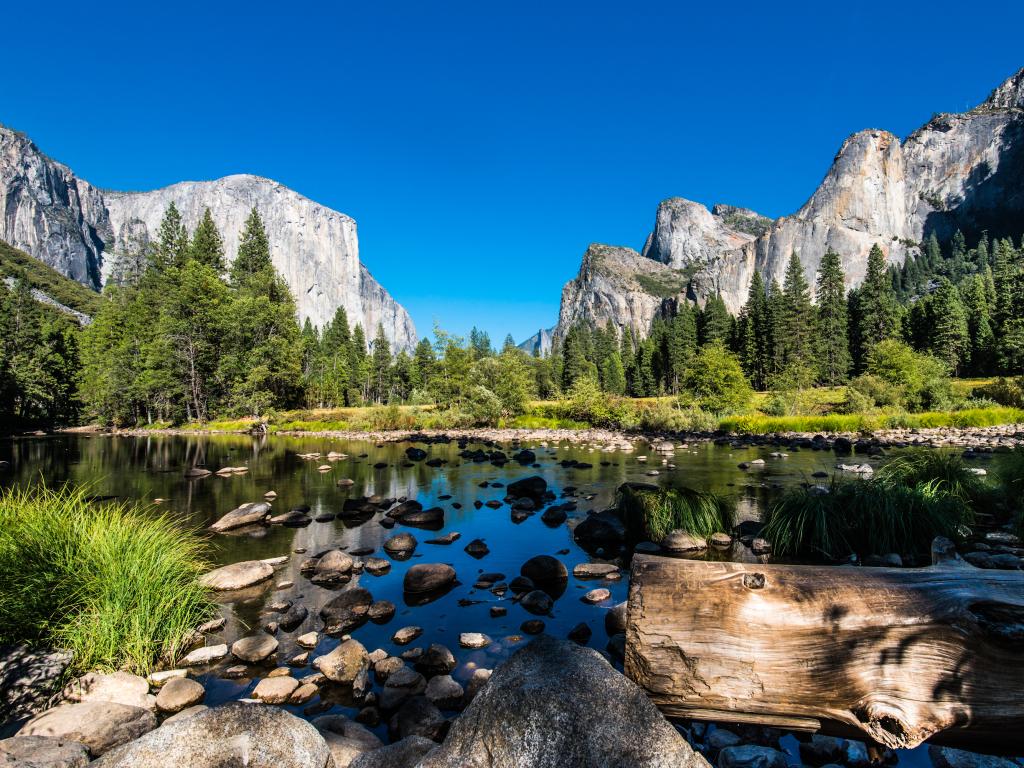 Yosemite National Park is one of the best-known in the United States and attracts high visitor volumes from California and neighboring states.
Despite covering some 748,000 acres, the majority of the visitors come to the 7 square mile section of Yosemite Valley. This scenic valley is covered by a pine forest and is home to famous landmarks such as the El Capitan and Half Dome summits.
If you venture into other parts of Yosemite, you will benefit from far fewer other people making for a more relaxed break. Beware that the majority of the park is designated wilderness - there are a number of wild animals including bears around so take care and follow guidance.
If you're going for hiking, check ahead as some trails are only open seasonally.
Mammoth Lakes are on the east side of Yosemite and offer yet more stunning scenery with jagged snow-covered mountain tops set alongside forests and tranquil lakes.
To get from Yosemite to Mammoth Lakes, you will need to cross the highest mountain pass in California - the Tioga Pass. At 9,943 feet above sea level (3,031 m), it can make you feel a little light-headed. It's best to cross if you've already stayed a night at either location and adjusted to the elevation.
READ MORE - Road trip from Los Angeles to Yosemite National Park and Mammoth Lakes
6 hours from Los Angeles (380 miles)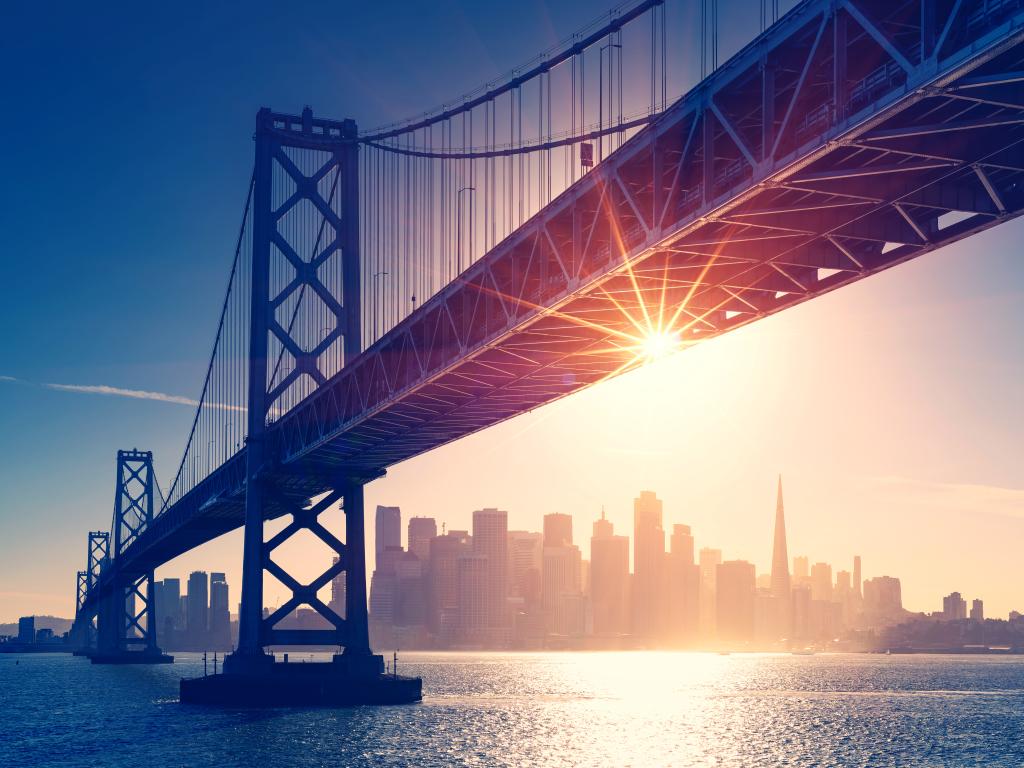 San Francisco needs little introduction and has got to be on your list of potential destinations for a road trip from L.A. It's a bit of a stretch for a weekend with a long drive to get there, so if you can stretch it by adding the Monday or make it into a longer trip, all the better.
There is a huge amount to do and explore in San Francisco. The steep streets and neighborhoods sitting atop hills are amazing in their own right, but there's also beaches, parks, amazing museums and sights that will keep you busy.
Make sure you tick the absolute musts - go to the Golden Gate Bridge and the Presidio neighborhood on its south side, check out Fisherman's Wharf and make sure you ride in the iconic cable cars.
Check out our list of the 50 Best Things to do in San Francisco to plan your trip!
The drive will take you around 6 hours if you go the most direct way along the I-5. The route along the coast is a lot more scenic but will add another two and a half hours to the journey.
READ MORE - Road trip from Los Angeles to San Francisco
21. Napa Valley and Sonoma
6 hours 30 minutes from Los Angeles (420 miles)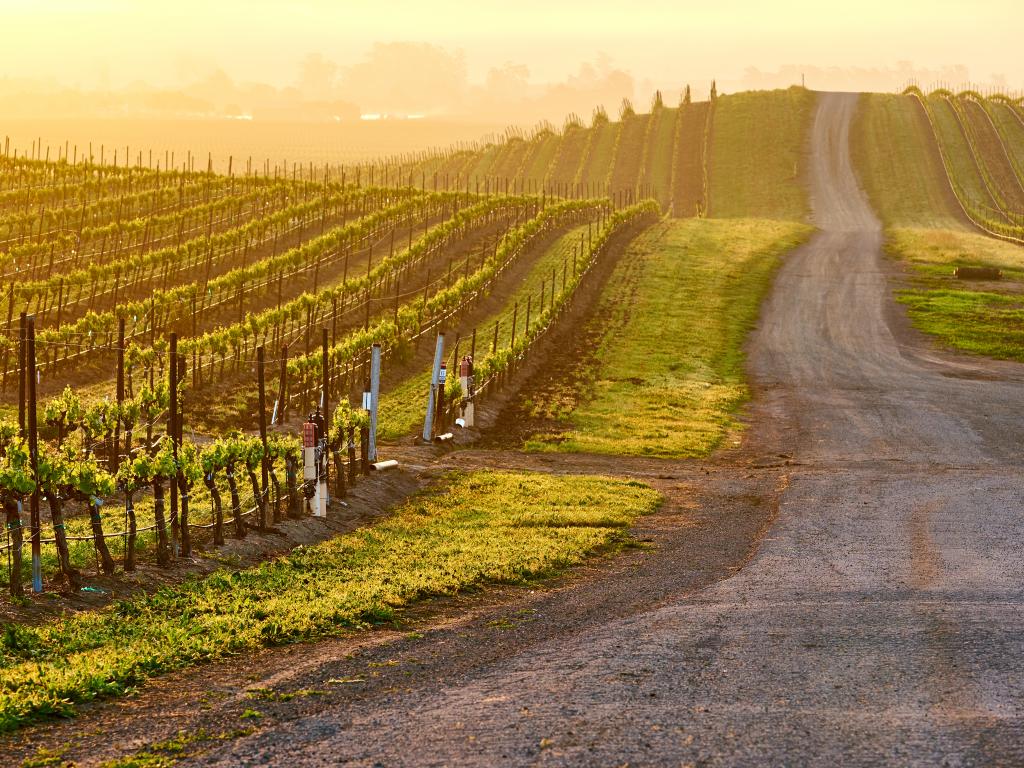 A list of California road trips would be incomplete without a wine tour and so the drive to Napa Valley is next on the list of the best road trips from Los Angeles.
Located just north of San Francisco, on the other side of San Pablo Bay, Napa Valley has gained international recognition for its wines and has firmly established itself as one of the best wine regions in the United States.
There are about 600 wineries in the Napa and Sonoma area that have tours or tasting rooms out of a total of about 1,200. So if tasting some great wines is something you enjoy doing, you can spend weeks trawling through the different spots and only visit a fraction of the vineyards!
If you get bored of wine, there are a number of microbreweries and distilleries in the area if you want something lighter or heavier instead!
Given the long drive, we'd really recommend you make a bigger trip out of it if you have the time. Add in a few days in San Francisco, a trip to Sacramento or a quick drive to the Point Reyes National Seashore to add a bit of variety.
READ MORE - Road trip from Los Angeles to Napa Valley and Sonoma
22. Grand Canyon National Park
7 hours from Los Angeles (490 miles)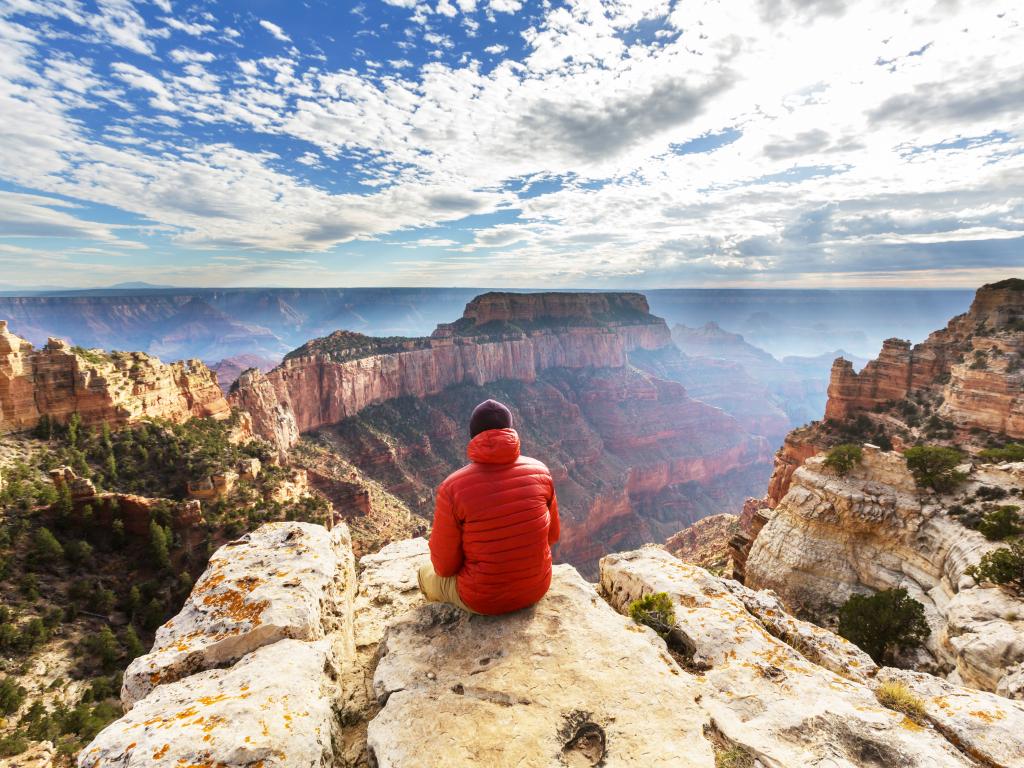 The Grand Canyon is a stunning natural phenomenon - vertical cliffs plunge over a mile down into the red rock surrounding the gorge. The vast canyon is 277 miles long and is several miles wide making for surreal scenery.
Over 5 million visitors a year come to see the Grand Canyon and despite the long drive, it's definitely worth it if you get inspired by amazing nature.
Surrounding and running along the length of the canyon are large national parks and preserved areas where you can camp, hike and generally enjoy the outdoors. Some of the closest to the Grand Canyon Village (best place to head to from Los Angeles) are the Kaibab National Forest, the Coconino National Forest and the Mojave National Preserve.
Depending on time, you can combine your road trip to the Grand Canyon with either Vegas (see above) or the road trip to Flagstaff and Sedona (see below).
In fact, if you find yourself with 2 weeks spare, you could do the ultimate nature road trip from Los Angeles - start off going to the Sequoia National Park, then do Death Valley, Las Vegas and the Grand Canyon before heading south to Flagstaff, Sedona and Phoenix. Add in Salton Sea, Joshua Tree National Park and a stop at Palm Springs on the way back and you'll cover half of this list in one go!
READ MORE - Road trip from Los Angeles to Grand Canyon National Park
23. Sedona and Flagstaff
7 hours from Los Angeles (490 miles)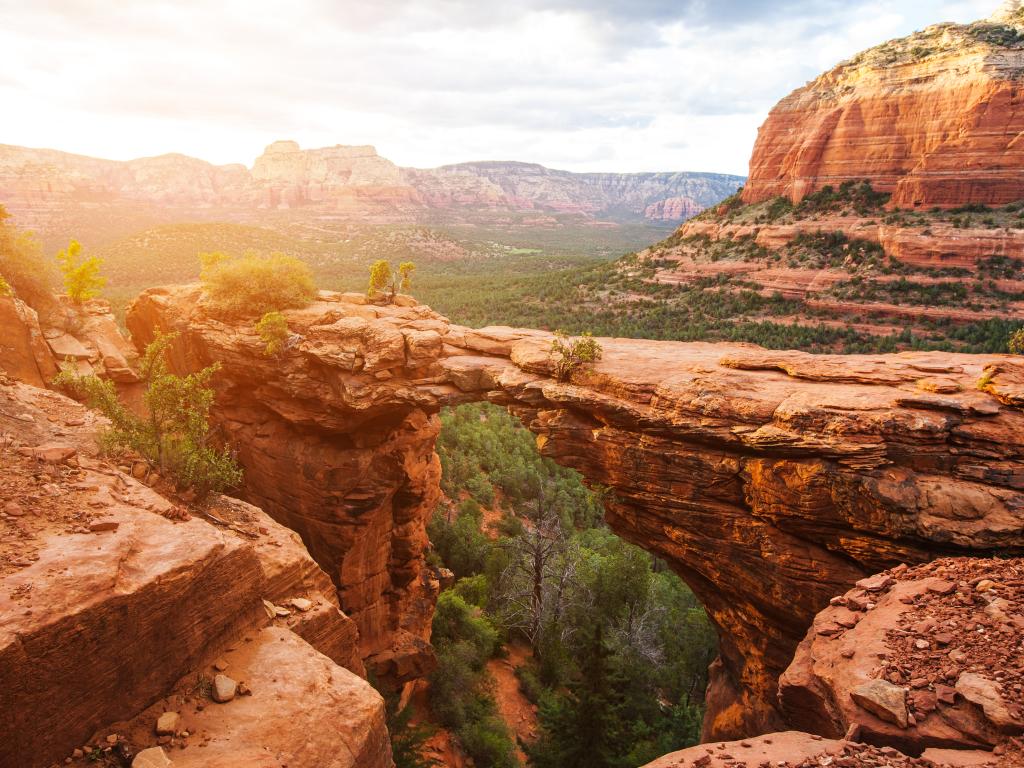 Located just to the south of the main sights of the Grand Canyon, Flagstaff and Sedona are at the epicenter of Arizona's red rock desert.
Surrounded by amazing rock formations and parks, Sedona is the better place to stay out of the two - it is a more charming town with better scenery and closer to some of the local sights.
Around Sedona, you will find famous rock formations that have become emblems of the Southwest - Cathedral Rock and Bell Rock. You have to see them to really appreciate the sheer size and color of the rocks.
Other sights include the Devil's Bridge Trail (pictured above) and you can go on hikes through the Red Rock State Park or the Slide Rock State Park on either side of Sedona.
If you want to make the drive out to the Grand Canyon, it is easily doable as a day road trip from either Flagstaff or Sedona so go and see it if you have the time!
READ MORE - Road trip from Los Angeles to Sedona
7 hours 30 minutes from Los Angeles (445 miles)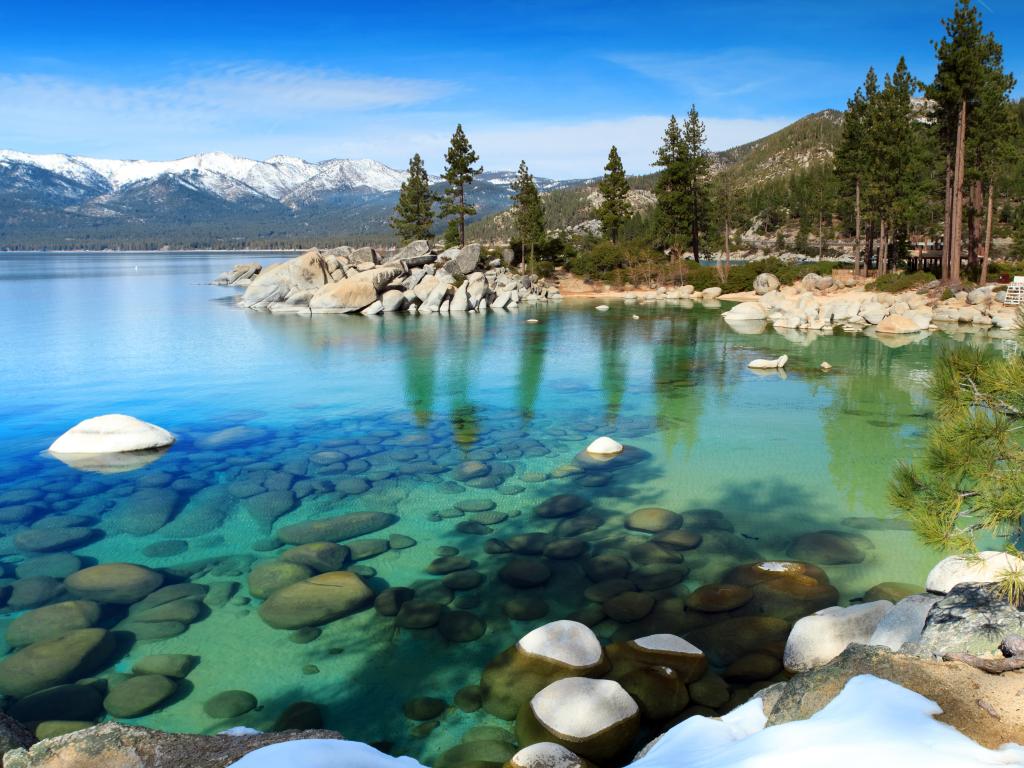 Lake Tahoe is an outdoors paradise that is equally great to visit in the summer and winter months.
Sitting on the border between California and Nevada, the scenic lake is surrounded by tall mountains making for stunning scenery both from the shoreline and from the top of these mountain peaks.
The route from Los Angeles to Lake Tahoe will take you along US-395 past some amazing national parks including the Sequoia National Park, Kings Canyon and Yosemite. If you're taking a week for your trip, you might want to spend 2-3 days at Lake Tahoe itself and go to one of these or the Mammoth Lakes on the way there and back to break up the journey.
In Lake Tahoe itself, it's all about water sports in the summer and skiing in the winter. Whether you want to paddle board, go about in a kayak or try out jet skis, you can try all of these out during the hot long summer. If you like to gamble, there are a few casinos in the towns surrounding the lake that are popular with visitors.
In the winter, there are several great resorts in the surrounding mountains and Heavenly might just be the best of the lot with stunning views of the bowl and the lake below from the ski slopes.
25. Discover Zion and Bryce Canyon National Parks in Utah
8 hours from Los Angeles (515 miles)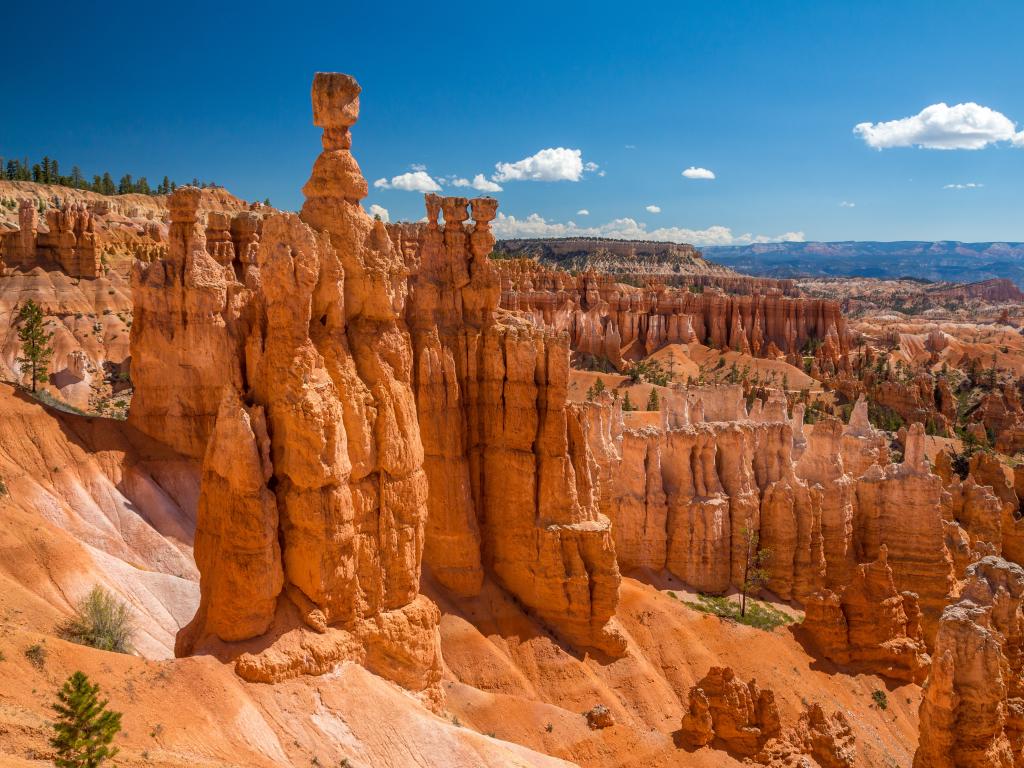 Continuing on the theme of nature-inspired road trips from Los Angeles, the Zion and Bryce Canyon National Parks in Utah are truly special and if you have the time, they should definitely be at the top of your list of places to go to.
Bryce Canyon National Park is small at only 56 square miles and the main thing to see is the Bryce Canyon... which is not actually a canyon, but a number of large rock amphitheaters filled with the unique tall rock structures called hoodoos.
The park's elevation is 8,000 to 9,000 feet above sea level (2,400 to 2,700 meters) which means temperatures are cooler and the climate is more mild than other California and Arizona state and national parks.
Zion National Park is a little closer to Los Angeles and is named after the Zion Canyon that runs through it. This is an actual canyon and while not as vast as the Grand Canyon, it is incredibly scenic so make sure you go to both if you head up to Utah.
If you'd like to hike up to Angels Landing, you will need a permit and will need to make a reservation. Check the Zion National Park's website for more details.
READ MORE - Road trip from Los Angeles to Zion and Bryce Canyon National Parks