Can you Drive to Honeymoon Island?
Honeymoon Island is a favorite beach getaway on the western coast of Florida, located right across Palm Harbor. Blessed with sandy beaches, bird habitats, long trails and spectacular sunsets, it's everything you could wish for from a classic Florida holiday.
You can drive to Honeymoon Island, which is located off the west coast of Florida, in Saint Joseph Sound. It takes just 50 minutes to reach the island from Tampa by car, via the Dunedin Causeway that joins the mainland in Dunedin to Honeymoon Island.
With miles of beaches and top-notch birdwatching, Honeymoon Island is a natural paradise. Read on to learn the best way to get there and how to make the most of your trip.
Can you drive to Honeymoon Island?
Getting to Honeymoon Island by car

| Depart from | Mode | Arrive to | Distance/Time | Entrance fee |
| --- | --- | --- | --- | --- |
| Dunedin | Causeway | Dunedin Causeway | 2.5 mile/5 minutes | $8 |
*Price calculated at the time of writing, based on 1 vehicle and 1 adult
Located off the west coast of Florida, Honeymoon Island sits in the bay of Saint Joseph Sound, just across from the city of Dunedin. There is only one driving route to access the island from the mainland, which makes the journey super convenient.
The island is connected to the mainland by the Dunedin Causeway, which allows cars to cross the water to reach Honeymoon Island State. Dunedin Causeway is a 2.5-mile long route that stretches from Dunedin to Honeymoon Island State Park.
As well as driving along Dunedin Causeway, you can park for free on the side next to the driving lanes and use the bridge as a hop-off point for fishing, sunbathing and water sports. The recreational side of the bridge is open daily from 5am to 11pm.
It takes 50 minutes to drive to Honeymoon Island from Tampa, over a distance of just 50 miles. Driving to Honeymoon Island is the only option to get to the island from the mainland with your car. You can also take a bus ride from Tampa, which is well connected to other US cities with its airport.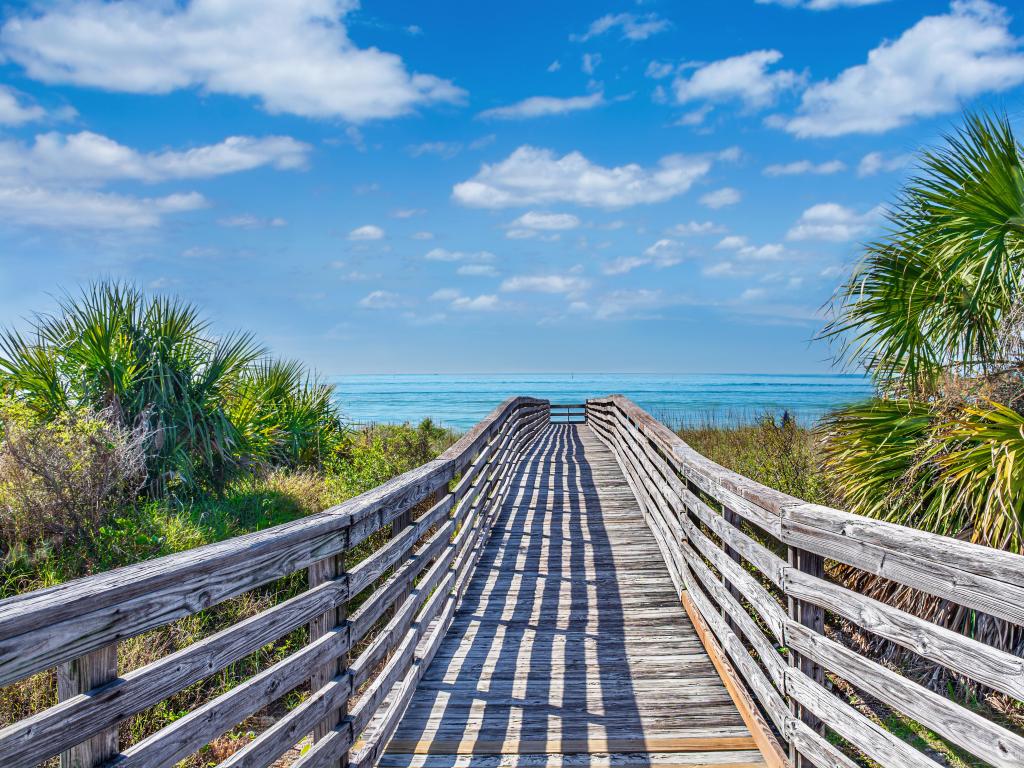 From Honeymoon Island, you can take a ferry to the nearby Caladesi Island for more beautiful beaches. Caladesi Island is car-free, so you'll need to leave your car on Honeymoon Island and take the passenger ferry across Dunedin Channel.
If you're feeling sporty, you can also take a kayak across to Caladesi Island!
How to get to Honeymoon Island from mainland USA
The only way to drive to Honeymoon Island is via Dunedin Causeway, but first, you'll need to arrive at the start of this route at 61 Causeway Blvd on the mainland.
The drive from Tampa is straightforward and can be completed in under an hour. It is also a pleasantly scenic drive, as the road from Tampa runs along Old Tampa Bay before heading to Dunedin and its spectacular causeway.
From Tampa, take Interstate 275 (I-275 S), then take County Road 576 to join FL-580 going west. You can stop at HammerTime Hollow, a local farm selling fresh produce where you can meet the cows. Slightly further up the coast are Upper Tampa Bay Park and Harbor Palms Nature Park, both of which are great for a picnic stop.
At Oldsmar, continue onto FL-584. Check out Oldsmar Sports Complex for its great facilities including a BMX track and playground. Take a left onto FL-586 to arrive in Dunedin. Dunedin is known for its fabulous golf club, which boasts an 18-hole course and a grill restaurant.
Before getting on the causeway, you can enjoy car-free cycling on the Pinellas Bike Trail, which runs all the way along the coast St. Petersburg to Tarpon Springs.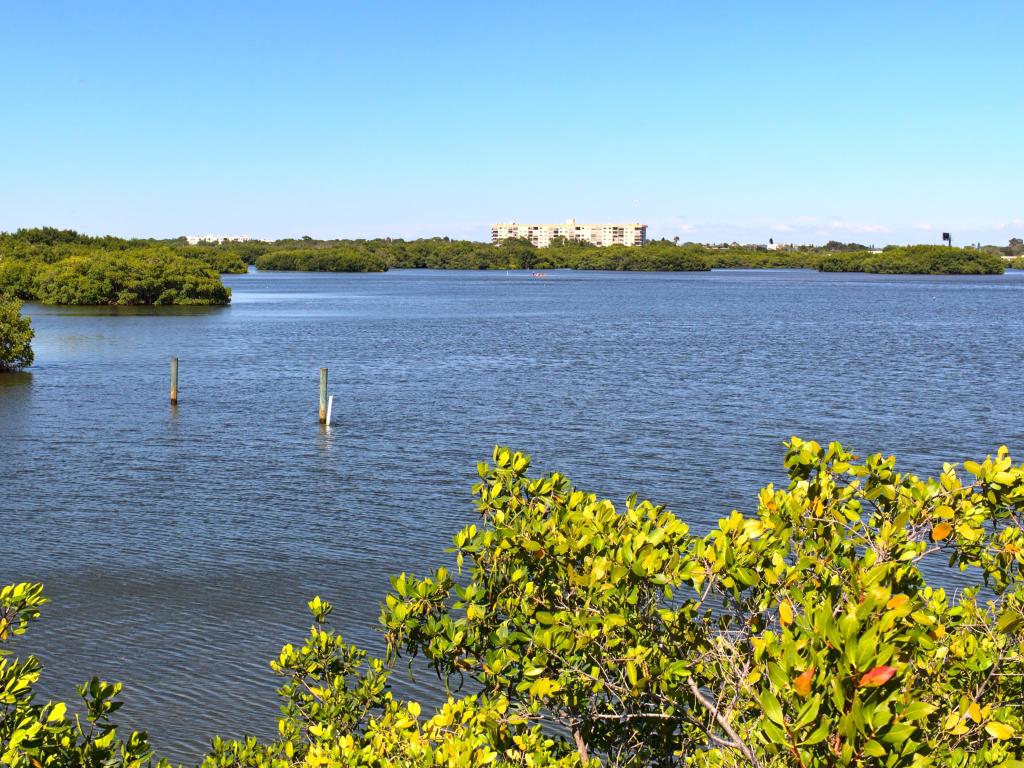 Continue onto Dunedin Causeway, which takes you to the entrance of Honeymoon Island State Park. There is no toll for the bridge itself, but cars have to pay an $8 fee to access the island. Dunedin Causeway is open year-round.
Driving from the mainland is definitely the cheapest and most effective option for reaching the island.
The ferry from Caladesi Island to Honeymoon Island costs 18 USD per passenger. Boats operate every half an hour beginning at 10am, and It is open every day except for Thanksgiving and Christmas, as long as the weather permits.
*This applies at the time of writing, please check the operator's website for more information.
How long does it take to drive to Honeymoon Island?
Once you're on Dunedin Causeway it's only a 5-mile drive to Honeymoon Island, which should take around 15 minutes, traffic permitting.
To help with planning for your trip, we've outlined the distance and driving times from a handful of popular starting points for driving to Honeymoon Island.
Which port should you arrive at on Honeymoon Island?
As you won't be taking a ferry to arrive by car on Honeymoon Island, you don't need to worry about which port to arrive at. You'll arrive on the island via Dunedin Causeway, which takes you directly to Honeymoon Island State Park.
However, you may want to park your car and explore the island's beaches and wildlife on foot. You can park near to the exit of the Causeway, at 2 Causeway Boulevard Parking, or there is free parking on either side of the Causeway.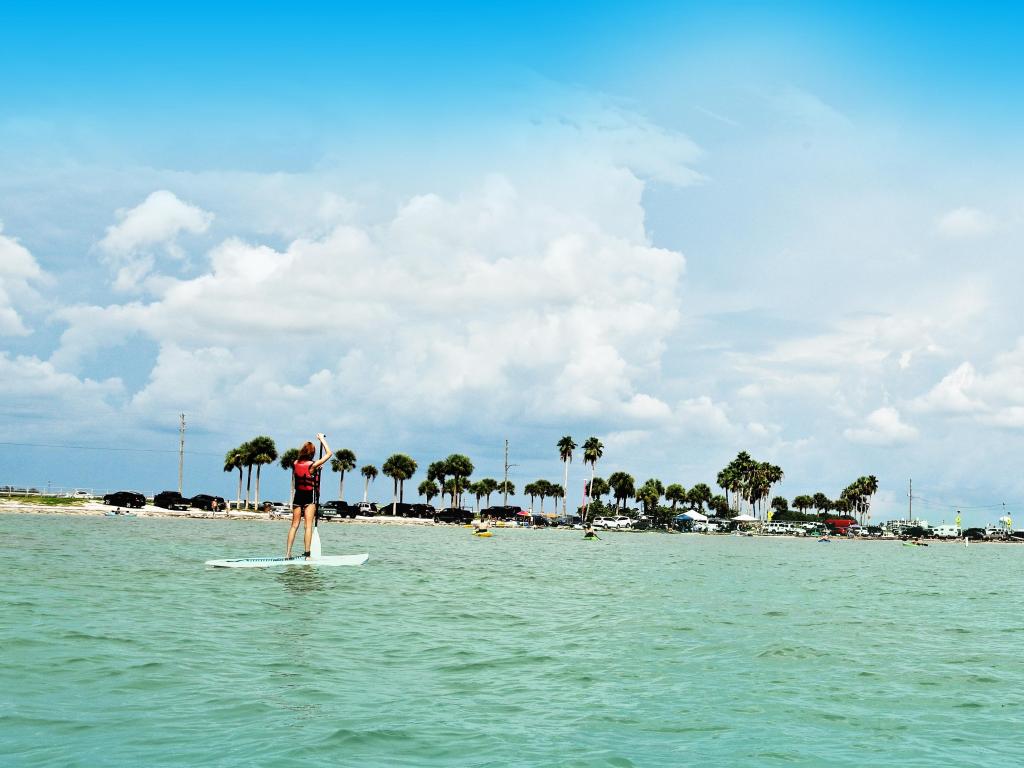 Things you need to know about driving to Honeymoon Island
Driving to Honeymoon Island should be easy breezy, as there is only one route and once you reach Dunedin Causeway you can't go wrong.
Here are our top tips when it comes to preparing for a drive to Honeymoon Island:
You don't need to purchase tickets for either the Causeway or Honeymoon Island, though there is an 8 USD fee to pay on arrival to access the island by car.
As Honeymoon Island is part of Florida, you don't need any passports or other documents to travel (after entering USA using the correct documents and your passport, if traveling from abroad).
You can purchase a permit to leave your car on Dunedin Causeway overnight, which costs 10 USD for a single-use permit that is valid for 2 days.
If you're also taking the Caladesi Island Ferry, you're only allowed on the island for a maximum of 4 hours. There is no overnight accommodation on Caladesi Island.
Remember that Florida has a hurricane season between August and October, which could cause road and bridge closures.
Things to see once you reach Honeymoon Island
One of the main attractions of Honeymoon Island is the miles of untouched nature, so we recommend you spend the majority of your time here kicking back in the peaceful environment.
That said, there are some incredible opportunities to spot wildlife, so we've picked out some highlight places to explore:
Beaches - More than four miles of beautiful sandy beaches await you on Honeymoon Island. Spectacular sunsets and sheer relaxation are waiting!
Osprey Trail - This three-mile trail gives you an excellent opportunity to explore one of the last remaining virgin slash pine forests.
Birdwatching - Honeymoon Island is one of the best places to spot skyward, eagles, osprey, and great horned owls. Don't forget to look down as well, as you might spot tortoises, raccoons and armadillos!
Rotary Centennial Nature Park - Explore the park's history and natural resources. Here you can also learn the secret of how Honeymoon Island got its name!
Caladesi Island - Board a ferry and visit nearby Caladesi Island. It is a top spot for sea activities and was once voted America's Best Beach!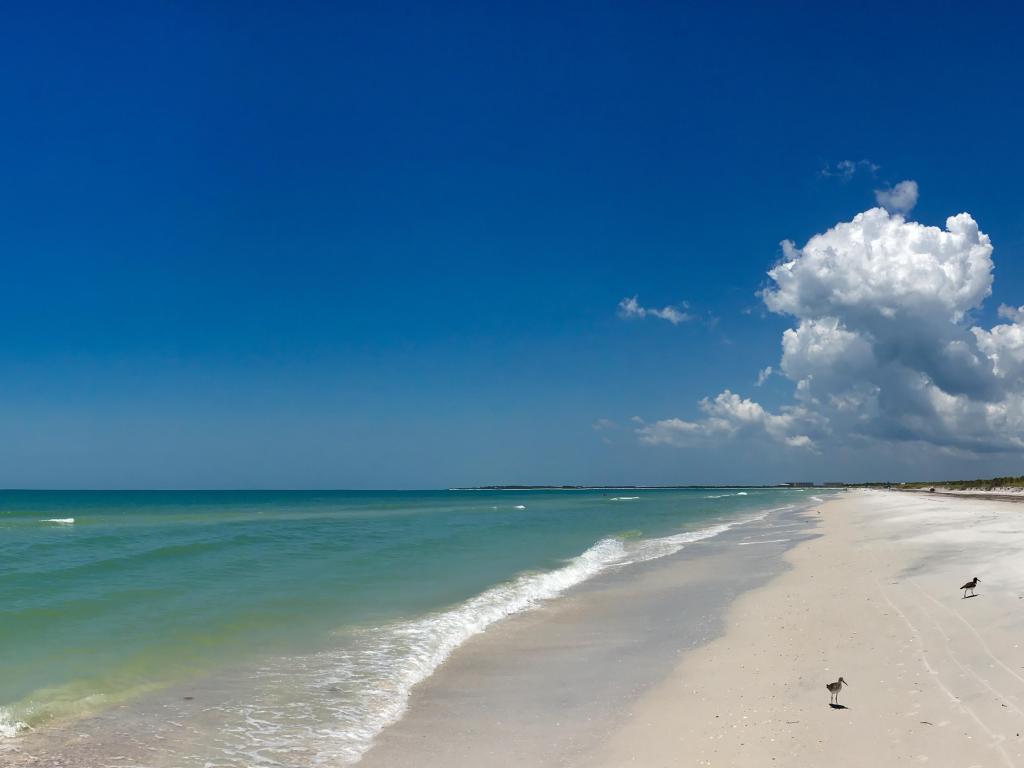 As it's such a simple drive, in our book a trip to Honeymoon Island is a no-brainer. Whether you're on a romantic getaway or not, the stunning natural haven has something for everyone.