Can you Drive to Caladesi Island?
Caladesi Island is know for its three miles of unspoiled beach and its natural beauty, and if you visit the mangrove forests, white sand beaches and green Gulf Coast waters, it will be easy to see why.
You can't drive to Caladesi Island, which is located in the Gulf of Mexico off the west coast of Florida, but you can easily drive to Honeymoon Island State Park and from there take a ferry from across to this beautiful barrier island near to Dunedin and Clearwater.
Named as the best beach in the whole of the United States, Caladesi Island is a beautiful destination. But seeing as you can't drive all the way there, keep on reading for our travel tips to make a visit as relaxing and enjoyable as possible.
Can you drive to Caladesi Island?
Overview of the main ways you can get to Caladesi Island

| Depart from | Mode | Arrive to | Distance | Transit time |
| --- | --- | --- | --- | --- |
| Honeymoon Island | Passenger ferry | Caladesi Island State Park Boat Slips | 1.5 miles | 20 minutes |
| Honeymoon Island | Kayak hire | Caladesi Island | 1.5 miles | Varies |
| Clearwater Beach | Hike | Caladesi Island (South) | 3 miles | 1 hour |
Located on the west coast of Florida, Caladesi Island sits between the Florida coast and the Gulf of Mexico. It's a long, narrow barrier island created in 1921 by a hurricane, so it runs parallel to the Florida coastline.
The Dunedin Channel, which separates Caladesi Island from the mainland, is around 1.2 nautical miles across, and the nearest major city on the mainland is Clearwater.
There are no bridges or car ferries which travel across to Caladesi Island, and there are no roads on the island either. That means driving to Caladesi Island isn't an option.
However, the island is still open to visitors, with four options to reach the island from the mainland. You can take the Caladesi Island Ferry, or upgrade to a private boat for an on-demand departure. For a more active day trip, you can also kayak across to the island or walk from Clearwater Beach.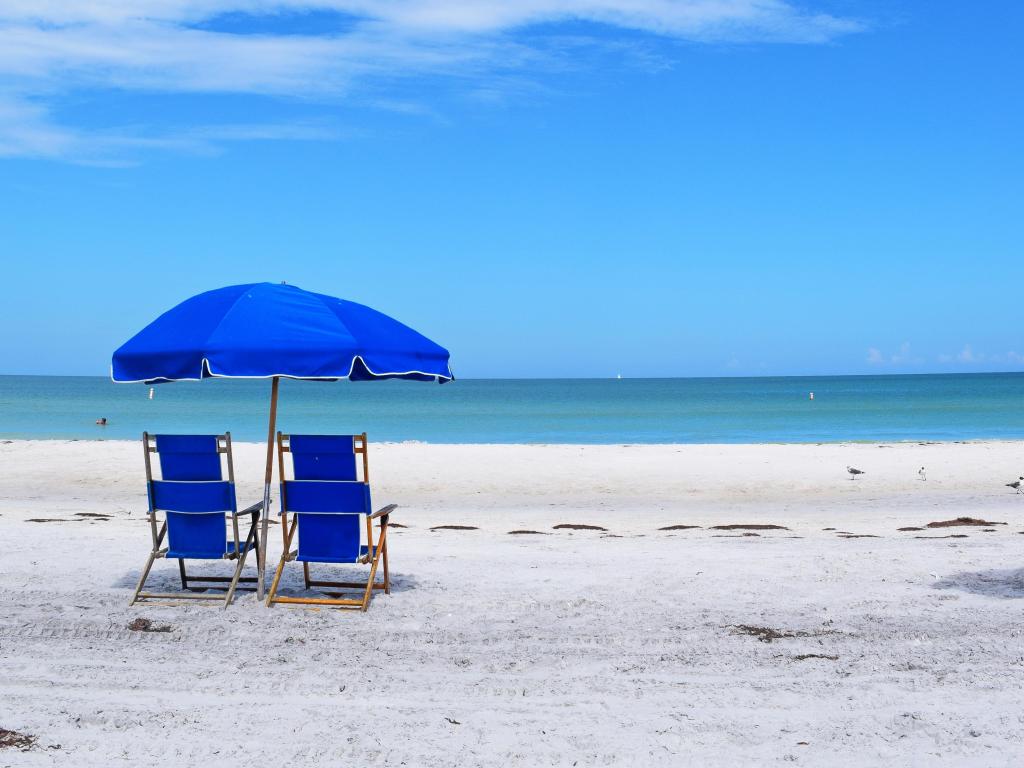 The Caladesi Island Ferry is the safest and most practical way to reach the island, as the ferry departs once and hour for the short 20-minute trip across the channel. During peak season, which runs from mid-February to mid-September, the ferry is more frequent with departures every 30 minutes.
The closest you can get on land is by driving north from Clearwater Beach, which then involves a 3-mile hike to reach the island.
How to get to Caladesi Island from the mainland USA
The Caladesi Ferry is the most popular and easiest way to get to Caladesi Island, but first you'll need to get to the ferry dock on Honeymoon Island.
To reach Honeymoon Island, head across the Dunedin Causeway from Alt Route 19 between Dunedin and Palm Harbor. Once you've arrived on Honeymoon Island, follow signposts to the Caladesi Island Ferry.
Vehicles aren't permitted on the ferry but you can park on Honeymoon Island. Parking is free, however you'll have to pay an $8 per vehicle entrance charge to enter Honeymoon Island State Park.
If you're feeling more active, you can also get across to Caladesi Island in a kayak. This is more strenuous and also takes longer, but if you're up for the challenge you can usually hire a kayak without a reservation. This route is obviously dependent on weather conditions, so check for local advice before setting out.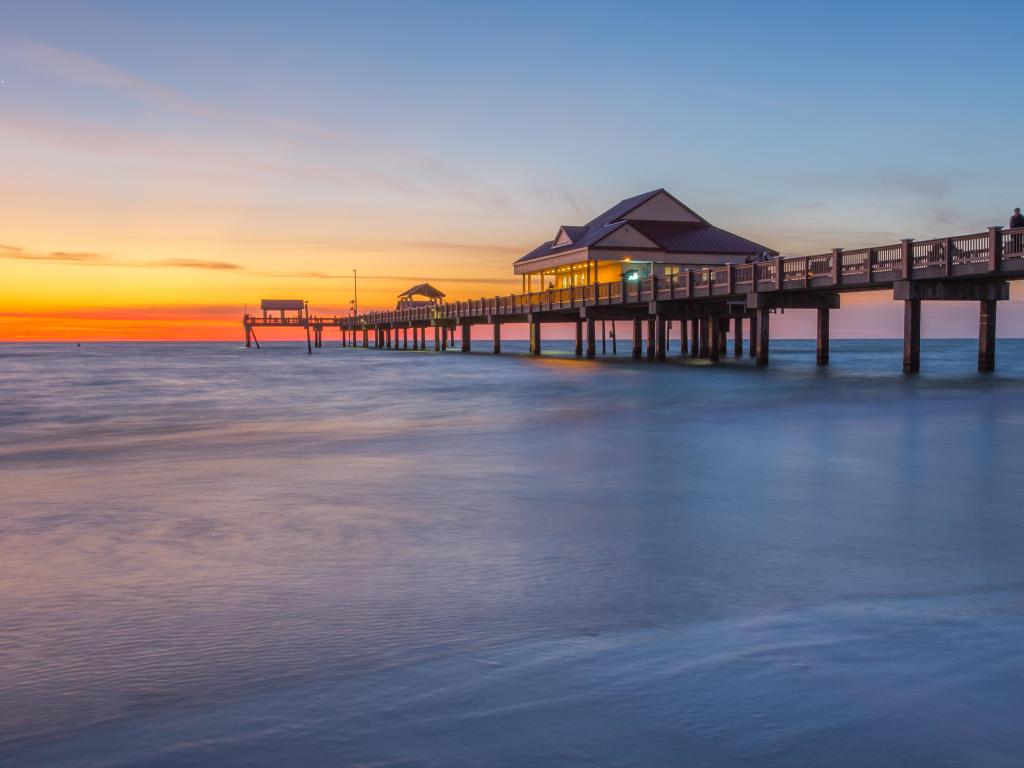 Likewise, it's possible to hike from Clearwater Beach, however be sure to make the journey at low tide as some crossings may be inaccessible at high tide. It's quite a long walk with few places to stop for refreshments, so pack water, sun cream and snacks before setting out.
In contrast, the ferry from Honeymoon Island makes the trip to Caladesi Island easy. With frequent departures which run 7 days a week, all year round, it's also a really efficient way to travel. Crossings start at 10 AM and run through the day, but travellers should also note there's a maximum 4-hour stay on Caladesi Island so plan ahead to make your return crossing on time.
Comparison of the fares to reach Caladesi Island

| Departure | Arrival | Mode | Fare |
| --- | --- | --- | --- |
| Clearwater Beach | Caladesi Island | Hike | $2 |
| Honeymoon Island | Caladesi Island | Passenger Ferry | $18 |
| Honeymoon Island | Caladesi Island | Kayak Hire | $60 |
*Price calculated at the time of writing, for 1 adult, based on a round trip
How long does it take to travel to Caladesi Island?
The ferry crossing only takes 20 minutes but you'll also need to factor in time to travel to Honeymoon Island from your starting point.
To help with planning your trip, we've put together a summary of drive times and distances from some common starting points up to the ferry office on Honeymoon Island. Once you're there, add on up to an hour if you need to wait for the next departure, then 20 minutes for the ferry crossing itself.
Travel times to Caladesi Island from major cities in United States

| Starting Point | Distance | Travel Time |
| --- | --- | --- |
| Dunedin, FL | 6 miles | 15 minutes |
| Clearwater, FL | 10 miles | 25 minutes |
| Tampa, FL | 30 miles | 50 minutes |
| Orlando, FL | 110 miles | 2 hours 20 minutes |
| Jacksonville, FL | 220 miles | 4 hours |
| Miami, FL | 300 miles | 5 hours |
| Savannah, GA | 350 miles | 6 hours |
*The traveling distances and times listed above include driving times to Honeymoon Island and the ferry crossing to the Caladesi Island
Which port should you arrive at on Caladesi Island?
If you arrive by ferry there's only one entrance point to the island, up in the north. You'll then have to travel onwards to the beach or along the mangrove trails by foot, as vehicles are not permitted on Caladesi Island.
If you're hiking from Clearwater Beach you'll reach Caladesi Island from the south. From here you can make your way to any other point on the island. There are few facilities on the island so you'll have to carry on toward the ferry boat slips to visit the cafe or restrooms.
Mooring points on the island are very limited, so if you're taking your own boat across to Caladesi Island it's best to reserve a docking space in advance.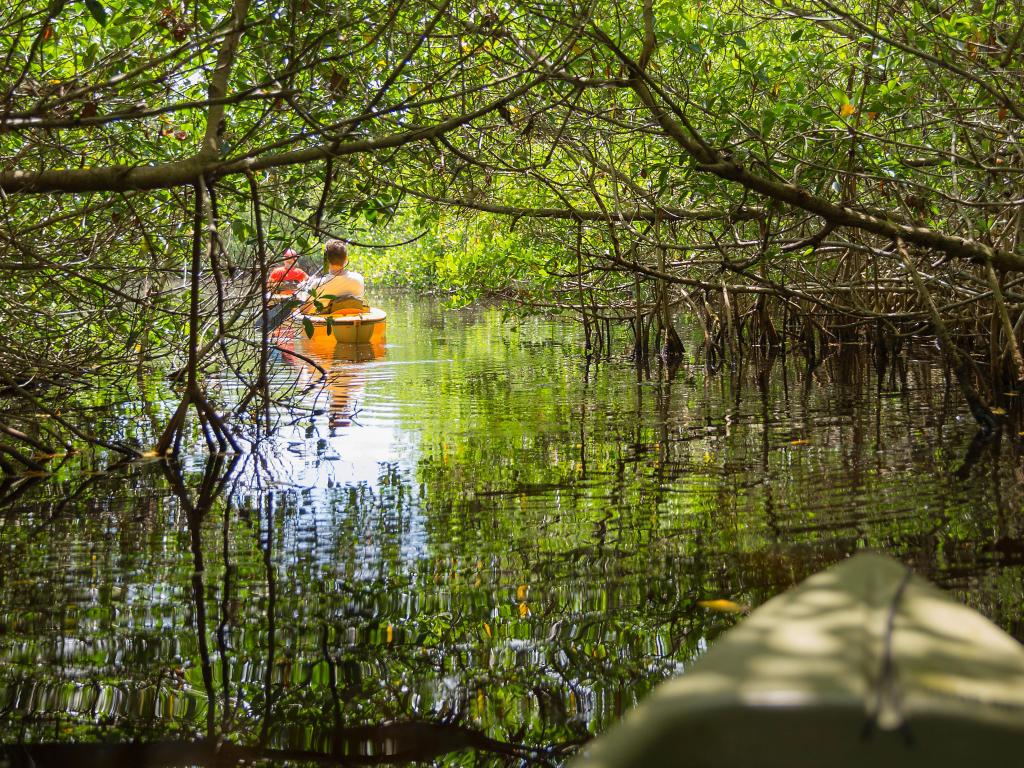 Things you need to know about getting to Caladesi Island
Here are our top tips when it comes to preparing for a drive to Caladesi Island:
It's easy to leave your car behind, with hassle-free parking facilities available at Caladesi Island Ferry Tickets and Information. There are also other parking lots on the Honeymoon Island State Park, such as the 2 Causeway Boulevard Parking.
You can't reserve the Caladesi Ferry and prices don't vary depending on the seasons. It's a walk-on service, but please note that weekends can be busier and you may have to wait longer.
If you're taking the Caladesi Island Ferry your time on the island is limited to 4 hours.
Pets aren't permitted on the ferry, and if you're taking an animal via a different route they'll only be allowed in designated areas.
All self-drive boats need to be registered, and there is a fee to be paid.
There's no overnight accommodation on the island, but you can stay on your own boat at the Caladesi Island State Park Boat Slips. This needs to be reserved and paid for.
As a state park, there are no drones or fireworks allowed on the island, and alcohol is only permitted in certain areas.
There are also tree-shaded picnic areas on the island, and you can take your own cool boxes. Alternatively get refreshments at Cafe Caladesi, a small concession stand near the ferry boat slips serving hot food.
Caladesi Island also has restrooms and showers.
If you're fishing on Caladesi Island you'll need a Florida fishing licence.
Pay close attention to warning signs while you're on the beach, as there are no lifeguards. The waterways are safe if you see a green flag, but double red flags mean no swimming. In case of yellow flags, be careful and stay closer to the beach, while purple flags mean that dangerous marine wildlife such as stingrays are present.
Things to see once you reach Caladesi Island
One of the real attractions of Caladesi Island is that it's a place where you can really connect with the beautiful and unspoilt natural environment. In this regard, there's no real need to actually do anything.
Bearing this in mind, we've picked out some of our top tips for things to do once you arrive on the island:
Relax - stretch out on the white sandy beach and enjoy the Florida sun. You can hire sunbeds and parasols for $30 which you can enjoy four hours. Alternatively, take a towel and other equipment such as parasols with you on the ferry.
Hiking - walking through the nature trails is the perfect way to explore the untouched landscape. The Caladesi Island State Park Trail is 3 miles and is a tranquil walk through the island. Bring bug spray and suntan lotion, and be wary of rattlesnakes.
Kayaking - If you arrive by kayak, go through the Mangrove Kayak Trail. It's only accessible by kayak and is an immersive exploration full of wildlife. If you're lucky, you might catch a glimpse of a dolphin.
Fishing - angling in the designated spots can be really fruitful. Catches include everything from flounder to redfish to snappers.
Birdwatching - for birdwatchers, you can watch a wide array of birds on the island. Great blue herons, brown pelicans, oystercatchers, bald eagles are a few of the many species spotted on the island.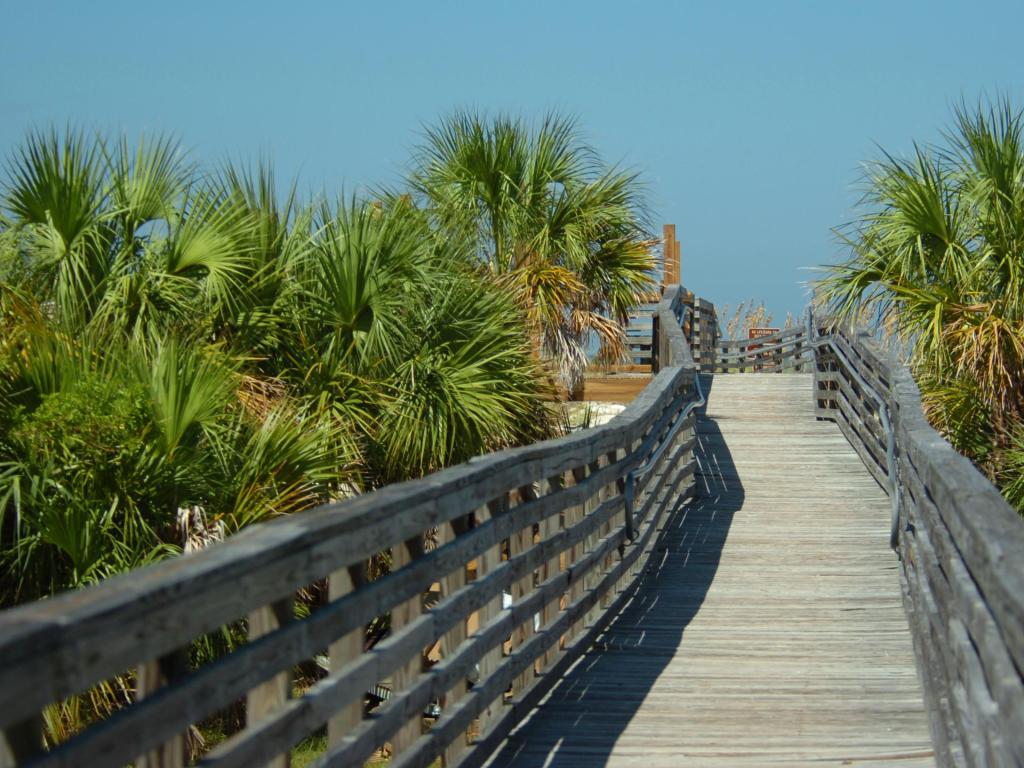 Although you can't drive all the way there, a ferry trip to stunning Caladesi Island is definitely worth the extra effort for an unforgettable visit.