Best Time to Visit Miami, Florida
Miami is a famous mix of eclectic architecture, tropical weather and pristine beaches that stretch for miles but it's important to pick the right time to visit Miami to make the most of your trip.
The best time to visit Miami is from March to April or in November. The weather is perfect during these spring and fall months, avoiding the very hot and humid summers and the hurricane season and you miss the peak of the high tourist season.
Read our guide for a complete rundown of the weather throughout the year, best times to visit for the beaches, prices or events and festivals in Miami.
When should you go to Miami?
When to visit Miami - Summary
Best Time for Good Weather: The best weather in Miami happens from December to April. The temperatures are lower than in the summer, but are still warm with daily highs comfortably in the 70s (over 21 °C). Winter is the dry season in Miami. Although it still rains every now and then, there is a lot more rainfall in the summer and fall. The humidity in the summer is high which makes it feel intensely hot outside which is why people from across the US flock to Florida during the winter months when the rest of the country is under a snow blanket. April and November are perfect if you're looking for the best weather. Daily highs are around the 80 °F (27 °C), humidity and rainfall are relatively low and it's outside the hurricane season.
Best Time for Sightseeing: To make the most out of your trip and see all the main sights, come to Miami in November. The weather cools down and the humidity lowers which means November is perfect for going out and about without getting drenched in sweat but the majority of the crowds don't turn up until January so you won't have to queue up wherever you're going.
Best Time for Saving Money: The cheapest time of the year to visit Miami is in late summer and September. The weather is very hot, the hurricane season is on and that means there are fewer people coming to Miami during this time. If you have a choice, September is usually the cheapest option - there's not much going on in the city and most people try to avoid the weather. If all of that sounds like the perfect time to go, you'll get the best hotel prices and cheap flights.
Best Time for Cruises: Cruises stop at, start and end in Miami all year round. As it's located so close to the Caribbean, this is a great place to start your trip around the islands and soak up the sunshine. The best time to visit if you want to do one of these cruises is in April and May - many Caribbean islands have intense wet seasons starting in June so go for the best weather at the end of spring.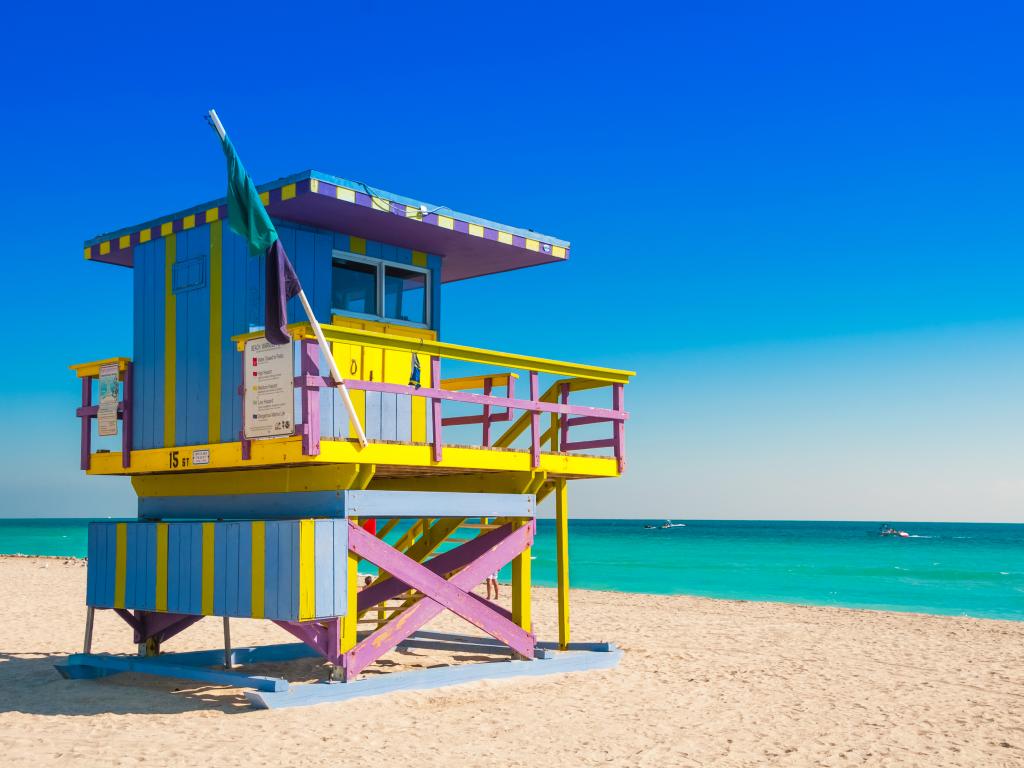 Best time to visit Miami
Best Time for Restaurants: There is an amazing selection of restaurants all over Miami with a number of different communities serving up spectacular food. If you want to try the best at a reasonable price, the Miami Spice Months event in August and September includes over 200 restaurants offering unique fixed price menus which are incredibly good value.
Best Time for Concerts and Music: May is the month if you want to catch amazing performances and some of the biggest festivals in the world. Miami erupts with music in May with one huge festival coming after another and there's something for everybody from world's biggest pop stars to alternative music and the best of Caribbean beats.
Best Time for Families and Kids: Avoid the hot and humid summer months if you are coming with kids - even spending time on the beach can be difficult with in the hot summer weather. Any time from November to May is great if you want the kids to enjoy Miami's beaches or venture out on activities to the Everglades or theme parks.
Best time to Avoid Crowds: If you want to have the city all to yourself, you're out of luck because Miami is a popular destination all year round. While those in the know come during the winter months, there are lots of families and visitors from abroad who visit in the summer. September is usually the most quiet month in the year - the summer visitors are gone, the weather is still very humid and hot and it's the peak of hurricane season. This means relatively few people will be out and about and the beaches can be empty, especially on weekdays. The truth is - hurricanes are still relatively rare and the high amount of rainfall only comes in an afternoon burst so if you want to have few other tourists around, September is the time to go.
Miami travel seasons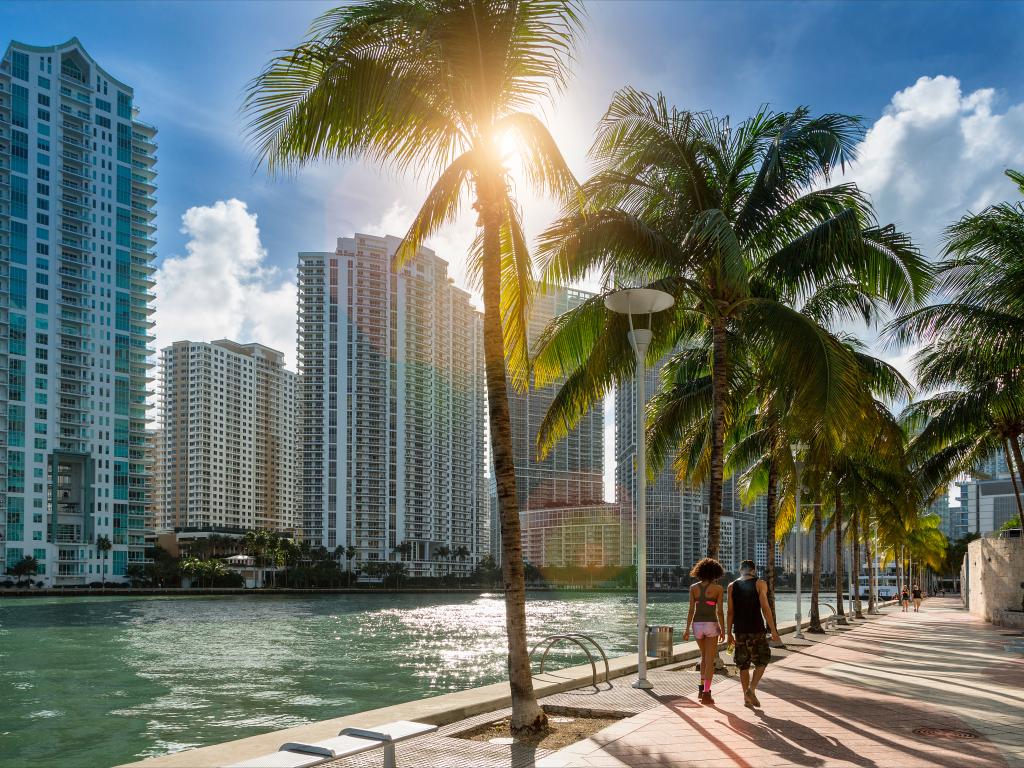 High Season for Tourists (December to March)
While the rest of the United States braves the cold winters, snow and ice, the south of Florida is bathing in sunlight with endless beaches and cocktails on the menu. This is the time when people from across the United States as well as Canada and Europe flock to Florida to make the most of the tropical climate.
Miami gets very busy in January and during spring break in March as students descend on Miami. Hotels, flights and car rental prices tend to be at their highest during this season and there will be more people relaxing on the sand. Make sure you make restaurant reservations in advance as these can fill up early.
Shoulder Seasons (April to May and November)
While these are shoulder months in terms of tourism in Miami, April and May are still relatively busy with a lot of events and major music festivals taking place in May in particular.
Compared to the middle of winter, the prices are a little better and the weather is still decent which means a few people still visit, but with kids being in school and these months being outside traditional vacation seasons, there are fewer people about.
Low Season (June to mid-October)
The summer months are the low season in Miami which you may find surprising until you find out what the weather is like.
Summer months in Miami are very hot and sticky. While the daily temperature highs are only in the high 80s (around 30 °C), the high humidity makes it feel much hotter than that and the intensity of the heat can feel unpleasant. The locals agree and have even named their basketball team after their summer weather!
With the rest of the United States basking in summer glory, the tourists flock to other destinations and Miami is usually quiet, especially in August and September. The advent of hurricane season during these months and the powerful rainstorms that arrive put people off visiting Miami at the end of summer and in early fall.
Best time to visit Miami for hitting the beach
With some of the most famous beaches in the world and near-perfect water conditions, Miami beaches are popular with those who live in the area and the tourists that come to Miami all year round.
If you're after sunning on the beach and cooling off in the warm sea water, July and August are great if you don't mind the occasional rainstorm.
If you want the perfect weather with the lowest chance of rain, come from March to April or in November. The beaches are busier, but there is more than enough sand for everyone.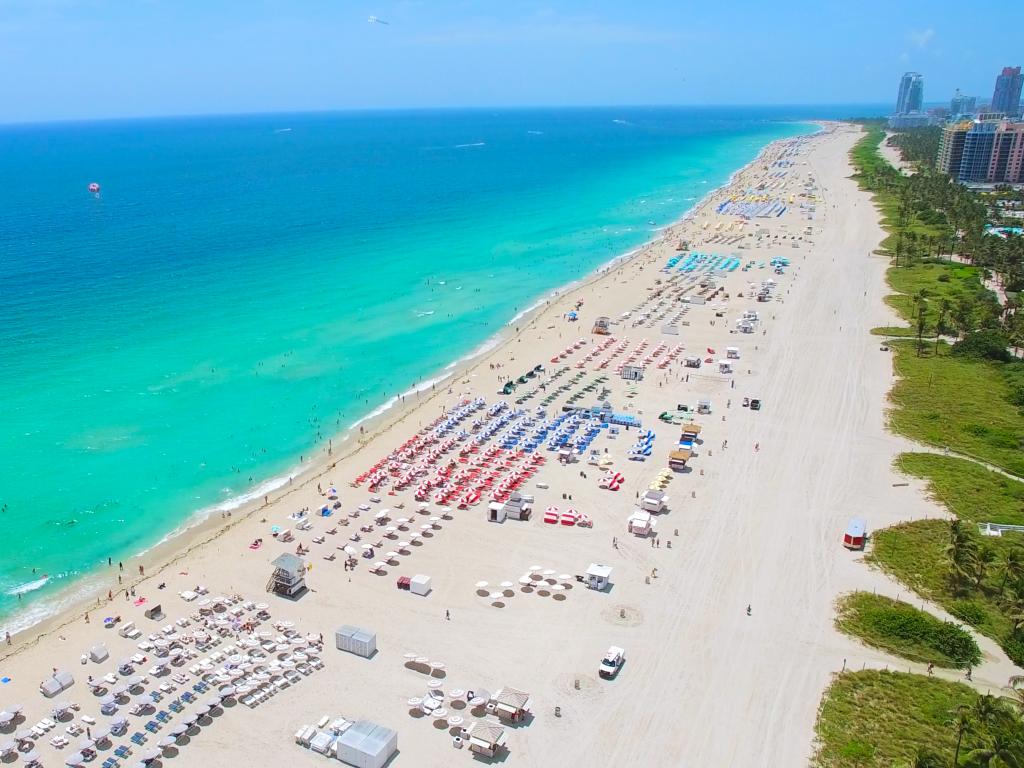 Weather in Miami across the year
Miami has a tropical climate which is unlike any part of the United States outside Florida. Temperatures are warm year-round with daily highs ranging between 73.8 °F and 88.5 °F (23.2 °C to 31.4 °C) in monthly averages.
Summers are very hot and humid and from mid-July through to the end of October is hurricane season with a relatively high likelihood of storms and rainstorms arriving.
Average monthly temperature and rainfall for Miami
Average temperature highs and precipitation
Data sourced from U.S. NOAA Climate Data
Month
Temperature
Rainfall
January
73.8 °F / 23.2 °C

---

2.09 in / 53 mm

---

February
74.9 °F / 23.8 °C

---

2.33 in / 59 mm

---

March
76.3 °F / 24.6 °C

---

3.00 in / 76 mm

---

April
79.4 °F / 26.3 °C

---

3.20 in / 81 mm

---

May
82.8 °F / 28.2 °C

---

4.98 in / 126 mm

---

June
86.5 °F / 30.3 °C

---

8.27 in / 210 mm

---

July
88.1 °F / 31.2 °C

---

4.35 in / 110 mm

---

August
88.5 °F / 31.4 °C

---

6.37 in / 162 mm

---

September
87.0 °F / 30.6 °C

---

7.88 in / 200 mm

---

October
83.7 °F / 28.7 °C

---

4.47 in / 114 mm

---

November
79.3 °F / 26.3 °C

---

2.74 in / 70 mm

---

December
75.7 °F / 24.3 °C

---

2.05 in / 52 mm

---
Miami weather by month
Miami weather in January: January is the coolest month in Miami with daily highs dropping to an average of 73.8 °F (23.2 °C). With the tropical climate, the coolest month in Miami is still very pleasant - nighttime lows are a pleasant 61.4 °F (16.3 °C). The dry winter season means January is pleasant although a few days can drop to lows in the low 40s (5 to 7 °C) but don't worry - Miami has never recorded snowfall in over 100 years of records. Average temperature: 67.6 °F / 19.8 °C. Average precipitation: 2.09 in / 53 mm.
Miami weather in February: February weather is markedly similar to January with days getting warmer towards the end of the month and it continues to be relatively dry. Daily highs average 74.9 °F (23.8 °C) with some days climbing into the 80s (over 27 °C), which together with sea water at a reasonable 75 °F (24 °C) makes for perfect beach weather. Average temperature: 68.9 °F / 20.5 °C. Average precipitation: 2.33 in / 59 mm.
Miami weather in March: Temperatures continue to warm through March as Miami enters spring and arguably the best time of the year for weather. Daily highs reach an average of 76.3 °F (24.6 °C) with some days rising above 85 °F (above 30 °C) later in the month. Average rainfall is higher than during the winter months, but still relatively low with only occasional rainy days. Average temperature: 70.8 °F / 21.6 °C. Average precipitation: 3.00 in / 76 mm.
Miami weather in April: The second of the perfect weather spring months in Miami, temperatures continue climbing steadily in April and this is the last low rainfall month before the humid and wet summer months take hold. Nightly lows are a balmy 69.2 °F (20.7 °C) and the days are warm and full of sunshine. Average temperature: 74.3 °F / 23.5 °C. Average precipitation: 3.20 in / 81 mm.
Miami weather in May: May is the transition month when the warm spring turns into the hot and humid summer in Miami. Rainy days increase to about 1 in 3 and the daily highs average at 82.8 °F (28.2 °C). A few days towards the end of the month will go over the 90 °F (32 °C) mark which will begin to feel hot as the humidity builds. Average temperature: 78.4 °F / 25.8°C. Average precipitation: 4.98 in / 126 mm.
Miami weather in June: Temperatures get high in June and humidity reaches a pretty high 66% which will make it feel even hotter. Summer rainstorms arrive in full with the highest amount of rainfall in the year - it will rain every other day on average but the summer rains are different to winter. Expect a heavy rainstorm in the afternoon with the rest of the day being largely clear. Even though there's 4 times the rainfall of winter months, you'll get about the same amount of sunshine. Average temperature: 81.7 °F / 27.6 °C. Average precipitation: 8.27 in / 210 mm.
Miami weather in July: July continues to be hot and humid - daily highs average at over 88 °F (31 °C) and the high humidity continues making it feel very hot during the day. The summer rainstorms ease up in July but the hurricane season starts and Miami is relatively prone to being hit by powerful storms and hurricanes, being located in the pathway of those originating further south in the Caribbean or in the Gulf of Mexico. Average temperature: 83.2°F / 28.4 °C. Average precipitation: 4.35 in / 110 mm.
Miami weather in August: August is the hottest and most humid month of the yea which can feel very uncomfortable in mid-afternoons. Being right in the middle of the storm and hurricane season, August weather is unpredictable and comes with tropical downpours on most days. Expect half the days in the month to break the 90 °F (32 °C) barrier but with the sea temperature hitting a year high of 86 °F (30 °C), you'll need frequent dips in the water and air conditioning to get by. The numbers may not look as high as some parts of USA, but the humidity means you will feel hot and sweaty from a 30 minute walk. Average temperature: 83.6 °F / 28.7 °C. Average precipitation: 6.37 in / 162 mm.
Miami weather in September: September is hot, humid and wet, picking up where August has left off and adding heavier and more frequent downpours. Even the nights are hot with daily lows averaging 77.7 °F (25.4 °C) so make sure you've got air conditioning in your room! Although strong hurricanes only hit Miami once every 6 to 8 years, occasional storms do happen in September so take care and check the weather reports. Average temperature: 82.4 °F / 28.0 °C. Average precipitation: 7.88 in / 200 mm.
Miami weather in October: October is a month of change with the summer heat, humidity and rainstorms gradually subsiding. The first half of the month can still feel very hot and afternoon rainstorms will continue, but it will feel much fresher towards late October. Sea temperatures remain high at 83 °F (28 °C) so go for a swim to get away from the heat. Nighttime lows drop to an average of 74.7 °F (23.7 °C) - a lot but noticeable improvement for evenings out and sleeping. Average temperature: 79.2 °F / 26.2 °C. Average precipitation: 4.47 in / 114 mm.
Miami weather in November: While the hurricane season officially covers November, weather improves dramatically from early in the month with the summer humidity gone, average temperatures feeling comfortable at 74.4 °F (23.6 °C) and rainfall reducing to the standard winter pattern of one day of rainfall every 5 or 6. With plenty of sunshine and the sea temperatures cooling but still a warm 76 °F (24 °C), November weather is about as good as it gets in Miami. Average temperature: 74.4 °F / 23.6 °C. Average precipitation: 2.74 in / 70 mm.
Miami weather in December: December marks the start of the winter season when the rainfall is at its lowest and temperatures are relatively cool, although daily averages remain above 70 °F (21 °C). December is the driest month of the year in Miami, although there will still be occasional rainy days due to the tropical climate and the humidity hits an annual low making it a great time for exploring the city or venturing into other parts of Florida. Average temperature: 70.0 °F / 21.1 °C. Average precipitation: 2.05 in / 52 mm.
Miami events and things to do by month
January in Miami
Life in Color Music Festival - A lively music festival in Miami that shows off its vibrancy with bright colors, literally showering the crowds with paint and glitter.
Miami Beer Festival - Annual event in early January with over 200 beers including many of Southern Florida's finest local breweries, craft beers and food trucks.
Miami Marathon - A run that is growing in popularity taking in some of the best sights around Miami looping in and out of Miami Beach and down to Coconut Grove.
February in Miami
South Beach Food and Wine Festival - Huge series of events with everything from mass food shows to small dining experiences to all night parties featuring Man v Food's Guy Fieri and Michelin starred chefs.
Coconut Grove Art Festival - 3 days over the Presidents' Day Weekend brings together artist showcases and displays, music, food and lots of family activities.
Coral Gables Mega Festival of the Arts - A free street event that mixes together craft beer, live music, fashion shows, a dog show and has artists too!
March in Miami
Miami Open - The city may have their preference for the NBA's Heat or the NFL's Dolphins and David Beckham is starting up a new Soccer franchise in Miami, but the Miami Open Tennis event is about as good as tennis gets outside the 4 big majors with all of the big names coming to town.
Miami Music Week and the Ultra Music Festival - A busy series of events where the music doesn't seem to stop with the best of electronic and dance music attracting tens of thousands of visitors from around the world. The famous Ultra Music Festival closes out the week.
Calle Ocho Music Festival - This. One. Is. Big. The huge street festival attracts over a million people and runs for one day only. It's famous for celebrating the cultures of Latin America and vibrant street dancing.
April in Miami
Miami Beach Pride - Running from the end of March into the first week of April, the annual Pride festival has grown rapidly into one of the best in the country with a top parade and events around the city.
OUTshine Film Festival - Following Miami Beach Pride is the OUTshine Film Festival which promotes and celebrates Gay & Lesbian film, actors and directors.
Redland Blues and Barbecue Festival - A great couple of days if you love barbecue food, blues and country music, classic cars and motorcycles. Great event for families with lots of activities for kids.
May in Miami
June in Miami
American Black Film Festival - The largest event dedicated to black film with prominent actors and directors holding events, movie awards and occasional big premieres.
July in Miami
Miami Swim Week - A Miami-style fashion week focused on swimwear, general beachwear and summer collections with shows all over town.
International Mango Festival - The quirkiest festival in Miami, the Mango Festival at Fairchild Tropical Botanic Garden allows you to taste mango, buy mango, buy mango trees, try mango juice and mango beer. Non-mango food and drinks available too as is live music!
August in Miami
Miami Spice Months - This event runs through August and September with over 200 restaurants around Miami offering amazing fixed price menus at $23 for lunch and $39 for dinner.
September in Miami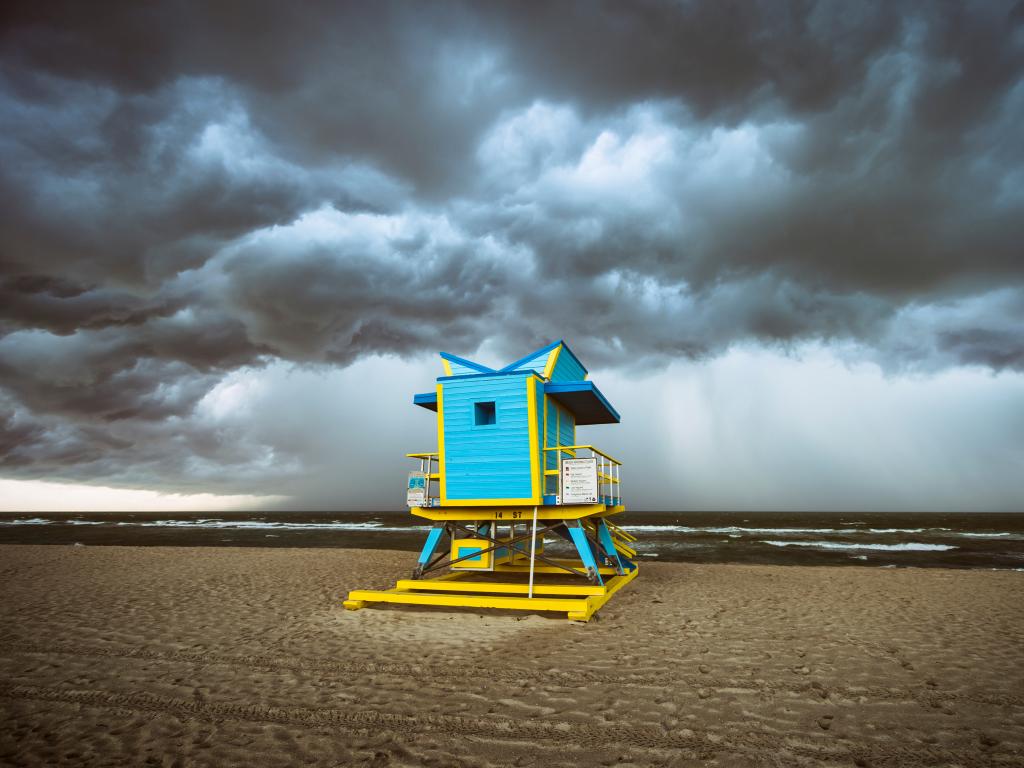 Urban Film Festival - A 3-day film event that promotes young up and coming film makers and shows off culturally rich content and debate inspiring pieces.
October in Miami
South Beach Seafood festival - Miami may not have the seafood reputation of New Orleans or New England, but it's surrounded by water and the stone crab season starts in October so what are you waiting for?
Miami Carnival - A carnival full of color, outrageous feather-clad outfits, marching bands and fairs and activities for families to enjoy.
November in Miami
Miami Harvest Festival - A large fair with everything you can think of - there's fairground rides, a classic car show, ridiculous amounts of great food and even the opportunity to visit Santa for those whose Christmas countdown starts early.
December in Miami
Art Basel Miami Beach - a large international show where contemporary artists from across North America and the rest of the world gather to show their work and get creative. There are loads of associated side events and festivals to go see as well!
Miami Arts and Heritage Months - This festival lasts 2 full months and covers December and January. Spread across the vibrant Miami neighborhoods including Historic Overtown, Little Haiti, Little Havana and Coconut Grove, there's dozens of music, art and other cultural events.