Road Trip from Houston to Miami
An epic Southern journey - through the many different landscapes of the Gulf of Mexico - can only be enjoyed to the fullest by car. While it's true that you could just fly from Houston to Miami, that would mean missing out on many awe-inspiring places and exciting adventures on the way.
The 1,236-mile road trip from Houston to Miami takes 18 hours and 40 minutes to drive. Notable stops include Baton Rouge, New Orleans, Biloxi, Tallahassee, Gainesville, and Orlando as well as Walt Disney World Resort and Universal Orlando Resort.
You'll see theatres, museums, theme parks and much more on this road trip. Scroll down to find all the information you need to help you plan your journey, including the best route, best places to visit along the way and best time of year to go.
How far is Miami from Houston and how long will the road trip take?
The 1,236-mile road trip from Houston to Miami will take you around 18 hours and 40 minutes of non-stop driving, not accounting for any stops along the way for food or gas.
This road trip can be done in as little as four days but try to devote at least a week if you want to make the best of your time and enjoy the exciting adventures that await you. Keep in mind that you will be passing through iconic cities that you can easily spend an extra day in.
The journey features white sand beaches, historic sights, bustling cities and amazing attractions for all ages. This epic drive mainly follows interstate highways and main roads, making it smooth and easy.
You will be passing through several major cities on your trip, so it is a good idea to try to avoid the rush hour. To minimize frustration, keep in mind that traffic might get congested during weekends and holidays as well.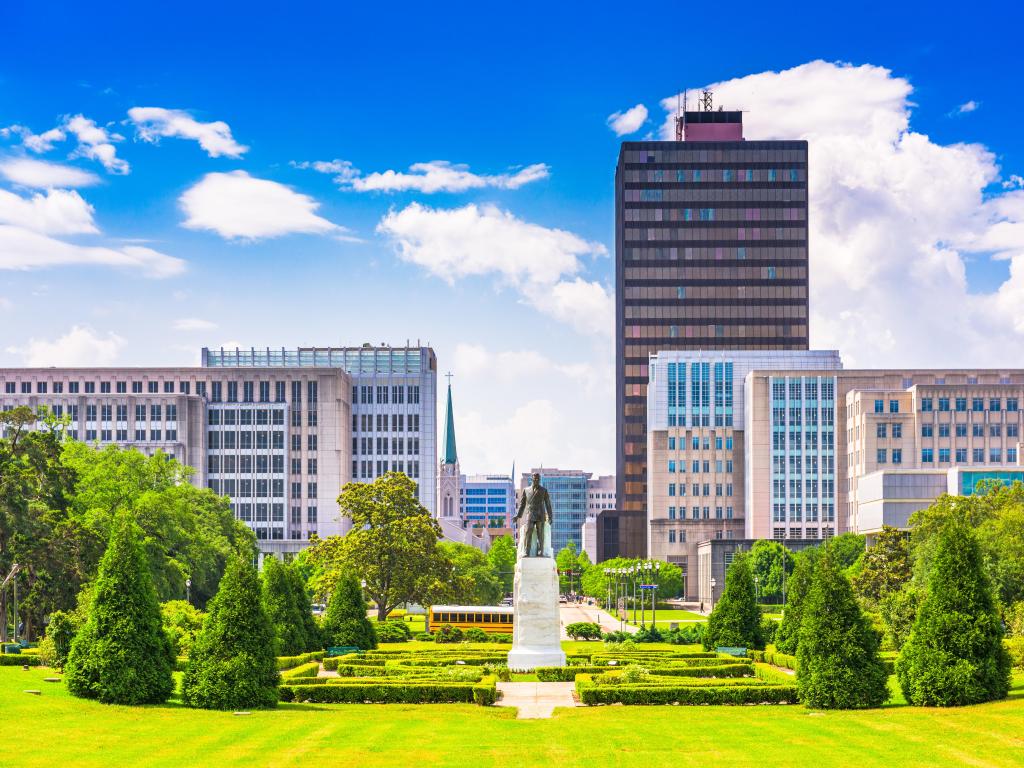 Best road trip route from Houston to Miami
The best road trip route from Houston to Miami is via I-10 and I-75 until Orlando, and then following Florida's Turnpike into Miami. This route will pass through Texas, Louisiana and Mississippi before taking you to Florida.
Road trip route from Houston to Miami
Setting off from Houston, take the I-10 past Nederland to cross the Texas-Louisiana border. Taking you across the Mississippi River, this highway will pass through Baton Rouge and New Orleans.
If you have already visited New Orleans - or simply want to cut down on travel time (New Orleans can get very busy at rush hour and around holidays) - it is possible to bypass the city.
In this case, take I-12 as you exit Baton Rouge and continue for 85 miles until you reach Slidell, passing Lake Pontchartrain on its north side. You will rejoin I-10 at Slidell, taking the exit for Bay St Louis.
Follow I-10 all the way to Biloxi where you might choose to spend the night. From Biloxi, continue following I-10 past Mobile and Tallahassee.
Next, take Exit 296A and merge onto I-75 S towards Gainesville. This is an excellent option for an overnight stop.
Continue following I-75 and keep left at the fork to continue on Florida's Turnpike (SR-91) past Marion Oaks. This road will take you towards Orlando where you can stop and check out the famous theme parks.
Follow Florida's Turnpike out of Orlando. Drive past West Palm Beach and Fort Lauderdale before taking the exit onto I-95 S to reach your final destination, Miami.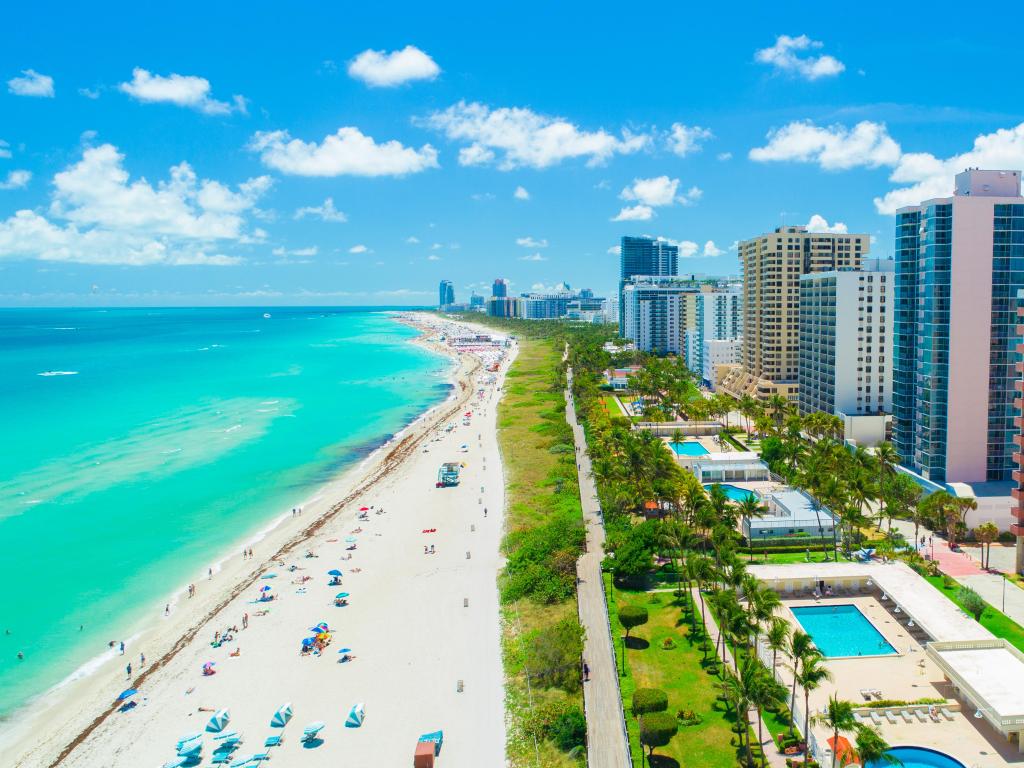 Best places to stop between Houston and Miami
Stopping at least three times on this road trip will mean finding comfortable and relaxing places to spend the nights. There are a few options for nice places to stop overnight on the route and these are some of the very best:
Enjoy the sandy beaches in Biloxi
About 7 hours after you've set off from Houston, you'll discover Biloxi, which is a very popular vacation destination, especially in summer. Biloxi is famous for its white sand beaches and exciting nightlife, making it a great option for an overnight stop on your road trip from Houston to Miami.
If you're looking for comfort and luxury while you stay in Biloxi, the Hotel Legends will meet your every need. A minute walk from the beach, the property is close to many popular attractions in the area, and practically overlooks the harbor, where it's possible to charter a small boat for a truly memorable fishing trip.
The Beauvoir Estate is an obligatory stop while in Biloxi for history buffs. Converted into a museum, this historic house also boasts a beautiful garden and nature trail to explore if you feel up for a gentle challenge.
If you're looking to unwind and have a relaxing day, you can hit pause and enjoy the hotel's beautiful outdoor swimming pool. You can also grab a bite to eat at its restaurant or coffee shop after a day of sightseeing - with a view of the ocean, of course.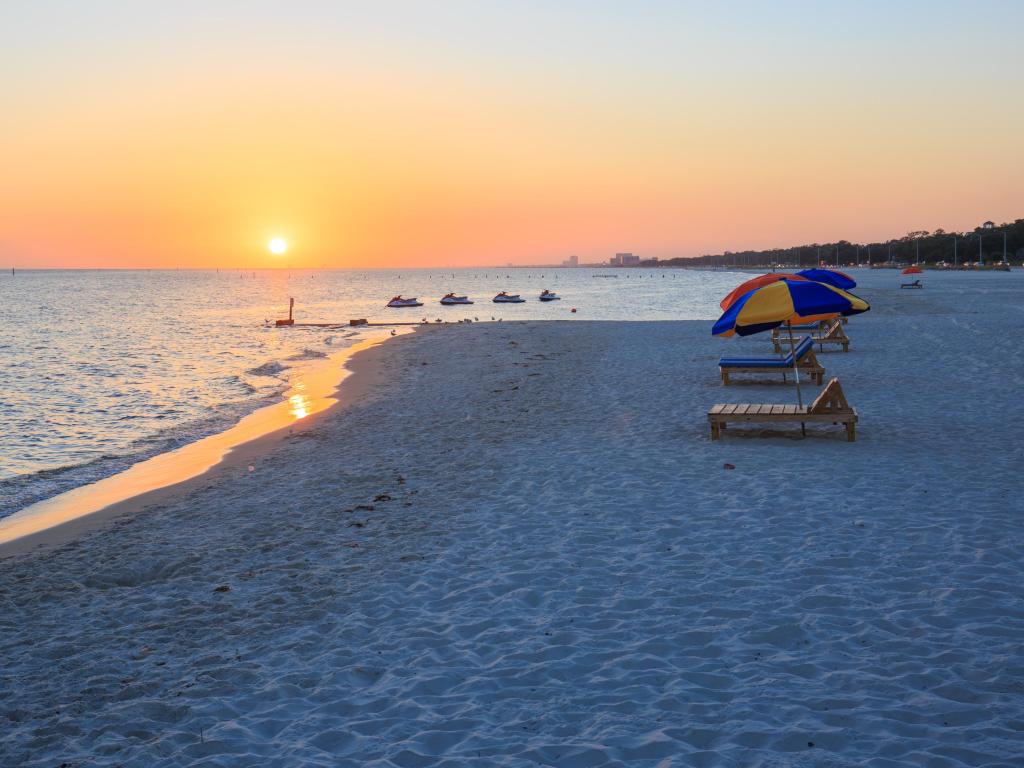 Soak in the scenery in Gainesville
5 hours from Miami, Gainesville is known for its natural beauty, offering parks and trails as well as art and culture. You won't be short on things to see and do if you stay overnight here.
La Quinta by Wyndham Gainesville is undoubtedly one of the best choices for accommodation if you stop over in Gainesville. Guaranteeing relaxation and luxury, this comfortable and stylish hotel is located close to outdoor attractions such as Split Rock Conservation Area and the incredible Santa Fe College Teaching Zoo. And if a bit of retail therapy is more your thing, you're also just minutes away from The Oaks Mall.
If you're a lover of nature and wildlife, the Prairie Creek Preserve is definitely the place to check out while you're in town, with fabulous public trails for hiking, bicycling, and horseback riding.
After a long day outdoors, you can relax on the hotel's fantastic sun terrace. Make sure to try the buffet breakfast before you set off on the rest of your adventure. And to make things even easier, your hotel is situated just minutes from the Interstate.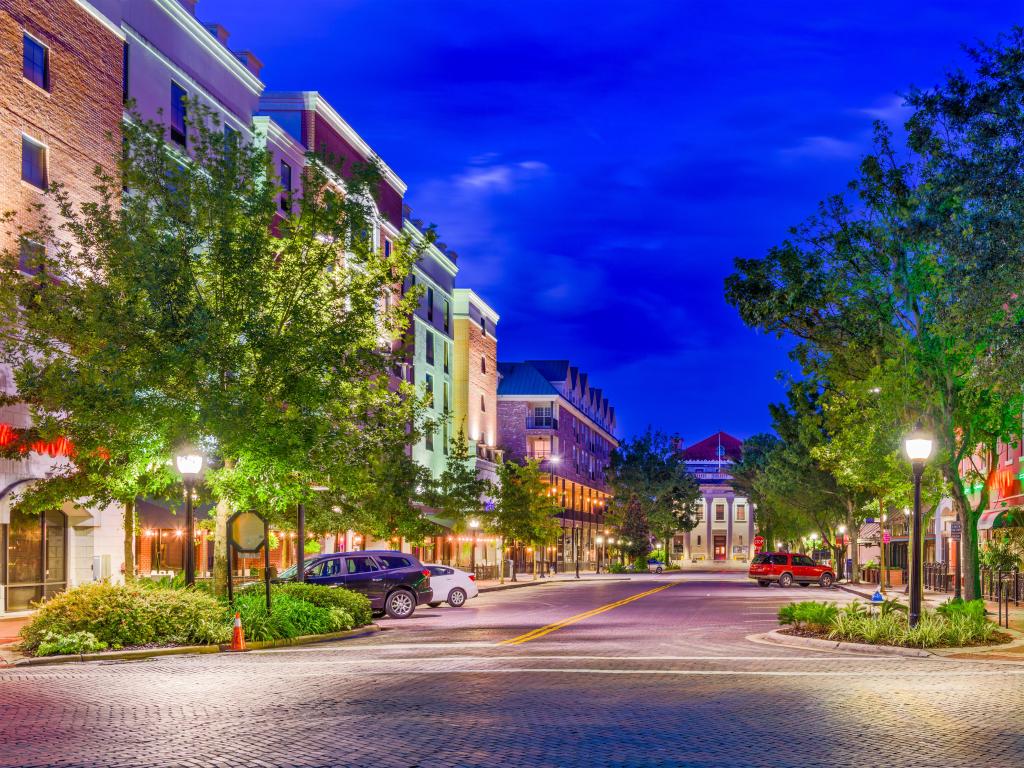 Enjoy a themed ride in Orlando
Famous for its theme parks and popular with tourists from all over the world, Orlando is a mandatory stop during this trip. It's an exciting place to spend the night that's just over an hour away from Miami.
There are many choices for accommodation in Orlando but the chic Hyatt House across from Universal Orlando Resort can't be topped with its reasonable prices and superb location right next to the namesake resort. Equipped with stylish rooms and all the amenities you might need, this hotel is a home away from home during your visit.
A once-in-a-lifetime adventure, visiting the Universal Orlando Resort is an opportunity not to be missed in Orlando. This theme park offers entertainment for visitors of all ages and will take up most of your day during your visit.
We suggest you consider taking an extra day to visit both the Universal Orlando and Walt Disney World Resorts, for which the city is world-renowned. This will also give you the opportunity to enjoy the hotel's gorgeous outdoor swimming pool and indulgent complimentary breakfast more than once!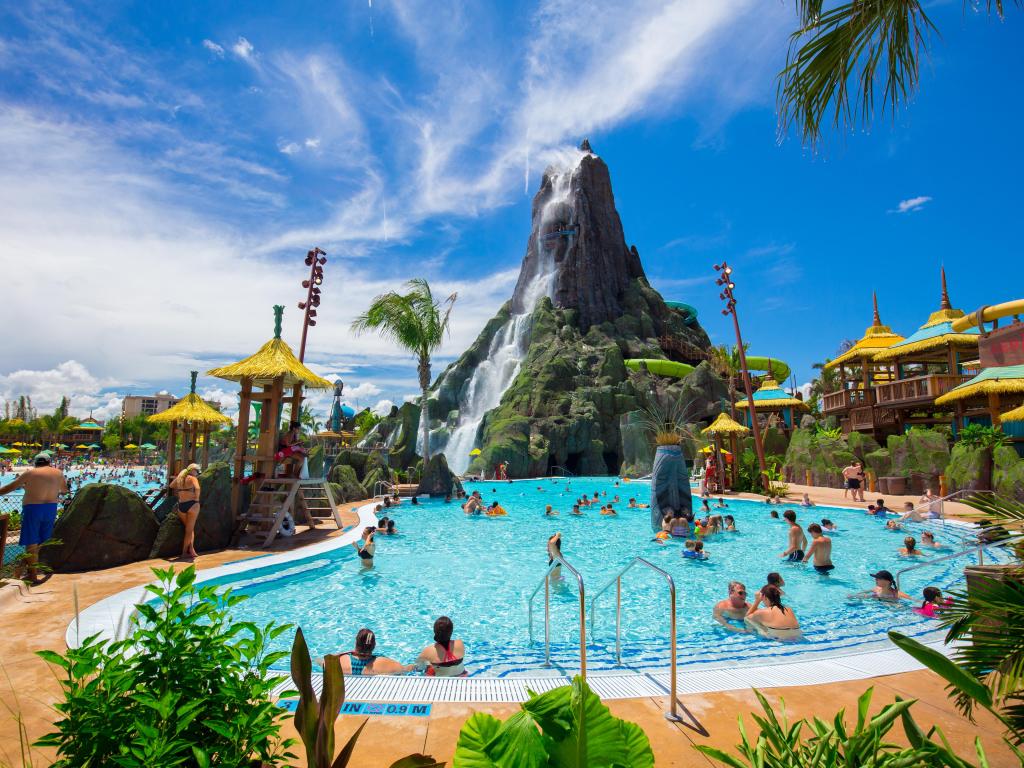 Things to see on a road trip from Houston to Miami
From museums to beaches and cathedrals to theme parks, there is so much to stop and see on this road trip from Houston to Miami. You could easily stretch this trip out into a week or even two if you stopped to see all the amazing places along the way.
Here's our list of suggestions that you can choose from:
Nederland Dutch Windmill Museum – A museum exhibiting memorabilia and photographs of the earliest settlers who came from the Netherlands.
Shaw Center for the Arts, Baton Rouge – A performing art venue that includes a fine arts museum and an education center.
Louisiana's Old State Capitol, Baton Rouge - Hosting interactive exhibits and tours in various languages, the Old State Capitol is a must-see.
Louisiana's State Capitol, Baton Rouge – The tallest state capitol in the country! Take a tour and see the beautiful surrounding gardens.
Raising Cane's River Center, Baton Rouge – A ballroom, theatre, exhibition center and a library that hosts more than 500 events every year.
The Beauvoir Estate, Biloxi – Visit the home of an ex-confederate president of the Confederate States which also features a garden and a nature trail to explore.
Biloxi Beach –The perfect place to stop and dip your toes in the ocean, Biloxi's white sand beach is a summer favourite.
Biloxi Lighthouse – Built in 1848, this is one of the first cast-iron lighthouses in the South.
Cathedral of the Nativity of the Blessed Virgin Mary, Biloxi – A beautiful cathedral that was added to the National Register of Historic Places in 1984.
Tallahassee Antique Car Museum – Exhibiting antique cars, trucks and memorabilia, an interesting stop for automobile lovers.
Tallahassee Museum – This museum features a working 1880s pioneer farmstead and native wildlife of Florida habitat.
Prairie Creek Preserve, Gainesville – A nature and wildlife area where you can stop for a nice hike, stretch your legs and relax for a while after a long day of driving.
Florida Museum of Natural History, Gainesville – With a discovery zone that houses amazing fossils, this museum is fun for the whole family.
Walt Disney World Resort, Orlando – An obvious stop if you're heading through Orlando, the theme park is a must-visit for everyone.
Universal Orlando Resort, Orlando – Another famous Orlando theme park, not to be missed by thrill-seekers.
Orlando Science Center – Interesting for adults and children, this museum includes a dinosaur exhibit.
Basilica of the National Shrine of Mary, Queen of the Universe, Orlando – Not your regular parish church, this was built by tourists for tourists in the 1980s and attracts 30,000,000 visitors annually.
Okeeheelee Park, West Palm Beach – An impressively large park that has nature trails for you to explore as well as a golf course and tennis court.
Mounts Botanical Garden, West Palm Beach – With a history of over 40 years, it's Palm Beach County's oldest and largest botanical garden.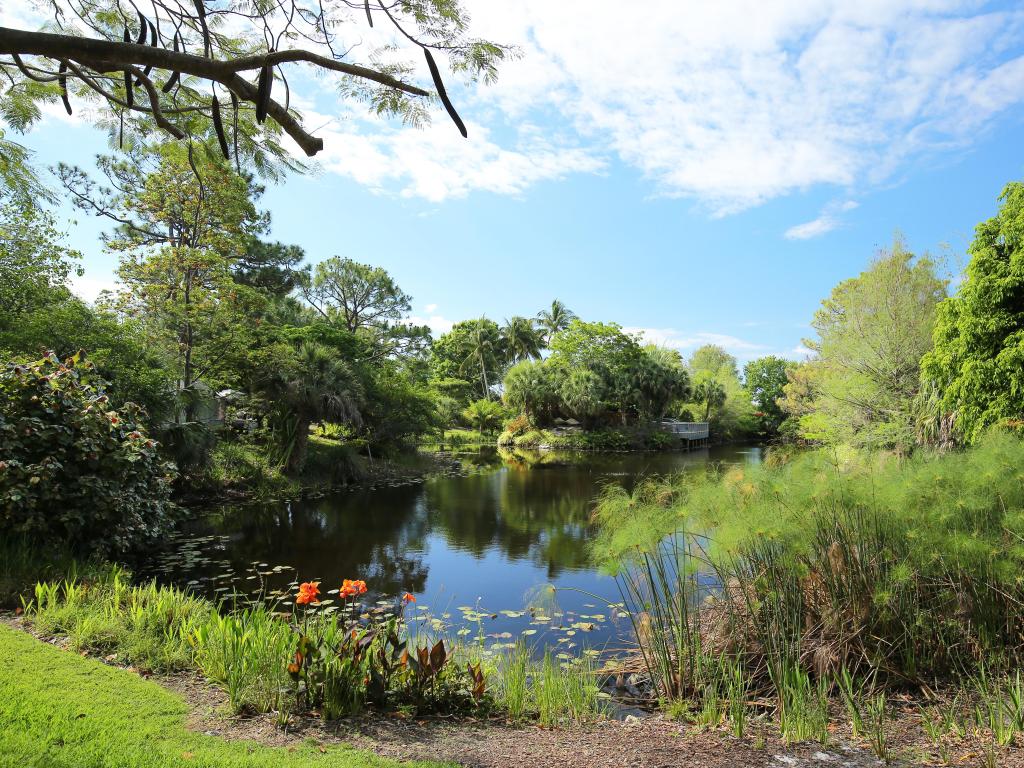 Best time to go on a road trip from Houston to Miami
The road trip from Houston to Miami can be done all year round, but May to September will be more enjoyable to make the best of all the adventures this journey offers, while keeping in mind that July and August will be busy.
As great as a dip in the sea and lively attractions might sound, keep in mind that temperatures in Miami reach 90 degrees Fahrenheit in summer, which might make it hard to enjoy activities outdoors, especially if attractions get busy and congested.
Remember to always check the weather and road warnings before setting off, as Florida is prone to hurricanes, with the season peaking between June and September.
With mild winters that see temperatures around 45 degrees Fahrenheit in Houston and 65 degrees Fahrenheit in Miami, cooler months can also be an option; however, the attractions will get crowded during the winter holidays, especially in the big cities.
Another reason to visit Miami in winter is the world-famous modern art fair, Art Basel Miami Beach. Held annually in December, Art Basel is North America's most comprehensive modern art fair, and is a major draw for collectors and celebrities alike. So if you're a fan of the arts, or simply in the mood for some top class people-watching, this is a truly spectacular time to visit The Magic City!