Jersey is said to be the sunniest place in the British Isles and we have no reason not to believe that. Sunny Jersey is part of the English Channel Islands yet is steeped in French culture.. While Jersey is a British territory, it's actually closer to France.
Even though the island is 85 miles from the southwest coast of England and 14 miles from the northeast coast of France, you can drive to Jersey by taking the car ferry at Poole. It takes 4 hours by ferry to travel 92 nautical miles to the island.
With its beautiful sunny beaches and historical sights, there's many reasons to visit this small British island. Continue on to learn more about how to get there and what to explore once you're there.
Can you drive to Jersey?
Yes! You can drive to Jersey by taking the car ferry from the town of Poole. All you have to do is pay for the ferry ticket, drive your car inside the ferry, and relax.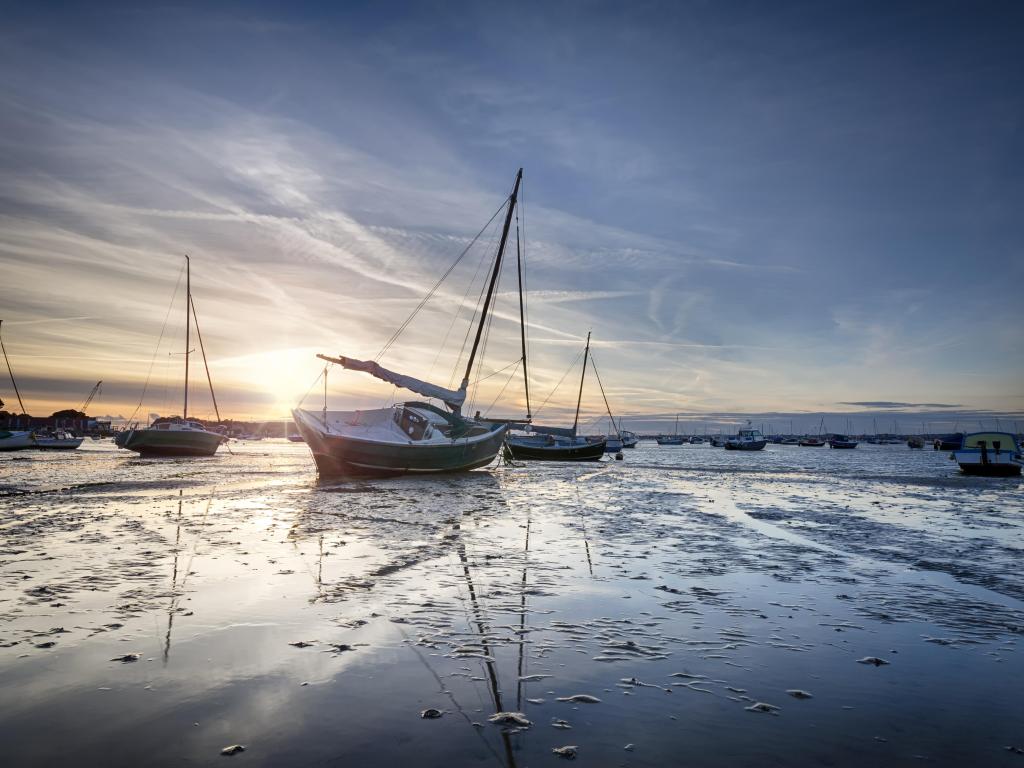 The ferry is open all year long, however winter months see a drop in ferry frequency. From Poole, the car ferry runs 7 days a week from June to August and 4-5 days per week in other months. Other destinations have similar service in summer and winter seasons.
Sometimes there are cancellations in winter as the seas become too rough for the ferry to make it to the island safely. We recommend checking the weather and ferry notices regularly during the winter months.
How to drive to Jersey from mainland UK (or France)
The main ways to reach Jersey from the UK (or French) mainland

| Departure Port | Mode | Operator | Distance | Crossing Time |
| --- | --- | --- | --- | --- |
| Poole, UK | Vehicle ferry | Condor Ferries | 100 miles | 4 hours |
| Portsmouth, UK | Vehicle ferry | Condor Ferries | 310 miles | 10 hours 20 minutes |
| St Malo, FR | Vehicle ferry | Condor Ferries | 40 miles | 1 hour 30 minutes |
The drive to Jersey is a straightforward drive. The large coastal town of Poole is the departure point, and it only takes 5 minutes to drive to the Poole Ferry Terminal from the centre of town.
You'll get to enjoy several landmarks on the way and see places like Poole, St Helier, and of course the entire island of Jersey. The Ferry ticket and food and beverages once you're on board, are the only things you have to pay for on this journey.
The cost of the drive to Jersey from the Poole ferry is around £100 each way. It's the same price from Portsmouth and St Malo (France).
You can also take a flight to Jersey from several airports around the UK, including Liverpool, Manchester, London, Edinburgh, and Birmingham. A flight from London is the quickest, and will take you only 1 hour.
While you can fly to Jersey for cheap, you'll have to factor in public transport or a hire car upon arrival. It's also an added expense to add larger items like surfboards on these airlines. So all in all, driving is the most flexible method of reaching Jersey.
How long does it take to drive to Jersey?
Jersey is 85 miles from England and about 15 miles from France. If you're crossing from Poole, the journey will take you 4 hours and 40 minutes.
There are other ferry terminals in England as well. A crossing from Southampton will take you 5 hours and 40 minutes, Bristol will take 6 hours and 40 minutes, and London will take 7 hours.
Crossing from Saint-Malo in France is also possible and will take 2 hours and 40 minutes. This is by far the quickest way to the island.
Which port should you arrive at on Jersey?
When you arrive on Jersey, you'll embark at Port A in the city of Saint Helier. The port is right near the famous landmarks of St Elizabeth Castle and the famous maritime museum.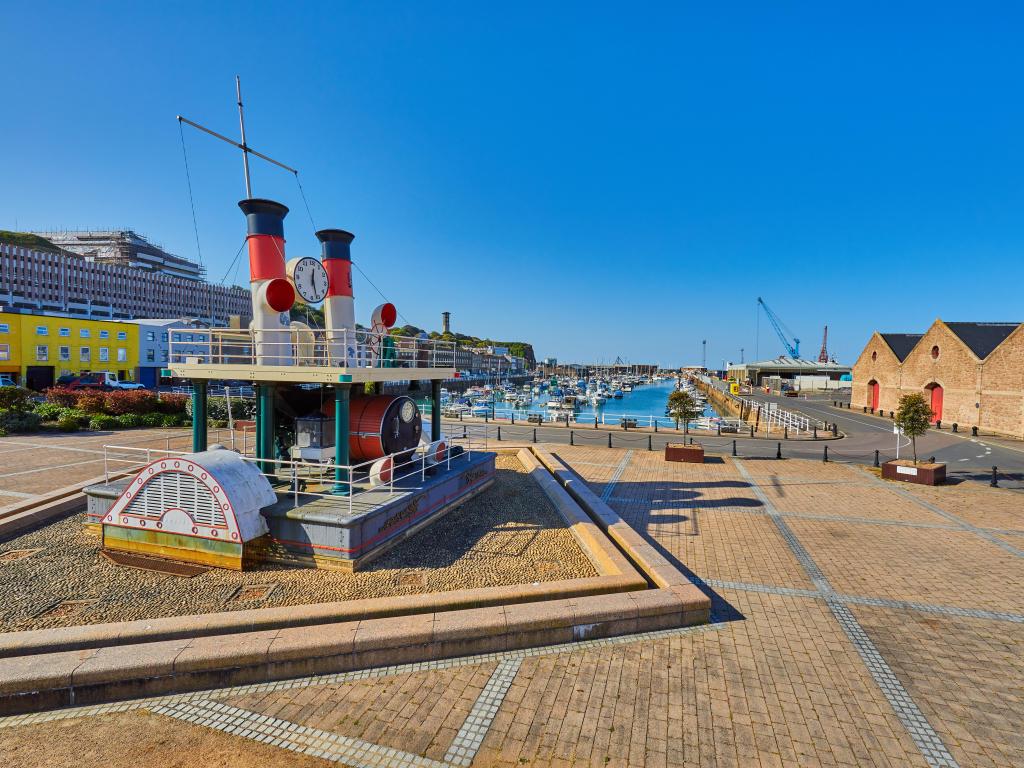 Attractions and beaches are scattered throughout the island and it's easy to reach them from the port of Saint Helier. Jersey measures only 5 miles from north to south and 9 miles wide.
Things you need to know about driving to Jersey
The ferry is operated by Condor Ferries. Inside the boat are plenty of amenities like bars, snack vendors, and dining areas.
Jersey is a small island and easy to drive around once you arrive. If you take the ferry, you can drive to Plemont on the other coast line in 20 minutes.
Driving regulations follow the UK Highway Code. The top speed limit on the island's small roads is 40 mph, so make sure to drive slowly and carefully.
Another reason to drive slowly is that there are windy country lanes that can pose a risk. These roads are narrow, so expect having to wait to allow other cars past.
Even though the island is small, It's easy to get lost. We recommend using a GPS to get around.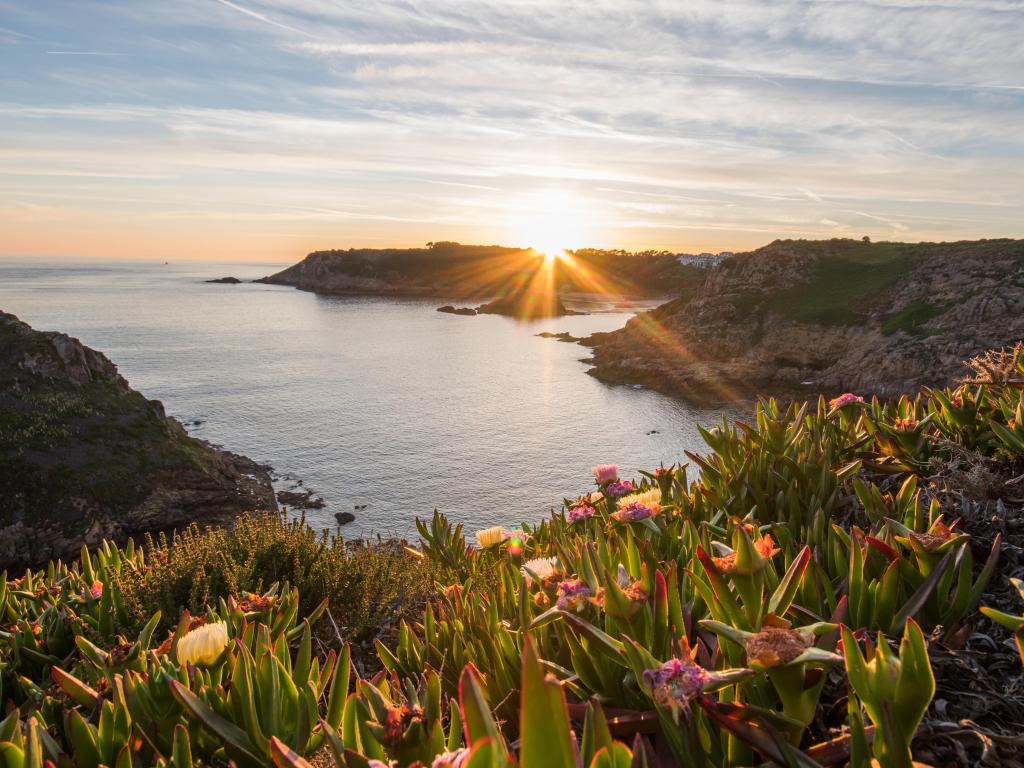 Here are our top tips when it comes to preparing for a drive to Jersey:
It is a good idea to book your ferry tickets ahead of your travel dates. Prices tend to get a lot more expensive closer as the travel time approaches, and especially so in the summer and during school holidays.
Condor considers June to September to be peak times to travel. Easter and bank holidays are also popular.
You can drive to Jersey without a passport if you're from the UK but you'll need an ID such as a photo driving licence.
When flying, different airlines have varying rules, so check with the airline but to be sure, carry your passport.
With the consistency of schedule, you can book day trips through Condor Ferries. When booking, make sure you select the correct vehicle size and state whether you'll have other items like a roof rack.
Most of the time, you won't be allowed to stay in the car as you are riding a ferry or access the car while the ferry is operating, so pack a bag with whatever you need onboard in advance. On board there's a duty-free shop, bars, and restaurants, so don't leave your card or money in the car.
When driving, remember the check-in shuts 1 hour before departure. If you're early, there's a cafe at Poole port to relax before sailing.
Things to see once you reach Jersey
The island has picturesque coastlines with sandy beaches, coves, and cliffs. Because of its beautiful setting, outdoor activities including watersports, hiking and biking attract tourism.
Jersey also has VAT-free shopping and luxury spas to attract visitors to the island. On top of that, it's a spot with a rich history. You can tour a 400-year-old castle and explore WWII history—it was the only British territory occupied by Nazi Germany during World War II.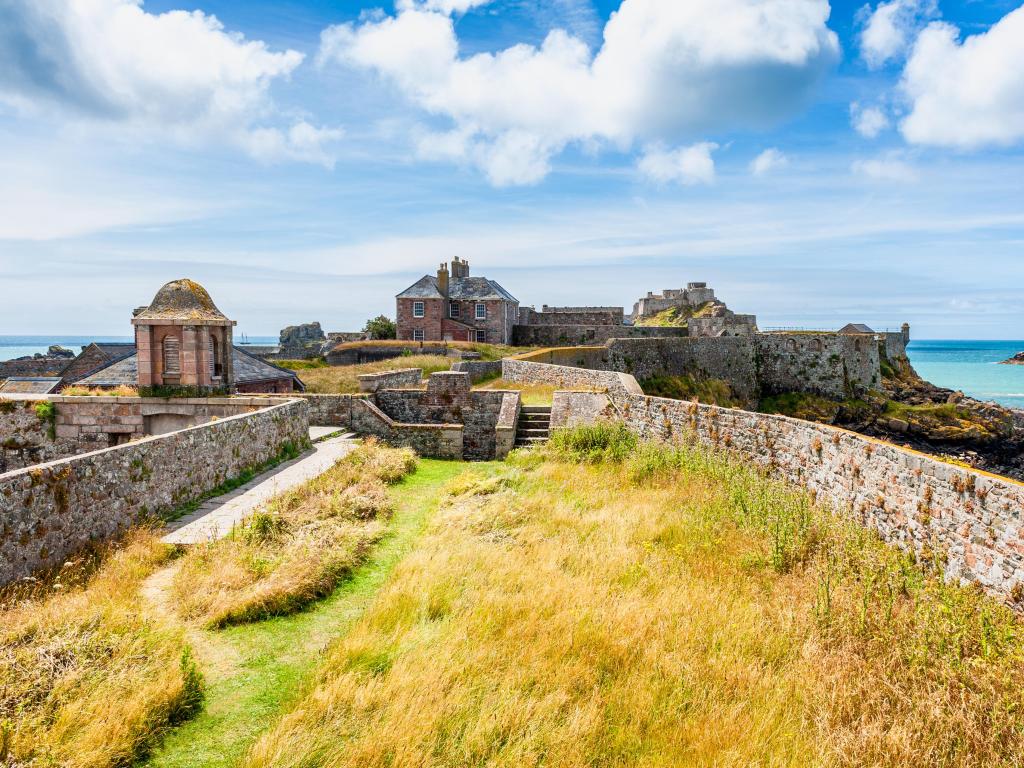 Enjoy the sandy beaches - Jersey has plenty of scenic beaches. St Brelade's Bay, Plemont Beach, Green Island Beach are notable spots to try.
Surf the waves - St Ouen's Bay is a popular spot for surfing. You can also hire a kayak at Greve de Lecq or St Brelade's Bay.
Go shopping - Jersey's capital St Helier is home to independent and high street shops. Best of all, it's VAT-free shopping.
The Elizabeth Castle - It's been standing for over 400 years. Explore the grounds where King Charles II sought shelter during the English Civil War. Please note it closes in winter and is open from March through summer.
Jersey War Tunnels & Channel Island Military Museum - Learn more about the Nazi occupation at these two attractions. The Jersey War Tunnels have first-hand accounts of locals who were there when the island was under German occupation.
Jersey Zoo - You'll have a wide array of animals at Jersey Zoo from aardvarks to meerkats. It's a zoo big on conservation founded by conservationist Gerald Durrell.
Jersey Museum & Art Gallery - Set in a Victorian house, this museum helps you learn more about Jersey. From its ice-age inhabitants to how it became part of the UK.
The Liberty Bus - It'll take you everywhere on the island, including the beaches.
Jersey is an incredible destination within the UK and feels like nowhere else. From the historical landmarks to the summer-like beach vibes, it's got everything you need to have a wonderful vacation without travelling far.