Germany driving tips: Rules of the road, parking and the all-important etiquette
Known in equal measures for their stellar car production and love of organisation, it's got to be said that the Germans have more than a few rules and regulations when it comes to getting behind the wheel, with a couple of etiquette essentials thrown in for good measure.
Fear not though, because once you've got the basics nailed you'll find that driving in Germany is as satisfyingly simple as it is beautiful. So, what do you need to know before you set off on your German road trip? Here's the lowdown.
Rules of the road
This is mainland Europe, so be sure to drive on the right and overtake on the left.
Germany might have some of the world's best beer, but that doesn't mean they're lax about driving after you've had one. The maximum blood alcohol limit is 0.05% and if you've had your licence for less than two years there's a strict zero tolerance policy.
Don't WhatsApp at the wheel - using your mobile phone in any way while the engine is running can now land you with a fine of up to €100. Hands-free sets are fine.
Drivers and passengers must wear seatbelts, with fines dished out for failing to comply.
Unlike in many European countries, there are no road tolls for private cars.
Don't flash your lights or beep your horn unless to warn of imminent danger.
Speed camera detectors are illegal and must be deactivated before you set off.
Some German cities have now banned older diesel cars in a bid to tackle pollution - look out for red and white circular signs saying 'diesel bis euro 5.'
Who has priority?
Now, there's a question you'll probably find yourself asking again and again while driving in Germany - the country has some fairly confusing rules around priority.
Traffic from the right usually has priority at junctions and crossroads, and if you're turning left at an intersection you must give priority to all other vehicles first. You are not allowed to turn right on a red light, only green.
Cars already on a roundabout have priority but you shouldn't indicate until you are already on it and need to signify you are about to come off.
Buses and school buses have absolute priority when they are about to leave a stop.
Keep your eyes peeled for emergency vehicles at all times as drivers must give way to them when they have a blue light going, regardless of whether or not the siren is on.
How to overtake and pass
Unfortunately, in Germany it's not always quite as simple as 'overtake on the left' - there are a ton of other things you need to take into consideration too, mostly dependent on the type of vehicle you're passing (or driving).
Buses: If a bus has red flashing lights then it's probably a school bus dropping off passengers and if you're in a built up area, then it's illegal to pass it. You'll need to wait until it moves off again.
Trams: On a regular two-way street, a moving tram must be overtaken on the right, but on a one-way street can be overtaken from either side. When stationary, cars must allow passengers to alight before they pass.
Motorbikes: Bikers, beware! A 'no overtaking' sign indicates that the drivers of two-wheeled vehicles, such as motorbikes, may not overtake anything with more wheels than them.
Note also that you won't get in trouble for overtaking on the right if you're in heavy traffic, but you will for merging too quickly if your lane is closed up ahead so you'll need to drive to the end and then merge.
Speed limits
It's surprisingly simple...
German speed limits tend to vary depending on the type of the road and the surroundings, and are marked with black numbers in a red and white circular sign.
In general, in built up areas the speed limit is 50 km/h (note: not miles) unless otherwise indicated and this comes into force from the minute you pass the place name of the village or town. Outside of built up areas, the limit is usually 100 km/h.
Technically, there is no universal speed limit on German motorways but over half of them do have a 'posted' speed limit, usually with a max of 130 km/h, with some also being equipped to show variable speed limits. This number is growing year on year too, so always pay attention to the signs.
And if you get caught?
Realistically, the fines for speeding in Germany are some of the lowest in Europe but that still shouldn't encourage you to go zooming off.
If you do get caught then the fine you receive will depend on how much you're exceeding the limit by and the area it was in, with set amounts ranging from €10 to €600.
For anything above a 20 km/h excess you're liable to receive penalty points, although these are not transferable to a UK licence. That said, a recent European cross-border enforcement act is making it easier than ever to prosecute those accused of serious speeding offences abroad.
Our advice? Slow and steady wins the race.
What are traffic calming zones?
Shown by a blue sign decorated with a football-playing child and perfectly stereotypical house, traffic calming zones are designed to keep things safe in areas where there are likely to be little ones at play.
In these zones, the maximum speed is 7 km/h (yes, seven), pedestrians have priority, and parking is only permitted in the marked spaces.
Always stop at zebra crossings
Don't be tempted to plough on through if you see someone waiting at a zebra crossing; not only is this just plain rude, but not letting them cross is also taken a lot more seriously by police than it is in the UK.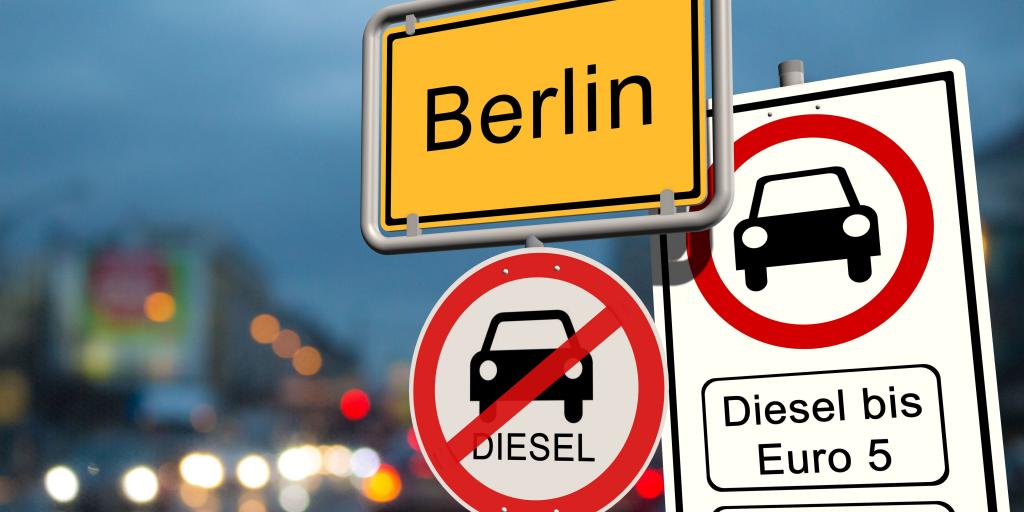 What do I need in my car?
Unlike France's long, long list, there are only a few must-haves for driving in Germany:
Full and valid driver's licence
V5C form to show who the registered owner of the vehicle is
Proof of insurance
Headlamp beam deflectors (for right-hand drive cars)
Stickers identifying your car's country of origin
Anyone on a motorbike or moped must wear a helmet.
What else should I carry?
Technically, the following items are only legally required to be carried if you're driving a German-registered vehicle. However, it's advised by authorities that you do pack them just to be on the safe side:
Reflective jackets for all - you'll need to wear these if you break down.
A warning triangle - weirdly, if you do break down you're still required to put one out, so it's probably best to carry it in the first place.
First aid kit - under Germany's 'Good Samaritan law' it's illegal not to help someone in danger, for example someone that's been in an accident, if you're the first at the scene.
Driving licence and insurance requirements
Your driving licence depends on your country of origin
Driving licences issues in EU or EEA countries are accepted in Germany, while drivers from the US and Canada can continue for up to six months on their home licences before they will need to apply for a German version.
If you are a US citizen, the hoops you have to jump through when applying for a German licence will depend on the kind of reciprocity agreement that your issuing state has with Germany - while some people will simply fill in forms, others will have to retake tests.
The minimum legal age to drive in Germany is 18, and this still applies to foreign nationals, even if they have attained their licence at home.
Germany requires third-party (or above) insurance
To drive in Germany you'll require third-party or above car insurance. Most car insurance policies now include cover to drive within the EU but do double check yours before you leave the UK.
Driving a manual car
The large majority of cars in Germany are manual, so if you're hiring a vehicle once you get there and are used to driving an automatic, or your licence only covers you to drive this type of car, then you'll need to learn before you go.
Driving etiquette
First things first - know that Germans really do pay attention to the road and others failing to do so or doing things that are distracting will be looked upon with disdain. In general, there is a strong adherence to driving laws.
With no set speed limits on the autobahns (motorways) your mirror-signal-manoeuvre routine is more important than ever; as soon as you've overtaken, move right again. Don't be the only guy hanging around in the overtaking lane, as we can assure you that you will not be thanked for it. Flashing your lights, for example to allow someone to pass is also considered rude, rather than encouraged.
When driving in major cities you'll notice that there are bikes and bike lanes everywhere, and while some other places treat cyclists as a bit of a pest (looking at you, London), in Germany they're respected and made way for.
However, that doesn't mean it's all fun and games and you'll soon notice that German drivers are fairly forward in the way that they move about the roads - if they want to merge then you can bet that they're going to merge. It's up to you not to hit them.
Parking in Germany
For the most part, you probably won't have a problem finding somewhere to park in any of Germany's major cities, as they're well served by on-street parking as well as off-street car parks (Parkplatz), above-ground garages (Parkhaus), and underground garages (Tiefgarage).
On street parking
It's during working hours that you might have trouble finding on-street parking, although at night it should be no problem, with many places operating a system where it's only banned between certain hours. Don't be tempted to chance it as German towing fees can be extortionate.
You'll also need to know that you can only park on the right side of the street, unless it's a one-way street, in which case either side is fine.
There are regulations around where you can park too, as within five metres of a crossing, 10 metres of traffic lights or 15 metres of stop signs or exits is also against the law.
The parking signs you need to know
Round blue signs with a red X mean no parking or stopping at all, while those with a diagonal line through indicate that a 3-minute only stopping rule is observed. The same sign on a white background means that parking is restricted by not necessarily illegal.
Disabled parking
Disabled drivers will be glad to know that their Blue Badge is recognised across Europe, and in Germany allows for parking in designated disabled spaces - although not if the space is marked with someone else's name or registration number.
It furthermore allows for parking for up to three hours in zones where it is otherwise forbidden, and in residents only zones. In paid parking spaces it allows for no-cost parking for up to 24 hours, as it does in free but time-restricted spaces.
Parking in pedestrian zones is also allowed in some areas but not all, so check the signs before you leave your vehicle.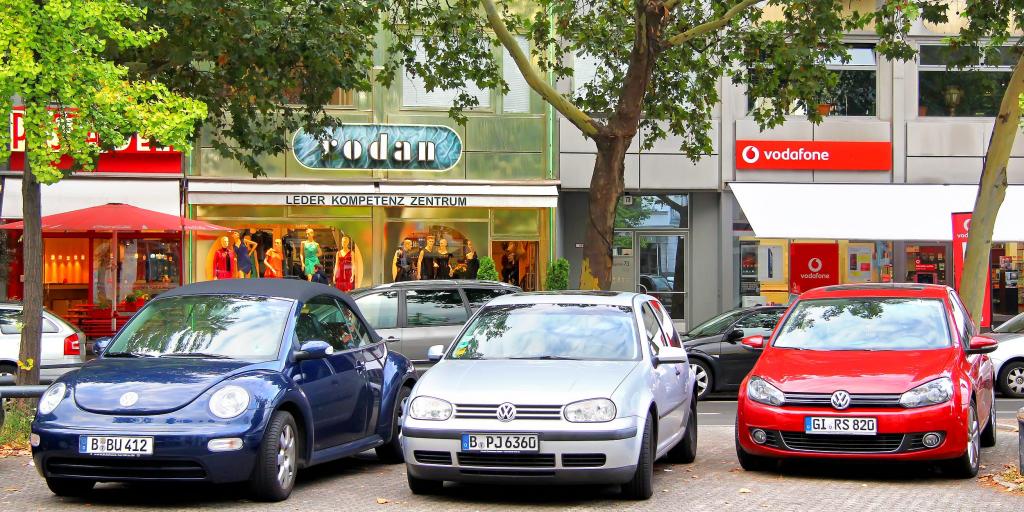 Fuel
How much does fuel cost in Germany?
Unfortunately, Germany is one of the more expensive countries in Europe in terms of fuel, and prices can fluctuate quite quickly.
Fuel on the autobahns tends to be more expensive than in towns, although you can be comforted by the knowledge that there are garages every 30km or so and they do tend to be delightfully clean. It's the little things, hey?
Top tip: In all surrounding countries (except the Netherlands) fuel is slightly cheaper overall - although this does differ between unleaded and diesel - so if you're driving to Germany then it may be worth checking online and topping up before you cross the border.
How to fill up and pay
Although more German petrol stations are moving towards unmanned pay-at-pump approaches, the majority still require you to fill up and then pay inside.
Do note that some card machines, even with chip and pin, won't accept foreign cards (especially US ones) so it may be easier to ensure you have some cash on you and make an effort to stop at a manned station.
In an emergency
Ring 112 for police, ambulance and fire services
This will connect you to a multi-language Europe-wide emergency services network, who will be able to put you through to the appropriate service in the relevant country.
If you break down
If you break down on an autobahn then you'll first need to call the Autobahn Administration line, accessible from emergency telephones located every 2km, who will ask questions and dispatch a recovery service.
Depending on how busy they are, assistance could come within a few minutes or a few hours, but the actual assistance will be free-of-charge.
When calling, be prepared to give details of your vehicle, including registration number, make and model, as well as your insurance policy or hire company - it'll feel like a long walk back to the car if you don't have these to hand.
While waiting for assistance you'll need to get out of your car, put on your high-vis jacket and set up your warning triangle 200m away to alert others of the hazard ahead.
If you're involved in an accident
Again, you'll first need to call the Autobahn Administration or if required you can call the emergency services directly; based on your information they will decide on the right response and send help.
If possible - and hopefully it is - you'll also need to set up your warning triangle and wear your high-vis jackets until help arrives. Don't leave the scene as it's considered a hit and run offence.
If no one is injured then there is no need to call the police, simply swap details with the other party and contact your insurer or hire car company. It's always advised that you take photos of the scene and damage too.
Recommended road trips
Our Bavaria, beer and bratwurst road trip offers the definitive guide to a trip that roughly follows Germany's stunning Romantic Road trail.
Starting in Munich and passing through glorious countryside, past mountains (and up them) and visiting some of the country's most quirky cities, it's the perfect adventure for anyone who wants to see another side to Germany than the uber-cool Berlin.