How Long Does It Take To Drive The Florida Keys?
The Florida Keys, a coral cay archipelago stretching for miles and miles south of the Florida coast, is one of the major tourist destinations in Florida and the US in general with its beautiful beaches and stunning coastal views. It features beautiful island resorts, deep blue waters, and unforgettable sunsets, enjoyed by numerous tourists year-round.
Driving the 110-mile stretch of Florida Keys takes around 2 hours and 30 minutes without stops and 3 hours 30 minutes with stops. Driving to Key West, the southernmost island, from Miami will take 3 hours and 30 minutes nonstop, spanning 160 miles.
To help you get the most out of your trip through the Florida Keys, we've put together this handy guide. Read on to get details like distance information and things you should know that will impact driving time.
Time to drive the Florida Keys
Comparison of routes to Florida Keys

| Route | Main road | Distance | Driving time |
| --- | --- | --- | --- |
| Entire length of Florida Keys | US-1 | 110 miles | 2 hours 40 minutes |
| From Miami to Florida Keys | US-1 | 165 miles | 3 hours 30 minutes |
The Florida Keys jet out from the bottom of Florida and into the Gulf of Mexico. These islands stretch in a chain down towards Cuba.
The main route takes you from North Key Largo where you'll drive along US 1 South from key to key, passing over endless coral reefs and small islands.
The Miami route will take you from downtown Miami and into North Key Largo where you'll complete the main route. This will add around an hour to your journey.
Driving across the entire length of Florida Keys
This route will take you the entire length of the Florida Keys, from North Key Largo to enchanting Key West. Traffic may be heavy around Upper Keys, especially North Key Largo and gets less congested as you drive south on the Seven Mile Bridge on US-1, especially on weekends and holidays.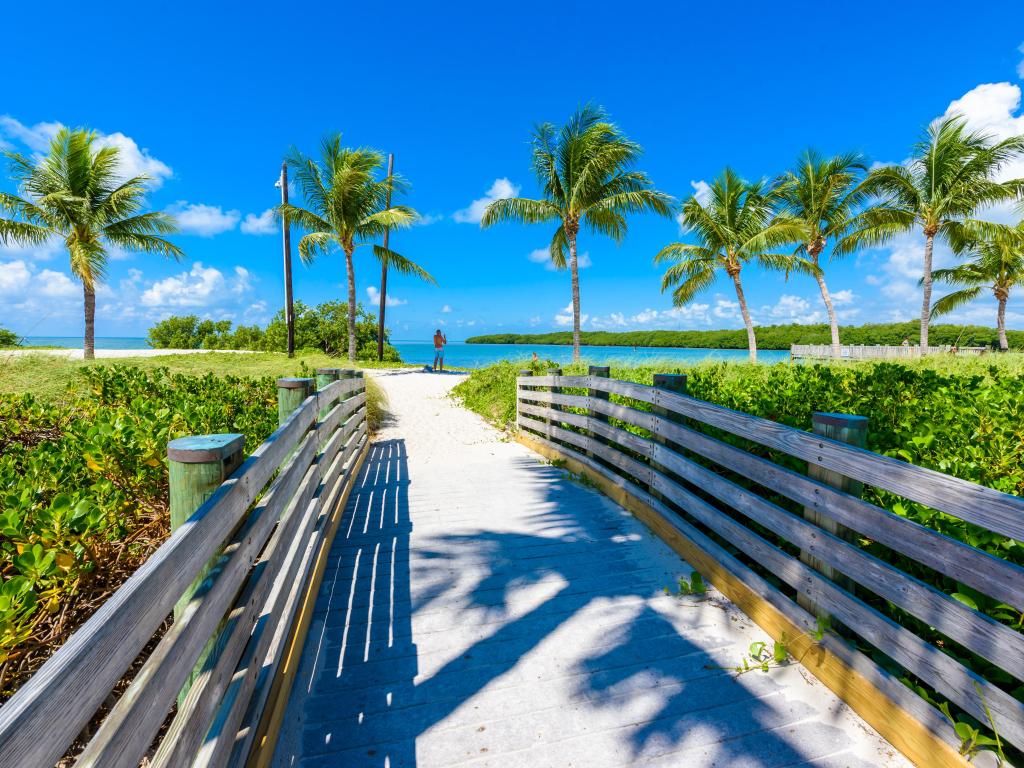 To break up the trip, we recommend stopping once, in Marathon. It is about 60 miles south of North Key Largo, 1 hour and 20 minutes into the drive.
This will add up to one hour for refreshments and enjoyment in the beautiful scenery, making your journey to Key West 3 hours and 30 minutes altogether.
We recommend setting aside five hours for this drive. This way you'll be able to take advantage of the beautiful scenery and sights along the way and account for any traffic.
Driving across the Florida Keys from Miami
Driving from Miami, you'll be adding another hour to the trip. However, you'll be driving through one of the most famous cities in the USA, known for its beaches and wild nightlife.
The most amount of congestion can be observed while exiting Miami and around the Upper Keys, on the US-1 going south, and particularly on weekends and during major holidays. It is good to avoid the rush hour in Miami as you set off, which is 7-9am and 4-7pm.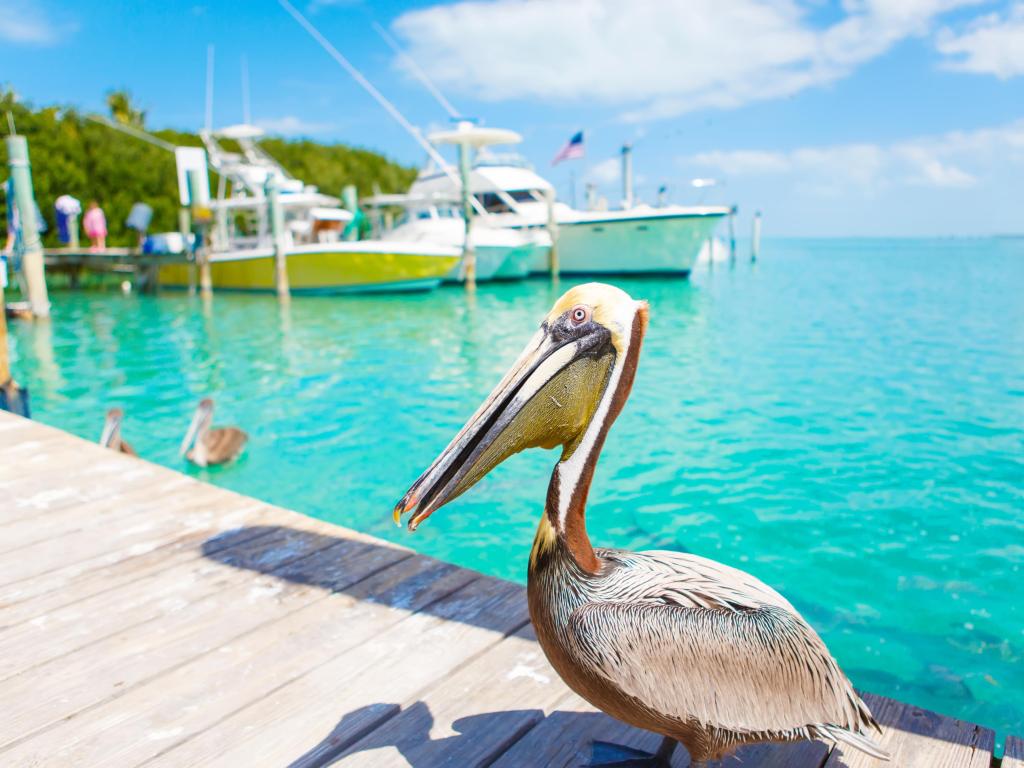 We recommend stopping at least once on this trip. The best stop is at Islamorada. It is about 80 miles south of Miami, and 1 hour 50 minutes into your journey and about halfway to Key West.
To take advantage of the stops along the way and take traffic into account, we recommend setting aside half a day for this trip.
Comparison of the routes that cross the Florida Keys

| Starting from | Arriving to | Distance | Driving time |
| --- | --- | --- | --- |
| Miami, FL | North Key Largo, FL | 60 miles | 1 hour 10 minutes |
| Fort Myers, FL | Key West, FL | 300 miles | 5 hours 20 minutes |
| Orlando, FL | Key West, FL | 390 miles | 6 hours 30 minutes |
| Tampa, FL | Key West, FL | 420 miles | 7 hours |
| Jacksonville, FL | Key West, FL | 500 miles | 8 hours 40 minutes |
Things to know that can impact your driving time
The Keys are a very popular destination, attracting thousands of visitors. This means a lot of traffic, particularly during the weekends, summer and winter holidays. Between August 15 and October 15 is hurricane season when roads can be closed.
The traffic is worse in the Upper Keys than in Lower Keys but approaches to tourist resorts might have traffic jams during weekends and holidays.
Since this is a short drive, one stop should be enough, unless you want to make a road trip out of this journey and make stops to enjoy what each island has to offer.
Tips to drive across the Florida Keys in the shortest possible time
The drive through the Keys uses highway US-1 almost entirely. It's a straightforward route and easy to navigate. However, there are things to keep in mind that will make your journey easier.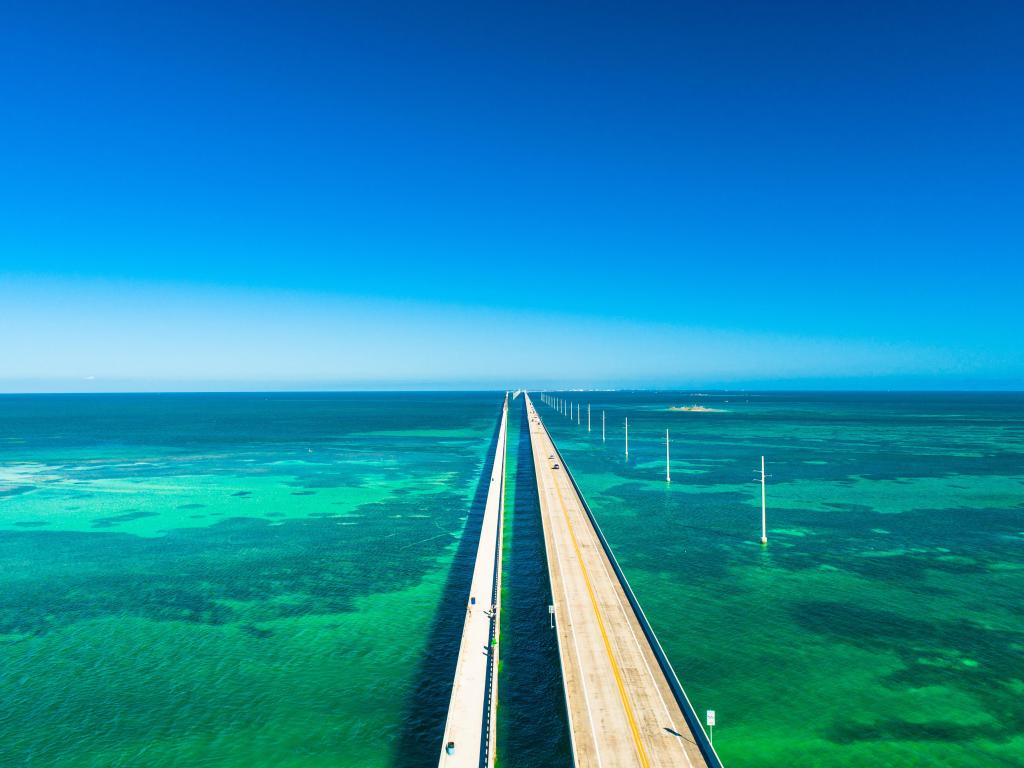 Firstly, watch out for the hurricane season and always check road warnings before setting off. Always check the weather report as well.
Minimize refueling stops by choosing an economical car if you can. In a fuel-efficient car, you may not need to fill up or make any stops, while also being more environmentally friendly if you choose a hybrid or an electric car.
Avoid rush hour and pack some snacks. If you do these things you're greatly minimizing the amount of stops you need to take.
Lastly, make sure your fuel tank is topped before setting off. There are plenty of amenities and gas stations along the way but it's always safer having a full tank before hitting the road.