Road Trip From New York To Miami
A road trip from New York to Miami is a monumental experience - on top of the nation's capital, you pass through eight states, countless national parks, and some of the most culturally significant and historic parts of the USA along the way.
The 1,300-mile road trip from New York to Miami takes 19 hours to drive so allow a few days for the trip. Stops include Philadelphia, Baltimore, Washington D.C., Charleston, Savannah, Tampa, Orlando and Disney World, and the Florida swamps.
Read on to find out the best route to take, places to stop and sights to see along the way.
How far is Miami from New York and how long will the road trip take?
The road trip from New York to Miami covers around 1,300 miles. Driving non-stop between the two destinations would take about 19 hours, depending on what route you take.
You can probably do the entire drive in two to three days without any major stops, but a much better way to approach it would be to take as many breaks as you can to do some sightseeing in the major cities or even along the coast.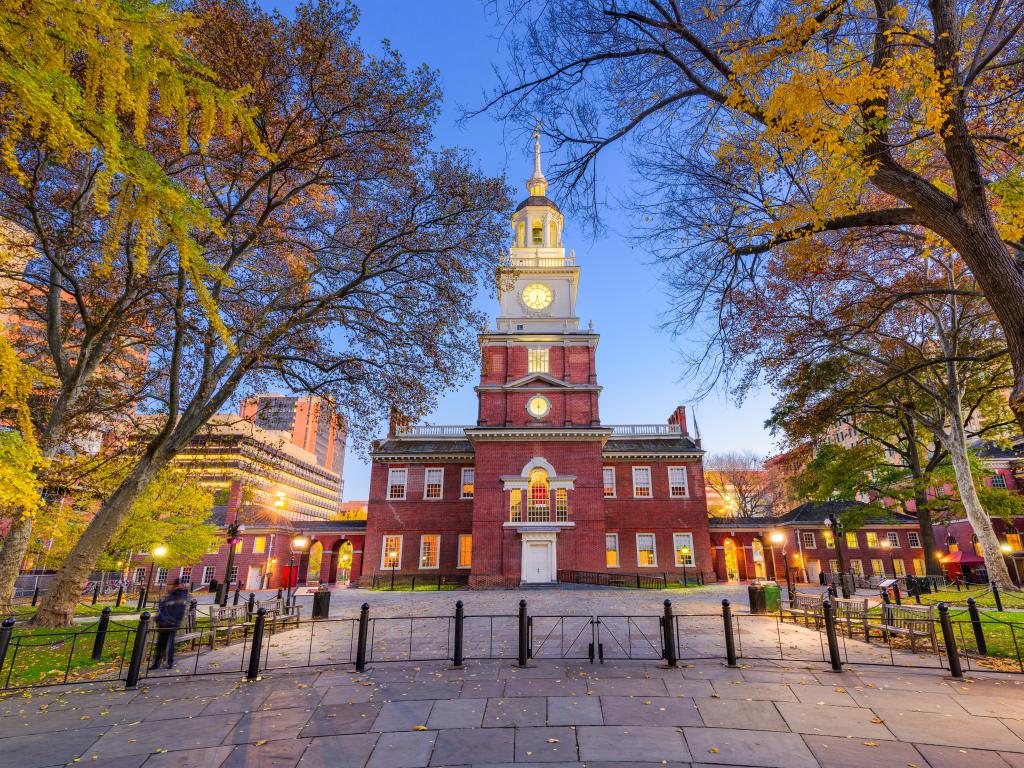 Best road trip route from New York To Miami
There are many different routes you can take on a road trip from New York to Miami, but the direct and fastest route is also probably the best.
This is an epic (but easy-to-follow as you will mostly be driving on the interstate) drive down to Miami while also providing you with plenty of detour opportunities along the way.
You will get to visit some iconic cities on the way including Washington DC, Charleston and Savannah as well as get ample opportunity to admire natural scenery in Crotoan and Francis Marion National Forests.
Despite the straightforward drive, you do need to keep an eye on traffic, as you'll be passing through some of the biggest cities near the East Coast. Florida can get especially rough when it comes to congestion, especially if you're traveling in the summer.
Road trip route from New York to Miami
Leaving from New York, take Interstate 95 through Philadelphia, then cross the Delaware River into Delaware. Visit Wilmington before continuing over into Baltimore and Washington, then stop at George Washington and Jefferson National Forest.
In North Carolina, detour to the coast to see Croatan National Forest, then continue to South Carolina after resting in Fayetteville. Visit Myrtle Beach if you feel like it, then spend some time at Lake Marion and offroad to Francis Marion National Forest and Charleston.
Back on the interstate, cross over into Georgia, and be sure to spend time in Savannah and Okefenokee National Wildlife Refuge before pulling into Jacksonville, Florida.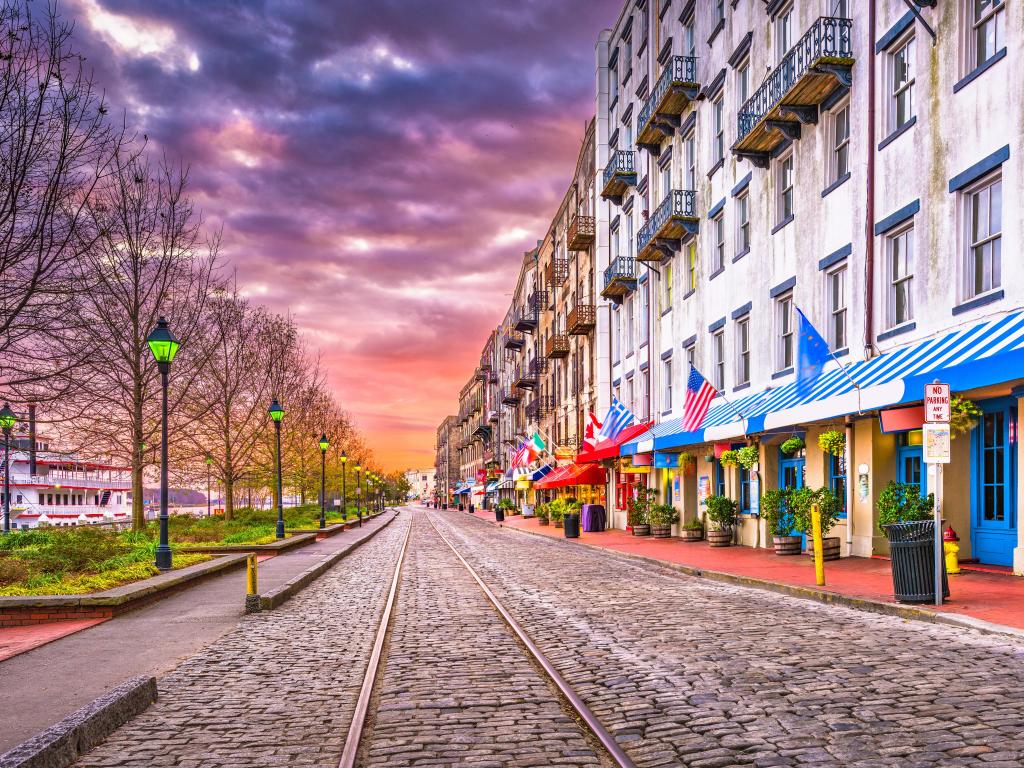 After passing Ocala National Forest, take a break in Orlando (visiting Disney World for an extra bit of fun), then continue south along the coast, not far from Kissimmee Prairie Preserve State Park. Pass Lake Okeechobee, and you'll soon find yourself in Miami.
Best places to stop between New York and Miami
Depending on how long you want to take to drive from New York to Miami, there is an endless list of amazing places to stop along the way.
And if you want to take a day to do some hiking or spend time in nature, you have your pick of national parks, wilderness areas, fantastic beaches and swamps as you get closer to Miami.
Explore the streets of Washington DC
Washington DC is located about 225 miles from New York City, making it a great stop-off for your first night. If you do decide to stay here, the CitizenM Washington DC Capitol combines a funky interior and an amazing view of the city to provide the ultimate DC experience.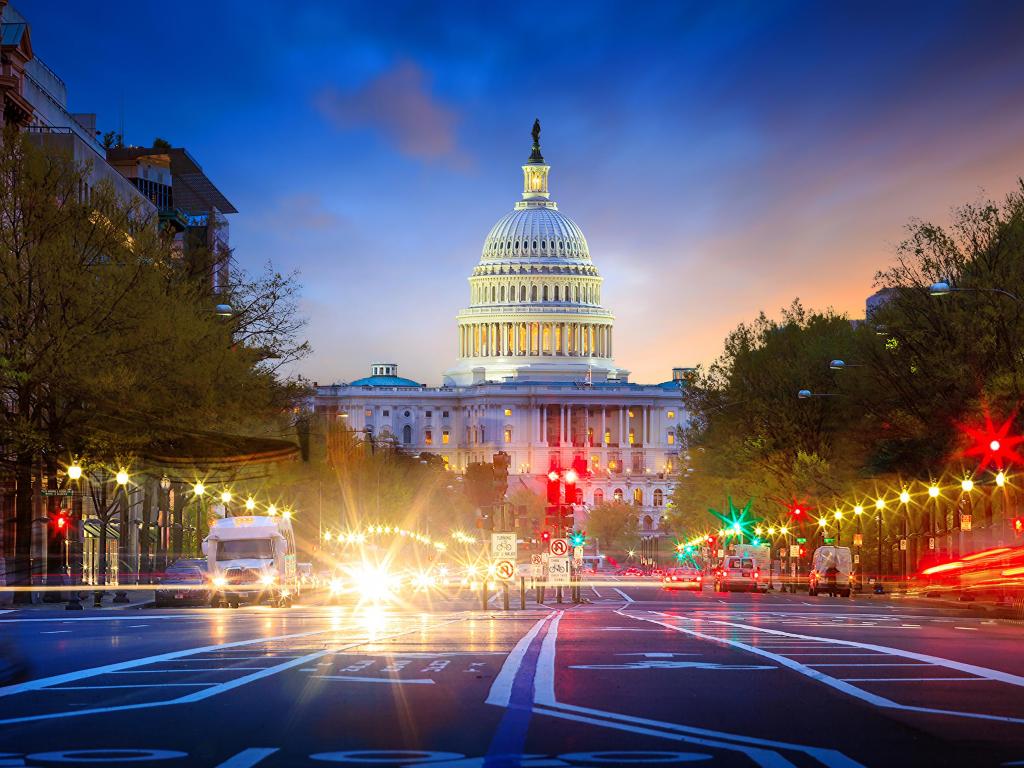 Colorful and vibrant, the rooms at this resort will put you in the perfect mood to see everything the city has to offer. If the decorations covering every corner of the hotel don't charm you, nothing will.
The highlight of staying here would have to be the terrace view - the breathtaking panorama of Washington DC is enough to get anyone excited about a day of exploring.
Situated right in the heart of the city center, this serves as an excellent base to explore the likes of the Washington Monument, the Lincoln Memorial, the White House, and Capitol Hill. Best of all, you can expect great service and a reasonable price.
Revel in delights of Myrtle Beach
Myrtle Beach features over 60 miles of gorgeous coastline, a number of celebrity-designed golf courses and the ultimate beachfront boardwalk with an amusement park that features one of America's tallest Ferris wheels.
Whatever you are looking for in a vacation stopover, Myrtle Beach has got you covered. Ride Broadway at the Beach to get panoramic views of the city or visit Ripley's Aquarium of Myrtle Beach during your stay.
The Marriott Myrtle Beach Resort & Spa at Grande Dunes is a perfect place to relax and unwind by one of the best hotel pools you'll ever see after a long day's drive.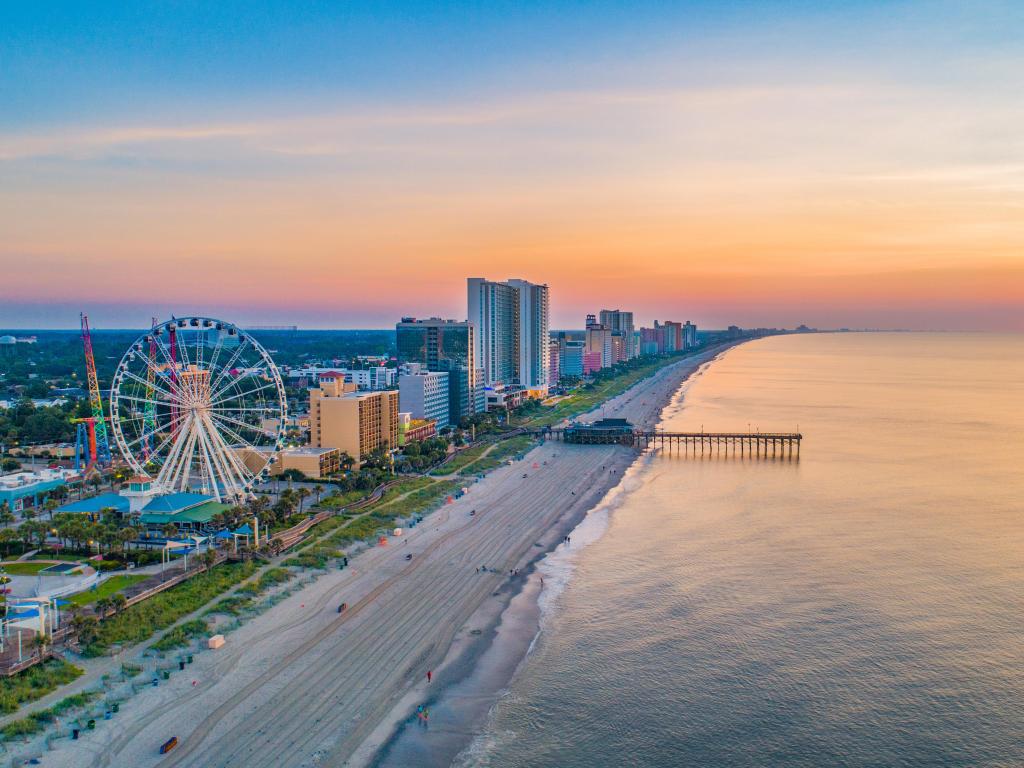 The rooms at this resort perfectly capture the essence of vacationing by the beach - elegant yet minimalistic, they provide maximum comfort and an impeccable view of the oceanfront.
Located right on the beach, about a 10-minute drive to the city center, this hotel has three fantastic restaurants on-site, as well as a bar and excellent spa center.
You could definitely find cheaper hotels in Myrtle Beach, but none offer the level of luxury that this one does - besides, the most expensive hotels here are relatively cheap by beach city standards, so you definitely won't have any regrets!
Things to see on a road trip from New York to Miami
There are so many interesting places and tourist attractions to see a road trip from New York to Miami that choosing what to visit can seem a bit daunting at first.
So if you need some pointers to inspire you, why not consider checking out the following?
Six Flags Great Adventure – Huge amusement park featuring a wildlife area and the Jersey Devil Coaster - the world's tallest, fastest, and longest single rail coaster.
Princeton – World-famous Ivy League university founded in 1746. Revered for its engineering, science & humanities departments.
Sesame Place – Sesame Street-themed amusement park that has a number of excellent rides, water slides, and parades.
Philadelphia – Known as the City of Brotherly Love, the city's star attractions include the Liberty Bell and Independence Hall (where the declaration of Independence and the Constitution were signed). A Philly Cheesesteak is a must-try food item too!
Harrah's Philadelphia Casino & Racetrack - Located on the waterfront in Chester, Pennsylvania, this harness racing track and casino also has great nightlife and shopping too.
Atlantic City – Fabulous resort city on the Atlantic Coastline of New Jersey. Well-known for its iconic boardwalk, flashy casinos, pristine beaches, and lively nightlife.
Hershey's Chocolate World – A must for all chocoholics, this chocolate haven in Hershey, Pennsylvania, forms part of a massive entertainment complex that also includes Hersheypark, Hershey Museum, Hersheypark Stadium, and the Giant Center.
Baltimore – Located at the mouth of Baltimore's Inner Harbor, this bustling city is famous for being the birthplace of The Star-Spangled Banner. Recognized for its hipster culture, the city also has great museums and the impressive National Aquarium.
Gettysburg – An area of huge historical significance to the Civil War. It features the Gettysburg National Military Park, which houses a fascinating museum of Civil War antiquities, and the Gettysburg Lincoln's Cemetery, which has a memorial that marks the site of Abraham Lincoln's famous 1863 Gettysburg Address.
Washington DC – The capital city of the USA. Boasts a number of outstanding neoclassical monuments and buildings like the Lincoln Memorial, The White House, Capitol Hill, The Washington Monument, and The Supreme Court. It also features a number of world-class museums, art galleries, and venues for performing arts.
Norfolk – Pleasant waterfront city in southeastern Virginia. Home to a massive naval base on Chesapeake Bay, as well as a great selection of museums and the riverside Virginia Zoo – which houses bears, birds, lions and farm animals.
NASCAR Hall of Fame – Located in Charlotte, the NASCAR Hall of Fame is a must for motorsport fans.
Raleigh – Known as the City of Oaks for its huge number of gorgeous oak trees which line the streets, Raleign forms part of the The Triangle, along with Durham and Chapel Hill.
Myrtle Beach – Situated on South Carolina's Atlantic coast, this gorgeous beachside vacation resort features over 60 miles of white sandy beaches. Myrtle Beach also boasts a number of exceptional celebrity-designed golf courses as well as an iconic boardwalk with arcades, souvenir stands, restaurants, country's old-fashioned Family Kingdom amusement park, complete with the country's tallest Ferris wheels.
Charleston - One of the most historically significant cities in the USA. Home to a number of picturesque parks and iconic monuments, including Charleston Harbor, Fort Sumter, South Carolina Aquarium, and the Cathedral of Saint John the Baptist.
Savannah – Known for its beautiful coastal landscapes, well-preserved architecture, and its rich history. Lovers of the film Forrest Gump will recognize Chippewa Square as the setting for the famous bench scenes where he regularly waited for the bus.
Jacksonville – The largest city in the continental USA. Boasts over 850 square miles of exquisite beaches, and some excellent attractions like the Jacksonville Zoo and Gardens, the Cummer Museum of Art & Gardens, and MOSH – the Museum of Science and History.
Daytona Beach – Made famous in the early 1900s when high-speed car testing, and then later, motor racing, took place on its wide beach and smooth, hard-packed sands. Also home to the Ponce de Leon Inlet Lighthouse, the tallest lighthouse in Florida.
Kennedy Space Center - Fascinated by space? Then NASA's Kennedy Space Center on Merritt Island is a must-visit. It features awesome exhibits and displays, as well as historic spacecraft and memorabilia, interactive shows, two IMAX theaters, and numerous bus tours to the spaceport.
Disney World - The mother of all theme parks, the Walt Disney's Resort is made up of various iconic Disney-themed parks (Magic Kingdom, Epcot, Disney's Animal Kingdom, and Disney's Hollywood Studios), as well as two water parks (Disney's Typhoon Lagoon and Disney's Blizzard Beach), 27 themed resort hotels, several golf courses, and numerous other entertainment venues.
Best time to go on a road trip from New York to Miami
You can go and enjoy the road trip from New York to Miami all year round. During the holidays and at the weekends, you will find traffic congestion might be higher, and the prices of hotel accommodation and entry into tourist attractions may well be at a premium too.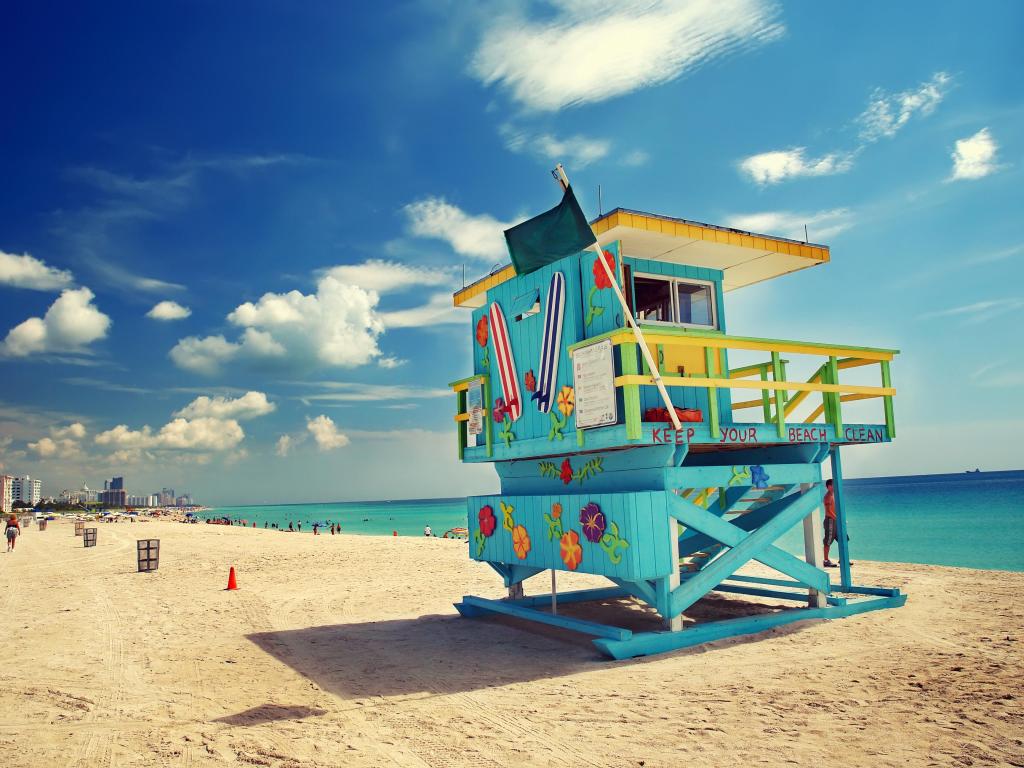 In the winter months, particularly when it snows, you may need to break the snow chains out, especially if you plan to visit some of the national parks or attractions that can only be accessed by back roads. The temperature ranges between 62-76 degrees Fahrenheit during these cooler months.
Over the summer months, when it can get hot, but this is what makes the famous beaches of Florida so well known and loved. You can expect temperatures around 88 degrees Fahrenheit.
Remember to pack clothes for every season if you're driving from New York to Miami in the winter - the freezing Big Apple will eventually transform into a pretty warm southern Florida.
There are plenty of events happening annually in Miami. Make sure to check out South Beach Jazz Festival in January, Carnaval Miami in March and Art Basel Miami Beach in December.