How long does it take to drive through Florida?
Florida sits to the far southeast of the United States, surrounded by the Gulf of Mexico to the west, the Atlantic Ocean in the east, and the hundred-mile-long Florida Keys stretching out across the ocean towards Cuba. In the north, Florida also borders Georgia and Alabama.
It takes 8 hours 30 minutes to drive through Florida from north to south, but with traffic allow 12 hours for the 540-mile trip from Georgia to Key West. It's a much shorter, 2 hour 20 minute trip to drive from across Florida from east to west.
Whether you're planning an epic adventure or just looking to travel across the state in the quickest time possible, we've put together information on driving times and distances to help you get the best out of your road trip across Florida.
Time to drive across Florida
Comparison of routes across the state of Florida
Route
Main road
Distance
Driving time
East to West
FL-528 and I-4
150 miles
2 hours 20 minutes
North to south


East Coast Route

I-95
540 miles
8 hours 30 minutes
North to south


West Coast Route

I-10 and I-75
900 miles
13 hours 40 minutes
Florida is a huge peninsula that juts out between the Gulf of Mexico and the Atlantic Ocean, and its shape means that the time to drive across the state varies significantly depending on whether you're driving from north to south or east to west.
The most-travelled route from north to south follows the eastern Atlantic coast and takes around 8 hours and 30 minutes without allowing time for traffic and rest breaks.
However, seeing as Florida is a hugely popular tourist destination with some really busy cities, you should definitely give yourself more time than this in case of congestion.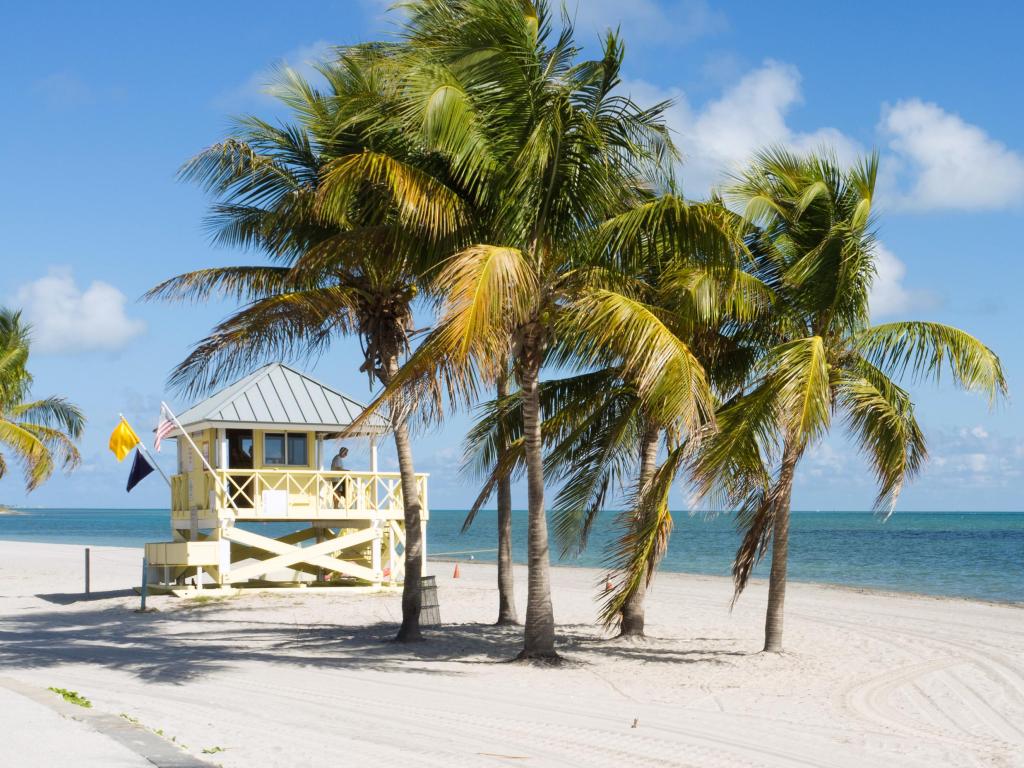 Alternatively, you can drive south down the western coast of Florida. This mammoth route from West Pensacola to Key West is nearly 900 miles long and will take you 13 hours and 40 minutes to drive even with clear roads.
If you're heading across Florida from east to west, it's a different type of journey altogether. Florida's two coasts are only 150 miles apart, and you can make the drive from Cape Canaveral to Clearwater in under 2 hours and 30 minutes.
Driving across Florida from north to south on the East Coast Route
Although it's a long journey, the drive south from the Florida-Georgia border line to the tip of the Florida Keys is relatively straightforward to navigate.
Kingsland, Georgia, is the nearest town to the state border, and from here you'll follow Interstate 95 (I-95) S pretty much all the way to Miami, passing Jacksonville, Daytona Beach, West Palm Beach, Fort Lauderdale and Miami along the way.
If you want a more scenic route you can switch to US-1 or the A1A to take in more sea views, but these routes can slow you down a little.
You might not want to travel through the Florida Keys, in which case ending your drive at Florida City in the south will clock up a little over 400 miles and take you around 5 hours 40 minutes to drive.
Once you reach Miami, US-1 will take you through the southern Everglades then across to Key Largo. From here the Keys are connected with a series of bridges, so that Route 1 can take you all the way to your destination, Key West.
If you're travelling all the way to Key West you're looking at an 8-hour and 30-minute drive, but the busy I-95 can experience extremely heavy traffic conditions.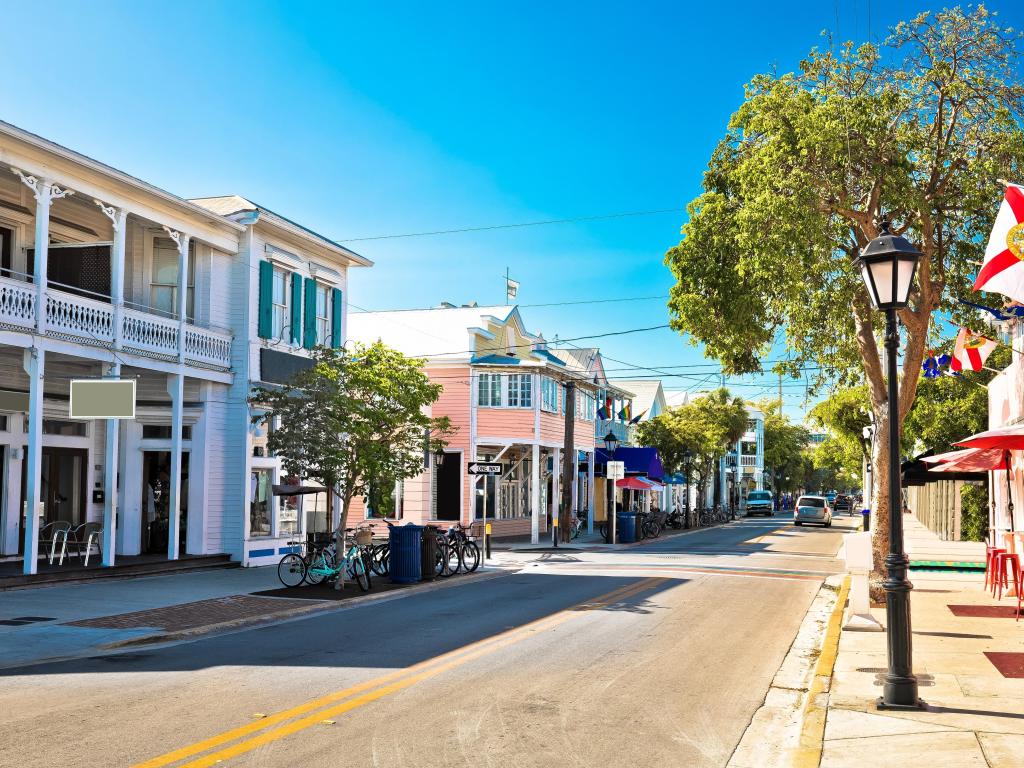 I-95 travels through the centre of some of the cities along the route, with the traffic-loaded city of Jacksonville in the north adding 1-2 hours to your drive and navigating the wider Miami area contributing up to 3 hours delay.
We'd also suggest you stop at least three times on the main route so that you can keep on driving safely. Some great places to stop are historic St Augustine, 65 miles south of the Florida-Georgia border, and Miami, 5 hours 20 minutes into your drive.
If you're going all the way to Key West, you can also stop at Key Largo, 6 hours and 20 minutes south of the state border. Once you've allowed for rest stops and traffic, this drive will take at least 12 hours and 30 minutes to complete.
Since this is a long route, and there's potential for additional delays on top, we'd suggest breaking the journey with an overnight stay at West Palm Beach.
This buzzing district north of Miami is an exciting place to stay, and you can easily complete your journey the following day with the 4-hour drive to Key West.
This means it's best to set aside at least a day and a half to make this drive - or longer if you want to spend time exploring the places you'll pass along the way.
Driving across Florida from north to south on the West Coast Route
An alternative route that runs from top to bottom of Florida on the map is to follow the western edge of the state. Starting in Pensacola, this 900-mile route follows I-10 east through Tallahassee then merges onto I-75 to head south just outside Lake City.
From here, it's a straightforward but often busy interstate drive past Gainesville and along to Tampa and St Petersburg, before the route crosses over Tampa Bay and continues on to Fort Myers.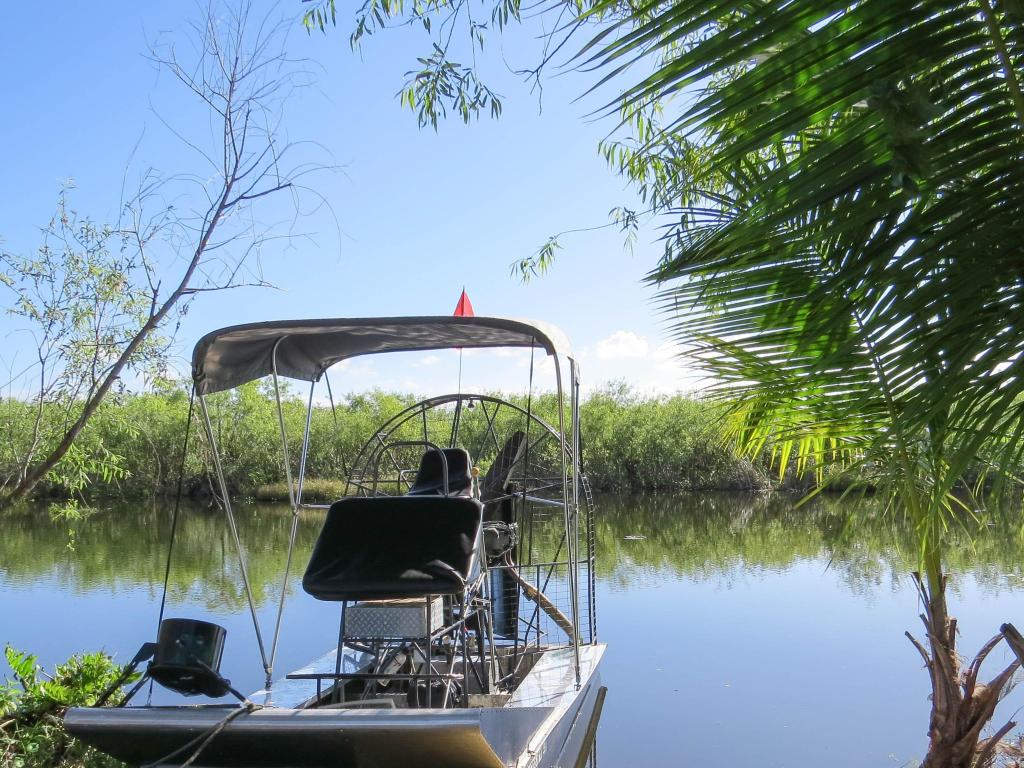 As it runs past Naples, I-75 swings west to cross the tip of Florida via the Everglades, before turning south again around the Miami suburbs and joining up with US-1 that connects with Key West.
On this route, you're likely to hit traffic around Pensacola and on the stretch of road between Tampa and Sarasota. Rush hours should be avoided on these parts of the route and expect even heavier traffic in peak tourist season. These delays can add an extra 3 hours to your driving time.
As this is such a long drive we'd suggest you stop at least three times along the way. Gainesville, 350 miles from Pensacola and Fort Myers, another 220 miles along the route, are good stopping points, but you might want to pause to stretch your legs in between times too.
If you're heading through the Florida Keys then Key Largo, 11 hours and 30 minutes into the trip is an option for your third stop.
Adding up potential delays and stops, you should allow at least 16 hours and 40 minutes to make this trip. That means you'll definitely need an overnight stop, and we'd recommend Fort Myers as it's an entry point to the beautiful resorts of Florida's southwestern coast, and only an hour away from Everglades National Park.
Driving through Florida from east to west
The shortest route to cross the state of Florida is to travel from east to west. If you set out from Cape Canaveral, FL-528 takes you through the south of Orlando, where you can join I-4 to complete the 150-mile drive through Tampa to Clearwater.
You might experience traffic as you head past Orlando, and also around Tampa. Delays are to be expected in both of these areas due to rush hours and during the tourist season, which could double your 2-hour and 20-minute journey time.
As this drive is relatively short you can do it without stopping if there are no delays. However, if you get held up or even if you'd just like a break from the heat, Lakeland is roughly at the halfway point so you might consider stopping for refreshments there.
In case you're not starting and ending your drive exactly on the state border, we've also put together the driving times and distances for frequently travelled routes across the state to help you with your planning.
Comparison of the routes that cross Florida

| Starting from | Arriving to | Distance | Driving time |
| --- | --- | --- | --- |
| Miami | Key West | 170 miles | 3 hours 30 minutes |
| Jacksonville | Miami | 350 miles | 5 hours |
| Tampa | Key West | 400 miles | 7 hours |
| Pensacola | Tampa | 450 miles | 6 hours 40 minutes |
Things to know that can impact your driving time
As we've already mentioned, the biggest factor likely to impact your travel time across Florida is traffic, especially during rush hours and peak seasons. You might also hit occasional closures and repairs on the roads.
All the major towns, including Miami, Orlando, Jacksonville, Pensacola and Tampa are hotspots for heavy traffic, and exits towards the holiday resorts might also experience congestion in the high season.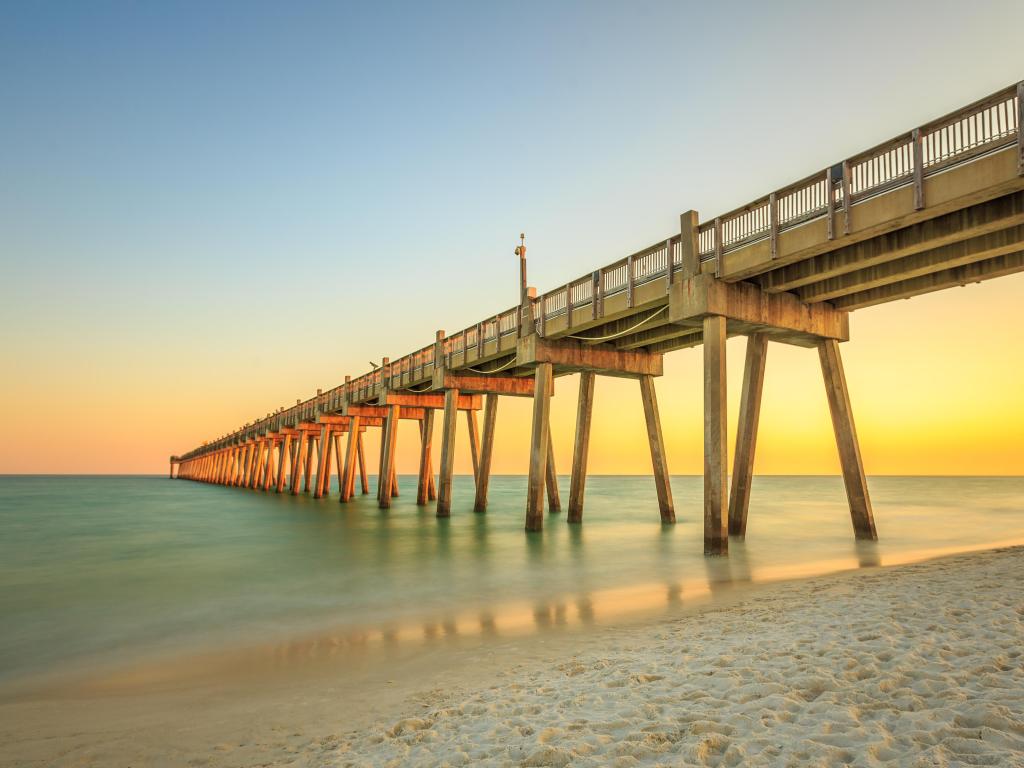 Florida is also infamous as a hurricane hotspot, and adverse weather conditions are possible from late summer and early autumn. These will cause you to rapidly re-evaluate your travel plans, so keep an eye out for local advice if you're travelling at this time of year.
The number of stops you'll need to take will also impact your travel time, but as the north-south routes through Florida are quite long there's no way of avoiding these.
The speed limit in Florida varies, and is usually between 60 and 70 mph on the main interstates and highways, however this varies where required, so pay attention to signage as you travel.
Our routes and time estimates take these speed limits into account, but any closures, roadworks, weather conditions or diversions may impact these. Be sure to check local advisories before you travel.
Tips to drive across Florida in the shortest possible time
While you can't always plan for traffic hold-ups, there are a few other things you can do to help drive across Florida in the shortest possible time.
As these routes are quite lengthy, having two drivers means you can alternate and stay fresh without taking as much time for rest breaks.
If you choose an economical car, rather than a gas-guzzler you will minimize refuelling stops, and stock up on snacks and in-car entertainment, before you set out so that you can reduce the need for stops and detours.