Road Trip from Florida to Yellowstone National Park
If you decide to take a road trip from Florida to Yellowstone National Park, you're in for mile after mile of unforgettable scenery. It's a route of real contrasts, from the relaxed sunshine of Florida, through Tennessee's forests and the Great Plains, or across the New Mexico Desert and the Rocky Mountains.
The 2,530-mile drive from Florida to Yellowstone National Park takes 39 hours to drive. You can visit Savannah, Nashville, Dakota Badlands and Mount Rushmore, or swing south to see Montgomery, Memphis, Albuquerque and Rocky Mountains National Park.
Whichever route you take you'll visit some amazing cities where you can immerse yourself in the history of the Civil Rights Movement, and pass through several national parks and forests. Keep reading for all the information you need to plan this unforgettable road trip.
How far is Yellowstone National Park from Florida, and how long will the road trip take?
Comparison of road trip routes between Florida and Yellowstone National Park

| Route | Distance | Driving Time |
| --- | --- | --- |
| The Nashville Route | 2,530 miles | 39 hours |
| The Great Smoky Mountains Detour | 2,630 miles | 41 hours |
| The Denver Route | 2,780 miles | 42 hours |
There are a few different ways to make the road trip from Florida to Yellowstone National Park, and the one thing they all have in common is that they cover pretty epic distances.
The shortest route both by time and distance takes you through Nashville. This route is 2,530 miles long and will take around 39 hours of driving, not accounting for any stops you might make along the way.
You can also choose to extend this route by following our suggested detour through the Great Smoky Mountains. This adds nearly 100 miles and at least 2 hours to the trip, as you'll spend part of the journey following winding roads through the beautiful mountains.
The longest route of all is the 2,780-mile Denver Route, which comes in at an impressive 42 hours. When it comes to variety, this lengthy trip is worth it though, as it takes you through the hills and mountains of Tennessee, across the deserts of Texas and New Mexico, and up through the mighty Rocky Mountains.
Whichever route you choose, you're looking at a journey of over 2,500 miles. In theory, you could cover this distance in 3 or 4 days but this would leave you no time to stop and enjoy the countless fantastic places along the way. Instead, we'd suggest taking at least a week to make this trip.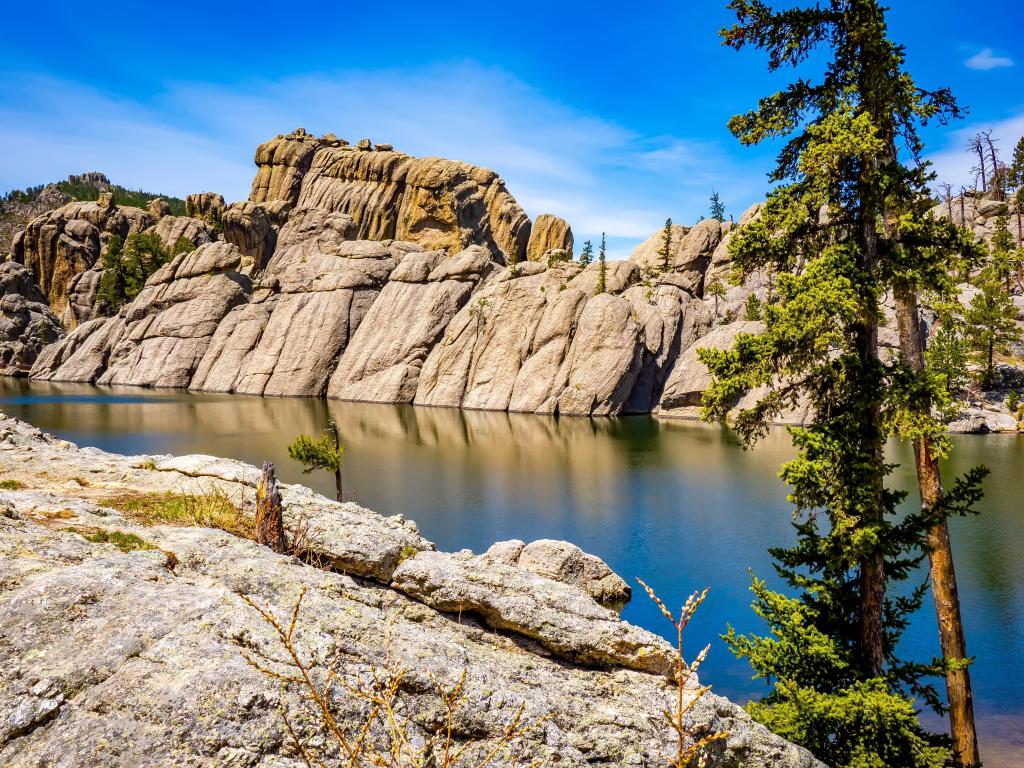 Best road trip route from Florida to Yellowstone National Park
All of the routes we've suggested here are fantastic, taking you through some vibrant cities and stunning natural landscapes, so your decision on which route to take will be a really personal choice.
The Nashville Route takes you through some fabulous cities, including Savannah, Atlanta, Nashville and St Louis, and the stunning scenery of the southern Appalachians then swings north through South Dakota.
Here you can spend time exploring some less familiar road trip destinations such as Badlands National Park and Black Hills National Forest, as well as iconic Mount Rushmore.
As an alternative to the Nashville Route, skip Atlanta and visit the Great Smoky Mountains National Park as you head towards Nashville. Outdoor enthusiasts could also add a detour to explore Nantahala National Forest or part of the Blue Ridge Parkway.
The longer Denver Route is a really varied option. You can explore modern US history in Alabama cities, rock out in the music city of Memphis, then head across Texas and New Mexico for an iconic desert drive along historic Route 66.
You'll also visit the Rocky Mountains before approaching Yellowstone via Grand Teton National Park.
The Nashville Route
To get started on your road trip, head north out of Orlando on Interstate 4 (I-4) and then make your way up the Atlantic coast.
Depending on how much time you have for your trip, you could hop off the Interstate to spend a few hours by the ocean – Daytona Beach, St Augustine and Jacksonville all make for a great stop.
Continue to follow I-95 across the state border into Georgia, until you reach Savannah, where we'd definitely recommend spending a day or two. Then when you're ready to hit the road again, follow the interstate to Atlanta, passing Macon along the way.
Next, I-24 will take you through Chattanooga and across the Tennessee River, then on through fabulous Nashville and into Kentucky. Just after Shawnee National Forest, turn west towards St Louis and Columbia.
When you reach Kansas City, pick up the I-29, which will take you northwards towards Omaha and then on as far as Sioux Falls. From here, head further west across the Great Plains, crossing the Missouri River and passing Badlands National Park.
From Rapid City, swing south onto the highway for a while, which lets you explore some of the many fascinating attractions around the Black Hills National Forest. US-16 takes you past Mount Rushmore and Crazy Horse, but you can also detour to visit Custer State Park and Wind Cave National Park.
At Moorcroft, rejoin I-90 and follow it as far as Buffalo, and then head towards the southern part of Bighorn National Forest. Take a right turn to follow the highway north to Basin and Emblem. Drive past Buffalo Bill Reservoir then on through the hills to reach Yellowstone National Park.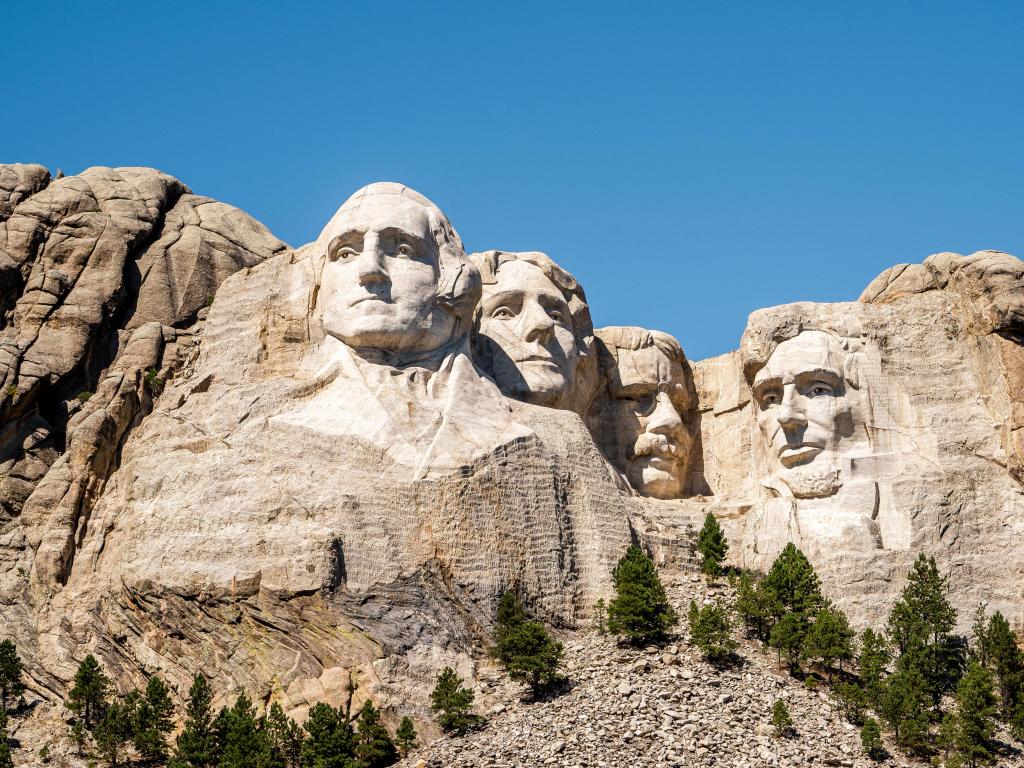 The Great Smoky Mountains Detour
Just like the Nashville Route, start out by following I-4 then I-95 north as far as Savannah, where the routes separate.
After Savannah, continue north on I-95 until turning onto I-26 to start making your way west. The interstate will take you through Columbia and on past Asheville, from where you should follow US-74 which leads you out onto US-19.
Follow the highway west past Dellwood and Maggie Valley and pull onto the Blue Ridge Parkway just before Soco Falls. You'll only be following a short section of this epic scenic drive, but it really packs in the views – take your hiking boots and enjoy the trails up to Jonathan Creek Overlook, Big Witch and Thomas Divide.
Turn right onto US-441 when you reach the southern end of the Blue Ridge Parkway for another beautiful stretch of road which takes you right across the Great Smoky Mountains as far as Gatlinburg.
From here, the highway leads you north through Pigeon Forge and Catlettsburg. Head west along the interstate, past Knoxville, and eventually you'll reach Nashville to rejoin the main Nashville Route.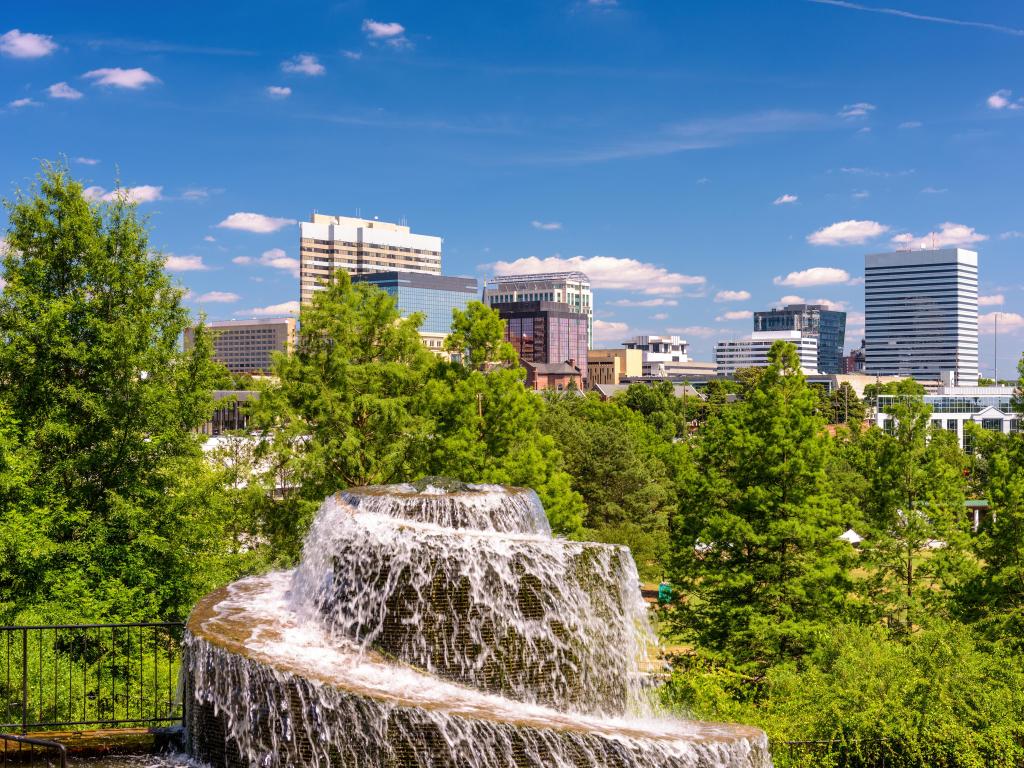 The Denver Route
If you're taking the longest of our three routes, head west out of Orlando and pick up Florida's Turnpike near Lake Apopka. Continue past Gainesville then join I-10 at Lake City.
You'll follow the interstate west across Florida, before hopping onto the highway at Marianna and following it past Dothan, Ozark and Orion. This takes you up to Montgomery, AL, from where you can take the interstate to Birmingham.
After finding out about the history of the Civil Rights Movement in these two cities, join I-22 and follow it past Tupelo and Holly Springs National Forest, before turning towards Memphis.
Music lovers should definitely spend a night or two in buzzing Memphis. Then when it's time to move on, cross the Mississippi River and after Little Rock, the interstate follows the Arkansas River. You can detour up to Ozark St Francis National Forest to your right.
The interstate then will take you right the way across Oklahoma and Texas and then on through New Mexico as far as Albuquerque. From here, start to make your way north past Santa Fe, Colorado Springs and Denver.
After spending some time enjoying the magnificent Rocky Mountains National Park, continue north past Fort Collins, Laramie and Elk Mountain. Medicine Bow-Routt National Forest is just off the route here if you want to spend more time exploring the great outdoors.
At Rawlins, turn onto the highway and follow it through Lander, Crowheart and Dubois. The route takes you past Bridger Teton National Forest and Grand Teton National Park, before skirting the eastern side of Jackson Lake and leading you into Yellowstone from the south.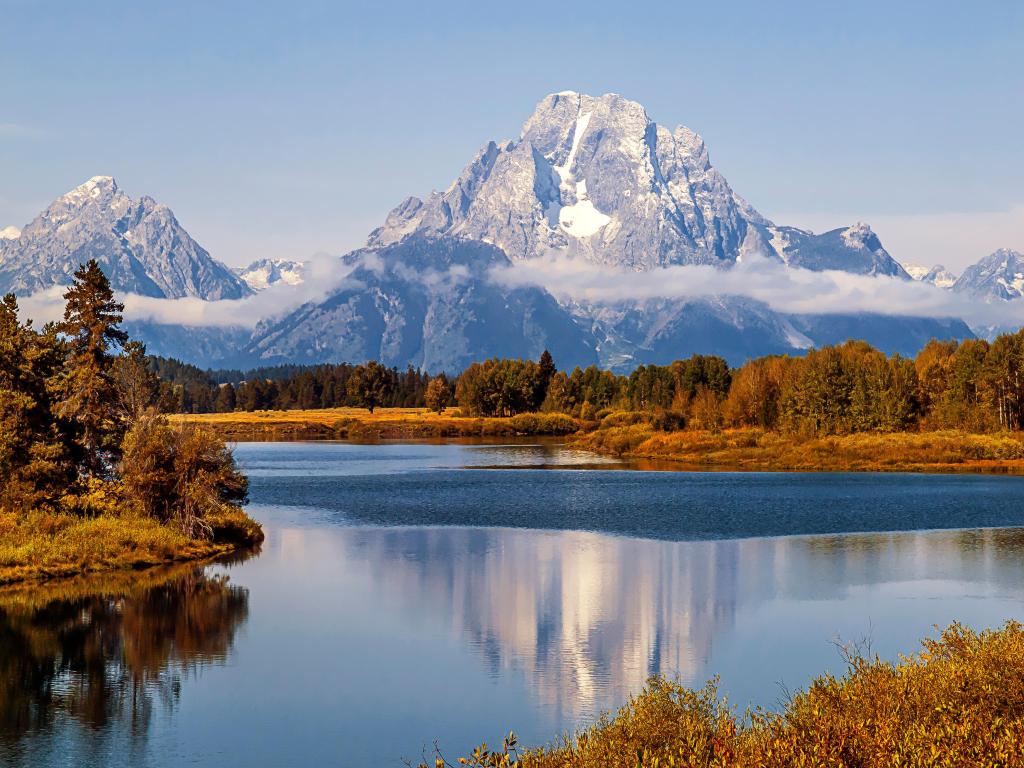 Best places to stop between Florida and Yellowstone National Park
On a trip of this length you're going to need to make several overnight stops. We can't list every single one here, but we've picked out some of our favorites to get you started with your planning.
Feel the rhythm in Nashville
If you're taking the Nashville Route or the Great Smoky Mountains Detour, the city of Nashville is around one-third of the way along your road trip from Florida to Yellowstone National Park.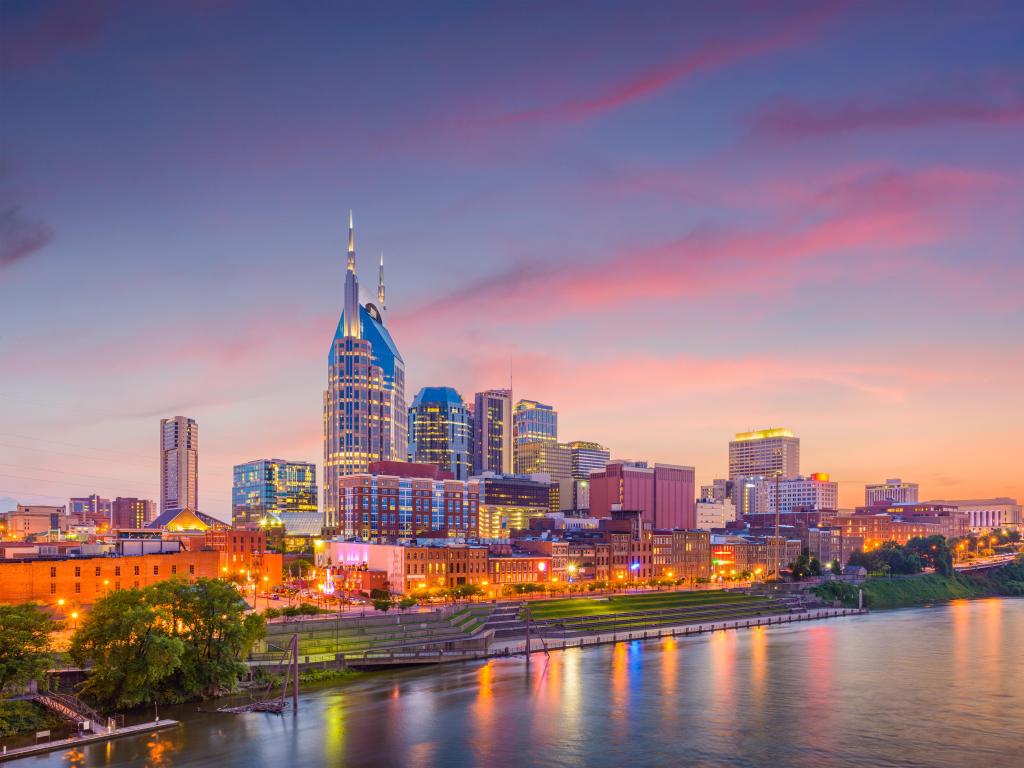 Nashville is known as the home of country music, and with its live entertainment and buzzing nightlife, you won't be able to see the best of the city unless you stay late. So, it makes sense to spend at least one night here. It's also right on the route, making it a really convenient stopover.
While you're in town, check out the Country Music Hall of Fame. Incorporating RCA Studio, used by artists such as Dolly Parton and Elvis, this is the perfect place to start your trip to learn more about the music that put Nashville on the map.
There's more to Nashville than just music though! Located in the city's impressive former US Post Office building is Frist Art Museum, which focuses on rotating exhibitions drawn from cultures and traditions worldwide as well as showcasing Nashville artists.
With its bold modern design and a great location in the Arts District close to the Cumberland River, Bobby Hotel, Nashville is a fantastic hotel choice. It boasts a fantastic location in this vibrant city and is nearby many live music venues.
If you would rather spend some unwinding before enjoying a gig or two, you can head to the hotel's outdoor pool and terrace where you can relax if you need to start the day slowly after getting your live music fix.
Watch the sunset over the Rocky Mountains in Denver
A little under 9 hours from Yellowstone, Denver could be the final stop on your trip if you're taking the Denver Route or break the journey one more time before you reach Yellowstone.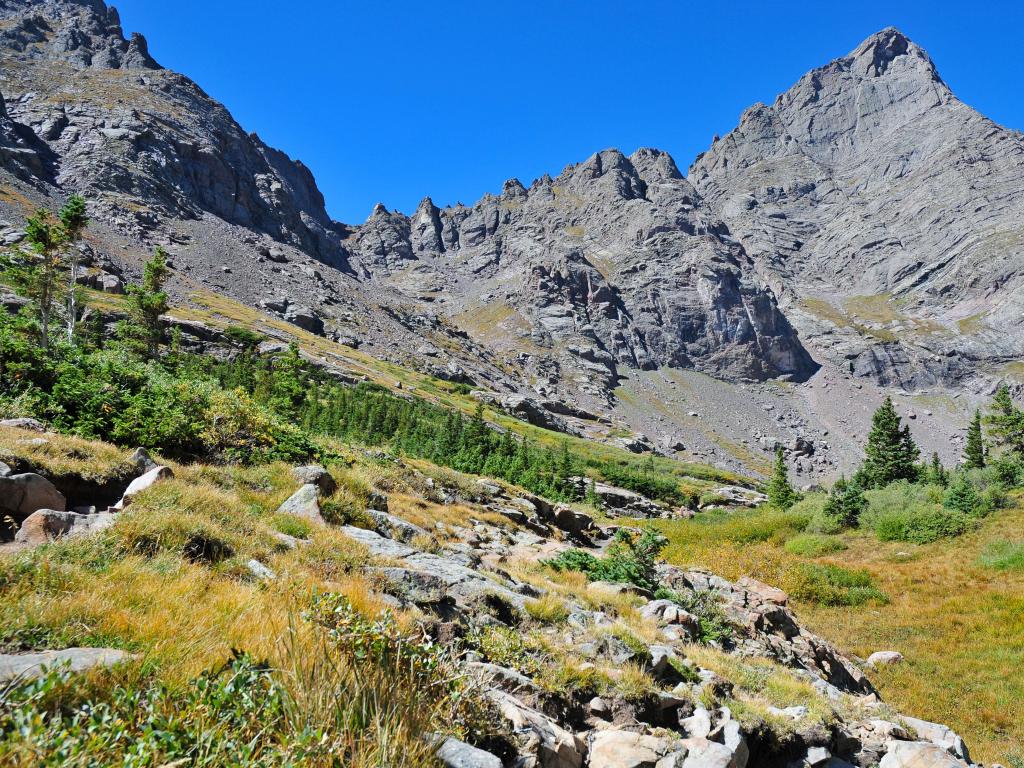 Known for its location in the Rocky Mountains, it's one of the major cities along the route, and a place you might want to spend at least a couple of nights if you're planning on exploring the Rockies and its many trailheads, scenic drives and the stunning lookouts.
On the site of a former Air Force base, you'll find Wings over the Rockies Air & Space Museum. Here you can see vintage planes and more recent aircraft, as well as being able to learn more about the history of the airbase itself.
Close to a great range of bars and restaurants, the striking and stylishly designed Ramble Hotel, Denver is a great option to where to stay in this city. On the edge of the downtown area, this hotel is within easy access to Denver Art Museum and History Colorado Center.
For the road-weary traveler, the hotel also has its own fantastic bar which mixes outstanding cocktails, so you might want to head back to enjoy your favorite drink as a deserving treat after an exciting day of sightseeing.
Where to stay when you reach Yellowstone National Park
Right by the west entrance to Yellowstone, Gray Wolf Inn & Suites, West Yellowstone gives you easy access to the park as well as the creature comforts of modern life!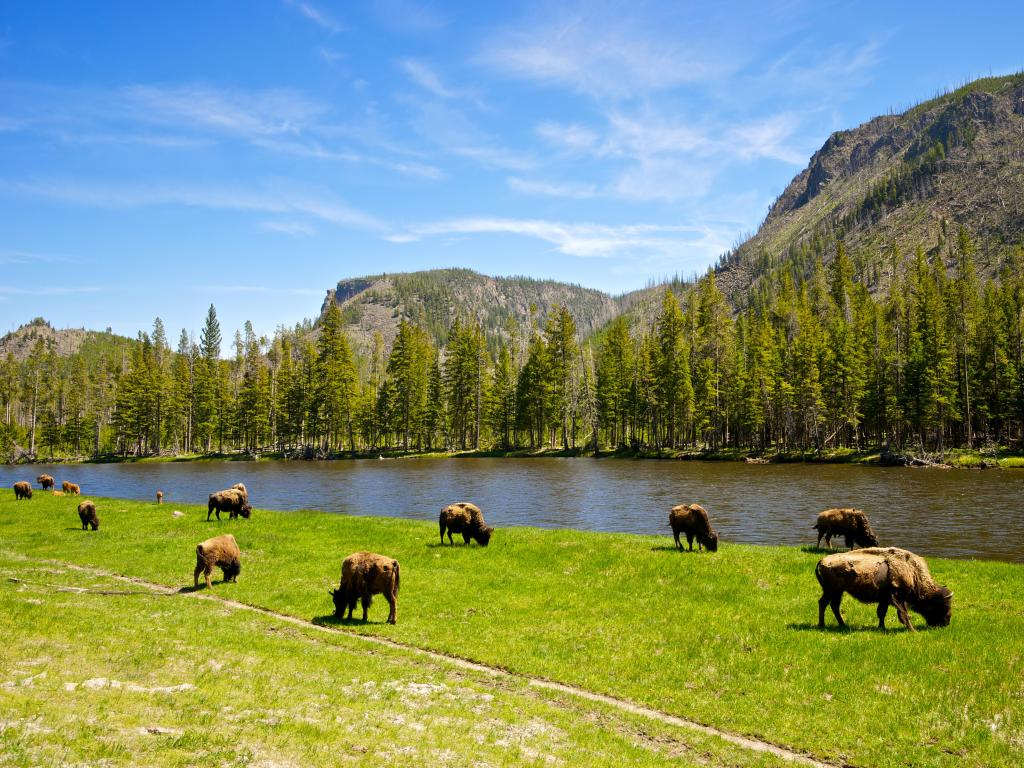 As well as offering spacious rooms and free parking, it has an indoor pool and outdoor firepit – the perfect way to round off a day exploring Yellowstone National Park.
It's also just a short walk from Grizzly & Wolf Discovery Center and Yellowstone Historic Center Museum.
Things to see on a road trip from Florida to Yellowstone National Park
With over 2,500 miles standing between your start point in Orlando and your destination, Yellowstone National Park, you're guaranteed to find plenty to keep you busy on this fantastic road trip.
Here are a few of the highlights that we think you'll enjoy on each route, but there's plenty more to discover as you travel across the United States to reach Yellowstone.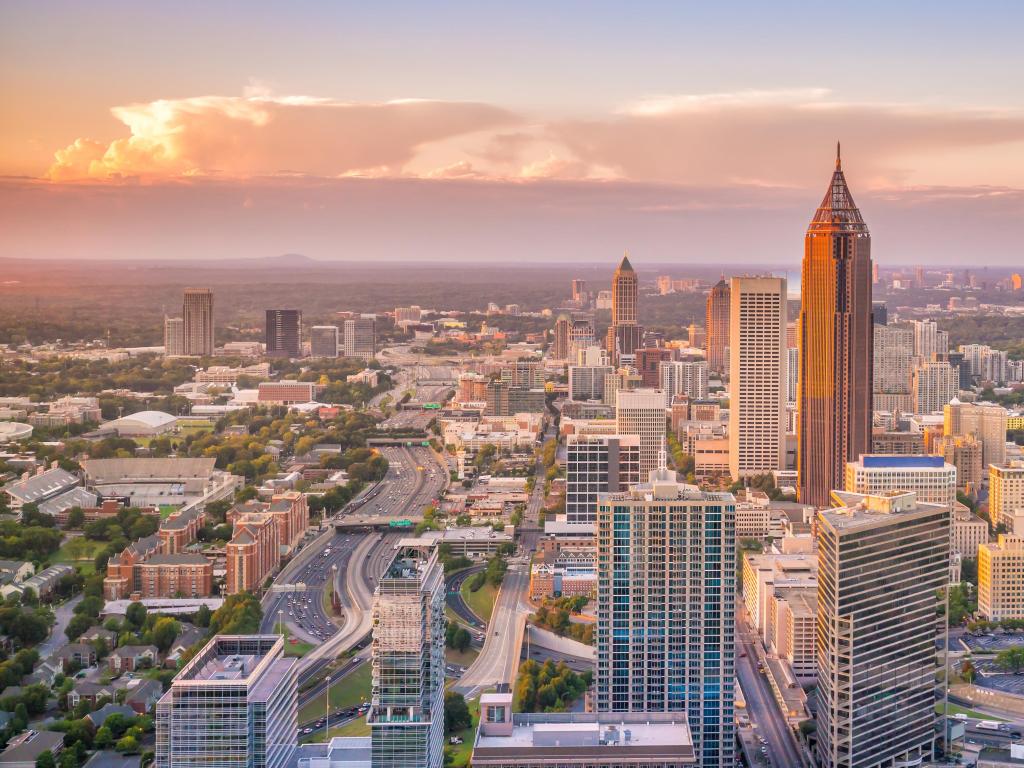 Nashville Route
Savannah - Explore the city's tree-lined squares, cobbled streets, atmospheric cemeteries and historic mansions, then cap off your day with a drink or meal on beautiful River Street.
Atlanta -Relax and reflect at the Botanical Gardens or Zoo Atlanta, or visit the World of Coca-Cola – the famous brand has its roots here. You'll also find the National Center for Civil & Human Rights here in Atlanta, where Martin Luther King Jr spent much of his life.
Chattanooga - Kayak or take a riverboat cruise through this creative waterfront city. For something a little different, visit the International Towing Museum, which has an unmatched collection of vintage towing and wrecking vehicles.
St Louis, MS - Make your way up the striking Gateway Arch for a view out across this city famous for its bourbon and the blues.
Kansas City - Discover more about the legendary Walt Disney in the city where he grew up.
Badlands National Park - Explore this expansive grass prairie, where hikes take you to the stunning rock formations which you can climb for a wide and unspoiled view.
Black Hills - Hike through the stunning highland countryside in Black Hills National Forest, feel the earth move as hundreds of free-roaming bison are rounded up at Custer State Park, and explore the underground world of Cave of the Winds Natural Park.
Bighorn National Forest - Follow one of three scenic byways through this vast forest, which takes in mountains, meadows and waterfalls.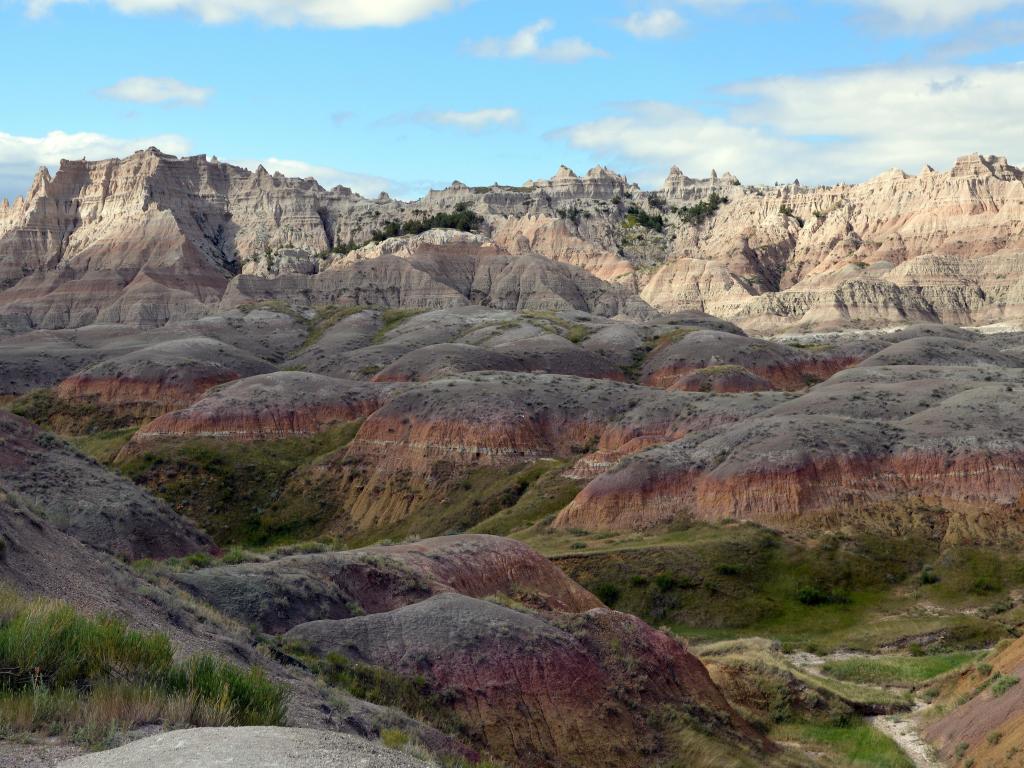 Great Smoky Mountains Detour
Francis Marion & Sumter National Forests - You can hike, kayak and mountain bike through this lowland swamp forest, which is named after a revolutionary war hero.
Blue Ridge Parkway - Take a detour along 'America's favorite drive' to enjoy the more stunning view of the Blue Ridge Mountains.
Great Smoky Mountains National Park - Route 441 takes you right across the country's most popular national park, but take some time to explore the trailheads here, or branch out to visit Nantahala National Forest too.
Gatlinburg - Raft, ride a zipline, walk the Skybridge or take the Aerial Tram in this charming town on the edge of the Smoky Mountains. Dolly Parton's Dollywood amusement park is nearby too.
Knoxville - After all that outdoor recreation, take a cultural interlude at Knoxville's museums and galleries, which include Knoxville Museum of Art and McClung Museum of Natural History & Culture.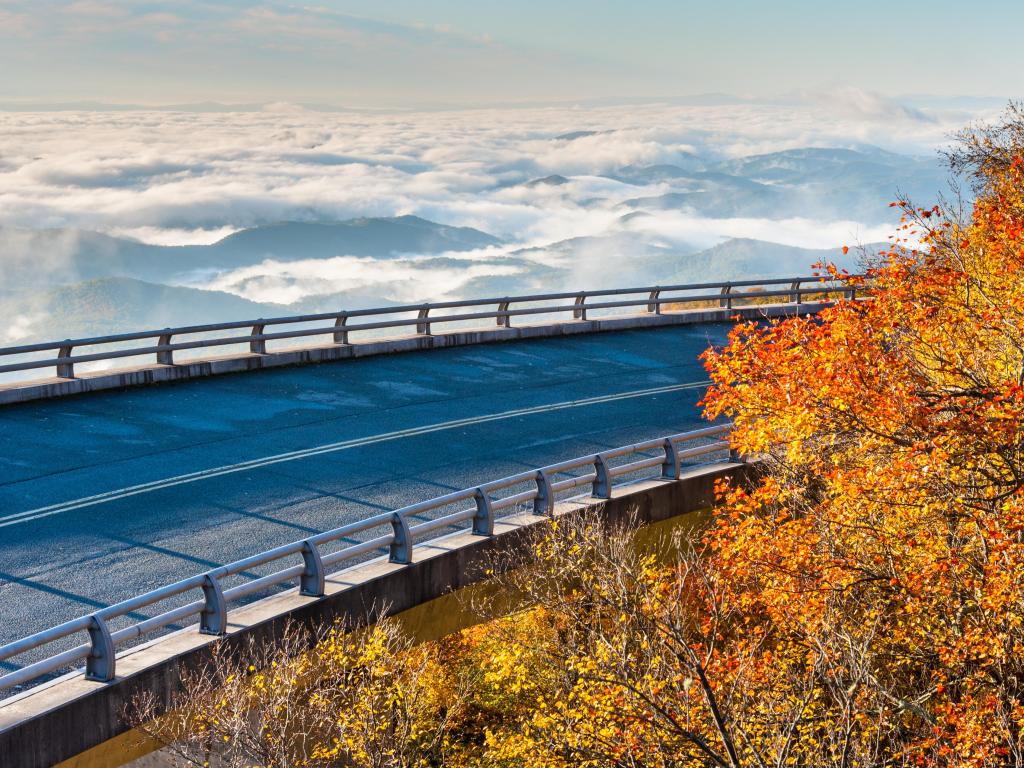 Denver Route
Montgomery - In Alabama's state capital, visit the Freedom Rides Museum to hear stories of the Civil Rights Movement.
Birmingham - For more on the Civil Rights Movement, Birmingham Civil Rights Institute is an informative museum that helps tell the history of the southern states. Also in town, Barber Vintage Motorsports Museum has an excellent collection of classic cars.
Ozark St Francis National Forest - Many rivers cross this beautiful hardwood forest, and you can swim, fish or boat here.
Albuquerque - Take the Tramway up Sandia Peak for fabulous views across the city and desert, or visit the Bradbury Science Museum in nearby Los Alamos, where the atomic bomb was developed.
Santa Fe - Head to New Mexico's state capital to visit the Georgia O'Keeffe Museum, Museum of Indian Arts & Culture, or the New Mexico History Museum. Or take a drive out of town to explore Native American, Hispanic and Civil War history at Pecos National Historical Park.
Denver - Visit the art museums, enjoy the buzzing downtown, or head out into Rocky Mountains National Park to admire some of the biggest views around.
Medicine Bow-Routt National Forest - There are hundreds of trails through this national forest, taking in snowy peaks, forested slopes, canyons and rivers. Nearby Thunder Basin National Grassland is also an impressive and iconic stop off nearby.
Grand Teton National Park - Hike, bike and climb and at this stunning national park with plentiful lake and mountain views. Neighboring Bridger-Teton National Forest is also a beautiful place to visit if you have extra time to explore the great outdoors.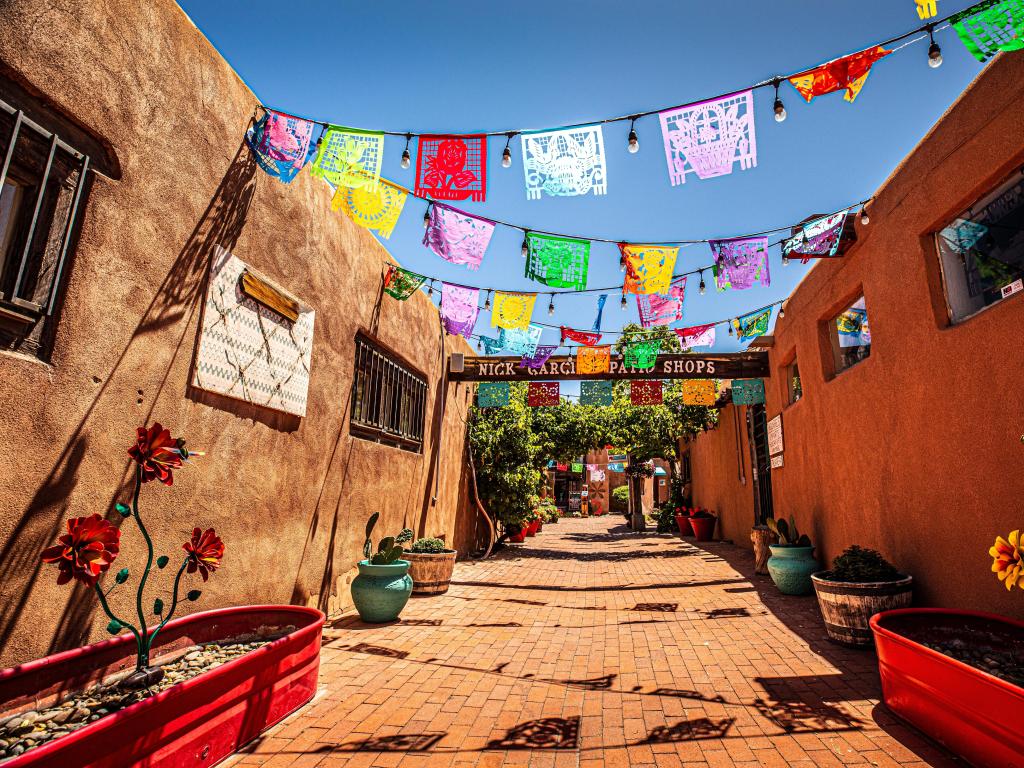 Best time to go on a road trip from Florida to Yellowstone National Park
While you can access Yellowstone National Park all year round, it experiences significant seasonal variation, as do some parts of the route. So, it's important that you make this once-in-a-lifetime trip at the time of year you're likely to enjoy the most.
Yellowstone gets extremely crowded during July and August – huge audiences gather to await the geyser eruptions, and accommodation prices peak, so if you're looking for a quiet wilderness getaway it's probably best to avoid these months.
It's also the hottest time to travel, with high temperatures in the 90 degrees Fahrenheit as you cross Texas and New Mexico on the Denver Route.
It's a real experience to see Yellowstone in the winter, as the park experiences significant snowfall in winter and temperatures as low as 20 degrees Fahrenheit. Most roads are closed to vehicles, but you can snowshoe or sled across the park.
You'll hit snow along other parts of the route too – stop off for some skiing in the Rockies along the way! Some roads or attractions might close due to icy conditions, so make sure to check before you travel.
Yellowstone warms up slowly in spring, with temperatures still only in the low 40s in March. But as the season progresses, you'll be greeted with beautiful wildflowers coming into bloom, and you might even catch sight of a bear emerging from hibernation.
In fact, this whole trip is great in springtime. Temperatures in Savannah sit pleasantly in the 70s Fahrenheit, and it's a great time to hike through the many forests and national parks along the way.
Fall is also stunning along many parts of the route – the Great Smoky Mountains especially – but expect crowds at weekends heading out to see the foliage on display.
If you're taking the Nashville Route, Custer State Park Buffalo Roundup in October, where cowboys and cowgirls round up over 1,000 bison, is an impressive spectacle.
Fall is short in Yellowstone. September remains a mild 65 degrees however by November winter has arrived, with temperatures close to freezing and the first snow starting to fall. The park closes for a few days to allow staff to prepare for winter visitors.