Laguna Main Beach, California Travel Guide
Laguna Beach is renowned for it's stunning coastal setting, with dozens of gorgeous beaches including the sandy shores and turquoise waters of Laguna Main Beach. This incredibly popular central beach is renowned for its beautiful setting and lively boardwalk, with plenty going on for all the family to enjoy.
A quick overview of Laguna Main Beach, California
Street Address
📍381 Forest Ave, Laguna Beach 92651
Facilities at this beach

🕒 Opening hours (6am to 10pm)

🚗 Parking ($3.00-$5.40 per hour and typically a 3 hour limit)

🚻 Public restrooms

🛟 Lifeguard station
Where can I find the Laguna Main Beach along the Pacific Coast Highway?
Laguna Main Beach is in the heart of Laguna Beach, right at the intersection of Pacific Coast Highway and Broadway Street.
If you are traveling along the Pacific Coast Highway then you can't miss the iconic "Laguna Beach" sign at Main Beach Park, right next to the beach. It's easy to access the beach from there.
Always arrive early in order to have the best chance of getting a parking spot, with blue parking signs for Daily Parking, yellow for Timed Parking, and a purple star for interest points. Metered parking is typically from between 8am-9pm, or outside downtown it is until 7pm.
If you are travelling from Los Angeles or San Diego then you'll find Laguna Beach around halfway, with Los Angeles a 1 hour 35 minutes drive, and San Diego a little further away at 1 hour 40 minutes.
Why we love visiting Laguna Main Beach
A popular and iconic destination, a visit to Laguna Main Beach promises a mix of beautiful shoreline, buzzing boardwalk and famous landmarks. Who could visit Laguna Main Beach without an insta-worthy snap in front of the Lifeguard Tower? It's a must-stop for anyone seeking fun in the sun.
How we rate the different aspects of Laguna Main Beach
Feature
Our rating
Natural beauty and scenery
⭐⭐⭐
Cleanliness and water quality
⭐⭐⭐
Peace and quiet
⭐⭐
Activities on offer
⭐⭐⭐⭐
Accessibility
⭐⭐⭐⭐
Laguna Beach is dotted with coves, tide pools, and sea caves. The natural features here make it a favorite with everyone that visits.
The areas impressive cliffs and beautiful beaches provide amazing views. Stay a little longer and enjoy the breath taking sunsets.
Laguna Main Beach is a great spot for swimming and water sports. Local marine conservation means it is an excellent spot for snorkeling and diving.
The downtown area of Laguna Beach offers boutique stores, great restaurants and historic landmarks. Cultural events and art festivals also take place adding to the bustling atmosphere.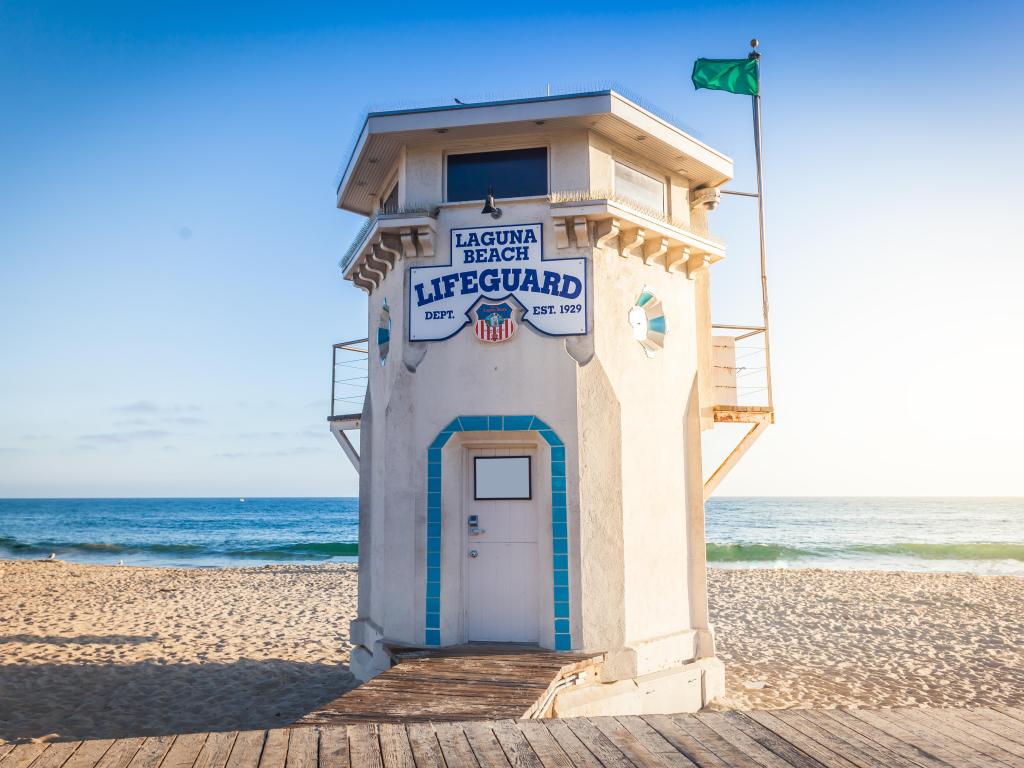 What else is there to do near Laguna Main Beach?
A visit to Laguna Main Beach and surrounding town is going to keep you busy and entertained all day long. However if you have a bit more time when you are visiting the area, then here are some of our top sites to visit close by.
Laguna Art Museum - This museum focuses on the art of California, highlighting the state's history and culture.
Heisler Park - Nestled atop the cliffs of Laguna Beach, this park offers ocean views, walking trails, and beautiful gardens.
Laguna Playhouse - Founded in 1920, this theater is one of the oldest continuously operating theaters on the West Coast, known for its performances and commitment to the arts.
Brown's Park - A hidden gem, this park has pathways to stroll and admire the sculptures, and stunning views of the Pacific Ocean.
Pacific Marine Mammal Center - Dedicated to the rescue and rehabilitation of marine mammals, this center plays a vital role in protecting and educating the public about local marine life.
Common questions about visiting Laguna Main Beach
Laguna Main Beach is a fantastic, fun, coastal stop off, with the chance to relax and unwind or enjoy some high adrenalin water sports. As a busy and popular destination, here are some of the main things you can find when you visit.
Is Laguna Main Beach accessible and open year-round?
⭕ Yes, Laguna Main Beach is accessible and open year-round.
Can I enjoy water sports at Laguna Main Beach?
⭕ Yes, at Laguna Main Beach you can enjoy water sports.
❗ As well as Laguna Main Beach, nearby coves and beaches like Rockpile Beach and Fisherman's Cove also offer the chance for snorkeling, scuba diving and paddleboarding.
Is Laguna Main Beach easily accessible for those using wheelchairs or strollers?
⭕ Yes, at Laguna Main Beach many of the access points have wheelchair ramps that allow for easy access to the beach.
❗ Free beach wheelchair rentals are available to use at Laguna Main Beach, however check in advance as they are first come first served.
Is there anywhere to buy refreshments at Laguna Main Beach?
⭕ Yes, at Laguna Main Beach you are not far from many cafes, restaurants and vendors selling refreshments.
Are dogs allowed on Laguna Main Beach?
⭕ Yes, dogs are allowed on Laguna Main Beach between June 15th and September 10th, and during these dates before 9m and after 6pm.
Are there any changing facilities at Laguna Main Beach?
⭕ Yes, there are changing facilities and outdoor showers at Laguna Main Beach.
Are there any beach chairs or umbrellas to hire at Laguna Main Beach?
⭕ Yes, you can hire beach chairs and umbrellas at Laguna Main Beach.
Is there anything else to watch out for when I visit Laguna Main Beach?
Like many beaches, Laguna Main Beach can experience rip currents. Always swim near lifeguard stations and pay attention to posted warnings and flags. Jellyfish can also be found in the water occasionally, so keep an eye out when paddling too.
Laguna Beach itself is home to several famous events, including the Pageant of the Masters, Festival of Arts, and Sawdust Art Festival, all happening in the summer months which are fun but see more crowds. Check out the local events calendar before visiting.