30 Best Day Trips From Los Angeles
If you live in Los Angeles or just visiting the City of Angels and want to get out of the city, there are a lot of amazing day trip options.
Just so we're on the same page, we're not counting LA neighborhoods as day trips out. Santa Monica, Venice Beach, Culver City and Pasadena are great places to go but don't quite achieve the objective of getting out of the city, so we'll focus on actual day trips from Los Angeles.
If you're after a longer trip that might cover a weekend, a week or even longer, check out our list of the best road trips from Los Angeles instead.
Given the sprawl of L.A., it was somewhat of a challenge to define exactly where we're counting the starting point to be and to make things simple I've gone for the City Hall. If you're in different parts of Los Angeles, some of the timings and distances can be quite different.
Our day trips include some of California's finest beaches, historic towns, drives into the desert and up mountains, kid-friendly trips and theme parks - we hope you find something you like!
We've put together our list of the 30 best day trips from Los Angeles ordered by the time it will take you to get there.
1. Spend the day at Knott's Berry Farm
30 minutes from Los Angeles (22 miles)
Knott's Berry Farm is only about 30 minutes from Los Angeles in Buena Park. What started as a small roadside berry stand along State Route 39 in the 1920s.
From there it slowly developed to add a restaurant, visitor entertainment, cafe, rides and before you know it, there's 4 million visitors a year and 40 spectacular rides making it one of the most popular theme parks in the United States.
While there are a few roller coasters, Knott's Berry Farm is family friendly with lots of attractions for all ages including classics like a swinging pirate ship and a 100-year old carousel as well as Camp Snoopy which is an entire area with children's rides.
If you are a thrill seeker, there are some amazing rides here. Montezuma's Revenge is the only remaining Schwarzkopf Shuttle Loop coaster in North America and one of only 5 left in the world (interestingly exactly 1 exists on every continent except Australia).
This coaster launches at 60 mph and passes through a loop before stalling at the top of a tall vertical section before heading back in reverse through the same loop.
2. Discover the magic of Disneyland Park in Anaheim
35 minutes from Los Angeles (26 miles)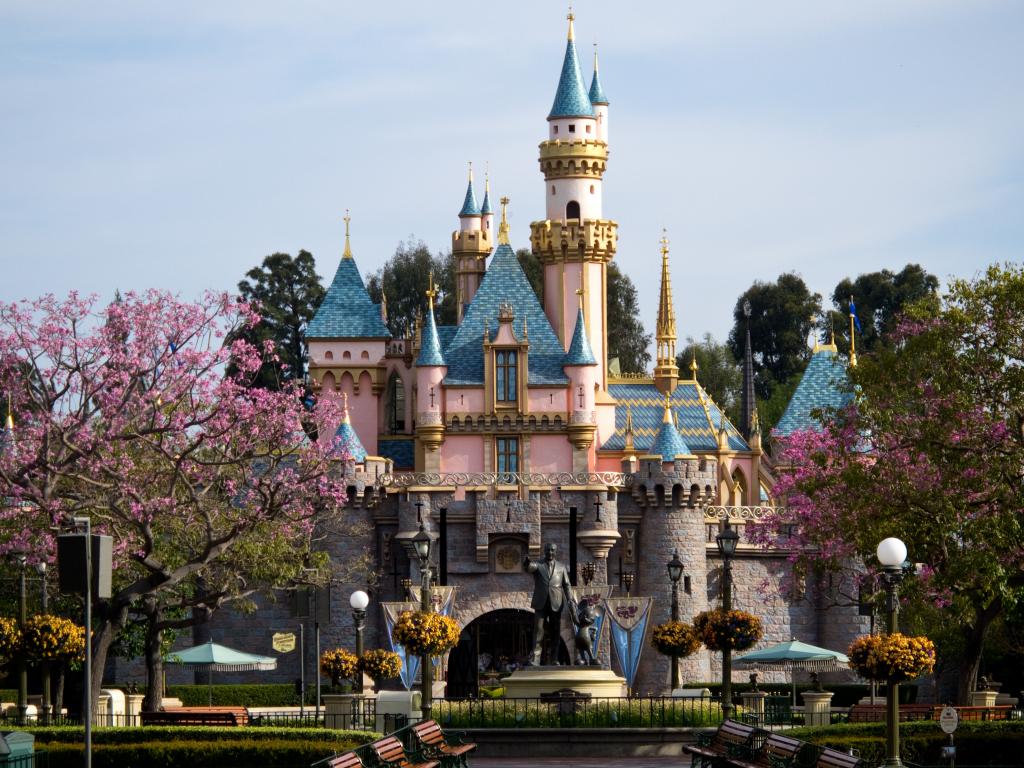 If you are in L.A. and you haven't visited Disneyland, the obvious question is why not?
If you have kids, you absolutely have to go to the original Disneyland that came before Florida Paris and the other parks built around the world. If you don't have kids, I bet you still want to go and you should!
The rides may not be as exhilarating as Knott's Berry Farm or Magic Mountain (above and below in this list), but the atmosphere, Disney characters all over the park and the original Sleeping Beauty Castle are something you've got to see at least once in your life.
California's Disneyland can get busy, especially during the summer and at weekends. It's a good idea to book your tickets online before you come and drive down early before the rush hour starts. The park opens at 10 a.m. on most days although sometimes only opens its doors at 9 - check the schedule before you head over.
There are some great cafes and restaurants where you can pick up breakfast and you save a lot of time not having to queue.
Make sure you stay late and grab dinner in Disneyland. The evenings have amazing shows and fireworks at 9 p.m. and 10:30 p.m. - the last one usually a sign it's time to head for the exit if you've made it that far into the night!
3. Get an adrenaline rush at Six Flags Magic Mountain
45 minutes from Los Angeles (35 miles)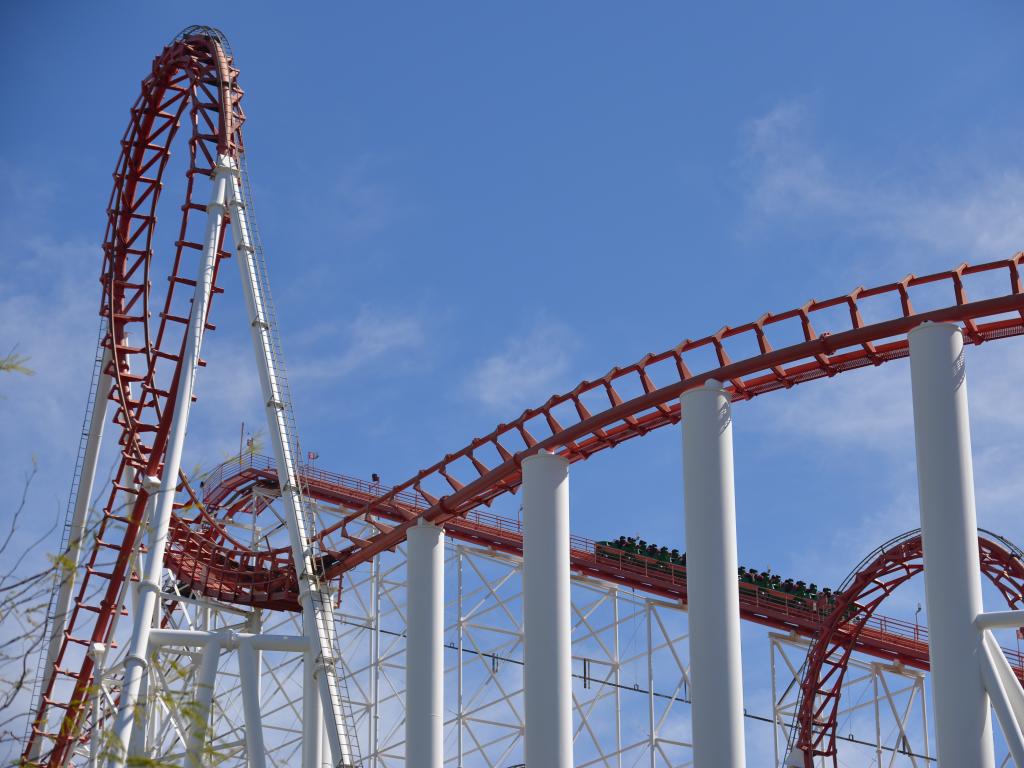 To close off our inadvertent theme park section, the Santa Clarita edition of the Six Flags is the Magic Mountain and if you are a thrill seeker, this is the place to come.
There are 19 roller coasters in the park as well as other kinds of rides, activities, places to eat and stroll. This is more than any other theme park in the world which is some feat.
Although some of the older coasters are gradually making way, they keep adding new ones with the West Coast Racers coaster being added in January 2020. It's one of only a handful in the world that has a Möbius loop section.
If it takes you just 20 minutes to walk to, queue up, go on the ride and get off it, it will take you 6 and a half hours just to ride each roller coaster once - should be more than enough for a day trip!
Tickets can be pretty reasonable if you book online in advance with rates below $50 per person, although expect to pay double if you pay on the day. Season tickets bough early are a great option if you're going to be going at least twice.
4. Go to Surf City at Huntington Beach
50 minutes from Los Angeles (36 miles)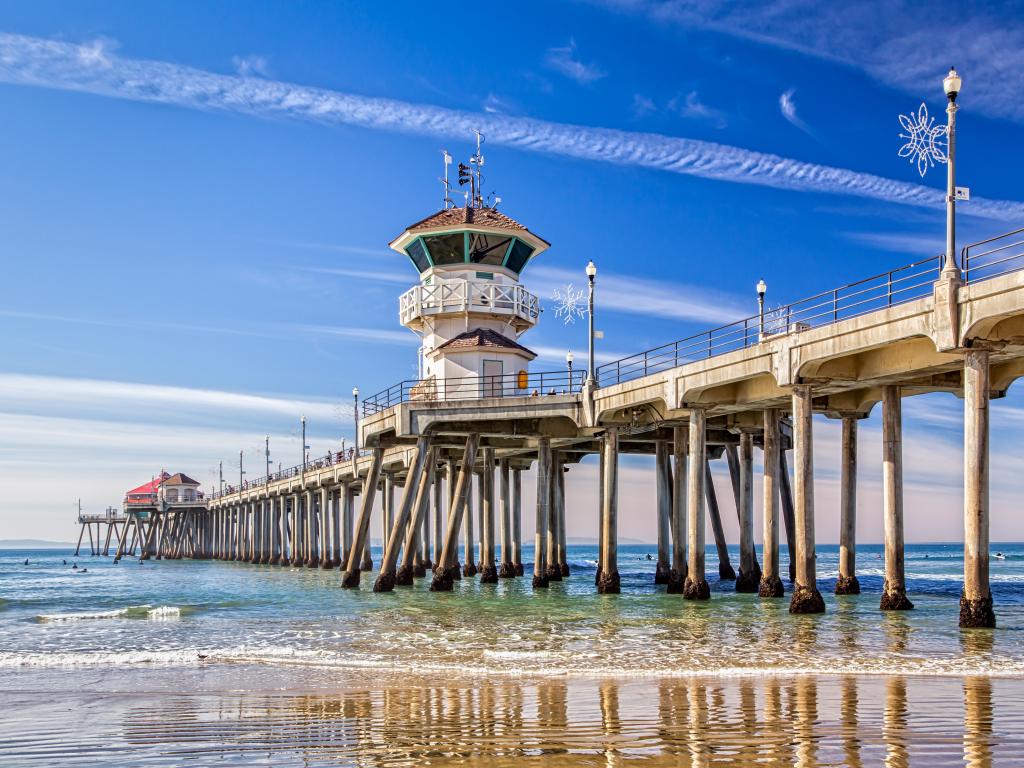 Huntington Beach is just south of Los Angeles and not far from Laguna Beach a few miles further south down the coast (#6 below) and the towns of San Juan Capistrano (#10) and San Clemente (#12).
If you want to have a busy day, you can pack all 4 in, but I'd split them up into separate trips and make the most of a lazy day watching the waves roll in.
Huntington Beach trademarked its moniker of Surf City USA after a legal battle with Santa Cruz in Northern California. Hence, if you're into surfing or just enjoy the ocean waves, this might just be the right place to come!
Huntington Beach is simpler and less fancy than its Laguna Beach neighbor - you get 10 miles of perfect sand, a long pier that stretches into the sea and a few places to eat and relax.
If you're after art galleries, posing for photos or celebrity spotting in nice restaurants, then keep on driving south for another 10 minutes.
5. Vasquez Rocks Natural Area Park
50 minutes from Los Angeles (44 miles)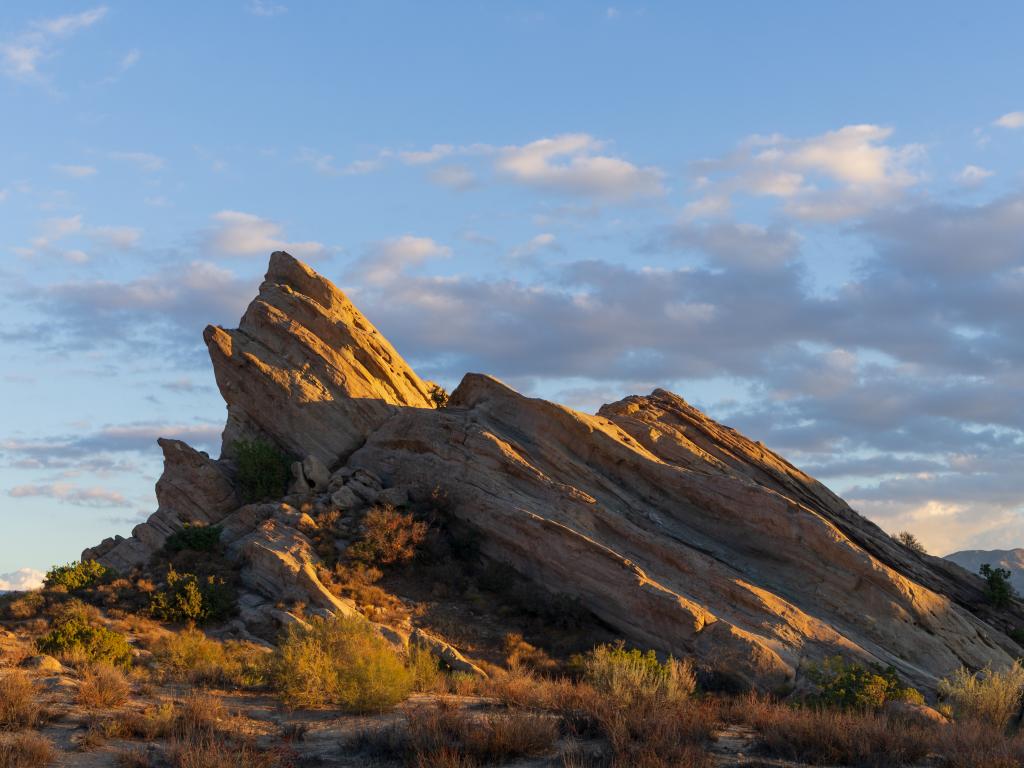 Vasquez Rocks is the place to come if you want to get out into nature without straying too far from Los Angeles or if you're a serious movie buff and want to see the famous location.
Vasquez Rocks is a short drive north from L.A., past Santa Clarita and is on the edge of Angeles National Forest and Antelope Valley.
The Rocks are not the biggest, but the formation has such a unique look, that Hollywood producers have used it in some of the biggest movies of all time. We're talking Star Trek, Planet of the Apes, Zorro, The Flintstones and the A-Team TV series.
If you look hard enough, the rocks have made cameo appearances in a crazy number of other movies where you might struggle to remember the scene. Jingle All The Way, Austin Powers and John Carter are just some of the dozens of movies that filmed here.
If you're a fan of TV series, I think it's pretty hard to name one that didn't film here. Lassie? Yep. 24? Of course! It's near L.A.! C.S.I, The Lone Ranger and even Power Rangers all used it (I think you can probably remember some of them)!
A visitor center will tell you a bit about the local area, the way the rocks were formed to look like everything from Tibet to other planets and give you an insight into the hundreds if not thousands of adverts that continue using the location all the time.
6. Visit the iconic Laguna Beach in Orange County
1 hour from Los Angeles (50 miles)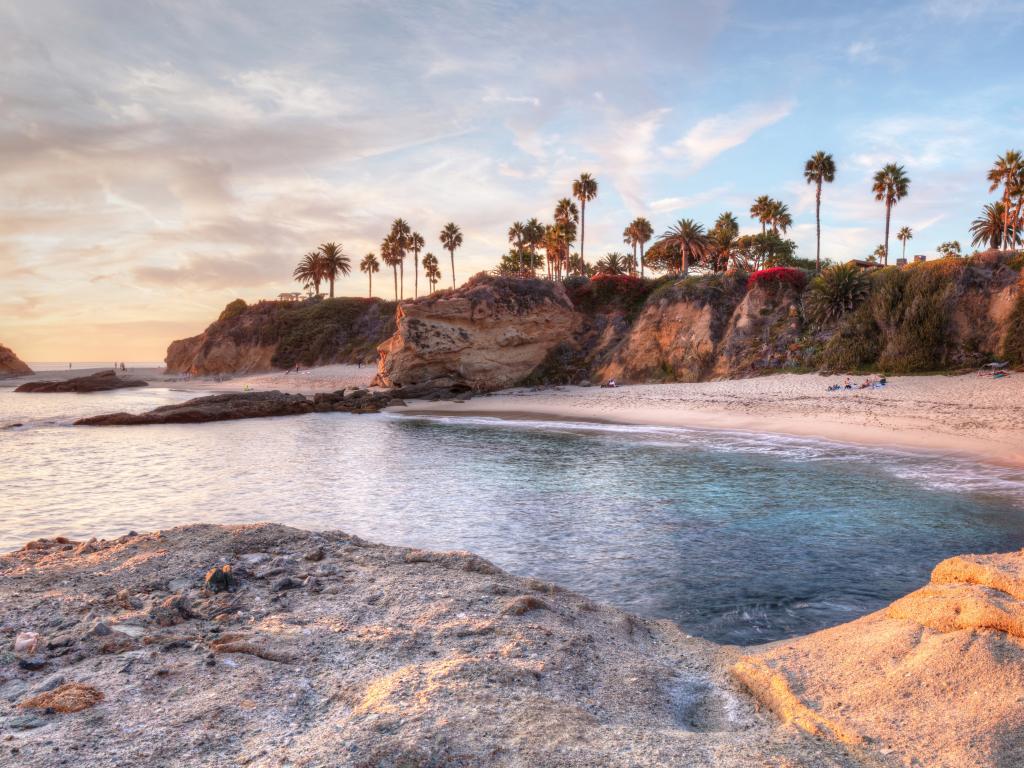 Laguna Beach is one of the most famous beaches in California. In fact, it's not just one beach but a long stretch of the coast that has different kind of beaches from white sand to rocky coves for you to explore.
Laguna Main Beach is known for being a lot more than just a beach. The arts scene has become a big deal here and there are a number of art galleries and shops where you can look at and purchase pieces by local artists.
Be careful though - as the reputation has grown, there are a number of crazy priced places in town making the most of the price insensitive visitors. You can still find the great local craftsmen, but you'll need to look around.
Even if you're not into art, a walk through the downtown area is great - it's a relaxed small town with pretty buildings and you can sip a drink sitting in the sun at one of the cafes watching the world go by.
Make sure you do find the tide pools in the rocky coves as well as relaxing on the wide sand beaches. Treasure Island (in the picture) is the best place to see some sea creatures, but remember not to touch them or move them - these are delicate coastal ecosystems so leave them be.
Please check our comprehensive guide out to learn more:
READ MORE - Our Guide to Laguna Main Beach
7. Hike in the Santa Monica Mountains
1 hour from Los Angeles (34 miles)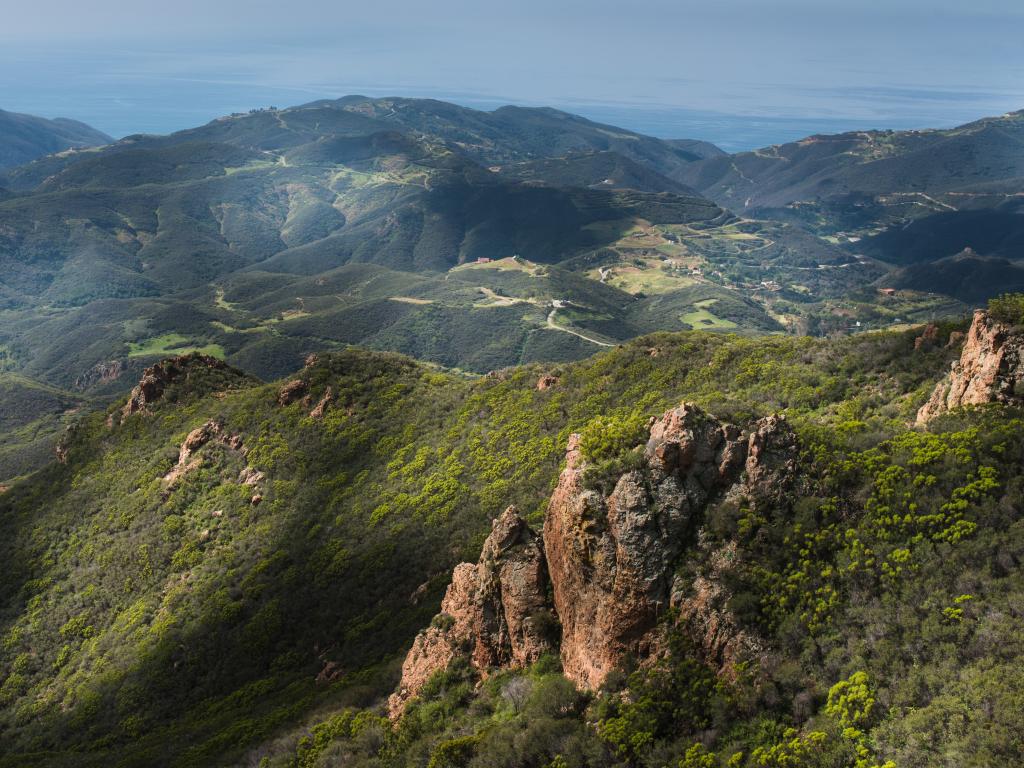 Santa Monica Mountains sit along the coast of California roughly covering the area north of the Malibu coastline.
If you are in L.A. and want to go on a hike, this is the closest option and there are hiking routes for all levels that can take anything from 20 minutes to more than you can cover in a day.
Although the mountains are only just over 30 miles from downtown Los Angeles, it will take you about an hour on average to break through the traffic and get out of the city, but once you get here, it will feel very different to the busy highways!
There is plenty of parking available and even on busier days, you shouldn't have a problem finding a spot and going for a stroll. Bring your dog with you if you have one - you'll notice that at least half of the people you'll come across do so.
As you go higher up, views across the mountains open up and you'll see the Pacific ocean stretching to the horizon.
There are over 500 miles of trails in the mountains and although you are highly unlikely to actually see any animals, the mountains are home to coyotes, bobcats and even mountain lions so keep your eyes peeled and you might be lucky to see one.
8. San Gabriel Mountains National Monument in the Angeles National Forest
1 hour 5 minutes from Los Angeles (50 miles)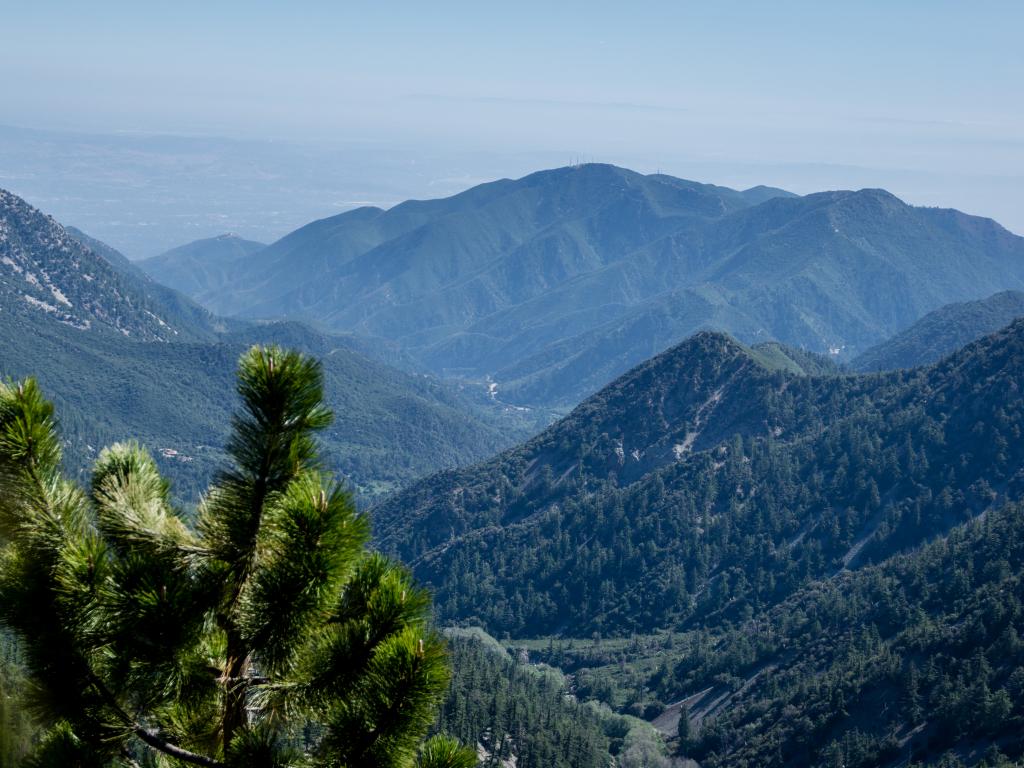 The San Gabriel Mountains are hard to miss if you are in Los Angeles - they are the big mountain peaks that provide the backdrop to the city and can be seen from most neighborhoods.
Thse mountains don't only provide the natural boundary to the metro area but also supply drinking water for the city and are a perfect place to go hiking.
The Mountains were declared a National Monument by President Obama in 2014 to protect the city from expanding into and beyond the mountains, protecting its plants and the natural habitat for many different animal species.
The mountains reportedly have over 300 plant species that are endemic to the area and grow nowhere else in the world.
The San Gabriel Mountains have a few sights worth seeing on your day trip. If you are a hardy hiker, you can go find the Bridge To Nowhere in the Sheep Mountain Wilderness. The bridge was built as part of a road construction project in the 30s that was abandoned 2 years later and mysteriously leads to precisely nowhere at all.
Mount San Antonio, also known as Mount Baldy is the tallest peak in the range and there is a choice of different hiking routes that can take you to the top including the well known Devils Backbone.
For those who like to cheat to get their views, a ski lift can take you up to the Top of the Notch Restaurant, which at 7,300 feet is still almost 3,000 feet below Mt. San Antonio's peak. Although you cut the hike considerably, it's still over 6 miles to get up there, but the views from Top of the Notch are... top notch enough.
9. Relax on the beaches of Malibu
1 hour 10 minutes from Los Angeles (33 miles)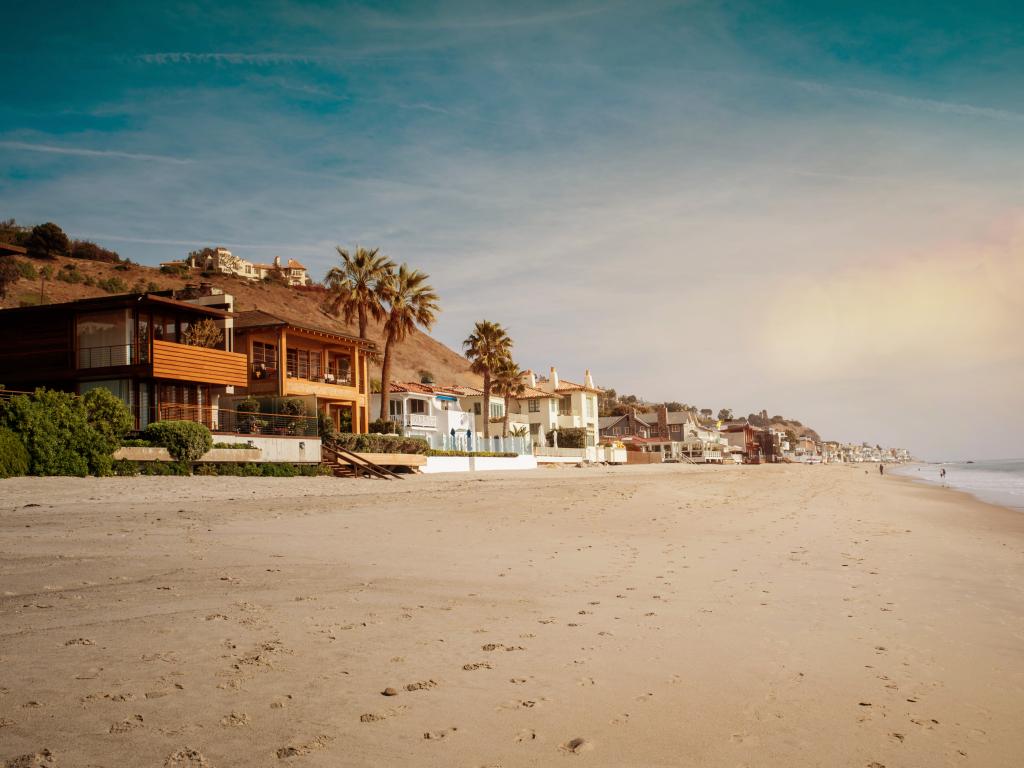 Malibu is a long stretch of some of the best beaches you will see anywhere in the world along the Pacific Coast Highway starting shortly after you pass Santa Monica and the Pacific Palisades.
Malibu is often associated with the seaside villas of the rich and famous, but there is a lot more to this place than that.
The beaches are varied and although Malibu is very popular with Angelenos at weekends, if you drive another 10 to 20 minutes along the coast, you'll find plenty of spots with far fewer people.
Head for the El Matador State Beach to find secluded coves that are far enough away to be surprisingly empty and perfect for spending the day.
If you want to do something other than lying on the beach, the Santa Monica Mountains are right behind you and offer unlimited hiking opportunities (see #7 above).
Alternatively, you can go visit one of the local wineries. Malibu is one of a small number of places in the world with the Mild Mediterranean climate type which apparently is perfect for vineyards, so although this is not Napa or Sonoma, you may be surprised by what you find.
10. See Southern California's history at San Juan Capistrano
1 hour 10 minutes from Los Angeles (55 miles)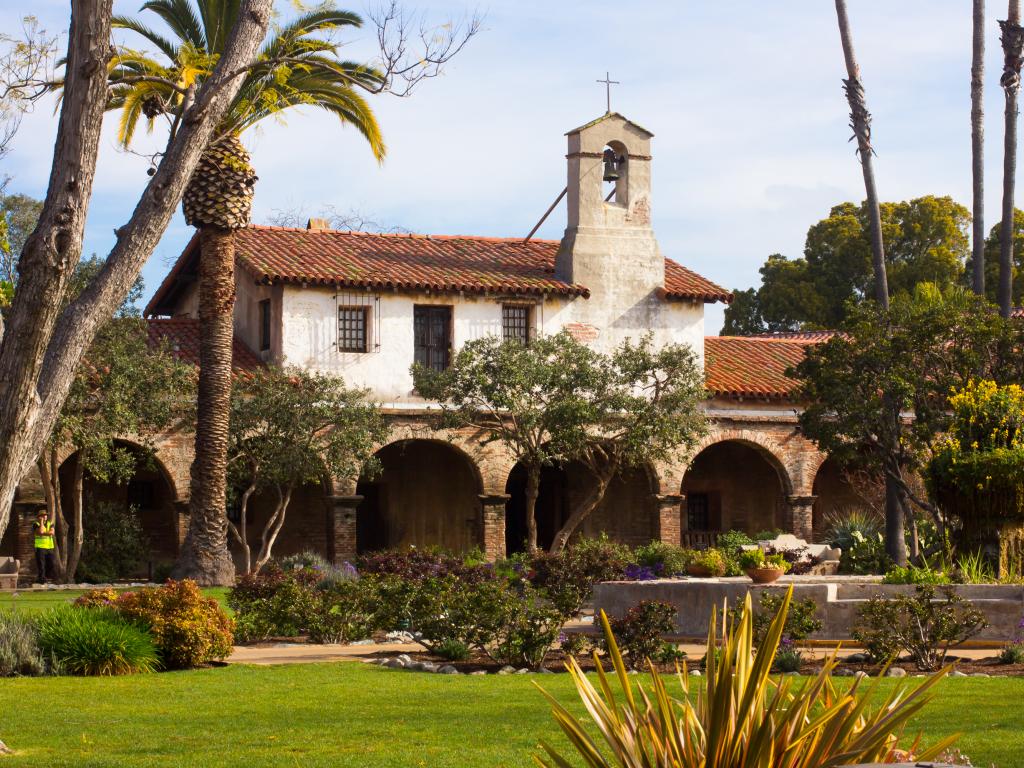 The Mission of San Juan Capistrano is south of Los Angeles, just over an hour along the I-5. Dating back to 1776, many of the Mission's buildings date back to the 18th and early 19th centuries making it an amazing day trip from L.A.
Most of the buildings belonging to the Mission are open to visitors including the chapel, the Mission Basilica and a special museum.
Make sure you check out the small town around the Mission as well. It grew at roughly the same time and the Los Rios Historic District has a few homes and shops that date back to the 1700s!
To make more of the day, you can visit San Juan Capistrano in the morning and then go to Laguna Beach (#6 above) to grab some lunch and spend the afternoon watching the waves roll in or exploring the tide pools at Treasure Island.
Another option is to head a few minutes further south to San Clemente (#12 below) and grab a bite to eat right by the pier.
11. Make time go slow on Balboa Island in Newport Beach
1 hour 10 minutes from Los Angeles (45 miles)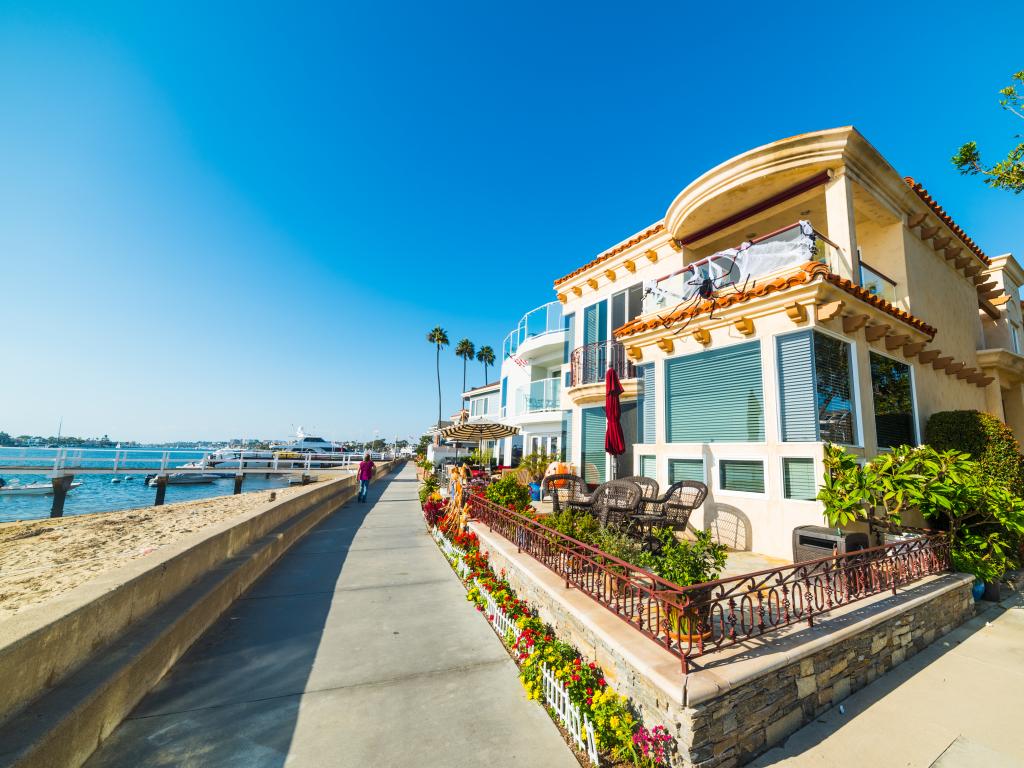 A short drive south from Los Angeles is the city of Newport Beach and in the Newport Bay there is a small man-made island called Balboa.
After you get to Newport Beach you can explore the famous beach here before traveling to Balboa Island.
Instead of getting your car onto the island via the small bridge or the 3-car ferry, park up and catch the ferry ride on foot instead to save time, money and make it a lot easier once you are on the island.
The boardwalk around the perimeter of the island is about 2 miles long and great for gentle stroll. Then head to Marine Avenue (where the bridge from Newport meets the island) and have lunch at one of the many amazing restaurants.
With the houses having a classic feel to them, the eerily perfect street layout, quaint shops and restaurants, Balboa Island has a certain Truman Show vibe about it - you'll know what I mean when you get there!
If you get here early, you might not want to spend the whole day on Balboa Island. The good news is that Laguna Beach (#6 above) and Huntington Beach (#4) are both great options for an afternoon by the sea to complete the perfect day trip.
12. Spend the day by the ocean in San Clemente
1 hour 15 minutes from Los Angeles (62 miles)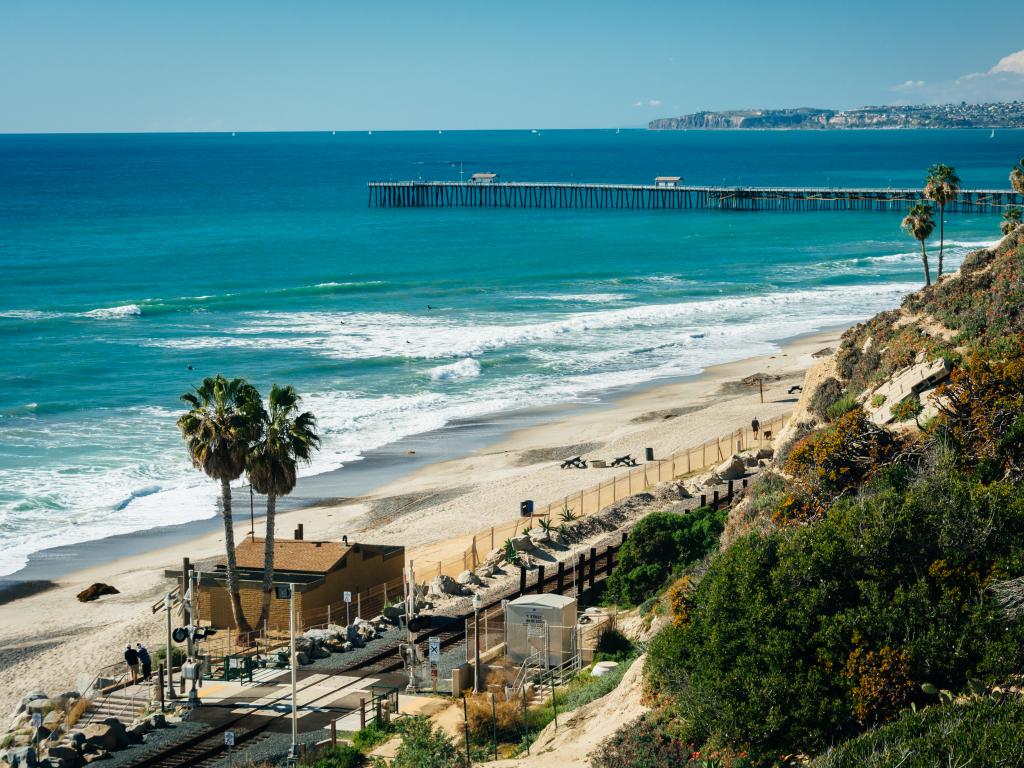 Just when you thought we like our beaches a little too much, we thought we'd add another option to the list. Don't worry though - this is the last of the beaches on our list, but beaches really are one of the best road trip options from L.A. so here we go.
San Clemente is a relaxed seaside town further down the coast from Laguna Beach and just after you pass the turning to San Juan Capistrano (#10 above) at Dana Point.
In fact, San Clemente and San Juan Capistrano go hand in hand if you want to combine the two trips - my tip is to head to the Mission and Historic District in the morning before the tourist crowds get there and then head to the beach to relax in the afternoon.
Unlike Huntington and Laguna Beach, San Clemente is a little more relaxed and less busy. It's far enough from Los Angeles and San Diego that city dwellers getting out to lie on the sand go for closer options.
The The San Clemente Pier is the main attraction and the beach near it is the best place to relax. The Fisherman's Restaurant right by the pier is very good and you can enjoy some fish overlooking it - one of the better ways to do lunch!
If you want to do something other than lazing around, there is a culture and local history museum a little up the hill called Casa Romantica. You get decent views when you get up there and the gardens around the museum are included in the ticket price.
13. Learn about California's history at the Fort Tejon State Historic Park
1 hour 15 minutes from Los Angeles (75 miles)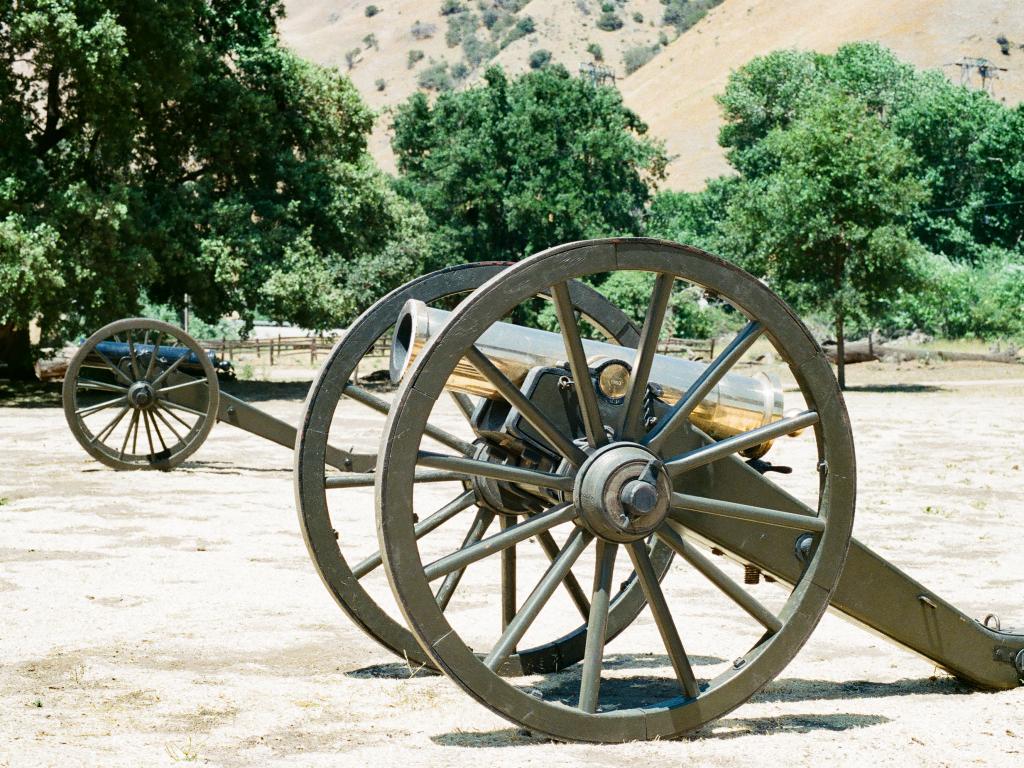 Fort Tejon is a historic military fort in the Grapevine Canyon that was established in 1854 as a defence hub and garrison protecting the new California settlements from Indian raids.
Although the fort was only occupied for 10 years, it has recently been restored to show what life in the fort and this part of California in general was like in the 1850s and 1860s.
The fort has actors that aim to help you explore the history in a more interactive way. You'll find U.S. Army soldiers, a carpenter, blacksmith, servants and laborers who will try to make you feel like you have stepped back in time.
Although there is a lot to see here, you'll notice there are relatively few visitors to the fort. Tickets only cost a nominal fee of $6 per vehicle before discounts.
Although it's a bit of a detour, the Vasquez Rocks Natural Area Park is a good stop on the way up to or back from Fort Tejon to make more of the day.
You can head east from the Fort and drive down through the Antelope Valley (see #14 below) - Vasquez Rocks will be right on the way back to Los Angeles from there.
14. Walk through the California Poppy hills in Antelope Valley
1 hour 20 minutes from Los Angeles (79 miles)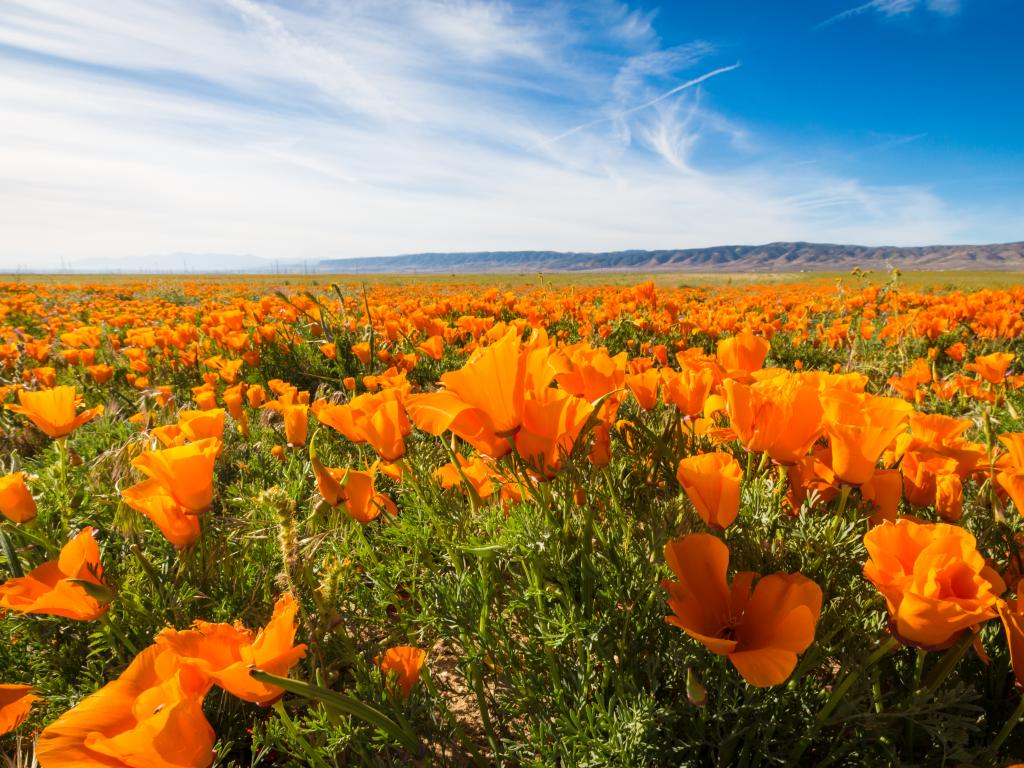 Antelope Valley sits on the western edge of the Mojave desert to the north of San Gabriel Mountains.
The valley is best known for the Antelope Valley California Poppy Reserve which is a relatively short drive out of the city and if you're planning a day trip from Los Angeles in March or April, this should be top of your list.
The bright orange poppies and other wild flowers come into bloom in early March and stay bright through to late April and sometimes into the first week of May.
The reserve has 3.3 mile South and North Loop trails that take you across the hills that are completely covered in the wildflowers.
Because of the narrow window when visitors flock here for the flowers, expect it to be relatively busy, especially at weekends.
Make sure you stick to the trails and don't pick the flowers. Not only is it illegal in California to pick wildflowers on State property, the Mojave green rattlesnakes live in the undergrowth so keep your hands away!
15. Visit the small town of Oxnard
1 hour 25 minutes from Los Angeles (62 miles)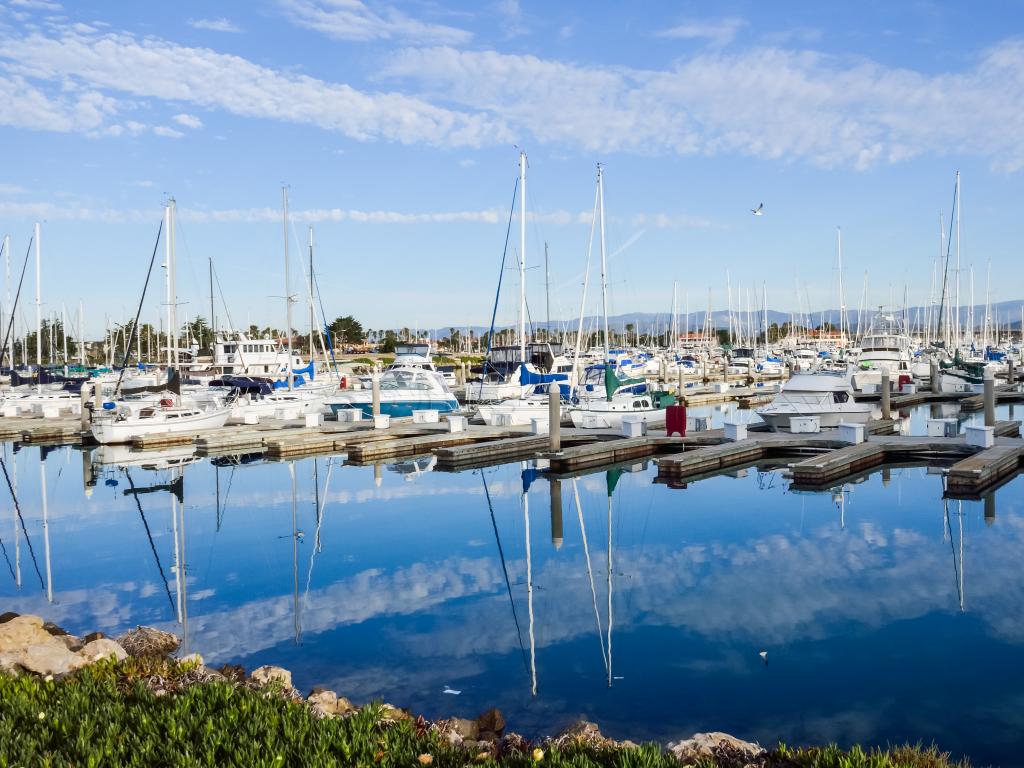 Many people won't think of Oxnard as a good day trip option from Los Angeles and drive straight through on their way to Ventura and the Channel Islands (see #29 below), Santa Barbara (#19) or further afield.
But Oxnard is a great place to come for the day - it's less than 90 minutes from downtown L.A. and you can stop off en route anywhere along the Malibu beaches as a bonus.
There is not 1 but 4 main reasons to visit Oxnard: Classic cars, local wine, watching whales and other sea creatures and the Strawberry Festival.
For those who like their cars to be older than themselves, Oxnard has two amazing classic car museums. The Mullin Automotive Museum has some spectacular cars from the 1920s, 30s and 40s. The world's most expensive car, the 1936 Bugatti Type 57SC Atlantic is in the museum as one of only 3 surviving models from 4 that were ever made!
For the muscle car fans, the Murphy Auto Museum has some of the best Detroit had to offer in the 60s and 70s, but the museum is only open at weekends so plan your day trip accordingly.
Oxnard is also home to 3 wineries including the world's largest Kosher winery which also serves up a great lunch - the Herzog Wine Cellars. You might want to opt for staying over or pick straws for who will be the designated driver!
The Strawberry Festival happens over a weekend in the middle of May and is one of the largest festivals in Southern California. There are dozens of food booths, endless arts and crafts stalls, fairground rides and every kind of strawberry food and drink for you to try.
16. Relive your childhood at Legoland in Carlsbad
1 hour 30 minutes from Los Angeles (90 miles)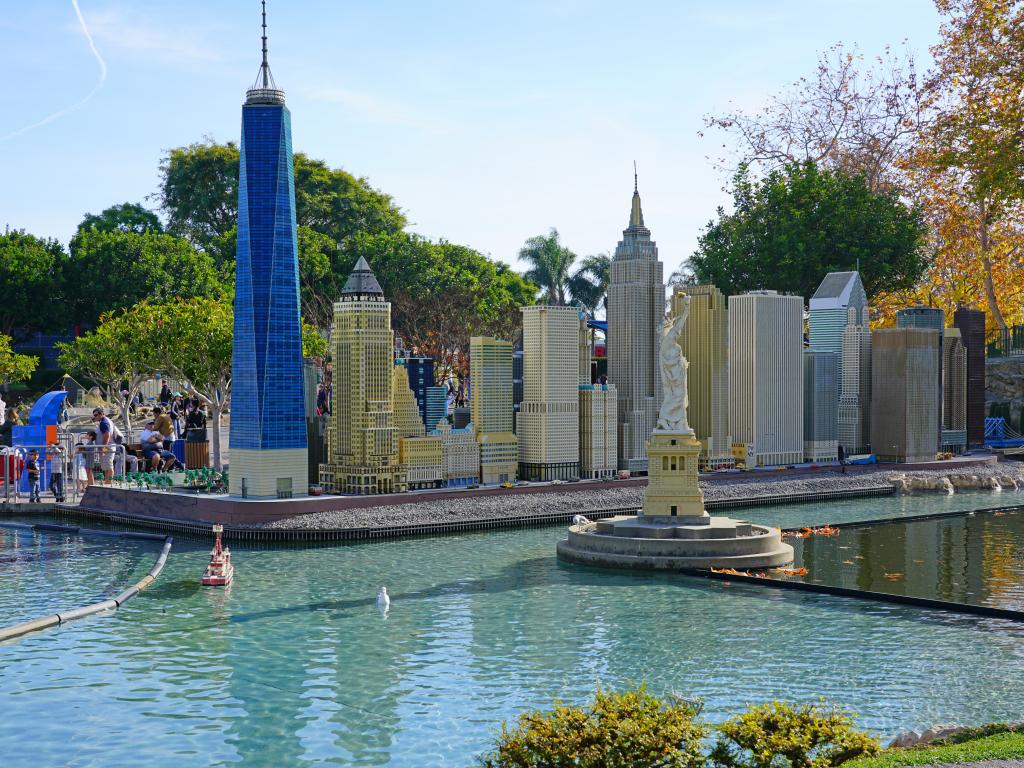 Legoland in Carlsbad was the first to open outside Europe and has been in California for over 20 years.
It's the perfect place to come as a family with younger kids - there are endless Lego-based things to do and activities and a selection of amazing things built out of Lego including some of the world's most famous landmarks and cities.
Coming in the summer is best as the park's water rides are one of the best features although there are over 60 rides in the theme park offering something for everyone and a lot more value than just the Lego entertainment.
The hours vary day to day and across seasons, so be careful to check before coming to make sure you don't arrive 2 hours before it opens!
Don't miss the Sea Life Aquarium which is located inside. There are a lot of sea creatures and large tanks that come complete with Lego-themed touches and figures.
After your visit, spend an hour or two in Carlsbad itself. The town is often overlooked, but it's worth taking a walk through the streets and grabbing a coffee before heading back to Los Angeles.
17. See the Cabazon Dinosaurs
1 hour 30 minutes from Los Angeles (91 miles)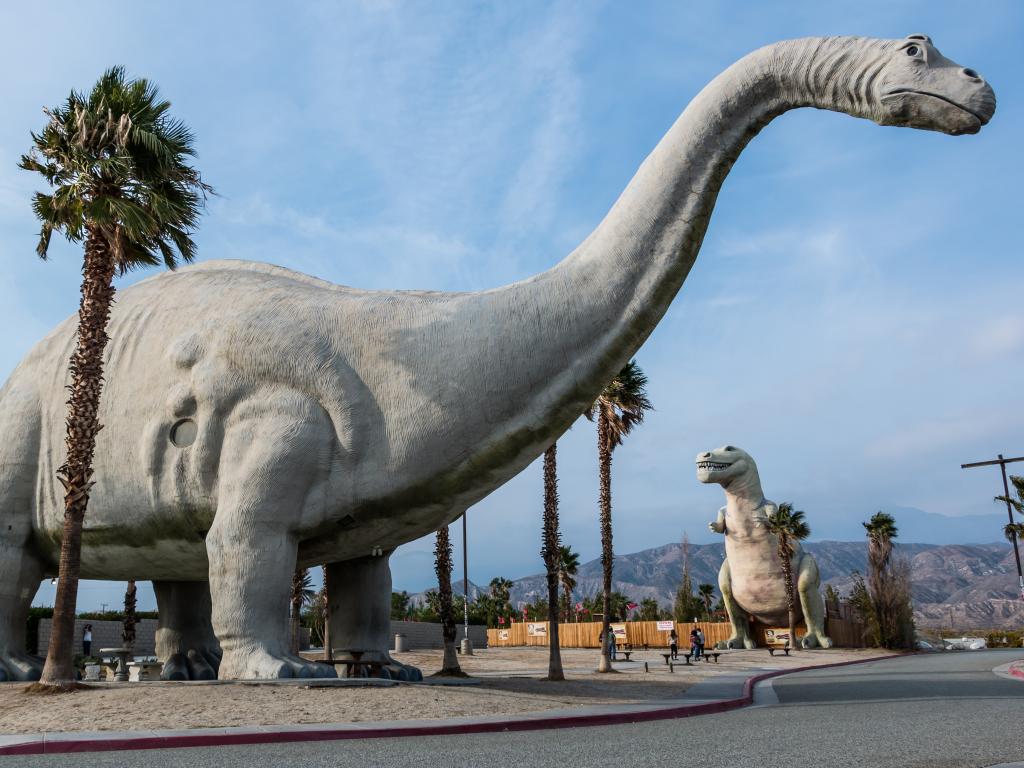 While we're on the kids entertainment theme, let's mention the Cabazon Dinosaurs.
You probably have never heard of them, but these life-sized dinosaurs stand just off the I-10 on the way to Palm Springs and pretty hard to miss from the highway.
It's easy to come off the Interstate and park up and coming up and close to the dinosaurs is free. There's a few fast food outlets where you can make your children's day even more perfect.
Don't forget that you can climb up inside two of the dinosaurs to have a look around and visit a gift shop to get a t-shirt or a T-Rex toy!
Given you're driving this far and the fact that you won't want to spend much longer than an hour taking a look at the dinosaurs, you can combine the trip with either Palm Springs (20 minutes further down the road - #20 below) or a hike in the San Gorgonio Wilderness (#25) to make more of the drive.
18. Wine tasting in Temecula Valley
1 hour 30 minutes from Los Angeles (85 miles)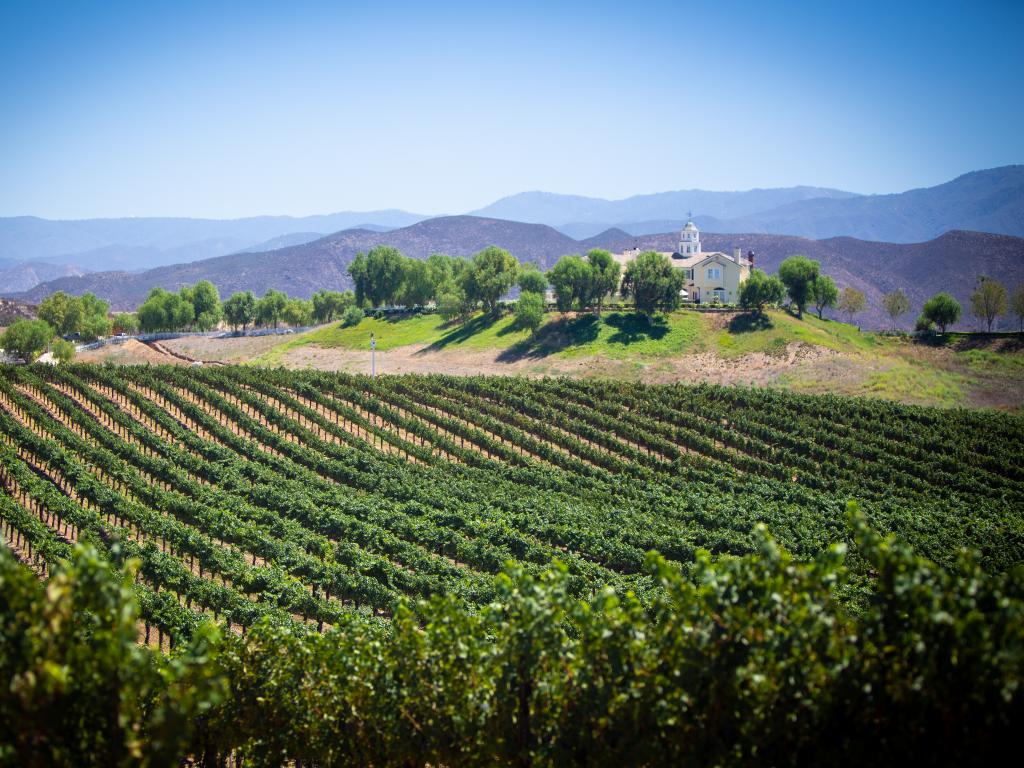 When people think of Californian wine, the northern regions of Napa, Sonoma, Mendocino and White River will usually first come to mind. But these are a good 7 hours' drive from Los Angeles.
Luckily enough, the Temecula Valley is much closer, relatively unknown and has a surprisingly large variety of very good vineyards so if you want to do some wine tasting and bring some bottles home, head to Temecula Valley, about 90 minutes southeast of L.A.
There are over 40 wineries in the region with spectacular locations complete with mountain backdrops to the neat rows of grape vines.
To make the most of it, you might want to stay the night and enjoy the wine tasting without having to have a designated driver. Old Town Temecula is well worth a visit too - there's a lot of local boutique shops, places you can buy local wine or drink it while listening to live music.
19. Escape to Santa Barbara & Montecito
1 hour 40 minutes from Los Angeles (95 miles)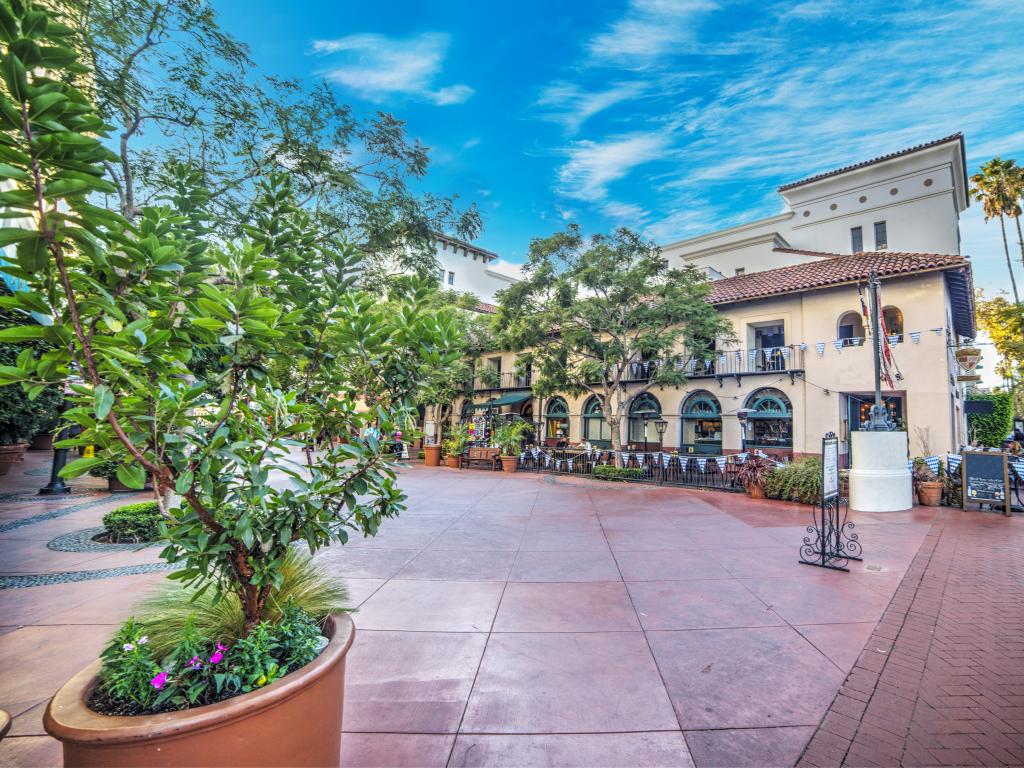 Under 2 hours up the coast from Los Angeles is the city of Santa Barbara. The busy highways running through Los Angeles and the downtown skyscrapers are swapped for a relaxed cafe culture and red roof tiles.
Santa Barbara is famous as an amazing place to live - the coastal weather is near-perfect, the charming streets and local focus on the outdoors and health has brought many of Hollywood's rich and famous to make Santa Barbara their home.
If you want to a cultural sight on your way around, Mission Santa Barbara is a Franciscan mission dating back to 1786 that is open to visitors.
Montecito is a small town just outside Santa Barbara right on the edge of the towering mountains of the Los Padres National Forest. Where Santa Barbara attracts the wealthy, Montecito is where the super wealthy, the likes of Oprah and Brad Pitt, call home.
If you want to get a feel for what it's like to live here, the Casa del Herrero is an open house museum in town.
20. Palm Springs - the oasis in the middle of a desert
1 hour 45 minutes from Los Angeles (107 miles)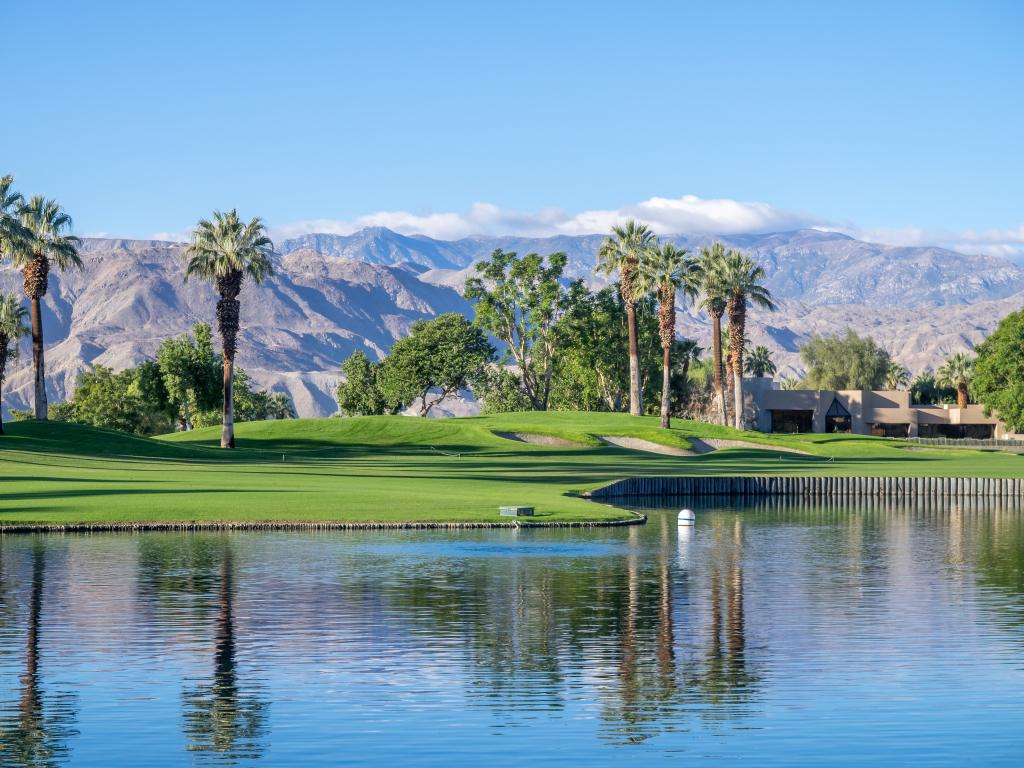 Palm Springs is somewhat of an anomaly. The town with lush green lawns, golf courses, water features, ponds and palm trees sits right in the middle of a hot and inhospitable desert with the mountains of Mt. San Jacinto State Park on one side and Joshua Tree National Park on the other.
If you want to spend a day relaxing in a spa, playing a round of golf (not in the summer!) or going up to the peak of Mt. San Jacinto in a rotating gondola of the Aerial Tramway, then Palm Springs is where you should be headed.
Remember that summer in the desert is hot. I'm talking average daily highs in the 100s (over 40 °C) so you won't want to spend too much time outside and jump from one air-conditioned environment and into another.
A lot of the architecture of Palm Springs goes back to the time it rose to prominence as a place to party in the 50s and 60s. The modernist houses with sharp square angles give the city its unique look and a feel of retro chic.
21. Spend the day at a retreat in Ojai
1 hour 45 minutes from Los Angeles (81 miles)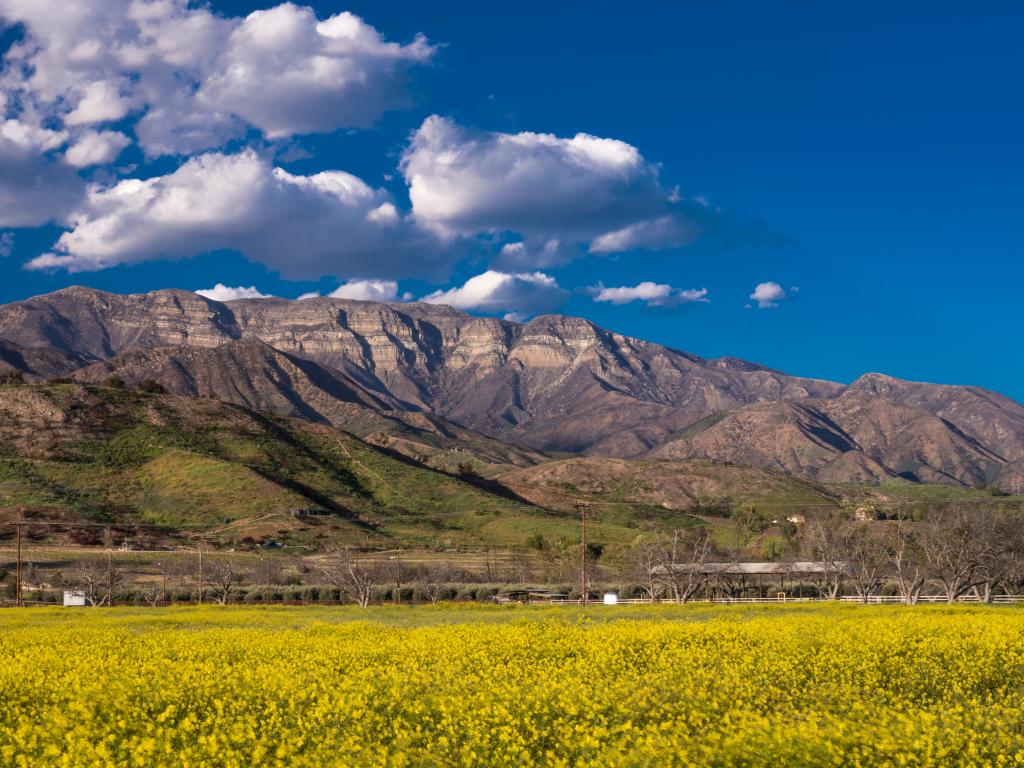 The Ojai Valley is between Los Angeles and Santa Barbara, tucked away below the mountains north of Ventura.
It has become increasingly popular with L.A. residents in the know as the place to escape the city at the weekend for some downtime, relaxing stone massages and walking through fruit orchards.
The town of Ojai has adopted the health and wellness trend and the restaurants here will have a great selection for any diet whether you're vegan, on a paleo, keto or any other diet.
The hotels in Ojai can be pretty expensive even if you're going for the lower end of the spectrum so a day trip to unwind and recharge your batteries is a good way to experience it on a budget.
If you do stay over though, make sure you try a local wine and pop into town to see quirky little shops selling home decorations and vintage clothing. There's a definite hipster vibe about the place!
22. Unwind for the day on Santa Catalina Island
2 hours from Los Angeles (24 miles to San Pedro + a ferry)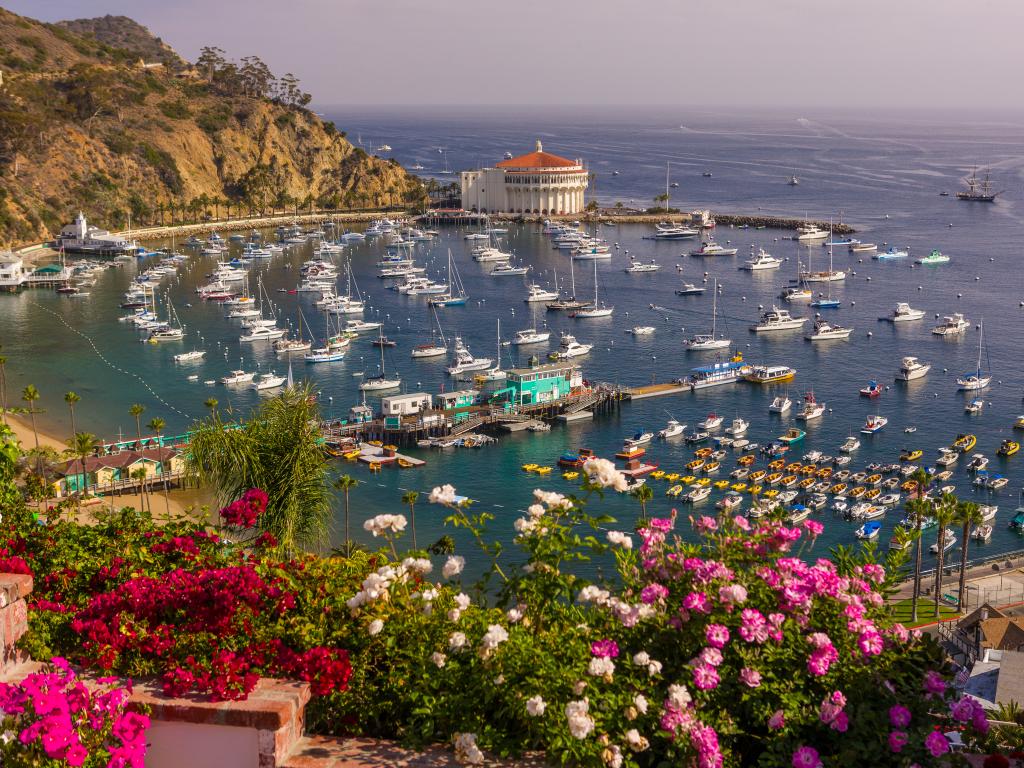 Getting to Santa Catalina Island from L.A. is reasonably straight-forward. You'll need to drive to either Long Beach or San Pedro to catch one of the fast ferries over to the island. You'll need to leave your car behind - you won't need it on the island!
The drive down will take an hour, the ferry usually takes a bit over an hour and you'll need to account for the time to park up, get your ticket and board the ferry. Although it's a 2 hour journey, you'll be relaxing for most of it and not sat behind the steering wheel.
Santa Catalina Island is all about walking and seeing the beautiful nature. Surrounded by rocky cliffs, there are a few shipwrecks you can explore and spot flying fish, seals and sea lions.
The island also has its own herd of bison that roam around the island. 14 of them were brought here for a movie shoot in 1924 and then abandoned on the island to save cost.
The bison scene was cut from the final movie, but now you get the pleasure of watching the magnificent animals in their adopted home.
The port of Avalon where the ferry comes and goes from is the perfect place to get some lunch and enjoy views of the marina, surrounded by the island's hills. Time your visit so that you eat there when you arrive or just before boarding!
23. Head for Lake Arrowhead and Big Bear Lake
2 hours from Los Angeles (100 miles)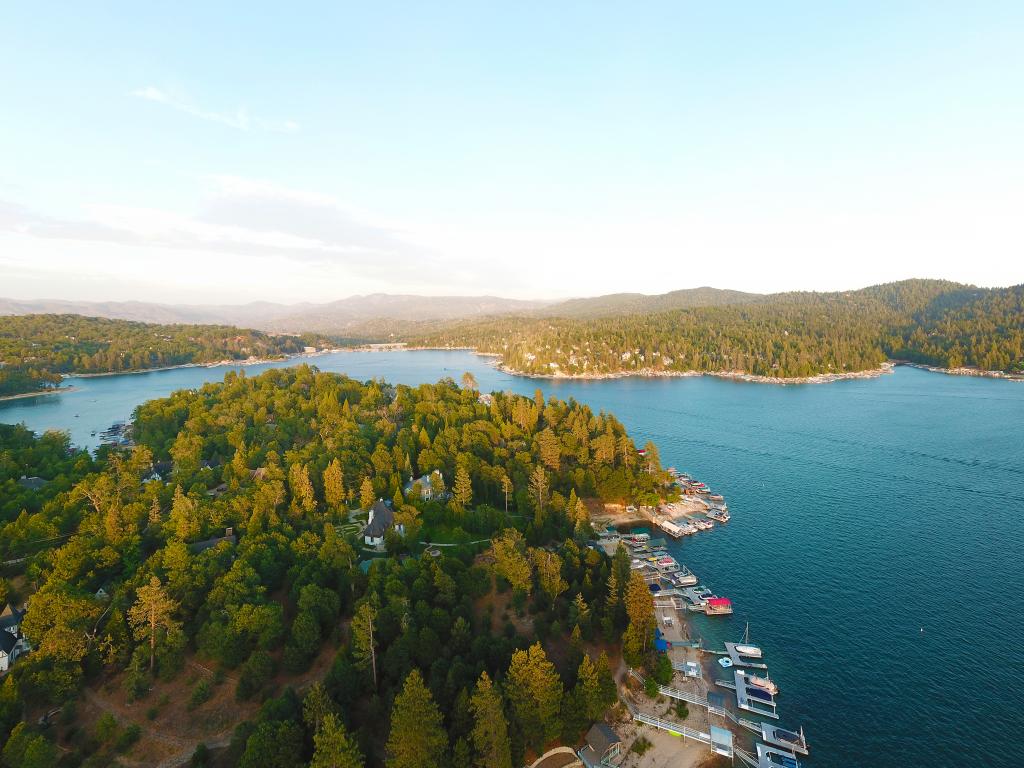 Lake Arrowhead and the Big Bear Lake are a 2 hour drive east from Los Angeles into the San Bernardino National Forest.
The two lakes are only 15 miles apart, but the mountainous twisty roads mean it'll take you an hour to drive from one to the other. And that's assuming you're not going in the winter!
Big Bear Lake is the further of the two and is all about staying active. You can spend the day kayaking, paddling or boating on the lake during the summer or go skiing in Snow Mountain and Bear Mountain ski resorts during the cold winter months.
Lake Arrowhead is very different - almost the entire shoreline of the lake is privately owned and the Lake Arrowhead Village has a more upscale feel than the resort type vibe of Big Bear Lake.
Lake Arrowhead is also lower down which means it is not as snowy and cold in the winter. If you want to go to a retreat in a pine forest, enjoy a few hours in a spa and have a fancy dinner to end the day, Lake Arrowhead is the place to go.
24. San Diego and La Jolla
2 hours from Los Angeles (120 miles)
The other big city in Southern California is only 2 hours down the coast so you can easily explore the main sights and walk through some of the neighborhoods on a day trip from L.A.
As it is known for having one of the least seasonal climates in the United States, San Diego is perfect to visit all year round.
The heart of San Diego is the Gaslamp neighborhood - this is where you can sit in the restaurants, bars and cafes in the evening catching the relaxing sea breeze.
La Jolla is a neighborhood just to the north of downtown San Diego. It's known for its wealthy residents and fancy restaurants, but also for the sea lions who have made La Jolla Cove their home and can be seen there most of the time.
Other than the famous San Diego Zoo, I wouldn't spend too much time visiting museums and staying indoors. Two of the best activities are riding the traditional red trolleys and trying the fish taco street food - the zesty salad and avocado are worth skipping lunch for!
25. Oak Glen and the San Gorgonio Wilderness
2 hours from Los Angeles (98 miles)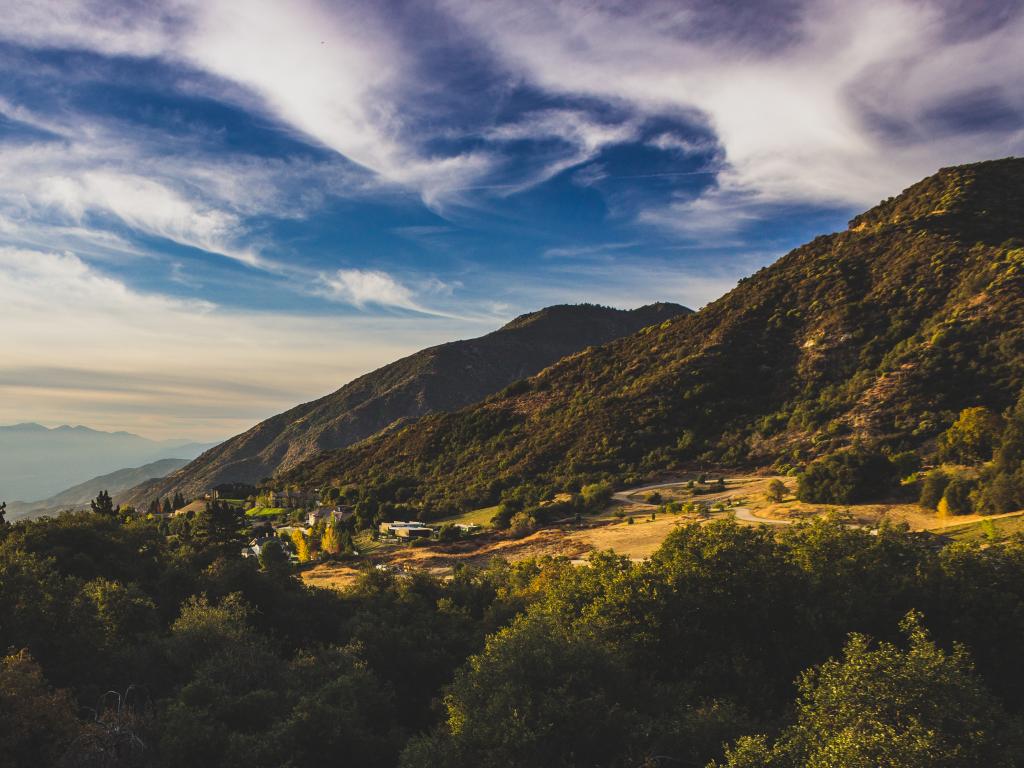 Oak Glen is a small village about 90 minutes from downtown L.A. that is known for being mad about apples.
Naturally enough, the best time to visit is during the apple harvest season in September and October. The fall season in California may not be full of golden and red leaves but this is a great place to come to get that autumnal feeling.
You can buy a U-pick bag for the day and walk through the apple orchards picking your apples or head straight to the Oak Tree Village which is full of shops, entertainment and all things apple-themed right down to cider!
After you've picked your apples, you can drive another half an hour to the San Gorgonio Wilderness. This mountainous protected area is on the edge of the San Bernardino National Forest around the San Gorgonio Mountain peak.
You'll need to get a free wilderness permit before coming - you can get them online from the National Forest management.
Most of the wilderness is located at above 7,000 feet (2,100 m) and there are two small rivers (creeks to those from outside California) so make sure you come wearing layers as it can get cool up there!
The area has recently been designated as the Sand to Snow National Monument and there are lots of marked hiking trails to follow if you drive over to Forest Falls from Oak Glen to park and find the trail starting points.
26. Joshua Tree National Park
2 hours 20 minutes from Los Angeles (130 miles)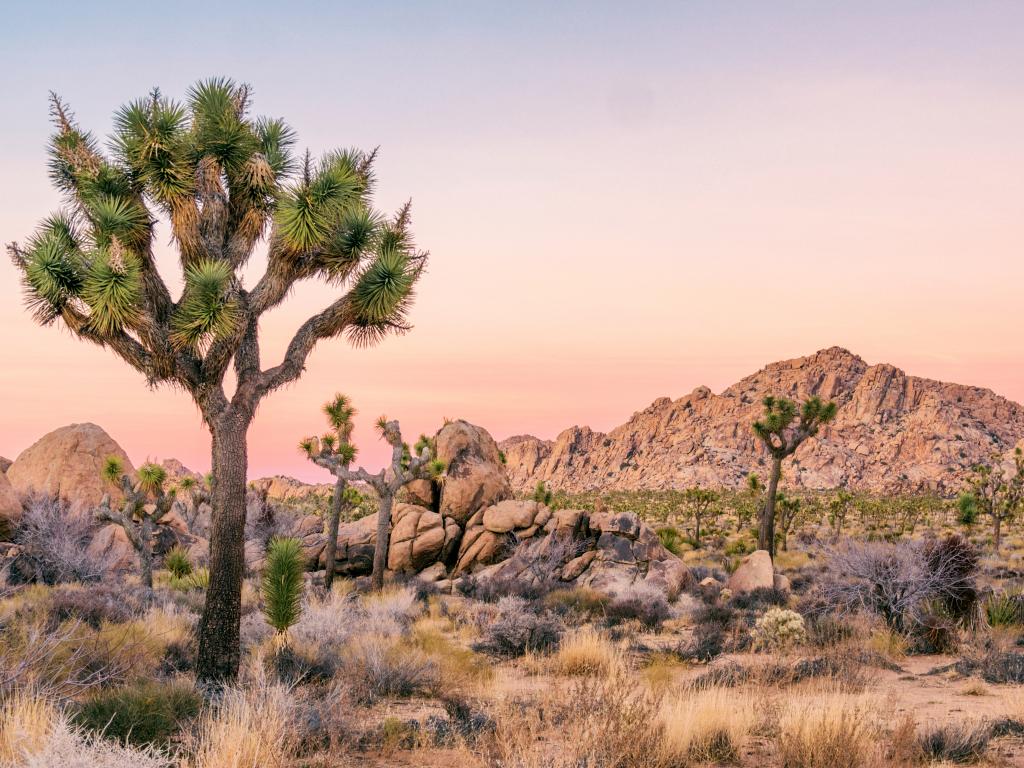 Joshua Tree is the closest National Park to Los Angeles and named after the Joshua tree that grows in southern California and Nevada.
The park is one big desert with lots of hiking trails, over 300 different places you can camp and a few interesting rock formations.
Take care if you plan to visit Joshua Tree in the summer - daily highs average 100 °F (38 °C) and there is little in the way of facilities anywhere in or near the park so bring plenty of drinking water and key necessities with you.
Many of the most popular rocks and trails in Joshua Tree are at the end closes to L.A. The Intersection Rock and Arch Rock formations are only a few miles apart and Skull Rock is in-between.
There are some easy trails in the area - the popular Hidden Valley Trail is only about a mile long starting at Intersection Rock and you can drive up to Keys View which is the highest point in the park offering views of the mountains and Coachella Valley.
27. Explore the Danish village of Solvang, California
2 hours 20 minutes from Los Angeles (130 miles)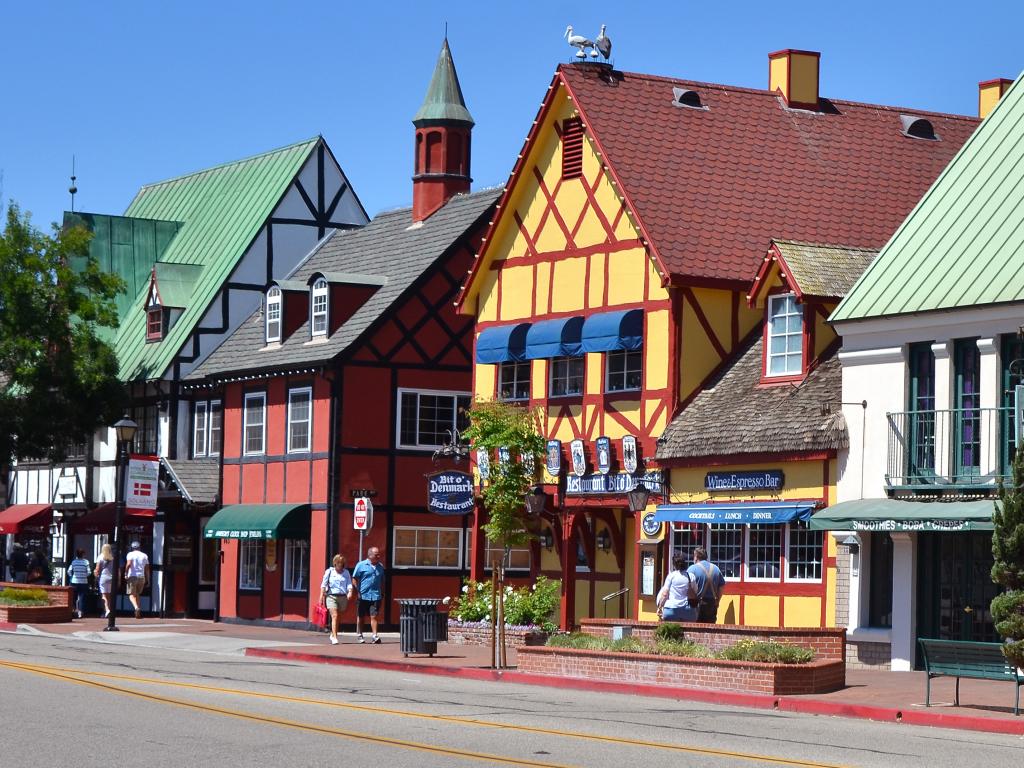 Solvang is a village that was originally founded by a group of Danish settlers and it has remained so incredibly Danish, it's well worth the 2 hour drive from Los Angeles.
The village has traditional Danish-style houses which look distinctly European, 4 windmills and classic Danish shops.
You can go on a tour around Solvang in a tram or one of the horse-drawn carriages. Not that you'll have to go far - the town is pretty small and very walkable.
Aside from seeing the Danish village, Solvang is also home to the Mission Santa Ynez which dates back to 1804 and worth visiting. The Santa Ynez valley has some great wineries as well in case you want to stock up straight from the vineyard before heading back to L.A.
The quirky Danish village has grown in popularity over time which means it can be a little on the touristy end. You might want to spend the morning here if you set off early and then spend the afternoon either driving around the scenic Los Padres National Forest (#30 below) or stop at Santa Barbara and Montecito (#19) or Oxnard (#15) to break up the journey.
28. Go to the place time forgot at Salton Sea
2 hours 30 minutes from Los Angeles (164 miles)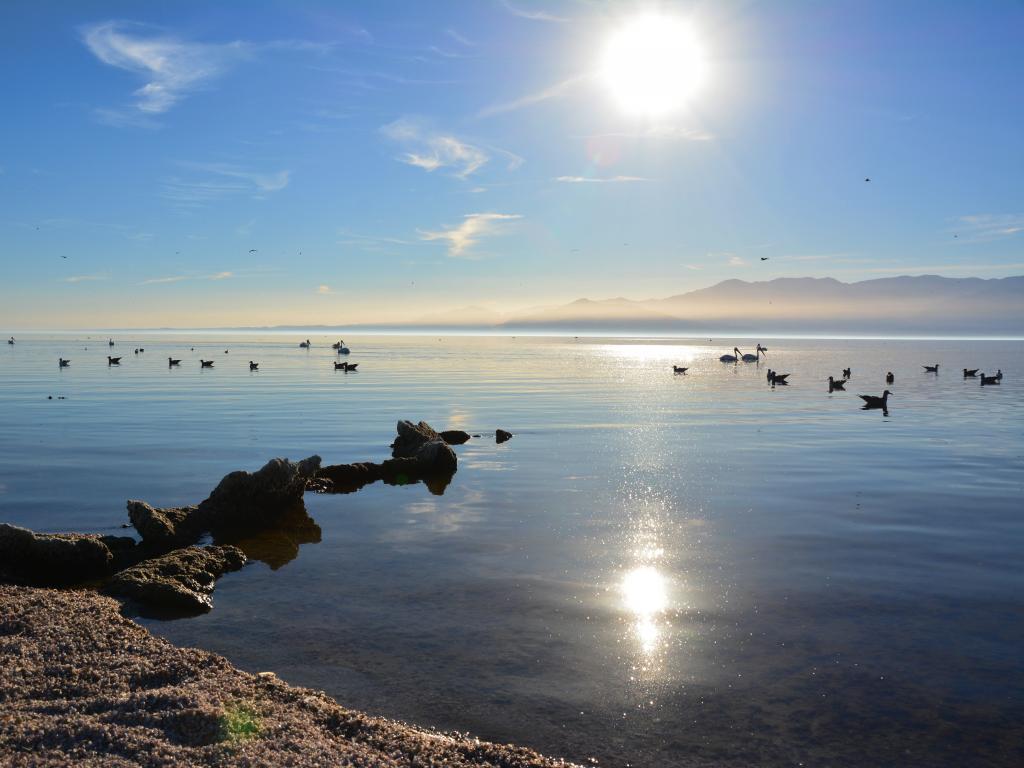 People disagree as to whether Salton Sea is a lake, a kind of inland sea or a man-made reservoir. Bizarrely, it was created accidentally in 1905 when engineers miscalculated their minor diversion of the Colorado River for a local irrigation project.
As the land here was a desert that at one point was covered by seawater, the huge amounts of salt in the ground meant that the lake's water is far from fresh. In fact it has almost twice as much salt as the Pacific Ocean and the salinity is increasing at a rate of 3% per year.
A popular tourist destination in the 1950s, Salton Sea declined sharply in the following decades and today it is fascinating to visit to see the old signs, small ghost towns and abandoned buildings.
If you have time to drive around the lake, one of the sights is the Salvation Mountain - a big mound built by a local resident with large transcriptions of verses from the Bible.
The Borrego Springs Sculptures are a few miles west of Salton Sea and worth the diversion. Just when you thought the place couldn't get any more weird, you'll find giant statues made of metal of things like serpents, flying dinosaurs and elephants in the middle of the desert.
29. Ventura, California and the Channel Islands National Park
2 hours 30 minutes from Los Angeles (68 miles to Ventura + a ferry)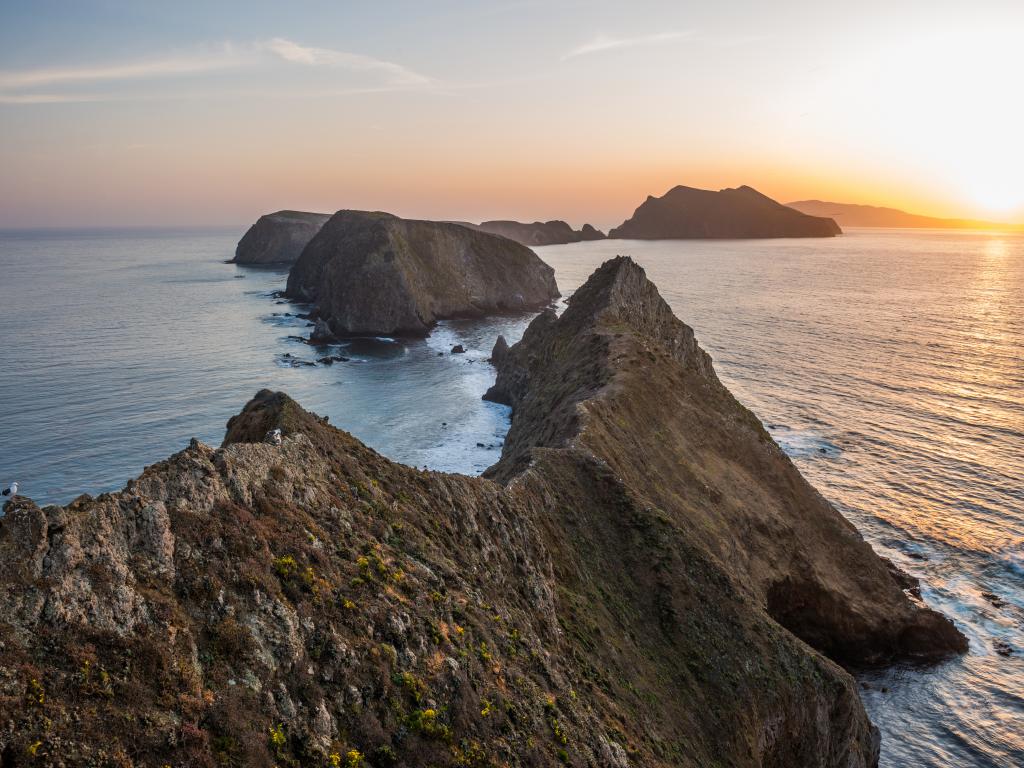 The Channel Islands National Park is just off the coast of California sitting on a chain of 5 major and several smaller islands about 20 miles from Ventura.
The difficulty in getting there means that the Channel Islands hold are the least visited National Park in the United States, but this is a hugely undeserved title and is actually a great reason to visit.
Ventura is about two thirds of the way to Santa Barbara from Los Angeles along the coast and it should take you a little over an hour to get there. From Ventura, you'll need to get on a ferry to the Channel Islands. The nearest group of islands are the Anacapa Islands and it takes about an hour to get there, 2 to get to the much bigger Santa Cruz Island and 3 hours to go all the way to Santa Rosa.
There's not a great deal to see on Anacapa - the small and narrow islands offer great views of the rest of the range from the top of the ridge (in the photo above), but to really explore the area, it's worth getting to Santa Cruz.
Here you'll be able to trek around the island, discover hidden coves and rocky caves where dolphins, flying fish, seals and whales can be spotted in the water and condors and bald eagles roam the skies.
If you're lucky, you might catch a glimpse of the Island Fox which is native to and only lives on the islands.
Be careful to catch the last ferry back to the mainland. There are are limited comforts for staying overnight. There are no hotels or lodging of any kind, no shops and very limited facilities available so be there at boarding time to avoid sleeping in the wind under the stars.
30. Drive up Figueroa Mountain in Los Padres National Forest
3 hours from Los Angeles (143 miles)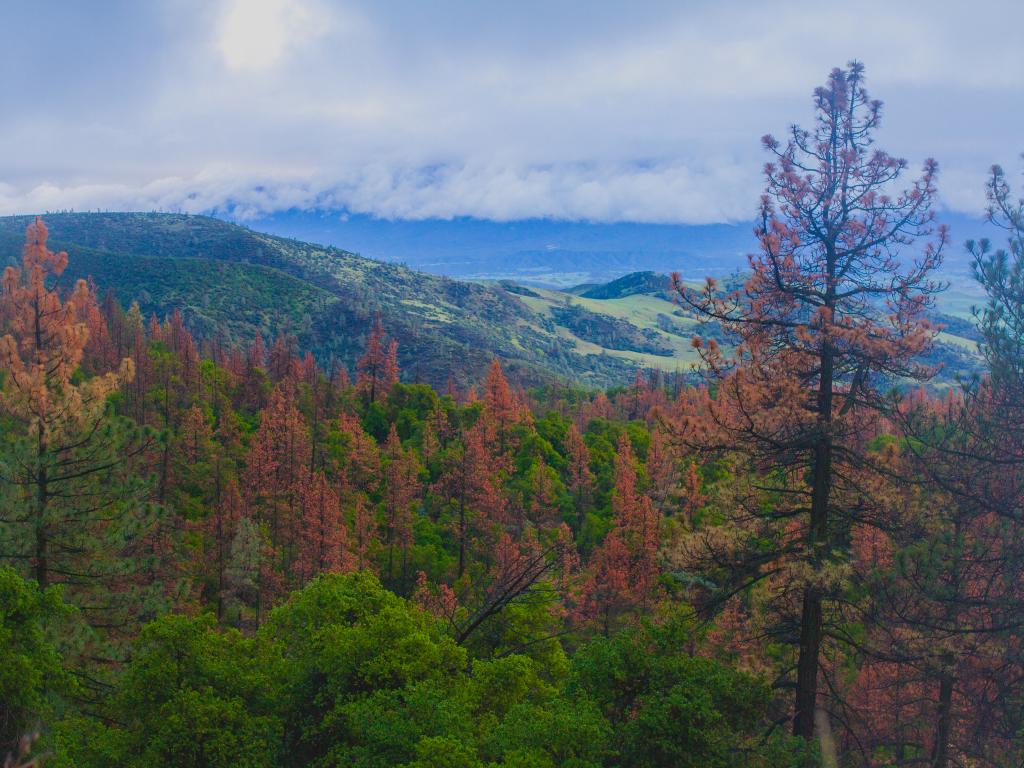 Ok. A 3 hour drive from Los Angeles one-way is stretching the definition of a day trip slightly, but there's one good reason why a drive up the Figueroa Mountain made it into the list.
The drive to and up the mountain is the experience. The views as you go up and the perfect driving roads on the way through flowering fields as you can see more and more of the Pacific Ocean is what you come here for.
With the other 29 destinations on our list the thing you see when you get there is the reason to go. So take the day, get in the car and get ready for a mini road trip you'll complete before dinner time!
Figueroa Mountain lies on the edge of the Los Padres National Forest and overlooks the Santa Ynez Valley below. You can get here slightly faster along Highway 101, but if you get on the road half an hour earlier, you can take the scenic route along the coast through Malibu.
Places like Oxnard, Santa Barbara and Montecito are all along the way and further up in our list, so there's plenty of great options for stops for a drink or lunch.
A big sign will greet you when you reach the top saying you're at the Figueroa Lookout and from here you get almost uninterrupted views over the mountains and valleys all the way around!