Road Trip from San Jose to San Diego
There are some road trip routes that are just shouting out to be explored, and with a choice of stunning ocean views or spectacular National Parks, this journey from San Jose, California to San Diego is at the top of that list!
The 1,290-mile road trip from San Jose, CA, to San Diego takes 23 hours and 45 minutes, passing San Francisco, Fresno, Las Vegas, Mojave Desert, Yosemite, Death Valley, Sequoia and Joshua Tree National Parks as well as San Bernardino National Forest.
Whichever route you take, you're guaranteed to head home with some unforgettable memories of the Golden State - keep reading to find out where this adventure might take you and the best time to make this road trip.
How far is San Diego from San Jose, and how long will the road trip take?
Comparison road trip routes between San Jose and San Diego

| Route | Distance | Driving Time |
| --- | --- | --- |
| Inland route | 1,290 miles | 23 hours 45 minutes |
| Coastal Route | 650 miles | 19 hours 20 minutes |
If you travel directly along the Interstate, you can easily complete the 500-mile drive between San Jose and San Diego in 8 hours.
However, that would mean you miss out on the sweeping ocean views, vast national parks and stunning beaches that make the southern part of California so special.
Instead, we'd recommend taking a longer, slower route that takes you past some of the area's iconic attractions.
If you take the Inland Route, you're looking at around 23 hours 45 minutes of driving to cover 1,290 miles. However, to allow yourself time to really stop and explore the national parks you'll pass by on this route you should allow at least a week to take this route.
Although shorter at 650 miles, you'll take the Coastal Route at a slower pace, meaning this route option will take you just over 19 hours to complete.
You could complete this drive in a couple of days, but why rush when you have hundreds of miles of Pacific views and gorgeous beaches to enjoy before you arrive in San Diego? Instead, we suggest taking your time on whichever route you choose.
Best road trip route from San Jose to San Diego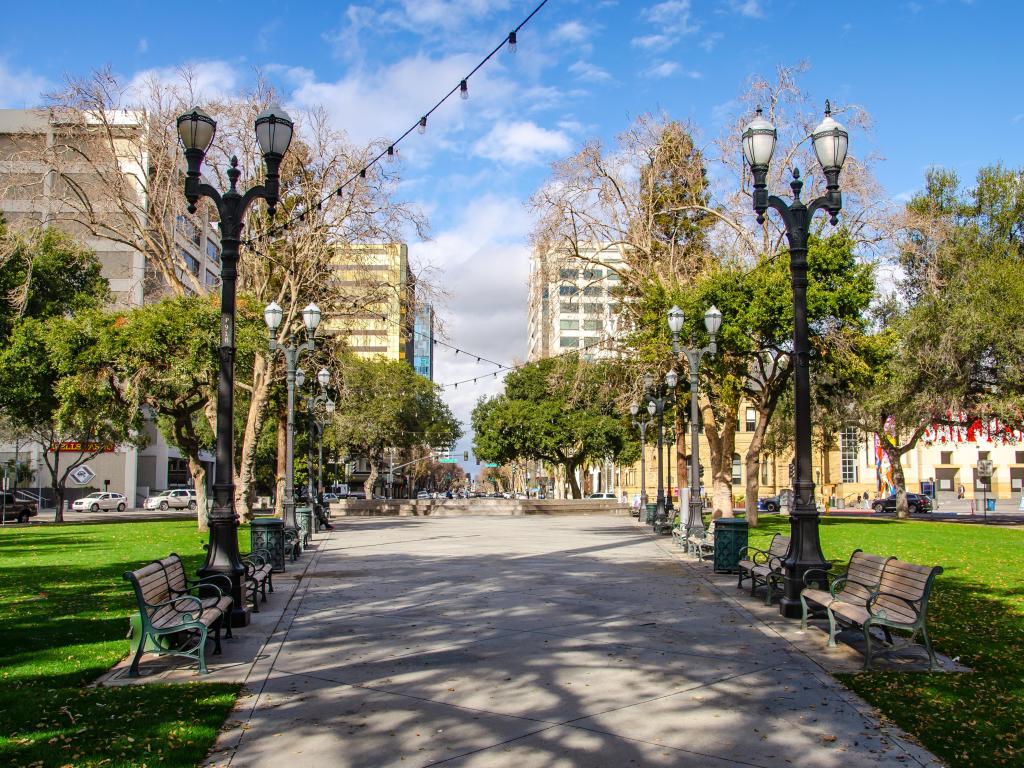 Our two routes between San Jose and San Diego both make for a fantastic road trip, but they're so different in character that most travelers will probably feel a pull towards one over the other. This is very much either a national parks trip or a beach trip, there's no real in-between.
The Inland Route is perfect if you'd like to head out into California's spectacular wilderness areas to hike, climb, ride or seek out some of the state's stunning wildlife.
Covering as many National Parks as possible, it's the least direct way to travel between San Jose and San Diego, but it's the perfect adventure to tick off some of those bucket list destinations in a relatively short amount of time.
The Coastal Route is made for relaxation. Beach after beach, it is a great way to unwind. If you're looking to finally have some time to read that book that's been sitting on your nightstand for months (and maybe do a bit of celebrity-spotting), this is the route for you.
If you've seen the national parks, we recommend taking the coastal trip this time for some relaxation. Conversely, if you've already gotten your beach tan and want to tick more national parks off your bucket list, the Inland Route is the way to go.
Of course, if you really have time on your side then you can follow one route on your way to San Diego and the other one on your way back to make a truly unforgettable road trip in and out of San Jose.
The Inland Route
You'll begin by leaving San Jose heading north on Interstate 680, before turning onto Interstate 580 at Exit 30A. After a few miles, the Interstate splits - take Interstate 205 before merging briefly onto Interstate 5.
Soon you'll reach CA-120, which you can follow all the way to your first stop - Yosemite National Park. When you're ready to move on, retrace your route along CA-120 then turn left onto Smith Station Road, which is clearly signposted.
Continue to follow this road when it joins up with Greeley Hill Road, which winds its way towards Coulterville, where you'll take a left turn to follow CA-49 in the direction of Mariposa - take your time enjoying the varied and beautiful views over the valley as you drive.
At Mariposa, turn right at the sign onto Mt Bullion Cutoff Road then merge onto CA-140 which descends onto a flat, wide plain. Here, turn left onto Cunningham Road, then left again onto Santa Fe Avenue at Le Grand.
Where the road splits close to a railroad crossing, continue straight across the tracks on Road 22, following it until you meet CA-99 at Berenda. Here, you will take the highway towards Fresno.
After a stop in Fresno, continue along CA-99 to head towards the next National Park on your route. Follow CA-198 past Visalia and Lake Kaweah into Sequoia National Park.
To continue your journey, return along CA-198 then turn left onto Road 204 then after about a mile turn left again onto CA-65. You'll merge onto CA-99 and then CA-58 to cross Bakersfield.
Carry on along CA-58 as far as Exit 167, where you turn left at the top of the ramp. Follow CA-14 then turn left onto US-395 for just over a mile before turning right onto Searles Station Road.
Next, turn right towards Trona and continue past the town until you reach the end of the road. Here, turn right towards Furnace Creek - this road will take you right through Death Valley National Park and across the state line into Nevada.
When you reach the town of Beatty in Nevada, turn right onto US-95. For a sudden contrast to the wide-open scenery and National Parks that you've enjoyed so far, this road will take you right into Las Vegas.
How long you spend in Las Vegas is down to you, but when you're ready to move on simply follow Interstate 515 and then Interstate 11 until you rejoin US-95 heading south past Searchlight. It won't be long before you cross back into California.
Just after you cross railroad tracks, you'll find a right turn towards Goffs. Follow this road to skirt around the south side of Mojave National Preserve - it will lead you onto Interstate 40. Continue west for a couple of miles after joining the Interstate.
If you want to see more of this fascinating desert landscape, turn off at Exit 100 to head towards Mitchell Caverns, before returning on the same road and continuing west along I-40 then turning left at the end of the ramp at Exit 78.
At the end of the right turn right, then after passing through Amboy turn left onto Amboy Road. When it brings you to Twentynine Palms, turn left onto Adobe Road then right onto Twentynine Palms Highway.
You'll soon reach the town of Joshua Tree - turn left onto Park Boulevard to make your way into Joshua Tree National Park to admire the unique landscapes.
Returning to the main road through Joshua Tree, continue west then turn right onto Old Woman Springs Road/CA-247. Follow the road past Flamingo Heights then turn a sharp left towards Big Bear Lake when you reach the town of Lucerne Valley.
This road brings you into San Bernardino National Forest from the north, following the shore of Big Bear Lake. When you reach Running Springs continue straight ahead onto CA-330, which winds its way out of the park before meeting up with CA-210 heading south.
From here you're on the final stretch into San Diego. After crossing the Santa Ana River, join Interstate 10 west, then join Interstate 215 to continue south.
Eventually, I-215 will merge with I-15. From here all you need to do is follow the road south until you arrive at your destination, San Diego.
The Coastal Route
Leave San Jose on US-101. At Exit 336 join CA-156 which links you up with CA-1 heading south.
Your first view of many views of the Pacific will see you looking out over Monterey Bay, before CA-1 takes you through the city of Monterey and then on to Carmel-by-the-Sea.
From here you'll continue south onto one of the world's most iconic drives through Big Sur Pfeiffer National Park. Take your time to enjoy the views.
CA-1 hugs the coast for over 50 miles before swinging inland from Morro Bay to San Luis Obispo. Here you'll rejoin US-101 for a short distance, before turning onto CA-154 towards Cachuma Lake Recreation Area.
A mile or so after crossing the long and scenic Cold Spring Canyon Arch Bridge, look out for a left turn onto E Camino Cielo. You'll want to keep a close eye on your map to make sure you don't miss this turning.
Head up this road for some stunning views out across the mountains, and some trailheads that are a must-see for serious hikers, before returning to CA-154 and continuing south.
CA-154 joins up with CA-1 and US-101 on the outskirts of Santa Barbara, then takes you right through this ocean-front town.
Moving on, CA-1/US-101 stay close to the coast, passing Rincon Beach, Emma Wood State Beach and Ventura Beach. Where the routes split at Exit 60 you'll want to stick with CA-1 to head past even more fabulous beaches before you arrive in Malibu.
When you reach Santa Monica, you'll finally leave CA-1, joining I-10 to head into the heart of Los Angeles.
Spend some time in the City of Angels before continuing south on Interstate 710 which takes you to Long Beach. Here you'll find yourself back on CA-1 again, passing Huntingdon, Laguna and Newport Beaches before making your way around Dana Point and onto Interstate 5.
You're on the last stretch of your drive now, passing San Onofre State Beach and Legoland California before you reach your destination, San Diego.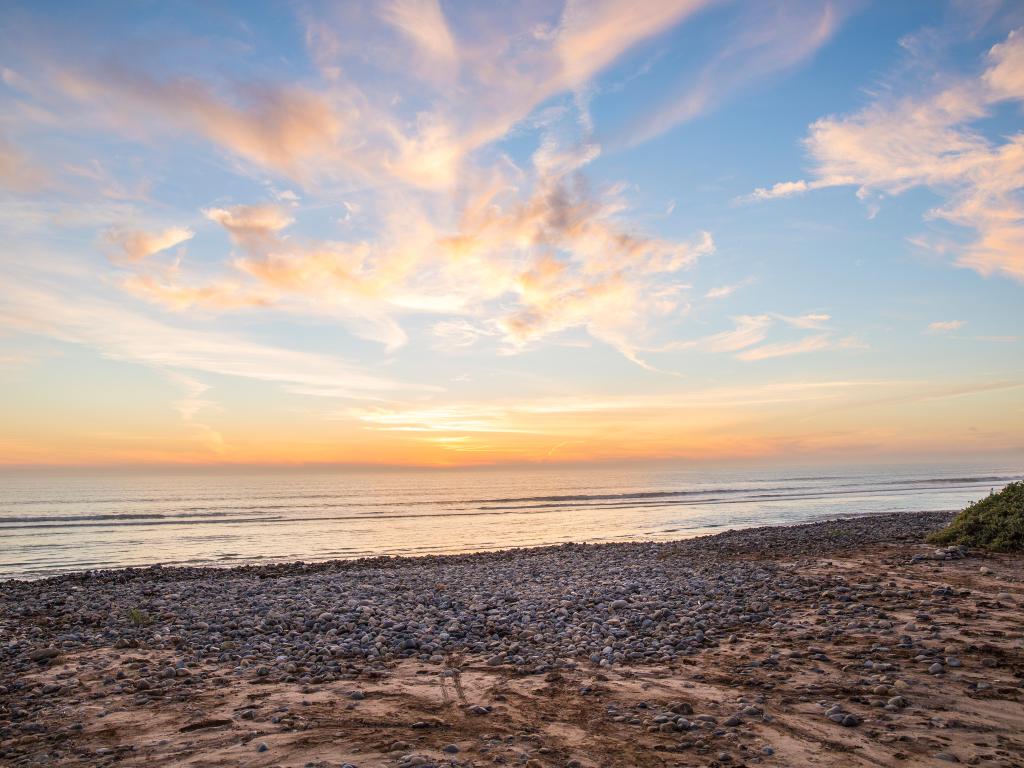 Best places to stop between San Jose and San Diego
On a trip this long you're going to need to make several overnight stops, to recharge your batteries and take in all the amazing scenery and attractions each route has to offer.
Here's a selection of our top picks to get you started in planning your trip.
Feel the beat in Bakersfield
Unless you're really racing through your trip Bakersfield, located 9 hours from San Jose on the Inland Route, might not be your first overnight stop. However, after visiting Yosemite and Sequoia National Parks, you'll probably want to rest before heading out into the wilds again.
The country music capital of the West Coast is a great place to kick back and relax. Catch some live music while you're in town, or head to the 32-acre park at River Walk, where you'll find biking and walking paths as well as two lakes and an outdoor amphitheater on the water.
The modern Padre Hotel is located just off the main route and near the city center. You will be able to enjoy stunning views of the Kern River as you sit on the hotel's fabulous outdoor rooftop deck with a glass of wine to relax after your journey.
If you're not quite ready for bed even after a long day of driving, you'll find the Crystal Palace and Museum and Fox Theater around a mile away. Feeling adventurous? Just outside town, you also have the option of heading to Hart Memorial Park for a day outdoors.
Alternatively, if you're on the lookout for some cultural delights after so much time in the great outdoors, you can visit the Bakersfield Museum of Art to admire the work of Californian artists before heading to the hotel for a much-deserved rest.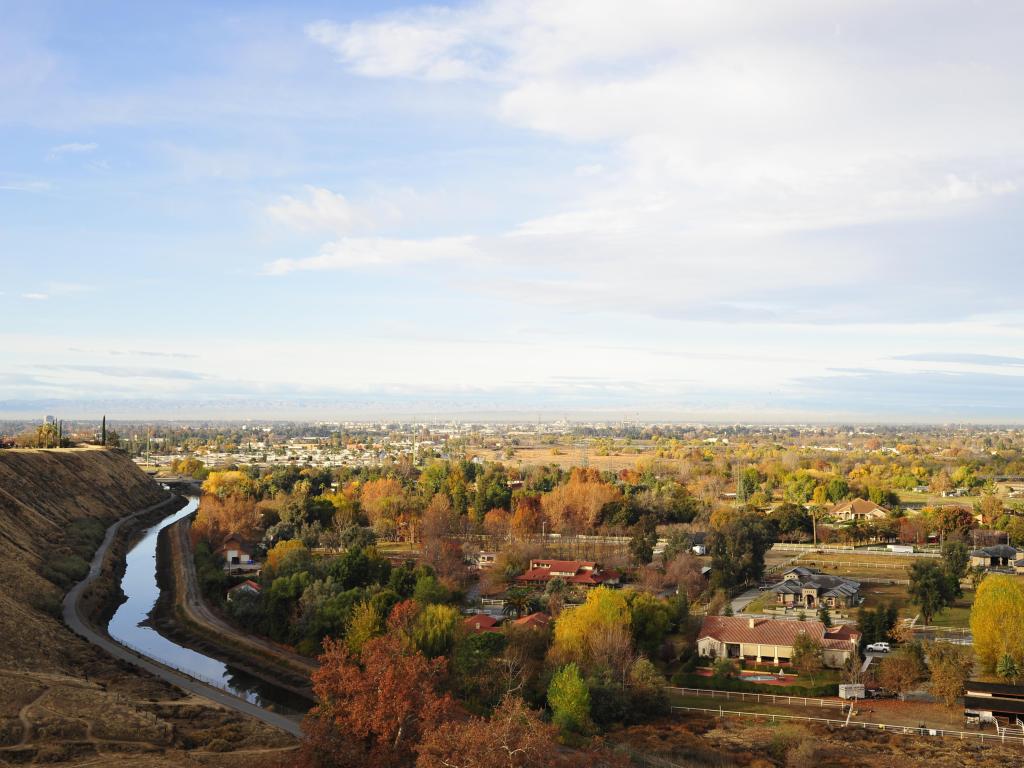 Try your luck in Las Vegas
Las Vegas, located 8 hours out of San Diego on the Inland Route, is one of those destinations that hardly needs an introduction. Famous for its casinos, nightlife and spectacular live shows, it's a real contrast to the natural wilderness you'll spend most of this trip traveling between.
While you're in town, you can't miss the Las Vegas Strip. This 4.2-mile stretch of Las Vegas Boulevard South is known for its plethora of extravagant hotels and casinos. Many of the largest hotel and casino properties in the world are right here on the Strip.
If you want to stay somewhere that's right on the Las Vegas Strip, Vdara Hotel & Spa at ARIA Las Vegas is a fantastic choice. From this 5-star high-rise hotel, you can access all the casinos, bars, clubs, and resorts your heart desires.
Among them are Bellagio's Casino and the famous water fountain. But don't worry if you're not too keen on the party culture of Vegas. You can head 15 miles to the west of the city to hike or rock climb in Red Rock Canyon National Conservation Area, with walls up to 3,000 feet high.
The hotel specifically is non-gaming and non-smoking, so that means you can leave the party behind and rest comfortably back at the hotel. It's worth mentioning that this hotel is all suites and features a rooftop pool surrounded by plunge pools as well as a fantastic spa.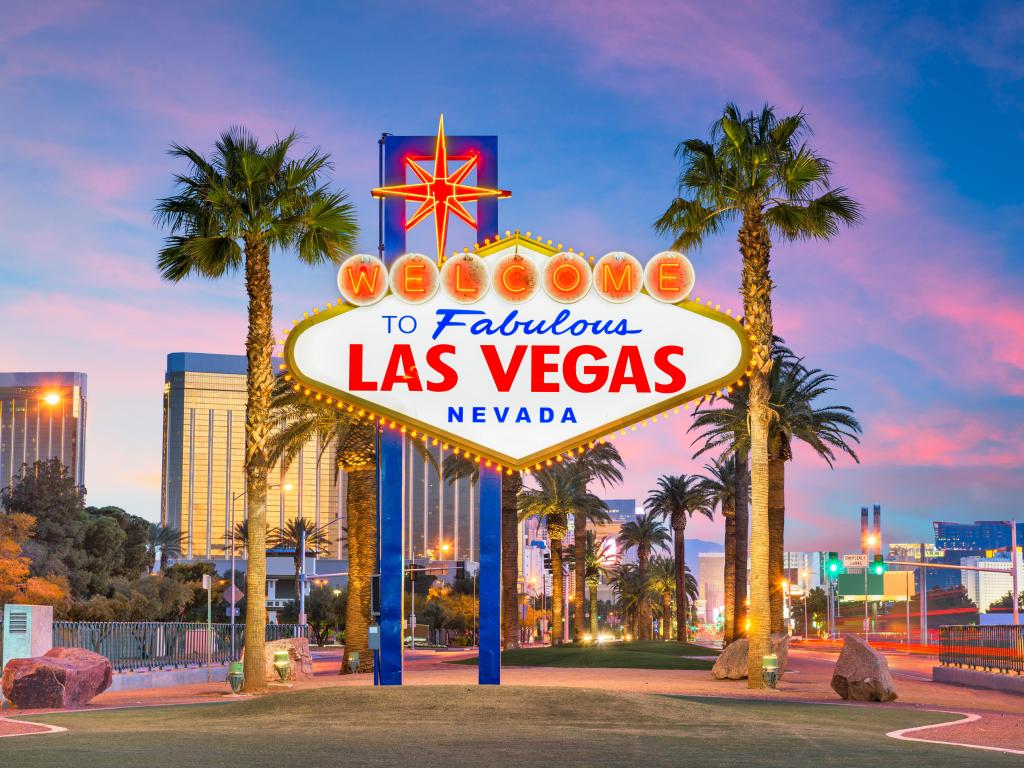 Watch the sunset over the ocean in Santa Barbara
If you're taking the Coastal Route, you'll have your pick of fabulous ocean locations to stop along the way. Located about halfway through your road trip, Santa Barbara is one that you should definitely include as an overnight stop.
This waterfront city is best known for its Spanish-style buildings, including the 18th-century Old Mission Santa Barbara which was built to consolidate the Spanish claim at the time. The grounds feature gardens - insiders say that the mission is prettiest at sunset.
Just a 5-minute walk from the famous Stearns Wharf, Harbor View Inn is a great place to base yourself during your visit to Santa Barbara. Located right on the beach, you will wake up to gorgeous views of the ocean before heading to breakfast beside the fabulous pool.
Alternatively, seeing as you've reached the mid-point of your trip, how about splashing out on some luxury to mark the milestone? Hotel Californian is just the place to go - a fabulous beachfront property that looks the part with its white stucco building and red Spanish-tile roof.
When you're done relaxing on the beach, pop back to enjoy the outdoor swimming pool on the property or the onsite spa. With the spa, beach, and pool so close, you have no choice but to have a relaxing stay here.
Things to see on a road trip from San Jose to San Diego
Our routes between San Jose and San Diego are designed to really pack in the sights - we could have kept going and going with this selection of places to stop along the way.
Of course, one of the great things about a road trip is the chance to stop and explore the big views and small towns you'll pass by on the way, so don't forget to make time to pause and really make this trip your own.
Inland Route
Yosemite National Park - This iconic national park in California's Sierra Nevada mountains is known for its extremely old and tall sequoia trees, Bridalveil Fall, and the granite cliffs of Half Dome and El Capitan.
Fresno, California - This city in California's San Joaquin Valley is the gateway to Yosemite National Park. The main attraction here is the Forestiere Underground Gardens.
Sequoia National Park - Located in the southern Sierra Nevada mountains, this park is also famous for its towering sequoia trees. The Giant Sequoia National Monument is located here.
Death Valley National Park -This huge park straddling eastern California and Nevada is known for its extreme temperatures and being North America's lowest point.
Las Vegas, Nevada - Ahh, Vegas. The largest city in the Mojave Desert and the most populous city in the state of Nevada; that's how we know the place, right? Just kidding. Eat, party, drink, gamble to your heart's content.
Mojave Desert - Named after the indigenous Mojave people, this desert stretches across parts of four different states. While that seems big, it's actually the smallest desert in North America.
Mitchell Caverns - This complex of limestone caverns is located on the Mojave National Preserve. It features rock formations, wildlife, and guided tours.
Joshua Tree National Park - This desert park draws tourists with its signature Joshua trees. It features hiking trails and a lookout over Coachella Valley.
San Bernardino National Forest - Encompassing over 800,000 acres of land, this forest is located in Southern California. It's a destination for hiking, camping, and scenic roads.
Cleveland National Forest - This national forest also located in Southern California features waterfalls and an astronomical observatory, as well as hiking trails and campsites.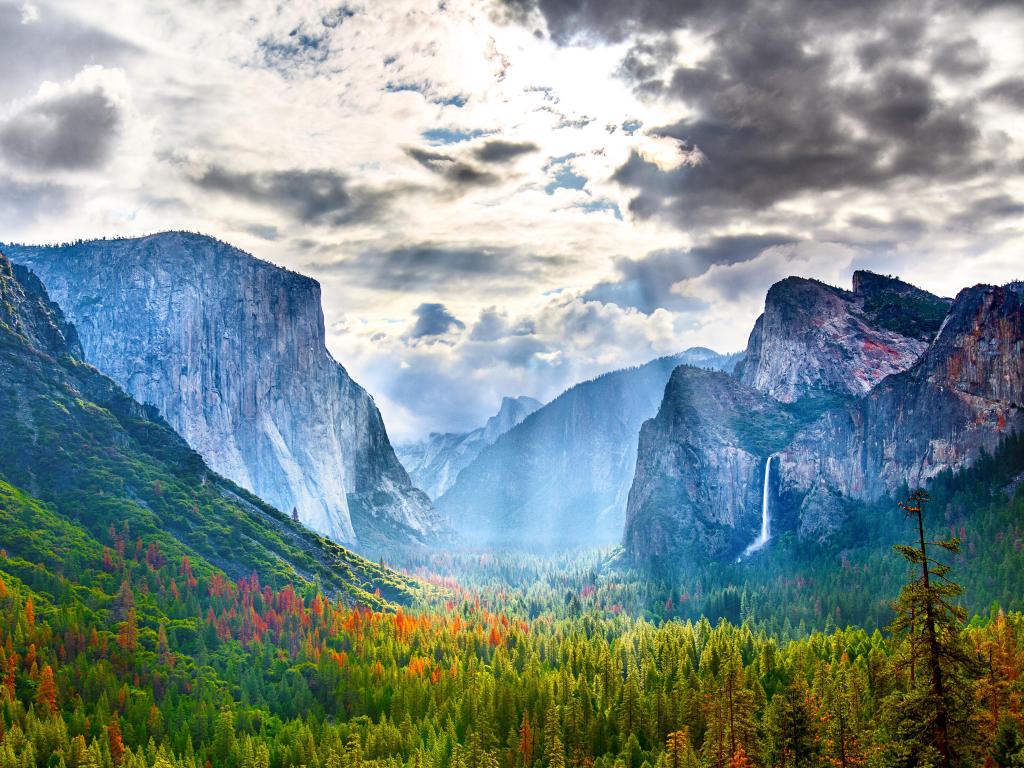 Coastal Route
Monterey, California - Located on California's central coast is a city once known for its sardine-packing industry, but today is known for its popular strip of seafood restaurants, bars in converted factories, and gift shops.
Pfeiffer Big Sur State Park - With over 1,000 acres of land in this state park, it offers hiking trails, wildlife, and campsites. It has been nicknamed "mini-Yosemite".
Los Padres National Forest - This forest includes most of the mountainous land from Ventura to Monterey along the California coast, encompassing almost two million acres. Although that seems huge, it's only the third-largest national forest in the state.
Santa Barbara, California - This city on the central California coast is gorgeous with the Santa Ynez Mountains as a backdrop. As you walk through downtown, you'll be transported to Spain with the white stucco buildings and Spanish-tile roofs.
Malibu, California - Located west of LA, this city on the coast is known for its celebrity mansions and its beaches. Inland, you can find trails and waterfalls through the Santa Monica Mountains.
Santa Monica, California - Also west of LA, this city is home to the famous Santa Monica Pier, with an amusement park, carousel, and aquarium. This pier has been featured in many movies.
Los Angeles, California - The Hollywood sign in the Hills, Beverly Hills, the Walk of Fame, and Rodeo Drive are all iconic attractions in the most famous California city. You will also find Paramount Pictures, Universal, and Warner Brothers studios based here.
Long Beach - This Southern California port holds the ship RMS Queen Mary, a retired ocean liner and now a museum. Along with the beach, some other attractions are the aquarium and the Museum of Latin American Art.
Huntingdon Beach - This beach is most popular for its surfing, along with the Huntington Beach Pier. In fact, if you've ever shopped at clothing brand Hollister you might recognise it - the live stream of a beach on their store walls came directly from the city of Huntingdon Beach.
Newport Beach - Another Southern California coastal city, Newport Beach is known for its huge boat-filled harbor. Newport Beach Pier and Balboa Pier are sites of attraction.
Laguna Beach - This (also) coastal city in Orange County is known for its beaches and coves. Main Beach has tide pools and a boardwalk leading to nearby Heisler Park. Laguna Beach is a popular surf spot, too.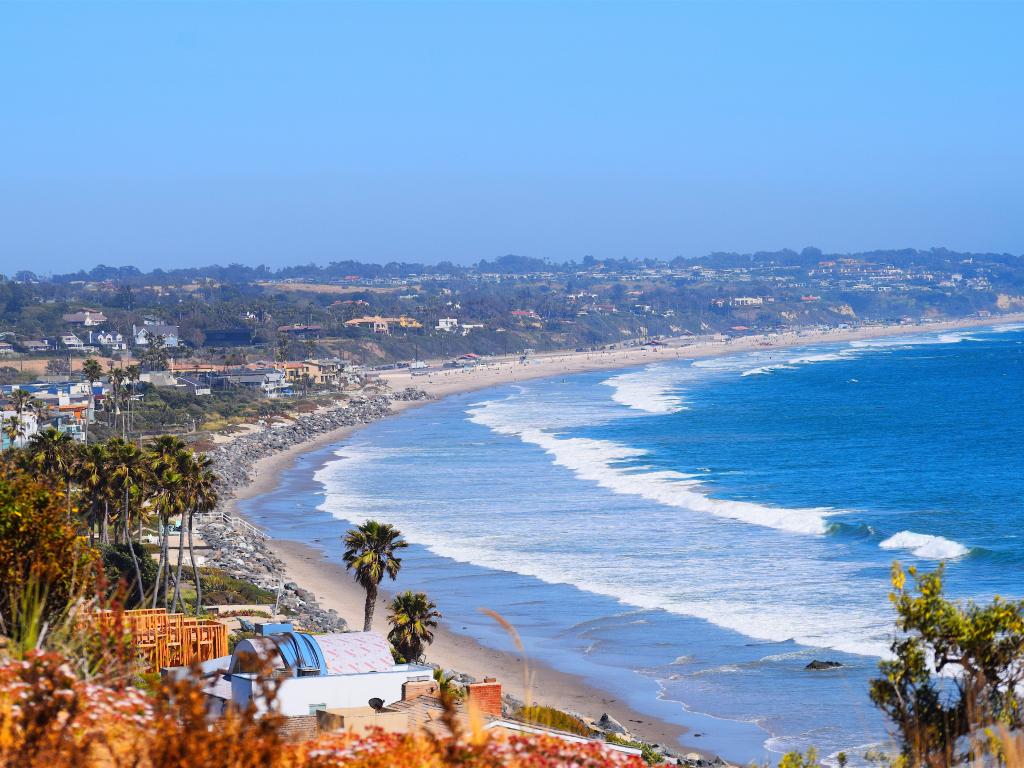 Best time to go on a road trip from San Jose to San Diego
This is a trip that you can take all year round but depending on the time of year you travel you should expect a different experience on these two routes.
In the winter, average temperatures in San Diego sit in the mid-60 degrees Fahrenheit, although they can reach the low 70 degrees Fahrenheit. This isn't the time to travel if you want to enjoy the beaches at their best - the water will be cold and the beaches are windy.
Entry routes into Yosemite are also limited during the winter, and some roads may be closed for snow, so check for local information before setting out on your trip.
Conversely, it's likely that the National Parks and some of the cities on the route will be crowded during the warm summer months, especially San Diego and Yosemite, where the temperatures soar to 80 degrees Fahrenheit during the summer months.
If you're taking the Inland Route, you also need to be aware that you're entering one of the hottest places on earth when you drive across the fascinating Death Valley, so make sure to pack enough water to last you.
As with many destinations in North America, late spring and early fall can be excellent times to make this trip. The temperatures are starting to rise so you can enjoy the beaches and the National Parks comfortably, and often without the crowds that visit during the summer peak.