Best Overnight Stops on the Pacific Coast Highway
California's Highway 1, also known as the Pacific Coast Highway, seems to be a road made for road trips. From jagged cliffs plunging dramatically into the roiling ocean on the Mendocino coast to tranquil stretches of warm sand in Orange County, few coastal trips offer up this much contrast without crossing state borders.
The Pacific Coast Highway is 700 miles long, so we highly recommend you break the trip up stay overnight at a few cities in between. Our top picks for a scenic stopover include San Francisco, Monterey, Pismo Beach, Santa Barbara, and Huntington Beach.
Here we offer our top picks for where to stop along the Pacific Coast Highway, including hotels with sweeping ocean views, a sweet spot in the city, and a hotel that celebrates the high life up in the hills.
Our top picks for where to stay along the Pacific Coast Highway
The entire Pacific Coast Highway stretches all the way to Washington, but here we've focused on a 700-mile stretch from Fort Bragg to Dana Point which still includes a staggering amount of climatic variety.
We don't want to impose any limits on your trip, so here you can see how far each stop is from both Fort Bragg and Dana Point in case you want to start in either location.
Where to stay along the Pacific Coast Highway
On a trip that channels Neptune, where the Pacific Ocean is your constant companion, it makes sense to treat your inner divinity. We have picked out the places that bring out the best of their respective environments and which can accommodate any budget.
It would take around 16 hours to drive the 700 miles from Fort Bragg to Dana Point, but we don't recommend rushing this one. Split over two days it is manageable, but ideally, you'd carve out three or more days so that each day of driving can be balanced by time spent in the ocean and along trails.
There are cities and communities of all sizes along the Pacific Coast Highway and we've tried to include a mix of destinations that will give you the space to breathe and cultural stimulation.
Of course, nothing beats life by the sea, so almost all of the hotels we're recommending are on or near the ocean to maximize the star feature of this gorgeous coastal drive.
Whether you want to make a weekend trip or tag on a few days to make it a truly memorable adventure, we have itineraries laid out that break up the driving into manageable sections. Read on below to get inspired and start planning your Pacific Coast trip today. And for a more in-depth look at driving the Pacific Coast Highway over seven days, check out our full road trip guide.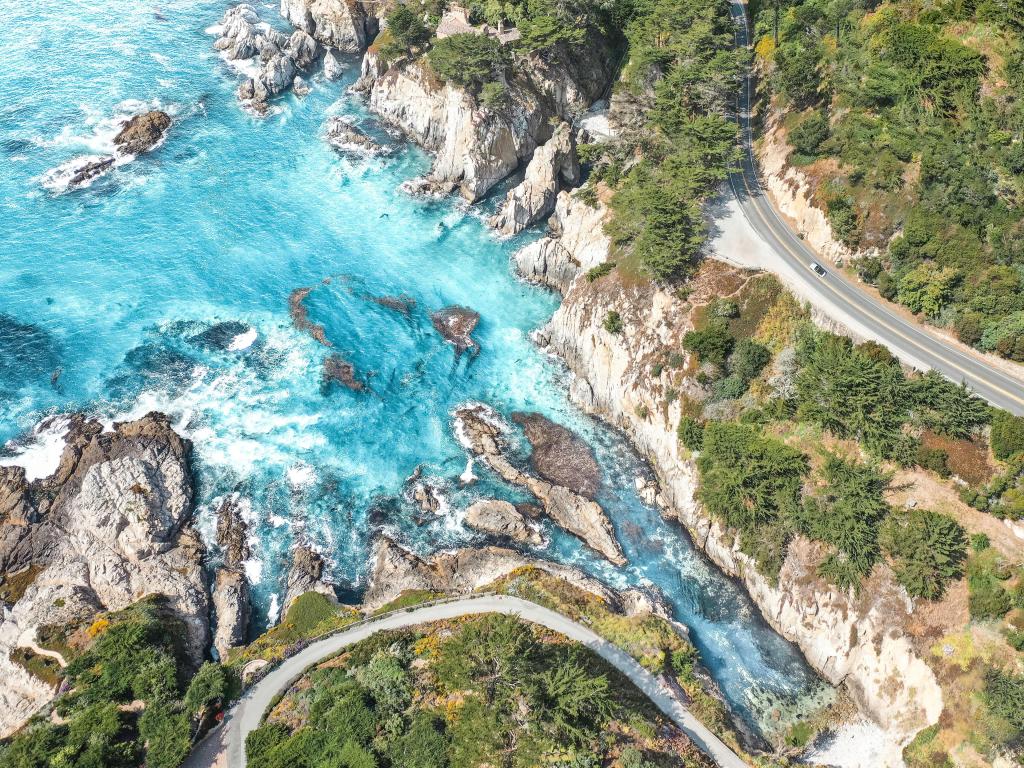 READ MORE - Pacific Coast Highway 7-Day Itinerary
1. The best ocean views on the Pacific Coast Highway: Timber Cove
Time from Fort Bragg: 2 hours (80 miles)
Just two hours south of Fort Bragg you'll pass tiny Timber Cove. This location offers the best of Northern California's rugged coastal environment.
Timber Cove is a remote micro-community surrounded by state and regional parks that will pique the interest of any and all nature lovers.
Besides taking in the stunning views of the serene Pacific Ocean, you can go kayaking in Stillwater Cove, Hike the Salt Point Trail, and admire the vast biodiversity and colorful blossoms at Kruse Rhododendron State Natural Reserve.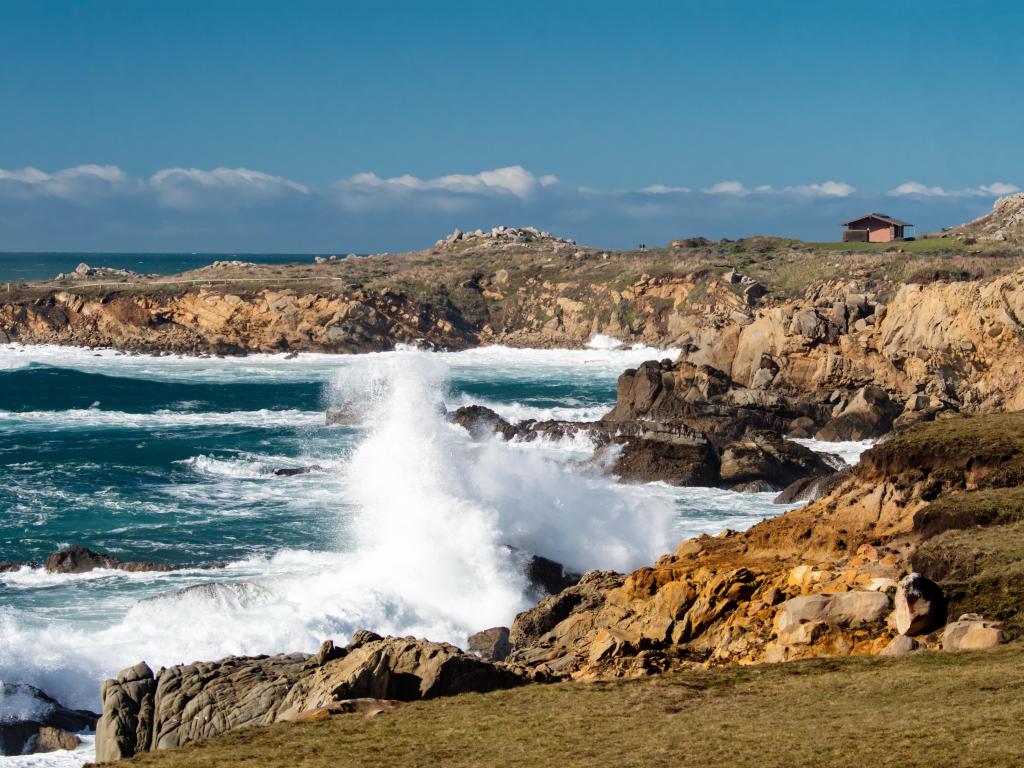 We immediately felt at ease at Timber Cove Resort. Its secluded location boasts stunning views of the dramatic Sonoma coast and surrounding forests. Timber, slate, and other natural building materials feature prominently in the well-thought-out creative design of the property.
This is a place where you can truly leave the world and its worries behind and indulge in the splendor of the coastal environment, without sacrificing creature comforts.
Located just off the Pacific Coast Highway, this resort occupies its own point jutting into the Pacific Ocean offering panoramic vistas. A few miles to the north you'll be able to hike the verdant trails of Stillwater Cove and Salt Point State Park.
Just 15 miles to the south, you'll find the outlet of the Russian River and plenty of beaches to explore.
2. The best value stopover on the Pacific Coast Highway: Santa Cruz
Time from Fort Bragg: 6 hours 30 minutes (250 miles)
Santa Cruz is positioned just after the one-third mark of this trip and it's a great option for a quicker trip where the budget is tight. You could still break the trip up over two days with a stop here.
Santa Cruz is the birthplace of mainland surfing, and the culture still reflects a lifestyle that appreciates the kind of happiness money can't buy. With its misty coastal climate, great surfing breaks, and several nearby redwood groves, it is easy to see why people here spend so much time outdoors.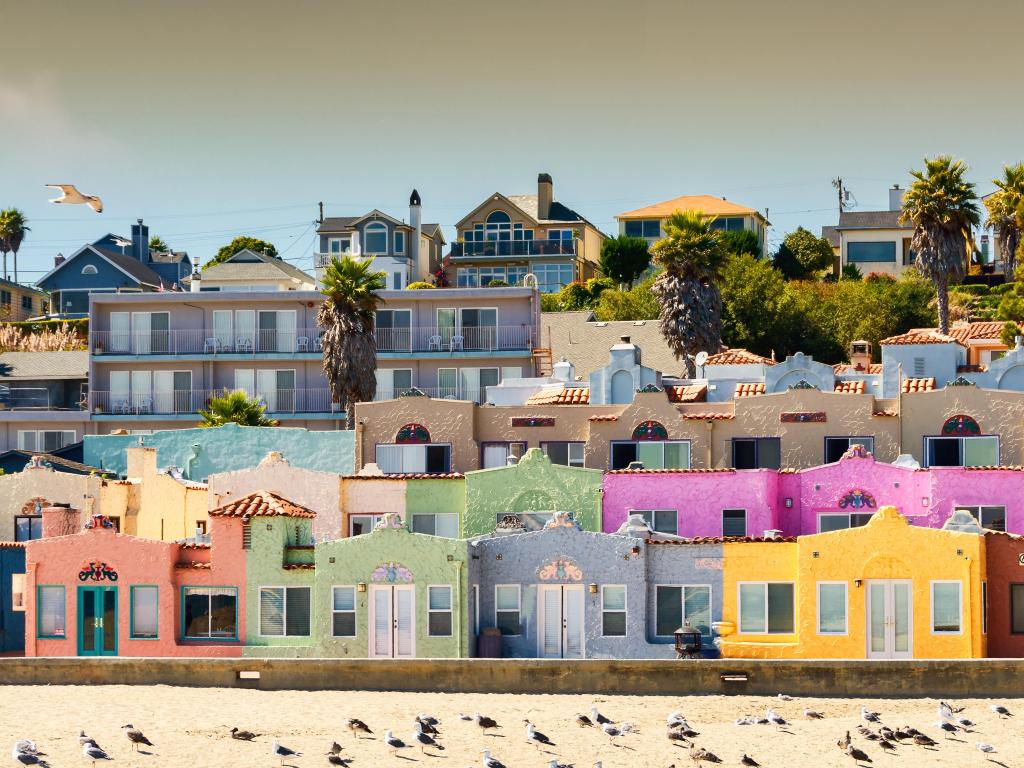 In addition to Steamer Lane and the surfing museum housed in a lighthouse, there's the ever-entertaining Santa Cruz Beach Boardwalk, one of California's oldest amusement parks, and a lively downtown area along Pacific Ave with dining options for every budget.
For a budget stay that is also convenient, we suggest the Hilton Santa Cruz Scotts Valley. As the name suggests, this property is located in the beautifully forested Scotts Valley, five miles inland from the Pacific Coast Highway along Highway 17.
This clean and comfortable hotel is a deal for all of its amenities, including a pool, and verdant views overlooking hills covered with conifers. You'll hardly feel like you've sacrificed any comfort by opting for this wallet-friendly lodging option.
It is an easy drive back to Santa Cruz and the Pacific Coast Highway. The main Santa Cruz attractions like Steamers Lane are a 15-minute drive away and Scott's Valley itself boasts some amazingly pretty trails in Henry Cowell Redwoods State Park.
3. The best romantic place on the Pacific Coast Highway: Carmel-by-the-Sea
Time from Fort Bragg: 7 hours 30 minutes (300 miles)
This upscale seaside town puts the finer things in life at your fingertips and lies close to halfway along the route.
The name of Carmel-by-the-Sea says it all: this is a charming place to escape to and spend some time together by the sea.
Many people enjoy the "European feel" of the architecture in and around Carmel-by-the-Sea. Boutique shops and fancy restaurants line Ocean Avenue, along with a fair share of tasting rooms showcasing the area's developing wine industry.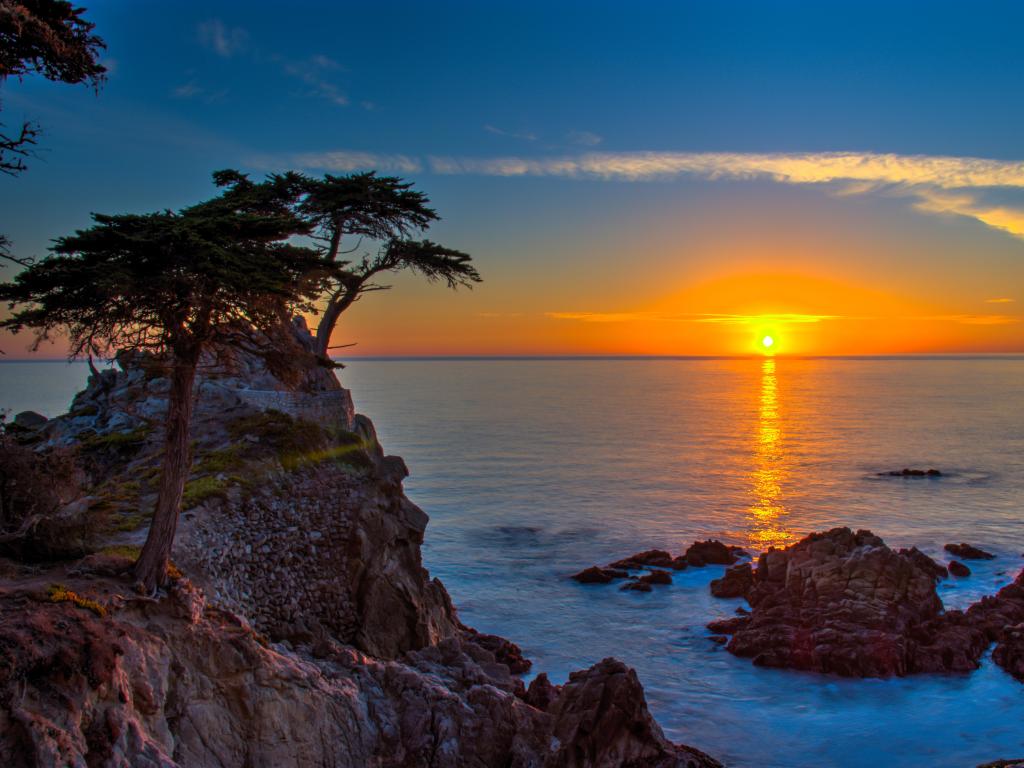 The downtown area is situated next to a picturesque beach where weather-worn cypress trees frame the view of rocks and waves. Nearby Pebble Beach is world-famous for its golf courses and the 17-Mile-Drive.
La Playa Carmel seems like it was built exclusively for romantic getaways and the property is simply exquisite. From the minute attention to detail and carefully appointed rooms to the gorgeous gardens, the whole ambience will make you smile that you have someone to share it with. To dial up the romance, consider splurging on a room with an ocean view.
"La playa" means "beach" in Spanish and this property is indeed situated a short walk from the shores of Carmel Beach. A romantic walk hand in hand along the sand couldn't be easier.
If you want to take full advantage of the tasting rooms in town, you also won't need to worry about driving as Ocean Avenue is also within walking distance.
4. The best luxury stopover on the Pacific Coast Highway: Malibu
Time from Fort Bragg: 14 hours (610 miles)
The luxurious enclave of Malibu is situated about 100 miles north of Dana Point, just before you reach the major population center of Santa Monica and west Los Angeles.
With mansions belonging to the likes of Oprah nestled in hills, gently pressed against the ocean, the very ambience of this exclusive seaside community is a big tell that you've come to the right place for luxury accommodation.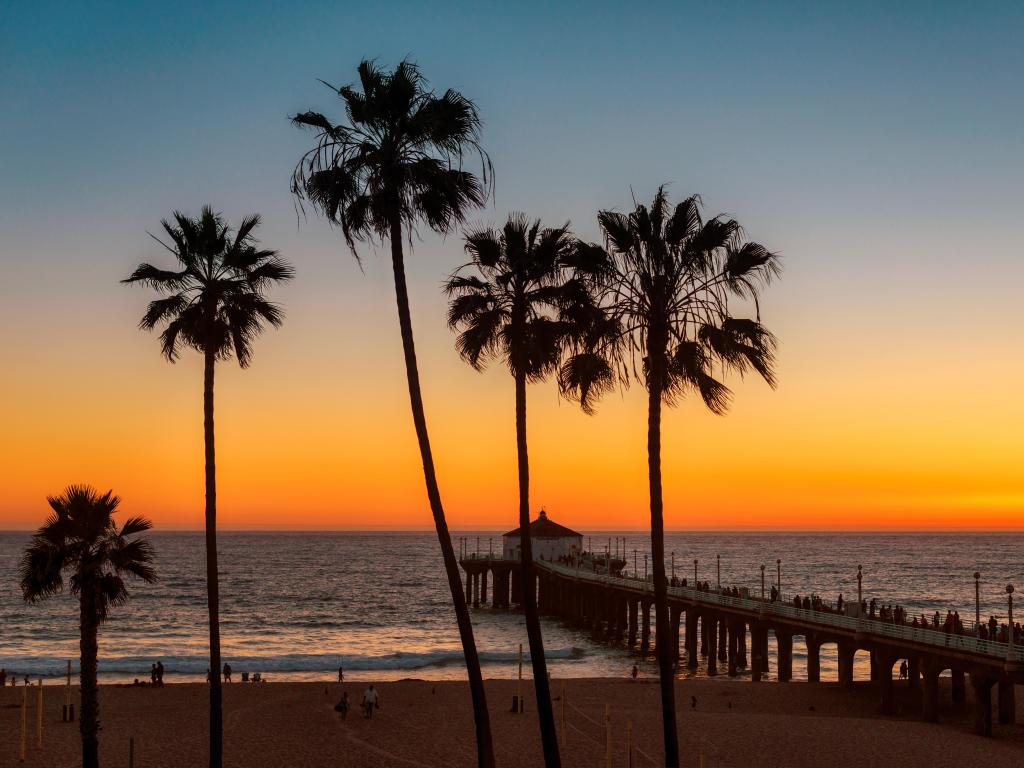 A stand-out five-star hotel is the Calamigos Guest Ranch and Beach Club set a few miles back in the hills to the east of the Pacific Coast Highway.
This boutique hotel combines the aesthetic of a California ranch, surrounded by oak trees, with refined finishes, a world-class spa, and a staff that goes above and beyond to make your stay exceptional.
You'll feel like you've entered your dream home in some of their free-standing bungalows and every last worry you've ever had will melt away as you swim in their wonderfully landscaped pool.
In addition to plenty of unique on-site activities, the private beach and clubhouse is only a ten-minute drive through a gorgeous canyon road.
This hotel is an 8-mile drive inland from the Pacific Coast Highway. Still, the route is straightforward and the set-back location in the hills makes this hotel even more peaceful and enchanting.
5. Our favorite city break hotel on the Pacific Coast Highway: Los Angeles
Time from Fort Bragg: 14 hours 20 minutes (640 miles)
Los Angeles is located to the north of Dana Point, about a three-hour drive from your destination on the Pacific Coast Highway. Glitzy LA is one of the major cities you will pass and with its urban vibe and plethora of attractions, it makes the perfect stopover for a city break.
You might not be visiting Los Angeles in search of fame and riches yourself, but you can follow in the footsteps of those who did. Known for its connections to the film industry, LA is famously home to Hollywood as well as its stars.
Visit the Walk of Fame and head to the Hollywood Museum if you'd like to learn more about the history of this colorful city and the film industry. If you would rather catch a glimpse of your favorite actor, you can take a tour and see their houses up-close (from a respectful distance!).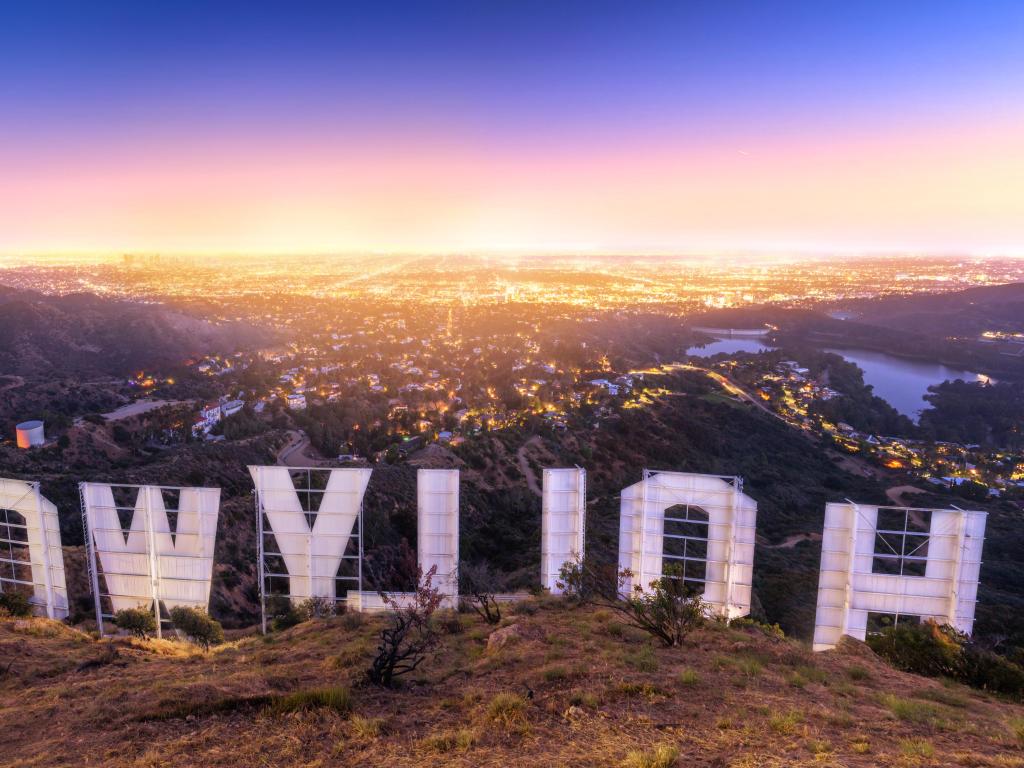 Head to Rodeo Drive to get your fix of retail therapy. This road is street is located in the glamorous Beverly Hills and is dotted with designer stores and fabulous restaurants nearby.
If you want to get away from the hustle and bustle of city life for a second, Los Angeles is also known for the gorgeous beaches in its vicinity. Head to Venice Beach and take in the artistic vibes of this area and experience the bohemian lifestyle the beach is so famous for.
If you'd like to stay at a hotel that matches the dynamic soul of LA, look no further than the vibrant CitizenM Los Angeles Downtown in the heart of the city. LA hotel prices can be notoriously steep, and you will be happy to hear that this fantastic 4-star hotel is very competitively priced.
Featuring a bar and a restaurant, it is the perfect place to unwind after an exhilarating day spent exploring the city. However, if you still feel energetic, you will find the Staples Center and LA Union Station a stone's throw away.
As well as being home to so many iconic attractions itself, Los Angeles is also the perfect place to use as a base to visit Disneyland in Anaheim. This way you will get the best of both worlds; a fantastic city break in one of the world's most and the opportunity to make day trips to the world's most famous theme parks!
6. The best beach stopover on the Pacific Coast Highway: Huntington Beach
Time from Fort Bragg: 14 hours 30 minutes (670 miles)
Just over half an hour north of Dana Point you'll come to sunny Huntington Beach. It's slightly more happening than some of the quieter places along the coast, but not as overwhelming as the rest of L.A.
This is a typical southern California surf town with long, sandy beaches and a culture that knows how to go with the flow.
In addition to the warm beaches and some of the world's best fish tacos, there's an International Surfing Museum in the easily walkable downtown that proudly displays memorabilia of the area's favorite sport.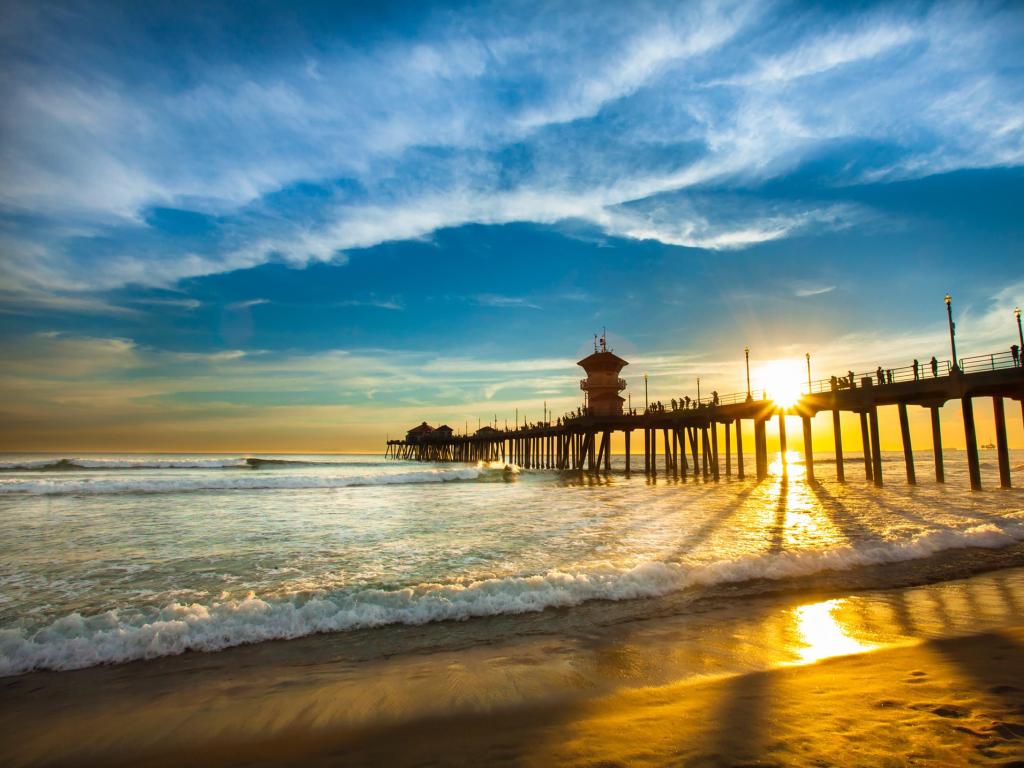 From the Pier at Huntington Beach, you can catch a glimpse of people trying to catch the perfect wave, or you could rent a board and try for yourself. Down by the beach, you'll find a biking trail as well as some designated fire pits where you can have a memorable evening by the ocean.
The Kimpton Shorebreak Huntington Beach Resort is an excellent option to combine time in a more happening locale with sweeping beach views.
This modern hotel exudes the fresh and cool vibes that Southern California is famous for. They have a 24-hour front desk in case extra stops lead to a late check-in and a beautiful patio at their Pacific Hideaway restaurant where you can unwind with a creative cocktail.
This hotel couldn't be any closer to the high-spirited nightlife of Huntington Beach in case you want to enjoy a memorable date night in the middle of your trip.
In addition, plenty of on-site activities like a gym, beach access, and the Huntington pier at your doorstep, there's luxury shopping, a bike path, and delectable places to eat all within a few blocks.
Once you get here, you'll hardly have a need for your car until it's time to hit the road and journey to your next destination.
7. Where to stay at your destination: Dana Point
Time from Fort Bragg: 16 hours (700 miles)
Once you reach Dana Point, we recommend staying at the Blue Lantern Inn. With many rooms and common areas looking out over the ocean and a large marina, this hotel makes the most of its fabulous location. Nothing beats a delicious breakfast taken in with a fresh sea breeze.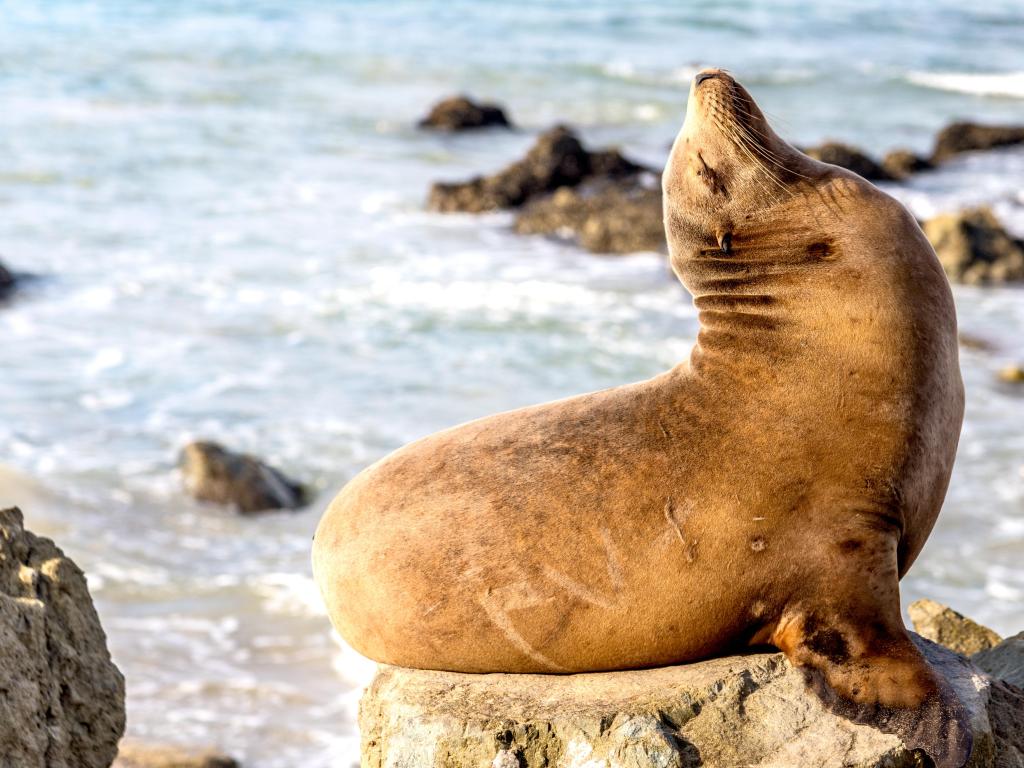 Nearby you can get your steps in along the trails of the Dana Point Headlands Conservation Area or see how the surf is at Dana Strand Beach. This is one of California's top dolphin and whale-watching locations, so consider taking a charter boat from the marina to see these majestic creatures up close.
A great day trip from here is to the historic and gorgeous Mission of San Juan Capistrano, a few miles inland.
8. Where to stay if your destination is Fort Bragg
North Cliff Hotel is right along the ocean and within walking distance of the downtown stretch of Fort Bragg and the famous glass beach. Someone here is a visionary, as they have equipped some deluxe rooms with spa tubs right next to bay windows looking out over the azure ocean below.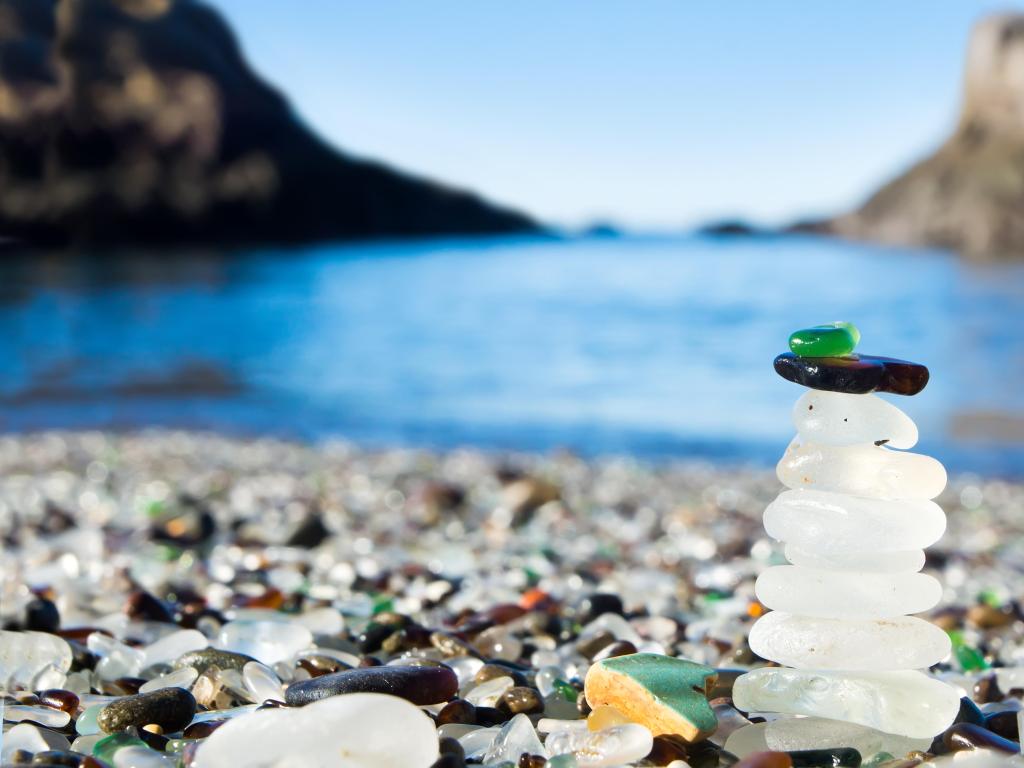 One of the best coastal trails at Noyo Headlands Park is just a short walk from this hotel, which is really convenient for morning or afternoon walks in between various indulgences. From Fort Bragg it's a short drive to state and regional parks with lengthy forest trails and attractions, like the drive-through tree in Leggett.
As you can see there's no shortage of amazing places to spend a night or two as you cruise the curves of the Pacific Coast Highway. No matter which places you choose, you're sure to meet your quota for relaxing by the beach and recharging your inner chill.
9. Where to stay on a 3-day road trip on the Pacific Coast Highway (2 stops)
If you find yourself with a glorious long weekend, we suggest stopping in these two very different, but equally entertaining places to get the full sense of what the Californian coast is all about.
Stop 1: San Francisco
Time from Fort Bragg: 4 hours and 45 minutes (180 miles)
San Francisco sits about a third of the way through the entire journey. Most of this trip is through rural and dramatic coastal landscapes.
San Francisco provides a vibrant urban contrast. Even though it is a city, there are places like Sutro Baths and the Presidio which highlight the city's coastal setting.
San Francisco has stolen many hearts and once you see this hilly city in the fog you'll understand why. Combining immense architectural and cultural diversity with thoughtful parks and panoramic views, it is one of America's most unique cities.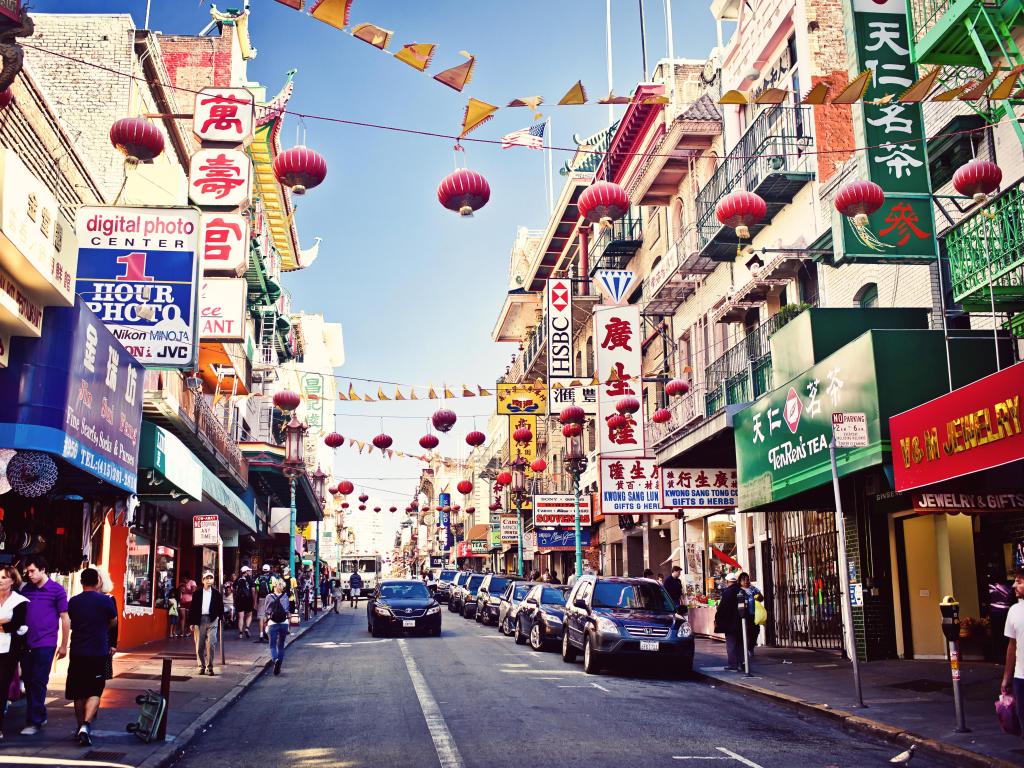 Whether you want to feel the urban buzz of Union Square, China Town, and the Mission District, or wander the expansive and verdant Golden Gate Park, San Francisco has a locale for every mood.
From the Marina and Ghirardelli Square, just next to Fisherman's Wharf, you'll catch breathtaking views of the Golden Gate Bridge and in the surrounding neighborhoods restaurants outdo each other in offering fresh and innovative menus.
We simply adore the Mansion on Sutter. San Francisco being famous for its variously colored Victorian homes, it feels extra special to stay in one while you're here.
After settling in, many of San Francisco's major attractions like Union Square and the less well-known but incredibly fun Japantown are just a few blocks away. Most importantly, you are assured to get a great night's rest on their incredibly comfy beds.
Centrally located in San Francisco, the Mansion on Sutter is a straight drive along Sutter Street from the highway, making it a relatively easy hotel to reach. As you head back towards the Pacific Coast Highway in the morning, you'll be headed in the opposite direction of most commuting traffic.
Stop 2: Pismo Beach
Time from Fort Bragg: 10 hours and 15 minutes (450 miles)
After you complete the second third of the entire journey you'll come across Pismo Beach.
This relaxing beach town on the central coast is warmer than its northern counterparts, but not as crowded as similar beaches in Southern California.
Once the "Clam Capital of the World" this beach town now specializes in leisurely weekends with its panoramic ocean views and fine selection of local restaurants.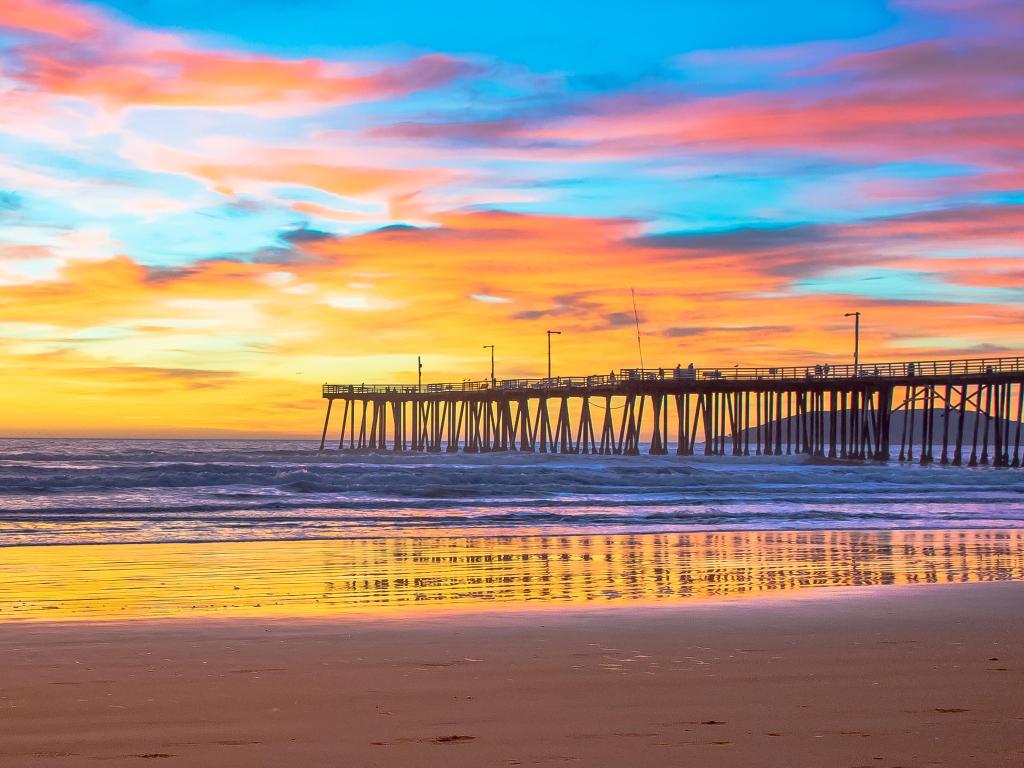 Pismo Beach is close to San Luis Obispo and several Central Coast wineries. After a day of swimming in the ocean and climbing over sand dunes, in town you can visit tasting rooms like Sans Liege Wines to kick back after an active day.
SeaCrest Oceanfront Hotel makes the best of its beachfront location, you can relax from all that driving in one of their three hot tubs with views out over the ocean. Alternatively, you could walk along the beach to the pier nearby and pick up some fresh fish to grill in their open use barbeque area. Pair it with one of the local wines or beers available for delivery by the staff, so you won't have to make any extra errands.
10. Where to stay on a long weekender trip on the Pacific Coast Highway (3 stops)
If you have a few extra days to indulge your inner beach bum along the Pacific Coast, then we have another set of stops that evenly space out the driving and expose you to even more costal variety.
Stop 1: Bodega Bay
Time from Fort Bragg: 2 hours 40 minutes (110 miles)
Just under three hours from Fort Bragg, Bodega Bay is an adorable fishing village with historic buildings and towering hills.
Bodega Bay made its claim to fame by being the filming location for the classic horror film "The Birds." Ironically, this is one of the most pleasant towns on the north coast and a far cry from the hair-raising scenes depicted in Hitchcock's movie.
Here your taste buds can delight in the felicitous pairing of a stellar wine region and some of the freshest seafood you'll ever eat. In the winter, Bodega Bay is a popular whale-watching spot and any time of the year we highly recommend getting out on the water in a kayak to explore the coast from another angle.
We are enamored with The Lodge at Bodega Bay. Prepare to be pampered upon arrival at this ideally located hotel and resort. Perched atop a hill overlooking the bay, there's a spa on site to help relax you into full vacation mode. In the evenings, nothing beats warming up in a hot tub or by the fire pits with the sound of the ocean in the distance.
This hotel is just a few hundred yards from the highway, so coming and going is a breeze. Coastal trails are also right at the edge of this property, so there's little excuse not to indulge in a morning walk by the ocean before you start the next day's drive.
Stop 2: Monterey
Time from Fort Bragg: 7 hours 10 minutes (290 miles)
Monterey falls a little shy of the halfway point and boasts another beautiful bay that has a surprisingly different feel from Bodega Bay.
Made famous by works like "Cannery Row" of the great American author John Steinbeck, Monterey was initially built up due to the ample fisheries and proximity to the fertile Salinas Valley.
The natural abundance and beauty of Monterey quickly turned it into a popular weekend spot with romantic vistas and ample fine dining options. It is also home to a world-class aquarium where you can see the mysterious creatures of the deep as well as the area's unofficial mascot, the adorable sea otter.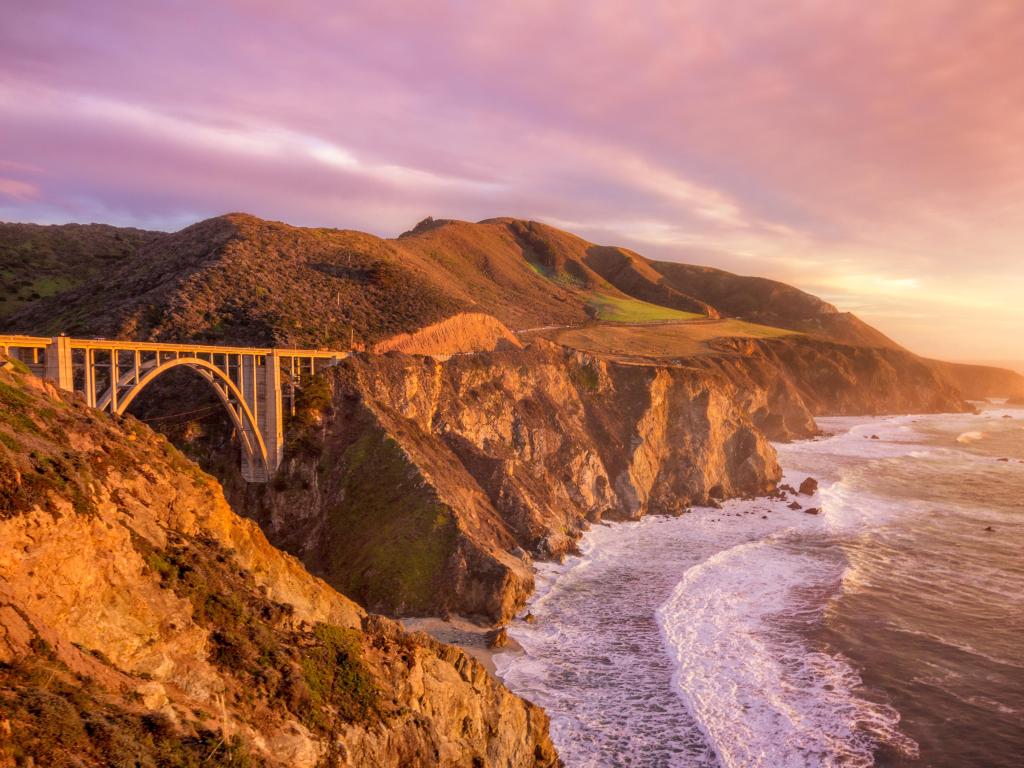 In our opinion, nowhere holds a candle to the Seven Gables Inn on Monterey Bay. This comfortable and well-maintained property feels like a dream home by the sea.
Here many of Monterey's top attractions and view point are within walking distance along the Monterey Bay Coastal Trail, which passes conveniently in front of the inn. The views from the rooms are incredible, so we understand if you decide to spend the night in and enjoy some of the wine and cheese they have on offer.
This is the one leg of the journey where the best coastal road isn't Highway 1. The hotel is on Ocean View Blvd, less than two miles from the highway. As you leave the hotel in the morning, follow Ocean View Blvd as it becomes the 17-Mile-Drive, then join back up with the Pacific Coast Highway in Carmel-by-the-Sea.
Stop 3: Santa Barbara
Time from Fort Bragg: 12 hours 20 minutes (540 miles)
Santa Barbara is located in southern California and is about 5 hours from Dana Point. This gorgeous city is the perfect blend of the central coast and SoCal vibes. Famous for its eternally pleasant climate and colorful blossoms about town, Santa Barbara is also known as "The American Riviera."
In addition to the pervasive influence of the Spanish Colonial style of architecture, drawing from the 18th century mission downtown, Santa Barbara is made all the more beautiful by the surrounding Santa Ynez hills.
There's a wide selection of restaurants and bars in town and along the beach, many featuring patios where you can take in the exceptional sunsets here. We also found cycling around the dedicated bike paths a great way to switch gears from hours sitting in the car.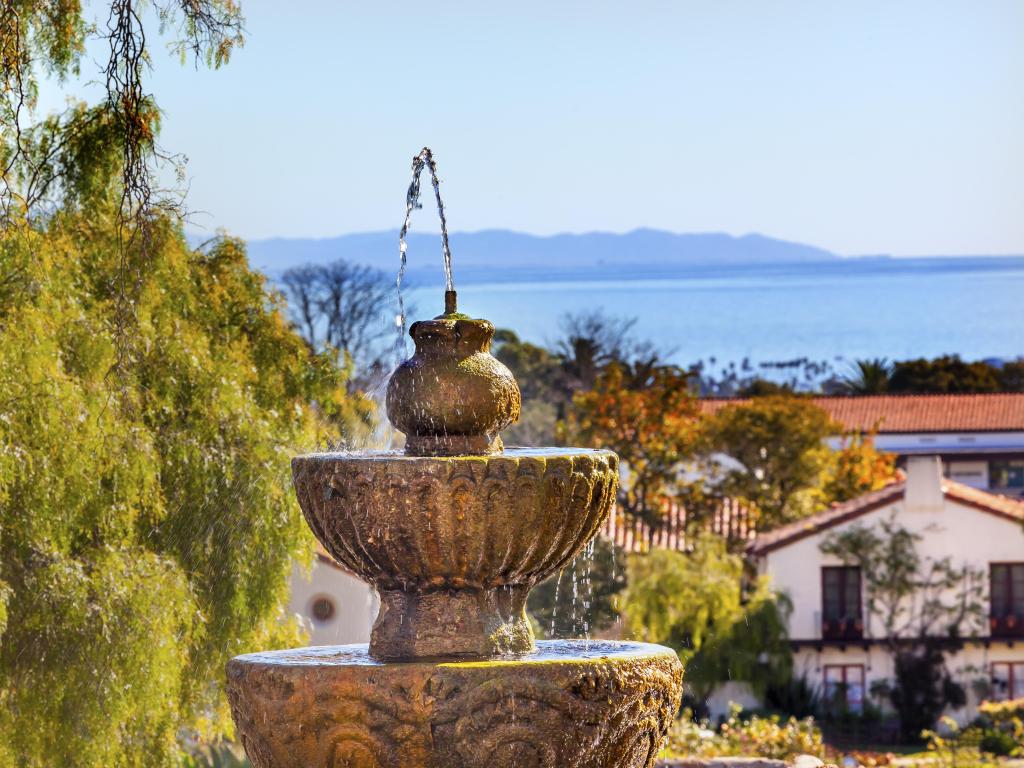 That's one of the reasons we're recommending Haley Hotel: they have cruiser bikes on site that are free for the first two hours. After unwinding on two wheels, the ocean and historic Stearns Wharf are just a few blocks away, as are a plethora of dining options.
This is also a very social property with common fire pits where you can meet fellow travelers and get even more tips on what else to see on the rest of your trip.
This location is also ideal for the proximity to the Pacific Coast Highway in addition to the town and beach. Getting on your way in the morning will be nice and smooth, which will mean you'll have some patience in your reservoir in case you hit any traffic near Los Angeles.