Pacific Coast Highway Itinerary: 7 Days Driving California's Greatest Road
Have your shades ready and a great playlist to capture the alternating exhilaration and Zen-like chill of California's most famous road, the Pacific Coast Highway. The star of this trip and your near constant companion is the majestic Pacific Ocean itself, stretching out to the horizon, as you hug curve after curve of this winding road between Fort Bragg and Dana point.
This 7-day, 700-mile road trip on the Pacific Coast Highway passes breathtaking beaches, quirky surf towns, vast forests, hilly vineyards, and cultural hot spots along the way. It is simply California at its best.
It might seem like a short route for a 7-day trip, but as you'll see below in our day-by-day route plan, this journey simply has too much road trip gold to offer the adventurous spirit.
Your 7-day road trip on the Pacific Coast Highway: the best day-by-day itinerary
What is the best 7-day road trip on the Pacific Coast Highway?
The best 7-day road trip along the Pacific Coast Highway takes you from the misty redwood forests of the northern California coast to the sun-soaked shores of Los Angeles with a chance to sample everything in between.
Driving the 700 miles from Fort Bragg to Dana Point in one go would take about 16 hours, but we've broken this epically scenic trip into smaller stretches of driving so that you can make the most of each day. The average daily route we've laid out only takes 2 hours and 25 minutes to drive.
You will be amazed at the sheer variety of climates and landscapes you'll experience on this trip along the Pacific. In addition to the unparalleled splendor of coastal vistas and hills covered with chaparral, this trip offers the chance to explore some of California's most vibrant urban centers like San Francisco and Santa Monica.
Get ready to experience a legendary trip along the Golden State's curvaceous coast and read below to discover the best places to stay in between.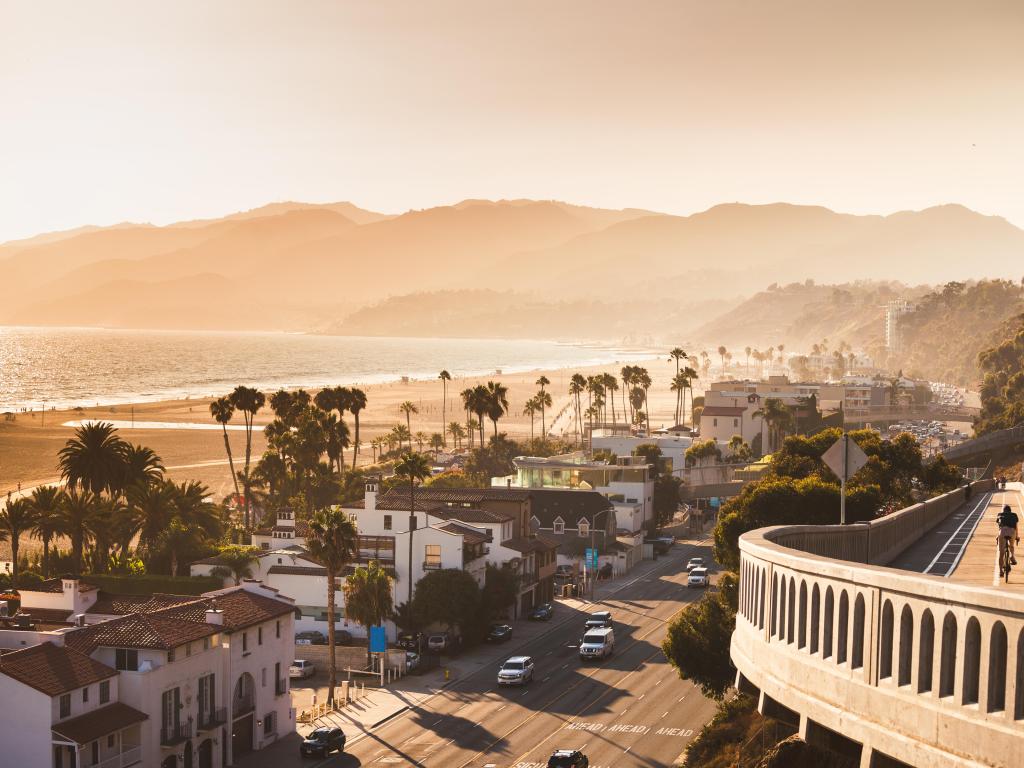 Day 1: Driving from Fort Bragg to Bodega Bay
Your first day of driving from Fort Bragg to Bodega Bay takes you south along the Mendocino coast for 110 miles, which should take around 2 hours and 50 minutes to drive at a leisurely pace.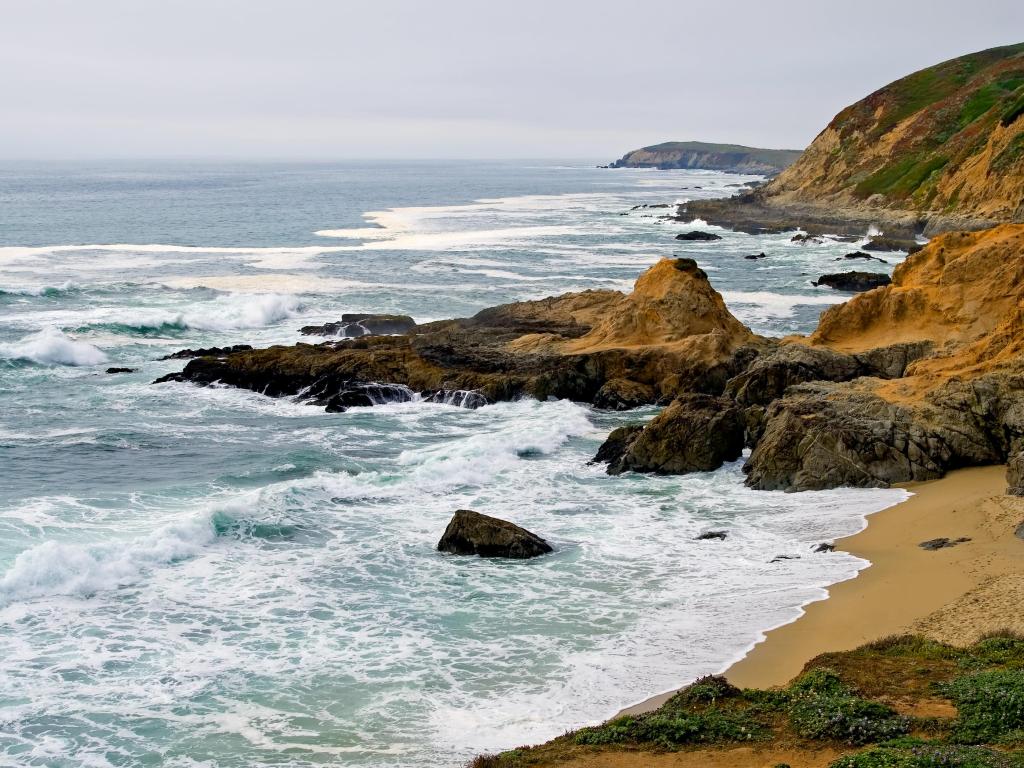 Road trip route from Fort Bragg to Bodega Bay
Driving this whole route couldn't be more straightforward, as it is all on one road. From Fort Bragg hop on the scenic Pacific Coast Highway and keep driving south.
Just 10 miles into your journey, you'll pass Mendocino, a rustic oceanside town where you can stop to explore or grab a delicious and fresh bite to eat. There are also picturesque lighthouses on your way to Bodega Bay, like the one at Point Cabrillo, and tranquil stretches where the river meets the ocean, like Gualala.
Things to explore on the way to Bodega Bay
Adorable doesn't begin to describe the small town of Mendocino. Situated between the vast forests of the interior and rocky bluffs weathered by waves, this town is full of beautifully crafted wooden homes that feel like they've been transplanted from the east coast.
While you're here, you can wander the highland trails, visit a few art galleries, go wine tasting, or enjoy a scenic lunch.
About 50 miles south of Mendocino, the 7.5-mile Gualala Point Regional Trail follows the sweeping curves of the Gualala River, through mixed forests, to dramatic cliffs and beaches along the Pacific Ocean.
If you're lucky on a winter visit, you might even be able to spot a whale. This is one of the most breathtaking trails in all of northern California.
Where to stay in Bodega Bay: Sonoma's Coast at its finest
Even though Bodega Bay is famous for being the filming location of Alfred Hitchcock's anxiety-provoking film "The Birds", a night here couldn't be more pleasant and relaxing.
Once a small fishing enclave, Bodega Bay has maintained the charms of an unpretentious and beautiful community nestled in the seaside hills. Part of the Sonoma coast, there are also wineries and tasting rooms around where you can refine your palette with a refreshing view.
For a cozy stay in Bodega Bay, look no further than The Lodge at Bodega Bay. Sometimes this property feels like a piece of Tahoe on the coast, with warm wooden interiors in the common spaces and fire pits in a spacious patio.
It has an on-site spa, comfy beds, and free parking; few places could be more convenient or inviting after a long day's drive.
In the morning you can go for a refreshing walk in Doran Regional Park right next door, then hop on the freeway to begin your second day's journey without a hitch.
Click here to skip back to the top.
Day 2: Driving from Bodega Bay to San Francisco
On this day there's slightly less driving and it should take you just over two hours to cover the 70 miles from Bodega Bay to San Francisco. That said, there is heavy traffic on the bridge in the mornings and in the evening between 4 am 6 pm so ty to avoid arriving in this time window if you can.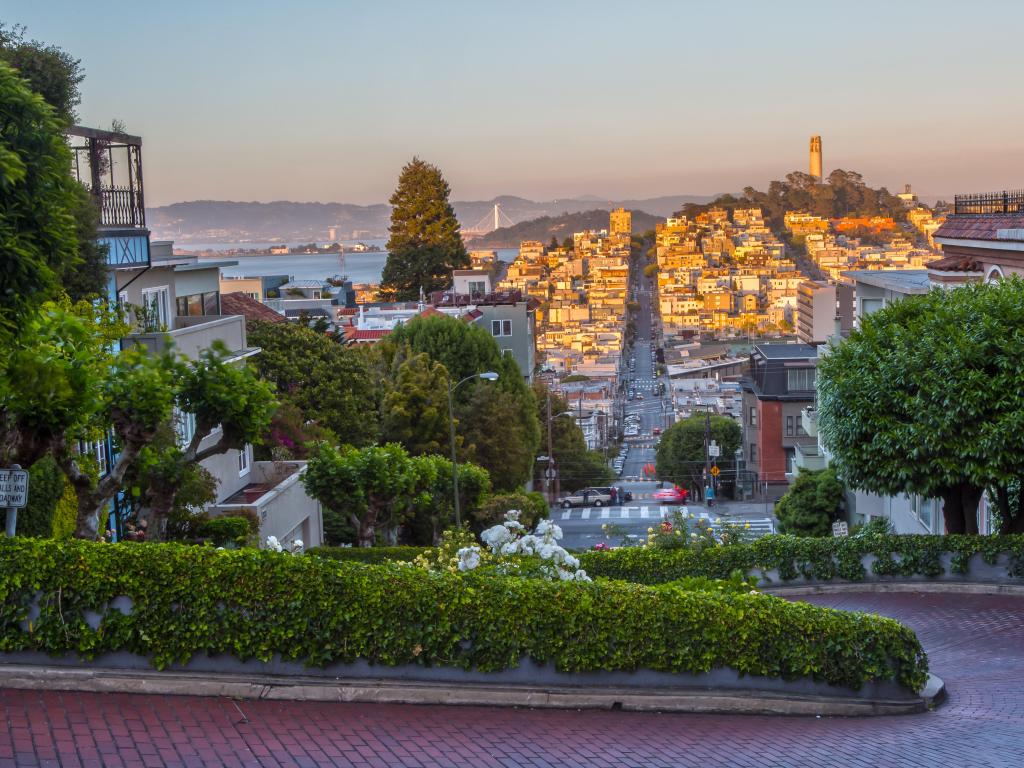 Road trip route from Bodega Bay to San Francisco
This route continues through towering trees and the rugged NorCal coastline. You'll also pass a few fun beach towns like Stinson Beach before the road briefly curves inland on its way towards the iconic Golden Gate Bridge which will take you into San Francisco.
Things to explore on the way to San Francisco
The Pacific Highway curves majestically over Muir Beach which is connected via a trail and 450-foot pedestrian bridge to the famous Muir Woods.
Given that the main parking lot at Muir Woods can be prohibitively crowded on the weekends, opting for Muir beach is a great way to see some of this area's signature redwoods without the stress. It's also a gorgeous cove in its own right and shouldn't be missed.
Situated within the sprawling Golden Gate National Recreation Area, you'll see a parking lot for Marin headlands and Golden Gate Viewpoint less than a mile before you get to the bridge on US Highway 101.
In addition to being a great place to savor the last bit of the typical northern Californian coast before you switch gears to the city, this is hands down the best place to get that epic photo of one of the most famous bridges in America.
Where to stay in San Francisco: Where culture, tech, and free spirits meet
The subject of countless ballads, occasionally enveloped in fog, San Francisco has so many different facets that it's a city worth repeat visits. Here you can wander waterfronts like Pier 39 along the bay and Ocean Beach at the edge of Golden Gate Park or delve into the full urban vibrancy of Union Square and the SoMa District.
We love the Japanese theme at Hotel Kabuki. This sleek and spacious hotel is located in the often-overlooked Japantown neighborhood.
Away from the crowd downtown and less than a mile from the Pacific Coast Highway along Post Street, this accessible hotel will save you the headache of navigating the circuitous streets of San Francisco after a peaceful drive along the coast.
If you can't get enough of ramen and sashimi, you're in the right place, but a multitude of other dining options and attractions like Union Square, China Town, and Golden Gate Park are also nearby.
Click here to skip back to the top.
Day 3: Driving from San Francisco to Monterey
This is another manageable day of driving that covers 120 miles and will take 2-3 hours depending on traffic. Getting out of San Francisco and over to the coast at Pacifica will be the most congested part of the journey.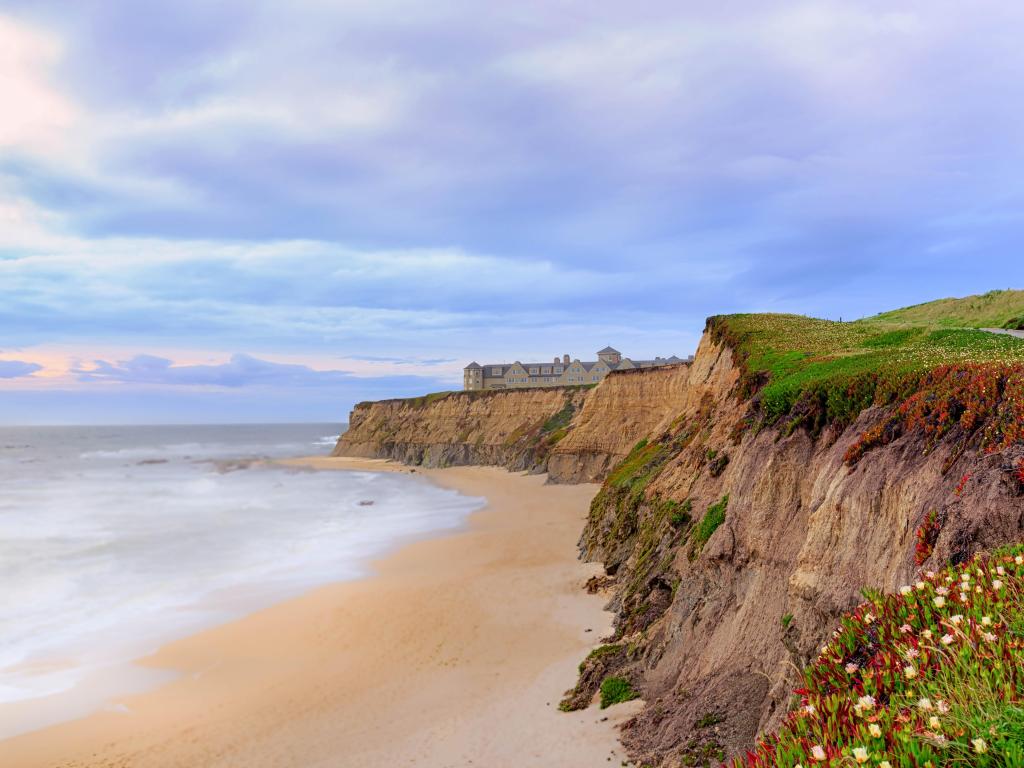 Road trip route from San Francisco to Monterey
Take service streets west to the Pacific Coast Highway then start driving south again. Just 15 miles into you're journey you'll pass through Pacifica and Half Moon Bay, both great places for a morning hike or coffee by the sea before you complete the bulk of the day's driving along the ocean.
The route heads inland for a few miles before joining the coast again in Moss Landing, about 20 miles from Monterey.
Things to explore on the way to Monterey
Just 15 miles South of Pescadero, keep your eyes peeled for Greyhound Rock. This secluded cove contains a beautiful sandy beach and jutting out from the ocean you can see its signature grey rock.
If you're making the trip during the spring or summer, stop by nearby Año Nuevo State Park to spot some elephant seals during their annual molt.
A little past the halfway point, you'll pass through the famous surf town of Santa Cruz, where you can tour a museum dedicated to the water sport at Steamer Lane.
If you have some more time to spend in Santa Cruz, feel like a kid again at the Santa Cruz Beach Boardwalk as you ride California's oldest roller coaster, the Giant Dipper. You can also get some fresh air on the trails and catch a last glimpse of coastal redwoods at Henry Cowell Redwoods State Park.
Where to stay in Monterey: land of the sea otters
A popular weekend retreat for people from the crowded San Francisco Bay Area, Monterey is a scenic Oceanside town that is filled with history and boasts one of the best aquariums on the West Coast. It is near the upscale Carmel-by-the-Sea and a notable wine-producing region, the Santa Lucia Highlands.
For incredible views that make the most of Monterey's coastal views, stay at the Seven Gables Inn on Monterey Bay. This well-maintained and homely property right on the water will instantly put you at ease.
Once you've settled in, reflect on a day of gorgeous coastal scenery while enjoying a glass of local Chardonnay as you take in the ocean views at sunset.
In the morning after a tasty complimentary breakfast, you can walk along the ocean to Lovers Point or tour the charming Pacific Grove neighborhood. The highway is less than a mile away, but we recommend taking the scenic 17-Mile-Drive to Carmel-by-the-Sea where you can hop back on the Pacific Coast Highway.
Click here to skip back to the top.
Day 4: Driving from Monterey to Pismo Beach
This is the longest day of driving, with the 3-hour and 20-minute route covering 150 miles of stunning coastal scenery; it might take a bit longer as epic views beacon you to stop and linger.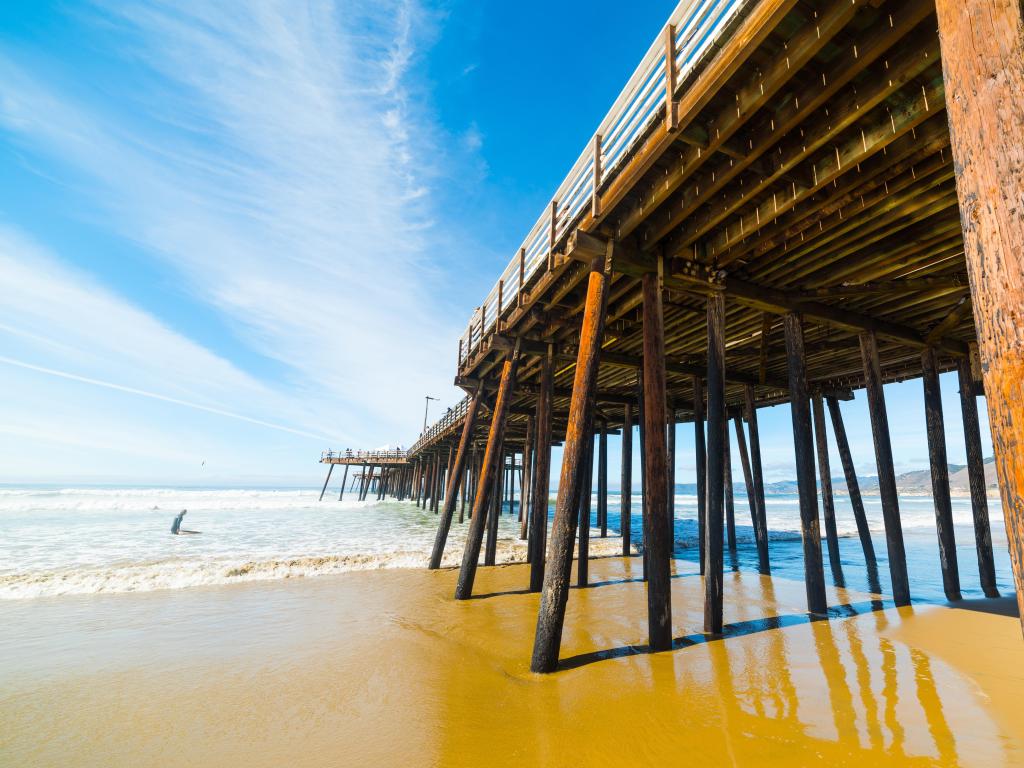 Road trip route from Monterey to Pismo Beach
This route consists of the most spectacular section of the Pacific Coast Highway through Big Sur, the jewel of the central Californian coast.
After passing countless state parks and trails on either side of the highway for 100 miles, you'll come to the cute town of Morro Bay with the towering Morro Rock staring back at you from the ocean. Walk by the calm marina, or head straight to Pismo Beach via San Luis Obispo.
Things to explore on the way to Pismo Beach
Be sure to leave time to take in Big Sur's extraordinary beauty at places like Pfeiffer Big Sur State Park. This is of the most popular state parks in the region and we can understand why. Here you can choose your own adventure and trek the coastal hills or head down to Pfeiffer Beach with its signature purple-hued sand and keyhole rock.
Much closer to Pismo Beach, San Luis Obispo is one of the larger towns on the central coast and even has a university, so the downtown area is relatively lively and filled with some great restaurants.
To squeeze in a bit of history on this trip, take a tour of the Mission at San Luis Obispo de Tolosa. Built in 1772, there's a museum on site and it is situated in a particularly scenic part of town along a burbling creek.
Where to stay in Pismo Beach: be happy as a clam
Pismo Beach is a coastal enclave of San Luis Obispo which was first established due to an abundance of clams in the long sandy beach. Its warm climate and easy-going ambience make it a popular destination for people thoroughly committed to relaxing by a beach without any pretensions.
We love how the Inn at the Cove makes the best of its location right on Pismo Beach. Several spacious and tastefully appointed rooms have ocean views and you can also see and hear the crashing waves from the fabulous pool area lined with palm trees.
Some restaurants in town are within walking distance, but a place like this is perfectly suited for a night in with a bottle of a Central Coast vintage of your choice, all enjoyed from your private balcony.
It is right between the Pacific Coast Highway and the ocean, so the hardest part about leaving in the morning will be saying goodbye to such an ocean-side heaven.
Click here to skip back to the top.
Day 5: Driving from Pismo Beach to Santa Barbara
Today's drive is comparably short at 100 miles, which can be covered in less than 2 hours, leaving you with plenty of time to explore this next coastal city.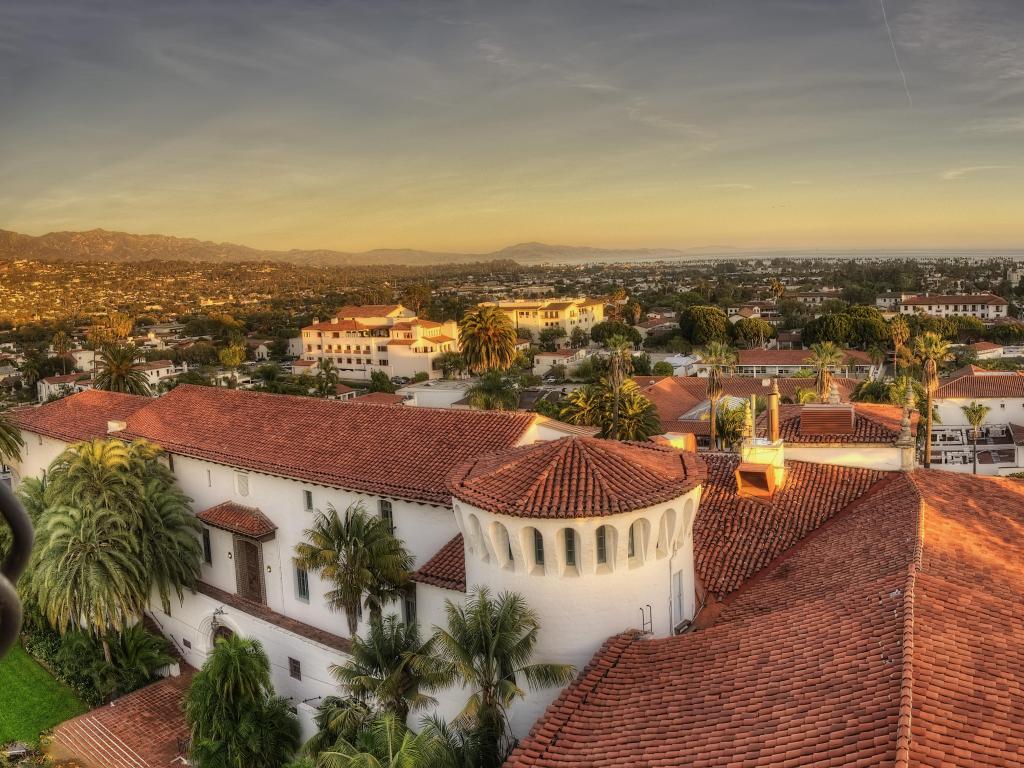 Road trip route from Pismo Beach to Santa Barbara
On this route you'll experience more contrast between the arid coastal hills and the coast itself. After Guadalupe, the Pacific Coast Highway goes inland until you pass through Las Cruces and Gaviota State Park to be felicitously reunited with the Pacific Ocean as you continue south into Santa Barbara.
Things to explore on the way to Santa Barbara
Just as you leave Pismo Beach, you'll pass several parks that feature seemingly endless sand dunes. One interesting habitat that combines the desert-like feel of the dunes with the biodiversity of a wetland is Oso Flaco Lake.
There's a well-maintained wooden boardwalk along an interpretive trail that stretches over the lake and dunes to Oso Flaco Beach.
Around the 90-mile mark on this route, Isla Vista is pretty much a part of Santa Barbara itself and the location of the state university here. On campus there's a small Art, Architecture, and Design Museum open to the public, a campus beach along some beautiful white cliffs, and even a lagoon.
To drive through Isla Vista on your way to Santa Barbara, take the Storke Road exit from the Pacific Coast Highway.
Where to stay in Santa Barbara: paradise with highlights
There's something for everyone here in the aptly named "American Riviera." Ideal weather means you can spend most of your time outdoors, enjoying the beaches, hiking the surrounding hills, and dining out under the stars serenaded by the gentle surf.
We think the Haley Hotel perfectly matches the upbeat attitude of Santa Barbara, making for a thoroughly enjoyable stay. Right in the middle of the bustling Lower State neighborhood, this hotel is only 2 blocks from the highway and 6 blocks from the beach.
What won us over were the cruiser bikes that you can rent on-site; the first two hours are free, which is like a cherry on top. After exploring sunny Santa Barbara by foot or by bike, this is a great place to return to in the evening and mingle with fellow travelers around the fire pits.
Delectable restaurants and trendy bars within walking distance might have you spending an extra night here.
Click here to skip back to the top.
Day 6: Driving from Santa Barbara to Playa del Rey
This day covers even less mileage but crosses close to the urban epicenter of Southern California in Los Angeles County. The 90-mile drive could take anywhere from 2 to 4 hours depending on when you leave and what traffic you hit.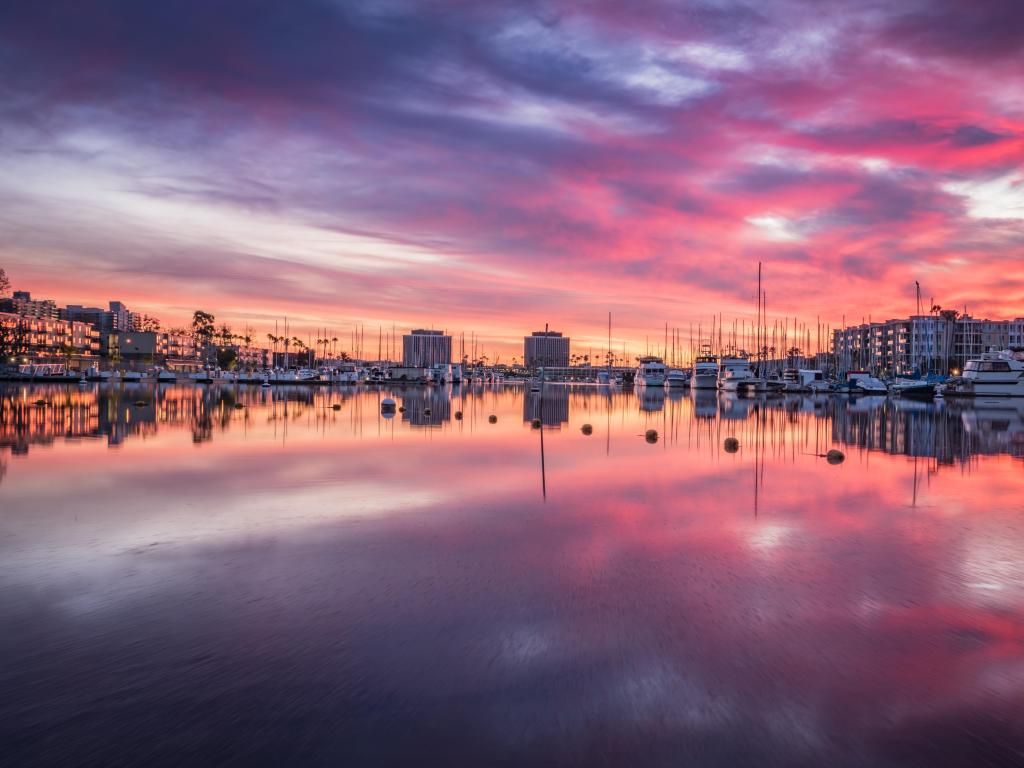 Road trip route from Santa Barbara to Playa del Rey
From Santa Barbara you'll once again head south on the Pacific Coast Highway. After passing through Oxnard, you'll swing by Point Mugu and approach the iconic hills of Malibu where the ocean is particularly picturesque.
Things will be a bit more built up as you pass through Santa Monica and Marina del Rey, both towns in western Los Angeles before you reach the relative calm of Playa del Rey.
Things to explore on the way to Playa del Rey
As you re-join the coast look out for Point Dume. The wilderness of these rocky bluffs couldn't contrast more with the luxury of the mansions just south of here in Malibu.
If you have time on this leg of the journey, we recommend taking a refreshing walk from the highway along the trails to Point Dume; it would also make a great spot for a picnic.
Santa Monica is also worth a stop. This is the kind of place people imagine when they think of Los Angeles and is a way to get a taste of this dazzling capital of entertainment without venturing too far inland.
In addition to a well-manicured promenade shopping center and the popular Venice Beach, the Santa Monica Pier is an amusing throw-back attraction that will have you feeling young again.
Where to stay in Playa del Rey: admire the sunset over Santa Monica Bay
This is one of the cutest communities in Los Angeles that most people never even have the chance to see on standard trips to LA. Looking across the waters of Santa Monica Bay to Marina del Rey, all the water adds to the tranquility of this suburban enclave.
Try a night at the Inn at Playa del Rey. Being welcomed with wine and cheese is only the beginning of the carousel of delights you'll experience during your stay here.
From your balcony overlooking the estuary where migrating birds can be seen busy in the morning, you'd hardly think that you're just west of California's largest city. Additionally, in a town famous for its unforgiving traffic, you'll be relieved by how close this peaceful inn is to the Pacific Coast Highway.
Click here to skip back to the top.
Day 7: Driving from Playa del Rey to Dana Point
The last day of driving is also the shortest in terms of mileage, yet these 60 miles can take upwards of 2 hours to traverse due to highway traffic.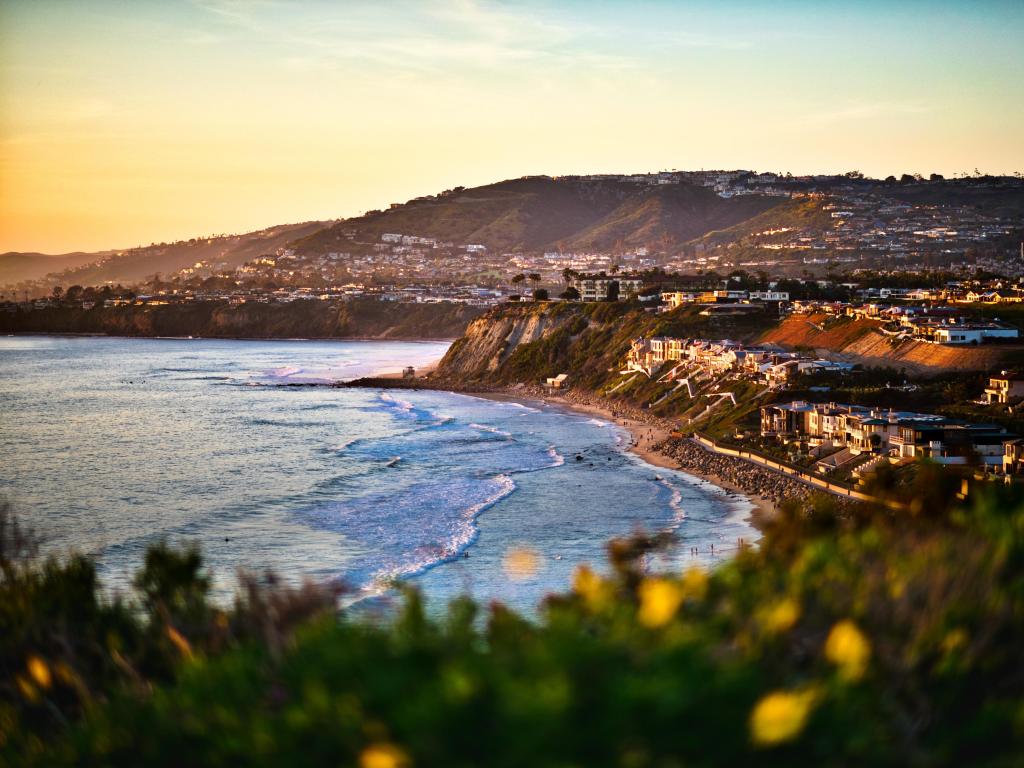 Road trip route from Playa del Rey to Dana Point
The final leg of this trip down the Pacific Coast Highway passes through more urban areas along the coast like Torrance and Long Beach. As you approach Laguna Beach more natural scenery and hills come into view.
Seven miles after Laguna Beach you'll reach the famous surf town of Dana Point, the final stop of this Pacific Coast road trip.
Things to explore on the way to Dana Point
On the other side of Newport Bay, Corona Del Mar has many treats in store if you have the time to linger. Take in the breathtaking views of Inspiration Point then meander the beautifully planted grounds of the Sherman Library and Gardens, which take full advantage of the fabulous coastal climate.
Another slice of Paradise in SoCal, at Treasure Island Beach colorful succulent plants cling to the cliffs overlooking a long, sandy beach. There's a paved path along the cliffs as well as tide pools down below, so people with various accessibility needs can still make their way around this gem along the coast
Where do stay once you reach Dana Point: treat yourself to some luxury
Famous for Dana Point Harbor and its incredible whale-watching opportunities, Dana Point is a fantastic place to end your scenic trip on the Pacific Coast Highway.
Once you reach Dana Point after a long drive, you might want to reward yourself with a luxurious hotel to rest, recharge and admire the stunning coastal views. Blue Lantern Inn checks all these boxes with its stunning location on a cliff above the Dana Point Yacht Harbor.
Boasting beautiful rooms and common areas that overlook the ocean and the beautiful marina, you can enjoy your breakfast overlooking the turquoise waters of the Pacific Ocean.
After you have had your share of exploring the surf at Dana Strand Beach, kayaking and taking a dolphin and whale-watching tour, if you still have energy, you can easily head to the fabulous Disneyland, which is less than an hour away from the inn by car.
Another amazing day trip option is to see the historic Mission of San Juan Capistrano, just a short drive inland by car.
Click here to skip back to the top.
Things to see on a 7-day road trip on the Pacific Coast Highway
As you can see, none of the routes we've outlined are that long, which means you'll have many opportunities to stop and explore along the way. Here's a short list of inspirational, exciting, and elegant places to explore in between long stretches on the road.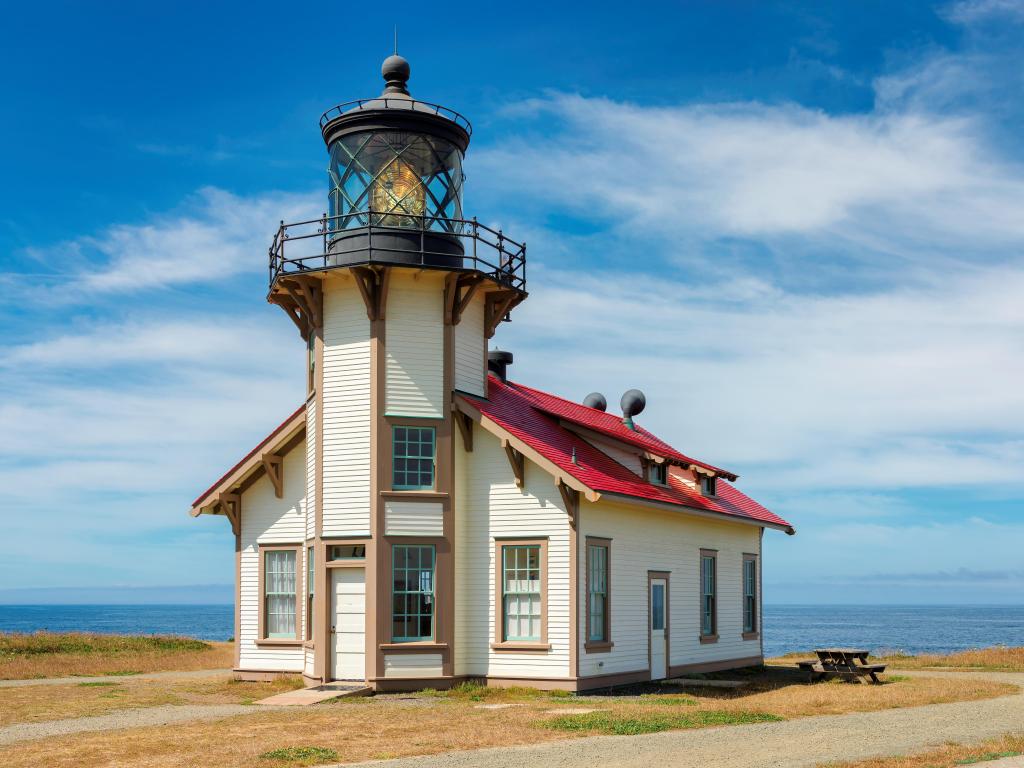 Mendocino Coast Botanical Gardens - Feel enchanted among these 47 skillfully planted acres with trails leading all the way to the ocean. You don't have to have a green thumb to appreciate the sheer variety of beautiful blossoms here.
Point Cabrillo - Here you can go on a short hike from the highway to a gorgeous wooden lighthouse built in 1909 and a museum. Along the cliffs below there are hundreds of tide pools to explore.
Manchester State Park - Just north of the popular Point Arena, this sandy beach stretches for miles and there are times when you might not see anyone else here.
Phillips Gulch Waterfall - Located near Stumps Beach on the dramatic, rocky bluffs of the Sonoma coast, this broad waterfall cascades in shallow pools on its way towards the ocean. This is a real gem that embodies the charm of the northern California coast.
Point Reyes National Seashore - This system of trails leading to several beaches and a lighthouse on the cliffs will take a little more time to explore. Closer to the Highway, along Tomales Bay, look out for the Point Reyes Shipwreck.
Mill Valley - This town just north of Marin is nestled in a heavily forested valley and has a historic mill and other unique buildings in their charming downtown area. If you have the time, it's worth the slight detour from the Pacific Coast Highway.
De Young Museum - This is a fabulous art museum located in the middle of San Francisco's Golden Gate Park and includes an observation tower with views of the whole city. Nearby you'll also find the graceful Japanese Tea Gardens and stimulating California Academy of Sciences.
Alcatraz - Also while you're in San Francisco, consider taking a ferry to Alcatraz, the infamous prison that once house Al Capone. It's worthwhile simply to be out on the water and get panoramic views of the San Francisco Bay Area.
Half Moon Bay - This adorable fishing town has an old wooden pier, great seafood restaurants, and scenic beaches where you can stop and take a refreshing break from the driving.
Bixby Bridge - This arch bridge in Big Sur spans Bixby Creek and is one of the most photographed bridges in California. There's a pullout where you can take pictures and trails down near the creek.
Limekiln State Park - This stunning State Park combines the grander of Redwood forests and pristine beaches. There's also ruins of the old kilns accessible via a trail heading inland.
Hearst Castle - In the interior of San Simeon you can find this ornate, American version of a castle built in the early 20th century by the publishing magnate William Hearst.
Los Osos Oaks State Reserve - Here you can explore a unique central coast oak forest, filled with mosses and lichens hanging from the trees. With many flat and well maintained trails, this park is easily accessible for everyone.
The Getty Villa - This elegant and expressive villa is filled with classical art and neoclassical architecture. It is free and open to the public, you only need to reserve a place online ahead of your visit.
Crystal Cove State Beach - This clean, wide beach has a variety of activities from swimming to beach combing and rock hopping between tide pools. There's also some restaurants nearby with lovely views.
Best time to go on a 7-day road trip on the Pacific Coast Highway
Thanks to the coastal nature of this route, the climate is temperate year-round. The northern and central coast has occasional fog, but this usually burns off by mid-day.
Depending on how you plan on enjoying the innumerable beaches that you'll pass on this trip, it might be slightly more enjoyable in the warmer months of summer. If you don't plan on swimming in the ocean, then this is a truly a trip for every season.
Traveling in winter
During the peak of the school vacations hotel prices will be higher everywhere south of San Francisco and attractions will be a bit more crowded.
On the other hand, there's nothing like a warm day at the beach; so if you make your bookings well in advance and budget accordingly, this can be a wonderful time to explore the California coast.
The temperatures stay mild in California through the winter, so you can expect them to be around 40-50 degrees Fahrenheit. While not warm enough to swim, this means that you won't have to pack too many thermal layers.
Traveling in summer
Though winter is technically the wettest season in California, for better or worse California doesn't get that much rain most years. Especially if you've checked into a cozy hotel with a fireplace on the north or central coast, a drizzly day has its own romantic and enjoyable ambiance.
Summer temperatures are perfect in California, especially if you are looking to hit the beaches! Expect the usual daily temperatures to be around 60-80 degrees, depending on where you are.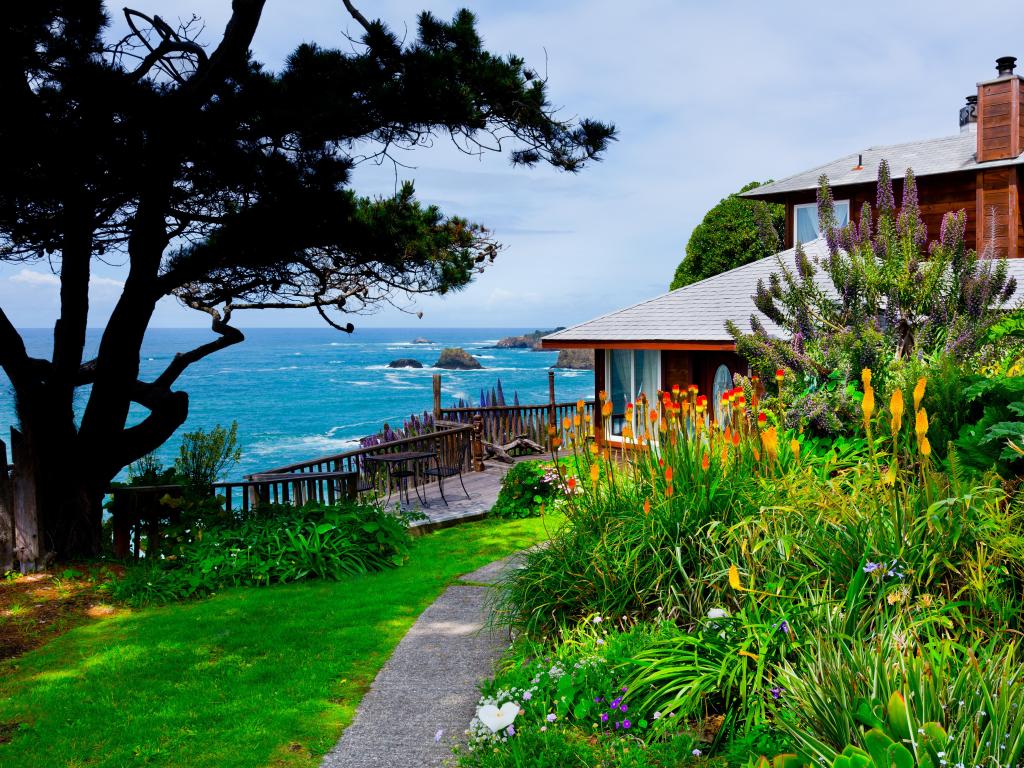 Traveling in fall
For places like Mendocino and Monterey, spring and fall are the best times to visit. Especially in the late spring and early fall, you can enjoy some exceptionally warm days while the kids are still in school and there are fewer people on the roads.
If you are planning on making detours to national parks and forests (somewhat long but still manageable), you will get to see amazing fall colors on the trees. The temperatures will be around 55-65 degrees Fahrenheit.
If you are a fan of jazz, you can attend the world-famous Monterey Jazz Festival in the fall. During this weekend the prices of hotels soar, but the world-class acts that come to this relatively small town can make it worthwhile.
Traveling in spring
During spring in Bodega Bay, you can catch the Fisherman's Festival. You will be greeted with warming weather as the temperatures rise to 50-55 degrees after winter.
Also in the fall is the Pismo Beach Clam Festival. Down in Santa Barbara, there is an eight-day festival celebrating the town itself and its history that happens every August.
Finally, a fun event to catch in southern California is the LA Shorts Fest, a short film festival that is like a sushi platter of unique screenings. With all the cultural richness of California, you could make this trip during any time of the year and inadvertently run into some festivities at one of your destinations.