A visit to McClures Beach promises a quiet escape, surrounded by towering sea cliffs, and the chance to meander by the many tide pools. Its a beautiful spot for exploring and wildlife spotting, and a must-visit for those searching for nature and peace.
A quick overview of McClures Beach
Street Address
📍9999 Pierce Point Road, Inverness 94937
Facilities at this beach

🕒 Opening hours (9am to 5pm)

🚗 Parking (Free)

🚻 Public restrooms
Where can I find the McClures Beach along the Pacific Coast Highway?
McClures Beach is not directly along the Pacific Coast Highway, but within Point Reyes National Seashore in Marin County.
From the Pacific Coast Highway you'll need to look for Sir Francis Drake Boulevard traveling west through the Point Reyes National Seashore, then take Pierce Point Road that leads you to McClures Beach.
There is a small parking area at the trailhead, however only arrive 25 vehicles can park here so arrive early. The trail to the beach goes downhill on the way, and up on the way back, so can be a little trickier returning.
McClures Beach is around 30 minutes from Point Reyes Station, about 16 miles away, and is a charming small town, and popular stop off for those visiting the beach. Travelling from further afield, then San Francisco is around 1 hour 30 minute drive away, and 55 miles.
Why we love visiting McClures Beach
A visit to McClures Beach offers a peaceful retreat, and is the ideal location if you are looking for a quiet beach visit away from the crowds.
You will get a chance to admire beautiful sea cliffs along this rocky coastline, ideal for those seeking a tranquil coastal experience.
How we rate the different aspects of McClures Beach
Feature
Our rating
Natural beauty and scenery
⭐⭐⭐⭐
Cleanliness and water quality
⭐⭐
Peace and quiet
⭐⭐⭐⭐⭐
Activities on offer
⭐⭐
Accessibility
⭐⭐
McClures Beach is hidden within the expanse of Point Reyes National Seashore. Nestled between rugged cliffs and rock formations, it is a striking, tranquil, beachfront.
Dramatic tidal pools, cliffs, and sea stacks make for stunning photographs. Make sure to take your binoculars and camera during your visit.
At low tide, McClures Beach reveals starfish, sea anemones, and crabs. Wander around the tide pools, beachcombing and wildlife spotting.
Valuing preservation, McClures Beach has a more natural feel unlike other local beaches. There are far fewer facilities here, which results in a stunning, natural, seascape.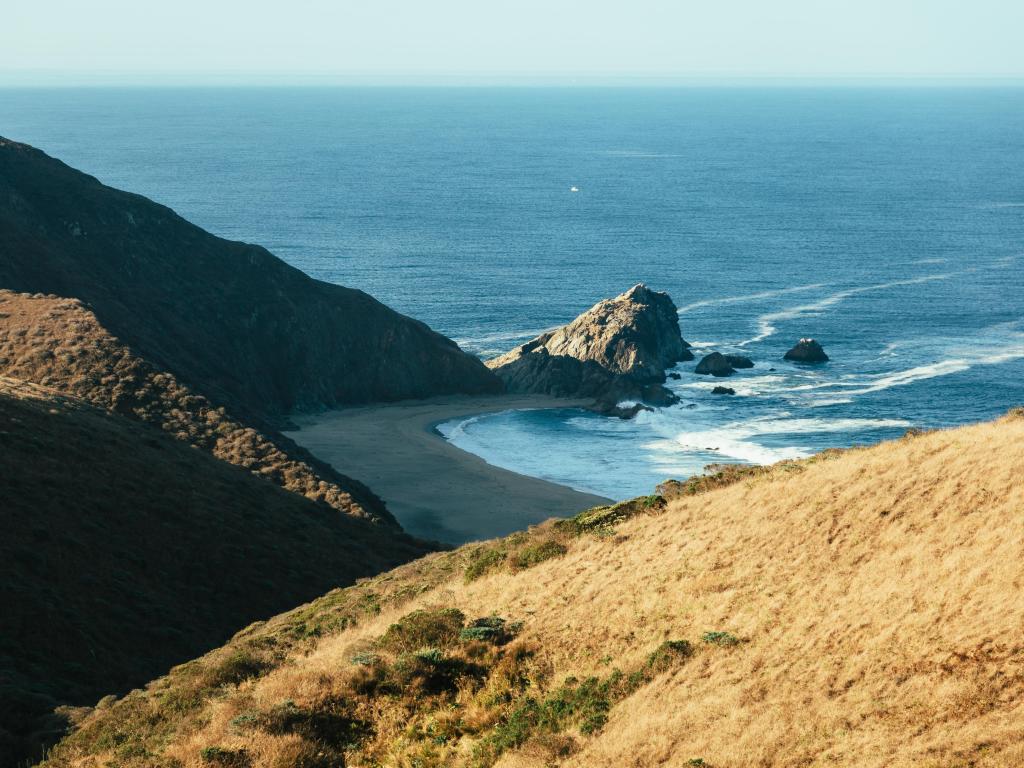 What else is there to do near McClures Beach?
There is plenty to explore when you visit McClures Beach, however if you have extra time during your visit then why not visit some of our other favorite sites in the local area.
Tomales Point Trail - Winding through Tule elk reserves and offering views of the Pacific, this trail is a highlight for hikers seeking both wildlife and coastal beauty.
Abbotts Lagoon - A peaceful freshwater lagoon it's a haven for birdwatchers among a beautiful natural setting.
Chimney Rock - Perched on a dramatic cliff edge, Chimney Rock offers stunning views, especially during wildflower season.
Elephant Seal Overlook - From this overlook, visitors can spot northern elephant seals, particularly during mating and birthing seasons.
Kehoe Beach - A pristine, lesser-known stretch of sand, Kehoe Beach is a peaceful setting for beachgoers.
Common questions about visiting McClures Beach
The rugged cliffs and stunning coastline at McClures Beach makes this beach dramatic and different, however there are some things to think about given its accessibility and natural setting.
Is McClures Beach accessible and open year-round?
⭕ Yes, McClures Beach is accessible year-round. It is the last accessible beach along the northern stretch of Point Reyes National Seashore.
Can I enjoy water sports at McClures Beach?
❌ No, water sports are not encouraged at McClures Beach due to the rocky shoreline and rip currents.
Is McClures Beach easily accessible for those using wheelchairs or strollers?
❗ McClures Beach is accessible via a short trail, however it can be more difficult to manage during wet weather.
Is there anywhere to buy refreshments at McClures Beach?
❌ No, there is no convenience store or refreshment stand at McClures Beach, so make sure to stock up on supplies before you arrive
Are dogs allowed on McClures Beach?
❌ No, dogs are not allowed at McClures Beach.
Are there any changing facilities at McClures Beach?
❌ No, there are no changing facilities or showers at McClures Beach.
Are there any beach chairs or umbrellas to hire at McClures Beach?
❌ No, there are no beach chairs or umbrellas to hire at McClures Beach.
Is there anything else to watch out for when I visit McClures Beach?
The cold water and often murky conditions make this beach less ideal for snorkelling, swimming and diving.
If you choose to avoid the water, but wander the shore, then be mindful that most things here are protected by law, so shells, rocks, flowers and fossils can not be taken away.