M-22 Road Trip: a scenic drive along the Lake Michigan shoreline
With dramatic views across Lake Michigan, M-22 is one of the state's most famous scenic drives, with picturesque shorelines and beautiful countryside all along the route. Beside the stunning scenery, you'll stumble upon quaint towns along the way, including charming Manistee and historic Frankfort.
It takes 2 hours 50 minutes to drive the scenic M-22, following the shore of Lake Michigan for 120 miles through Manistee, Arcadia and Frankfort to Traverse City or start in Chicago for a 7 hour 20 minute, 390-mile trip via Indiana Dunes and Holland.
During fall the striking greenery turns vibrant red and brown, making it a wonderful time to drive this scenic Michiganroad. M-22 was even voted 'Best Scenic Autumn Drive' back in 2015, so keep on reading to find out what makes it such an amazing drive whatever time of year you visit.
Where is M-22?
The whole length of M-22 is in Michigan, following a stretch of the Northeastern shore of Lake Michigan. It passes through small fishing towns and villages such as Manistee, Onekama, Frankfort, Lake Township, Leland, Northport and Traverse City.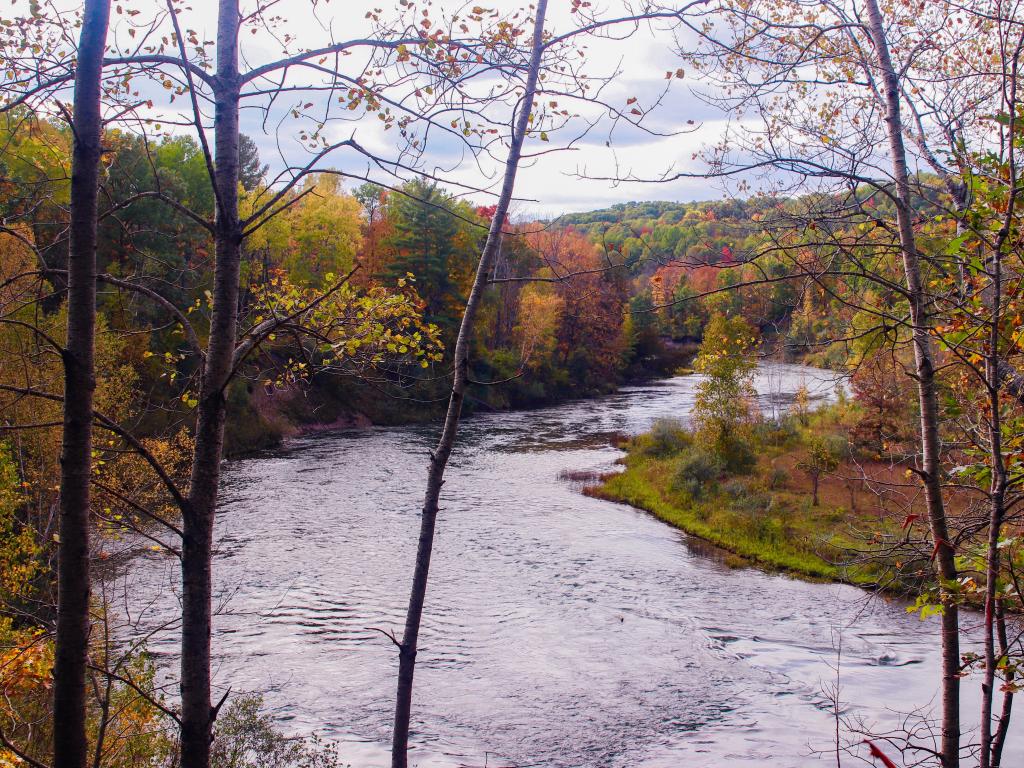 The scenic road offers beautiful lake views throughout the drive, but there are also some amazing natural wonders that you'll pass, including Arcadia Dunes, Crystal Lake, Glen Lake, West Arm Grand Traverse Bay.
Where does M-22 begin and end?
Manistee, on the shore of Lake Michigan, is where the scenic drive along M-22 begins.
This small town, located 265 miles out of Chicago, is famous for its picturesque views, historic downtown, and also as a gateway into Huron Manistee National Forest.
M-22 runs right the way up to Traverse City, which is also in Michigan. Looking out over the West and East Arms of Grand Traverse Bay, it has fantastic freshwater beaches. It's also known as the Cherry Capital of the World!
How long is M-22, and how long will it take to drive the entire M-22?
Comparison of road trip routes incorporating the scenic M-22
Route
Distance
Driving Time
Scenic M-22 from Manistee to Traverse City

125 miles
2 hours 50 minutes
Taking the scenic M-22 from Chicago


(includes time/distance on scenic M-22)

390 miles
7 hours 20 minutes
Taking the Scenic M-22 from Detroit


(includes time/distance on scenic M-22)

380 miles
7 hours
M-22 itself is about 120 miles long, including the short distance you'll need to travel along other roads to get all the way from Manistee to Traverse City, Michigan.
You can cover this distance in around 2 hours and 50 minutes if you don't make any stops, meaning you could easily complete the round trip in half a day.
Many travellers will make their way from other cities in the region. One of the most popular is Chicago, which is 265 miles away from Manistee. If you start your trip from the Windy City then the one-way drive via M-22 to Traverse City is 390 miles long.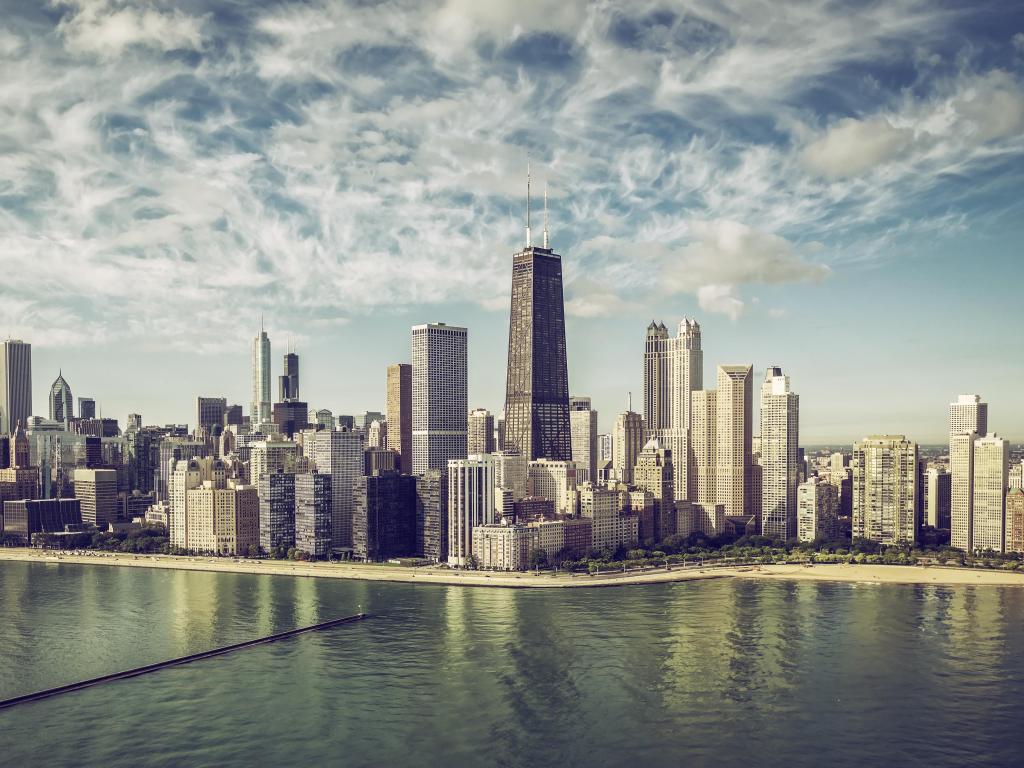 With a driving time of 7 hours and 20 minutes, you'll probably want to stop at least once on your drive from Chicago. With so many amazing views to admire along the way, we'd suggest taking your time so that you can really appreciate this amazing part of the world - a night or two by the lakeshore makes the perfect scenic getaway.
Best way to drive M-22
Driving the full 120 miles of the M-22 allows you to see the scenic road in its full glory. You'll ride along the eastern shores of Lake Michigan then turn along the western side of Great Traverse Bay before reaching your destination.
As you'll be following this one road almost all the way, it's pretty simple to navigate this route so you can give all your attention to the stunning beaches, lush forests and quaint towns you'll pass.
M-22 is still considered something of a hidden gem, so heavy traffic isn't usually an issue. Along the way, you're sure to find a secluded spot to pause and admire Lake Michigan.
If, like many travellers, you're starting your trip from Chicago, you'll find that the route via Interstate 90 (I-90) and I-94 is pretty straightforward. As an added bonus, you'll be able to enjoy the southern shores of Lake Michigan along the way.
As well as nature spots and sweeping lake views you'll pass through charming towns like Holland voted 'America's Prettiest Town' not too long ago.
Driving the entire length of M-22
Leave Manistee on Route 31, heading toward the airport. A little way out of town you'll take a left turn just after Little River to pick up the start of M-22, this scenic drive that you'll be following for the next few hours.
This will take you north, swinging round the shore of Portage Lake before carrying on through Arcadia and Green Point Dunes.
Next, after crossing Betsie Lake, you'll reach Frankfort where you can stop to explore this charming historic town. From here the road hugs the shore of Lake Crystal and carries on through Empire and Glen Arbor.
Follow the road around Good Harbor Bay then up past Clay Cliffs Natural Area to Northport, where you'll change direction and start heading south along Great Traverse Bay.
From Sutton Bay, the road cuts inland for a couple of miles before you begin the final, stunning stretch along Great Traverse Bay into Traverse City.
Driving M-22 from Chicago to Traverse City
Head east out of Chicago on I-90 then merge onto I-94 near Portage. The interstate will take you past Indiana Dunes National Park then on into Michigan, where you'll change onto the I-196 a little way past Benton and St Joseph.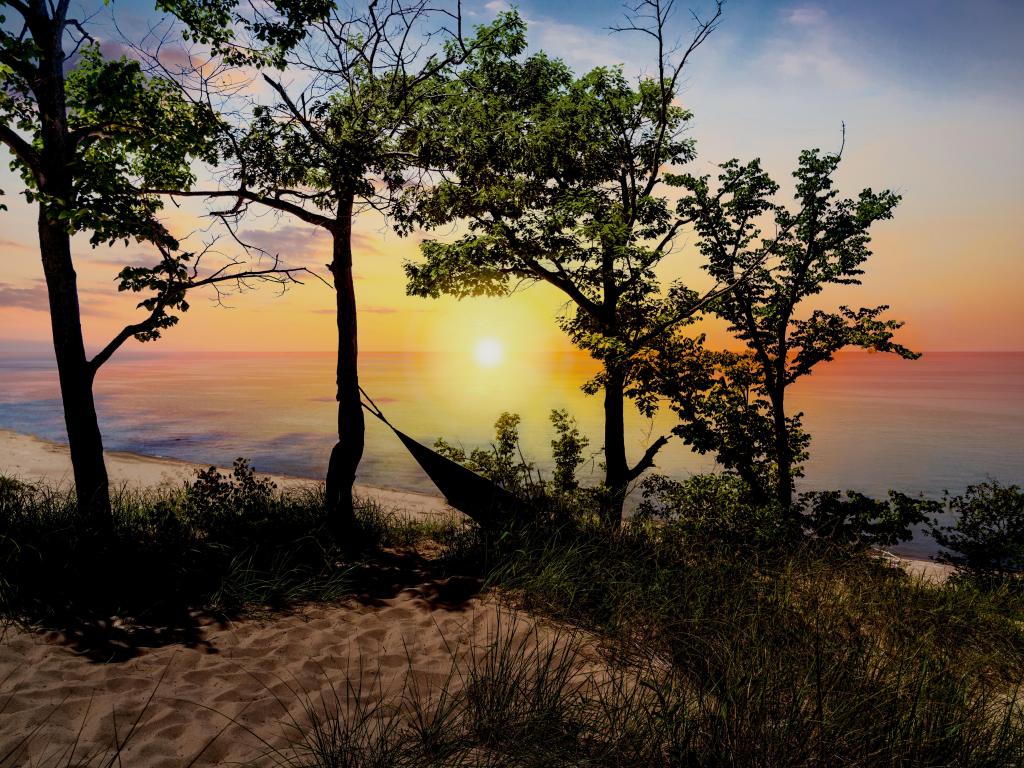 Follow I-196 along the shore of Lake Michigan until you reach Holland, where you exit onto Highway 31 to continue north. The highway will take you all the way to Manistee to start the scenic part of this drive, passing through Grand Haven and Muskegon along the way.
Best places to stay along M-22
You can drive the length of M-22 in a single day, but with such a beautiful landscape to explore many travellers choose to stay a night or two while they make the drive.
Frankfort, Michigan
Whether you're travelling from Manistee or all the way from Chicago, a great place to spend the first night of your trip is historic Frankfort. It's only around 35 miles out of Manistee so you'll have plenty of time to stop and enjoy the attractions of the first part of the scenic drive during the day.
Spend some time in the historic Frankfort downtown, where you'll find flower-lined streets, Victorian buildings and boutique shops.
Just a few blocks from Main Street, visit Ellie Harold Studio and Gallery. The building dates back to 1895 and showcases oil paintings by the famous artist.
If you'd rather stick to outdoor activities to make the most of the scenic setting, you can hike or bike the Betsie Valley Trail. Starting in Frankfort it's a paved walk that'll lead you to Crystal Lake.
Frankfort is also famous for its spotless dunes and beaches, while Point Betsie Lighthouse is a standout landmark in use since 1859. Make your way up to the top for panoramic views over Lake Michigan.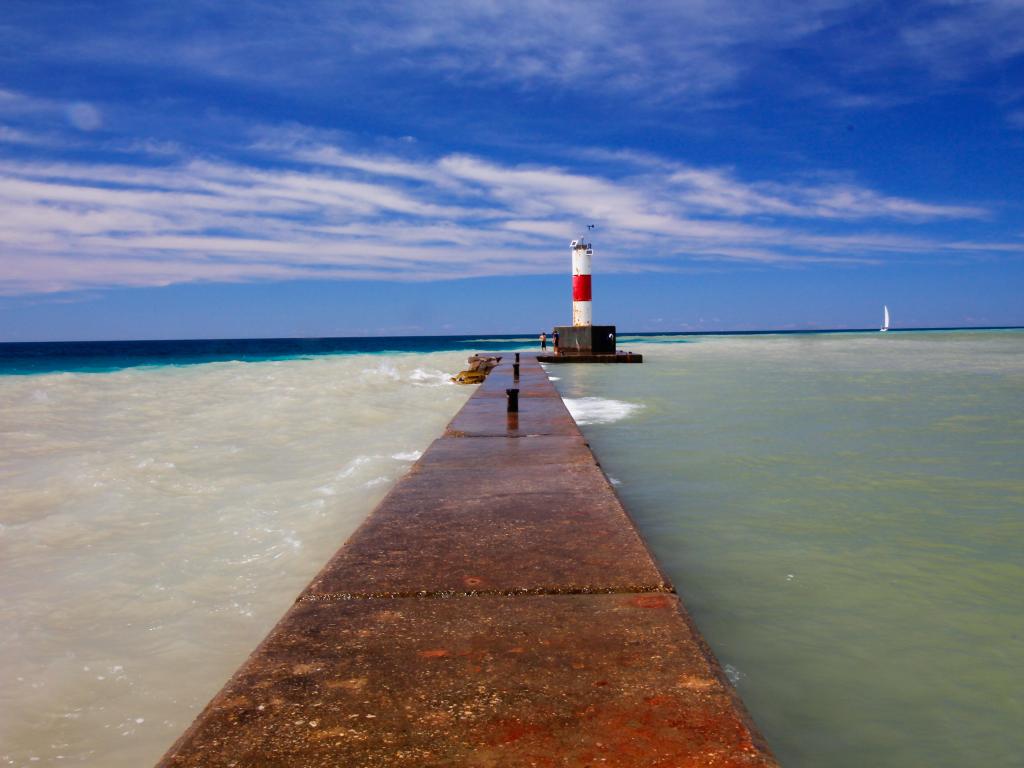 With a great location on Main Street, and also close to the beaches, Hotel Frankfort is a characterful place to spend the night. Some of the cozy rooms here have a balcony or hot tub, so it's a great place to relax.
There's a traditional American restaurant at the hotel, and it's only a short walk to several restaurants on Main Street.
Free on-street parking means you won't have to worry about unforeseen expenses on your road trip, and as it's less than half a mile off M-22, you'll be able to get back on the road quickly in the morning.
Traverse City, Michigan
Once you reach the end of your M-22 drive, kick back and relax with Traverse City, where you'll find a great range of outdoor activities to enjoy. The climate and terrain also lend themselves to viticulture, so you'll find a number of wineries in and around the town.
Several of the vineyards and wineries are open to visitors. Famous establishments where you can have taste of the local wines include Bowers Harbor Vineyards, Mari Vineyards, Chateau Chantal Winery and Brys Estate Winery.
Downtown Traverse City is on the shoreline of the west part of Grand Traverse Bay, and when you walk along scenic Front Street you can visit stores, galleries and restaurants. Don't forget to visit Cherry Republic for cherry related products while you're in the Cherry Capital of the World!
Also on West Grand Traverse Bay is Clinch Park, a popular spot with sandy beaches - bring a picnic and enjoy a scenic lunch. Nearby, the renovated historic site of The Village at Grand Traverse Commons now offers shopping, fine dining, gardens, and spa treatments.
A short walk from the sandy beaches of Clinch Park in West Grand Traverse Bay, Park Place Hotel & Conference Center is a smart, contemporary hotel option. The sun terrace has fabulous views of the waterfront so this is a great place to round off your road trip.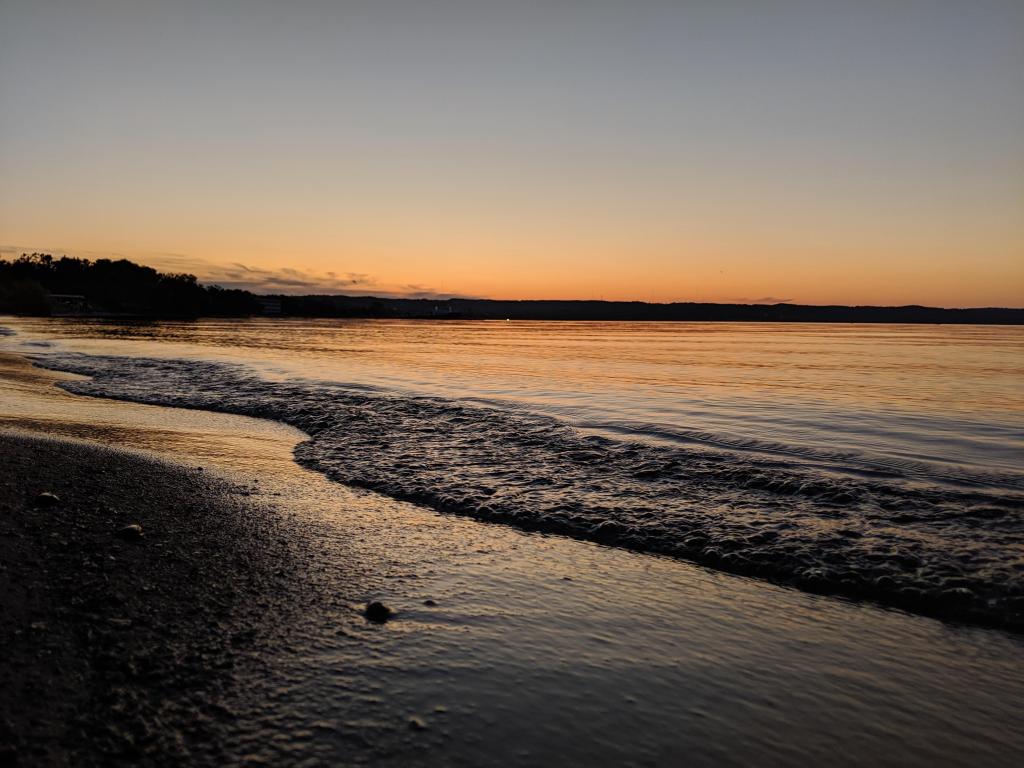 Even if you're here in the winter you can relax in the indoor swimming pool and hot tub, or take the half-mile walk to Sunset Park Beach.
The on-site bar and restaurant offer live entertainment. Front Street is also only a short walk away so you can head out and enjoy a meal or a drink after checking in.
Things to see on a road trip along M-22
Most travellers are immediately attracted to the road trip along M-22 by the fabulous lakeshore views, but there are plenty of other attractions that make this drive the perfect pick for a scenic road trip.
Things to see on the road trip from Chicago to Manistee
Gary, Indiana - Go to Marquette Park and see the 1921 Pavilion next to the lagoon and Lake Street Beach.
Indiana Dunes National Park, Porter - Indiana Dunes is a 15,000-acre National Park next to the Lake Michigan shoreline. You can explore the dunes, prairies, rivers and forests on the 50 miles of hiking trails.
Michigan City - Immerse yourself in the forest and streams at Trail Creek and take photographs at the Michigan City East Light.
South Haven - Stroll the picturesque Van Buren State Park with 1-mile-long tranquil beach. There are campgrounds, picnic tables and grills waiting.
Holland - With its historic charm and cobblestone sidewalks, pretty Holland has been voted America's Prettiest Town, so it's the perfect place to stop and explore.
Grand Haven - Visit this graceful small town between May and September to see the Grand Haven Musical Fountain, which performs synchronized routines at dusk.
Pentwater - You'll find stunning beaches in Pentwater, where you can join in on a yoga class on the Charles Mears State Park beach in the summer.
Ludington - Step back in time to pioneer times at the Historic White Pine Village. The village includes an original 1849 County Courthouse and a working sawmill.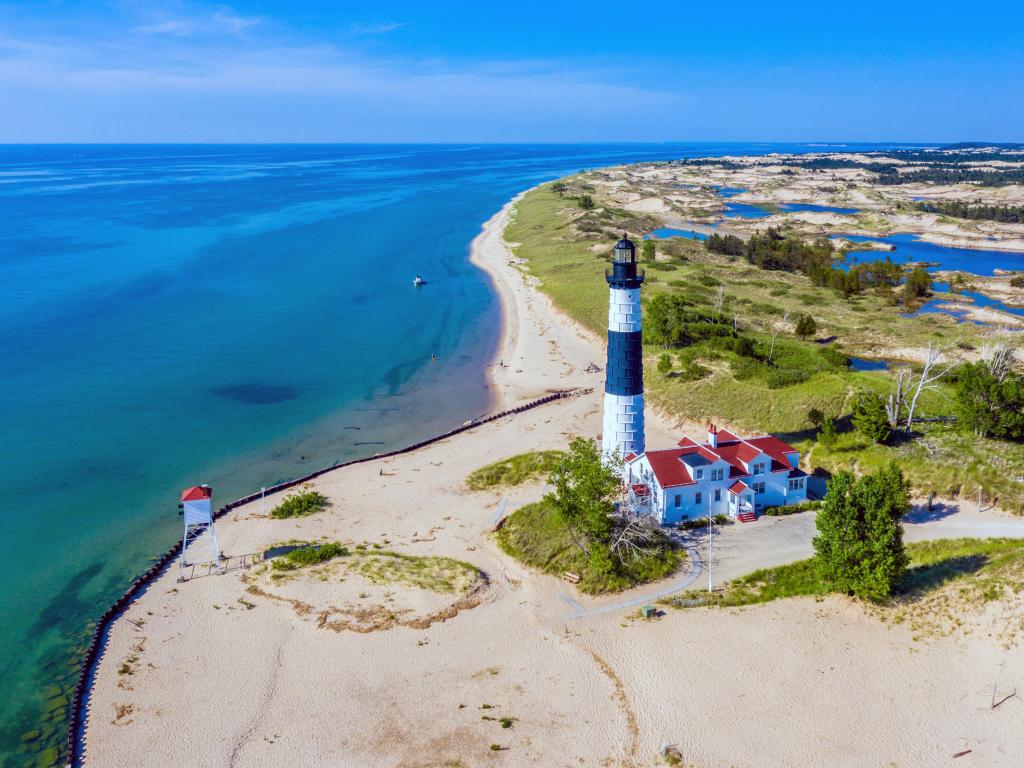 Things to see on the M-22 between Manistee and Traverse City
Manistee - Spend a few hours in the Manistee Historical Museum to learn more about the town, then go fishing on the Manistee River or enjoy the Orchard Beach State Park.
Captain John Langland Park, Onekama - For a secluded beach walk, go to Captain John Langland Beach. You can park 90 yards from the water.
Arcadia Dunes - Follow the Overlook Trail to look over Lake Michigan from a new perspective.
Sleeping Bear Dunes National Lakeshore - The sand dunes here are huge and walking up the dune climb is a strenuous hike. For more accessible views, ask a ranger at the Philip Hart Visitor Center.
Glen Lake, Glen Arbor - Hire a boat or pontoon and spend a day on the inland Glen Lake. Surrounded by dunes and forested hills, it's a scenic day on the clear waters.
Nedows Bay, Leland - Canoe and kayak at Nedows Bay. A family-friendly beach it's a popular stop in the summer months.
Clay Cliffs Natural Area, The Leelanau Conservancy - Take a hike through forest terrain to the viewing platform. You'll see Lake Michigan to your west and Lake Leelanau to the east.
Omena - Taste the local wines at Leelanau Wine Cellars and Tasting Room. They'll offer free samples as you overlook the Grand Traverse Bay.
Suttons Bay - Before arriving at Suttons Bay, try your hand in Leelanau Sands Casino. Then visit Suttons Bay with its wealth of wineries and restaurants.
Boughey Park, North Traverse City - Boughey Park is a small and quiet beach. There are seating areas and picnic tables on the waterfront.
Best time to visit M-22
Michigan has warm summers followed by harsh winters which bring freezing temperatures with snow and ice. This means that, depending on the time of year, your driving experience along the M-22 will vary.
In summer, temperatures seldom exceed 80 degrees Fahrenheit or fall below 55 degrees, so although it's not excessively hot, the weather sees people flock to beaches to enjoy water-based activities. June, July and August are the hottest months, and also when the beaches near M-22 are busiest.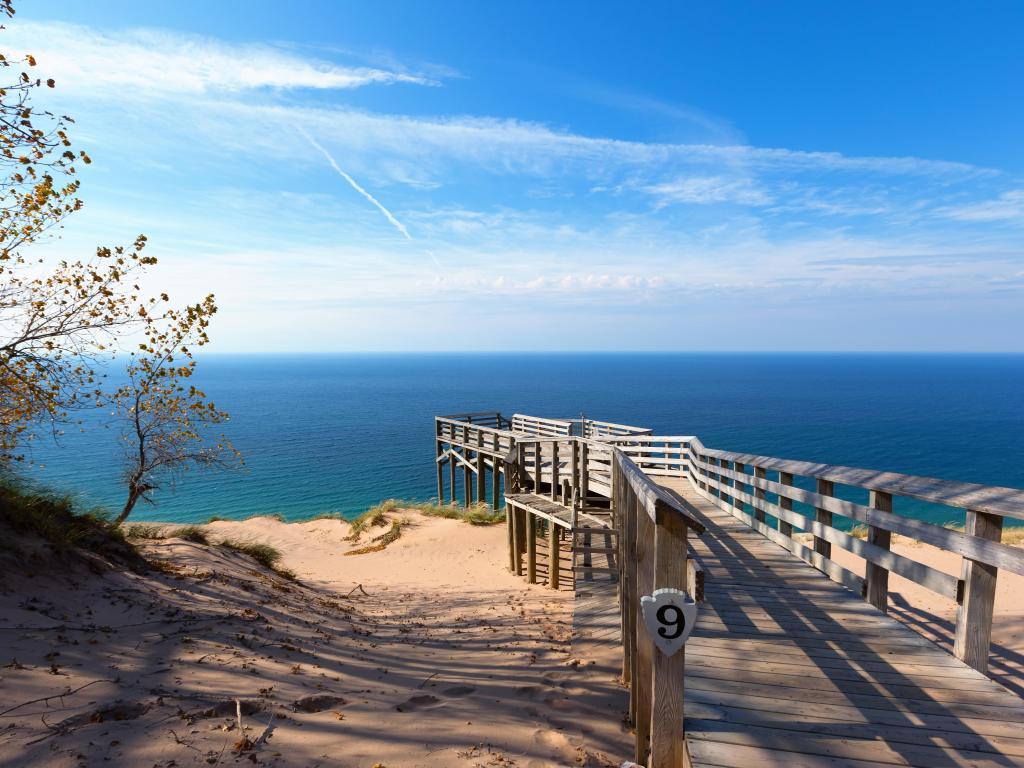 In contrast, from November through to February you'll experience extremely cold conditions. Temperatures can drop as low as 18 degrees Fahrenheit.
Snow is common from December to February, but it's rare for it to cause closures on the M-22. With fewer visitors to the beaches, you're likely to have a quieter journey in winter. However, this also means that some shops, trails and smaller roads may not be open during winter months.
Thanks to the M-22 being coined the 'Best Autumn Scenic Drive' fall is actually the most popular time to drive this route. To see the foliage changing color in spectacular style, visit mid-October.
September and October have an average temperature of around 60 to 50 degrees Fahrenheit, so it isn't too cold and it's comfortable enough to hike the trails.
Fast forward to spring and March remains cold, with temperatures averaging around 35 degrees Fahrenheit, but by May that rises to 55 degrees Fahrenheit.
Spring is a great time to visit because the greenery comes to light and many open businesses open their doors after winter closures. If you're making this road trip in May, you will catch the Annual Tulip Festival in Holland.
Whatever time of year you visit, you can be sure to come home with unforgettable memories of the ever-changing Lake Michigan shoreline, which makes for a beautiful drive in all seasons.