Road Trip From Chicago To Mackinac Island
Mackinac Island where Lakes Michigan and Huron meet is a vacation spot that many won't have heard of but one that offers a unique opportunity to get away from the hustle and bustle of Chicago.
The 415-mile road trip from Chicago to Mackinac Island can be done in a day with 6 hours 30 minutes spent on the road before accounting for stops but instead you can take a few days exploring Michigan or take the long option north via Green Bay.
Read on to find out all the best places to stop along the way, the best route to take and top tips for your journey.
How far Is Mackinac Island from Chicago and how long will it take to get there?
Why are we specifically looking at traveling from Chicago, you ask? Well, for those of you who live too far away to do the whole journey by road, we have to find a logical starting point.
Chicago's O'Hare International Airport is one of the largest in the world and, while Detroit Metropolitan is slightly closer, it has deals on flights to get you there from anywhere in the world.
So, how far exactly will you have to drive? The port to catch the ferry to the island is in Mackinaw City, which is 415 miles from Chicago. Assuming you don't need to stop for gas or to use the restroom, you can make the journey in a little under 6 hours and 30 minutes.
That makes it a trip you can comfortably make in a day if you wanted to, even if you do need to make the odd stop along the way.
You needn't worry about spending too much time in the car either, as once you arrive, you'll be leaving your car at the port, giving you the rest of your trip to stretch your legs and take in the fresh, clean air.
The island has a complete bar on cars so although you'll be driving all the way here, you'll not be able to actually drive onto Mackinac Island itself
Best road trip route from Chicago to Mackinac Island
The quickest route, which also covers the least miles, is a relatively direct journey where you'll be spending much of your time on the freeway.
This involves taking the I-94 out of town and following it around the bottom of Lake Michigan until you come to the I-196, then following this until its conclusion in Grand Rapids.
Now, the most direct option from here would be to take US-131 north.
However, as I'm confident anyone going to Mackinac Island is a nature lover, I'm going to suggest a little detour. Heading north on US-37 instead will take you on a more scenic route through Huron-Manistee National Forests.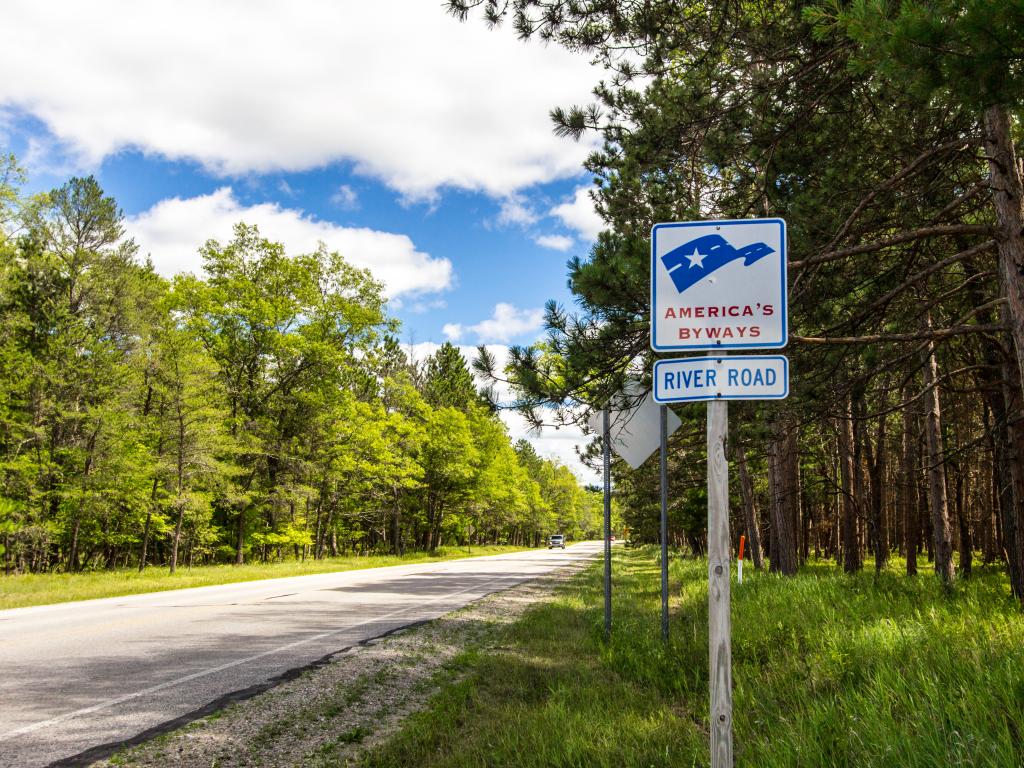 Known for its abundance of wildlife and incredible scenery, this national beauty is often missed, due to being somewhat out of the way. For the sake of adding 20 miles and 30 minutes to your journey, I think it's well worth the trouble.
Once you're done exploring the forests, continue north on US-37 until you reach Baldwin, then go east on US-10 until you once again meet the US-131 we avoided at the start of this detour.
From here the journey is straightforward. At Cadillac, take the US-55 east to Horton Lake, where you jump on the US-127. Follow this north until it meets the I-75, which you'll take the rest of the way.
Best Places to stop between Chicago and Mackinac Island
While the journey absolutely can be made in a day, what's to say you want to do it in one go?
If you're in no rush, then there's no real reason to race from A to B and potentially miss out on some great sights along the way.
Explore Grand Rapids, Michigan
If you wanted to break the trip into multiple days, what better way to do so than making a stop at just under the halfway point.
Grand Rapids is the second largest city in Michigan, with a population of just over 205,000. With a rich history and great mix of cultures, this is the perfect opportunity to visit a fantastic city that many people overlook.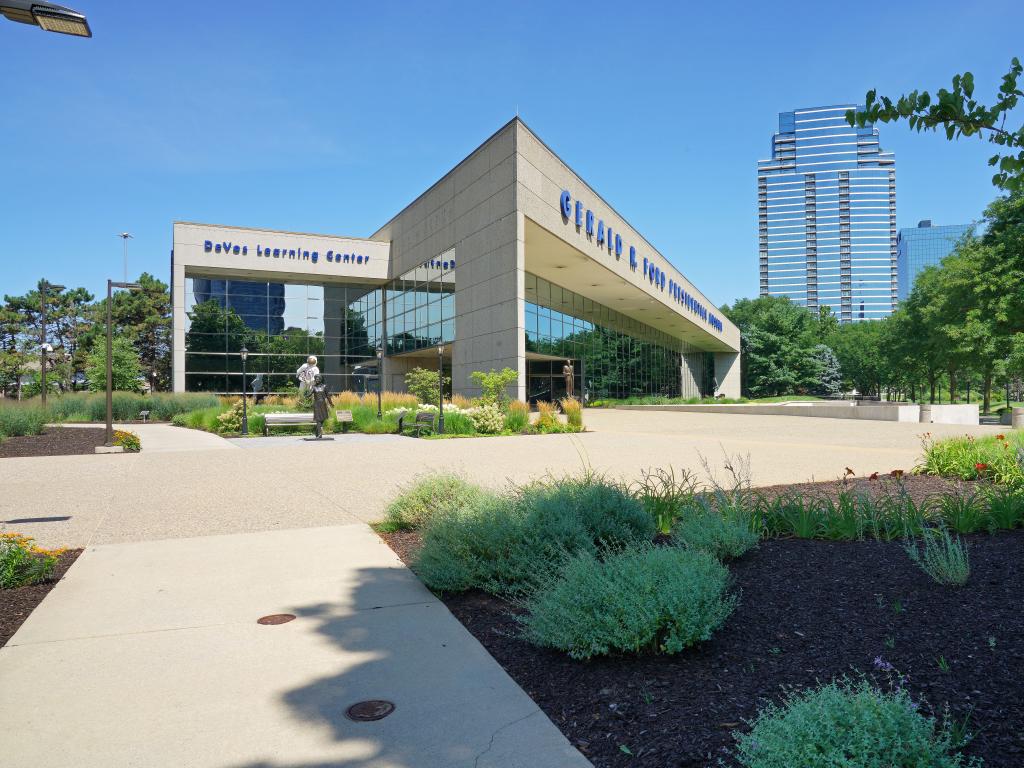 With such attractions as the Gerald R. Ford Museum and the John Ball Zoological Garden, there's more than enough to fill up a day trip here.
As for the evening, the city isn't known as "Beer City" for nothing and there are plenty of bars and restaurants for you to kick back, relax and enjoy a local beverage in, before you get back on the road in the morning.
The best hotel option in town is the AC Hotel Grand Rapids Downtown with chic design and a cool vibe within a 19th century building. You're right in the middle of everything and if, like me, you're not a fan of expensive valet services, there's a great value parking garage literally right across the street.
Take in the nature in Huron-Manistee National Forests
To see this, you'll need to have taken the detour I suggested and if you have, you'll soon be happy with your decision.
Huron-Manistee National Forests is almost one million acres of natural beauty. From the towering forests and rock formations to the beautiful, clean lakes and rivers, Huron-Manistee is a perfect example of nature at its finest.
For the adventurers among you, there's an abundance of hunting and fishing spots for you to take advantage of. There are also water activities, such as boating and tubing, to get your blood pumping.
Or maybe you just want to explore the area? Well, you've got numerous hiking, cycling or riding trails to roam along to your heart's content.
Even if you just want to relax and take in the beauty, there are beaches, dunes and picnic spots aplenty to make it a more than worthwhile trip.
Don't worry if you decide to take the trip in the winter months, you still won't be disappointed. There are activities like snowmobiling, skiing and snowshoe hiking waiting to help you make the most of the snowy conditions.
Whether you're coming in the summer or winter, check out the Crystal Mountain Hotel just north of the National Forests. It's a charming home away from home type of place and sits right at the foot of a small ski mountain - a great place to stop after a day of hiking.
A day in Mackinaw City
While the previous stop relied on you taking a small detour, you'll go through this one no matter which route you take. That's because this is where you'll be parking up to get the ferry to Mackinac Island.
Don't make the mistake of thinking this is just a place to park your car though, as Mackinaw City consistently ranks as the most popular tourist city in the state of Michigan. With that in mind, why not make the most out of it and take in some of the sights while you're there.
Some of the attractions you'll discover in the city include an 18th century fort, Fort Michilimackinac, the largest icebreaker on the great lakes, USCGC Mackinaw and the historic village of Mackinaw itself.
There are also several lighthouses and even the Historic Mill Creek State Park and Nature Reserve.
Whether you want to spend a day here taking in the sights or even add a little extra to your trip and make it an overnight stay, you'll be getting a real treat with some of the experiences to be had in Mackinaw City.
Things to see on a road trip from Chicago to Mackinac Island
Whether you decide to make the journey last 7 hours or 7 days, it's certainly one you're not going to forget. As with any of us who love road trips, it's not all about the destination, it's just as much about getting there and the sights and experiences you can have along the way.
While some road trips can take you through barren landscapes, this is certainly not one of them and there'll be plenty to see throughout.
Some of the sights you can look forward to seeing along the way include:
Lake Michigan - The first part of your journey will take you around the southern point of Lake Michigan, the second largest of the Great Lakes and the only one located entirely in the United States.
Grand Rapids - The second largest city in Michigan, whether you choose to stop or simply hop off the freeway and take a drive through downtown, it's always interesting to experience new cultures and locations.
Muskegon River - The suggested route takes you past part of Muskegon River, a 216-mile-long body of water that connects Houghton and Muskegon Lakes. It's home to an abundance of wildlife, including deer, eagles, otters and waterfowl, as well as many species of fish.
Huron-Manistee National Forests - As I described in detail earlier, an absolutely amazing stretch of natural beauty that is simply not to be missed.
Houghton Lake - While maybe not as impressive as some of the other lakes you'll experience on this trip, being in a quieter part of the state will let you take in its charms in a more low-key, natural environment.
Gaylord State Forest Area - If you opted against the detour this is a similar attraction, just on a much smaller scale, that all routes will go through. While it doesn't have all the activities for a stop, it's just as beautiful to drive through none the less.
Burt And Mullett Lakes - Nearing the end of the trip you'll cross a narrow straight between these two beautiful lakes. To some it may even give you the feel of being in the Florida Keys? There's even a Miami Beach there to boot.
Mackinaw City - Your final port of call before the ferry. A beautiful location with plenty of sights to take in, even if you don't want to make a day of it.
Best time to go on a road trip from Chicago to Mackinac Island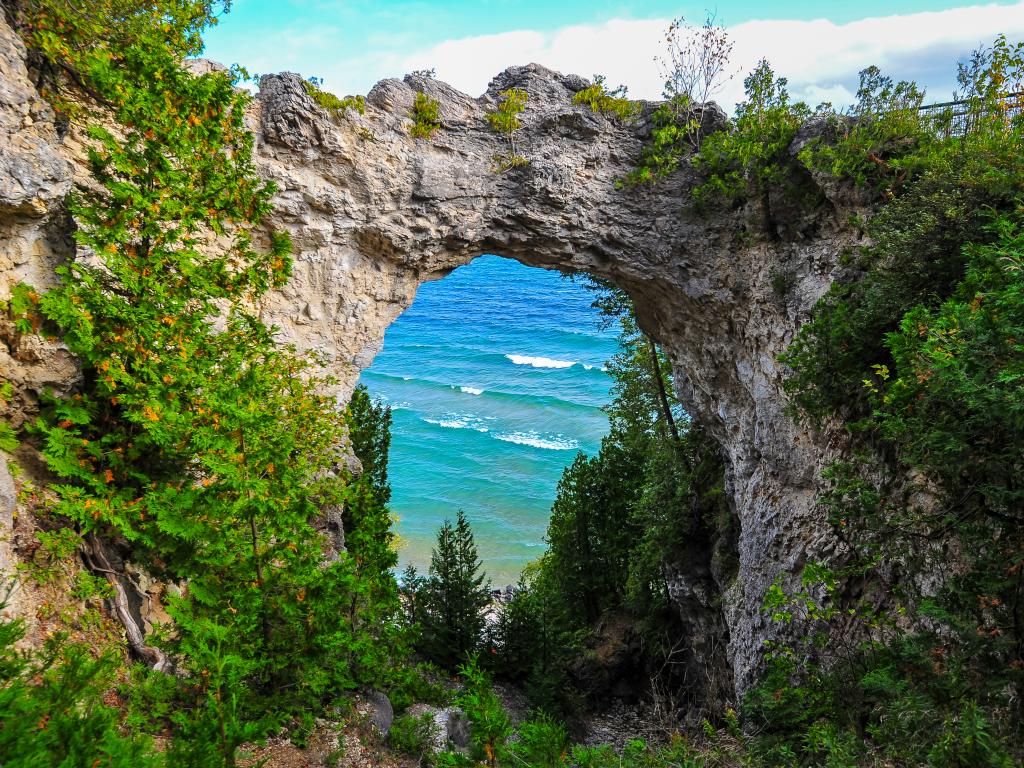 While this certainly can be a trip done throughout the year, especially if the winter activities at Huron-Manistee National Forests interest you, it's probably best designed for sometime between late spring and early fall.
With so many of the activities being outdoors, you don't want to run the risk of being too cold to enjoy them, or potentially even having trails and attractions closed off due to the snow.
Remember, this part of Michigan can be notoriously bad with weather conditions at certain times of year. While you're unlikely to have issues with the roads when you're on the highways, the smaller ones around the forests could prove a little trickier.
That said, if it's a snowy adventure that you're after, it'll certainly be one you'll never forget.