Road Trip From Chicago To Mount Rushmore
Mount Rushmore, one of the most incredible sights in the entire world, yet one that doesn't draw anywhere near the number of people you would expect for such a famous and iconic location. Why is that, you ask? Well, it's all to do with the location.
It will take a solid 14 hours to drive the road trip from Chicago to Mount Rushmore in the Black Hills of South Dakota before adding time for fuel, food, and rest stops. Take 3 to 4 days to explore the best of Iowa and South Dakota's wilderness.
The long drive may put many off going, but for real road-trippers like us, it presents an opportunity - a chance to hit the road and explore some lesser-known gems in this part of the country.
How far is Mount Rushmore from Chicago and how long will it take to get there?
Ok, so this trip isn't going to be for the faint of heart or those that aren't fond of being in a car. The distance from Chicago to Mount Rushmore is almost exactly 1,000 miles, so it's a trip you're probably going to want to break into stages.
Following the fastest route, the journey can be made in around 14 hours. However, that's almost exclusively on the freeway, with very little in the way of attractions to see along the way.
With that in mind, we're going to take a slightly different route that, while it will bump the traveling time up to 16 hours, will be much more rewarding overall.
Best road trip route from Chicago to Mount Rushmore
The start of the trip is very straightforward. Head off on the I-88 where it begins and follow it to its conclusion, just before the Iowa state line.
From here take, take the I-80 west until you reach Omaha. Don't worry if it sounds like we've already been driving for an age - there's plenty of sights to see and stop at along the way, including the famous Iowa cornfields that we'll get to in the next section.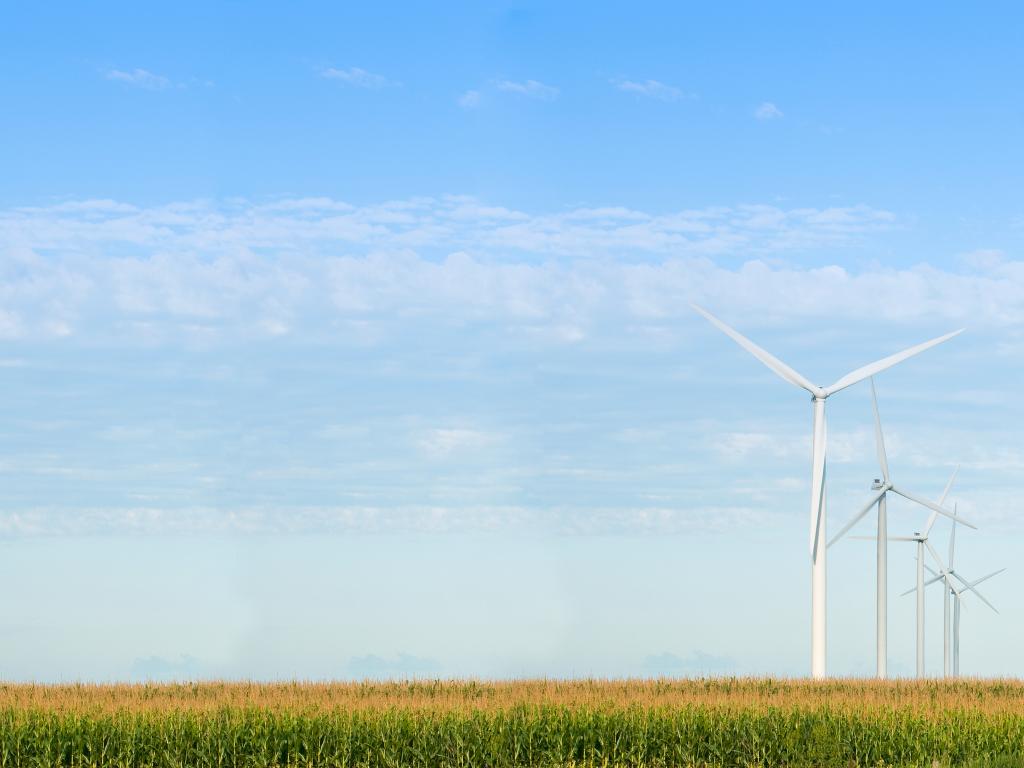 From Omaha, take the I-29 north to Junction City. This is where we get to see even more of the rural beauty of the area as we get off the interstate and join US-50, still going west.
Follow this until it meets the I-90, just outside Pukwana, which you'll follow almost the rest of the way to Rapid City.
From Rapid City, it's just a short trip to Mount Rushmore down US-16 and 16A.
Best places to stop between Chicago and Mount Rushmore
So, while you could technically make the journey in one day, I think it's clear it will be more enjoyable to break it up into chunks and make the most of your time in an area you may not get the chance to come back to again.
Looking at the length of our journey, I'm going to break it up into three even parts.
A relaxing stay in Des Moines, Iowa
The first stop on our list will have us staying in the capital city of Iowa, Des Moines.
There's not much to see between here and Chicago, so making the journey in one hit will give us plenty of time to explore the city.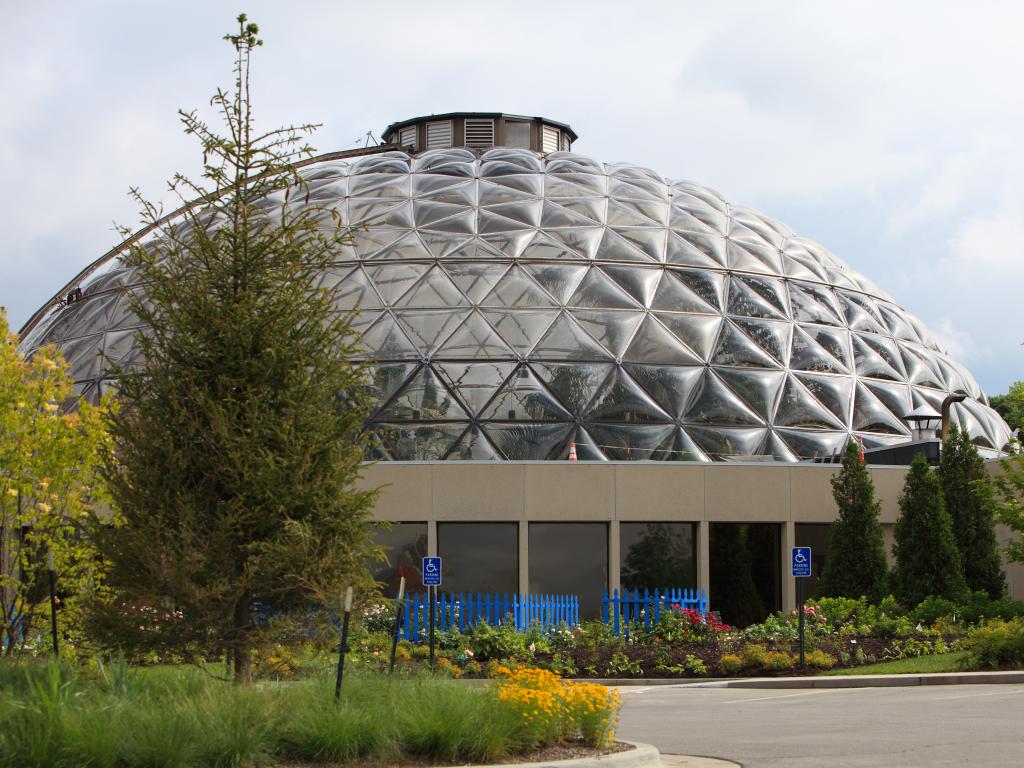 A beautiful city that's often overlooked due to its location, Des Moines has plenty of things to keep you entertained for an afternoon. See the Iowa State Capitol, the Botanical Gardens, and the Kruidenier Trail Bridge, before relaxing in one of the many great bars and restaurants throughout the city.
Just a short drive south-west, there's also the town of Winterset, home to the birthplace of the legendary movie star John Wayne and featuring a museum of his life in the house he was born in.
As this is certainly going to be a trip to remember, why not do it in style and treat yourself to a stay in the Historical Oscar Lofquist House?
With a central location in Des Moines, you can stat in a huge apartment with luxurious furnishings, beautiful grounds, and stunning views to make you feel like Des Moines royalty and get well rested to prepare for the long road ahead.
Experience life on an Indian Reservation
For many of us, life on an Indian reservation is something we won't really understand. We'll have seen it in films and heard about it in the media, but until you've visited one, you won't get a true feeling of what they're actually like.
Considering our route takes us directly through the Yankton Reservation, home to legendary figures such as Chief Running Bull, there will never be a better time to experience it than this.
See the stunning wildlife and beautiful landscapes, learn about the rich history and culture of the area and talk to the people for whom this is their lives.
An experience we thoroughly suggest everyone has at least once in their lifetime, you get to tick it off without even making a detour. Now that's a win if ever we saw one.
While visiting, we recommend making the Fairfield by Marriott Inn & Suites Yankton your home away from home. This modern hotel has all the amenities you will need, including a fabulous indoor pool and a fitness center if you are looking to keep active during your road trip.
Make sure to take advantage of the delicious continental breakfast on offer before you hop back on the road.
A not-so-rapid stay In Rapid City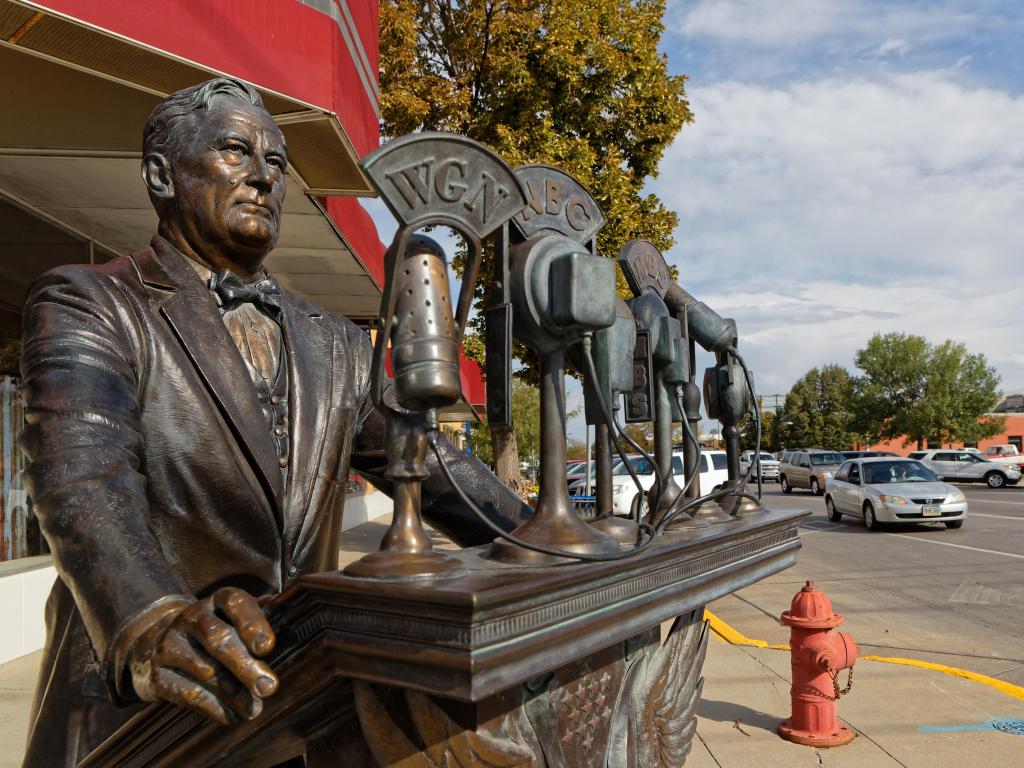 The final stop on our journey, Rapid City, is great in its own right but is often used as a place to stay on the way to other sights and destinations.
Within 50 minutes of the city, there is an incredible number of sights and attractions to see.
You have national parks, historic towns, tourist attractions, festivals, and even Mount Rushmore itself is less than 30 minutes away. If you wanted to drive a little further, there's also the site of the famous Wounded Knee Massacre under 90 minutes from the city.
With so much in the vicinity and all the time you've taken to get here, I'd highly recommend staying for at least 4-5 nights to make sure you don't go away feeling like you've missed out on anything.
With a longer stay here, you're also going to want to make sure you get your accommodation just right. Well, when you've traveled all this way to visit Mount Rushmore, it's only fitting to stay at the beautiful Summer Creek Inn.
This lovely inn has all the luxury you might need after a long drive, or a day spent outside exploring Mount Rushmore. We highly recommend booking a treatment at the spa on-site to pamper yourself and unwind in style.
The next day, you will be able to enjoy a delicious breakfast and admire the views of a waterfall and beautiful gardens on the sun terrace before setting off on the next leg of your adventure in Rapid City. Both Hill City and Deadwood are manageable drives from the property.
Things to see on a road trip from Chicago to Mount Rushmore
So, we've said we're making three stops along the journey, but that doesn't mean there are only 3 things to see. It doesn't even mean we'll only be stopping for three nights.
There's plenty to do and see along the route, with some being short stops and others being locations you may want to spend more time in. Your own personal preferences will dictate how long you stay at each of our overnight spots.
With that in mind, some of the sights you can look forward to seeing along the way include:
Iowa Cornfields - Famed for its sprawling cornfields, experience driving through the countryside with them spreading out as far as the eye can see in every direction.
Des Moines - The capital and most populous city in the state of Iowa.
John Wayne Birthplace Museum - Just down the road from Des Moines, in Winterset, is the birthplace of a legend. Visit the childhood home of the duke, restored to how it would have looked at the time of his birth in 1907, and learn his history as it's now a museum dedicated to his life and works.
Omaha - The capital city of Nebraska, Omaha is home to dozens of historic landmarks and districts. Take the opportunity to get out and explore some of the area's culture on your way through and see attractions such as the Henry Doorly Zoo and the Old Market.
Yankton Reservation - Experience the landscape, history, and culture of what a modern-day Indian Reservation looks like.
Wall Drug - A famous attraction located adjacent to Badlands national park, Wall Drug features a large collection of Wild West-themed stores, including souvenir shops, restaurants, and, as you might expect, a drug store. There's also a large art gallery and a Brontosaurus sculpture to show the culture and history of the area, which you can further explore in….
Badlands National Park – A beautiful national park covered with sprawling prairies and canyons. Make the most of your chance to get back to nature for a while and see if you can spot some of its famous bison or bighorn sheep. It's also home to one of the world's richest collections of fossils, and there are paleontologists on-site to teach you about them.
Wind Cave National Park – One of the longest and most complex cave systems in the world lies beneath great pine forests and grassy prairies. Whether you're more interested in being above or below ground, this is an adventure not to be missed.
Deadwood - The second-largest Wild West town still in existence (behind Tombstone, AZ), walk the same streets as the legendary lawman Wyatt Earp, see the spot where Wild Bill Hickok was killed, and get a real feel of what made the American frontier famous.
Sturgis Festival - If you're lucky enough to be in the area during the first weekend in August, experience the largest motorcycle rally in the world. Featuring live bands, organized rides, and stalls selling all manner of products, it's definitely a unique event.
Crazy Horse Monument - Expected to be one of the largest carvings in the world upon completion, see the monument to the legendary native war chief as it's being built. Visitors are even given a piece of the mountain that has been removed to take home as a souvenir, free of charge.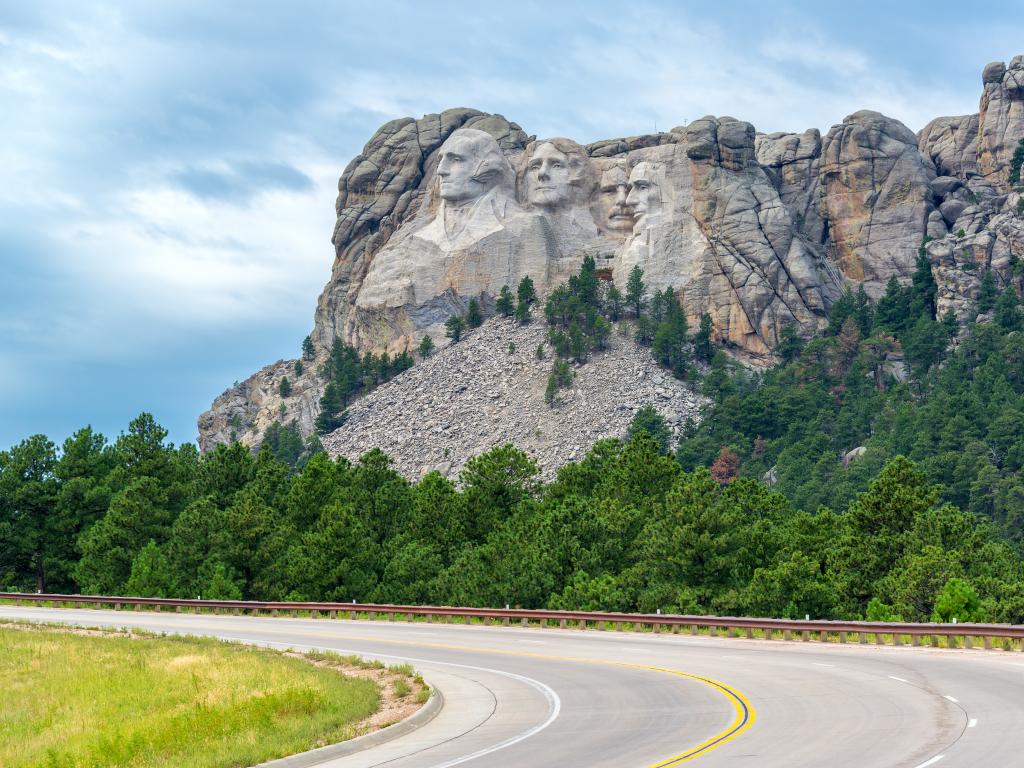 Best time to go on a road trip from Chicago to Mount Rushmore
While you can go at any time of year, as this isn't a beach destination that relies on the weather, you must be aware that the surrounding area operates on a traditional tourist season.
While it's certainly enjoyable to see the mountain without swarms of tourists all around, many of the attractions near Mount Rushmore will be closed. When I visited in February, for example, only one store was open in the town of Keystone at the base of the mountain.
With that in mind, if you're looking to experience everything the area has to offer, I'd suggest visiting at the start of August. Not only do tourists thin out just a little compared to the previous month, but it also gives you the opportunity to experience the Sturgis festival while you're there.
Perfect for getting everything out of an area that many will only get to visit once in a lifetime.