20 Best Road Trips From Denver, Colorado
Sitting on the edge of the Rockies and within driving distance of everything from arid deserts to snow-covered peaks and lush forests, Denver is a great starting point for every kind of road trip you might want to go on.
If you only have limited time or don't want to go far, check out our list of short trips from Denver you can do in a day. For those who relish devouring miles of highways to see red rocks in Sedona, herds of buffalo in Yellowstone or the bright lights of Vegas, we've put together the list below.
Best Road Trips From Denver
Here is the full list of the 20 best road trips from Denver starting with short drives through Colorado moving to longer drives further down the list.
1. Colorado Springs, CO
1 hour 40 minutes from Denver (70 miles)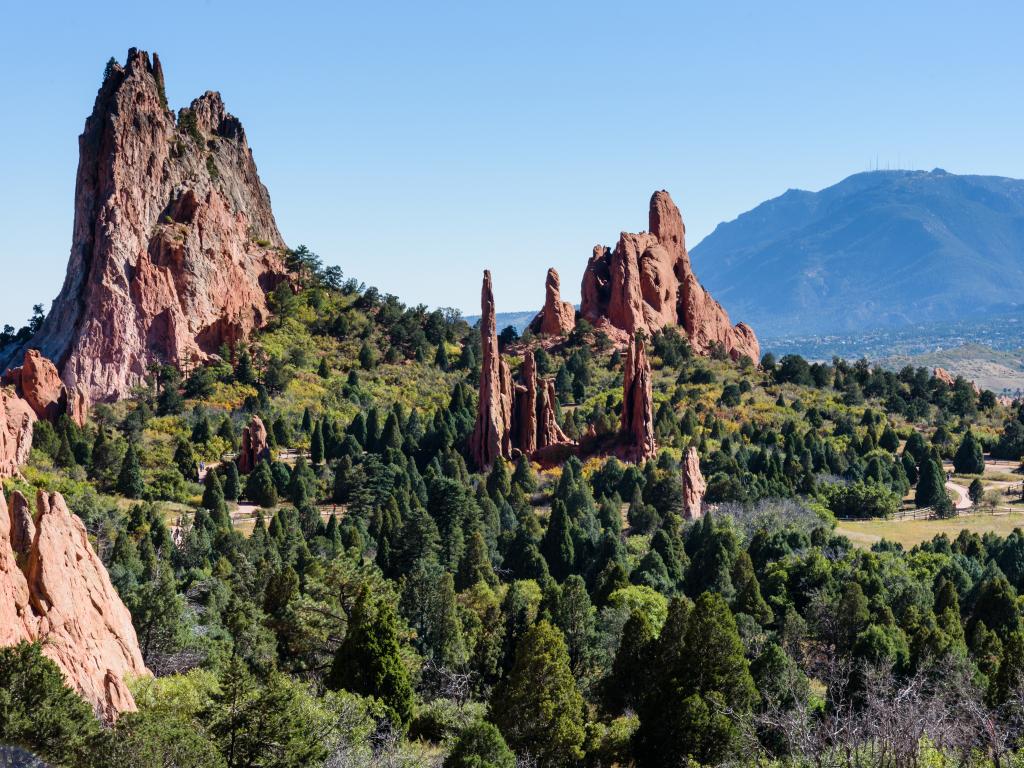 The shortest road trip on our list is only 70 miles down to Colorado Springs. There's a choice of highways depending on where in Denver you're starting from with the I-25 usually being the fastest route.
Although a lot of visitors to Colorado Springs don't actually make it into the town itself heading straight to the sights and activities outside the city, there's plenty to do and see here.
Colorado Springs was the capital of Colorado from 1859 and Old Colorado City is a great place to stroll with a lot of old shops and local restaurants where you can grab lunch.
Just outside the city is the Garden of the Gods standing between Colorado Springs and the Pikes Peak Mountain towering above.
The unusual rock formations are popular with hikers with one group of thing spire-like rocks being known as Cathedral Valley and other unusual rocks including a huge balancing rock and a large circular hole surrounded by red rock which makes for a perfect photo frame.
If you want to head up to Pikes Peak, the 19-mile road to the top is more than worth it. You have to pay a toll to enjoy the privilege but this is the famous road that is home to the annual Pikes Peak challenge where adrenaline junkies in everything from classic muscle to modern supercars scale the twists and turns to the top.
2. Glenwood Springs, CO
2 hours 40 minutes from Denver (157 miles)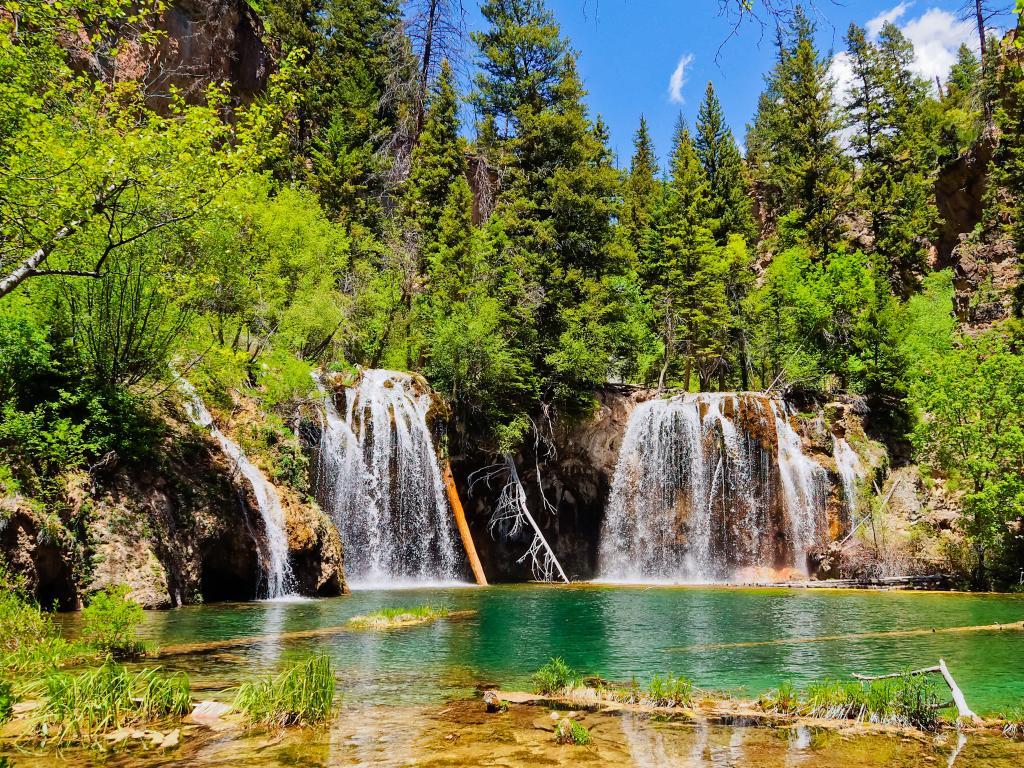 To get to Glenwood Springs from Denver, you'll have to drive over the Rockies and through the White River National Forest - a trip should take a little under 3 hours.
As far as scenic drives go, you'll struggle to find a better set of views door to door as you head past snow-covered peaks and wind your way through valleys and ski resorts.
Glenwood Springs is a town that is famous for having the largest hot spring pool in the world - the Glenwood Hot Springs Pool. Its 1 million gallons of water are cooled to a temperature of 90 to 93 °F (33°C) all year round.
For those who like it hot, the water that comes out of the Yampah Spring at 122 °F (50 °C) is only cooled to 104 °F (40 °C) in the Therapy Pool - that's hotter than a warm bath!
Hanging Lake is one of those picture perfect scenes in the Rockies. Just 10 minutes outside Glenwood Springs, you can park right up by the trail in the winter months, but from May to October there's a shuttle that takes you there from the city.
Get your Hanging Lake permit sorted online in advance and after a short and relatively straight-forward walk you'll see the lake and the small serene waterfalls that feed water into it.
3. Steamboat Springs, CO
3 hours from Denver (156 miles)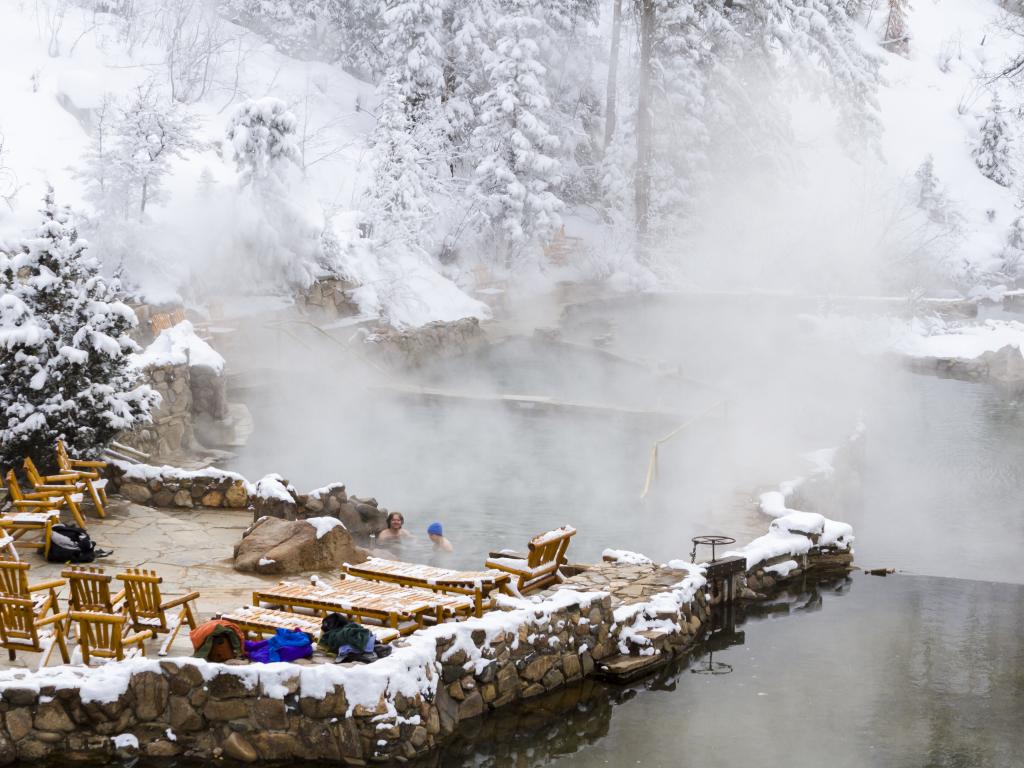 Steamboat is a pretty town sitting on the edge of the Medicine Bow-Routt National Forests with a gorgeous mountain backdrop.
The town of Steamboat Springs, the Steamboat ski resort, the stunning Fish Creek Falls and the Strawberry Park Hot Springs mean there is something for everybody any time of the year to see and do.
Steamboat is known for its outdoorsy lifestyle - there are ranches dotted around outside the city, a slower pace of life and activities ranging from mountain biking to snowboarding to help you enjoy the fresh mountain air.
There are a few ways of getting to Fish Creek Falls from Steamboat Springs ranging from a gentle stroll along a paved path to trekking for a few hours over the top of a mountain.
Whichever route you take, it's definitely a must stop if you're coming all this way - the falls roll through rocks surrounded by a pine forest putting you in a relaxing trance the moment you hear the water.
4. Aspen, CO
3 hours 20 minutes from Denver (159 miles)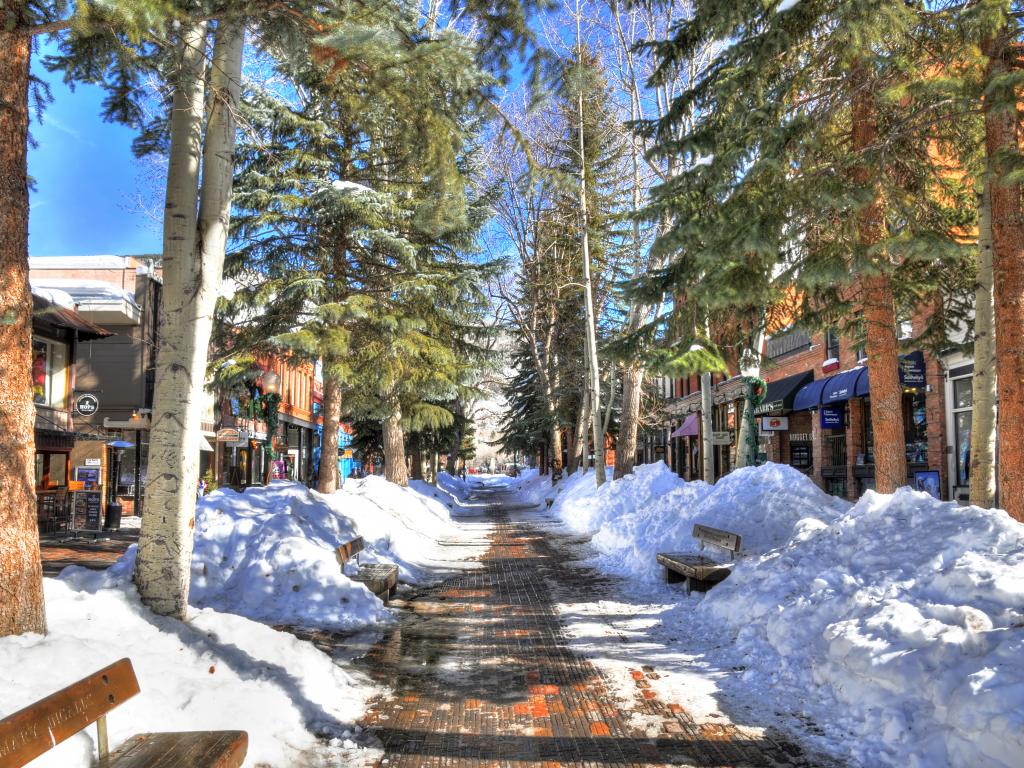 Getting to Aspen from Denver takes a little over 3 hours. In the summer you can take the shorter route by turning south off the I-70 at Copper Mountain. After you follow Highways 91 and 24, the turn right at Twin Lakes will take you up towards the resort.
In the winter State Highway 82 is shut because the passes become too dangerous in the snow and you'll have to take the longer way around through Vail and Glenwood Springs, although it will only add around 10 minutes onto your journey.
Aspen is known as one of the top snow destinations in the United States. If you love winter sports or just want to spend a few days in the mountains breathing fresh air and doing a bit of sledging, Aspen is a perfect place to come.
There are 4 separate ski resorts in Aspen - Aspen Mountain, Aspen Highlands and Buttermilk are smaller mountains and are closer to the resort. Snowmass is the largest but you'll need to drive a few miles to get there.
If skiing and snowboarding is not your thing, there's snowmobiles, tubing, snowbikes (it's a thing!) and ice skating.
In the summer, ski slopes turn to mountain bike trails and the hiking routes become a little easier without a few feet of snow on top of them. There are mountain top restaurants that are open through every season and you can even catch a concert at the 19th century Wheeler Opera House!
Read our detailed guide on what awaits you on a drive from Denver to Aspen and whether it is a challenging journey.
5. Palisade, CO
3 hours 40 minutes from Denver (232 miles)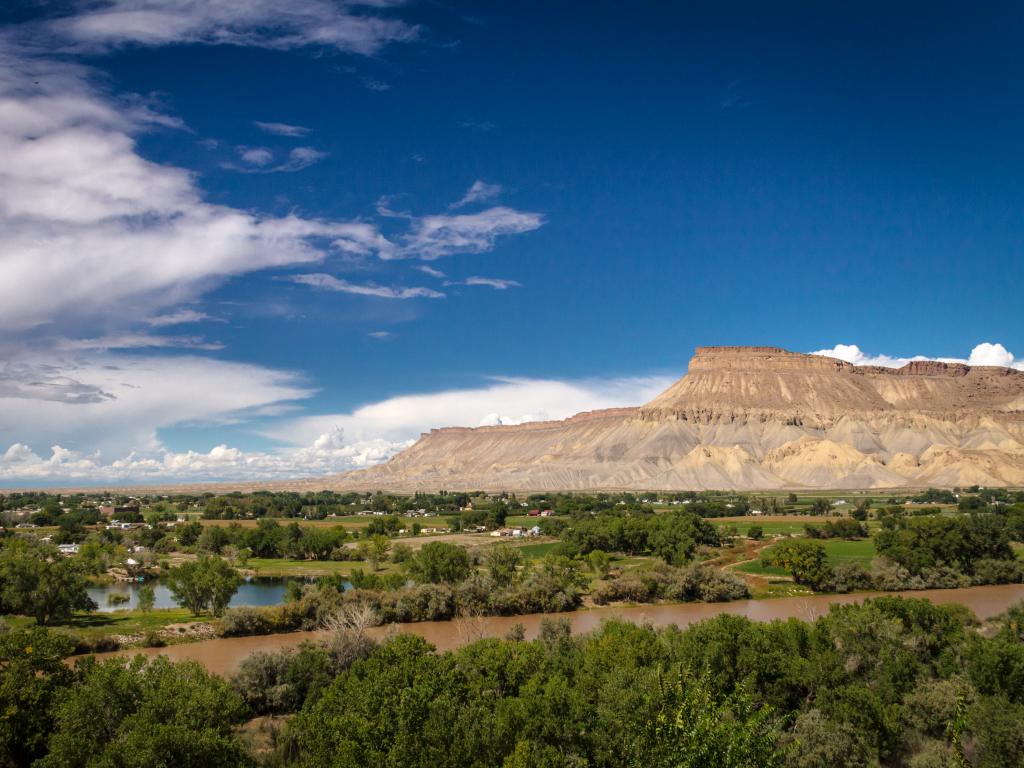 The small charming town of Palisade sits between the city of Grand Junction and the Grand Mesa National Forest. If you're just driving through you might not think much of this relaxed place in the foothills of the Rockies and you would be very wrong.
Because Palisade has a huge amount to offer drawing visitors from near and far all the way through the year.
The town sits along the Colorado River with the rocky plateau of the Grand Valley providing a scenic backdrop. The floodplain soils and the local weather have made this a perfect spot for producing wine and there are 25 wineries producing some really amazing wine here.
The Colorado Wine Country, as the locals call it, hosts the annual Colorado Mountain Winefest in September to celebrate the grape harvest but you need to plan ahead to get tickets as the event sells out every year.
But wine is not all there is to Palisade. The local peaches have become a big deal and there's the Peach Festival in August where you can join in the peach eating competition or judge the merits of different types of peach ice cream.
On top of these events and many other festivals dotted through the year, Palisade has some great local restaurants, art galleries and a brewery that makes a hearty wheat beer. There are few better spots for unwinding for a few days and enjoy a short road trip from Denver.
Top tip: If you love a good driving road, you're in luck. The Grand Mesa Scenic Byway runs south from just outside Palisade and offers breathtaking mountain views, tight turns and little traffic.
6. Great Sand Dunes National Park, CO
3 hours 50 minutes from Denver (239 miles)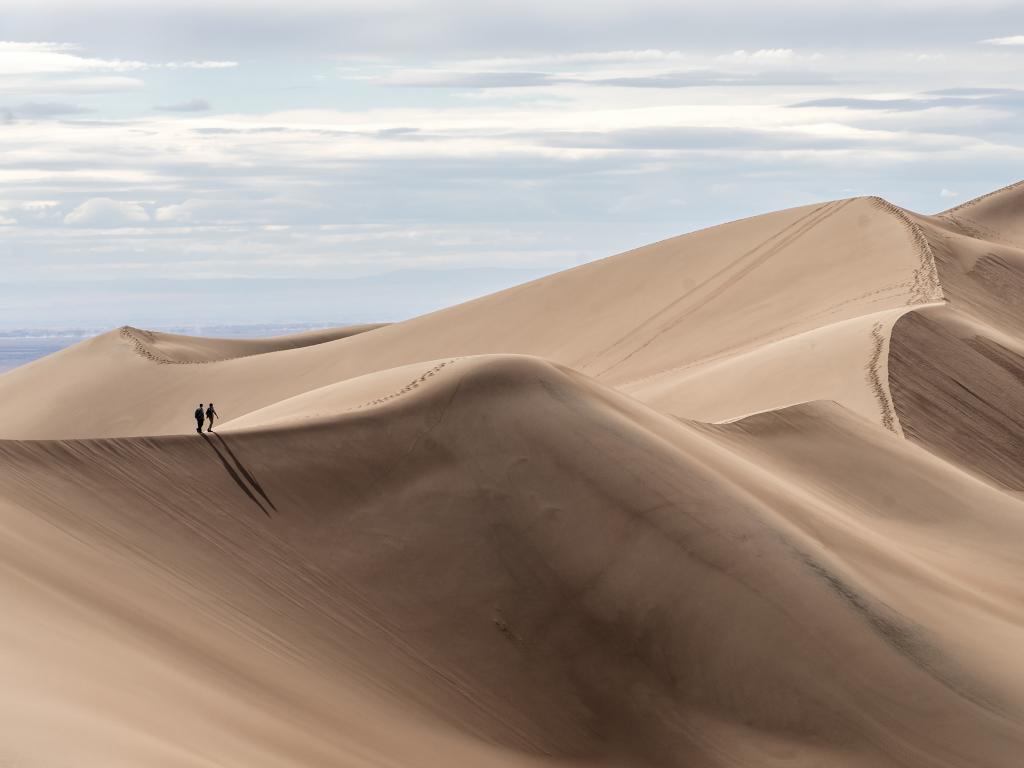 If you thought that Colorado was all about the tall mountains, rivers flowing through valleys, plains stretching to the horizon and wild grasslands, think again.
The Great Sand Dunes National Park is less than 4 hours' worth of driving from Denver and has sand dunes that wouldn't look out of place in the Sahara desert.
In fact these are the tallest sand dunes in North America with a total area of around 30 square miles (78 square km) with the pyramid shaped Star Dune towering above the rest.
Aside from walking along the ridges of the sand dunes, you can have a go at sledding (yes!) down the sand and relax by Medano Creek in late spring through to early summer when the weather turns warmer.
The fastest route to the Great Sand Dunes National Park will take you through Colorado Springs - it's a great place to stop on the way and depending on time, you can check out Pikes Peak and the Garden of the Gods as well - see #1 above!
5 hours 50 minutes from Denver (392 miles)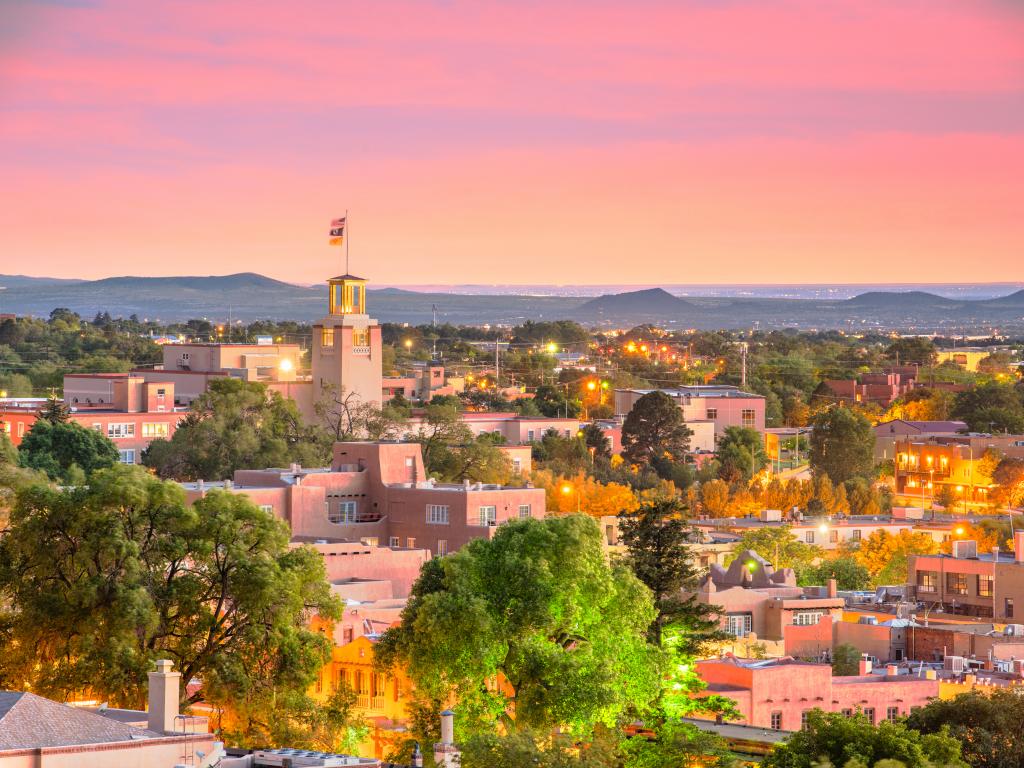 The first destination on our list outside Colorado is the city of Santa Fe in northern New Mexico.
The road trip from Denver to Santa Fe is incredibly straight-forward. You need to join the I-25 south in downtown Denver and stay on the road for just shy of 400 miles until it loops past Santa Fe - a simple enough route to follow!
You can follow US-285 which is a more direct route shaving over 30 miles off the journey. It is definitely more scenic passing by mountains and along scenic roads, but will add half an hour to the driving time. I'd recommend heading down to Santa Fe this way and then taking the interstate back if you are heading home in the evening when you won't see any of the views.
Santa Fe is a unique blend of colonial style Pueblo architecture and arts. The arts scene mixes traditional local Indian art with Mexican influences from further south.
The food here is one of the main reasons you should come. A unique New Mexico flavor brings together Mexican cooking styles with locally grown peppers and pine nuts.
Santa Fe was the capital of the New Mexico Territory until it became a U.S. State as recently as 1912 and has retained a unique cuisine and culture that makes it one of the best hidden gems you can visit from Denver.
READ MORE - Denver to Santa Fe Road Trip
6 hours from Denver (362 miles)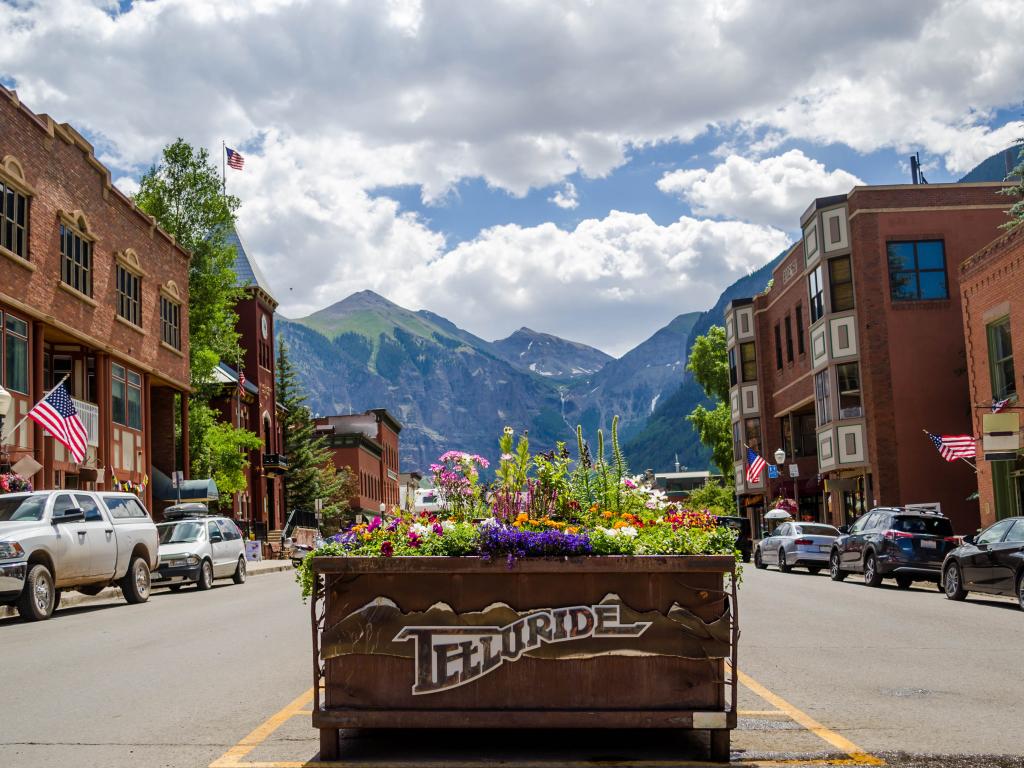 Telluride is the perfect destination for road trip fans coming from Denver. The drive to get here crosses mountain ranges and passes through a few National Forests - worth coming just for that alone.
But then when you actually get to Telluride, you will find yourself on the San Juan Skyway - a 233-mile loop through San Juan Mountains that is one of the best scenic drives in the state.
With 12 hours of driving to get to and come back from Telluride and the day out along the twists and turns of the Skyway, you might also want to do some relaxation and this is what Telluride will provide for you in large amounts.
For those who like to be active there's skiing and sledding in the winter and hiking and white water rafting over the summer months.
If you want to relax and not exert yourself, head to the cafes and restaurants in Mountain Village or visit on of a surprisingly large number of art galleries in town.
Don't forget to visit the Bridal Veil Falls which you can get to by driving up the valley from Telluride. This very pretty waterfall freezes over completely in the winter and the trail up becomes a little treacherous so take care.
READ MORE - Denver to Telluride Road Trip
9. Thermopolis, WY and the Hot Springs State Park
6 hours from Denver (408 miles)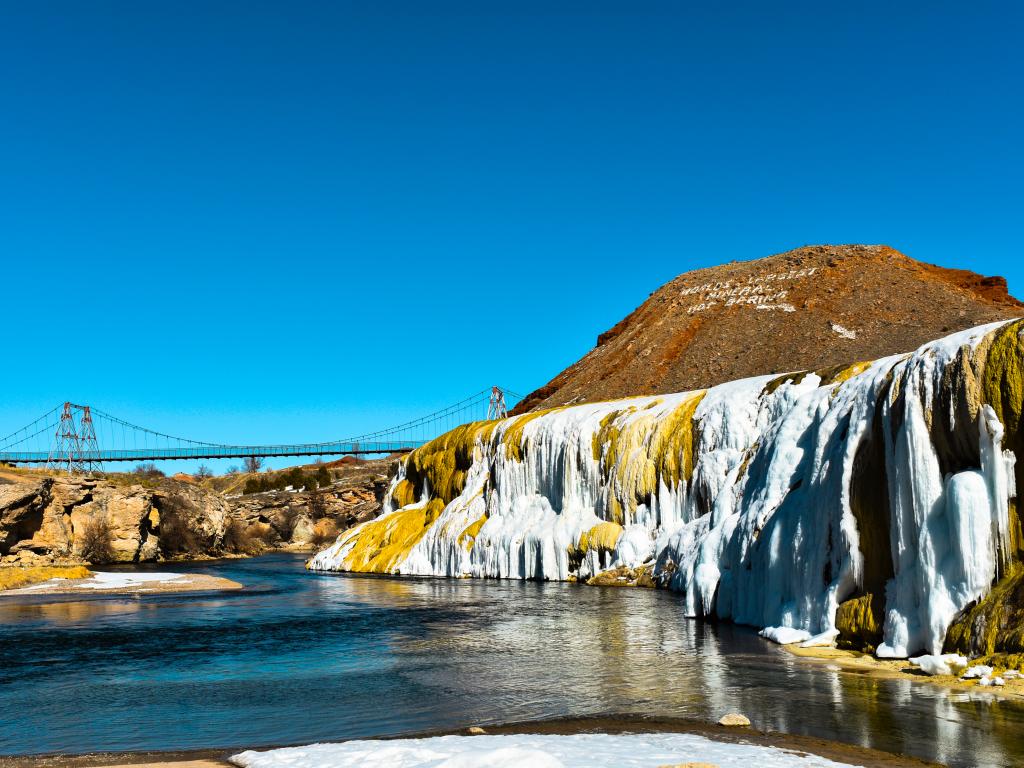 Thermopolis is a small town in Wyoming and it will take you around 7 hours to get there including a stop for lunch on the way. The main reason to go to Thermopolis is the Hot Springs State Park - a small reserve where hot thermal waters flow into the Big Horn River.
The water comes from the ground at a temperature of 135 degrees Fahrenheit (57 °C) so don't try dipping your toes - it will feel really hot and you can burn yourself.
For those who want to do some bathing, the park has a dedicated Bath House where the water is allowed to cool to 104 °F (40 °C) which is still warmer than a typical hot bath. You can use the facilities for free, although there's a small payment needed for the towels.
The water that comes through the rocks in the ground is full of salts and minerals and these are deposited as a colorful compound called travertine forming pretty waterfall-like limestone formations.
To help you get around the park, there are paths and trails as well as a swinging suspension bridge over the river. You can drive around to find the small State Bison Herd that lives in the park, but take care not to get out of the car or approach the bison when you do spot them - they are wild animals and can be dangerous.
6 hours from Denver (367 miles)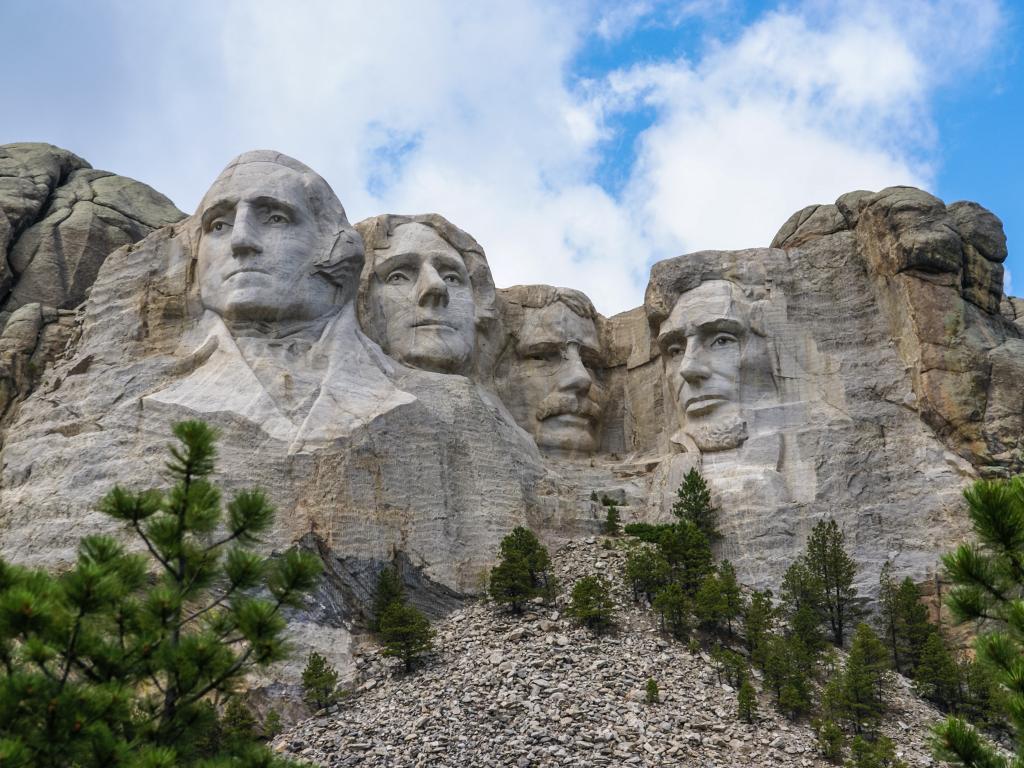 Most Americans know of Mount Rushmore - the giant 60 foot (18 m) faces of 4 of the most famous U.S. presidents are one of the most iconic landmarks in the country.
Few Americans, however, would be able to point to where Mount Rushmore is on a map and the answer is - less than 6 hours of driving headed north from Denver.
Mount Rushmore is located in the Black Hills - a mountain range in the southwestern corner of South Dakota a few miles from the border with Wyoming. The Black Hills National Forest and Wind Cave National Park are located in these mountains and are well worth visiting as part of the road trip.
The faces of George Washington, Thomas Jefferson, Theodore Roosevelt and Abraham Lincoln were originally meant to be larger sculptures going down to the waist of each President, but as funds run out in 1941, Lincoln drew the short straw of having the least proportion of his head completed.
The route to Mount Rushmore will be very flat with few exceptions. You will pass close to the Pawnee and Thunder Basin National Grasslands which are worth stopping by if you have time. Both are vast flat expanses covered in grass as far as the eye can see - perfect for relaxing with a beer as the sun slowly sets behind the horizon.
READ MORE - Denver to Mount Rushmore Road Trip
11. Canyonlands and Arches National Parks and Moab, UT
7 hours 30 minutes from Denver (438 miles)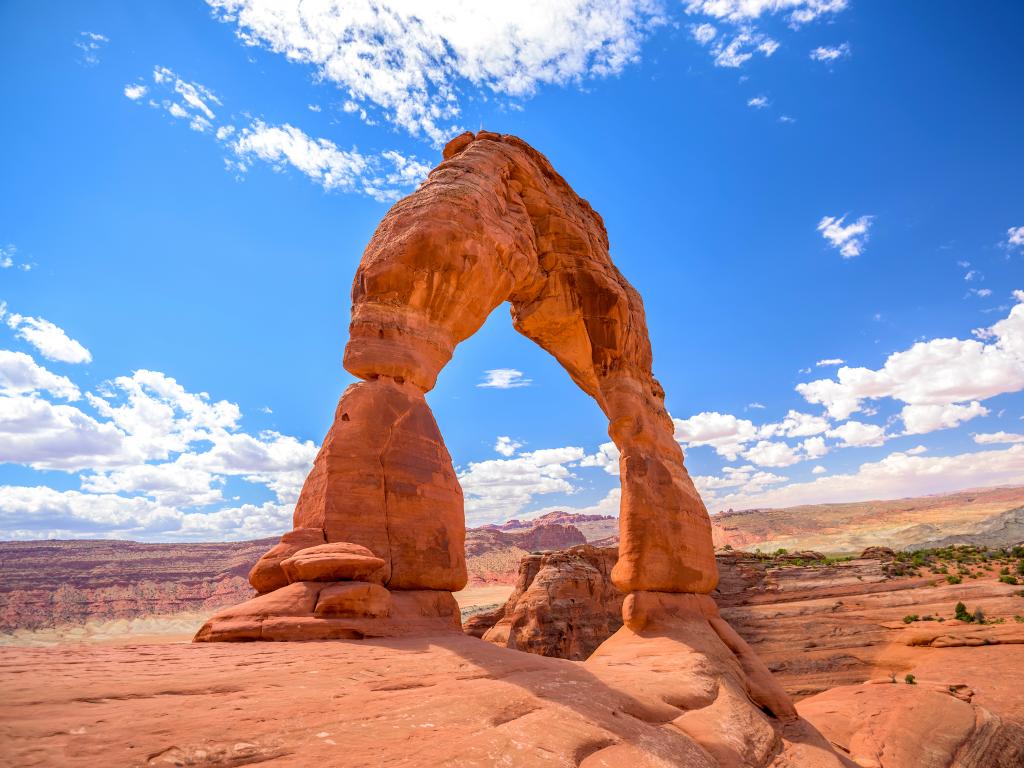 Moab may be a popular destination and during the peak of the tourist season it can get busier, but there's a good reason for that - it's an amazing place to go!
If there's one long road trip from Denver to go on, this might be it! There's amazing National Parks with canyons, unusual rock formations and crazy wildlife. Then there's the small local towns that will make you feel like you've driven to a different planet let alone the next State.
Exchanging the hustle and bustle of the big city for the endless surreal landscapes is worth it and at just over 5 hours, Moab is not a long drive. I've raised the time taken above to 7 hours 30 minutes because you will want to drive into Canyonlands and Arches National parks and that'll add a fair bit of time to your driving distance.
Arches is a much smaller park with short and simple trails that largely let you stroll from the car to a big rock or arch and back again before you have time to break a sweat. It is also much closer to Moab so this is where the majority of people go.
You might need to make a reservation for a timed-entry permit while visiting Arches National Park. Please check the national park's website for up-to-date information.
If you want to see more nature and less people, take the time to drive to Canyonlands which is more than 4 times the size and attracts half the visitor numbers.
Each park costs $30 to enter (and you really ought to visit both if you've come this far!) so what you really should do is buy the America the Beautiful National Parks pass which gives you unlimited access to National Parks across the country for a grand sum of $80. The pass is good for one car and is not limited by people.
If you embark on another road trip later in the year to Yellowstone or head south to Monument Valley or Goosenecks State Park (if you're thinking, the answer is YES - you should!), the pass becomes really worth it!
READ MORE - Denver to Moab Road Trip
8 hours from Denver (518 miles)
Salt Lake City is different to most other U.S. cities you may have visited. Surrounded by mountains and the lake on all sides, the views from the city are spectacular and it is fascinating to walk around the various key sights.
While Salt Lake has its own special place on our list because it really is worth going to, I'd highly recommend combining it with other places to see along the way.
The road trip from Denver to Salt Lake City takes about 8 hours whether you follow the I-70 across the mountains and through Grand Junction or follow the I-80 from Laramie.
If you follow the I-70 route, Moab and the amazing National Parks are on the way so it makes perfect sense to add them to your itinerary. Palisade (#5 above) and Glenwood Springs (#2) are also en route and Aspen is only a minor diversion.
If you're going through Wyoming instead, Cheyenne is a good place to stop as the Medicine Row-Boutt National Forest, but it's a solid 6 hour drive from there to Salt Lake without many other good options along the way.
Salt Lake is the home of the Church of Jesus Christ of Latter-Day Saints. Although Mormons make up less than half the population, the church owns a lot of the land around the city and the Salt Lake Temple, Tabernacle and other Mormon buildings are prominent as you make your way around.
Unfortunately, the Temple and most other buildings are closed to visitors (and undergoing restoration), but you can catch a show at the Tabernacle and mill around Temple Square to get a good feel for the place.
READ MORE - Denver to Salt Lake City Road Trip
13. Monument Valley, Arizona - Utah border
8 hours 20 minutes from Denver (506 miles)
There's a few contenders for the title of the most amazing National Park on this list - Yellowstone is just below, Canyonlands, Arches, Bryce Canyon and Zion National Parks are all phenomenal as is the Grand Staircase-Escalante National Monument, the Grand Canyon and the Red Rock State Park near Sedona.
But there's something really outstanding about Monument Valley that sits on the border between Arizona and Utah and most amazing of all - it's not a National Park or Monument. As it is located within the Navajo Nation Reservation, it is simply a part of the Navajo Tribal Park.
Monument Valley is famous for the giant red rocks that tower above the valley floor reaching a height of 1,000 ft (300 m) above ground level. Countless movies, TV shows and adverts have used the otherworldly look of the trio of West Mitten Butte, East Mitten Butte, and Merrick Butte.
If you're coming this far from Denver, you should consider adding Glen Canyon and Goosenecks State Park to your route. Goosenecks especially is an unbelievable sight as the meanders of the San Juan River have carved a unique deep twisting canyon into the landscape.
If time is on your side, you can keep going and see the Grand Canyon and the red rocks in State Parks near Sedona further south in Arizona. Combine that with Moab that is on the way from Denver and you have one seriously amazing road trip!
8 hours 20 minutes from Denver (509 miles)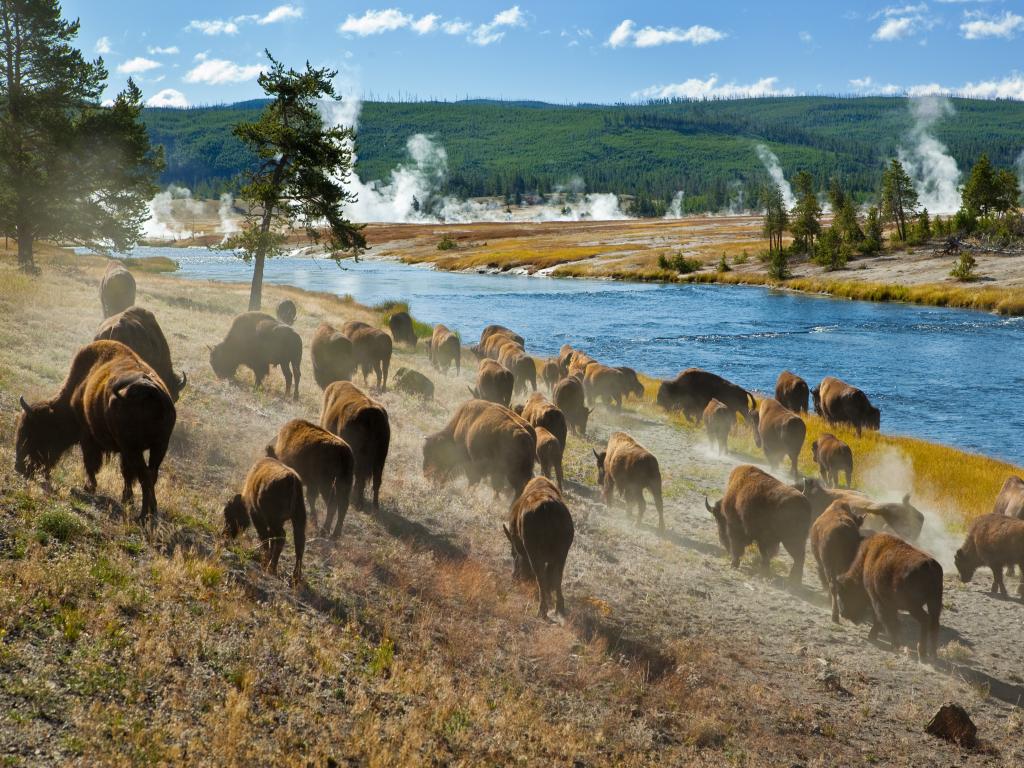 Yellowstone is one of the most famous National Parks in the United States and at just over 8 hours' worth of driving, it's a perfect getaway destination from Denver.
There are two main routes up which take you either to the South or the East entrance. I'd recommend going through South or West entrances - the route up is more scenic and you get to drive through the Grand Teton National Park as you approach Yellowstone.
Yellowstone sits on top of a giant volcano. It is dormant and erupts only every several thousand years, but the signs of the geothermal activity are everywhere you go.
Half of all the geysers in the world are found in Yellowstone - there's hot springs, steam coming through the ground and an amazingly rich wildlife ecosystem.
Wolves, bison, elk, deer, moose and grizzly bears are just some of the hundreds of different animal species that live in the park.
Inside the park, there are different lodging options, 2,000 campsites and 12 larger campgrounds. There are a few small towns where you can stock up on supplies as well.
Remember that Yellowstone is closed to cars in the winter months. You can stay outside and go into the park on snowmobiles but you won't be able to go far due to the heavy snow and large distances.
READ MORE - Denver to Yellowstone Road Trip
15. White Sands National Monument, NM
8 hours 40 minutes from Denver (564 miles)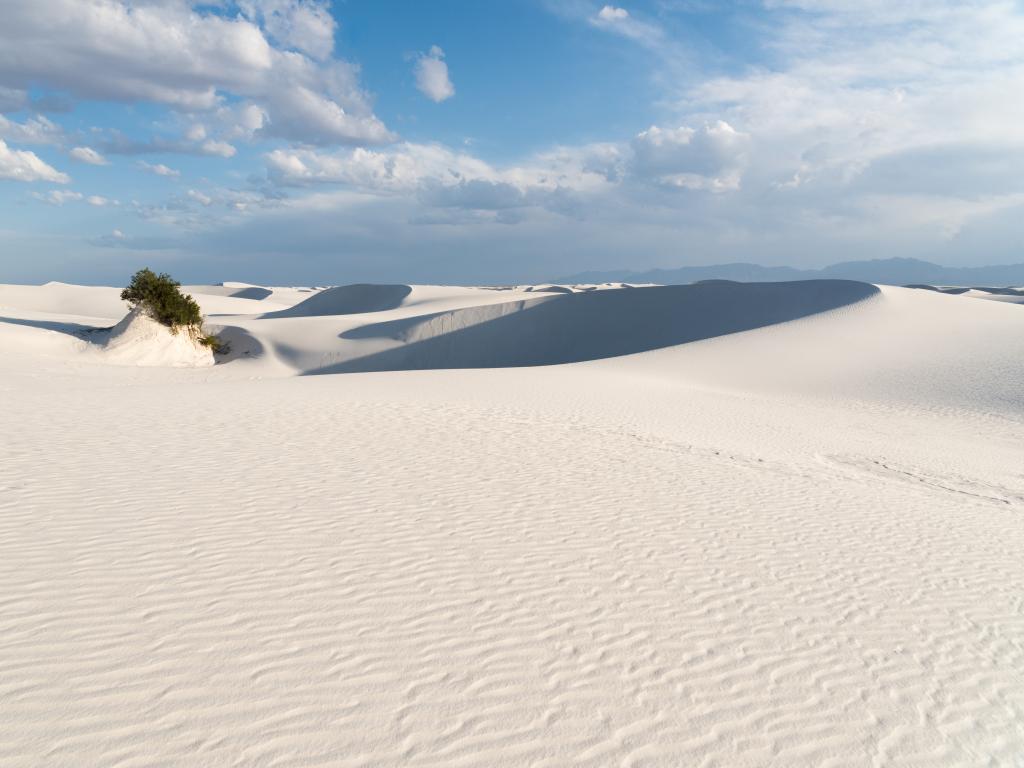 The White Sands National Monument is located in the National Park with the same name about 55 miles north of Las Cruces in southern New Mexico.
It's a long way to come, but the 275 square miles of white dunes are an amazing sight and most importantly, despite the name, it's not even sand!
The dunes here are made of fine gypsum crystals - the material used in making chalk and plaster. The park is fairly small and you won't want to spend more than a day or two exploring it. The road leading into the park is only about 8 miles from the highway so it's easy to get in and out.
There's nowhere to stay in the park itself - it is a load of dunes after all. There's a choice of hotels in Alamogordo which is the nearest town or Las Cruces if you are happy driving a little further.
Be aware that the park is right next to the White Sands Missile Range. This means that the park can be closed for several hours at short notice and the opening hours are strictly enforced. You have to exit the park by 6 p.m. in the winter and 9 p.m. in the summer.
If you want to break up your journey, there's a few options. Colorado Springs is on the way, but very close to Denver. Santa Fe (see #7 above) is a great option to make a stop as are some of the resorts in the Carson National Forest if you choose to make a diversion.
16. Zion and Bryce Canyon National Parks, UT
10 hours 50 minutes from Denver (644 miles)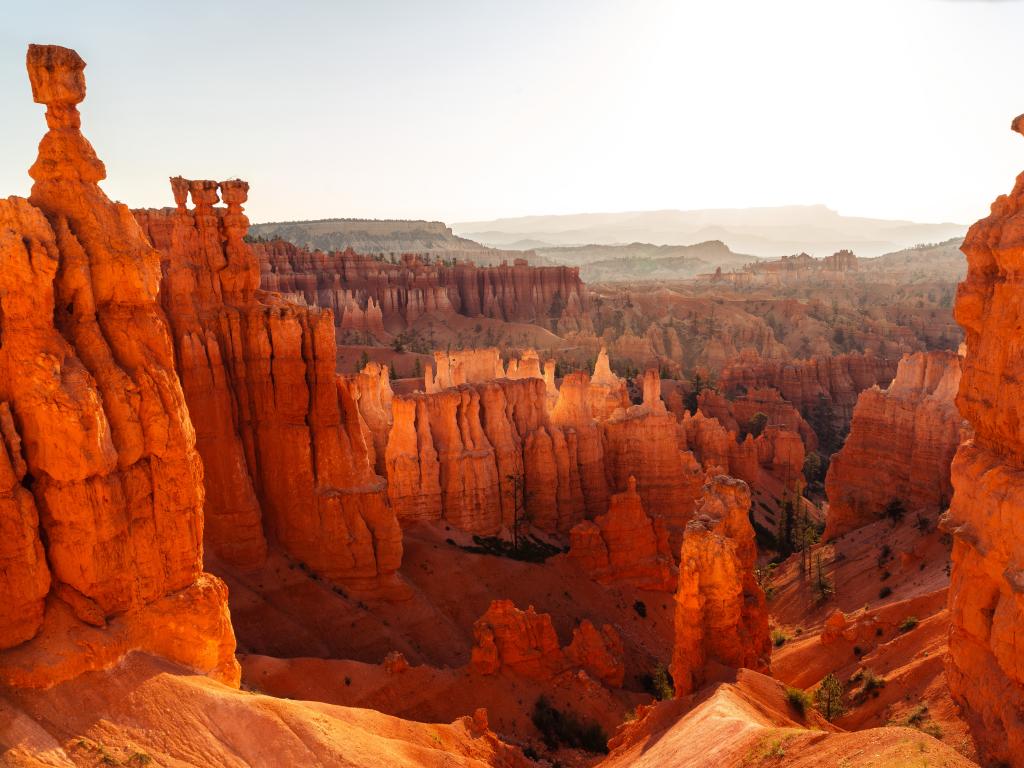 If the other National Parks are not enough or you've already been to all of them and want to see more, the parks in southwestern Utah are a great road trip option.
Bryce Canyon and Zion National Parks are close to each other, but are really different.
Bryce Canyon is a small park that is located at a very high elevation. This is where you'll find the large rocky amphitheaters where pointy rock formations look like people sitting in the audience. It's an amazing place to see, but you won't need more than a day to check it out and Zion is a better place for hiking.
Zion National Park is all about beautiful green canyons, mountains and red rocks that just seem to work amazingly well together. There are a lot of hiking options - Zion Canyon is the highlight of the park and you can go on anything from a gentle 30 minute walk to hikes that take 12 hours of strenuous climbing to complete.
If you'd like to hike up to Angels Landing, you will need a permit and will need to make a reservation. Check the Zion National Park's website for more details.
The Grand Staircase-Escalante National Monument starts right next to Zion and Bryce Canyon National Parks and is a large expanse of wilderness that was declared a National Monument only in 1996.
This part of Utah was the last mapped part of the United States and there is still very little development with miles upon miles of uninterrupted nature. You can see some of it by turning off the I-70 onto Route 24 and then Route 12 which will eventually lead to Bryce Canyon, but not before seeing a lot of this wilderness all around you.
11 hours from Denver (749 miles)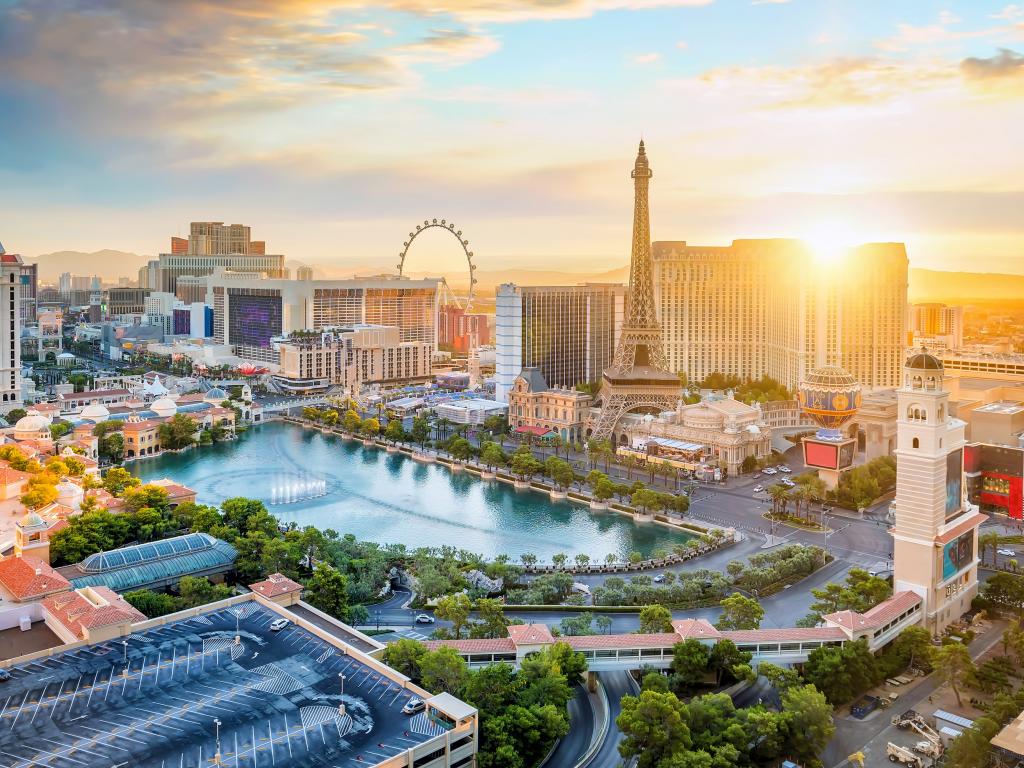 Now that we're getting into the realm of long road trips, I can already hear those voices saying "But surely it's much easier to fly rather than drive 11 hours to get from Denver to Las Vegas".
First, I personally will pick the driving option over the flying option every time when there's a reasonable comparison. I am not a fan of having to pack everything I want to bring into a tiny shiny suitcase and then lug the suitcase on buses, through airports, getting my laptop out and then back in, taking my shoes and belt off, yada yada.
Aside from the fact that road trips are just much more relaxed without a fixed time you have to be places, people also overestimate the time difference. The flight to Vegas takes 2 hours assuming no delays. You have to spend a minimum of an hour at the airport either side going through security, checking bags and queuing
Add half an hour either side for getting to and from the airport and the inevitable hour wasted picking up your rental car and suddenly your 2 hour flight actually takes 6 hours and you're still spending the best part of a day getting there. Chuck your things in the car instead and set off at 7 a.m. You'll be in Sin City in time to freshen up for dinner if you want to go straight there.
Las Vegas doesn't need an introduction for why you should go there - the casinos never close, the restaurants are amazing and there are fantastic shows on every night. I prefer staying at one of the hotels at the newer end of the strip - the Cosmopolitan is nice because it doesn't have the busy casino downstairs and you can get good deals at the Aria.
The road trip from Denver to Las Vegas passes by a number of the places further up our list so you can easily break up your journey and add stops along the way - the White River National Forest, Glenwood Springs, Palisade, the amazing National Parks in Utah and the Grand Canyon are all on the route.
You can get to Vegas in a day if you don't stop too often but you can easily take a week or two depending on how much you want to see!
READ MORE - Denver to Las Vegas Road Trip
18. Red rocks of Sedona, AZ
11 hours 30 minutes from Denver (706 miles)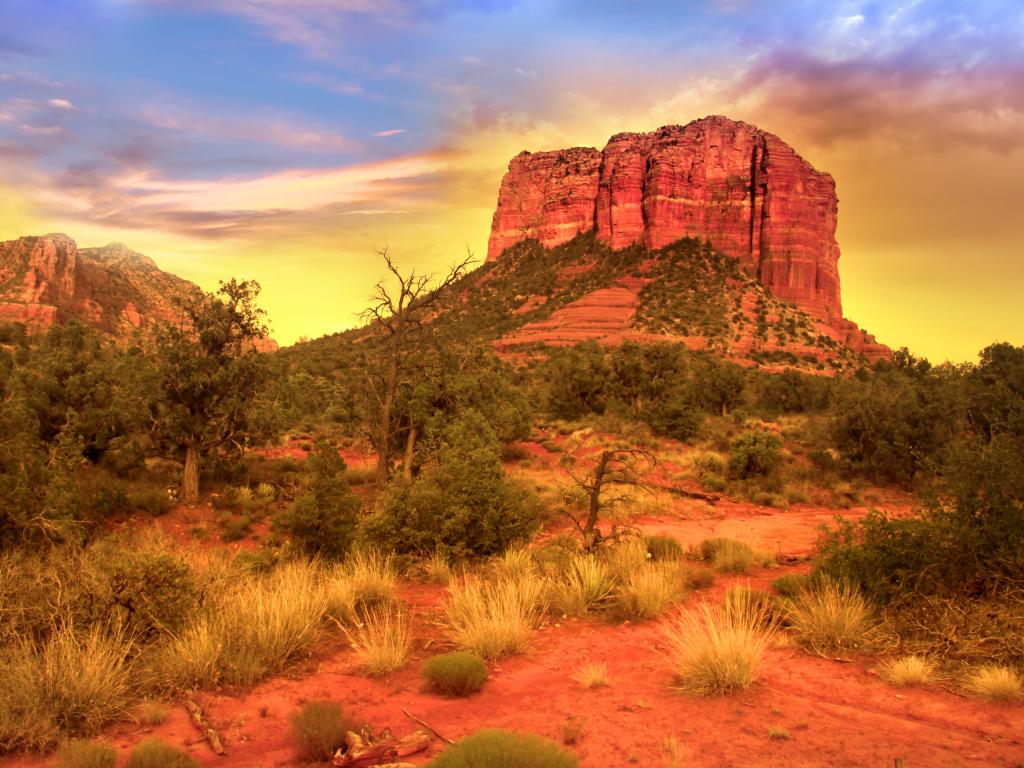 Sedona in Arizona attracts visitors from all over the world for the unique landscapes near the city. Sitting in the middle of a desert, the nearby Red Rock State Park, Slide Rock State Park and other destinations are full of unique red rock formations.
The road to Sedona is a perfect road trip if you have time to make stops. First you cross the Rocky Mountains, pass through Vail, Glenwood Springs and Palisade.
After turning south on U.S. 191, you will pass through Moab and the Canyonlands and Arches National Parks nearby. The road further south goes near Glen Canyon and right through Monument Valley before crossing through the Navajo Nation Reservation to Flagstaff and Sedona.
You can spend 2 weeks just making the drive one way and still only see a fraction of the amazing places along the way!
There are three big sights that you really have to see when you do get down to Sedona. Cathedral Rock and Bell Rock are both just off Route 179 - the views from the road are amazing and we'd highly recommend driving up and down a few dozen times to take it all in.
You can also park up in various locations to hike the trails taking you closer to the rocks. Most of these are relatively easy walks and aren't particularly strenuous.
Devil's Bridge is a little further north and requires a longer hike to get to but it's definitely worth it when you do get up to see it!
11 hours 40 minutes from Denver (740 miles)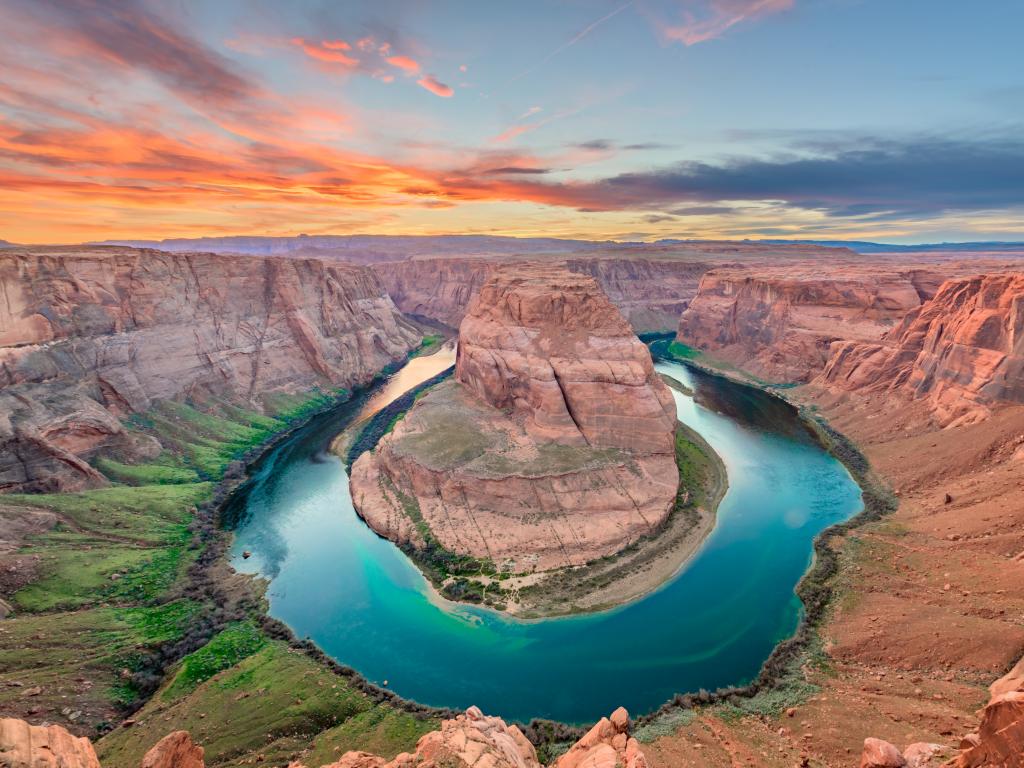 Another natural wonder in northern Arizona and again the route here passes through a number of other amazing places further up the list so if you're not up for driving the whole 12 hours in one day (it really is not a great idea), be sure to add stops along the way.
The Grand Canyon is a super popular destination for visitors from all over the world. Tourists from Las Vegas get bused here hourly to see the canyon and take a few photos.
Few people see anything other than Grand Canyon village and the benefit of making this a road trip is that you can see a whole lot more.
Start at the Horseshoe Bend, just south of Wahweap. You can see the Colorado river flowing through a u-bend (check the photo above) and it's a great place to start your journey.
After crossing the river at Marble Canyon, you can visit the Vermilion Cliffs National Monument - make sure you sort out a permit online to get access to the Coyote Buttes as it can be hard to get on the day.
You can drive down to the North Rim - the views from here might be even better than those from the South Rim but it's a much longer drive from Vegas so there will be a lot less people here.
If you're a hiking fan, you can hike all the way down the canyon from here and cross the Kaibab Suspension Bridge to the south side. From here there are trails that head up and down the river or up the other side of the canyon - if you have time on your hands, there are few better ways to spend a day!
If you're not up for conquering the trail miles, you can just drive all the way around to the South Rim at Grand Canyon Village. There are various sites as you get closer where you can climb towers or other vantage points to get good views of the canyon.
READ MORE - Denver to Grand Canyon Road Trip
20. Big Bend National Park, TX
13 hours from Denver (824 miles)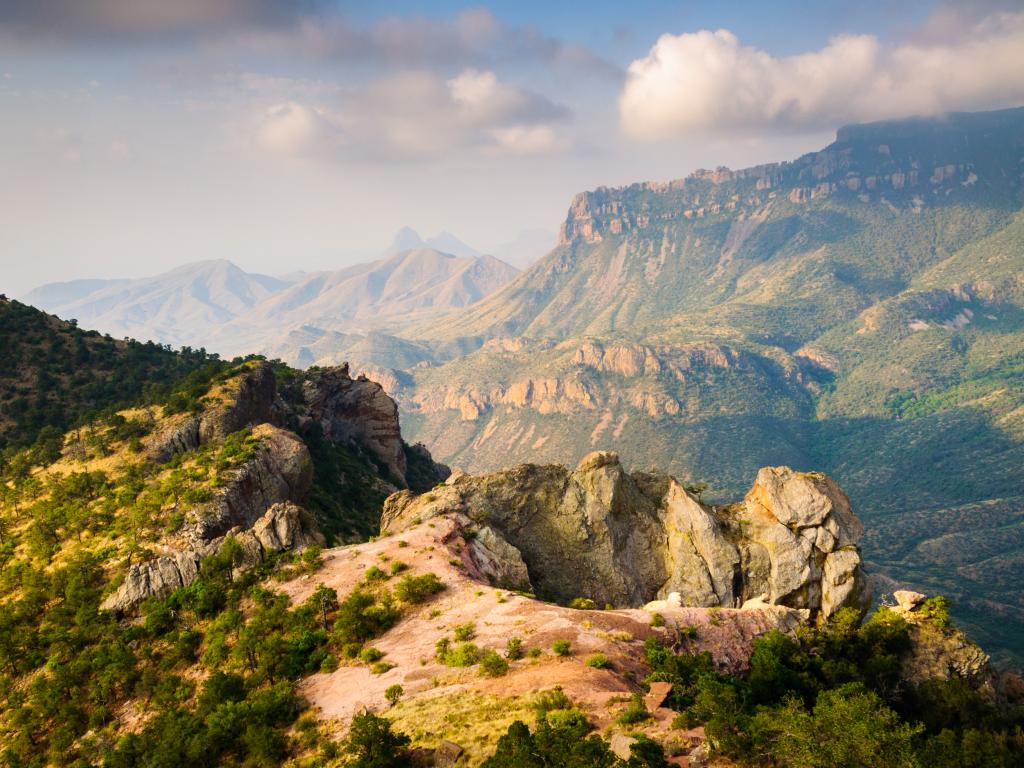 The last entry on our list might be a real stretch - the drive from Denver down to Big Bend is over 800 miles and will take a good 13 hours on the road. Add a couple of stops for fuel, a few more for food and comfort breaks and we're talking at least a 15 hour journey even if you're fast.
The two best options for stopping overnight to break up the journey are Santa Fe which is about exactly halfway (see #7 above) or Carlsbad, New Mexico. Carlsbad is a small town famous for its caverns - there's a large set of caves that you can go into and learn the difference between stalactites and stalagmites.
Calsbad is about 9 hours from Denver before stops but it's just about doable in a day - you can check out the caverns in the morning and then head down to Big Bend afterwards.
There's a few other interesting places to visit as you get closer to Big Bend. The Guadalupe Mountains National Park on the border with Texas has quite unusual scenery and the small town of Alpine just before you get to Big Bend is an amazing stop.
Alpine looks like it belongs in a Western movie and there is no signs of civilization anywhere near it for miles upon miles. Visit the nearby Fort Davis National Historic Site to brush up on local history.
Big Bend National Park straddles the border with Mexico. In fact you can literally spend time on the actual border - Rio Grande is in the park and you can have a go at kayaking or hike through the valley.
Make sure you bring your passport with you - the area is patrolled by Border Security and you can get checked when you're pulling your kayak onto the shore!
The park is huge and has some amazing hiking trails. Its location far away from any major cities means it receives very few visitors which is perfect if you love having nature all to yourself!