How Long Does It Take To Drive Route 66?
Route 66 is America's most iconic road, known around the world as the epitome of a U.S. road trip. Most people know that Route 66 stretches from Chicago all the way to the Los Angeles neighborhood of Santa Monica in California.
Decommissioned as an official United States Highway in 1985, to be replaced by the Interstate system, Route 66 was 2,448 miles long end to end. As some parts are no longer accessible, the drive today is only 2,278 miles with the different sections joined up by modern roads.
While many people have dreams of one day driving the length of Route 66, few know how long it would actually take to do it.
Driving the 2,278 miles of Route 66 usually takes about 2 weeks when you include stops and visit the cities that are on the way. You can drive Route 66 in as little as 8 days if you drive every day and do not see any of the sights, but you would need a month to really explore the places you are driving through.
U.S. Highway 66 as it was known at the time was part of the original U.S. Highways system from 1926 and became popular as it connected the Great Lakes with Southern California in an era where cars were rapidly entering the mainstream and America's economy grew through the road network it built.
Read the guide below to decide how long you want to spend driving the Route 66 and what factors affect the amount of time it will take.
How long does the driving take along Route 66?
Since it was decommissioned and replaced by the much faster interstate system, Route 66 has not had any substantial improvements or development. As a result, a lot of the road still has 55 mile per hour speed limits or lower. It also passes through a number of towns, residential areas, restricted speed stretches and junctions which will slow down your progress.
Assuming you drive at an average speed of 45 miles per hour given all of the above, it will take you 50 hours and 37 minutes of pure driving time to complete the route.
Before considering detours, overnight stops or any other kind of detraction, you will still have to stop for gas, toilet breaks to buy food even if you eat it on the road.
According to the Environmental Protection Agency, the U.S. average mpg (miles per gallon) is 24.9. So even if you're using a larger car with a typical 15 U.S. gallon tank, each fill up will last you 373.5 miles. Given that mpg values are often on the optimistic side and you may well not wait until you're driving on fumes to fill up, let's take a cautious 320 miles per tank as the assumption.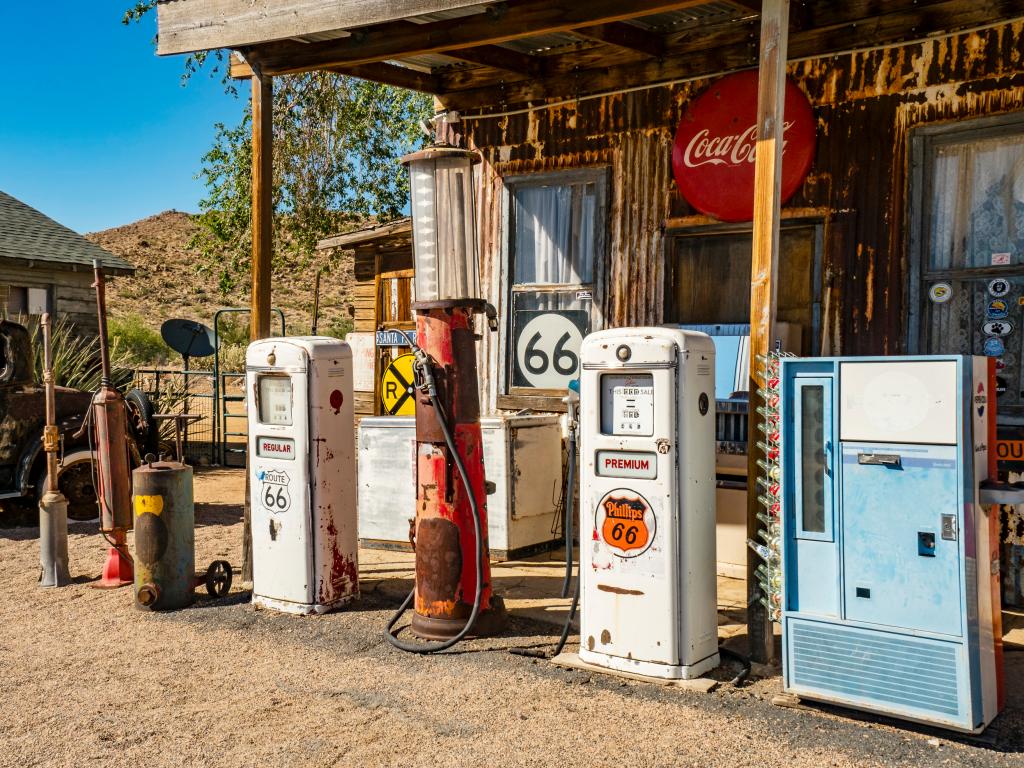 This means that even if you start with a full tank, you'll need 7 stops to refuel and let's assume each pit stop takes you just 10 minutes to put the gas in, use the restroom, buy your snacks and pay (you will definitely have to run to average at 10 minutes!).
That's 1 hour 10 minutes extra you'll have to add on. To round things up, let's assume we lose 13 minutes over the 3-day journey if some of our pit stops are not as slick as others.
The total time on the road to drive Route 66 is 52 hours. That's 2 full days and 4 hours solid on the road, changing drivers only at gas stations and not stopping for anything on the way.
This does not include any stops, rest, sleep, eating, sight seeing or detours.
How long do the stops along Route 66 take?
If you're doing Route 66 properly, you will want to stop along the way, soak up the culture, food and feel of the places you pass through and see interesting sights and towns.
You also want to make sure you get some good rest, whether in one of the classic motels along the route or in some of the bigger cities you will be passing through.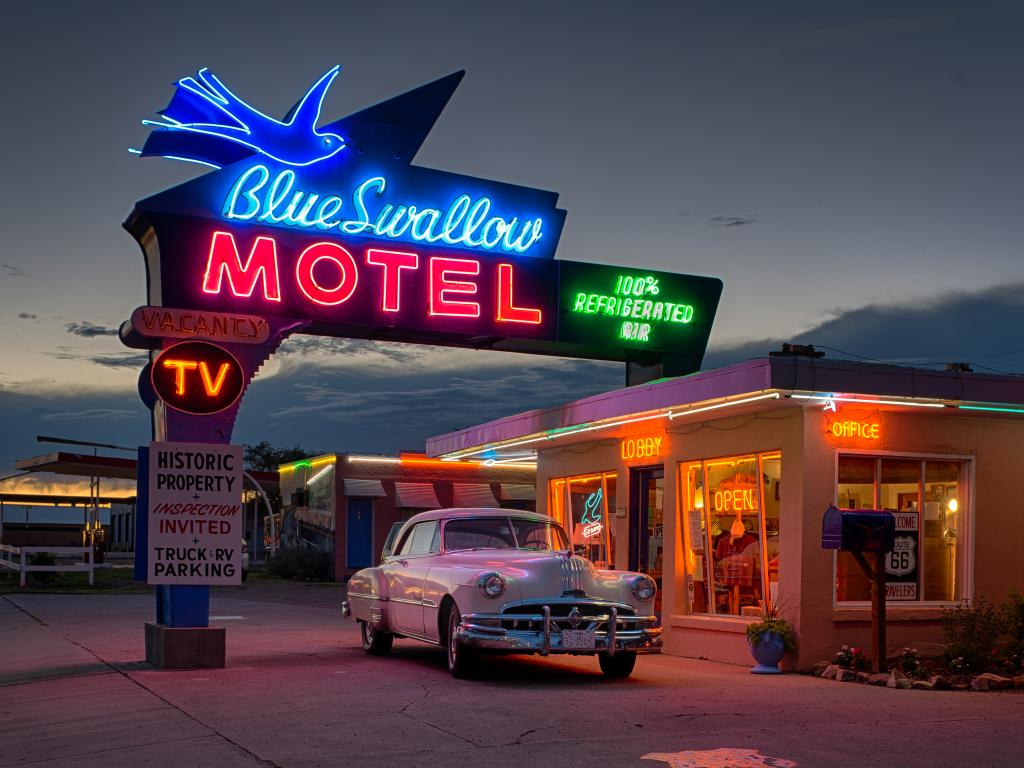 With overnight stops and allowing for things like lunch and a few random detours, you won't want to be driving for more than about 7 hours a day. This means that the shortest amount of time it will take do drive Route 66 is 8 days which doesn't allow you too much room for veering off the track.
The major cities along the way are Chicago, Springfield, Illinois, St Louis, Tulsa, Oklahoma City, Amarillo, Santa Fe, Albuquerque, Flagstaff and the northern neighborhoods of Los Angeles. As the route changed over time, it's your pick as to which version you take - for example Santa Fe was on the original Route 66, but taken out in a 1937 remap.
This means that if you spend a day in just half of these in addition to the 8 days' worth of driving, that will make it a 2-week itinerary. Spread out your stops and remember that once you pass Albuquerque in New Mexico, there will be few major cities all the way to San Bernardino.
Many of the smaller towns you will pass through can be seen in just a few hours, so you won't lose a lot of time even if you want to see the sights along the way. If you're trying to choose, St Louis, Oklahoma City and Santa Fe/Albuquerque are definitely worth devoting a day each.
You can stop in most of the others on the way, breaking up your journey and still have time for a detour or two to the Grand Canyon, Monument Valley or Las Vegas.
Is there a faster way to drive from Chicago to Los Angeles?
Contrary to what a lot of people surprisingly think, Route 66 is not the fastest way to drive from Chicago to Los Angeles. If you plug the route into Google Maps, you'll see that the fastest route is to drive further north, passing through Iowa, Nebraska, Colorado, Utah and Nevada before arriving in Santa Monica.
This route will take 30 hours of driving before accounting for stops. If you're going to drive as fast as you can, you can do it in 4 days with overnight rest stops. If you are on a speed mission and have more than one driver, you could get there in 2 full days.
The slightly longer route along interstates that closely follow the path of Route 66 will take 2 hours longer on the road, but pass through all the same major cities and states.
Some people doing Route 66 will take a few shortcuts to make the most of the time they have. Some parts of Route 66 follow very slow and indirect roads with nothing to see along the way. You might also have a preference for some sections if you prefer the deserts and the wild west or want to explore more of the big cities earlier on in the journey.
You can choose to skip these and join the route again further along instead.
Factors that can affect how long it takes to drive Route 66
There are a few factors to consider when planning how long it will take you to drive Route 66.
Time of year and weather is the biggest out of these. The majority of those attempting to do the cross-country drive will do the trip in the summer and that is a good idea to make the most of the weather and outdoor activities en route.
If you're planning to drive in the winter, remember that the weather is going to vary wildly from start to finish. Chicago and Illinois have some of the coldest winters in the United States and you're likely to encounter heaps of snow and ice on the roads. Progress early on may be slow so bake that into your plan.
At the peak of the summer, you have the opposite effect of the route getting busy, especially in July and August. Route 66 never gets too crowded due to the sheer length of it and not too many road trip nuts prepared to challenge it or simply have the time. Having said that, you might get delayed in a few places along the way.
Be prepared to encounter the unexpected as you make the drive. If you're driving your own car, make sure you bring tools and have the right skills/insurance if you break down in the middle of nowhere in rural New Mexico. If you're renting, make sure you know what to do if you have a puncture or need a mechanic's help.
There are repair shops all along the length of Route 66 and usually there are few things you won't be able to fix, but be prepared to have to spend a night or two waiting for a part to be shipped if the worst happens and have contingency plans for the rest of your journey.