Road Trip from Atlanta to Austin, TX
This amazing road trip from Atlanta to Austin takes you from the cultural excitement of Georgia, Alabama and Mississippi to the picturesque Gulf Coast of the USA, and into the prairie landscapes and humid subtropics of Texas. There will be beauty and excitement around every corner on this fantastic road trip.
The 980-mile road trip from Atlanta to Austin, Tx, will take about 16 hours of driving time. Notable sights on the way are Talladega National Forest, Birmingham, Jackson, Natchez, Kisatchie National Forest, Waco, Montgomery, New Orleans and Houston.
With so much culture, cuisine, nature, and fun to explore on the way, you'll surely love every minute of this journey. Read on to learn about the best routes, destinations, places to stay, and things to see on the way.
How far is Austin, TX from Atlanta, and how long will the road trip take?
Comparison of road trip routes between Atlanta and Austin, TX

| Route | Distance | Driving Time |
| --- | --- | --- |
| The Natchez Trace Route | 980 miles | 16 hours |
| The New Orleans Route | 990 miles | 15 hours |
There are two wonderful routes that will take you from Atlanta, Georgia, to Austin, Texas. Each will take you through the American South and some of the most scenic and culturally rich areas of the country.
The Natchez Trace Route will take you 980 miles through small country towns and forests. You'll drive 16 hours and stay inland.
The New Orleans Route will take you to the coast and into some of the most culturally rich communities in the country. The route will take 15 hours and will cover 990 miles.
Whichever route you take, we suggest spending two to four days to get the most out of your adventure. Continue on below to learn more about the routes, where to stay, and things to see along the way.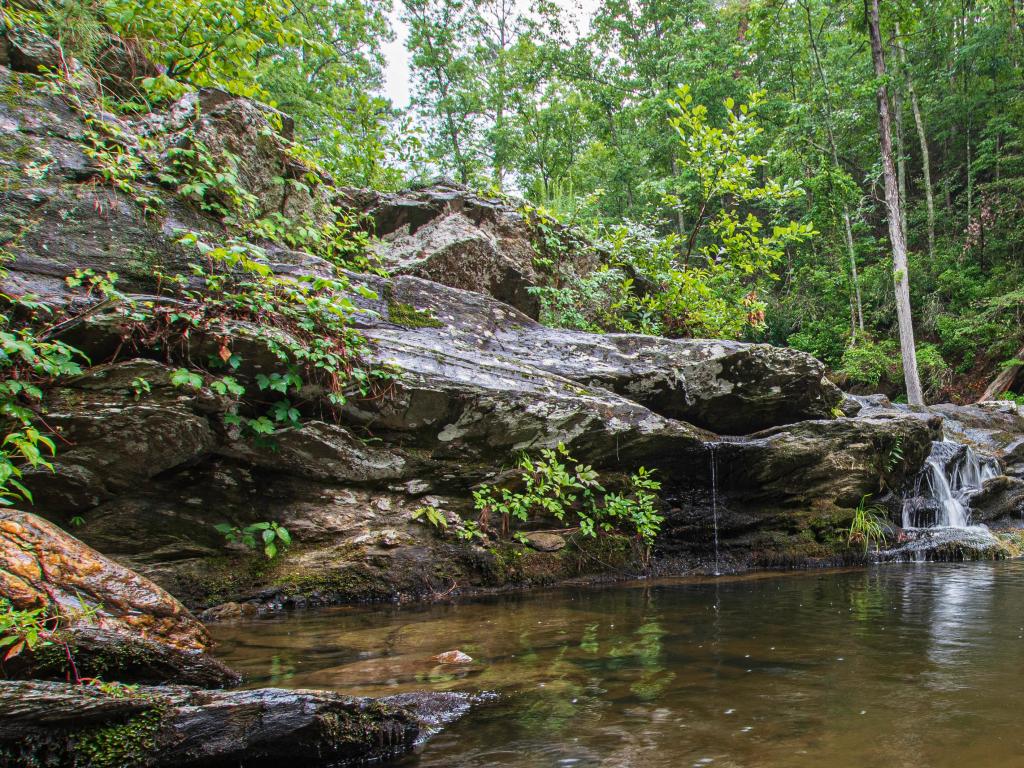 Best road trip route from Atlanta to Austin, TX
Both routes are full of unbeatable experiences and scenery. Depending on your travel plans and what you want to see, you can make your choice between them.
The Natchez Trace Route takes you past amazing, forested landscapes, and old historic towns such as Birmingham, Jackson, and Waco, and allows you to drive along the famous scenic route, the Natchez Trace Parkway.
You'll travel from the gently sloping lands of Alabama and Mississippi to the prairies of eastern Texas and the lush forests surrounding Austin.
Nature lovers will get to visit amazing nature reserves, from the waterfalls and rock formations of Talladega National Forest to the pine trees of Kisatchie and Angelina National Forest.
The New Orleans Route takes you to the Gulf Coast, where you can explore vibrant cultures and historic sites and the cities of New Orleans and Lafayette. You'll also pass by some beautiful wetland areas, and drive through Houston, an important hub of US space exploration.
You'll drive along Interstate 10, one of the major east-west highways of the US, as well as other big highways. You'll pass through many vibrant and historic cities full of opportunities to learn about history or find interesting attractions and entertainment, such as Montgomery, New Orleans, and Houston.
You will also see several interesting coastal wetlands and conservation areas, such as the Atchafalaya National Wildlife Refuge. So if you love nature, you won't be disappointed.
The Natchez Trace Route
From busy Atlanta, hop on Interstate 20 (I-20) west and drive into Birmingham, Alabama. After enjoying the historical city of Birmingham, get back on I-20 and shoot through beautiful Alabama and into the great state of Mississippi.
From here, continue on into the city of Jackson. Drive southwest through the country roads of rural Mississippi and into the natural paradise of Natchez.
Continue on east through Louisiana and into Texas. Drive along TX-164 to the city of Waco. From here, follow I-35 south to your destination in Austin.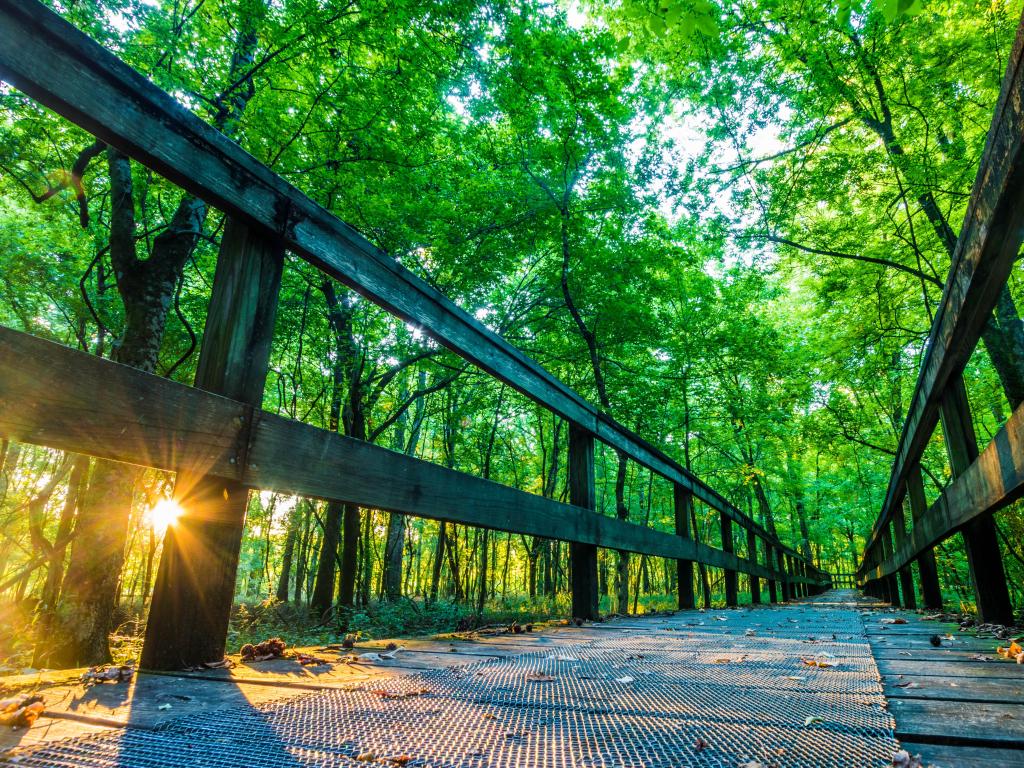 The New Orleans Route
From Atlanta, head south on I-85. Drive through the beautiful rural areas of Georgia and into Alabama.
From here, head into the city of Montgomery. After exploring the history of Alabama's capital, drive south into beautiful Mobile, Alabama.
Head west on I-10 into New Orleans. Once you've gotten your fill of the culture, history, music, and food of the Big Easy, continue to Lafayette and into Texas.
Continue on into the big city of Houston. After enjoying the big city charm of Texas' largest city, continue on to your destination in Austin.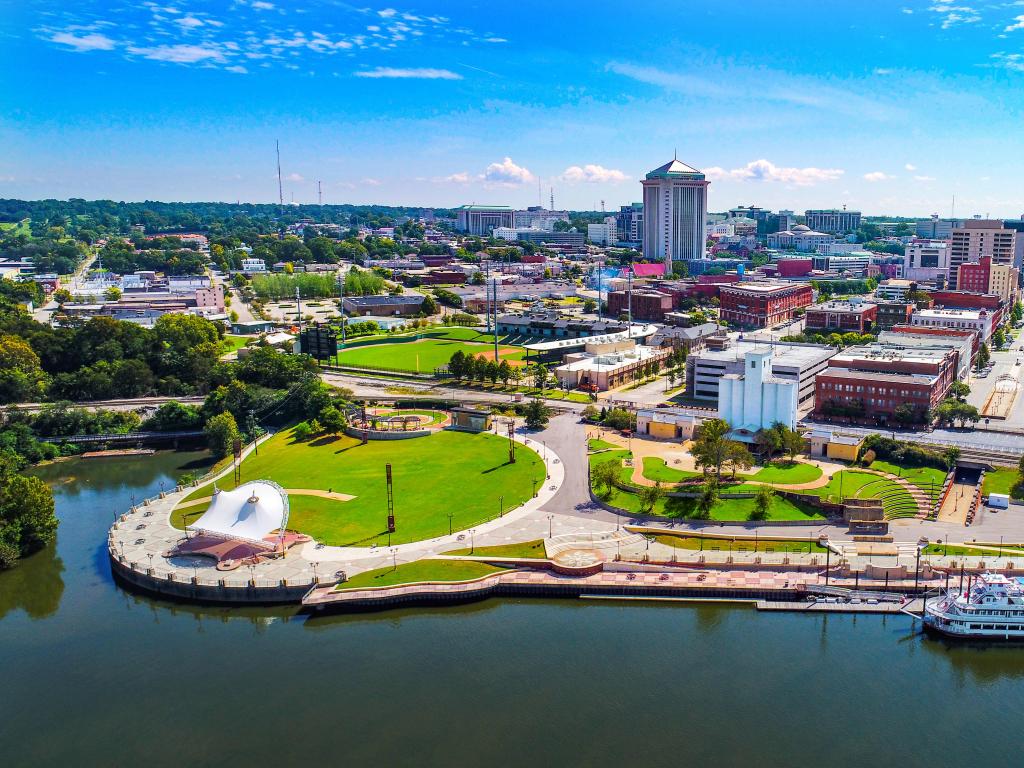 Best places to stop between Atlanta and Austin, TX
With so much to see and explore, we recommend making a few stopovers along the way. Below are our favorite places to stop along the way and the best hotels to rest for the night so you can continue your drive in comfort.
Enjoy the rural charm of Westside
About halfway on the Natchez Trace Route is the small community of Westside. This location just a few miles off the Natchez Trace Parkway is in a beautiful natural area, a short distance away from the Mississippi River.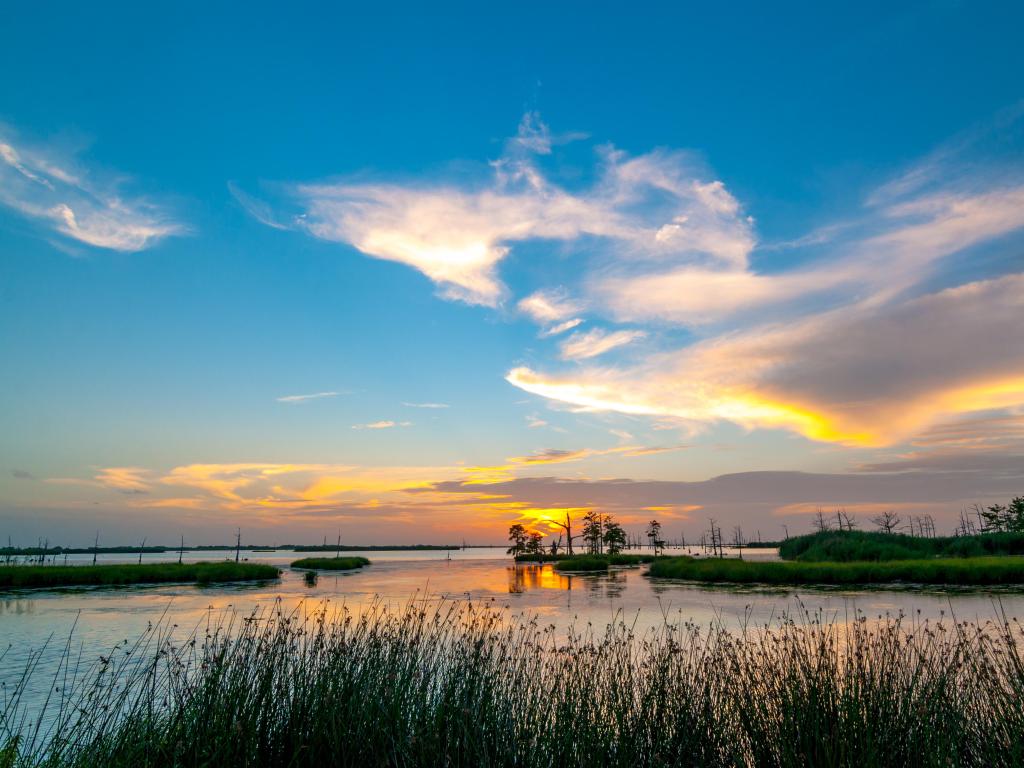 This is the perfect place to learn more about the historical Natchez Trace Route that spans several hundred miles between Natchez and Nashville.
Here, you can take in the natural environment on a walk to the nearby Mississippi river. Visit nearby historical sites, such as the Windsor Ruins, A.K. Shaifer House, or the Bayou Pierre Presbyterian Church. In nearby Alcorn, a walking distance away, you'll also find many historical buildings and charming family-run restaurants to enjoy.
In Westside, we recommend staying at the beautiful Canemount Plantation Inn. This classic inn is set in a historic building that offers beautifully decorated, comfortable rooms.
You can find the inn just a few miles off the Natchez Trace Parkway which will take you onwards on your journey, in a beautiful, natural surrounding that used to be a plantation area. There's free parking, a wonderful breakfast, and swimming pools to lounge around in after driving.
From the Canemount Plantation Inn, it is easy to walk or take a drive to some interesting nearby attractions, such as historical buildings or the Mississippi river. There are also restaurants nearby in Alcorn and Westside.
Dive into the fun of New Orleans
Roughly halfway on the New Orleans Route is the famous city of New Orleans. New Orleans is a coastal city rich in culture, music, food, and entertainment. It's about halfway from Atlanta to Austin, TX, and is full of amazing attractions to explore.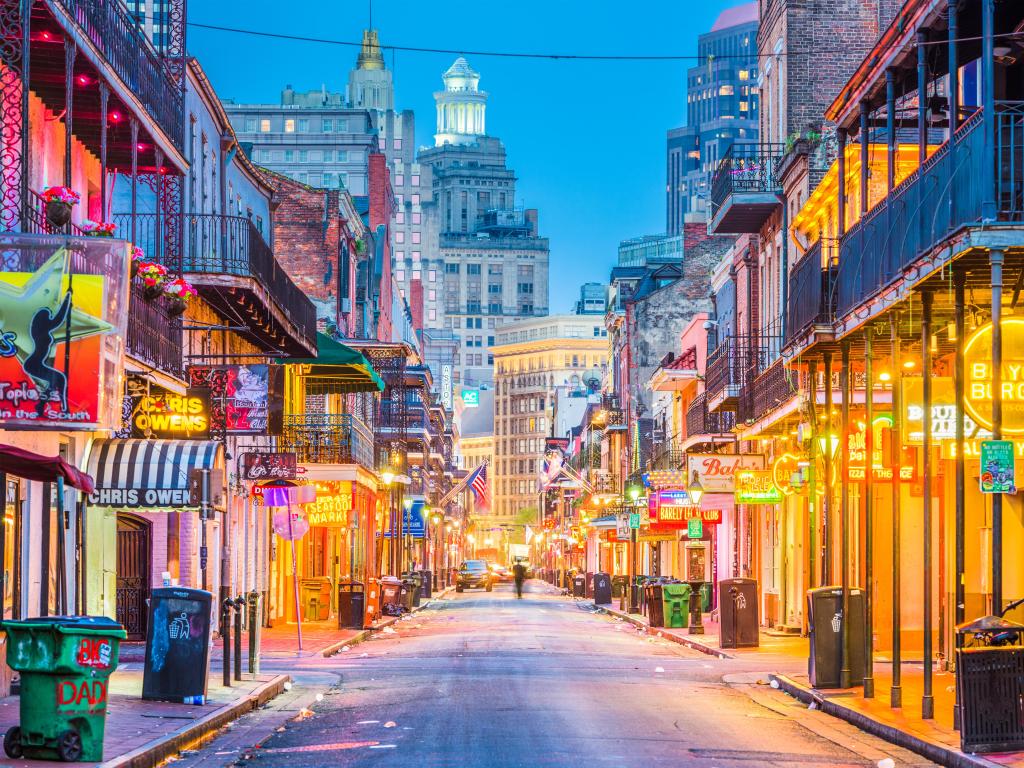 New Orleans is known for its beautiful historic city center, an amazing live music scene, and local Creole cuisine, a fusion of European, African, and pre-Columbian American traditions. There are plenty of things to do and amazing sights within a walk or a short drive from downtown.
The first thing anyone should do is to walk around viewing old buildings and monuments, explore street art, or enjoy the nightlife at the French Quarter, the historic heart and oldest part of New Orleans.
Make sure to visit the New Orleans African-American Museum in the Tremé neighborhood. Also, explore the Mississippi river mouth by visiting some of the nearby wetland areas, such as the Honey Island Swamp. Nearby, check out the Crescent City Connection, the two bridges that span over the Mississippi river near its mouth.
Once you reach New Orleans, we recommend staying at the lovely Virgin Hotels New Orleans. This luxurious hotel offers a sun terrace, free Wi-Fi, a wonderful breakfast, and a rooftop pool so you can relax under the bright Louisiana sun.
The rooms are beautifully designed and decorated and parking is available on-site so you can arrive hassle-free.
The hotel is within walking distance to the French Quarter and other attractions, including museums such as the National WWII Museum. You'll also find plenty of amazing restaurants and bars nearby.
Where to stay when you reach Austin, TX
Once you reach your destination of Austin, TX, we recommend resting at the luxurious East Austin Hotel. This incredible hotel has stylish rooms and offers a rooftop restaurant, parking on site, and free pools for guests to use.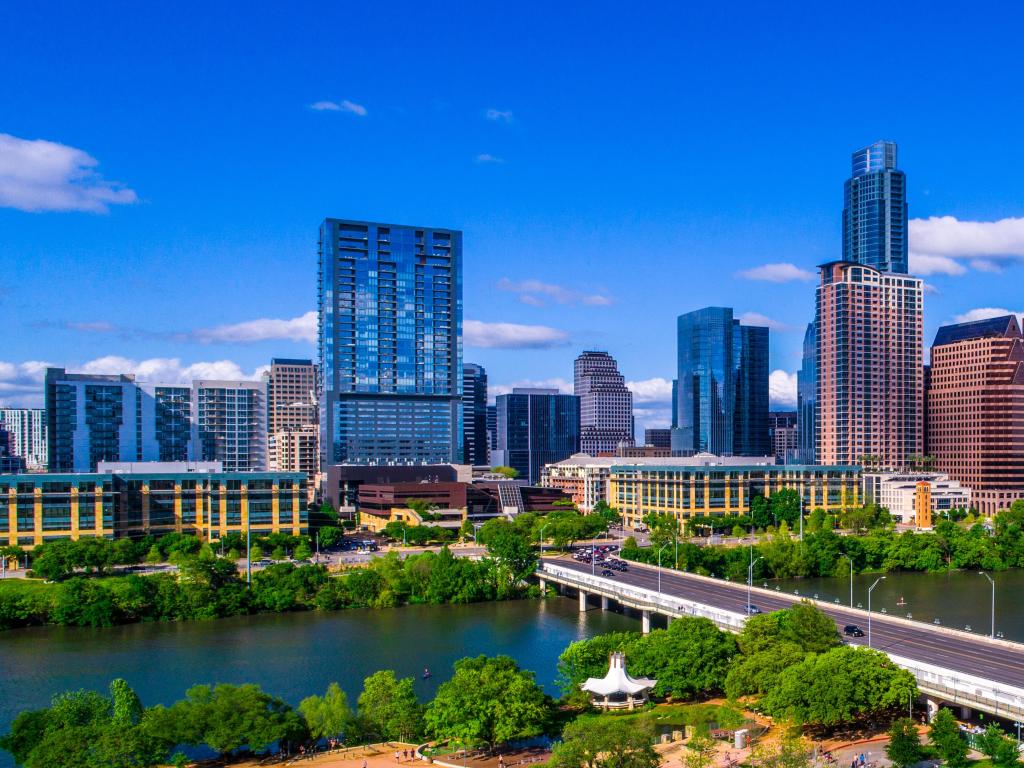 There're plenty of wonderful amenities and friendly staff to help you make the most out of your stay. What's more is the location, close to many restaurants, parks, and bars where you can live up Austin's famous live music scene.
You're also within walking distance of many of Austin's attractions, including the Capitol Building, Austin Museum of Art, and Waterloo Park. Just a short drive away are other world-class attractions.
Things to see on a road trip from Atlanta and Austin, TX
This road trip takes you through one of the most charming and culturally rich corners of America. Below, we've listed our top highlights so you can be sure to experience the best journey possible.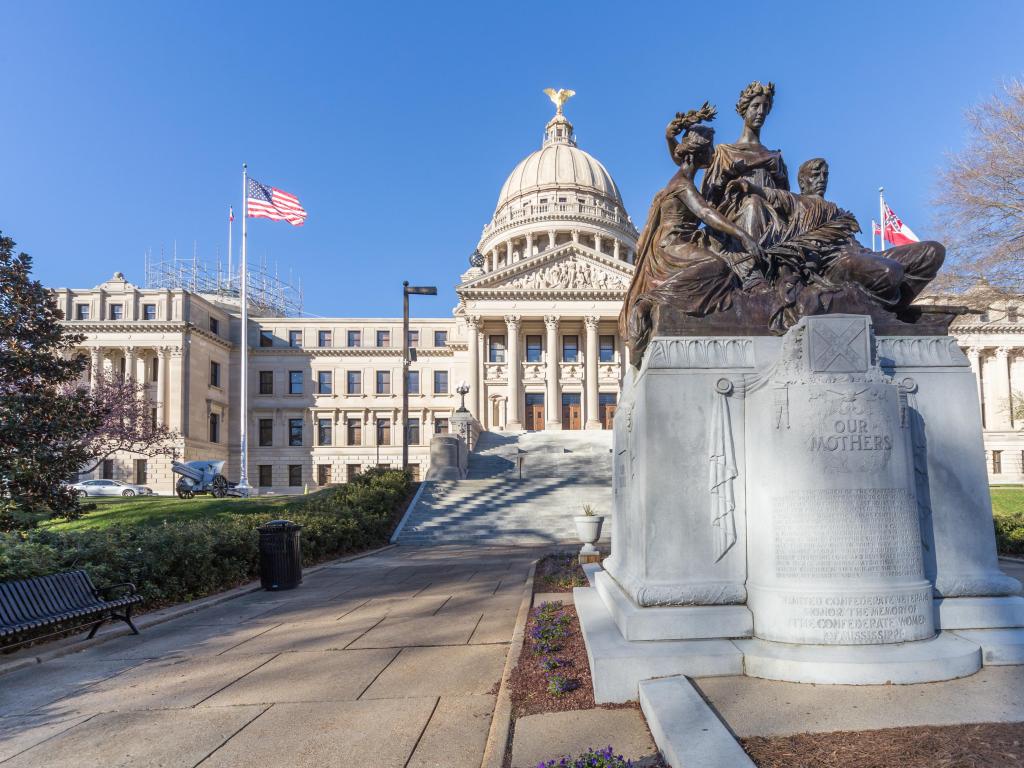 The Natchez Trace Route
Talladega National Forest - View wonderful waterfalls and rock formations in this National Forest.
Birmingham, Alabama - Make a stop in this cultural and entertainment capital of Alabama. Visit history and art museums, theaters, and beautiful parks in this historical city.
Bienville National Forest - Take a walk in the beautiful pine and oak forests of the Bienville National Forest.
Jackson, Mississippi - You'll find a number of historic sites here that were important in the civil rights movement, including the Mississippi State Capitol Building, and the Medgar Evers Home Museum.
Natchez Trace Parkway - Between Jackson and Natchez, you'll be driving along the Natchez Trace Parkway, historically Natchez Trace Route, a walkway that spanned from Natchez to Nashville 700 miles northeast. Stop over at the many historical sites and picnic spots of this scenic route.
Natchez - In this historic location, you may visit and view several interesting historical townhouses and pre-Civil War homes, as well as visit museums such as the Natchez Museum of African American History and Culture.
Kisatchie National Forest - Visit this beautiful pine forest, where you might even spot the elusive Louisiana black bear.
Alexandria, Louisiana - Amazing forests, lakes, and historic sites are found in and around Alexandria, Louisiana.
Angelina National Forest - A place of beautiful waterfalls and pine forests. Angelina National Forest is a wonderful place to take a walk during your road trip.
Waco - In Waco, in central Texas, there is something to do for everyone: you may visit the Dr Pepper Museum, the Waco Mammoth National Monument, a fossil site with bones of the Columbian Mammoths, or enjoy lovely markets and restaurants.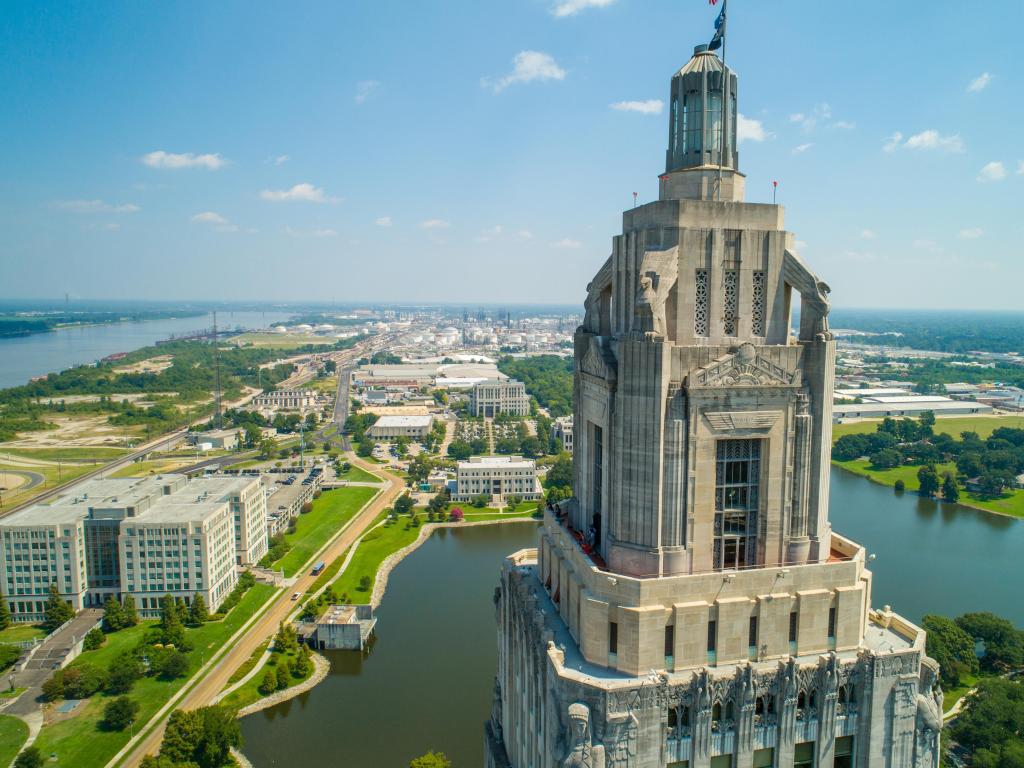 The New Orleans Route
Montgomery - Visit this historical town to explore many sites that were important in the Civil Rights Movement.
Mobile - Mobile has a busy port, several art and history museums, and interesting historic architecture to explore.
New Orleans - A city of rich culture, New Orleans is a place where you may enjoy wonderful museums, vibrant restaurants and live music scenes, or walking around the historical French Quarter.
Baton Rouge - In this capital of Louisiana, on the eastern bank of the Mississippi, cajun and creole cultures come together and you may enjoy visiting amazing art museums or viewing interesting antebellum architecture of the plantation era.
Atchafalaya National Wildlife Refuge - This nature area is a wonderful place to view beautiful wetland landscapes, take a walk, or practice birdwatching.
Lafayette, Louisiana - Lafayette is a home to a vibrant live music scene and interesting architecture, including many churches and cathedrals.
Houston - Houston is a vibrant metropolis in Texas, and especially known for its contributions to space research through NASA's Johnson Space Center located nearby. You'll also find wonderful restaurants and 19th century architecture in this city.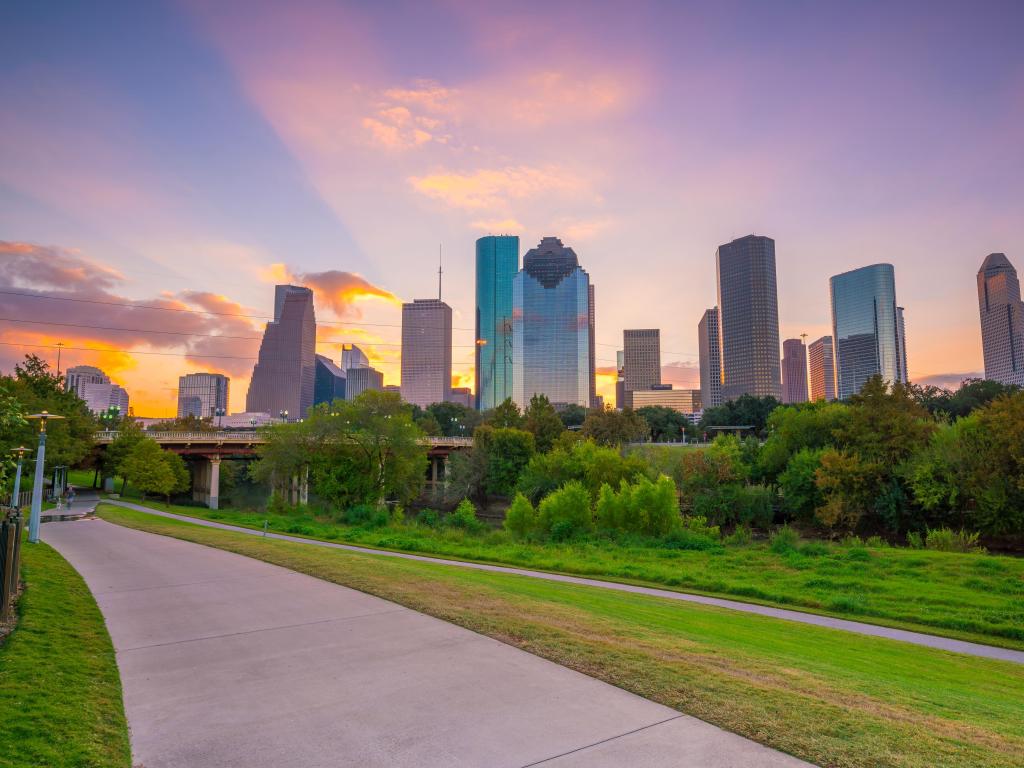 Best time to go on a road trip from Atlanta and Austin, TX
Austin is in the transition zone of the dryer American Southwest and the more humid, lush American Southeast. Summers here are long and hot, and winters are typically short and mild. Austin is wonderful to visit all year round, but consider the high heat and humidity over the summer months.
Summers in Austin can be hot and humid; the high temperatures reach 90 degrees Fahrenheit on over a hundred days per year. If you enjoy the heat, summer is your time to visit. Otherwise, fall and spring might be more favorable seasons for this road trip.
Winters in Austin are mild and short. Snowfall is very rare, and the average temperature, even in January, is 62.5 degrees. However, cold bursts may occur. Winter is usually a pleasant time to visit Austin.
Spring and fall are perhaps the most optimal times to visit Austin. In these seasons, you'll miss the hottest, most humid months, as well as the possible cold days of winter. September-November are peak months, though, and you may also expect a lot of tourist traffic at this time.
There are plenty of annual festivals to enjoy in Austin. In winter, enjoy the Martin Luther King Jr. March and Festival that takes place in January, to commemorate Martin Luther King's legacy. In winter, you can also enjoy the cajun and newgrass music, and obviously, oysters, at the Austin Oyster Festival, in February.
Springtime brings the Pecan Street Spring Arts festival, a lively street fair taking place in May. Shortly after, is the Cine Las Americas International Film Festival that takes place in June.
In summer, check out the Austin Pride Parade, in August. Austin City Limits Music Festival is one of the largest music celebrations in the country, so don't miss that. And in November, attend the Austin Powwow, featuring Native American dancing, art, crafts and food.