Road Trip from Atlanta to Chicago
This road trip through the Eastern United States combines vibrant cities with national parks and forests. From the cultural hub of Atlanta, you can wind through the Great Smoky Mountains, hit up Dollywood and discover the country music scene in Nashville before reaching Chicago's famous skyscrapers on the horizon.
The 760-mile road trip from Atlanta to Chicago takes 11 hours 30 minutes to drive. Highlights on the way include Chattanooga, Cincinnati and Indianapolis, or take a detour via Nashville, The Land Between the Lakes, Shawnee National Forest and St. Louis.
Whatever way you choose, you will end up in beautiful Chicago, located on the bank of Lake Michigan. Keep reading to plan your trip all the way from Atlanta, with inspiration for choosing the best routes, hikes and overnight stops.
How far is Chicago from Atlanta, and how long will the road trip take?
Comparison of road trip routes between Atlanta and Chicago

| Route | Distance | Driving Time |
| --- | --- | --- |
| The Cincinnati Route | 760 miles | 11 hours 30 minutes |
| The Nashville Route | 860 miles | 13 hours |
The Cincinnati Route is 759 miles long and takes 11 hours and 30 minutes to drive. This route is the shorter of the two, though there is the opportunity to add on detours to Pigeon Forge and Dollywood while visiting Knoxville, as well as Gatlinburg and the Great Smoky Mountains.
The Nashville Route clocks up a distance of 860 miles, which takes 13 hours of direct driving time. This route adds a few hours to go via the major cities of Nashville and St. Louis, with some significant natural landscapes in between.
We'd recommend taking at least 3 days or longer to do this trip justice, so you can spend some time soaking up the historic sites and city fun along the way.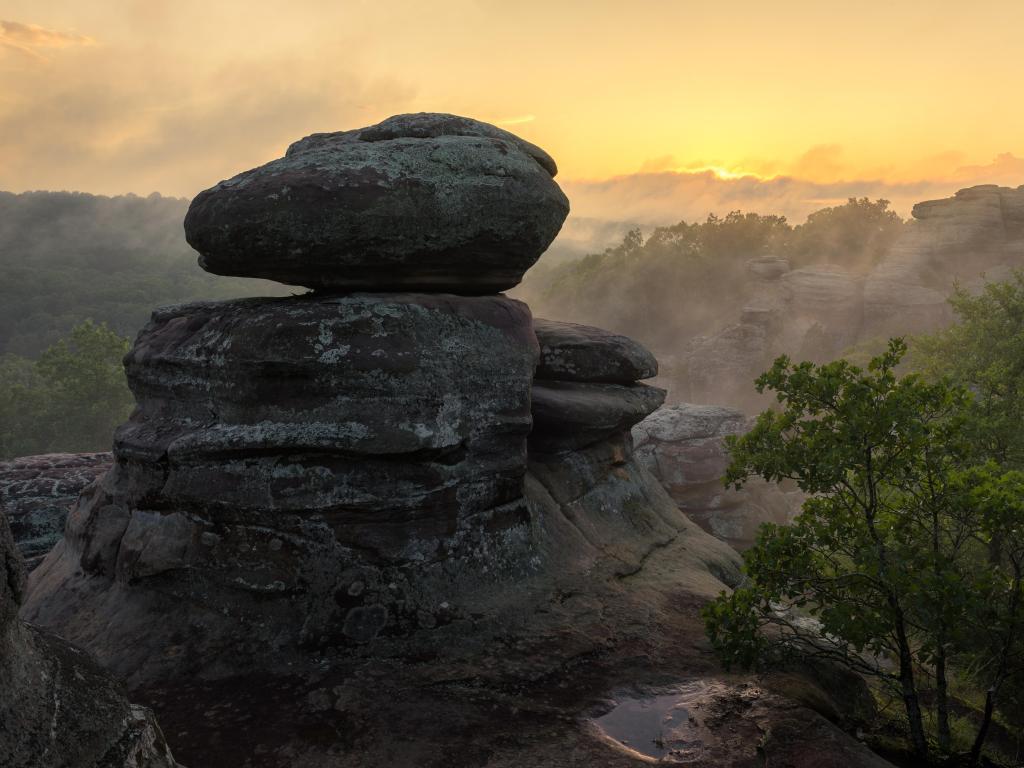 Best road trip route from Atlanta to Chicago
Both road trip routes offer a winning combination of buzzing cities and breathtaking nature. They diverge at Chattanooga, so it's up to you which cities swing it and which of the natural wonders you'd like to explore.
The Cincinnati Route travels via a handful of well-known cities with lots going on, including Knoxville, Lexington, Cincinnati, and Indianapolis.
There are some stunning drives through the Appalachian Mountains, one of the oldest mountain chains in North America, with the option to stop in Daniel Boone National Forest.
The Nashville Route journeys via the major hubs of Nashville and St Louis but also spends a lot of time meandering through scenic forests, countryside and quaint towns.
While longer than the other route, this itinerary provides plenty of opportunities to take in the natural landscapes of the Land Between the Lakes and Shawnee National Forest.
The Cincinnati Route
Follow Interstate 75 (I-75) north out of Atlanta and all the way to Chattanooga, which sits right at the foot of the Appalachian Mountains.
Rejoin the interstate to arrive in Knoxville. From here, you can take a detour to the mountain town of Pigeon Forge and visit Dollywood, the Appalachian mountain-themed amusement park of famous singer Dolly Parton.
Take I-75 north from Knoxville, with the option to take a quick detour off-route to stretch your legs in Daniel Boone National Forest. You'll pass through Lexington, where you can visit a memorial to the first lady of Abraham Lincoln.
Cross the Ohio River and arrive in Cincinnati. Explore where old meets new in the 19th-century architecture and buzzing downtown, then rejoin I-75 and take the exit onto I-74.
Cross the border into Indiana and follow this road to Indianapolis. The state capital is also famous for its motor racing, playing host to three major world racing events. Follow I-65 north until you hit the bank of Lake Michigan, then follow I-90 west around the shore to arrive in Chicago.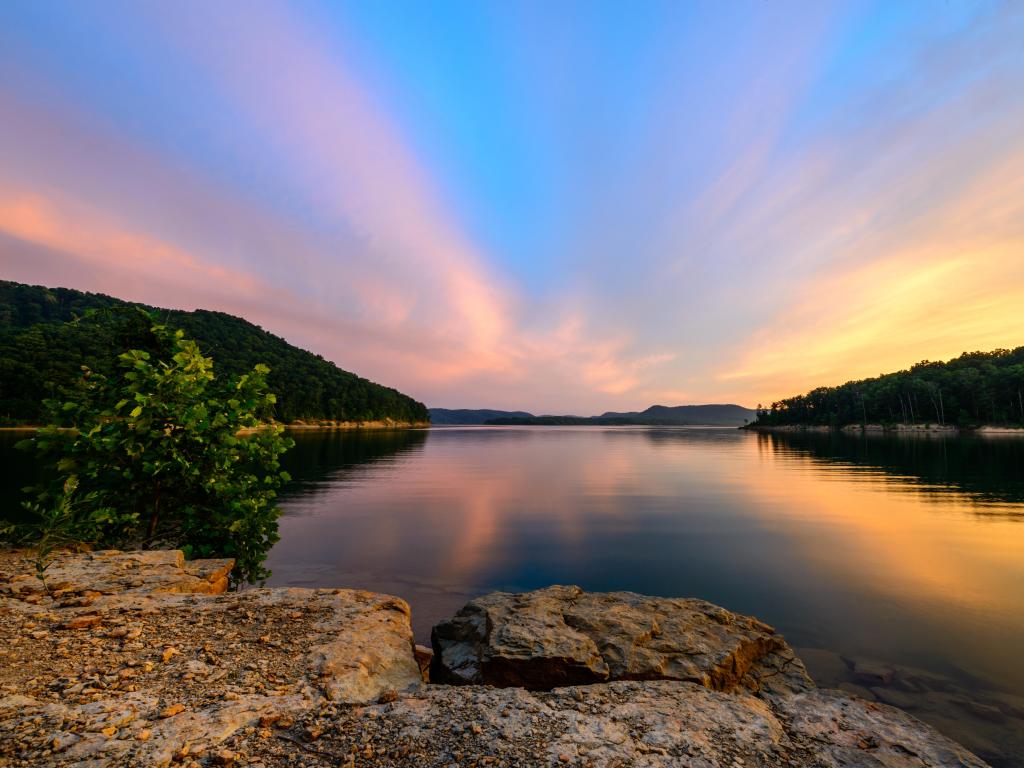 The Nashville Route
Follow I-75 north out of Atlanta and cross the border to pass through Chattanooga and arrive in Nashville. It's worth spending a night or two in Music City to sample some live country singing and get a slice of country music history.
Follow I-24 west to reach the Land Between the Lakes National Recreation Area, which is home to over 170,000 acres of stunning hikes, camping spots and watersports.
Cross the Ohio River to enter Illinois, with a chance to stretch your legs over miles of expansive woodland in Shawnee National Forest. Take I-57 north to join I-64 W and arrive in St. Louis. Snap a picture of the iconic skyline, dominated by the Gateway Arch - you can ride up to the top for an amazing view.
Drive north on I-55 to pass through Springfield and visit the former home of President Abraham Lincoln. Continue on I-55 to arrive in Chicago.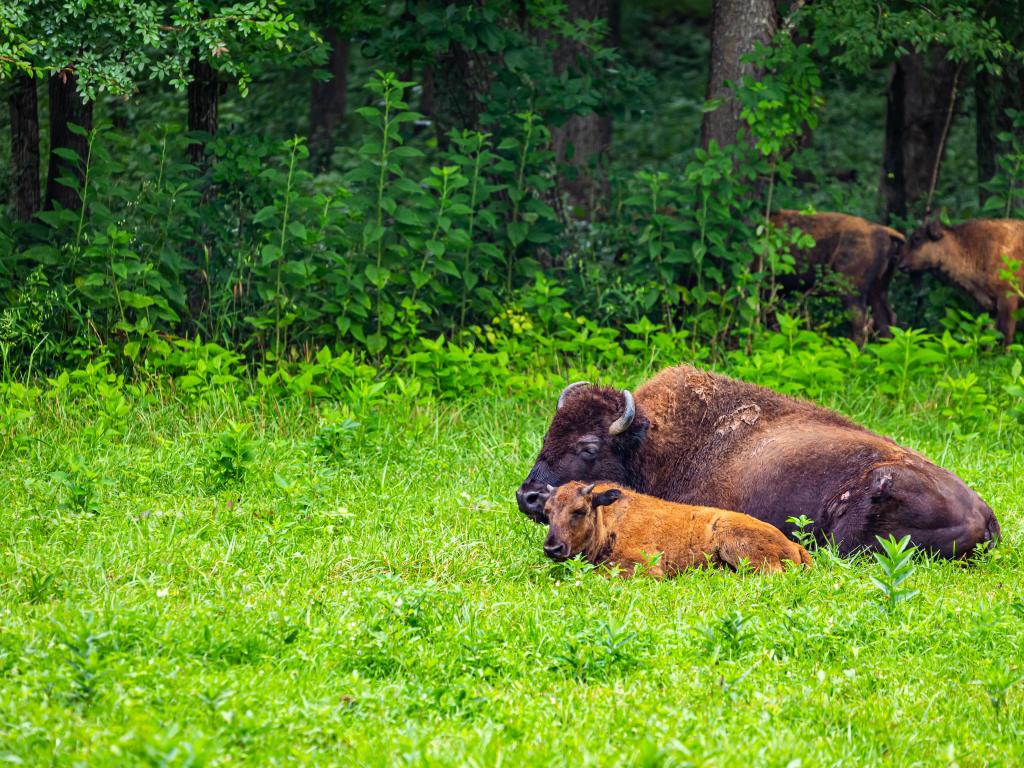 Best places to stop between Atlanta and Chicago
Whichever route you decide on, you're in for a delightful combo of electric city vibes and peaceful nature.
With approximately 800 miles of road to cover, you'll want to schedule several well-timed rest stops to break up the driving and get to know the landscape you're passing through. We've selected a few of the best overnight stops to consider.
Get in the swing of things in Cincinnati
Situated about halfway along the Cincinnati Route, the city that gives this route its namesake is a great-value stop, home to an ever-growing food scene, preserved architecture, and a scenic river valley location.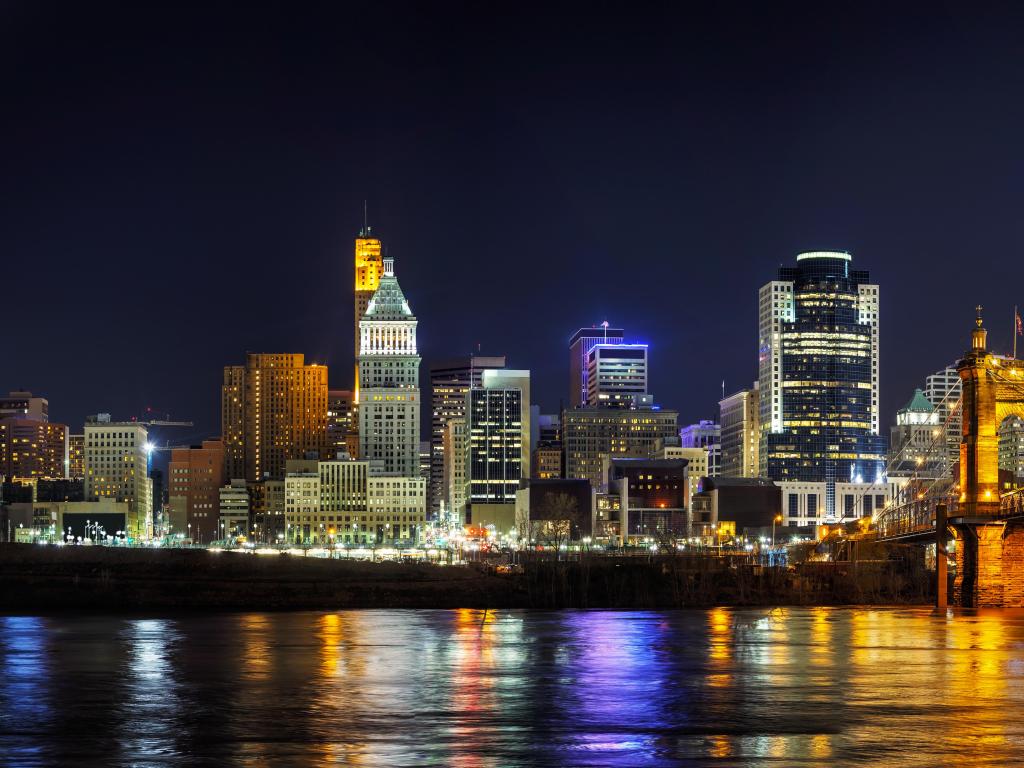 Cincinnati had one of the first professional baseball teams in the USA, and the Great American Ball Park celebrates this tradition. Every year on opening day, the stadium is filled with people cheering the team on with parades and parties.
The vibrant city boasts over 50 local breweries. See if you can sample some at Findlay Market, the city's oldest continuously operating public market. Named as one of the top ten public markets in the world, visit for fresh food, drinks and souvenirs from local vendors.
You'll know the name Coney Island - this amusement park located on the banks of the Ohio River is a fun place to express your inner child. Whether you're a thrill seeker or want to try some classic American funfair food, there is something for everyone.
Elevate your stay at 21c Museum Hotel Cincinnati, a historic hotel reimagined as a contemporary art museum and boutique hotel. This cool accommodation has stylish furnishings, an award-winning restaurant offering local ingredients and a swanky rooftop bar.
The hotel is just walking distance from many attractions including Smale Riverfront Park, the National Underground Railroad Freedom Center and Fountain Square.
Go country in Nashville
After over 8 hours of driving, you'll see the lights of Nashville in the distance. Known as Music City, Nashville is the center of the country music scene and is also known for having some of the best BBQ in the world.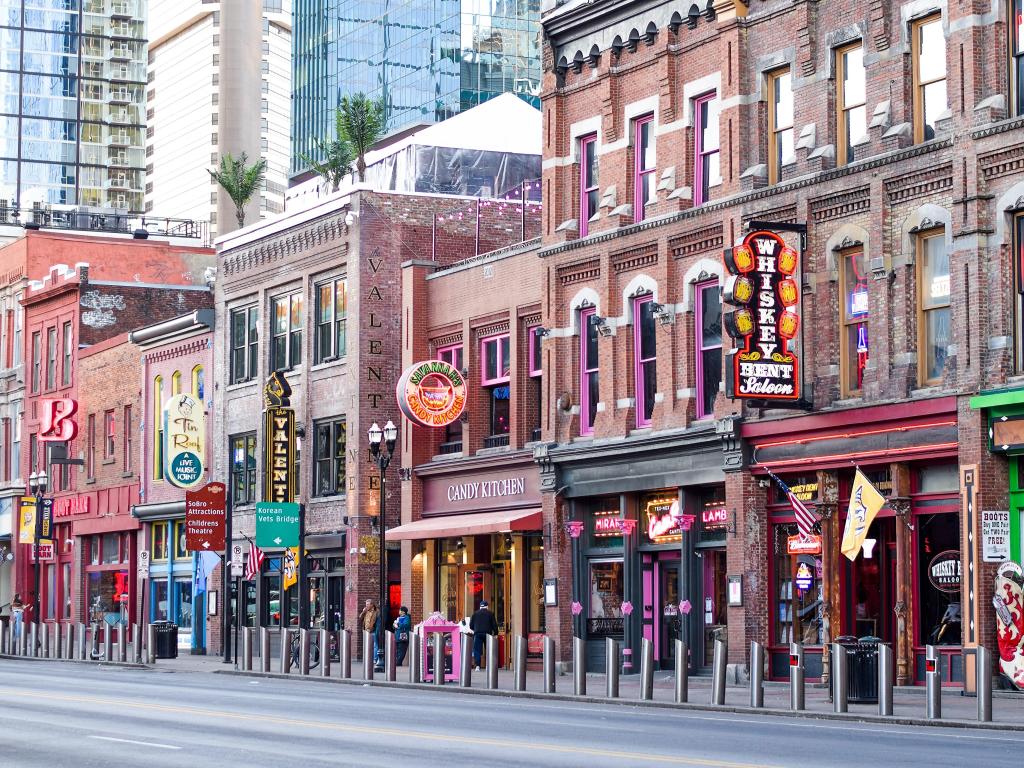 A pilgrimage for music lovers, The Country Music Hall of Fame and Museum is one of the world's largest museums dedicated to a specific type of music. The museum holds a massive music collection and is a top tourist destination in Nashville.
For Johnny Cash fans of all ages, the Johnny Cash Museum honors the life of the music superstar, holding a large collection of artifacts that were once homed with Cash himself.
Do as the locals do and take a stroll through Centennial Park. Home to the Parthenon of Tennessee, this park offers a one-mile walking trail and is Nashville's most visited green space. Depending on the time of the year, it also hosts exhibits and festivals for visitors to enjoy.
Stay in the heart of downtown at The Hutton Hotel, a modern boutique hotel in walking distance of Music Row. As well as bedrooms, it's also a live music venue, and offers deliciously crafted cocktails.
You'll be located within walking distance of the Gulch shopping district, a whole host of museums and the beautiful Cumberland River. If you fancy having a delicious meal out, the hotel is close to many Bar-B-Que joints and other restaurants.
Where to stay when you reach Chicago
There is so much to explore in Chicago, so you'll want a comfortable base to come back to at the end of the day.
The Blackstone is a luxury hotel situated in a historic French Beaux-Arts building in downtown Chicago. It's just steps away from Magnificent Mile, the Art institute of Chicago and Grant Park, so you can head straight out.
The hotel has an on-site tapas restaurant offering Catalan and Mediterranean dishes, and plenty of nearby restaurants. There is a well-equipped fitness center, but the real clincher are the gorgeous views of Lake Michigan from every angle.
Things to see on a road trip from Atlanta to Chicago
This trip packs in a diverse range of activities, from theme parks to historic landmarks. There are natural and man-made green spaces to be found on each route, so you won't be short of places to stretch your legs.
Over the 800 miles or so of the journey, we've picked out some of the highest-rated stops to pack into your trip.
The Cincinnati Route
Tennessee Theater, Knoxville - Open since 1928, this theater is listed on the National Register of Historic places. It is one of the leading performance arts facilities that draws all sorts of entertainment.
Market Square, Knoxville - A vibrant downtown market with many different options for entertainment, shopping, and dining.
Cumberland Falls State Resort Park - While stopping at this park, take the Eagle Falls Trail hike for some amazing views. If hiking isn't your thing, there are options for horseback riding.
Daniel Boone National Forest - Over 708,000 acres, this National Forest borders the Appalachian Mountains with forest, sandstone cliffs and ravines.
Mary Todd Lincoln House, Lexington - Serving as a memorial to the first lady of Abraham Lincoln, this house reveals her life and success in the White House.
Fountain Square, Cincinnati - Marking the downtown district of Cincinnati, you can find many shops and restaurants placed around this landmark.
Great American Ball Park, Cincinnati - Home to the first professional baseball team, the Cincinnati Reds,this park is located right along the Ohio River and has amazing views of the city.
Indianapolis Motor Speedway Museum - Sharing the stories of the automotive racing industry, this museum holds some of the most important memories of racing history.
Monument Circle, Indianapolis - The heart of downtown Indianapolis where you can find an observation deck overlooking the city.
Eagle Creek Park, Indianapolis - This park provides opportunities for fishing, boating, hiking, and more!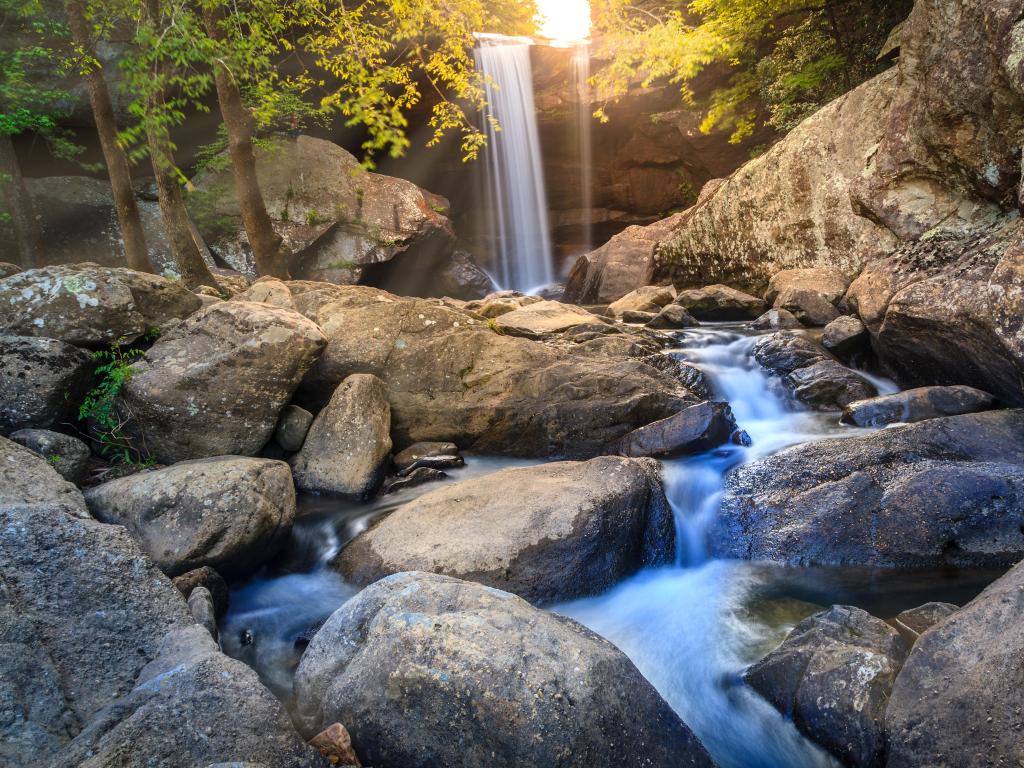 The Nashville Route
The Country Music Hall of Fame and Museum - One of the most popular music museums, this museum holds many artifacts relating to the country genre.
Nashville Parthenon - Located in the middle of Centennial Park, this attraction is a replica of the Parthenon in Athens, Greece.
Land Between the Lakes - Visit the Elk & Bison Prairie where many elk and bison roam free in the park, or follow the paved loop for opportunities to see more prairie mammals.
Superman Statue, Metropolis - The birthplace of Superman! You can find a statue of this superhero located downtown.
Shawnee National Forest - Explore the beautiful scenery of this forest and learn about indigenous history of America.
The Gateway Arch, St. Louis - Take in the view of the skyline of St. Louis and the Mississippi River as you take a ride up to the top of this monumental arch.
City Museum, St. Louis - Let your inner child shine! This museum was curated to be interactive, so you can enjoy tunnels, slides, and a large outdoor climbing space.
Litchfield Museum and Route 66 Center - Visit the iconic Route 66 Visitor center! This route has become one of the most famous roads crossing the country from East to West.
Lincoln Home National Historic Site, Springfield - The only home to our former president Abraham Lincoln, this historic building is a centerpiece to Springfield.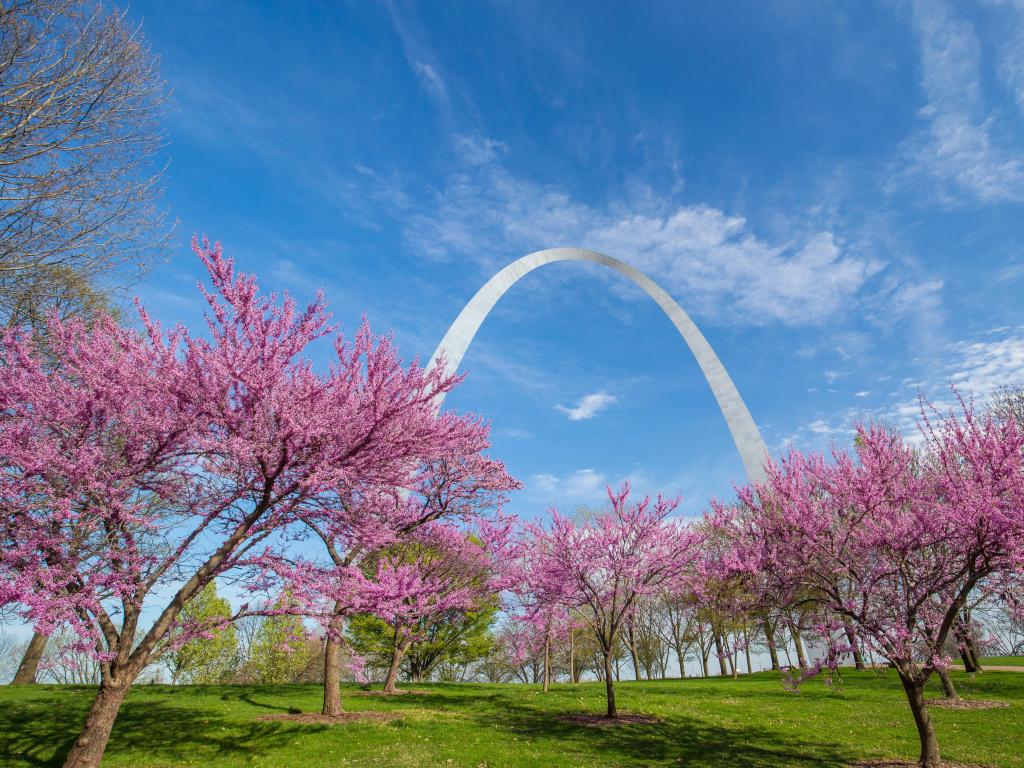 Both routes
Marietta Square, Marietta - Park in a quaint town surrounded by local shops, restaurants and a replica of the Liberty Bell.
Kennesaw Mountain National Battlefield Park, Kennesaw - Great for history buffs, this preserved site from the 1864 Civil War battle features films and artifacts from the battle.
Booth Western Art Museum, Cartersville - This museum is a great representation of Western America, devoted to all things cowboy.
Ruby Falls, Chattanooga - You can take a guided cave tour or zipline above this amazing waterfall.
Millennium Park, Chicago - A public park in downtown Chicago near the Lake Michigan shoreline, recognized for the Cloud Gate sculpture and a host of public art.
Best time to go on a road trip from Atlanta to Chicago
While you can make the road trip from Atlanta to Chicago at any time of the year, it's best enjoyed during the warmer months so you can enjoy the full range of outdoor activities and national parks along the way.
As the summer is peak tourist season, room rates may be higher and you may encounter some humid weather. However, it's also a lovely time to enjoy the sun while visiting some of the parks and forests. The average daily temperature can reach above 73 degrees Fahrenheit at this time of year.
There are some fun events in summer which draw people to the city - one of the largest blues festivals in the world takes place in Chicago in June, while in July the Taste of Chicago festival shows off the many different cuisines the city has to offer.
In the winter months, be prepared for slower driving through the mountains and cold weather. As Chicago is known as the Windy City, you might want to avoid the cold winds of winter. Temperatures sit around 25-30 degrees, which may lead to longer driving times and chilly parks.
One of the best times to visit is between March-May and September-October. During the shoulder seasons, you'll find fewer crowds and average prices, but there is still plenty to see and do!
The weather also stays comfortable (between 50-70 degrees Fahrenheit ) and is not too humid. Note that the Chicago Marathon takes place in October, when many streets are closed for runners.