Road Trip from Atlanta to Denver
How about a long weekend getaway filled with music, fascinating history, and stunning forests? You will find everything you are looking for and more on this amazing road trip, which will take you on a journey through the Midwest from the cultural city of Atlanta to the "Mile High City" of Denver, Colorado.
The 1,410-mile road trip from Atlanta to Denver will take 21 hours to drive nonstop. The notable sights on the way are Nashville, Birmingham, Memphis, St Louis, Kansas City, Chattanooga, Wichita, Ozark and Shawnee National Forests as well as Topeka.
This road trip is dotted with beautiful scenery, iconic cities, and so much to do and see en route. Read on to find out about the best routes to take, amazing places to stop, inspiring things to see and the best time of the year to set off on this journey.
How far is Denver from Atlanta, and how long will the road trip take?
Comparison of road trip routes between Atlanta and Denver

| Route | Distance | Driving Time |
| --- | --- | --- |
| Nashville Route | 1,410 miles | 21 hours |
| Memphis Route | 1,560 miles | 25 hours |
The road trip on the Nashville Route will cover around 1,410 miles and take just over 21 hours to complete, not taking any breaks or gas stops into consideration. This means that you'll have to split your drive into at least two days, although the more time you take, the better.
The alternative Memphis Route will cover around 1,560 miles and take just over 25 hours to complete if you were to drive nonstop. This trip bodes well for at least a three-day journey, although the more time you spend, the better.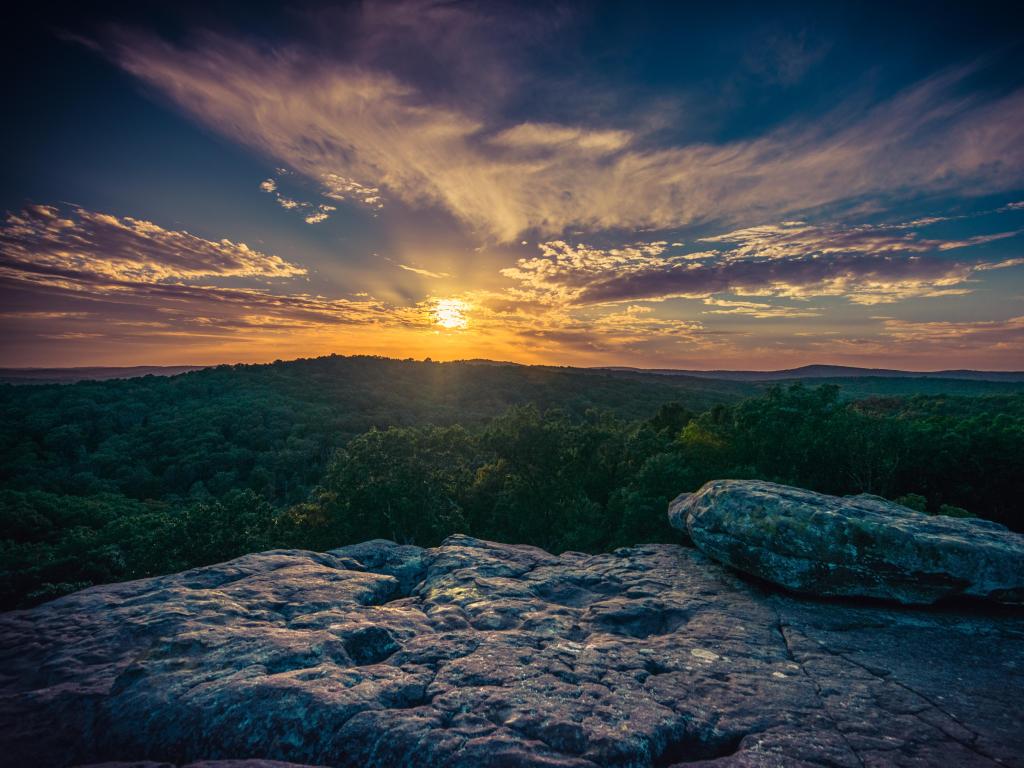 Best road trip route from Atlanta to Denver
We suggest following the Nashville Route if you want the most direct and fastest route. It takes you through major cities like Nashville, St Louis, and Kansas City. If you want to get a glimpse of the best of the Midwest on the road, this is the way to go!
You will also get to admire the beautiful natural scenery that surrounds Chattanooga on the Nashville Route.
With a less metropolitan vibe overall, the Memphis Route still has iconic stopover options such as the musical cities of Birmingham and Memphis.
You will find more small-town charm on this route. In addition, you will have the opportunity to stop at the Hot Springs National Park to relax and enjoy yourself in the thermal natural springs.
The Nashville Route
Head out of Atlanta following Interstate 75 (I-75) towards the scenic city of Chattanooga. After your visit, keep heading northwest towards "The Music City", Nashville.
The interstates then will take you through Shawnee National Forest and past Rend Lake before turning west and taking you to St Louis.
Following I-70, you will drive past Columbia, Kansas City, and Topeka all the way from Missouri to Colorado through the vast plains of Kansas. You will soon reach your destination in the fabulous city of Denver.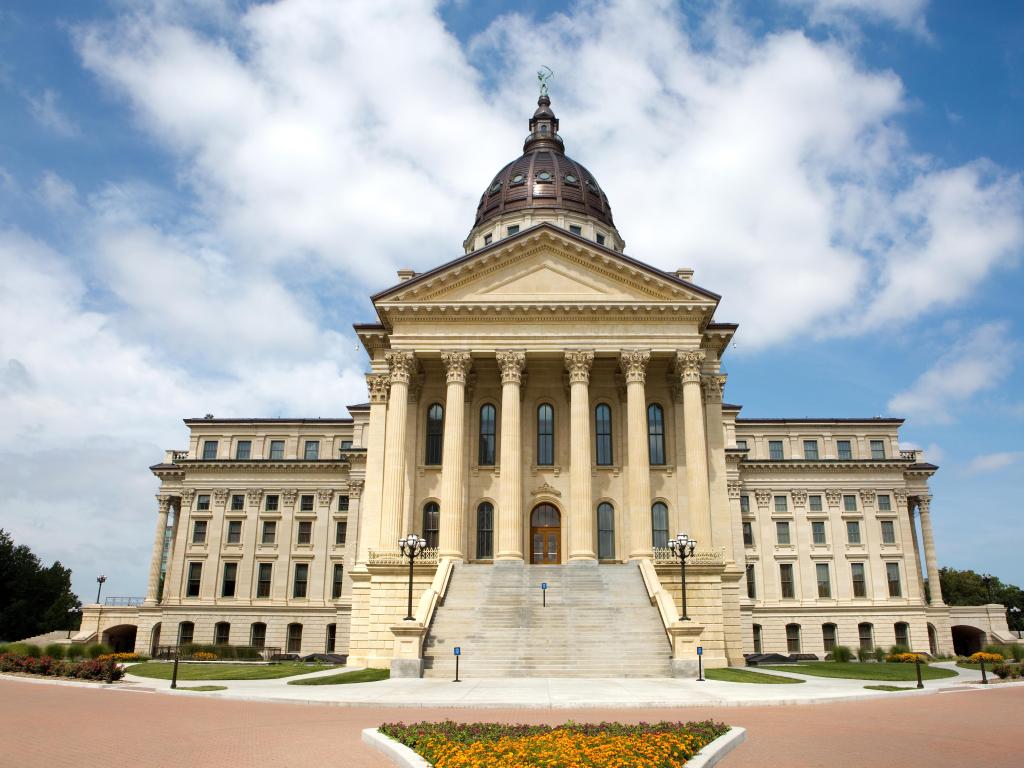 The Memphis Route
Following this route, you will head west out of Atlanta on I-20 towards Birmingham, which is a fantastic city with a rich music heritage. Driving through Holly Springs National Forest, you will soon reach Memphis in Tennessee.
Stay on I-40 as you travel west through Little Rock and then head towards Ozark National Forest. The beautiful, arid scenery of Kansas awaits you soon after crossing the Missouri state border past Joplin.
Driving through Wichita, you will merge with I-70 and follow the interstate to Denver, your final stop on this journey.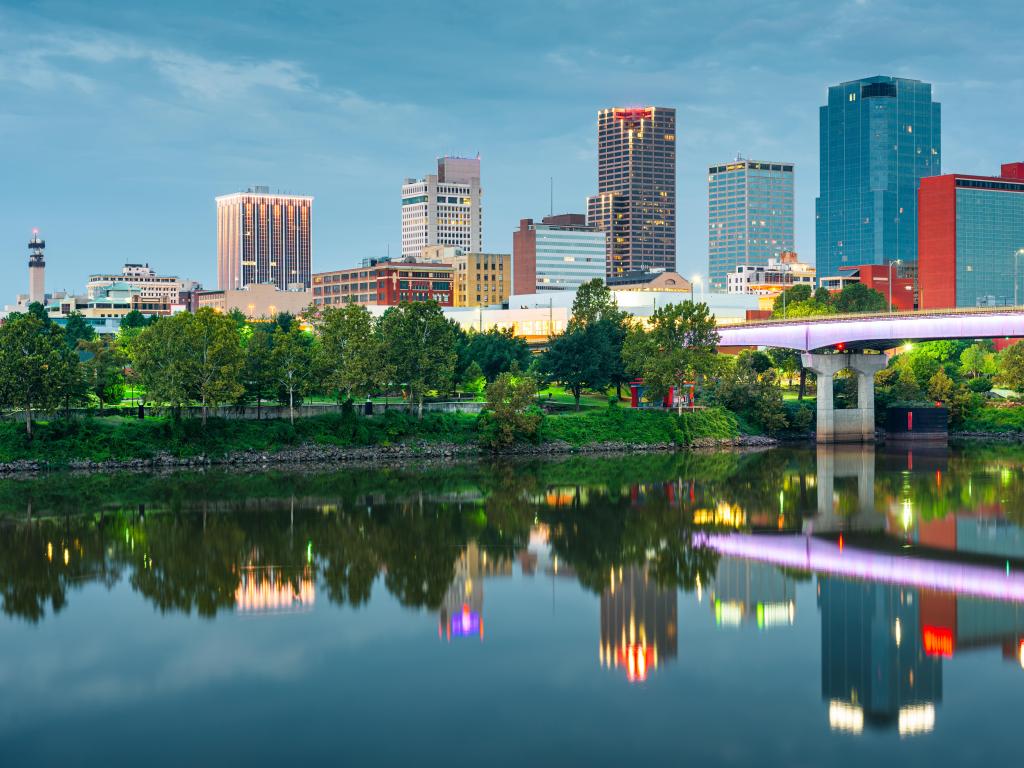 Best places to stop between Atlanta and Denver
With an impressive number of miles to cover, you will want to make a couple of overnight stops to recharge and re-energize. Here are our top suggestions for amazing places to stop and take a break:
A historic stay at St Louis
About one-third of the way into your trip, you will arrive in St Louis, MO, which is famous for its incredible skyline and landscape views while being located right on the beautiful Mississippi River. The city is full of vibrant cultural attractions, fine dining and museums.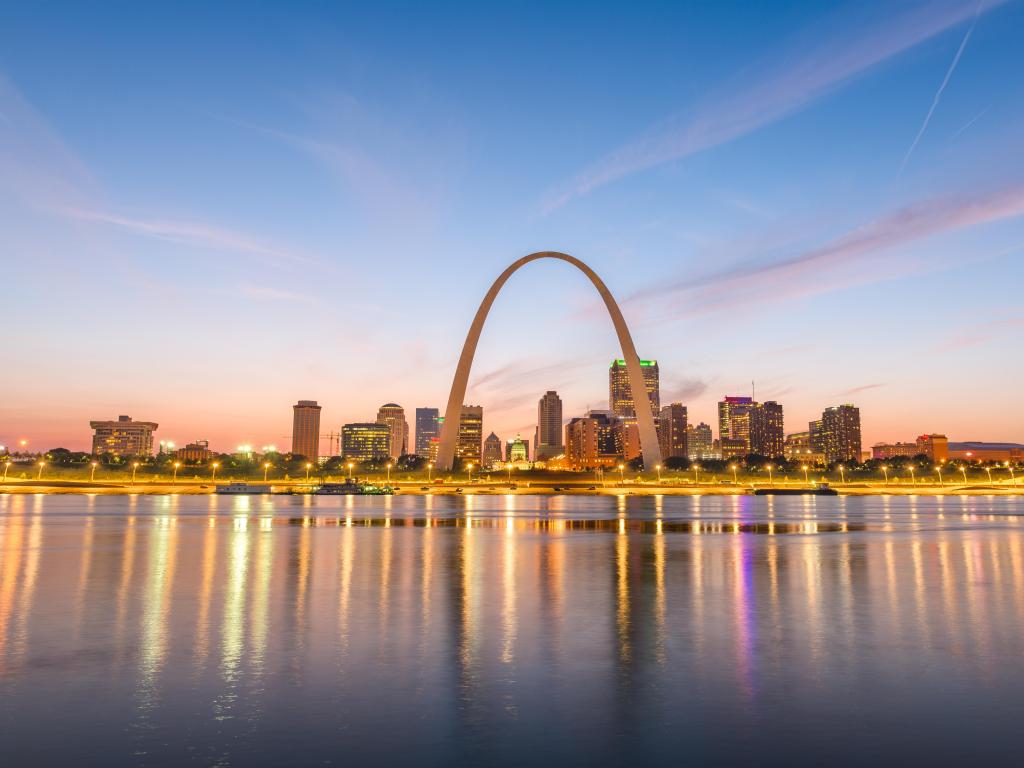 St Louis is known as 'The Gateway to the West" as the buzzing heart of the Midwest USA and its Gateway Arch, which is a must-see, is a famous landmark that signifies the city's unique position. Visitors can ride up to the top of the arch for incredible skyline and river views.
Another place to visit is the Cathedral Basilica of Saint Louis, a stunning Roman Catholic cathedral that boasts gorgeous architecture.
After a long and interesting day of driving, we recommend staying at The Last Hotel during your visit to St Louis. This boutique hotel is built in a historical building that used to be the International Shoe Company. The hotel is in the downtown core of St Louis with easy access to the Gateway Arch.
You will enjoy the Neoclassical and modern décor, in addition to a fitness center, a bright and lovely sun terrace and an outdoor pool (weather permitting). You can even take in the sunset from the rooftop bar serving delicious bites and colorful cocktails.
Explore the musical heart of Memphis
With 6 hours of driving time behind you on the Memphis Route, the city that lends its name to this route, Memphis, makes a great stopping point and place to rest. With a great sense of community, Memphis also pays homage to its history and boasts a lively music scene.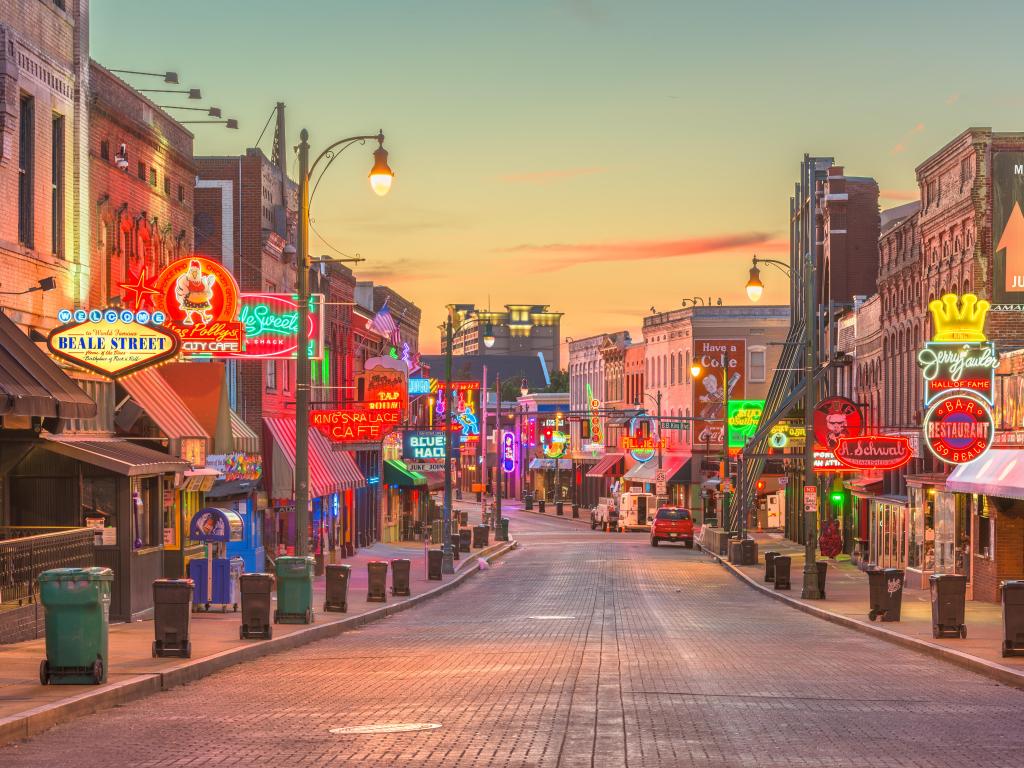 Musical history lives here! Memphis is known as the birthplace of Rock 'n Roll and Home of the Blues. Here you can enjoy a myriad of attractions and famous musical landmarks, one of which is Graceland, previously home to the former king of Rock 'n Roll, Elvis Presley.
Memphis Rock 'n Soul Museum is a must-visit for any music lover, this interactive museum tells the stories of some of the musical geniuses who helped create music as we know it. Another amazing place to visit is Beale Street, where you can find great live music.
While there are many charming hotels in the downtown core of Memphis, Peabody Memphis stands out with its Southern charm. You will find plenty of luxury amenities, including an indoor pool, fitness center and full-service spa. You will dine in style with fine dining featuring gourmet French cuisine.
The hotel is steps away from the popular Beale Street and is close to attractions like the Memphis Rock 'n Soul Museum and the Orpheum Theater, so you can easily explore the city on foot using this beautiful hotel as your base.
Where to stay when you reach Denver
When you reach Denver, Colorado you might want to stay in the downtown area to be in the center of the eclectic urban buzz, which Denver is known for.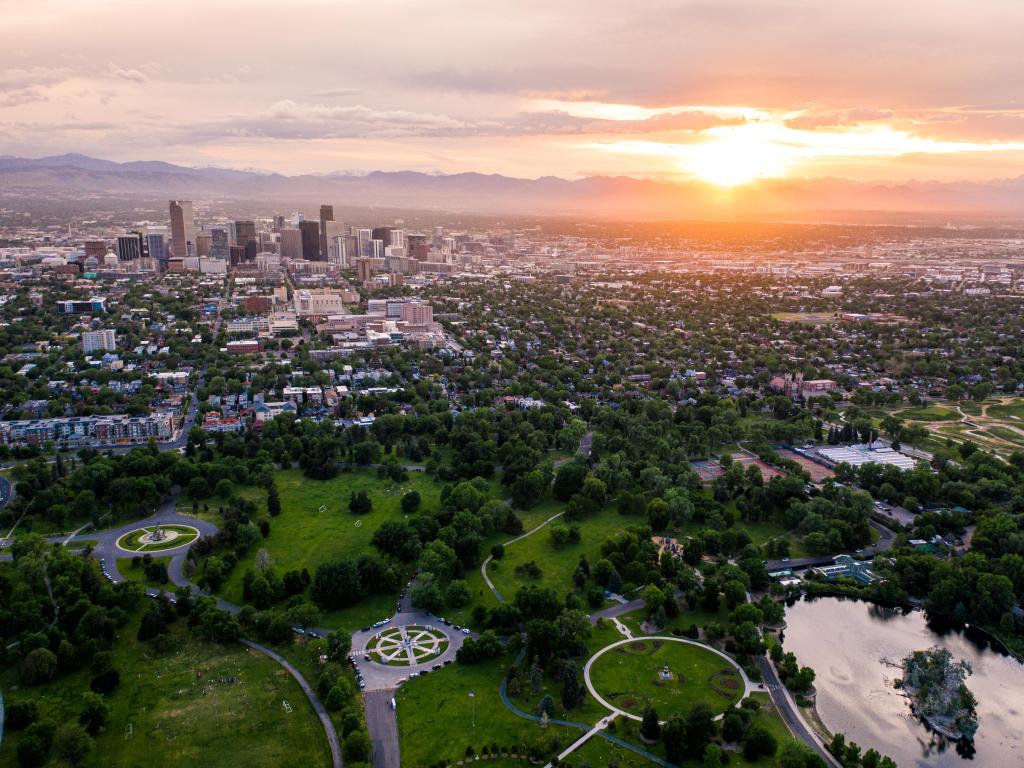 An elegant place to stay is The Oxford Hotel located in downtown Denver near Union Station. This modern luxury hotel within an iconic landmark offers a state-of-the-art spa and fitness center for the ultimate relaxation and unwinding after a long drive.
Dining options on-site include authentic, unique cuisine and an elegant cocktail lounge with prohibition-era vibes, so you are in for a treat during your stay at the Oxford Hotel.
Things to see on a road trip from Atlanta to Denver
There are so many gems on this route, some hidden and some sprawling across the horizon. We recommend these amazing attractions and points of interest that you can't afford to miss:
The Nashville Route
Gone With the Wind Museum, Marietta - Transport yourself back in time and visit this museum dedicated to the well-known book and movie, "Gone with the Wind".
Chattahoocee-Oconee National Forests – One of Georgia's only national forests, this forest offers 867,000 acres of scenery for you to explore.
Raccoon Mountain Caverns, Chattanooga - Also known as "Tennessee Caverns", this attraction allows guests to take guided tours and often has live music concerts underground.
Country Music Hall of Fame and Museum, Nashville - One of the world's largest museums dedicated to the preservation and interpretation of a specific type of music.
Land Between the Lakes - Designated as a UNESCO Biosphere Reserve, this beautiful recreation area is a must-see to enjoy sunshine and relaxation.
Shawnee National Forest - This forest offers many hiking trails and opportunities for kayaking and canoeing.
The Gateway Arch, St. Louis - This iconic landmark is known as "the Gateway to the West". Visitors can ride up to the top for incredible skyline and river views.
Country Club Plaza, Kansas City - This is a great stop to do some of your shopping during your trip and offers pleasant views of architecture along the way.
Evel Knievel Museum, Topeka - Dedicated to the daredevil and stunt performer, Evil Knievel, this museum holds a large collection of memorabilia and interactive experiences.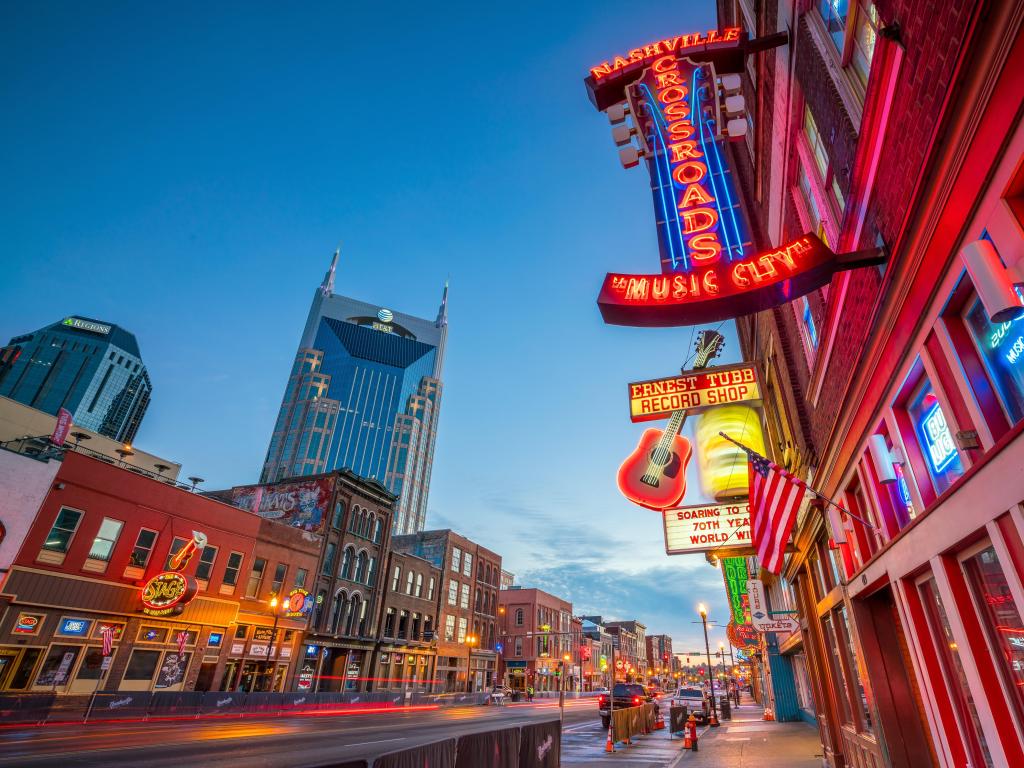 The Memphis Route
Kelly Ingram Park, Birmingham - This park sits here in memory of those that were killed in the Freedom riots that occurred in the city.
Holly Springs National Forest - Hidden treasure nestled in Mississippi that is dedicated to restoring its ecosystem and has many small lakes and lovely forestry.
National Civil Rights Museum, Memphis - Museum built on the site of the assassination of Martin Luther King Jr. It shares much of the history of the racial equality movement.
Old State House Museum, Little Rock - Formerly called the Arkansas State House, this is one of the oldest surviving state capitol buildings in the West.
Hot Springs National Park - This unique national park is full of many historic bathhouses, thermal hot springs and has incredible mountain views.
Ozark National Forest - Park offering acres of lush forest and clear mountain streams.
The Keeper of the Plains, Wichita - This sculpture is a symbol to the local tribes that used to inhabit the area and firepits are lit every evening against the sunset for visitors to enjoy.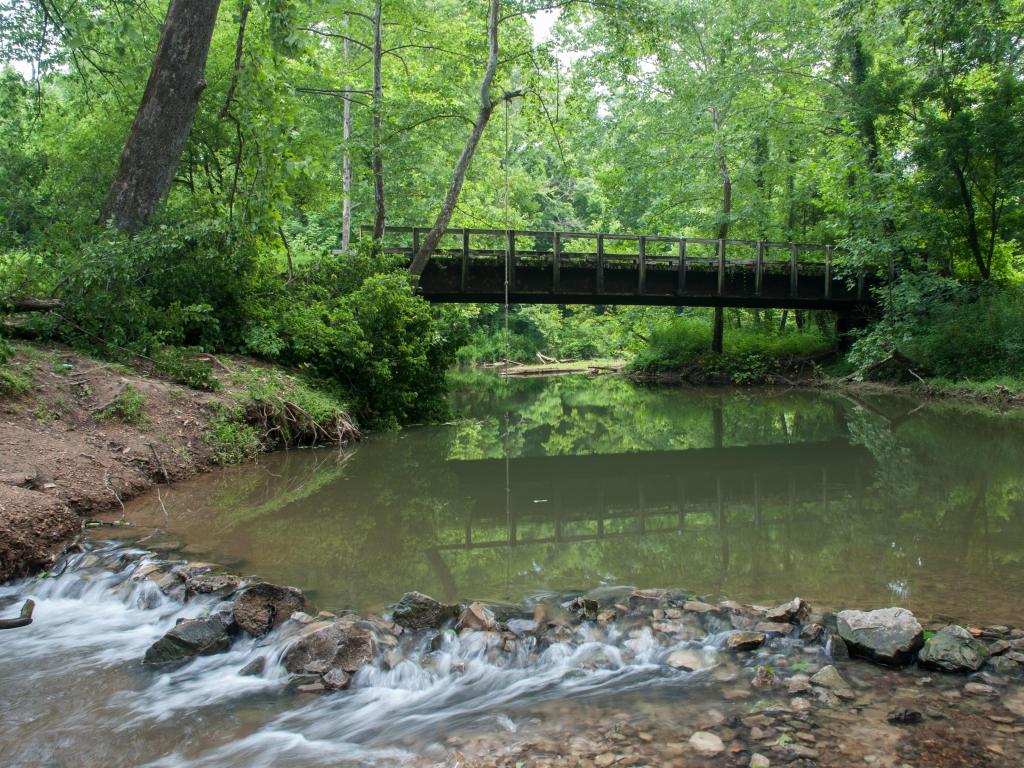 Both Routes
Giant Reproduction of Three Sunflowers in a Vase, Goodland - Visit this unique stop and view a giant reproduction of one of Vincent van Gogh's famous paintings.
Broadmoor Seven Falls, Colorado Springs - This stop is a natural wonder in the state and is known as "The Grandest Mile of Scenery in Colorado".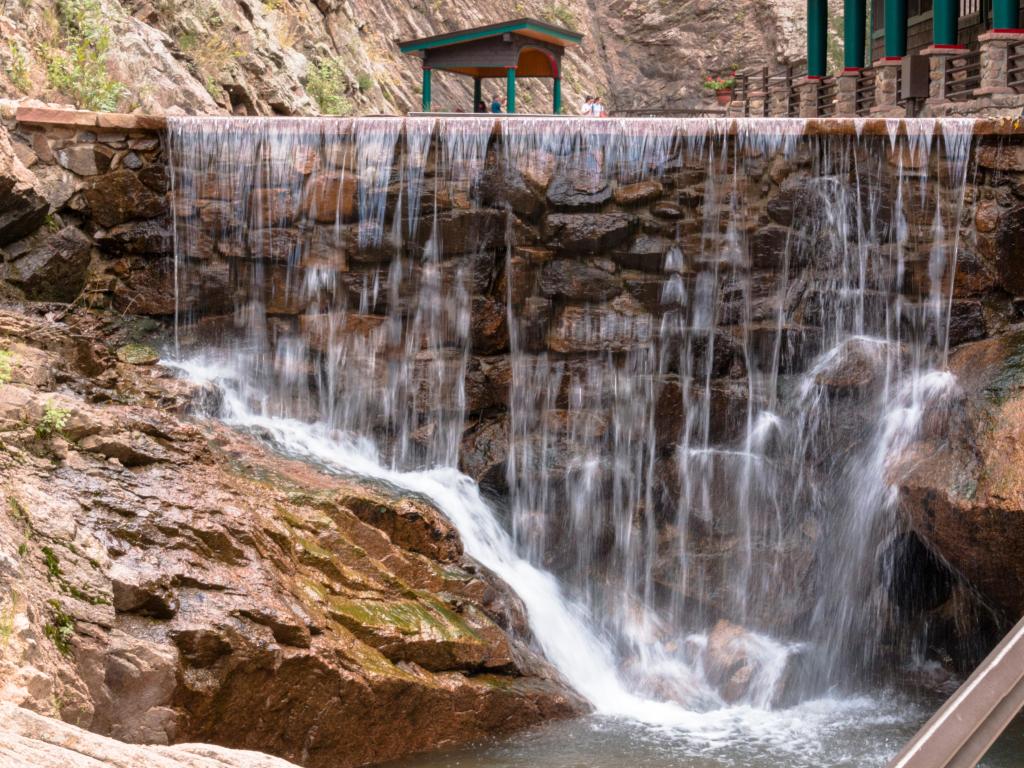 Best time to go on a road trip from Atlanta to Denver
Although best to enjoy in the summer and fall months, this road trip can be done any time of year. This region of the US is characterized by a humid continental climate where temperatures range greatly from summer to winter.
Summer is considered the peak tourist season at most stops along the route. This means that the attractions and accommodation generally can be busier and more expensive. Average summer temperatures are 85 degrees Fahrenheit but can range between 65-90 degrees Fahrenheit.
Most of the Midwest will get snow and colder weather throughout the winter months. While Colorado is known for its skiing season and gorgeous mountains, you may often find more tourists traveling to Denver during the winter. This may result in higher prices in hotels and resorts.
Average winter temperatures are 30 degrees Fahrenheit but can range between 15 to 40 degrees Fahrenheit.
Summer and fall are considered some of the more desirable times to visit, as you will avoid crowds. Spring brings in more precipitation while fall brings in beautiful fall foliage. These seasons bring in more average temperatures ranging between 50 to 70 degrees Fahrenheit.
Denver is home to some lovely and quaint annual events, some of which are the Mile High Festival in April and the Great American Beer festival in September.