Road Trip from Atlanta to Destin, FL
Have you ever seen the immense beauty hidden within the southern United States? This road trip from Atlanta to Destin takes you from the heart of Georgia, through historic towns and cities of Alabama, to the sunny beaches of western Florida. On the way, you'll see amazing natural landscapes, forests, swamps, and numerous historic cities, such as Columbus and Eufaula.
The 350-mile road trip from Atlanta to Destin takes 6 hours 30 minutes to complete. On the way, you can explore Columbus, Eufaula, Lake Martin, Conecuh National Forest, Montgomery, the Emerald Coast, plus the Civil Rights Memorial.
Read on to choose between two suggested routes, select the route that calls upon your inner adventurer and find out what time of year will allow you to make the most of this thrilling experience!
How far is Destin from Atlanta, and how long will the road trip take?
Comparison of road trip routes between Atlanta and Destin, FL

| Route | Distance | Driving Time |
| --- | --- | --- |
| The Montgomery Route | 350 miles | 6 hours 30 minutes |
| The Columbus Route | 360 miles | 7 hours |
There are a couple of options for getting from Atlanta to Destin, with both drives taking significantly different routes. At least this way, if you ever want to do this trip again – you'll be able to go on a completely different adventure, despite having the same destination.
The most direct (The Columbus Route) route will take you around 6 hours 30 minutes to complete and will cover 350 miles.
The Montgomery Route is only slightly longer with an addition of 30 minutes to the total driving time and an extra 9 miles when compared to The Columbus Route.
This trip will make for a nice weekend getaway as it only takes about 6-7 hours and allows for plenty of time to sightsee and visit beaches, historic monuments, and national parks. We suggest that you allow between 1-2 days to complete your drive.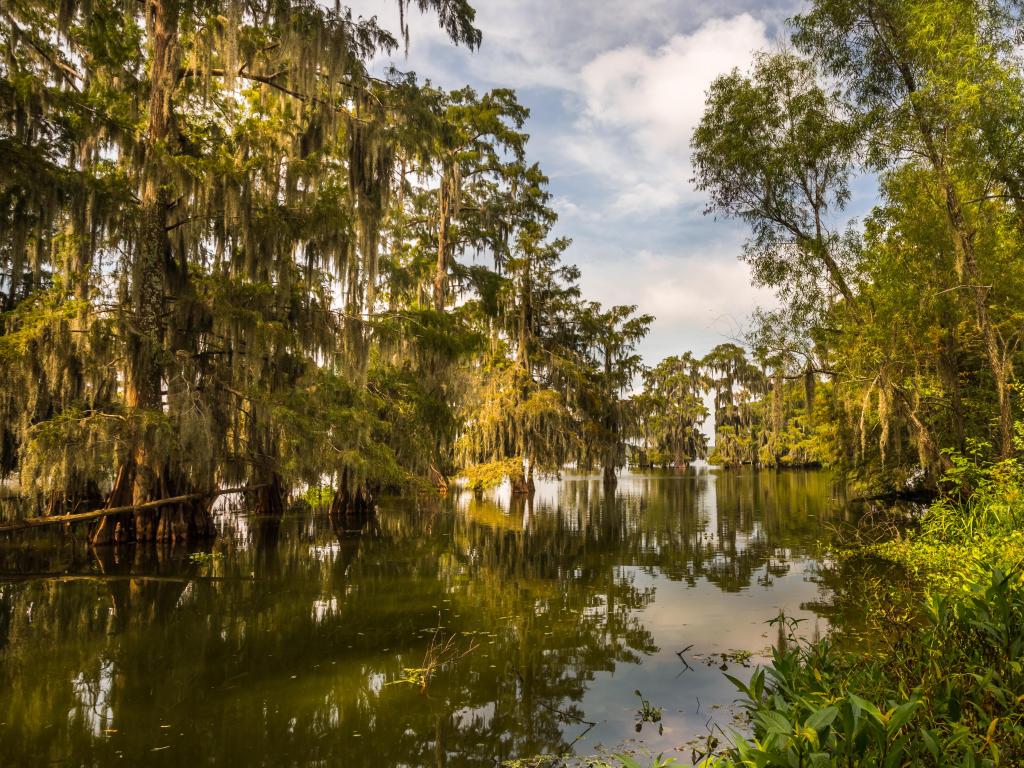 Best road trip route from Atlanta to Destin
Both of the routes we've chosen for this trip from Atlanta to Destin showcase plenty of the region's beautiful forest and rolling hills - as well as lush greenery, wetlands, beaches, swamps, and National Parks.
On the Columbus Route, you will get to explore the natural landscapes of Georgia, drive through the historic cities in Alabama, and end up on the beaches of western Florida. This route will allow you to enjoy the natural wonders of the Chattahoochee River, and the many amazing beaches between Panama City, Florida, and Destin, Florida.
The Montgomery Route takes a scenic dive through beautiful Alabama and into sunny Florida. During the trip, you will drive through some of Alabama's most loved landscapes, including the famed lake resort Lake Martin, and Conecuh, one of Alabama's four National Forests. Don't forget to stop at Montgomery, a city full of poignant history and vibrant art!
Both routes allow you to experience a wealth of natural beauty, with around the same length of driving time. The decision on which route to take will depend on your specific preferences, on what to see and where to spend the night. Don't wait, read on to plan your next adventure now!
The Columbus Route
The Columbus Route takes you simply along Interstate 85 (I-85) southwards with minimal stops. Head south from Atlanta on FL-273, towards the town of Columbus. Stick to the highway, through plenty of evergreen terrain.
Once you reach the Columbus area, you could stop at Chattahoochee River for a refreshing dip in the water. Just a little further along you'll also find cities, such as La Grange and Fort Benning. Both cities are great places to visit amazing historic buildings, view interesting public art, and have a terrific lunch!
As you approach the town of Marianna, FL, there'll be plenty to explore, such as the Florida Caverns State Park. The only public cave system with air-filled caves in Florida.
Back onto FL-273 (heading south), and time to keep an eye out for the many scenic lookouts by the side of the road, for those all-important vacation snaps. There are also some smaller rapids, springs, and lakes dotted along the route, perfect for a picnic lunch.
The next bigger town you'll reach will be Panama City. Some of the world's most iconic white beaches are found along this stretch of road, definitely a must-see stop on your road trip!
The next leg of your journey along I-10 in Washington County takes you into greener and more lush landscapes as you get closer to Destin. Stretch your legs in Eufaula or Dothan, followed by another quaint town named Chipley a little further along.
As you approach Destin, the possibilities for stops to explore beaches and national parks become endless. Miramar Beach is a great beach to stop at before finally arriving at your destination.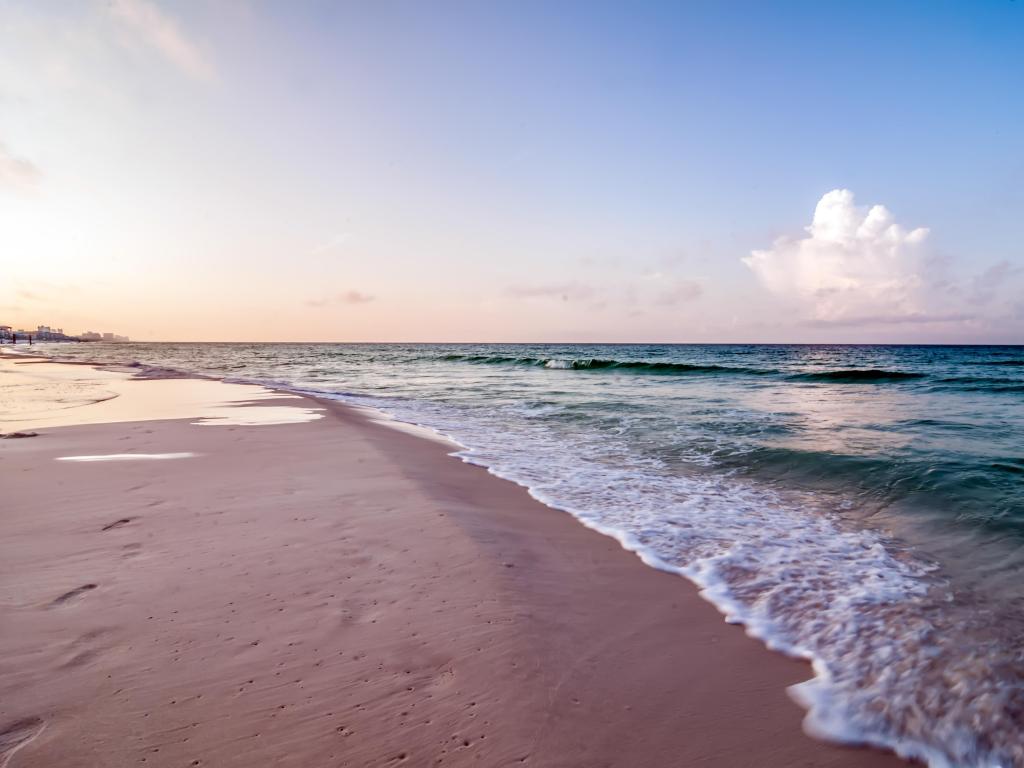 The Montgomery Route
This route deviates from the Columbus route directly from La Grange as you get on I-85. Head south from Atlanta towards Montgomery using AL-87. Make sure to take in the lush greenery and historic sites along the way.
Some sites you should definitely stop by are Lake Martin, Fort Toulouse, and Fort Jackson. Water enthusiasts and history buffs alike are sure to rejoice through these action-packed adventures sprinkled throughout your next trip.
Once you arrive in Montgomery, check out the many landmarks commemorating the Civil Rights Movement and the lively downtown scene with tasteful bars and restaurants.
Keep following US-84 (heading west) until you reach the Conecuh National Forest. As one of Alabama's four National Forests, Conecuh is home to beautiful hiking trails, swamps and peaceful wooded areas.
Once you've had your fill of nature pursuits here, re-join the highway before taking FL-285 south in Okaloosa County. This will take you by Blackwater River State Forest. Here, you will also have the option to participate in a range of watersports, hike, or relax against a picturesque forest backdrop.
Follow FL-293 towards Crestview, where you'll then head west on US-98 towards Destin, your final destination.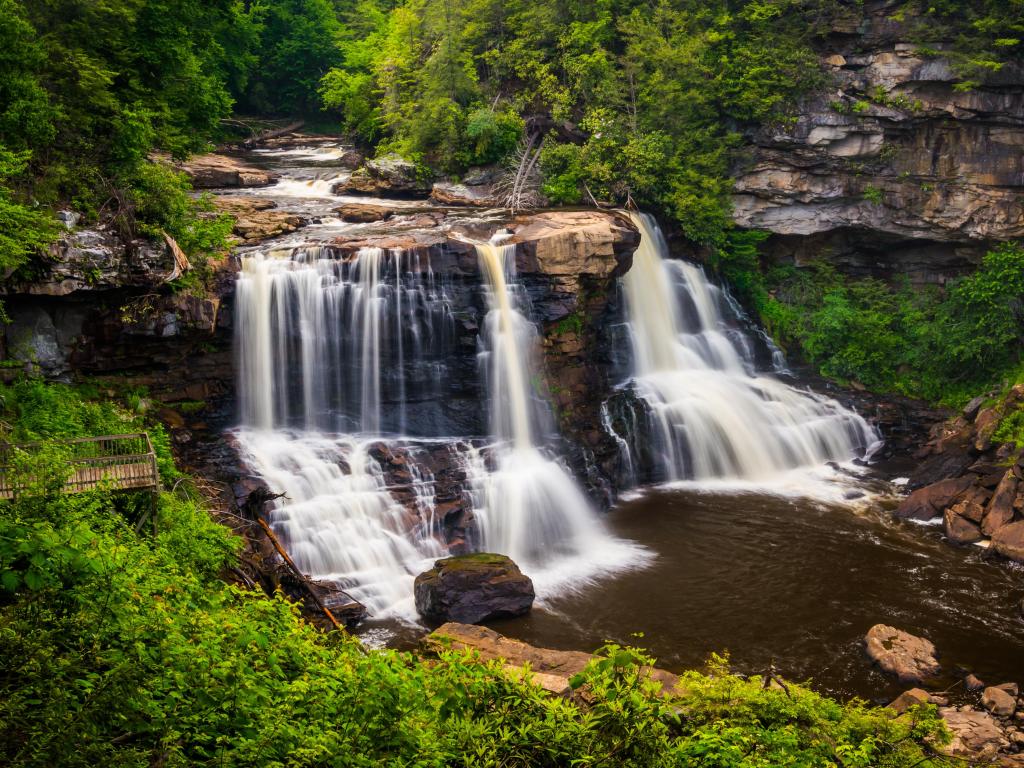 Best places to stop between Atlanta and Destin
Since this is most likely a weekend trip, you'll want to plan an overnight stop to maximize your sightseeing time.
We've picked a few conveniently located places that will allow you to both relax after a long day of driving and explore what the South has to offer. Both routes have wonderful overnight options to choose from!
A cultural exploration in Columbus
Located a third of the way through your journey, the town of Columbus is located near the beautiful Chattahoochee River. This charming town makes for a brilliant overnight stop and a base from which to explore many outdoor pursuits.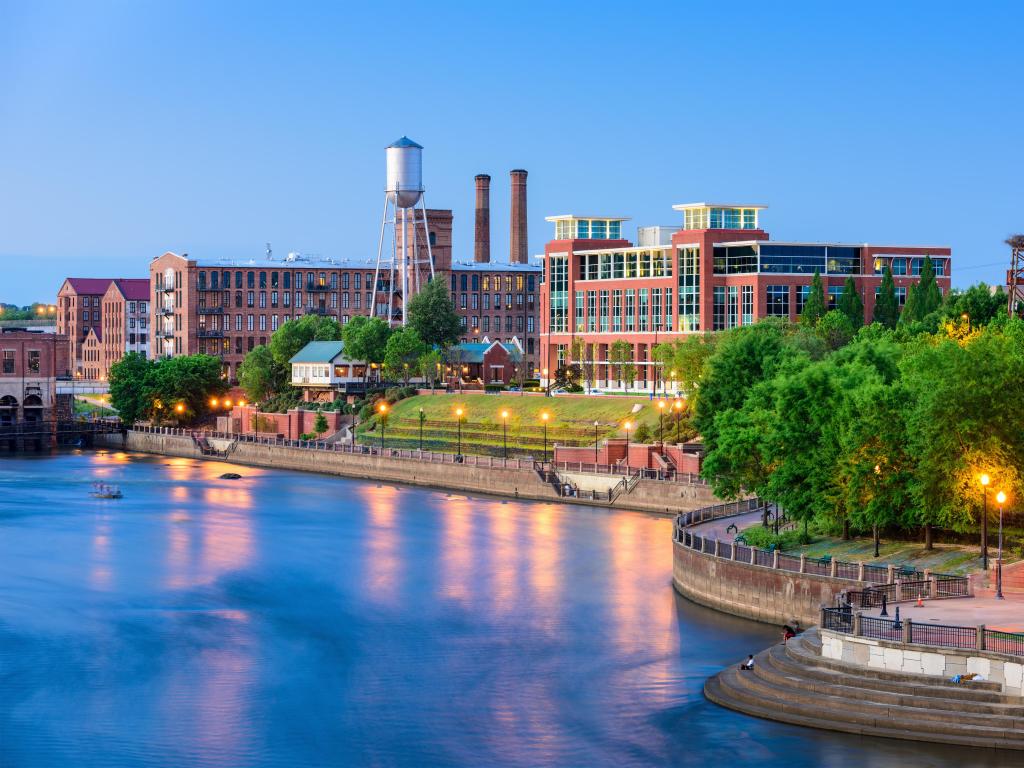 The AC Hotel by Marriott Columbus Downtown gets our vote for your overnight accommodation, with its modern and stylish décor that prides itself on reflecting the surrounding landscapes. If you enjoy being close to scenic hiking trails whilst enjoying all that Columbus, Georgia has to offer, this is definitely the place for you!
If you'd like to explore all the beauty nearby, the Woodruff Riverfront Park nearby offers several lush green spaces. The city center also has plenty to offer, including the Coca-Cola Space Science Center, the National Infantry Museum and Columbus Museum of History and Art.
A short drive will take you to the Chattahoochee River, where you can unleash your inner adventurer and go whitewater rafting or ziplining. The hotel is located close to County Road 431 to seamlessly continue your journey when you're ready.
A magnificent night in Montgomery
A great place for an overnight stop on the Montgomery Route is, perhaps unsurprisingly, in the town of Montgomery, Alabama. Located halfway into your journey, this is one of the last larger towns you'll be driving through before you reach Destin.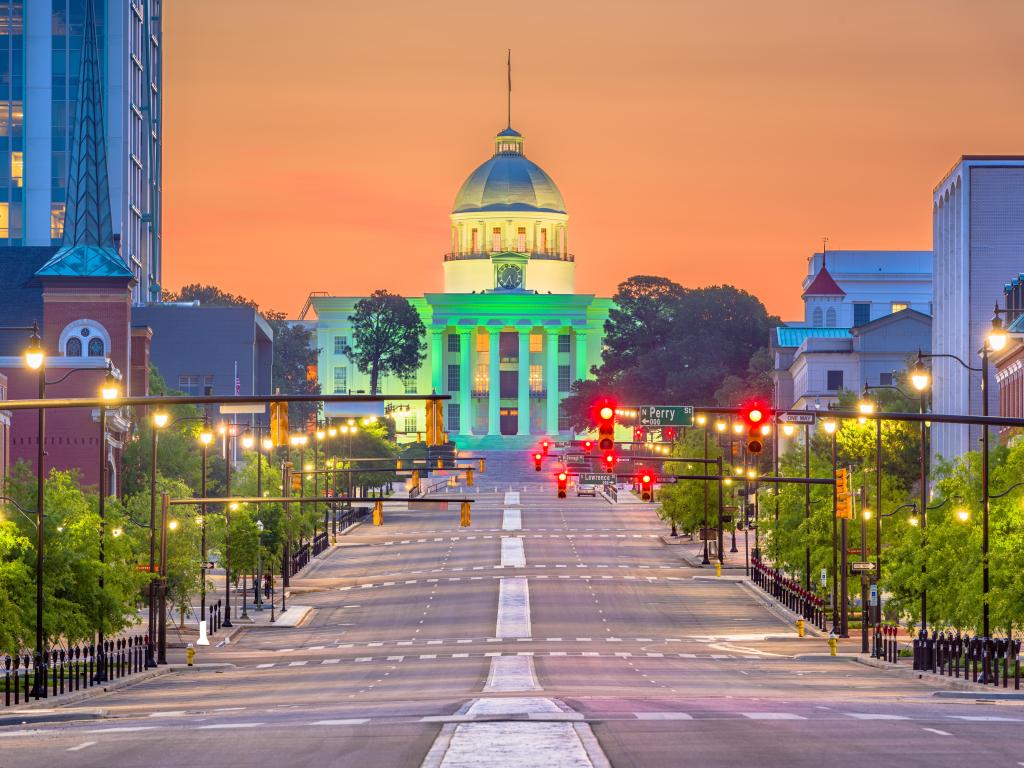 Montgomery is known for its vibrant art scene, but even more so for its richer history. Many important events of the Civil Rights Movement took place here, including the Montgomery bus boycott.
Located in the heart of downtown Montgomery, our favorite is the Staybridge Suites Montgomery - Downtown, an IHG Hotel to stay at during your visit to the city. This hotel is surrounded by beautiful scenery and has easy access back to the highway when you're ready to complete your journey.
The hotel has a state-of-the-art wellness center as well as an outdoor swimming pool to take a refreshing dip in after a day spent on the road.
If you'd like to have your own quintessential barbecue experience, the hotel offers cooking facilities for its guests as well as a shared lounge and kitchen. The most sought-after amenity though, are the family homes for the home away from home level of comfort.
The Dexter Avenue Baptist Church, a place where Martin Luther King preached in Montgomery during the Civil Rights Movement, is located close by – and we'd recommend paying a visit if you're in town.
If you'd rather spend your time here exploring all that downtown Montgomery has to offer, you could visit the Montgomery Museum of Fine Arts to see nineteenth and twentieth century American paintings as well as grand monthly exhibitions.
Where to stay when you reach Destin
Once you reach Destin, we recommend the Henderson Beach Resort as your next home away from home. Its well-placed location gives you access to a private beach, pools, terraces, and a rejuvenating wellness center.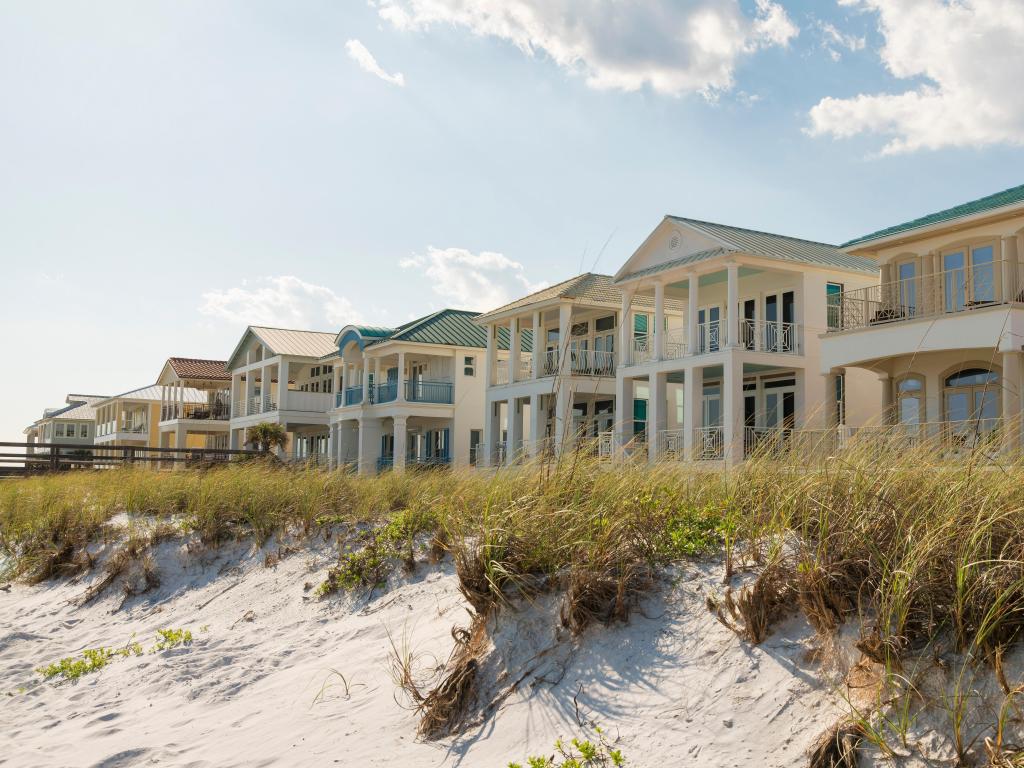 This hotel is situated adjacent to the popular Henderson Beach State Park, which is home to some of the whitest beaches of the world. The hotel itself has plenty of amenities to allow for endless relaxation during your adventure-filled weekend.
Nearby, the Destin City Center harbors an active nightlife with the Destin Harbor Boardwalk, water and adventure parks, bars, and exciting restaurants.
Things to see on a road trip from Atlanta to Destin
There are so many things to see on an epic road trip like this. From driving through historic landmarks in Alabama and Georgia to exploring national parks and caverns in Florida, this trip is sure to be one you won't forget!
Since both routes are pretty distinct from one another, there are significant differences in the attractions you will see along the way. Despite this, you're sure to have fun and make lasting memories regardless of the route you take.
Read on below to find out our recommended things to see and do on each route!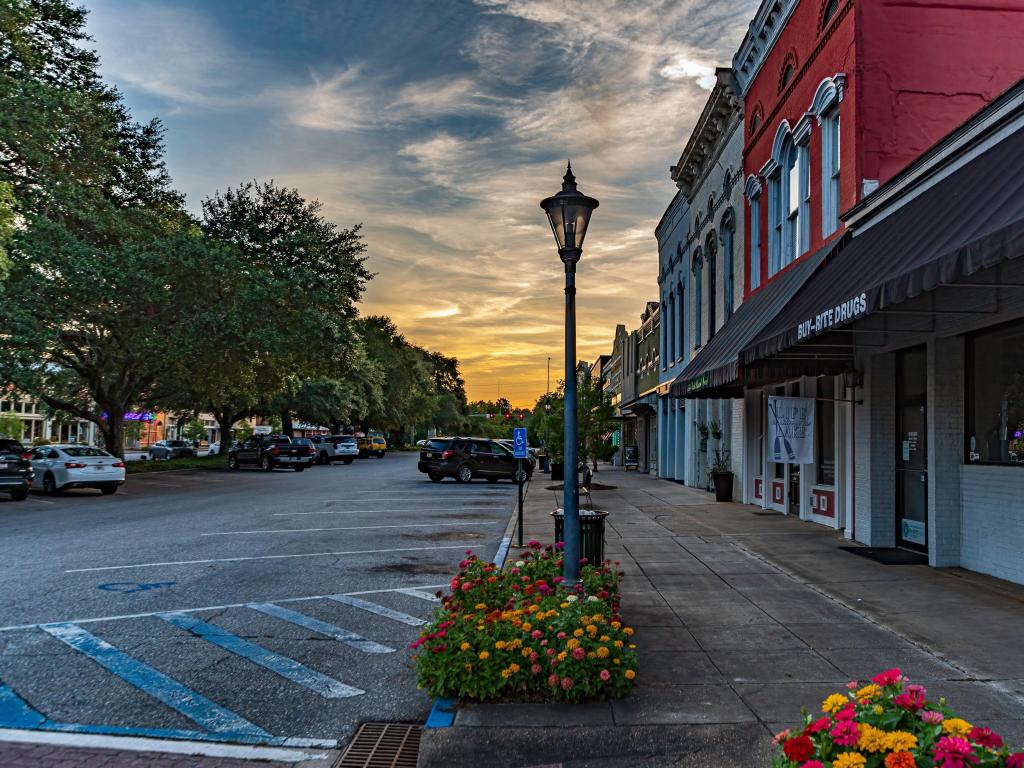 On the Columbus Route
Columbus, Georgia - Visit historic buildings, museums, or the Chattahoochee River for whitewater rafting or ziplining.
Eufaula – Drive around Eufaula to view some amazing historic buildings from the 18th-20th centuries.
Dothan – See interesting public art, restaurants, and museums in this Alabama city.
Florida Caverns State Park – Explore the only place in Florida with air-filled caves.
Econfina Creek Water Management Area – Visit rapids, springs, interesting wildlife and fishing opportunities in this beautiful nature reserve. Just a few miles off your route, it is definitely worth making a visit here!
Panama City, Florida – Dive into fun water sports, such as kayaking, snorkeling, kiteboarding. Or enjoy a relaxing day through city sightseeing and shopping.
Panama City Beach – Experience some of the world's most beautiful white beaches – only found along this stretch of beautiful, sunny Florida.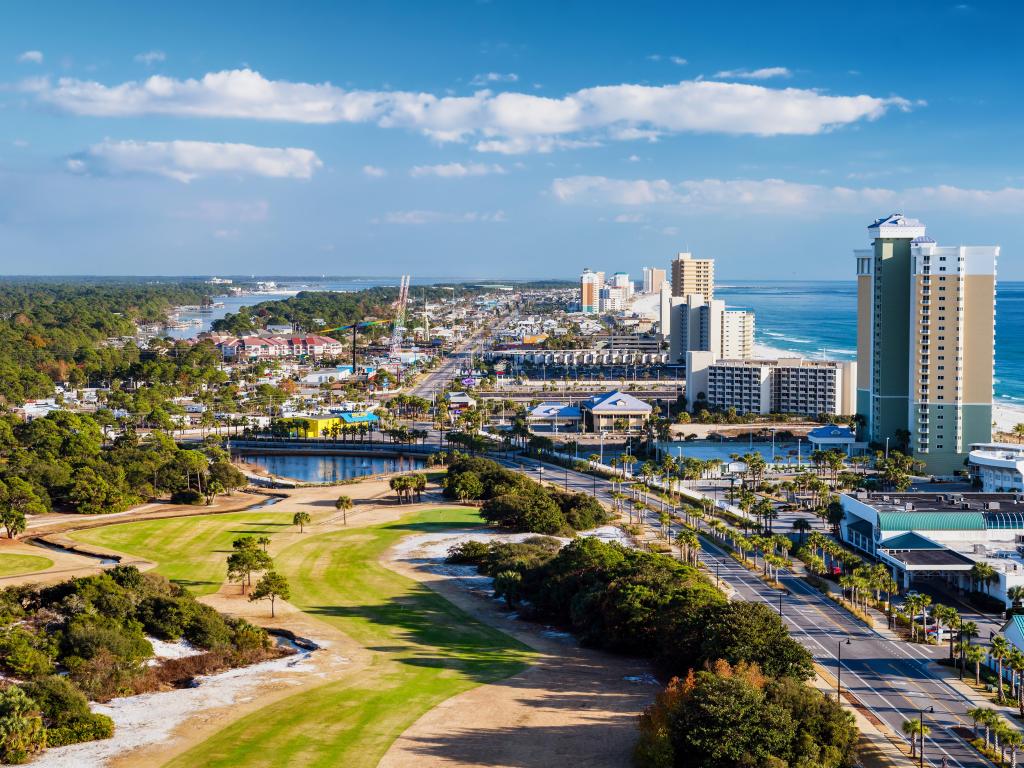 On the Montgomery Route
La Grange - Pop into the Biblical History Center at La Grange, for a visit into the past and the history of the Bible, through artifacts, stories, and archaeology.
Lake Martin – Explore the wonderful opportunities for swimming, kayaking, and other water sports, and enjoy the amazing holiday and residence villas dotted along the shoreline.
Fort Toulouse and Fort Jackson - Visit this historic fort, near Wetumpka, Alabama.
Montgomery - Discover interesting historical sites at Montgomery - including landmarks commemorating the Civil Rights Movement.
Conecuh National Forest – Trek through one of Alabama's four National Forests! Conecuh is home to beautiful hiking trails, swamps, and forests.
Blackwater River State Forest - Enjoy hiking, kayaking, or viewing wildlife in this picturesque forest
On both routes
Newnan - View some of Georgia's most iconic homes and buildings in Newnan, including the historic courthouse.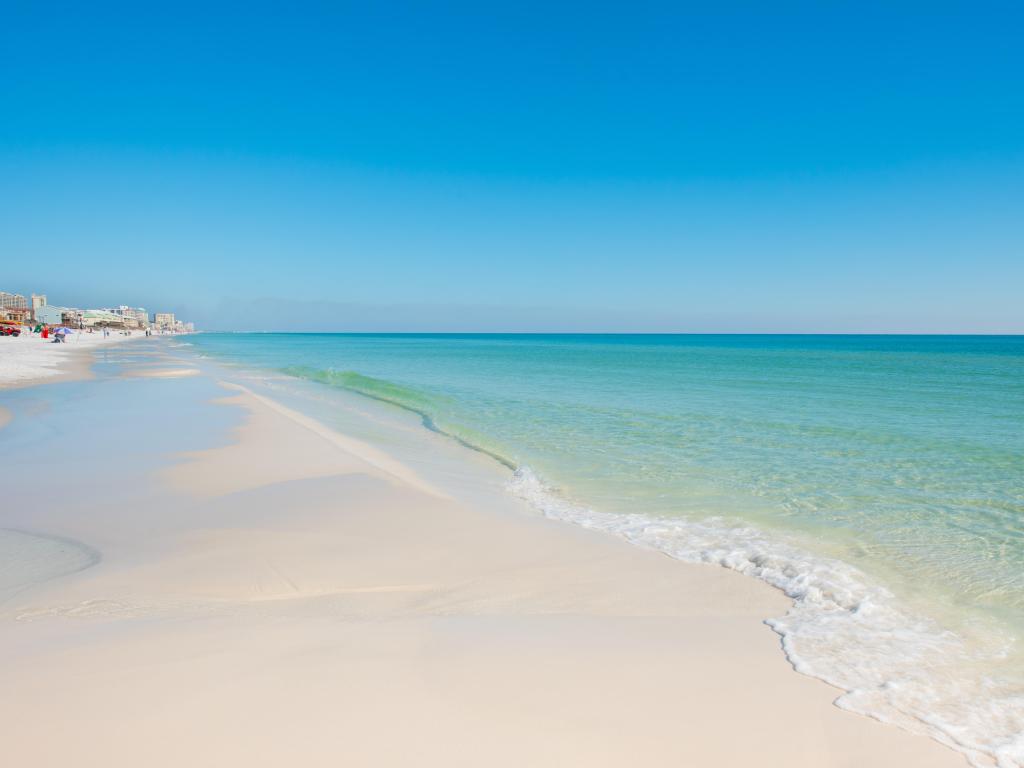 Best time to go on a road trip from Atlanta to Destin
lthough wonderful to visit any time of the year, Destin is most enjoyable in the months of spring. When visiting from February – May, you will avoid the cooler winter weather as well as the peak prices and tourist crowds of the summer.
This beach destination is very popular in summer. Prices often go up and crowd levels surge. Temperatures may reach up to 95 degrees Fahrenheit in summer months.
Having said this, The Emerald Coast (which includes Destin) is fun to visit in the winter months as well. Temperatures vary between 45 and 70 degrees Fahrenheit at this time. You may wish to opt for warmer seasons, though, if you wish to enjoy the beaches and water sports to the fullest.
Spring and fall are the best times to do this road trip to Destin. Temperatures reach highs of 70-80 degrees Fahrenheit, prices are moderate, and crowds are not a significant issue in these months.
If you plan on taking in more cultural and indoor events, there is plenty to explore in Destin all year round. There are festivals and events for every taste, as you would expect from a beachfront city.
During April, the Annual Sandestin Wine Festival draws in many local wine connoisseurs as they have many domestic and international wines to taste, as well as entertainment and fun for everyone.
In September, the Perfect Hues: Baytowne Art & Food Fest takes place to bring in local and regional artists, live music, food and crafts. It is a must-see event that's sure to be fun for the whole family. Lastly, every October, thousands of people gather to go to the Destin Seafood Festival showcasing mouth-watering crustacean delicacies.
Destin is a thriving vacation spot on its own, but travel through the heart of Alabama and Georgia on your way there and it can easily become a truly memorable road trip.