Road Trip from Atlanta to Los Angeles
If you are looking for the ultimate cross-country adventure across several states, major cities, stunning parks and incredible landmarks, then the epic drive from Atlanta to Los Angeles is the perfect trip for you. Full of fun, adventure and beautiful scenery - what more could you want?
The 2,690-mile road trip from Atlanta to Los Angeles takes 41 hours to drive. Key stops include Nashville, Memphis, Las Vegas, Albuquerque, Austin, San Diego and New Orleans, as well as Death Valley National Park, Zion National Park and Grand Canyon.
To help you plan your trip we've come up with the best routes and places to stop overnight, as well as our favorite places to visit and the best time of year to make the trip from Atlanta to Los Angeles.
How far is Los Angeles from Atlanta, and how long will the road trip take?
Comparison of road trip routes between Atlanta and Los Angeles

| Route | Distance | Driving Time |
| --- | --- | --- |
| The Northern Route | 2,690 miles | 41 hours |
| The Southern Route | 2,800 miles | 44 hours |
There's no hiding from the fact that the road trip from Atlanta to Los Angeles is a long way. While there are several different ways you can take, our recommendation is to head either further north or south, to make the best of the cities and attractions on offer along the way.
The quickest of the two heads north to pass through Nevada and Utah. Spanning a distance of 2,690 miles, this option will take you at least 41 hours to drive and that's without any stops along the way.
Our Southern Route, which takes you through the state of Louisiana amongst others, is only slightly longer at 2,800 miles and will take 44 hours of non-stop driving before you reach Los Angeles.
You'll need at least a week to best enjoy this epic trip. This way you can break up the journey into more manageable chunks and include some of the detours to the nearby national parks, such as Zion and Death Valley.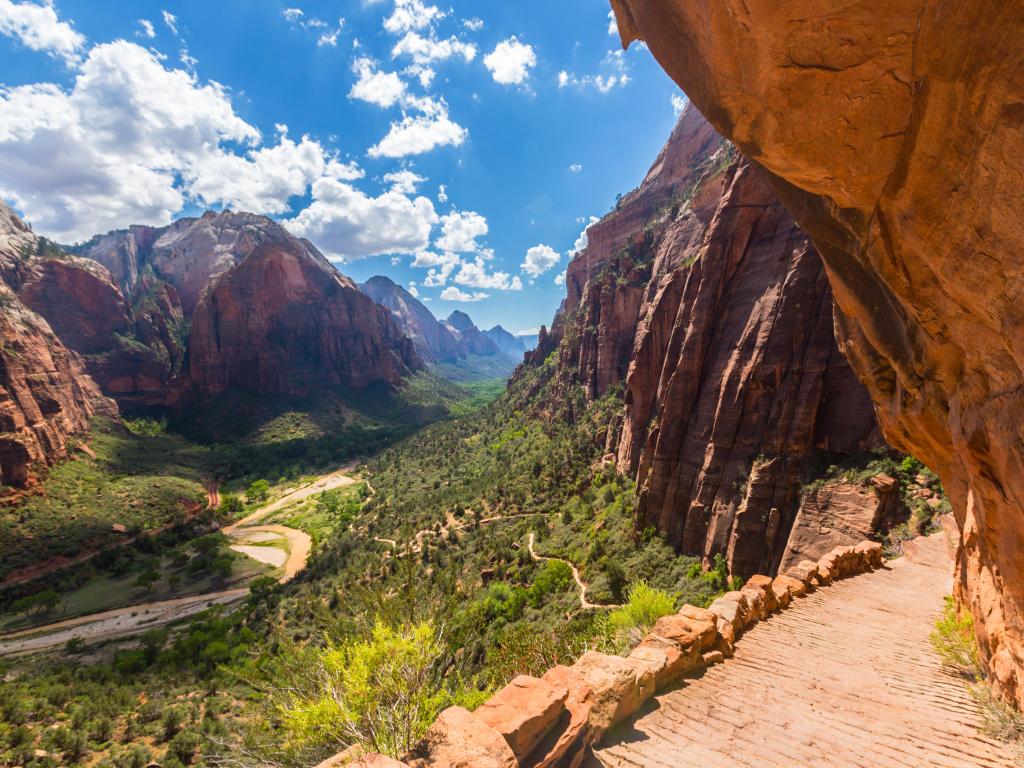 Best road trip route from Atlanta to Los Angeles
Both route options on this road trip from Atlanta to Los Angeles will offer city vibes! There are so many amazing stops to make on both routes, that there are going to be plenty of things to do and see whichever direction you decide to follow.
Our Northern Route passes some of the major US cities and national parks. You'll see unique sights of buildings and cars sticking out of the ground as well as the famous Sin City.
Passing through Tennessee, you'll get the chance to follow in the famous musicians' footsteps in the cities of Nashville and Memphis. But it's not all about the bright lights, the Northern Route also takes you into the wilderness at the Petrified Forest National Park, plus you'll get to visit the epic Grand Canyon.
If Southern America appeals, with its sandy beaches, then you should consider our alternative route. Still passing through some major cities, including the wonderful New Orleans, Houston and San Diego, this route gives a bit of southern charm to your drive.
There are still plenty of national parks on this route, including White Sands National Park, De Soto National Forest as well as the incredible Guadalupe Mountains National Park. Though be prepared, the additional beach stops will mean a long drive through Texas which can feel tedious.
With a fantastic choice between two amazing routes, both offering a similar amount of great attractions and cities, your choice between the two will ultimately come down to which places are still on your bucket list yet to be ticked off.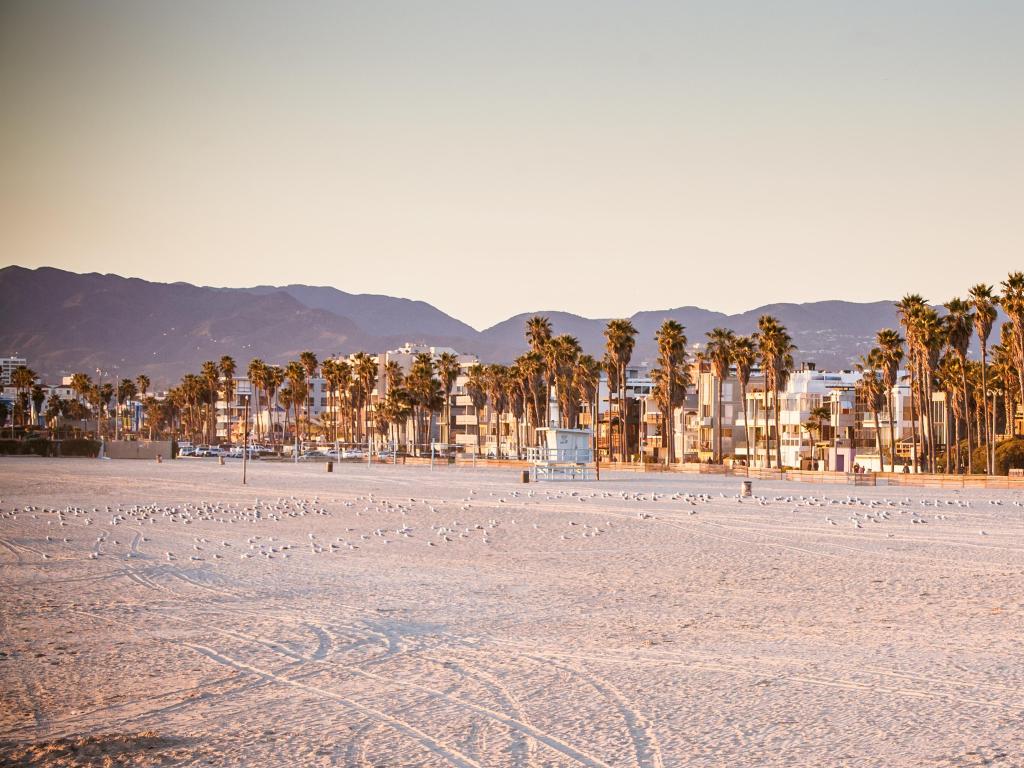 The Northern Route
Begin your trip by taking Interstate 75 (I-75) north from Atlanta, driving through Marietta and a short detour from Chattahoochee-Oconee National Forests. Continue on this road until you reach Exit 2 where you'll take Interstate (I-24) West for the next stretch.
The interstate will take you to your first major stop in Nashville, a great city for music history and great vibes. When you leave, you'll need to follow Interstate 40 (I-40) west, passing through several towns as well as Hatchie National Wildlife Refuge.
The next stretch will take you to Memphis, another great music city that famously houses the studio Elvis Presley recorded in. When you're ready to leave, you'll carry on I-40 west to Little Rock, a great option for an overnight stop on this route.
Continue on I-40 driving through Arkansas, you'll follow the river and pass near the entrance to Ozark-St. Francis National Forest before crossing into the state of Oklahoma.
Still on I-40, you'll arrive at Oklahoma City, another great place to explore. Continue on the same interstate heading west before crossing into Texas. As the desert landscape changes the scenery of your drive, you'll soon arrive at Amarillo.
Follow I-40 through several more towns, including Santa Rose before you arrive at Albuquerque; a great option for another overnight rest and to enjoy the scenery and nearby attractions.
Continue west after your stay and pass by Bluewater Lake State Park before crossing into Arizona. You'll need to take exit 286 to follow US-180 to the Petrified Forest National Park, a short but scenic detour to a unique park.
Back on I-40, continue west to Exit 211 where you'll join US-89. Follow this road past Wupatki National Monument, making a stop to visit the incredible Grand Canyon National Park. For a longer stop, you could stay at nearby Flagstaff.
Retrace your drive back to US-89 and head north, following the road past Vermilion Cliffs National Monument and into the state of Utah. At Mt Carmel Junction, switch to UT-9, stopping at Springdale to visit the stung Zion National Park.
Continue on UT-9 until you join Interstate 15 (I-15) South, following it past Red Cliffs National Conservation Area and across into Nevada. Make a short detour to visit the Valley of Fire State Park, before following the interstate to Las Vegas where you can also visit the nearby Red Rock Canyon.
When you leave the city, you'll need to follow US-95 north before taking NV-374 south and then CA-190, turning right to visit Death Valley National Park along the way.
Head south on US-395 before following CA-14 in Cantil as you drive through Lancaster and between Angeles National Forest and Castaic Lake State Recreation Area. Take Exit 1A to join Interstate 5 (I-5) which you will then follow the rest of your way to Los Angeles.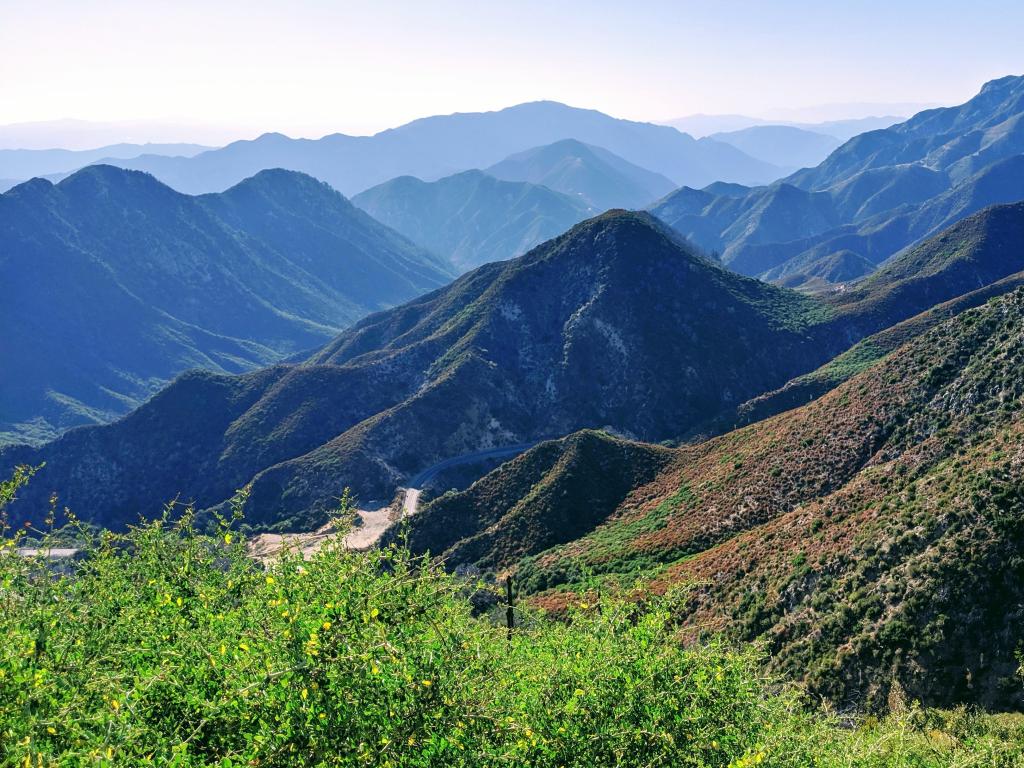 The Southern Route
Our Southern Route will see you take Interstate 75 out of Atlanta, before following Interstate 85 (I-85) South all the way to Montgomery. Leave the city on Interstate 65 (I-65), still heading south to Exit 69 and take US-29, passing close to Blackwater River State Forest.
Take Exit 12 to Interstate 10 (I-10) and follow it for a short drive to Exit 3, before arriving at Pensacola in Florida, a beautiful spot with stunning beaches. The next stretch will follow the coast west on FL-292 and pass through Orange Beach to Gulf Shores.
Get on US-98 before taking I-10 west and cross Mobile Bay. Follow the signs for US-45 before joining US-98. Continue on this road as you cross into Mississippi, taking MS-29 and stopping at De Soto National Forest for a walk and stretch of your legs.
Merge with Interstate 59 (I-59) at Poplarville, and head south alongside Pearl River Wildlife Management Area. You'll cross Lake Pontchartrain on I-10 and arrive at New Orleans, a great point for an overnight stop to enjoy this incredible city.
Once you're ready to leave, get back on I-10 this time heading west, passing Lake Maurepas to the city of Baton Rogue. Still on the same interstate, drive alongside Atchafalaya National Wildlife Refuge and pass by Lafayette.
Continue on I-10 west, stopping if you'd like to visit several wildlife refuges along the way. You'll arrive at Beaumont, before passing several towns and Trinity Bay. The interstate will take you to Houston, another overnight stop option.
Stay on I-10 until you reach Exit 695 when you'll leave to follow State Highway 71 west and TX-21 all the way to Austin in Texas. After visiting the city, you'll join I-35 south to San Antonio.
The next stretch is the longest with few attractions along the way. Continue on I-10 west until you eventually reach Exit 140A. From here take TX-54 north to US-62 east where you can visit Guadalupe Mountains National Park (which makes the long drive worth for the best views).
On leaving, follow US-180/US-62 west to just before El Paso, taking the Boulevard to Exit 24B and then joining US-54 East. Next, follow US-70 west, making a pitstop to visit the surreal White Sands National Park along the way.
Continue on US-70 until rejoining I-10 west. Follow the interstate as far as Benson, where you can stop to visit Coronado National Forest, before continuing onwards to the city of Tucson in Arizona. This is a great base for exploring the nearby mountains and parks.
Still heading west on I-10, you'll pass Picacho Peak State Park before arriving in Phoenix. Leave the city on the same interstate to Exit 112 and join AZ-85 south before merging with I-8 west. Continue on this road as you cross into the state of California.
Follow Interstate 8 (I-8) through Cuyamaca Rancho State Park to exit 14B at La Mesa. Join CA-94 to San Diego as you rejoin the coast. You'll then take I-5 North, passing several beaches all the way to Los Angeles.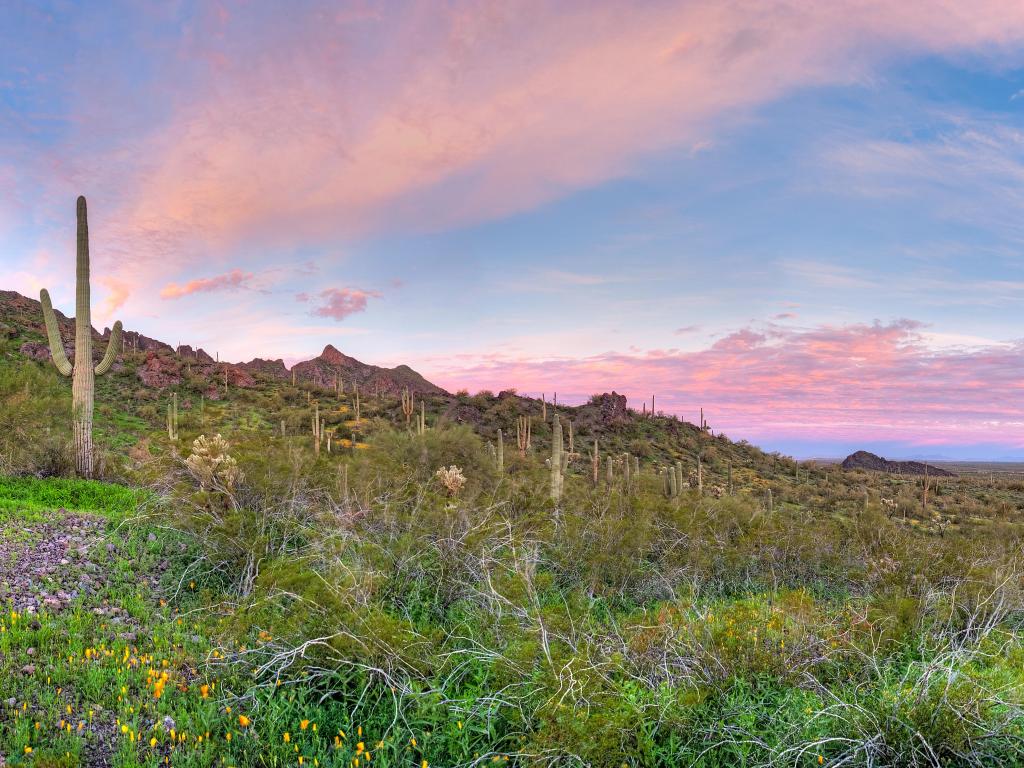 Best places to stop between Atlanta and Los Angeles
A road trip of this magnitude will need several overnight stops along the way between Atlanta and Los Angeles in order to get plenty of rest and be able to enjoy the attractions.
Thankfully both routes pass through a huge choice of fantastic cities along the way. Of all the spectacular places, here are some of our favorites.
A mountain retreat at Little Rock
Set a third of the way to Los Angeles on the Northern Route sits the city of Little Rock. Not only is this a great place to visit, but it's also the last city you'll visit before Albuquerque and you'll be driving through it anyway, so it won't add any extra miles to your already long trip.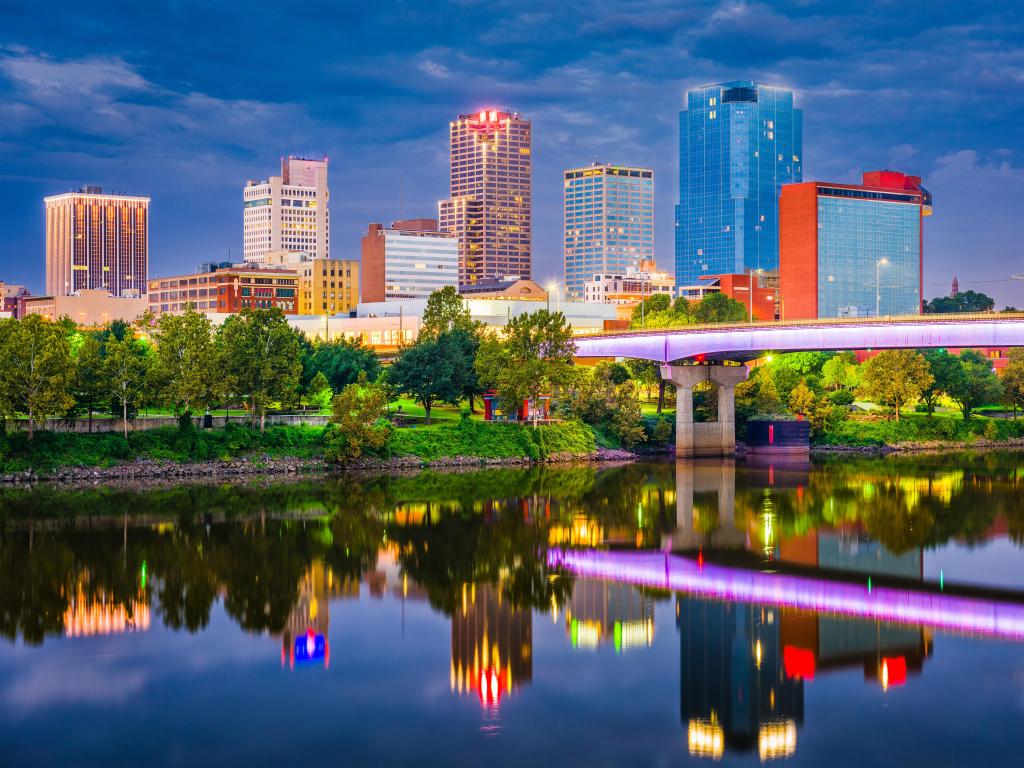 Located along the Arkansas River, the capital of Arkansas is known for its stunning nearby sites including Pinnacle Mountain State Park, a 2,300-acre park featuring Pinnacle Mountain and surrounded by the bottomlands of the Big Maumelle and Little Maumelle rivers.
If you're looking for an indoor attraction, Little Rock is also home to the Museum of Discovery, a great attraction for all ages (especially little ones), it focuses on STEM education with interactive exhibits throughout.
After taking in all that this great city has to offer, a stop at Little Rock Marriott is highly recommended. Adjacent to the Old State House Museum and less than a 5-minute drive to the Arkansas Arts Centre, this 4-star hotel features an onsite bar and restaurant.
The updated rooms make this a homey environment to relax in. As this isn't a huge city, you can really enjoy some downtime in the resort before another busy travel day tomorrow. Get your rest, you'll need it!
Reach new heights in Albuquerque
Further along the Northern Route and about two-thirds to Los Angeles is Albuquerque in New Mexico. After driving the long distance through the Texas Panhandle, the city of Albuquerque is a great place to rest overnight before tackling the national parks the next day.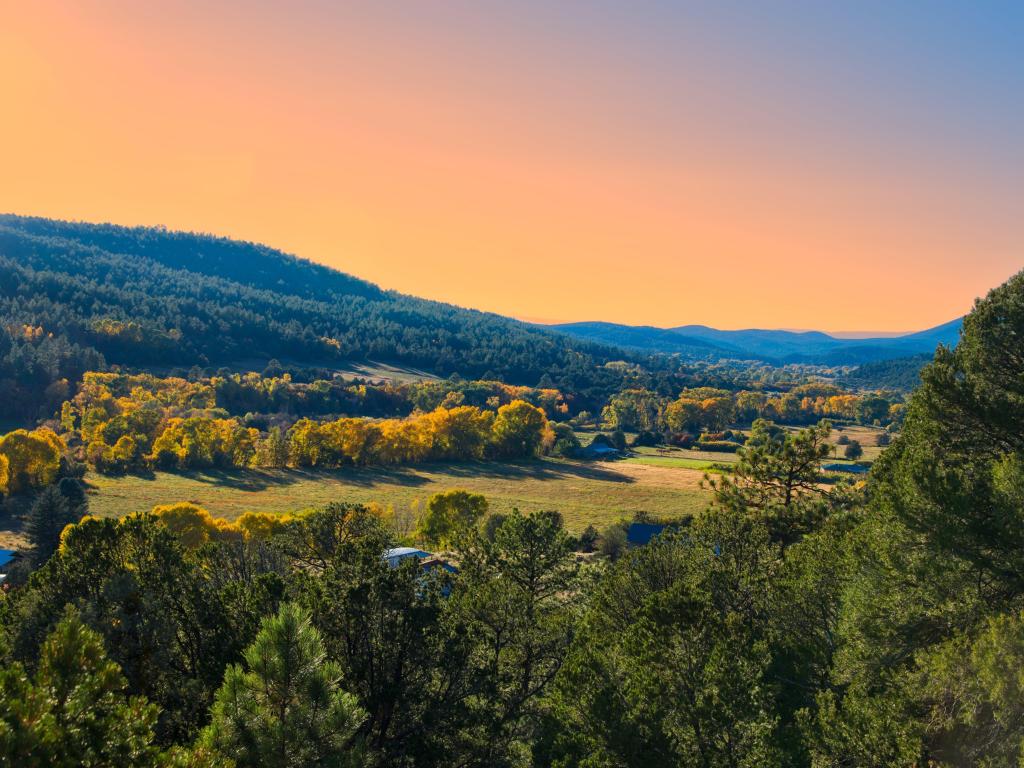 Made famous thanks to its siesta of color at the International Balloon Fiesta, an event which sees hundreds of hot air balloons take to the skies in a two-week stretch at the beginning of October, Albuquerque offers plenty to keep any visitor entertained.
Other than its popular fiesta, there's nearby Petroglyph National Monument to explore. This volcanic basalt escarpment stretches seventeen miles along Albuquerque, while the Western edge of the grounds contains a chain of fascinating examples of dormant fissure volcanoes.
But for the best views for miles, you've got to take a ride on the Sandia Peak Tramway which takes you to the ridge line of the Sandia Mountains. It's the longest aerial tram in the US and is the best way to take in the incredible landscape.
While you could stay in the heart of Albuquerque, we're going to recommend a resort slightly outside the city. The Isleta Resort & Casino is packed full of amenities, including an onsite casino and bowling alley. Have you ever seen a hotel with a bowling alley? We haven't, either.
Only a 15-minute drive from downtown Albuquerque, this 4-star hotel offers modern rooms for the ultimate comfort plus an indoor and outdoor pool, an onsite premium steakhouse and Starbucks coffee and ice cream on tap.
An out-of-this-world experience in Houston
If you've instead opted to follow the Southern Route, then a stop in Houston is a great idea. Located a third of the way to your destination and as one of the cities you'll pass on this trip, Houston makes a great longer stay.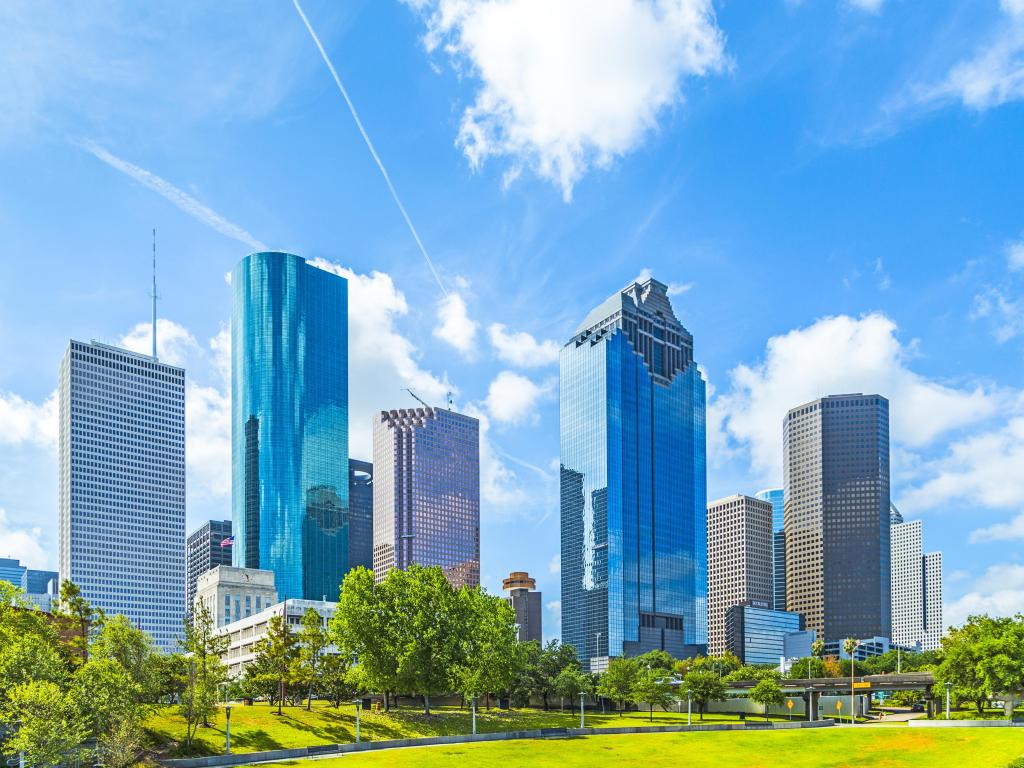 Known as being the world capital of space exploration, there's so much to see in this city that will blow your mind. Make sure to stop at the Johnson Space Center which displays over 400 space artefacts including multiple space capsules.
For something less space-themed, how about a day trip to Galveston Island? Just an hour away from Houston sits an island with an amusement park, beaches and lots of restaurants.
To really complete your visit to Houston, we cannot recommend the Four Seasons Hotel enough. Located in the city center, this 5-star hotel features a full-service spa and onsite restaurant so you can get that massage and nice dinner that's absolutely necessary during a road trip.
The Four Seasons has everything you need onsite so there's no reason for you to even want to leave. If you want to venture out, the Theatre District and the Museum District are just a walk away. There are plenty of things to do in Houston; relax first and explore later.
A spot of luxury in El Paso
For a later stop on the Southern Route and two-thirds of the way to Los Angeles, our final recommendation is to plan a stay in El Paso. After driving through the entire state of Texas, this fabulous city rest will be just what you need to rest and recover.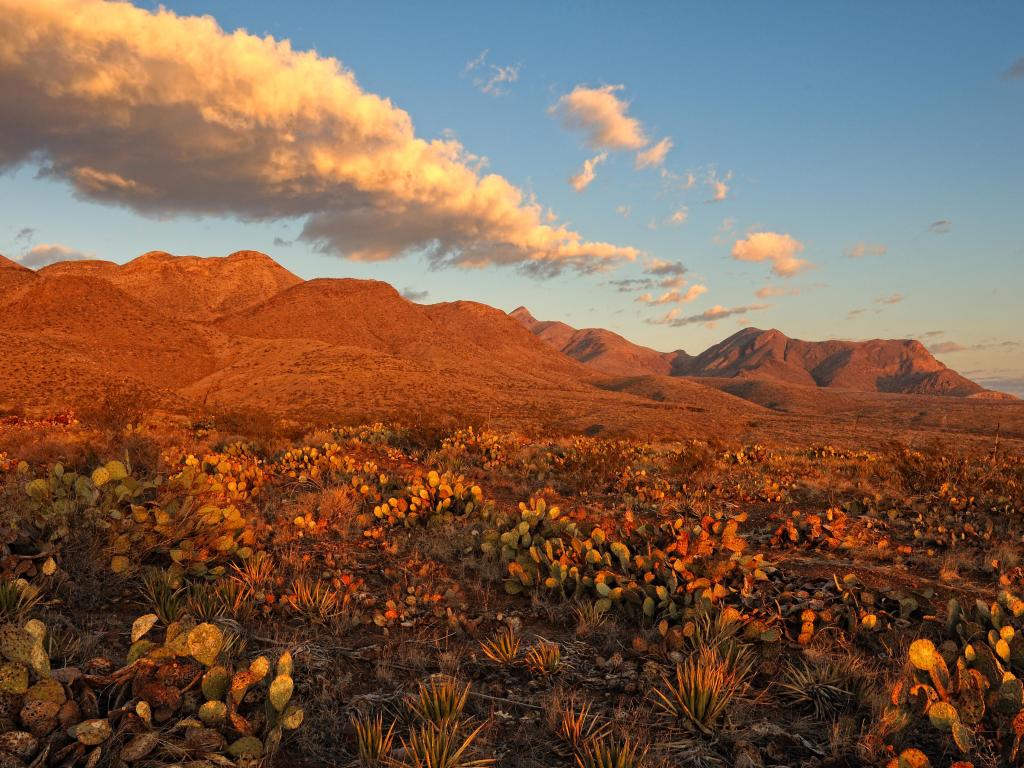 After a quick bite to eat when you arrive downtown, you can take a walk around the El Paso Zoo and Botanical Gardens where you'll find over 220 species at this 35-acre zoo - some of which are critically endangered. They also have a sea lion exhibit that hosts daily shows.
For something a bit more physical you can explore Franklin Mountains State Park. One of the largest urban parks in the US lying completely within city limits, it's open for hiking, mountain biking, picnicking and scenic drives. You can also enjoy views year-round.
For a touch of luxury, Stanton House El Paso is the resort for you. 24-hour room service, an onsite bar, restaurant, spa and a terrace are all on offer at this 4-star hotel.
Whether you want to relax in your room with room service, enjoy great views on the terrace with a cocktail, or enjoy a massage, this hotel has you covered.
You're also just a short walk from the El Paso Museum of Art or you can drive across the border into Mexico (just remember to bring your passport). This is a great place to finish off your drive across the great state of Texas.
Things to see on a road trip from Atlanta to Los Angeles
You won't be surprised to hear that there's a huge number of things to see on this epic road trip from Atlanta to Los Angeles, including national forests, bustling cities, great monuments and beautiful beaches.
If you're pressed for time, here's a highlight of some of the best things you won't want to miss along the way: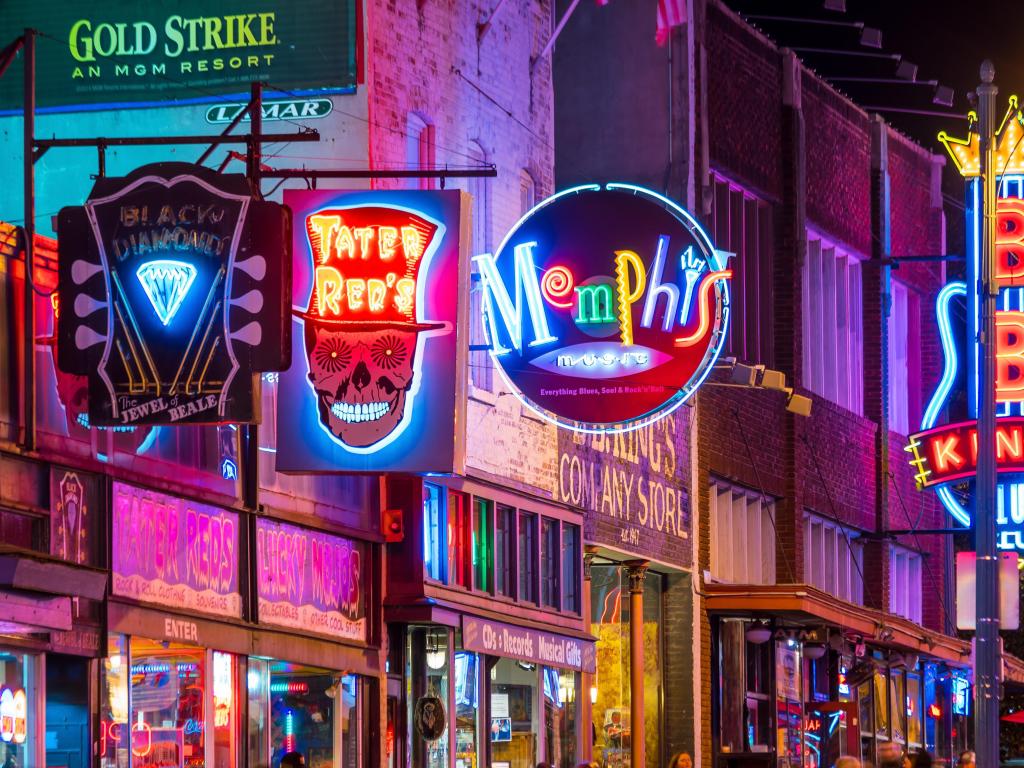 The Northern Route
Nashville, Tennessee - Tennessee's capital city is home to Vanderbilt University and music venues Ryman Auditorium and Grand Ole Opry House. This city plays an important role in music history, known as the Country Music Capital of the World.
Memphis, Tennessee - This city sitting on the Mississippi River is known for its strains of blues, soul, and rock n' roll music that originated here. Sun Studio is where Elvis Presley and Johnny Cash recorded albums, and Elvis Presley's Graceland mansion is located here.
Oklahoma City, Oklahoma - Oklahoma's capital city is known for its cowboy culture and working oil wells. Here you can visit the Oklahoma City National Memorial & Museum or Frontier City, an amusement park with a Western theme.
Cadillac Ranch - Located along Route 66, this art instalment was created by artists from San Francisco. It was made by half-burying ten Cadillacs into the dirt at the same angle as the Great Pyramid of Giza. The installation stands out above the flat Texas panhandle.
Albuquerque, New Mexico - New Mexico's largest city sits in the desert and was founded as a Spanish colony in 1706. Filled with historic adobe buildings, the city stands out from others.
Petrified Forest National Park - Named for its large deposits of petrified wood, this park covers over 300 square miles and is known for its fossils up to 225 million years old. Things to see here include the Painted Desert and Puerco Pueblo.
Grand Canyon National Park - This park is home to most of the Grand Canyon, known for its layered bands of red rock. This canyon was carved by the Colorado River over six million years ago.
Zion National Park - Distinguished by its steep red cliffs, Zion National Park contains things to see like Emerald Pools, deep chasms, and waterfalls. Take a drive along the Zion Canyon Scenic Drive for some great views. If you'd like to hike up to Angels Landing, you will need a permit and will need to make a reservation. Check the Zion National Park's website for more details.
Las Vegas, Nevada - In Sin City there are parties, drinks, rooftop pools, and casinos galore. This is a great place to blow off some steam, let loose, and have a little fun!
Death Valley National Park - This park straddles California and Nevada and is known for Titus Canyon and the Badwater Basin's salt flats, North America's lowest point.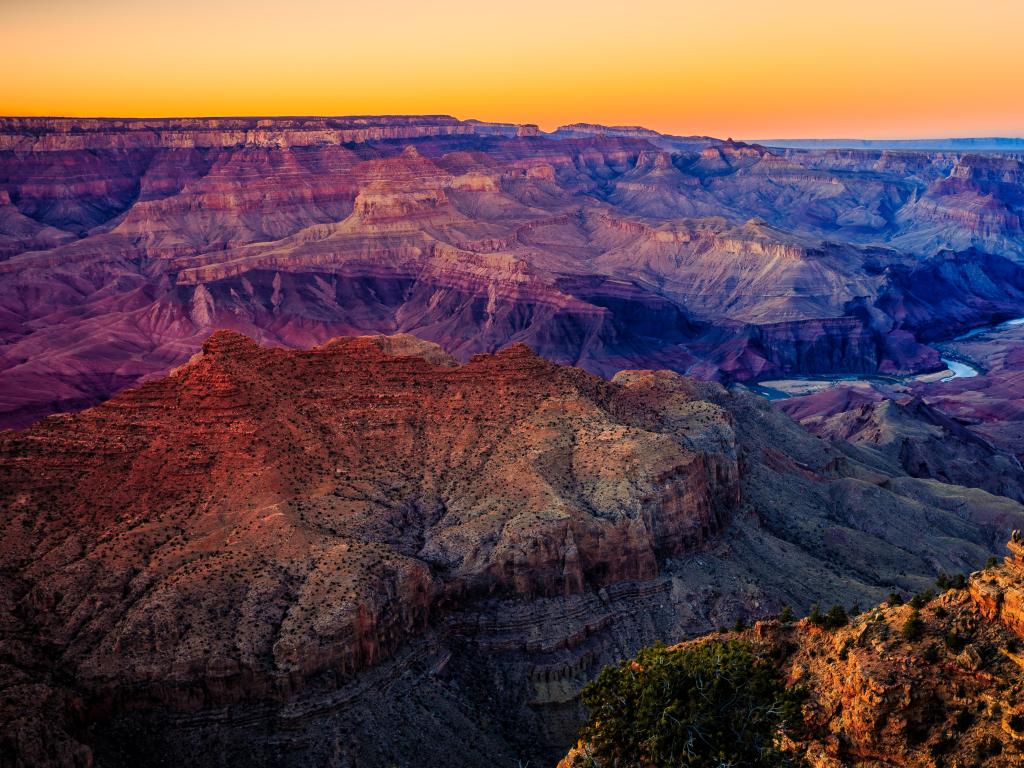 The Southern Route
Pensacola, Florida - The westernmost city in the Florida Panhandle is known for its beautiful beaches. Some fun things to see here are the Pensacola Lighthouse, Perdido Key State Park, and the beaches.
Gulf Shores, Alabama - Sitting on Alabama's Gulf Coast, this is also a city known for its beaches. It's a fun place to get some sun, go for a swim and walk around the touristy areas where there are heaps of restaurants and shops.
De Soto National Forest - Named after Spanish explorer Hernando de Soto, this forest filled with pine trees contains over 500,000 acres. It's a protected area for the biological diversity of the Gulf Coast region.
New Orleans, Louisiana - Voodoo shops, above-ground cemeteries and nightly ghost tours await you in this unique and city. The Big Easy is known for its nightlife and being the melting pot of French and African cultures. Check out Jackson Square, Bourbon Street, and Cafe du Monde for delicious beignets! You're in for a treat if you come during Mardi Gras.
Houston, Texas - NASA has Johnson Space Center here, other things to do here include a trip down to Galveston Island, only an hour away. Enjoy some time at the beach, go to Kemah Boardwalk for some roller coaster fun, or visit Moody Gardens.
Austin, Texas - The capital of Texas is known for its live music scene and being the home of the University of Texas Longhorns. It has many parks and lakes for hiking, biking, swimming, and paddle boarding.
San Antonio, Texas - San Antonio is home to the Alamo, an 18th-century Spanish mission that marks an infamous battle for Texas independence from Mexico. You can also walk along the Riverwalk, which is a pedestrian promenade lined with restaurants and shops.
Guadalupe Mountains National Park - The largest wilderness area in Texas is great for hiking. It sits in the Chihuahuan Desert and is known for its white Salt Basin Dunes and fossilized reef mountains.
White Sands National Park - These white sand dunes composed of gypsum crystals are quite a sight to behold. They're completely surrounded by the White Sands Missile Range and cover over 145,000 acres.
Tucson, Arizona - Home to the University of Arizona, this city has lots of things on offer. Take a hike in Saguaro National Park, see the San Xavier del Bac Mission, or visit Old Tucson. No matter what you're into, Tucson has something for you.
Phoenix, Arizona - Phoenix is known for its year-round sun and warm temperatures. Explore the Desert Botanical Garden, a living museum of 50,000 plants including cacti, or visit the Heard Museum, where you can learn about Native American culture.
San Diego, California - Sitting on the Pacific coast of California, this beach city is known for its warm climate. There is a large active naval fleet stationed on a deep harbor here, and the USS Midway is open to the public to enjoy.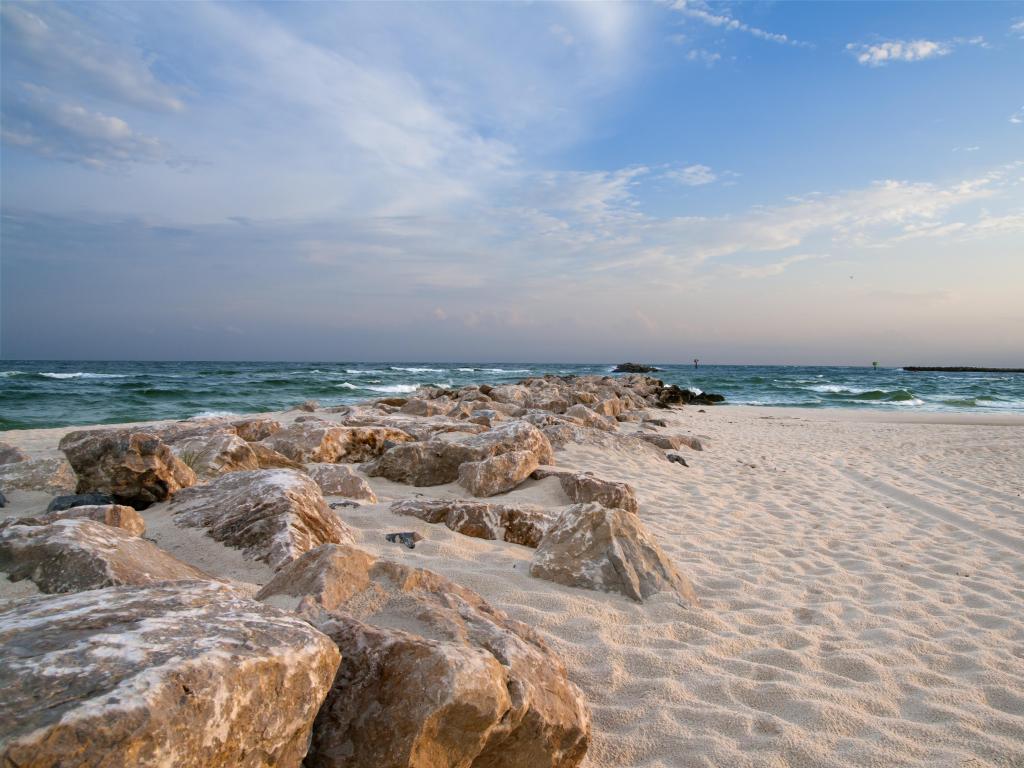 Best time to go on a road trip from Atlanta to Los Angeles
Los Angeles is definitely a year-round destination. As a coastal city, you'll experience moderate temperatures all year round with sunshine most days of the year and an average temperature of a comfortable 71 degrees Fahrenheit.
Summer is the busiest time in LA, as it's the time the city most packed with tourists. They're flocking to the beaches (we would, too) for some summer fun and that makes this an expensive time to visit. But if you want that iconic, hot LA summer, this is the perfect opportunity.
The temperature during the summer usually averages in the low 80 degrees Fahrenheit, so it's perfect for a beach day, going to the pier, or roller skating along the esplanade. But if you want a quieter road trip, winter could be your ally.
While it comes with a significant increase in rainy days, the weather in winter is still comfortable with mild-to-warm temperatures. During the day it averages temperatures of the high 60s to low 70s, while at night it does drop to the high 40s and low 50s.
It might not be the best time for a dip in the ocean, but any other outdoor activity can still be enjoyed. This is also the cheapest time to travel to LA so if you're looking for celebrity-spotting on a budget, this is the best time to go.
In the spring and fall, there may be some rainy days or a random cold front, but there is still plenty to enjoy. Temperatures range from the low 60-70 degrees Fahrenheit, much more pleasant than the weather of the scorching summer.
How about visiting during a popular festival, or two? LA, as you'd expect, has a full annual calendar of events from the Golden Globe Awards in January to the Emmy Awards in October. Don't miss the opportunity to attend the iconic and famous Coachella Music Festival in April.