Road Trip from Atlanta to New Orleans
Whether you love fast cars, soulful music, hearty food and the history of the Civil Rights Movement, or instead prefer stunning coastal views and fabulous beaches, there will be plenty of memories made on this laid-back road trip from Atlanta to the ever-buzzing New Orleans.
The 680-mile road trip from Atlanta to New Orleans takes 11 hours to drive. Key stops include Birmingham, Jackson, Baton Rouge, Columbus, Tallahassee and Mobile as well as the Gulf Shores, Cheaha State Park, Lake Talquin State Forest and Panama City.
To help you make the most of your drive, we've set out the best routes and places to stop overnight, as well as our favorite places to visit and the best time of year to make the drive from Atlanta to New Orleans.
How far is New Orleans from Atlanta, and how long will the road trip take?
Comparison of road trip routes between Atlanta and New Orleans

| Route | Distance | Driving Time |
| --- | --- | --- |
| The Jackson Route | 680 miles | 11 hours |
| The Coastal Route | 720 miles | 15 hours 40 minutes |
We're going to recommend two different routes taking you from Atlanta to New Orleans. The quickest of the two takes you via Jackson and covers a distance of 680 miles, taking 11 hours to drive without stopping along the way.
A slightly longer alternative route makes the most of the stunning coast of Florida and will take 13 hours and 40 minutes to drive, spanning a distance of 720 miles.
The best way to tackle a drive of this length is to plan a couple of overnight stops along the way. You'll need a minimum of two to three days to complete the drive, but if you have longer then there are plenty of great attractions you'll pass along the way to fill the time.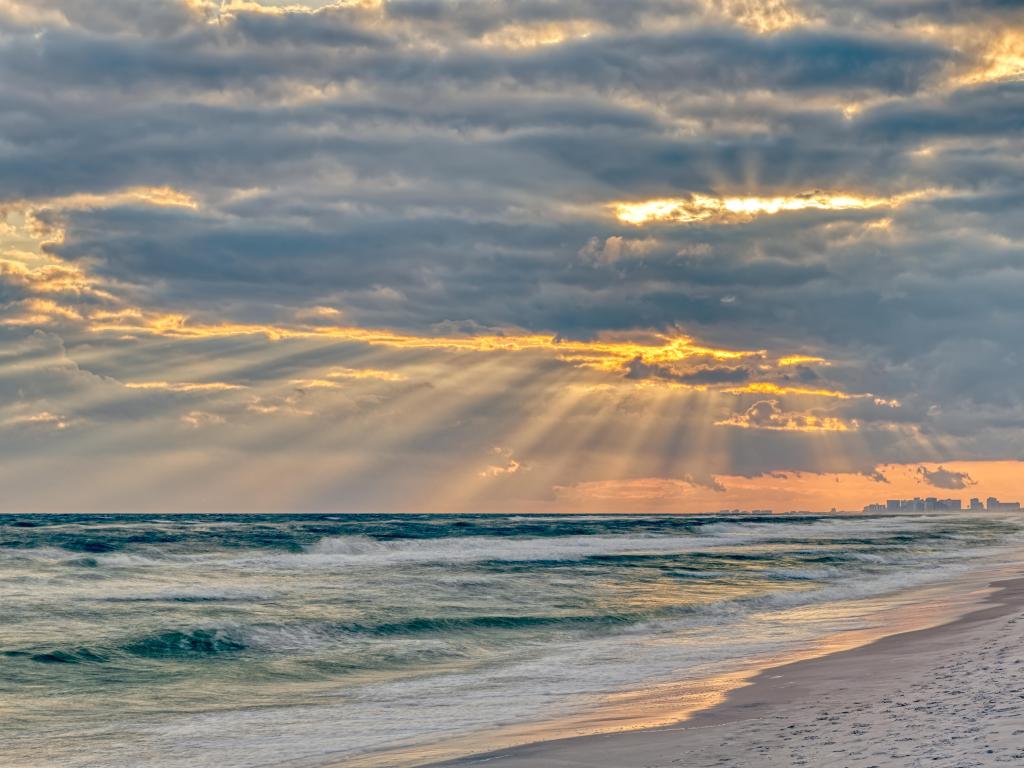 Best road trip route from Atlanta to New Orleans
Our two recommended routes are quite different, but between them, they're sure to please any road tripper. Our Jackson Route gives you a great balance of country roads, verdant national parks and cities with extensive heritage.
Passing through four southern states, you'll get to stretch your legs at Cheaha State Park, discover the Talladega Superspeedway and enjoy cool cities like Birmingham and Jackson. The drive will leave you energized to enjoy one of America's most visited cities at the end.
If beach vibes are top on your agenda, however, you'll probably want to follow the Coastal Route. This drive offers more varied scenery but doesn't skimp on places to see and towns to wander.
It also features a great coastal overnight stop in case you wanted to get in some beach time before you get to the Big Easy.
As well as driving along the Gulf coast, you'll also get to pass through Columbus and Tallahassee. This really is a great option for nature and beach lovers who want a relaxing trip in the sun.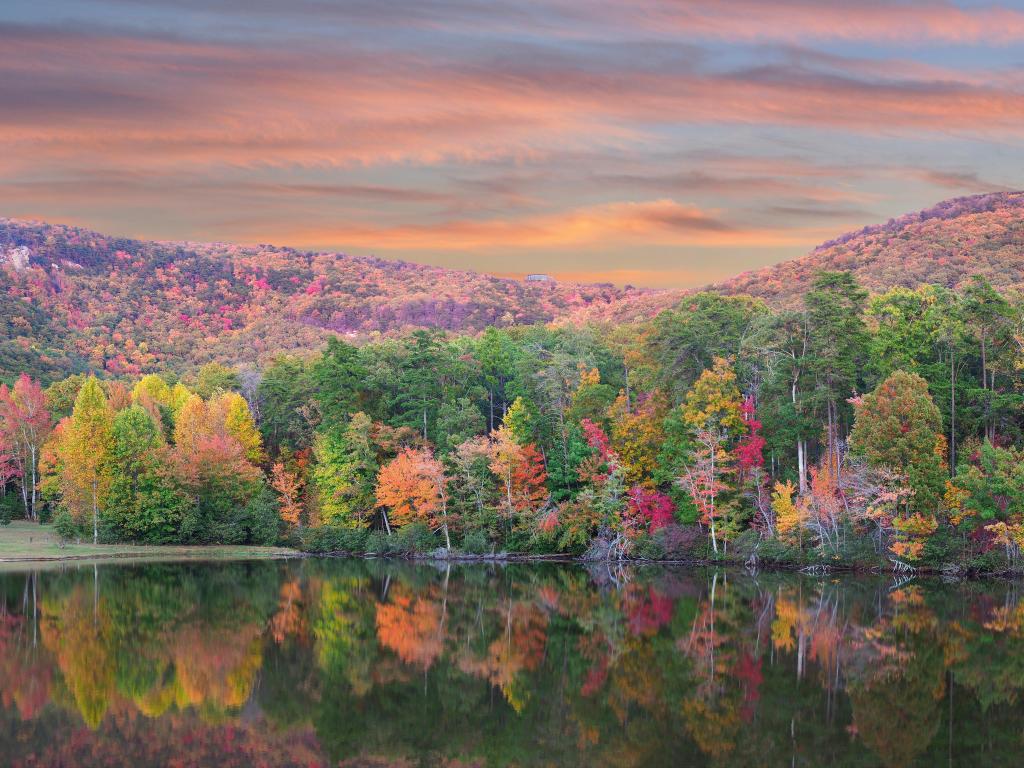 The Jackson Route
For the Jackson Route, leave Atlanta on Interstate 20 (I-20) and head west to Exit 30, making a quick stop at Pine Mountain Gold Museum for a history fix along the way.
Next, rejoin I-20 and continue west, crossing into Alabama. Take Exit 191 for US-431 south and drive to AL-281, stopping en route for a visit to Cheaha State Park to stretch your legs.
Follow the winding road to Gunterston Rd/Hanging Rock Rd and onto North Boulevard before arriving at Talladega Superspeedway, a great detour if you like fast cars.
Back on I-20, continue west before merging onto Interstate 59 (I-59) and heading into the city of Birmingham. After a rest, continue heading west on I-20 through several towns before crossing into Mississippi.
Continue west, driving through Bienville National Forest before reaching Exit 96A into Jackson. This is a point for an overnight stop and to explore the city.
When you leave, you'll need to take Interstate 55 (I-55) South through several more towns. You could make a longer detour to visit Homochitto National Forest, before crossing into Louisiana on the interstate.
Continue until you reach Exit 29B, where you can either continue south to explore Joyce Wildlife Management Area or take Interstate 12 (I-12) West to the fantastic city of Baton Rouge.
Take Interstate 10 (I-10) during the final stretch, passing by Lake Maurepas and Lake Pontchartrain to the buzzing city of New Orleans and your final destination.
The Coastal Route
For the alternative option, you'll need to leave Atlanta on Interstate 75 (I-75) and head south to join Interstate 85 (I-85) until you reach Exit 21 for Interstate 185 (I-185).
Follow this road south until you reach Exit 10 for GA-22 and then Exit 1 for GA-85 which will take you to Columbus. Take US-280 south from the city and merge with US-27 which you'll follow before making a stop at Kolomoki Mounds State Park - Museum.
Continue south on US-27 as you cross into the state of Florida and arrive at Tallahassee, a great base to explore Aucilla Wildlife Management Area.
Hope onto FL-20 and head west, before taking US-231 south to Panama City, a great coastal overnight stop where you can spend the evening watching the sunset or spend the day swimming in the sea.
The next stretch of your drive will give you full on beach vibes. Initially taking US-98 West, you'll follow the coast through Rosemary Beach, Destin and Pensacola Beach to the town of Pensacola.
Take FL-292 west and AL-182 to the Gulf Shores, before taking the parkway to Exit 26B where you'll join I-10 west to Mobile, another great coastal town with plenty of amenities.
Continue on I-10 heading west, stopping at Biloxi if you'd like to explore this beautiful port town, before crossing the bridge and arriving at the Big Easy.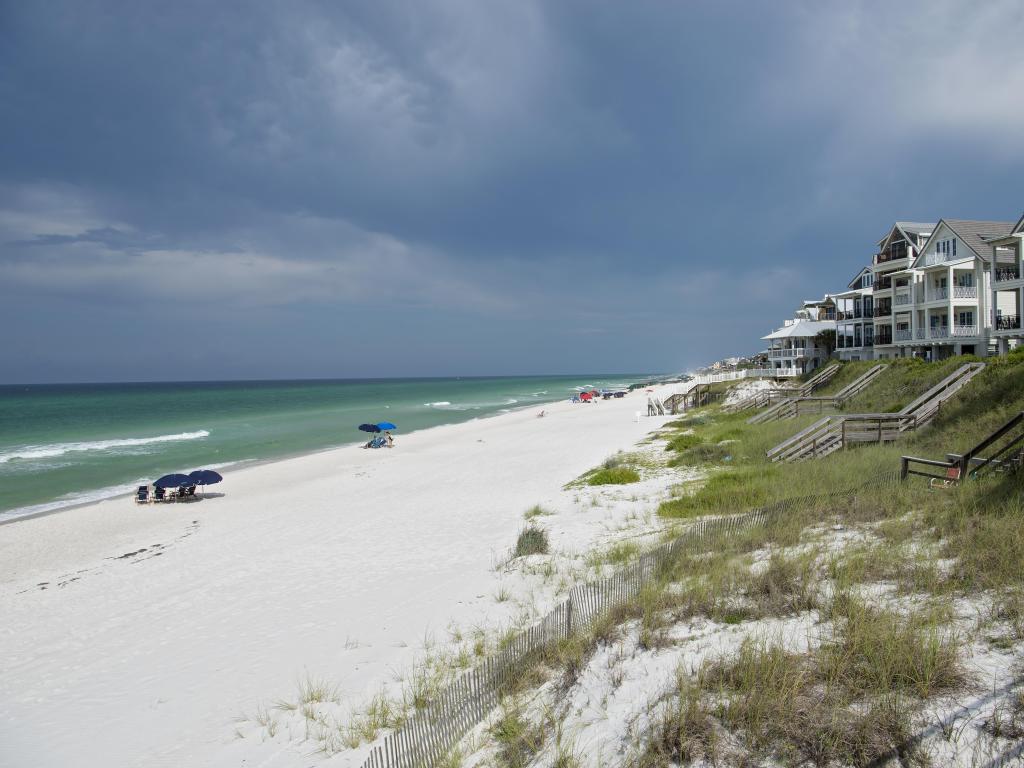 Best places to stop between Atlanta and New Orleans
Regardless of which route option you decide to follow between Atlanta and New Orleans, there are some great towns and cities that you can stop at along the way.
Of all the super hotels, these are the ones you won't want to miss out on:
A historic journey through time at Jackson
Two-thirds of the way and just 4 hours from New Orleans, Jackson makes a great overnight stop, especially given that our route is named after it. It's also a large enough city at a convenient point on the route to take a break before heading south into Louisiana.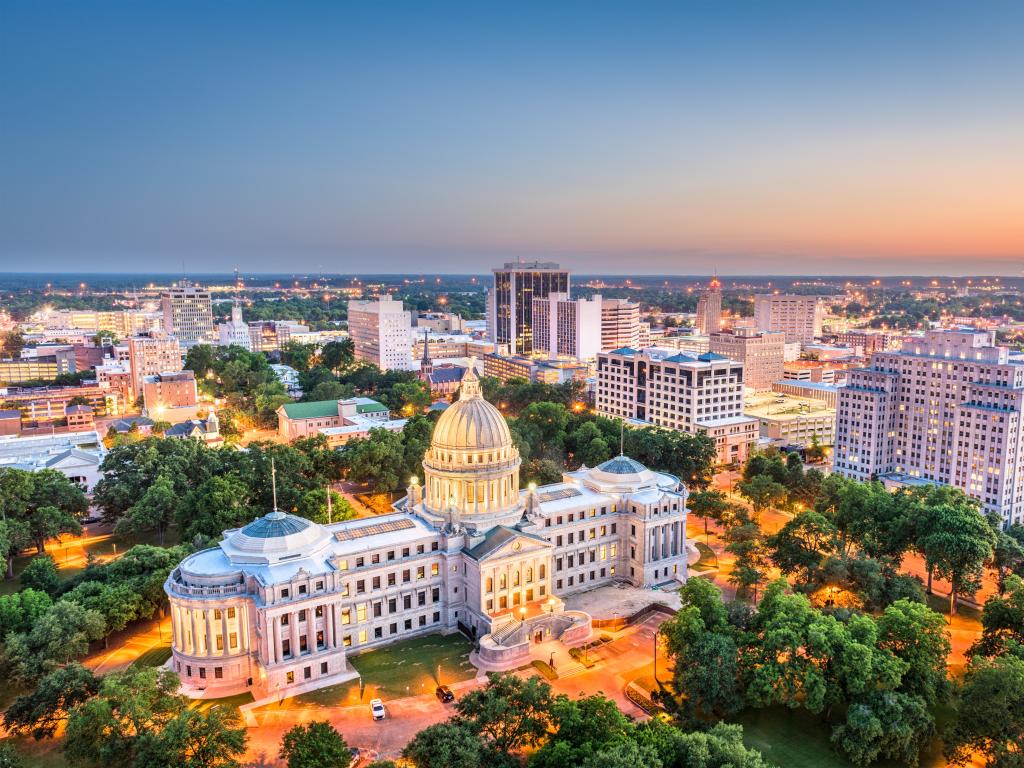 In addition to being the Magnolia State capital, Jackson is a place of great historical significance for the Civil Rights Movement and is part of the Freedom Trail.
The boutique Old Capitol Inn is a great hotel to stay at which will provide a welcome rest after a day's driving. Conveniently located downtown near major museums, a stay here will allow you to stretch your legs and explore a bit of Jackson on foot.
Just some of the great attractions include The Mississippi Civil Rights Museum, as is the original state capitol building which was built in 1839 in the Greek revival style. There is also a Museum of Natural History and the restored house of Pulitzer Prize winning author Eudora Welty.
The hotel itself has free parking and a great onsite restaurant with a theatrical dining room, as well as comfortable and stylish rooms, some of which come with a terrace. After your stay, you'll be ready to tackle the final drive to New Orleans.
A beach paradise in Panama City
If you've opted for the Coastal Route, then you simply have to stop the night at Panama City in Florida. Just past the halfway point in terms of mileage and situated on the Gulf of Mexico, Panama City epitomizes a beach getaway, and it is well-positioned along the route.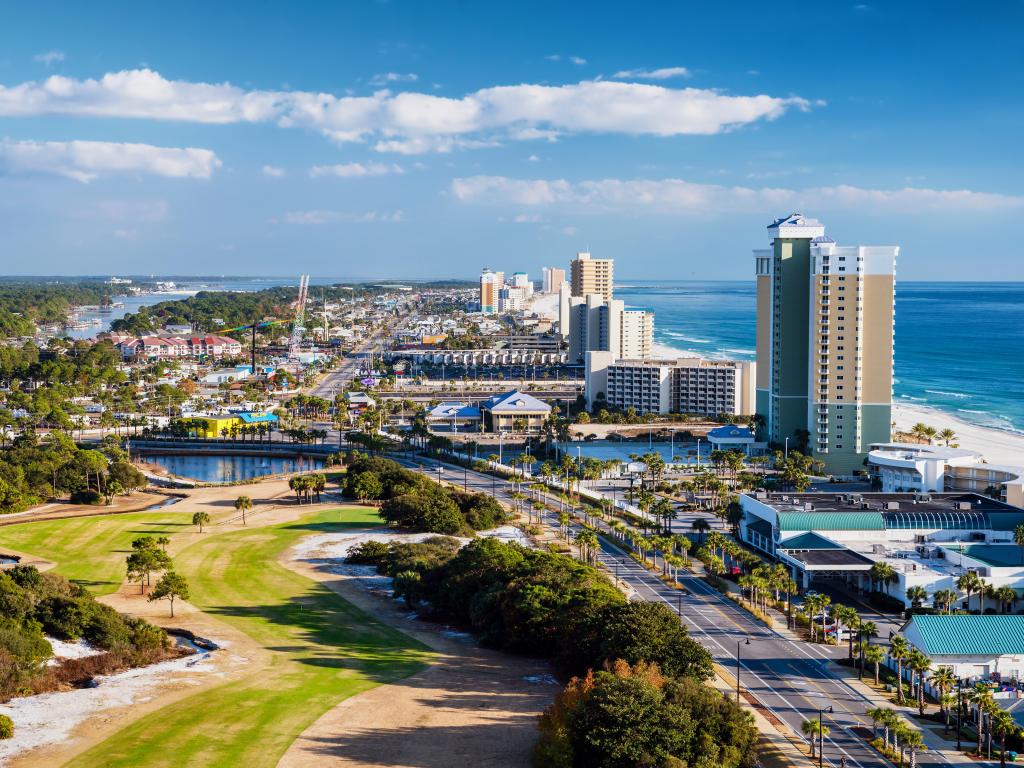 Known for its azure horizon and endless white sand beaches, as well as many opportunities for watersports, coastal cycling, and fishing trips, there's a lot to explore in this city.
For a luxurious end to your visit, a stay at Hyatt Place Panama City Beach - Beachfront is highly recommended. This beautiful beach-front hotel has so many perks and amenities, complimented by a seaside-inspired décor, that you might even consider staying an extra night.
A little past the downtown area, this is a place for a beach holiday. Just down Beach Front Road, you can find several theme parks as well as Panama City's signature beach.
While its beach and pier are the main attractions, you can also check out the ethically run Bear Creek Feline Center, learn more about the ageing art of prints at the Panama City Publishing Company Museum, or get your own sense of the life aquatic at the Man in the Sea Museum.
When you are ready to relax, you can return to the modern and stylish hotel to admire some sea views, take a dip in the fabulous outdoor swimming pool, or enjoy a soak in the hot tub followed by your favorite cocktail at the hotel's bar.
Art lovers' paradise in New Orleans
When you reach the Big Easy, you're certainly in for a treat. The buzzing city of New Orleans is best known for its nightlife, vibrant music scene and fantastic eateries. It's also a cultural melting pot of French, African and American cultures which is reflected in its architecture.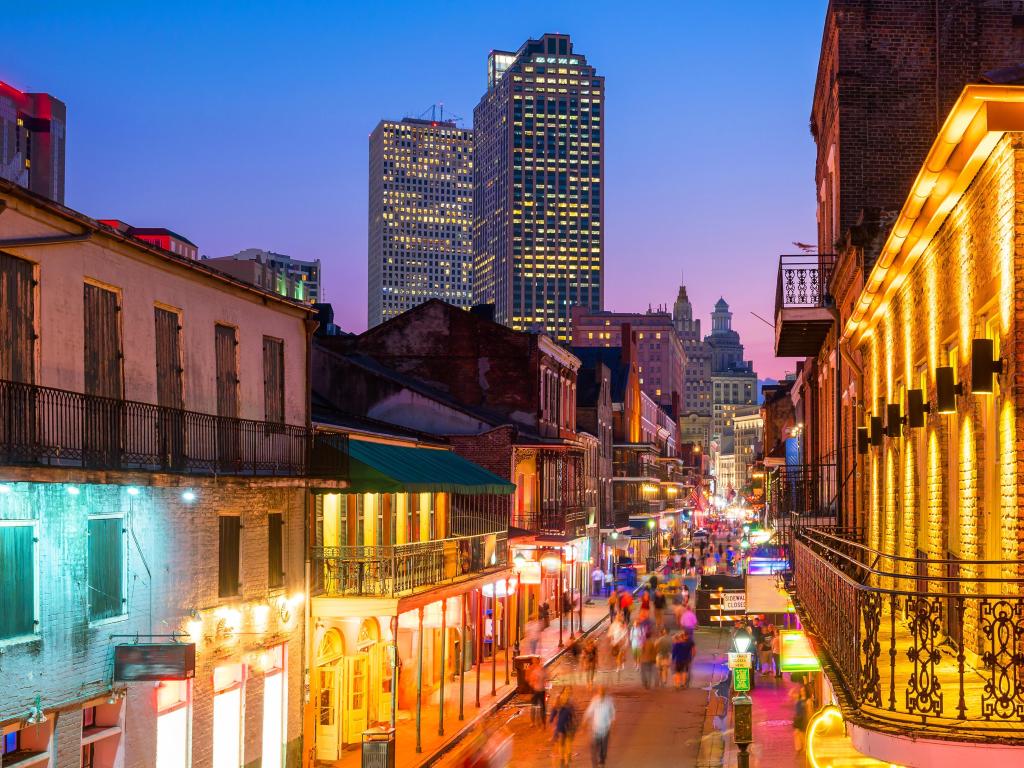 When you've come all this way, why not splurge and truly enjoy the unique French heritage of New Orleans? A unique and memorable stop, it doesn't get much better than the Maison de la Luz.
From the moment when you first walk in the door you will realize that you've found something special. If you can tear yourself away, you're also located just around the corner from the downtown business and arts district.
Whether you're a history buff or fine art fanatic, there's something for everyone in this city. Discover the National WWII Museum or visit the New Orleans Museum of Art. For something more outdoorsy you could take a drive to Jean Lafitte National Historical Park and Preserve.
There's also the iconic and world-famous Mardi Gras, which is its late winter carnival which fills the streets of New Orleans with brightly colored parades and street parties.
Things to see on a road trip from Atlanta to New Orleans
You will definitely be spoilt for choice of places to visit on this fabulous road trip from Atlanta to New Orleans. If you're pressed for time, here are some of the great highlights you'll pass en route to the Big Easy.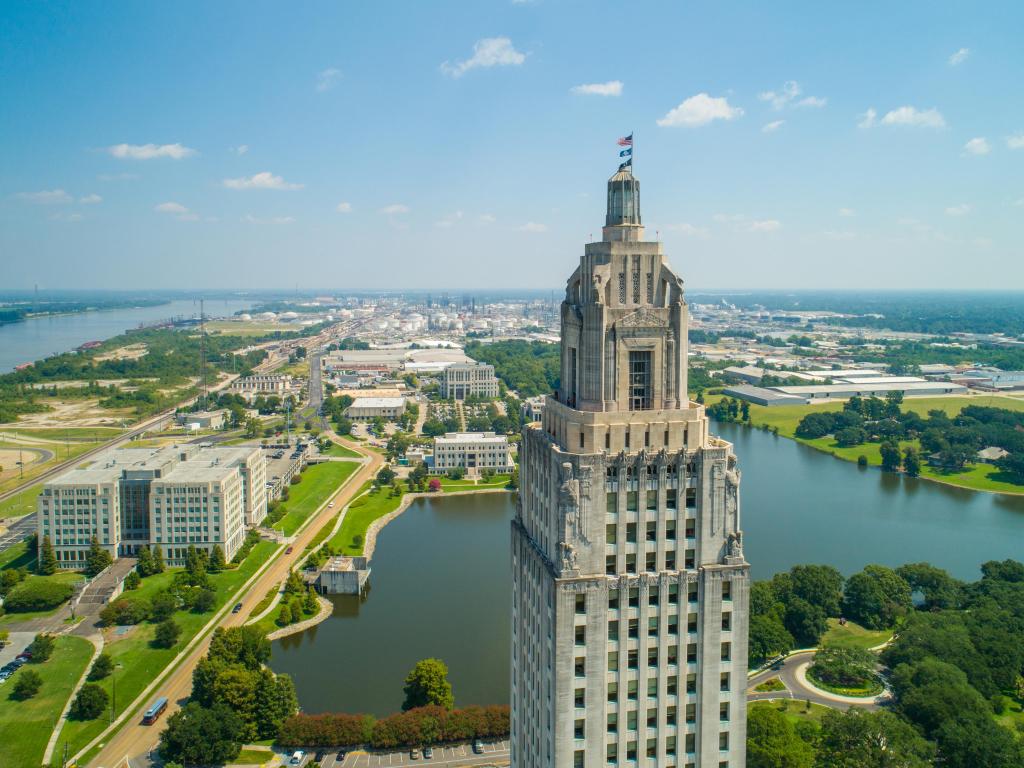 The Jackson Route
Pine Mountain Gold Museum - Before you head out of Georgia, see this shimmering museum in Villa Rica. Located in a park with trails, there's a museum for all ages, trails, ruins of the original mine, and a train.
Cheaha State Park, Alabama - This park within Talladega National Park, is located at the southernmost point of the Appalachian Mountains and is the highest point in Alabama. The drive itself has plenty of winding forest routes to fill you with a sense of ease.
Talladega Superspeedway, Alabama - Of interest to both NASCAR fans and movie buffs, this motorsports complex houses a 2.66-mile racing track and has daily 45-minute tours available for a fee.
Birmingham, Alabama - In the heart of Alabama and home to the Birmingham Civil Rights Institute, Birmingham has plenty of quaint quarters in addition to heavy history. Check out the Barber Vintage Motorsports Museum, Vulcan Park & Museum and Botanical Gardens.
Jackson, Mississippi - Continue to deepen your knowledge of a critical point in modern American history at the Mississippi Civil Rights Museum and the home of Medgar Evers, check out the Museum of Natural History, and the Mississippi Agricultural & Forestry Museum.
Lynyrd Skynyrd Monument - A monument in Magnolia, MS dedicated to those who lost their lives in a 1977 plane crash, including their frontman Ronnie Van Zant and several band members from this genre-defining Southern rock band.
Baton Rouge, Louisiana - Prepared to be surprised by this state capital and its towering art deco Capitol building, which features guided tours and an observation deck where you can view the entire city.
Houmas House Plantation - For those interested in the opulent lives of the gentry who used to live in Louisiana, be sure to check out the imposing Houmas House Plantation in Darrow, LA.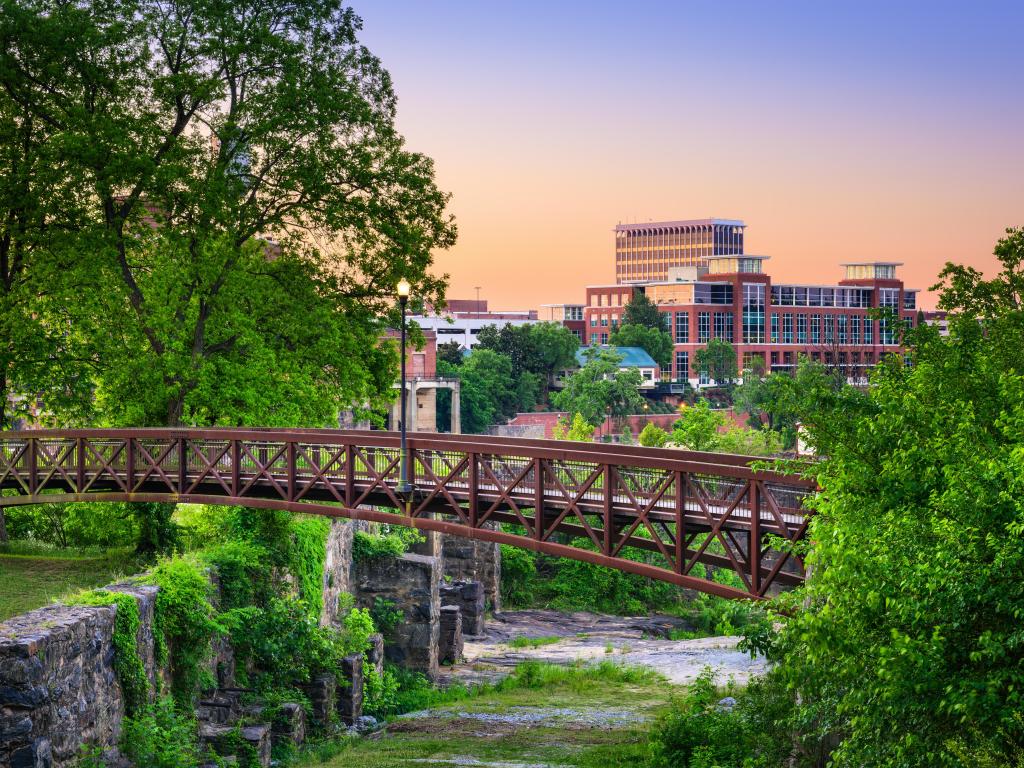 The Coastal Route
Columbus, Georgia - You will be in for several treats in this small west Georgian town. Meander along the Chattahoochee RiverWalk, revel in the rustic Botanical Gardens and shoot for the stars at the Coca-Cola Space Science Center.
Kolomoki Mounds State Park – Museum - This archaeological site in Blakely, GA is enhanced by a museum built around the oldest great temple mound in Georgia, which was likely built and maintained by Native Americans between 350-750 A.D.
Tallahassee, Florida - Marvel at the mossy Alfred B. Maclay Gardens State Park, see the state's Spanish heritage at the Mission San Luis de Apalachee, discover the Antique Car Museum, and then wander to Railroad Square Art Park.
Lake Talquin State Forest - Just outside Tallahassee, this woodland surrounds the Lake Talquin reservoir on the Ochlocknee River and has ten different areas to explore. There are plenty of shady trails and picnic spots, so consider breaking here for lunch.
Panama City, Florida - Beaches galore and plenty of places to rent bikes, paddleboats, and jet skis. Panama City also has several niche museums like the Man in the Sea Museum, local parks, and seaside farmer's markets to explore at your leisure.
Pensacola, Florida - This is the first Spanish settlement within continental U.S. borders. The historic downtown has many intact eighteenth-century buildings from its Spanish past as well as examples of Victorian and Greek revival architecture.
Gulf Shores, Alabama - Another great place to stop for a sandy stroll along the gulf coast, there is a State Park with a wooden boardwalk as well as a fishing pier in case you packed your fishing rods.
History Museum of Mobile - This museum features an eclectic collection of art and artefacts telling the story of Mobile. It is housed in the beautiful old city hall building.
Biloxi Lighthouse - With a history of female keepers and towering at 61 ft atop the coast, this 1848 cast iron lighthouse could be a good place to get out of the car and take in the coast.
Pearl River Wildlife Management Area - Get your first taste of the Bayou just as you cross the border into Louisiana. This vast area of wetland forest habitat on either side of I-10 might tempt you to stop and look for gators.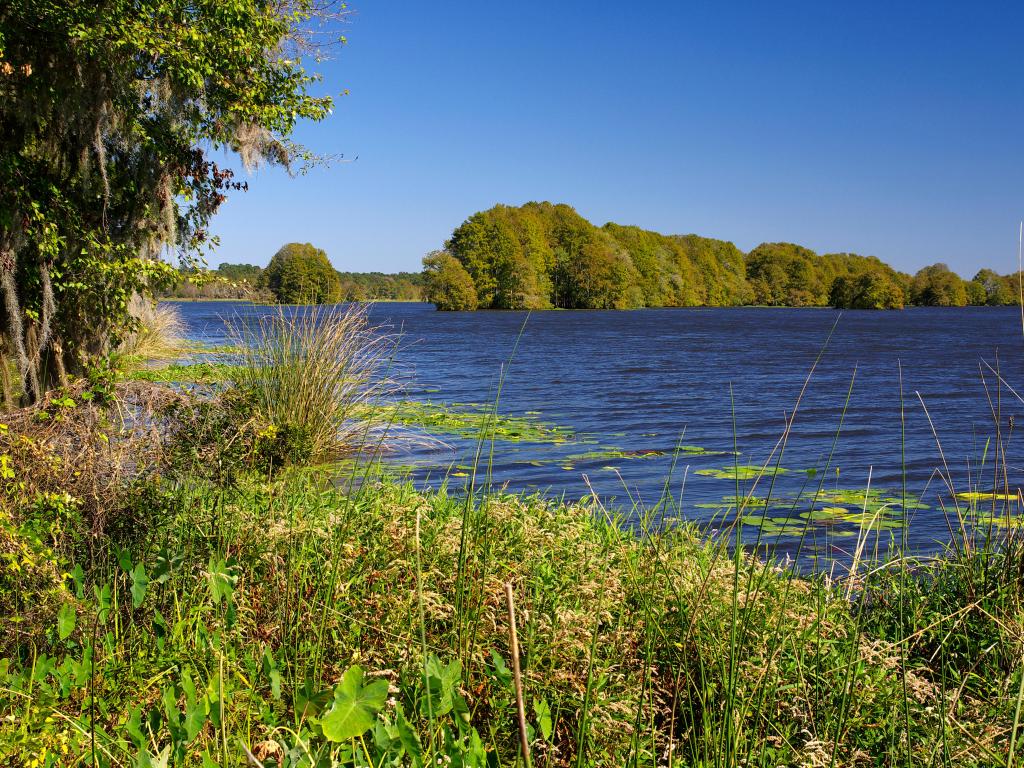 Best time to go on a road trip from Atlanta to New Orleans
You can make the road trip from Atlanta to New Orleans any time of the year, depending on what you want to see, how well you can handle the heat, as well as your budget.
While the summer is the hottest and most humid, with temperatures between 80 and 90 degrees Fahrenheit, it is also the cheapest. In order to stimulate tourism, the city has a Coolinary New Orleans event, so you can enjoy New Orlean's many culinary delights affordably.
If you aren't a fan of the take the heat, then the early winter from November to January could be an ideal time for you. The temperatures stay within the high 40s to low 60s, and if you come during December, you can catch a glimpse of the whimsical Christmas decorations.
Mardi Gras is obviously the busiest time of year in New Orleans and usually comes at the very end of winter in February and March. There's plenty to see, but you will pay far more to see the attractions and for the accommodation during this time of the year.
In the post-Mardi Gras spring up until May, you can enjoy warm weather and bustling streets during the second most popular time of the year to visit, though hotels will be more expensive than in the winter or summer.
Apart from their signature celebration, Mardi Gras, there are a host of festivals and big events that you could time your trip with, including the French Quarter Festival and the New Orleans Jazz and Heritage Festival, both of which happen in April and May.