Road Trip from Atlanta to Niagara Falls
A road trip from Atlanta, Georgia, to Niagara Falls combines both the excitement of big cities and tranquil points of nature - the perfect combination for a memorable journey.
The 1,390-mile road trip from Atlanta to Niagara Falls takes 26 hours to drive, taking in the Blue Ridge Parkway, Richmond, Washington DC, Pittsburgh and Allegheny National Forest. Or for a shorter drive, go via Nashville, Mammoth Cave and Cleveland.
You'll visit natural landmarks, travelling past national forests, mountains, lakes and cave systems, before ending your journey at the unforgettable Niagara Falls, where a ride on the Maid of the Mist takes you right up close to the majesty of the Falls.
How far is Niagara Falls from Atlanta, and how long will the road trip take?
Comparison of road trip routes between Atlanta and Niagara Falls

| Route | Distance | Driving Time |
| --- | --- | --- |
| The Blue Ridge Parkway Route | 1,390 miles | 26 hours |
| The City Route | 1,080 miles | 19 hours 30 minutes |
Since you'll be covering over a thousand miles on this trip, we'd recommend allowing up to a week for your journey, so that you have plenty of time to enjoy the places you'll see along the way.
The Blue Ridge Parkway Route is by far the longer of the two options we'd suggest, since the Parkway itself is a two-lane road with twists and turns through the mountains. This means there's a lower speed limit than on the Interstates, which adds considerably to the journey time.
You should allow at least 26 hours to take the Blue Ridge Parkway Route, and factor in additional fuel costs, as you'll be driving almost 1,400 miles.
The City Route is more direct, although it still comes in at an epic 1,080 miles. You should expect at least 19 hours 30 minutes of driving if you take this route. You could make this shorter drive in just a couple of days if you needed to, but as you'll see, there's so much to do along the way that you'll really appreciate taking a little longer to enjoy the ride.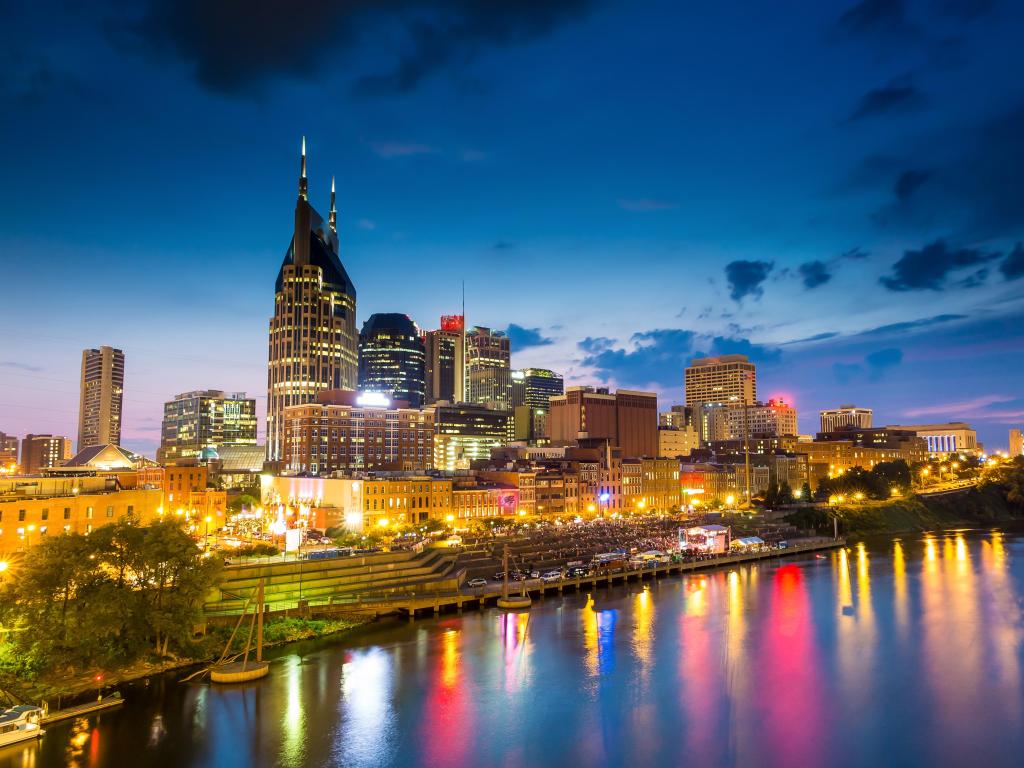 Best road trip route from Atlanta to Niagara Falls
With two contrasting road trip routes from Atlanta to Niagara Falls, you're sure to find an option that ticks all your boxes for a memorable vacation.
On the Blue Ridge Parkway Route, you'll cruise along one of the USA's most scenic roads, meandering through the Blue Ridge Mountains and stopping at the many overlooks where you'll gaze in awe at the surrounding scenery.
In contrast, the City Route intersects large towns and cities rich in culture and entertainment, none more so than 'Music City' Nashville and Lexington, which is known for its bourbon distilleries. It's not all about urban attractions though - this route also provides access to Tennessee's lakes and lush mountains.
The Blue Ridge Parkway Route
As you head north out of Atlanta, pick up Interstate 85 (I-85) and head towards New Holland. The interstate will then take you past Tallulah Gorge State Park, Clayton and Franklin.
You will then head towards Asheville, from where you'll join "America's Favorite Drive," the beautiful Blue Ridge Parkway, on the eastern side of the city.
As you head north along the Parkway, you'll find plenty of overlooks and trails – and with so many miles of this scenic drive to cover, just take your time and explore whichever view or hike takes your fancy.
For a slightly quicker drive you could leave the Blue Ridge Parkway at Blowing Rock or Fancy Gap and make your way up to I-81 from here, but for the full scenic experience we'd suggest staying on the Parkway all the way to Bent Mountain.
Once you've left the Blue Ridge Parkway, drive through Roanoke and then past Charlottesville and into Richmond. From here, follow the interstate north towards Washington DC. There's plenty to see in the nation's capital, so we'd recommend spending some time here.
After you visit, drive past Gettysburg and then west across Michaux State Forest as you make your way to Pittsburgh. The last part of your road trip sees you picking up the interstate again and making your way to Erie, on the shore of the Great Lake of the same name.
Here, you can make a slight detour to visit Allegany State Park, at the northern tip of Allegheny National Forest. Then, it's a short drive up the highway into Buffalo via Little Valley and Springville. Follow the interstate across Grand Isle and you'll find yourself at your destination, Niagara Falls.
The City Route
Follow the Interstate north out of Atlanta as far as Marietta, then take the fork onto I-575 where the roads divide. This will take you towards Ball Ground, where you'll leave the Interstate and follow state routes past Talking Rock and Whitestone.
Continue on the highway to Blue Ridge Lake, where you can enjoy fabulous watersports and lake views from Morganton. Then follow the Mineral Bluff Highway which takes you to the Georgia-Tennessee border.
You will then head towards the northern shore of Lake Ocoee and Chattanooga. Continue along the Interstate across the Tennessee River and on to Nashville and then take a detour off the interstate to visit the stunning Mammoth Cave National Park.
Leave the interstate south of Louisville and follow the Bluegrass Parkway across Kentucky to Lexington. From here, take the Interstate north through Cincinnati and Columbus all the way to Cleveland, on the shore of Lake Erie.
To complete your road trip, follow the Interstate towards Buffalo, then change onto NY-5 for the most direct route through the city and then cross Grand Isle to reach Niagara Falls.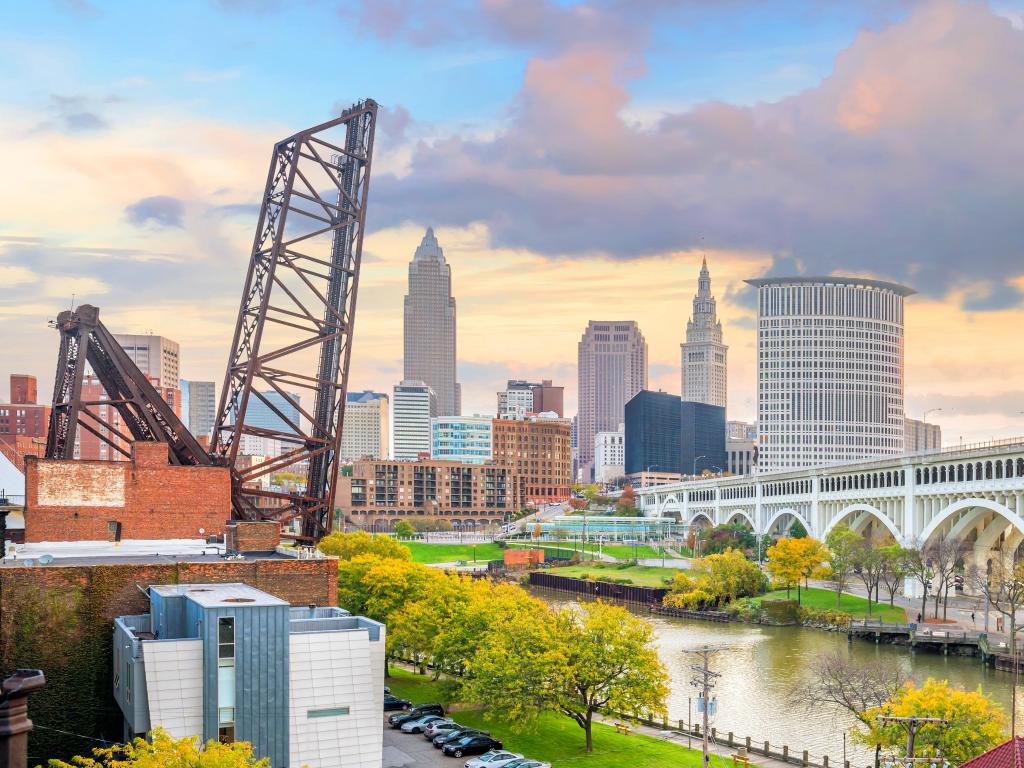 Best places to stop between Atlanta and Niagara Falls
It's not possible to drive the whole distance between Atlanta to Niagara Falls in one day, so you're going to need to make a few stops. Here are our top picks to get you started in planning your trip.
Marvel at the monuments in Washington DC
Just over halfway along the Blue Ridge Parkway Route is Washington, DC, the capital of the USA. With so many attractions to explore in the capital city, you don't want to rush and miss out on any iconic landmarks, so staying here allows you to take your time and explore the city.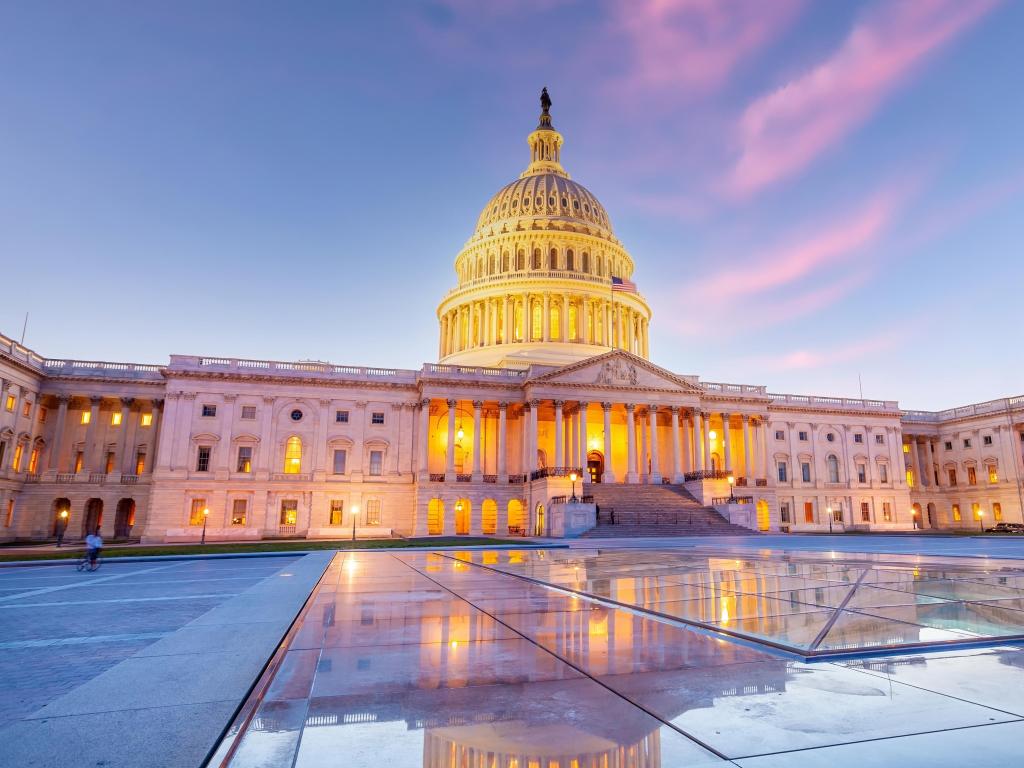 There are many other monuments to explore in the city. Be inspired as you stand beneath the large-scale Lincoln Memorial. It's at the west end of the National Mall and a short stroll east takes you on to the Washington Monument.
The Smithsonian Institution is a collection of over 17 museums and galleries spread across the city. From natural history to Air and Space, there's something for everyone. Some are located on the National Mall so are easy to find, and free to enter.
Conrad Washington DC is a luxurious hotel with chic rooms that'll leave you rested in style. The beds are both extra-large and extra comfy. After your drive, enjoy a cocktail on the rooftop with views of Washington's famous monuments before enjoying seafood at the onsite Estuary restaurant.
The National Mall is 1,400 yards away, but if you don't fancy the walk, there's a metro stop right around the corner. The Smithsonian American Art Museum and Chinatown Park are 550 yards away, so both are within walking distance.
Immerse yourself in culture in Cincinnati
Halfway along the City Route, Cincinnati is a great city to explore, with a wealth of museums to discover. Cincinnati is the home of the USA's first baseball team, and to this day the city is crazy about all things relating to sports.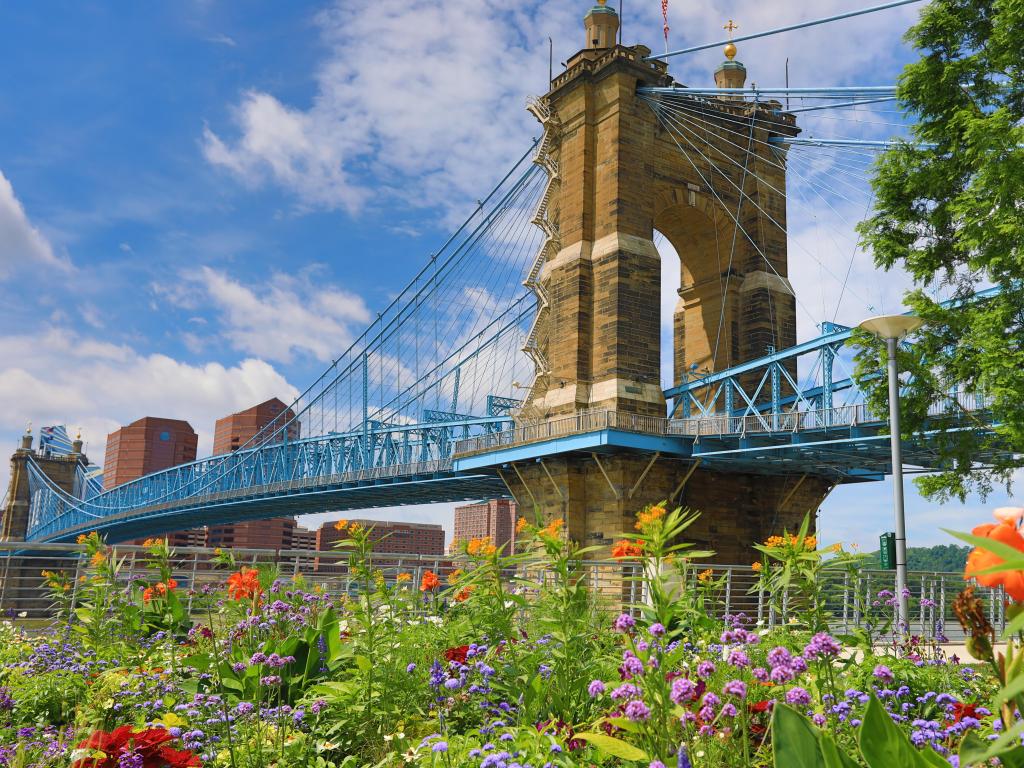 For a bird's-eye view of Cincinnati, go to the Carew Tower. There's an observation deck where you can look over the city with the meandering Ohio River below. It's a great way to get inspired for the rest of your visit too!
There's a museum for you in Cincinnati whatever your interests. If you want something quirky, go to the American Sign Museum where you'll find vintage neon signs. For a more conventional visit, go to the Cincinnati Museum Center at Union Terminal.
For a really special stay in Cincinnati check into 21c Museum Hotel Cincinnati. A spa and wellness center await so you can indulge in a massage to ease away aches after your drive, and there's a contemporary art gallery in the hotel.
There are bars and restaurants a stone's throw from the hotel, but make sure you go to the rooftop bar on-site before heading out for a drink while looking over spectacular city views.
Downtown, you'll find many places to explore within a few blocks, such as the American Classical Hall of Fame, the Museum Center and the Taft Gallery, which are all a short walking distance away from the hotel.
Where to stay when you reach Niagara Falls
The Cadence is a stylish and modern hotel in a great location. Just a 5-minute walk from the Fall, it's near to the star attraction and here you can ride on the Maid of the Mist.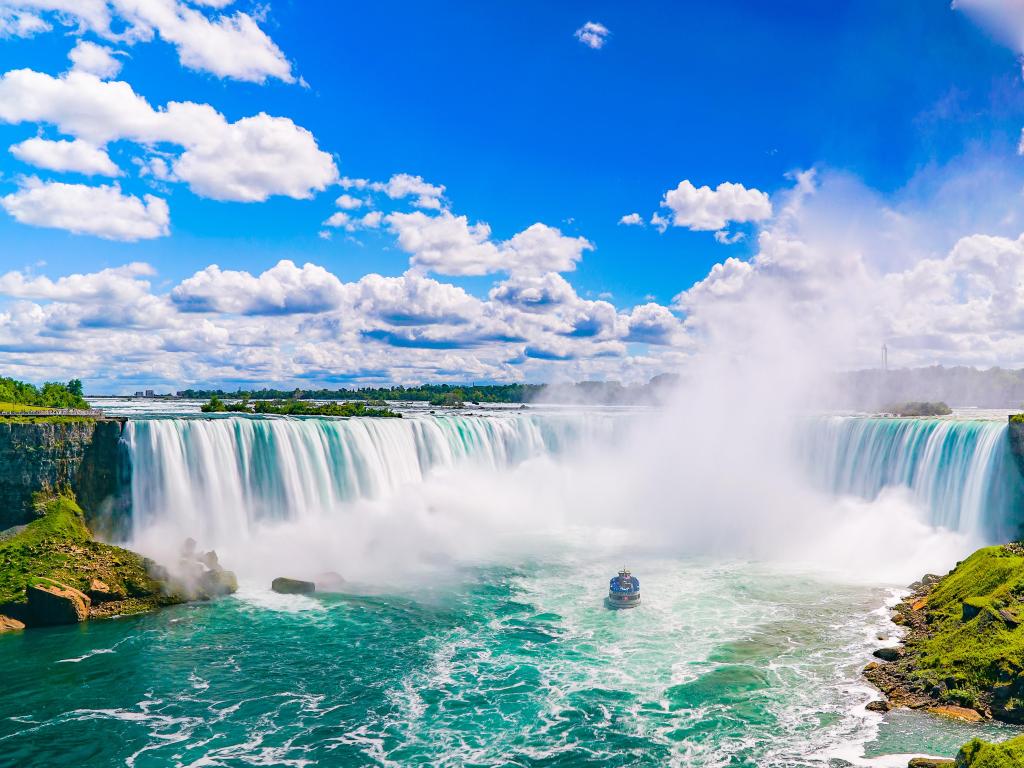 Our op tip for this hotel is to pick a King Suite and your room will have a bath with jets for peak relaxation!
Things to see on a road trip from Atlanta to Niagara Falls
The great thing about the road trip from Atlanta to Niagara Falls is that there's so much variety along the way. With great cities, fabulous natural locations, and fun theme parks, there's something for everyone on this route.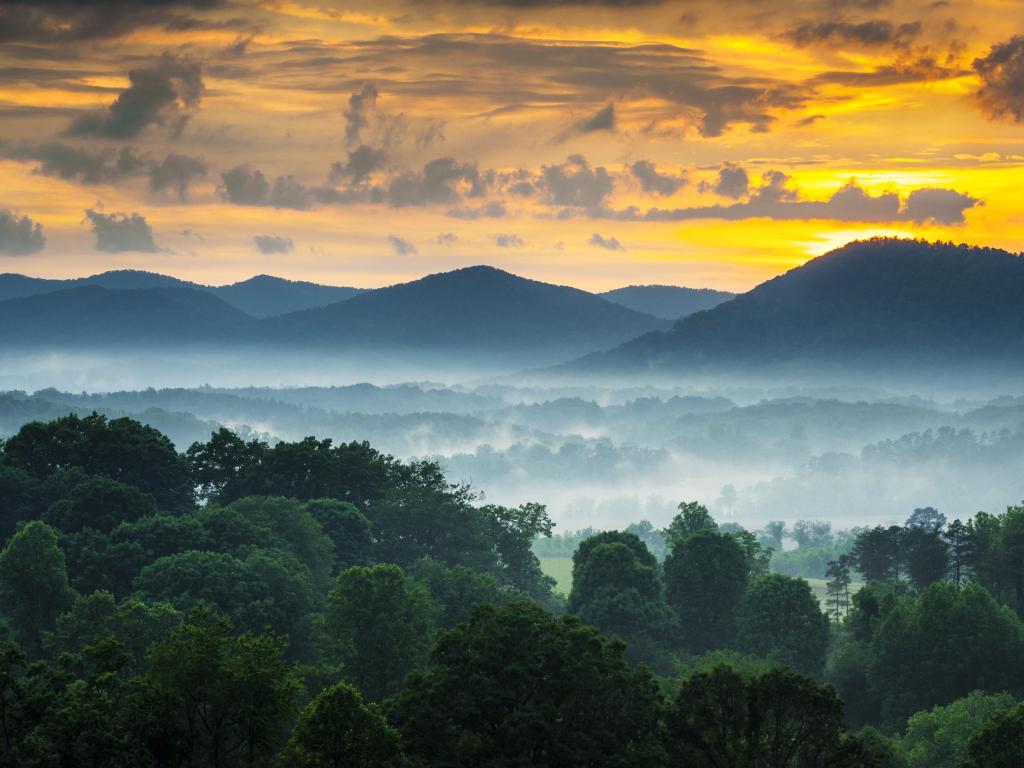 The Blue Ridge Parkway Route
Asheville - Recreate the famous Dirty Dancing scene in Lake Lure. You can also admire the romantic cliffs and rivers surrounding the peaceful lake.
Grandfather Mountain - There are many overlooks and stops along the Blue Ridge Parkway, and here at Grandfather Mountain the Mile High Swinging Bridge is one of the best, where you can walk across the high footbridge.
Blowing Rock - Another stop on the Parkway is Blowing Rock, where you can hike the Rough Ridge Trail. It's 0.8 miles to the view where you can take photos perched on a boulder.
Charlottesville - Smile at Charlottesville, the NBER voted it the happiest city in the USA. Spread your smile at Downtown Mall, where there's half a mile of restaurants, boutique shops and more.
Richmond - Explore Maymont, a 100-acre mansion with gardens to walk and otters to spot in the Robins Nature Center.
Gettysburg - Famous for the Civil War battlefield, you can learn more at the Museum and Visitor Center and tour the battlefield. At night, enjoy the local breweries.
Pittsburgh - The historic Duquesne Incline provides breathtaking vistas of Pittsburgh. You'll absorb art and nightlife in this walkable city, which has lots to do, including the Andy Warhol Museum.
Allegheny National Forest - The Allegheny Forest is vast, with many hiking trails. If you fancy a detour, visit the Kinzua Sky Walk, an old railroad track now offering views of the Kinzua Gorge.
The City Route
Six Flags White Water, Marietta - For fun and thrills, the Six Flags Water Park has wave pools and water rides.
Blue Ridge Lake - Enjoy a scenic picnic, rent a boat and spend a day on Blue Ridge Lake. Or simply admire the scenery of the lake and surrounding Chattahoochee National Forest.
Chattanooga - Jump on the Incline Railway to the top of Lookout Mountain. Then, stand in amazement at Rock City and Ruby Falls.
Nashville - Don your cowboy boots and enjoy the Nashville sound in Music City. You'll hear music pouring out of the bars on Broadway, whatever night of the week.
Bowling Green - Explore the Lost River Cave. A unique attraction where you travel through a cave system by boat. For the motor enthusiast, there's also a Corvette Museum here.
Mammoth Cave National Park - This is the world's longest-known cave system. Take a tour and you'll have a guide take you deep into the cave.
Lexington - Place your bets on race day at the famous Keeneland. Then, experience a taste of Kentucky with a sip on craft bourbon at the Woodford Reserve and Bluegrass distillers.
Columbus - Built in 1878, St. Joseph Cathedral with its gothic architecture is worth a call. There are many gardens and parks for pleasant walks and bike rides, including Bicentennial Park.
Cleveland - Cleveland is home to the Rock & Roll Hall of Fame. Immerse yourself in all things rock at this expansive museum spanning 7 floors.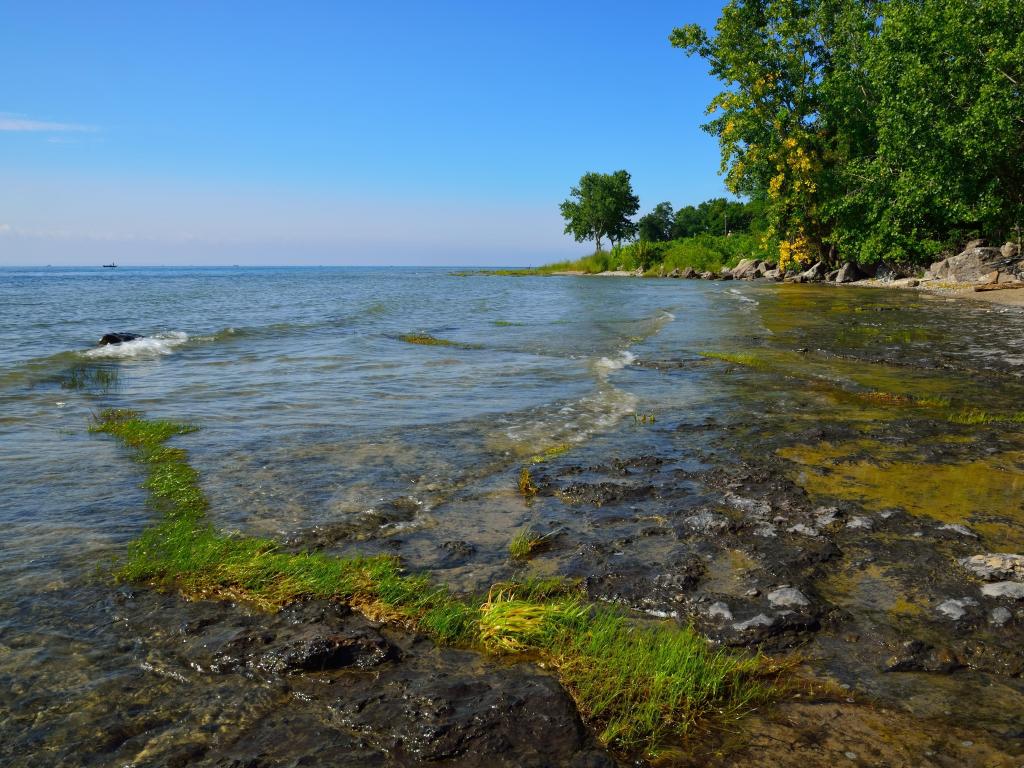 Both Routes
Erie - Lake Erie is one of the Great Lakes. Go to Presque Isle State Park and relax on the sandy peninsula and take photos of the Erie Harbor Lighthouse.
Buffalo - Hire a bike and ride along the Canalside before stopping to admire the sunset. Don't forget to take a photo next, Shark Girl, a wacky art installation.
Best time to go on a road trip from Atlanta to Niagara Falls
Niagara Falls is free to access all year round, but your experience will be wildly different depending on when you travel.
The summer months of June, July, August and September are sunny and warm, hitting 70 to 80 degrees Fahrenheit. July and August are the busiest months so if you want fewer crowds, go in June and September. If you are visiting in these months, make sure to see the Annual Summer Show.
In contrast, from November to February, Niagara Falls is cold. Temperatures sit below freezing for most of the winter and can drop down to 18 degrees Fahrenheit in January. If you're hoping to get up close to the falls on the Maid of the Mist, it shuts down from November to April.
Snow and ice are common throughout winter, and you can get a unique view of the Falls. It's sometimes claimed that the falls freeze over. This isn't technically true - it's the mist from the falls which freezes and makes it appear that the falls have stopped.
Early spring can still be very chilly, but May is a great time to visit. Maid of the Mist restarts and temperatures average 57 degrees Fahrenheit. It's quieter in October and November, but temperatures are cool, usually in the 50s Fahrenheit, and there's a risk of bad weather.