Road Trip from Atlanta to Orlando, Florida
Absorb the history of Georgia on the epic road trip from Atlanta to Orlando. Discover lush green surroundings as you pass through culture-rich towns and cities or get your beach vibes driving alongside Florida's most stunning beaches to the theme park capital of the world.
The 550-mile road trip from Atlanta to Orlando takes just under 10 hours to drive. Key stops include Columbus, Albany, Savannah, Jacksonville and Fayetteville, as well as Daytona Beach, Falling Creek Falls, Ormond Beach and Paynes Prairie State Park.
To help you make the most of your adventure on this road trip from Georgia to Florida, we've set out the best routes and places to stop overnight, as well as our favorite things to see and the best time of year to make this road trip from Atlanta to Orlando.
How far is Orlando from Atlanta, and how long will the road trip take?
Comparison of road trip routes between Atlanta and Orlando

| Route | Distance | Driving Time |
| --- | --- | --- |
| The Inland Route | 550 miles | 9 hours 50 minutes |
| The Coastal Route | 540 miles | 10 hours 10 minutes |
There are two really solid options when considering an Atlanta to Florida road trip. The quickest of the two takes you inland through Georgia and into Florida. Spanning a distance of 550 miles, you could complete this trip in as little as 9 hours and 50 minutes.
An alternative drive is our Coastal Route. Following the shore from Savannah to Daytona Beach, this option takes 10 hours and 10 minutes to drive without stopping and covers 540 miles on the road.
While you could complete this trip in as little as a single day, you wouldn't leave yourself any opportunities to stop along the way and explore your surroundings.
Given that you'll pass several towns, cities, green parks and epic beaches, you're going to want to spend a few extra days to really immerse yourself in this great trip. We recommend spending a minimum of three days on this drive, which gives you a couple of fantastic stops along the way.
READ MORE - Ultimate Florida Road Trip Itinerary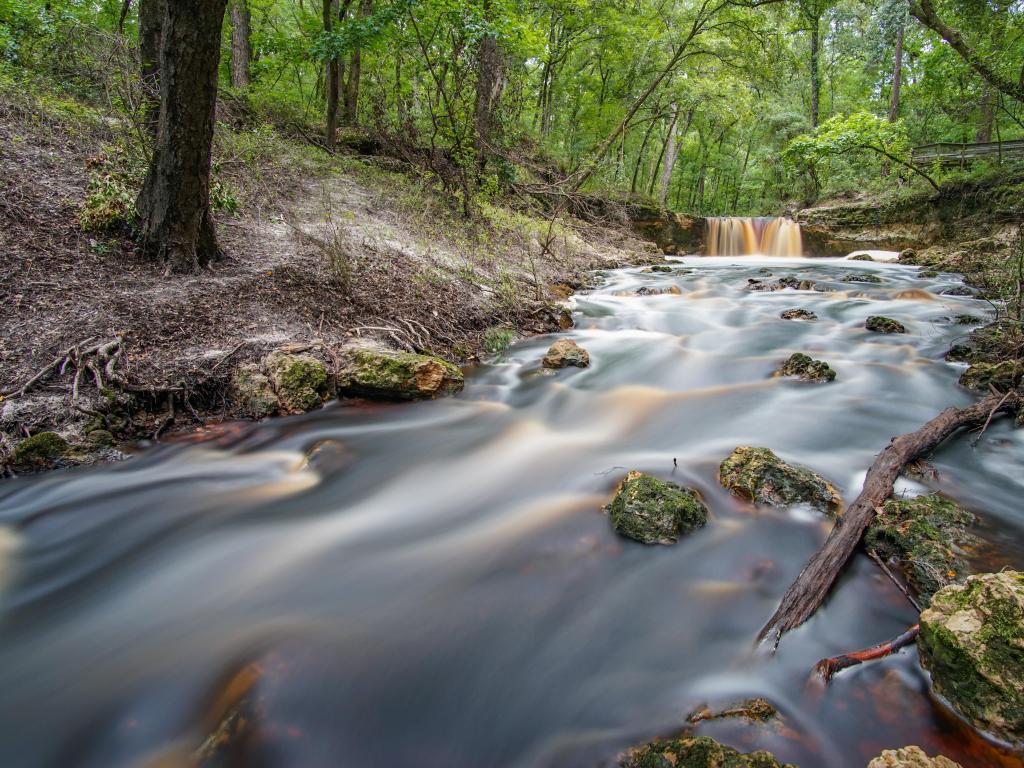 Best road trip route from Atlanta to Orlando
If you fancy driving through the heart of Georgia, passing through roads with lush green surroundings and discovering historic under-the-radar towns and cities, then you should consider following our Inland Route to Orlando.
Though part of the journey is on major highways, thanks to Georgia being a very green state, you'll still enjoy stretches of wilderness. But don't worry, there are plenty of great places you'll pass en route, including Fayetteville, Columbus, Gainesville and the stunning Falling Creek Falls.
For those road trippers who love a beach and sea view, our Coastal Route is ideal. Taking you along the coastline, you'll find famous Florida beaches as well as explore Jacksonville and Savannah, two major cities but each with individual charm.
Along this route, you'll also drive up the A1A Florida State Scenic Coastal Highway. This road offers easy access to different beaches, but as a single-lane road, it adds more to your drive time. So if you're looking for a quicker drive to Orlando, then our Inland Route might be preferable.
If you really can't decide between the two and you have some extra time on your hands, you could easily follow both routes, one to Orlando and the other on the return leg to Atlanta. That way, you'll get the best of both worlds.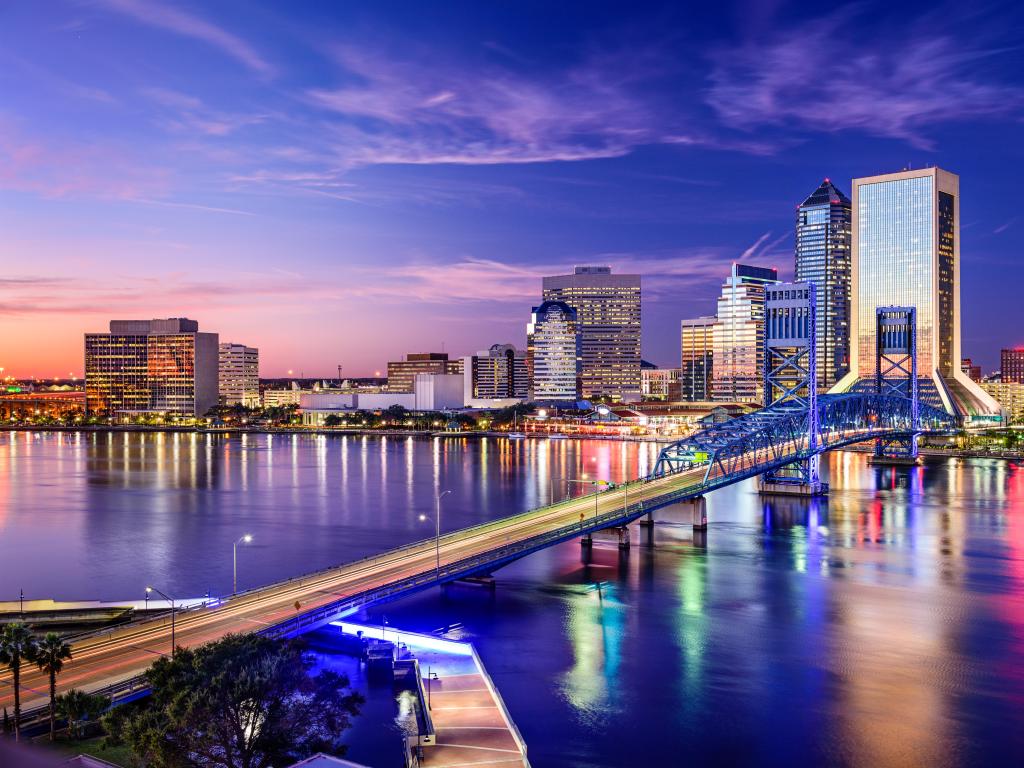 How to drive from Atlanta to Orlando
The map above shows our suggestions for the best road trip routes between Atlanta and Orlando. Keep reading for detailed descriptions of both routes, where to stay on either, and the best things to do on the way.
The Inland Route
For our Inland Route, take Interstate 75 (I-75) South from Atlanta. Take Exit 237A to join GA-85 to Fayetteville, a small city with a diverse community and beautiful landscape.
Follow signs for Interstate 85 (I-85) and continue to head south, passing several small towns to Exit 21 where you'll join Interstate 185 (I-185) a short stretch to Exit 10. Take GA-22 west to Exit 1 and then take GA-55 to Columbus.
Stop here to explore this great city before joining US-280 east through several towns before reaching Andersonville, a great stop if you're interested in history as it has, amongst other things, a great Civil War exhibit.
Take the exit for GA-49 South and then take US-19 to Albany. Stop here to discover what awaits you in Radium Springs, before continuing south to Thomasville, a great place for an overnight stop.
Next take US-84 East before margining with I-75 South which will take you across the state into Florida. Stop at Cypress Creek Wildlife Management Area before reaching Exit 435 and taking Interstate 10 (I-10) East to Falling Creek Falls, which is a stunning waterfall.
Pass Lake City and join FL-47 South before merging back with I-75 to Exit 387. Join FL-26 to Gainesville, before taking FL-331 south to Paynes Prairie Preserve State Park to spot the wild horses and enjoy a wildlife-rich walk.
Rejoin I-75 South to Florida's Turnpike to Exit 265, driving past Lake Apopka and several wildlife and forest areas. Continue on FL-408 East to your final destination in Orlando.
Looking to venture further? Check out our ultimate Florida road trip itinerary.
The Coastal Route
For our alternative option take I-75 South through McDonough and to Exit 212 where you can stop at Locust Grove, a small town which offers fantastic Southern cuisine.
Continue following I-75 South to Bolingbroke before taking Exit 165 for Macon, another small city with great landmarks to visit. Afterwards, get on Interstate 16 (I-16) East to Exit 67 where you'll get on GA-29 south to visit the Altama Museum of Art & History.
Get on US-1 north before taking I-16 East to Exit 157A to Savannah, a great city to explore and an ideal halfway point to stop for the night. When you're ready to leave, you'll take Interstate 95 (I-95) South and begin to follow the coast.
Follow the interstate as you cross into Florida before taking Exit 353B for a visit to Jacksonville. Leave on I-95 but take Exit 344 shortly afterwards and FL-202 East towards Jacksonville Beach.
From here join Florida A1A Scenic Byway as you drive past some of the most stunning beaches, including St. Augustine, Crescent Beach, Ormond Beach and probably the most famous of all, Daytona Beach.
From here, turn right onto Beville Road and join Interstate 4 (I-4) West the final stretch to Orlando.
Here is our guide to the ultimate road trip in Florida, if you have more time.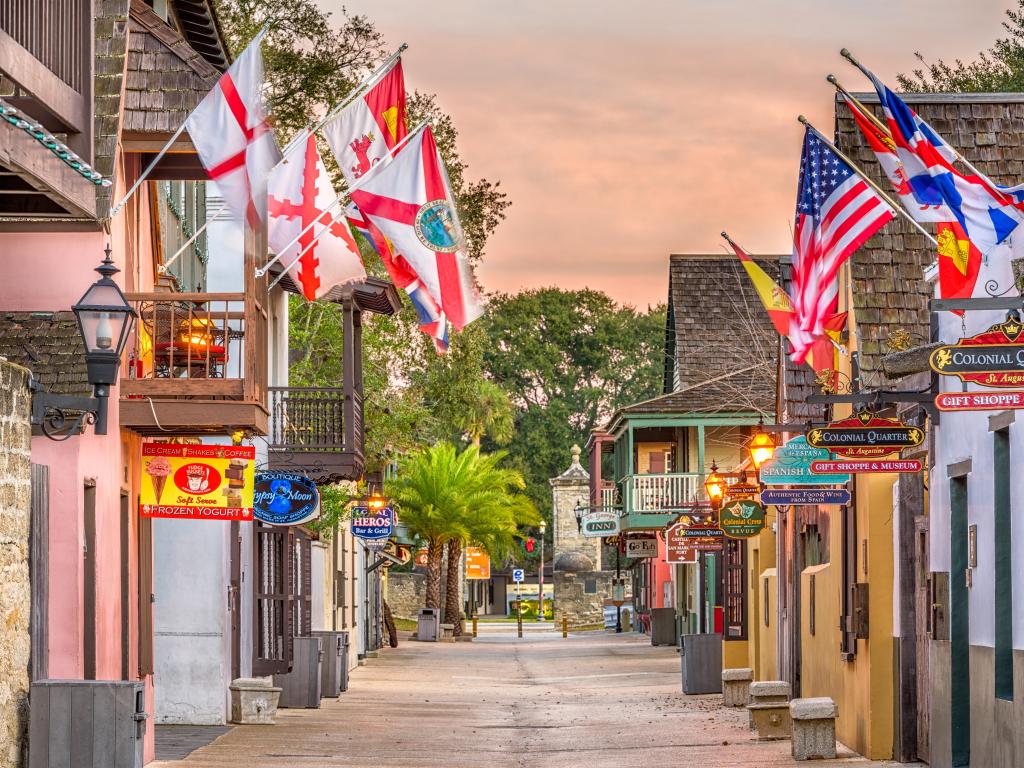 Best places to stop between Atlanta and Orlando
While you could drive from Atlanta to Orlando in a single day on a road trip from the star of Georgia to sunny Florida, a much better idea is to split the drive up and enjoy a couple of overnight stops along the way. With so many great towns and cities on this drive, you'll be spoilt for choice.
Of all the great hotels you'll pass, here are the ones we think you should look out for:
Modern luxury in historic Thomasville
Ideally located halfway on our Inland Route, Thomasville in Georgia is a lesser-known but fantastic overnight stop destination. Thomasville is a small city with a close-knit vibe, it's also the perfect place to get to understand the Georgia way of life.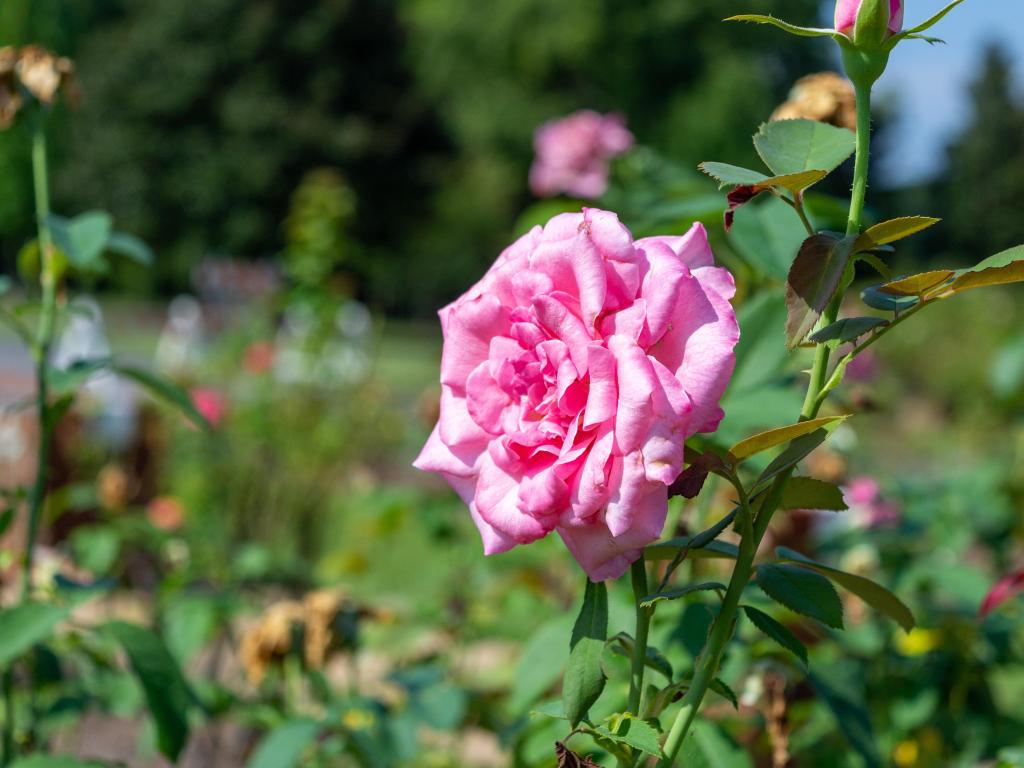 Known to locals as the 'Rose City', from the Thomasville Rose Garden where there are over 1,500 blooms, there's a lot to explore here. Take a walk downtown and you'll find a great selection of bars and restaurants serving signature Southern dishes.
For a spot of luxury, you can't go wrong with a stay at one of the city's new hotels, the Courtyard by Marriott Thomasville Downtown. Here you can expect stylishly modern rooms and a fabulous outdoor pool, perfect for relaxing after a long day of driving.
This new hotel is situated in the heart of the historic downtown district. Being just off Highway 3, so it doesn't detract much from the journey time, it's also close to the Lapham Patterson House Historic site, which makes it easier to explore this fascinating area.
For history fans, there's the Thomasville History Center and the Victorian Lapham-Patterson House which is full of Georgian history. For something more outdoorsy, there's also a great walk to be enjoyed at the Pebble Hill Plantation.
Discover the culture of Savannah
If you're looking for a halfway point on the Coastal Route, an ideal base for an overnight stop is Savannah. Here you'll meet welcoming people, while the buildings ooze history and you'll never be far from art and culture.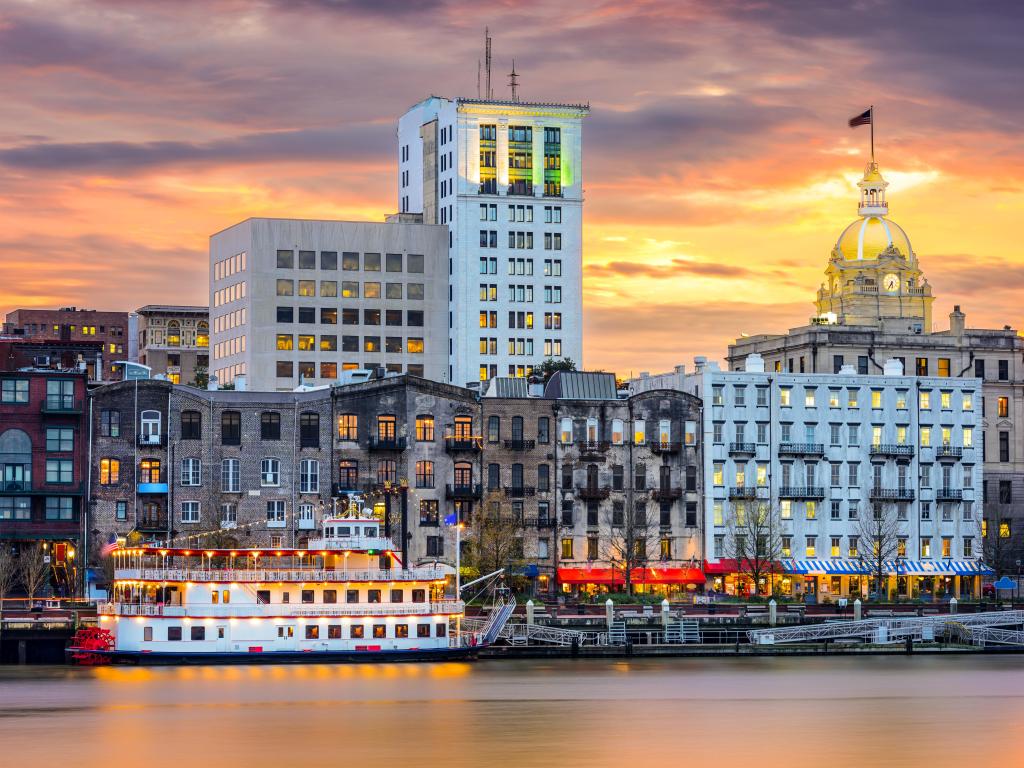 As Georgia's oldest city, Savannah, has architecture showcasing its history. It's also become a place of significance, thanks to it being the location for the Forrest Gump "life is like a box of chocolates" bench scene.
As you'd expect, there's plenty of local attractions to enjoy while staying in Savannah from its Historic Landmark District, where you can enjoy a stroll through Forsyth Park to its popular riverboat cruises. As America's most haunted city, you can also enjoy a ghost trail if you dare.
As a popular city, you can find amazing hotels in Savannah. One of its best is The DeSoto, a landmark in the city, which has been welcoming guests for 130 years.
This 4-star hotel will make sure your stay is extra special and comfortable. Featuring a contemporary outdoor pool and lounge area, plus modern and stylish rooms, there's also parking and a great bar.
Located in the heart of historic downtown, close to Davenport House and the popular River Street, you can step foot out of the hotel and begin exploring with minimal fuss before continuing with your road trip feeling refreshed.
A rock star stop in Orlando
When you reach Orlando, you'll have plenty to explore in this fun-filled Florida city. Best known for Disney World and Universal, which sees tourists flock here all year round, there's a lot more to this incredible city.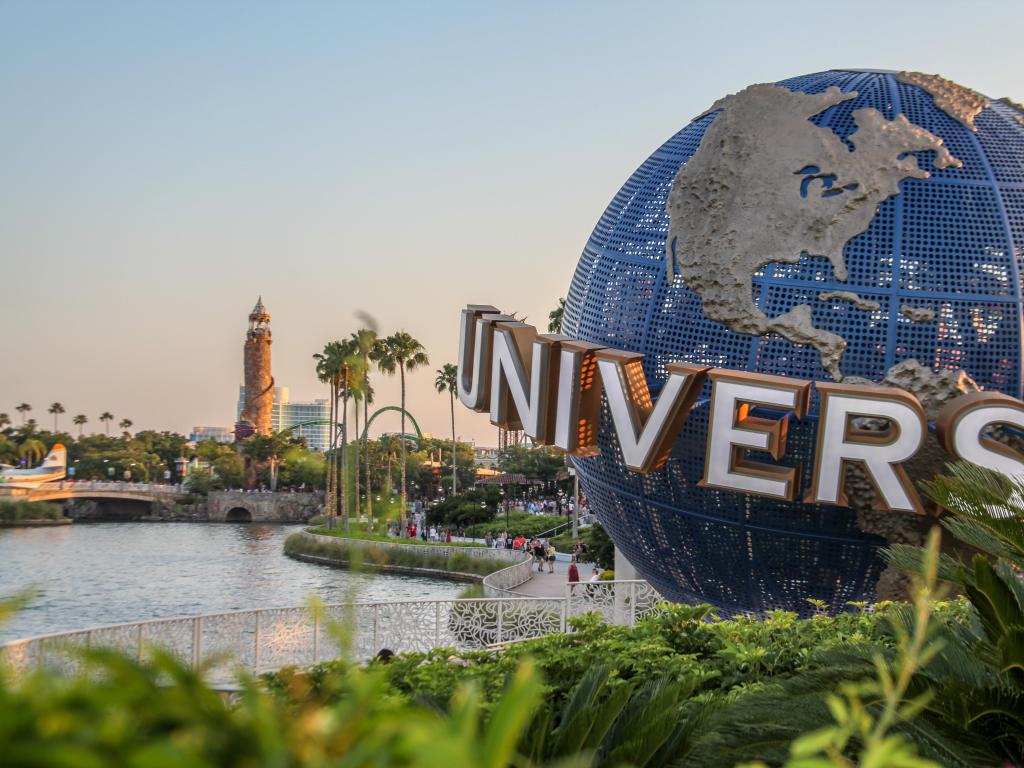 From huge shopping malls, world-famous theme parks, great restaurants and thrilling nightlife, you'll also only ever be 90 minutes away from stunning beaches. There are also beautiful wildlife areas surrounding the city if you'd like to escape the bustle and bright lights.
When visiting Orlando, chances are you'll want to experience at least one theme park. For thrill-seeking road trippers, an ideal hotel is The Hard Rock Hotel which is located on Universal Boulevard and includes a pass for queue jumping at Universal Orlando Resort.
This unique hotel puts you at the center of the fun. Not only will you be located right by the famous Wizarding World of Harry Potter, but Walt Disney World Resort is also a short drive away.
The 4-star hotel has all the amenities you'd expect, including an outdoor pool, onsite restaurants and bars, modern and comfortable rooms that are all decorated with rock music-themed decor and complimentary shuttle busses, so you're only ever just a quick hop to all the fun.
Things to see on a road trip from Atlanta to Orlando
Don't be fooled by thinking that this fairly short road trip from Georgia to Florida doesn't offer much in terms of attractions along the way. In fact, there's a lot to see between Atlanta and Orlando. To help you plan your trip, we've set out some of the best bits you'll pass en route:
Both Routes
Locust Grove, Georgia - Stop off at Locust Grove, a small typical Southern town and a great place to indulge in Southern cuisine. We recommend the French Market and Tavern.
Macon, Georgia - Macon is a quintessential Georgian city. Expect southern hospitality as you delve into key attractions. Standout landmarks include the Native American site Ocmulgee Mounds and the Hay House, built in 1855.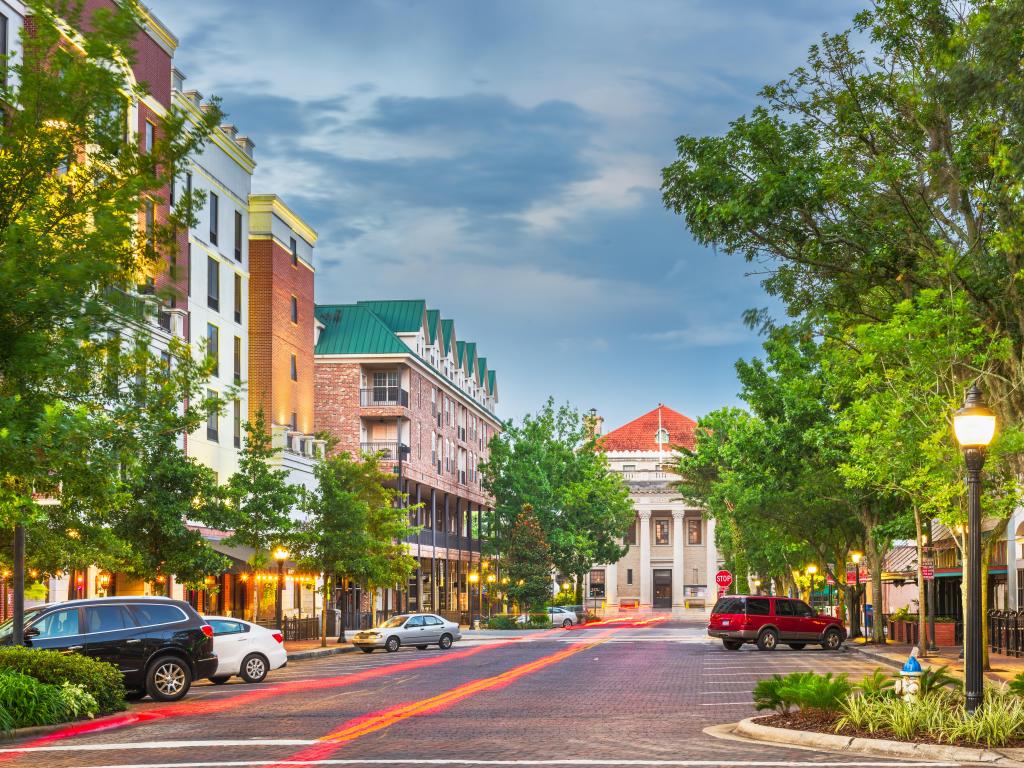 The Inland Route
Andersonville, Georgia - If you're interested in the Civil War, a visit to Andersonville is a must. This small village takes you back in time while a museum exhibits artefacts from the Civil War era.
Americus, Georgia - Americus is historic and cultured. Upon arrival, pop into the Americus-Sumter Tourism Welcome Center where the helpful staff can teach you about the place and what to do during your stay.
Albany, Georgia - The Albany Civil Rights Institute documents Georgian life before the Civil Rights Movement. It's located in Mount Zion Baptist Church, where in 1961, Martin Luther King Junior inspired crowds.
Thomasville, Georgia - Downtown Thomasville is a small historic Georgian gem. There are ample top-class restaurants.
Falling Creek Falls - A hidden gem, this waterfall is a great stop-off to admire natural beauty. The boardwalk trail is easy to walk and not too overbearing.
Gainesville, Florida - Gainesville has prominent nightlife. Yet, there are many picturesque parks to relax in. A unique visit is the Cade Museum for Creativity & Invention. Museum, named after the Gatorade inventor.
Paynes Prairie Preserve State Park - Walk amongst wild horses and bison at the Paynes Prairie Preserve State Park. The La Chua Trail has a boardwalk over water where you may encounter an alligator.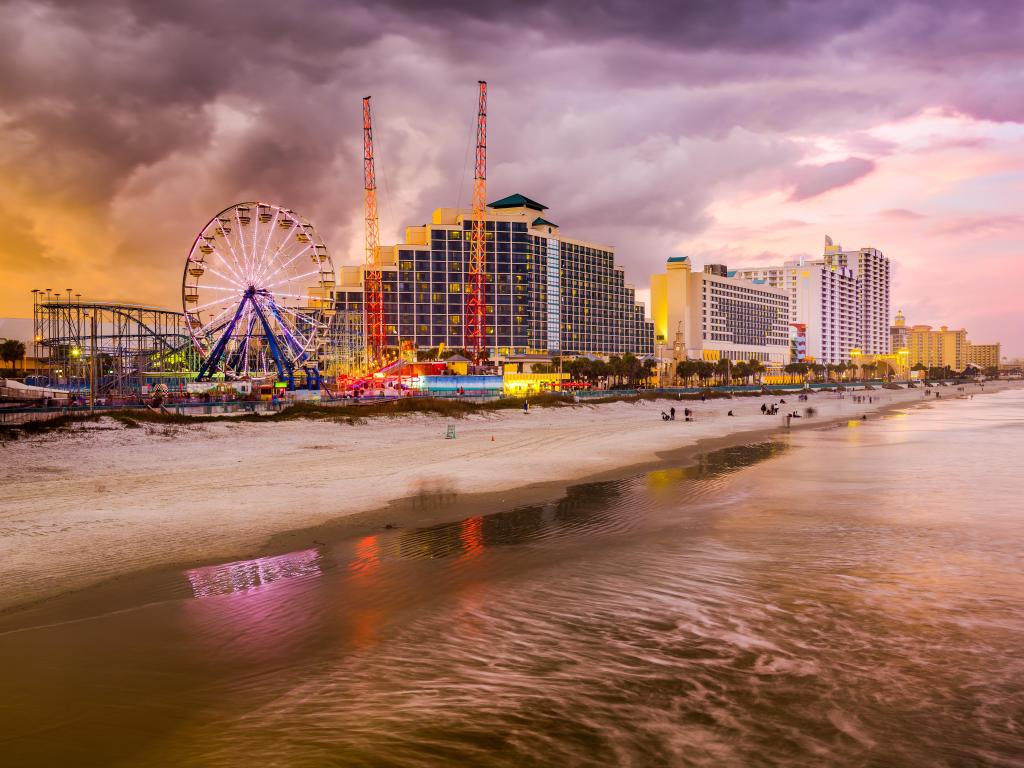 The Coastal Route
Altama Museum of Art & History - Examine fine art and historical items at the Altama Museum of Art & History Museum. Housed inside the 1911 Brazell House, you'll also experience the grandeur of a historic mansion.
Savannah, Georgia - You'll fall in love with this charming city. It's full of history and you'll find plenty of things to see and do, whether shopping or exploring the historic district.
Jacksonville, Florida - Jacksonville is a major Florida city. You'll find a range of things to do from a Zoo and Wildlife Sanctuary to the surrounding National Parks.
Guana Tolomato Matanzas National Estuarine Research Reserve - The Guana Tolomato Matanzas National Estuarine Research Reserve is on the route, so you can stop and take a walk via one of the trails.
St. Augustine, Florida - Wouldn't it be something to say you've visited the oldest place in the USA? A Spanish conquistador founded St Augustine in 1565. Nowadays there's still evidence, Castillo de San Marcos for example, is the oldest masonry fort in the US.
Fort Matanzas National Monument - The coastal road passes by Fort Matanzas National Monument. An 18th-century stone fort built by the Spanish.
Ormond Beach, Florida - Small town charm and beautiful beaches. A stop off at Ormond Beach is bound to relax. The beaches here are less crowded than most.
Daytona Beach, Florida - Daytona Beach is famous for its motor racing and you can take a tour around the famous International Speedway. It's also ideal for a road tripper as you can drive onto the beach to soak up the sun.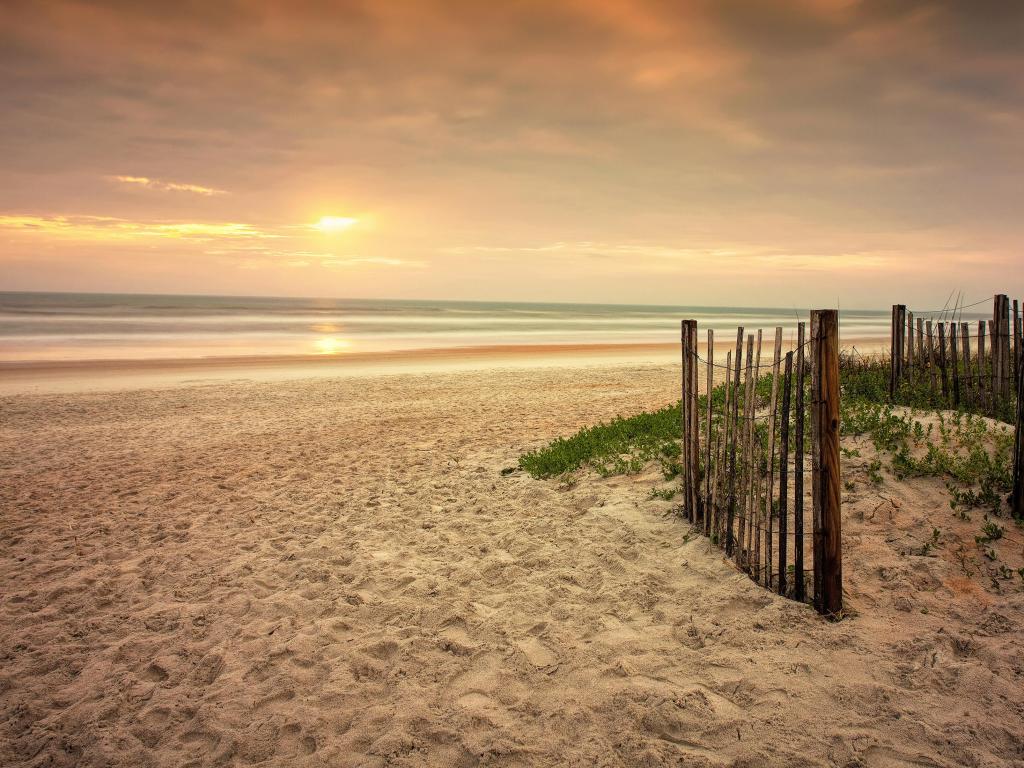 Best time to go on a road trip from Atlanta to Orlando
Orlando is a tourism hotspot all year round, so you can set off on a road trip from Atlanta to Florida any time of the year. A major pull is the theme parks; Walt Disney World Resort, for example, is open 365 days a year.
While some months are quieter than others, it's still visited throughout the year where even in winter, the weather is still warm.
The summer months bring hot weather to Florida, with temperatures averaging above 80 degrees Fahrenheit. For some, it may be too hot, but many shops, restaurants, hotels and attractions are well-prepared with air conditioning. That said, you will experience a larger crowd.
The coldest month is January, but even then, the average temperature is 60 degrees. For many, this is a comfortable temperature, so the winter months don't bring drastic cold weather. Watch out for the holiday season though (between December and January) when crowds will descend upon Orlando.
The best time to visit is from March to May. This time of year, sees pleasant weather (highs of the 50s to 80s most days) and outside of the school holidays, you'll get to enjoy cheaper hotel rates and fewer tourists to contend with. Fall is another good option, though watch out for the rainy season which lasts through to Mid-October.
If you aren't concerned by large crowds, then you could time your road trip with an event or two. Orlando hosts many festivals, some of which are held in theme parks. Because of the consistently nice weather, festival organizers spread out events throughout the year such as the Kissimmee, which is held in late October.