Road Trip from Auckland to Rotorua
Ever wanted to see more of New Zealand's beautiful countryside? It's a surprisingly quick road trip away. If you've thought about exploring the north island - and visiting the famous Hobbiton set - this scenic trip from Auckland to Rotorua is just for you!
The 240 km road trip from Auckland to Rotorua will take 3 hours to drive nonstop. Key rights include Hamilton, Hobbiton movie set, Coromandel, Tauranga, Pauanui, Bridal Veil Falls, Whangamata Beach, Waikite Valley, Waiheke Island and Mount Maunganui.
New Zealand's landscapes are well-known for their stunning beauty, and this road trip shows that off. Read on for more places to see, stay and explore while traveling across this beautiful island.
How far is Rotorua from Auckland, and how long will the road trip take?
Comparison of road trip route options between Auckland to Rotorua

| Route | Distance | Driving Time |
| --- | --- | --- |
| The Direct Route | 240 km | 3 hours |
| The Scenic Route | 430 km | 7 hours |
There are two amazing route options for a road trip from Auckland to Rotorua. The Direct Route goes inland and is about a 3-hour drive of around 240 km.
The longer Scenic Route, on the other hand, will take you along the coast and is about 430 km, with a 7-hour drive. The extra time spent on the road is absolutely worth the scenic opportunities.
With so much beauty to see and gorgeous scenery to explore, we suggest putting aside two to three days (at least!) for this epic road trip.
Best road trip route from Auckland to Rotorua
There is so much for road trippers to see and do on both routes from Auckland to Rotorua. You may want to consider each route's key sights and what you'd like to spend your time doing.
The Direct Route is the quickest way to explore New Zealand's vibrant cities. If you have time to spare, you can easily convert this into a day trip since the drive is relatively easy. For Lord of the Rings fans, Hobbiton may be a priority, so make sure to estimate enough time for this stop.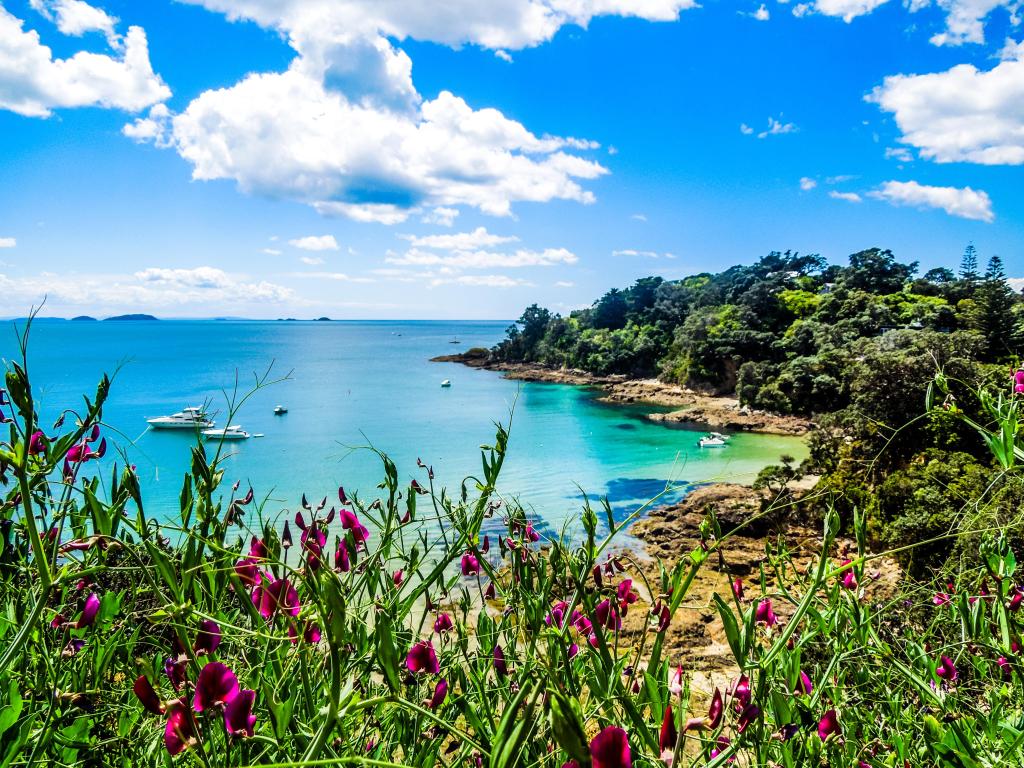 If you want to make a day of your road trip, consider the Scenic Route. It's not a daunting drive for those looking to enjoy the views. The Scenic Route will take you across the coast and through forests. Leave early and give yourself time to explore the charming coastal towns found on this route.
Both routes have notable attractions that are easy to visit no matter the time of year. Consider using the Scenic Route on the way there and the Direct Route back to make the most of your trip.
The Direct Route
Take State Highway 16 in Grafton out of Auckland. Head onto State Highway 20 and State Highway 1 to Thermal Explorer Highway/State Highway 1C. Continue on Thermal Explorer Hwy/State Highway 1C to Frankton, Hamilton. This is your first stop.
To get to the Hobbiton movie set from Hamilton, head toward State Highway 1C. From here, head to Cobham Drive/Route 4 in Hamilton Central. Take State Highway 1 to Karapiro Road. Continue to 501 Buckland Road in Matamata, the site of the Hobbiton movie set tours.
To get to Rotorua from here, head back onto Buckland Road, State Highway 29. Take Rangitanuku Road and State Highway 28 to State Highway 5 in Tapapa. From here, drive along State Highway to Rotorua.
The Scenic Route
To get to Coromandel from Auckland, get onto State Highway 1. Head to Wellesley St E and continue to Wellesley St Bridge. Take the State Highway 1 S ramp to Hamilton. Follow State Highway 1 to Ōtara. Take Exit 444 from State Highway 1. Get onto State Highway 25 in Waitakaruru and follow this road to Coromandel.
From Coromandel to Tauranga, get onto Tiki Road. Turn left onto 309 Road - look for signs for Whitianga/Waterworks/Fun Park. Follow State Highway 25 and State Highway 2 to Tauranga.
To get to Rotorua from Tauranga, get onto State Highway 36 to Thermal Explorer Highway/State Highway 5. This will take you straight through to Rotorua.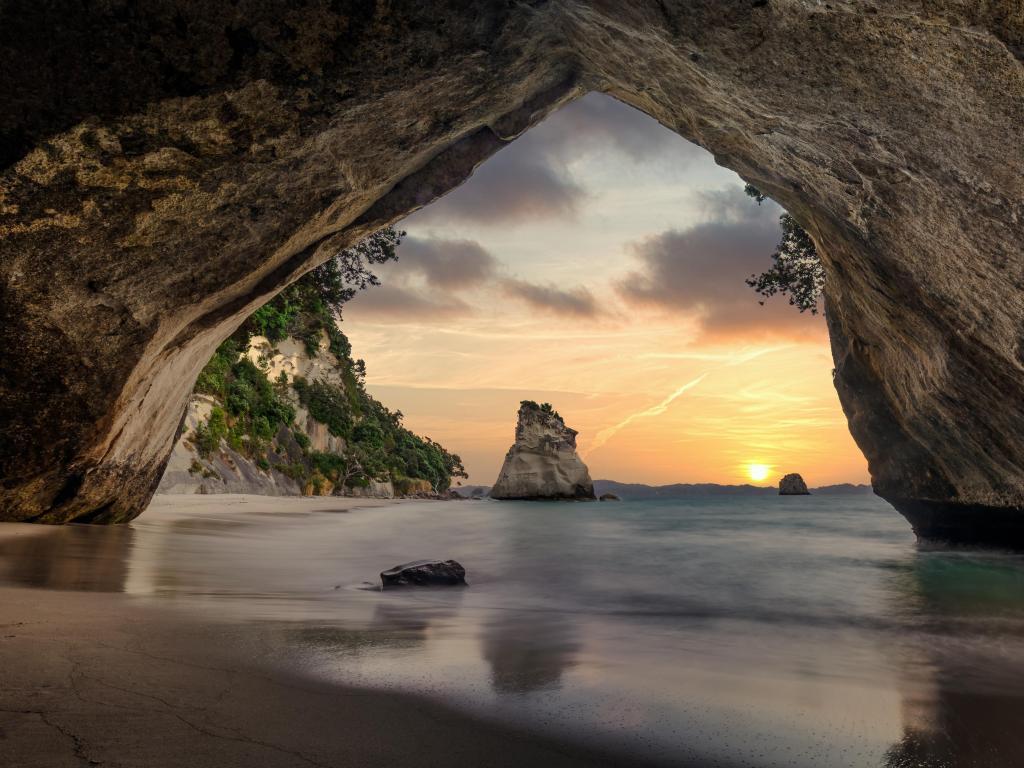 Best places to stop between Auckland and Rotorua
There are plenty of gorgeous landscapes and colourful places to visit on this road trip between Auckland and Rotorua. Both of our suggested routes offer diverse accommodation options. You'll feel tempted to make a pit stop, especially once you start exploring.
Here are some beautiful stopover locations and lodging options you'll want to look out for:
Explore and enjoy Hamilton
On the Direct Route, the charming city of Hamilton conveniently sits about halfway into the trip. Recognized as one of the most important inland centres of New Zealand, Hamilton is known for its gourmet eateries and colourful street art.
While in Hamilton, paying a visit to its award-winning gardens is almost a must. Meander through the many garden collections, which will give you a sense of many different areas of the world.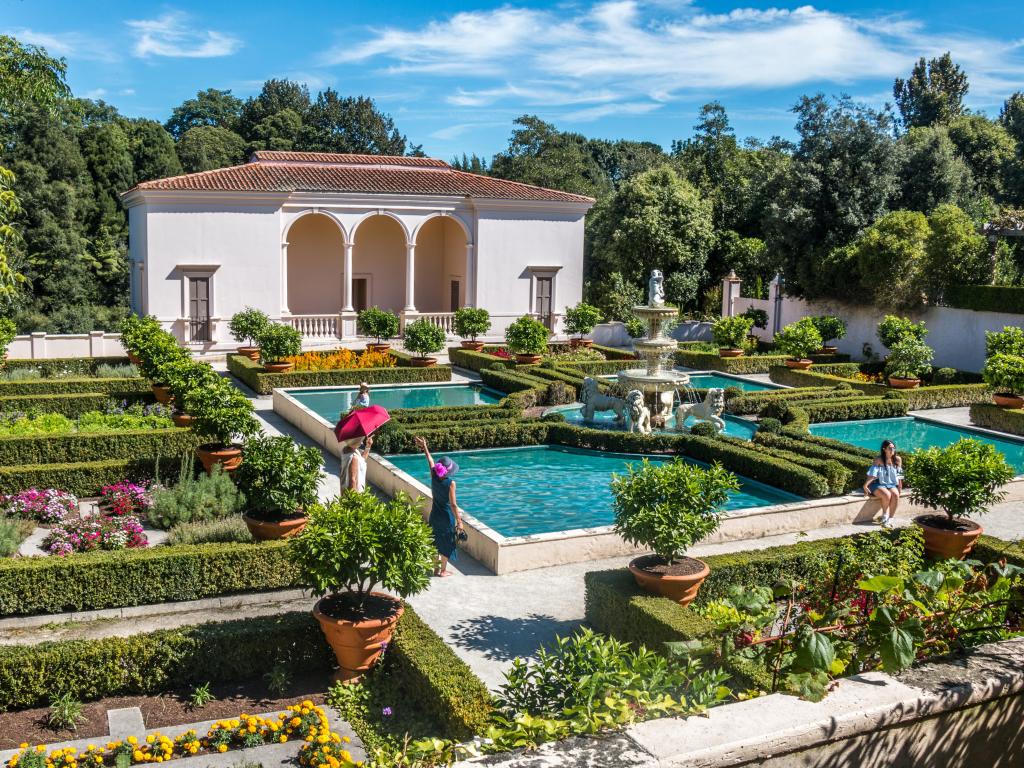 Art lovers and history buffs should head to Waikato Museum to learn about and get an insight into the rich history of New Zealand as well as its contemporary artists.
Located on the peaceful outskirts of the city, one of the best lodging options in the area is The Narrows Landing Hotel. You'll find gorgeous suites with rustic, industrial architecture at this little hideaway. It's just the right amount of luxury for a city stay. It also has free parking, which is ideal for road trippers.
The boutique-style hotel has a full range of amenities, with unique countryside views of the Waikato River. It's located just outside the city centre, but easily accessible from the main highway. The gardens at this hotel are lovely - perfect for an early morning or evening stroll.
The hotel has a delicious continental breakfast to enjoy first thing in the morning. It's a short drive into town, so you have plenty of opportunities to explore Hamilton's famous food scene.
Take a beautiful beach break in Pauanui
On the Scenic Route, you will want to check out some of the coastal towns in the area. Pauanui, located around halfway into the trip, is a beautifully sheltered coastal town surrounded by white sandy beaches. It is a great stop to make before exploring the Coromandel region.
This area of the country is known for its pristine beaches and laid-back vibe. While much of the peninsula doesn't have many year-round residents, it is a popular holiday destination. It is also popular for fishing, diving, and surfing in calm waters.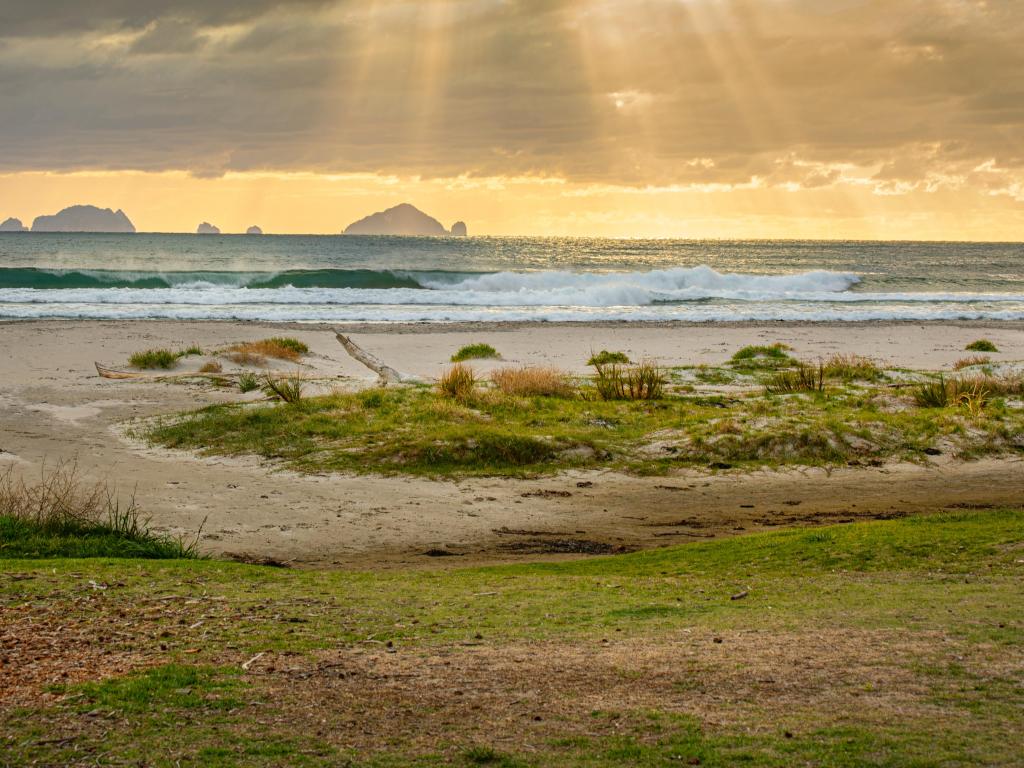 Not only can you admire the scenery, but you can get your artistic fix here as well. Visit The Little Gallery Tairua and Whangamata, a short drive from Pauanui, where you can purchase works from many local artists.
If you want to spend your day outdoors, head to Mount Paku; this steep 30-minute walk will take you to a volcanic peak and give you amazing views over the harbour and ocean.
While in Pauanui, our top lodging recommendation is the Ocean Breeze Resort. This apartment-style accommodation is the perfect blend of comfort and relaxation. The cosy resort is close to the sea, so it's a great beach break/halfway stop.
With all the amenities of home, what stands out is the warm coastal hospitality. Rest is the theme of this beautiful little town. The stylish apartments will make you forget you're a guest, and you'll have plenty of room to spread out in the spacious suites.
The ocean views are spectacular at this resort. Hanging out on the beach is all you need, but there are plenty of activities like fishing, diving, and surfing to do. If you're more laid-back, the gardens, swimming pool, and hot tub facilities will help you relax before you get back on the road.
Where to stay when you reach Rotorua
Known for its geothermal landscapes and beautiful lakes and forests, it's no wonder Rotorua is such a popular place to visit. After your drive, you may want to explore this vibrant city.
Rotorua has some excellent hotel stays, as there is so much to see and do. The stand-out hotel is the Quest Rotorua, a quiet and beautiful little stay. The hotel is central and close to all major attractions around the city.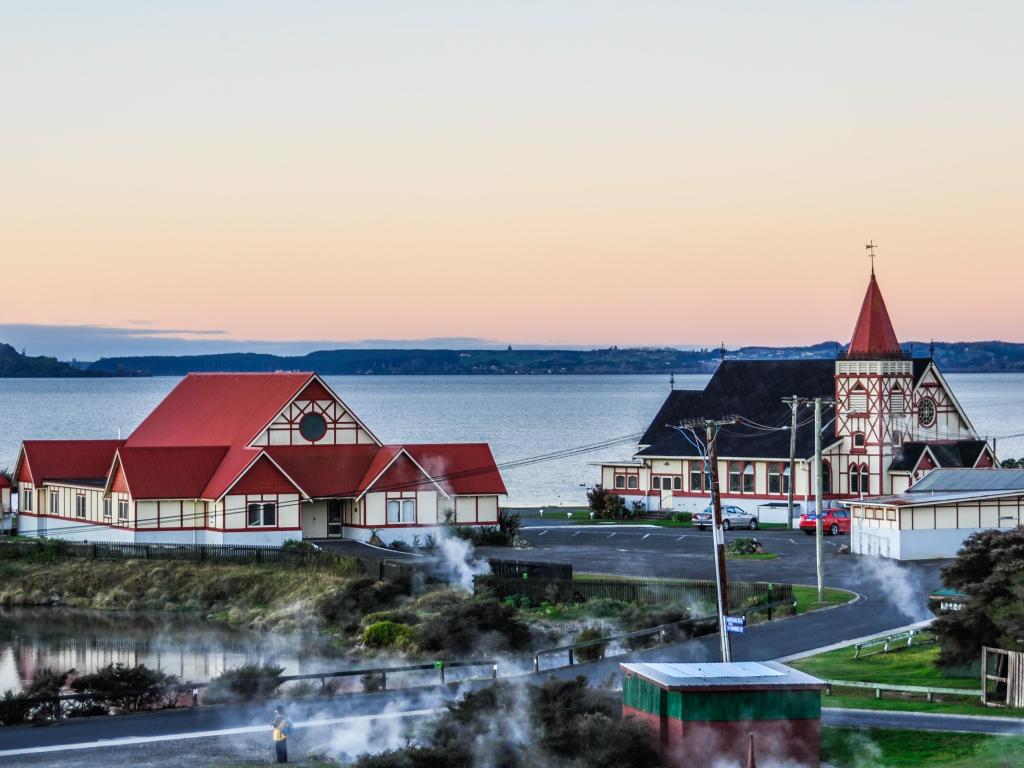 With full amenities, the apartment-style rooms will make you feel right at home. Feel free to unpack and move around because these rooms are beautifully fitted and spacious. After a day of exploring the sights, you will want a comfortable night's sleep, and this quaint little spot gives you just that.
There are beautiful views of the area around the hotel. You won't have to go too far to find some excellent dining options. If you feel homey, you can cook something yourself since the apartments have equipped kitchenettes.
You'll have the privacy of a whole apartment, including a kitchen, bedroom, and bathroom. It's worth it to spend a little extra on this small luxury.
Things to see on a road trip from Auckland to Rotorua
New Zealand's north island is a smooth drive for road trippers, whether you take the direct route or the scenic route. While it can be completed in a few hours, you can easily stretch your trip over a few days to make the most of it.
If you only have time to take in the highlights, then we have just the list for you. Read on for some attractions and stops on each route between Auckland and Rotorua.
The Direct Route
Hamilton - Explore the city on the Waikato River, visit the famous Hamilton Gardens, the cultural Waikato Museum, and the popular gourmet eateries along Victoria Street.
Hamilton Gardens - This public garden is one of Hamilton's most popular attractions. More than just an ordinary park, this beautifully curated space features flowers, trees, and styled gardens from different traditions and civilizations.
Hobbiton Movie Set - Lord of the Rings fans will definitely want to visit the famous Hobbiton, for a tour around the stunning site of Middle-earth.
Piha Beach - Known for its unique black sand, Piha is a popular summer getaway. The beach is ideal for surfing and has impressive, rugged views of Lion Rock.
Meremere Dragway, Meremere - Racing fans can enjoy legal street drag racing here. There are events hosted year-round, so check out the schedule before visiting.
Bridal Veil Falls, Makomako - A beautiful natural attraction, the 55-meter waterfall is a must-see stop. Be sure to take full advantage of the views from the lookout platforms, which are incredible.
Raglan Rock - One for the adventurers, these underground caves make for a challenging climb. The views from the top are worth the effort.
Marokopa Falls - Located in Tawarau Forest, this stunning waterfall is one of New Zealand's most impressive natural attractions.
Waitomo Glowworm Caves - Take a boat ride through the caverns of these eerie limestone caves, and you may be treated to a light show from glowworms in the tunnels.
Sanctuary Mountain, Pukeatua - A stunning sanctuary, this park is home to some of New Zealand's endangered species. Learn more about the surrounding wildlife and enjoy hiking and bush walking around the conservation.
Te Waihou Walkway, Pataruru - A beautiful walkway that overlooks a gorgeous creek, this is a lovely stop to admire the blue water and springs.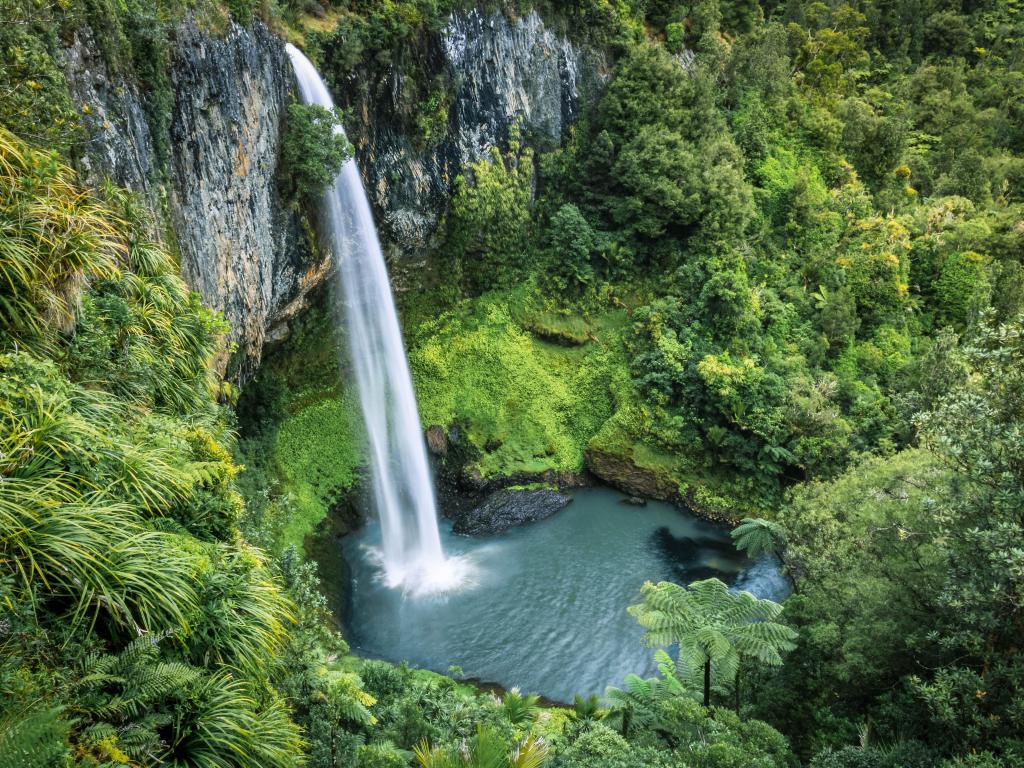 The Scenic Route
Kawakawa Bay - This quaint bay is a great rest stop. Visit the Kawiti Caves and the attraction the town is most well-known for: public toilets designed by famed Austrian artist Hundertwasser.
Hunua Ranges Regional Park - One of the largest native forests in Auckland, this area is a popular camping and hiking spot. The beautiful Mangatangi Reservoir and Hunua Falls are a must-see.
Coromandel Forest Park - Great for camping and hiking, this park has dense, misty forests and beaches. The views are worth the climb, and you may come across swimming holes in the valley.
Cathedral Cove - A marine reserve known for its postcard-perfect beaches, this part of the coast is famous for its giant cathedral-like rock arches and unspoiled white sandy beaches.
Whangamata Beach - This gorgeous beach is famous among surfers and is one of New Zealand's most popular surf breaks. Even if you don't want to catch a wave, the views of the beautiful blue waters are lovely.
Moutohora Island - Also known as Whale Island, this is a small, uninhabited beach off the north island. This area has a very cool secret: a hidden hot water beach!
Mount Maunganui - This coastal getaway is so much more than an extinct volcano - it's a quiet paradise with beautiful views of the sand and surf.
Tauranga - A popular city stop for road trippers, there are plenty of cultural attractions to see here. The ocean views are beautiful, with plenty of water activities to keep you out in the sun.
McLaren Falls Park, Omanawa - A quick drive from Tauranga, this parkland has stunning views of forests and lakes, including Lake McLaren. It's a popular spot for kayaking, hiking, and sightseeing.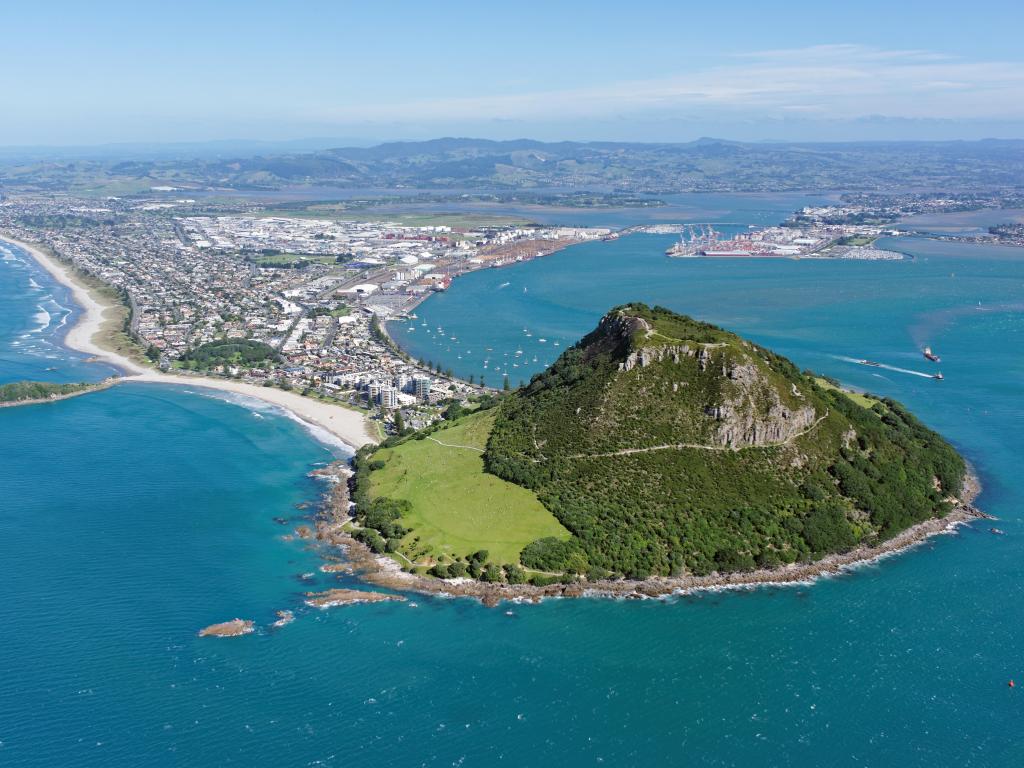 Both Routes
Tikitere, Rotorua - Also known as Hells Gate, this area is famous for its geothermal activity and beautiful natural landscapes.
Whakarewarewa Forest Park -Just a 5-minute drive from Rotorua, this park is a replica of the Californian forest, complete with tall, sprawling Redwood trees.
Waikite Valley - The thermal pools in this valley are said to be 100% pure mineral water. Enjoy this unique and relaxing experience that's just 25 minutes out of Rotorua.
Waiheke Island - A popular day trip from Auckland, this coastal spot is slowly gaining a reputation as New Zealand's Island of Wine. It's home to a lovely array of vineyards, and wine lovers will be spoiled for choice.
Best time to go on a road trip from Auckland to Rotorua
A road trip from Auckland to Rotorua is perfect year-round. The northern island of New Zealand is relatively warmer than the south, meaning you can visit during any season. The subtropical climate makes for ideal road trip conditions, but it's always best to stay prepared.
In the north, summer temperatures usually range from 20 to 25 degrees Celsius. In winter, expect this to be around 12 to 16 degrees Celsius.
December-February is the most popular time to visit, as it is summer in the southern hemisphere. More visitors means higher rates, so keep this in mind when planning your trip. You won't have to worry about snow during winter, but between June and August, expect rainfall.
Many travelers find that Fall is the best time to visit. Weather conditions are typically warm at this time, and since it's out of the peak summer season, you may get better rates.
Spring is also a popular time to visit since temperatures range from 16 to 21 degrees Celsius. You may have to deal with some leftover winter rainfall.
While there are plenty of special events throughout the year, some notable ones include National Alpaca Farm Days, usually held at the beginning of May. It's a year-round attraction, but some events may be free during festival time.
Be sure to celebrate Māori New Year, which takes place in June or July (depending on the year). Traditionally known as Matariki, this event celebrates the first rising of the beautiful Pleiades star cluster.