Road Trip from Auckland to Wellington
Looking for an epic road trip to discover the secrets of New Zealand's North Island? Then look no further, as this amazing journey from Auckland to Wellington will take you past New Zealand's famous wine country, unique hot springs, mud baths and breathtakingly stunning parks.
The 640 km road trip from Auckland to Wellington takes around 7 hours and 30 minutes to drive. You'll drive through Pureora Forest Park, Lake Taupo and Hamilton, or can take the scenic route to visit Tauranga, Rotorua, Orakei Korako and Hawkes Bay.
Spanning the length of the rural North Island, this road trip shows off the Maori culture and geographic diversity of New Zealand at its best. Keep reading for tips on the best routes, when to travel and where to stop along the way.
How far is Wellington from Auckland, and how long will the road trip take?
Comparison of road trip routes between Auckland and Wellington

| Route | Distance | Driving Time |
| --- | --- | --- |
| The Direct Route | 640 km | 7 hours 30 minutes |
| The Scenic Route | 980 km | 13 hours 50 minutes |
The Direct Route gets you from Auckland to Wellington as fast as possible, with no stops in between. This route is 640 km long, which takes approximately 7 hours and 30 minutes of nonstop driving.
This route follows, almost exclusively, one highway, so you won't have to worry about having to pay extra attention to the GPS.
The Scenic Route adds on a significant chunk of time to cover 980 km, which takes 13 hours and 50 minutes to complete. It features the best of the best scenic views through New Zealand's North Island, linking together two of the country's largest cities via both the Eastern and Western coasts.
Though it's more leisurely and less direct, there are plenty more opportunities for scenery and great stopovers.
Depending on how much time you have, we'd recommend taking 2-3 days for the Direct Route and a whole week for the Scenic Route. Taking some time to explore properly will pay dividends for incredible views, show-stopping hikes and a chance to explore some of New Zealand's friendliest towns.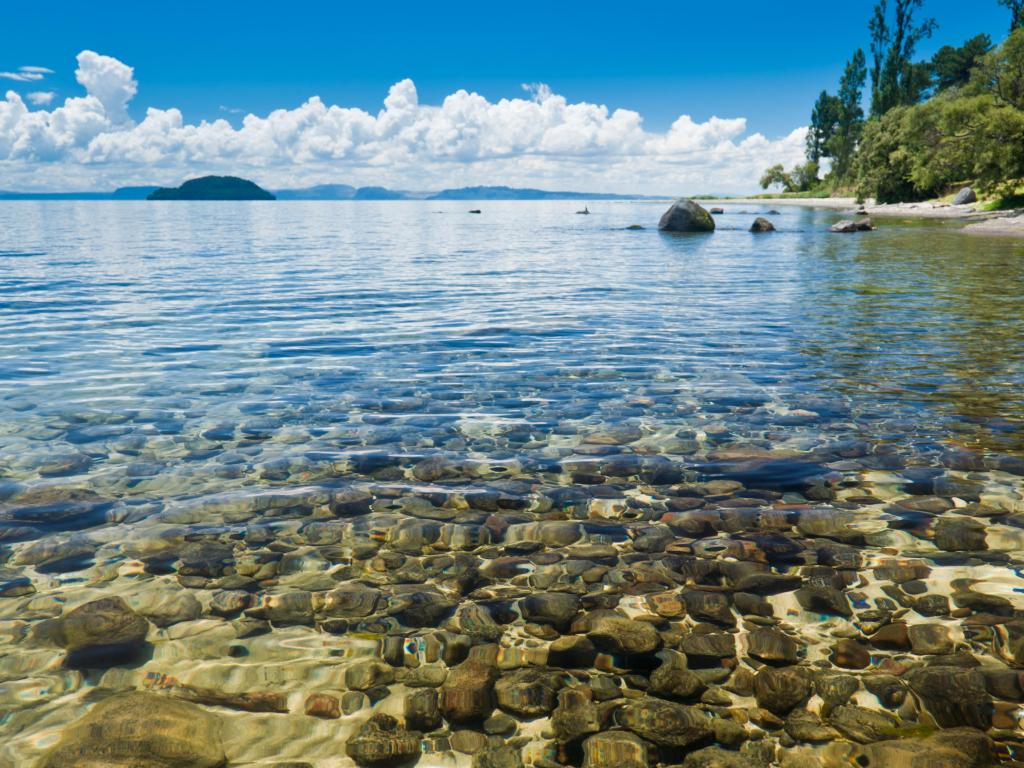 Best road trip route from Auckland to Wellington
We have highlighted two very distinct routes that will take you from Auckland to Wellington, one of which goes directly from A to B while the other winds its way through New Zealand's diverse scenery and hits both coasts.
The Direct Route is the shorter of the two routes and is a straightforward drive, but still packs in tons of scenic scenery along the way. You'll drive through Pureora Forest Park, Lake Taupo, and a stunning stretch along the waters of Cook Strait.
You'll have the chance to stop in Hamilton where you can visit the set of The Hobbit movie!
The Scenic Route takes a winding path through the North Island to offer up the beautiful scenery and several gorgeous stopovers along the way.
You'll get to see a whole host of attractions, including the stunning white sandy beaches of the Coromandel Peninsula, the sulfuric thermal spas of over Lake Rotorua, the gorgeous Orakei Korako caves, the beautiful Maori carvings at Lake Taupo, and the world-class wineries of Hawkes Bay.
There are tons of national parks and forests along the way, including Kaimai-Mamaku Forest Park, Coromandel Forest Park, and Tararua Forest Park. You'll also get to stop in some of the island's larger but lesser-known cities, including Tauranga and Napier.
The Direct Route
From Auckland, take State Highway 1 south out of the city to cross into Waikato. The route hugs the Waikato River for a spell before winding down to Hamilton.
This major city is best known as the site of Hobbiton, where visitors can visit the original movie set where scenes from Lord of the Rings & The Hobbit were filmed.
Continue on State Highway 1 and turn right onto Horahora Road, following signs for Waikato River Trails. Hop out and stretch your legs on one of these great trails if you have time.
Follow Old Taupo Road to join State Highway 32, which winds down past the protected 760 square km of Pureora Forest Park.
Turn left onto State Highway 41, and turn right back onto State Highway 1. The road travels through Tongariro National Park, where you can hike the Tongariro Crossing and see the distinctive green sulphurous pools.
Continue on this road until it meets the Western Coast, where you can stop at some amazing beaches including Waikanae Beach and Paraparaumu Beach. Follow the road south until it hits Wellington Harbour and you arrive at your destination.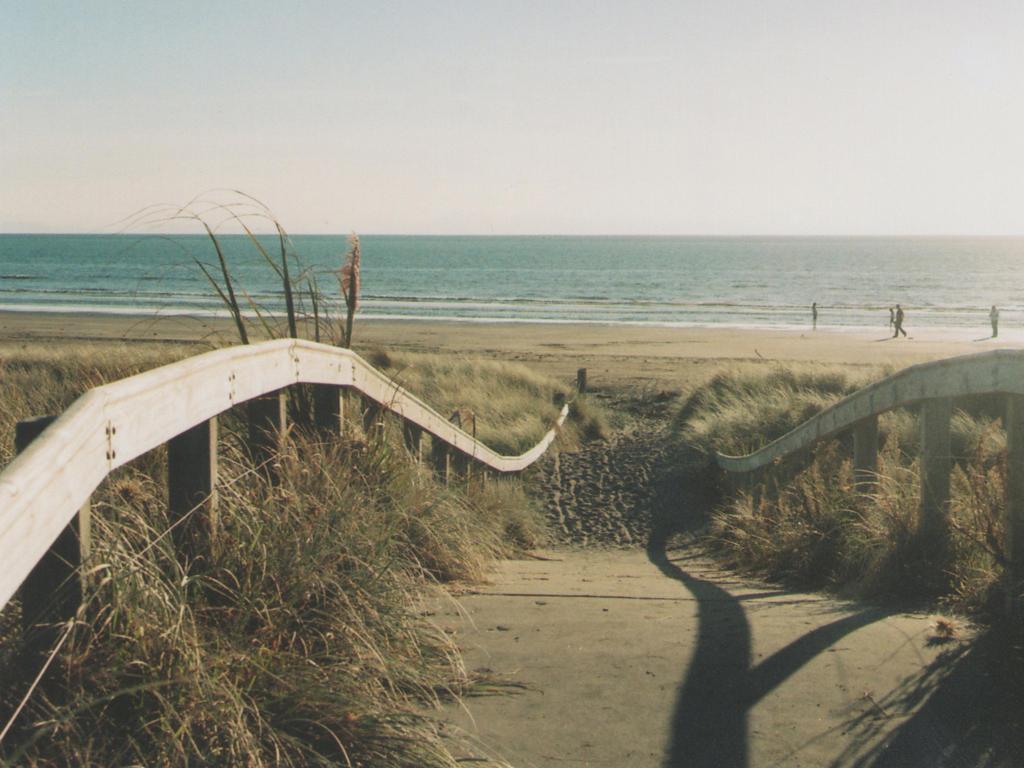 The Scenic Route
Follow State Highway 1 out of Auckland, then take the exit for State Highway 2 at Pōkeno. The route hugs the Firth of Thames to wind up to the coastal town of Coromandel via State Highway 25.
Follow State Highway 25 back around the other side of Coromandel Forest Park and see some fabulous ocean views from the East Coast.
Turn onto State Highway 2 to follow the rugged coastline down to Tauranga. This Victorian city is named after its volcano, which you can climb to get a bird's eye view of the metropolis.
Follow State Highway 36 to head down to Rotorua, known for its mud pools and fizzing hot springs. Take State Highway 5 down through Whakarewarewa Forest Park and turn right to follow signs for Orakei Korako Cave and National Park.
Rejoin State Highway 1 to arrive in Taupo. This town is set on a massive deep blue lake, where you can go fishing, hiking and biking. Take State Highway across the land to reach the East Coast and Napier.
Spend a night exploring the famous vineyards of Hawkes Bay, then take State Highway 2 back west and follow signs for Wellington.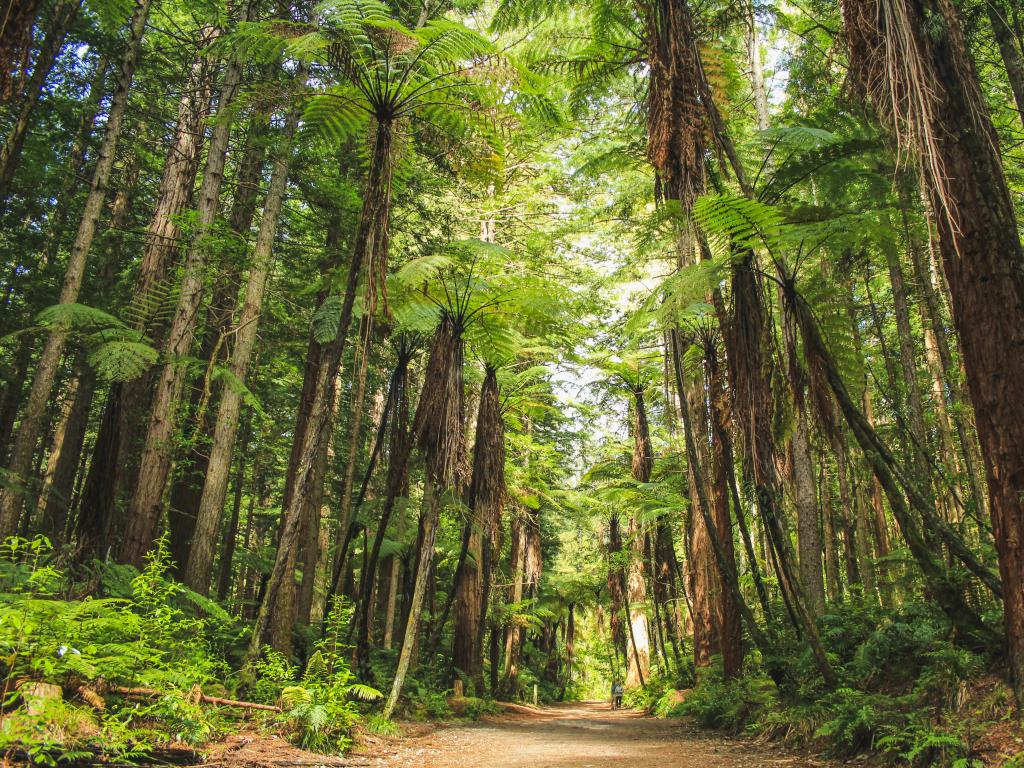 Best places to stop between Auckland and Wellington
New Zealand is home to some quirky cities with distinctive local flavour, which are well worth stopping in to explore overnight. We've selected a few of our favourites that tick all the boxes in terms of great accommodation, plenty to do and fabulous scenic backdrops.
Admire the scenic surroundings of Hamilton and Waikato
About a third of the way along the Direct Route, you'll drive through Hamilton. It's the only major city along this route before reaching Wellington and makes a great overnight stop due to its cultural institutions and attractions, including The Hobbit film set and the Waikato Museum.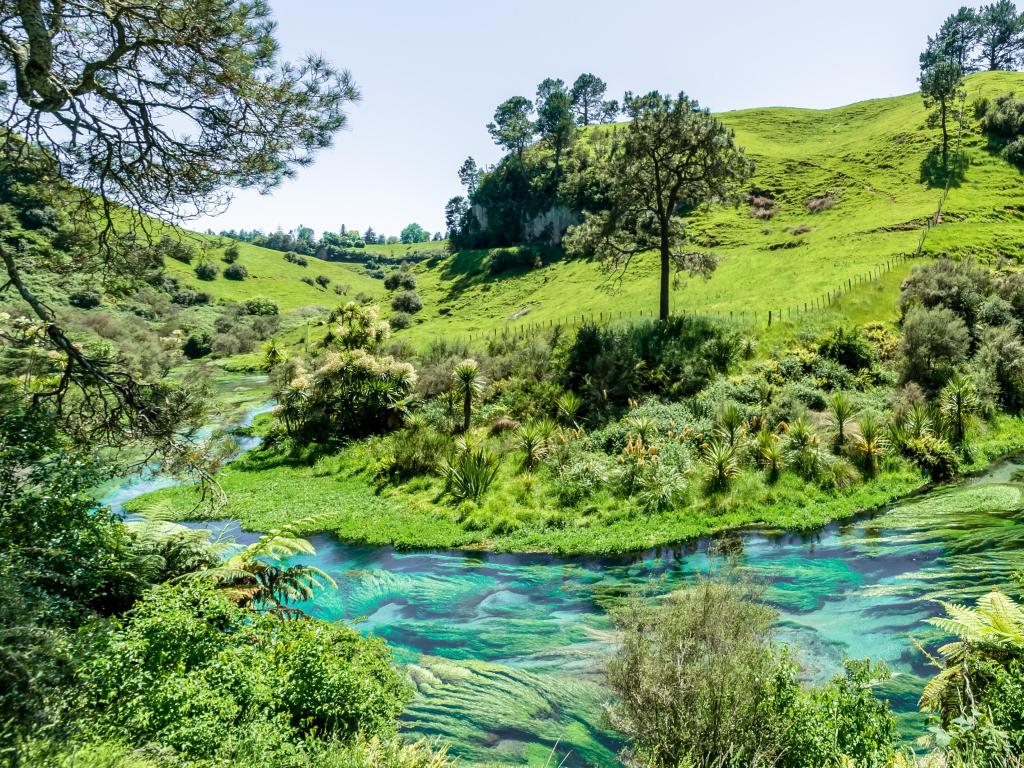 The twinkling glow worms of Waitomo are world-famous, and you can take a guided tour of the Waitomo caves to see them sparkling across the ceiling of these massive caverns.
If you're a Tolkien fan, you can't miss taking a guided tour through the Hobbiton Movie Set. You can even feast like a hobbit by enjoying an interactive dinner experience.
Located on the banks of the Waikato River, Novotel Tainui Hamilton is a top-rated hotel with a fitness centre, lobby bar serving delicious cocktails and 24-hour front desk. It's worth visiting for the award-winning restaurant alone, which serves a contemporary mix of Pacific Rim and European cuisine.
The hotel is located downtown, so you can ditch the car and explore the nearby attractions on foot. It's conveniently close to the Hamilton Gardens, the Waikato Museum, St. Peter's Cathedral and the Waikato River.
Taste the local vintage in Napier
Just over halfway along The Scenic Route lies the city of Napier. While some of the other stopover points on the route can be explored in a few hours, Napier definitely offers enough to explore overnight. As a bonus, it's in the middle of New Zealand famous wine country!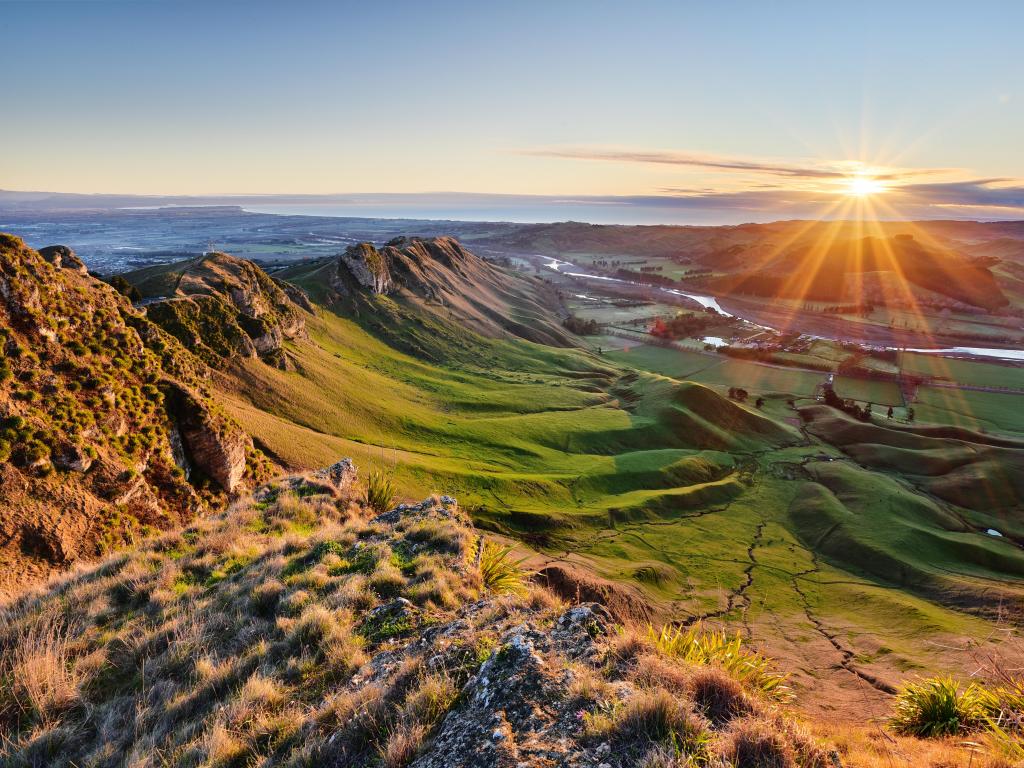 Napier is also home to The National Aquarium of New Zealand, a wonderful facility boasting tons of marine and land animals, as well as an underwater glass tunnel.
New Zealand is known for its world-class wine-growing regions, and Hawkes Bay is up there with one of the most significant. Make sure to check out one of the many wineries here, many of which have amazing restaurants attached to them.
For a luxurious stay, try The Crown Hotel, which overlooks the waterfront and offers boutique accommodation minutes from the city centre. You can't miss the building - its heritage-listed in the city's signature Art Deco style and boasts a fitness centre and free parking.
Make sure to check out the fabulous restaurant on-site for an amazing meal without having to leave the convenience of heading to your room right after a night cap.
The location is unmatched - it's right on the beach which is perfect if you're travelling in the summer and looking to enjoy the gorgeous waters. It's five minutes form the city centre and close to the highway which takes you back on route the following morning.
Where to stay when you reach Wellington
Wellington is the cultural hub of New Zealand, with a vibrant culture, food and drink scene to explore.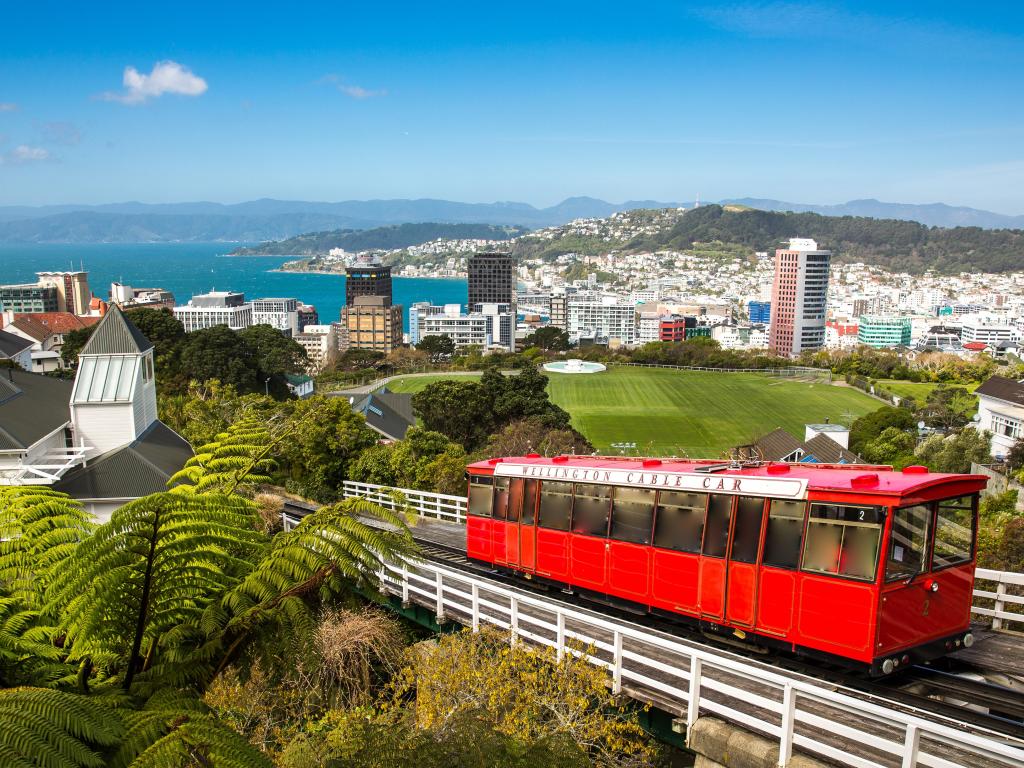 Book a room at the Bolton Hotel to treat yourself - this boutique 5-star hotel is right in the centre of Wellington's business district. It has great facilities, with a fitness centre and spa pool, and the spacious rooms and suites offer views of downtown Wellington.
New Zealand loves its coffee, and the lobby cafe here serves locally roasted beans, while the on-site restaurant serves modern New Zealand cuisine. Bonus - they offer a delicious breakfast to fuel up before heading out to soak up the city.
There is private parking, so you don't have to worry about your car, and room service if you want to relax in style!
Things to see on a road trip from Auckland to Wellington
From thermal springs to rock carvings and dense forests, we've rounded up a list of the best attractions and natural wonders to discover on your drive.
The Direct Route
Pukemokemoke Bush Reserve - Discover the walking trail that takes you through this stunning reserve, boasting native fauna and gorgeous panoramic views.
Blue Spring Putaruru - Take in the stunning waters of Blue Spring, which supplies 70% of New Zealand's bottled water and is celebrated for its azure colour.
Mine Bay Maori Rock Carvings - These contemporary Maori carvings are carved right into lakeside rocks. Add about an hour to your journey to discover these beautiful artworks.
Lake Taupo - The largest lake in New Zealand and Australia, Lake Taupo is best enjoyed via a scenic boat tour.
Kaimanawa Forest Park - Enjoy trekking, biking and birdwatching in the stunning green forests of this lush protected park.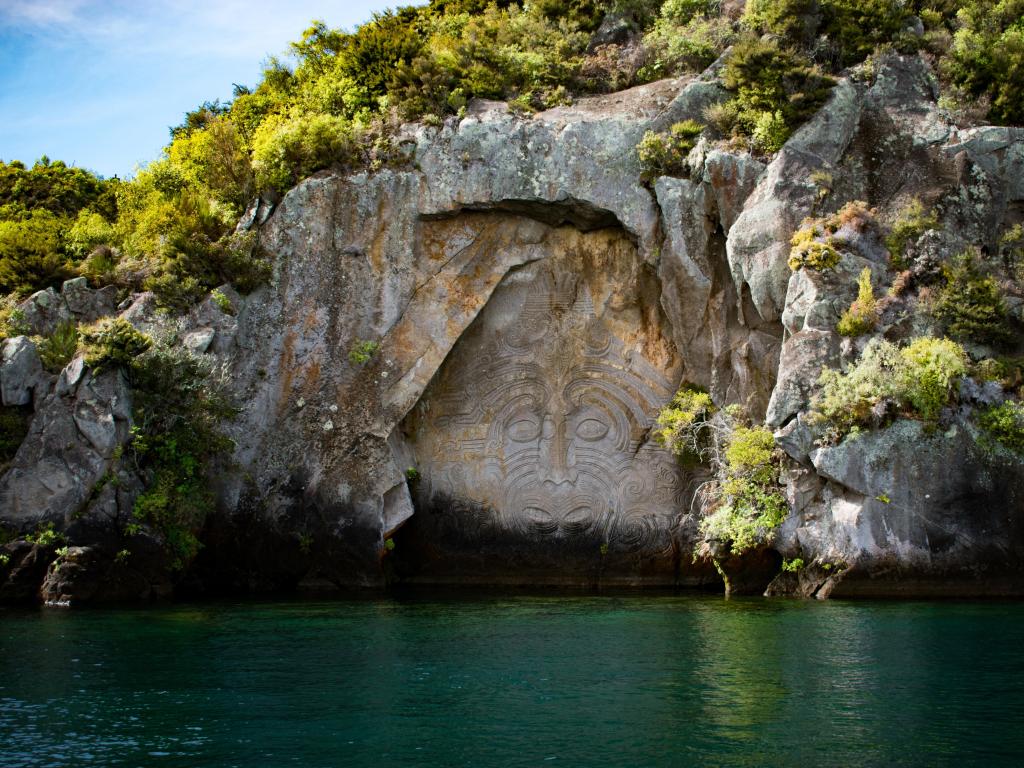 The Scenic Route
Coromandel - Located on the Coromandel peninsula, Coromandel is a small coastal town that is a favourite amongst New Zealand holiday-goers due to its gorgeous beaches and laid-back vibe.
Tauranga - A small coastal city in the Bay of Plenty region, Tauranga is known as an international centre for fashion, culture and trade.
Rotorua - Take in the bubbling mud pools and erupting Pohutu Geyser in this small city known for its strong Maori culture.
Orakei Korako Cave and Thermal Park - Visit the Orakei Korako Cave and Thermal Park, which provides a unique geothermal experience, including hot springs and some of the largest silica terraces in the world.
Kaweka Forest Park - This vast park is popular amongst locals and tourists alike for its hunting, fishing, trekking and rafting.
Napier - Take the time to thoroughly explore the wonderful city of Napier, located along the eastern New Zealand coast and celebrated for its rich food and wine scene.
Central Hawkes Bay Museum - This wonderful museum houses an extensive collection of local and national artefacts and artworks.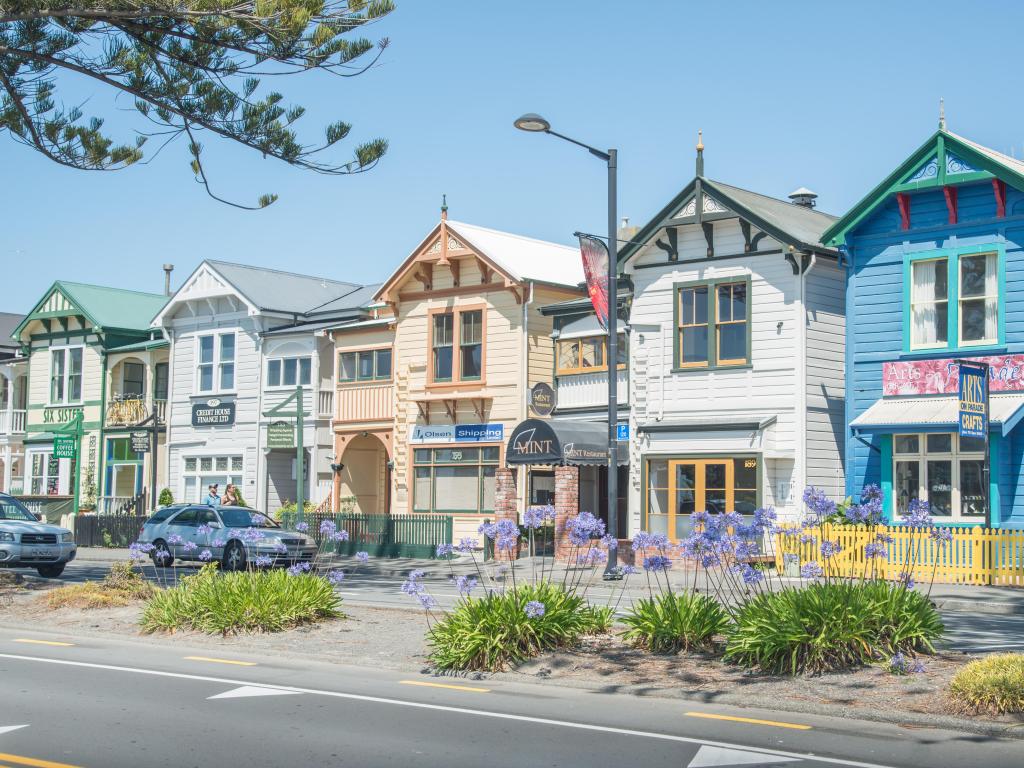 Both Routes
Tararua Forest Park - The Tararua Forest Park boasts stunning mountainous valleys and is easily accessible along both routes.
The Victoria Esplanade - Discover this serene park boasting rose gardens, BBQs, aviaries and a café, right on the Manawatu River.
The Manawa Museum - Check out this cultural centre that boasts tons of contemporary art, natural history exhibits and fun events.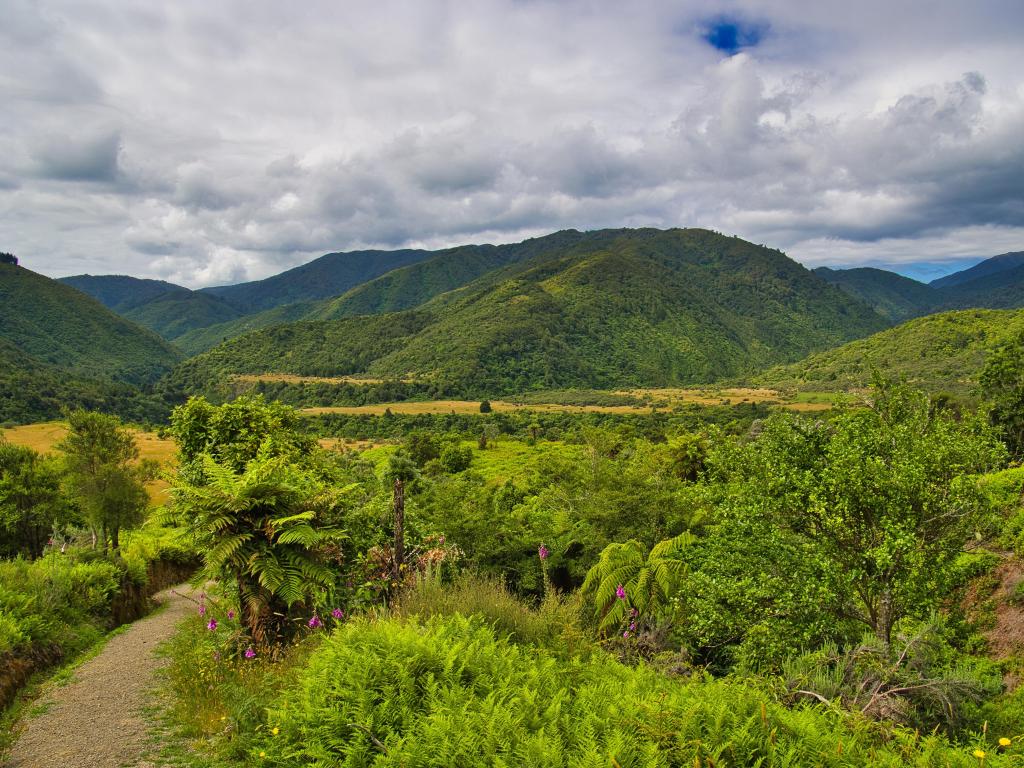 Best time to go on a road trip from Auckland to Wellington
Wellington is a large coastal city that has tons to offer regardless of season, so it's definitely a year-round destination. The weather is relatively mild and temperate, so you'll find that there's always something to do and that you won't have to worry about inordinately bad weather.
However, keep in mind that if you're planning on visiting attractions that are located at a higher altitude you may be faced with snow or ice during the winter. Make sure to check weather and road warnings before setting off.
In the summer (December to February) temperatures generally stay within the 15 to 25 degrees Celsius range, sometimes dipping under or going over. Summers in Wellington tend to be the busiest tourism season, and they can also sometimes be a little muggy.
This means that the hotel prices will be at a premium and the attractions will be crowded. However, if you don't mind the crowds, most events and festivals take place during the summer period, though you'll find lots to do outside of this time as well.
Make sure to check out Wellington Wine and Food Festival if you are visiting in December and 121 Festival if you are visiting in March (in autumn).
In winter (June to August) temperatures generally stay between 7 to 11 degrees Celsius, and rarely go below 4 degrees. This is the rainiest season in Wellington.
Spring and fall are the mildest seasons as you might expect, with temperatures ranging between 10 and 20 degrees Celsius. These seasons are the tourism shoulder seasons, and a great time to visit Wellington as you don't have to worry about the rain of the winter season and can still enjoy much of the summer's tourism offerings.