Road Trip From Chicago To Acadia National Park
A road trip from Chicago to Acadia National Park is undoubtedly one of the most scenic trips we've come across - and one of the most varied. After all, it'll take you through over 8 different states along the way.
The 1260-mile road trip from Chicago to Acadia National Park takes just under 19 hours to drive. Highlights along the way include Cleveland, Buffalo, Syracuse, Albany, Boston, and Portland, as well as Seneca Lake and Niagara Falls.
Ready to give this nature-filled road trip a try? Below is some information to help give you some ideas and get you started.
How far is Chicago from Acadia National Park and how long will the road trip take?
The drive from Chicago to Acadia National Park is about 1264 miles depending on the route you decide to take and will take approximately 20 hours to accomplish.
If you try to leave Chicago right after work on a Friday afternoon, you can expect not to be making much progress for hours. This route also passes through New York State, which can have a lot of traffic around the major cities. You should plan at least 2 days full of driving when choosing this road trip.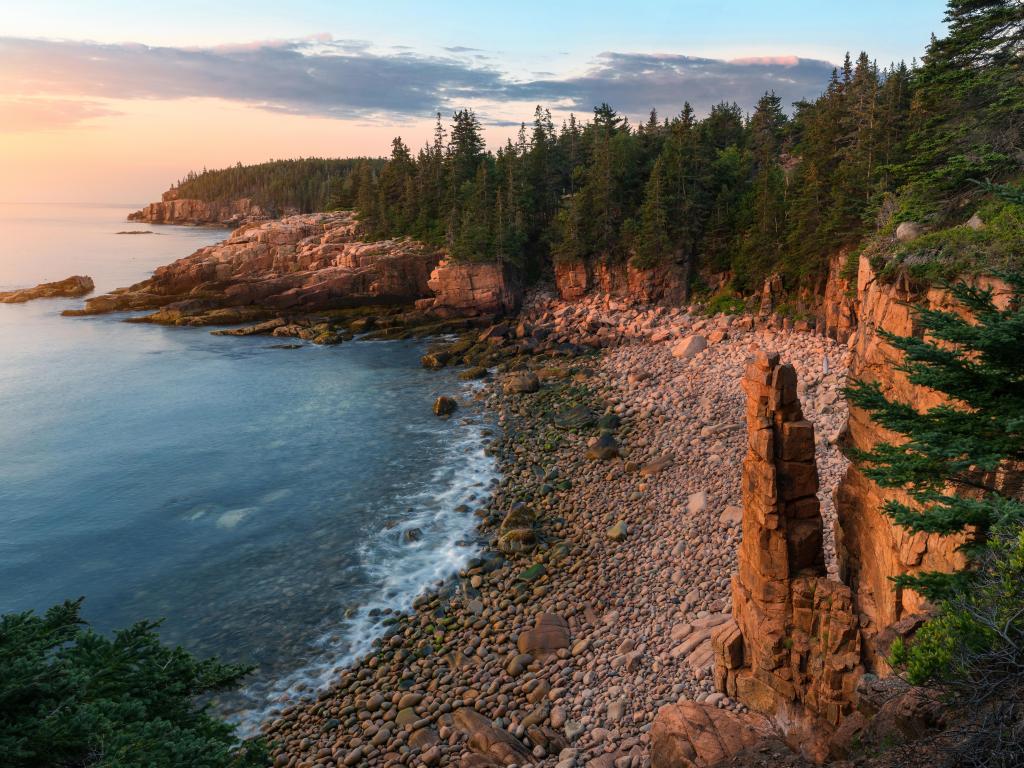 These two full days of driving would be quite unpleasant, however, as 10 hours in a car is a long time. Instead, you should plan this trip for when you have at least a week off work. That way you can spread each leg of the drive into 3, or maybe even 4 days, and enjoy everything you find along the way.
So if you love nature, and truly want to see the beauty of Maine and the Acadia National Park, then a road trip is a must. There are stops on this route which simply aren't visible from the sky. For this reason alone, it's high time you hit the road.
Best road trip route from Chicago to Acadia National Park
Of course the best route from Chicago to Acadia National Park is definitely not the easiest, nor the fastest way to get there, but you will be guaranteed to have the best experience and see all the most scenic stops!
Remember, sometimes the journey is more important than the destination, and this road trip is all about the journey. So take a week off work and plan to enjoy this trip in the way it was meant to be enjoyed.
If you are visiting Acadia National Park and plan to drive on the Cadillac Summit Road, keep in mind that vehicle reservations might be required. Please check the national park's website to avoid any disappointment.
Road trip route from Chicago to Acadia National Park
Start your journey by taking the 1-90 out of Chicago towards Cleveland. The first part of the drive is flat, easy cruising, as you pass through cities like South Bend, Indiana, and Toledo, Ohio. You'll arrive in Cleveland in about 6 hours.
From there you'll want to continue on the I-90 along the coast of the great lakes until you pass through Buffalo, New York, allowing you to stop at the iconic Niagara Falls. Take an umbrella and rain coat, because you'll need it to take a picture at this location.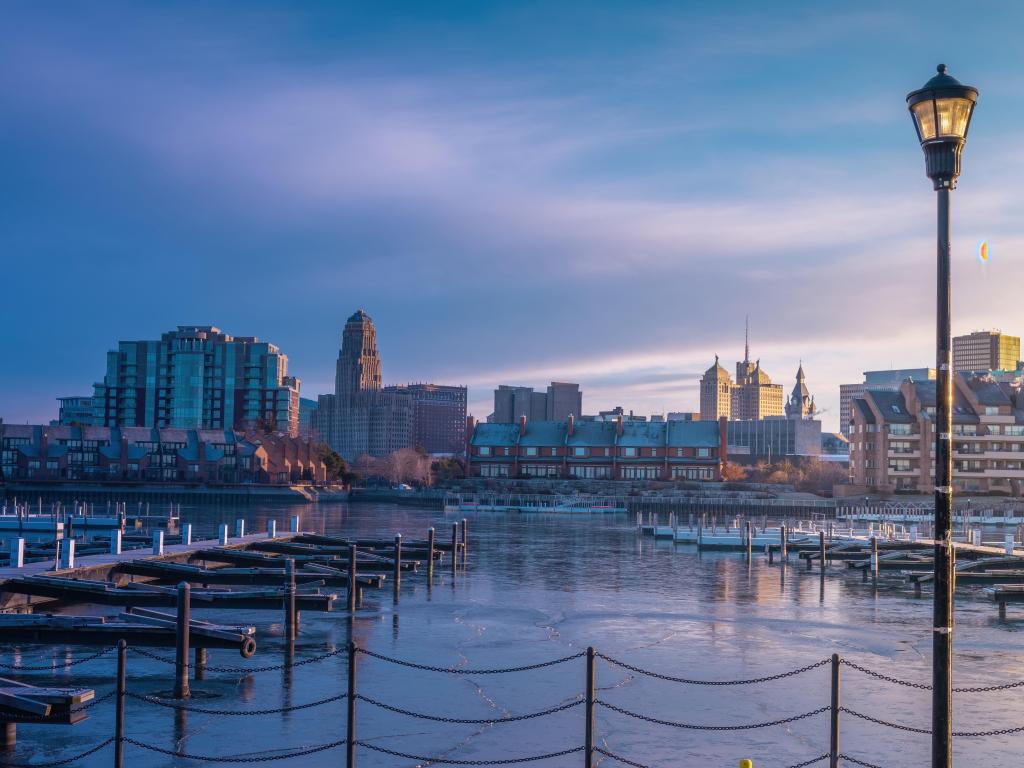 After enjoying Niagara Falls, you can hop back onto the I-90 and continue on to the historic city of Boston. Here you can enjoy walking the Freedom Trail - and also dig into some delicious Lobster that this area is known for.
With a full stomach, get on the I-95 north which will take you the rest of the way to Acadia National Park. This leg of the journey isn't without it's stops, however, as you will pass through historic Salem, Massachusetts, and Portland, Maine along the way. You'll drive most of this along the gorgeous north eastern coastline, before crossing the Trenton Bridge to arrive at Acadia National Park.
Best places to stop between Chicago and Acadia National Park
The road trip from Chicago to Acadia National Park cannot be done in one day. Although it can be done in two days of monotonous driving, it's best to plan for at least a couple overnight stops to break up and enjoy the sites you will be passing through.
Explore the city of Cleveland at night
Although Cleveland is only 6 hours into the journey, it's a bit tiring to try to get to Niagara Falls all in one day, thus you'll probably want to plan to spend your first night here. Cleveland is a sizeable city and there's no way you'll be able to see everything here in one night.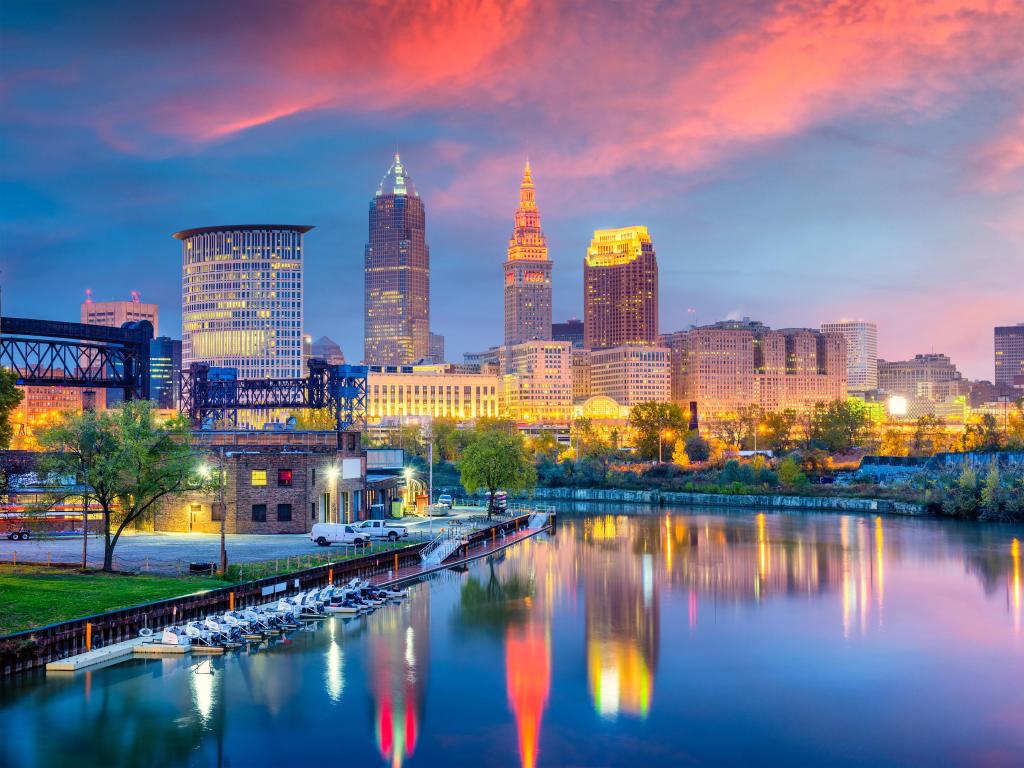 If you arrive in the afternoon, you can enjoy a variety of museums, before heading out on a walking tour of the town, or keeping warm in a local brewery. Tuck in at the Drury Plaza Hotel Cleveland Downtown, where you can soak at the indoor pool after a long day of driving. Located right in the center of the city, you'll find plenty of sights easy to reach by foot.
Thinking you might want to catch a game while you are staying in Cleveland? Then it's best to book a night at the Hilton Cleveland Downtown, where you will be within walking distance of the stadium. You'll still be close to all of the nightlife, and there is a restaurant on site if you'd like to grab a quick bite before hitting the road the next morning.
Snap photos of the iconic Niagara Falls
This next stop is only about 4 hours from Cleveland, so either you'll have a short day of driving, or you can choose to skip the overnight in Cleveland and make it here in one day. The only problem with that is you won't have enough time to take in the beauty of Niagara Falls. Therefore it's probably better to take the 4 hour driving day to give yourself time to explore.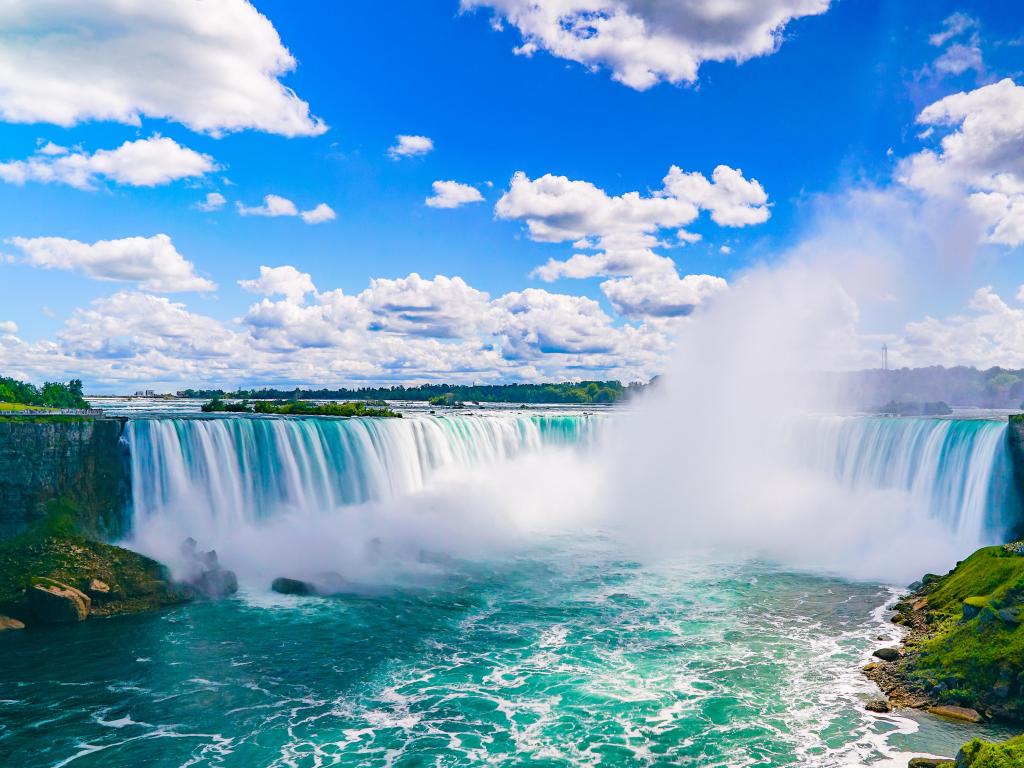 After a long day of standing near the largest waterfalls in the world, you'll probably want to find a place to kick up your feet and relax. The best hotel to do this at is the Comfort Inn The Pointe. This hotel is within walking distance of the Falls, so you won't need to find parking twice. You'll also be within walking distance of many food and beverage options.
If the day of sightseeing hasn't tired you out, and you think you'd rather enjoy a little nightlife, then you should stay at the Sheraton Niagara Falls which is attached to the local casino where you can try your luck to win some extra cash. The casino offers many indoor dining options which are especially convenient if you are embarking on this road trip during the late fall, winter, or early spring.
Walk through history with an overnight stay in Boston
You simply can't make it to Acadia National Park in one day, so a stop in Boston, Massachusetts, should be on your list. As one of the most historic cities in the nation, you will not run out of things to do on this stop.
Driving and parking can be a bit difficult in this city, so even with your car you'll want to find a hotel that is in a convenient location to spend the night. Hotels in Boston can run a pretty penny so look into The Godfrey Hotel Boston as it is one of the less expensive mid-city options which will keep you in all the action.
At this location, you'll be right across from the historic Boston Commons, and a quick walk to both the Park Street Church, and the Public Gardens. The New England Aquarium is only a slightly longer walk away and be sure to stop for a beer or two in all the bars and restaurants you will pass by. Although Boston is only a stopover, you'll want to be sure you spend at least a few hours enjoying this city.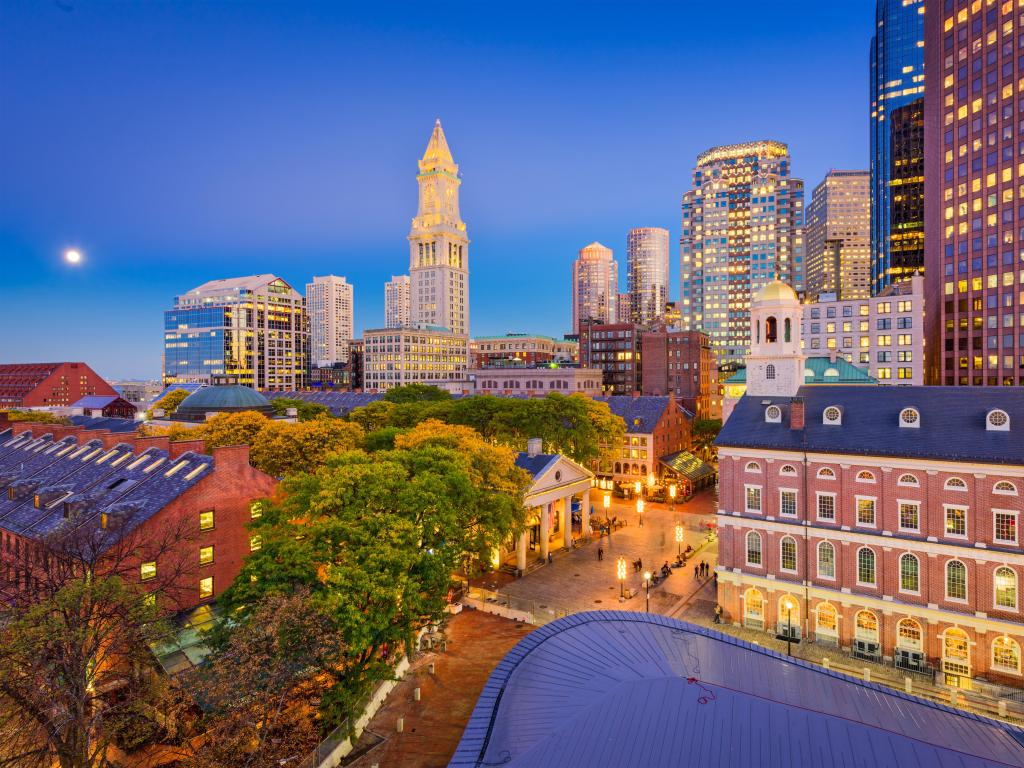 Things to see on a road trip from Chicago to Acadia National Park
The best part about this road trip from Chicago to Acadia National Park is that you will not run out of things to do along the way! Besides the listed stopovers, there are many smaller towns that will have amazing stops to fill an hour or two of your time.
Basically, if you let it, this trip could probably go on for a month, so it's best to narrow down what you want to do before you leave. I've done a bit of the work for you, so take a look at this list of the best things to do between Chicago and Acadia National Park:
University of Notre Dame - A beautiful university situated in South Bend, Indiana, great for a quick look around or to see a sports game.
Rock and Roll Hall of Fame - Check in on some of the most famous musicians of all time and take pictures of rock n roll memorabilia in Cleveland.
Cleveland Museum of Art - Take a look at some of the most beautiful modern art in the United Stated.
A Christmas Story House- Visiting this house from the movie will bring back all your childhood memories.
Cleveland Metroparks Zoo - View large animals from near and far in natural looking habitats.
Presque Isle State Park - Learn all about the history of Lake Erie in American Wars as well as enjoy the beautiful scenery.
Ashbury Woods -Stop and stroll through these ancient woods for a unique view of nature.
Niagara Falls - Crossing this one off your bucket list is a must!
Buffalo, New York - Stop and grab some chicken wings from the place which started it all.
Seneca Lake - Enjoy a beer or wine tasting while basking in a picturesque view of Seneca Lake.
Freedom Trail - Walk through history enjoying many museums and historic sites along the way.
Quincy Market - Grab a lobster roll, or four, and check out other tasty local treats.
Harvard University - This beautiful campus will take your breath away.
Museum of Fine Arts Boston - An exquisite fine art museum; and the 20th-largest museum in the world.
The Harvard Museum of Natural History - It's only fitting that this world-class institution with so much history would have one of the best history museums.
Old Burying Point Cemetery - An iconic cemetery that was the center of the Salem Witch Trials.
Salem Witch Trials Memorial - A simple, sober memorial to all those killed during the Salem Witch Trials.
Old Port, Portland, Maine - Walk through the historic yet funky city of Portland, Maine, enjoying the architecture and some local eats.
Casco Bay - Enjoy this historic lighthouse and possibly arrange a boat tour of this gorgeous bay.
Obviously, this is an abbreviated list of all the things you can see along the way, but there simply no way to fit it all so you'll have to make some choices!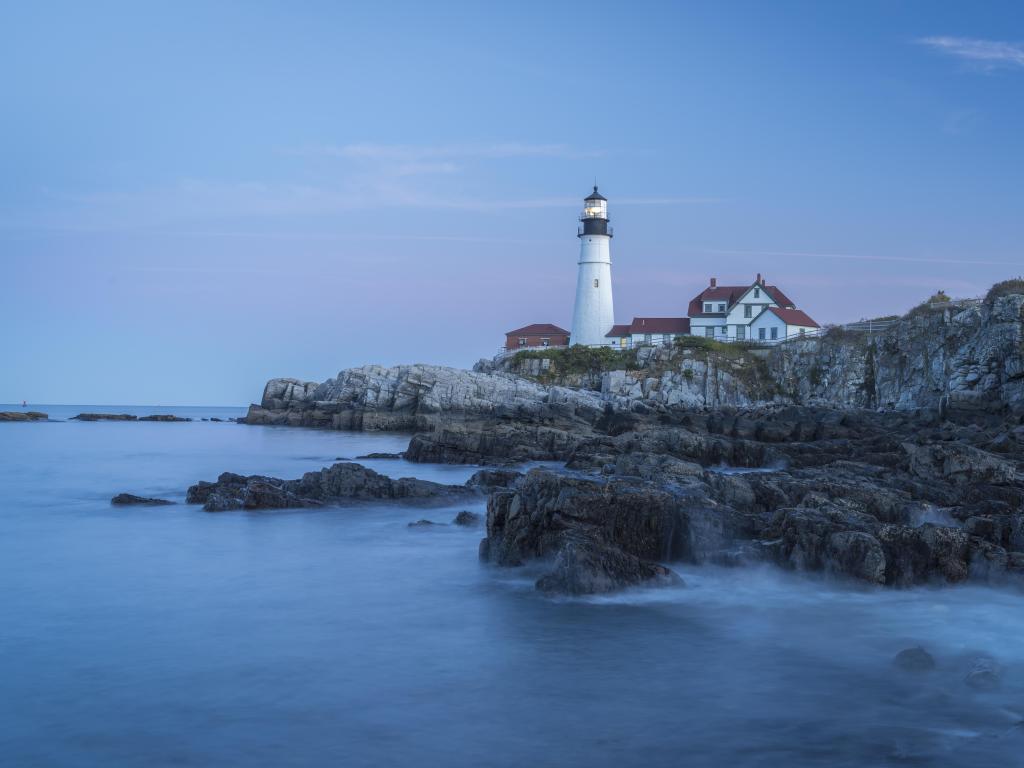 Best time to go on a road trip from Chicago to Acadia National Park
Because this road trip is in the northern part of the United States, it is best to embark on it during the summer, early fall, or late spring months. This will lower your chances of getting caught in inclement weather, as well as making it more enjoyable to see the outdoor activities. Additionally, some of the attractions are closed in the middle of the winter.
This route is most crowded in the summer however, so see if you can go during the late spring or early fall. No matter when you decide to go, you will want to check the weather and pack accordingly before you leave as it may still rain or be a bit chilly!