Road Trip from Chicago to Asheville
The road trip from Chicago to Asheville is one of the most scenic trips in the country. The landscape transitions from endless stretches of grassland as you drive down across Kentucky into rolling hills and mountainous forest vegetation as you make your way through the famous Gatlinburg into Asheville.
The 657-mile road trip from Chicago to Asheville will take you around 10 hours to cover. Highlights en route include Indianapolis Speedway Museum, Clifty State Park, Abraham Lincoln's birthplace, the resort-like Gatlinburg, and the Blue Ridge Parkway.
As one of the best road trips you will ever take, you want to ensure that you have tips and guides to make sure that you make the most out of the trip. Keep reading to get a detailed guide and itinerary.
How far is Asheville from Chicago and how long will the road trip take?
If you take the fastest route, and all factors remain constant, the road trip from Chicago to Asheville will take you about 10 hours and 05 minutes. You will cover a distance of 657 miles should you choose to drive without making a stop. While this may seem like quite a long distance, the scenic landscape and attractions along the way will make your road trip worthwhile.
To enjoy the drive with everything it has to offer, you can split the trip into 2 or more days, depending on how much you want to explore.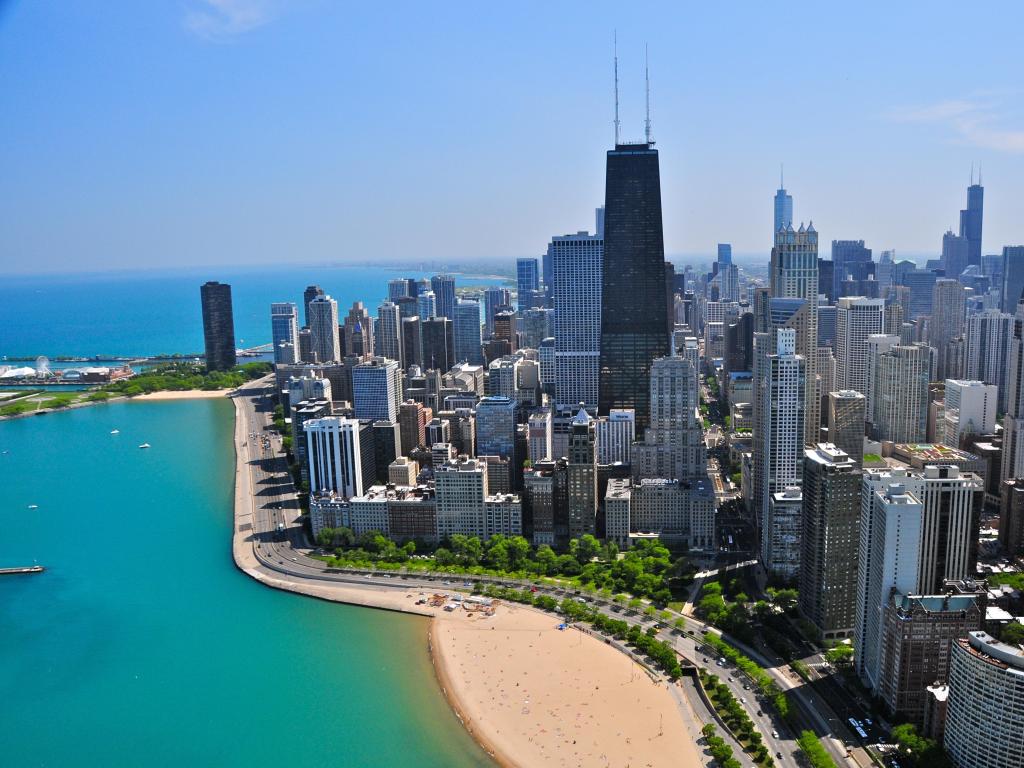 Best road trip route from Chicago to Asheville
The interstate route is famous for its rolling hills, greenery, rivers, and mountainous landscape. It will take you through beautiful stretches of horse farms in Louisville and Lexington, smoky mountainous landscapes of Pigeon Forge and Sevierville cities, and so much more.
You will experience some of the most beautiful sunsets and sunrises you've ever seen, thanks to the Great Smoky Mountains in Gatlinburg. Gatlinburg also happens to be the most famous city along this route.
The route is not known to have heavy traffic. However, you should be ready for anything. Factors such as the weather and road closures might affect traffic.
Road trip route from Chicago to Asheville
The best road trip route is always the one that offers the most scenic views and attraction sites. In this case, you should start your trip by taking Interstate 65 from Chicago through Indianapolis to Louisville. You will cross the famous Ohio River.
Next, make your way to Lexington, renowned for horse farms, using Interstate 64. From here, drive down Interstate 75 which will take you through London and Knoxville cities. Knoxville is a great opportunity for you to indulge in history as you explore its museums and architecture from the early 19th century.
From Knoxville, your next stop should be Gatlinburg, accessed via Interstate 40. However, you can make detours in Pigeon Forge and Sevierville, which are along the route.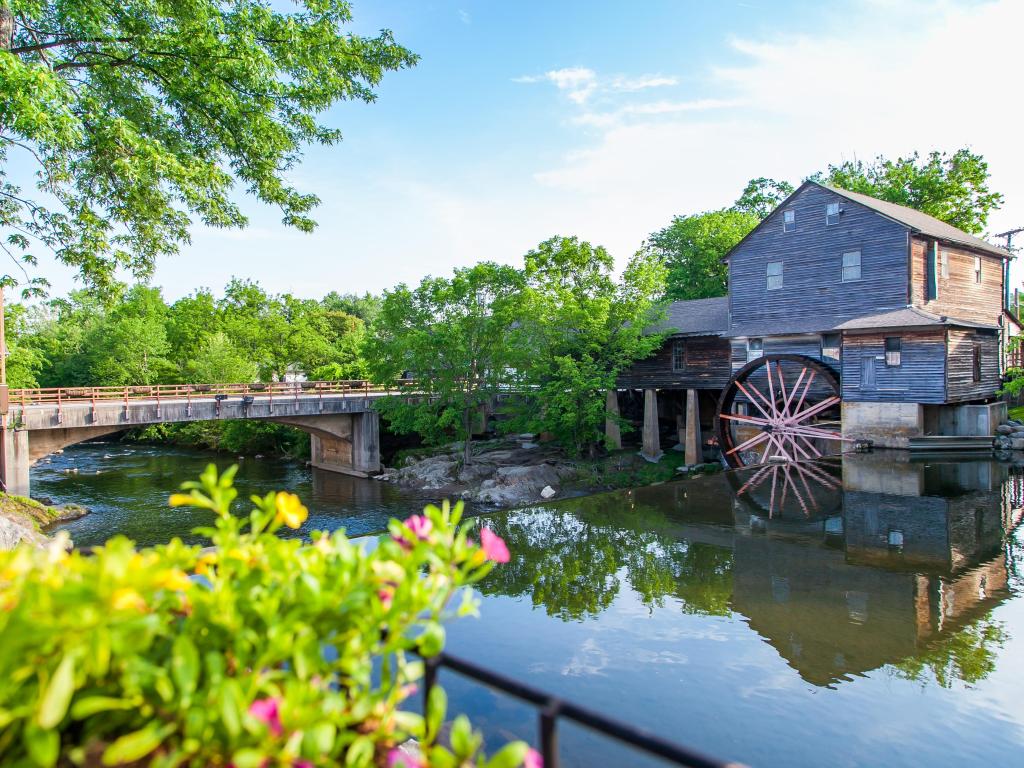 You will want to explore Gatlinburg, famous for its history, shopping opportunities, and scenic landscape. Here you will also find the Great Smoky Mountains National Park.
From Gatlinburg, you have two road trip route options. You can continue on Interstate 40 which will take you to Asheville in about 2 hours. It is the fastest route and winds through the mountains down to Asheville.
Alternatively, you can opt for the more scenic route which passes through the Blue Ridge Parkway, also known as 'America's favorite drive'. The route is slightly longer by about an hour but worth every minute.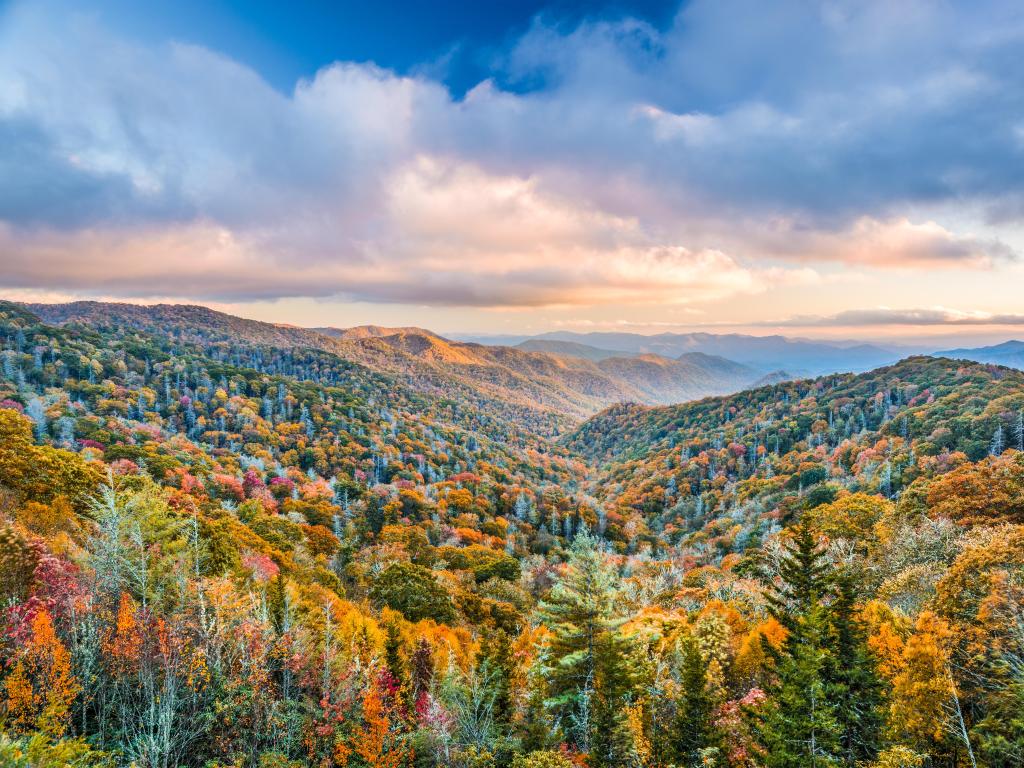 Best places to stop between Chicago and Asheville
Most of the cities located along the road trip route from Chicago to Asheville are renowned travel destinations. Because of this, there are countless hotels and resorts where you can enjoy world-class dishes and good sleep:
Feel the need for speed in Indianapolis
Indianapolis is the largest metropolis on our route to Asheville, and certainly one you will not want to miss. Practically synonymous with the world's largest single-day sporting event, the Indy 500, this city is known for its fast-paced, fun-loving attitude. And, with one third of your road trip already completed, you'll no doubt be ready to kick back and be entertained.
The super-stylish Ironworks Hotel Indy is helpfully located in Indianapolis' upscale north side neighborhood, less than a mile away from The Fashion Mall at Keystone. Take this opportunity to enjoy the city's industrial vibe with this hotel's modern rustic decor. And - even better - take in an amazing view with a cocktail in the Ironworks' trendy rooftop lounge.
While in town, make sure you make a pit-stop at the famous Indianapolis Motor Speedway, which is an easy 25-minute drive from the hotel, and check out the accompanying museum to refuel your love of driving!
Enjoy the beauty of the Blue Ridge Mountains
The Blue Ridge Mountains in Asheville are famous for their scenic lush green vegetation or bright-colored foliage, depending on the season. They are the ideal place to get lost in nature. There are different hotels and resorts located nearby but the Omni Grove Park resort takes the win, with its exceptional architecture, setting and views.
This 4-star hotel sits in the heart of the Blue Ridge Mountains, surrounded by trees and mountains. It has four restaurants that serve delicious cuisines made from locally sourced farm produce. You will have a world-class dining experience.
The state-of-the-art rooms are elegantly decorated and equipped with all the amenities you need to make your stay comfortable and memorable. The rooms offer scenic views of the Blue Ridge Mountains landscape.
Amenities include a golf course, an indoor pool and a subterranean spa.
Go for it - you deserve to treat yourself to a relaxed stay here after the long drive from Chicago!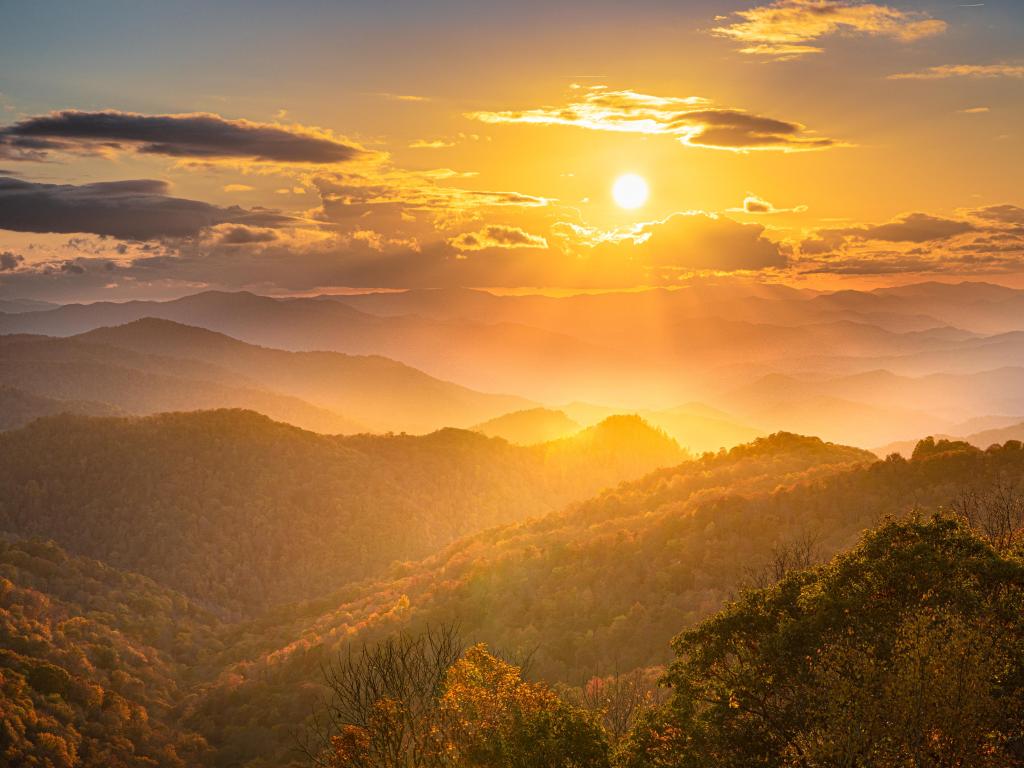 Things to see on a road trip from Chicago to Asheville
There are so many things to see and do on your road trip from Chicago to Asheville. From museums to National Parks, you will be spoilt for choice. Here is the itinerary compiled as a list of the top 17 things to see on a road trip from Chicago to Asheville:
Museum of Science and Industry, Chicago – It is America's largest science museum that showcases historical scientific technology and other memorabilia.
Indiana Dunes State Park – Enjoy the scenic view of Lake Michigan's shoreline by taking the three-dune challenge at the park, which takes you to the shoreline's highest peaks.
Indianapolis Motor Speedway Museum – This world-renowned museum is located at the Indianapolis Motor Speedway, which hosts the Indianapolis 500, the most famous motor racing competition in the world.
Brown County State Park – Explore the largest park in Indiana, characteristic of scenic forestland, rugged ridges, and hills.
Clifty State Park - This park in Jefferson County is a spectacle of greenery, miles of hiking trails, camping grounds, waterfalls, streams, a waterpark, and a swimming pool.
Muscatatuck National Wildlife Refuge Visitor Center - It is a refuge center for migratory waterfowls. It also offers great hiking trails.
Charlestown State Park - This park is a perfect hiking and camping ground, thanks to its landscape which is characteristic of woodland, rocks, and rolling highlands.
Abraham Lincoln Birthplace National Historical Park - As the name suggests, this is the place where America's 16th president, Abraham Lincoln, was born and raised.
Camp Nelson National Monument – A historical site where African-American soldiers were trained. Their wives and children were offered refuge here.
Mammoth Cave National Park - You will love exploring the 52,830-acre park which boasts being home to the largest cave system known by mankind.
Ijams Nature Center - Here you will experience the beauty of the calm waters of the Tennessee River as you walk along its shores on a boardwalk.
Great Smoky Mountains National Park - It is America's most visited National Park and when you see its beauty, you will understand why.
Gatlinburg - This small resort-like city will wow you with is history, shopping areas, and the surrounding Smoky Mountains. It is known as the 'Gateway to the Smoky Mountains' as it sits at the entrance to these mountains.
Clingmans Dome Observation Tower – At 6,643 feet, it is Tennessee's highest point and acts as an observation tower.
Pisgah National Forest – Over 500,000 acres of endless miles of forests, cascading waterfalls, high waterfalls, rivers, flora, and fauna.
Biltmore – A National Historic Landmark mansion built by George Vanderbilt. It holds the title of 'America's Largest Home'.
The North Carolina Arboretum – It is one of the loveliest gardens dotted with exotic flowers and plants, and exceptionally manicured lawns.
There is so much more to see and explore on this road trip route. The above itinerary will get you started.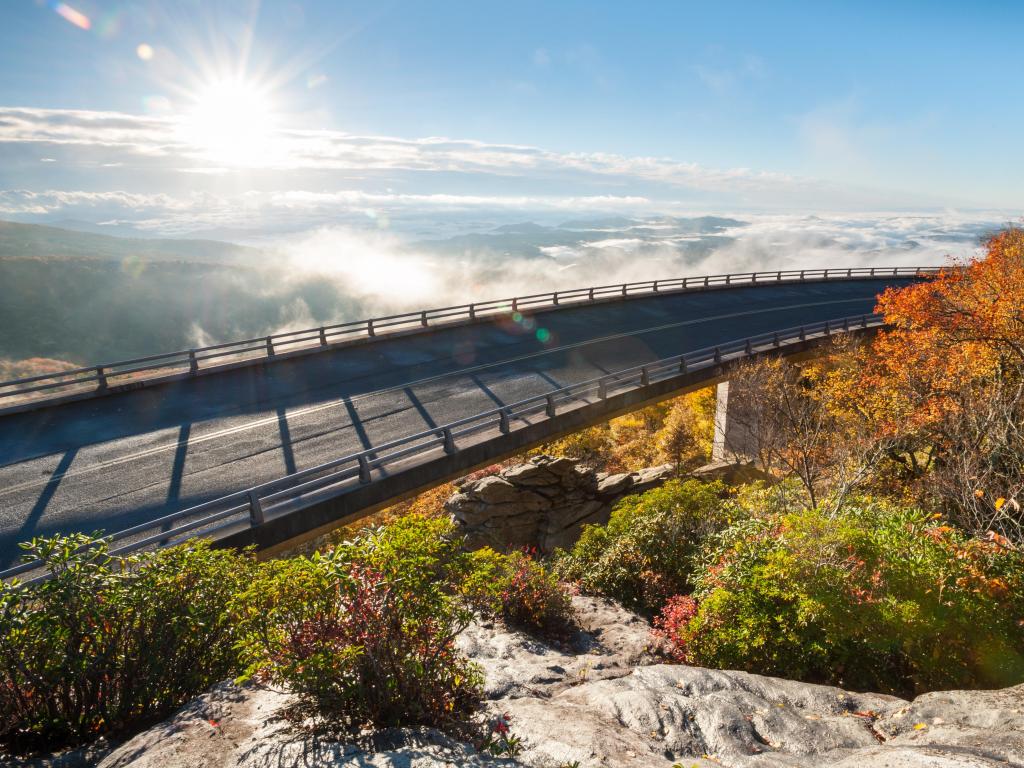 Best time to go on a road trip from Chicago to Asheville
The best time to go on a road trip largely depends on what you want to see and experience.
With that being said, the best time to go on a road trip from Chicago to Asheville is between March and May and between September and early November.
In September to early November, leaves are changing color all around. You will experience a scenic drive as you wind through the beautiful vegetation-covered landscape.
The downside of this is that this is high-peak season and there are so many people visiting the areas you are also interested in. Resorts and hotels will also have hiked prices owing to the large number of visitors.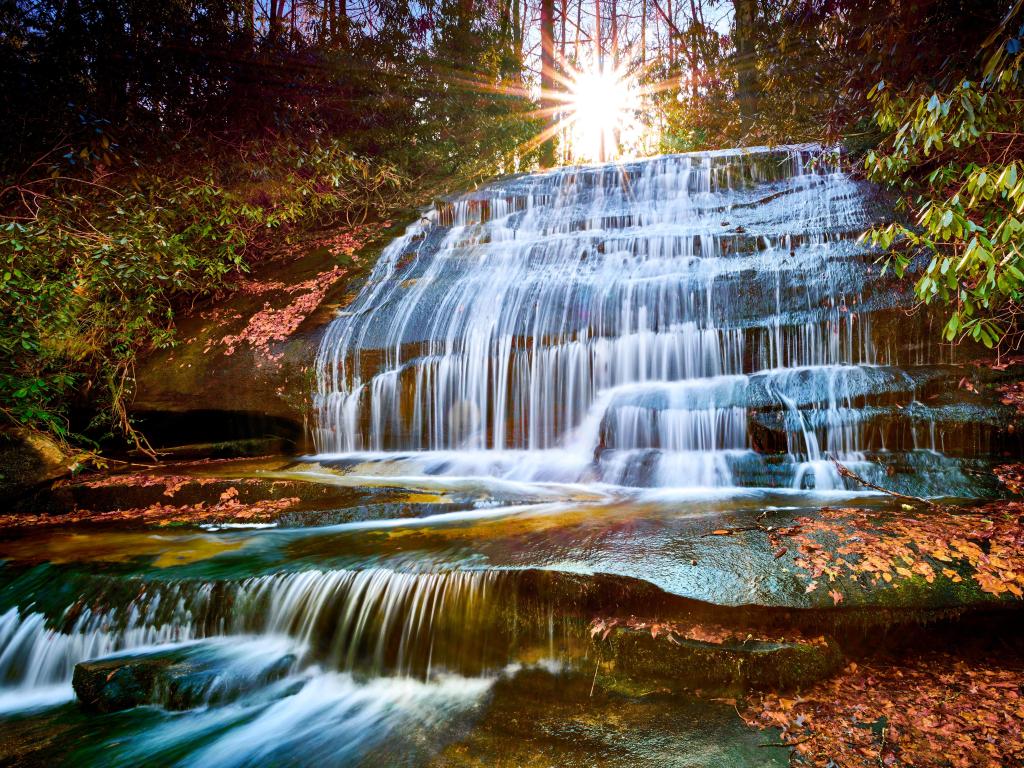 The period between March and May has less tourists and if you prefer smaller crowds, this might be the best time for you to take a road trip to Asheville from Chicago. You will enjoy lush greenery and colorful flowers since this is the season that nature blooms to life. It is also the best time to enjoy the beauty of the mountainous landscape that is characteristic of this route.
June to August is also a favorable period to take the road trip if you want to get away from the summer heat in Chicago. Asheville experiences less heat intensity compared to most cities.
Winter is not as harsh in Asheville, thanks to the surrounding mountains. There is not so much snowfall. However, it still makes for a great skiing vacation destination.