Road Trip from Chicago to Boston
This road trip, taking you from the shores of Lake Michigan to the United States' east coast, is no small feat. Driving through several states and past two of the other Great Lakes, this long drive will also treat you to some amazing views along the way.
The 980-mile drive from Chicago to Boston takes between 15 and 18 hours to drive. Depending on your route, stops can include Cleveland, Pittsburgh, Philadelphia, New York, Buffalo, Albany and Syracuse, as well as Lake Erie and Niagara Falls.
Thinking of taking this epic road trip? Here's everything you need to know before you head out, including comprehensive route options, places to stop overnight, must-see attractions along the way, and the absolute best time to make this incredible journey.
How far Is Boston from Chicago and how long will the road trip take?
Comparison of road trip route options between Chicago and Boston

| Route | Distance | Driving Time |
| --- | --- | --- |
| The Pittsburgh Route | 1,078 miles | 17 hours 30 minutes |
| The Upstate New York Route | 1,023 miles | 15 hours 45 minutes |
This road trip will have you spending 983 miles and 15 hours of pure driving. This is without considering any meal, bathroom, or gas breaks you're going to need to take, so you'll have to add on a few hours for those stops.
Traffic might also slow you down, so make sure you're allotting yourself enough time to deal with any traffic delays you might encounter.
Still, even with these delays and pit stops accounted for, if you were very committed you could theoretically complete this road trip in a day. But what's the point of taking a road trip if you're not going to stop and appreciate the places you're passing?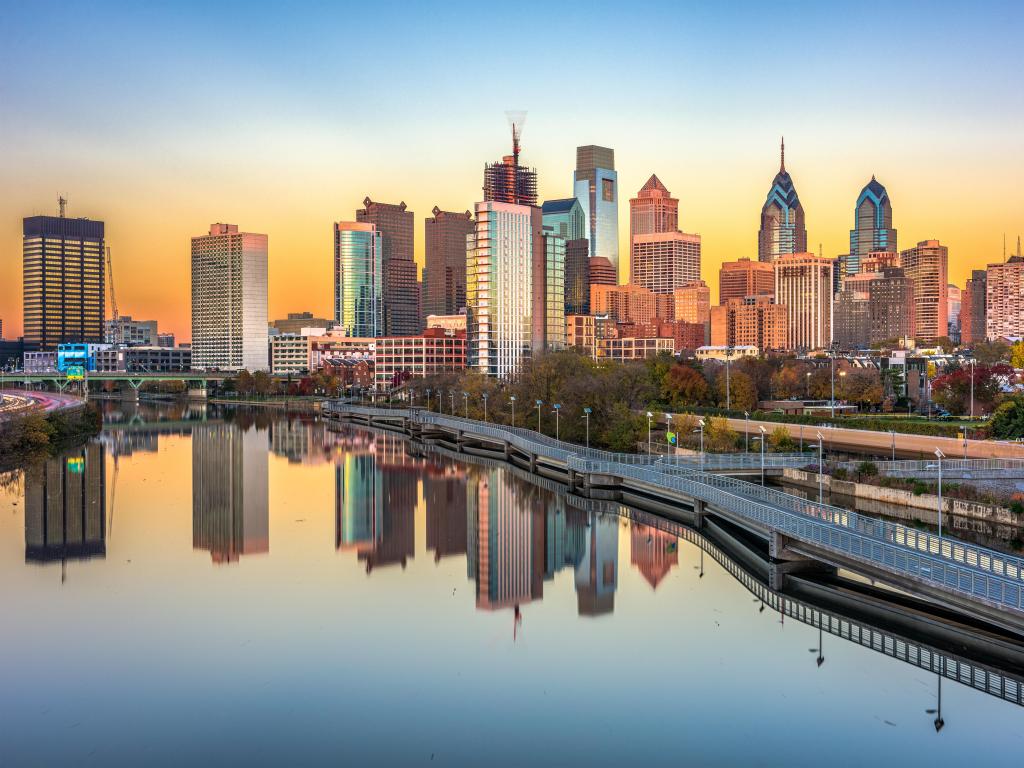 Instead, break it up into at least 2 days - or, even better, take a week. This will allow you to explore to your heart's content, as well as enjoy a much more leisurely drive instead of feeling rushed.
Best road trip route from Chicago to Boston
When it comes to choosing a route from Chicago to Boston, your 'best' option will depend on the vacation vibe you are seeking. If you are looking for a chance to sample some urban charm, culinary genius and a dose of history, then we'd recommend you take the Pittsburgh Route.
But if you are happier skipping the big city lights - and have yet to experience the majesty of Niagara Falls - then our Upstate New York Route is an unmissable proposition.
How to drive from Chicago to Boston
The map above shows our suggestions for the best road trip routes between Chicago and Boston. Keep reading for detailed descriptions of both routes, where to stay on either, and the best things to do on the way.
The Pittsburgh Route
Take the I-90 eastwards out of Chicago, passing South Bend, Elkhart and Perrysburg. After around 5 hours and 15 minutes you will reach Cleveland, a great stop for a late lunch or and afternoon spent stretching your legs.
Onwards from Cleveland, take the I-80 southeast until you reach the North Jackson Interchange. At this point, you will take the I-76 and then I-79 into Pittsburgh. Pittsburgh itself is easily worth an overnight stop - or at least a few hours - with its fabulous foodie scene which perhaps belies its status as the home of the Big Mac.
Once you have had your fill of the Steel City, continue along the I-76 past Bedford and Mechanicsburg, until you reach Philadelphia. Depending on the time you have available, you might choose to stop over in Philly or continue on northwards - via the I-95 - to New York City.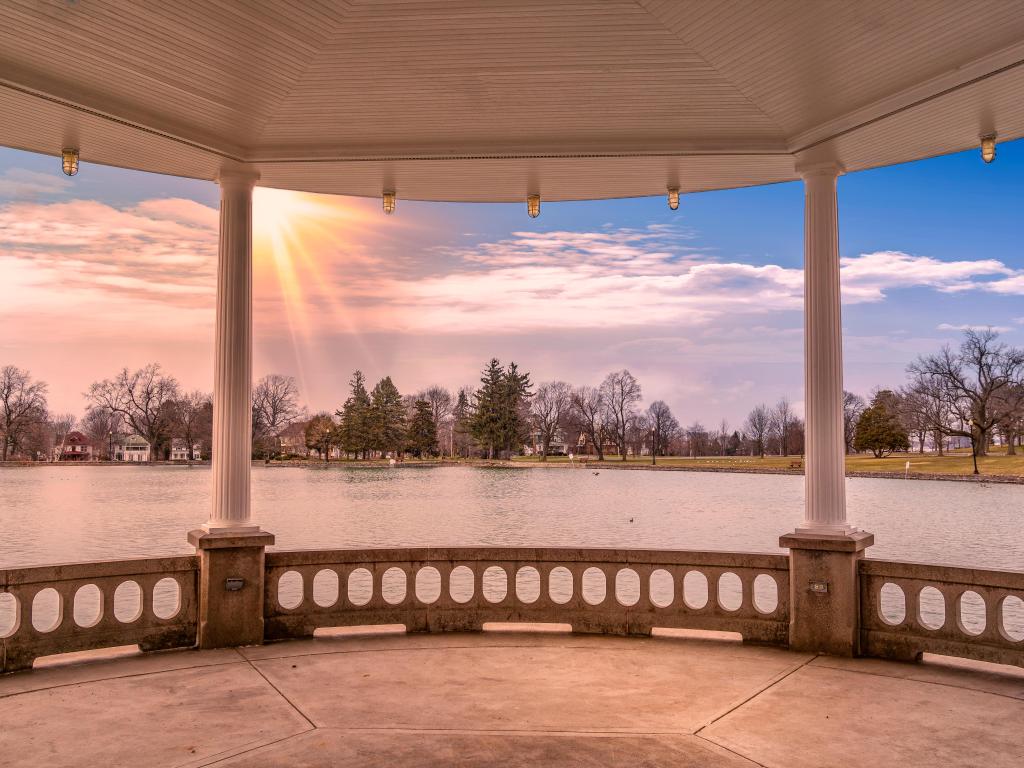 Of course, you'll need to be prepared to encounter heavy traffic moving in and out of NYC. We'd recommend taking the I-278 and then I-478 to reach Manhattan and then crossing over to FDR Drive, skimming the east side of the island.
Continue along FDR Drive until you reach Randall's Island, where you'll cross back onto I-278 once again. Merge onto I-95 and travel north through Connecticut until you reach Bridgeport. From here, take the CT-15 to Hartford before merging onto the I-94 and then I-90.
The rest of the route is plain sailing all the way: bypassing Worcester (to your north) until you reach Boston and the end of your trip.
The Upstate New York Route
The first leg of this route is identical to the Pittsburgh Route: head for Cleveland, Ohio and take a break if you can once you get there.
Upon leaving Cleveland, return to the I-90 and continue along this interstate - following the banks of Lake Erie - until you reach Buffalo, NY.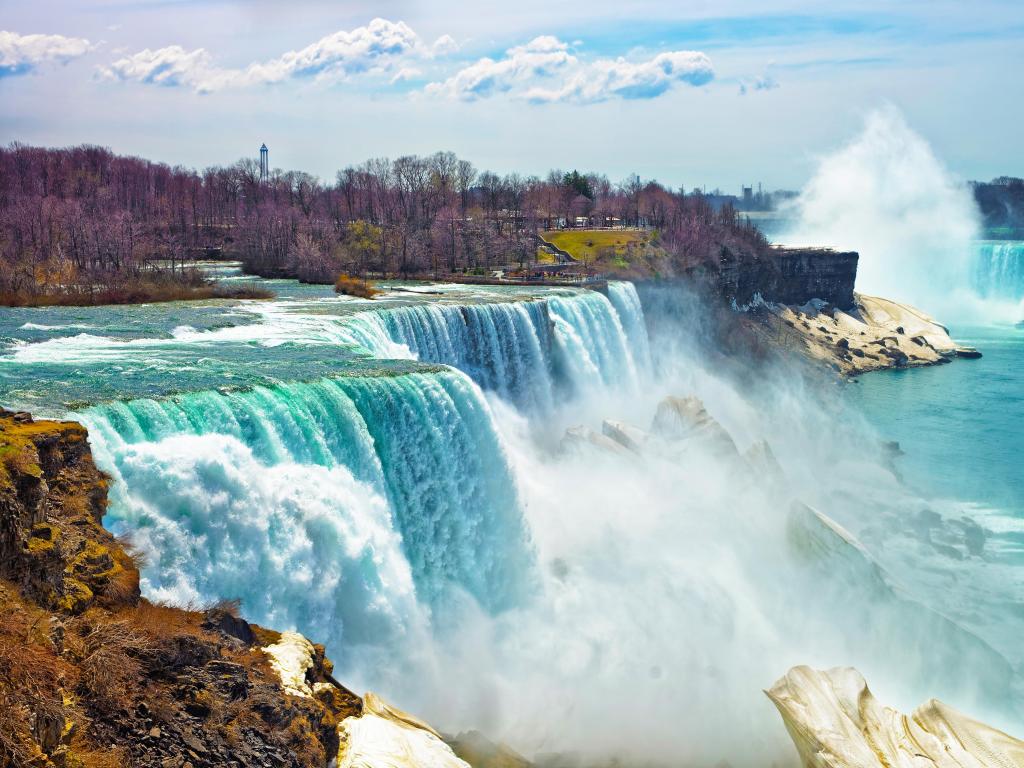 North of Buffalo, you have the option of diverting slightly (and we'd strongly recommend this) to Niagara Falls by taking the I-190 for just 30 minutes out of the city. Otherwise, continue eastwards by staying on the I-90 past Syracuse, Albany and Springfield.
You will finally reach Boston around 7 hours after leaving Buffalo.
Best places to stop between Chicago and Boston
If you're looking for a couple of places to spend the night on this beautiful but lengthy journey, you've got options. Of course, your overnight stops will depend on which route you decide to take.
Here are a few of our favorite options for places to stay on your journey.
Check out Cleveland, Ohio
Cleveland is the first major city that both of our route options pass through, around 5 and a half hours into the journey. This is a great opportunity to take a longer break from driving. And with "The Forest City" being home to more parkland than almost any other city, Cleveland is a fantastic place to stretch your legs.
Book yourself a room at the Ritz-Carlton and enjoy an upscale experience in the heart of downtown Cleveland. Located a stone's throw away from Cleveland Public Square, Progressive Field and the Rock and Roll Hall of Fame, you'll be ideally placed to explore the city without the need for your car.
During your stay, you'll also want to take the time to head over to the Cleveland Museum of Art, as well as the Cleveland Museum of Natural History. To understand another major aspect of Cleveland's history and culture, make sure you head over to the city's historic Little Italy. Getting hungry? Head over to West Side Market which features more than 100 different vendors.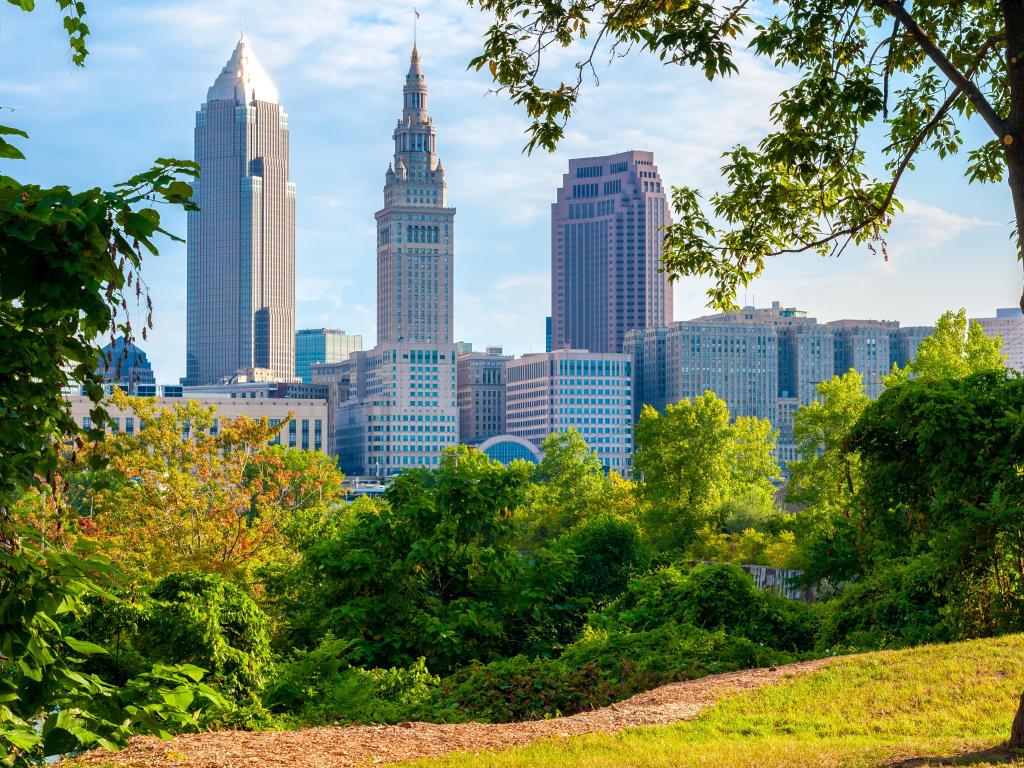 Enjoy the Steel City, Pittsburgh
If you choose to take the Pittsburgh Route, the "Steel City" falls just short of the halfway point on your trip: perfect for an overnight break.
Famous for its steel-related businesses and 446 bridges (more than any other city in the world), Pittsburgh is the perfect stop if you're looking for an opportunity to burn some serious calories... before replenishing them in spectacular fashion!
Take a tour of Point State Park and, from there, hit the popular riverside trails. Explore the city's famous bridges, historic industrial architecture and take on its record-breaking number of stairs.
The city of Pittsburgh was built on pretty hilly terrain, and as a result boasts the second highest number of stairs in any city. For a memorable (and time-saving) alternative, take a ride on the city's 140-year old funicular railway.
After all that fresh air and hard work, you'll want to relax in comfort and luxury. For this, we'd highly recommend a stay at the Renaissance Pittsburgh hotel, with its exceptionally comfortable beds and stunning river views.
Stay over in Buffalo: a handy stop for Niagara Falls
If you decide on routing your trip via Niagara Falls, then Buffalo is a logical stopover point - just 30 minutes away. This means that you can very comfortably stay over in Buffalo - enjoying an evening in the city - and still get to Niagara Falls nice and early the next day.
The city of Buffalo also lies just a little over halfway along your road trip route, meaning that this stop breaks up your journey well: another good reason to stop and recharge.
While in Buffalo, we'd recommend you soak up the city's first-rate architectural and botanical attractions: namely Frank Lloyd Wright's Martin House and Buffalo and Erie County Botanical Gardens.
When it comes to accommodation, the Buffalo Marriott at LECOM HARBORCENTER is a stand-out choice thanks to its perfect location. Situated in the heart of downtown Buffalo, the hotel places you right where you need to be for an evening spent making the most of the city and its stunning Lake Erie waterfront.
And as an added bonus, you'll be right next to I-190 ready for your onward trip to Niagara Falls the next morning.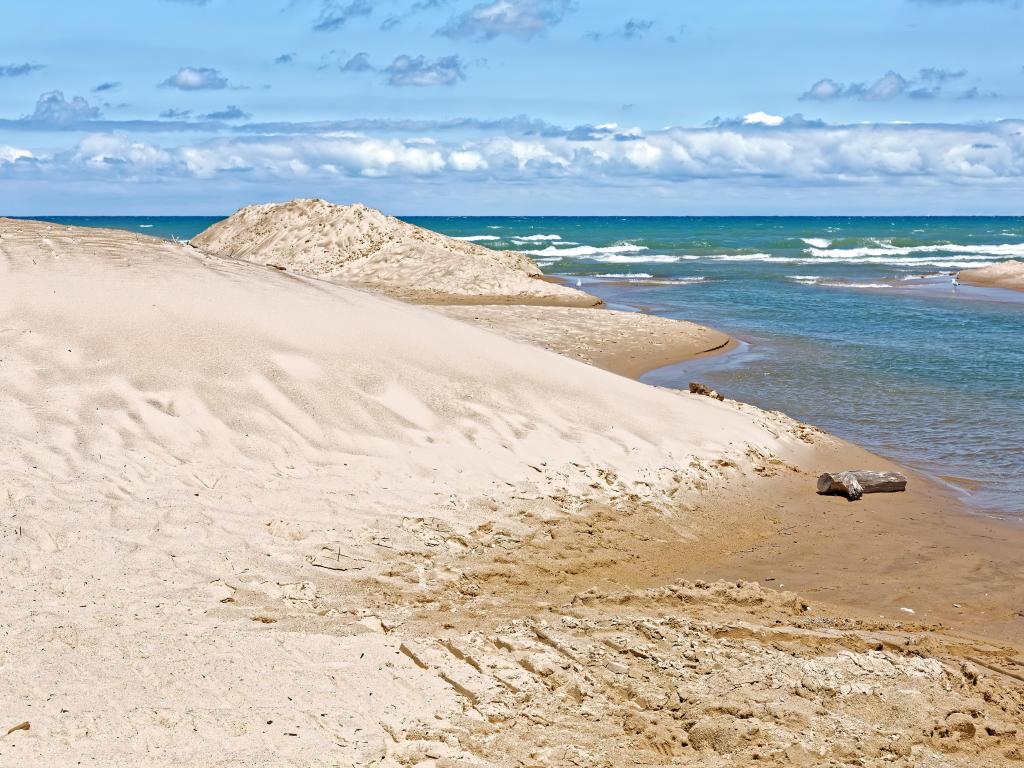 Things to see on a road trip from Chicago to Boston
Wondering what exactly there is to see as you head out on this road trip? Here are a few suggestions for places you'll want to check out.
Indiana Dunes National Park - start your trip off right with some hiking, bird watching, and time spent on the beach at this beautiful park located on the shores of Lake Michigan
South Bend - this city is home to the Grotto of Our Lady of Lourdes at the University of Notre Dame, which is a reproduction of the original grotto of the same name located in Lourdes, France
Oak Opening Preserve Metro Park - this park just outside of Toledo is the Toledo area's largest Metropark. Spend some time admiring the picturesque sand dunes, and keep your eye peeled for the several rare plant species that populate the park
Buffalo - if you're interested in history and culture, you'll want to take the time to stop in Buffalo, New York. The state's second-most populous city, you'll find historical sites like Frank Lloyd Wright's Martin House, the naval and military park, and the Albright-Knox Art Gallery
Niagara Falls - you won't want to pass on the chance to visit this world-famous sight! As you drive by Buffalo, New York, take a detour to head up north and visit the falls. Remember to pack your passport so you can visit the attractions on the other side of the Canadian border!
Rochester - stop in Rochester and visit the city's zoo and museum, including the Susan B. Anthony Museum and House, and the George Eastman Museum
Mendon Ponds Park - visit this amazing park and check out the floating island in its peat moss bog, as well as the several species of carnivorous plants that call the park home
Montezuma National Wildlife Refuge - you'll find this refuge close to Syracuse. It serves as a breeding ground for migratory birds and has 6 bald eagle nests, 3 of which have been there since 1987
Albany - visit the Albany Institute of History and Art, the performing arts center at The Egg, and do a little shopping in this New York State city
Pittsburgh - stop by the "City of Bridges" - or is it "Steel City"; or the "City of Stairs"? With so many claims to fame, you won't want to miss out on Pittsburgh and its vibrant culture
Philadelphia - further along the Pittsburgh Route is Philadelphia. Home to Rocky Balboa and the Philly Cheese Steak, this city has a rich cultural heritage that could easily keep you entertained for two or three days
October Mountain State Forest - spend a few hours exploring this 16,500-acre forest once you reach Massachusetts. October Mountain State Forest is the largest state forest in Massachusetts and will provide you plenty of opportunities to hike and explore
The Amazing World of Dr. Seuss Museum - this museum in Springfield, Massachusetts was the original home of Dr. Seuss. Relive your childhood exploring this museum and learning about the author of some of your favorite childhood stories.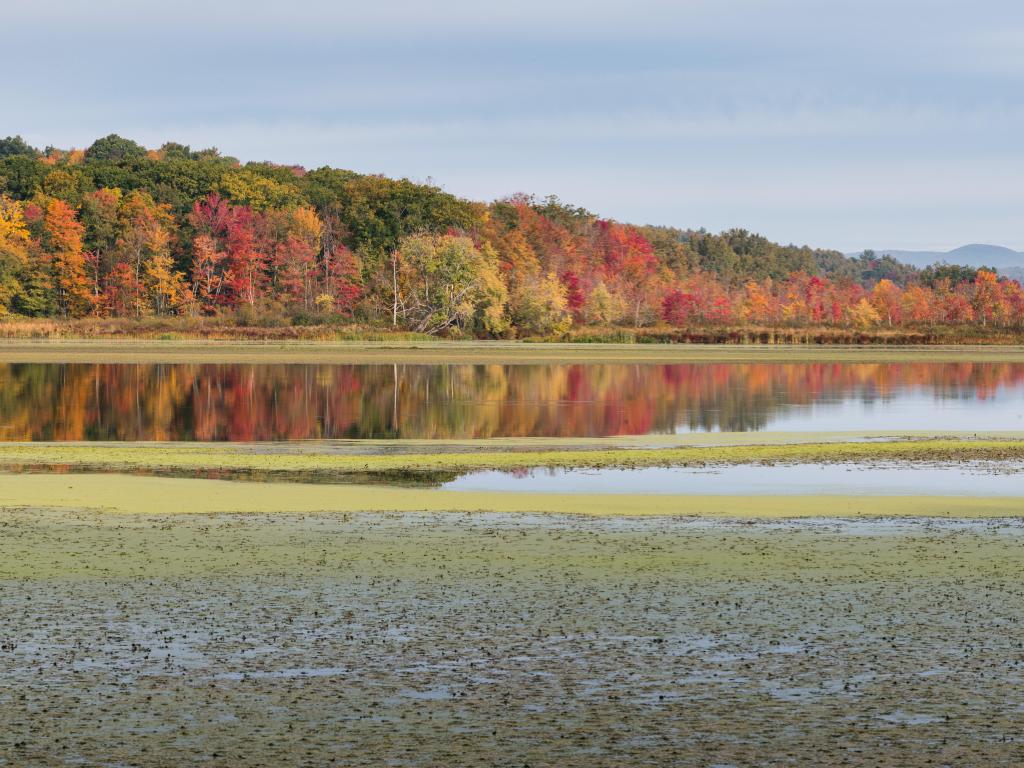 Best time to go on a road trip from Chicago to Boston
When it comes to driving from Chicago to Boston, you're going to want to avoid driving in the winter. The roads in the northern part of the United States will become icy and snowy this time of year, making them dangerous to drive on.
Snowfall can make your drive more difficult, or impede it altogether. In the summer, you'll have warmer weather and a much more pleasant drive, but this will also bring more tourists to Boston. If you're looking for a quiet trip with few crowds, you'll want to avoid going during the summer too.
Instead, consider visiting this city in the fall. You'll get the tail end of the city's warm summer weather, with temperatures averaging between the 60s and 70s Fahrenheit.
You'll also get the chance to check out some of Boston's fall events, like the Boston Film Festival or the Phantom Gourmet Food Festival which both take place during September.
You might also want to time your Boston visit to coincide with Oktoberfest if you go between September and October, which isn't something you'll forget anytime soon.
Even if you don't make it to Boston for any of these events, the fall temperatures and fewer crowds will make for great times touring the city on foot.