Road Trip from Chicago to Las Vegas
If you want to experience the snow-capped peaks of the Rockies, the searing heat of the Utah desert, the magic of the Mississippi and see everything between the Great Lakes and the Mojave desert, a drive from Chicago to Las Vegas is the way to do it.
The 1,800-mile road trip from Chicago to Las Vegas takes 26 hours to drive. Depending on the route, attractions include Grand Canyon, Rocky Mountain and Zion National Parks, Coconino National Forest, Route 66, St. Louis, Denver and Albuquerque.
Keep reading for help with planning this epic road trip - including where to stop along the way, the must-see attractions, and the best time to make the journey to Las Vegas.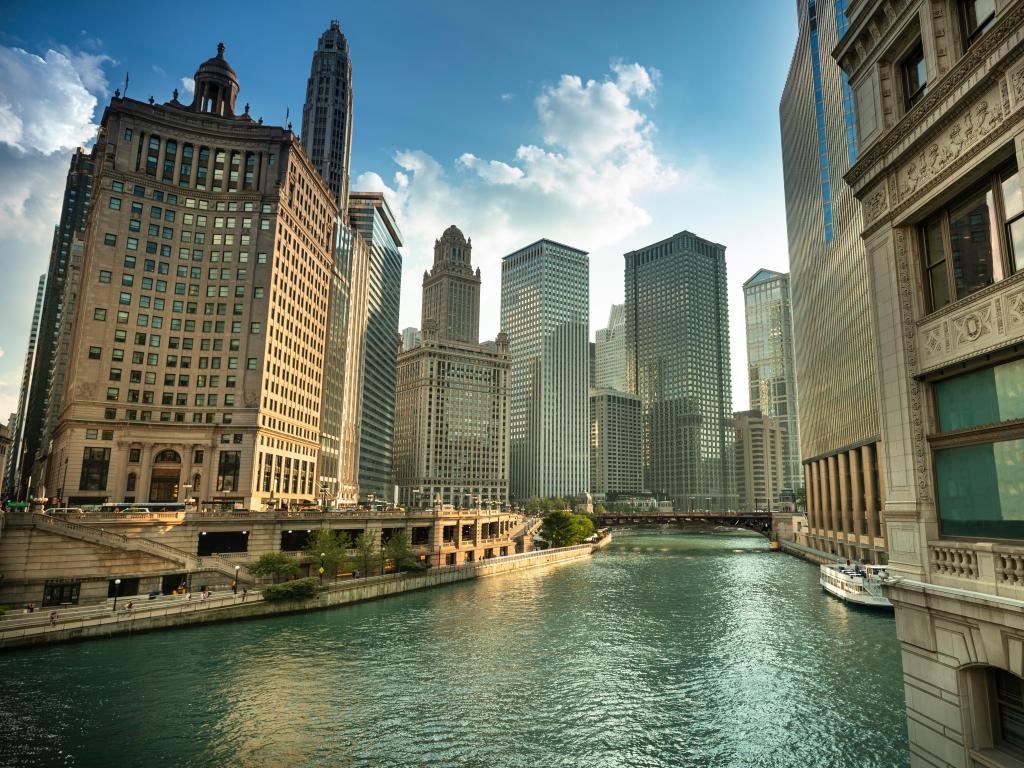 How far is Las Vegas from Chicago and how long will the road trip take?
Taking the quickest route, the road trip from Chicago to Las Vegas will take 26 hours of driving and will cover approximately 1,800 miles. There is an alternative route through St. Louis and Albuquerque which takes two more hours of driving and covers 1,900 miles. Both of them are pretty lengthy so a great option would be to take one on your way to Las Vegas and the other one back.
Road trip routes from Chicago to Las Vegas

| Route | Distance | Driving Time |
| --- | --- | --- |
| Northern Route | 1800 miles | 26 hours |
| Southern Route | 1900 miles | 28 hours |
The main route is primarily rural with few exceptions such as Denver and a couple of smaller towns. Fortunately, the drive is extremely scenic and features some unmissable Natural Parks (including Rocky Mountain, Valley of Fire and Zion State Parks) and last but not least The Grand Canyon.
Moreover, there are plenty of lush national forests, aesthetically appealing landscapes and beautiful sites scattered along the way for you to enjoy.
Our second route ("The Southern Route") features megalopolises St. Louis, Oklahoma City and Albuquerque - as well as plenty of detour options.
No matter how you choose to approach this amazing journey, we suggest that you spare three or four days for each leg, since both routes have a lot to offer.
Best road trip route from Chicago to Las Vegas
There is no definitive "best route" for the road trip from Chicago to Las Vegas. Both the southern and the northern route are plentiful and exciting in their own way with one major difference: urbanization.
How to drive from Chicago to Las Vegas
The map above shows our suggestions for the best road trip routes between Chicago and Las Vegas. Keep reading for detailed descriptions of both routes, where to stay on either, and the best things to do on the way.
Northern Route
While exiting Chicago hop on I-88 and drive towards Rochelle where you can detour to both Starved Rock and Matthiessen State Parks at La Salle. Back on the main route, drive westward through Davenport where you should switch to I-80, towards Des Moines.
Once you are there, a great way to spend a fun afternoon would be to visit Adventureland Park and Pappajohn Sculpture Park. Otherwise, continue driving until you reach Omaha where you wouldn't want to miss out on the giant desert dome at Omaha's Henry Doorly Zoo.
Before you leave, you could make a quick detour to Kansas City or drive further west towards your final destination. Hop onto I-76 right before entering Denver, where we suggest you rest up for the night.
Get on to I-70 right after and consider detouring to Arapaho and Roosevelt National Forests and Rocky Mountain National Park or continue driving through the beautiful mountain range into White River National Forest.
Follow the Interstate for a while, around Canyonlands National Park and Capitol Reef National Park and drive along further towards Fishlake National Forest. Once there, take I-15 and divert to Zion National Park or Red Cliffs National Conservation Area.
Right before you enter Las Vegas, a great option for a relaxing and picturesque detour would be to visit Valley of Fire State Park or Lake Mead National Recreation Area.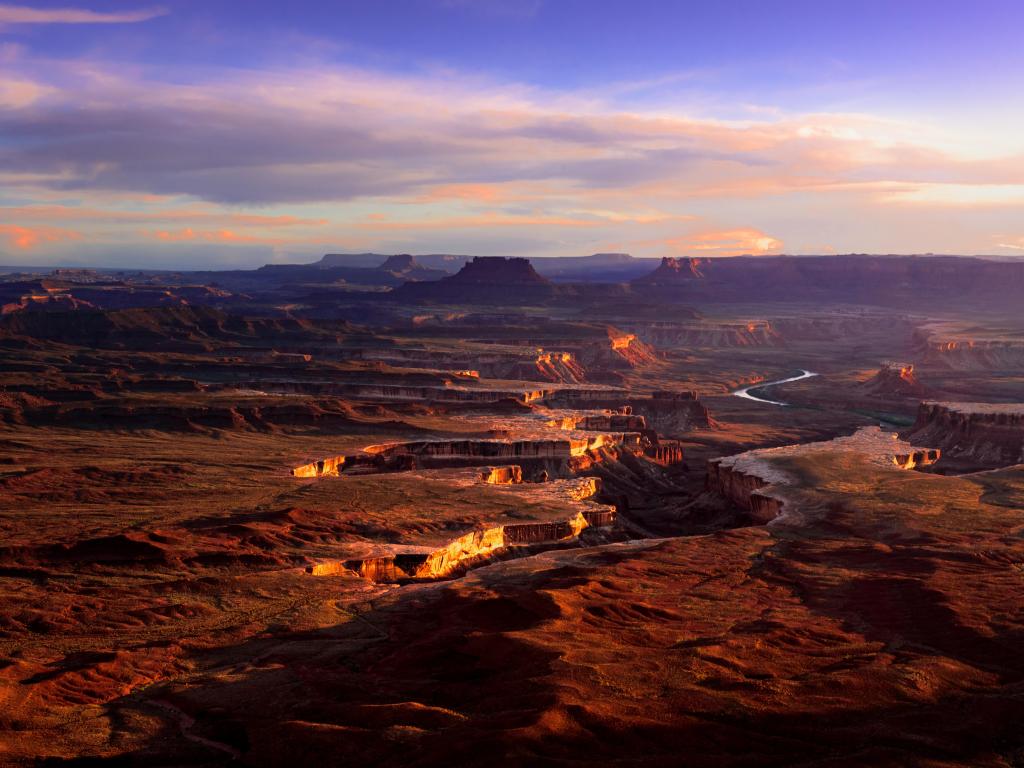 Southern Route
On departure from Chicago, take I-55 southward through Bloomington and Springfield towards St Louis. After taking a break in St. Louis, continue your journey on the I-44, around Mark Twain National Forest.
Drive through Tulsa into Oklahoma City where you can spend a whole day with ease before you jump on the infamous Route 66. You'll find plenty of attractions en route as you head west towards Albuquerque. The National Route 66 and Transportation Museum is one of our personal favorites.
Once you arrive in Albuquerque, you'll find yourself easily entertained as you relax and unwind in the city. If you'd prefer to explore the natural world nearby, consider diverting northward to Carson National Forest or Cibola National Forest.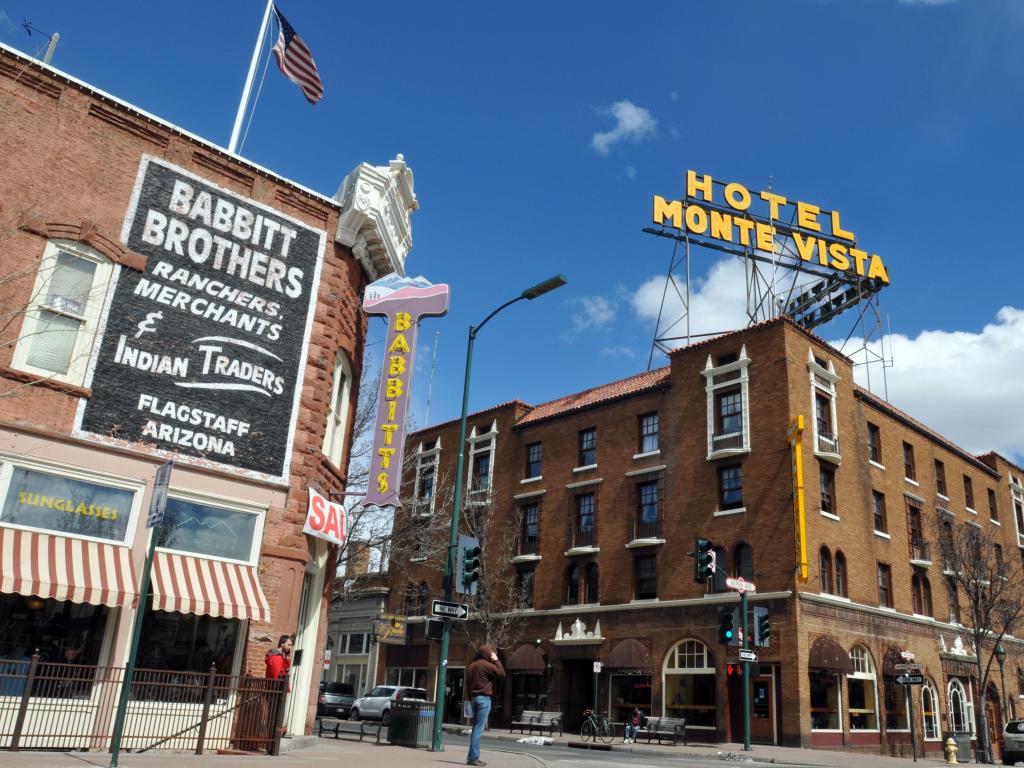 Once you enter Flagstaff, you could choose to visit Grand Canyon National Park and Kaibab National Forest, or alternatively, head south and visit Coconino National Forest and Apache-Sitgraves National Forest. Just make sure you stick to the Interstate on your way to your final destination.
You could detour to Prescott National Forest at Ash Fork or drive along by US-93 until you reach Lake Mead National Recreation Area. Once you pass this, you'll merge onto I-11, continuing all the way to Las Vegas.
Best places to stop between Chicago and Las Vegas
Denver (Northern Route)
Denver, otherwise known as "The Mile High City," is a destination you won't want to miss, especially if you love good food and the great outdoors.
At just over halfway along our Northern Route, Denver is a perfect place to take a longer break - and there is plenty to keep you entertained if you do decide to extend your stay here to 2 or 3 days.
You might want to marvel at indigenous works in Denver Art Museum, or catch a game at Coors Field. Sampling craft beers at one of Denver's (100+) breweries might be more your kind of thing. Or you might want to skip town altogether and head out to the Rocky Mountains.
Whatever your tastes may be, Denver has more than enough to keep you busy!
When it comes to accommodation, The Four Seasons Denver is a fabulous choice for guests looking for a luxurious end to their busy day in the city. Each elegant suite features either a balcony or beautiful French windows, from which you can enjoy the beautiful skyline of Denver with breakfast in bed the next morning.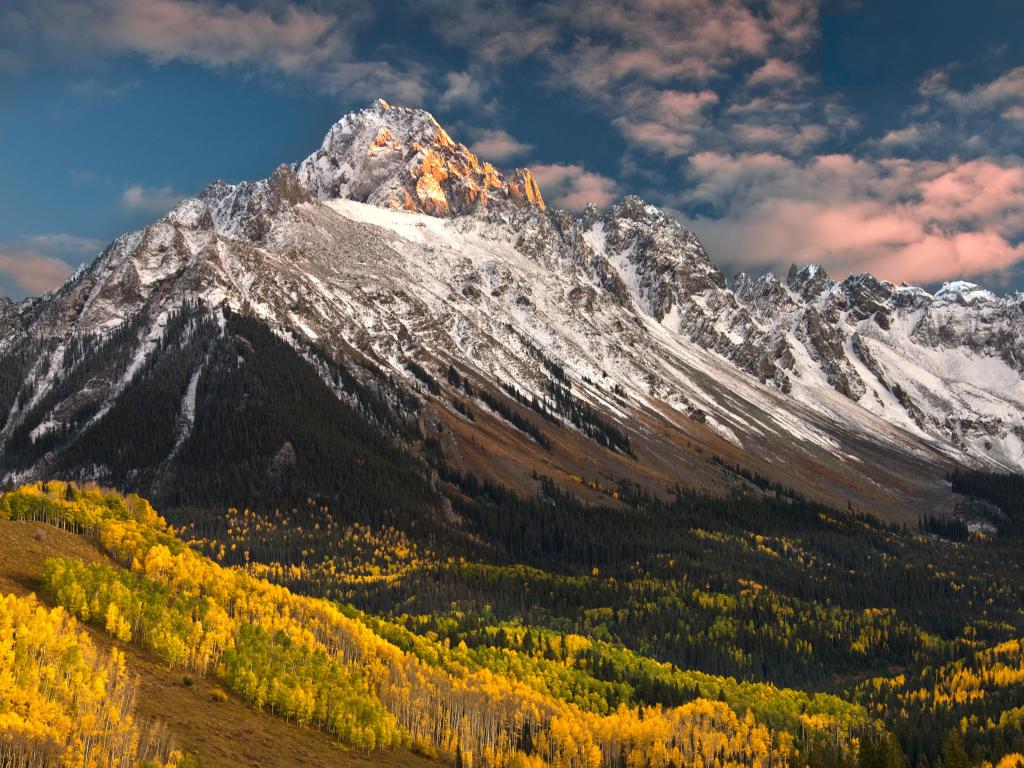 Oklahoma City (Southern Route)
Just short of halfway along this route, Oklahoma City is perfect for an overnight stay, thanks to its vibrant nightlife and numerous options for a day spent away from the steering wheel.
The largest city in the state, Oklahoma City has plenty to offer visitors, with its revitalized Bricktown entertainment district a particular highlight. If you're in town during the daytime, we'd wholeheartedly recommend taking a water taxi along Bricktown Canal to take in the atmosphere from a unique perspective.
Conveniently located for all of this is the stunning Omni Oklahoma City Hotel, with its beautifully furnished rooms, memorable city view and all-round exceptional service.
The rooftop pool is open all year round and with a drink in hand, it becomes a great place to spend the majority of an afternoon.
Just make sure you tick at least one attraction off your Oklahoma City "must-see list". We'd recommend the National Cowboy and Western Heritage Museum as your one essential dose of culture!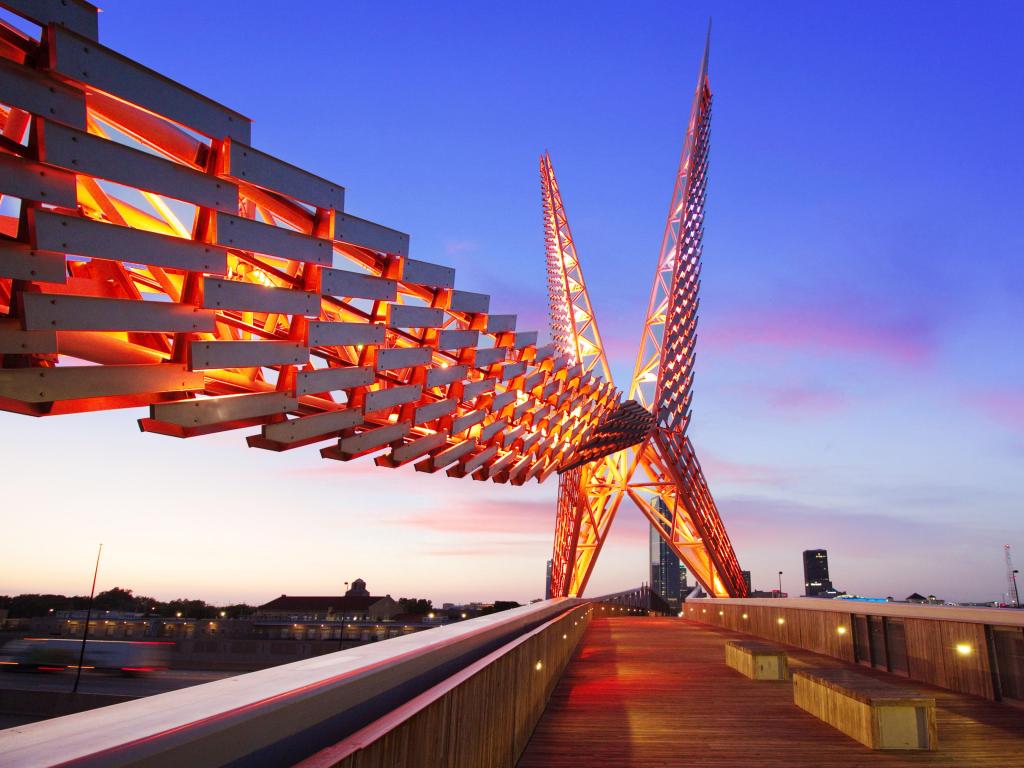 Things to see on a road trip from Chicago to Las Vegas
It should come as no surprise that there are a multitude of fascinating and exciting places you can visit on the road trip from Chicago to Las Vegas. It is highly advisable that you invest at least a couple of days to check out some of these memorable sights:
Starved Rock State Park – Enjoy great hiking grounds with a quiet naturalistic ambiance through deep forests, wooden walkways and bridges.
Matthiessen State Park – Explore waterfalls, cascade falls and all sorts of charming naturalistic sights at Matthiessen State Park.
Rocky Mountain National Park – Become mesmerized at the lush plant life, dense wildlife and high mountain lakes and unforgettable landscapes at Rocky Mountain National Park. Keep in mind that the national park uses a timed entry permit system. Please check the national park's website to see if you need to make a reservation before your visit.
Arapaho and Roosevelt National Forests – Visit the majestic Arapaho and Roosevelt National Forests for an early hike and an exciting day of adventuring.
Dixie National Forest – If you are not fan of hiking or biking, Dixie National Forest is a great place where you can drive around and enjoy the breathtaking view points from the comfort of your seat.
Glen Canyon National Recreation Area – Appreciate a vast panorama of human history, geologic wonders and powerful vistas at the Glen Canyon National Recreation Area.
Kaibab National Forest – You wouldn't want to miss an opportunity to visit the beautiful canyons, peaks, plateaus and experience peace and solitude at Kaibab National Forest.
Coconino National Forest – A serene and lush forest where you can fish at several lakes, enjoy boating trips and admire outstanding scenery. Hunting and horseback riding are also part of the recreational activities in the area.
Lake Mead National Recreation Area – Prepare for an out-of-this-world experience filled with exciting opportunities for countless recreational activities at Lake Mead National Recreation Area. If you are a photographer, this is the perfect place to capture the night sky illuminated by the Milky Way.
Valley of Fire State Park – Visit one of the two campgrounds, equipped with restrooms, grills and shaded tables for a day of family joy and if you happen to like it you can even stay overnight.
Red Canyon National Preserve – Whether you are an off-highway vehicle enthusiast, a naturalist or a hiker there are numerous and diverse opportunities for you at Red Canyon National Preserve.
Zion National Park – Plan a backpacking hike into the Virgin River Narrows, The Left Fork of North Creek and explore many trails in the Zion wilderness. Permits are required for some of the venturing, so you should prepare yourself in advance. If you'd like to hike up to Angels Landing, you will need a permit and will need to make a reservation. Check the Zion National Park's website for more details.
Bryce Canyon National Park – Discover magical landscapes and emotionally overwhelming panoramic views over the plateau with the largest concentration of hoodoos on Earth.
Canyonlands National Park – Explore wilderness, mesmerizing canyons and formations carved by the Colorado River at the Canyonlands National Park.
Arches National Park – Visit the beautiful Arches National Park where you will find the largest concentration of natural sandstone arches and the gorgeous rock formations. You might need to make a reservation for a timed-entry permit while visiting Arches National Park. Please check the national park's website for up-to-date information.
Route 66 – One of the original highways in the U.S Highway System, Route 66 was named the "Main Street of America" in the mid-1930s. This exciting route is jam-packed with beautiful landscapes and attractions such as Cadillac ranch, Russell's Truck & Travel Center, Standin' on The Corner Foundation and Meteor Crater Natural Landmark.
Tonto National Forest – Visit the largest national forest in Arizona for adventurous hiking, long bike rides, beautiful desert and pine-forest landscapes.
Grand Canyon National Park – One of if not the greatest national historic landmark, the Grand Canyon National Park is a true treasure with its fascinating geology, vast vistas and colorful history.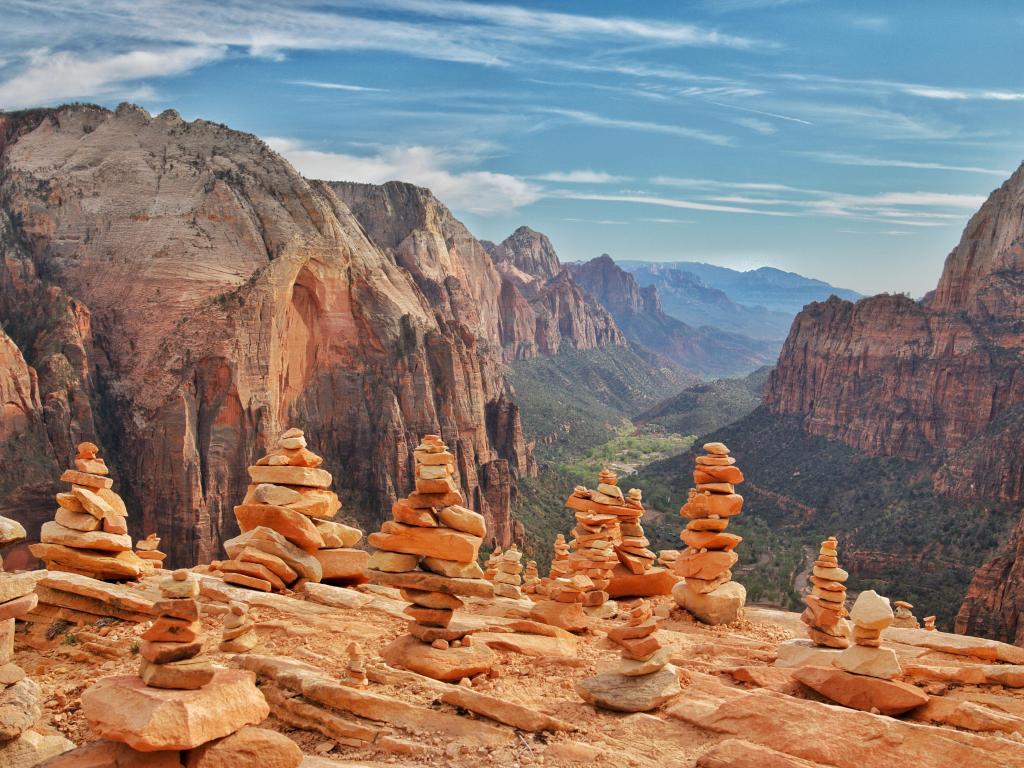 Best time to go on a road trip from Chicago to Las Vegas
The road trip from Chicago to Las Vegas is best enjoyed in fall and spring when the weather is pleasantly moderate. If you don't mind big crowds, you could visit Las Vegas in the winter when most tourist flock. Summer tends to be very hot with temperatures averaging around mid-90 degrees Fahrenheit and sometimes exceeding 100 degrees.
The desirable period to look out for your trip are March and May, when it is fairly easy to book yourself a room at a great price. The weather is warm, hovering at high 70s to low 80s. It is advisable to pack some light layers, because it tends to get chilly at night and be on the lookout for exciting events around that time.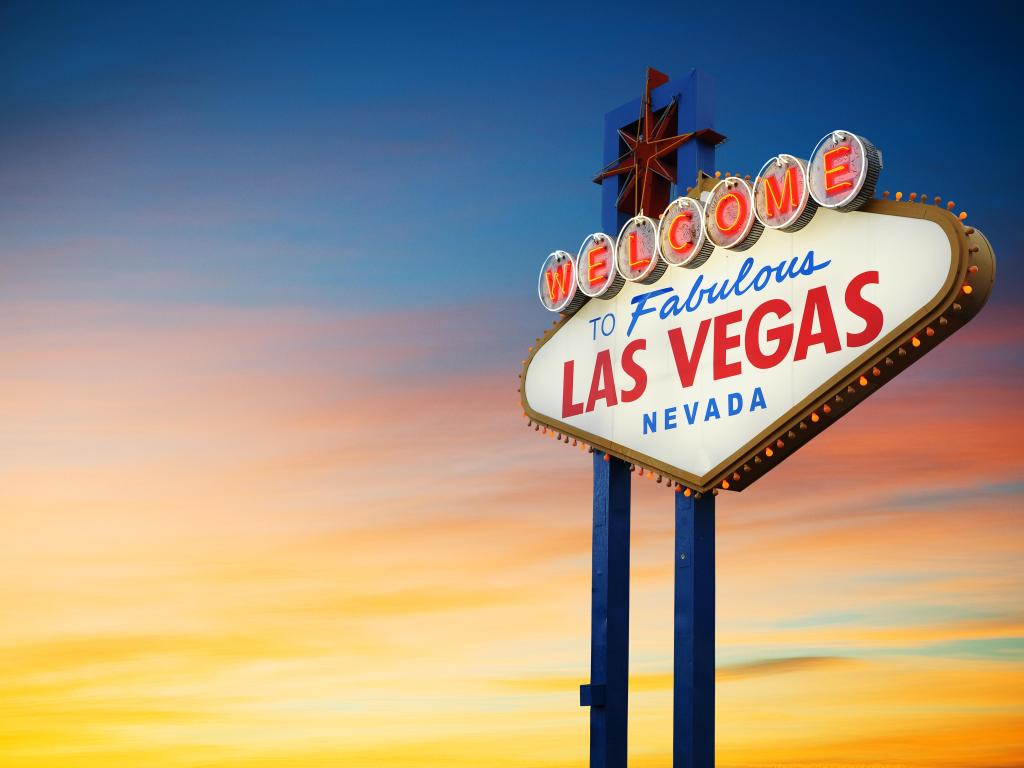 Furthermore, when autumn comes around, temperatures as well as tourist traffic diel down. Temperatures in the 80s and 90s are to be expected around mid-November and early October.
Once December come around the corner, the weather gets cold and chilly, yet tourist rates go back up around winter events.
No matter when you decide to visit "the Entertainment Capital of the World", a great idea would be to book at least 2 weeks in advance. Some people even avoid weekends because Las Vegas tends to be very crowded during holidays due to it being a very common weekend getaway destination.